CASTLE IN JAWOR, VIEW OF THE WEST WING
---
t the end of the 13th cen­tu­ry, Ja­wor be­ca­me one of the new­ly cre­a­ted cen­ters of po­wer in the strong­ly par­cel­led Lo­wer Si­les­ia, pro­mo­ting in 1274 to the ca­pi­tal of a se­pa­ra­te prin­ci­pa­li­ty, which by the gra­ce of Bo­les­law the Bald (+1278) was ta­ken o­ver by his son Hen­ry V (+1296). In 1280 Bol­ko I the Se­ve­re (+1301) took o­ver the le­ga­cy of his brot­her. Re­se­ar­chers at­tri­bu­te to him the ef­fort of buil­ding a new de­fen­si­ve head­quar­ters, erec­ted on the si­te of a small re­si­den­tial to­wer built in the 20s of the 13th cen­tu­ry, per­haps foun­ded by the Du­ke Hen­ry the Be­ar­ded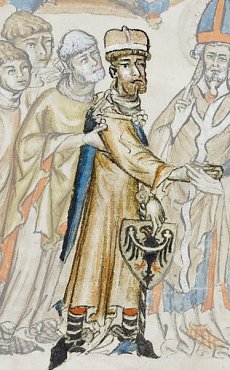 (+1238). The first de­fen­si­ve com­plex, pro­bab­ly still e­quip­ped with woo­den or woo­den-ground for­ti­fi­ca­tions, ini­tial­ly ser­ved as a cas­tel­lan, which is men­tio­ned in the sour­ce re­cord from 1224, which in­di­ca­tes a cer­tain Ra­dos­law of Bo­les­la­wiec as a co­mes cas­tel­la­nus with its seat in Ja­wor. In the se­cond half of the 14th cen­tu­ry, af­ter the death of Bol­ko II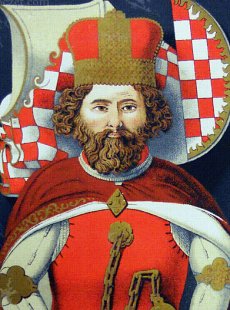 (+1368), the duke's wi­dow Ag­niesz­ka sat on the thro­ne, and when she died in 1392, the vast Du­chy of Swid­ni­ca and Ja­wor pas­sed un­der the ru­le of King Wen­ces­las IV of Lux­em­bourg (+1419), and the town re­cei­ved the sta­tus of a ro­yal cen­tre and ca­pi­tal of the lo­cal pro­vin­ce. From that ti­me until 1742 Ja­wor was the seat of the ro­yal go­ver­nors, the first one to hold this of­fi­ce chro­no­lo­gi­cal­ly was the Czech knight Be­nes of Hus­na (1392-1400).
THE OLDEST IMAGE OF THE CASTLE DATED 1532
---
BOLKO I

Cal­led Rought or Se­ve­re, he was born be­tween 1252 and 1256 as the se­cond ol­dest son of the Du­ke of Leg­ni­ca Bo­les­ław II (+1278) and Ja­dwi­ga from An­halt (+1259). Af­ter his fat­her's death, he re­cei­ved the Du­chy of Ja­wor, which he ru­led to­get­her with his brot­her Ber­nard the Agile (+1286). One of the first tasks Bol­ko fa­ced as a so­ve­reign was to pro­tect his mo­dest he­ri­ta­ge from the gro­wing po­wer of Hen­ry IV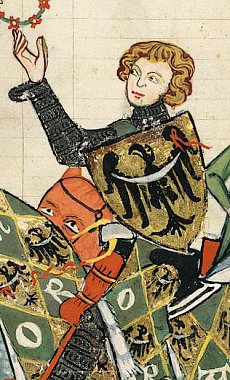 (+1290), Du­ke of Wroc­law. To this end, he de­ci­ded to form an al­lian­ce with the mar­gra­ves of Bran­den­burg, a se­al­ed mar­ria­ge with the un­der­age daugh­ter of Ot­to V the Long - Be­a­tri­ce. In the se­cond half of the 80s of the 13th cen­tu­ry the prin­ce chan­ged his po­li­ti­cal cour­se to the Czech, ap­pro­a­ching the court of Wen­ces­las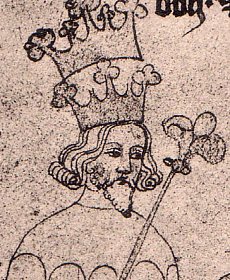 (+1305), the la­ter king of Po­land, with whom, ho­we­ver, a few years la­ter, for un­known re­a­sons, re­la­tions de­ter­io­ra­ted to such an ex­tent that Bol­ko be­gan an in­ten­si­ve for­ti­fi­ca­tion of the sout­hern bor­der of his coun­try by buil­ding or mo­der­ni­zing cast­les in Wlen, Swid­ni­ca and Strze­gom. In the mean­time, he tried to ta­ke con­trol of the Ny­sa Cas­tel­la­ny, which be­lon­ged to the Church, by for­ce of ar­mour, which brought a num­ber of un­ple­a­sant con­seq­uen­ces, with a church cur­se and a war with the Czechs at the fo­re­front. His po­li­ti­cal ta­lent and well-pre­pa­red strong­holds, ho­we­ver, al­lo­wed him to es­ca­pe from the­se op­pres­sions wit­hout much loss, and the death of his brot­her Hen­ryk in 1296 ma­de Bol­ko I the most po­wer­ful Piast ru­ler in Si­le­sia af­ter the in­cor­po­ra­tion of Wroc­law and Leg­ni­ca.

Bol­ko I died sud­den­ly on No­vem­ber 9th, 1301, for re­a­sons un­known to us. He was bu­ried in the Cis­ter­cian ab­bey in Krze­szow. He left three sons: Ber­nard (Swid­nic­ki), Hen­ryk (Ja­wor­ski)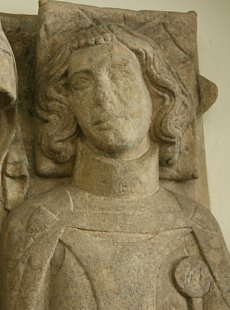 , Bol­ko (Lit­tle)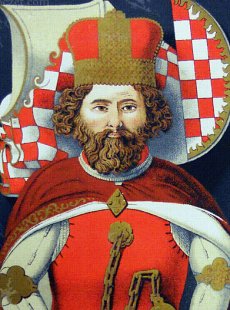 and five daugh­ters. In the o­pi­nion of pos­te­ri­ty he was a ve­ry ac­ti­ve and am­bi­tious ru­ler. Jan Dlu­gosz wro­te a­bout him: For ma­ny ye­ars he strict­ly and just­ly ru­led two prin­ci­pa­li­ties, na­me­ly: Wroc­law and Swid­ni­ca.
---
CASTLE (NO. 4) ON THE COPPERPLATE OF KUHN FROM 1615
he tur­bu­lent per­iod of the hus­si­te wars in Lo­wer Si­les­ia was ve­ry grac­ious for Ja­wor, be­cau­se both in 1427 and two ye­ars la­ter, the troops of Czech re­bels o­pe­ra­ting in the a­rea re­sig­ned from the as­sault on the cast­le and the town, which may tes­ti­fy to their gre­at de­fen­si­ve va­lu­es and strong crew. The high de­fen­si­ve va­lue of the cast­le was un­doubt­ed­ly in­flu­en­ced by its de­ve­lop­ment in the first de­ca­de of the 15th cen­tu­ry on the ini­tia­ti­ve of Wen­ces­las IV, as a re­sult of which, in ad­dit­ion to chan­ges in the ar­chi­tec­tu­re of re­si­den­tial buil­dings, the sur­roun­ding walls we­re mo­der­ni­zed. The two next cen­tu­ries we­re cha­rac­te­ri­sed by re­la­ti­ve calm in the re­gion; the town was luck­ily by­pas­sed by the des­truc­ti­ve in­va­sions and ar­med pro­tests, al­though due to the fact that the feu­dal sys­tem was mo­re and mo­re op­pres­si­ve for the lo­cal com­mu­ni­ty, pe­a­sants' pro­tests di­rec­ted di­rect­ly to the cen­tre of po­wer we­re in­ten­si­fied. In 1527, du­ring one of such in­ci­dents, pe­a­sants from ne­ar­by Pio­tro­wi­ce vil­la­ge cau­sed a kni­fe fight with the cast­le crew, for which the who­le vil­la­ge met with an u­nu­su­al pe­nan­ce: all its in­ha­bi­tants, re­gard­less of age, sex or con­dit­ion, had to cross from the Piot­row­ski bridge to the cast­le court­yard, on their knees with can­dles in their hands and thus beg the go­ver­nor's for mer­cy. In the ye­ars 1510-38, due to the in­cre­a­sing use of fi­re­arms, the town was strengt­he­ned by a new li­ne of pe­ri­phe­ral walls e­quip­ped with to­wers and cor­ner bas­tions. The de­fen­si­ve sys­tem of the for­tress was al­so mo­der­ni­zed, which on the ex­ten­sion of the west wing re­cei­ved a new bas­tion built on a hor­se­shoe plan, with ho­les for fi­re­arms on each floor. The buil­ding in­vest­ments from the 16th cen­tu­ry we­re com­ple­men­ted by the Re­nais­san­ce re­con­struc­tion of the com­plex in the ye­ars 1568-72, which in­clu­ded the buil­ding of a new to­wer, ex­ten­sion of the li­ving spa­ce, as well as a chan­ge in the in­ter­ior and ex­ter­ior de­co­ra­tion. The des­crip­tion of the stay of Au­gust Wet­tin
(+1586), Elec­tor of Sa­xo­ny, at the cast­le, who on 22 Fe­bru­a­ry 1572 rested in mag­ni­fi­cen­tly de­co­ra­ted red and blue or­na­men­ted rooms, has been pre­ser­ved. At that ti­me Ja­wor to­get­her with the who­le Si­le­sia be­lon­ged to the Aust­rian Em­pi­re un­der the Hab­sburg ru­le.
JAWOR IN 1738, F. B. WEHRNER TOPOGRAPHIA SEU COMPENDIUM SILESIAE 1744-68
CASTLE TO THE RIGHT OF THE HIGHEST TOWN HALL TOWER
---
In 1527, the Ja­wor cast­le be­came the sce­ne of a hu­mi­lia­ting show in which pe­a­sants from Pio­tro­wi­ce we­re for­ced to ta­ke part. It was a con­seq­uen­ce of the events of 15 May, when a crowd ar­med with kni­ves and ot­her sharp ob­jects for­ced its way in­to the for­tress de­man­ding the re­le­a­se of a Pro­tes­tant pre­a­cher, who was ar­res­ted on the or­ders of Hans von Zed­litz. Both the sta­rost and his ser­vants suf­fe­red du­ring the riots. The le­a­ders of the re­volt we­re be­he­a­ded on the mar­ket in Swid­ni­ca, the rest we­re sub­ject to col­lec­ti­ve res­pon­si­bi­li­ty - and so, all Piot­ro­wi­ce re­si­dents, re­gard­less of their age and health con­dit­ion, had to go on their knees, with vo­ti­ve cand­les in their hands, from the brid­ge by the Ga­te of Gold Moun­tain to the cas­tle court­yard to beg for mer­cy from the go­ver­nor. An ad­dit­io­nal pu­nish­ment was a ten-year ban on the use of sharp kni­ves by the lo­cal po­pu­la­tion. A re­min­der of the­se e­vents is a po­pu­lar sa­ying in Si­le­sia: a kni­fe as sharp as a pio­tro­wic­ki kni­fe.
---
PANORAMA OF THE TOWN FROM THE SOUTH, COPPERPLATE FROM THE LATE XVIII OR EARLY XIX CENTURY
---
THE VIEW OF THE TOWN ON C. F. STUCKART'S DRAWING, BEGINNING OF THE XIX CENTURY
uring the Thir­ty Years' War the town and the cas­tle we­re oc­cu­pied by Cat­ho­lic Aus­trian troops, Pro­tes­tant Sa­xons, again Aus­trians, Swe­dish troops and fi­nal­ly on 25 Ju­ly 1648, at the end of the war, on­ce a­gain by em­pe­ror's troops un­der the com­mand of Co­lo­nel Vil­la­ni, who kil­led a­bout two hun­dred Swe­dish sol­diers in street fights on the pre­vious day. Du­ring as­sault, as a re­sult of can­non fi­re, the for­tress was se­ve­re­ly da­ma­ged, which was exa­cer­ba­ted by the fi­re in 1656. This promp­ted the pro­vin­cial go­ver­nor, as well as the re­se­ar­cher and art col­lec­tor, Count Ot­to von Nos­titz (+1664), to ma­ke a de­ci­sion to start in­ves­ting in the re­no­va­tion and mo­der­ni­sa­tion of the cas­tle. The re­sult was a re­no­va­ted three-win­ged buil­ding a­round a trian­gu­lar court­yard, which re­cei­ved a fa­shio­na­ble Ba­ro­que suit. Af­ter re­con­struc­tion, a ma­nu­script of Ni­co­laus Co­per­ni­cus' work De re­vo­lu­tio­ni­bus or­bium co­e­les­tium was kept in the cas­tle li­bra­ry. La­ter it was tran­sfer­red to Lu­bo­radz, and then to the fa­mi­ly li­bra­ry in Pra­gue. Ho­we­ver, the con­cept of the res­to­ra­tion of the Lord­ship's seat did not in­clu­de the sur­roun­ding a­rea and the cas­tle gar­dens, which we­re sold to the town hall for 1000 tha­lers. The re­no­va­ted re­si­den­ce hos­ted wi­fe of the Po­lish king Ma­ria Ka­zi­mie­ra So­bies­ka
, who was on her way to the health re­sort in Bad Warm­brunn. The aris­to­crat to­get­her with the court sta­yed in the cas­tle on 28 Ju­ly 1687 and on her way back on 20 Au­gust.
VIEW OF THE TOWN FROM 1840, CASTLE ON THE LEFT
s a re­sult of the so-cal­led Si­le­sian Wars 1740-1745, Aus­tria lost Si­le­sia to Prus­sia. On 8 March 1742 the last of the im­pe­rial go­ver­nors, Count Hans An­ton von Schaff­gotsch (who died 11 days la­ter) en­ded his term of of­fice. His com­pe­te­nce was ta­ken o­ver by the of­fi­ce of ro­yal es­ta­te in Glo­gow. As a re­sult of this chan­ge, the Prus­sian King Fre­de­rick II
(+1786) is­su­ed a re­gu­la­tion on the need to adapt the Ja­wor cas­tle to ser­ve as a clo­sed in­sti­tu­tion for in­sa­ne pe­o­ple and a so­cial re­ha­bi­li­ta­tion cen­tre. It was con­nec­ted with a­dap­ta­tion works, which in­clu­ded main­ly re­or­ga­ni­za­tion of in­ter­nal di­vi­sions and cre­at­ion of a new com­mu­ni­ca­tion sys­tem in or­der to iso­la­te pa­tients. The psy­chia­tric de­par­tment was clo­sed down in 1821, and af­ter furt­her re­con­struc­tion, a he­a­vy pri­son for wo­men was o­pe­ned he­re, with par­ti­cu­lar­ly dark cards writ­ten du­ring the Na­zi Ger­man ru­le in the town. Af­ter the end of the Se­cond World War, the buil­ding was u­sed for a short pe­riod of ti­me as a pe­ni­ten­tia­ry for the needs of new go­vern­ment, whe­re com­mu­nists held po­li­ti­cal pri­so­ners. Af­ter 1956 the cas­tle was re­no­va­ted for use as cul­tu­ral ins­ti­tu­tions and pri­va­te a­part­ments.
A PICTURE OF THE CASTLE FROM CA. 1920, RIVER NYSA SZALONA IN THE FOREGROUND
---
VIEW FROM THE SOUTH-WEST IN A PHOTOGRAPH FROM THE 30S XX CENTURY, IN THE EASTERN PART OF THE SOUTHERN WING A CHAPEL CAN BE SEEN
---
The pe­ace af­ter the Se­cond World War did not end with the gloo­my pri­son pe­riod of the cas­tle's his­to­ry. Af­ter the com­mu­nists took po­wer, a bru­tal cam­paign was laun­ched a­gainst po­li­ti­cal op­po­nents, who we­re of­ten sen­ten­ced to death af­ter fa­ke show trials. One of the pla­ces whe­re such pe­o­ple we­re im­pri­so­ned and mur­de­red was the Piast cas­tle in Jawor. The exe­cu­tion was car­ried out by shoo­ting at the ou­ter wall from the si­de of the ri­ver Ny­sa or han­ging on the gal­lows, which stood in the cor­ner of the court­yard, on the right si­de from the en­tran­ce.
---
---
JAWOR IN AN AERIAL PHOTOGRAPH FROM 1941
---
itu­ated in the wes­tern part of the town and lin­ked to its for­ti­fi­ca­tions, the cas­tle has an ex­ten­si­ve 3,000-squa­re-met­re com­plex, ar­ran­ged in an ir­re­gu­lar trian­gle plan. The ol­dest part of it was a rec­tan­gu­lar re­si­den­tial to­wer da­ting from the be­gin­ning of the 13th cen­tu­ry, 6.3 x 7.6 me­ters in ba­se di­men­sions, built of sto­ne on the east-west a­xis and ini­tial­ly pro­tec­ted on­ly by a woo­den-ground ram­part and a moat. Pro­bab­ly it stood in the cen­tral pla­ce of the pre­sent court­yard, near the mo­nu­ment to fe­ma­le pri­so­ners e­rec­ted af­ter the last war. In the 13th cen­tu­ry, ho­we­ver, this mo­dest cas­tel­la­ny re­si­den­ce was en­lar­ged to a si­ze of 10x11 me­tres and its walls we­re re­in­for­ced to a thick­ness of mo­re than one met­re. The cast­le was en­clo­sed in the sto­ne for­ti­fied a­rea on­ly at the end of the 13th cen­tu­ry, pro­bab­ly un­der the ru­le of Bol­ko I. This in­vest­ment con­sis­ted in the con­struc­tion of a mag­ni­fi­cent re­si­den­tial wing with di­men­sions of 10x25 me­ters, with two spa­cious cham­bers on each of the two floors. Its west­ern fa­çade was a pro­tec­ti­ve shield for the who­le com­plex, hen­ce it was eq­uip­ped with ar­ched shoot­ing ho­les, and the thick­ness of the walls in this pla­ce re­a­ched 2.5 me­ters. The se­cond buil­ding, lo­ca­ted in the sout­hern part and di­vi­ded in­to six nar­row rooms with se­pa­ra­te en­tran­ces from the court­yard, ser­ved as an aux­il­ia­ry buil­ding. In or­der to gain spa­ce for it, the to­wer pro­tec­ting the cas­tle from the si­de of the ga­te was dis­man­tled and the cur­tain wall sur­roun­ding the for­tress was re­pai­red and in­cre­a­sed to the le­vel of the se­cond floor.
PLAN OF THE CASTLE AND TOWN FROM THE XVIII CENTURY ACCORDING TO J. CEMPA:
1. CASTLE, 2. CHURCH OF ST. MARTIN, 3. BERNARDINE MONASTERY, 4. TOWN HALL
eforms in the war art of the XV cen­tu­ry, es­pe­cial­ly the lar­ge-sca­le use of ar­til­le­ry, for­ced ra­di­cal chan­ges in the for­ti­fi­ca­tions of de­fen­si­ve ob­jects, which al­so did not miss the cas­tle in Ja­wor. In the 1620s, the wes­tern part of the south­ern wing was mo­di­fied by ad­ding an e­lon­ga­ted bast­ion in the sha­pe of a to­wer
with shoo­ting ho­les on each of the two floors, which was an ac­ti­ve part of the ar­til­le­ry de­fen­se of the cas­tle. The me­die­val cur­tain walls we­re re­built: the cre­nel­la­tion was de­pri­ved of gaps be­tween the blanks, the got­hic cur­tain and cor­ner to­wer we­re par­tial­ly de­mo­lis­hed, and on their ba­sis a sim­ple sec­tion of brick wall with cy­cli­cal­ly ar­ran­ged shoot­ing gal­ler­ies was e­rec­ted. Du­ring the Re­nais­san­ce mo­der­ni­za­tion car­ried out in the se­cond half of the 16th cen­tu­ry, a slen­der oc­ta­go­nal to­wer was e­rec­ted in the west­ern part of the court­yard. The in­ter­iors of the east­ern wing we­re al­so trans­for­med, thanks to which a pla­ce was found for the spa­tial cham­ber, which la­ter ser­ved as a meet­ing hall. All the buil­dings on the town si­de we­re co­ve­red with plas­ter, while on the court­yard si­de the e­le­va­tions we­re de­co­ra­ted with sgraf­fi­to tech­nique. In the se­cond half of the XVII cen­tu­ry, on the ini­tia­ti­ve of Ot­to von Nos­titz, a new three-win­ged buil­ding was for­med a­round a po­ly­go­nal court­yard, the south wing re­cei­ved a man­ne­rist por­tal
, and the cast­le to­wer - clocks and a bell that has sur­vi­ved to this day. La­ter trans­for­ma­tions re­sul­ting from chan­ges in the func­tions per­for­med by the cast­le u­nif­ied the blocks of buil­dings and ob­li­te­ra­ted the sty­lis­tic fe­a­tu­res, e.g. around 1750 the west­ern wing was ad­ded one sto­rey for pe­ni­ten­tia­ry pur­po­ses, whi­le in the mid-19th cen­tu­ry the south­ern wing was com­ple­te­ly re­built. The for­mer cast­le gard­ens we­re tur­ned in­to a town mar­ket­pla­ce.
THE PRESENT-DAY PLAN OF THE CASTLE: 1. GATEWAY, 2. BASTION, 3. TOWER, 4. WESTERN WING,
5. NORTH WING, 6. EAST WING, 7. SOUTH WING, 8. CYLINDRICAL STAIRCASE
---
he cast­le in its pre­sent form e­vo­kes me­mo­ries of the sad­dest years of its e­xis­ten­ce. The neg­lec­ted court­yard with its squa­lid, scrat­ched fa­ca­de of the sur­roun­ding buil­dings, win­dows co­ve­red with card­board and the si­nis­ter at­mos­phe­re of the pri­son sce­ne­ry do not in­spi­re op­ti­mism. This mo­nu­ment, des­pe­ra­te­ly cry­ing for re­no­va­tion, has its hosts, ho­we­ver: we will find he­re a hou­se­hold ap­plian­ces se­cond hand shop, one of the wings has its seat in the So­cial Mu­sic Cen­tre, as well as the lo­cal ab­sti­nent club. Ho­we­ver, the town is no­ti­cing the un­used po­ten­tial of this pla­ce and at­tempts are being ma­de to re­vi­ta­li­ze it. In re­cent years, the main to­wer with an vie­wing point has been re­no­va­ted and ope­ned to the pu­blic. Tho­se who wish to do so can al­so see the pri­son cells ac­ces­si­ble di­rect­ly from the court­yard. And it must be ho­nest­ly ad­mit­ted that alt­hough the cast­le still of­fers a de­pres­sing feel­ing, and its con­te­mpo­ra­ry ima­ge de­fi­ni­te­ly does not em­bel­lish the town, it is not as ug­ly and dir­ty as it was ten years ago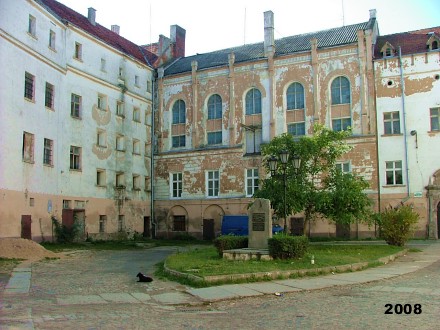 .
---
| | |
| --- | --- |
| | |
THE NORTHERN WING OF THE CASTLE WITH A REGOTHICISED GATEWAY
---
---
THE COURTYARD OF THE JAWOR CASTLE, THE FORMER PRISON CELLS
---
---
GA-GA

For many years, the Ja­wor cast­le was used as a re­hear­sal ground for the le­gen­da­ry - at least for so­me - anar­cho­punk band GA-GA, win­ner of the Ja­ro­cin'92 fes­ti­val. The group was foun­ded by Mi­ros­law Ma­lec (pseu­do­nym Sma­lec - Lard) af­ter the break-up of anot­her band - Zie­lo­ne Zab­ki (Green Lit­tle Frogs), whe­re he reg­ret­tab­ly sang that (free trans­la­tion):

The pubs are full of young men
Maybe creative, maybe talented
Their ambitions are drowned in mugs
Because it' s too much free time here

And the culture is supposedly here
It's shown by our wonderful cultural centre
Even sometimes jazz flows from its windows
Then why is it like this - I don't understand

There is going to be a gala on children's day
There are literary banquets
And our neighbour chased us away from the cellar
Because our music is crazy

Original version of the song
The band with the com­bi­ned na­me of GA-GA Zie­lo­ne Zab­ki is still having re­he­ar­sals at the cast­le in Ja­wor, which I had the op­por­tu­ni­ty to hear per­so­nal­ly du­ring my vi­sit he­re in the spring of 2019.
---
CASTLE SEEN FROM THE NATIONAL ROAD NO. 5, WITH A SIGNATURE OF LOCAL IDIOTS ON THE WALL
---
VIEW FROM THE NORTHWEST, FROM THE AREA OF THE FORMER CASTLE GARDENS
---
he cast­le is lo­ca­ted in the wes­tern part of the ci­ty, clo­se to the na­tio­nal road No. 3 le­a­ding from Leg­ni­ca to Bol­kow, about 5 mi­nu­tes on foot from the Old Mar­ket Squa­re. Ne­ar­by, in the area of the for­mer cast­le gar­dens, the­re is a lar­ge, free car park and a bus stop. (map of cast­les)
---
1. M. Chorowska: Rezydencje sredniowieczne na Slasku, OFPWW 2003
2. B. Guerquin: Zamki w Polsce, Arkady 1984
3. I. T. Kaczynscy: Zamki w Polsce poludniowej, Muza SA 1999
4. L. Kajzer, J. Salm, S. Kolodziejski: Leksykon zamkow w Polsce, Arkady 2001
5. R. Luczynski: Chronologia dziejow Dolnego Slaska, Atut 2006
6. UM w Jaworze, Wydzial Promocji Miasta: Kalendarium historii miasta Jawora
VIEW OF THE PIAST CASTLE FROM CHROBREGO STREET
Castles nearby:
Mysliborz - relics of the castle XIII/XIVw., 7 km
Klaczyna - relics of the castle XVw., 14 km
Swiny - the ruins of a knight's castle XIVw., 16 km
Bolkow - Duke's castle XIIIw., 18 km
Lipa - the ruins of castle XIVw., 18 km
Rokitnica - the ruins of Duke's castle XIIIw., 18 km
Legnica - Duke's castle XIIIw., altered, 19 km

---
Located about 600 meters north of the castle, the Church of Peace of the Holy Spirit - one of the three on­ce ex­ist­ing and two pre­ser­ved Evan­ge­li­cal tem­ples e­re­cted in the mid-17th cen­tu­ry in Lo­wer Si­les­ia fol­lo­wing the West­pha­lian Pe­ace Tre­aty en­ding the 30-year war. Ac­cor­ding to them, the Pro­tes­tant mi­no­ri­ty in Ja­wor, Glo­gow and Swid­ni­ca we­re gran­ted the right to build three tem­ples, but the­se in­ves­tments had to meet strict con­di­tions:
- their location was to be outside the city walls, but not further than the flight range of a can­non­ball fi­red from the ci­ty walls,
- the construction was to be made of perishable materials; stone and brick we­re pro­hi­bi­ted,
- nails could not be used to assemble the in­di­vi­du­al com­po­nents,
- the temple couldn't have had a tower,
- its construction was to be financed entirely by Evangelicals,
- the construction work could not take longer than 365 days.
The church in Jawor was built in the years 1654-55 in a half-tim­be­red con­struc­tion de­sig­ned by Al­brecht von Sä­bisch, and the main buil­der was the lo­cal car­pen­ter's mas­ter An­dre­as Gam­per. The si­ze of the tem­ple al­lo­wed it to ac­com­mo­date 6,000 pe­o­ple and its de­co­ra­tion and fur­nis­hings be­lon­ged to the most be­au­ti­ful in the re­gion. Par­ti­cu­lar at­ten­tion is paid to the fol­lo­wing: the main al­tar, 9 met­res high and 5 met­res wi­de, cre­a­ted by mas­ter Mi­chal Schteu­dner from Ka­mien­na Go­ra and foun­ded by the Hoch­berg fa­mi­ly from Ksiaz, a mag­ni­fi­cent ba­roque pul­pit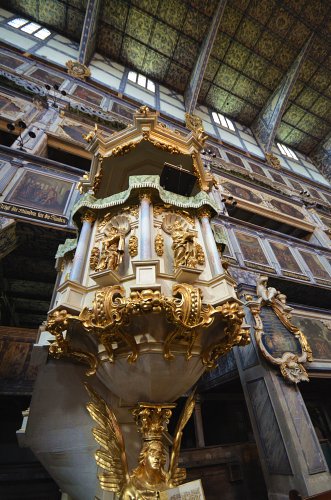 with a ba­lus­tra­de sho­wing fi­gu­res from the Old and New Tes­ta­ments, who­se cha­li­ce is sup­por­ted by a scul­ptu­re of an an­gel hol­ding in his hand the o­pen Gos­pel, and four-sto­rey gal­le­ries co­ve­red with paint­ings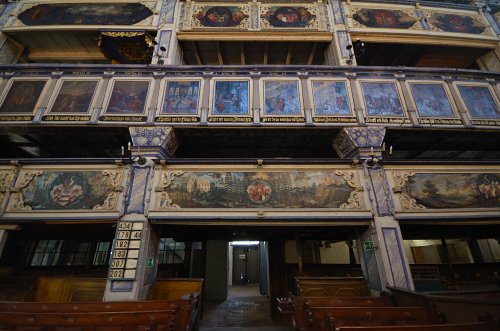 il­lus­tra­ting Old and New Tes­ta­ment sce­nes, cast­les and he­ral­dic shields. The Church of Pe­a­ce in Ja­wor is the lar­gest woo­den buil­ding with re­li­gious func­tions in the world. In 2001 it was in­clu­ded in the UNES­CO World He­ri­ta­ge List.
text: 2019
photographs: 2019
© by Jacek Bednarek