GRODZIEC CASTLE, VIEW FROM THE SOUTH
---
O
n steep basalt hill, where the ma­jes­tic cas­tle is now lo­cat­ed, in the ear­ly Mid­dle Ages there was a strong­hold be­long­ing to the Slav­ic Bo­brza­nie tribe. The first men­tion about Gro­dziec dates back to 23 April 1155. This was the date of the pa­pal bull is­sued by Pope Hadri­an IV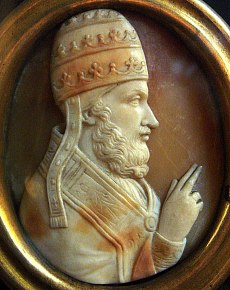 for the bish­opric of Wro­cław, in which Go­diu­ice (Gro­dziec) was list­ed among oth­er Si­le­sian castel­la­nies. In the year 1175 Prince Bo­le­sław Wy­so­ki (the Tall, d. 1201) grant­ed here a foun­da­tion let­ter for the Cis­ter­cian monastery in Lu­biąż, which leads to a con­clu­sion that it must have been a mag­nif­i­cent seat, able to ac­com­mo­date a large ducal court with in­vit­ed guests in­di­cat­ed as wit­ness­es. Two castel­lans of the cas­tle were men­tioned in this pe­ri­od: in 1203 a cer­tain Wi­cis­laus, and Jan Gro­dez, ap­pear­ing as a wit­ness in a doc­u­ment from 1250. In 1228 the heir to the Si­le­sian and Cra­cow thrones, Hen­ryk II Po­bo­żny (the Pi­ous, d. 1241), stayed here with his wife An­na Prze­myś­lid­ka, a daugh­ter of Bo­hemi­an King Oto­kar II. Apart from these mod­est an­no­ta­tions, not much more is known about the fur­ther, 13th cen­tu­ry his­to­ry of the cas­tle. One of the hy­pothe­ses as­sumes that it served as a hide­out for no­to­ri­ous rob­ber-knights and was de­stroyed as a re­sult of an armed ac­tion or­ga­nized by towns­men from Bo­le­sła­­wiec and Zło­to­ry­ja. At the turn of the 13th and 14th cen­turies, the lo­cal castel­lany be­longed to the knight Jan of Za­grod­no, and af­ter his death it be­came the prop­er­ty of the Leg­ni­ca Prince Bo­le­sław III, called Roz­rzut­ny (the Lav­ish, d. 1352). In 1320 he sold the fol­wark with Gro­dziec to knight Swo­lo from the fam­i­ly of Bo­ży­woj (Swo­lo­ny dic­to Bu­ze­woi), with all rights and rents for 300 marks. How­ev­er, there is no men­tion about the cas­tle in the deed of sale, which may in­di­cate that it was in ru­ins at the time.
THIS IS ALSO A VIEW FROM THE SOUTH - THE DONJON IN THE FOREGROUND WAS DESTROYED DURING THE THIRTY YEARS' WAR
The name of the cas­tle un­der­went fre­quent changes, both in the Mid­dle Ages and in mod­ern times. The ear­li­est sur­viv­ing form, Go­diu­ice (1155), clear­ly in­di­cates its Slav­ic et­y­mol­o­gy. How­ev­er, in the foun­da­tion let­ter is­sued by Bo­le­sław Wy­so­ki in 1175 this place was al­ready called su­per cas­trum Gro­diz, and that name slow­ly but sys­tem­at­i­cal­ly evolved, tak­ing the forms: Gro­dez (1245), Gru­ditz (1300), Gro­dys (1305), and Gro­dis (1330). The 15th cen­tu­ry brought the pro­gres­sive Ger­man­iza­tion of Si­le­sia and in 1473 it was writ­ten about the cas­tle Gra­det­zburg, and in 1500 - Gra­diz­ber­ge, while the lo­cal pop­u­la­tion called it der Gratz. In 1575 the term Godz­berg was used for the first time, and in fol­low­ing years - the names Gra­ditz­berg (1636), Grotz­berg (1665), Gra­dis­berg (1729), Gratz­berg (1823), and fi­nal­ly Gro­ditz­burg (1825), which re­mained in use un­til the end of Ger­man rule in these lands. The pol­o­nized name Gro­dzi­sko, while still a free trans­la­tion, was first pub­lished in 1904. It did not last long, how­ev­er, be­cause af­ter World War II the pro­pa­gan­da name Gro­dziec Pia­stow­ski was used, and lat­er - its re­duced form Gro­dziec.
| | |
| --- | --- |
| | |
IN FRONT OF THE ENTRANCE GATE TO THE HIGH CASTLE
A
t the turn of 14th and 15th cen­turies the cas­tle hill (prob­a­bly al­ready aban­doned) ad­min­is­tra­tive­ly be­longed to the vil­lage of Wi­ta­nów­ka and to­geth­er with it was sub­ject to own­er­ship changes. The loss of po­lit­i­cal sig­nif­i­cance of the for­mer ducal res­i­dence was ev­i­denced by lo­cal chron­i­clers' re­la­tions, ac­cord­ing to which rob­ber knights resid­ed in Gro­dziec dur­ing the Hus­site wars. How­ev­er, we do not know if their pres­ence ex­ac­er­bat­ed the dam­age to the old cas­tle. In 1470 the ru­ined stronghold was bought from Bo­ży­woj fam­i­ly by Frie­drich I, Duke of Leg­ni­ca and Brzeg. This ruler, great­ly in­flu­enced by the Vi­en­na court, de­cid­ed to mod­ern­ize his res­i­dences in Leg­ni­ca, Niem­cza and Gro­dziec. For this pur­pose, he signed a con­tract with three mas­ter ma­sons from Leg­ni­ca, Wro­cław and Zgo­rze­lec to build a tow­er fol­low­ing the ex­am­ple of St. Hed­wig's tow­er from the cap­i­tal cas­tle in Leg­ni­ca. Work al­so be­gan on the con­struc­tion of the rep­re­sen­ta­tive part of the cas­tle, built on the plan of an elon­gat­ed hexagon with tow­ers at the cor­ners. Mod­ern­iza­tion of the cas­tle sig­nif­i­cant­ly raised the pres­tige of gov­er­nors re­sid­ing there, who rep­re­sent­ed the ducal pow­er in the sur­round­ing lands. Among the first bur­graves known to us by name were Jan Ax­le­ben, called Mag­nus (1473), Win­cen­ty von Tauch­sdorf (1474-78), who at the same time held the of­fice of Leg­ni­ca sta­rost, fol­lowed by Wa­cław Schul­tze (1479) and Bal­thaz­ar von der Un­wür­de (1483). In 1490 the bur­grave of Gro­dziec was Kon­rad Hoh­berg (d. 1520), an an­ces­tor of great Si­le­sian in­dus­tri­al­ists and own­ers of res­i­dences in Książ and Pszczy­na. A lit­tle ear­li­er, in May 1488, Frie­drich I died, and his pow­er was tak­en over by 8-year-old Frie­drich II
(d. 1547), who was un­der the pa­ren­tal guard­ian­ship of his moth­er Lud­mil­la, daugh­ter of the Bo­hemi­an king Jiří of Po­dě­bra­dy
. The Duke's death caused the sus­pen­sion of con­struc­tion work, al­though the cas­tle func­tioned nor­mal­ly dur­ing this pe­ri­od.
VIEW OF THE DUCAL PALACE FROM DONJON IN THE SECOND DECADE OF THE 20TH CENTURY AND AT PRESENT
Ac­cord­ing to Duke Frie­drich's guide­lines the tow­er in Gro­dziec was to have a strong con­struc­tion, equal­ly strong porch­es, four vaults, bay win­dows and a con­nec­tion by a spi­ral stair­case to the cas­tle. It was also to be pro­tect­ed by sky­lights, fire­wall, roof win­dows and cor­nices. The tow­er, of course, was to have toi­let fa­cil­i­ties and var­i­ous cham­bers with wall clos­ets. The Duke agreed to pro­vide build­ing ma­te­ri­als: lime, stones, wood, ropes, iron, and oth­ers nec­es­sary to ex­e­cute the or­der. The builders re­ceived 200 guilders, 50 of which were paid in ad­vance, 50 for Christ­mas, 50 for East­er and 50 for St. John's Day. The duke al­so paid for food and drink for mas­ters and their ser­vants.

There has been at least one fa­tal ac­ci­dent dur­ing con­struc­tion works: a work­er named Ja­cob Jencke, fell from a scaf­fold­ing near the tow­er. A com­mem­o­ra­tive stat­ue placed on the west door of the cas­tle was to re­mind of this trag­ic event.
ROMANTIC IMAGE OF THE CASTLE ON A COLOURED POSTCARD FROM THE BEGINNING OF 20TH CENTURY
D
ur­ing the reign of Frie­drich II Gro­dziec be­came one of the main court seats and the on­ly palace with goth­ic fea­tures in Low­er Sile­sia. The first stage of cas­tle re­con­struc­tion was com­plet­ed in 1515, which co­in­cid­ed with the duke's mar­riage to Elż­bie­ta Ja­giel­lon­ka (d. 1517), daugh­ter of Pol­ish king Ka­zi­mierz. On this oc­ca­sion the cream of Si­le­sian, Pol­ish and Ger­man so­ci­ety ac­com­pa­nied by ladies came to Gro­dziec and the cas­tle it­self was beau­ti­ful­ly dec­o­rat­ed. This solemn event was hon­ored by a knights' tour­na­ment, in which Frie­drich ap­peared dressed in mag­nif­i­cent ar­mor spe­cial­ly made for that oc­ca­sion. Less than ten years lat­er, con­struc­tion work re­sumed, mak­ing the cas­tle even more lux­u­ri­ous and com­fort­able. Un­der the su­per­vi­sion of Wen­del Ros­kopf the low­er storey of the pa­lace was built, with a spi­ral stair­case and beau­ti­ful vaults based on those at Prague's Hrad­ča­ny. The pro­ject was re­alised us­ing the stone the cas­tle hill was made of, name­ly olive-col­oured ba­salt, sup­ple­ment­ed with sand­stone from the near­by Hock­en­ber­ge quar­ry. On 27 May 1523 a meet­ing of Frie­drich II with mark­grave George von Jä­gern­dorf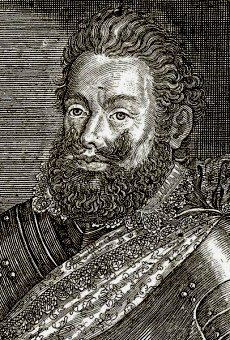 and his broth­er canon Wil­helm took place here, af­ter which the Prince of Leg­ni­ca and his court of­fi­cial­ly adopt­ed the Luther­an re­li­gion. The joy of the par­tic­i­pants of this land­mark event did not last long, how­ev­er, be­cause dur­ing the feast held in hon­or of the dis­tin­guished guests a fire broke out, de­stroy­ing a large part of the cas­tle, quite re­cent­ly put in­to use af­ter a ma­jor ren­o­va­tion. Al­most im­me­di­ate­ly they start­ed to re­pair it. The scope of con­struc­tion works was soon sig­nif­i­cant­ly ex­tend­ed as a re­sult of de­ci­sions made at the Cong­ress of Si­le­sian Dukes in 1526, where in the at­mo­sphere of great fear of the Turk­ish army, it was de­cid­ed to strength­en the and towns and cas­tles in this part of Sile­sia. There­fore, the for­ti­fi­ca­tions of Gro­dziec were re­built: the moats were widened, the en­trance gate strength­ened, and large semi­cir­cu­lar caponiers were erect­ed on the east and west sides.
| | |
| --- | --- |
| | |
| | |
| --- | --- |
| | |
BUNCH OF BEAUTIFUL, OVER 100 YEAR OLD POSTCARDS WITH GRODZIEC CASTLE
I
n Septem­ber 1547, af­ter death of the old prince, the pow­er was tak­en over by his son Frie­drich III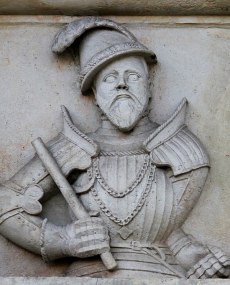 (d. 1570), who ear­li­er, af­ter his mar­riage with princess Ca­ther­ine of Meck­len­burg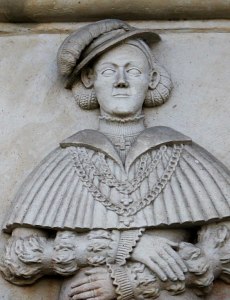 (d. 1581) re­ceived Gro­dziec with an an­nu­al salary of two thou­sand florins for main­te­nance his court. As a young duke he moved to the im­pe­ri­al cas­tle in Wro­cław, but he re­turned to Gro­dziec in 1553, find­ing here shel­ter from the plague that was spread­ing in Wro­cław and Leg­ni­ca. Short­ly there­after, he joined the an­ti-Hab­sburg coali­tion of Pro­tes­tant princes of the Re­ich, which caused a con­flict with his broth­er George II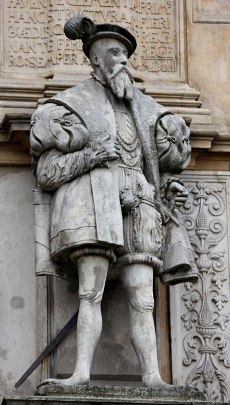 and with Em­per­or Charles V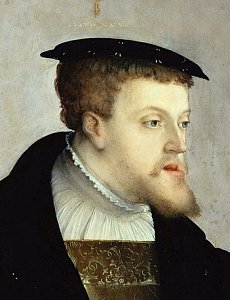 him­self, who stripped him of his pow­er and placed un­der house ar­rest for life.
Friedrich III en­joyed en­ter­tain­ment and a so­cial life, he loved feasts, tour­na­ments and hunt­ing. On his ini­tia­tive, in June 1549, a splen­did knights' tour­na­ment was or­ga­nized in Gro­dziec, in which 102 knights par­tic­i­pat­ed. Among them were: Prince George II of Brzeg, Prince Hen­rik II of Bern­stadt, Prince Jan of Ole­śni­ca, Ot­to von Zed­litz of Pro­cho­wi­ce, Ot­ton von Zed­litz of Pru­si­ce, Chan­cel­lor Wolf von Bock of Jerz­ma­ni­ce, Hans von Schaff­gotsch of the Gryf cas­tle, Kunz von Hoch­berg of Książ, Georg von Red­er of Unie­jo­wi­ce, Wolf von Skop­pe of Cho­cia­nów and Georg von Re­chen­berg of Klicz­ków. They were ac­com­pa­nied by 128 ladies, as well as 99 me­nials and her­alds. The tour­na­ment was open to gen­tle­men who had nev­er be­trayed the Chris­tian au­thor­i­ties or the em­pire, who had nev­er bro­ken an oath, who had nev­er com­mit­ted mar­i­tal in­fi­deli­ty ;-), who had nev­er cow­ard­ed on the bat­tle­field or en­gaged in rob­bery. Each of them had to prove their no­bil­i­ty by the votes of at least four wit­ness­es. Prince Frie­drich paid for the par­tic­i­pa­tion of a count with 6 hors­es, a free lord with 4 hors­es, a knight with 3 and a no­ble­man with 2 hors­es.

The most pres­ti­gious com­pe­ti­tion of the four-day tour­na­ment was a du­el on lances, won by Ot­to von Zedlitz from Pro­cho­wi­ce, who re­ceived a gold­en an­chor as a prize. The sec­ond place, hon­ored with a beau­ti­ful knight's hel­met, was tak­en by Bal­tha­zar von Prom­nic, while the third place be­longed to Math­es von Lo­gau, who was award­ed a sil­ver cup. Com­ple­ment­ing the last day of the tour­na­ment was a Turk­ish mus­ket shoot­ing com­pe­ti­tion, for which the on­ly prizes were flags and trum­pets. The ladies al­so com­pet­ed against each oth­er in tar­get shoot­ing, and the win­ner won a gold an­chor.
| | |
| --- | --- |
| | |
| | |
| --- | --- |
| | |
COMPOSITION OF GOTHIC PORTALS FROM GRODZIEC CASTLE
T
his way, Leg­ni­ca pro­vince came in­to the hands of his son, Hen­rik XI
(d. 1588), a drunk­ard and wastrel, who, af­ter tak­ing over the prin­ci­pal­i­ty bur­dened with a debt of 80 thou­sand thalers, sur­passed his fa­ther in waste­ful­ness, leav­ing at the end of his reign a debt al­most ten times high­er. At­tempts to re­duce this bur­den proved un­suc­cess­ful, prompt­ing the prince to leave for the Re­ich, where he spent the bor­rowed mon­ey light­ly for the next three years. At that time his younger broth­er, Frie­drich IV
(d. 1596), ruled in Leg­ni­ca. He was elect­ed ruler of the duchy in 1576 by an im­pe­ri­al de­cree, and re­quired to give Hen­rik a cer­tain amount of cash and food once a week. How­ev­er, Hen­rik did not re­ceive such help or re­ceived it too lit­tle, so af­ter re­turn­ing to Sile­sia he op­pressed and robbed his broth­er's es­tates, steal­ing fish from his ponds and tak­ing cows from his herds. He al­so en­gaged in ban­dit­ry, of­ten rob­bing mer­chants pass­ing through the neigh­bor­hood. In 1578, he in­vad­ed the cas­tle Gro­dziec, which at that time was a pledge leased by Le­on­hard von Skopp-Ko­tze­nau, from where he con­tin­ued his pil­lage ac­tiv­i­ties, and the re­sult­ing grie­van­ces he ad­dressed with dis­re­gard to his broth­er's court. This sit­u­a­tion great­ly ir­ri­tat­ed Frie­drich, who de­cid­ed to send com­mis­sion­ers to the cas­tle in or­der to en­force obe­di­ence to the au­thor­i­ty giv­en to him. They, how­ev­er, wit­nessed a demon­stra­tion of force: the mo­ment they en­tered the gate, all 200 can­nons, ar­que­bus­es and hook guns were fired, giv­ing a clear sign that any at­tempt to con­quer the stronghold was doomed to fail­ure in ad­vance. The duke's lav­ish life was re­flect­ed not on­ly in an emp­ty trea­sury, but some­times in an emp­ty pantry as well. Ac­cord­ing to the tes­ti­mo­ny of his ser­vant, there were days in Gro­dziec when Hen­rik ate his berry sup­plies and birds caught in the for­est, and due to the lack of em­ploy­ees he was of­ten forced to feed the pigs by him­self. He sup­ple­ment­ed his di­et with plen­ty of fish, which the crew from Gro­dziec usu­al­ly stole from the duke's ponds, great­ly ir­ri­tat­ing the right­ful own­er, Prince Frie­drich.
RECONSTRUCTION OF A 16TH CENTURY CASTLE BY BODO EBHARDT
T
he end of Hen­ry XI's ad­ven­tures in Gro­dziec came on Oc­to­ber 16, 1578, when ap­par­ent­ly bored with noth­ing to do, the prince went on a jour­ney through Ger­man lands. The cas­tle was leased to count Bren­dan von Zed­litz (d. 1602), who, how­ev­er, un­der pres­sure, hand­ed it over to the im­pe­ri­al gov­er­nor and bish­op of Wro­cław Mar­tin Gerts­mann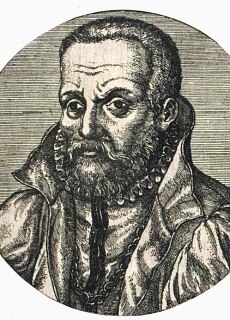 (d. 1585) just eight days lat­er. Lat­er, Gro­dziec for a short time again be­longed to Hen­rik, who was re­stored by Em­per­or Ru­dolph II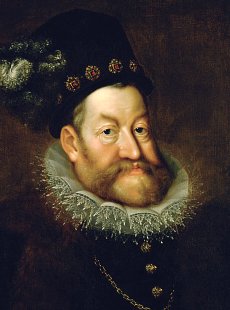 to the throne of Leg­ni­ca, but af­ter his im­pris­on­ment in Ju­ly 1581, the cas­tle came un­der the rule of his broth­er Frie­drich IV. At that time, the bur­grave of the cas­tle was the for­mer squire of Frie­drich IV, Hans von Schwei­ni­chen (d. 1616) from Świ­ny. When in 1596 Prince Frie­drich died heir­less, Gro­dziec with the whole Leg­ni­ca Prin­ci­pal­i­ty be­came the prop­er­ty of Jo­achim Frie­drich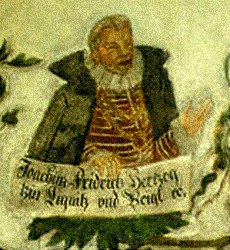 , the Prince of Brzeg (d. 1602). Dur­ing his reign, the cas­tle was re­mem­bered main­ly as a place of im­pris­on­ment of Cas­par Schwenck­feld von Os­sig's fol­low­ers con­vict­ed of heresy, and its splen­dor was slow­ly de­clin­ing.
THE OLDEST PRESERVED VIEW OF THE CASTLE, A DRAWING BY VALENTIN SAEBISCH FROM 1625
A
f­ter the out­break of the Thir­ty Years' War in 1618, armies of the op­pos­ing sides, al­ter­nate­ly Swe­dish and Im­pe­ri­al, be­gan to move through Si­le­sia, mer­ci­less­ly plun­der­ing oc­cu­pied vil­lages and towns. In such mo­ments Gro­dziec be­came a shel­ter for lo­cal res­i­dents, who of­ten kept all their be­long­ings here. In or­der to pro­tect the cas­tle ef­fec­tive­ly, Prince George Ru­dolf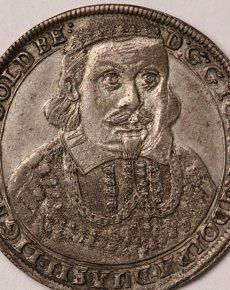 of Leg­ni­ca (d. 1653) con­tract­ed well-known Wro­claw for­ti­fi­ca­tion en­gi­neer Va­len­tin Sä­bisch to pre­pare a plan to sur­round it with a mod­ern bas­tion out­line. Some of these plans were soon put in­to prac­tice, in­clud­ing the con­struc­tion of a new tow­er, strength­en­ing the main tow­er and build­ing a new draw­bridge. For fi­nan­cial rea­sons, how­ev­er, it was not de­cid­ed to ful­ly im­ple­ment the ar­chi­tect's con­cept. There­fore, in Oc­to­ber 1633, the no­to­ri­ous im­pe­ri­al troops com­mand­ed by Count Al­brecht von Wal­len­stein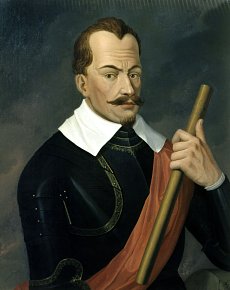 (d. 1634) con­quered the cas­tle with­out much ef­fort and plun­dered and de­stroyed it. The town chron­i­cle notes that the con­quest of the stronghold was due to the fact that one of the mem­bers of the gar­ri­son has de­fect­ed. How­ev­er, the Leg­ni­ca chron­i­cle states that the de­fend­ers were be­trayed by the bur­grave's mis­tress named Me­ta, who for fi­nan­cial gain showed the im­pe­ri­al troops how to get in­to the cas­tle. Dur­ing the bat­tle, the bur­grave and traitor's lover, Ka­sper von Schni­del, al­leged­ly com­mit­ted sui­cide by jump­ing out of a win­dow. At the time of the Aus­tri­an oc­cu­pa­tion of Gro­dziec it was man­aged by Jan Da­niel von Sal­en­do­pler, and in the fol­low­ing years by the Dutch Baron von Baer and co­lo­nel von Knör­ig. The cas­tle dun­geons were then used to im­prison Swe­dish sol­diers, of which there were quite a large num­ber, and many of them died.
PLAN OF THE CASTLE FROM 1633 WITH MARKED PLACE THROUGH WHICH IMPERIAL TROOPS INVADED (RED CROSS)
REFERENCE: R. SACHSE: DER GRöDITZBERG, 1859
T
he stay of the army was al­ways a huge fi­nan­cial bur­den for the res­i­dents of the sur­round­ing towns and vil­lages, who were forced to spend mon­ey on its main­te­nance - on­ly in 1641 ten thou­sand thalers were spent for the needs of the gar­ri­son of Gro­dziec. De­gen­er­ate sol­diers im­posed ad­di­tion­al trib­utes, plun­dered, burned vil­lages and mur­dered the in­hab­i­tants re­gard­less of their state and na­tion­al­i­ty. The full pic­ture of the Thir­ty Years' War can be il­lus­trat­ed by the words of one of the sol­diers, who gave such a vivid de­scrip­tion of the macabre sight found af­ter one of the bat­tles: Some­where a head laid, de­prived of its right­ful own­er; else­where bod­ies, stripped of their heads; en­trails were crawl­ing out of many bod­ies - a dis­gust­ing sight! One of the skulls was so shat­tered that brain was flow­ing out of the in­te­ri­or. Some­where else the bod­ies of dead sol­diers could be seen, from which all the blood had al­ready flowed, and the wound­ed were cov­ered with the blood of oth­er com­rades. Here the chopped-off arms were ly­ing around, with the fin­gers still mov­ing... The great­est fear among the Si­le­sian in­hab­i­tants was caused by the Swe­dish troops, for­eign in cul­ture, who oc­cu­pied the fortress in 1642, or­ga­niz­ing here for a short pe­ri­od of time the head­quar­ters of the chief com­man­ders - Gen­er­al Len­nart Torst­ens­son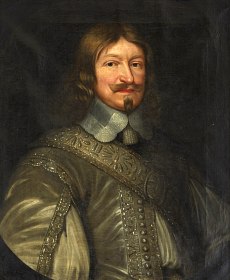 (d. 1651) and Gen­er­al Tor­sten Svens­son called Stahl­handske (d. 1644). A year lat­er, the cas­tle re­turned to the Aus­tri­ans, and at the turn of 1646/47, by de­ci­sion of colonel Lop­is de Mon­tev­er­ques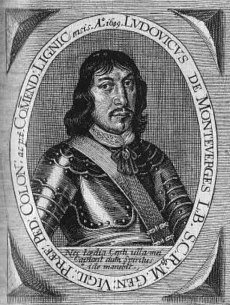 , it was blown up to pre­vent re­oc­cu­pa­tion by the Swedes. For­tu­nate­ly, the scale of dam­age caused by the use of ex­plo­sives was not too ex­ten­sive, al­though part of the for­ti­fi­ca­tions were in­deed lat­er dis­man­tled, many of the cas­tle's de­tails were al­so dis­man­tled and sold at auc­tion, and the build­ing it­self de­te­ri­o­rat­ed sig­nif­i­cant­ly. As ear­ly as in 1663 the re­build­ing of stronghold was start­ed on the or­der of Duke Chris­tian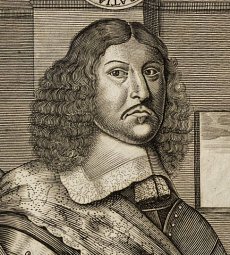 of Leg­ni­ca, but af­ter his death in 1672 this in­vest­ment was stopped. Some chance to save the ducal res­i­dence ap­peared dur­ing a cer­e­mo­ni­al vis­it of the last Pi­ast, 15-year-old Georg Wil­helm
(d. 1675), who un­der the in­flu­ence of fam­i­ly sen­ti­ments promised to re­build the cas­tle. Un­for­tu­nate­ly, he died a few months af­ter this dec­la­ra­tion, and the es­tate to­geth­er with Grodziec came un­der im­pe­ri­al rule.
CASTLE AND PALACE IN GRODZIEC IN ENGRAVINGS OF F. B. WERNHER, TOPOGRAPHIA SILESIAE 1744-68
Dur­ing the re­con­struc­tion of Gro­dziec at the be­gin­ning of the 20th cen­tu­ry its chief ar­chi­tect Bo­do Eb­hardt found nu­mer­ous doc­u­ments de­scrib­ing ev­ery­day life of the cas­tle in­hab­i­tants in the 16th and 17th cen­turies. These doc­u­ments record­ed rent pay­ments made by innkeep­er, rent from black­smith, pay­ments for the sale of tim­ber from the for­est, fines, rents, tips, ma­jor events in the vil­lage, bor­der con­flicts, etc. The ex­pens­es in­clud­ed, among oth­ers, 4 thalers and 25 groszes for the priest per­form­ing a re­li­gious ser­vice at the grange in Gro­dziec on the St. George's Day, or costs con­cern­ing such pro­sa­ic mat­ters as buy­ing pad­locks for the cas­tle cham­bers for 10 groszes and slate for cov­er­ing the chapel roof. Ac­counts of costs and prof­its from carp farm­ing in the manor's pond have al­so been pre­served. It ap­pears that it was a very prof­itable busi­ness, which on­ly in the first half of 1606 brought a net prof­it of 252 thalers.

Among the doc­u­ments found by Ebhardt, the in­ven­to­ry de­scrip­tions of the cas­tle from 1625 and 1630 are of great val­ue. Their text al­most co­in­cides, with the on­ly dif­fer­ences con­cern­ing the changes made dur­ing ren­o­va­tion of the war-dam­aged walls and some rooms. Ac­cord­ing to these de­scrip­tions, the main res­i­den­tial build­ing - the palace - was cov­ered with a gable roof with Goth­ic gables on the sides. Next to it two round three-sto­ry tow­ers stood, and on the north side - be­tween the palace and the old house - an old tow­er of­ten de­stroyed by wind­storms. In­side the build­ing, in the low­er, beau­ti­ful­ly vault­ed room, there was a cel­lar called the wine cel­lar, and above it - cham­bers with win­dows and an old room with a fire­place. Be­hind the tow­er, to­wards the east, the cas­tle ad­min­is­tra­tor's house stood. Fur­ther to the right was a kitchen with a din­ing room and bath. Ad­ja­cent to them was a round tow­er that served as a prison, and next to it was a bak­ery with two ovens and a well. The great tow­er (don­jon), stand­ing at the en­trance to the court­yard, had two vault­ed cel­lars, above which six floors were raised. An ar­mory was placed in it, and above it an at­tic where grain was stored.

At the en­trance, on the side of the gate, there was a bas-re­lief with an im­age of the cru­ci­fied Christ. To the left stood two brick sta­bles that housed 11 hors­es. The gate to the cas­tle was ad­di­tion­al­ly se­cured with a forged iron grat­ing and a draw­bridge. Ac­cord­ing to de­scrip­tion from 1625, a church was sup­posed to stand next to the draw­bridge; its roof and cov­er­ing were blown off and on­ly the out­line of the walls sur­vived. How­ev­er, records from in­spec­tion car­ried out five years lat­er in­di­cat­ed an ar­se­nal, an ar­moury and a grain ware­house in this place.
COPPER ENGRAVING SHOWING A RUINED DONJON AND FRAGMENT OF FORTIFICATIONS, 1780
A
f­ter the heir­less death of Georg Wil­helm and ex­tinc­tion of the Sile­sian line of the Pi­ast dy­nasty, the Duchy of Brzeg and Leg­ni­ca be­came a part of the im­pe­ri­al do­main, and many of its prop­er­ties were ad­min­is­tered by gov­er­nors. In 1684 the Gro­dziec es­tate to­geth­er with ad­ja­cent vil­lages was pur­chased by Count Wal­ter von Gal­las, who paid 90 thou­sand florins for it. Six­teen years lat­er, for 100 thou­sand thalers, Hans Wolf­gang von Fran­ken­berg (d. 1719), the sta­rost of Gło­gów, the lord of Klicz­ków, Ra­ci­bo­ro­wi­ce and Ra­ta­jno, be­came the new own­er of the cas­tle. In 1719 it was be­queathed to Ot­to Ven­dius von Fran­ken­berg, who in 1718-27 erect­ed a Ba­ro­que pa­la­ce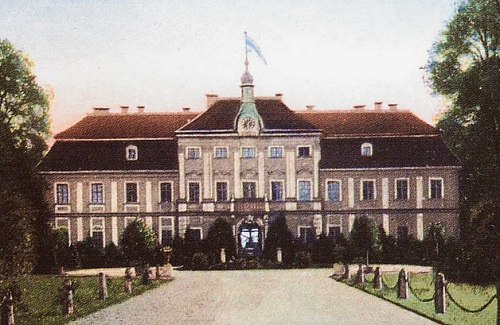 at the foot of the cas­tle hill (which been pre­served to this day). In 1749 the prop­er­ty was pur­chased by cav­al­ry gen­er­al Friedrich Leopold Count von Ges­sler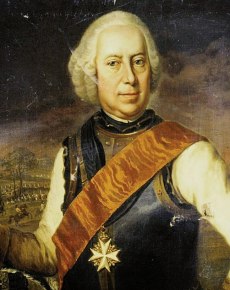 (d. 1762), one of the com­man­ders of the re­cent­ly end­ed Sec­ond Sile­sian War. How­ev­er, four years lat­er he de­cid­ed to sell the vil­lage to­geth­er with the palace and cas­tle ru­ins to a Prus­sian cham­ber­lain and court mar­shal Karl von Schel­len­dorf (d. 1769). The con­di­tion of the fortress at that time was de­scribed by a lo­cal pas­tor: The whole ob­ject is pre­served in very se­ri­ous ru­ins, the whole area of the cas­tle is cov­ered with stone blocks that fell out of the walls when Wal­len­stein's min­ers blew them up. […] The walls were al­so ru­ined by lo­cal peo­ple who took stones from the cas­tle to build their homes. How­ev­er, there is a mag­nif­i­cent res­i­den­tial build­ing in the cas­tle that has had a roof and win­dows for many years. Its nu­mer­ous rooms are vault­ed and its cel­lars are well pre­served. Un­for­tu­nate­ly, this de­scrip­tion was no longer valid af­ter the great storm that broke out over Gro­dziec in the spring of 1766, de­stroy­ing the roof of the pa­la­ce and its sup­port­ing rafters, which led to the col­lapse of the vault of the up­per floor. When three years lat­er Karl von Schel­len­dorf died, the es­tate came un­der the ad­min­is­tra­tion of his moth­er, Chris­tia­ne Do­ro­thee, nee von Gut­smuths, and in 1773 it be­came the prop­er­ty of the younger broth­er, Hans Si­gis­mund von Schel­len­dorf (d. 1800).
THE DUCAL PALACE IN THE 1840S
I
n Oc­to­ber 1800 Gro­dziec was bought from the Schel­len­dorfs by Hans Hein­rich VI von Hoch­berg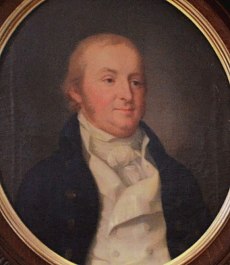 from Książ (d. 1833), the Count of the Re­ich, who paid 353 thou­sand thalers for it. The new own­er, a grad­u­ate of the elite uni­ver­si­ty in Halle and the founder of the ro­man­tic re­con­struc­tion of the ru­ins of Sta­ry Książ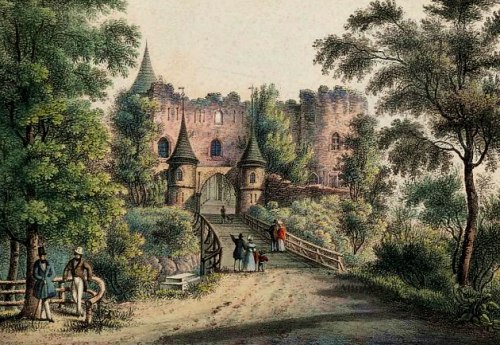 , un­der­took a par­tial re­vi­tal­iza­tion of the old cas­tle in or­der to make it ac­ces­si­ble to vis­i­tors and to or­ga­nize var­i­ous cel­e­bra­tions. Per­haps the most im­por­tant rea­son for this in­vest­ment was nos­tal­gia for the place where cen­turies ago his an­ces­tor Kon­rad von Hoh­berg served at the court of the Dukes of Leg­ni­ca. It should be em­pha­sized that the con­ser­va­tion method used by the count was re­li­able and did not dis­turb the orig­i­nal decor of the stronghold, nor added for­eign ar­chi­tec­tural el­e­ments. The works fo­cused main­ly on lev­el­ling the court­yard and the bai­ley, re­for­est­ing the slopes sur­round­ing the cas­tle, ex­pos­ing (cov­ered with soil and rub­ble) de­fen­sive walls and in­stalling stone ta­bles and bench­es. Nei­ther the don­jon, which was de­stroyed dur­ing the Thir­ty Years' War, nor the roof­less palace have been ful­ly re­con­struct­ed. How­ev­er, in or­der to at­tract vis­i­tors, stairs lead­ing to the gate tow­er were in­stalled, where a view­point was lo­cat­ed. In the pre­served part of the palace a mod­est mu­se­um ex­hi­bi­tion re­fer­ring to the his­to­ry and tra­di­tions of Grod­ziec has been ar­ranged, while in the bai­ley - in wood­en gaze­bos and a pavil­ion - there were din­ing and ac­com­mo­da­tion fa­cil­i­ties. Af­ter von Hoch­berg's mod­i­fi­ca­tions, the cas­tle be­came the first Eu­ro­pean his­tor­i­cal ob­ject adapt­ed for tourist pur­pos­es.
LITOGRAPH OF C. T. MATTIS FROM THE FIRST HALF OF THE 19TH CENTURY
D
ur­ing the Na­po­le­on­ic Wars, French troops were sta­tioned on the cas­tle hill for some time. Their pres­ence, or more pre­cise­ly, the par­ty or­gan­ised on 10 Au­gust 1813 to cel­e­brate Napoleon's 44th birth­day, led to a fire which was start­ed by il­lu­mi­na­tions of torch­es and can­dles placed around the walls. As a re­sult of the fire, a wood­en sum­mer house stand­ing in the court­yard was burnt down, and the in­te­ri­ors of the cas­tle were al­so dam­aged, al­though the to­tal loss was prob­a­bly not large. A few days lat­er, fierce bat­tle broke out near Gro­dziec be­tween the Cos­sacks and Prus­sian troops ad­vanc­ing from Leg­ni­ca and the French sta­tioned in the vil­lage, which end­ed three days lat­er with Na­po­le­on's army with­draw­ing. In 1823, Ber­lin fi­nancier Wil­helm Chris­tian Be­ne­cke
(d. 1860), one of Prus­sia's rich­est mer­chants and bankers, bought the es­tate for 350 thou­sand tha­lers. He ea­ger­ly con­tin­ued his pre­de­ces­sor's ef­forts to im­prove the con­di­tion of the old strong­hold: he ren­o­vat­ed the top floor of the pa­la­ce, equipped the rep­re­sen­ta­tive Knights' Hall with 16th-cen­tu­ry Swiss stained-glass win­dows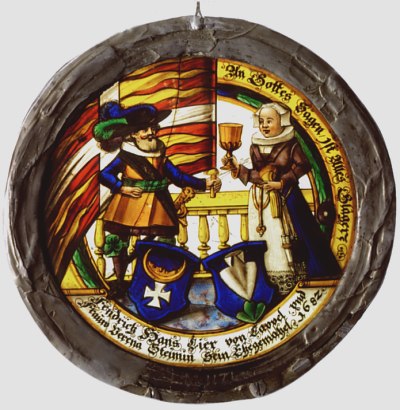 , built a new stone stair­case lead­ing to the chapel, and en­larged the cas­tle park. When in 1829 King Frie­drich III Wil­helm
gave Be­ne­cke the ti­tle of no­ble­man with the pred­i­cate von Grö­ditz­berg, he dec­o­rat­ed the fam­i­ly coat of arms with an im­age of a moun­tain with cas­tle ru­ins
. In 1859 one of three sons, Ri­chard Au­gust, took over the es­tate, and af­ter his un­time­ly death in 1868 it was man­aged for a time by Wil­helm's wid­ow, Ma­rie-Lu­ise Du Ti­tre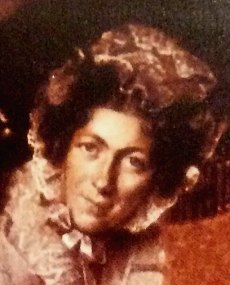 (d. 1875). In her will she be­queathed the prop­er­ty to her four still liv­ing chil­dren, of whom the youngest daugh­ter, Ros­alie Cä­cil­ie von Schle­gell (d. 1889) re­ceived Gro­dziec. The last of the fam­i­ly to own the cas­tle was the sis­ter-in-law and the on­ly heir of Ros­al­ie, Zu­zan­na von Sa­lisch (d. 1926), the own­er of the pa­la­ce in Mil­icz. Four years lat­er, the ru­ins and the sur­round­ing es­tates were pur­chased by Leo Ama­de­us Graf Henck­el von Don­ners­marck
(d. 1895), a re­tired Sax­on gen­er­al, who part­ly com­pen­sat­ed for his enor­mous ex­pense of 1.8 mil­lion marks by sell­ing the his­toric stained glass win­dows from the Knights' Hall for 80,000 marks.
TERRACE AND EASTERN FACADE OF THE PALACE BEFORE AND AFTER RECONSTRUCTION CARRIED OUT BY BODO EBHARDT IN 1906-1908
I
n 1899 an in­flu­en­tial Ger­man diplo­mat Wil­li­bald Ernest Ed­ward von Dirk­sen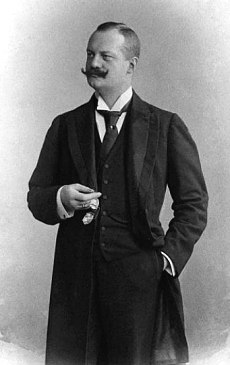 (d. 1928) bought the es­tate with the cas­tle for 2 mil­lion marks from Em­ma Gräfin Henck­el von Don­ners­mar­ck. His in­ten­tion was to cre­ate a sum­mer res­i­dence for his fam­i­ly in the palace at the foot of the hill, so that they could spend the warm months here in iso­la­tion from big-city life, which in win­ter took place in lux­u­ri­ous Ber­lin vil­las in Pots­damer­strasse and Mar­garethen­strasse. von Dirk­sen's great­est non-work pas­sion was En­glish pheas­ants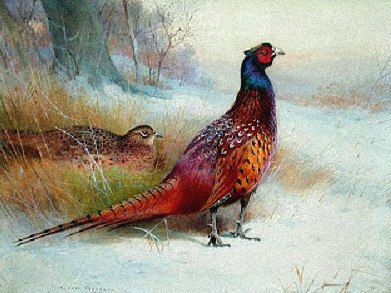 , of which he kept over two thou­sand on a near­by grange. The Baron al­so loved art, which he ex­pressed by mak­ing de­ci­sion to re­con­struct the old cas­tle. Short­ly af­ter buy­ing Gro­dziec he en­gaged a well-known ar­chi­tect Bo­do Jus­tus Eb­hardt
(died 1945), the au­thor of re­con­struc­tion of cas­tles Hoh­kö­nig­sburg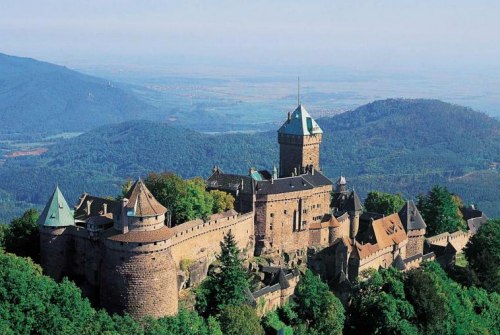 in Al­sace and Mark­sburg
on the Rhine (and fu­ture chief ar­chi­tect of the Czo­cha cas­tle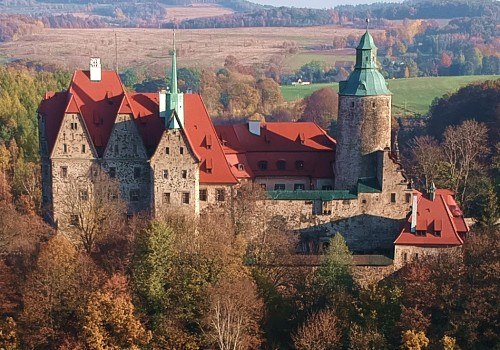 restora­tion), un­der whose di­rec­tion in the years 1906-1908 the pal­ace fa­cades were ren­o­vat­ed and topped with a crenel­la­tion, and the whole build­ing was roofed. Tow­ers were al­so raised, their tops were re­con­struct­ed, a gate to the bai­ley was built and new bridges were con­struct­ed. The in­te­ri­ors were re­dec­o­rat­ed to ac­com­mo­date guest rooms, a restau­rant and ex­hi­bi­tion halls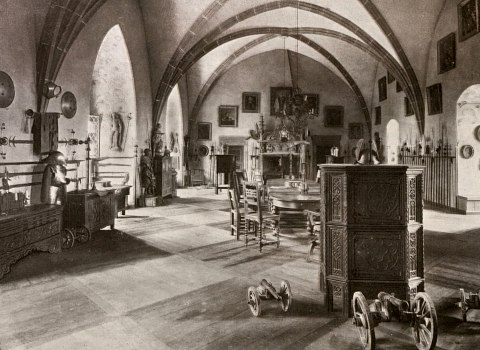 with a large num­ber of valu­able art ob­jects and his­tor­i­cal weapons. As a re­sult of this rather in­con­sis­tent re­con­struc­tion, al­though the cas­tle has re­ceived a very in­ter­est­ing, some­what fairy-tale form, it has lost much of its au­then­tic char­ac­ter re­fer­ring to ear­li­er his­to­ry and tra­di­tion. It is worth not­ing here that Eb­hardt de­cid­ed not to re­build the fort­ress com­pre­hen­sive­ly. He de­cid­ed to leave the don­jon and the north­east wall in ru­ins as a re­minder of the van­dal­ism com­mit­ted by von Wal­len­stein's sol­diers dur­ing the Thir­ty Years' War. Af­ter the grand open­ing cer­e­mo­ny at­tend­ed by Kai­ser Wil­helm II
in June 1908, the cas­tle was hand­ed over to the Ger­man peo­ple, and a re­gion­al his­tor­i­cal so­ci­ety was to take sym­bol­ic pa­tron­age of it. From then on, meet­ings and mass cul­tur­al events were of­ten held here, and the cas­tle's restau­rant, run by a cer­tain Mrs. Görn­er in the 1920s, al­so be­came very pop­u­lar. When Wil­li­bald died in 1928, the es­tate was tak­en over by his son Her­bert von Dirk­sen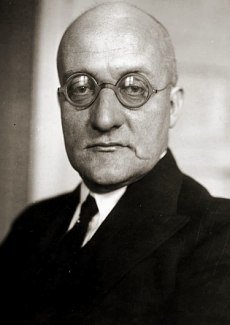 (d. 1955), a Nazi po­li­ti­cian and Hi­tler's trust­ed as­so­ci­ate.
EASTERN FACADE OF THE PALACE BEFORE AND AFTER RECONSTRUCTION BY BODO EBHARDT
Herbert Kurt von Dirksen was born in Ber­lin on April 2, 1882 in­to a fam­i­ly of wealthy Ger­man diplo­mats. Af­ter grad­u­at­ing from law school, he be­gan his first job at the dis­trict court in Zło­to­ry­ja, then was em­ployed as an as­ses­sor in Bonn. Af­ter the end of World War I, dur­ing which he served in the cav­al­ry, he be­gan - not with­out the help of his fa­ther - to work in diplo­ma­cy. In 1919, he took over the Bal­tic States De­part­ment at the Ger­man Min­istry of For­eign Af­fairs, and two years lat­er he was al­ready the head of the Pol­ish De­part­ment at that Min­istry. His ca­reer in­creased: in 1923 he be­came gen­er­al con­sul of Ger­many in the Free City of Dan­zig, and five years lat­er he was ap­point­ed Ger­man am­bas­sador in Mo­scow. Af­ter Hitler's rise to pow­er, he be­came am­bas­sador in To­kyo, and from 1938 he was sta­tioned in Lon­don, ne­go­ti­at­ing with the Bri­tish the terms of pos­si­ble co­op­er­a­tion be­fore the out­break of World War II.

Von Dirk­sen was an ar­dent Nazi and one of the few civil­ian politi­cians who was trust­ed by Hi­tler. He owed this pri­mar­i­ly to his step­moth­er, Vic­to­rie Au­gu­ste von Laf­fert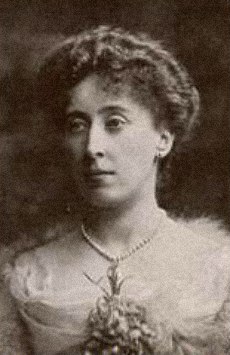 (d. 1946), who, en­chant­ed with the lead­er of NSDAP, dealt with his "pro­mo­tion" in Berlin spheres, or­ga­niz­ing meet­ings of rep­re­sen­ta­tives of Ger­man pol­i­tics, cul­ture and econ­o­my in the in­flu­en­tial po­lit­i­cal and so­cial sa­lon Hof. Over time, she even be­came a pa­tron of the grow­ing Na­zi move­ment, par­tic­u­lar­ly see­ing Adolf Hi­tler
and Jo­seph Goeb­bels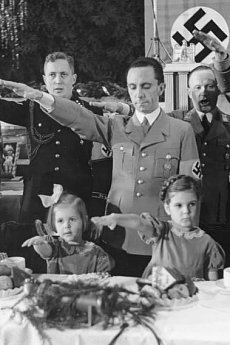 as her fa­vorites. The lat­ter, af­ter one of Dirk­sen's vis­its to his home when he got a high fever, wrote in his di­ary: Mrs. von Dirk­sen still comes at mid­night and is touch­ing­ly con­cerned, like a moth­er. I love her very much. She com­forts me. As ev­i­dence of the close re­la­tion­ship that Goeb­bels and Vic­to­ria von Dirk­sen en­joyed, it can be cit­ed that the head of Na­zi pro­pa­gan­da lived for a time in her house, and at his wed­ding to Mag­da Quandt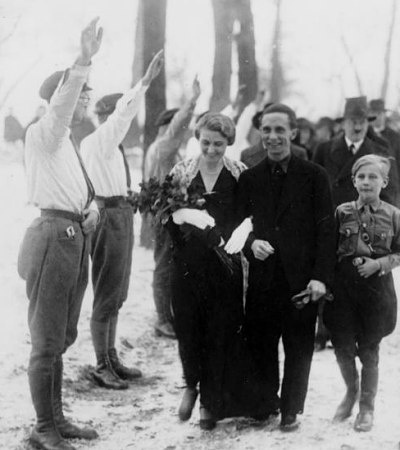 , the Ba­ro­ness was one of on­ly eigh­teen in­vit­ed guests.



Photo taken in 1938 at one of the parties in Munich. From the left we see the faces of: Adolf Hitler, Magda Goebbels née Quandt, Joseph Goebbels, Victorie Auguste von Dirksen née von Laffert and her niece Sigrid von Laffert (Hitler's alleged mistress)


Af­ter com­ing to pow­er, the Führer vis­it­ed Gro­dziec at least once, on No­vem­ber 15, 1933. He then land­ed at the air­port in Zgo­rze­lec and from there, af­ter a short cer­e­mo­ny, he head­ed to­wards Wro­cław. In the ear­ly af­ter­noon, he stopped in Bo­le­sław­iec and then went to the palace in Gro­dziec, where he spent the night as Dirk­sen's guest. The res­i­dence was fes­tive­ly dec­o­rat­ed for Hitler's vis­it, and crowds of lo­cal peo­ple await­ed him along coun­try roads. To com­mem­o­rate that "event", an oak tree was plant­ed in the vil­lage, which still grows near the bus stop.

At the end of the war, the ap­proach­ing So­vi­et army did not prompt the Nazi diplo­mat to leave. Trust­ing in his old So­vi­et con­tacts, he stayed in Gro­dziec when the Red Army en­tered. The old safe con­duct of So­vi­et For­eign Min­is­ter and pho­tographs from his days in Mo­scow, in which he posed to­geth­er with high-rank­ing So­vi­et of­fi­cers, made the en­e­my sol­diers afraid of him, some even gave him hon­ors. The NKWD com­mis­sion­ers called von Dirk­sen Mr. Am­bas­sador, which showed that they knew who they were deal­ing with and had di­rec­tives from head­quar­ters. How­ev­er, they did not man­age to take him to Rus­sia, be­cause on Fe­bru­ary 21, 1945, Ger­man com­man­dos en­tered the palace and took von Dirk­sen out. They prob­a­bly car­ried out this or­der at the com­mand of von Ribben­trop
him­self, who may have sus­pect­ed that the diplo­mat was schem­ing be­hind the back of the Third Re­ich supreme au­thor­i­ties in an at­tempt to make a deal with the So­vi­ets. When the Rus­sians found out about his leav­ing, they ex­e­cut­ed some of the ser­vants and de­port­ed the oth­ers to la­bor camps deep in Rus­sia: That morn­ing af­ter my ab­duc­tion, high-rank­ing So­vi­et of­fi­cers want­ed to see me. They did not be­lieve that I had dis­ap­peared. They searched the en­tire house and threat­ened to shoot ev­ery­one. Then ev­ery­thing was packed up and tak­en to Mo­scow. The old cas­tle on top of the moun­tain was burned down with its col­lec­tion of me­dieval weapons, fur­ni­ture and paint­ings […]. My 76-year-old stew­ard was shot on the spot as well as his wife. My ad­min­is­tra­tor, se­ri­ous­ly wound­ed by a mine, was shot by the Rus­sians [...].Ap­prox­i­mate­ly 15 per­cent of the pop­u­la­tion died while leav­ing Gro­dziec. (Her­bert von Dirk­sen, Di­aries)

Af­ter the end of the war the last heir of Gro­dziec moved to Ba­va­ria, where he lived un­til 1955.


Herbert Kurt von Dirksen

| | |
| --- | --- |
| | |
| | |
| --- | --- |
| | |
THE CASTLE IN PHOTOGRAPHS FROM THE INTERWAR PERIOD, STARTING FROM THE TOP AND FROM THE LEFT YOU CAN SEE: ENTRANCE GATE TO THE BAILEY, THE DONJON FROM THE PERSPECTIVE OF THE COURTYARD, THE DONJON SEEN FROM THE BAILEY AND THE NORTHERN PART OF THE PALACE WITH THE SO CALLED OLD TOWER
A
f­ter von Dirk­sen was ab­duct­ed by Ger­man sol­diers, the So­vi­ets burned the cas­tle, and those pieces of equip­ment that sur­vived the fire, were tak­en to Rus­sia. The rest was stolen by Pol­ish loot­ers. Dur­ing the first years af­ter the war the ru­ins were aban­doned, and it was on­ly in 1959 that se­cu­ri­ty and clean­ing works were un­der­tak­en here. First, as part of the so-called "civic com­mu­ni­ty ser­vice", wild veg­e­ta­tion and young trees were re­moved from the court­yard, and ran­dom­ly scat­tered pieces of stonework were put in or­der. The lo­cal press wrote then: Gro­dziec [...] is tak­en care of by the whole Zlo­to­ryjs­ki dis­trict. On non-work­ing days, fac­to­ry work­ers come and clean the cas­tle with their so­cial ac­tiv­i­ty. Then, the roof of the palace was re­con­struct­ed and cov­ered with Ro­man tiles, the wood­en struc­ture of pas­sages and stairs was re­con­struct­ed, a new bridge was built, and vaults of the build­ings were strength­ened. In the 1960s, chil­dren play­ing in the vicin­i­ty of the fort­ress found un­der one of the fall­en trees a ce­ram­ic ves­sel filled with 491 me­dieval coins, hid­den there prob­a­bly around 1500 in cir­cum­stances that are un­known to us to­day. In 1975 the cas­tle was tak­en over by one of the Wro­claw the­aters. Lat­er it was man­aged by a tourist as­so­ci­a­tion, the ce­ment plant Pod­grodzie, and since 1993 for the next nine years it was leased by a pri­vate per­son. In 2002 the his­toric build­ing came un­der the care of Za­grod­no mu­nic­i­pal­i­ty.
WINTER VIEWS OF GRODZIEC ON POSTCARDS FROM THE 1920S
The rea­son for start­ing the ren­o­va­tion works in Gro­dziec af­ter de­struc­tion caused by the So­vi­ets and loot­ers was the ap­proach­ing mil­len­ni­um of the Pol­ish State. In June 1966, a week-long pro­pa­gan­da event was held in the cas­tle court­yard whose main slo­gan was: Here we were, here we are, and here we will be. The cer­e­mo­ny, or­ga­nized by dis­trict of­fice in Zło­to­ry­ja, was at­tend­ed by lo­cal au­thor­i­ties, sol­diers of the Pol­ish Army and nu­mer­ous scout troops. One of the high­lights of the cer­e­mo­ny, rich in na­tion­al and com­mu­nist sym­bol­ism, was the of­fi­cial hand­ing of iden­ti­ty cards to the first Poles born af­ter the war in Zło­to­ry­ja dis­trict.
GRODZIEC CASTLE, PRESENT STATE
---
T
he pre­sent ap­pear­ance of the cas­tle is large­ly re­sult of the re­con­struc­tion from 1906-1908, which sig­nif­i­cant­ly changed the form of late me­dieval fort­ress. The for­ti­fied com­plex con­sists of a pic­turesque Goth­ic-Re­nais­sance up­per cas­tle and a vast, forest­ed bai­ley mea­sur­ing 270x140 me­ters. The up­per cas­tle is com­posed of the ducal pa­lace (pa­la­tium) lo­cat­ed at west­ern cur­tain, the north­ern tow­er, and a huge don­jon, clos­ing the court­yard from the south. The char­ac­ter­is­tic pa­lace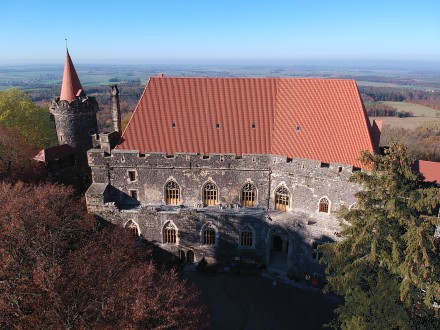 , bent at an an­gle of 30 de­grees, is one of few Pi­ast seats in Low­er Si­le­sia whose spa­tial lay­out has been pre­served in al­most its orig­i­nal form. It was in­te­grat­ed in­to the fort­ress de­fense sys­tem in such way that its out­er, west­ern cur­tain is al­so a pe­riph­er­al wall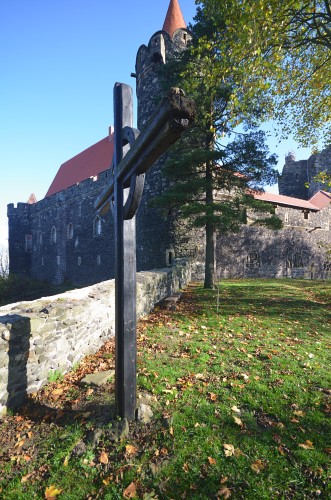 , flanked by two cylin­dri­cal tow­ers. In the low­er storey of the build­ing there is a reser­voir with drink­ing wa­ter, and cel­lars (called Milky and Beer), ac­ces­si­ble on­ly from the court­yard and not con­nect­ed with up­per storeys, where work­shops, food and equip­ment ware­hous­es func­tioned years ago. The first and sec­ond floors of the palace had res­i­den­tial func­tions, as ev­i­denced by the rich­ly or­na­ment­ed win­dows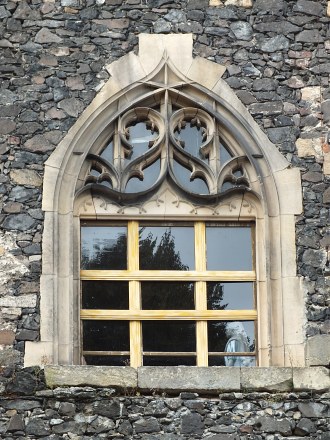 , for­mer­ly dec­o­rat­ed with stained glass. The en­trance to these cham­bers leads through a high point­ed-arch por­tal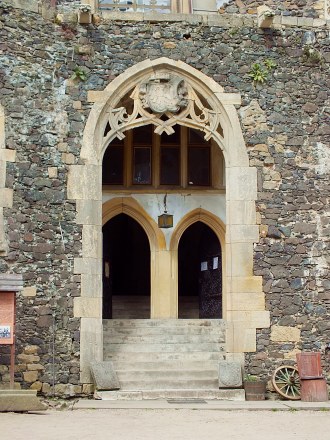 , then through the hall­way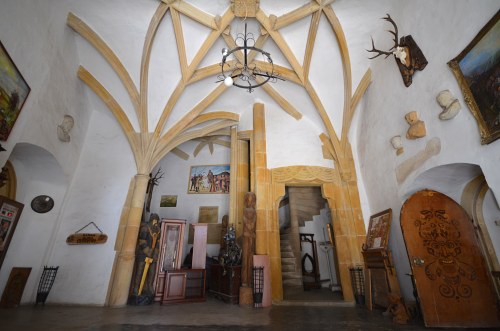 , from where we en­ter the in­te­ri­or through a carved door dec­o­rat­ed with Goth­ic por­tal. To the right of the hall­way there are two large rooms with bar­rel vaults. Orig­i­nal­ly they served as guest rooms, but lat­er they were used as an inn for tourists and as a kitchen.
DUCAL PALACE, FIRST (ABOVE) AND SECOND FLOOR PLAN: 1. REPRESENTATIVE ENTRANCE, 2. HALLWAY, 3. UTILITY ROOMS, 4. GREAT HALL,
5. PRINCE'S ROOM, 6. SPIRAL STAIRCASE, 7. DUCHESS'S ROOMS, 8. KNIGHT'S HALL, 9. PRINCE'S ROOMS, 10. CHAPEL,
11. OLD TOWER 12. CYLINDRICAL TOWER THAT FLANKS THE WESTERN WALL
DUCAL PALACE, VIEW FROM THE SOUTH
S
outh of the hall­way there is one of the most rep­re­sen­ta­tive cham­bers in the whole cas­tle, the so-called Great Hall

mea­sur­ing 17x9 me­ters, and cov­ered with vault more than five and a half me­ters high. Its key­stones were for­mer­ly dec­o­rat­ed with coats of arms of Si­le­sian knight­ly fam­i­lies. Ap­pro­pri­ate amount of light here was pro­vid­ed by three large Goth­ic win­dows placed in crys­tal vault­ed win­dow re­cess­es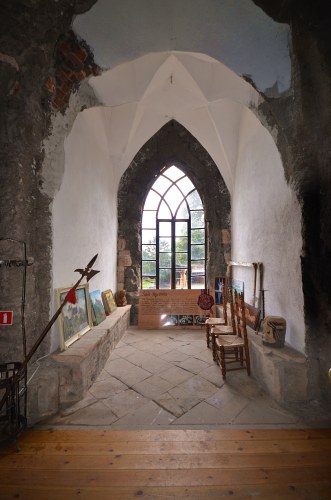 , years ago sep­a­rat­ed from the Great Hall by glass walls. The south­ern part of first floor is oc­cu­pied by the Prince's Room
with a stel­lar vault, on the cen­tral key­stone of which the coat of arms of Duchy of Leg­ni­ca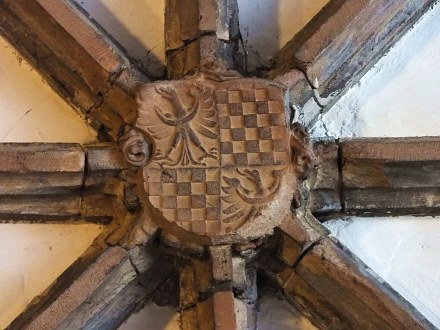 has been pre­served. The main dec­o­ra­tion of this cham­ber is an elab­o­rate Goth­ic fire­place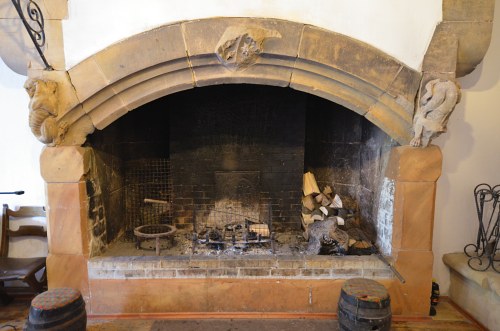 , or­na­ment­ed with von Dirk­sen coat of arms and fan­tas­tic dog-like crea­tures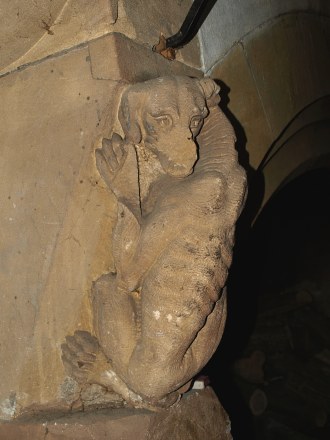 . In the west­ern part of room there is a spi­ral stair­case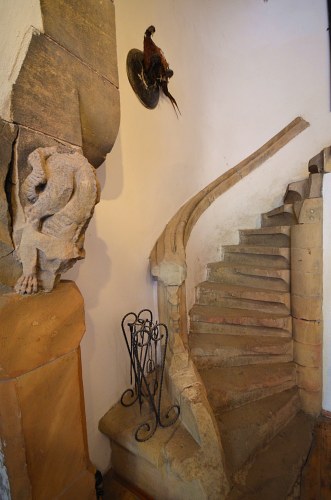 with stone handrail, which leads to the first floor.
GREAT HALL BEFORE FIRST WORLD WAR AND AFTER BURNING BY SOVIETS (PRESENT STATE)
PRINCE'S ROOM ON THE FIRST FLOOR
I
n the south­ern part of the sec­ond floor there are two small rooms

, pre­sum­ably be­long­ing to the Duchess. Next to them there is a stair­case lead­ing high­er up to the ter­race lo­cat­ed in the crown of the walls and to cov­ered cor­ri­dor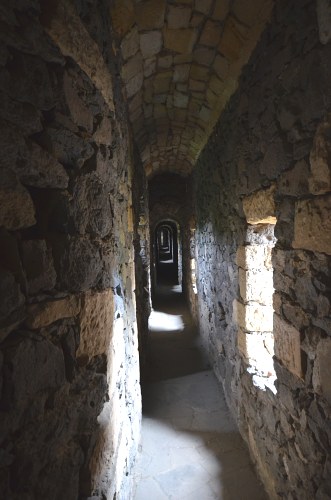 which en­ables a dis­creet ac­cess to the chapel lo­cat­ed in the op­po­site part of the palace. The space di­rect­ly above the Great Hall is oc­cu­pied by the Knights' Hall

(some­times called the Prince's Hall), cov­ered with a three-bay cross-ribbed vault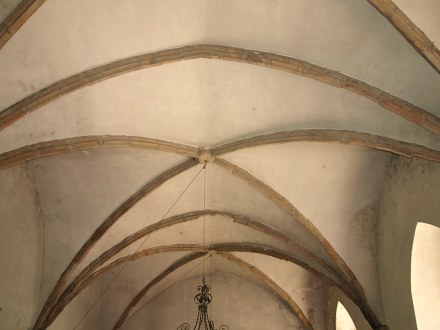 with a span of over 9 me­ters. This vault is not an orig­i­nal ar­chi­tec­tural struc­ture, as the first ceil­ing (pos­si­bly a wood­en one) col­lapsed dur­ing a storm in 1766. From the Knights' Hall there is an ex­it to a wide view­ing ter­race run­ning along the east­ern cur­tain of the pa­la­tium, to­day part­ly ru­ined and un­avail­able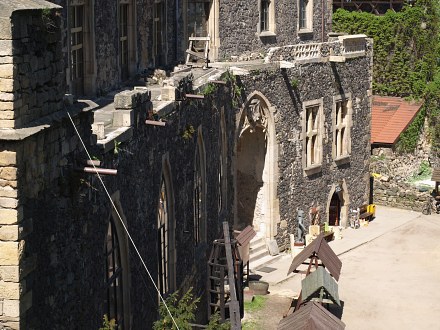 . The sec­ond floor is closed from the north by two small twin rooms, prob­a­bly the duke's for­mer cham­bers, from which one was con­vert­ed in­to a chapel
at the be­gin­ning of the 20th cen­tu­ry. It is ac­cessed by a Re­nais­sance por­tal with three round open­ings, dec­o­rat­ed on both sides with 16th cen­tu­ry knight­ly epi­taphs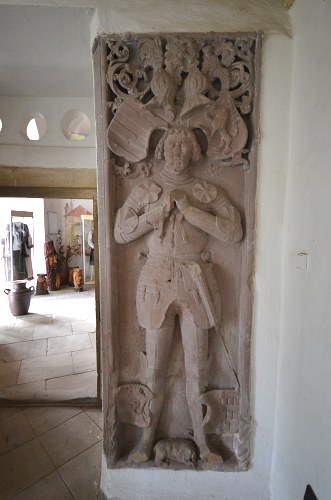 com­mem­o­rat­ing Fried­rich (d. 1530) and Chris­toph von Mühl­burg (d. 1556). Above the en­trance there is a mid­dle-cen­tu­ry re­lief de­pict­ing Christ be­ing scourged by sol­diers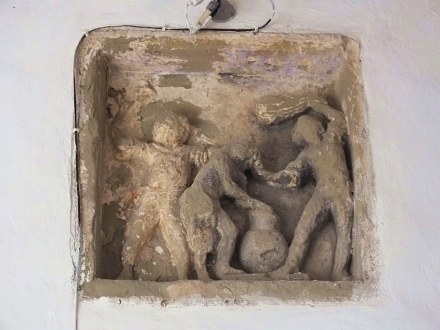 . A char­ac­ter­is­tic el­e­ment of the chapel is the bal­cony
, which can be ac­cessed from the cor­ri­dor of the up­per floor, as well as the chan­cel with a small al­tar placed in the mid­dle. This room is cov­ered with a spec­tac­u­lar two-bay vault­ed ceil­ing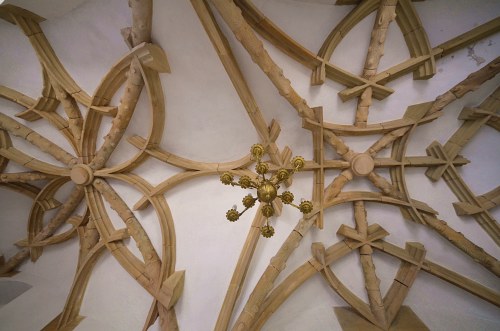 sup­port­ed by in­ter­sect­ing ribs, made in the shape of the boughs.
KNIGHT'S HALL FORMERLY AND NOW
T
he dom­i­nant ar­chi­tec­tural el­e­ment of the cas­tle is the don­jon
stand­ing in its south­ern part, now on­ly par­tial­ly pre­served. This largest tow­er in Gro­dziec was pri­mar­i­ly in­tend­ed to de­fend the main en­trance to the high cas­tle. It was built on a square plan with sides of 16 me­ters, and its height orig­i­nal­ly ex­ceed­ed 26 me­ters. The sec­ond tow­er, known as the Old Tow­er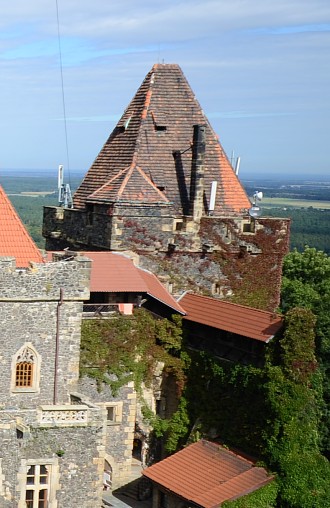 , which is sig­nif­i­cant­ly small­er than don­jon, is lo­cat­ed be­yond the line of the wall in the north­ern part of the cas­tle. It is crowned with a hipped roof, at the base of which there is a porch with a crenel­la­tion and shoot­ing holes. On its walls, on the side of palatium and moat, the char­ac­ter­is­tic stone bays of la­trines were hung. Com­mu­ni­ca­tion in­side the tow­ers is pro­vid­ed by stone stair­cas­es, while ac­cess from palatium is pos­si­ble through ter­races and porch­es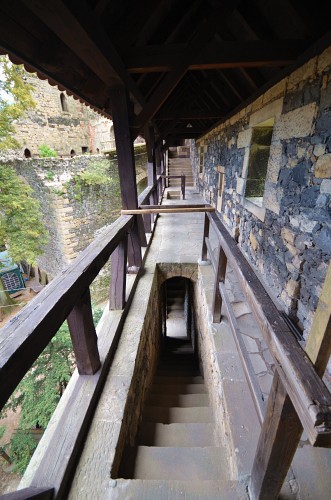 lead­ing along the crown of the walls. One such porch has been placed around the roof of the palace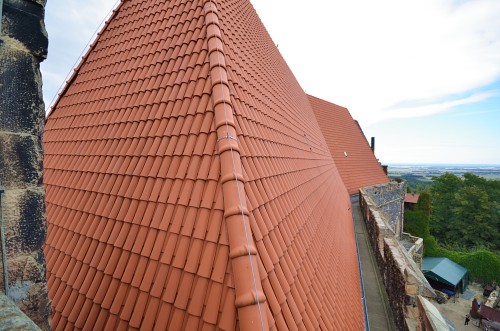 , of­fer­ing ex­cel­lent views of the sur­round­ing coun­try­side, as well as the dis­tant moun­tain ranges. The ar­chi­tec­tural lay­out of the high cas­tle was com­ple­ment­ed on the east­ern side by mod­est build­ings (ad­min­is­tra­tor's house, kitchen, baths) en­clos­ing an ir­reg­u­lar court­yard of about 3,200 square me­ters. It was de­fend­ed by tow­ers in­cor­po­rat­ed in the wall line, two huge roundel bas­tions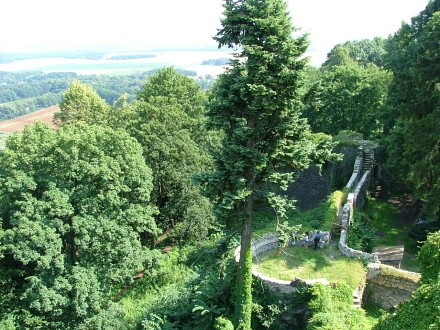 and the east­ern bas­tion. In mod­ern times, their in­te­ri­ors were par­tial­ly filled with de­bris, and view­ing ter­races were ar­ranged on the top of them.
ON THE PHOTO ABOVE YOU CAN SEE THE DONJON, BELOW - THE CROWN OF DUCAL PALACE
T
he en­trance to up­per cas­tle led over a draw­bridge (to­day it is on­ly a wood­en cross­ing) through two point­ed stone por­tals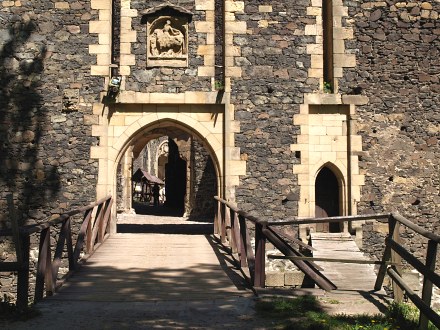 , one of which in­tend­ed for hors­es and the oth­er for pedes­tri­ans. In out­er el­e­va­tion of the gate, above the wider en­trance, a 15th-cen­tu­ry bas-re­lief with the im­age of St. George was built in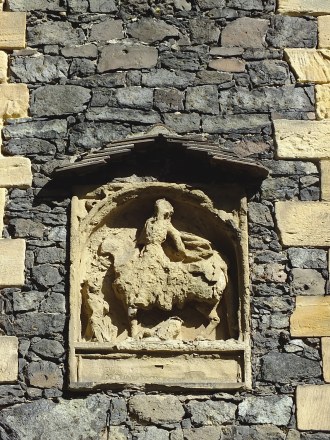 , which was pur­chased by Wi­li­bald von Dirk­sen at an auc­tion in Ham­burg. The wall at this site was topped with an at­tic, and the west­ern part was equip­ped with an over­hang­ing watch­tow­er
, al­though these el­e­ments did not be­long to the orig­i­nal equip­ment of the cas­tle and were added dur­ing a ro­man­tic re­con­struc­tion at the be­gin­ning of 20th cen­tu­ry. To the west of the en­trance there is a wide bas­tion
pro­tect­ing the en­trance to the bai­ley and the south-west­ern fore­ground of the cas­tle. The lap­i­dar­i­um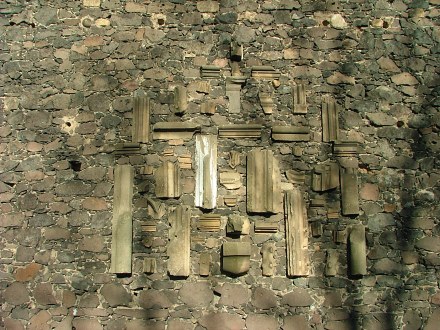 has been ar­ranged there, in­clud­ing the orig­i­nal ribs of the pala­tial vaults, frag­ments of por­tals and win­dow frames, as well as stone and met­al can­non balls from the Hus­site Wars and the Thir­ty Years' War. The en­trance to the court­yard was de­fend­ed by a gate unit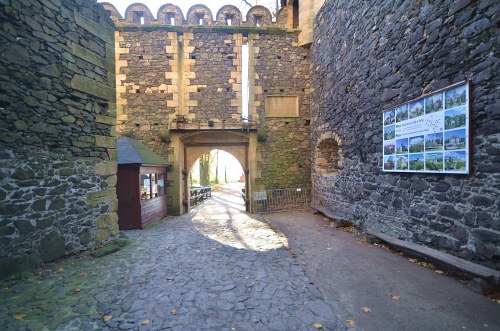 , now much mod­i­fied in re­la­tion to the orig­i­nals, with sec­ondary el­e­ments such as a bay win­dow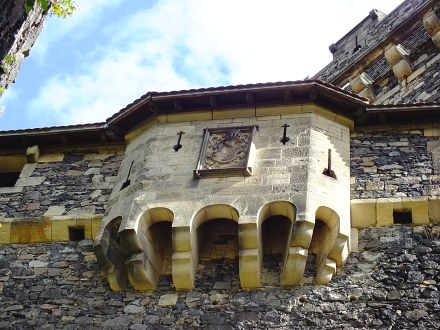 and a beau­ti­ful crest shield of the Dukes of Leg­ni­ca. The con­tem­po­rary de­sign of the bai­ley's for­ti­fi­ca­tions is an ef­fect of the 20th cen­tu­ry re­con­struc­tion. For ex­am­ple, the main gate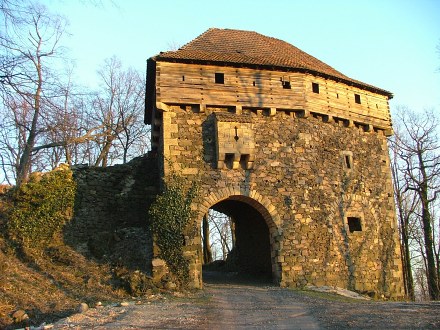 , for­mer­ly a two-track gate, was trans­formed in­to an in­ter­est­ing but sig­nif­i­cant­ly dif­fer­ent from the orig­i­nal sin­gle-track build­ing with loop­holes and wood­en hoard­ings. A dry moat, ru­ins of de­fen­sive walls and tow­ers mark the bor­der of the vast bai­ley. Cen­turies ago, aux­il­iary and farm build­ings stood here, the re­mains of which can be found in the wild green­ery.
GATE LEADING TO THE UPPER CASTLE
VIEW FROM THE DONJON, IN THE BACKGROUND - SUDETY MOUNTAINS
PLAN OF GRODZIEC CASTLE: 1. THE GATE, 2. WESTERN BASTION, 3. DONJON, 4. FORMER CHAPEL, 5. SOUTH-WESTERN TOWER,
6. PALACE, 7. OLD TOWER, 8. RELICS OF THE EASTERN TOWER, 9. RELICS OF FORMER UTILITY BUILDINGS,
10. EASTERN TOWER, 11. POND - REMAINS OF THE CASTLE MOAT, 12. ENTRANCE GATE TO THE BAILEY, 13. BAILEY
---
G
rodziec Cas­tle is un­doubt­ed­ly a great tourist at­trac­tion of Ka­czaw­skie Foot­hills and one of the most pop­u­lar des­ti­na­tions in this part of Low­er Si­le­sia. This is re­flect­ed in the large num­ber of vis­i­tors, who are wel­comed by the friend­ly and re­laxed at­mo­sphere, so dif­fer­ent from the rigid rules pre­vail­ing in typ­i­cal mu­se­um fa­cil­i­ties. On­ly some of the rooms were made avail­able to the pub­lic, but among them are prob­a­bly the most in­ter­est­ing: the Great Hall on the first floor, the Knights' Hall, the Prince's Cham­ber and the chapel. Gen­er­al­ly, these spaces are in need of re­vi­tal­iza­tion, and their fair dé­cor leaves much to be de­sired. You should be pre­pared for a lot of im­pro­vi­sa­tion in the in­te­ri­or de­sign (not nec­es­sar­i­ly in good way), be­cause aes­thetes and purists may be painful­ly dis­ap­point­ed by some of ex­hibits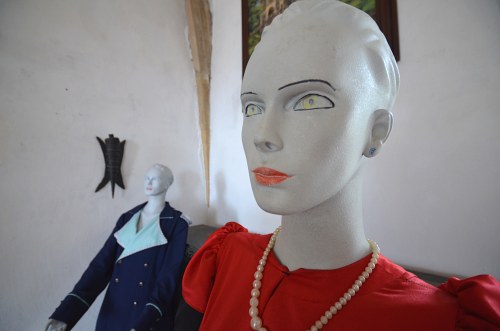 . An un­ques­tion­able at­trac­tion, per­haps even the most im­por­tant point of the trip to Gro­dziec, are the view­ing plat­forms placed on the tow­ers and the pos­si­bil­i­ty of walk­ing on the crown of the palace, from where the vast pa­no­ra­ma of Ka­czaw­skie Foot­hills, Ślę­ża Mas­sif and Kar­ko­no­sze Moun­tains
can be seen. The least in­ter­est­ing, due to its bad con­di­tion and need­ing ur­gent in­ter­ven­tion, is the bai­ley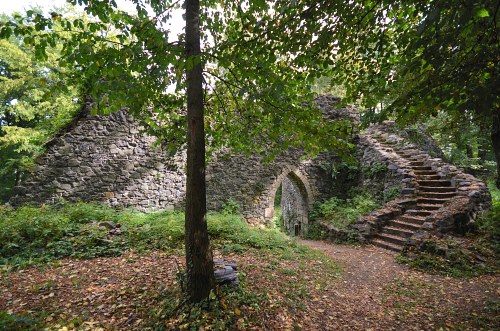 , cur­rent­ly ne­glect­ed, over­grown with wild veg­e­ta­tion and part­ly used as a park­ing lot for tou­rists. The ro­man­tic char­ac­ter of the cas­tle and its at­trac­tive lo­ca­tion made it bust­ling al­most all year round be­fore the false pan­dem­ic oc­curred; knights' tour­na­ments, the­atri­cal per­for­mances and con­certs, as well as nu­mer­ous lo­cal events and fes­ti­vals were or­ga­nized here.
IN GRODZIEC CASTLE, ROOMS ON THE 2ST FLOOR OF DUCAL PALACE
Grodziec Cas­tle of­ten hosts TV and film crews. The Pol­ish se­ries Przył­bi­ce i kap­tu­ry, Wiedź­min (the Witch­er), Ko­rona kró­lów were filmed here, as well as many movies, among them En­glish adap­ta­tion of the fa­mous erot­i­ca nov­el Fan­ny Hill or Rus­sian pro­duc­tions: The Dev­il's Flow­er (Tsve­tok dya­vo­la), Edi­nich­ka and Ta­ras Bul­ba. In 2004 the Swedish TV sta­tion SVT re­al­ized in the cas­tle a re­al­i­ty dra­ma ti­tled Ri­ket (be­low You can see pho­tos from this pro­ject), and a year lat­er were pro­duced here: Le Roy­aume by TF1 tele­vi­sion from France, De saga van Obe­ron by ÉÉN from Bel­gium, and a sim­i­lar show made by Rus­sians. Af­ter the lat­ter, there are still some beds left in the Knight's Hall, where Vla­di­mir Zhi­ri­nov­sky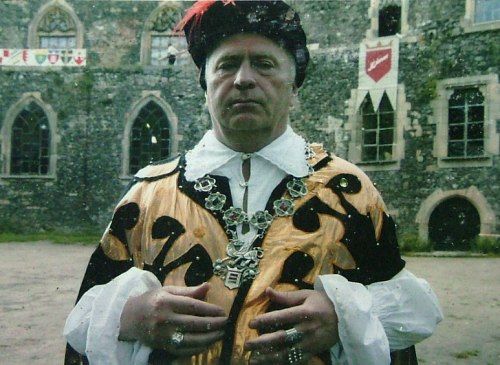 , the for­mer deputy chair­man of the Rus­sian Du­ma and the lead­er of Rus­sian na­tion­al­ists, known for his an­ti-Pol­ish and an­ti-Eu­ro­pean slo­gans, and 23-year-old Ma­sha Ma­li­no­vska­ya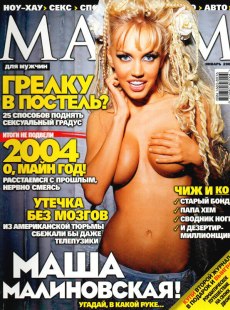 , a Play­boy star.


| | |
| --- | --- |
| | You can en­ter the cas­tle court­yard with your dog - on a leash of course. It de­pends on your ne­go­ti­a­tion skills whether it will be pos­si­ble for your an­i­mal friend to vis­it the cas­tle in­te­ri­ors to­geth­er with you. |
| | |
| --- | --- |
| | To fly a drone di­rect­ly over the cas­tle, you must have per­mis­sion giv­en by the staff. How­ev­er, there is a lot of space in the im­me­di­ate vicin­i­ty of the cas­tle, which makes this place at­trac­tive for am­a­teur sky pho­tog­ra­phy. Due to dense for­est grow­ing on the bai­ley and slopes of the cas­tle hill, the best time to fly is in the au­tumn and win­ter months, when the leaves take col­or or fall. |
IT IS WORTH SEARCHING FOR SOME INTRIGUING DETAILS HIDDEN IN THE CASTLE'S WALLS
---
| | |
| --- | --- |
| | You can leave your car in the parking lot at the foot of the castle hill or di­rect­ly in the bai­ley. Park­ing is free of charge (2020). |
| | |
| --- | --- |
| | Bicycles can be brought into the courtyard. |
---
1. M. Gaworski: Śmierć, bale i skandale czyli osobowości i osobistości śląskich pałaców, Matiang 2019
2. L. Kajzer, J. Salm, S. Kołodziejski: Leksykon zamków w Polsce, Arkady 2001
3. R. M. Łuczyński: Zamki i pałace Dolnego Śląska, OWPW 1997
4. M. Olczak: Grodziec, Oppidum 2004
5. M. Perzyński: Arystokraci i ich niezwykłe zamki i pałace na Dolnym Śląsku, WDW 2008
6. M. Perzyński: Dolnośląskie zamki, dwory i pałace, WDW 2012
7. A. Szydłowska-Szczecińska: Gmina Zagrodno i jej okolice, AG Legnica 2008
8. M. Świeży: Zamki, twierdze, warownie, Foto Art 2002
9. A. Wagner: Murowane budowle obronne w Polsce X-XVIIw., Bellona 2019

Castles nearby:
Warta Bolesławiecka - ruins of a knight's castle from the 14th century, 16 km
Rokitnica - ruins of a knight's castle from the 14th century, 23 km
Płakowice - nobleman's castle from the 16th century, 25 km
Rakowice Wielkie - housing towers from the 15th/16th century, 25 km
Sędziszowa - housing tower from the 14th century, 25 km
Chojnów - ducal castle from the 14th century, rebuilt, 26 km
Radłówka - relics of a 16th century nobleman's castle, 26 km

---
| | | |
| --- | --- | --- |
| | | By the wind­ing road to the cas­tle stands the church of the Bles­sed Vir­gin Mary from the 13th or 14th cen­tu­ry. Its pre­sent shape and dec­o­ra­tion comes from the 17th cen­tu­ry and is a re­sult of re­con­struc­tion af­ter de­struc­tion of Thir­ty Years' War. Two Swiss stained glass win­dows from 1648 de­pict­ing Da­vid with Jo­na­than and Ja­cob's Dream have been pre­served in the in­te­ri­or. On the right side of the al­tar there is a re­lief from 1689 with the im­age of a no­ble­man. It is worth see­ing a brick stoup from 1685 and a sev­en­teenth-cen­tu­ry oval ceme­tery chapel of the Schoel­len­dorf fam­i­ly, added to the church. Next to it there is a small ceme­tery, where since the Mid­dle Ages all dead in­hab­i­tants of the vil­lage and the cas­tle were buried. |
| | | |
| --- | --- | --- |
| | | Manor farm from 18th cen­tu­ry sit­u­at­ed at the foot of Cas­tle Moun­tain, cur­rent­ly in ru­ins. A dozen or so years ago a school of sword­man­ship for "knights" and a cen­ter of an­cient crafts were to be es­tab­lished here, the par­tic­i­pants of which were to re­ceive reg­u­lar sa­lary. How­ev­er, this well-pub­li­cized pro­ject turned out to be one big fraud and since then the manor farm re­mains aban­doned and de­te­ri­o­rates. |
text: 2013, 2021
photographs: 2004, 2008, 2011, 2013, 2020
© Jacek Bednarek