LIPA

the ruins of knight's castle
CASTLE IN LIPA, VIEW FROM THE SOUTH WEST
---
T
he me­dieval cas­tle in Li­pa in its orig­i­nal Goth­ic form was prob­a­bly built at the turn of the 14th and 15th cen­turies, al­though re­searchers differ on this is­sue, dat­ing the time of its con­struc­tion from the end of the 13th to the be­gin­ning of the 15th cen­tu­ry. We do not know the founder of this build­ing - it is as­sumed that it was cre­at­ed on the ini­tia­tive of a rep­re­sen­ta­tive of one of the Sile­sian knight­ly fam­i­lies - but some want its ge­neal­o­gy to be con­nect­ed with the ac­tiv­i­ties of the Tem­plar Or­der, which af­ter the fall of the King­dom of Jerusalem mi­grat­ed to Eu­rope, in­clud­ing Sile­sia. The first known own­er of the vil­lage was Hen­ry von Li­pa, men­tioned in 1309. Lat­er the es­tate be­longed to sev­er­al fam­i­lies: Bock, Schirmer, Lauter­bach, Schwoinitz, Tschir­nau, but around the mid­dle of the 14th cen­tu­ry Li­pa was di­vid­ed in­to three parts, which made it dif­fi­cult to iden­ti­fy the founder of the cas­tle in the up­per part, called Ober­foh. It is sup­posed that it could have been Cas­par von Crakav of the Schwoinitz fam­i­ly and his broth­er Hans, not very wealthy knights, own­ers of a lo­cal mill and a small manor farm. The mod­est foun­da­tion was ini­tial­ly ex­tend­ed by mem­bers of the von Zedlitz fam­i­ly: Arnes­tus (1471-1485), Sigis­mund (1500-1520) or his son Bar­tel (1520-1549) and his grand­son An­ton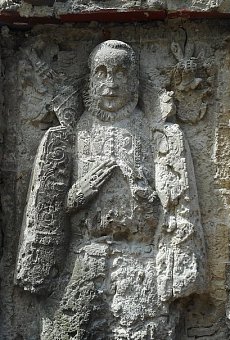 (1552-1575). In 1580 An­na de do­mo von Zedlitz hand­ed o­ver all her prop­er­ty in Li­pa Gór­na to her hus­band Georg von Reib­nitz (d. 1611). Af­ter the death of his son Hans (d. 1654), Christoph Got­tlieb von Nimptsch (d. 1686) bought the vil­lage from the cred­i­tors of the de­ceased. How­ev­er, at the end of the cen­tu­ry the cas­tle re­turned to the fam­i­ly of for­mer own­ers, be­cause in 1699 it was bought by Got­thard Friedrich von Reib­nitz (d. 1714). The build­ing, which was lat­er used by the Ja­wo­ri­an starost Georg Wil­helm von Reib­nitz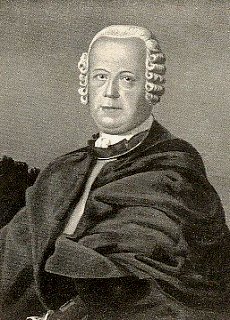 (d. 1765) and his son Karl Friedrich, was de­prived of any de­fen­sive sig­nif­i­cance at that time and clear­ly col­lapsed, af­ter which it was aban­doned at the end of the 18th cen­tu­ry. From now on, it was used main­ly for stor­age and eco­nom­ic pur­pos­es, and the seg­ments of build­ings were treat­ed as a cheap and con­ve­nient source of build­ing ma­te­ri­al and grad­u­al­ly dis­as­sem­bled. Julius Fis­ch­er, the own­er of Li­pa in the 1820s, had a par­tic­u­lar­ly neg­a­tive impact on the state of the castle. He or­dered the de­mo­li­tion of large parts of the low­er cas­tle in or­der to ob­tain the raw ma­te­ri­al for the con­struc­tion of a dis­tillery, a sheep­fold and a barn in his manor farm.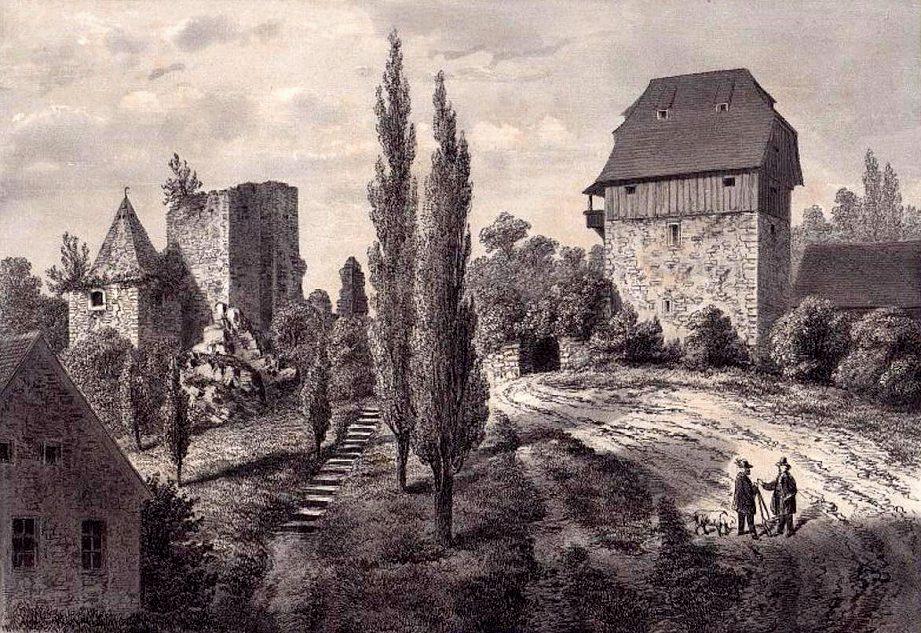 CASTLE IN LIPA ON HUBER'S LITHOGRAPHY FROM AROUND 1880
The oldest preserved note about Ly­pa set­tle­ment dates back to 1300. In the Mid­dle Ages the vil­lage was re­ferred to as Li­pa (1330), Leipa (1370) and Leipe (1405). Since the middle of the 14th century, when the village was parceled, Ober-, Mit­tel- and Nie­der-Lei­pe were sepa­rated from each other. In the 19th cen­tury the name Gold­lei­pe and Kalk­lei­pe func­tioned, replaced in 1945 with the ad hoc term Li­po­we. Only a year later, the name Li­pa, which still exists to­day and refers to the ori­gi­nal no­men­cla­ture, came into use.

T
he cas­tle was saved from to­tal dev­as­ta­tion by Count Rudolph von Still­fried-Rat­tonitz
(d. 1882), a re­spect­ed lawyer and mas­ter of cer­e­monies of the Prus­sian roy­al court, who bought it in 1834 and then re­built in neo-Goth­ic style. In 1841 the es­tate be­came the prop­er­ty of the rich mer­chant Ernst Hein­rich Kramst from Bolków, and at the end of the cen­tu­ry was bought by the von Sprenger fam­i­ly. Af­ter 1917 un­til the end of the Sec­ond World War the cas­tle was prob­a­bly owned by wom­an named von Huner­bein and her daugh­ter, named von Dra­bich-Waechter. Al­ready dur­ing the com­mu­nist era, the build­ing was no longer used and quick­ly de­stroyed, which was great­ly in­flu­enced by the lack of in­ter­est and prop­er care from the au­thor­i­ties. In the 1960s, when the for­mer knight's seat was on­ly a ware­house, some of its win­dows still con­tained glass, and the res­i­den­tial build­ings had ceil­ings and a roof. The chance for falling mon­u­ment ap­peared in the ear­ly 1970s when Bogna Ros­nows­ka Maag, liv­ing in Switzer­land, bought it. How­ev­er, the own­er's ini­tial en­thu­si­asm weak­ened with time. Ren­o­va­tion works were stopped, which quick­ly turned the cas­tle in­to a beau­ti­ful but de­press­ing ru­in.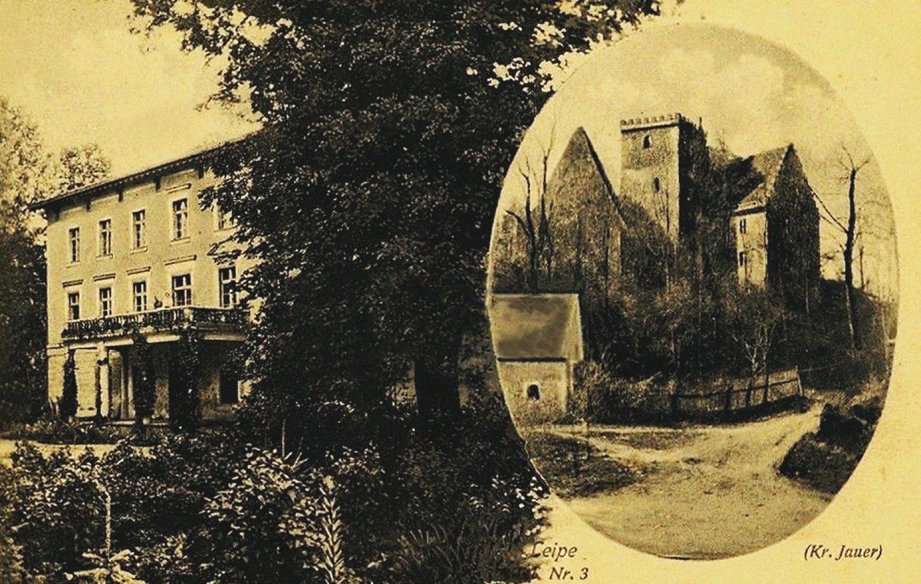 POSTCARD WITH VIEW OF THE CASTLE FROM THE NORTHEAST, 1920S
CASTLE IN THE 1980S, VIEW FROM THE WEST
A SIMILAR PERSPECTIVE, BUT THREE DECADES LATER... (2013)
DESCRIPTION OF THE CASTLE
T
he cas­tle was built at the pe­riph­ery of the vil­lage, on a hill with steep slopes, above the vil­lage road and the ter­race of Nysa Sza­lona river. Such lo­ca­tion pro­vid­ed it with favourable de­fen­sive fa­cil­i­ties and al­so met the re­quire­ment of pres­tige. In the first phase of its func­tion­ing, it con­sist­ed of a three-storey res­i­den­tial tow­er (1) built of stone on a plan sim­i­lar to a square with sides of 7x7 me­ters, whose walls in the ground floor reach about 1,5 me­ters thick, and an oval brick de­fen­sive cir­cuit (2) with a moat. The ground lev­el of the tow­er is vault­ed and its tops were fin­ished with dec­o­ra­tive pat­terns of brick pseu­do­machi­cles and crenel­la­tion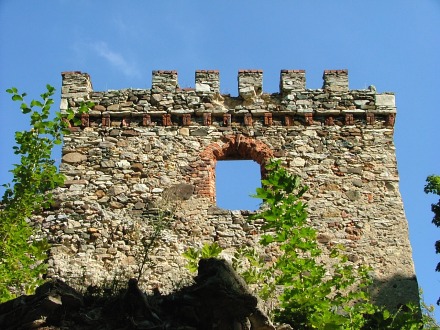 , prob­a­bly formed dur­ing neo-Goth­ic re­con­struc­tion at the be­gin­ning of 19th cen­tu­ry.
PLAN OF CASTLE RUINS ACCORDING TO J. SAWIŃSKI
D
ur­ing the 16th cen­tu­ry ex­pan­sion, a stair­case (3) with sin­gle-cir­cuit stone steps was added to the tow­er, and the whole was in­cor­po­rat­ed in­to the Re­nais­sance build­ings: in the south a house with kitchen was built be­tween the tow­er and the left part of the old wall (4), in the west - a gate tow­er (5) sit­u­at­ed in the line of the cur­tain wall, and in the east and north a for­ti­fied perime­ter was in­te­grat­ed in­to the nat­u­ral rocks, but the orig­i­nal lay­out of it is not clear at pre­sent. The com­plex of res­i­den­tial build­ings in the west­ern part of the cas­tle con­sist­ed of two main parts: a trape­zoidal vault­ed room (6) ad­ja­cent di­rect­ly to the old tow­er and a north-fac­ing two-storey build­ing (7) topped with a steep gable roof, the en­trance to which led through an arched stone por­tal. Al­though at the end of the 20th cen­tu­ry the build­ing was still cov­ered by orig­i­nal roof fram­ing and some tiles, to­day there is no trace of them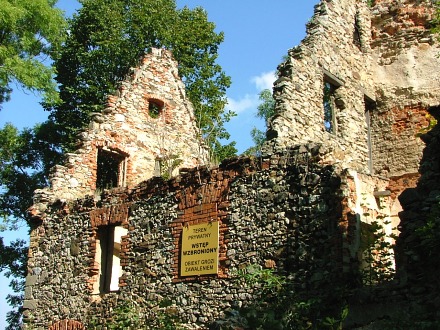 . The us­able area of the XVI-century cas­tle was 340 square me­ters.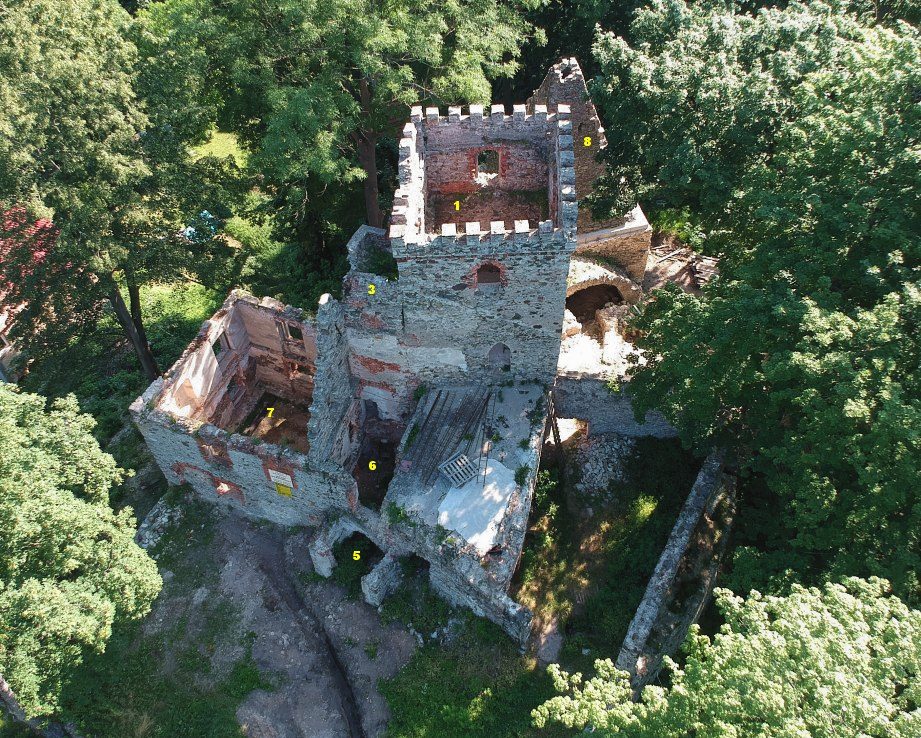 CASTLE IN LIPA, AERIAL VIEW
T
he most orig­i­nal ar­chi­tec­tural el­e­ment here is a rhom­bus-shaped stone build­ing in the east­ern part of the com­plex, with an area of 70 square me­tres and a height of 10 me­tres. It is the cas­tle kitchen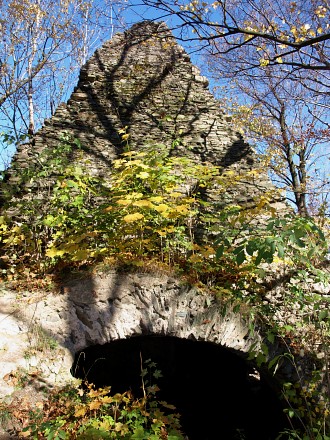 (8), prob­a­bly built at the be­gin­ning of the 16th cen­tu­ry, con­sid­ered the old­est pre­served in Sile­sia, con­sist­ing of a spa­cious ground floor and a pyra­mid-shaped vault sep­a­rat­ed from the ceil­ing. It was formed in this style dur­ing the 19th cen­tu­ry neo-Goth­ic re­con­struc­tion. In its south­ern wall the gut­ter was built in to drain waste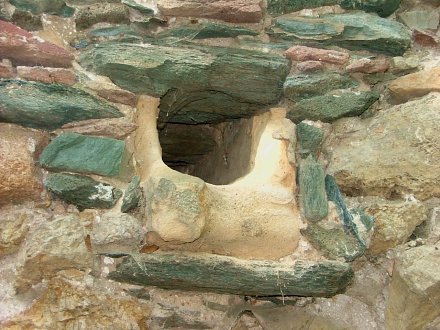 , and in­side a cis­tern carved in the rock with a depth of about 4 me­ters was hid­den.
VIEW FROM THE SOUTH, THE CASTLE KITCHEN ON THE RIGHT
---
T
he cas­tle pre­sents a sec­ondary char­ac­ter re­sult­ing from the 19th cen­tu­ry in­ter­fer­ence in the old­er, Goth­ic-Re­nais­sance form. Prac­ti­cal­ly no re­pairs or in­vest­ments were car­ried out here since the end of the Sec­ond World War, and o­ver time the whole area was in­creas­ing­ly cov­ered with weed. Not long ago, some build­ings had roofs, win­dows, doors and dec­o­rat­ed por­tals. How­ev­er, on­ly a dozen or so re­cent years have been enough for ev­ery­thing of greater val­ue to be stolen, dam­aged or ir­re­triev­ably de­stroyed. For­tu­nate­ly, the dis­creet charm of the old strong­hold was no­ticed and, on the ini­tia­tive and with par­tic­i­pa­tion of vol­un­teers, af­ter 2015 it was cleared of over­grow­ing plants and trees threat­en­ing it, and now (2019) works are un­der­way to se­cure the walls and even par­tial­ly re­con­struct them
. It is not planned to ful­ly re­build the cas­tle, but on­ly to bring it to a state of so-called per­ma­nent ru­in. The cas­tle is a pri­vate prop­er­ty. It can be viewed from the out­side.
| | |
| --- | --- |
| | You won't enter the castle either with or without your dog. But that doesn't mean that you can't come here together and enjoy the view of the castle from the outside. |
| | |
| --- | --- |
| | To the southwest of the castle, there is plenty of space to launch and land your drone. There are some residential buildings adjacent to the ruin to the north. |
---
T
he vil­la­ge is lo­ca­ted at the cros­sroads of lo­cal roads Ja­wor-Ka­czo­rów and Bol­ków-Świe­rza­wa. The ruin is si­tu­a­ted in the sout­hern part of the vil­la­ge, on the east­ern si­de of the ro­ad, about 300 me­ters a­way from the church. In or­der to get the­re, at the se­cond cros­sroads (coun­ting from the church) turn in­to a lar­ge court­yard and fol­low the path leading di­rect­ly to the cast­le. You can al­so park your car
200 met­res furt­her on the as­phalt ro­ad and then clim­bing the ground ro­ad leading to the ru­ins. (map of cas­tles in Lower Silesia)
---
1. M. Chorowska: Rezydencje średniowieczne na Śląsku, OFPWW 2003
2. L. Kajzer, J. Salm, S. Kołodziejski: Leksykon zamków w Polsce, Arkady 2001
3. R. Łuczyński: Zamki, dwory i pałace w Sudetach, SWA 2008
4. A. M. Rosiek: Siedziby rycerskie w księstwie świdnicko-jaworskim do końca XIV wieku, Kraków 2010
THE RUIN UNDER REPAIR AND SECURITY WORK, SUMMER 2019
Castles nearby:
Świny - the ruins of knight's castle from 14th century, 7 km
Bolków - the ruins of Duke's castle from 13th century, 10 km
Stara Kraśnica - fortified mansion from 17th century, in ruins, 10 km
Myślibórz - relics of the castle from 13/14th century, 13 km
Kłaczyna - relics of the castle from 15th century, 15 km
Płonina - the ruins of knight's castle from 14th century, 15 km
Sędziszowa - residential tower from 14/15th century, 16 km
Wojcieszów - relics of the castle from 13/14th century, 16 km
Jawor - Duke's castle from 13/14th century, altered, 18 km

text: 2019
photographs: 2008, 2013, 2019
© Jacek Bednarek