BOBROWNIKI

ruins of the gothic castle
BOBROWNIKI CASTLE, VIEW FROM THE NORTH
---
N
earby the village of Bobrowniki, pro­ba­bly al­re­ady in the first half of the 14th cen­tu­ry, the­re was an un­known wood­en ca­stle, as evi­den­ced by do­cu­ments is­su­ed he­re by Du­ke of Do­brzy­ce and Łę­czy­ca Wła­dy­sław Sie­mo­wi­to­wic cal­led Gar­bacz (+1351/52). Se­ve­ral cards sig­ned in this lo­ca­tion ha­ve sur­vi­ved to the pre­sent day, which may in­di­ca­te that around 1340-60, Bo­bro­wni­ki hou­sed the a­dmi­ni­stra­ti­ve cen­tre of the re­gion. So, presumably the castle, a cus­toms and a ri­ver cros­sing be­longed ge­opo­li­ti­cal­ly to the most im­por­tant points on the map of the du­chy.
VIEW OF THE CASTLE FROM THE WEST
I
t is li­ke­ly that a­fter the death of Wła­dy­sław Gar­bacz, the ca­stle ca­me un­der the ru­le of Ca­si­mir the Great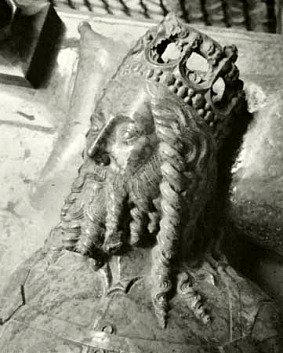 (+1370), who planned to hand it over to Kaź­ko Słup­ski (+1377), the king's grand­son and would-be suc­ces­sor. Ho­we­ver, this did not hap­pen, be­cau­se the Po­lish thro­ne was ta­ken by Na­gy La­jos (Lu­is of Hun­ga­ry)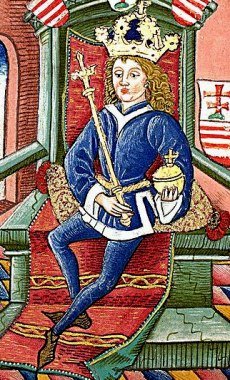 (+1382), who in 1377 gran­ted Do­brzyń Land and the ca­stle in Bo­bro­wni­ki to Du­ke Wła­dy­sław Opol­czyk (+1401). In 1391, Opol­czyk, who run a po­li­cy a­gainst Po­land, pled­ged Do­brzyń Land to Teu­to­nic Or­der. The trans­action led to the armed in­ter­ven­tion of Po­lish ar­my and to the sie­ge of the ca­stle, which failed. At that ti­me the strong­hold al­re­ady had so­me brick for­ti­fi­ca­tions, but its lay­out re­mains un­known to us.
VIEW OF THE CASTLE FROM THE WEST
T
he Teu­to­nic Knights or­ga­ni­zed at the castle a lo­cal a­dmi­ni­stra­tion, and pro­ba­bly ex­pan­ded it, may­be e­ven erec­ted new for­ti­fi­ca­tions ba­sed on the old ones. Stay of the Ger­mans turned out to be be­ne­fi­cial for Bo­brow­ni­ki, be­cau­se du­ring the reign of the ma­yor Gott­fried von Hotz­feld it was gi­ven a sta­tus of a town and from that mo­ment on it fun­ctio­ned as Stadt Be­be­ren (but only for a short ti­me). Ho­we­ver, not re­con­ci­led with the loss of the­se lands, Wła­dy­sław Ja­gieł­lło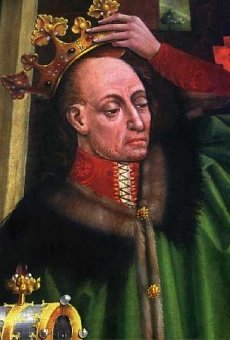 stro­ve to re­gain them. He suc­ceed­ed in do­ing so in 1405, when, on the ba­sis of pe­ace tre­aty sig­ned in Ra­cią­żek, Do­brzyń land re­tur­ned to the Po­lish King­dom. The ca­stle was de­sig­na­ted then as the se­at of the ro­yal sta­rosts, and the first to be ap­poin­ted to the of­fi­ce was War­ci­slaw Go­tar­to­wic.
THIS USED TO BE THE ENTRANCE TO THE CASTLE
O
n­ly four ye­ars later, the Or­der in­vaded sur­roun­ding towns and for­tres­ses, in­clu­ding the Bo­bro­wni­ki strong­hold. Si­tu­ation of the be­sie­ged crew was still be­ing sa­ved by the arch­bi­shop of Gnie­zno, Mi­ko­łaj Ku­row­ski, who, after ne­go­tia­ting a tru­ce one day, pro­mi­sed to pro­vi­de sup­port in the num­ber of fi­fty sol­diers. Ho­we­ver, due to the pas­si­ve at­ti­tu­de of du­ke of Ma­zo­via and bis­hop of Plock, he was not a­ble to re­ali­ze his un­der­taking and the ca­stle fell a­fter be­ing da­ma­ged by he­avy Teu­to­nic ar­til­le­ry. The de­ci­sion to ca­pi­tu­la­te met with dis­ap­pro­val of Wła­dy­sław Ja­gieł­ło, who, or­de­red to pla­ce the sta­rost and other com­man­ders in a pri­son of Chę­ci­ny ca­stle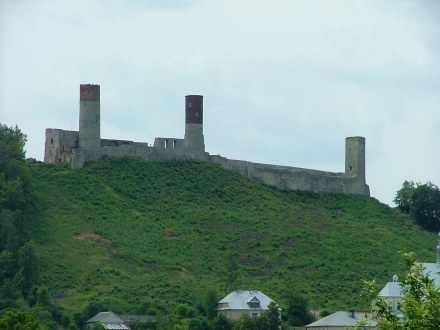 . Ho­we­ver, all of them we­re soon re­le­ased, and they wi­ped out their dis­gra­ce by figh­ting in the fields of Grun­wald.
CASTLE IN 1627, DRAWING BY ABRAHAM BOOT
A
fter the Teutonic Knights took over the ca­stle, which hap­pened on 28th Au­gust 1409, Bo­emund Bren­del led a re­pair of da­maged walls. Ho­we­ver, Bo­bro­wni­ki be­longed to the Or­der on­ly un­til 1411, when, on the basis of the peace treaty, it re­tur­ned to Po­land. Po­les mo­der­ni­zed the cas­tle, as a re­sult of which it re­cei­ved an ad­di­tio­nal, ex­ter­nal walls, for­ti­fied fo­re­ga­tes and cor­ner to­wers a­dap­ted to use fi­re­arms. De­spi­te those ex­pen­si­ve in­vest­ments, Bo­bro­wni­ki didn't play any mi­li­ta­ry ro­le for the next two cen­tu­ries, ser­ving pri­ma­ri­ly as a seat of a sta­rost and a pla­ce whe­re town courts we­re held.
WATERCOLOR BY NAPOLEON ORDA, BEFORE 1883
I
n the second half of the 15th century bor­ders of the Polish King­dom have changed, thus de­pri­ving the ca­stle of its stra­te­gic im­por­tan­ce. The loss of ba­sic mi­li­ta­ry fun­ctions and ne­gli­gen­ce in the cur­rent main­te­nan­ce led to a si­gni­fi­cant de­te­rio­ra­tion in cas­tle's tech­ni­cal con­di­tion, as evi­den­ced by note from the mid-16th cen­tu­ry that the­re is not e­ven a brid­ge to the ca­stle. Al­though the sta­rost Mi­chał Dzia­łyń­ski (+1576) un­der­took so­me re­no­va­tion works he­re, the sco­pe was not lar­ge and their ef­fects did not stop a wall de­gra­da­tion for long. In 1616 Mi­chał Dzia­łyń­ski (+1618), the ne­phew of the a­fo­re­men­tio­ned Mi­chał, re­no­va­ted in­ter­nal buil­dings and put ram­parts pro­tec­ting the cas­tle from flood­ing by the ri­ver.
THE VISTULA RIVER NEAR THE CASTLE
I
n the 1620s, the ca­stle no lon­ger had a roof and part of the ou­ter walls, which is shown in a dra­wing ma­de in 1627 by Abra­ham Boot (see pic­ture above). In 1629 the strong­hold was in such a bad con­di­tion that only ser­vants lived there, whi­le the sta­rost re­si­ded in the vil­lage. The ur­gent need to re­pair of the ad­mi­ni­stra­tion head­quar­ters was re­flec­ted in a re­so­lu­tion of the Sejm, by who­se de­ci­sion it was to be re­built at the ex­pen­se of ci­ti­zens (1641). Ho­we­ver, the re­pair did not take place, and the Swe­des con­tri­bu­ted to the fi­nal col­la­pse of the ca­stle by bur­ning it in 1656.
WOJCIECH GERSON "BOBROWNIKI CASTLE RUINS ON VISTULA RIVER", 2ND HALF OF THE XIXTH CENTURY
S
hort­ly a­fter the Swe­dish ar­my left Po­land, some minor re­pairs we­re ma­de to walls and roofs, thanks to which the buil­ding was still in­ha­bi­ted and u­sed for so­me ti­me. In the ab­sen­ce of a­de­qua­te fi­nan­cial re­sour­ces, its poor tech­ni­cal con­di­tion con­ti­nu­ed to wor­sen and in 1765 it is de­scri­bed as stan­ding on­ly part­ial­ly, and part­ial­ly col­lapsed. In 1776, the chan­cel­le­ry was mo­ved to Lip­no, thus closed the ne­ar­ly 400-ye­ar-old his­to­ry of the ca­stle, which from then on was on­ly a de­ser­ted ru­in. At the be­gin­ning of the 19th cen­tu­ry, so­me of for­ti­fi­ca­tions and ca­stle edi­fices we­re de­mo­li­shed to re­trieve buil­ding ma­te­rial. Short­ly af­ter, the Vis­tu­la riv­er flooded the sur­roun­ding fields, cut­ting off the ro­ad to ru­ins, which from then un­til the 1980s was an is­land. The first ar­cha­eolo­gi­cal re­search was car­ried out he­re in the 1970s, and a de­ca­de la­ter the walls were sec­ured and part­ial­ly re­con­structed.
DESCRIPTION OF THE CASTLE
T
he castle is situated on a hill, in the im­me­dia­te vi­ci­ni­ty of the Vis­tu­la ri­ver. Its ex­te­rior walls and ba­ses of the re­si­den­tial buil­dings are ma­de of sto­ne, and the in­ter­ior walls and the tower - of brick. The ol­der part of the strong­hold had a squa­re plan with a si­de of 46.5 me­ters and was sur­roun­ded by 3.5 me­ters thick wall. A re­si­den­tial hou­se me­asu­ring 15x46 me­ters, co­vered the en­ti­re length of the west cur­tain. It was a three-sto­rey buil­ding, with a li­ne in­ter­ior ar­ran­ge­ment and a ga­ble roof with trian­gu­lar tops to the north and south. At ba­se­ment le­vel its in­ter­ior con­sisted of three rooms and pro­ba­bly this di­vi­sion was al­so re­pe­ated on up­per floors.
RECONSTRUCTION OF THE XV CENTURY CASTLE ACCORDING TO JAN SALM, VIEW FROM THE NORTH
O
n the nort­hern si­de, the re­si­den­tial hou­se was ad­ja­cent with a gate to­wer, built on a re­ctan­gu­lar plan with si­des of 10.5x11.5 me­ters, with two nar­row ga­tes and a ga­te­way a­bout 3 me­ters wi­de. The do­mi­nant ele­ment of the cas­tle was the main to­wer e­rec­ted in the east­ern cor­ner of the court­yard, square at the bot­tom, cir­cu­lar above. In­ter­nal lay­out of the fort­ress was com­ple­men­ted by a nar­row brick buil­ding lo­ca­ted a­long the sout­hern wall, be­tween the to­wer and a west­ern hou­se, as well as wood­en e­co­no­mic buil­dings con­cen­tra­ted in the east­ern part of the court­yard.
RECONSTRUCTION OF THE XV CENTURY CASTLE ACCORDING TO J. SŁAWIŃSKI, VIEW FROM THE SOUTH
A
fter 1410, the castle was sur­roun­ded by a se­cond line of walls, erec­ted at a dis­tance of 12 me­tres from ol­der for­ti­fi­ca­tions. Thus formed an in­ter-wall area, closed from the north-west by a ga­te neck con­ne­cting the ol­der gate to­wer with a new fo­re­ga­te. Two or four small to­wers, which were ada­pted to the use of fi­re­arms, stood at the cor­ners of the ou­ter wall. The cas­tle was sur­roun­ded by a moat fed by the wa­ters of Vis­tu­la riv­er. Subsequent changes had no nore mi­li­ta­ry cha­ra­cter. It is li­ke­ly that in the 16th cen­tu­ry new of­fice buil­dings we­re e­rec­ted, causing the courtyard to shrink in size.
PLAN AND VIEW OF THE CASTLE RUINS: 1. INNER WALL, 2. WESTERN RESIDENTIAL BUILDING, 3. GATE TOWER, 4. MAIN TOWER,
5. SOUTHERN BUILDING, 6. OUTER WALL, 7. BUTTRESS, 8. INTER-WALL, 9. GATE NECK, 10. CORNER TOWERS
---
T
he present form of the ru­ins is a re­sult of far-re­aching re­con­stru­ction from the mid-eigh­ties. It in­clu­ded lo­we­ring the court­yard to its his­to­ri­cal le­vel, dis­co­ve­ring ground floors, de­bris re­mo­val, as well as re­sto­ra­tion of the cas­tle for­ti­fi­ca­tions. Con­ser­va­tion work al­lo­wed to pre­ser­ve the his­to­ri­cal stru­ctu­re and ex­po­se the cha­ra­cte­ri­stic e­lem­ents of the ca­stle in its tra­di­tio­nal form.
VIEW OF THE RUINS FROM THE WEST, IN THE PHOTO BELOW A FRAGMENT OF A PARTIALLY RECONSTRUCTED BUTTRESS
H
owever, more than three decades have pas­sed sin­ce the re­con­stru­ction of the ca­stle ru­ins, which can un­for­tu­na­te­ly be ob­served from wall ca­vi­ties in the walls and nu­me­rous de­bris as a na­tu­ral con­se­quen­ce of their ra­pid e­ro­sion. What is very evi­dent here is the lack of a host to en­sure the re­mo­val of vol­un­teer bushes and the re­gu­lar clean­ing of trash from the cas­tle grounds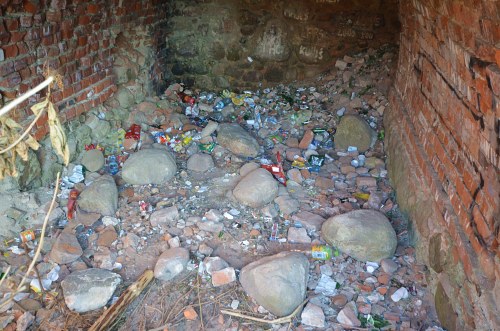 . Sin­ce 2017 the ow­ner of the ca­stle is the Mu­ni­ci­pa­li­ty of Bo­bro­wni­ki.
REMAINS OF THE MAIN TOWER
| | |
| --- | --- |
| | Free admission |
| | |
| --- | --- |
| | We can visit the castle to­gether with our dog. |
| | |
| --- | --- |
| | The zone may be reserved. Its avail­abi­li­ty can be checked in the Dro­ne­Ra­dar app. |
RECONSTRUCTED CURTAIN WALLS
THE RUIN LOOKS DEVOID OF ANY CARE (2019)
---
B
obrowniki is located about 17 km north of Wło­cła­wek, on the op­po­si­te si­de of the Vis­tu­la riv­er. The ruins stand right next to the riv­er, to the west of the vil­lage (de­sti­na­tion: Zam­ko­wa Street).
| | |
| --- | --- |
| | You can park your car in front of the castle. |
---
1. T. Graff: Kościół w Polsce wobec konfliktu z zakonem krzyżackim..., Księgarnia Akademicka 2010
2. L. Kajzer, J. Salm, S. Kołodziejski: Leksykon zamków w Polsce, Arkady 2001
3. M. Krysiński, M. Trochonowicz: Zamek w Bobrownikach - problematyka techniczna..., 2013
4. S. Szybkowski: Elita ziemi dobrzyńskiej na przełomie XIV i XV wieku..., Średniowiecze Polskie... 3 (7) 2011
5. A. Wagner: Murowane budowle obronne w Polsce X-XVIIw., Bellona 2019
Castles nearby:
Raciążek - ruins of bishops' castle from the 14th century, 17 km
Wloclawek - relics of bishops' castle from the 14th century, currently a palace, 20 km
text: 2020
photographs: 2017, 2019
© Jacek Bednarek