BOLESTRASZYCE

relics of a 16th century fortalicium
THE CHAPEL IN BOLESTRASZYCE ARBORETUM WAS BUILT ON THE FOUNDATIONS OF A XVI-CENTURY TOWER
---
T
he first, wood­en manor house in Bo­le­stra­szy­ce was built at the turn of the 15th and 16th cen­turies by Ste­fan Świę­to­pełk of Lis coat of arms
(d. 1503). It was sit­u­at­ed on the edge of an es­carp­ment ris­ing o­ver sur­round­ing fields and for­ti­fied with earth ram­parts and a pal­isade. This build­ing is be­lieved to have been de­stroyed dur­ing the Ta­tar in­va­sion in 1502, and then, in its place, the de­scen­dants of the afo­re­men­tioned Świę­to­pełk, who were then al­ready called Bo­le­stra­szy­c­cy, erect­ed a brick for­t­al­ice.
CHAPEL, SOUTH-EAST ELEVATION WITH SHOOTING HOLES
A
t the be­gin­ning of the 17th cen­tu­ry, Sa­mu­el Świę­to­pełk Bo­le­stra­szyc­ki (d. 1657), sec­re­tary to the Pol­ish king Si­gis­mund III Va­sa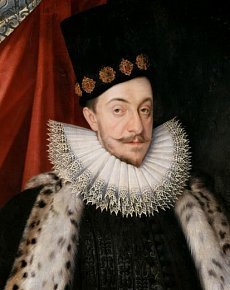 and an ar­dent fol­low­er of the Pro­tes­tant re­li­gion, be­came co-own­er of the vil­lage. The old­est known his­tor­i­cal ac­count of Bo­le­stra­szy­ce comes from his time, re­port­ing some sort of con­flict be­tween the broth­ers that re­sult­ed in an armed raid on the for­t­al­ice. We don't know ex­act­ly what this for­ti­fi­ca­tion looked like, but it could have been quite a large strong­hold, equipped with three or four tow­ers.
GROUND FORT OF THE PRZEMYŚL FORTRESS LOCATED IN THE MANOR PARK, WITH A CHAPEL AND A GATE BUILDING
Samuel Bo­le­stra­szyc­ki spon­sored the pub­li­ca­tion of an an­ti-pa­pal trea­tise writ­ten by Pe­ter du Mou­lin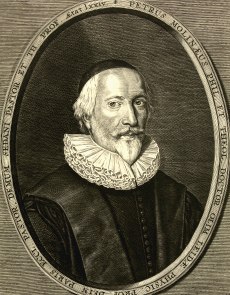 en­ti­tled Her­a­cli­tus, or, Mans look­ing-glass and sur­vey of life. His an­ti-church ac­tiv­i­ties were met with the fury of Bish­op Acha­cy Gro­chow­ski
, who brought him to court, end­ing with Sa­mu­el be­ing sen­tenced to six months' im­pris­on­ment in the Prze­myśl cas­tle and a hefty fine. In ad­di­tion, the afore­men­tioned pub­li­ca­tion was to be burnt by the ex­e­cu­tion­er in the Lub­lin mar­ket square. In an­nounc­ing the sen­tence, the court threat­ened that any ple­beian caught read­ing Her­a­cli­tus would re­ceive the death penal­ty, while a no­ble­man would be sub­ject to in­famy.

Bolestraszy­c­ki, how­ev­er, nev­er went to prison. Soon af­ter the sen­tence was an­nounced, he es­caped abroad, and lat­er hid in es­tates be­long­ing to rep­re­sen­ta­tives of the rich and in­flu­en­tial Lesz­czyń­ski and Ra­dzi­wiłł fam­i­lies, who of­fi­cial­ly came to his de­fence. The sup­port they man­i­fest­ed for him proved ef­fec­tive, as in 1647 King Wła­dy­sław IV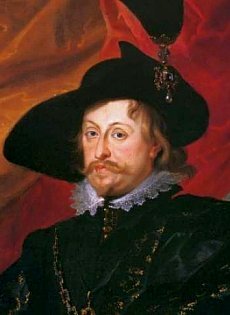 gave Sa­mu­el a safe con­duct, and two years lat­er the Se­jm re­stored him to hon­our.

It is worth men­tion­ing that Sa­mu­el Bo­le­stra­szyc­ki was not on­ly a vic­tim but al­so a hang­man. He was twice sen­tenced to in­famy for mur­der of an ush­er and abuse of his peas­ant sub­jects.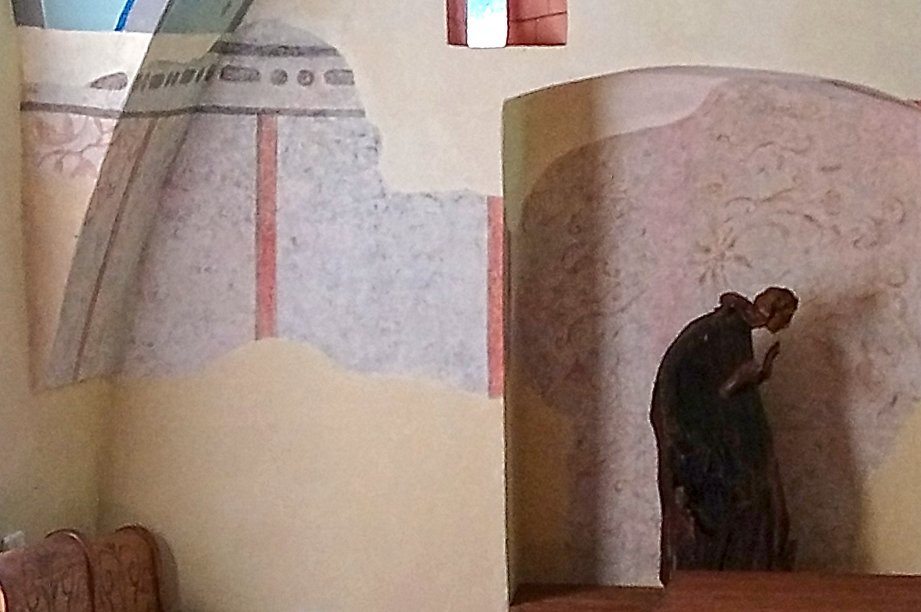 RENAISSANCE FRESCOES IN THE CHAPEL INTERIORS
I
n 1652 Zofia Bolestraszy­c­ka gave the vil­lage as a dowry to Krzy­sztof To­masz Dro­ho­jow­ski of Ko­r­czak coat of arms
(d. 1676). By this time the for­t­al­ice pre­sum­ably no longer served as the fam­i­ly seat and was part­ly de­mol­ished and part­ly turned in­to a gra­na­ry, which o­ver time fell in­to ru­ins. From then on, the es­tate be­longed suc­ces­sive­ly to the Mor­ski, Os­trow­ski, Mi­cha­łow­ski, Łem­pic­ki and Za­jącz­kow­ski fam­i­lies (un­til 1944). Still at the be­gin­ning of the 19th cen­tu­ry, Józe­fa Zofia Mor­ska (d. 1813) or her hus­band An­to­ni Jan Ostrow­ski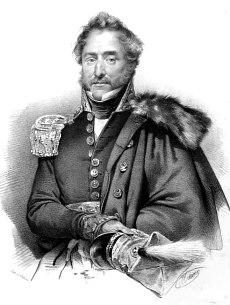 of Raw­icz coat of arms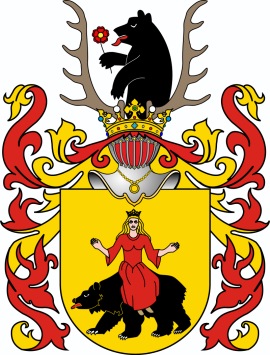 (d. 1845) dis­man­tled re­mains of the cas­tle and its ram­parts and lev­elled sur­round­ing moats.
GROUND FORTIFICATIONS FROM THE MID 19H CENTURY WITH A CHAPEL AND A GATE BUILDING (ACCORDING TO P. IDZIKOWSKI)
D
ur­ing the Crimean War, the Aus­tri­ans built field for­ti­fi­ca­tions near­by, and adapt­ed relics of the cas­tle for de­fence pur­pos­es, as ev­i­denced by pre­served plans of the fort and the shoot­ing holes made in its walls. On the foun­da­tions of one of the for­mer cas­tle tow­ers, in the 1870s Ju­lia Mi­cha­łow­ska, née Ostrow­ska (d. 1875), built a Ro­man Ca­tho­lic chapel known as the church. At the be­gin­ning of the 21st cen­tu­ry, dur­ing a ma­jor ren­o­va­tion of the build­ing, work­ers dis­cov­ered frag­ments of Re­nais­sance fres­coes with flo­ral mo­tifs, an en­trance to the un­der­ground and the afore­men­tioned shoot­ing holes.
SHOOTING HOLES IN THE SOUTH-EAST ELEVATION
Be­tween 1846 and 1855 Bolestraszyce be­longed to the painter Piotr Mi­cha­łow­ski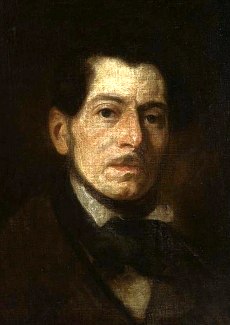 , one of the most out­stand­ing Pol­ish rep­re­sen­ta­tives of genre and bat­tle paint­ing, who par­tic­u­lar­ly liked the mo­tif of horse. Mi­cha­łow­ski cre­at­ed more than 1,000 works char­ac­terised by great ex­pres­sion, ex­cel­lent tex­ture and colours. His paint­ings were ad­mired by Pa­blo Pi­cas­so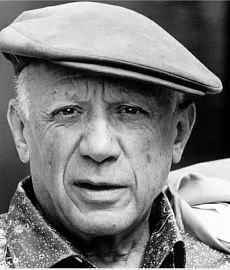 him­self when he vis­it­ed the Na­tion­al Mu­se­um dur­ing his stay in War­saw (1948).
PIOTR MICHAŁOWSKI: 'HARNESSED HORSES'
PIOTR MICHAŁOWSKI: 'FRENCH STAGECOACH'
---
T
he chapel is a rem­nant of the for­ti­fi­ca­tion tow­er from the turn of the 16th and 17th cen­turies. Frag­ments of poly­chrome and sev­en shoot­ing holes have sur­vived in its walls, which, ac­cord­ing to some his­to­ri­ans, orig­i­nat­ed in the 19th cen­tu­ry dur­ing con­struc­tion of the Prze­myśl Fort­ress, while ac­cord­ing to the oth­ers, are of 18th-cen­tu­ry prove­nance. In ad­di­tion to the Re­nais­sance fres­coes, the in­te­ri­or of this small tem­ple is dec­o­rat­ed with a blue vault de­signed by the founder of this build­ing, Ju­lia Mi­cha­łow­ska. There are tun­nels un­der the chapel, so far on­ly par­tial­ly ex­plored (2019).
---
T
he chapel is lo­cat­ed on a high es­carp­ment on the grounds of the ar­bo­re­tum, which has evolved from a for­mer manor gar­den. It now cov­ers an area of 29 hec­tares, with 4,000 species of plants, in­clud­ing rare trees, aquat­ic and marsh species, heather, and green­house flow­ers. In its cen­tral part stands the manor house - now the Mu­se­um of Na­ture, where the painter Piotr Mi­cha­łow­ski lived and worked in the mid-19th cen­tu­ry. On the out­skirts of the gar­den, mean­while, is Fort San Ri­deau - one of de­fen­sive points of the for­mer Prze­myśl Fort­ress. The Mu­se­um on the Air ex­hibits out­door sculp­tures as well as trunks and sec­tions of var­i­ous tree species.
THE CLASSICIST MANSION HOUSES A SMALL MUSEUM AND ART GALLERY
ON ONE OF THE PARK ALLEYS
| | |
| --- | --- |
| | To get to the vicin­i­ty of the chapel, one must pur­chase an en­trance tick­et to the ar­bore­tum (which is ac­tu­al­ly a much big­ger at­trac­tion than the chapel). |
| | |
| --- | --- |
| | It is ad­vis­able to re­serve at least 3 hours for a vis­it to the ar­bore­tum. |
| | |
| --- | --- |
| | Dogs and oth­er an­i­mals are not al­lowed. |
| | |
| --- | --- |
| | Part of the ar­bore­tum is the Sen­so­ry Gar­den for chil­dren and peo­ple with dis­abil­i­ties. It is a place adapt­ed for free and in­de­pen­dent move­ment by wheel­chair users, peo­ple with lim­it­ed mo­bil­i­ty, the el­der­ly and oth­er peo­ple with var­i­ous sight im­pair­ments. |
IN BOLESTRASZYCE ARBORETUM
IN THE LOCAL PONDS YOU CAN MEET TURTLES
---
T
he ar­bore­tum is lo­cat­ed about 9 km north­east of Prze­myśl, be­hind the vil­lage of Bo­le­stra­szy­ce, by a lit­tle fre­quent­ed lo­cal road.
| | |
| --- | --- |
| | There is a large, free park­ing lot at the main en­trance. |
| | |
| --- | --- |
| | You can bring a bi­cy­cle in­to the ar­bore­tum, but you are not al­lowed to ride it. |
Castles nearby:
Przemyśl - Royal castle from the 14th-16th centuries, 9 km
Sośnica - Relics of a Renaissance castle from the 16th century, 12 km
Krasiczyn - Renaissance aristocratic castle from the 16th-17th centuries, 18 km
Fredropol Kormanice - ruins of a Renaissance castle from the 16th century, 22 km
Węgierka - ruins of a bastion castle from the 15th century, 30 km
Dubiecko - Renaissance castle from the 16th century, now a palace, 40 km

text: 2023
photos: 2019
© Jacek Bednarek