CZCHÓW

the royal castle
CZCHÓW CASTLE, VIEW FROM THE WEST
---
W
e are not sure of ei­ther the founder of the cas­tle or the date when it was built. How­ev­er, we can as­sume with a high de­gree of prob­a­bil­i­ty that the first ma­son­ry for­ti­fi­ca­tions were erect­ed here by Vá­clav II
(d. 1305), prince of Cra­cow since 1291 and king of Poland since 1300. The choice of this ruler as an in­vestor is in­di­cat­ed, among oth­er things, by the sil­ver coin of Vá­clav
found in cas­tle cel­lars, mint­ed in 1300-1305. Ini­tial­ly, the cas­tle served as a cus­toms and a watch­tow­er on the trade route lead­ing along the Duna­jec Riv­er to­wards Hun­gary.
CASTLE HILL SEEN FROM THE NORTHEAST
HISTORICAL NAMES OF THE TOWN
1215 – Alba Ecclesia (White Church), 1280 – Cechow
1333 – Czcow, 1348 – Czchov, 1357 – Czchow
1561 – Zchov, 1644 – Czcov, 1660 – Czchow
ON THE WAY TO THE CASTLE, IN THE FOREGROUND WE SEE A FRAGMENT OF THE MILITARY EXPOSITION
A
t the be­gin­ning of the 14th cen­tu­ry, the cas­tle con­sist­ed on­ly of a brick tow­er, an earth­en ram­part and a wood­en pal­isade. It wasn't sur­round­ed by a stone wall un­til the reign of Duke and lat­er King Wła­dy­sław Ło­kie­tek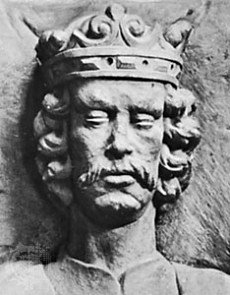 (d. 1333), or un­til the time of Ka­zi­mierz Wiel­ki (Ca­si­mir the Great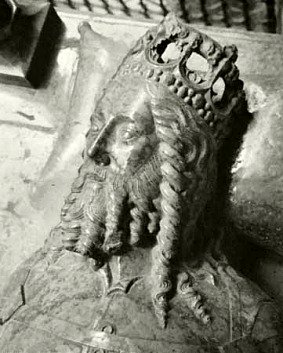 , d. 1370), when Czchów be­came the seat of the sta­ro­sty and the mu­nic­i­pal court (1357). A year ear­li­er, in 1356, the first bur­grave of Czchów, a cer­tain Im­ram, son of Że­go­ta, was men­tioned in doc­u­ments. Ac­cord­ing to me­dieval Pol­ish chron­i­cler Jan Dłu­gosz, King Ca­si­mir the Great was a fre­quent guest at the cas­tle, vis­it­ing his mis­tress­es there.
RECONSTRUCTED WOODEN BRIDGE OF IMPRESSIVE LENGTH
D
ur­ing the reigns of the An­de­ga­wens and Ja­giel­lons, polish rulers of­ten stopped at the cas­tle on their jour­neys to Bo­he­mia and Hun­gary. In 1372 the queen-re­gent El­żbie­ta Ło­kiet­ków­na (d. 1380) stayed there for a short time, while in 1397, 1408, 1410, 1419 and 1423 King Wła­dy­sław Ja­gieł­ło
(d. 1434) vis­it­ed Czchów as part of his an­nu­al tour of the coun­try. At that time the strong­hold was al­ready a fief leased by the own­ers of near­by Mel­sz­tyn: gov­er­nor of Cra­cow Spy­tko the First of Leli­wa coat of arms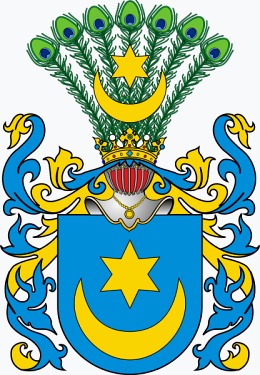 (d. 1399), fol­lowed by his sons Jan (d. 1428) and Spy­tko the Sec­ond (d. 1439), cas­tel­lan of Biecz.
GATE IN XV CENTURY TOWER (RECONSTRUCTED)
A
round the mid­dle of the 15th cen­tu­ry, a mas­sive gate tow­er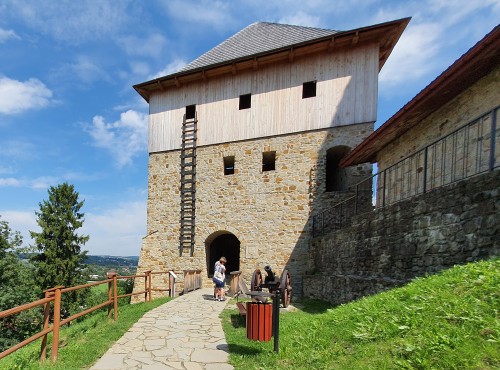 was erect­ed. Pre­sum­ably, it was the build­ing ini­tia­tive of Jan (d. ca. 1480) and Spy­tek the Third of Mel­sztyn (d. 1502) or on­ly Spy­tek the Third, who, af­ter his broth­er had joined the Ber­nar­dine Or­der, be­came the sole heir to the fam­i­ly es­tate, in­clud­ing Czchów. In 1499 he pawned it for the equiv­a­lent of 200 ki­lo­grams of sil­ver to his daugh­ter An­na (d. 1521), the wife of gov­er­nor of Cra­cow Mi­ko­łaj Ka­mie­niec­ki, coat of arms Pi­la­wa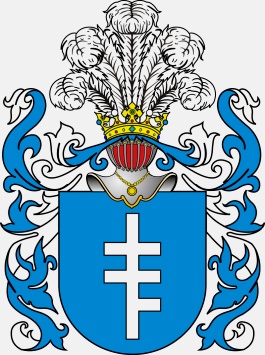 (d. 1515). At that time the cas­tle was ex­pand­ed with an util­i­ty wing and a small ed­i­fice next to the tow­er. In 1519 An­na hand­ed o­ver the roy­al fief, along with Czchów, Wo­la Stroń­ska and Sie­mie­chów, to Jan Wiecz­wień­ski, a Płock voi­vode (d. 1525) and Mi­ko­łaj from Ta­szy­ce, a Cra­cow deputy judge (d. 1545). This date marks the end of the Mel­sztyń­skis' lease of the Czchów roy­al es­tate.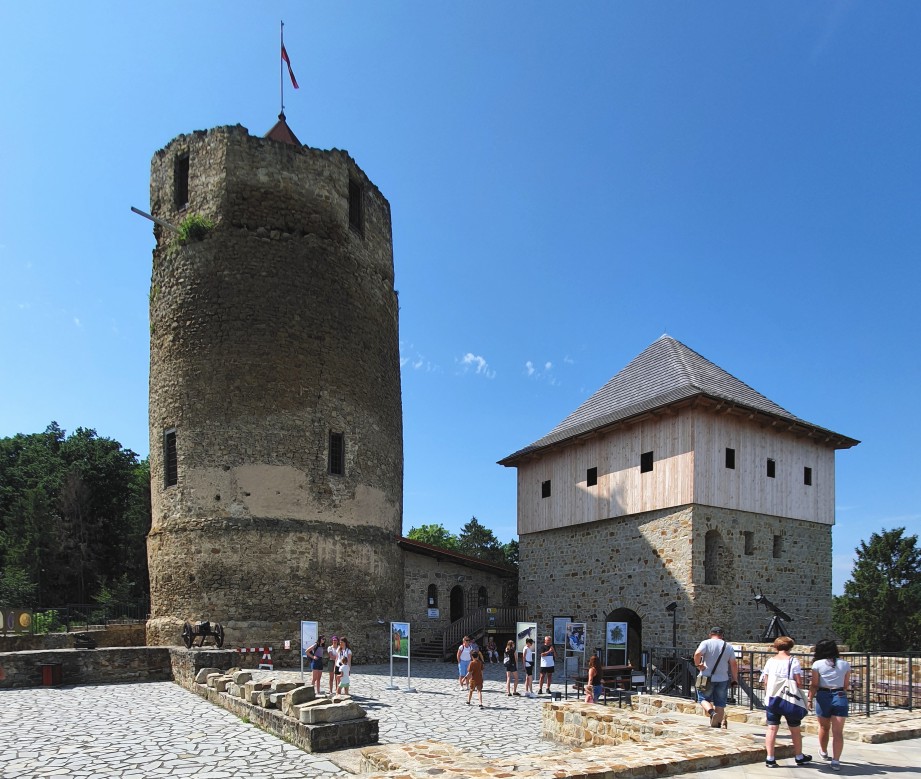 A
f­ter 1525 Czchów be­longed to Rob­kow­ski fam­i­ly, and lat­er to rep­re­sen­ta­tives of the wealthy Cra­cow Bon­er fam­i­ly, own­ers of the mag­nif­i­cent Ogro­dzie­niec cas­tle
: first to Se­we­ryn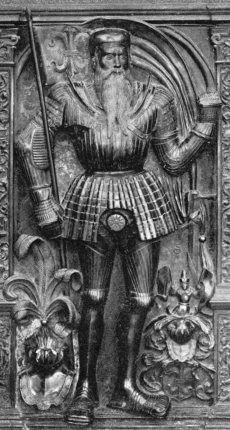 , bur­grave of Cra­cow (d. 1549), and then to his son Sta­ni­sław (d. 1560). Their time saw the de­cline of both the cas­tle and the town, pre­sum­ably in­flu­enced by de­vel­op­ment of the neigh­bor­ing town of Za­kli­czyn, which host­ed com­pet­ing fairs and mar­kets. In 1561 Wa­wrzy­niec Spyt­ko Jor­dan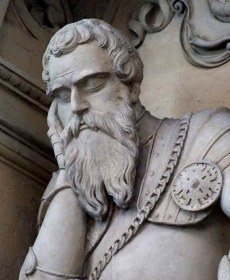 of Trą­by coat of arms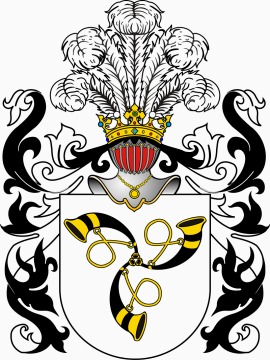 , castel­lan of Cra­cow (d. 1568), be­came starost of Czchów. Two years lat­er, An­na Jor­da­now­ska (d. 1597), Wa­wrzy­niec's wife, re­ceived the lease for life, fol­lowed by her daugh­ter El­żbie­ta and her hus­band Mi­ko­łaj Li­gę­za of Pół­ko­zic coat of arms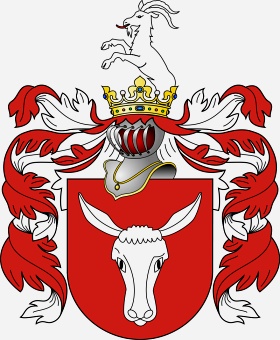 (d. 1603). At the end of the 16th cen­tu­ry the cas­tle still served as the seat of the sta­rosty, but its ad­min­is­tra­tive and eco­nom­ic im­por­tance was al­ready marginal by then.
| | |
| --- | --- |
| | |
D
ur­ing the reign of starost Woj­ciech Grab­kow­ski of Ja­strzę­biec coat of arms
(d. 1683), a land court ceased to func­tion in the cas­tle (1646). In the sec­ond half of the 17th cen­tu­ry it was al­ready aban­doned and fell in­to dis­re­pair, to which the Swedish Del­uge and the in­va­sion of Rákó­czi Györ­gy's army con­tribut­ed to some ex­tent. Al­though still in the 18th cen­tu­ry a chance for its re­con­struc­tion ap­peared, re­sult­ing from re­ac­ti­va­tion of the land court in Czchów and the grant­ing of funds for this pur­pose, even­tu­al­ly, a court build­ing was erect­ed from scratch on the town square. From then on the cas­tle, or rather its tow­er on­ly, served no more than as a prison. Af­ter the first par­ti­tion of Poland (1772), Aus­tri­an au­thor­i­ties abol­ished the sta­rosty of­fice and sold the ru­in to the pre­vi­ous sta­rost­ess, Zo­fia Gra­bow­ska.
"CZCHÓW W GALICYI W CYR. BOCHEŃSKIM", EDWARD WALENTY KAINKO 1843
T
hanks to the pop­u­lar­iza­tion of ro­man­tic ideas, in the 19th cen­tu­ry the ru­ins be­came an ob­ject of in­ter­est to the wider pub­lic - they were writ­ten about in the press and of­ten cap­tured in prints and paint­ings. The cas­tle at the time was cov­ered by a thick lay­er of rub­ble and earth, above which on­ly a cylin­dri­cal tow­er pro­trud­ed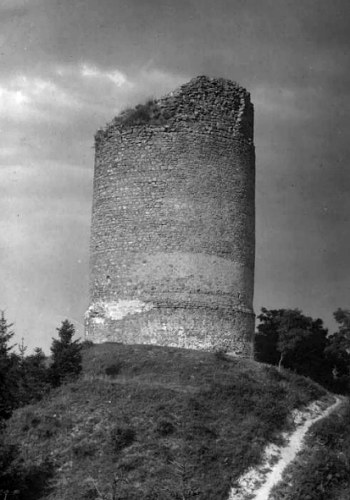 , lead­ing his­to­ri­ans of the time to be­lieve that the me­die­val strong­hold con­sist­ed on­ly of a tow­er. Ar­chae­o­log­i­cal re­search and re­con­struc­tion work on the cas­tle hill was start­ed at the end of the 19th cen­tu­ry by the painter and art his­to­ri­an Wła­dy­sław Łuszcz­kie­wicz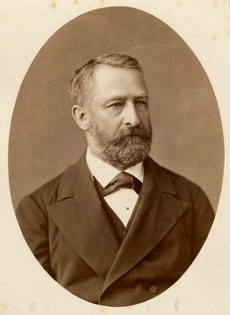 (d. 1900), and more were car­ried out in the 1920s and af­ter 1945. The cur­rent ap­pear­ance of the cas­tle is due to ex­ten­sive re­vi­tal­iza­tion re­al­ized in the ear­ly 21st cen­tu­ry.
RUINS AT THE TURN OF THE XIXTH AND XXTH CENTURIES
Dur­ing ar­chae­o­log­i­cal in­ves­ti­ga­tions car­ried out on the cas­tle hill in 1993-2001, sev­er­al lev­els of cob­ble­stone in the court­yard, a Goth­ic stone por­tal as well as foun­da­tions of de­fense walls and a pre­vi­ous­ly un­known gate tow­er were un­cov­ered. A large num­ber of var­i­ous ar­ti­facts were al­so found, in­clud­ing frag­ments of met­al ar­mor and rem­nants of me­dieval weap­ons: ax­es, swords, ar­row­heads, spears, and equip­ment for a rid­er and his horse: spurs, stir­rups, bits and horse­shoes.

The re­search al­so yield­ed sev­er­al coins, in­clud­ing a de­nar­ius of Wła­dy­sław Ja­gieł­ło, a Cra­cow de­nar­ius of Queen Jad­wi­ga, a Ri­ga pen­ny of Si­gis­mund III Va­sa, two Lithua­ni­an pen­nies, and a crown shilling of Jan Ka­zi­mierz. An old gra­nary was al­so found at the cas­tle, which still con­tained (burned) grain.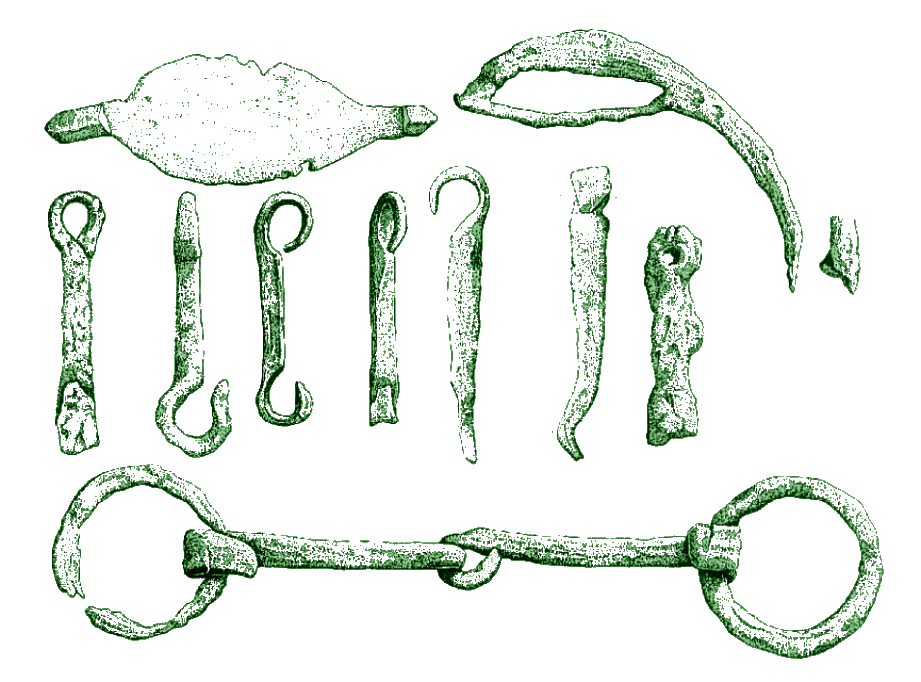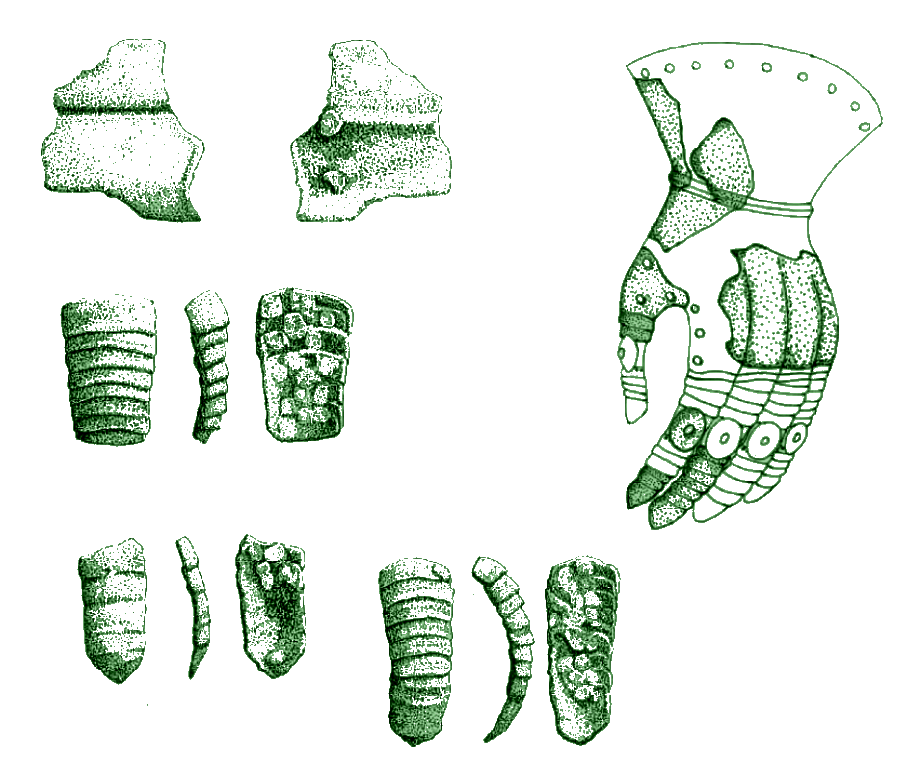 BITS AND FRAGMENTS OF A MEDIEVAL GAUNTLET FOUND AT CZCHÓW CASTLE
ORIGIN: A. SZPUNAR, M. GLINIANOWICZ: "UZBROJENIE ŚREDNIOWIECZNE Z ZAMKU W CZCHOWIE"
DESCRIPTION OF THE CASTLE
A
c­cord­ing to ar­chae­o­log­i­cal re­search, the old­est struc­ture in the cas­tle is a free-stand­ing tow­er from the ear­ly 14th cen­tu­ry, built of sand­stone in the south­west­ern part of the hill. The di­am­e­ter of the tow­er at the base is 12.5 me­ters, and its cur­rent height is about 20 me­ters. It was cer­tain­ly high­er in the past, with its up­per part hav­ing an oc­tag­o­nal plan. In the Mid­dle Ages, the en­trance to the tow­er was lo­cat­ed on the sec­ond floor, and ac­cessed from the court­yard by a wood­en stair­case or lad­der. In the ear­ly days, the on­ly for­ti­fi­ca­tions of the cas­tle were some ram­parts and a wood­en stock­ade.
NORTHWEST ELEVATION OF THE CASTLE, THE DASHED LINE MARKS THE OUTLINE OF THE TOWER, WALLS AND RESIDENTIAL BUILDING BEFORE THE FALL OF THE CASTLE, ORIGIN: A. MARTYKA "RUINY ZAMKU W CZCHOWIE"
TWO TOWERS: CYLINDRICAL MAIN TOWER AND GATE TOWER
I
n the first half of the 14th cen­tu­ry, a stone wall, 1.2 to 2.4 me­ters thick and up to 10 me­ters high, was built around the tow­er. In its west­ern sec­tion, on the side of the town, an en­trance gate was lo­cat­ed. Ap­prox­i­mate­ly at the same time, in the north­east­ern part of the court­yard, a one-sto­ry res­i­den­tial house was erect­ed (9.6x21 me­ters) with vault­ed cham­bers and a hall­way that served as a stair­case.
FOUNDATIONS OF OUTBUILDING AND RESIDENTIAL HOUSE (IN THE BACKGROUND)
CELLARS OF RESIDENTIAL HOUSE
T
he gate tow­er, built on a rect­an­gu­lar plan with sides of 6x7 me­ters, with two mas­sive but­tress­es on the west­ern side, dates from the 15th cen­tu­ry. Years ago it was prob­a­bly topped by machico­la­tions. A draw­bridge led to the tow­er o­ver a dry moat.
GATE TOWER (ON THE LEFT) AND THE DRAWBRIDGE LEADING TO IT
D
ur­ing the last ex­pan­sion of the cas­tle, dat­ing to the late 15th and ear­ly 16th cen­turies, a sin­gle-sto­ry out­build­ing with a stone floor was erect­ed ad­ja­cent to the dwel­ling house to the south, as well as an an­nex, known as a guard­house, lo­cat­ed be­tween the main tow­er and the west­ern wall.
CASTLE RECONSTRUCTION ACCORDING TO JAN SALM
PLAN OF CZCHÓW CASTLE: 1. MAIN TOWER, 2. GATE TOWER, 3. DWELLING HOUSE, 4. OUTBUILDING, 5. GUARDHOUSE
---
T
he cas­tle is now most­ly a re­con­struc­tion, which rep­re­sents a vi­sion of what it might have looked like in the past. It con­sists of a re­con­struct­ed gate tow­er, a wood­en bridge - al­so raised from scratch, a perime­ter wall, a cylin­dri­cal tow­er and a small build­ing called a guard­house. It was not de­cid­ed to re­con­struct a dwel­ling house and out­build­ing, but on­ly to ex­pose their foun­da­tions and clean cel­lars. The court­yard of the cas­tle and its im­me­di­ate sur­round­ings pro­vide space for a his­tor­i­cal ex­hi­bi­tion of ar­til­lery and siege weap­ons. The tow­er serves as a van­tage point.
EXHIBITION IN THE CASTLE COURTYARD
| | |
| --- | --- |
| | Admission to the courtyard is free, to the tower – paid. |
| | |
| --- | --- |
| | The duration of the tour depends only on you. It can be assumed that, in­clud­ing the walk from the park­ing lot and the way back, it should not exceed 1-1.5 hours. |
| | |
| --- | --- |
| | Dogs are allowed in the courtyard, but not in the tow­er. |
| | |
| --- | --- |
| | At the entrance to the gate tower there are se­veral stairs. Fur­ther on, one can move freely only with­in the court­yard. More stairs lead to the view­points (on the found­ations of the build­ings and on the tow­er). |
| | |
| --- | --- |
| | No restrictions on re­cre­atio­nal flights |
---
C
zchów is lo­cat­ed near na­tion­al road 75, about 30 ki­lo­me­ters north of No­wy Sącz. The cas­tle is ris­ing on a hill, 400 me­ters east of the town square.
| | |
| --- | --- |
| | A large, free park­ing lot on Wę­gier­ska Street (gen­tle climb to the cas­tle) or a small­er one, al­so free, on Basz­to­wa Street (you will have to climb stairs). |
---
1. L. Kajzer, J. Salm, S. Kołodziejski: Leksykon zamków w Polsce, Arkady 2001
2. A. Martyka: Ruiny zamku w Czchowie..., Wia­do­mo­ści Kon­ser­wa­tor­skie 64/2020
3. K. Moskal: Grody i zamki nad Dunajcem i Popradem, Ko­li­ber 2011
4. K. Moskal: Leliwici z Melsztyna i ich zamki, Koliber 2007
5. A. Szpunar, M. Glinianowicz: Uzbrojenie późnośredniowieczne z zamku w Czcho­wie w Ma­ło­pol­sce, Ac­ta Mi­li­ta­ria Me­dia­eva­lia II, 2006
6. A. Wagner: Murowane budowle obronne w Polsce X-XVIIw., Bellona 2019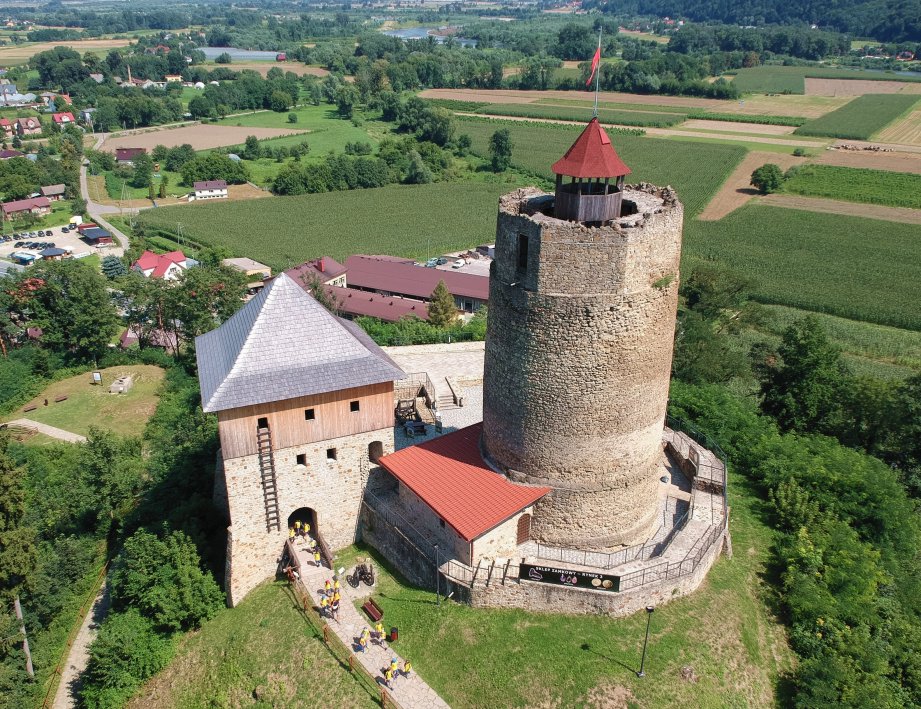 Castles nearby:
Wytrzyszczka - knight's castle from the 14th century, 8 km
Gnojnik - fortified church from the 14th century, 11 km
Melsztyn - ruins of a knight's castle from the 14th century, 11 km
Rożnów - ruins of a Renaissance castle from the 16th century, 15 km
Rożnów - ruins of a knight's castle from the 14th century, 16 km
Dębno - Renaissance castle from the 15th century, 20 km
Wielka Wieś - relics of a knight's castle from the 14th century, 21 km
Nowy Wiśnicz - Baroque castle from the 14th-17th centuries, 22 km
Wieruszyce - fortified mansion from the 15th/16th century, 30 km
Bochnia - castle relics from the 14th century, 31 km
Nowy Sącz - ruins of a royal castle from the 14th century, 34 km
Tarnów - relics of a knight's castle from the 14th century, 38 km
Jeżów - Renaissance fortified mansion from the 15th century, 42 km
Stary Sącz - monastery of the Poor Clares from the 14th-17th centuries, 42 km

---
His­toric small-town build­ings with a charm­ing Mar­ket Square, the cen­tral part of which is oc­cu­pied by a square with the foun­tain of St. Kin­ga, the stat­ue of St. John of Ne­po­muk from the 18th cen­tu­ry that is pre­sum­ably a vote of thanks for sav­ing Czchów from war dam­age, and the stat­ue of St. Flo­ri­an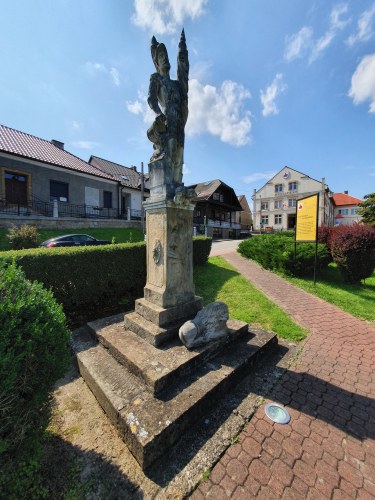 found­ed to pro­tect the town against fire. At the foot of St. Flo­ri­an is the me­dieval stat­ue of a li­on moved here from the near­by church.
ROMANESQUE LION BY THE FIGURE OF ST. FLORIAN
In the north­east cor­ner of the Mar­ket Square stands the 14th/15th cen­tu­ry parish church built on the site of a Ro­ma­nesque tem­ple. It is a Goth­ic, sin­gle-nave build­ing with a chan­cel, a Baroque chapel and a cylin­dri­cal stair tur­ret. For­mer­ly, the church al­so had a tow­er, but this, fear­ing col­lapse, was low­ered to the height of the main struc­ture. The in­te­ri­or pre­serves poly­chromes from be­fore 1375 and Re­nais­sance tomb­stones.
text: 2023
photos: 2021
© Jacek Bednarek