STARY SĄCZ

the monastery of the Poor Clares
THE MONASTERY OF THE POOR CLARES IN STARY SĄCZ, VIEW FROM THE EAST
---
T
he town of Sta­ry Sącz, found­ed in 1257 by the duchess Kin­ga of Cra­cow and San­do­mierz (d. 1292), in the sec­ond half of the 13th cen­tu­ry was the most im­por­tant ad­min­is­tra­tive and eco­nom­ic cen­ter in the en­tire re­gion (no­wa­days this func­tion is per­formed by the city of No­wy Sącz). Kinga re­ceived these lands from her hus­band Bo­le­sław V as a mar­riage dowry, and when he died in 1279, she gave up her prince­ly rule and moved to Sta­ry Sącz, where on Ju­ly 6, 1280, found­ed the con­vent of the Poor Sis­ters of Saint Clare. She do­nat­ed the town and 28 vil­lages to the con­vent and be­came a Poor Clare her­self. The foun­da­tion of the mo­na­stery was pre­ced­ed by a con­flict be­tween Kin­ga and Le­szek Czar­ny, Duke of Less­er Poland (d. 1288), who at first re­fused to agree to her pro­posed priv­i­leges and in­come for the new con­gre­ga­tion.
IN FRONT OF THE MONASTERY GATE
E
ven­tu­al­ly, how­ev­er, the mo­na­stery re­ceived the most gen­er­ous en­dow­ment of all-fe­male re­li­gious foun­da­tions es­tab­lished in Poland in the 13th cen­tu­ry. This was due both to the rule of the or­der al­low­ing to pos­ses the com­mon prop­er­ty and to the very high rank of its founder, a mem­ber of the or­der. For its de­vel­op­ment and main­te­nance in the first years of ex­is­tence, the in­come from the town of Sta­ry Sącz and ad­ja­cent vil­lages as well as the pro­ceeds from the near­by cus­toms house were al­lo­cat­ed. It is known that in 1281 the con­gre­ga­tion was al­ready func­tion­ing, and it con­sist­ed main­ly of sis­ters brought to Sta­ry Sącz from the con­vent in Ska­ła near Cra­cow. On­ly a few years lat­er (1289) the Tar­tars in­vad­ed Less­er Poland. Kin­ga and her sis­ters sur­vived this dan­ger­ous pe­ri­od by hid­ing in a moun­tain cas­tle in Pie­ni­ny.
MONASTERY TOWER IN THE SOUTHERN WALL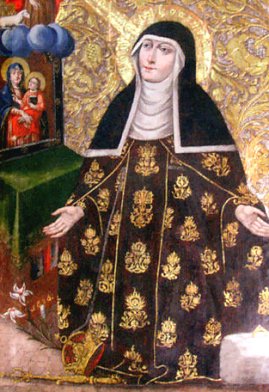 Kinga (Kune­gun­da) was the daugh­ter of Hun­gar­i­an King Be­la IV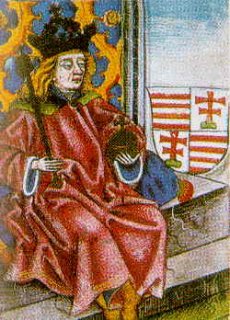 and Greek Em­press Ma­ria Las­ka­ri­na. She was born on March 5, 1234 in Es­zter­gom, the first cap­i­tal of Hun­gary. Kinga came to Poland in 1239 at the age of five to get en­gaged to Bo­le­sław V, Duke of San­do­mierz. When she mar­ried the prince at the age of 12, her dowry con­sist­ed of 40 thou­sand grzy­w­nasApproximately 8 tons of silver and, ac­cord­ing to tra­di­tion, al­so Hun­gar­i­an salt, which at that time be­gan to be mined on a larg­er scale in Boch­nia and Wie­licz­ka.

We do not know much about the princess' child­hood and youth, ex­cept that she re­ceived a thor­ough ed­u­ca­tion, first at the roy­al court in Bu­da, and lat­er in San­do­mierz and Cra­cow. In Poland, she was brought up by her moth­er-in-law, Prin­cess Grzy­mi­sła­wa, and her sis­ter, Prin­cess Sa­lo­mea, the first Poor Clare on Pol­ish soil, which un­doubt­ed­ly in­flu­enced the re­li­gious­ness of the lat­er saint. Ac­cord­ing to tra­di­tion, as a child Kin­ga liked to spend time pray­ing, and she set as her goal to re­main in vir­gin­i­ty for­ev­er. At the age of nine­teen, she took a vow of life­long chasti­ty in mar­riage, be­cause of which, many years lat­er, his­to­ri­ans gave her hus­band Duke Bo­le­sław the nick­name the Chaste.

The Duchess took an ac­tive part in the po­lit­i­cal and eco­nom­ic life of the duchy, which is con­firmed by the pres­ence of her seal on many doc­u­ments is­sued at the ducal court. She al­so sup­port­ed the poor­est, which helped to build the myth of a pro­tec­tor and, in the fu­ture, a mir­a­cle-work­er, whose cult would de­vel­op soon af­ter her death and would last for cen­turies. Un­doubt­ed­ly, the Duchess's pop­u­lar­i­ty was in­flu­enced by her great gen­eros­i­ty to the Cra­cow church­es and neigh­bor­ing monas­ter­ies, as well as her nu­mer­ous foun­da­tions, in­clud­ing church­es in Boch­nia and Nowy Kor­czyn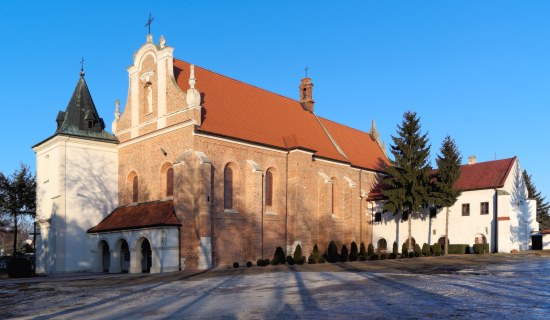 .
THE LARGEST CHAPEL IN THE WIELICZKA SALT MINE IS NAMED AFTER ST. KINGA, WHO IS CONSIDERED THE PATRON SAINT OF MINERS
Kinga's mag­num opus was the es­tab­lish­ment of a Poor Clares monastery in Sta­ry Sącz, where she set­tled af­ter the death of her hus­band in 1279. Al­though of­fi­cial­ly she nev­er held any im­por­tant func­tions or dig­ni­ties in the con­vent, doc­u­ments show that she main­tained a large court here to run busi­ness and ad­min­is­tra­tion. She died in the rep­u­ta­tion of ho­li­ness on Ju­ly 24, 1292, af­ter a long ill­ness, and was buried un­der the floor of the mo­na­stery chapel.

Soon af­ter Kin­ga's death, some "mir­a­cles" and "graces" per­formed through her in­ter­ces­sion were re­port­ed. In the years 1307-12, 21 such events oc­curred, which gave cause to un­der­take ef­forts to have the found­ress of the mo­na­stery de­clared a saint. Over the fol­low­ing cen­turies these at­tempts were made re­peat­ed­ly, but with­out suc­cess. She was on­ly be­at­i­fied by Pope Alex­an­der VIII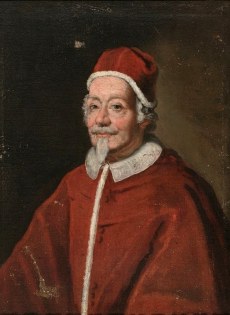 in 1687, and in 1999 Pope John Paul II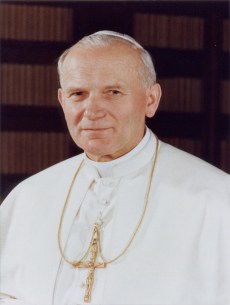 de­clared her a saint.

The his­to­ry of the Duchess was doc­u­ment­ed in the so-called the Bi­ogra­phies, prob­a­bly cre­at­ed on the ini­tia­tive of the Fran­cis­cans from Cra­cow. The old­est part of them was writ­ten on­ly 30 years af­ter Kinga's death, thanks to which the Bi­ogra­phies are re­gard­ed to­day as a valu­able source of in­for­ma­tion, at least in the con­text of the his­tor­i­cal re­al­i­ties they de­scribe.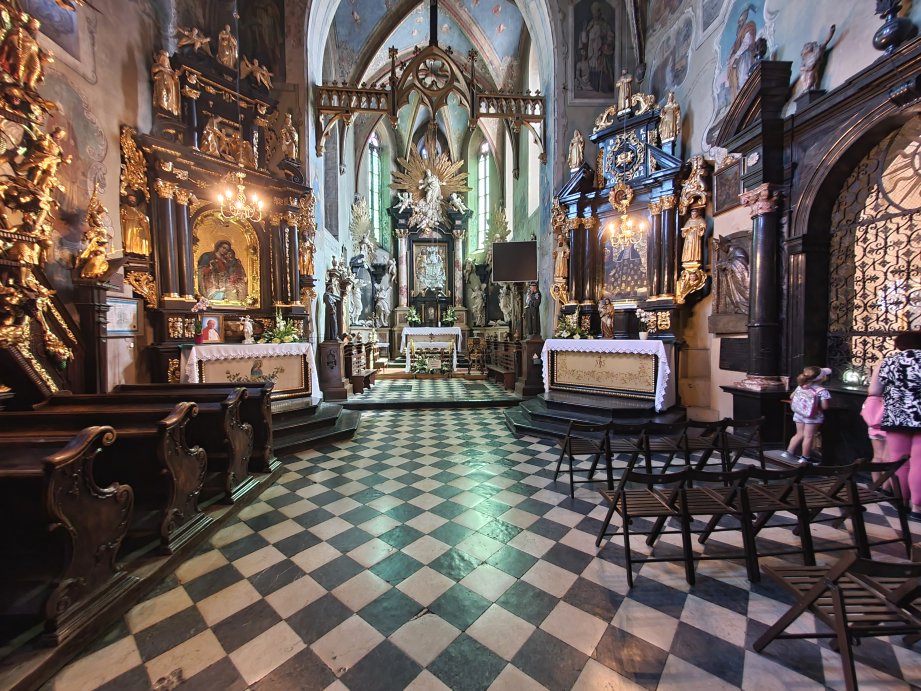 MONASTERY CHURCH OF THE HOLY TRINITY, ON THE RIGHT SIDE THERE IS A CHAPEL WITH THE REMAINS OF ST. KINGA
T
hanks to Kinga and her "mir­a­cles" the con­vent in Sta­ry Sącz en­joyed great in­ter­est from both sec­u­lar and ec­cle­si­as­ti­cal rulers. It was sup­port­ed by Pol­ish kings such as Wła­dy­sław Ło­kie­tek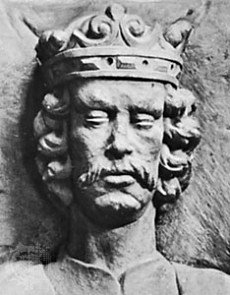 (d. 1333) and his wife Jad­wi­ga (d. 1339), Ka­zi­mierz Wiel­ki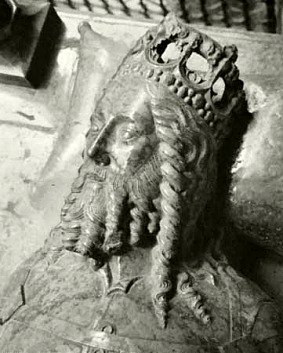 (d. 1370), his sis­ter Elż­bie­ta Łok­iet­ków­na (d. 1380), and Wła­dy­sław Ja­gieł­ło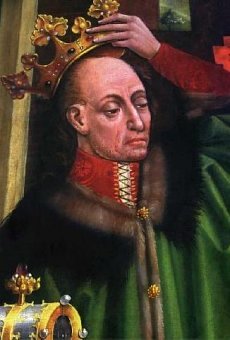 (d. 1434), who - ac­cord­ing to tra­di­tion - do­nat­ed two pots of gold to the Poor Clares as a vote of thanks­giv­ing for the vic­to­ry in the Bat­tle of Grun­wald. The mo­na­stery de­rived in­come from rents, tithes, and crops, as well as from the right grant­ed by King Ka­zi­mierz the Great to salt trade in the whole Spisz re­gion. Its de­vel­op­ment was great­ly in­flu­enced by par­tic­i­pa­tion of the rep­re­sen­ta­tives of roy­al fam­i­lies in the mo­na­stery life, among them Jad­wi­ga, the wid­ow of King Wła­dy­sław Ło­kie­tek, who be­came a nun in 1337. In the 1350s the post of the su­pe­ri­or of the mo­na­stery was held by Kon­stanc­ja of Świd­ni­ca (d. be­fore 1364), the niece of King Ka­zi­mierz the Great, and the wid­ow of Duke Prze­mek of Gło­gów (d. 1331).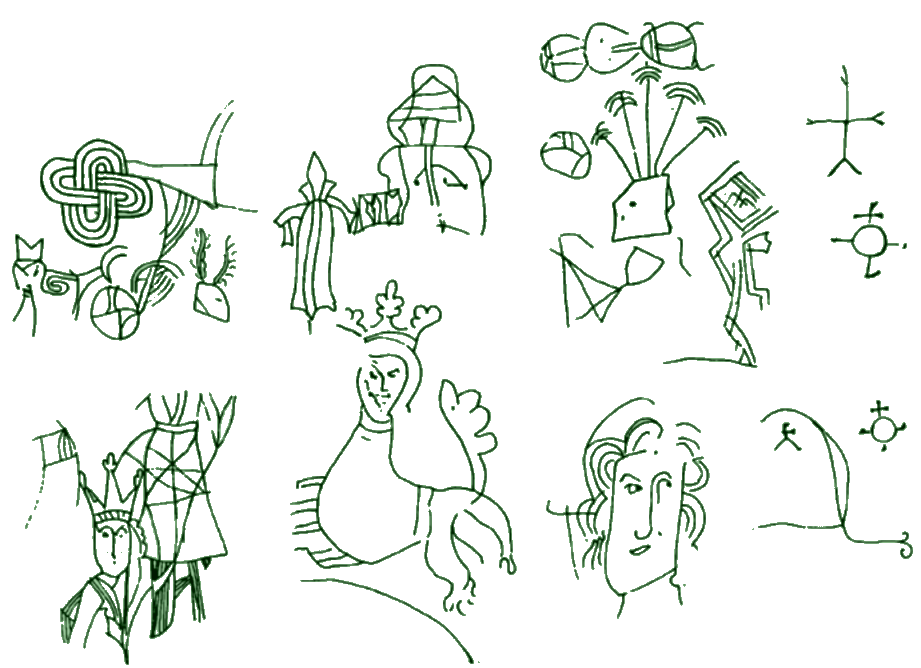 MYSTERIOUS, PROBABLY XIV CENTURY ENGRAVINGS ON THE WALLS OF THE CHOIR IN THE CHURCH OF ST. TRINITY
M. KORNECKI: "OCHRONA I KONSERWACJA ZABYTKÓW W WOJEWÓDZTWIE KRAKOWSKIM W LATACH 1945-75"
I
t is like­ly that dur­ing Kin­ga's life­time the con­struc­tion of the first brick church in Sta­ry Sącz be­gan. In 1285 the Arch­bish­op of Gnie­zno, Ja­kub Świn­ka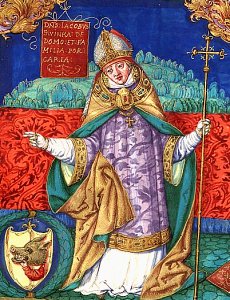 (d. 1314) con­se­crat­ed it and grant­ed forty-day in­dul­gences to all those who would vis­it the town and fi­nan­cial­ly sup­port the build­ing works. It is cer­tain, how­ev­er, that the church did not ex­ist in its en­tire­ty at that time and the con­se­cra­tion in­volved on­ly a part of it, prob­a­bly the Ro­manesque pres­bytery, which is be­lieved to be the old­est seg­ment of the build­ing. In 1332, the Bish­op of Cra­cow Jan Grot (d. 1347) re-con­se­crat­ed the tem­ple, giv­ing it the pa­tron­age of the Holy Trin­i­ty. It is not known, though, whether the cer­e­mo­ny con­cerned the com­ple­tion of con­struc­tion work be­gun dur­ing Kinga's life­time or re­ferred to a com­plete­ly new ed­i­fice erect­ed in Goth­ic style al­ready in the 14th cen­tu­ry.
XV CENTURY GOTHIC BAPTISTERY IN THE NARTHEX OF ST. TRINITY CHURCH
S
oon af­ter Kinga's death Sta­ry Sącz be­came a des­ti­na­tion of pil­grim­ages and the main cen­ter of her cult. The old­est known case of vis­it­ing the tomb of the lat­er saint was an ex-vo­to vis­it, which took place here in 1307 to heal nine-year-old Do­bro­sła­wa, the daugh­ter of the roy­al of­fi­cial Mar­cin from Szczy­rzyc. It is like­ly, there­fore, that there was al­ready a sep­a­rate space in the mo­na­ste­ry church (which was still un­der con­struc­tion) where pil­grims could wor­ship and pray to the found­ress of the mo­na­ste­ry. Prob­a­bly, how­ev­er, it was nei­ther rep­re­sen­ta­tive nor lav­ish at that time. The first re­al Kin­ga Mau­soleum was erect­ed in the 1470s by the bish­op of Cra­cow, Jan of Rze­szów (d. 1488).
IN THE GATE LEADING TO THE NORTHERN COURTYARD
The Or­der of Saint Clare or the Poor Sis­ters of Saint Clare is a fe­male re­li­gious or­der found­ed in 1212 by Saint Clare
(d. 1253) and Saint Fran­cis of As­sisi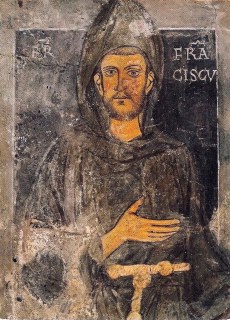 (d. 1226).

Ac­cord­ing to the founders' in­ten­tion, the Poor Clares should live with prayer on their lips, giv­ing to God all the needs of the Church and the world. In ad­di­tion to prayer and penance, the work of the or­der is main­ly fo­cused on ser­vice to the Church, and mis­sion­ary ac­tiv­i­ty. The sis­ters live sep­a­rat­ed from the out­side world. Their at­tire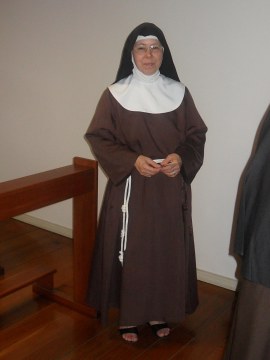 con­sists of a brown tu­nic gird­ed with string and a black and white veil cov­er­ing their fore­head and neck.

Cur­rent­ly, there are about 550 monas­ter­ies of the Or­der of St. Clare all o­ver the world, in­clud­ing sev­en in Poland: in Stary Sącz, Kra­ków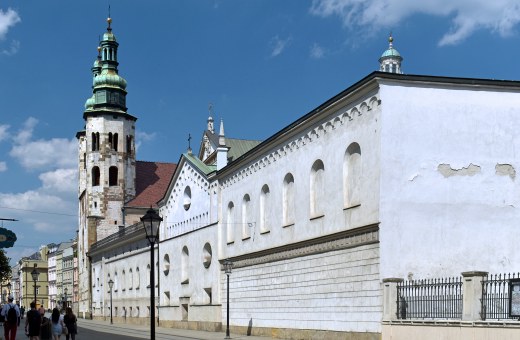 , Mied­nie­wi­ce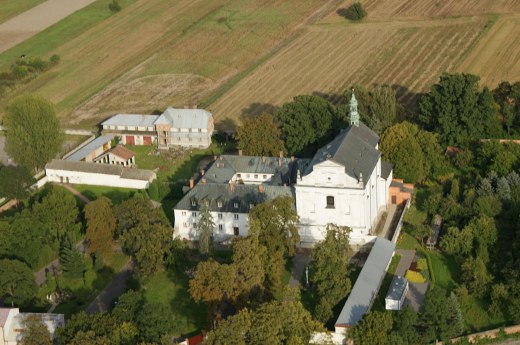 , Si­ta­niec
, Ska­ry­sze­wo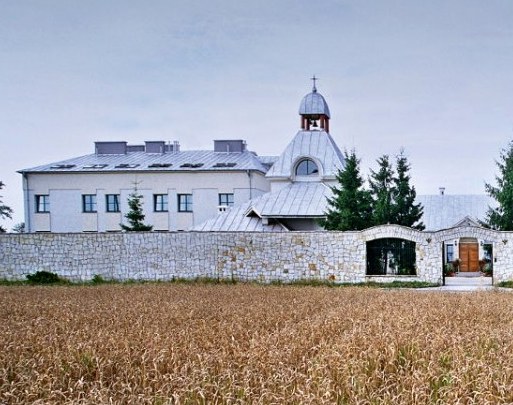 , San­do­mierz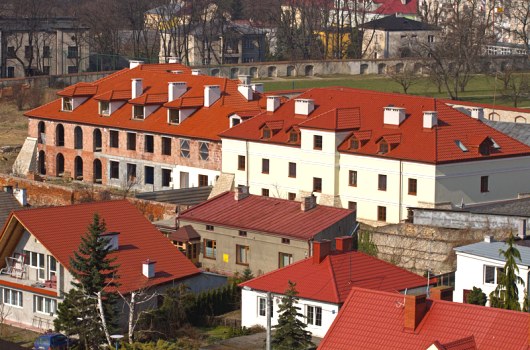 and Ka­lisz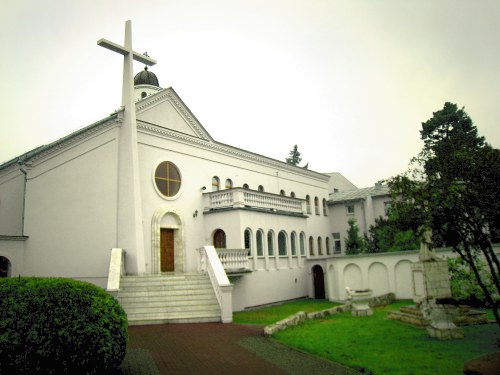 . The old­est Pol­ish Poor Clare con­vent was the monastery in Za­wi­chost
, found­ed in 1245 by Bolesław Wsty­dli­wy, and the first Pol­ish Poor Clare was Blessed Sa­lomea (d. 1268), daugh­ter of the Cra­cow Prince Leszek Bi­ały.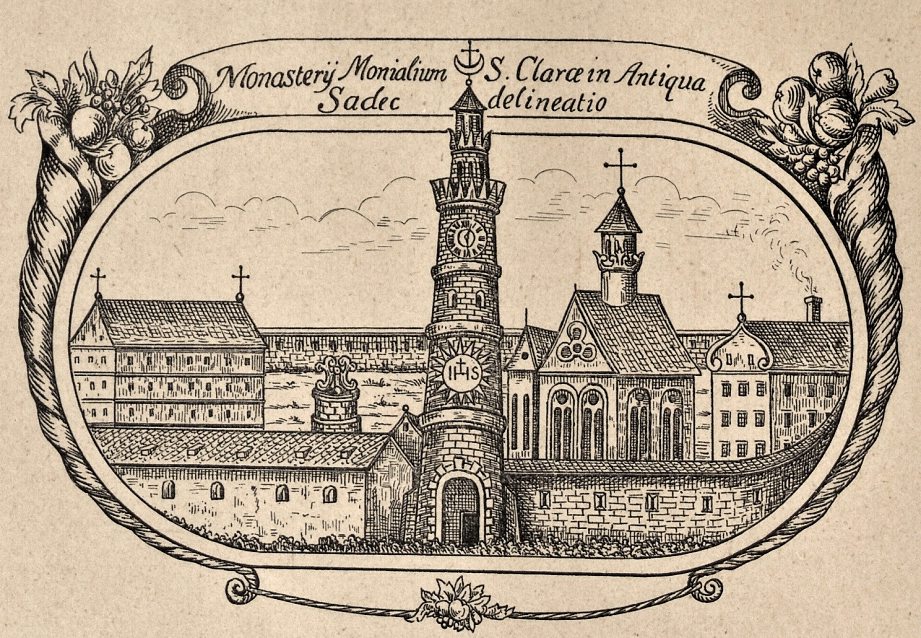 THE STARY SĄCZ MONASTERY ACCORDING TO AN ENGRAVING BY TOBIAS BILDENHARTER, 1617
A
t the end of the six­teenth cen­tu­ry, the au­thor­i­ty o­ver the fe­male con­gre­ga­tions was tak­en o­ver by the bish­ops. In 1595 one of them, Je­rzy Ra­dzi­wiłł
of the Trą­by coat of arms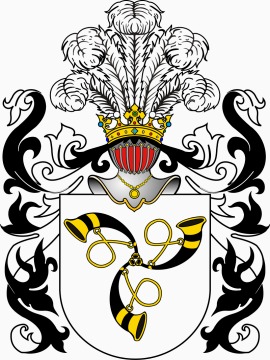 (d. 1600), or­dered to ex­pand the mo­na­stery and car­ry out mi­nor re­pairs in the Holy Trin­i­ty church, in­clud­ing the re­con­struc­tion of Kinga's chapel. It is worth not­ing that un­til that time the nuns lived in small in­di­vid­u­al hous­es, which were now to be de­mol­ished in or­der to erect in their place a grand four-winged ed­i­fice ca­pa­ble of ac­com­mo­dat­ing both nuns and novices as well as sec­u­lar maid­ens stay­ing here for their ed­u­ca­tion. Bish­op Ber­nard Ma­cie­jow­ski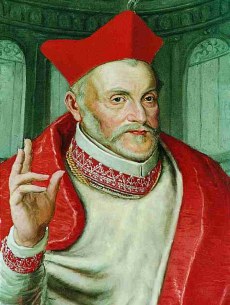 , coat-of-arms Cio­łek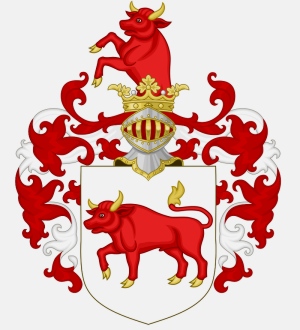 (d. 1608), man­aged this in­vest­ment, al­though the con­vent paid for it. The con­struc­tion works were su­per­vised by an Ital­ian ar­chi­tect Gio­van­ni di Si­mons (d. 1627) and their cost (with­out fur­nish­ing) amount­ed to over 8000 zlo­tys. They re­sult­ed in a new mo­na­stery build­ing with a res­i­den­tial house for priests. In ad­di­tion, the walls sur­round­ing the mo­na­stery were raised and adapt­ed for the use of gun­pow­der weapons.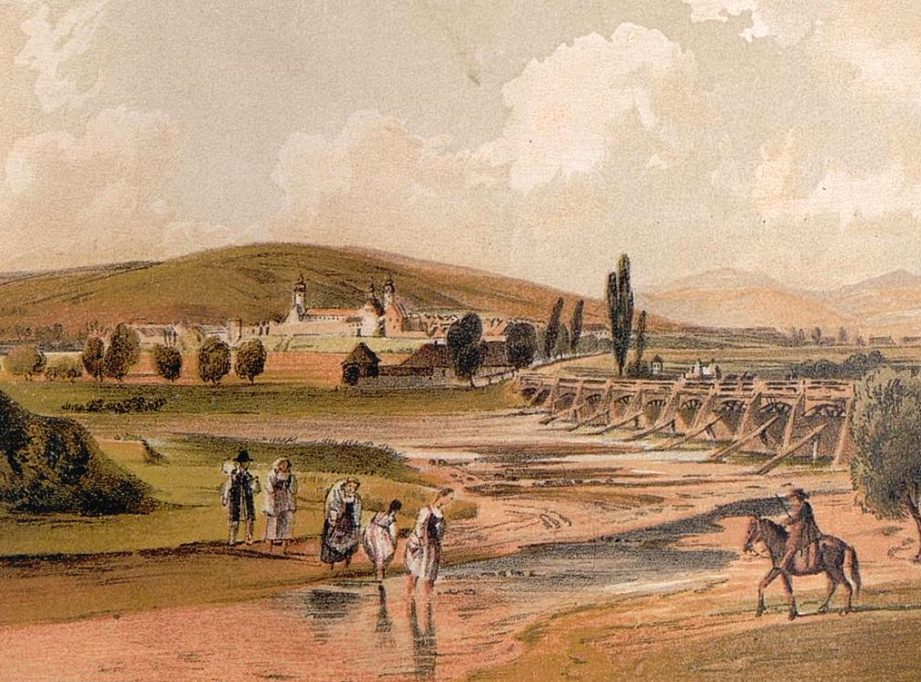 STARY SĄCZ ON LITHOGRAPH BY R. LANG FROM 1841, THE MONASTERY TOWERS DOMINATE OVER THE TOWN
The Poor Clares' monastery in Sta­ry Sącz, al­ready in the Re­nais­sance pe­ri­od, be­came fa­mous for its high mu­si­cal cul­ture cul­ti­vat­ed by su­pe­ri­ors of the nuns' com­mu­ni­ty, named ksieni (the fe­male ana­logue of the ab­bot). The monastery em­ployed an or­gan­ist, whose du­ty was to play the or­gan dur­ing mass­es and church cel­e­bra­tions, and to par­tic­i­pate in the re­hearsals and con­certs of the mo­na­stery band, which at first con­sist­ed of boys, and from the sec­ond half of the sev­en­teenth cen­tu­ry al­so con­sist­ed of nuns. We do not know ex­act­ly how large the group was, but we do know the in­stru­ments it used. Ac­counts from those days show the pur­chase of a bass vi­o­lin, cel­lo, the winds (bas­soon, tu­ba, trum­pets, pipes), and even two tim­pani.

It is like­ly that the nuns al­so com­posed their own mu­sic. Ac­cord­ing to his­to­ri­ans, there could have been as many as a dozen of such orig­i­nal works cre­at­ed here, among them melodies and texts ded­i­cat­ed to Bles­sed Kin­ga, known on­ly in the Sta­ry Sącz mo­na­stery: Zło­ta win­ni­co, Już pódź Ob­lu­bie­ni­co, Za­wi­taj Ob­lu­bie­ni­co and O Ku­ne­gun­do.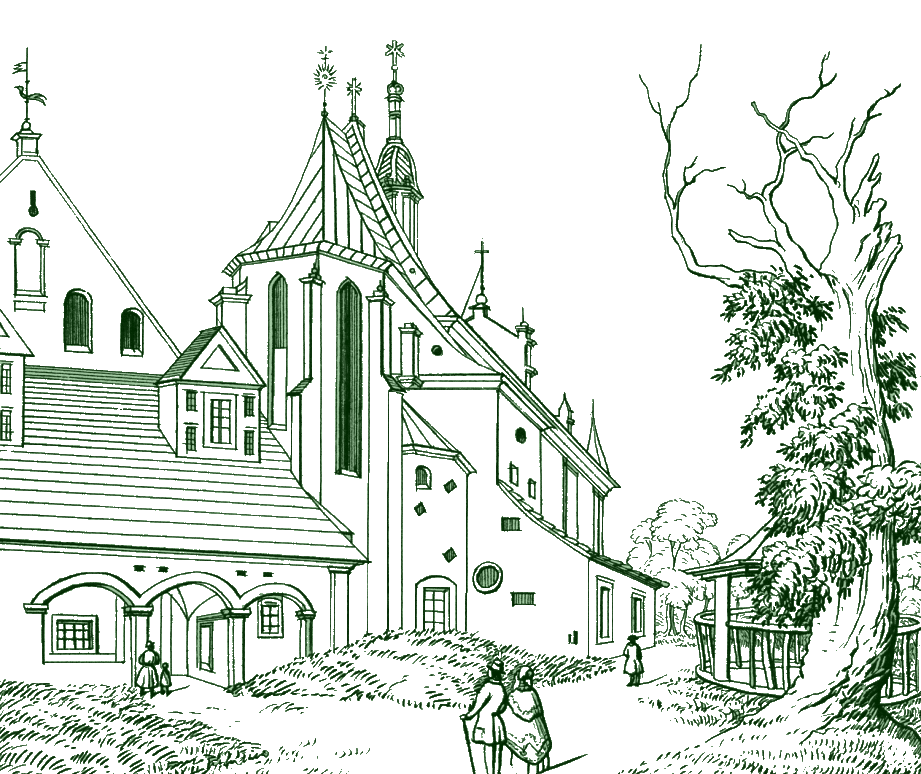 MONASTERY AND CHURCH IN 1851 ON THE ENGRAVING BY BOGUSZ STĘCZYŃSKI
An­oth­er sign, be­sides mu­sic, of a rich spir­i­tu­al life and cul­ti­va­tion of Fran­cis­can tra­di­tions was the Poor Clares' love of read­ing and col­lect­ing lit­er­ary works. The mo­na­ste­ry li­brary owes its growth not on­ly to pur­chas­es made by ksieni but al­so to nu­mer­ous do­na­tions from church dig­ni­taries and from girls who brought their books with them when they en­tered the con­vent. Sig­na­tures and own­er­ship notes prove that the books passed be­tween the sis­ters from gen­er­a­tion to gen­er­a­tion, and some Poor Clares had more than a dozen.

De­spite the loss­es caused by the sec­u­lar­iza­tion of the Or­der, the li­brary's book col­lec­tion con­tains at least 1645 Pol­ish, 127 Latin, 241 Ger­man, and 82 French works. Among them are mu­sic man­us­cripts from the 13th and 14th cen­turies, in­clud­ing the four-voice con­duc­tus Om­nia Ben­e­fi­cia, con­sid­ered the old­est his­tor­i­cal mon­u­ment of Pol­ish poly­phon­ic mu­sic. The most valu­able items in the li­brary's col­lec­tion are grad­u­als on parch­ment (Grad­uale Ro­manum Fran­cis­ca­num) from the end of the thir­teenth and the first half of the four­teenth cen­turies, an­tiphonar­ies (An­tiphonar­i­um Fran­cis­ca­num) from the sec­ond half of the thir­teenth cen­tu­ry, a psal­ter from the turn of the thir­teenth and four­teenth cen­turies, as well as Vi­ta beat­ae Cu­ne­gun­dis ducis­sae Reg­ni Po­lo­ni­ae... by Jan Dłu­gosz, dat­ed ANNO 1473.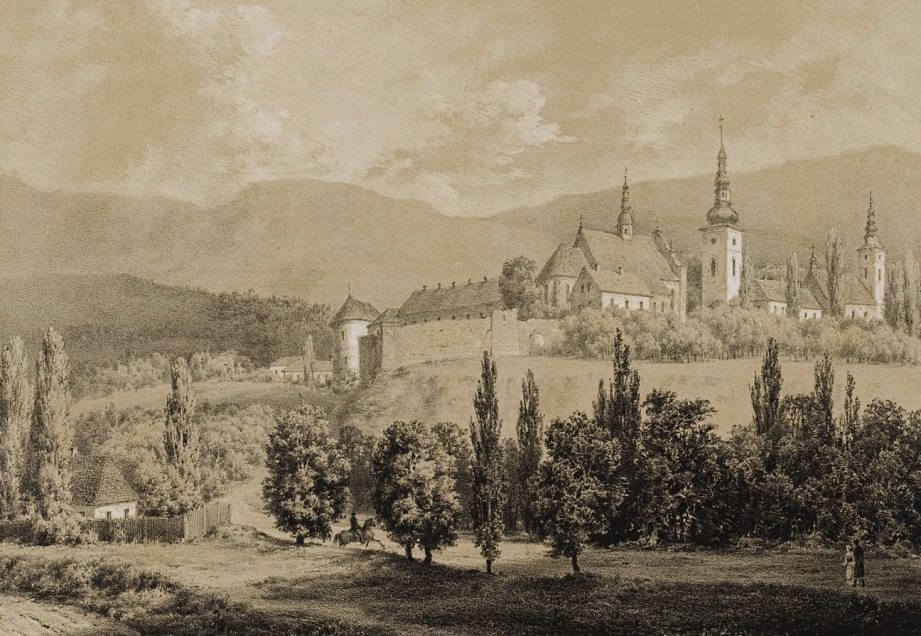 MONASTERY ON A LITHOGRAPH BY NAPOLEON ORDA, 'ALBUM WIDOKÓW' 1881
O
n Oc­to­ber 7, 1764, the fire ig­nit­ed in the at­tic of the mo­na­stery house, quick­ly en­gulfed the en­tire build­ing, and then spread to the church, de­stroy­ing its roof. How­ev­er, the re­build­ing of the tem­ple be­gan soon. Dur­ing ren­o­va­tion of the mo­na­stery and re­con­struc­tion of the church roof, its west­ern gable re­ceived dec­o­ra­tive vo­lutes and a tur­ret with a fig­ure of a prince's crown. These were the last ma­jor in­vest­ments of the con­vent be­fore the par­ti­tions of Poland (1772-95). On­ly a few years af­ter their com­ple­tion, Em­per­or Jo­seph II Hab­sburg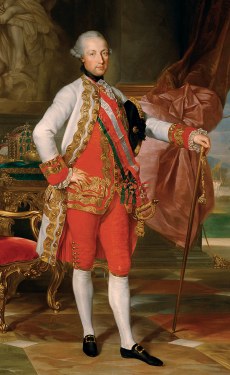 (d. 1790) shut down the novi­tiate, con­fis­cat­ing all prop­er­ty of the mo­na­stery for the re­li­gious fund. How­ev­er, the Poor Clares liv­ing there were al­lowed to stay un­til their death.
THE MONASTERY IN STARY SĄCZ ON POSTCARDS FROM THE 1920S
T
he Aus­tri­ans de­prived the Poor Clares not on­ly of their prop­er­ty and land, but al­so of all valu­ables, in­clud­ing Kinga's relics, archives and rich book col­lec­tion. Some of the dis­ad­van­ta­geous reg­u­la­tions were with­drawn af­ter 1811, for ex­am­ple, the Poor Clares were again grant­ed the right to run a novi­tiate, but on the con­di­tion that a school for girls would be opened with­in the walls of the mo­na­stery. The sis­ters op­er­at­ed school fa­cil­i­ties here un­til 1938, when they turned it o­ver to the care of the town, fo­cus­ing from then on the re­li­gious na­ture of their min­istry.
FARM GATE AND A TOWER IN THE SOUTHERN PART OF THE WALLS
PHOTOGRAPH FROM THE 1950S AND PRESENT STATE
DESCRIPTION OF THE MONASTERY
T
he monastery is lo­cat­ed in the south­east­ern part of the town, at the fork of the Po­prad and Du­na­jec riv­ers. At first, it con­sist­ed on­ly of wood­en build­ings, on­ly some of them stood on a stone foun­da­tion. The old­est brick mo­na­ste­ry build­ing is the Holy Trin­i­ty Church, dat­ing from the ear­ly 14th cen­tu­ry. Its pres­by­te­ry is prob­a­bly even old­er, as it dates back to the 13th cen­tu­ry, which seems to be con­firmed by stone­work and late-Ro­manesque en­grav­ings pre­served on one of the walls. This build­ing con­sists of a wide choir, a short nave di­vid­ed in­to two bays, and arched pres­by­te­ry. The nave and the choir were orig­i­nal­ly cov­ered with wooden ceil­ings, but cur­rent­ly, they are capped with a cross-ribbed vault, just like the afore­men­tioned pres­by­te­ry.
PLAN OF THE CHURCH IN THE XV CENTURY: 1. PRESBYTERY, 2. NAVE, 3. CHOIR, 4. CHAPTER HOUSE, 5. KINGA'S CHAPEL
VAULTING OF THE NAVE AND THE PRESBYTERY IN THE CHURCH OF THE HOLY TRINITY
T
he in­te­ri­or of the tem­ple has a Baroque dé­cor giv­en to it in the 17th cen­tu­ry by Pol­ish, Ital­ian and Scot­tish art­ists. It con­sists of, among oth­ers, poly­chromies de­pict­ing the fig­ures of St. Adal­bert, St. Sta­ni­sław and St. Kin­ga, al­tars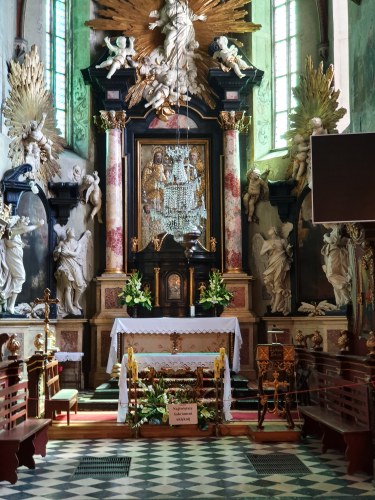 with rich sculp­tural dec­o­ra­tion by Bal­tazar Fon­ta­na as well as the 17th cen­tu­ry door lead­ing to the vestry with paint­ed scenes show­ing the life of St. Kin­ga and her hus­band Bo­le­sław the Chaste. Al­so note­wor­thy is the Baroque pul­pit lo­cat­ed in the north­ern part of the nave and de­pict­ing the fam­i­ly tree of Je­sus and his moth­er (the so-called Jesse tree). Ad­ja­cent to the south­ern wall of the church is a four­teenth-cen­tu­ry St. Kin­ga's Chapel with a Baroque al­tar, the cen­tral part of which is oc­cu­pied by a fig­ure of the Holy Duchess of Sącz made of lin­den wood, and a small cof­fin con­tain­ing her relics. The chapel is sep­a­rat­ed from the nave by an em­bel­lished 17th-cen­tu­ry wrought-iron lat­tice framed by a lav­ish mar­ble por­tal.
F
rom the west, a two-sto­ry an­nex ad­joins the nave and the choir, the up­per part of which is oc­cu­pied by an or­a­to­ry shaped by the Scot­tish mas­ter James Scott, while the low­er part housed a chap­ter house, and cur­rent­ly a vestry. This ar­range­ment re­sult­ed from the mo­na­stery's strict rule that the or­a­to­ry should be sep­a­rat­ed from the church. The chap­ter house is cov­ered with a ribbed vault con­sist­ing of four bays span­ning around a cen­tral oc­tag­o­nal pil­lar.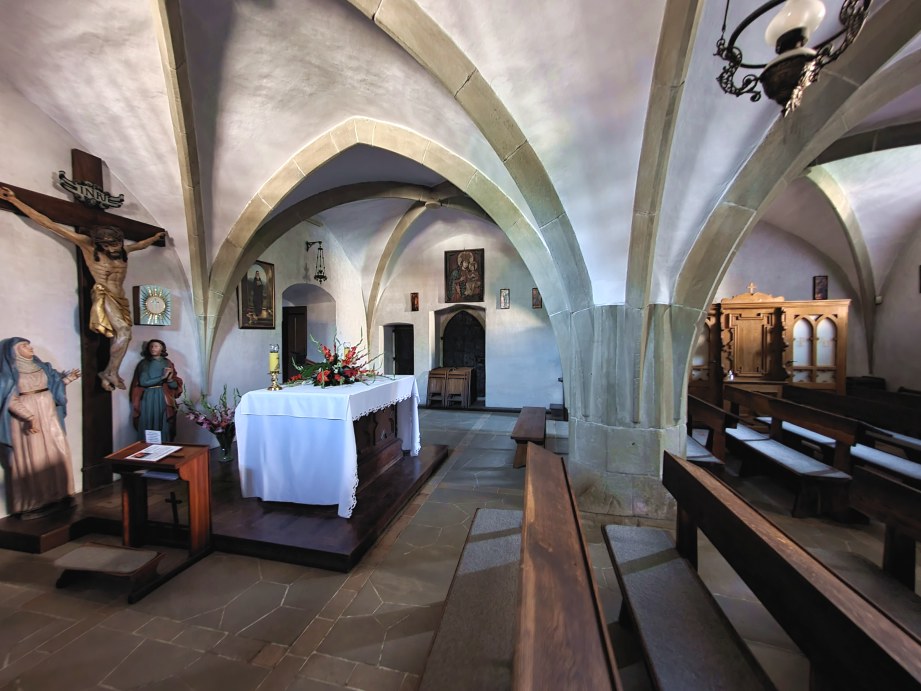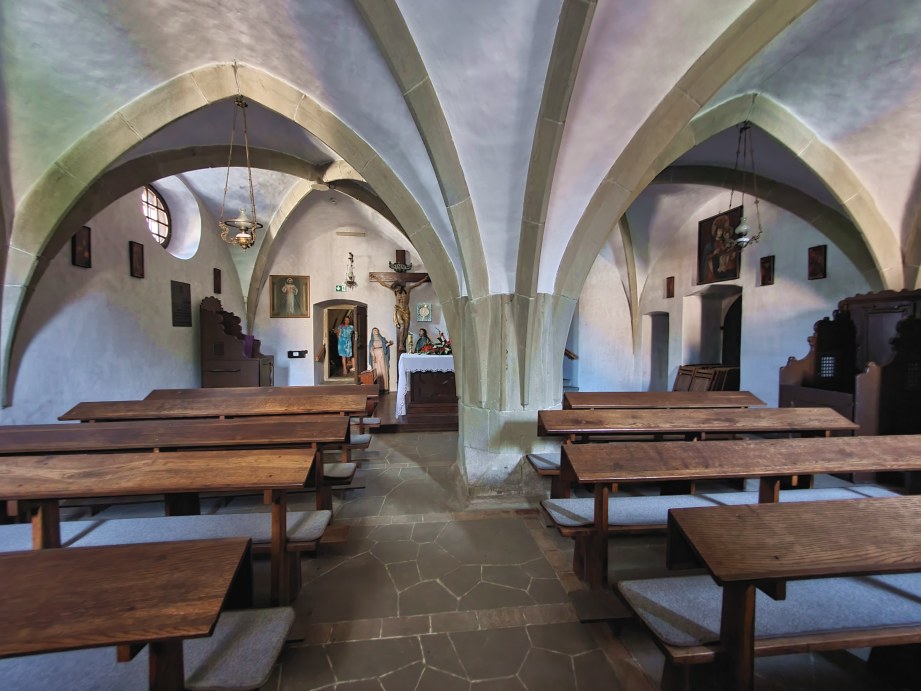 F
or the first few cen­turies, the nuns lived in mod­est wood­en hous­es. On­ly af­ter 1601 these wood­en build­ings were re­placed by a four-winged ed­i­fice with gal­leries run­ning around the small court­yard. Farm build­ings rised next to the mo­na­stery, and a high stone wall was erect­ed on the south, west, and part­ly on the east. This wall is par­tic­u­lar­ly strong­ly for­ti­fied in the south­ern part, where it is flanked by a cylin­dri­cal tow­er. Years ago, the mo­na­stery wall was oran­ment­ed with a sgraf­fi­to dec­o­ra­tion de­pict­ing the Tar­tar in­va­sion of Sta­ry Sącz in 1289, which un­for­tu­nate­ly no longer ex­ists.
PLAN OF THE MONASTERY: 1. GATE WING WITH CLOCK TOWER, 2. NORTH COURTYARD, 3. FIELD ALTAR, 4. CHAPLAIN'S HOUSE,
5. HOLY TRINITY CHURCH, 6. CONVENT GATE, 7. RESIDENTIAL PART, 8. SOUTH COURTYARD, 9. FARM BUILDINGS, 10. FARM GATE,
11. SOUTH TOWER, 12. GARDEN
---
T
he monastery in Stary Sącz is one of the most valu­able his­tor­i­cal build­ings in the re­gion and one of the most pop­u­lar des­ti­na­tions for pil­grim­age tourism in Poland. It serves as St. Kin­ga Sanc­tu­ary of the Poor Clares, who cul­ti­vate here a rich spir­i­tu­al life ac­cord­ing to the strict Fran­cis­can rule. The mo­na­stery was di­vid­ed in­to two parts, the north­ern part open to all and the closed south­ern part avail­able on­ly to nuns. The open area around the large court­yard con­tains the gate­house with a clock tow­er, the field al­tar, the (for­mer) chap­lain's house, and the Holy Trin­i­ty Church. The in­te­ri­ors of the church and, con­di­tion­al­ly, a small mu­se­um in St. Kinga's House (the for­mer chap­lain's house) are open to the pub­lic.
NORTHERN COURTYARD: WE CAN SEE THE CHURCH OF THE HOLY TRINITY (ABOVE), THE CHAPLAIN'S HOUSE AND THE FIELD ALTAR (BELOW)
T
he monastery church has re­tained its orig­i­nal Goth­ic char­ac­ter, which is em­pha­sized by the cross-ribbed vaults, the point­ed arch­es and the trac­ery dec­o­ra­tion of the win­dows. Its fur­nish­ings and paint­ings, how­ev­er, are the work of artists cre­at­ing in the Baroque pe­ri­od. The most no­table of these is Jesse's tree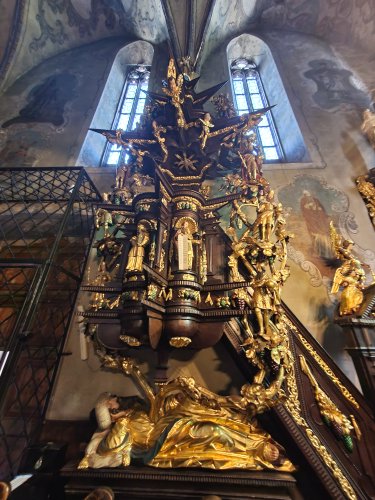 , an al­most 8-me­ter high pul­pit de­pict­ing the fam­i­ly of David, from which Christ's moth­er de­scend­ed. In ad­di­tion to wall sgraf­fi­to, the church is dec­o­rat­ed with sev­en­teenth-cen­tu­ry paint­ings in carved mar­ble stuc­co. The most valu­able fur­nish­ings are ro­co­co stalls, eigh­teenth-cen­tu­ry bench­es, and a rel­a­tive­ly young, dat­ing from the late nine­teenth cen­tu­ry, an 8-voice pipe or­gan made by Rie­ger. Of par­tic­u­lar im­por­tance for deep­ly re­li­gious peo­ple is the Chapel of St. Kin­ga, with its Baroque al­tar and sil­ver cof­fin con­tain­ing the re­mains of the saint.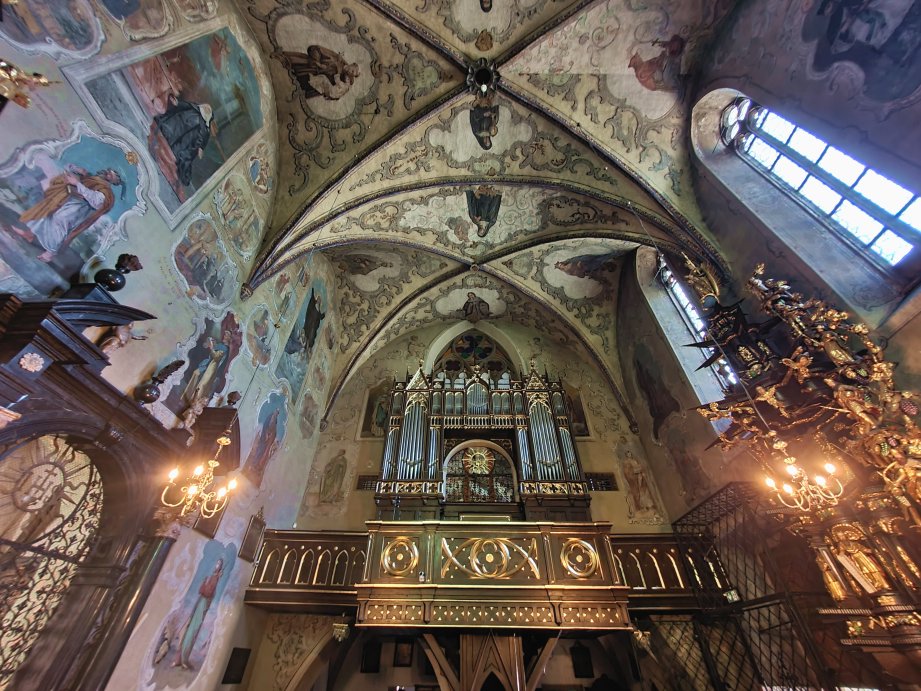 CHOIR WITH RIEGER PIPE ORGAN, JESSE'S TREE ON THE RIGHT
T
he for­ti­fi­ca­tions
en­clos­ing the mo­na­stery from the south, east and west sides have been pre­served in very good con­di­tion. In the south­ern­most part of the wall stands a round white­washed tow­er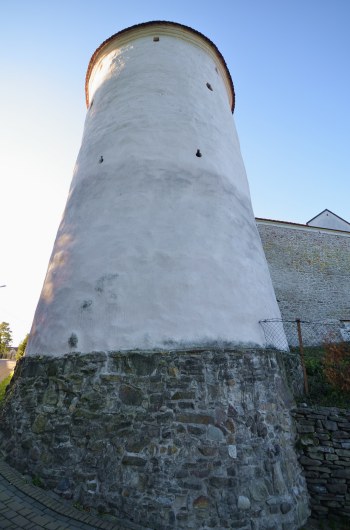 , four sto­ries high and topped with a cylin­dri­cal cupo­la, which to­day is one of the most rec­og­niz­able el­e­ments of the ar­chi­tec­ture, not on­ly of the mo­na­stery but of the en­tire town. It is al­so worth not­ing the wood­en Sek­ler gate stand­ing by the west­ern wall, one of three of its kind in Poland, which was found­ed by the As­so­ci­a­tion of the World Union of Hun­gar­i­ans to com­mem­o­rate the can­on­iza­tion of St. Kin­ga. On the gate, in ad­di­tion to carved im­ages of St. Kin­ga and St. Jad­wiga (both born in Hun­gary) and the Pol­ish and Hun­gar­i­an coats of arms, the in­scrip­tion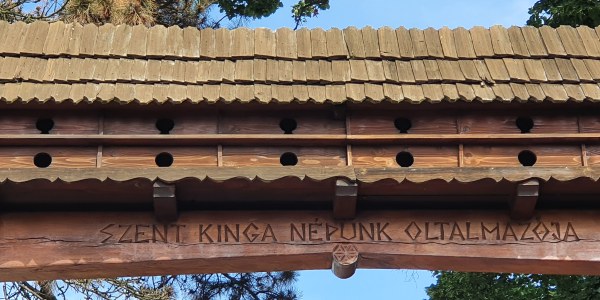 SZENT KIN­GA NE­PUNK OL­TAL­MA­ZO­JA (trans­lat­ed: Saint Kin­ga, Moth­er of the Na­tion) was placed.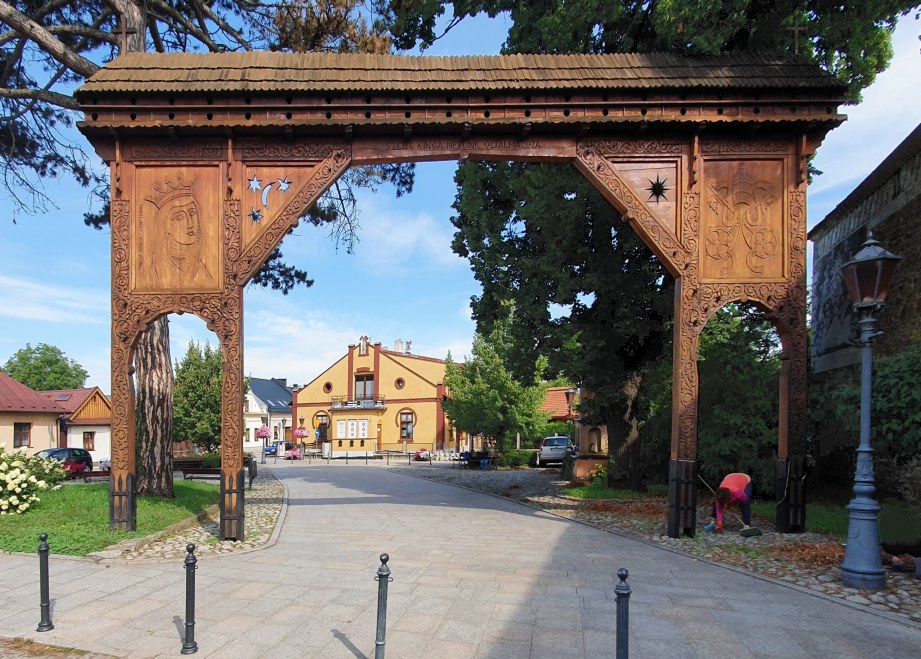 | | |
| --- | --- |
| | Admission is free to the northern court­yard, the church, and the mu­se­um. The mu­se­um can be visi­ted in groups by ap­point­ment. |
| | |
| --- | --- |
| | To see the monastery from the out­side, visit the church and the court­yard, you need about 30-45 min­utes. |
| | |
| --- | --- |
| | No flash is al­lowed in the church. |
| | |
| --- | --- |
| | Animals are not allowed in the mo­na­stery. |
| | |
| --- | --- |
| | You can fly a drone, but res­pect loc­al re­gu­la­tions, and do it res­pon­sib­ly. |
---
T
he monastery is lo­cat­ed about 300 me­ters south­east of the Mar­ket Place. Those ar­riv­ing by train have to walk about 1 km (go north-west, along 22 Stycz­nia and Ban­dur­skie­go Streets).
| | |
| --- | --- |
| | You can bring your bike in­to the north court­yard. |
---
1. W. Bazielich: Klaryski starosądeckie a sztuki piękne w XVII i XVIII wieku
2. B. Franczyk: Zamki średniowiecznego pogranicza polsko-węgierskiego w ujęciu archeol. histor., UJ 2010
3. S. Garnczarski: Kultura muzyczna w klasztorze klarysek..., Tarnowskie Studia Teologiczne 33 (2014)
4. M. Kornecki: Ochrona i konserwacja zabytków w dawnym woj. krakow..., Ochrona Zabytków 42/2, 1989
5. B. Kowalska: Biskup krakowski Paweł z Przemankowa a klasztor klarysek..., Zeszyty Historyczne 2009
6. M. Mirek: Dziedzictwo kulturowe św. Kingi..., Archiwa, Biblioteki i Muzea Kościelne 107 (2017)
7. P. Pajor: Kilka uwag o okolicznościach budowy [...] kościoła klarysek w Starym Sączu, Modus XVIII, 2018
8. Sz. Swoboda: Średniowieczne relikty kultu św. Kingi. Historia i aranżacja kaplicy św. Kingi…
COMPLEX LOCK MECHANISM OF THE XVII CENTURY CHAPTERHOUSE DOOR
Castles nearby:
Nowy Sącz - ruins of the royal castle from the 14th century, 10 km
Rytro - the Gothic castle ruin from the 13th/14th century, 12 km
Jeżów - the Renaissance fortified manor house from the 15th century, 34 km
Rożnów - ruins of the knight's castle from the 14th century, 36 km
Rożnów - ruins of the magnate castle from the 16th century, 36 km
Szymbark - the Renaissance fortified manor house from the 16th century, 42 km
Muszyna - ruins of the Cracovian bishops' castle from the 14th century, 45 km
Czorsztyn - the Gothic castle ruin from the 13th/14th century, 47 km
Krościenko - relics of the Pieniny Castle from the 13th century, 51 km
Niedzica - ruins of the knight's castle from the 14th century, 51 km
Frydman - the Renaissance fortified manor house from the 16th/17th century, 55 km

text: 2022
photographs: 2017, 2021
© Jacek Bednarek