MUSZYNA

the ruin of bishops' castle
RUIN OF MEDIEVAL CASTLE IN MUSZYNA, BEFORE REVITALIZATION (2017)
---
H
is­to­ri­ans and re­searchers of the Mid­dle Ages in­ter­pret the be­gin­nings of de­fense-re­lat­ed ar­chi­tec­ture in Muszy­na dif­fer­ent­ly. Ac­cord­ing to tra­di­tion, in this one of the old­est set­tle­ments in the Pod­karpa­cie re­gion, the for­ti­fied cas­tle was built by Duke Wła­dy­sław Ło­kie­tek or on­ly as a re­sult of roy­al foun­da­tion of Ka­zi­mierz Wiel­ki. Based on more re­cent re­search, how­ev­er, a dom­i­nant po­si­tion is that much ear­li­er a small knight's cas­tle ex­ist­ed here, lo­cat­ed slight­ly high­er than a brick cas­tle, about 100 me­ters away from it. This mod­est con­struc­tion, sur­round­ed by a stone-earth ram­part and a dry moat, was built on a cir­cle plan with di­am­e­ter of about 30 me­ters. In its cen­tral part stood a wood­en res­i­den­tial build­ing, prob­a­bly a tow­er, with base di­men­sions of 6x6 me­ters and no more than two storeys. On the ba­sis of ar­chae­o­log­i­cal re­search and his­tor­i­cal records, this cas­tle is iden­ti­fied with the land prop­er­ty trans­ferred in May 1288 by the heirs of Wysz from Nie­go­wi­cia coat of arms of Pół­ko­zic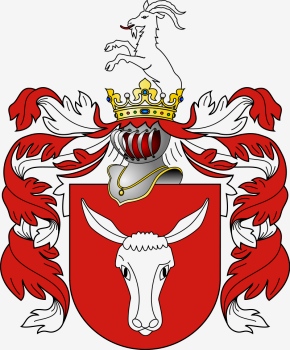 to the bish­op of Kraków, Pa­weł from Prze­man­ków (d. 1292), who was known for the promis­cu­ity of his life. He kept the whole harem at the bish­opric, and even from the monastery in Skała he kid­napped a nun and in­clud­ed her in his harem.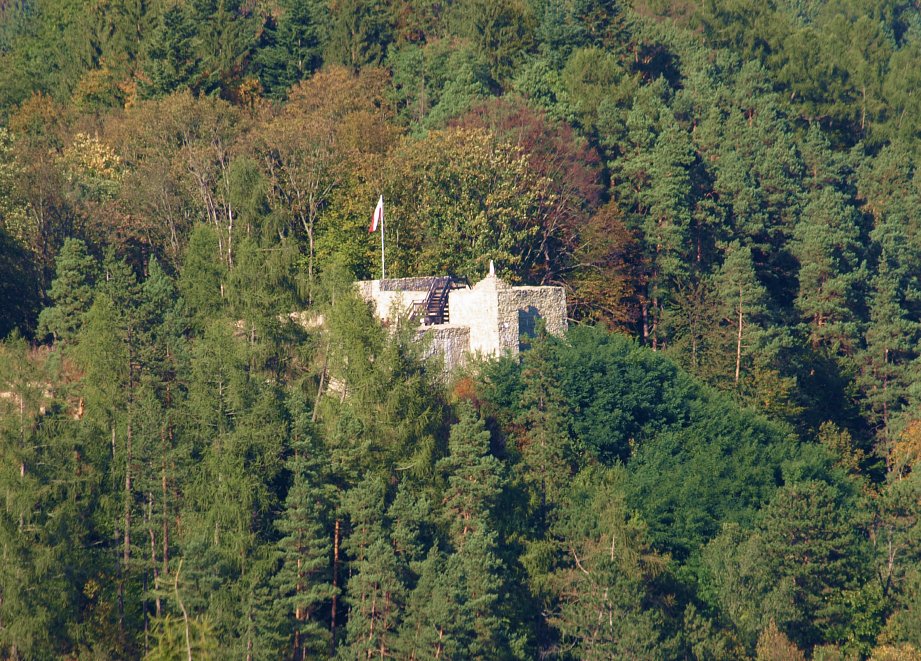 VIEW OF THE CASTLE FROM OBSERVATION TOWER LOCATED ABOUT 600 METERS AWAY
T
he cas­tle re­mained in the hands of bish­ops un­til the reign of Jan Muska­ta (d. 1320), who prob­a­bly at the be­gin­ning of the 14th cen­tu­ry ex­pand­ed it and erect­ed a brick tow­er. These in­vest­ments were pre­su­mably dic­tat­ed by the con­flict o­ver pow­er in the Cra­cow dis­trict, car­ried out by the bish­op with Duke Wła­dy­sław Ło­kie­tek
(d. 1333). In 1308 Muska­ta was ac­cused by Arch­bish­op Ja­kub Świn­ka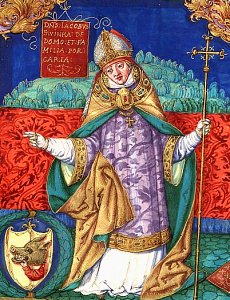 of church abus­es, re­moved from of­fice and im­pri­soned. This sit­u­a­tion was used by Ło­kie­tek who, in the ab­sence of main po­lit­i­cal op­po­nent, took Mu­szy­na and then in­cor­po­rat­ed it, with sur­round­ing lands, to the duke's prop­er­ty. Cas­trum in Mu­szy­na was al­ready men­tioned as roy­al prop­er­ty in 1352, but we do not know whether it was a wood­en-soil struc­ture or a brick fortress. At that time it served as a bor­der guard­house and cus­toms cham­ber at the trade route lead­ing along the Po­prad riv­er to Hun­gary. It is like­ly that dur­ing the reign of Ka­zi­mierz Wiel­ki (Casimir the Great)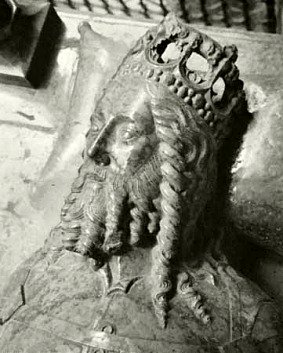 (d. 1370) some con­struc­tion work was car­ried out here, but the scale of these trans­for­ma­tions, if any, re­mains un­known.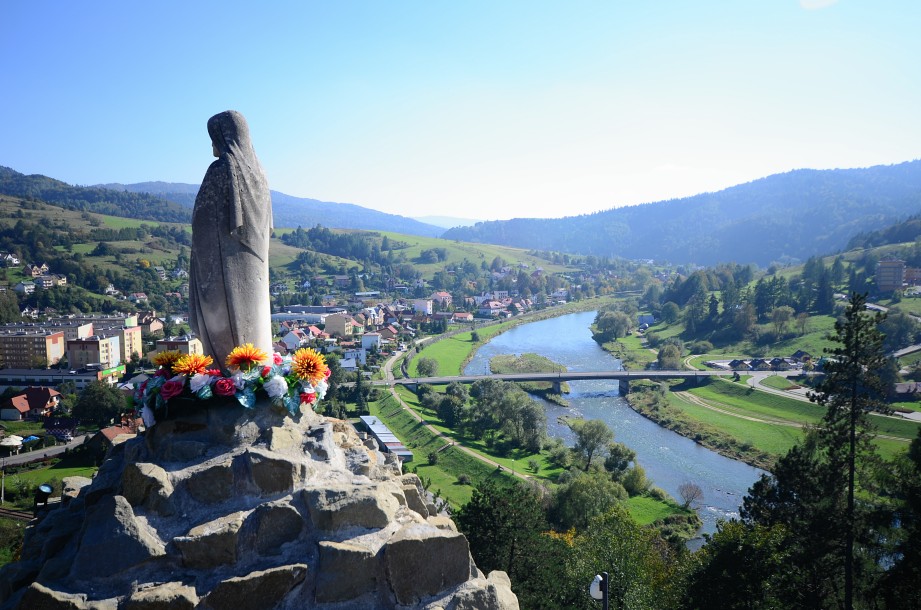 VIEW FROM THE CASTLE OVER THE VALLEY OF POPRAD RIVER, IN THE FOREGROUND A STATUE OF BLESSED VIRGIN MARY SET UP BY LOCAL PEOPLE IN 1979
M
uszy­na re­mained in the hands of Pol­ish kings un­til 1391 or, at the lat­est, un­til 1448, when the first starost is men­tioned in his­tor­i­cal ref­er­ences. Due to its func­tion and bor­der lo­ca­tion, the cas­tle was ex­posed to fre­quent Hun­gar­i­an and any rob­bers at­tacks. In 1411 Mi­ko­łaj Gła­dysz, who com­mand­ed the crew of the fort­ress, sub­mit­ted it to the troops of voivode Ści­bor from Ści­bo­rzy­ce (d. 1414), one of the rich­est man in me­dieval Eu­rope, own­er of 31 fort­ress­es and 200 oth­er es­tates, some­times called the lit­tle king of Slo­va­kia. In 1448, the dis­trict of Mu­szy­na, con­sist­ing of 2 towns and sev­er­al dozen vil­lages, was un­doubt­ed­ly al­ready owned by bish­ops of Cra­cow, who obliged them­selves to keep a per­ma­nent mil­i­tary crew in the cas­tle. From then on, it served as the res­i­dence of starosts of the so-called State of Mu­szy­na, an in­de­pen­dent ad­min­is­tra­tive unit with its own of­fices, army and ju­di­cia­ry, which re­mained un­der the rule of Cra­cow Cu­ria un­til the par­ti­tions of Poland (18th cen­tu­ry). How­ev­er, al­ready in 1455 a build­ing catas­tro­phe took place, where the fourth part of the cas­tle from the top to the foun­da­tion with all walls and build­ings col­lapsed. De­struc­tion of the fortress was so ex­ten­sive that its re­moval in short pe­ri­od of time ex­ceed­ed the fi­nan­cial pos­si­bil­i­ties of its own­ers.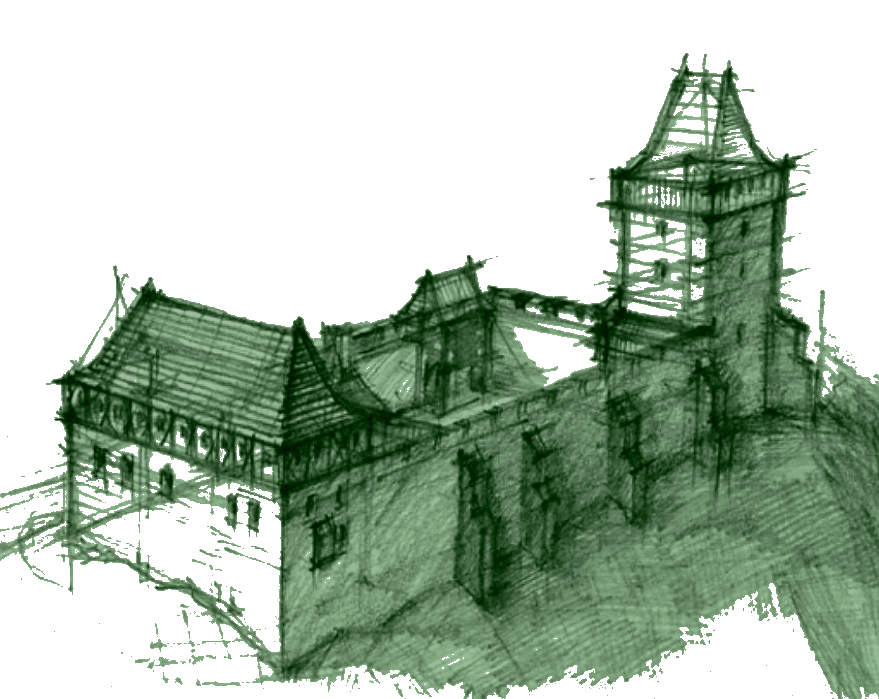 HYPOTHETICAL RECONSTRUCTION OF MUSZYNA CASTLE, ORIGIN: WIKIPEDIA
The State of Muszy­na is the his­tor­i­cal lat­i­fundi­um, ex­ist­ing from the 13th cen­tu­ry to 1781, with an area of about 450 square kilo­me­ters, its own ad­min­is­tra­tion, ju­di­cia­ry and army. It in­clud­ed two towns (Mu­szy­na and Ty­licz) and 47 vil­lages lo­cat­ed in the area of to­day's mu­nic­i­pal­i­ties of Mu­szy­na, Kry­ni­ca-Zdrój, Ła­bowa and Uście Gor­lic­kie.

The State of Muszy­na as an in­de­pen­dent ter­ri­to­ri­al unit was prob­a­bly es­tab­lished around 1288 af­ter Muszy­na with its ad­join­ing ter­ri­to­ries was be­queathed by Wysz from Nie­go­wi­cia to Bish­op Pa­weł from Prze­man­ków. In 1308 Bish­op Mu­ska­ta lost it to Wła­dy­sław Ło­kie­tek and from then on it be­longed to the roy­al es­tate un­til the turn of the 14th and 15th cen­turies, or even un­til the mid­dle of the 15th cen­tu­ry, when it was again hand­ed o­ver to Cra­cow cu­ria. This ter­ri­to­ry was in its hands un­til 1781, when it be­came prop­er­ty of the Aus­tri­an gov­ern­ment. Ear­li­er, how­ev­er, in 1770 Mu­szy­na was sep­a­rat­ed from Poland and an­nexed to Hun­ga­ry.

The State of Mu­szy­na pos­sessed its own army, the core of which was made up of peas­ant in­fantry - har­ni­cy (200 to 600 sol­diers), and a cav­al­ry called dra­go­nia bi­sku­pia, where on­ly the may­ors served. More­over, ev­ery man was obliged to have a fight­ing kit and had to par­tic­i­pate in reg­u­lar mil­i­tary train­ings. It is worth not­ing that dur­ing the pe­ri­od of ex­is­tence of the lat­i­fundi­um, the plague of this area was the brig­andage, whose 'no­ble' achieve­ments are com­mem­o­rat­ed by In­ter­na­tion­al Carpathi­an Rob­bers' Route.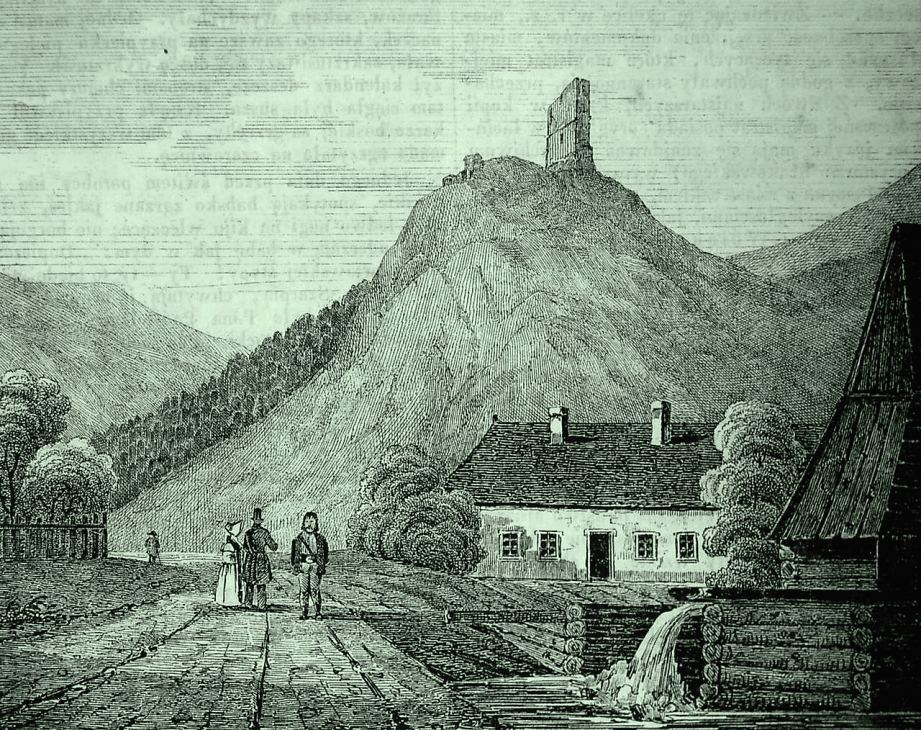 THE CASTLE IN MUSZYNA, WOODCUT FROM 1836
I
n 1474 the cas­tle was be­sieged by the Hun­gar­i­ans. The units un­der com­mand of To­masz Thar­czay (d. 1493) prob­a­bly had an easy task, when in­stead of sol­id wall they had to face half-tim­bered con­struc­tion of the gate, which broke down al­ready on the sec­ond day of fights. Un­doubt­ed­ly, the bat­tle of 1474 was short, but very in­tense, as ev­i­denced by the large num­ber of mil­i­taria found by ar­chae­ol­o­gists in the ground and traces of com­bus­tion from that pe­ri­od. It is as­sumed that the cas­tle was com­plete­ly de­stroyed by in­va­sion. Un­der the peace agree­ment signed with Hun­gar­i­an King Mat­thias Cor­vi­nus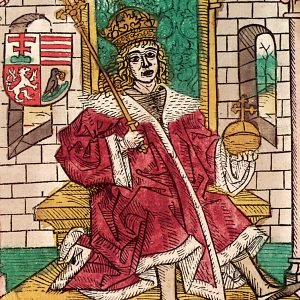 (d. 1490), Mu­szy­na was soon re­turned to bish­ops and re­built with con­sid­er­able fi­nan­cial sup­port or even at the King's ex­pense. How­ev­er, due to the lack of pre­cise da­ta, to­day we are not sure whether these works in­clud­ed pre­vi­ous fortress or rather were re­lat­ed to the new res­i­dence, lo­cat­ed near the old one. Con­struc­tion works, car­ried out un­der su­per­vi­sion of Mu­szy­na's starost Mi­ko­łaj La­pis­pa­ta­ky, was com­plet­ed af­ter 1508, when in­stal­la­tion of door and win­dow frames was not­ed. At that time, the neigh­bour­ing (the older) cas­tle was fi­nal­ly aban­doned, and per­haps even burned down to strength­en the de­fence of new cas­tle.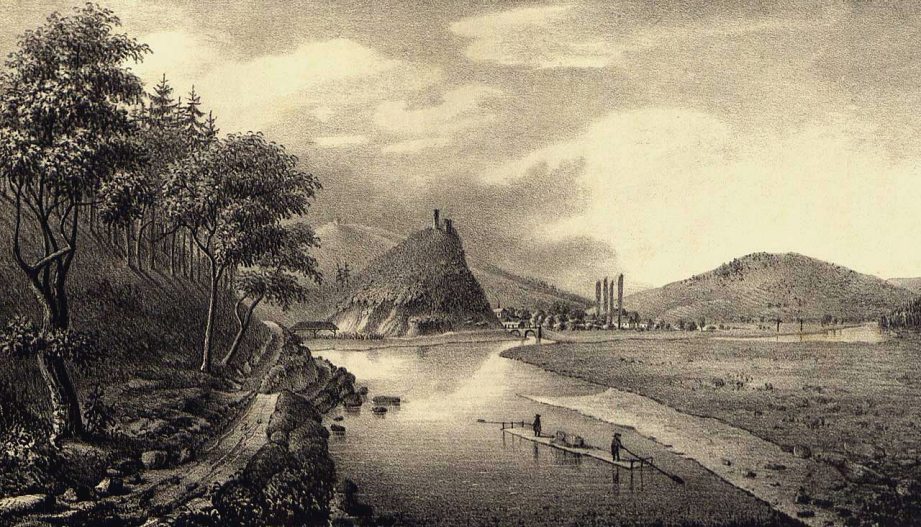 LITHOGRAPH MADE BY MACIEJ BOHUSZ STĘCZYŃSKI IN 1846
T
he splen­dour of the Re­nais­sance res­i­dence un­der the aus­pices of Cra­cow bish­op's Cu­ria last­ed on­ly un­til the end of 16th cen­tu­ry. At that time, it was al­ready an out­dat­ed stronghold which, due to ar­cha­ic for­ti­fi­ca­tion so­lu­tions, could not pro­vide an ef­fec­tive de­fence against reg­u­lar forces. The cas­tle, which was not ren­o­vat­ed and not mod­ern­ized, no longer per­formed res­i­den­tial func­tion dur­ing the reign of starost Woj­ciech Bed­liń­ski. On his or­ders, in 1645, the of­fices were moved to wood­en manor house sit­u­at­ed at the foot of cas­tle hill. As a fort­ress the cas­tle was used for the last time dur­ing Swedish Del­uge, when it was ac­tive­ly pre­pared for de­fence. The im­por­tance of Mu­szy­na and the cas­tle at that time is ev­i­denced by the fact that Bed­liń­ski was re­leased by king from obli­ga­tion to par­tic­i­pate in com­mon move­ment in ex­change for guard­ing the town and the bor­der. In lat­er years, the build­ing was no longer men­tioned, al­though many doc­u­ments is­sued by starosts were still signed with an­no­ta­tion: at Mu­szy­na Cas­tle. How­ev­er, such a form was on­ly a sym­bol­ic act to em­pha­size the im­por­tance of their of­fice. At the be­gin­ning of the 19th cen­tu­ry, the cas­tle was al­ready a ru­in, with rem­nants of a tow­er that had been torn and with a piece of wall. The first ar­chae­o­log­i­cal re­search on site of the for­mer cas­tle be­gan in 1963, while in 1991-98 the walls were pre­served and se­cured as a per­ma­nent ru­in.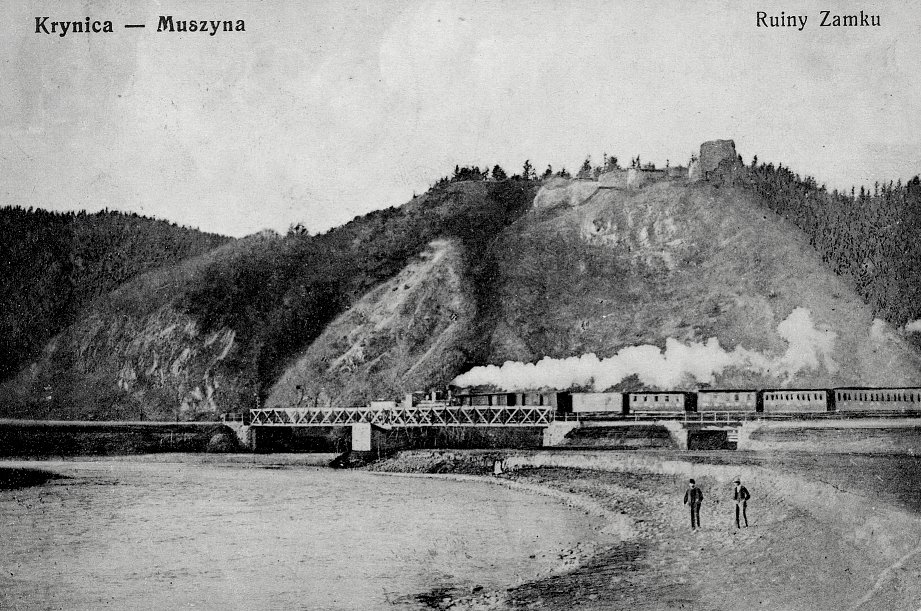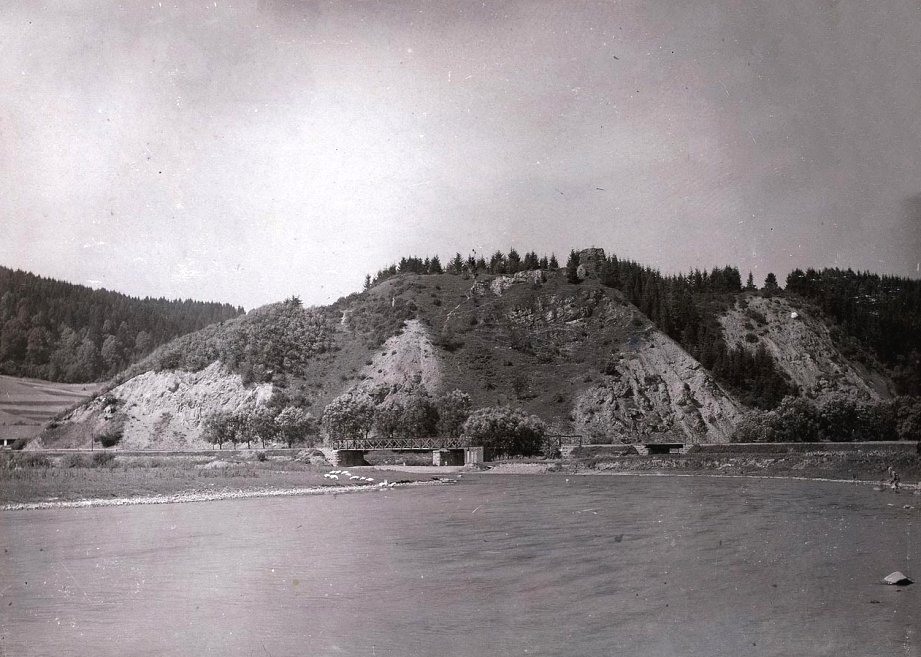 CASTLE HILL WITH RUIN OF THE CASTLE, POSTCARDS FROM THE EARLY XX CENTURY
As a re­sult of many years of ar­chae­o­log­i­cal work car­ried out at the cas­tle, a large num­ber of mon­u­ments were ex­ca­vat­ed, which tes­ti­fy to the tur­bu­lent past of this place. Among sev­er­al thou­sand items and their frag­ments found here, a rich col­lec­tion of mil­i­taria de­serves to be dis­tin­guished, in­clud­ing the re­mains of iron and bronze bar­rels of hand­guns with am­mu­ni­tion, relics of bolt­heads, buck­les, knives and frag­ments of ar­mour, whose ori­gins are main­ly re­lat­ed to the bat­tle be­tween cas­tle de­fend­ers and Hun­gar­i­an army in 1474. From parts of cloth­ing and dec­o­ra­tions it is worth to men­tion belt buck­les and rings, es­pe­cial­ly one with the Ger­man in­scrip­tion hilf gott ma­ria made in Goth­ic font, which was prob­a­bly lost dur­ing at­tack on the cas­tle by one of the sol­diers of Hun­gar­i­an army. Among the finds there are al­so Hun­gar­i­an and Pol­ish coins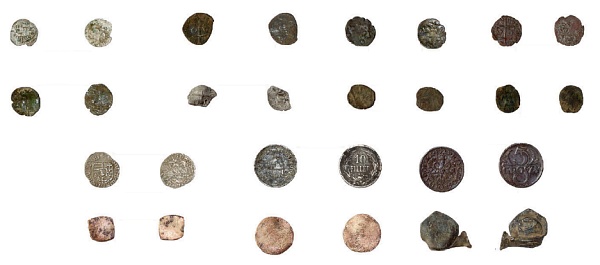 from chrono­log­i­cal pe­ri­od be­tween the mid-14th cen­tu­ry and the end of the 15th cen­tu­ry, in­clud­ing a high-sil­ver denar of Louis I be­fore 1382 and denars is­sued by Wła­dy­sław War­neń­czyk af­ter he took the throne of Hun­gary. In­ter­est­ing­ly, two coins with a much younger met­ric were al­so found: a sil­ver Hun­gar­i­an coin with face val­ue of 10 fillers from 1893 and a Pol­ish 5 grosz coin from 1923.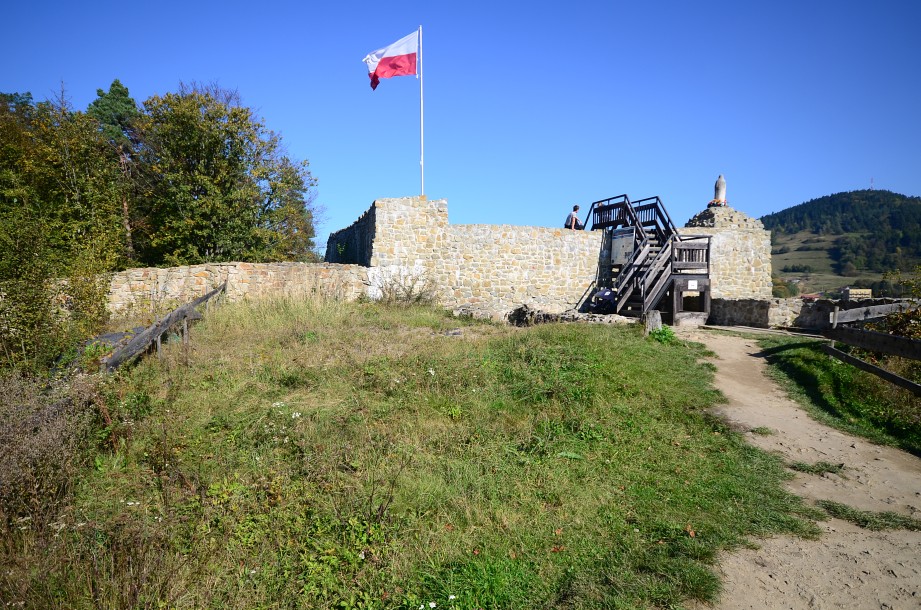 VIEW FROM THE FORMER COURTYARD TO THE EASTERN CURTAIN OF WALLS AND REMAINS OF THE TOWER
DESCRIPTION OF THE CASTLE
T
he cas­tle was built of lo­cal sand­stone, near the bor­der cross­ing, not far from Hun­gar­i­an cas­tle Pla­vec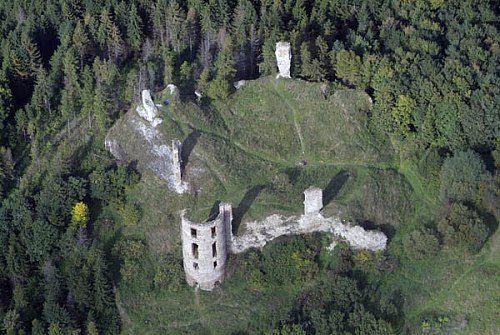 . It had a rect­an­gu­lar plan with sides of 80x25 me­ters, to which a mas­sive quadri­lat­er­al tow­er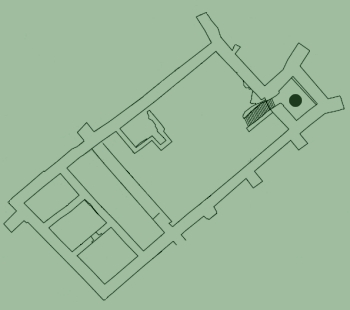 was ad­ja­cent from the east, sup­port­ed in the cor­ners by but­tress­es. Its rect­an­gu­lar out­line mea­sured 10.5 me­tres on an east-west line and 12 me­tres in a north-south di­rec­tion, and the wall thick­ness reached 2.5 me­tres. Di­men­sions of the tow­er sug­gest that it orig­i­nal­ly func­tioned as a mul­ti-storey res­i­den­tial and de­fen­sive build­ing, and its orig­i­nal height could reach 16-18 me­ters. In the west­ern part there was res­i­den­tial house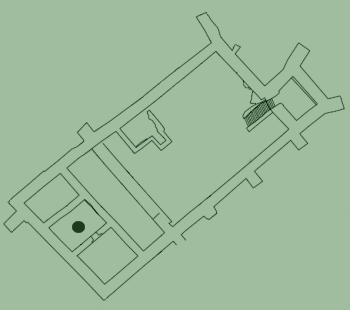 , pre­sum­ably two-storey, fill­ing whole length of the cur­tain and sep­a­rat­ed from the court­yard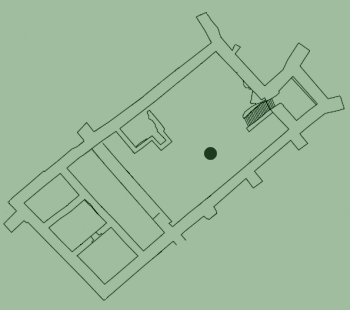 by a 2.5-me­tre thick wall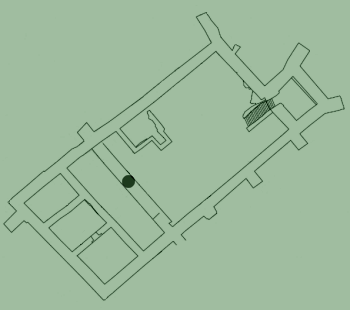 . The build­ing had a rect­an­gu­lar plan with sides of 13.5x28 me­tres, with walls 1.3 to 1.8 me­tres thick, sup­port­ed in the cor­ners by but­tress­es. The stone struc­ture was com­ple­ment­ed by small, square-shaped ar­se­nal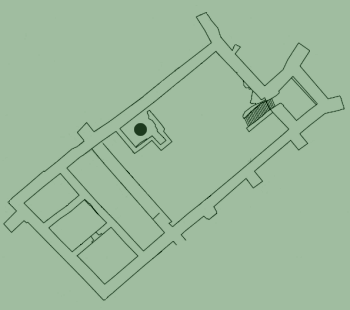 , which to­geth­er with wood­en util­i­ty build­ings filled the court­yard space in its north­ern part. The en­trance to the cas­tle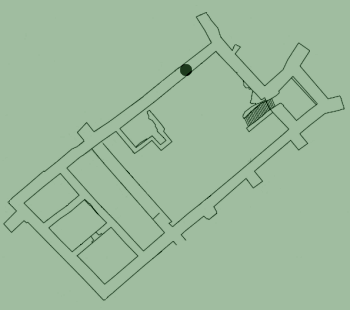 was lo­cat­ed in east­ern part of north­ern cur­tain wall. Per­haps lat­er a three-cham­ber res­i­den­tial build­ing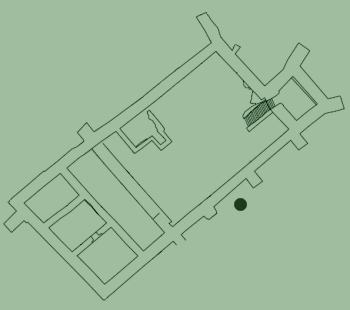 was erect­ed on the out­side of south­ern wall, but due to il­leg­i­bil­i­ty of re­mains here, its ex­is­tence is of­ten ques­tioned.
---
T
he ruin is located at the top of hill cal­led Ba­szta or Zam­czy­sko (527 m amsl), about 60 me­ters a­bo­ve Po­prad ri­ver­bed. Part­ial­ly re­con­stru­cted frag­ments of cur­tain walls with ground floor of the east­ern to­wer, whe­re the view­point is cur­ren­tly lo­ca­ted, ha­ve sur­vi­ved to the pre­sent day. In 2021 a re­vi­ta­li­sa­tion of the ru­ins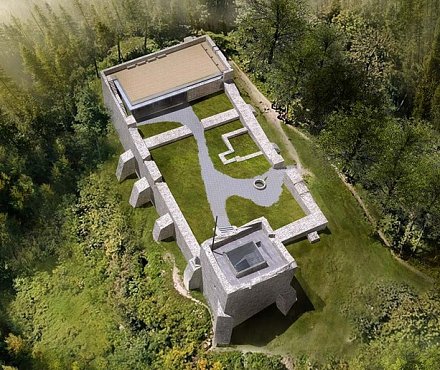 began, which in­clu­des se­cu­ring e­xist­ing walls, rai­sing the east­ern to­wer, buil­ding a view­ing ter­ra­ce in west­ern part of the court­yard, as well as buil­ding a wood­en brid­ge o­ver dry mo­at. For this reason, the castle is temporarily closed (status in 2021).
THE VIEW FROM THE CASTLE RUINS
REMAINS OF MEDIEVAL WALLS (THE TOWER)
FORMER COURTYARD (ALL PHOTOS WERE TAKEN BEFORE THE RUINS WERE REVITALIZED)
---
T
he ruin is located in the south-western part of the town, ne­ar for­king of the Po­prad and Mu­szy­nian­ka ri­vers, clo­se to brid­ges o­ver Mu­szy­nian­ka (di­re­ction Piw­nicz­na Zdrój). (cas­tles in Ma­lo­pol­skie Voi­vo­de­ship)
| | |
| --- | --- |
| | If You travel by car You can leave it at An­to­nie­go Ki­ty Street, right next to the brid­ges men­tioned abo­ve. Then, on foot, by­pas­sing the hill from the left, turn right in­to Za­zam­cze Street and a­fter a few do­zen me­ters en­ter the fo­rest, whe­re a the­ma­tic walk­ing path will le­ad You di­rect­ly to the the ru­ins. |
---
1. B. Chudzińska: Pozostałości średniowiecznej ręcznej broni palnej z zamku w Muszynie, A.M.M. VII
2. B. Franczyk: Zamki średniowiecznego pogranicza polsko-węgierskiego..., UJ 2010
3. A. Ginter: Zamek w Muszynie w świetle najnowszych badań..., Almanach Muszyny 2014
4. A. Ginter, A. Przybyłok: Wybrane militaria z badań archeologicznych zamku w Muszynie..., A.M.M. XII
5. L. Kajzer, J. Salm, S. Kołodziejski: Leksykon zamków w Polsce, Arkady 2001
6. K. Przyboś: Zamek w Muszynie
7. A. Wagner: Murowane budowle obronne w Polsce X-XVIIw., Bellona 2019
VIEW FROM THE OBSERVATION TOWER ON THE SENSORY GARDENS, CASTLE ON A HILL ON THE RIGHT
COOL TEDDY BEAR WITH THE CASTLE IN THE BACKGROUND
Castles nearby:
Rytro - ruin of royal castle from the 13th/14th century, 36 km
Nowy Sącz - ruin of royal castle from the 14th century, 43 km
Stary Sącz - fortified monastery from the 13th-17th century, 45 km
Szymbark - Renaissance castle from the 16th century, 45 km
text: 2020
photographs: 2017
© Jacek Bednarek