KÓRNIK

neo-gothic castle of the Działyński family
CASTLE IN KÓRNIK, A VIEW FROM THE SOUTHEAST
---
T
he first for­ti­fied cas­tle in Kórnik was prob­a­bly built in the fourth quar­ter of the 14th cen­tu­ry by Wy­szo­ta, coat of arms of Łodzia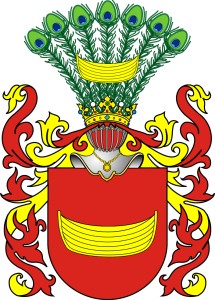 , broth­er of the Poz­nań bish­op Mi­ko­łaj, and prob­a­bly with his fi­nan­cial sup­port. Ini­tial­ly it was a brick con­struc­tion erect­ed on stone foun­da­tions and sit­u­at­ed on a mound sep­a­rat­ed by a moat. It had the plan of an ir­reg­u­lar quadri­lat­er­al with a cylin­dri­cal main tow­er in the north-east­ern cor­ner, with di­am­e­ter of around 8 me­ters, and a two or three-storey res­i­den­tial build­ing with base di­men­sions of 9x10 me­ters. The main tow­er con­trolled the north­ern gate­way to the court­yard, and al­so the road lead­ing through Kórnik from Poz­nań to Wro­cław.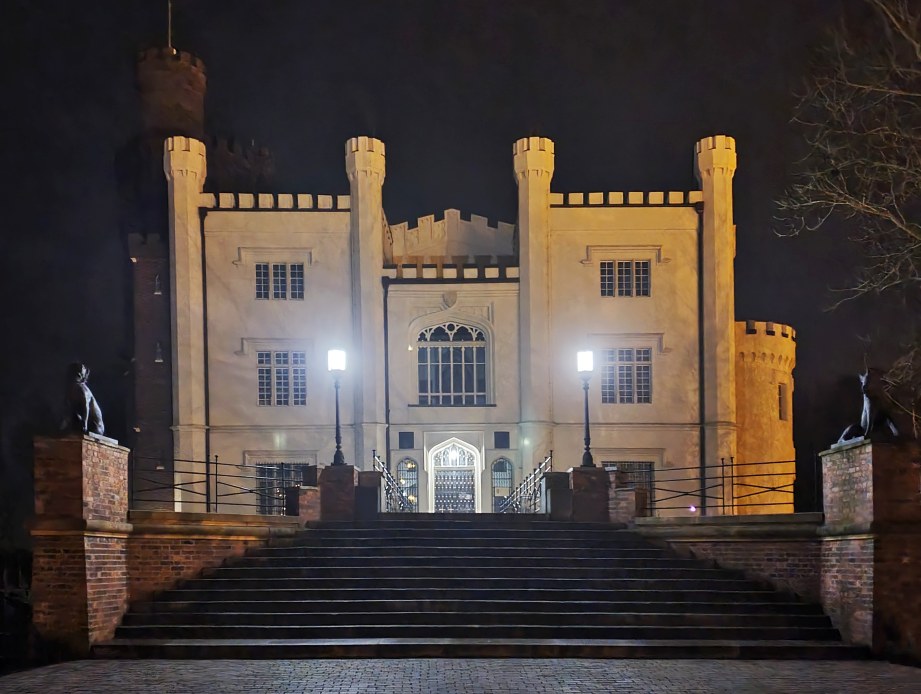 T
he old­est in­for­ma­tion about the cas­tle comes from the year 1426. It is an act of con­tract signed by the then own­er of Kur­nik, Miko­łaj Gór­ka (d. 1439), a canon of Gnie­zno, and the builder Miko­łaj from Poz­nań, re­sult­ing in trans­for­ma­tion of the ex­ist­ing build­ing and in­creas­ing its us­able area. At least since the 1430s the ac­cess to the cas­tle was pro­tect­ed by a draw­bridge, sit­u­at­ed in the same place as the pre­sent brick one. All new res­i­den­tial hous­es, as well as the gra­nary sec­tion of the old­er build­ing, were made in a tim­ber-frame con­struc­tion.
RECONSTRUCTION OF MEDIEVAL CASTLE, I.T.KACZYŃSCY ZAMKI W POLSCE PÓŁNOCNEJ I ŚRODKOWEJ
W
hen Miko­łaj died, Kórnik was giv­en to his nephew Łukasz Gór­ka, Voivode of Poz­nań, and after his death in 1475, the town and the cas­tle be­came the prop­er­ty of his son Uriel (d. 1498), who, due to his poor health, was as­signed by his fa­ther to a cler­i­cal ca­reer. At that time, the fam­i­ly prop­er­ty and ben­e­fits from hold­ing ti­tles, as well as prof­its from bank­ing op­er­a­tions pro­vid­ed Gór­ka with enor­mous in­come. Uriel made the main heir of his mi­nor nephew Łu­kasz Gór­ka
(d. 1542), giv­ing him Kórnik, Miej­ska Gór­ka, Sie­ra­ków and Czer­nie­jów. At the age of 17 Łukasz was a Castel­lan of Spy­ci­mierz, and when he was 26, he be­came the Gen­er­al Sta­rost of Wiel­ko­pol­ska. With time, he grew to the lead­ing fig­ure on the po­lit­i­cal scene, as a close as­so­ci­ate of Si­gi­smund the Old, King of Poland. Łu­kasz's heir was the on­ly son An­drzej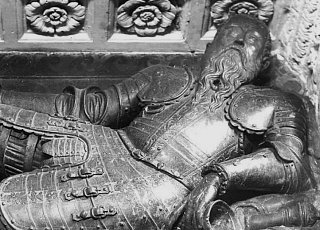 (d. 1551), the rich­est ci­ti­zen of Wiel­ko­pol­ska of his time, who owned o­ver a dozen towns and o­ver a hun­dred vil­lages in Poland and Rus­sia, as well as ten­e­ment hous­es, squares and manors in Poz­nań, Kra­ków and Lwów.
| | |
| --- | --- |
| | |
| | |
| --- | --- |
| | |
CASTLE IN KÓRNIK: ABOVE WE SEE THE NORTHERN ELEVATION, BELOW THE VIEW OF THE SOUTHERN FAÇADE
I
n 1552 Kórnik was in­her­it­ed by Sta­nis­ław Gór­ka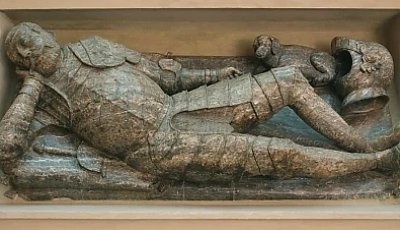 (d. 1592), a phys­i­cal­ly hand­i­capped but proud, fierce and vi­o­lent son of An­drzej, later the Poz­nań Voivode. Dur­ing the life­time of his el­dest broth­er Łukasz, he kept away from big pol­i­tics and con­cen­trat­ed his ef­forts on the re­con­struc­tion of the cas­tle, mak­ing it a res­i­dence wor­thy of the Ja­giel­lo­nian Pol­ish mag­nate. In the sec­ond half of the 16th cen­tu­ry, he erected a three-storey build­ing in which the ground floor housed util­i­ty rooms, the first floor - res­i­den­tial cham­bers, and the sec­ond floor - guest rooms and fa­ci­lities for court­iers.
WILD BOAR AND A DOG GUARDING THE MAIN ENTRANCE DEMONSTRATE THE HUNTING PASSIONS OF THE FORMER OWNERS
T
he build­ing work was com­plet­ed in 1574 and since then the cas­tle has been fa­mous for its el­e­gance and for­ti­fi­ca­tion. Soon af­ter­wards, Sta­ni­sław Gór­ka, with his usual panache, host­ed in Kór­nik Hen­ri de Valois
, who was on his way from Paris to Cra­cow to be enthronised: There were plen­ty of food of all kinds, plen­ty of wine and drinks, open gra­naries and cel­lars, and ev­ery day and night you could take what­ev­er you liked from them. The king him­self was a visitor at the cas­tle [...] re­ceived as a gift beau­ti­ful hors­es, furs made of very valu­able Mos­cow fox­es and oth­er things. The French gen­tle­men and the whole manor house were al­so very well wel­comed in the low­er cas­tle and they also re­ceived gifts. Can­nons were shot of­ten and there were oth­er dif­fer­ent shows.
A MONUMENT OF TYTUS DZIALYŃSKI IN FRONT OF THE CASTLE; IN THE PHOTO BELOW - THE CASTLE BRIDGE
I
n 1592 Stani­sław Gór­ka died child­less and the fam­i­ly of Gór­ka ex­tinct. Kór­nik be­came the prop­er­ty of his nephew Jan Czarn­kow­ski (d. 1618/19), who in 1604 hand­ed o­ver it to his broth­er An­drzej (d. be­fore 1619) in ex­change for the town of Wron­ki and eight vil­lages. In 1610, how­ev­er, An­drzej sold the Kór­nik es­tate for 155,000 zlo­tys to Zyg­munt Gru­dziń­ski (d. 1653), a close as­so­ci­ate of Si­gi­smund III Va­sa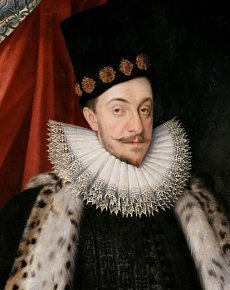 , who ac­tive­ly sup­port­ed Ger­man and Jew­ish col­o­niza­tion in Wiel­ko­pol­ska. In 1623, Gru­dziń­ski host­ed King Zyg­munt, his wife and son Wła­dy­sław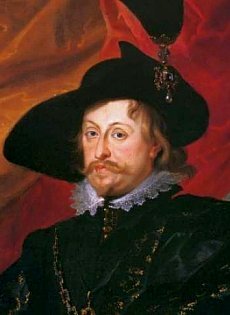 , so it is like­ly that the for­mer res­i­dence of the Gór­ka fam­i­ly was still in a very good con­di­tion. With time, how­ev­er, its pres­tige and con­di­tion de­te­ri­o­rat­ed, be­cause two sons of Zyg­munt, Alek­san­der (d. 1661) and An­drzej Ka­rol (d. 1678) had their own fam­i­ly prop­er­ties and the seat in Kór­nik had the sec­ondary val­ue to them.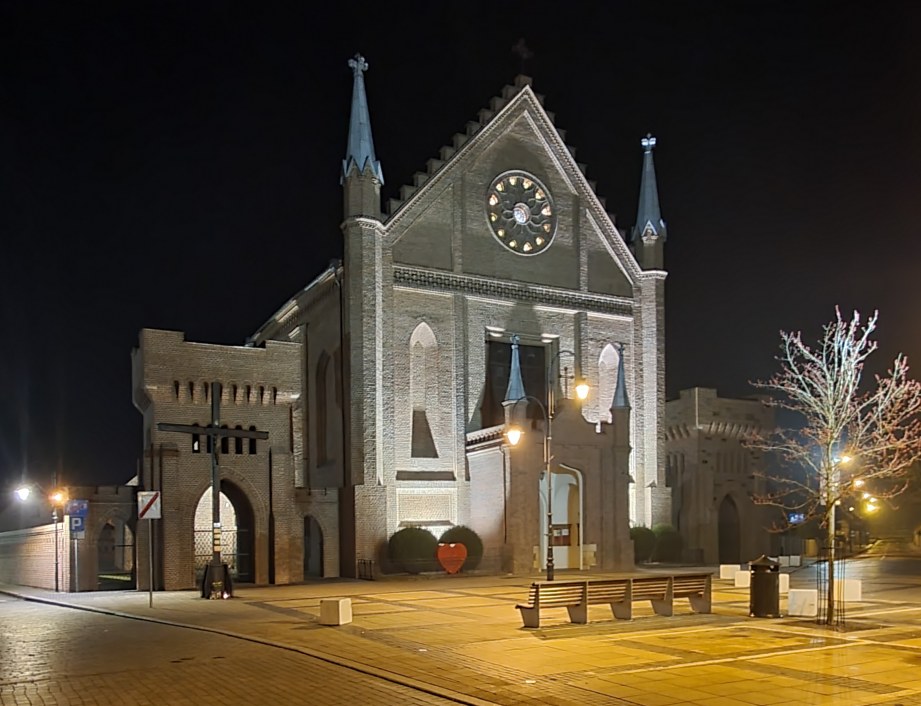 CHURCH OF ALL SAINTS - THE RESTING PLACE OF THE FORMER OWNERS OF KÓRNIK: ANDRZEJ, ŁUKASZ AND STANISŁAW GÓRKA, AS WELL AS TEOFILIA SZOŁDRSKA-POTULICKA, DE DOMO DZIAŁYŃSKA
T
he 17th cen­tu­ry was not kind to ei­ther Poland or the cas­tle, which suf­fered par­tic­u­lar­ly severe­ly in the years 1655-60, when troops of the Bran­den­burg Elec­tor were sta­tioned there. Its con­di­tion im­proved on­ly af­ter the prop­er­ty was tak­en o­ver by Dzia­łyń­ski fam­i­ly in 1676, es­pe­cial­ly dur­ing the times of Te­o­fi­la Szoł­drska-Po­tu­lic­ka de domo Dzia­łyń­ska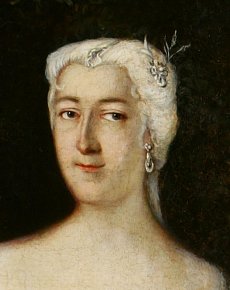 (d. 1790). She took care of the Kór­nik do­main, brought in Ger­man set­tlers and made the cas­tle an el­e­gant res­i­dence. To this pur­pose, she com­mis­sioned a re­con­struc­tion of its ex­ter­nal fa­cade, which received two risal­its with domed roofs. The 16th cen­tu­ry Ital­ian gar­den was trans­formed in­to a fash­ion­able French-style park: The gar­den was filled with bird­hous­es and wa­ter­works of var­i­ous shapes. Wa­ter was leak­ing from the mouth of a li­on sup­port­ing his forepaws on the arms of the Dzia­łyń­ski fam­i­ly; in an­oth­er place streams were gush­ing from the head of a whale and from the mouth of a crocodile. Snow swans float­ed on the canal sur­round­ing the cas­tle; pea­cocks and pheas­ants walked in the spa­cious court­yard of the cas­tle.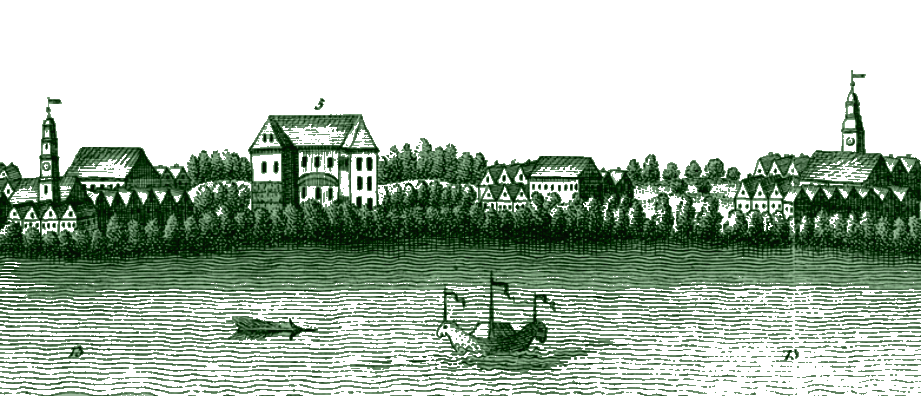 THE VIEW OF KÓRNIK AND BNIN IN THE DRAWING BY A. SADEBECK FROM 1798, CASTLE MARKED WITH THE NUMBER 5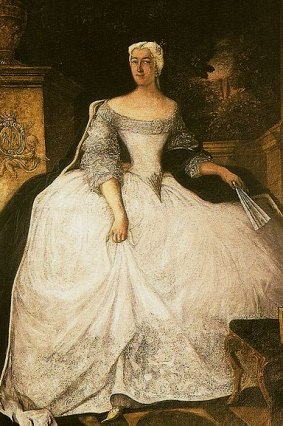 Teofila Szołdrska-Potulicka was born in 1714. She was the host­ess of the Kór­nik cas­tle in the years 1726-90. The daugh­ter of Zyg­munt Dzia­łyń­ski and Te­re­sa Tar­łów­na be­came an or­phan al­ready at the age of 11, which forced her to quick­ly be­come in­de­pen­dent and cer­tain­ly had a sig­nif­i­cant im­pact on her dom­i­nant char­ac­ter.

Af­ter two short mar­riages (her first hus­band Ste­fan Szoł­drski died 5 years later, her sec­ond re­la­tion­ship with Alek­san­der Hi­la­ry Po­tu­lic­ki end­ed in di­vorce), Te­ofi­la de­cid­ed to live alone, fo­cus­ing on man­ag­ing a huge wealth and mul­ti­ply­ing it. Al­though she could not count on her hus­bands and their fam­i­lies, dur­ing eco­nom­ic col­lapse of Pol­and she led Kór­nik and near­by Bnin to pros­per­i­ty. She achieved this by, among oth­er things, bring­ing Ger­man Pro­tes­tant colonists and Jews to the town, which made her vul­ner­a­ble to the ac­cu­sa­tion of sup­port­ing the in­fi­dels. In 1740, she part­ly re­placed the feu­dal ser­vice with rent. The own­er of Kór­nik had a rel­a­tive­ly gen­tle char­ac­ter, so many no­ble fam­i­lies asked her to take chil­dren to ed­u­ca­tion, and peas­ants es­cap­ing from for­eign vil­lages sought shel­ter in her es­tates. Te­ofi­la was al­so keen­ly in­ter­est­ed in art, which in­flu­enced her de­ci­sion to trans­form the Kór­nik res­i­dence of the en­tre cour et jardin type and to found gar­dens with mag­nif­i­cent ar­chi­tec­ture.

Te­ofi­la Po­tu­lic­ka died at the age of 76, on 26 Novem­ber 1790. While still alive, ru­mours were cir­cu­lat­ing about her im­moral re­la­tions with men, in­clud­ing a lo­cal Catho­lic parish priest and a Luther­an pas­tor from Bnin. Af­ter her death, she be­came a fig­ure of leg­ends, per­haps thanks to a por­trait of An­toine Pesne in a white dress hang­ing in the Arms Hall of the cas­tle. In the 19th cen­tu­ry the lo­cal pop­u­la­tion be­gan to tell that short­ly be­fore mid­night Te­ofi­la leaves the paint­ing and pass­es to the cas­tle ter­race, from where ex­act­ly at mid­night she is tak­en for a ride by a knight on a horse. They're both go­ing around the park al­leys and sep­a­rate at dawn. The knight dis­ap­pears and the la­dy re­turns to the Arms Hall on the paint­ing. To­day, the cas­tle guides will­ing­ly point out the traces of wom­en's heels on the floor un­der the pic­ture of a white la­dy, which are sup­posed to prove the au­then­tic­i­ty of this sto­ry.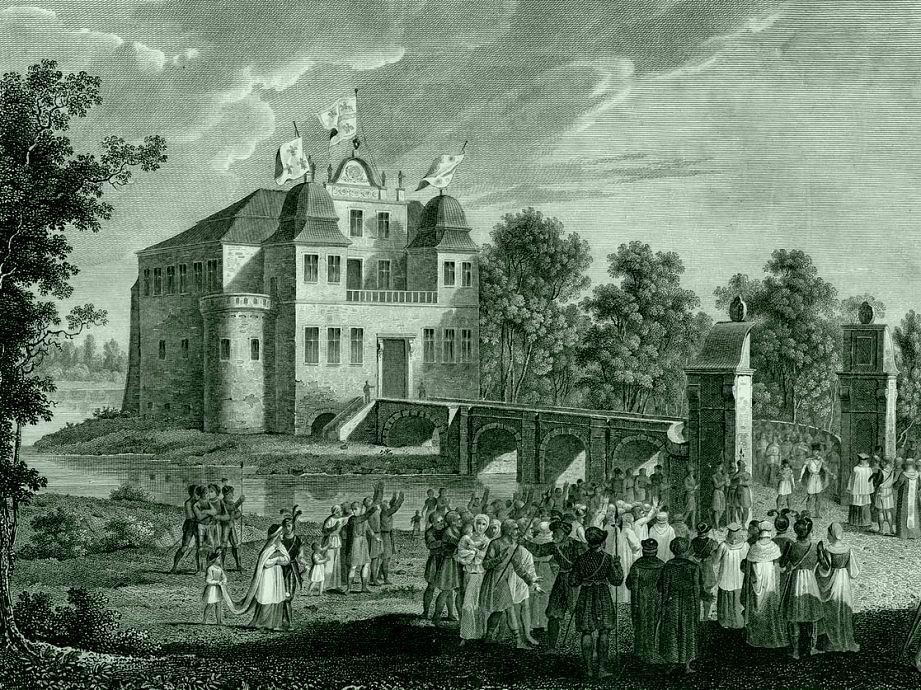 CASTLE AFTER BAROQUE RENOVATION: "WSPOMNIENIA WIELKOPOLSKI..."
I
n 1790 Kór­nik and Bnin be­came the prop­er­ty of the on­ly son of Te­ofi­la, Fe­liks Szoł­drski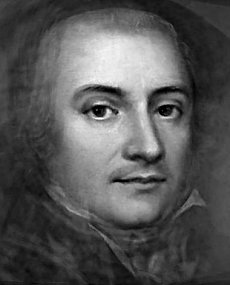 (d. 1795), and af­ter his child­less death they passed in­to the hands of a dis­tant rel­a­tive Wik­tor Szoł­drski (d. 1830), one of the rich­est noble­man in Wiel­ko­pol­ska. This in­her­i­tance was ques­tioned by Dzia­lyń­s­ki broth­ers and af­ter a long tri­al Ksa­we­ry, Count Dzia­łyń­ski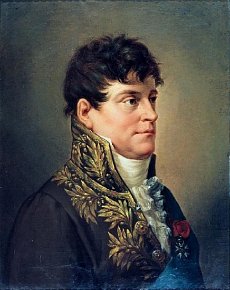 (d. 1819) re­gained Kór­nik in 1801. Pre­vi­ous­ly, how­ev­er, court dis­putes had led to the de­par­ture of the Szoł­drski fam­i­ly from the res­i­dence and its neg­li­gence, which lat­er deep­ened through the lease of the cas­tle and its use as mil­i­tary ware­hous­es. In 1826, Ty­tus Adam, Count Dzia­łyń­ski
(d. 1861) be­came the heir of the Kór­nik castle, and then de­cid­ed to trans­form it in the neo-Goth­ic style. He had a ro­man­tic vi­sion of shap­ing the re­si­dence in the late me­dieval style, equipped with an ar­moury, li­brary rooms, dec­o­rat­ed with the coats of arms of Pol­ish and Lithua­ni­an fam­i­lies. The first re­con­struc­tion pro­jects were pre­pared by two Ital­ian ar­chi­tects: An­toni Cor­razi and Hen­ri Mar­coni.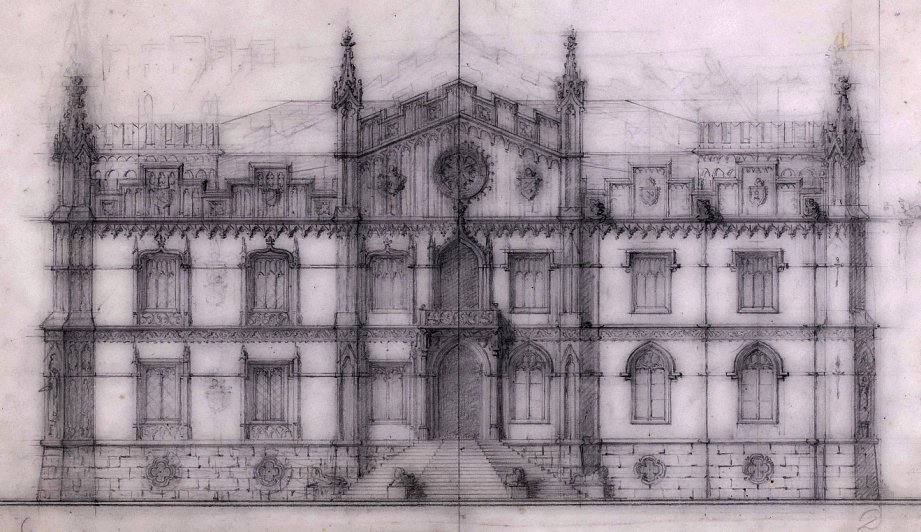 CASTLE REBUILDING PROJECT BY HENRYK MARCONI, 1827
H
ow­ev­er, Dzia­łyń­ski did not like the ex­ces­sive­ly dec­o­ra­tive ideas of the Ital­ians, so in 1828 he asked the Berlin ar­chi­tect Karl Frie­drich Schinkel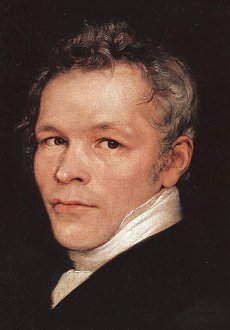 for help, and the lat­ter pro­posed a much more raw de­sign based on the Neo-Goth­ic En­glish ar­chi­tec­ture. The work be­gan soon, but it was stopped quick­ly due to the out­break of the Novem­ber Up­ris­ing that involved Ty­tus' active part­ici­pation, for which he was sen­tenced by Prus­sian au­thor­i­ties and his prop­er­ty was con­fis­cat­ed. Seek­ing shel­ter from prison, Dzia­łyń­ski ini­tial­ly stayed in Paris, then in Kra­ków, and then in small­er fam­i­ly es­tates, where he de­vot­ed him­self to his col­lec­tor's pas­sion, gather­ing Pol­ish mil­i­tary, old prints, ori­en­tal and na­tion­al mem­o­ra­bil­ia. Af­ter sta­bil­is­ing the po­lit­i­cal sit­u­a­tion and an­nulling his sen­tence, he brought an ac­tion for the resti­tu­tion of the seized as­sets that he succeded. In 1838 he re­turned to Kór­nik and five years lat­er build­ing works start­ed.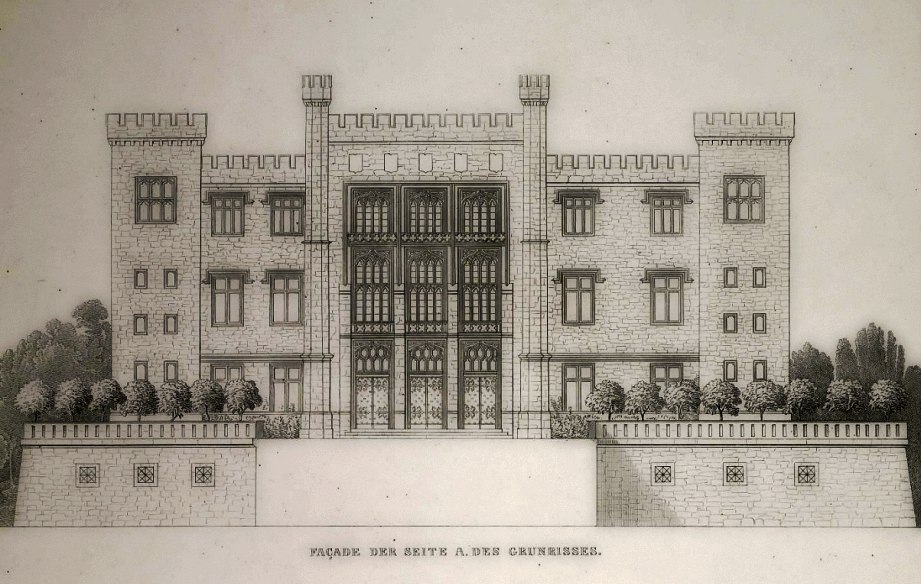 DESIGN BY KARL FRIEDERICK SCHINKEL, SOUTH ELEVATION
Tytus Działyński was the son of Ksa­wery Dzia­łyń­ski and Ju­sty­na Dzie­du­szy­cka. He was born in 1796 in the fam­i­ly palace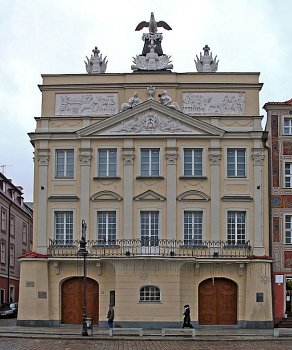 in Poz­nań, where he spent the first 11 years of his life. In 1807 he moved to Ber­lin, then to Paris and then to Prague, where he stud­ied hu­man­i­ties and tech­ni­cal sci­ences. Af­ter re­turn­ing to Wiel­ko­pol­ska, he be­gan to or­ga­nize the fam­i­ly book col­lec­tion and ar­chive in Ko­na­rze­wo, which trig­gered his in­ter­est in his­tor­i­cal sour­ces. That pas­sion for col­lect­ing manuscripts and old prints ac­com­pa­nied him to the end of his life.


Ty­tus was one of the first Wiel­ko­pol­ska cit­i­zens to vol­un­teer to fight in the Novem­ber Up­ris­ing, where he ini­tial­ly served as a lieu­tenant in a reg­i­ment of horse shoot­ers, and then he found his way to the head­quar­ters of the chief com­man­der, serv­ing as an as­sis­tant of Gen­er­al Skrzy­nec­ki
. For his ac­tive par­tic­i­pa­tion in the up­ris­ing, he was pun­ished by the Prus­sian au­thor­i­ties with the con­fis­ca­tion of his prop­er­ty; he him­self es­caped - first he stayed in Kra­ków, then hid in the es­tate of his wife in Ole­szy­ce near Ja­ro­sław. In 1839 he won a law­suit against the Prus­sian gov­ern­ment for the resti­tu­tion of his prop­er­ty and re­turned to Wielkopol­s­ka. From that time on, he lived in Kórnik and Poz­nan al­ter­nate­ly, de­vel­op­ing so­cial and cul­tur­al ac­tiv­i­ty.

Dzia­łyń­s­ki paid a lot of at­ten­tion to de­vel­op­ment of Pol­ish crafts, in­dus­try and econ­o­my, as he saw in them the hope of main­tain­ing na­tion­al iden­ti­ty. He trained Pol­ish crafts­men at his own ex­pense, or­ga­nized ex­hi­bi­tions of Pol­ish prod­ucts and gar­den shows. He was one of the founders and pres­i­dent of the In­dus­tri­al So­ci­ety. Cre­at­ed a park in Kór­nik, where he ac­cli­ma­tized var­i­ous species of trees and shrubs, in a nat­u­ral en­vi­ron­ment not grow­ing on Pol­ish lands. In or­der to pro­tect the name Kur­nik from ger­man­iza­tion, he changed it to Kór­nik. Tytus died sud­den­ly at night from 11 to 12 April 1861. He rested in the fam­i­ly crypt of the Kór­nik church.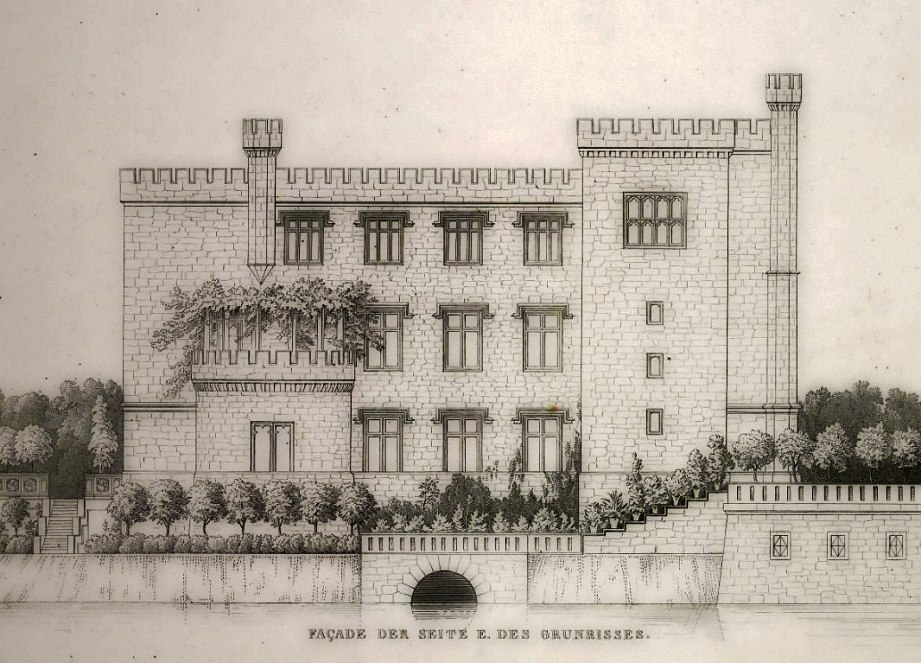 DESIGN BY KARL FRIEDERICK SCHINKEL, WEST ELEVATION
A
s a result of the reconstruction, the palace was deprived of its late baroque char­ac­ter, re­ceiving the ap­pear­ance of a ro­man­tic build­ing in the En­glish Goth­ic style with rem­i­nis­cences of ori­en­tal ar­chi­tec­ture. Dzia­łyń­ski, who was tech­ni­cal­ly ed­u­cat­ed, didn't im­ple­ment any of the plans pre­vi­ous­ly pro­posed to him. However, he based his design on Schinkel's draw­ings, to which he introduced some of his own ideas to give the building a de­fen­sive char­ac­ter. The cas­tle gained one storey and a crenel­la­tion. Log­gias, tur­rets and bays were in­te­grat­ed in­to its body, and the dom­i­nant fea­ture was a tall brick tow­er and a small­er slen­der tur­ret, ris­ing above its tops. In front of the north­ern façade a small bar­bi­can was erect­ed (de­mol­ished due to the crack­ing walls in 1937), while on the south­ern side two rect­an­gu­lar tow­ers were built in the cor­ners, and a wide risalit in the cen­tre, ac­cen­tu­at­ed by a mon­u­men­tal ogive ar­cade, which gave this part of the build­ing a slight­ly ex­ot­ic char­ac­ter.
THE CASTLE DURING THE RECONSTRUCTION, PHOTO FROM 1855-57
I
nside, the hall­way has un­der­gone the great­est changes. It was di­vid­ed by a wall to make space for ware­hous­es and de­scent to cel­lars. On the first floor, on the south side, two ad­join­ing cham­bers were con­nect­ed in one two-storey room, dec­o­rat­ed in Mau­ri­ta­ni­an style and in­tend­ed for mu­se­um col­lec­tions. The whole in­te­ri­or and ex­te­ri­or of the build­ing has been re­dec­o­rat­ed with new doors, mar­quetry floors, goth­ic vaults and ceil­ings. It is worth men­tion­ing that on­ly pol­ish crafts­men and artists were em­ployed by Dzia­łyń­ski for fin­ish­ing works. He him­self took a part in in­te­ri­or de­sign works, e.g. he carved a wood­en balustrade of stairs. In the opin­ion of the own­er, re­built cas­tle was sup­posed to be a sanc­tu­ary of Pol­ish­ness, and its Goth­ic cos­tume em­pha­sized the an­tiq­ui­ty of the Dzia­łyń­s­ki fam­i­ly.
VIEW OF THE CASTLE FROM THE WEST, 1860
D
ziałyński saw his residence as a museum where na­tion­al antiquities were stored. He em­pha­sized many times that he had trans­formed the cas­tle and equipped it in valu­able works of art not for the glo­ry of his name but to pro­tect from de­struc­tion and dis­per­sion. The re­con­struc­tion of the cas­tle was con­tin­ued by the son Jan Kan­ty, Count Dzia­łyń­ski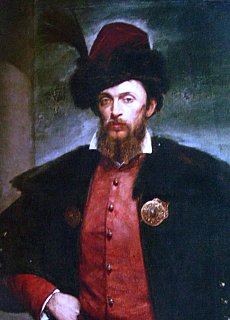 (d. 1880), who made the Kór­nik col­lec­tion avail­able to his clos­est fam­i­ly, friends and in­vit­ed guests, but al­so to oth­er peo­ple, pro­vid­ed that they had ap­plied to him with a writ­ten re­quest for ac­cess to them. Fol­low­ing his fa­ther's ex­am­ple, the young heir par­tic­i­pat­ed in an­oth­er na­tion­al up­ris­ing, which was the Jan­uary Up­ris­ing (1863-64), and as a re­sult he was forced to em­i­grate, which did not pre­vent him from be­ing sen­tenced to death in ab­sen­tia.
CASTLE ON LITHOGRAPHY BY NAPOLEON ORDA, 1880
T
he sen­tence was an­nulled in 1873, but Działyński was no longer fi­nan­cial­ly able to meet the ex­pens­es for the con­tin­u­a­tion of work, so in 1880 this ef­fort was tak­en o­ver by his nephew and heir Wła­dys­ław, Count Za­moy­ski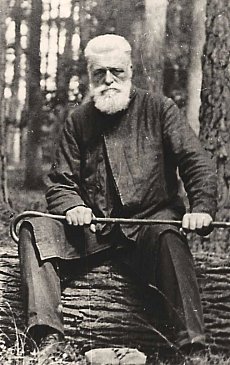 (d. 1924), the trav­eller, a great lover of the Ta­tra Moun­tains and the own­er of a sig­nif­i­cant part of them. He spent a long time try­ing to bring order to an affairs of the estate, dam­aged by Prus­sian re­pres­sions. In 1924, just be­fore his death, Za­moy­ski gave all his prop­er­ty to the Pol­ish na­tion, in­clud­ing a cas­tle full of works of art and with a won­der­ful li­brary. The fam­i­ly res­i­dence was des­ig­nat­ed as the seat of the mu­se­um, de­spite the fact that Wła­dy­sław's sis­ter Ma­ria Za­moy­ska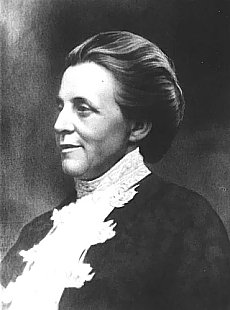 (d. 1937) still lived there.
MAURITANIAN HALL IN PHOTOGRAPHS FROM THE FIRST DECADE OF THE XX CENTURY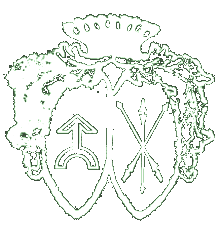 Zakłady Kórnickie, or the Zamoys­ki Foun­da­tion, were es­tab­lished in 1924 by Wła­dy­sław, Count Zamoy­ski from his es­tate in Wiel­ko­pol­ska and Za­ko­pa­ne. The aim of this ini­tia­tive was to main­tain the cas­tle and li­brary in Kór­nik, es­tab­lish a den­dro­log­i­cal in­sti­tute, re­payable fi­nan­cial sup­port for tal­ent­ed young peo­ple and pro­mote an ed­u­ca­tion. The Foun­da­tion was not in­tend­ed to be a char­i­ty, but through prop­er man­age­ment it should have gen­er­at­ed in­come neces­sary for its statu­to­ry pur­pos­es.

Short­ly af­ter the be­gin­ning of its ac­tiv­i­ty, the in­sti­tu­tion was sub­ject to a high state tax, which led to fi­nan­cial prob­lems. It have nev­er de­vel­oped its ac­tiv­i­ty on the scale that the founder would have wished, main­ly due to its mis­man­age­ment and nu­mer­ous ex­am­ples of em­bez­zle­ment. For­mal­ly, the in­sti­tu­tion sur­vived the Sec­ond World War and func­tioned un­til 1953, when it was closed by com­mu­nists. It was re­ac­ti­vat­ed in 2001 as a pub­lic ben­e­fit or­ga­ni­za­tion and re-equipped in about 4000 ha of land, this time lim­it­ed on­ly to the Wiel­ko­pol­ska re­gion. The main goals of the Za­moy­ski Foun­da­tion to­day is: de­vel­op­ing mod­ern agri­cul­ture, pro­mot­ing agri­cul­tur­al ed­u­ca­tion, spread­ing the idea of or­gan­ic work, sup­port­ing so­cial ini­tia­tives and in­sti­tu­tions of the Kór­nik Li­brary and the In­sti­tute of Den­drol­o­gy.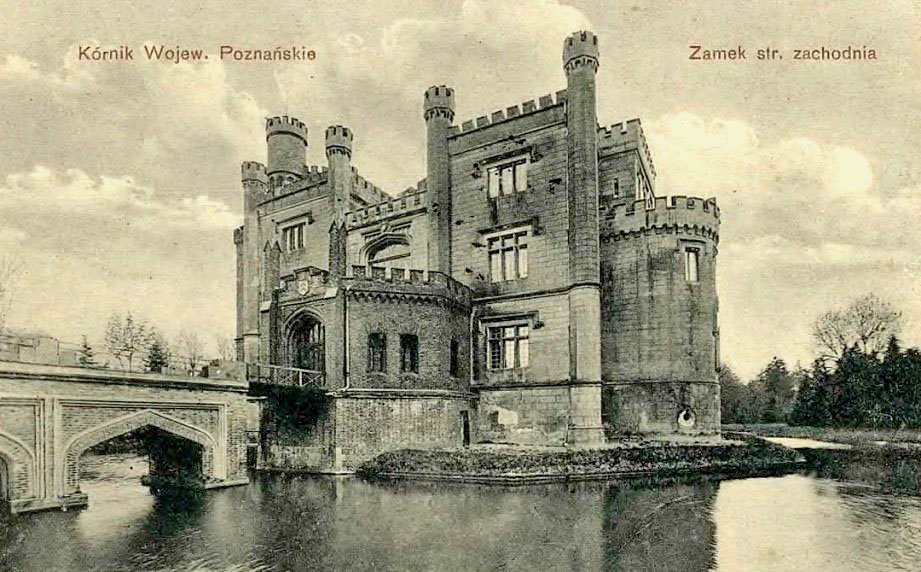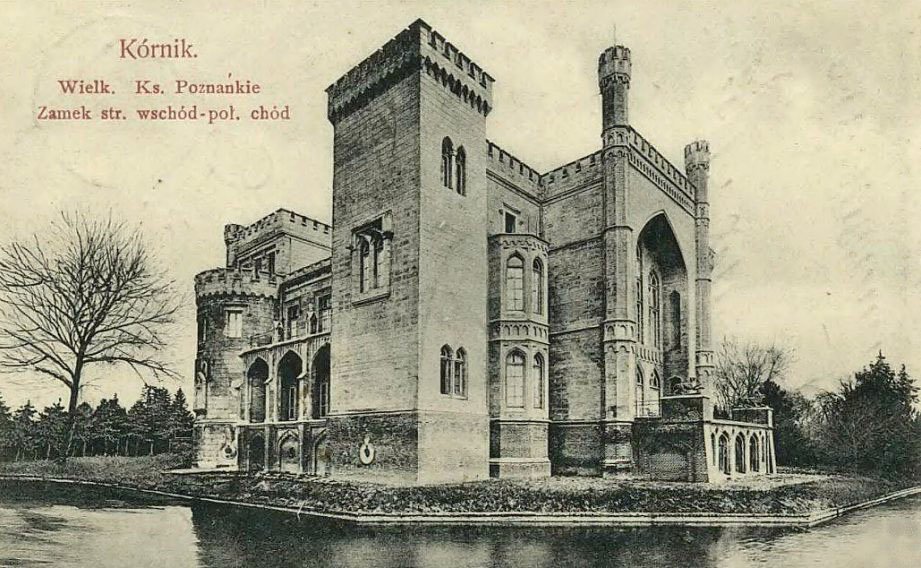 POSTCARDS WITH THE KÓRNIK CASTLE, 20. XX CENTURY
D
ur­ing the Sec­ond World War the cas­tle did not suf­fer any dam­age as a re­sult of mil­i­tary ac­tion, but the large num­ber of works of art stolen by the Ger­mans and stored here led to its ceil­ings be­ing over­load­ed. The con­di­tion of the build­ing al­so de­te­ri­o­rat­ed due to the low­er­ing of ground­wa­ter lev­el, which caused rot­ting of the wood­en piles stuck in the foun­da­tions. At the end of the war, the nazis, es­cap­ing in a hur­ry, took some of the ex­hibits from Kór­nik to Ger­ma­ny, de­stroyed some of them and left the rest in gen­er­al dis­or­der: [...] In­te­ri­or of the cas­tle af­ter the Ger­mans es­caped pre­sent­ed a pic­ture of an in­cred­i­ble de­struc­tion. Ev­ery­where there were piles of shat­tered fur­ni­ture and anti­ques, the re­mains of bro­ken chests, glass and porce­lain, parch­ment doc­u­ments col­laps­ing, scat­tered books, nu­mis­mat­ics and pa­pers, over­thrown equip­ment and its parts, bro­ken and de­stroyed doors, arm­chairs [...]. In 1947-59, the cas­tle un­der­went a di­li­gent res­to­ra­tion.
THE SOUTHERN ELEVATION OF THE KÓRNIK CASTLE BEFORE ITS RENOVATION IN 2019
---
T
he cas­tle in Kórnik is a top class mon­u­ment. It at­tracts at­ten­tion not on­ly be­cause of its ex­ter­nal form, but al­so be­cause of the mag­nif­i­cent, al­most un­changed nine­teenth-cen­tu­ry in­te­ri­ors. They are equipped with such a large num­ber of his­tor­i­cal mem­o­ra­bil­ia, sculp­tures, fur­ni­ture, mil­i­tary items, paint­ings, hunt­ing tro­phies, trav­el and ethno­graph­ic col­lec­tions that it is nec­es­sary to make a sev­er­al hours to get ac­quaint­ed with the whole in de­tail.
ROOM OF WŁADYSŁAW ZAMOYSKI
STAIRS LEADING TO THE 1ST FLOOR
T
he first room on the tour route is lo­cat­ed to the west of the hall­way the Room of Wła­dy­sław Za­moy­ski, where lived: Ty­tus Dzia­łyń­ski, his son Jan and Za­moy­ski him­self, and where the last two of them died. Af­ter Za­moy­ski's death, a Goth­ic wood­en al­tar was placed here and hence the in­te­ri­or was called a chapel. The on­ly fur­ni­ture re­main­ing from the orig­i­nal equip­ment is a ma­hogany Em­pire desk from the 19th cen­tu­ry. The last own­er of the cas­tle was sup­posed to sleep on this desk, which was al­leged­ly con­nect­ed with his child­hood promise that he would sleep on a hard bed if Poland re­gained the de­sired in­de­pen­dence dur­ing his life­time. An­oth­er valu­able ex­hib­it is a wal­nut ward­robe with in­layed fig­ures of war­riors, as well as a 18th cen­tu­ry globe, 19th cen­tu­ry map stand and col­lec­tion of paint­ings and sculp­tures.
ON THE LEFT: STAIRCASE IN THE TOWER, IN THE PHOTO ON THE RIGHT: STAIRS LEADING TO THE 1ST FLOOR
T
he west­ern part of the low­er floor is oc­cu­pied by the Gen­er­al's Wife Room, once the apart­ment of a house­wife, first Ce­le­sty­na Dzia­łyń­ska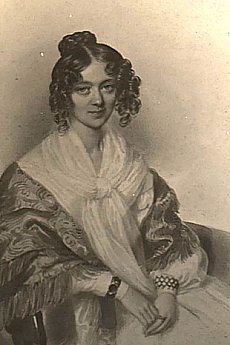 (d. 1883), wife of Ti­tus, and then her daugh­ter Jad­wi­ga Za­moy­ska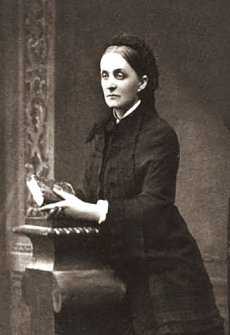 , who died here. On­ly two ex­hibits sur­vived from the orig­i­nal equip­ment of Ce­le­sty­na's room: the ebony Dutch cab­i­net from the 17th cen­tu­ry and the six-winged cur­tain Chi­nese dec­o­ra­tion. A beau­ti­ful wal­nut En­glish sec­re­tary, 18th cen­tu­ry chil­dren's fur­ni­ture, an ivory cab­i­net and the Turk­ish oak arm­chair have been pre­served from the times of Jad­wiga. Char­ac­ter of the room is em­pha­sized by an ex­hi­bi­tion of fam­i­ly mem­o­ra­bil­ia, main­ly por­traits and pho­tographs, in­clud­ing some of the most valu­able paint­ings in the Kór­nik col­lec­tion: made by Ar­tur Grot­tger, Jan Nor­blin and Mar­cel­li Bac­cia­rel­li. In ad­di­tion, the vis­i­tors' at­ten­tion is drawn to the in­layed floor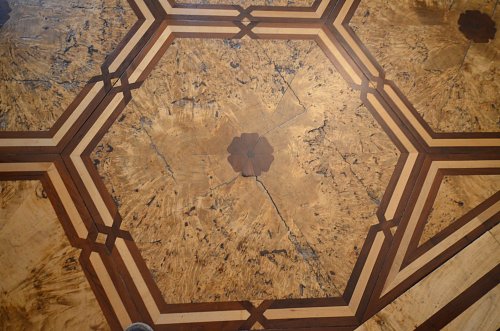 made of hexag­o­nal pan­els, as well as the stuc­co-dec­o­rat­ed ceil­ing with rosette and star mo­tifs. In the west­ern wall there is bal­cony door lead­ing to the log­gia, while in the north­ern wall we can seean un­cov­ered 16th cen­tu­ry wall, expo­sed dur­ing the post-war ren­o­va­tion of the cas­tle.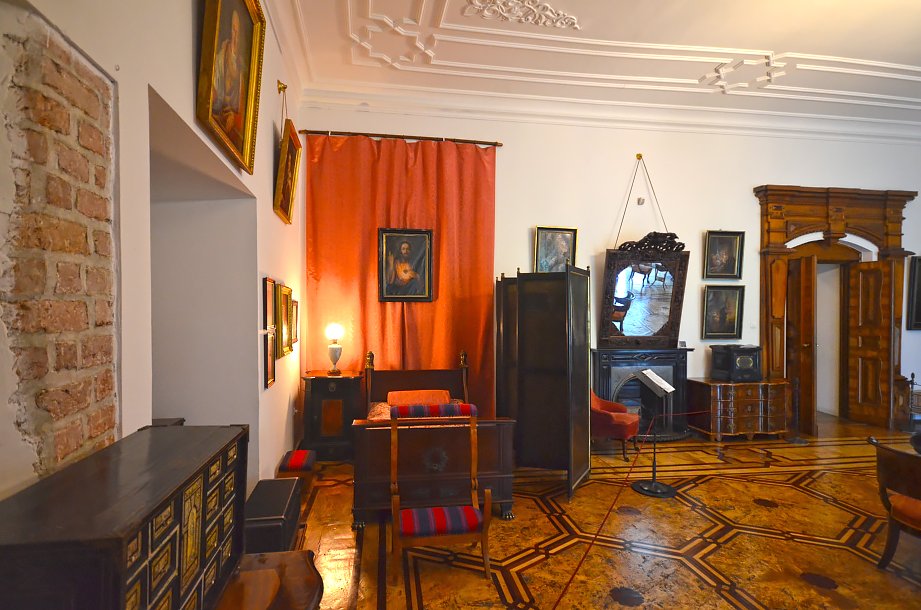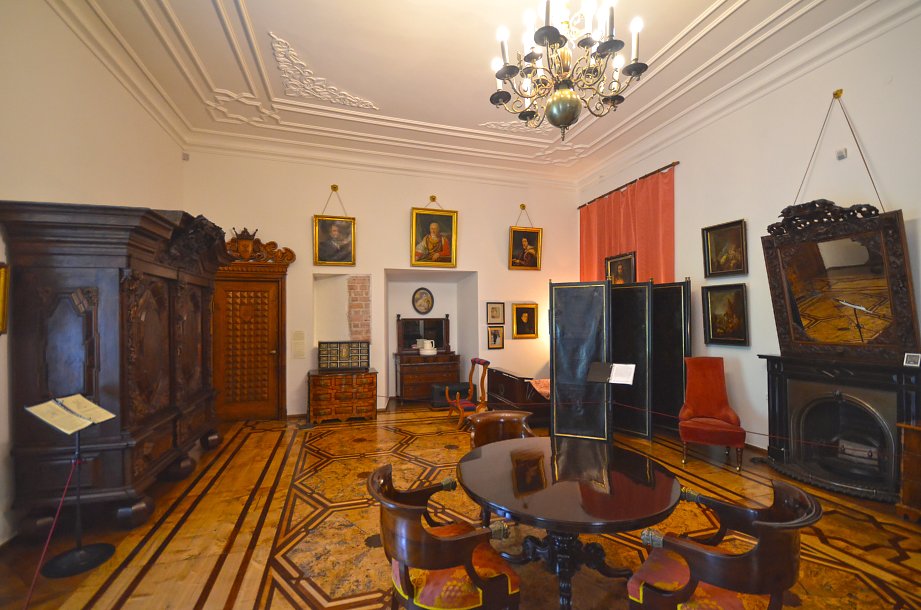 GENERAL'S WIFE ROOM, ON PHOTO ABOVE YOU CAN SEE THE UNCOVERED XVI-CENTURY WALL
T
he Lounge is one of the most repre­sen­ta­tive cham­ber in the cas­tle, which is em­pha­sized by gild­ed stuc­cowork of the ceil­ing, dec­o­rat­ed oak por­tals, a large mar­ble fire­place and a beau­ti­ful par­quet floor. The room is most­ly fur­nished with au­then­tic dec­o­ra­tion from the mid­dle of the 19th cen­tu­ry, made by car­pen­ters em­ployed by Dzia­łyń­ski. The most in­ter­est­ing exhibits here are ma­hogany so­fas, a table with a mo­sa­ic com­posed of six­teen species of trees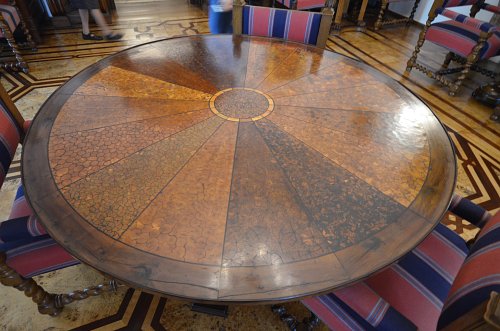 , a his­toric French clock, an 18th-cen­tu­ry French harp and the pi­ano be­longed to Klau­dy­na Po­toc­ka
, on which, ac­cord­ing to tra­di­tion, Fry­deryk Chopin used to play. The liv­ing room is ad­joined by the Small Lounge - a mod­est cham­ber orig­i­nal­ly used as a bed­room. Its main dec­o­ra­tion is a red mar­ble fire­place with a Baroque Sax­on mir­ror hung o­ver it - these are the on­ly pieces of equip­ment that re­mem­ber times of Ce­le­sty­na Dzia­łyń­ska. The most in­ter­est­ing fur­ni­ture here is a cab­i­net lined with bronze and pearl mass from the 17th cen­tu­ry. The oth­er fur­ni­tures are clas­sicis­tic and dates back to the turn of the 18th and 19th cen­turies. As in oth­er rooms, the Small Lounge is dec­o­rat­ed with a large col­lec­tion of 16th-19th cen­tu­ry paint­ings, in­clud­ing Por­trait of the boy by Galeazz­i­no, for many years mis­tak­en­ly con­sid­ered to be the paint­ing by Tiziano Ve­cel­li.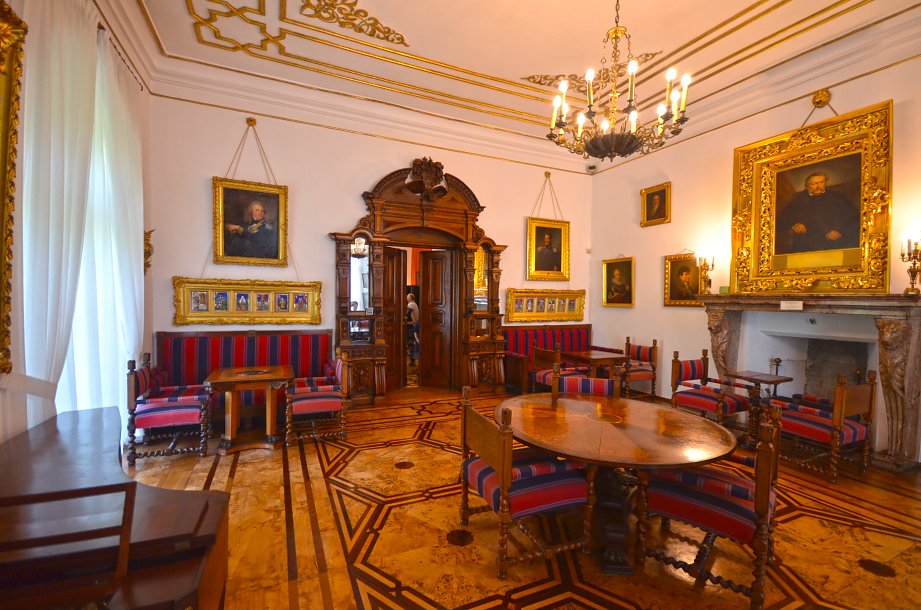 G
o­ing fur­ther east­wards we en­ter the Black Hall, the for­mer cas­tle hall­way, where prob­a­bly from the me­dieval times un­til the 18th cen­tu­ry there was a gate build­ing with an en­trance to the cas­tle court­yard. The name of the hall comes from the ce­ment floor paint­ed on black, which in 1961 was re­placed by a mar­ble floor. In the sec­ond half of the 19th cen­tu­ry this room served as a rep­re­sen­ta­tive liv­ing room where guests were wel­comed. To­day there is a small ex­po­si­tion of paint­ings and fur­nish­ings, the most valu­able of which is an ancient Em­pire table
cov­ered with a mo­sa­ic from Pom­peii, show­ing a dog guard­ing the house.
PLAN OF THE GROUND FLOOR: 1. ENTRYWAY, 2. ROOM OF WŁADYSŁAW ZAMOYSKI, 3. GENERAL'S WIFE ROOM, 4. LOUNGE,
5. SMALL LOUNGE, 6. BLACK HALL, 7. DINING HALL, 8. BOUDOIR, 9. ROOM OF MARIA ZAMOYSKA, 10. HUNTING NOOK
T
o the east of the Black Hall there is the Din­ing Hall, al­so known as the Arms Hall. The main dec­o­ra­tion of this room is ceil­ing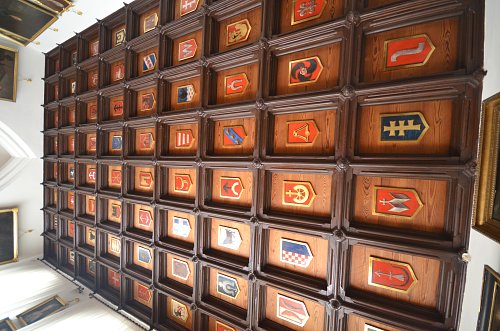 con­tain­ing in 71 coats of arms of the 15th cen­tu­ry Pol­ish knight­hood. On­ly neo-Baroque chairs from the turn of the 17th and 18th cen­turies and a Baroque press for the linen have sur­vived from the orig­i­nal equip­ment of the hall. The rest of the fur­ni­tures were im­port­ed lat­er, al­though they are equal­ly old and valu­able. On the walls, just like in the Lounge, we can see here large por­traits of an­ces­tors ac­com­pa­nied by the White La­dy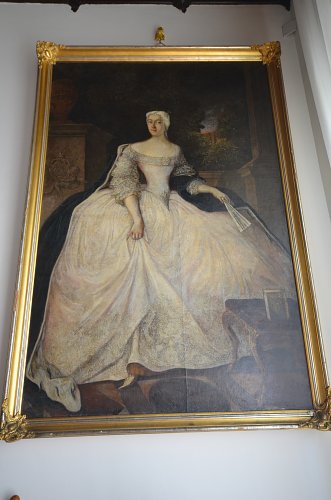 , the fa­mous im­age of Te­ofi­la Po­tu­lic­ka.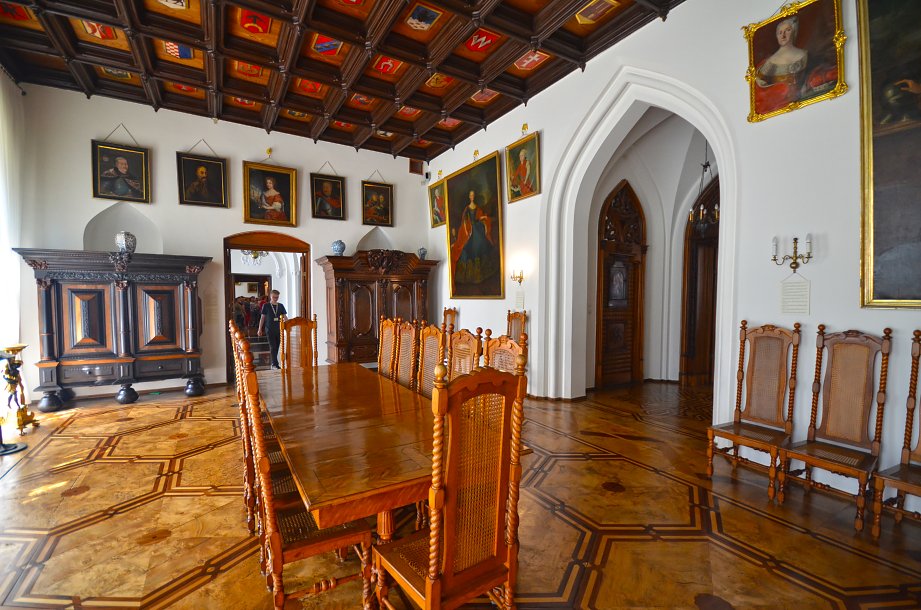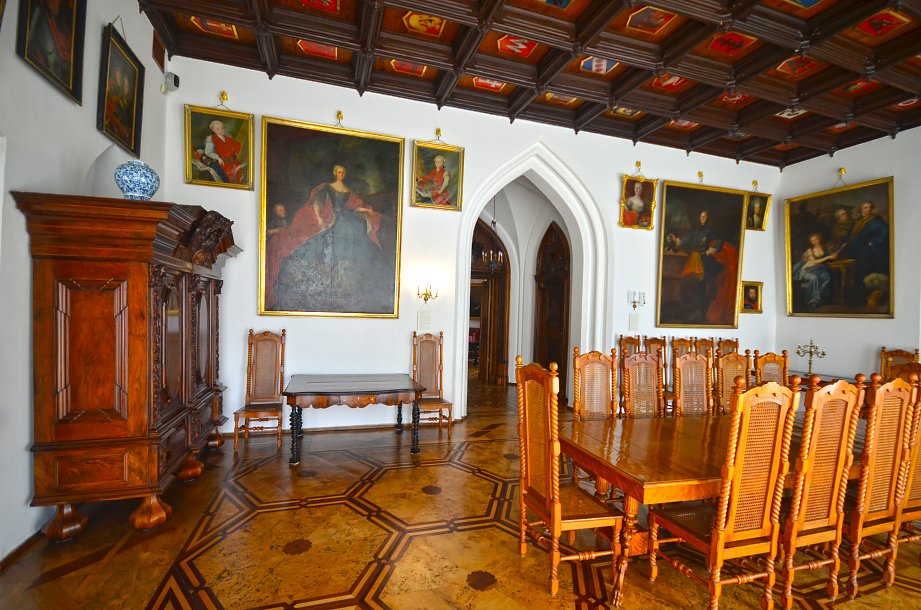 T
he pas­sage from the Black Hall to the Room of Ma­ria Za­moy­ska leads through an ogive por­tal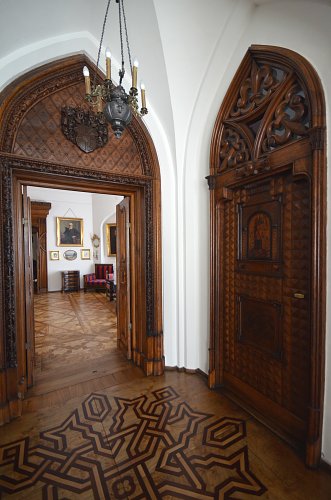 with flo­ral dec­o­ra­tion and or­na­ment­ed with the arms of the Dzia­łyń­ski fam­i­ly. The Ma­ria Room was orig­i­nal­ly used as a guest room, and lat­er as an apart­ment for Iza­be­la Dzia­łyń­ska and Ma­ria Za­moy­ska, the sis­ter of Wła­dy­sław. A char­ac­ter­is­tic dec­o­ra­tive el­e­ment is the abun­dant ceil­ing stuc­co of ge­o­met­ric ori­en­tal plait, form­ing a star in the mid­dle. Near the win­dow there is an Ara­bic in­scrip­tion with a ba­sic re­li­gion of Is­lam­ic faith - it was a trib­ute of Dzia­łyń­ski to Turkey, which as the on­ly one of the then coun­tries did not ac­cept the par­ti­tion of Poland. Two sev­en­teenth-cen­tu­ry cup­boards dec­o­rat­ed with a pearl lay­er, a so­fa and oak arm­chairs up­hol­stered in striped folk fab­ric, as well as chairs made of pear wood have sur­vived from the orig­i­nal fur­nish­ings of the room. It is al­so worth not­ing the Ro­co­co sec­re­taries, the Dutch table lined with ebony and rose­wood and the toi­let table used by Ma­ria to store paints and paint­ing tools. The walls are dec­o­rat­ed with fam­i­ly por­traits and works by Za­moy­ska.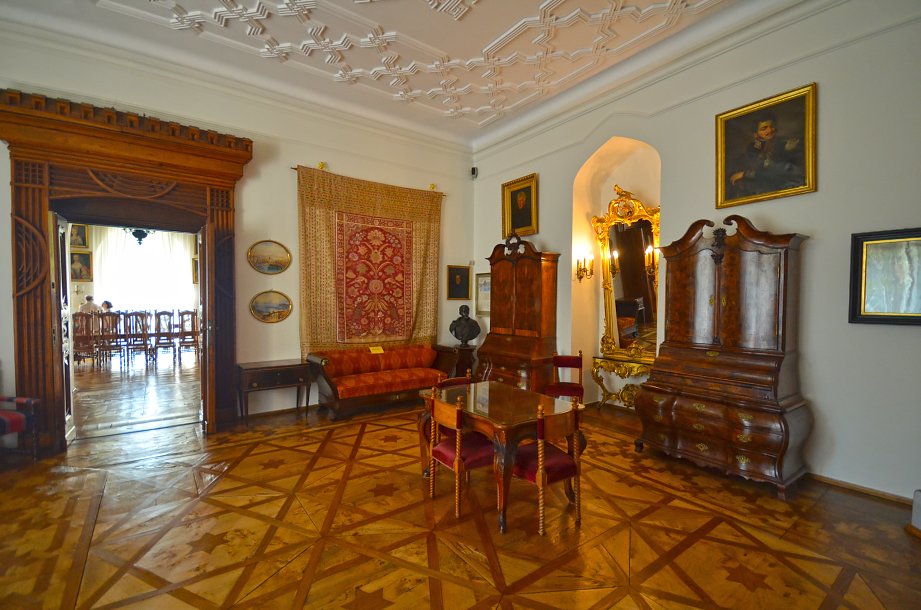 N
orth of the Ma­ria's Room there is an oc­tag­o­nal room cov­ered with a crys­tal vault, called the Hunt­ing Nook. Its cen­tral part is filled with a cir­cu­lar so­fa, around which in show­cas­es and on walls there are ex­hibits of Wła­dy­sław Za­moy­ski's trav­els, in­clud­ing skull masks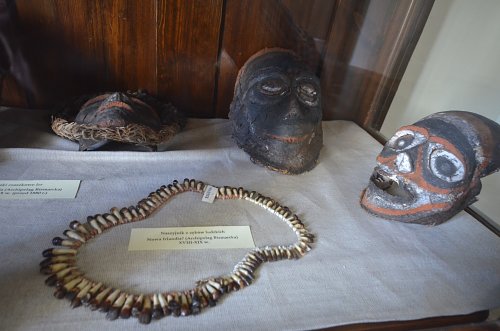 , a palm hat - a gift from the sis­ter of the King of Hawai­ian Is­lands, Princess Lili'uo­ka­la­ni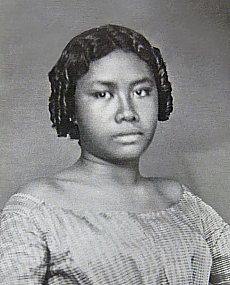 , and the old­est ex­hib­it in the mu­se­um - a stone rit­u­al fig­ure from Papua New Guinea, which is o­ver 3000 years old.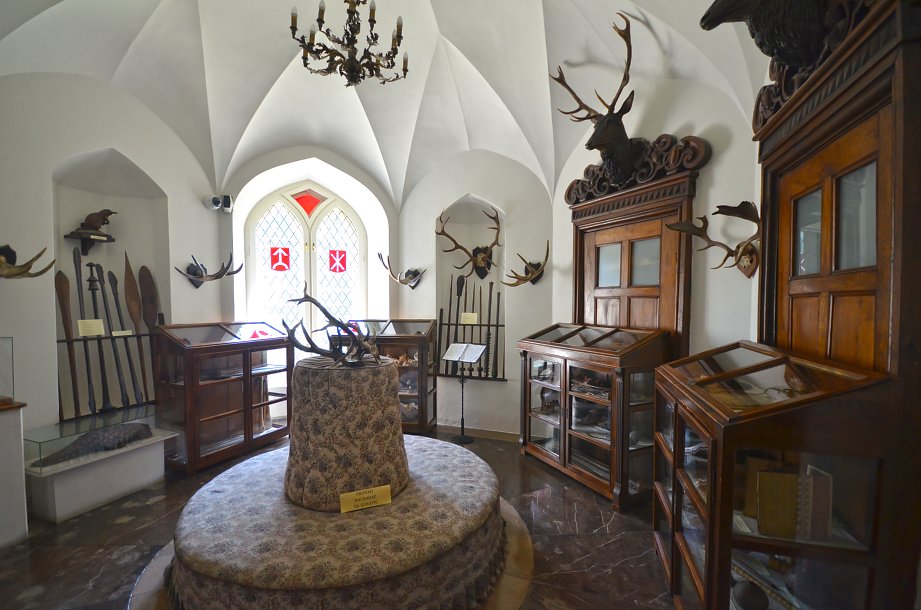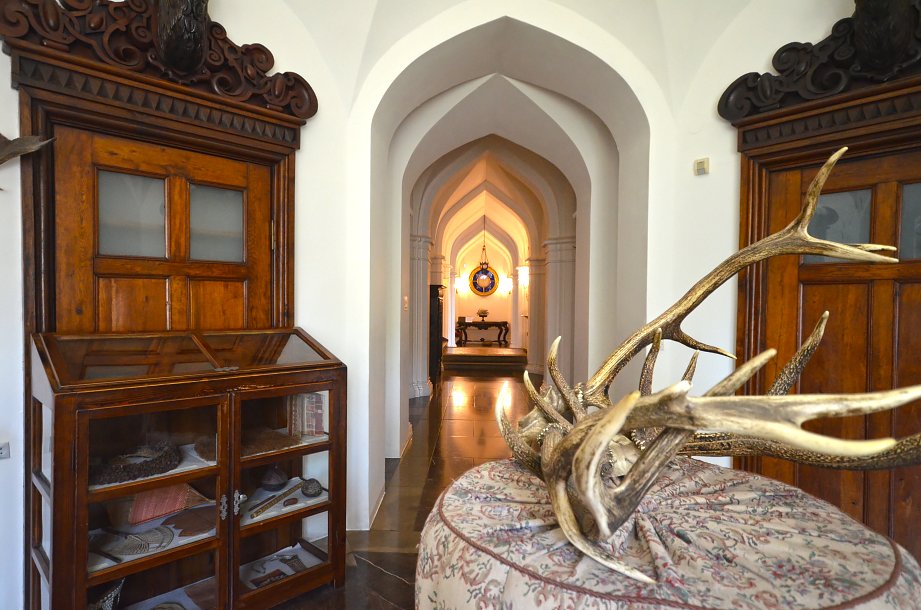 T
he largest and most fa­mous cham­ber in the Kór­nik cas­tle is the Moor­ish Hall, created by com­bin­ing two cham­bers and a room in a quadri­lat­er­al tow­er. Orig­i­nal­ly it was sup­posed to house a li­brary, but af­ter the Ty­tus' death, by de­ci­sion of Jan Kan­ty Dzia­łyń­ski, a mu­se­um room was ar­ranged here, where old weapons, mem­o­ra­bil­ia of an­ces­tors, friends and fa­mous coun­try­men are ex­posed on book­cas­es. The cham­ber con­sists of two small­er rooms and an al­cove, sep­a­rat­ed by por­ti­coes, built of three ar­cades sup­port­ed by thin columns. Each of its parts was made in a dif­fer­ent style - you can find here both ref­er­ences to me­dieval Arab ar­chi­tec­ture and forms in­spired by En­glish Goth­ic art.
| | |
| --- | --- |
| | |
T
he hall ex­hibits many valu­able ob­jects, in­clud­ing ar­mour of the Pol­ish rid­ers
with very rare winged Hus­sar ar­mour, Pol­ish and east­ern white arms, hunt­ing cross­bows, dec­o­ra­tive table­ware, 18th cen­tu­ry Meis­sen porce­lain col­lec­tions. In the cen­tral part there are show­cas­es with cups, gold­smiths' wares and the old­est arti­fact pre­sent­ed here - medal­lion with the im­age of St. Pe­ter, pre­sum­ably com­ing from the 11th cen­tu­ry chain of Krusz­wi­ca Bene­dic­tine ab­bots. The east­ern part of the Moor­ish Hall is ded­i­cat­ed to sa­cred art, where you can ad­mire the French dip­tych made of ivory with the scene of the Coro­na­tion of the Three Kings, 15th cen­tu­ry re­li­gious books, Ro­manesque wa­ter ves­sels and stone blocks with the faces of pa­gan demons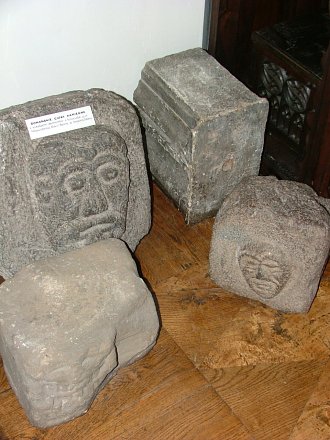 . The last room on the tour of the cas­tle is the Guest Room, which dur­ing Ty­tus Dzia­łyń­ski's life­time served as a fur­ni­ture and paint­ing ware­house and was not de­vel­oped un­til the 1860s, when a liv­ing room was ar­ranged in it.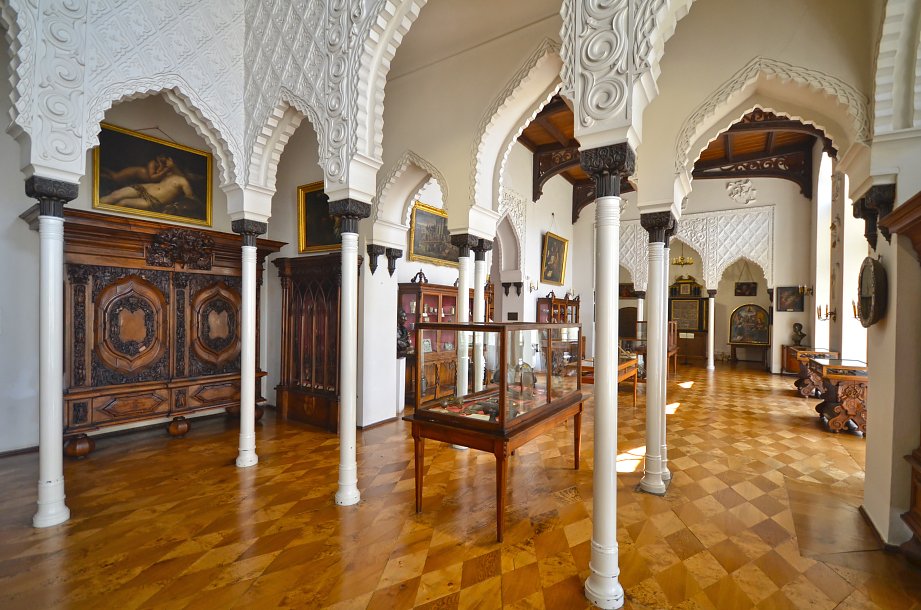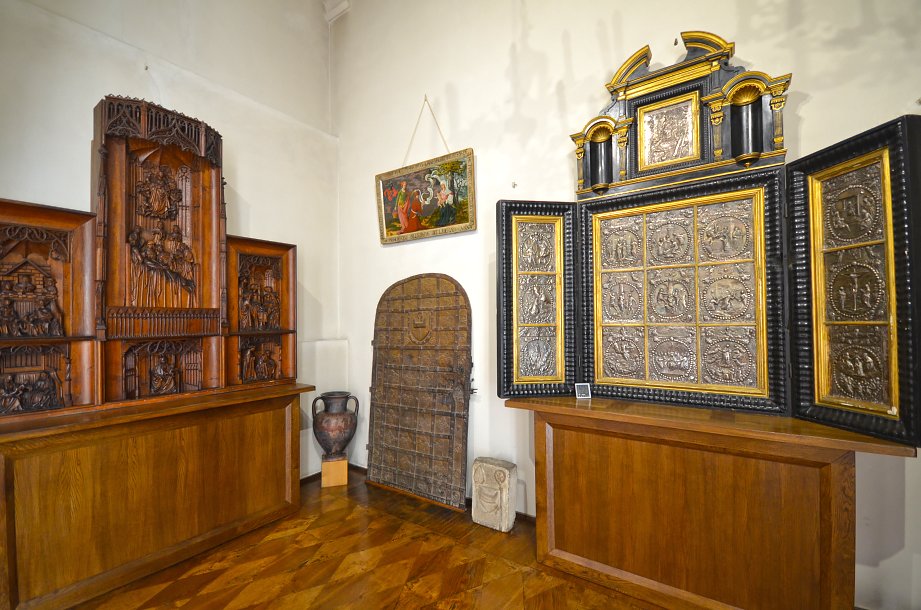 CASTLE IN KÓRNIK, PLAN OF THE 1ST FLOOR: 1. HALLWAY, 2. MOORISH HALL, 3. TREASURY, 4. GUEST ROOM
T
here is al­so a li­brary in the cas­tle, es­tab­lished in 1817 by Ty­tus Dzia­łyń­ski in his home­town in Ko­na­rze­wo and moved to Kór­nik in 1826. The book col­lec­tion com­pris­es about 350 thou­sand vol­umes, in­clud­ing o­ver 40 thou­sand old prints, among them ma­nu­scripts of the third part of Dzia­dy, bal­lads Pan Twar­dow­ski and frag­ments of Be­niow­ski by Jul­iusz Sło­wac­ki. Unique are the six­teenth-cen­tu­ry edi­tions of po­et­ry by Jan Ko­cha­now­ski, and the old­est mon­u­ment here is a French man­u­script dat­ing from the turn of the ninth and tenth cen­tury.
| | |
| --- | --- |
| | Admission fee |
| | |
| --- | --- |
| | Taking photographs for private purposes doesn't require permits or additional fees. |
| | |
| --- | --- |
| | The castle has an elevator - its interiors are par­tial­ly adap­ted for vi­si­tors with dis­abi­li­ties. |
| | |
| --- | --- |
| | No admission with dogs |
---
K
ór­nik is lo­ca­ted 20 km south­east of Poz­nań, at the S11 Poz­nań-Ka­to­wi­ce rou­te. Tho­se who tra­vel by train should be pre­pa­red for a long walk, be­cau­se the rail­way sta­tion is about 5 km a­way from the town. There are al­so 501 and 560 bus li­nes to Kór­nik from Poz­nań (de­par­tu­re from Ron­do Ra­ta­je). The ca­stle is lo­ca­ted near the Mar­ket Squa­re, about 300 me­ters south of the town hall.
| | |
| --- | --- |
| | No facilities for bicyclists |
---
1. A. Chyczewska: Zamek Kórnicki, 1973
2. B. Dolczewska, M. Kosman: Zamek w Kórniku
3. L. Kajzer, J. Salm, S. Kołodziejski: Leksykon zamków w Polsce, Arkady 2001
4. R. Prinke: Cnota dziwacka - właściciele Kórnika w kręgu poznańskich wolnomularzy, PAN BK 2017
5. K. Stępińska: Pałace i zamki w Polsce dawniej i dziś, KAW 1977
6. B. Wernichowska, M. Kozłowski: Duchy polskie, PTTK Kraj 1985
ON THE MARKET SQUARE IN KÓRNIK
Castles nearby:
Poznań - royal castle from the 13th century, rebuilt, 21 km
Jezioro Góreckie - ruins of neo-Gothic 'castle' from the 19th century, 22 km

---
On the oth­er side of Zamkowa St., there is a mod­est but very in­ter­est­ing ex­hi­bi­tion of nine­teenth-cen­tu­ry horse-drawn ve­hi­cles pur­chased by Jan Dzia­łyń­ski dur­ing his stay in Pa­ris in 1856. The pur­chase trans­ac­tion in­clud­ed three car­riages, dif­fer­ing in terms of pur­pose, di­men­sions and equip­ment and made by En­glish com­pa­ny Bark­er & Co. The most ex­pen­sive of the three was Dro­me­za, a sleep­ing coach adapt­ed for long ex­pe­di­tions. The el­e­gant Ber­li­ne de Gala was used for rep­re­sen­ta­tive but not too dis­tant jour­neys, while short trips around the area were made us­ing the open car­riage Ca­le­che. The col­lec­tion of three well-made ve­hi­cles (at the turn of the 19th and 20th cen­tury Bark­er & Co. start­ed co­op­er­a­tion with Rolls-Royce) is com­ple­ment­ed by a coun­try car­riage owned by Kór­nik Cul­tur­al So­ci­ety.
---
The Kórnik Ar­bore­tum, lo­cat­ed to the south of the cas­tle, was found­ed by Ty­tus Dzia­łyń­ski and his son Jan, who in the years 1830-80 trans­formed Baroque French ge­o­met­ri­cal gar­den in­to a ro­man­tic En­glish-style land­scape park with nat­u­ral lay­out of av­enues and trees. About 3,500 species of trees and shrubs grow in the 30 hectare botan­i­cal area, in­clud­ing many hun­dreds of old spec­i­mens nat­u­ral­ly found in tem­per­ate zones of the north­ern hemi­sphere, es­pe­cial­ly lime, beech and oak trees. You can al­so find here a rich col­lec­tion of birch­es, firs, cy­press­es, nut trees, lilacs and rhodo­den­drons, as well as over 160-year-old mag­no­lias. The Ar­bore­tum be­longs to the In­sti­tute of Den­drol­o­gy of the Pol­ish Acade­my of Sci­ences and is open to vis­i­tors all year.
---
In a small vil­lage of Ro­galin, 12 kilo­me­ters west of Kór­nik, a beau­ti­ful palace and park com­plex, the seat of the Ra­czyń­ski fam­i­ly. Its main el­e­ment is the late-Ba­roque palace, erect­ed in the years 1770-76 on the ini­tia­tive of Ka­zi­mierz Ra­czyń­ski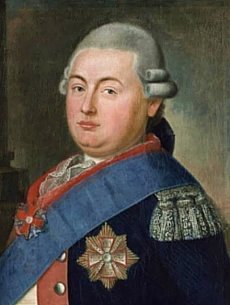 . It con­sists of a mon­u­men­tal main build­ing and two side an­nex­es con­nect­ed with it by quar­ter-cir­cle wings, ac­com­pa­nied by chest­nut al­ley in the front and a French gar­den in the west. The palace now hous­es a mu­se­um (a sec­tion of the Na­tion­al Mu­se­um in Poz­nań) with an im­pres­sive col­lec­tion of paint­ings by such artists as Ja­cek Mal­czew­ski, Leon Wy­czół­kow­ski, Sta­ni­sław Wy­spiań­ski and Jan Ma­tej­ko.
Sev­er­al hun­dred me­ters east of the palace stands a clas­sicis­tic St. Mar­ce­lin church built by Ed­ward Ra­czyń­ski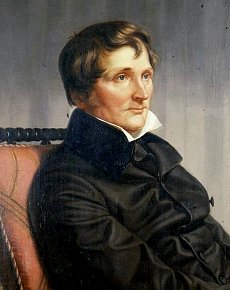 , in­spired by a Ro­man tem­ple in Nimes from the first cen­tu­ry BC. It has two storeys, the up­per part of which serves as a chapel, and the low­er one hous­es a mau­soleum of the Ra­czyń­ski fam­i­ly, where Ber­nard Ed­ward Ra­czyń­ski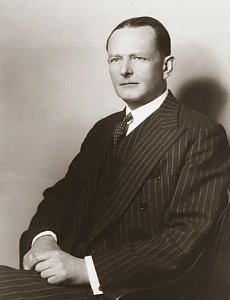 , the for­mer pres­i­dent of the Re­pub­lic of Pol­and in ex­ile, rest­ed. Palace and church are com­ple­ment­ed by the biggest in Eu­rope group of mon­u­men­tal oaks, con­sist­ing of ca. 1500 trees. The most fa­mous are Lech, Czech and Rus, whose age is es­ti­mat­ed at 700-800 years.
text: 2015, 2019
photos: 2008, 2013, 2017, 2018, 2019, 2023
© Jacek Bednarek