LAKE GÓRECKIE

ruins of the romantic Potocki castle
---
T
his small neo-goth­ic palace on an is­land in the mid­dle of a pic­turesque lake was found­ed and prob­a­bly per­son­al­ly de­signed by Ty­tus Dzia­łyń­ski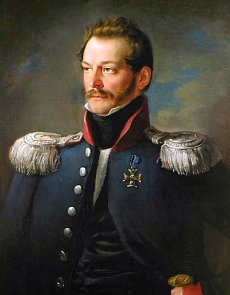 (d. 1861), the own­er of Kór­nik and Ko­na­rze­wo. Ro­man­tic build­ing was a gift from Ty­tus to his sis­ter Klau­dy­na Dzia­łyń­ska (d. 1836) and her hus­band Ber­nard Po­toc­ki (d. 1874) on the oc­ca­sion of their wed­ding which was cel­e­brat­ed on Au­gust 25, 1825 in Ko­na­rze­wo pa­la­ce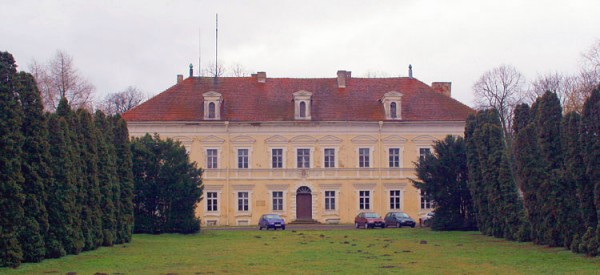 . De­spite the fact that the pur­pose of this rather ex­trav­a­gant res­i­dence was pure­ly recre­ation­al, ac­cord­ing to the in­ten­tion of its cre­ator it was giv­en the fea­tures of a me­dieval fort­ress, which is why the island palace or rather villa was and still is called a cas­tle or a lit­tle cas­tle.
KLAUDYNA POTOCKA (AGED 21) AND HER HUSBAND BERNARD (HERE AGED ABOUT 50)
THE PORTRAIT OF BERNARD WAS PAINTED MUCH LATER, AS HE WAS ONLY ONE YEAR OLDER THAN HIS WIFE
VIEW OF THE CASTLE IN THE XIXTH CENTURY
K
lau­dy­na and Bernard Po­toc­ki did not stay here long. They were here for the last time in the late sum­mer of 1830, and af­ter the out­break of the Nov­em­ber Up­ris­ing they left for War­saw, where Ber­nard took part in the fights, and his wife be­came in­volved in help­ing the wound­ed in­sur­gents. Af­ter the fall of the up­ris­ing, they both em­i­grat­ed and nev­er re­turned to the is­land. Klau­dy­na went to Dres­den, and from there to Ge­ne­va, where she died in 1836. Ber­nard came back to Wiel­ko­pol­ska four years af­ter her death and set­tled on his es­tate in Tul­ce near Poz­nań, where he fo­cused on writ­ing and trans­lat­ing from French. The is­land cas­tle stood aban­doned, and the lack of care meant that it quick­ly fell in­to ne­glect. It was de­stroyed by can­nons in May 1848, when the Prus­sians opened fire on the is­land in the be­lief that it was the seat of the in­sur­gent gov­ern­ment. How­ev­er, the in­sur­gents prob­a­bly nev­er resid­ed there.
RECONSTRUCTION OF THE CASTLE, ORIGIN: J. SOBCZAK PRZEZ WIELKOPOLSKĘ
CASTLE ISLAND IN EARLY SPRING AND IN SUMMER
DESCRIPTION OF THE CASTLE
T
he cas­tle was the first ro­man­tic build­ing in Wiel­ko­pol­ska, which was giv­en goth­ic fea­tures and an il­lu­so­ry de­fen­sive char­ac­ter. The build­ing had an L-shaped plan. It con­sist­ed of two wings of un­equal length and width, and a squat, cylin­dri­cal tow­er. It had a base­ment and two floors above ground: high first floor and low, hab­it­able at­tic floor. The tow­er at­tached to the east­ern el­e­va­tion was topped with pseu­do-Goth­ic crenel­la­tion. Its in­te­ri­ors were il­lu­mi­nat­ed by ogi­val win­dow open­ings, as well as small win­dows look­ing like shoot­ing holes. The tow­er was equipped with a small bal­cony from where one could ad­mire the pic­turesque panora­ma of the lake. The fam­i­ly af­fil­i­a­tion of this small res­i­dence was em­pha­sized by stone coats of arms, e.g. Ogoń­czyk, which were prob­a­bly tak­en from the Re­nais­sance cas­tle in Kór­nik and in­cor­po­rat­ed in­to the wall of the tow­er and its north­ern el­e­va­tion. Al­though the palace was in­hab­it­ed main­ly in sum­mer, the pre­served traces of stoves and fire­places prove that it was pos­si­ble to live there at any time of the year. Com­mu­ni­ca­tion be­tween the is­land and the main­land was pro­vid­ed by boats, while in se­vere win­ter the is­land was reached on foot or by sledge.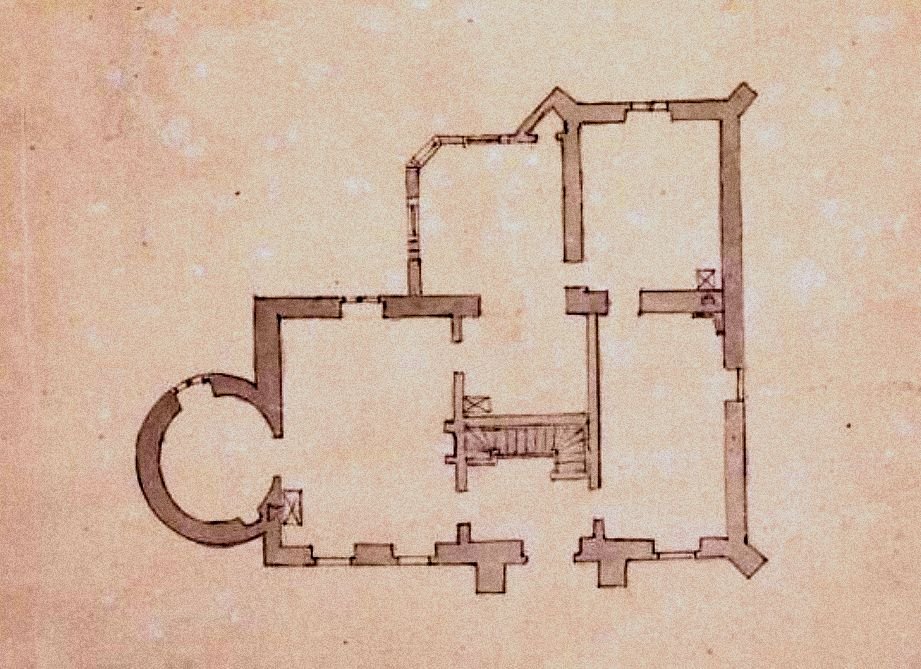 FIRST FLOOR PLAN OF THE CASTLE DRAWN BY TYTUS DZIAŁYŃSKI
CURRENT APPEARANCE OF THE RUINS (BEFORE CONSERVATION), ORIGIN: WIELKOPOLSKI NATIONAL PARK
---
C
ur­rent­ly, the cas­tle is a wild, un­in­hab­it­ed ru­in. To some ex­tent, how­ev­er, this mon­u­ment is cared for, an ex­am­ple of which were con­ser­va­tion works on the walls, car­ried out here sev­er­al years ago. Cas­tle Is­land is lo­cat­ed in the north­ern part of Gó­reck­ie Lake, which is a strict re­serve: swim­ming, fish­ing, boat­ing and kayak­ing are for­bid­den here. From the view­point on land, the ru­ins are about 100 me­ters away, so those who want to see more de­tails should get binoc­u­lars.
VIEWING POINT ON THE SHORE OF GÓRECKIE LAKE
| | |
| --- | --- |
| | The castle island with the castle ruin can be admired for free. |
| | |
| --- | --- |
| | It's a good idea to bring a lens that allows for great close-ups. |
| | |
| --- | --- |
| | You can walk your dog in the surrounding forests. |
| | |
| --- | --- |
| | It is absolutely forbidden to fly a drone. |
---
G
óreck­ie Lake is lo­cat­ed in the cen­ter of Wiel­ko­pol­ski Na­tion­al Park, about 5 km north­west of Mo­si­na town. You can get there by train, but it re­quires a longer walk af­ter leav­ing the rail­way sta­tion: 6 km (from Pusz­czy­ków­ko r.s.), 7 km (from Mo­si­na r.s.), 8 km (from Stę­szew r.s.). The blue walk­ing trail leads to the lake from Stę­szew and Mo­si­na, and the red trail - from Pusz­czy­ków­ko.
| | |
| --- | --- |
| | In the Na­tion­al Park, you can park your car on­ly in des­ig­nat­ed places. There are two lo­ca­tions to choose from: Pusz­czy­ko­wo park­ing lot on the east­ern shore of the lake and the slight­ly less pop­u­lar park­ing spots in Oso­wa Gó­ra. There is a fee for park­ing. Pay­ment in tick­et vend­ing ma­chines. It is a good idea to car­ry coins with you. |
| | |
| --- | --- |
| | Al­though you can ride a bike in the na­tion­al park, the road lead­ing to the ru­ins is closed to cy­clists (I re­al­ly don't un­der­stand why). Legal­ly you can on­ly come here push­ing your bike or drive il­le­gal­ly risk­ing a fine. Many peo­ple choose the lat­ter op­tion with­out any harm to the en­vi­ron­ment (the ban is re­al­ly ir­ra­tional). |
IT IS POSSIBLE TO DRIVE A BICYCLE UP TO THE VERY EDGE OF THE LAKE (ALTHOUGH IT IS FORBIDDEN)
Castles nearby:
Kórnik - knight's castle from the 14th/19th century, 22 km
Poznań - royal castle from the 13th century, reconstructed, 25 km

---
Wielkopol­s­ki Na­tion­al Park is a small and, in com­par­i­son with oth­er na­tion­al parks, mod­est for­est en­clave lo­cat­ed near Poz­nań ag­glom­er­a­tion. It was es­tab­lished in 1957, orig­i­nal­ly on an area of 5100 ha; cur­rent­ly, to­geth­er with the buffer zone, it cov­ers an area al­most three times larg­er. The dis­tinc­tive fea­ture here is the post­glacial land­scape and its typ­i­cal land­forms: moraines, ravines and gul­lies, some of which are flood­ed, thus form­ing pic­turesque lakes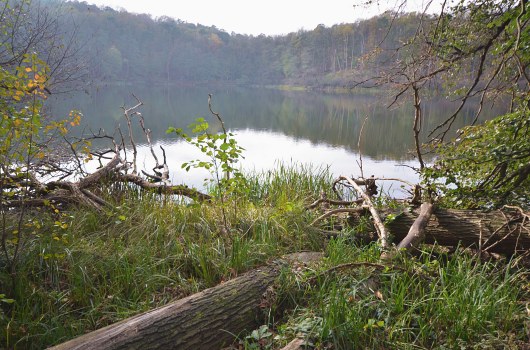 . The sur­round­ing forests are home to 3000 species of in­sects, all Pol­ish low­land am­phib­ian species, 40 species of mam­mals and o­ver 200 species of birds, in­clud­ing cor­morants, ravens, king­fish­ers and sev­er­al species of wood­peck­ers. Among the larg­er an­i­mals we can meet here nu­mer­ous wild boars, deer, bad­gers, some­times wolves, and the in­creas­ing­ly pop­u­lar beavers. Traces of the lat­ter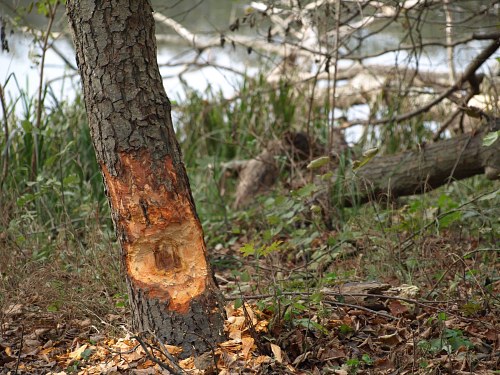 can be seen in many places, both on the banks of the lakes and on the War­ta Riv­er it­self.
The biggest at­trac­tion of the Park are wa­ter reser­voirs: large Gó­rec­kie Lake with the Cas­tle Is­land and tiny Ko­cio­łek Lake, tight­ly sur­round­ed by for­est, which we pass on our way to Oso­wa Gó­ra rail­road sta­tion, no longer in use, and fur­ther to the ob­ser­va­tion tow­er erect­ed a few years ago. In the vicin­i­ty of WNP Pusz­czy­ko­wo park­ing lot there is vil­la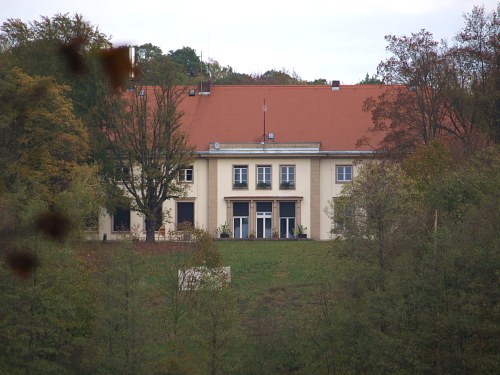 of the Ger­man Nazi dig­ni­tary and war crim­i­nal Ar­thur Grei­ser, cur­rent­ly the seat of Park Man­age­ment and small mu­se­um ded­i­cat­ed to the na­ture of Wiel­ko­pol­ski Na­tion­al Park and its his­to­ry.
---
It is worth spend­ing a few hours on a walk in Pusz­czy­ko­wo, a pre-war sum­mer re­sort ad­ja­cent to the Na­tion­al Park, which even to­day is re­gard­ed by Poz­nań cit­i­zens as the most charm­ing town in the en­tire ag­glom­er­a­tion. Pusz­czy­ko­wo is al­so the home­town of Ar­ka­dy Fie­dler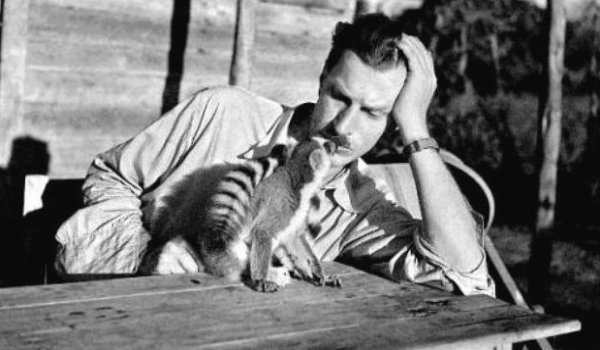 , pol­ish glo­be­trot­ter and writ­er, au­thor of Squad­ron 303 and a se­ries of trav­el books. Here, in the old vil­la at 1 Sło­wac­kie­go Street, an un­usu­al pri­vate Lit­er­ary Mu­se­um op­er­ates, in which the trav­eller's son and grand­sons pre­sent ex­hibits brought by him from nu­mer­ous ex­pe­di­tions around Afri­ca, both Amer­i­c­as and Ocea­nia. They in­clude cer­e­mo­ni­al masks and stat­ues, bows and blow­guns, trop­i­cal but­ter­flies, spi­ders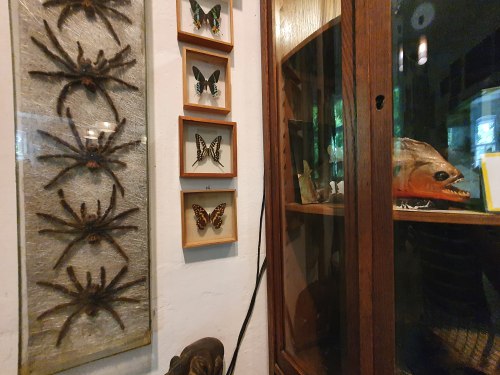 , crocodiles, caimans
, scor­pi­ons (all dead, un­for­tu­nate­ly), and old pho­tographs from around the world.
The Gar­den of Tol­er­ance sur­round­ing the vil­la is an in­te­gral part of the mu­se­um. It in­cludes a group of sculp­tures, repli­cas and mod­els of great tourist at­trac­tions, ob­jects im­por­tant for de­vel­op­ment of var­i­ous civ­i­liza­tions around the world. We can see here the Bud­dha stat­ues from Bami­an (in 1:9 scale), the Aztec stone cal­en­dar
, the Chac Mool fig­ure with the sac­ri­fi­cial ves­sel for hu­man heart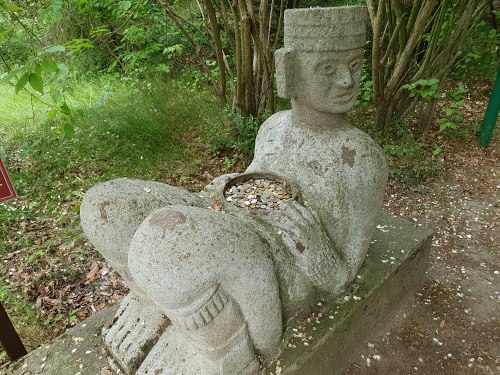 , the Gate of Sun from Tiahua­na­co, the mon­u­ment of god Quet­zal­coatl and the char­ac­ter­is­tic moai head from East­er Is­land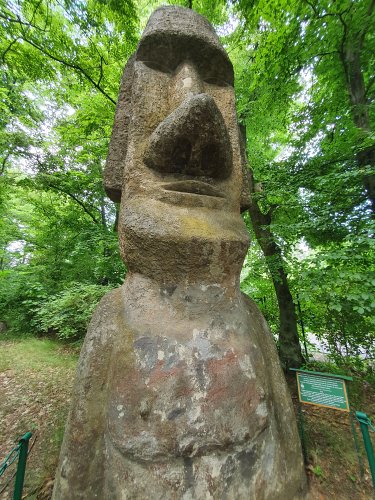 (in 1:1 scale). The biggest at­trac­tion and pride of the mu­se­um, how­ev­er, is the repli­ca (scale 1:1!) of car­rack San­ta Maria, the largest of three Chris­to­pher Colum­bus' ships that took part in his first ex­pe­di­tion to Amer­i­ca. Re­cent­ly, the Fied­lers' col­lec­tion has been sup­ple­ment­ed by mod­el of Brit­ish World War II fight­er, Haw­ker Hur­ri­cane
.
text: 2021
photographs: 2019, 2021
© Jacek Bednarek