RATNO DOLNE

the ruin of a knight's castle
VIEW OF THE RUINED CASTLE IN RATNO DOLNE
---
P
rob­a­bly, al­ready in the first half of the 14th cen­tu­ry, there was a knight's cas­tle in Rat­no (first men­tion in 1347), which was sup­pos­ed­ly built by the rep­re­sen­ta­tives of the Sile­sian fam­i­ly de Mus­sin (Mosch). This small, pos­si­bly still wood­en strong­hold be­came in 1388 the prop­er­ty of Kłodz­ko bur­graves be­long­ing to the von Pan­nwitz, the rep­re­sen­ta­tives of an an­cient Sor­bian fam­i­ly. In 1430 the vil­lage of Ra­then be­longed to Frie­drich von Haag, the roy­al gov­er­nor of Brou­mov, and in 1485 the own­er of the cas­tle was Zbin­ko Bo­cho­vec von Bu­chau, a clerk at the court of the Zię­bi­ce Duke Jin­dřich I. Sta­rší z Po­dě­brad a Min­ster­ber­ka (d. 1498). A few years lat­er this ruler prob­a­bly in­clud­ed the cas­tle in­to his prop­er­ty, be­cause in 1494 he was al­ready men­tioned as its right­ful own­er.
HISTORICAL NAMES OF THE VILLAGE
Ra­tin (1347), Ra­then (1414),
Rat­now (1485), Ra­then (1505),
Ra­ten (1624), Nie­der Ra­then (1747),
Nie­der­ra­then (1780), Ra­sze­wo Dol­ne (1945)

SOUTHERN ELEVATION OF THE CASTLE, VIEW FROM THE PARK
I
n 1501 the Kłodzko Coun­ty (with Rat­no) was tak­en o­ver by the Im­pe­ri­al Count Ul­rich von Hard­egg (d. 1535), who bought it from in­debt­ed sons of Jin­dřich I. Sta­rší, pay­ing 70 000 Rhen­ish guil­ders. Sev­er­al years lat­er this rep­re­sen­ta­tive of the old Aus­tri­an no­bil­i­ty mar­ried the duke's youngest daugh­ter, Zdeň­ka (d. 1522). At that time the cas­tle was prob­a­bly al­ready sold or leased, be­cause in 1514 Bal­tha­sar von Re­ichen­bach is men­tioned as the lord in Ra­then. Even be­fore this trans­ac­tion took place, the count had ex­pand­ed the me­dieval fort­ress and sur­round­ed it with earth for­ti­fi­ca­tions. Sub­se­quent in­vest­ments in the cas­tle were car­ried out by rep­re­sen­ta­tives of the Re­ichen­bach fam­i­ly, per­haps al­so by the men­tioned Balt­ha­sar. Be­fore 1563, the build­ing un­der­went a ma­jor Re­nais­sance re­con­struc­tion dur­ing which ram­parts were added and moats were dug. A plaque with the date 1563, prob­a­bly placed there to com­mem­o­rate the com­ple­tion of con­struc­tion works, has been pre­served from this pe­ri­od.
FRONT (NORTH) ELEVATION OF THE CASTLE AT THE BEGINNING OF THE XX CENTURY AND IN 2019
CHANCELLERY BUILDING CAN BE SEEN IN THE BACKGROUND
I
n 1613 Hein­rich von Re­ichen­bach sold part of his prop­er­ty with Rat­no to Cert von So­both­en­dorf. Fif­teen years lat­er, as a sanc­tion for Cert's par­tic­i­pa­tion in the an­ti-Hab­s­burg re­bel­lion, half of the vil­lage was con­fis­cat­ed from him and the oth­er half was bought by Pe­ter Lang­wiss alias Lan­ge­wie­sen. His son, Chris­tian Lang­wiss, is re­mem­bered main­ly for his vi­o­lent char­ac­ter and ruth­less pol­i­cy to­wards his sub­jects, which led to a re­volt of the peas­ants that end­ed with an at­tempt to burn the cas­tle. How­ev­er, the vil­lagers did not man­age to con­quer the res­i­dence, but the Swedes did, and in 1645 they cap­tured the cas­tle, plun­dered it, and fi­nal­ly burned it down. A year lat­er the es­tate was tak­en o­ver by the em­pire ad­min­is­tra­tion and leased to the court sec­re­tary Wis­mer von Wie­sen­berg. Prob­a­bly at that time some works on re­con­struc­tion of the man­sion were carried out here, how­ev­er, no doc­u­ments prov­ing this the­sis have sur­vived. In 1672 the lord of Rat­no was Mat­thias Max­i­m­il­ian Dom­nisch. In 1675 the cas­tle was bought by Da­niel Pa­scha­sius Os­ter­berg­er von Os­ter­berg
(d. 1711), an im­pe­ri­al lawyer and a rep­re­sen­ta­tive of the so-called new no­bil­i­ty.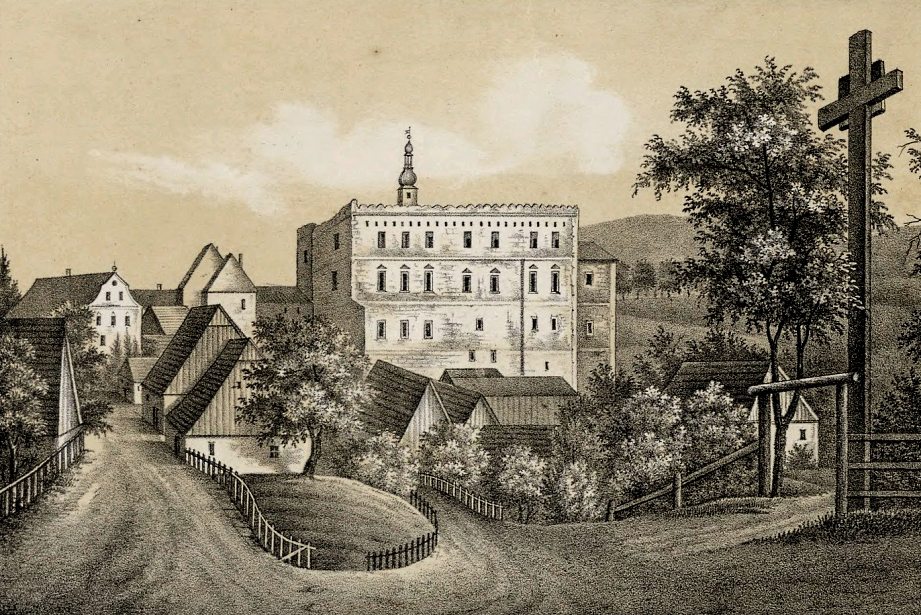 CASTLE ON A LITHOGRAPH BASED ON A DRAWING BY FRIEDRICH BERNHARD WERNER FROM 1737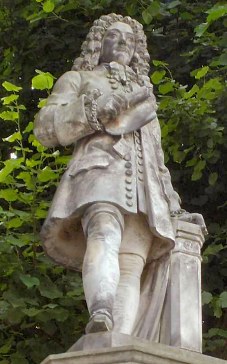 Daniel Pascha­sius was born in 1634 in Opa­va, Bo­he­mia. He was the son of a rich mer­chant from Os­tra­va. Af­ter com­plet­ing his le­gal stud­ies in Prague, he served for some time as a cham­ber­lain to the Counts von Al­thann in Mię­dzy­le­sie, where he made a con­sid­er­able for­tune. At the age of 32 he mar­ried a Bo­hemi­an no­ble­wom­an, Elis­a­beth von Zdra­dzi­ste (d. 1717), and eight years lat­er Em­per­or Le­opold I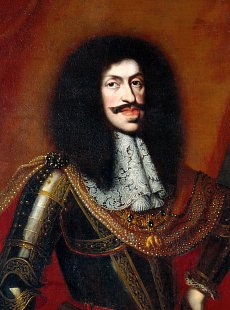 grant­ed him the ti­tle of Count and the sur­name von Os­ter­berg. Thus, he be­came part of a com­mu­ni­ty called the new no­bil­i­ty. Soon af­ter­wards he set­tled down in the vil­lage of Möhl­ten (Go­rzu­chów) near Wam­bie­rzy­ce, giv­en to him by the Count Mi­cha­el von Al­thann.

Von Os­ter­berg was raised among the Je­suits. In­flu­enced by the teach­ings and books de­scrib­ing an­cient Je­ru­sa­lem, he de­cid­ed to re­con­struct the holy city in the Kłodz­ko re­gion. To re­al­ize his idea he chose a pil­grim­age vil­lage named Wam­bie­rzy­ce, which he be­came the own­er of in 1677. Build­ing a mis­sion­ary cen­ter turned out to be his life's pas­sion. For this pur­pose, he brought here many promi­nent ar­chi­tects, who gave birth to the longest Cal­vary in Si­le­sia. How­ev­er, he had trav­eled to Je­ru­sa­lem twice be­fore to look at the lay­out of the sta­tions of the cross there and then as­sem­bled ev­ery­thing ac­cord­ing to that pat­tern, but in a re­duced size.

On the ini­tia­tive of Pa­scha­sius von Os­ter­berg, a church was al­so built near the Cal­vary. How­ev­er, its walls be­gan to crack soon af­ter the founder's death and the church was de­mol­ished. In 1715-23 a new tem­ple was erect­ed in its place, which has sur­vived to the pre­sent day and is now called the Basil­i­ca of the Vis­i­ta­tion of the Bles­sed Vir­gin Mary.

Oth­er in­ter­ests of the Rat­no Cas­tle own­er are rarely men­tioned. One of them was mu­sic. Von Os­ter­berg even es­tab­lished the Church Mu­si­cians Foun­da­tion (die Al­ben­dor­fer Kir­schen­musik­er-Fun­da­tion), where he paid the salaries of six of the band mem­bers. He was al­so a com­pos­er. For in­stance, he wrote the pil­grim­age song Freu mich, du Al­ben­dor­fis­che Jung­frau.

Daniel Pa­scha­sius died at the age of 77. He was buried in the church in Wam­bie­rzy­ce.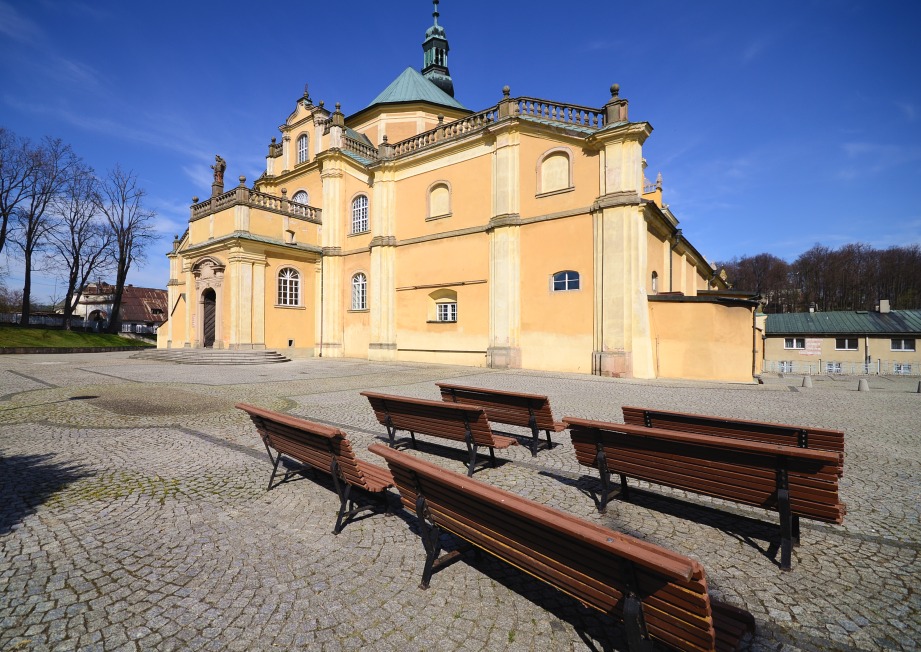 BASILICA OF THE VISITATION OF THE BLESSED VIRGIN MARY IN WAMBIERZYCE
VIEW FROM THE MONUMENTAL STAIRS OF THE BASILICA TO CALVARY HILL
SILESIAN JERUSALEM
Ac­cord­ing to a 13th-cen­tu­ry leg­end, Jan, a peas­ant from near­by Rat­no (or Ra­sze­wo), re­gained his sight here, and then saw the fig­ure of the Vir­gin Mary hid­den among the branch­es of an old lime tree. In the place of his mirac­u­lous re­cov­ery, a wood­en chapel with a stat­ue of the Vir­gin Mary was erect­ed. O­ver time, the chapel was re­placed by a small church, which be­gan to be at­tend­ed by thou­sands of be­liev­ers. The Mar­i­an cult at­tract­ed pil­grims from oth­er re­gions of Sile­sia, Bo­he­mia, Mo­ra­via, and even Aus­tria. Al­ready in the 18th cen­tu­ry about 200 thou­sand peo­ple made the pil­grim­age here ev­ery year.

A re­al pil­grim­age cen­ter was built in Wam­bie­rzy­ce by Pa­scha­sius von Os­ter­berg who in 1683-1708 fi­nanced the con­struc­tion of the Cal­vary con­sist­ing of o­ver 100 chapels dec­o­rat­ed with nat­u­ral­is­tic wood­en fig­ures. The lay­out of the vil­lage re­pro­duces the to­pog­ra­phy of Je­ru­sa­lem - there are moun­tains: Zion, Si­nai, Ta­bor, Ho­reb and Gol­go­tha, the Ce­dron stream and the Si­loe pool, while the Je­ru­sa­lem Gate ris­es above the streets. The cen­ter­piece is the late Baroque basil­i­ca with its un­usu­al pul­pit and lu­mi­nous dec­o­ra­tion made of 1,390 light bulbs hung on its fa­cade in the ear­ly 20th cen­tu­ry. Op­po­site the basil­i­ca is He­rod's Palace with life-size paint­ed stat­ues, and near­by is the fa­mous his­toric na­tiv­i­ty scene with 800 fig­ures, of which 500 are mov­able. The en­tire com­plex is one of the largest ex­ist­ing Cal­vary sites in Eu­rope.

The Pol­ish name of the vil­lage comes from the Czech name Vam­beř­ice, used by Czech pil­grims. This one is an as­sim­i­la­tion of the old­er Ger­man name Al­ben­dorf. In Poland Wam­bie­rzy­ce ob­tained the nick­name of the Sile­sian Jerusalem.
| | |
| --- | --- |
| | |
| | |
| --- | --- |
| | |
BAROQUE INTERIORS OF THE BASILICA IN WAMBIERZYCE
D
aniel von Os­ter­berg al­so took care of the cas­tle, which he trans­formed in­to a mag­nif­i­cent Re­nais­sance and baroque res­i­dence, one of the most beau­ti­ful in the Kłodz­ko re­gion. When he died, the palace with the vil­lages of Al­ben­dorf, Ober- and Nie­der­ra­then was giv­en to his old­er son Jo­hann An­ton who mar­ried An­ne The­re­se von Ei­cholz. The last of the von Os­ter­berg fam­i­ly to re­side in Rat­no was Da­niel's grand­son, im­pe­ri­al colo­nel Ema­nu­el Franz. In 1776, he sold the es­tate to a trade coun­cil­lor from No­wa Ru­da and the own­er of a part of Po­la­ni­ca-Zdrój (Bad Al­thei­de), Le­opold Gen­del (d. 1787) for 77,000 guil­ders. We do not know what prompt­ed the colonel to leave the Kłodz­ko re­gion, but we can as­sume that this de­ci­sion was caused by the take­over of Sile­sia by the Prus­sian Ho­hen­zol­lerns, en­e­mies of the Hab­s­burgs, which the Os­ter­bergs had sup­port­ed for sev­er­al gen­er­a­tions. The new own­ers prob­a­bly did not make any in­vest­ments in the cas­tle, fo­cus­ing in­stead on the granges that pro­vid­ed a sol­id in­come from the pro­duc­tion of wool, flour, wood and vod­ka.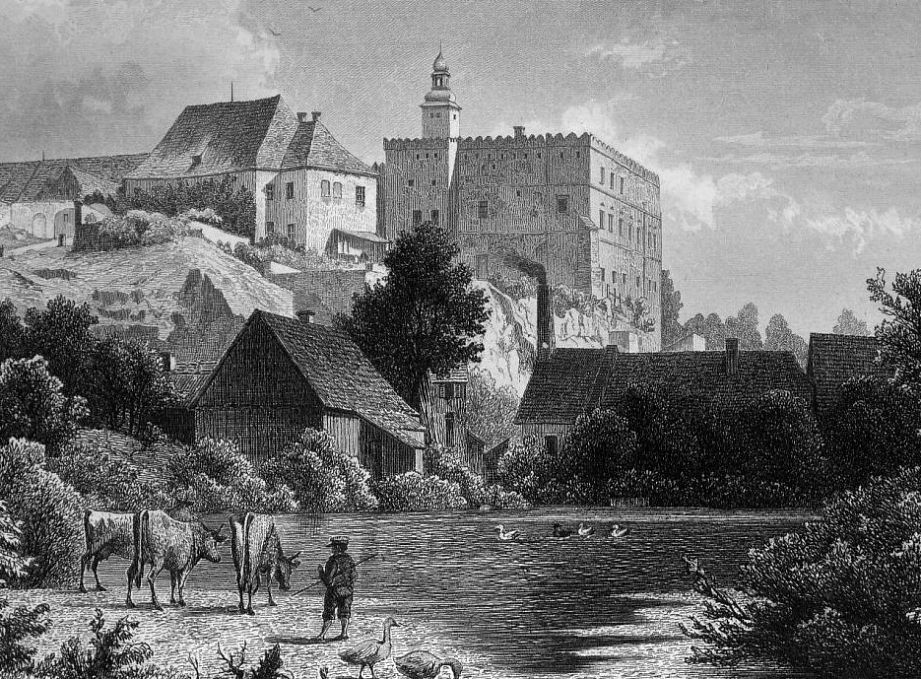 ENGRAVING BY FRANZ SCHROLLER FROM 1885, "SCHLIESEN. EINE SCHILDERUNG DES SCHLESIERLANDES"
VIEW OF THE CASTLE FROM THE SOUTH ON A POSTCARD FROM THE TURN OF THE XIXTH AND XXTH CENTURY
T
he next own­er of the palace was the mer­chant Franz Au­gust Gross­man, who sold it in 1854 to the Scot­tish mil­lion­aire Wol­de­mar von John­ston und Krö­ge­born (d. 1860). It was prob­a­bly him or his wife The­re­sa de do­mo Ame­lang (d. 1887), who re­built the cas­tle in the Re­nais­sance style, added new ter­races on the gar­den side and built an or­an­gery. The heir to this prop­er­ty was Max­il­im­i­lan von John­ston (d. 1918), roy­al cham­ber­lain, who in 1900 es­tab­lished a ma­jo­raty with an area of 560 ha. His wid­ow, Elis­a­beth de do­mo Hau­te­vil­le-Ja­cque­min in 1933 gave the cas­tle to her grand­daugh­ter (?), Baro­ness Is­abel­la von Blan­ckart de do­mo von Münch­hau­sen. Mrs. von Blan­ckart was the last pre-war own­er of Rat­no - she was de­port­ed from here in 1946.
VIEW FROM A RAILWAY VIADUCT TO THE SOUTHERN ELEVATION OF THE CASTLE, POSTCARD FROM AROUND 1905
THE CASTLE SEEN FROM THE WEST, 1909
A
f­ter the world war II, the cas­tle was na­tion­alised and placed un­der the care of Ści­naw­ka Breed­ing En­ter­prise, then No­wa Ru­da Na­tion­al Coun­cil, and fi­nal­ly hand­ed o­ver to De­part­ment of Ed­u­ca­tion, which planned to or­gan­ise here an or­phan­age. De­spite a ma­jor ren­o­va­tion in 1972, the cas­tle stood emp­ty, and al­though at­tempts were made to open a ho­tel here, the idea was quick­ly aban­doned due to the stench caused by the near­by cat­tle farm. Dev­as­tat­ed, but still in a good tech­ni­cal con­di­tion, the build­ing was bought in 1996 by a pri­vate en­trepreneur, and bare­ly two years lat­er it burned down in cir­cum­stances that re­main un­ex­plained to this day. It is com­mon­ly be­lieved that it was in­ten­tion­al­ly set on fire in or­der to ob­tain com­pen­sa­tion. Since that time, the own­er has lost in­ter­est in the cas­tle, which, de­void of any care, is de­te­ri­o­rat­ing at an alarm­ing rate.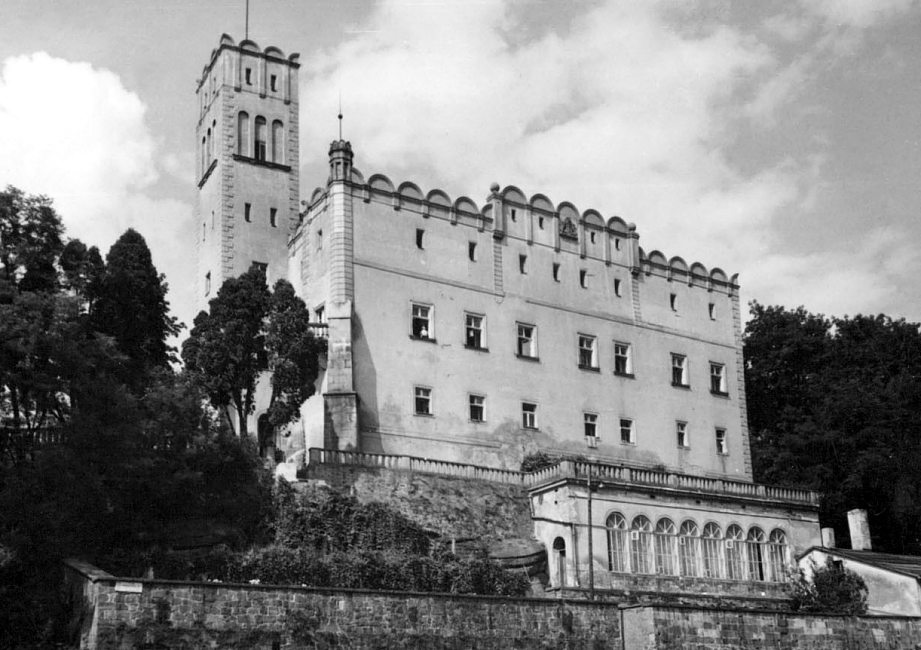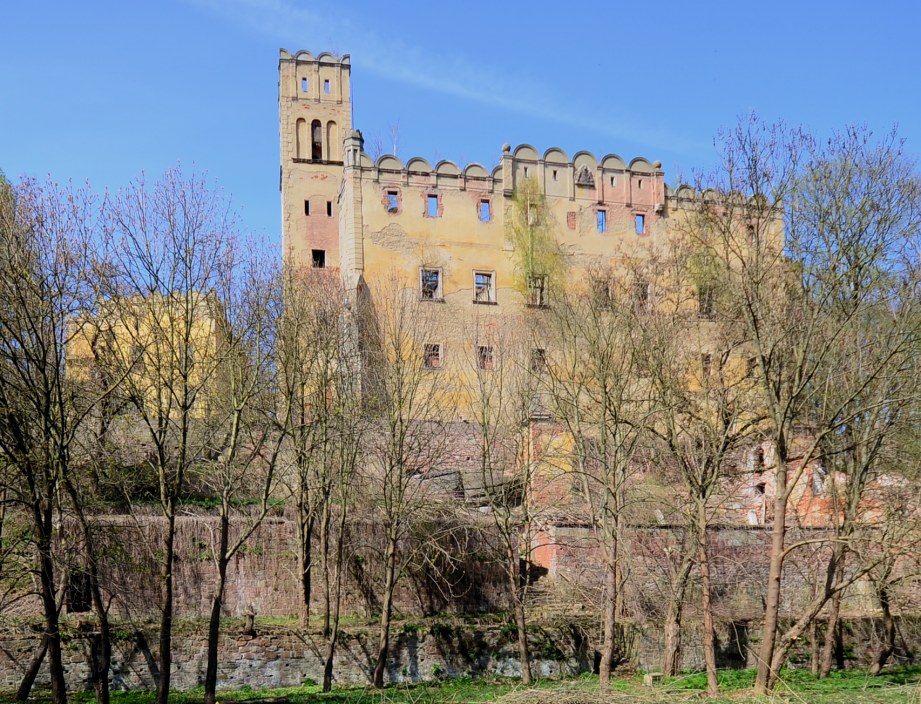 SOUTHERN ELEVATION WITH GARDEN TERRACES, CONDITION IN THE 1960S AND TODAY
DESCRIPTION OF THE CASTLE
T
he me­dieval cas­tle was built of stone and brick, on a plan sim­i­lar to a rect­an­gle with sides of 14x22 m. Prob­a­bly the on­ly ma­son­ry part (apart from the walls) was a cor­ner tow­er and a res­i­den­tial house, pos­si­bly of half-tim­bered con­struc­tion, at­tached to the south­ern cur­tain of the walls. The en­trance gate was prob­a­bly lo­cat­ed on the north­ern side. In the 16th cen­tu­ry, the south and north wings were built, which in­cor­po­rat­ed the me­dieval tow­er. Lat­er, af­ter the east wall was de­mol­ished, the south and north hous­es were ex­tend­ed, and the small space be­tween them was filled by the east wing. The en­tire com­plex was en­closed by the west­ern build­ing, dat­ed back to the mid-16th cen­tu­ry, which formed a sys­tem of four wings sur­round­ing a small court­yard. These wings were topped with a Re­nais­sance at­tic.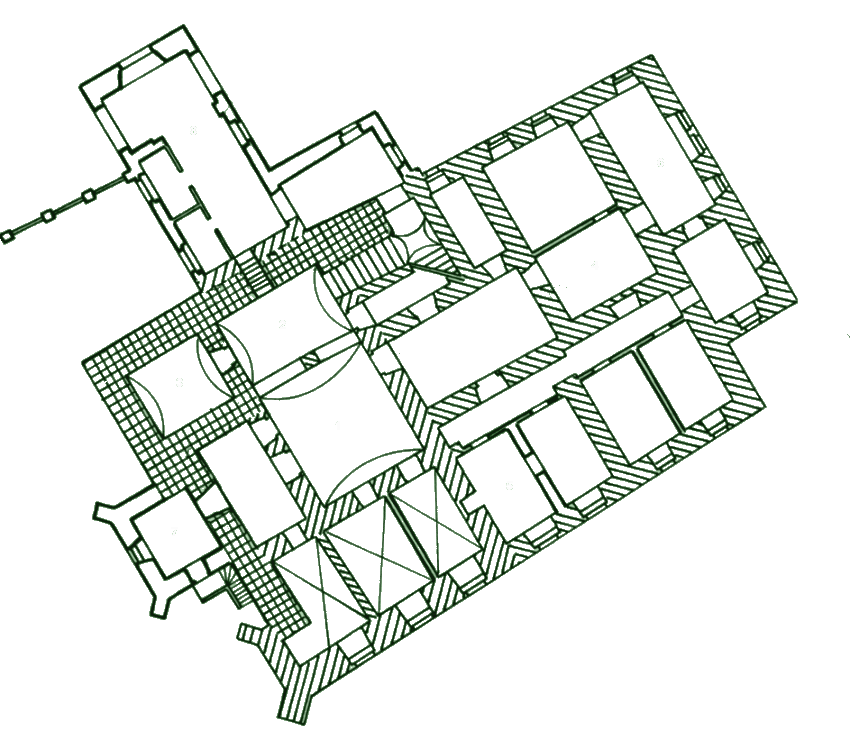 PLAN OF THE CASTLE: 1. COURTYARD, 2. NORTHERN WING, 3. CORNER TOWER, 4. EASTERN WING,
5. SOUTHERN WING, 6. EASTERN ALCOVE, 7. WESTERN TOWER, 8. ENTRANCE PAVILION
I
n the sec­ond half of the 17th cen­tu­ry, Pascha­sius von Os­ter­berg re­built the Goth­ic-Re­nais­sance cas­tle by ex­tend­ing its south­ern façade and adding a sin­gle-ax­is an­nex. He al­so re­ar­ranged some of the in­te­ri­ors, nar­rowed the court­yard, and added a tur­ret to the en­trance. A lit­tle to the west of the cas­tle he erect­ed a de­tached build­ing where he placed the ad­min­is­tra­tor's quar­ters, a chan­cellery and a bil­liard room. A rep­re­sen­ta­tive en­trance gate was built in the vicin­i­ty of the chan­cellery, and a not very deep moat was dug be­tween the res­i­dence and the farm yard.
PLAN OF THE CASTLE COMPLEX: 1. CASTLE, 2. CHANCELLERY, 3. ORANGERY, 4. GARDEN TERRACES
CHANCELLERY, VIEW FROM THE WEST
T
hor­ough re­con­struc­tion of the old cas­tle took place af­ter 1854, when the es­tate be­came the prop­er­ty of the fam­i­ly von John­ston und Krö­ge­born. The res­i­den­tial wings of the build­ing were raised by one storey and the west­ern neo-goth­ic clock tow­er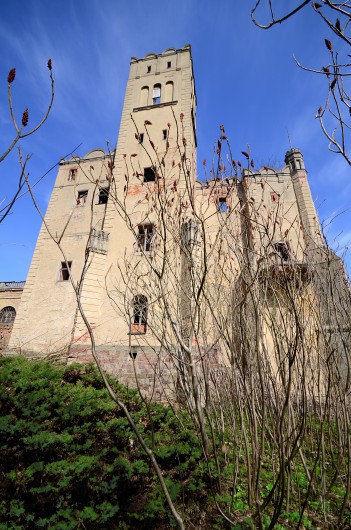 was erect­ed. An en­trance pavil­ion was added to the north­ern façade, and on the south­ern side, im­pres­sive ter­races and stairs lead­ing to gar­dens with an or­angery were built. Un­til the mid-19th cen­tu­ry the gar­dens were ad­ja­cent to a me­na­gerie, which was lat­er trans­formed in­to an En­glish-style park. Af­ter the changes the cas­tle had a vol­ume of 14,000 cu­bic me­tres. The top of the new tow­er and the crown of the build­ings were dec­o­rat­ed with a Neo-Re­nais­sance at­tic, and their el­e­va­tions were ac­cent­ed with cor­ner rus­ti­ca­tion and dec­o­ra­tive win­dow stone­work.
CASTLE PARK, PHOTOGRAPH FROM 1909
TODAY THE TERRACES ARE IN RUINS AND THE FORMER PARK HAS TURNED INTO ONE BIG WASTELAND
---
T
he cas­tle's cur­rent form - with its tall tow­er and at­tic top - is large­ly the re­sult of re­con­struc­tion car­ried out in the sec­ond half of the 19th cen­tu­ry, al­though the core 16th-cen­tu­ry con­cept has re­mained un­changed and is still clear­ly vis­i­ble. The sand­stone por­tal dec­o­rat­ing the main en­trance from 1677 with the coats of arms of the von Os­ter­berg fam­i­ly has sur­vived. The coat of arms of the John­ston und Krö­ge­born fam­i­ly, held by two li­ons, has al­so been pre­served and is lo­cat­ed in the cen­tral part of the at­tic of the south el­e­va­tion. Of the re­main­ing ar­chi­tec­tural de­tails we can still see parts of the fa­cade dec­o­ra­tion and frag­ments of win­dow and door stone­work.
VIEW FROM THE NORTH TO THE FRONT ELEVATION OF THE CASTLE
THE CASTLE AND THE CHANCELLERY SEEN FROM THE WEST
| | |
| --- | --- |
| | |
F
or the first few decades af­ter the war, the cas­tle was kept in not too bad con­di­tion. It was al­most com­plete­ly ru­ined by the fire that broke out here in Feb­ru­ary 1998. To­day it stands emp­ty, mak­ing a de­press­ing im­pres­sion en­hanced by the bro­ken ceil­ings, board­ed up win­dows and eerie si­lence. The over­grown and de­cay­ing park with ru­ined or­angery and gar­den ter­races looks sim­i­lar. The 17th-cen­tu­ry chan­cellery build­ing stand­ing near the cas­tle is slight­ly bet­ter pre­served, al­though, judg­ing by the scale of de­struc­tion, this term does not seem very lucky. Its in­te­ri­ors, de­void of his­toric fea­tures, not long ago in­hab­it­ed, now haunt with scenery straight out of a hor­ror movie. There is ev­ery­where here bro­ken fur­ni­ture, bro­ken tiles and san­i­tary fa­cil­i­ties, old (but not an­tique) stoves and other garbage. When we look at this sad im­age, we get an ir­re­sistible im­pres­sion that the cas­tle has died and there is no hope for it any­more. How­ev­er, there is a chance for its re­vival. Af­ter many years of ef­forts, the mu­nic­i­pal au­thor­i­ties have be­gun le­gal steps to ex­pro­pri­ate the cur­rent own­er and to re­sell the build­ing or to pre­serve it as a per­ma­nent ru­in. As I write these words, the case is very fresh, so it is worth fol­low­ing the press re­ports about it.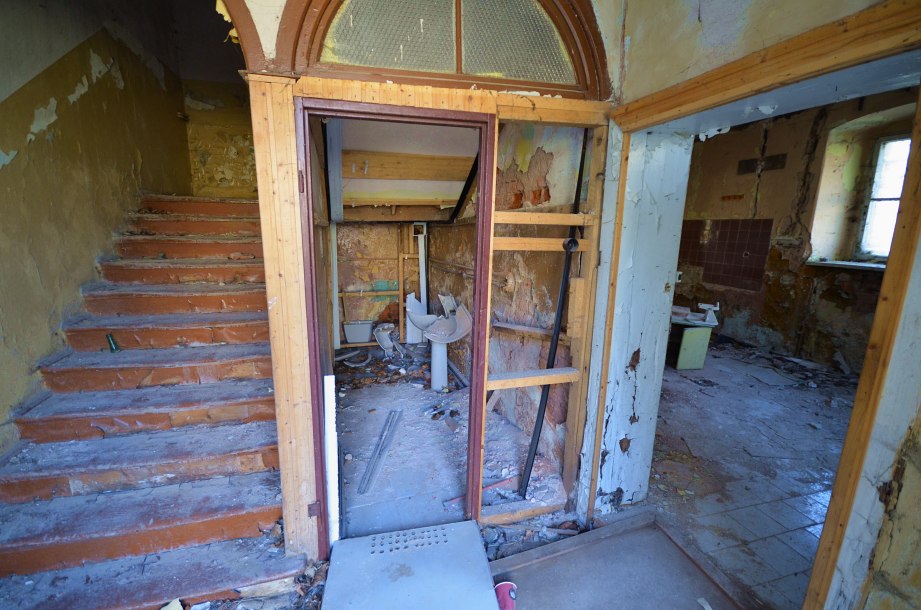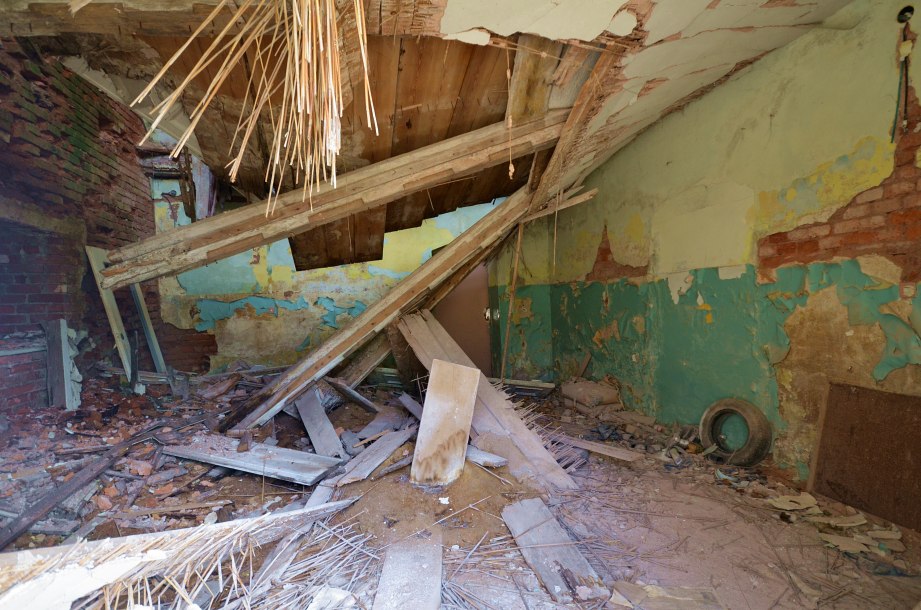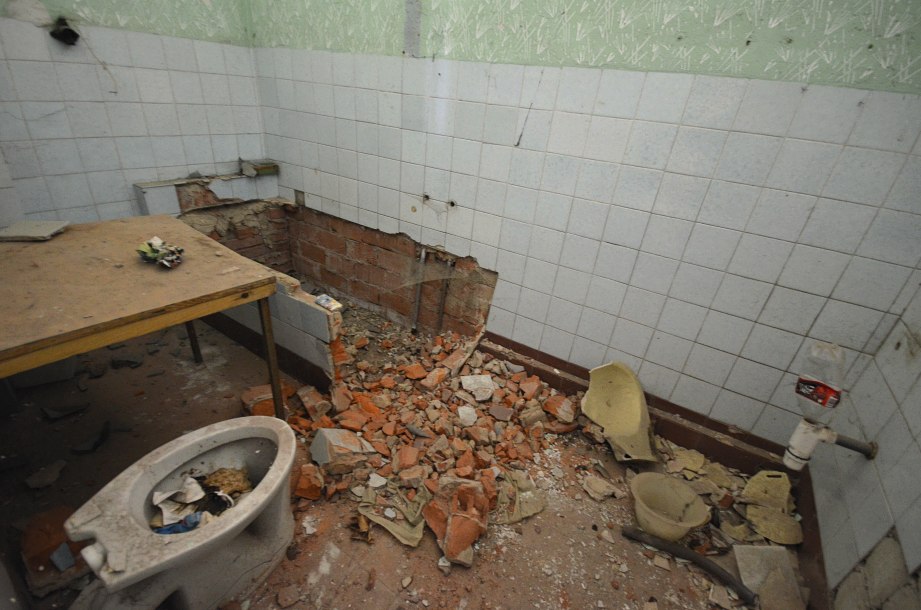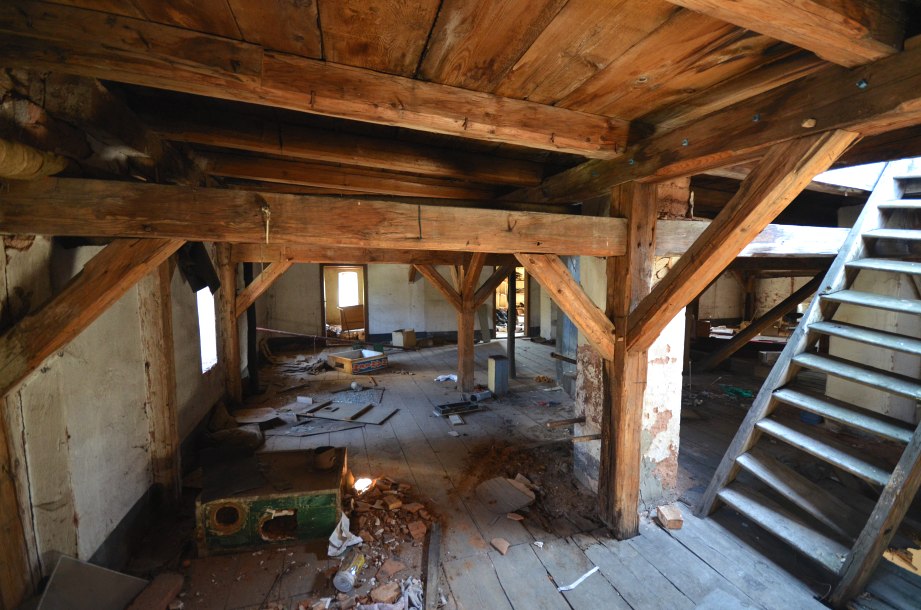 TERRIBLY DEVASTATED INTERIORS OF THE FORMER CHANCELLERY
| | |
| --- | --- |
| | The cas­tle is a pri­vate prop­er­ty, but the own­er has no in­ter­est in the place. You can there­fore freely en­ter the "park" and the ru­ins. How­ev­er, the cas­tle walls are not pro­tect­ed in any way, and the rot­ten boards and stairs look as if they are about to crack and col­lapse. There­fore, if you want to "vis­it" the in­te­ri­or, you should be very care­ful. And do not al­low chil­dren to en­ter! |
| | |
| --- | --- |
| | The tour of the cas­tle from the out­side should take about 15 min­utes. Pen­e­trat­ing the ru­ins from the in­side, in­clud­ing the cor­ri­dors and chan­cellery rooms will prob­a­bly take much longer. |
| | |
| --- | --- |
| | You can come to Rat­no with your dog. The dog should be on a leash be­cause there is a farm next to the cas­tle, which is not sep­a­rat­ed from it. |
| | |
| --- | --- |
| | Con­ve­nient con­di­tions for drone fly­ing. Very good per­spec­tive on the cas­tle from the west, south and east. There are no build­ings here, and the lo­ca­tion on a hill makes the build­ing on­ly par­tial­ly ob­scured by trees. |
FROM THE CHANCELLERY TERRACE THERE IS A VIEW OF THE CASTLE PARK AND THE WESTERN PART OF THE VILLAGE
(NOW SOMEWHAT OBSCURED BY TREES)
---
T
he vil­lage of Rat­no Dol­ne is sit­u­at­ed a dozen or so kilo­me­ters east of the Sto­ło­we Moun­tains, in the cen­ter of a tri­an­gle whose ver­tices are the towns of No­wa Ru­da, Kłodz­ko and Ku­do­wa Zdrój. Bus trans­port from Kłodz­ko, Po­la­ni­ca and No­wa Ru­da reach­es the vil­lage. The cas­tle is lo­cat­ed in the east­ern part of the vil­lage, near the in­ter­sec­tion of the roads to Rad­ków, Po­la­ni­ca-Zdrój and No­wa Ru­da.
| | |
| --- | --- |
| | You can park your car on the hill near the cas­tle. At the cross­roads, take the road in the di­rec­tion of Ści­naw­ka/No­wa Ru­da, and af­ter pass­ing the park (on the left) turn left in­to the road lead­ing up­hill. There, by the Ba­roque chapel, turn left once again and drive a few dozen me­ters more. |
| | |
| --- | --- |
| | Ac­cess by bi­cy­cle ac­cord­ing to di­rec­tions as above. |
---
1. L. Kajzer, J. Salm, S. Kołodziejski: Leksykon zamków w Polsce, Arkady 2001
2. A. Kwaśniewski: Zamek jako kreacja przestrzeni mitycznej..., DiG 2002
3. J. Lamparska: Tajemnice, zamki, podziemia, Asia Press 1999
4. J. Lamparska: Sudety Środkowe po obu stronach granicy, Asia Press 2003
5. R. Łuczyński: Zamki, dwory i pałace w Sudetach, Stowarzyszenie WA 2008
6. M. Perzyński: Zamki, twierdze i pałace D. Śląska i Opolszczyzny, WDW 2006
7. A. Wagner: Murowane budowle obronne w Polsce X-XVIIw., Bellona 2019
A VIEW OF THE CASTLE FROM THE SOUTHWEST, A LIVESTOCK FARM IN THE BACKGROUND
Castles nearby:
Ścinawka Średnia - Renaissance manor house from the XVI century, 6 km
Ścinawka Dolna - Renaissance manor house from the XVI century, 8 km
Ścinawka Górna - Renaissance manor house from the XVI century, 10 km
Nowa Ruda - fortified manor house from the 14th century, rebuilt, 6 km
Szalejów Górny - St. George fortified church from the 14th century, 15 km
Stary Wielisław - St. Catherine of Alexandria fortified church from the 14th century, 17 km
Kłodzko - Kłodzko Fortress from the 17th-18th centuries, 18 km

text: 2019, 2020
photographs: 2021
© Jacek Bednarek