A PILLAR OF DANSKER, THE BEST PRESERVED RELIC OF THE CASTLE IN KOWALEWO POMORSKIE
---
he first stronghold in Ko­wa­le­wo was pro­ba­bly built by Teu­to­nic Knights shor­tly after re­cei­ving this land from the mis­sio­na­ry bis­hop Chris­tian (+1245), which took pla­ce in 1231. In 1269, this pre­su­med tim­ber-soil strong­hold stop­ped the sie­ge of Prus­sian tri­be of Barts, but the ar­cha­ic con­stru­ction ba­sed on fra­gi­le buil­ding ma­te­rials was not a­ble to gua­ran­tee the sa­fe­ty of their de­fen­ders in the fu­tu­re. The Or­der found out a­bout this on­ly three ye­ars la­ter, when a pa­gan tri­be of Jac­we­go­wie led by Sko­mand in­va­ded and then burnt down the Teu­to­nic brid­ge­he­ad. Short­ly after the­se e­vents, a Com­man­de­ry was e­sta­bli­shed in Ko­wa­le­wo and the con­stru­ction of a brick ca­stle was star­ted, lo­ca­ted wit­hin a hill pro­tec­ted from the north by mar­shes and wa­ters of a cur­ren­tly non-exis­tent la­ke. This in­vest­ment was pro­ba­bly ini­tia­ted un­der the su­per­vi­sion of com­man­der Ar­nold Kropp and was ac­com­pa­nied by works on the for­ti­fi­ca­tion of vil­la­ge, which was gran­ted town rights in 1298. In 1330, the ca­stle re­sis­ted the in­va­sion of the Po­lish, Hun­ga­rian and Rus­sian ar­med for­ces led by Wla­dy­slaw Lo­kie­tek, who we­re ra­va­ging Che­lmno Land. The ca­stle de­fen­ded by com­man­der Her­man von Op­pen was se­ve­re­ly da­ma­ged at the ti­me, but was not con­que­red due to the lack of he­avy sie­ge e­quip­ment. Ele­ven years la­ter, the great ma­ster Die­trich von Al­ten­burg and an en­voy of the Hun­ga­rian king­dom met in Ko­wa­le­wo.
THE ONLY KNOWN IMAGE OF THE CASTLE BEFORE ITS DEMOLITION, THIS VERY FAINTLY VISIBLE PICTURE COMES FROM THE XVII CENTURY
uring Polish-Teutonic Wars and in the pe­riod im­me­dia­te­ly pre­ce­ding the­se e­vents, the ca­stle was a well-esta­bli­shed, self-suf­fi­cient u­nit, as e­vi­den­ced by the in­spe­ction con­duc­ted in 1399. It sho­wed that in ca­stle ar­mou­ry the­re were 56 hel­mets, 39 pie­ces of va­rious ty­pes of ar­mour, 10 caps, 51 cross­bows and o­ver 9,000 bolts, as well as 3 guns for sto­nes and lead bul­lets. In to­tal, 81 hor­ses stood in the sta­bles, in­clu­ding 4 ve­ry ex­pen­si­ve bat­tle hor­ses, 7 mail hor­ses and 12 car­ria­ge hor­ses to ser­vi­ce the mi­li­ta­ry fleet. In the ma­nor hou­ses, 2111 pigs, 1250 sheep and 224 cat­tle we­re kept. The war a­cti­vi­ties con­tri­bu­ted to the in­cre­ase in ar­ma­ment ex­pen­di­tu­re, thanks to which in 1421 the ca­stle al­re­ady had 8 can­nons, for which al­most 800 bul­lets of var­ious ca­li­bers we­re pre­pa­red.
A PLATE WITH AN APPROXIMATE DATE OF CASTLE ERECTION PLACED ON THE SURVIVING PILLAR OF THE DANSKER
n July 1410, in the battle of Grun­wald, Com­man­der Mi­cha­el von Viltz was kil­led, and soon a­fter­wards the Po­lish u­nits un­der the com­mand of Mi­ko­laj Pi­lew­ski and Jan from Pul­ków oc­cu­pied the town. Ko­wa­le­wo was then le­ased to Mi­ko­laj Tra­ba
(+1422), one of the clo­sest and most trus­ted ro­yal cour­tiers. The Po­lish oc­cu­pa­tion of the town, which las­ted se­ve­ral months, was en­ded by an of­fen­si­ve of Teu­to­nic mi­li­ta­ry troops sup­por­ted by the Knights of Li­vo­nia un­der the com­mand of Land­mar­shal Bern He­vel­mann, whi­le the first Pe­ace of To­run san­ctio­ned the o­wner­ship of the­se lands, which re­mai­ned with the Teu­to­nic Knights. Du­ring the next war with the or­der in 1422, Wla­dy­slaw Ja­giel­lo for eight days was try­ing to con­quer the ca­stle , but the fort­ress de­fen­ded by com­mand of the To­run com­man­der Mar­tin von Kem­ne­te was not ca­ptu­red. At the be­gin­ning of 1454 the ci­ti­zens of Ko­wa­le­wo joi­ned an up­ri­sing a­gainst the Or­der and took o­ver the strong­hold wi­thout any fight. Three ye­ars after the­se e­vents it was han­ded o­ver to Ol­dřich Čer­von­ka (+1465), who­se na­me o­pens a long list of the sta­rosts of Ko­wa­le­wo, who we­re in of­fi­ce at the ca­stle from 1457 to 1772. On the ba­sis of the pe­ace a­gree­ment sig­ned in To­run in 1466, the town be­ca­me the pro­per­ty of Po­land, and the for­mer re­si­den­ce of the com­man­ders - the seat of abo­ve-men­tio­ned sta­rost of­fi­ces.
THE PILLAR OF DANSKER IN A DRAWING FROM 1889, DIE BAU- UND KUNSTDENKMAELER DES KREISES THORN
nder Polish rule, the cas­tle lost much of its for­mer glo­ry, and at the be­gin­ning of the 17th cen­tu­ry its con­di­tion was al­re­ady so bad that the lo­cal par­lia­ment in Gru­dziadz de­man­ded its re­pair. The buil­ding was se­ve­re­ly da­ma­ged du­ring the Swe­dish oc­cu­pa­tion when it was ta­ken o­ver in 1629 and plun­de­red by u­nits com­man­ded by Ge­ne­ral Wrangl. The dif­fi­cult si­tu­ation of the sta­rost's seat a­fter the end of the wars with Swe­den is shown by the in­spe­ction of the cas­tle car­ried out in 1662, in which we re­ad: There's only one ba­stion in the court­yard whe­re the­re's a room whe­re the go­ver­nor stands. (...) The sta­bles are all bro­ken. The to­wer, whe­re no­bi­li­ty we­re hol­ding the courts, col­lap­sed and ru­ined. In 1685 Sejm de­ci­ded to re­build the fort­ress, but due to lack of funds the in­vest­ment was a­ban­do­ned. It was u­sed un­til 1772, when it was fi­nal­ly left be­hind due to the sca­le of the da­ma­ge. Sin­ce then the buil­ding was u­nin­ha­bi­ted, but the ru­ins in so­me form still e­xis­ted at le­ast un­til 1820, as we are in­for­med by the in­ven­to­ry do­ne by T. J. Gie­se. A few ye­ars la­ter, the suc­ces­si­ve de­mo­li­tion of Go­thic walls be­gan, and the brick re­gai­ned as a re­sult was u­sed to build an e­van­ge­li­cal church with a pa­rish ho­use. In 1911 a wa­ter to­wer was e­rec­ted in the area of a for­mer high cas­tle, which stands he­re to this day.
CASTLE HILL WITH AN XXTH-CENTURY WATER TOWER, POSTCARD FROM AROUND 1915
---
VIEW OF THE RUINS FROM THE TIMES WHEN STRAZACKA STREET WAS YET A DIRT ROAD (1918)
---
he castle was erected on the high, sou­thern sho­re of a vast, par­tial­ly o­ver­grown la­ke (1), in the vi­ci­ni­ty of nar­row isth­mus, which led the tra­de rou­te to­wards Brod­ni­ca. It con­sis­ted of a re­gu­lar qua­dri­la­te­ral brick con­ven­tu­al buil­ding and three bai­leys, sur­roun­ded by walls and in­te­gra­ted with the town. Due to the lack (apart from one poor­ly re­ada­ble dra­wing from the 17th cen­tu­ry) of his­to­ri­cal ico­no­gra­phic re­cords, the ex­ter­nal view, di­men­sions and lay­out of the con­vent hou­se (2) re­main lar­ge­ly un­re­co­gni­zed. With a high de­gree of pro­ba­bi­li­ty we can de­ter­mi­ne that it was a buil­ding ma­de of brick on a sto­ne foun­da­tion with a length of 45 me­ters each si­de, with an en­tran­ce (3) from the south-west le­ading from the mid­dle bai­ley, through the ga­te neck (4). Pre­su­ma­bly, in its sou­thern wing the­re was a cha­pel (5) (on the east­ern si­de) and a re­fe­cto­ry (6) (on the west­ern si­de), and in the west­ern wing (7) the­re we­re dor­mi­to­ries of bro­thers with a com­man­der's a­part­ment. Other wings pro­ba­bly per­for­med u­ti­li­ty fun­ctions, con­cen­tra­ting kit­chen cham­bers, wa­re­hou­ses, ba­ke­ry, etc. All the buil­dings of the high ca­stle we­re cel­la­red wi­thout small frag­ments of the sou­thern and east­ern parts, and their width was a­bout 13 me­ters. Com­mu­ni­ca­tion be­tween rooms was pro­vi­ded by por­ches a­round a squa­re court­yard (8), which we­re pro­ba­bly ma­de of wood. The ca­stle did not ha­ve a main to­wer, and in all pro­ba­bi­li­ty it al­so had no ri­sa­lit cor­ner tur­rets. Ho­we­ver, the de­co­ra­tion of its e­le­va­tion was on a high ar­ti­stic le­vel.
PLAN OF RUINS OF THE HIGH CASTLE ACCORDING TO B. WASIK: 3. ENTRANCE GATE IN THE SOUTH WING, 4. GATE NECK, 5. PROBABLY A CHAPEL,
6. PROBABLY A REFECTORY, 7. WEST WING, 8. COURTYARD, 9. PILLAR OF THE TOILET TOWER (PRESERVED), 10. INTER-WALL, 11. EAST WALL (PRESERVED)
---
CASTLE AND TOWN PLAN BY C. STEINBRECHT: 1. LAKE, 2. HIGH CASTLE 3. ENTRANCE TO THE CASTLE FROM THE BAILEY, 9. TOILET TOWER,
12. SOUTH BAILEY, 13. QUADRILATERAL TOWER, 14. SOUTH WALL TOWER, 15. MIDDLE BAILEY, 16. SHELL TOWER, 17. WEST BAILEY,
18. TOWN, 19. CHURCH
porch, supported by a pillar (9), was led out of the high ca­stle to the north, and en­ded with a toi­let to­wer. Rich­ly de­co­ra­ted with blends and frie­zes, the brick pil­lar is to­day the best pre­ser­ved re­lic of Teu­to­nic Ca­stle. The con­ven­tu­al part of the strong­hold was sur­roun­ded by an ad­di­tio­nal ring of walls for­ming an in­ter-wall (10), in the east­ern se­ction (11) al­so part­ly sur­vi­ved to the pre­sent day. Au­xil­ia­ry fun­ctions to the ca­stle we­re car­ried out with­in three bai­leys lo­ca­ted south-west of the con­vent hou­se, se­pa­ra­ted by walls and mo­ats. The south­ern­most ou­ter bai­ley (12) had a plan si­mi­lar to a re­ctan­gle with si­des of 118x58 me­ters, and its de­fen­se was rein­for­ced by a qua­dri­la­te­­ral tower (13) on the west si­de and a to­wer in the south­ern cur­tain (14). From north­east, it was ad­ja­cent to the mid­dle bai­ley (15) mar­ked on an ir­re­gu­lar qua­dri­la­te­ral plan of about 60x70 me­ters, with a shell to­wer (16) in the south­ern wall pro­ba­bly u­sed to flank the en­tran­ce from the town si­de. Pro­ba­bly the smal­lest a­rea was the west­ern bai­ley (17), ho­we­ver, due to poor le­gi­bi­li­ty in the field it is not pos­si­ble to­day to cle­ar­ly de­fi­ne its di­men­sions and lay­out. On the north­ern si­de, the high cas­tle was pro­tec­ted by two semi-cy­lin­dri­cal to­wers in­te­gra­ted in the in­ter-wall. The in­ter­nal part of the bai­ley con­sis­ted of wood­en buil­dings of eco­no­mic and mi­li­ta­ry cha­ra­cter, among them tho­se men­tio­ned du­ring a vi­sit in the ye­ars 1411-36: malt hou­se, bre­we­ry, flour sto­re­hou­ses, ba­ke­ry, tem­ple work­shop, pow­der ma­ga­zi­ne, sta­bles and wi­ne gar­den.
| | |
| --- | --- |
| | |
---
| | |
| --- | --- |
| | |
PRESERVED WALLS OF THE SOUTH BAILEY WITH A CORNER TOWER
---
he pillar of the toilet tower
(dansker) with sharp-ed­ged blends has been pre­ser­ved in good con­di­tion to this day, as well as, to a cer­tain ex­tent, de­ca­pi­ta­li­zed but still le­gi­ble parts of the bai­ley cur­tain walls with the ba­se of the to­wers, among them al­most com­ple­te south­ern wall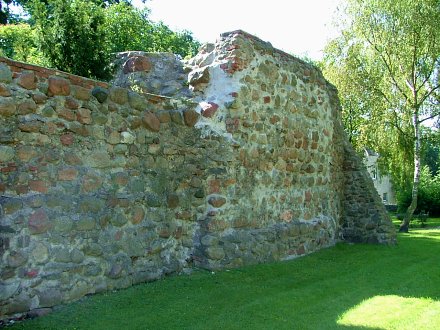 with long se­ctions of the east­ern and west­ern cur­tains. Al­so small frag­ments of south­ern part of in­ter-wall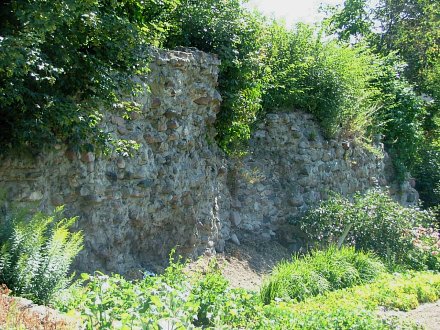 and foun­da­tions of the con­vent hou­se hid­den un­der­ground ha­ve sur­vi­ved. On the cas­tle hill, pro­ba­bly wit­hin for­mer court­yard, the­re is a wa­ter to­wer from ear­ly 20th cen­tu­ry. The si­te of for­mer con­ven­tion's head­quar­ters now has a re­cre­atio­nal fun­ction and is free­ly ac­ces­si­ble.
---
ABOVE: THE CASTLE HILL NOW, BELOW: PRESERVED DANSKER PILLAR AND THE XX-CENTURY WATER TOWER
---
owalewo Pomorskie is located about 30 km north­east of To­run, on the To­run-Ol­sztyn rail­way rou­te. The rail­way sta­tion is 30 mi­nu­tes' walk a­way from the cas­tle hill. The re­lics of the me­die­val cas­tle are lo­ca­ted in the north­ern part of the town, on Stra­za­cka Street. A lar­ge num­ber of par­king pla­ces are near­by. (cas­tles in Ku­jaw­sko-Po­mor­skie Voi­vo­de­ship)
---
1. W. Antkowiak, P. Lamparski: Zamki i straznice krzyzackie..., Graffiti BC 1999
2. M. Haftka: Zamki krzyzackie w Polsce, 1999
3. L. Kajzer, J. Salm, S. Kolodziejski: Leksykon zamków w Polsce, Arkady 2001
4. R. Sypek: Zamki i obiekty warowne Panstwa Krzyzackiego, Agencja CB 2000
5. A. Wagner: Murowane budowle obronne w Polsce X-XVIIw., Bellona 2019
6. B. Wasik: Zamek w Kowalewie Pomorskim - pierwsze wyniki badan archeologicznych, UMK Toruń 2018
7. B. Wasik, M. Wiewióra: Próba rekonstrukcji ukladu przestrzennego zamku..., Wiad. Konserwat. 45/2016
8. M. Wiewióra, B. Wasik: Chronologia zamku krzyzackiego w Kowalewie Pomorskim..., UMK Toruń
9. M. Wiewióra, B. Wasik: Zamek w Kowalewie Pomorskim. Dzieje warowni..., Archeologia XXXV 2017

CYLINDRICAL TOWER IN BATALIONÓW CHLOPSKICH STREET, A RELIC OF THE FORMER TOWN FORTIFICATIONS
Castles nearby:
Golub-Dobrzyn - castle of the Teutonic knights from the 14th century, 12 km
Wabrzezno - relics of the Chelmno bishops' castle from the XIV century, 17 km
Lipieniek - remains of the Teutonic Knights castle from the 14th century, 27 km
Zlotoria - ruin of the royal castle from the 14th century, 27 km
Torun - ruin of the Teutonic castle from the 13th century, 27 km
Torun - ruin of the royal castle Dybów from the 15th century, 28 km
Radziki Duze - ruin of a knight's castle from the 14th/15th century, 29 km
Papowo Biskupie - ruin of the Teutonic castle from the 14th century, 30 km
Radzyn Chelminski - ruin of the Teutonic Knights' castle from the 13th century, 30 km
Brodnica - ruin of the Teutonic Knights' castle from the 14th century, 33 km

text: 2020
photographs: 2005, 2019
© by Jacek Bednarek