JANOWICE WIELKIE

the ruins of Bolczów castle
BOLCZÓW CASTLE, VIEW FROM THE EAST
---
T
he ori­gins of the vil­lage of Janow­ice, to which the Bol­czów cas­tle, hid­den in the deep for­est, is ad­min­is­tra­tive­ly sub­or­di­nate, prob­a­bly date back to the 13th cen­tu­ry, al­though the first men­tion of it dates back to 1334 and con­cerns the then in­hab­i­tant (may­or?) Fran­ci­szek von Ywa­ne­witz. In the mid-14th cen­tu­ry, this set­tle­ment, to­geth­er with Miedzian­ka and Mnisz­ków vil­lages, was part of the prop­er­ty of the de Bey­er fam­i­ly. In 1370 Al­brecht and Hein­rich de Bey­er, sold to hern Cler­i­cus Bol­czen moun­tains lo­cat­ed from Karp­ni­ki side, as well as Ja­no­wi­ce vil­lage and half of Mie­dzian­ka vil­lage. Short­ly af­ter­wards, the new own­er of these lands, the no­ble­man from the rich Bol­cze fam­i­ly, erect­ed a for­ti­fied cas­tle on the north-west­ern ridge of the Ru­da­wy Ja­no­wi­ckie Moun­tains, the ex­is­tence of which is con­firmed by doc­u­ment dat­ed 1375. It is pre­sumed that apart from its ob­vi­ous res­i­den­tial func­tion, the new for­ti­fi­ca­tion was al­so in­tend­ed to strength­en the pro­tec­tion of smelters, which, be­sides the cop­per mines, be­longed to the most valu­able parts of the Cler­i­cus Bol­cze es­tate.
THE CASTLE RUINS ARE HIDDEN IN DEEP FOREST
The old­est known rep­re­sen­ta­tives of the knight­ly Bol­cze (Bolz) fam­i­ly were Hein­rich and Ry­pert Bolz, who came from Thur­in­gia and in 1251 served at the court of Prince Bo­le­sław Ro­gat­ka. In the next gen­er­a­tion, the broth­ers Hei­ne­man and Ry­pert made their mark in his­to­ry (al­though on­ly episod­i­cal­ly). All we know about them is that in 1318 they were men­tioned as pa­trons of the church in the vil­lage of Ryp­pers­dorf (now Go­dzi­szo­wa) near Ja­wor. At that time the Bol­cze fam­i­ly al­ready pos­sessed nu­mer­ous, al­though rather small es­tates, and its po­si­tion at the ducal court grew stronger and stronger. In the sec­ond half of the 14th cen­tu­ry its rep­re­sen­ta­tives held of­fices of mar­shals, they were al­so lords of Ci­sy (Zeisk­berg)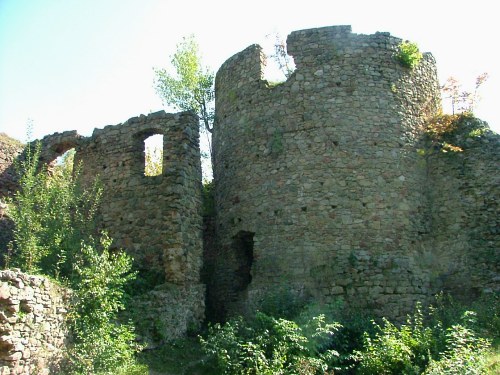 , which they took o­ver soon af­ter Bol­ko I built this cas­tle. The most fa­mous among them were Nick­el Bol­cze, bur­grave of Ci­sy and Świe­rza­wa, as well as Cler­i­cus Bol­cze, duke's cham­ber­lain and roy­al equer­ry, own­er of the cas­tle Bol­czów, manor house in Mie­dzian­ka and sev­er­al smelters and mines.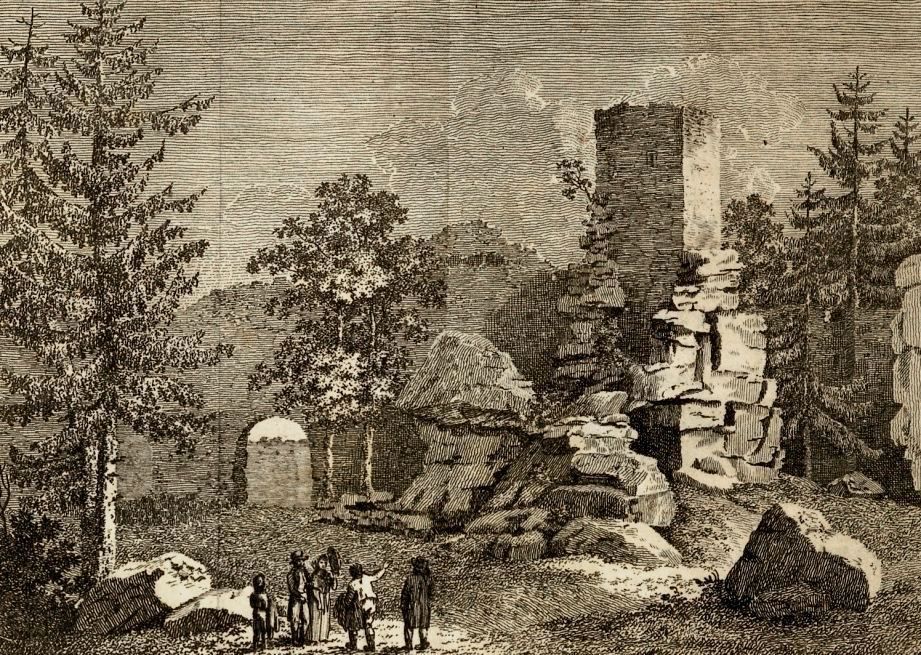 BOLCZÓW ON RICHTER'S ENGRAVING, 1801
The name of the cas­tle is prob­a­bly de­rived from the name of its founder, Cler­i­cus Bol­cze. In me­dieval doc­u­ments the cas­tle was called Baul­zen or Boul­czen­stein, some­times it was al­so ti­tled Pol­zen­stein. Lat­er, the ru­ins were known as Pol­tzen­schloss, Bol­zen­schloss, and some­times - per­haps by mis­take - Bol­ken­schloss. Soon af­ter World War II, the term Bol­ko­wy Za­mek ap­peared, but was changed in 1950 to Bol­czów.

ENGRAVING BY CHRISTOPH NATHE FROM 1806
F
rom the sec­ond half of the 14th cen­tu­ry un­til the end of the next cen­tu­ry the es­tate, in­clud­ing Ja­no­wi­ce and Bol­czów cas­tle, changed its own­ers many times. At the end of the 14th cen­tu­ry it be­longed to Bo­hemi­an no­ble­man, the starost of Kłodz­ko, Pu­ta of Čas­tolvice (d. 1397), and lat­er to Han­nos Wilt­berg, who in 1397 sold it to the von Ylen­burg broth­ers: Wende, two Ot­tons and Pot­to. How­ev­er, al­ready the fol­low­ing year Wen­de von Ylen­burg hand­ed the cas­tle o­ver to broth­ers Kon­rad and Rein­hard von Bo­ra­lo­wicz. The next known own­er of Bol­czów was Her­mann von Czet­tritz, men­tioned in 1433. This note refers to the siege and de­struc­tion of the cas­tle by the towns­peo­ple of Świd­ni­ca, who came here in arms to quash a fre­quent rob­bery on the roads. Bol­czów in those dan­ger­ous times could have served as a base or a hide­out for lo­cal knights, who sym­pa­thized with the Hus­sites and com­mit­ted ban­dit rob­beries on mer­chant fleets. In 1434 the es­tate was al­ready in the hands of the von Lieben­thal broth­ers. From then on, al­most un­til the end of the 15th cen­tu­ry, its his­to­ry re­mains un­known, which al­lows us to as­sume that the cas­tle, ru­ined dur­ing the Hus­site wars, was not used as a res­i­dence by its own­ers.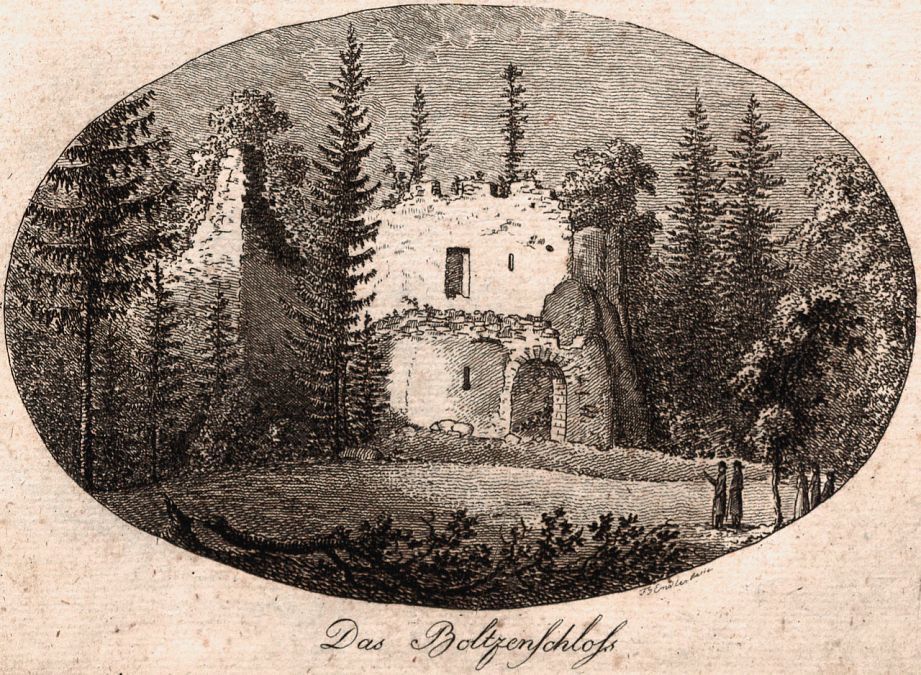 LITHOGRAPH BY FRIEDRICH GOTTLOB ENDLER FROM 1827
I
n 1491 Mie­dzian­ka vil­lage with Bol­czów cas­tle passed in­to the hands of Kon­rad von Ho­hberg (d. 1520), castel­lan of Gro­dziec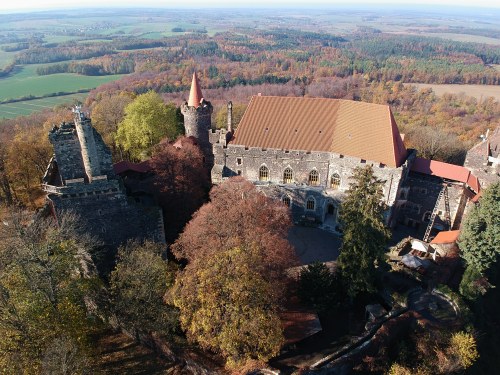 , fu­ture own­er of Książ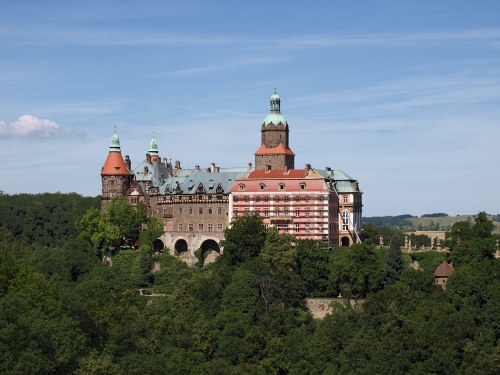 and starost of Świd­ni­ca prin­ci­pal­i­ty. In 1512 he sold the Ru­da­wy es­tate to Hans Dip­pold von Burg­haus, a min­ing of­fi­cial rep­re­sent­ing the in­ter­ests of Duke Karol of Zię­bice
, who in­vest­ed a large sum of mon­ey in the hope of find­ing sig­nif­i­cant lodes of gold and sil­ver in the lo­cal mines. He al­so, prob­a­bly af­ter 1519, ex­tend­ed the manor house in Mie­dzian­ka and raised the Bol­czów cas­tle from ru­ins, en­larged its spa­tial lay­out and mod­ern­ized its for­ti­fi­ca­tions. When the mines stopped gen­er­at­ing the ex­pect­ed in­come, von Burg­haus (or his son Adam) came in­to con­flict with the min­ers, and was con­se­quent­ly forced to sell some of his prop­er­ty. This way in 1529 the cas­tle with the grange in Ja­no­wice Wiel­kie was bought for 1400 guldens by knight Franz von Reib­nitz from Kła­czy­na, who in 1535 held an of­fice of Teu­ton­ic Com­man­dant in Ole­śni­ca Ma­ła, and from 1536 was a vice­roy of the Teu­ton­ic Or­der in Si­le­sia. At that time, how­ev­er, he did not live in Bol­czów any more be­cause in 1532 he sold it to a mer­chant from Poz­nań, Alex­an­der Holtz­schuer.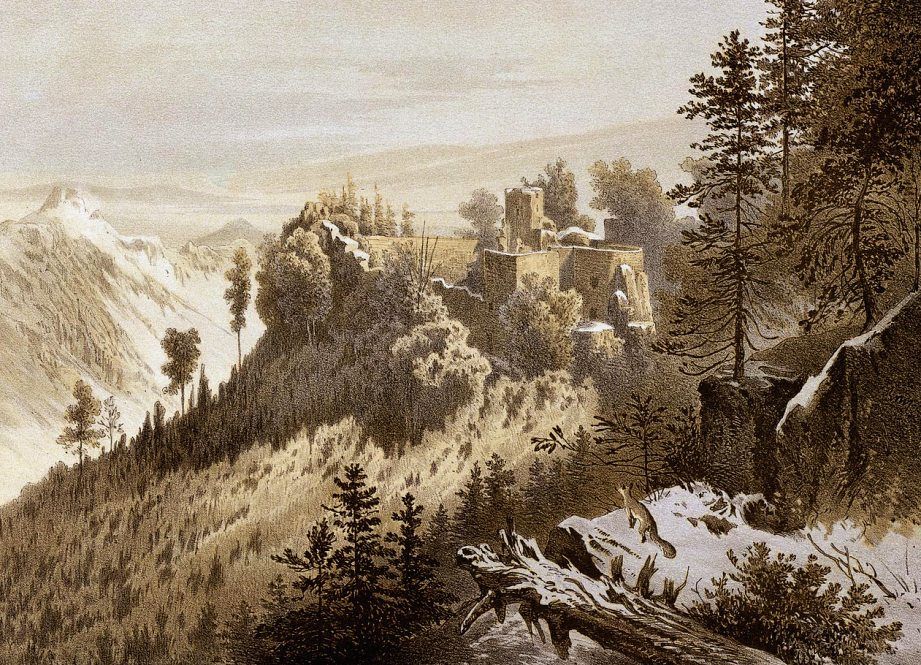 PICTURESQUE LITHOGRAPH BY THEODOR BLATTERBAUER FROM THE SECOND HALF OF THE XIXTH CENTURY
I
n 1537 Bol­czów Cas­tle be­came a prop­er­ty of Jost Lud­wig Di­etz (d. 1545), called Jus­tus De­ciusz, a sec­re­tary of pol­ish king Zyg­munt Sta­ry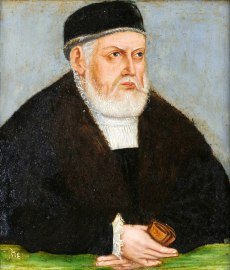 , a Cra­co­vian banker, fi­nancier and his­to­ri­an. Jost Di­etz did not live in the cas­tle, but leased it to his plenipo­ten­tiary Hein­rich Thule. At that time Bol­czów served as a trea­sury of cop­per mine lo­cat­ed near­by, hence the de­ci­sion to mod­ern­ize it, in­clud­ing ex­pan­sion of the gate unit and giv­ing the stronghold the decor cor­re­spond­ing to the re­quire­ments of the Re­nais­sance aes­thet­ics. When De­cius died, Mie­dzian­ka and its sur­round­ing es­tates passed in­to the hands of Hans and Franz Hell­mann von Kup­fer­berg. In 1562 the es­tate was ar­bi­trar­i­ly di­vid­ed in­to two parts: the first one - Mnisz­ków and Ja­no­wi­ce with Bol­czów, and the sec­ond one - Mie­dzian­ka. The cas­tle was giv­en to Hans von Kup­fen­berg who sold it in 1575 to Hans von Gers­dorf from Si­chów. Then, in 1608 his son Christoph von Gers­dorf hand­ed it o­ver to Daniel von Schaf­fgotsch (d. 1633), the own­er of cas­tles Gryf
and Choj­nik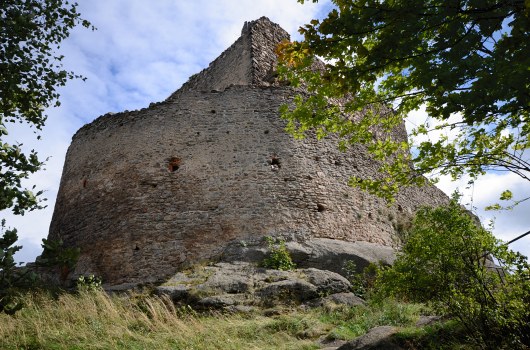 .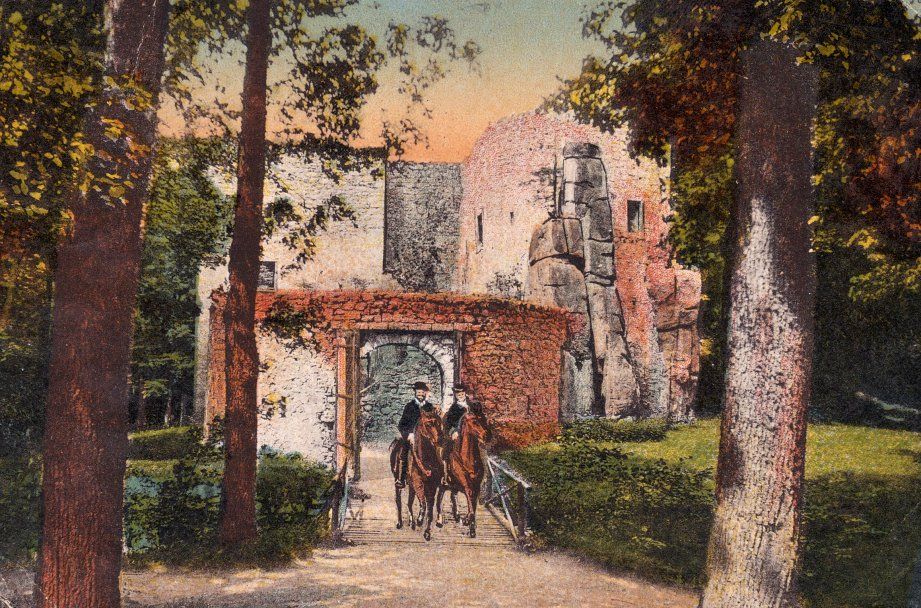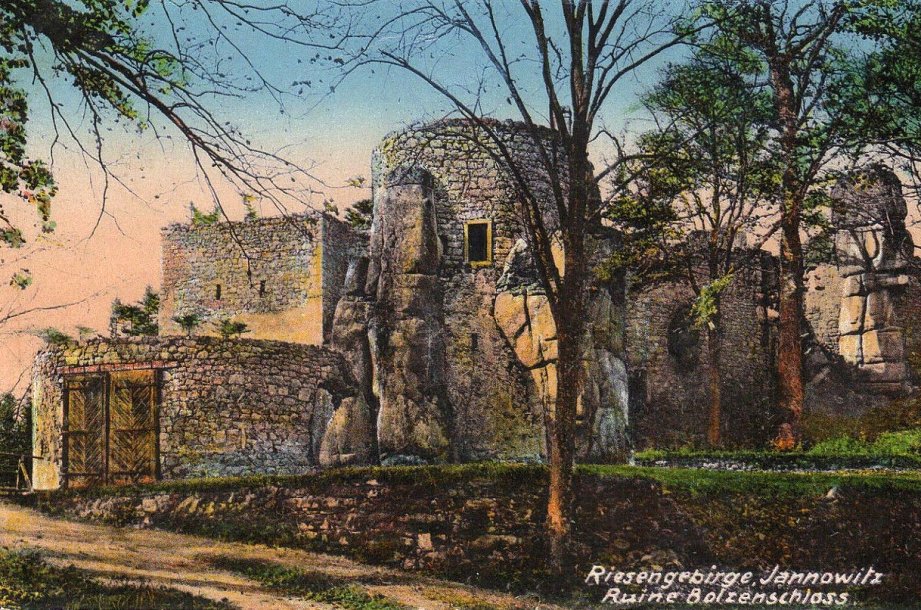 IN FRONT OF THE ENTRANCE GATE, POSTCARDS FROM THE YEARS 1910-20
S
oon von Schaf­fgotsch mod­ern­ized the cas­tle, as well as ex­tend­ed and strength­ened the manor house in near­by Ja­no­wice Wiel­kie. Af­ter the out­break of the 30-year war Bol­czów was ini­tial­ly used as a shel­ter for the lo­cal pop­u­la­tion, but was soon for­ti­fied and gar­risoned by a per­ma­nent mil­i­tary crew. At that time it was con­quered twice by the Swed­ish army: in 1641 and four years lat­er, pre­sum­ably as a re­sult of the treach­ery of one of the de­fend­ers. The win­ter night from 5 to 6 De­cem­ber 1645, when the cas­tle was burnt, turned out to be par­tic­u­lar­ly dra­mat­ic and fa­tal. All the roofs and wood­en build­ings burned down then, al­so part of the walls could not with­stand the high tem­per­a­ture and cracked. Re­con­struc­tion at­tempts failed and af­ter an­oth­er fire in Sep­tem­ber 1646 the cas­tle was aban­doned and fell in­to ru­ins.
On the evening of Oc­to­ber 6, 1642, a trag­ic event took place at the cas­tle. Im­pe­ri­al War Com­mis­sion­er Georg Friedrich von Kno­bels­dorff fa­tal­ly shot cas­tle Com­man­der Christoph von Kleist through his own care­less­ness. The per­pe­tra­tor of the ac­ci­dent, prob­a­bly be­ing shocked, ran away, but was soon found, and trans­port­ed to Bol­czów. There is no in­for­ma­tion in doc­u­ments about what pun­ish­ment, if any, he re­ceived. It could not have been too harsh, how­ev­er, be­cause von Kno­bels­dorff re­mained in his po­si­tion. For­tune turned against him a year lat­er when a squad of Swedes at­tacked, loot­ed, and fi­nal­ly burned down the com­mis­sion­er's house. The host, who was pre­sent dur­ing the at­tack, was then se­ri­ous­ly in­jured.

VIEW OF THE LOWER CASTLE COURTYARD FROM THE WEST IN 1925 AND ALMOST ONE HUNDRED YEARS LATER
I
n 1679, the es­tate with the ru­ined cas­tle was bought from Max­i­m­il­ian von Mau­schwitz by Count Erd­mann von Prom­nitz (d. 1745), the lord of Ża­ry and Pszczy­na, who paid 27,000 Si­le­sian thalers for it. Bol­czów was in the hands of this fam­i­ly un­til June 1765. As a re­sult of a trans­ac­tion be­tween Jo­hann von Prom­nitz (d. 1785) and Chris­tian Frie­drich zu Stol­berg-Wer­ni­ge­ro­de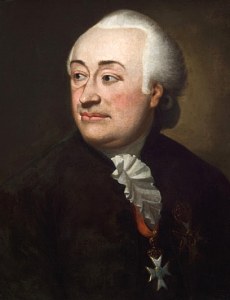 (d. 1824), it be­came a part of the so-called fide­icomis, which in­clud­ed the knight's es­tates in Ja­no­wice, Trzciń­sko and Mie­dzian­ka. In the Ro­man­tic era the ru­in was pop­u­lar­ly vis­it­ed, among oth­ers by rep­re­sen­ta­tives of the roy­al fam­i­ly von Ho­hen­zollern and their guests. Chris­tian's grand­son, Count Wil­helm Stol­berg-Wer­ni­ge­ro­de
(d. 1898), al­ready a re­tired of­fi­cer in the Prus­sian army, or­dered to re­move the de­bris ly­ing in the old ru­ins and to adapt them for vis­i­tors. As part of this work, some of the walls were strength­ened and some re­con­struct­ed, the well was cleared of rub­ble, wood­en stairs and rail­ings were built, and an inn in the up­per cas­tle was built in the Swiss style, very trendy at the time.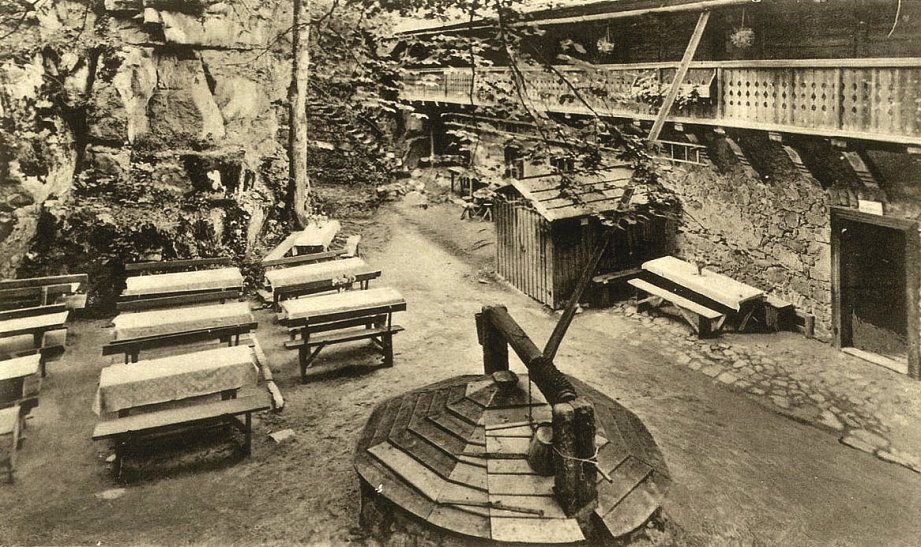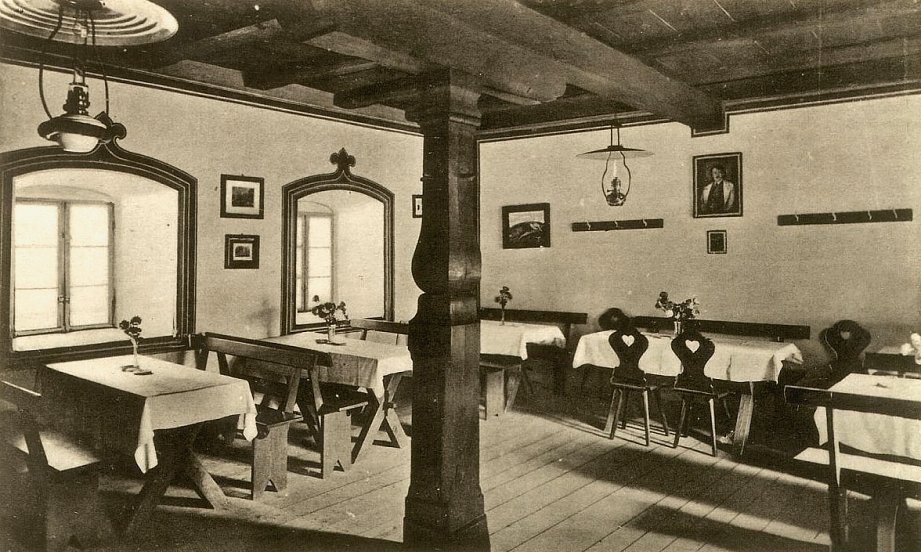 A PRE-WAR TOURIST HOSTEL BUILT ON THE RUINS OF HIGH HOUSE
A
t the be­gin­ning of the 20th cen­tu­ry, a tourist hos­tel
was built in the vicin­i­ty of the inn, which op­er­at­ed un­til the be­gin­ning of World War II and then for sev­er­al years af­ter the war, be­fore be­ing closed and de­mol­ished. The first post-war and so far most ad­vanced con­ser­va­tion work took place at the cas­tle in the mid-1960s. The veg­e­ta­tion grow­ing on the walls was re­moved, some of the stairs and pas­sage­ways were re­built, and the moat's banks were strength­ened, over which a wood­en bridge was thrown. The veg­e­ta­tion grow­ing on the walls was re­moved, some stairs and pas­sages were ren­o­vat­ed, and a wood­en bridge was built over the moat. The last con­struc­tion pro­ject con­nect­ed with Bol­czów cas­tle is the ac­cess road built in 2021, which, by mak­ing the area un­sight­ly, de­prived the ru­ins of at least half of the mag­ic they had when they re­mained se­mi-wild and in­ac­ces­si­ble to cars (the pho­tographs on this site were tak­en be­fore the road was laid, but one of them al­ready shows the scale of dev­as­ta­tion).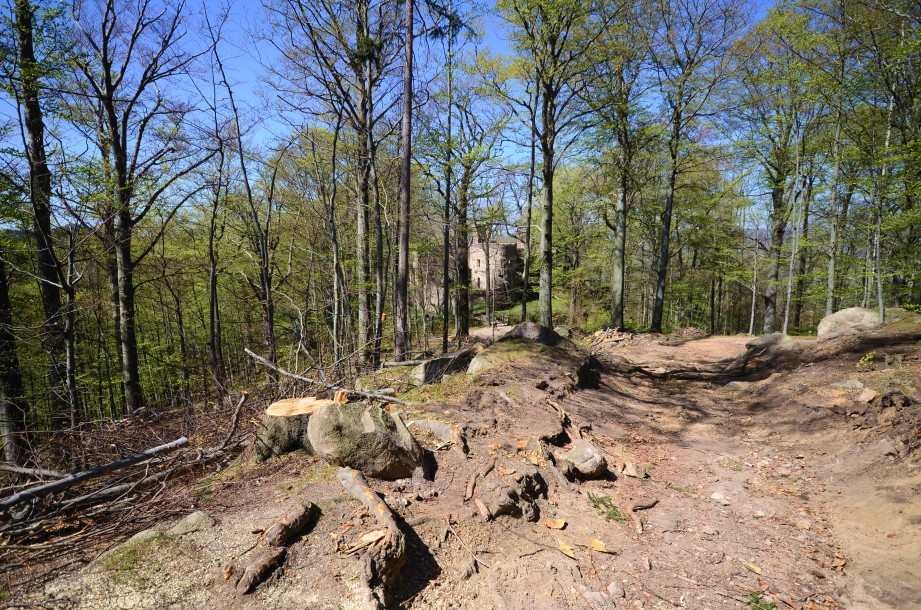 DEVASTATION OF THE FOREST TO MAKE A ROAD THAT NO ONE NEEDS
FORTUNATELY, THE CASTLE ITSELF WAS NOT DAMAGED
DESCRIPTION OF THE CASTLE
B
ol­czów cas­tle was built on a gran­ite hill of 561 m above sea lev­el, hence it is con­sid­ered as one of the so-called Sudetes rock cas­tles. The old­est part is the up­per cas­tle oc­cu­py­ing an area be­tween two huge rocks which, con­nect­ed by walls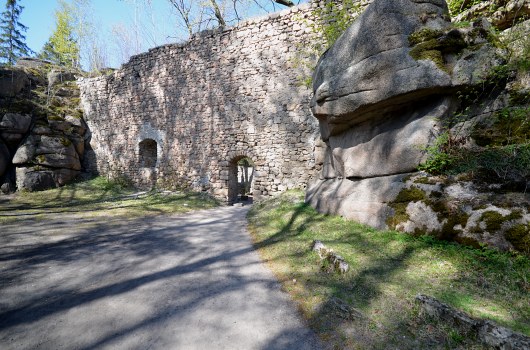 , formed a small reg­u­lar court­yard. In the north­ern part of the court­yard, at the edge of the slope, a two-cham­bered res­i­den­tial build­ing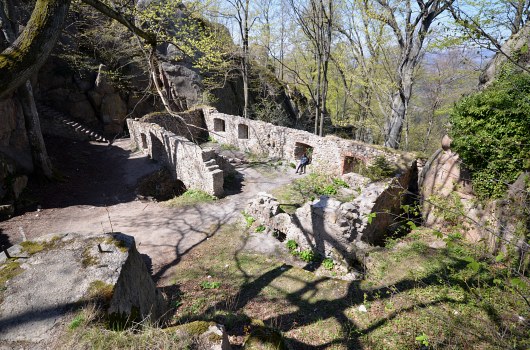 was erect­ed, with di­men­sions of about 7.8x20 me­ters (its walls have par­tial­ly sur­vived to the pre­sent day). It had a vault­ed base­ment that was small­er than the area of the house. The High House, as the build­ing is some­times called, was al­so part of the perime­ter wall. A stone or stone and wood build­ing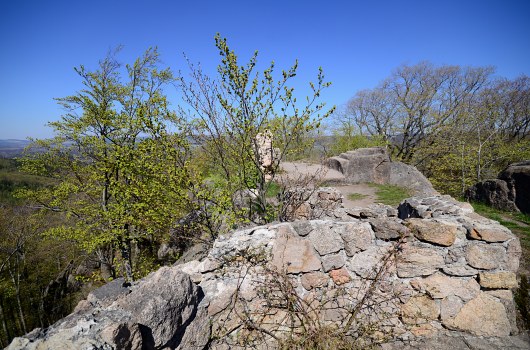 , trape­zoidal in plan, erect­ed on the rock known as the Kapela­nia, served as a look­out, and pos­si­bly al­so as a dwelling. On the op­po­site side of the court­yard, on the east­ern rock stood a quadri­lat­er­al tow­er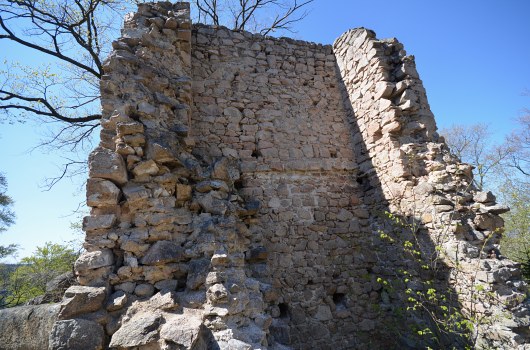 guard­ing the en­trance gate and flank­ing its fore­ground. With­in the cas­tle there were prob­a­bly al­so wood­en aux­il­iary build­ings.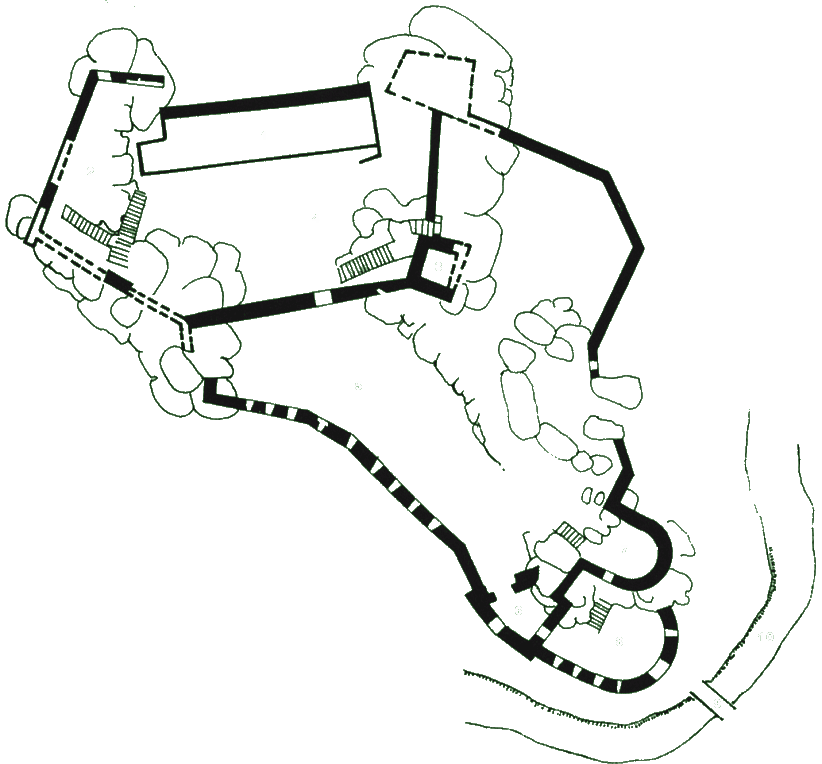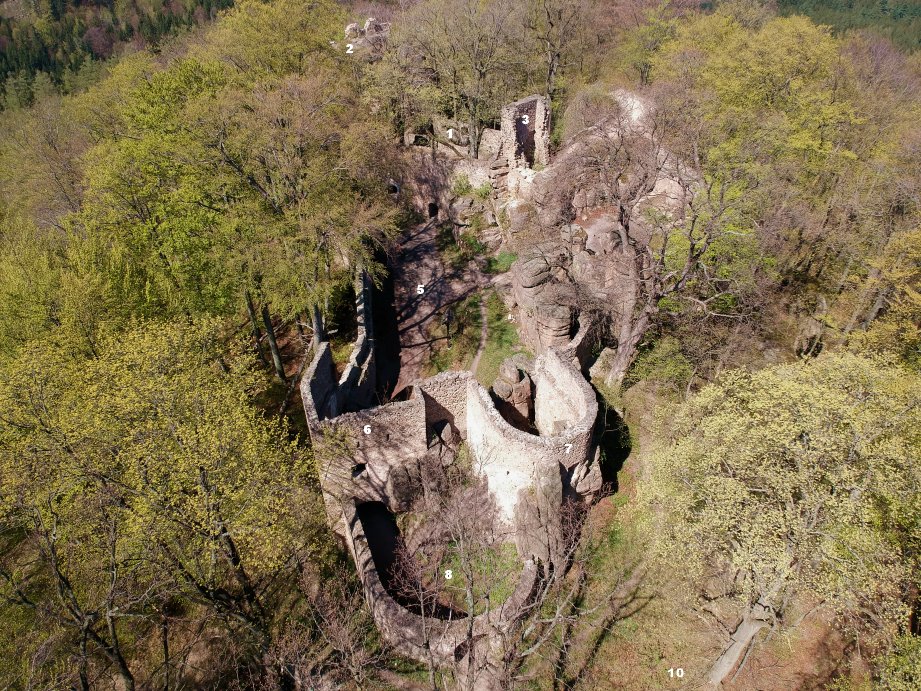 CASTLE PLAN BY MIROSŁAW PRZYŁĘCKI: 1. RESIDENTIAL BUILDING (HIGH HOUSE), 2. KAPELANIA, 3. TOWER,
4. COURTYARD OF THE UPPER CASTLE, 5. COURTYARD OF THE LOWER CASTLE, 6. GATE TOWER, 7. BASTION,
8. BARBICAN, 9. BRIDGE, 10. DRY MOAT
T
he bai­ley was prob­a­bly per­ma­nent­ly shaped on­ly in the mid­dle of the 15th cen­tu­ry. It oc­cu­pied the south-east­ern part of the cas­tle. This area con­sist­ed of two court­yards (the low­er court­yard and the farm court­yard), sep­a­rat­ed by a group of rocks, closed from the south by a long curved wall, equipped with nine shoot­ing holes. At the junc­tion of the south­ern and east­ern walls an en­trance gate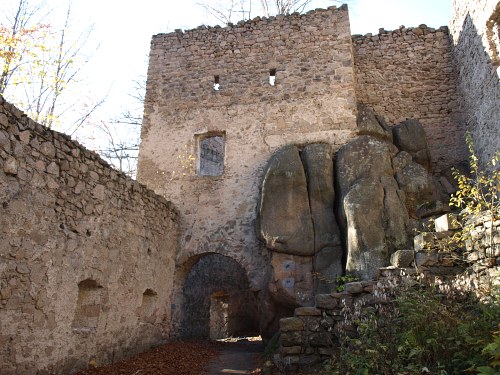 and a quadri­lat­er­al gate tow­er were built, mark­ing the south­ern­most part of the cas­tle. The gate unit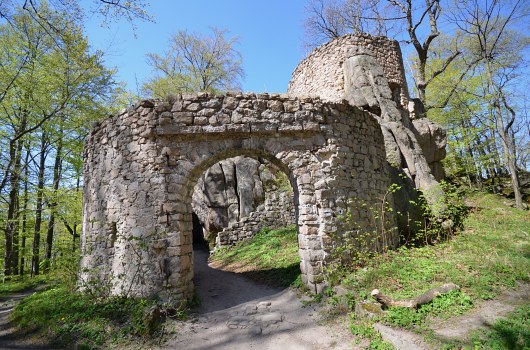 dates back to the 16th cen­tu­ry. It was ex­pand­ed in the north by adding a semi­cir­cu­lar bas­tion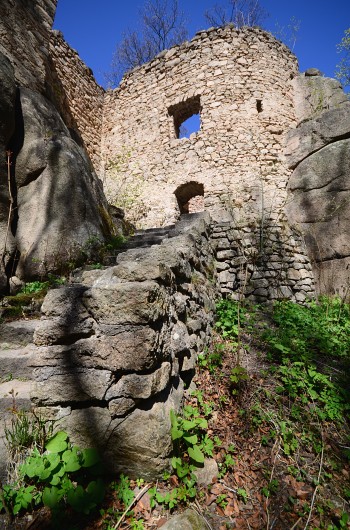 . From the south the pas­sage was strength­ened with a char­ac­ter­is­tic horse­shoe-shaped bar­bi­can equipped with a se­ries of shoot­ing holes
. The bar­bi­can is the south­ern­most part of the cas­tle, and in the past it was pre­ced­ed by a wood­en draw­bridge.
XVI-CENTURY FORTIFICATIONS: BASTION AND BARBICAN (IN THE PICTURE ABOVE)
---
T
he best pre­served fragments of the cas­tle are the six­teenth-cen­tu­ry walls of the gate­house unit with the bar­bi­can and the bas­tion, an al­most com­plete line of pe­riph­er­al walls with loop­holes, the wa­ter cis­tern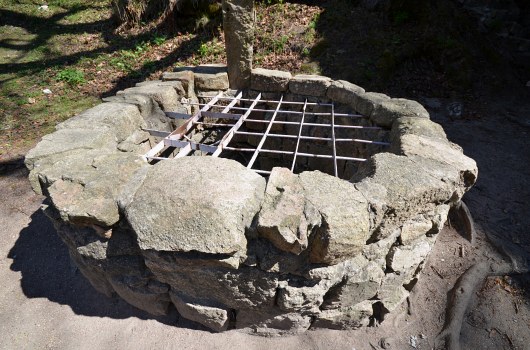 in the court­yard of the up­per cas­tle, as well as par­tial­ly re­con­struct­ed (for the needs of the inn) relics of me­dieval high house. From ter­race of Kapela­nia, where the steep stairs carved in the rock lead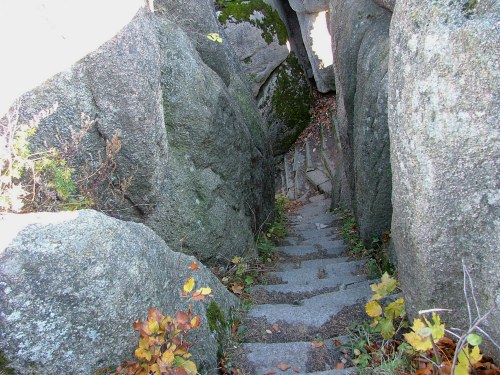 where the steep stairs carved in the rock lead, you can ad­mire the pic­turesque panora­ma of the Sude­ty Moun­tains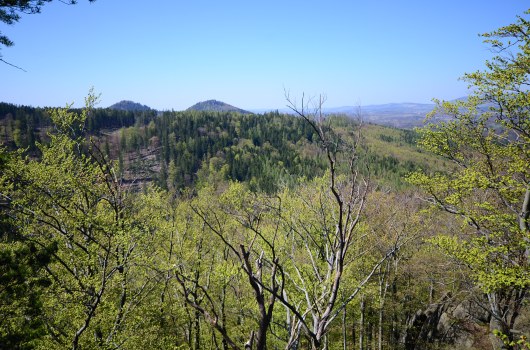 with char­ac­ter­is­tic peaks of Soko­li­ki. Bol­czów is a very pop­u­lar tourist des­ti­na­tion, which is un­for­tu­nate­ly re­flect­ed in the amount of trash left be­hind. Those who in­tend to vis­it the ru­in for the first time in a long time must al­so be pre­pared for an­oth­er de­press­ing sight. Ac­cord­ing to the rob­bery pol­i­cy of the for­est ad­min­is­tra­tion, the once dense for­est is shrink­ing at ter­ri­ble pace, and the sight of felled trees ly­ing by the road­side is lit­er­al­ly heart­break­ing.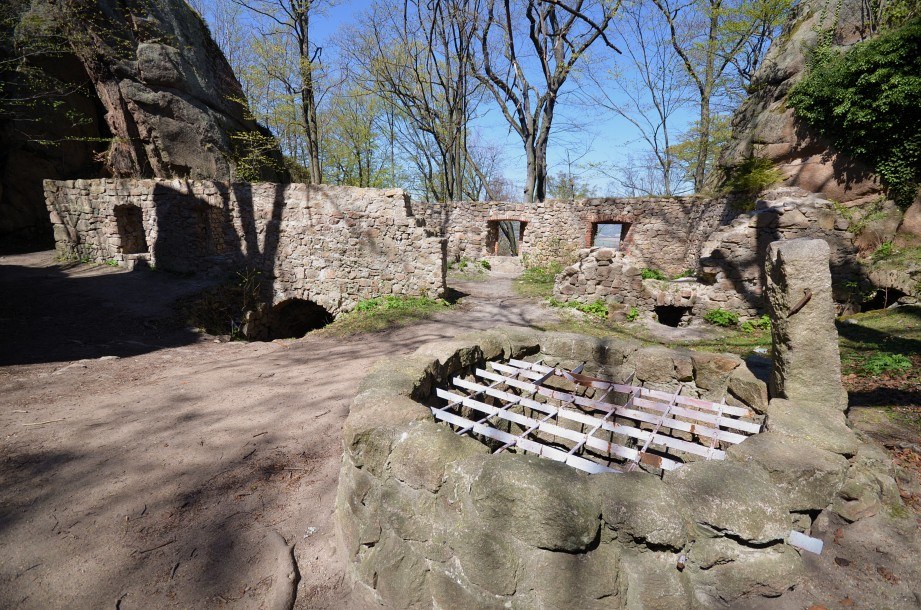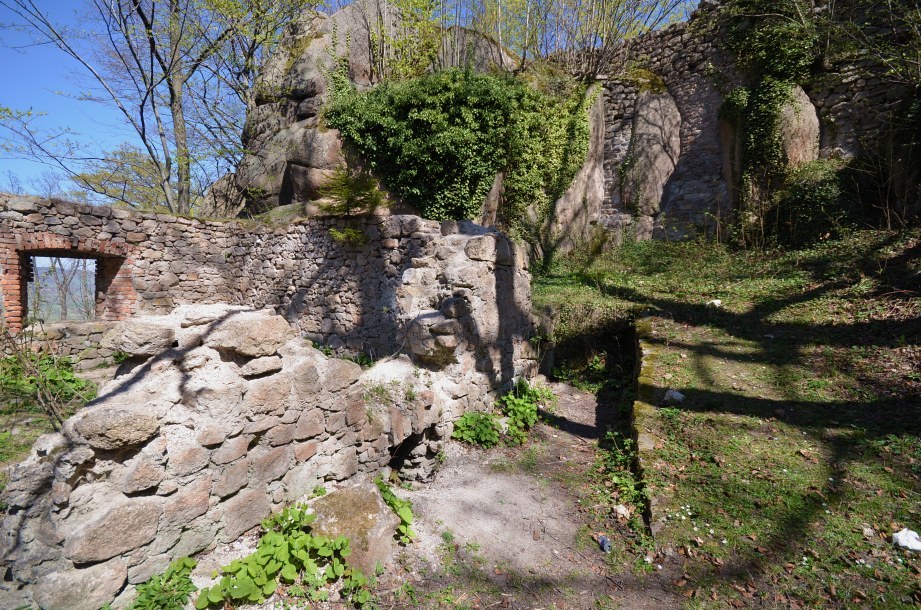 COURTYARD OF THE UPPER CASTLE, WITH A WELL AND RELICS OF HIGH HOUSE
| | |
| --- | --- |
| | The castle can be visited free of charge at any time. |
| | |
| --- | --- |
| | Your four-legged friend can vis­it it to­geth­er with you. How­ev­er, please re­mem­ber that you are in the for­est and dog should be on a leash. |
| | |
| --- | --- |
| | Those who want to make a movie or take pho­tographs from the bird's eye view should con­sid­er the pe­ri­od from Novem­ber to April as the best for this type of ac­tiv­i­ty. The ru­in is sur­round­ed by trees and not much can be seen from above in sum­mer. |
COURTYARD OF THE LOWER CASTLE
EASTERN ROCK WITH THE RUINS OF MEDIEVAL TOWER
---
J
anow­ice Wielkie is a large vil­lage lo­cat­ed along the rail­road line from Wał­brzych, about 20 km east of Je­le­nia Gó­ra. Those trav­el­ing by train should take the green hik­ing trail south from the rail­way sta­tion (di­rec­tion: Woj­ska Pol­skie­go Street and then Zam­ko­wa Street). The trip to the ru­ins takes about 30 min­utes.
| | |
| --- | --- |
| | If you drive from Wrocław, take the na­tion­al road no. 3 to Je­le­nia Gó­ra and in the vil­lage called Ra­do­mierz turn left to Ja­no­wi­ce Wiel­kie (turn right when driv­ing to Wro­cław). Tip #1: No spe­cial park­ing for tour­ists. You can leave your car at the rail­way sta­tion (2 km), at the DINO su­per­mar­ket park­ing lot at 1 Ma­ja Street (1.5 km) or at the end of Zam­ko­wa Street, right next to the for­est (op­tion for the very lazy, not much space). How­ev­er, if you came here not on­ly to see the cas­tle, but al­so to hike or ride in the "moun­tains", I rec­om­mend leav­ing the car at the park­ing lot near the Szwaj­car­ka tourist hos­tel. From Szwaj­car­ka to the ru­ins it is 7 to 9 km de­pend­ing on the trail. Tip #2: It's a good idea to come to Szwaj­car­ka ear­ly in the morn­ing be­cause it gets crowd­ed lat­er. |
| | |
| --- | --- |
| | Bol­czów Cas­tle is one of the biggest at­trac­tions on the bike tour of the Ru­da­wy Ja­no­wi­ckie Moun­tains. Due to its lo­ca­tion, a MTB or trekking bike is rec­om­mend­ed here. You can eas­i­ly bring it in­to the court­yard. |
---
1. M. Chorowska: Rezydencje średniowieczne na Śląsku, OFPWW 2003
2. L. Kajzer, J. Salm, S. Kołodziejski: Leksykon zamków w Polsce, Arkady 2001
3. R. Łuczyński: Zamki, dwory i pałace w Sudetach, Wspólnota Akademicka 2008
4. M. Perzyński: Arystokraci i ich niezwykłe zamki, dwory i pałace..., WDW 2008
5. P. Rajski, T. Stolarczyk: Problem związku późnośredniowiecznych założeń obronnych...
6. A. M. Rosiek: Siedziby rycerskie w księstwie świdnicko-jaworskim do końca XIV wieku, UJ 2010
7. M. Świeży: Zamki, twierdze, warownie, Foto Art 2002
8. A. Wagner: Murowane budowle obronne w Polsce X-XVIIw., Bellona 2019

VIEW FROM KAPELANIA ON THE SOKOLE MOUNTAINS
BOLCZÓW CASTLE ON AN APRIL MORNING A.D. 2020
Castles nearby:
Krzyżna Góra - relics of Sokolec castle from the 14th century, 5 km
Karpniki - the castle from the 14th century, rebuilt, 7 km
Płonina - ruins of ducal castle from the 14th century, 10 km
Bukowiec - the manor house from the 16th century, rebuilt, 12 km

---
| | | |
| --- | --- | --- |
| | | Manor house from the four­teenth cen­tu­ry, which was built by Knight de Bey­er and ex­tend­ed at the turn of the 16th and 17th cen­turies on the ini­tia­tive of Da­niel von Schaff­gotsch, the own­er of Bol­czów Cas­tle. The beau­ti­ful­ly re­stored res­i­dence can on­ly be seen from the out­side - it cur­rent­ly hous­es a Nur­sing Home. Ad­dress: Ja­no­wi­ce Wiel­kie, Chłop­ska Street. |
| | | |
| --- | --- | --- |
| | | Near the manor house, there is a late Goth­ic church of the Blessed Vir­gin Mary from the 15th cen­tu­ry. In­side we can ad­mire the his­toric decor and equip­ment such as Goth­ic sacra­men­tar­i­um and the Re­nais­sance bap­tis­tery. The ex­te­ri­or el­e­va­tions are dec­o­rat­ed with em­bed­ded tomb­stones and epi­taphs from the 16th-18th cen­turies. An orig­i­nal Re­nais­sance clock has been pre­served on the church tow­er. Ad­dress: Ja­no­wi­ce Wiel­kie, Ru­daw­ska Street. |
text: 2021
photographs: 2008, 2020
© Jacek Bednarek