BROCHÓW

Gothic church of St. Roch and St. John the Baptist
CHURCH IN BROCHÓW, VIEW FROM THE SOUTHEAST
---
A
first, still wood­en church in Bro­chów was prob­a­bly found­ed at the turn of the 11th and 12th cen­turies. In 1331, the wood­en tem­ple was re­placed by a brick one, which, ac­cord­ing to leg­end, a Ger­man knight An­dre­as von Din­heim built, who resid­ed in the vil­lage as a pris­on­er of war af­ter the Pol­ish-Teu­ton­ic bat­tle of Płow­ce, and then fell in love with a daugh­ter of Do­brzyń castel­lan named Sów­ka, and soon af­ter mar­ried her. For the first time, doc­u­ments men­tioned the parish of Bro­chów in 1356.
VIEW FROM THE NORTHWEST, IN THE FOREGROUND WE CAN SEE REMAINS OF THE MOAT
A
f­ter 1551 Jan Bro­chow­ski of Praw­dzic coat of arms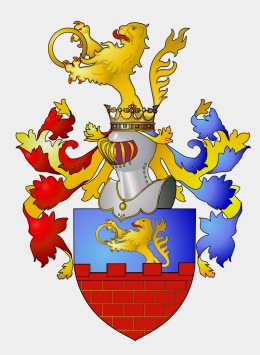 com­mis­sioned the church to be re­built by the Ital­ian ar­chi­tect Jan Bap­ti­sta Ve­ne­tian (d. 1567), cre­ator of, among oth­ers, the bar­bi­can in War­saw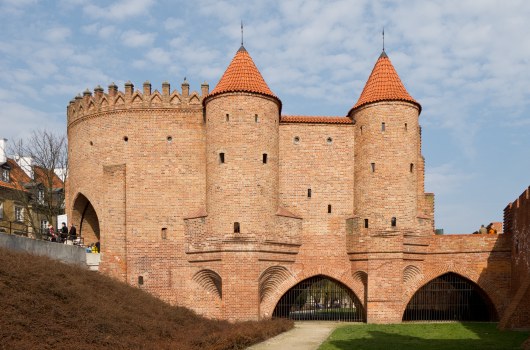 and the new col­le­giate church in Puł­tusk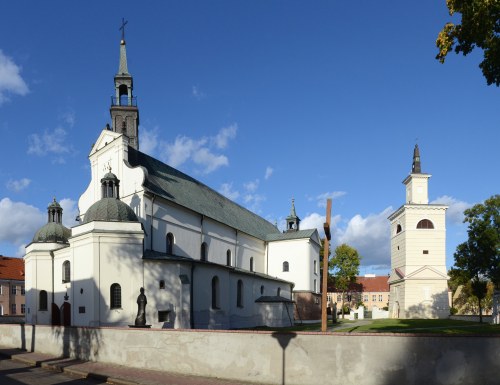 . The Goth­ic tem­ple then re­ceived two side aisles and cor­ner de­fense tow­ers, which were con­nect­ed by a shoot­ing porch run­ning above the aisles. Af­ter Bro­chow­ski's death in 1554, the con­struc­tion work was fi­nanced by his wid­ow An­na and his sons Jan and Sta­ni­sław, thanks to which it could be com­plet­ed in 1561.
CHURCH HAS EXTERNAL FORTIFICATIONS, BUILT IN THE XVII CENTURY
P
re­sum­ably in the ear­ly 17th cen­tu­ry the church was for­ti­fied by a de­fen­sive wall and moat. In 1661 Bro­chów passed to the own­er­ship of Ag­niesz­ka La­soc­ka, née Bro­chow­ska, wife of Ol­bracht Adri­an La­soc­ki of Do­łę­ga coat of arms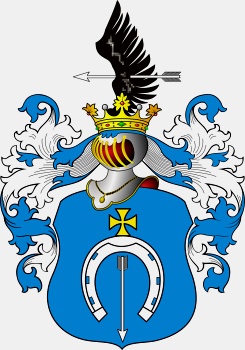 (d. 1690), who ren­o­vat­ed the tem­ple and be­queathed part of the in­come from his es­tate for its main­te­nance and up­keep in the fu­ture. The par­ish en­joyed this in­come un­til 1863, when the tsar­ist au­thor­i­ties, as a sanc­tion for the out­break of the Jan­uary Up­ris­ing, re­voked this right, and from then on all re­pairs to the church were fi­nanced by lo­cal land­ed gen­try, and lat­er by the state bud­get.
CHURCH ON A MID XIXTH CENTURY ENGRAVING, "TYGODNIK ILUSTROWANY" 1860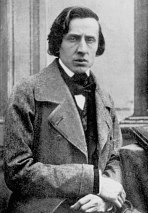 The his­to­ry of the par­ish church in Bro­chów is linked to the fam­i­ly his­to­ry of the Cho­pins, who resid­ed in near­by Że­la­zo­wa Wo­la. In­deed, it was here, on June 2, 1806, that the wed­ding of Ni­co­las Cho­pin
(d. 1844) and Te­kla Ju­sty­na, née Krzy­ża­now­ska
(d. 1861) took place, and on East­er 1810 their son Fry­de­ryk Fran­ci­szek Cho­pin (d. 1849), one of the most bril­liant com­posers of all time, was bap­tized.
OUTBUILDING OF THE UNPRESERVED MANSION IN ŻELAZOWA WOLA, IN THIS BUILDING FRYDERYK CHOPIN WAS BORN
D
ur­ing the Rus­sian-Prus­sian bat­tle fought o­ver the Bzu­ra Riv­er in 1915-16, the church was turned to ru­ins and its fur­nish­ings were ir­re­triev­ably de­stroyed. On­ly in­di­vid­u­al sculp­tures, a few small­er paint­ings and stone memo­ri­al plaques man­aged to be sal­vaged from this catas­tro­phe. Af­ter Poland re­gained its in­de­pen­dence, in 1924-29 ar­chi­tects Ja­ro­sław Woj­cie­chow­ski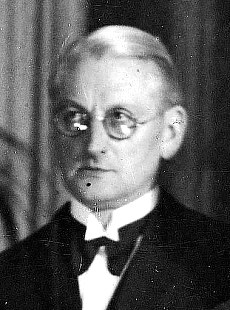 and Ty­mo­te­usz Sa­wic­ki re­con­struct­ed the build­ing in Goth­ic style with el­e­ments of the then pop­u­lar art de­co. How­ev­er, this re­con­struc­tion did not in­clude dec­o­ra­tion of the in­te­ri­or, which re­mained aus­tere and de­void of artis­tic charm.
INTERIOR OF THE CHURCH IN 1903
DESTROYED CHURCH AFTER 1915
I
n the late sum­mer of 1939, fierce Pol­ish-Ger­man war­fare took place in and around Bro­chów, part of a huge bat­tle re­mem­bered as the Bat­tle of Bzu­ra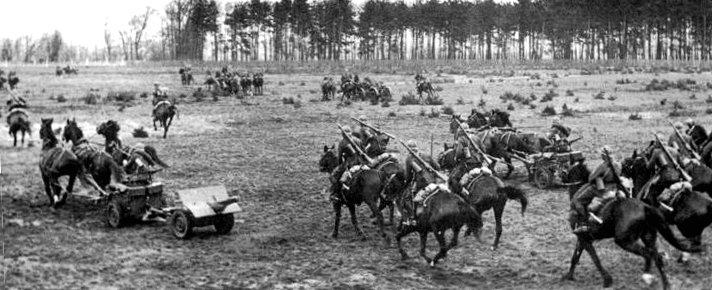 . The church was bombed again, al­though this time the dam­age turned out to be much less than dur­ing World War I, and al­ready in 1949, af­ter a short ren­o­va­tion, the build­ing could serve the lo­cal com­mu­ni­ty. Lat­er, how­ev­er, dur­ing the com­mu­nist era, due to the lack of nec­es­sary re­pairs, its con­di­tion un­der­went slow but sys­tem­at­ic degra­da­tion: cracks ap­peared in the walls, plas­ter was falling off, and the roof risked col­lapse. All these de­fects and dan­gers were re­moved on­ly in the 1990s, and be­fore 2010 - as part of pre­pa­ra­tions to cel­e­brate the 200th an­niver­sary of Fry­de­ryk Chopin's birth - in­te­ri­or of the tem­ple re­gained the beau­ti­ful decor lost in 1915.
VIEW OF THE CHURCH FROM THE NORTHWEST, AS IT STOOD IN 1916 AND TODAY
DESCRIPTION OF THE CHURCH
T
he church is a basil­i­ca built on a rect­an­gu­lar plan with a me­dieval cen­tral nave and 16th-cen­tu­ry side ais­les. The aus­tere ex­te­ri­or of the build­ing is ac­cen­tu­at­ed by two cylin­dri­cal tow­ers placed at the west­ern el­e­va­tion. The east­ern el­e­va­tion of the tem­ple is com­plet­ed with an apse and a round tow­er ris­ing from it, which is rarely seen in Poland, but quite pop­u­lar in the ar­chi­tec­ture of north­ern Italy. All church tow­ers are topped with con­i­cal roofs cov­ered with sheet met­al. Com­mu­ni­ca­tion be­tween them is pro­vid­ed by cor­ri­dors above the side aisles fea­tur­ing shoot­ing win­dows. There are al­so shoot­ing holes in the west­ern façade at the main en­trance, and in the ground floor. The church is sur­round­ed by a wall with bas­tions, prob­a­bly erect­ed in the first half of the 17th cen­tu­ry, which, giv­en the times of its con­struc­tion, had a pri­mar­i­ly sym­bol­ic sig­nif­i­cance.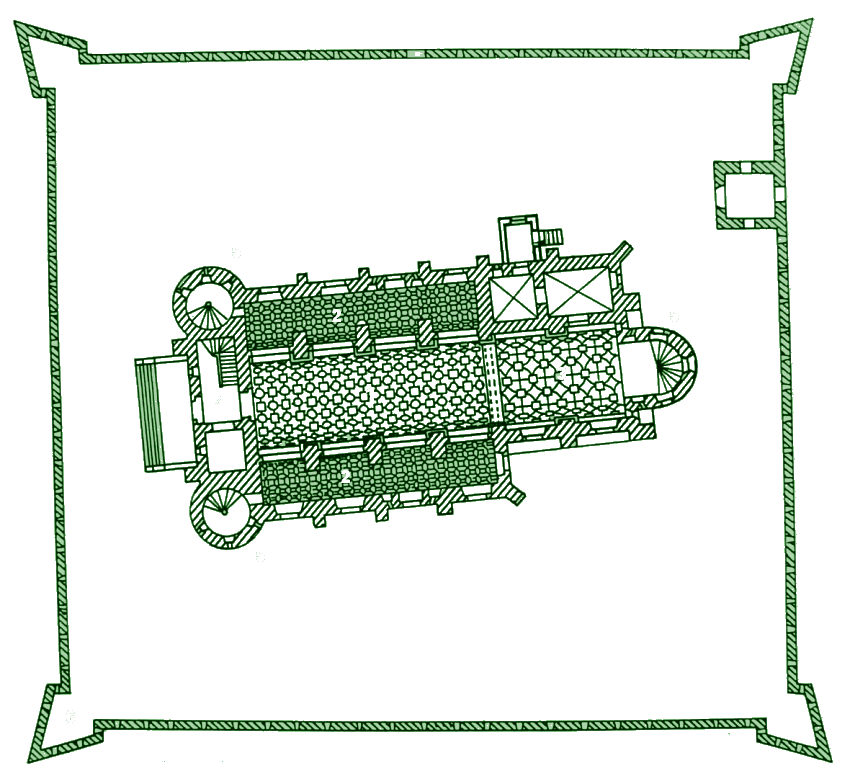 PLAN OF THE CHURCH ACCORDING TO J. ŻABICKI: 1. MAIN NAVE, 2. SIDE AISLES, 3. CHANCEL,
4. PORCH, 5. TOWERS, 6. DEFENCE WALL WITH BASTIONS
VIEW OF THE CHURCH FROM THE WEST
I
n­te­ri­or of the church was cov­ered with a bar­rel vault with cof­fered dec­o­ra­tion in the shape of square and cir­cle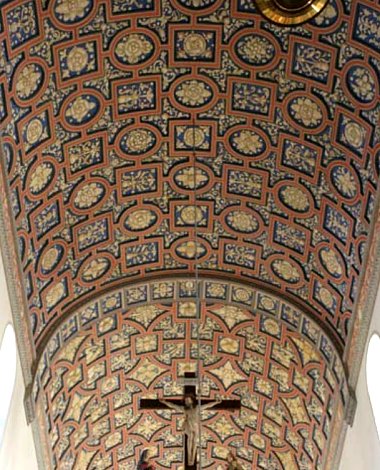 . Vaults of the side aisles, in con­trast, re­ceived dec­o­ra­tions shaped like in­ter­pen­e­trat­ing oc­tagons filled with poly­chrome. The in­te­ri­or of the tem­ple is il­lu­mi­nat­ed by wide Goth­ic win­dows, which orig­i­nal­ly (be­fore the 18th cen­tu­ry) were prob­a­bly more slen­der.
THE MAIN NAVE, IN THE PHOTO ABOVE: DECORATION OF THE VAULT AFTER RECONSTRUCTION IN 2008-2009
---
T
he cur­rent ap­pear­ance of the church de­vi­ates to some ex­tent from that of the 16th-cen­tu­ry and is a re­sult of his­tor­i­cal­ly un­re­li­able restora­tion work from the ear­ly 20th cen­tu­ry and the 2008-2009 re­vi­tal­iza­tion, which brought back its for­mer col­or­ful dec­o­ra­tion. The church's fur­nish­ings are al­most one hun­dred per­cent con­tem­po­rary (al­tars, bench­es, stalls, the sculp­ture of Christ from the rain­bow beam are copies made on the ba­sis of ar­chival pho­tos from be­fore the First World War) - the few ex­cep­tions in­clude 18th-cen­tu­ry stat­ues of Do­mini­can saints. Orig­i­nal fire­places for cook­ing food (use­ful dur­ing the long siege) have al­so sur­vived, and in the base­ment - graves of the La­soc­ki fam­i­ly - own­ers of the vil­lage in 1662-1931.
NORTH ELEVATION OF THE CHURCH: BEFORE WORLD WAR I, AFTER WORLD WAR I, TODAY
Ev­ery third Sun­day of Sep­tem­ber, the Bro­chów mu­nic­i­pal­i­ty or­ga­nizes his­tor­i­cal reen­act­ments com­mem­o­rat­ing some epi­sodes of the Bat­tle of Bzu­ra (1939). It is ac­tive­ly at­tend­ed by at least sev­er­al hun­dred en­thu­si­asts dressed in Pol­ish, Ger­man and Slo­vak uni­forms, al­so cav­al­ry and his­toric ar­mored ve­hi­cles and even avi­a­tion.
CHURCH IN BROCHÓW, WITH THE BZURA RIVER IN THE BACKGROUND
| | |
| --- | --- |
| | The church serves a re­li­gious func­tion and is not open as a tourist fa­cil­i­ty. Ad­mis­sion to the in­side is gen­er­al­ly on­ly dur­ing church ser­vices. On a dai­ly ba­sis, the in­te­ri­or of the tem­ple can be viewed on­ly from the porch, which is sep­a­rat­ed from the nave by a sol­id grat­ing. |
| | |
| --- | --- |
| | There is a plat­form for wheel­chairs at the stairs lead­ing to the main en­trance. |
| | |
| --- | --- |
| | Around the church you will find a lot of free space and great con­di­tions for tak­ing aeri­al shots. |
---
B
rochów is lo­cat­ed 13 km north of the town of So­cha­czew, near the west­ern bor­der of the Kam­pi­nos For­est. From So­cha­czew one should take the road no. 705. Af­ter about 10 kilo­me­ters there is a cross­roads with a chapel - here one should turn left, fol­low­ing the sign­post with in­scrip­tion Ma­la­no­wo 0,6.
| | |
| --- | --- |
| | We can leave cars and bi­cy­cles in the small park­ing lot ad­ja­cent to the church on the north side, or di­rect­ly along the road in marked park­ing spaces. Park­ing is free. |
---
1. M. Kozarzewski, A. Karolczak: Polichromia kościoła w Brochowie..., Renowacje i zabytki 2010
2. M. Przygoda-Stelmach: Bractwo parafialne św. Rocha..., Saeculum Christianum 2013
3. Z. Skiełczyński: Dawny Brochów, Leszno 1993
4. A. G. Turczyk: Brochów i Chopin, Ziemia Sochaczewska, 7/2000
5. J. Żabicki: Leksykon zabytków architektury Mazowsza i Podlasia, Arkady 2015
A TYPICAL PART OF THE LANDSCAPE OF THE MAZOVIA REGION ARE OLD WILLOWS
Castles nearby:
Sochaczew - ruins of ducal castle from the 14th century, 12 km
Łowicz - relics of bishops' castle from the 14th century, 40 km
Płock - ducal castle from the 14th century, 49 km

text: 2022
photographs: 2019, 2021
© Jacek Bednarek