CASTLE IN GNIEW, VIEW OF THE EASTERN WING
---
T
he building of brick castle began in 1283, shortly after the Duke of Gdansk Mści­woj II (d. 1294) do­nat­ed the land of Gniew to Teu­ton­ic Or­der. For the fri­ars, it was the first ter­ri­to­ri­al bridge­head on the left bank of Vis­tu­la Riv­er, so they im­me­di­ate­ly be­gan to for­ti­fy these very eas­i­ly con­quered ar­eas. Di­et­rich von Spi­ra, the first com­man­der of Gniew, was ap­point­ed to su­per­vise all the work. He de­cid­ed to use for this pur­pose the build­ing ma­te­ri­al ob­tained dur­ing de­mo­li­tion of the brick cas­tle in Pot­ter­berg (or Pot­te­berg) in Chelm­no Land and trans­port­ed to its des­ti­na­tion by the riv­er. The new seat was lo­cat­ed on a steep hill at the mouth of Wie­rzy­ca Riv­er to Vis­tu­la, thanks to which a nat­u­ral wa­ter bar­ri­er was used to pro­tect against the at­tack from the east and pro­vid­ing free ac­cess to nav­i­ga­tion on Vis­tu­la Riv­er. The Teu­ton­ic Knights marked their pres­ence in Gniew by erect­ing a wood­en cas­tle, where the con­vent set­tled, and around 1290 they start­ed work­ing on build­ing a brick cas­tle. This work last­ed for more than forty years, with in­ter­vals, and pro­ceed­ed in two es­sen­tial stages. In the first stage, a 6-me­tre high ex­ter­nal wall was erect­ed in the shape of a quadri­lat­er­al, with huge square tow­er and three slim tur­rets in the cor­ners. The tur­rets in the north­ern and south­ern sec­tions were con­nect­ed by the build­ings, at that time still rel­a­tive­ly low and mod­est­ly dec­o­rat­ed. Orig­i­nal­ly, the en­trance to the court­yard led through a gate lo­cat­ed in the south­ern wing. It could be ac­cessed through a draw­bridge thrown over the moat sep­a­rat­ing the area of the up­per cas­tle from the bai­ley.
SOUTHERN ELEVATION FROM THE TOURNAMENT COURTYARD SIDE
I
n the second stage of construction works, which began in the first half of the 14th cen­tu­ry, the east­ern and west­ern wings were erect­ed, and al­ready ex­ist­ing ones were raised, thanks to which all of them reached the planned height of three sto­reys. They closed the in­ner court­yard, which was sur­round­ed by wood­en clois­ters. Al­most a hun­dred years lat­er, af­ter ab­di­ca­tion of Mi­chael Kuch­meis­ter von Stern­berg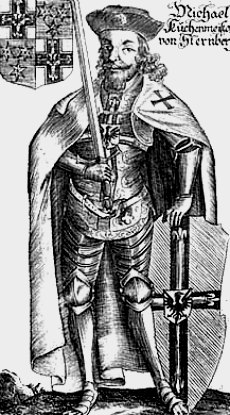 (d. 1423) from the of­fice of Grand Mas­ter, the cas­tle was adapt­ed for his pri­vate res­i­dence, which ne­ces­si­tat­ed some changes in com­mu­ni­ca­tion and spa­tial ar­range­ment. The gate­way in the south­ern wing was bricked up and re­placed by a new one, made on the east­ern side, near the main tow­er. The build­ing of east­ern fore­gate and re­lo­ca­tion of the en­trance gate should be as­so­ci­at­ed with the need to mod­ern­ize the for­ti­fi­ca­tion due to the threats re­sult­ing from spread­ing of fire­arms. In­deed, the south­ern wing had too many large win­dows, which made it dif­fi­cult to de­fend dur­ing the siege. At that time, the chapel was al­so en­larged, the di­vi­sion of in­te­ri­ors in the north­ern wing was changed, and a large bai­ley with tow­ers was es­tab­lished south of the cas­tle.
The first mention of Gniew in written re­fe­ren­ces comes from the first half of 13th cen­tu­ry. One of the do­cu­ments descri­bes this area as Wan­sca (Wońsk), but the name Gy­meu (1229) was al­so used. The term Wońsk pro­bab­ly de­ri­ves from the ri­ver Wo­nia (Wie­rzy­ca), at the mouth of which the town was found­ed, and whose name is as­so­cia­ted with so­me­thing stink­ing (wo­nieć = stink). The term Gy­meu, pre­su­mably de­ri­ved from the verb 'gnić' (rot, de­cay), has a si­mi­lar and al­so not ve­ry ple­asant ety­mo­lo­gy. In the Mid­dle Ages, the name had var­ious forms, in­clud­ing Gy­mew (1233), Gy­me­ne (1245), Gmew (1282), Ge­me­wa, Me­wa (1320), Gme­ua (1323) and Gme­we. La­ter on, un­til 1918, Me­we was writ­ten on maps and do­cu­ments, pro­bab­ly formed as a re­sult of blur­ring the first, sound­less let­ter G in the town name.
G
niew was the first fortified Teutonic Knights' seat on the west­ern bank of Vis­tu­la Riv­er and in course of time it be­came one of the most sig­nif­i­cant mil­i­tary cen­ters in the whole state. In 1407 the com­man­dery owned over 500 hors­es, in­clud­ing about 100 so-called bat­tle hors­es of great ma­te­ri­al val­ue. Per­haps the poor sup­ply of mod­ern weapons caused that dur­ing the Great Pol­ish-Teu­ton­ic War (1409-11) in the sum­mer of 1410, the crew of the fort­ress sur­ren­dered, pre­sum­ably with­out a fight, to the troops of cas­tel­lan Pa­weł from Wsze­ra­dów, which oc­cu­pied it un­til the con­flict was over. Af­ter the First To­run Peace was de­clared, Gniew re­turned to the hands of Teu­ton­ic Knights and the cas­tle was im­me­di­ate­ly re­armed. As a re­sult, as ear­ly as 1416, it was equipped with 8 stone bul­let guns and 16 lead bul­let guns.
FRAGMENT OF THE EAST WING WITH THE MAIN GATE
W
hen in February 1454 an anti-Teutonic uprising broke out in Prussia, units of in­sur­gents con­sist­ing of lo­cal knights and towns­men be­gan the first siege in the his­to­ry of fort­ress, which end­ed a week lat­er with the suc­cess of the be­siegers and es­cape of the cas­tle crew to Mal­bork. The Pol­ish knight of Dutch ori­gin Jan z Jani (von der Jane) of the Osto­ja coat of arms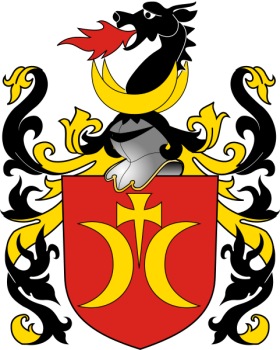 (d. 1461) took over the reign in the town. How­ev­er, it was un­able to con­trol the chaos that fol­lowed the with­draw­al of Teu­ton­ic Knights, as a re­sult of which the cas­tle was plun­dered by the lo­cal com­mu­ni­ty, and there was close to be­ing com­plete­ly de­mol­ished, as de­mand­ed by the au­thor­i­ties of Gdańsk. But the same year the fort­ress re­turned to fri­ars, the main rea­son for which could be found in the bat­tle of Choj­nice, lost by pol­ish army, and the change of ori­en­ta­tion of the towns­peo­ple to the pro Teu­ton­ic Or­der. The strate­gic lo­ca­tion of Gniew caused that a few weeks lat­er the Poles be­gan to block it, which was helped by the Gdańsk fleet, clos­ing ac­cess to sup­plies pro­vid­ed by the Vis­tu­la Riv­er. How­ev­er, it was not de­cid­ed to at­tack the cas­tle di­rect­ly, lim­it­ing the war­fare to shell­ing from cross­bows and small can­nons, which of course could not do more harm to de­fend­ers. De­spite the dif­fi­cult sit­u­a­tion of the great com­man­der Ul­rich von Isen­hofen and his crew, caused main­ly by dis­eases, lack of food and wa­ter, by Jan Kram­no­wo's de­ci­sion, Pol­ish troops fi­nal­ly aban­doned the block­ade of the fort­ress. Up­on hear­ing about it, the King Ka­zi­mierz Ja­giel­loń­czyk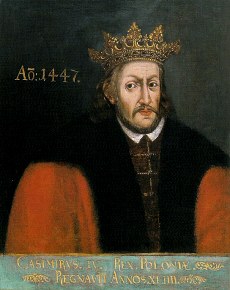 or­dered an in­ves­ti­ga­tion, which es­tab­lished that Pol­ish com­man­der and some knights took a bribe from the Teu­ton­ic ritt­meis­ter Fritz Ra­we­neck and in re­turn for the mon­ey they re­ceived, they un­der­took to aban­don the siege. By the king's de­ci­sion a pub­lic tri­al was or­ga­nized and the guilty were sen­tenced to death.
THE ROAD FROM THE OLD TOWN TO THE CASTLE LEADS THROUGH THE XIX CENTURY NEO-GOTHIC GATE BUILDING
I
n the summer of 1463 the Polish troops again made an attempt to conquer the cas­tle. This time the units un­der com­mand of rott­meis­ter To­miec from Mlod­ko­wo and chan­cel­lor Piotr Du­nin (d. 1484) for nine months were dis­turb­ing the crew of the strong­hold, forc­ing its com­man­der to ca­pit­u­late. Un­doubt­ed­ly, the de­ci­sion of de­fend­ers was in­flu­enced by the fall of spir­it, chaos and pan­ic, caused by de­feat of Teu­ton­ic ar­my in the Bat­tle of the Gulf of Snow, as a re­sult of which the Or­der lost about 30 ships and more than 1000 killed. Such a sig­nif­i­cant loss led to the paral­y­sis of Teu­ton­ic Knights' ac­tions on the Vis­tu­la, and thus made it im­pos­si­ble to ef­fec­tive­ly help the fort­ress. On Christ­mas 1463, the great com­man­der Ul­rich von Isen­ho­fen and the rott­meis­ter Niko­lai von Weis­sen­bach be­gan to make deals with Du­nin and the Gdańsk rep­re­sen­ta­tives, and on New Year's Day they sur­ren­dered the town and the cas­tle, in re­turn for a pro­mise of free pass­ing to Königs­berg with all their as­sets. This way the Teu­ton­ic rule in Gniew end­ed.
THE TEUTONIC COMMANDERS AT THE CASTLE IN GNIEW

Dietrich von Spira (1283), Arnold Kropf (1284),
Friedrich von Esbeck (1297-99), Heinrich von Eisenberg (1302-1306),
Zigfried (1309-11), Heinrich von Buchholtz (1313)
Gunther von Schwarzburg (1325-30), Albrecht (1332-33) the Duke of Braunschweig,
Rutger von Mewe (1334-35), Heinrich Reuss von Plauen (1336),
Hermann von Kudorf (1347-51), Hans von Falkenstein (1347-51),
Gotfried von Hoslitz (1352), Hans von Falkenstein (1352-59),
Kirsten von Bernswalde (1363), Ludwig von Benfeld (1375-86),
Konrad von Eltz (1386-96), Konrad von Lichtenstein (1396-99),
Arnold von Burgeln (1399-1402), Heinrich von Schwelborn (1402-4),
Johann hr. von Sayn (1404), Friedrich von Wallenrod (1404-7),
Siegmund von Raumungen (1407-10), died at the Battle of Grunwald,
Peter von Lorch (1411-16), Paul von Russdorf (1416),
Hans von Seelbach (1416-22), Michael Kuchmeister von Sternberg (1422),
Hans von Seelbach (1422-31), Ludwig von Landsee (1431-34),
Michael von Nesse (1434), Hans von Pommersheim (1434-38),
Gerlach von Mertz (1438-40), Bruno von Hirzberg (1440-41),
Gerlach von Mertz (1441-44), Michael von Geilsdorf (1444-46),
Ludwig von Erlichhausen (1446-49), Hans von Remchingen (1450-54)

PLAN OF THE CASTLE AND THE TOWN ON ERIK DAHLBERGH'S DRAWING, SAMUEL PUFENDORF DE REBUS A CAROLO GUSTAVO GESTIS, 1656
A
s a result of the Second Peace of Toruń, Gniew became the prop­er­ty of the King­dom of Pol­and and was es­tab­lished as the seat of the roy­al sta­rosts. How­ev­er, the cas­tle was still in par­tial ru­in, as a con­se­quence of the Thir­ty Years' War. On­ly in 1565, on ini­tia­tive of the sta­rost Acha­cy Cze­ma (d.1576), it was ren­o­vat­ed, but the scope of work could not be large, since at the end of the 16th cen­tu­ry most of the cas­tle rooms were aban­doned, and all the tow­ers al­so re­mained in the ru­ins. Cer­tain­ly, how­ev­er, the walls and de­fen­sive equip­ment were in good con­di­tion and main­taned on an on­go­ing ba­sis. In 1623, King Si­gis­mund III Va­sa
was stay­ing in Gniew for some time, and he was hos­pi­tal­ized by the sta­rost Al­brycht Sta­ni­sław Ra­dzi­wiłł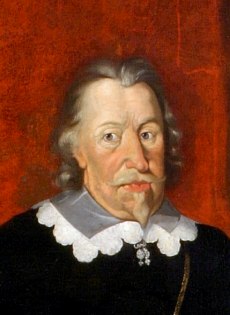 of the Trą­by coat of arms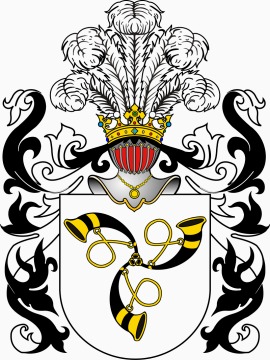 (d. 1656). Two years lat­er, the town was oc­cu­pied by Swe­dish army of Gus­taw Adolf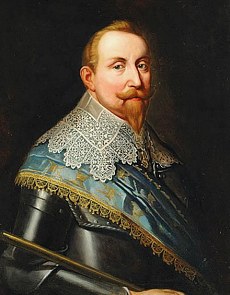 , and the at­tempt to take the cas­tle back turned in­to a great con­fronta­tion, which left his mark on his­to­ry as 'the Bat­tle of the Two Vasas'. The gen­er­al be­lief is that this bat­tle end­ed with the break­ing up of the Pol­ish troops by the dis­ci­plined Swed­ish in­fantry and their mus­kets, al­though nowa­days the rea­son for de­feat is rather to be found in un­fa­vor­able ter­rain: The en­e­my was not lean­ing out of the vil­lage much, sit­ting on­ly by the fences, on the ditch­es, which were dense there. The de­feat of Sigis­mund Va­sa's army was more pres­ti­gious than stra­te­gic, but it showed the back­ward­ness of the Pol­ish army, which trust­ed too much in the pow­er of the hus­sars, an army which was de­prived of prop­er dis­ci­pline and poor­ly equip­ped. The cas­tle was kept by the Swed­ish army, but soon af­ter­wards, thanks to the clever ma­neu­vers of het­man Sta­nis­ław Ko­niec­pol­ski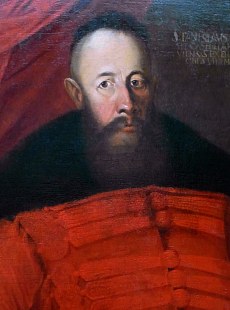 of the Po­bóg coat of arms
(d. 1646), af­ter a ten-day siege, Pol­ish troops re­gained it. It was al­ready heav­i­ly dam­aged and plun­dered by the Swedes, who for two years of the oc­cu­pa­tion stole the most valu­able equip­ment from here and dev­as­tat­ed the in­te­ri­ors.
LITHOGRAPH WITH A VIEW OF GNIEW, 1855
T
he Swedes returned to Gniew in 1655, and although this time their occupation last­ed less than three de­cades ear­li­er, its plun­der­ing char­ac­ter had a very neg­a­tive im­pact on town's econ­o­my, caus­ing it to al­most col­lapse. A year af­ter the Swe­dish in­va­sion, the castle was re­gained by the units of het­man Je­rzy Se­bas­tian Lu­bo­mir­ski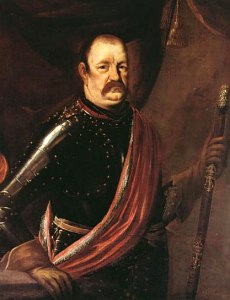 (d. 1667), who ar­ranged mil­i­tary quar­ters and a jail for pris­on­ers of war. Some of the cap­tured Swedes de­cid­ed to or­ga­nize an es­cape, which was un­der­tak­en in 1657. Holes in the cel­lar walls were pierced in­to the ad­ja­cent rooms, where the wine bar­rels were lo­cat­ed. In such cir­cum­stances, the es­cape could not be suc­cess­ful, as the would-be fugi­tives got drunk in­stead of think­ing about free­dom. They were cap­tured quick­ly, but ac­cord­ing to the ref­er­ences, they avoid­ed pun­ish­ment af­ter they had won Lu­bo­mir­ski's un­der­stand­ing by claim­ing that they drank to the health of His Ma­je­sty Het­man. De­spite the large dam­age caused by Swe­dish oc­cu­pa­tion, af­ter the end of war the whole first floor and the chapel still func­tioned in the cas­tle, and a large amount of op­er­a­ble ar­tillery weapons and heavy am­mu­ni­tion were pre­served. In March 1667, het­man Jan So­bies­ki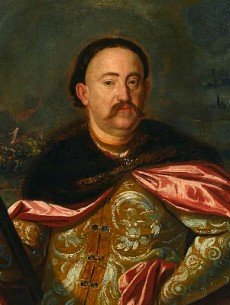 (d. 1696), lat­er King of Poland, be­came the sta­rost in Gniew. Thanks to his ef­forts, the cas­tle was par­tial­ly ren­o­vat­ed, al­though So­bies­ki him­self prob­a­bly did not live there. For this pur­pose, he used a house erect­ed in a bai­ley or a hunt­ing manor house stand­ing in the area be­tween the walls. Pre­sum­ably at that time al­so a larch manor house for the fu­ture queen and her chil­dren was built, by some iden­ti­fied with the so-called Ma­ry­sień­ka's Palace lo­cat­ed on the south­ern part of the slope. Me­mon­ka, one of the daugh­ters of Jan and Ma­ria Ka­zi­mie­ra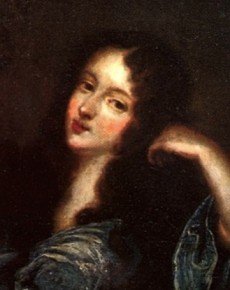 , was born here, but she died when she was still an in­fant.
VIEW OF THE CASTLE FROM THE EAST IN 1887, DIE BAU- UND KUNSTDENKMALER DES KREISE...
A
t the be­gin­ning of 18th cen­tu­ry the risk of a build­ing col­lapse, led by the pro­gres­sive ero­sion of the Vis­tu­la es­carp­ment, ap­peared. Dur­ing the work to sta­bi­lize and strength­en the soil, mys­te­ri­ous bones were found, prob­a­bly the re­mains of a di­nosaur. In lat­er years, the re­mains of an­i­mals un­known to the in­hab­i­tants of those lands, in­clud­ing the bones of a hairy rhi­no­ce­ros, were re­peat­ed­ly iden&­ti­fied in this area. At that time, the cas­tle no longer per­formed any sig­nif­i­cant mil­i­tary func­tion, it was al­so ne­glect­ed by larg­er in­vest­ments, as a con­se­quence of which its tech­ni­cal con­di­tion sys­tem­at­i­cal­ly de­te­ri­o­rat­ed and in the mid­dle of the 18th cen­tu­ry the build­ing was al­ready par­tial­ly aban­doned.
VIEW FROM THE NORTH, ON THE RIGHT WE SEE THE NEO-GOTHIC BUILDING OF THE FORMER ELEMENTARY SCHOOL, 1900
I
n 1772 the Prussian military entered Gniew and with them the Ger­man ad­mi­ni­stra­tion, stay­ing he­re un­til Po­land re­gai­ned its in­de­pen­den­ce. Ini­tial­ly, the castle was ar­ran­ged in the bar­racks, but soon it was trans­formed in­to a huge gra­na­ry, which en­tailed ra­di­cal chan­ges in the en­vi­ron­ment, fa­ca­des and in­ter­ior lay­out. The Go­thic vaults we­re de­mo­lished, so­me of the win­dows we­re bricked up, the la­tri­ne to­wer - dan­sker - was al­so dis­mantled, and an ad­di­tio­nal ga­te in the west wing was forged to fa­ci­lit­ate the trans­port­a­tion of grain from the town. In 1854 the strong­hold was pur­chased by the Prus­sian Mim­istry of In­ter­nal Af­fairs for the pur­pose of a heavy pri­son for Lutheran re­ci­di­vists. In or­der to adapt the build­ing to its pen­it­en­tiary func­tion, the walls of the bailey were part­ially de­mol­ished and the main tower was de­mol­ished too, re­pla­cing it with a smal­ler one, like the other corner tur­rets. As part of the con­struc­tion ac­tion car­ried out in the 1850s, the dam­aged vault of the chapel was re­con­struc­ted, but its ori­ginal height was re­duced by about 2.5 meters, and a new al­tar, pul­pit and benches for of­fi­cials and pris­on­ers were placed in­side. In the north­ern, east­ern and west­ern wings a new di­vi­sion of storeys was made, cre­at­ing four floors of equal height. The ori­gi­nal, sharp-edged shape of sev­eral win­dows in the south­ern el­ev­a­tion was also re­stored and the tops of the cor­ner towers were re­built. The castle well was cleaned and re­stored to use, by in­stalling a sys­tem of pumps sup­ply­ing wa­ter to the north­ern tower, which took over the func­tion of wa­ter tower. The castle's pur­pose at that time in­flu­enced the de­cision about neo-Gothic re­con­struc­tion of the bailey walls and li­quid­a­tion of me­di­eval moats, which were com­pletely un­ec­essary from the mil­it­ary point of view.
THE CASTLE FROM THE SIDE OF VISTULA RIVER ON COLORED POSTCARDS FROM THE TURN OF XIX AND XX CENTURY
A
f­ter the end of World War I, as a re­sult of the Treaty of Ver­sailles, the left-bank part of Kwi­dzyn Coun­ty, in­clud­ing Gniew, re­turned to re­born Pol­ish state. Soon af­ter­wards the of­fices of the sta­rost were placed in the cas­tle, and in 1920 it was hand­ed over to the army for bar­racks and am­mu­ni­tion stor­age of the 1st In­fantry Reg­i­ment, which was part of the Siberi­an Bri­gade. How­ev­er, al­ready in Ju­ly of the fol­low­ing year the build­ing was de­stroyed by a fire, which com­plete­ly burned down the roof and three Goth­ic wings. The cir­cum­stances of this great dis­as­ter were nev­er clar­i­fied, and al­though no con­clu­sive ev­i­dence could be ob­tained, it was not with­out rea­son that peo­ple spoke of a de­lib­er­ate ar­son by a Ger­man sabo­teur. In the fol­low­ing years, de­spite the con­ser­va­tors' rec­om­men­da­tions to car­ry out the re­sto­ra­tion works, the mil­i­tary ad­min­is­tra­tion man­ag­ing the cas­tle evad­ed such ac­tion. Ac­cord­ing to the then de­ci­sion-mak­ers, the cas­tle re­built in Prus­sian times was not of great his­tor­i­cal sig­nif­i­cance, and the lack of in­ter­est of the army in its re­con­struc­tion in­flu­enced the de­ci­sion to tem­po­rar­i­ly leave it in a state of per­ma­nent ru­in, be­cause the cas­tle is a mon­u­men­tal ob­ject of too much im­por­tance to be ren­o­vat­ed in a cur­so­ry and ad hoc way.
GREAT FIRE OF THE CASTLE IN JULY 1921
D
uring World War II, in a partially ruined castle, the Nazi Ger­man au­thor­i­ties or­ga­nized a paramil­i­tary school for Aryan youth, and then a tem­po­rary camp for two thou­sand Pol­ish fam­i­lies, who were ex­pelled from Tczew and its sur­round­ings. Af­ter 1945 a bat­tal­ion of sap­pers was sta­tioned in the south­ern wing and Marysien­ka's Palace, and for a short pe­ri­od of time al­so a prison was func­tion­ing here. The first works aimed at sav­ing the Goth­ic cas­tle were car­ried out in 1968-74, when the en­gi­neers of the Mon­u­ments Con­ser­va­tion Work­shop in Gdańsk and work­ers of FAMA Ship Mech­a­nism Works re­paired the walls with four cor­ner tur­rets, raised steel and re­in­forced con­crete struc­tures of the roof and its cov­er­ing, and al­so build part of the ceil­ings in south­ern wing and the ceil­ing over the base­ment in west­ern wing. The ba­sic ar­gu­ment for ob­tain­ing funds for this pro­ject was, that in case of a war, the un­der­ground part of the cas­tle meets the re­quire­ments of a safe shel­ter. Af­ter the re­con­struc­tion, the build­ing was to serve as a cul­tur­al cen­ter, but the or­ga­ni­­tion­al en­thu­si­asm and fi­nan­cial re­sources were al­ready lack­ing in the mid-1970s, which caused the in­vest­ment to stop. And it was on­ly in 1992, when the sec­ond stage of re­con­struc­tion be­gan as part of pub­lic works. It in­clud­ed the de­bris re­moval from the cel­lars, re­sto­ra­tion of ceil­ings, as well as adap­ta­tion of the cas­tle's in­te­ri­ors for ex­hi­bi­tion and ac­com­mo­da­tion pur­pos­es. In 2010, the cas­tle be­came the prop­er­ty of pri­vate com­pa­ny Polm­lek and since then it op­er­ates pri­mar­i­ly as a ho­tel and con­fer­ence cen­ter.
CASTLE BEFORE RECONSTRUCTION, PHOTOGRAPHS FROM THE 1930S
---
T
he Gothic castle was erected on the western, high bank of Vistula River, near the mouth of Wierzy­ca Riv­er. For this pur­pose, the high­est part of the cape was cho­sen - this area was pro­tect­ed from the south by steep slopes of the riv­er val­ley, and from the north and west by the walls of the bai­ley, led along nat­u­ral ra­vines, which were lat­er trans­formed in­to moats. The main build­ing of the con­vent was made of brick and con­sist­ed of four wings on a plan sim­i­lar to a square of 47 me­ters. All wings had the same height, but de­pend­ing on their pur­pose, each of them had dif­fer­ent in­ter­nal di­vi­sions. A par­tic­u­lar func­tion was per­formed by the south­ern build­ing, where on the sec­ond floor there was a star­ry vault­ed chapel with a sac­risty, and al­so a three-spanned chap­ter­house, which served as a meet­ing place for the monas­tic com­mu­ni­ty of fri­ars. These large, rep­re­sen­ta­tive cham­bers were sep­a­rat­ed by a small room, prob­a­bly in­tend­ed for the guards and the mech­a­nism that op­er­at­ed the portcullis, which was lat­er in­cor­po­rat­ed in­to the chapel. The west­ern wing was oc­cu­pied by a cross vault­ed re­fec­to­ry, a place where meals were eat­en, and the east­ern wing was used for dor­mi­to­ries, i.e. sleep­ing quar­ters of the broth­ers. The fri­ars' beds were prob­a­bly sep­a­rat­ed from each oth­er by light wood­en cur­tains. They slept in them in clothes and shoes, as the reg­u­la­tions stat­ed that knights should be con­stant­ly ready to fight the en­e­my. The pur­pose of the cham­bers in the north­ern part of the cas­tle is not clear­ly ex­plained. They could have served as the com­man­der's of­fice, and per­haps al­so as a Teu­ton­ic in­fir­mary, a space for the sick or a shel­ter for the old­er mem­bers of the con­vent. The en­trance doors to the rep­re­sen­ta­tive cas­tle rooms was lo­cat­ed on the sec­ond floor lev­el. To reach them, one had to climb a wood­en stair­case and clois­ters, which for safe­ty rea­sons were al­so made of wood.
PLAN OF THE FIRST FLOOR OF THE HIGH CASTLE ACCORDING TO C. STEINBRECHT (AT THE BEGINNING OF XV CENTURY):
1. CHAPEL, 2. CHAMBER OVER THE GATEWAY,3. CHAPTERHOUSE, 4. REFECTORY, 5. COMMANDER'S OFFICE,
6. DORMITORIES, 7. MAIN TOWER, 8. CORNER TURRET, 9. WELL
T
he castle's cellars housed storerooms for goods, as well as prison cells and tor­ture cham­ber. Weapons and am­mu­ni­tion were al­so stored there, which in Teu­ton­ic Knights' times in­clud­ed main­ly cross­bow bells and stone or lead bul­lets for ar­tillery. The first floor played an eco­nom­ic role. Here there was a pantry, a kitchen and a bak­ery, as well as some craft work­shops and de­pots of nec­es­sary tools and equip­ment. The ac­cess to fresh wa­ter for the cas­tle's crew was pro­vid­ed by a 36-me­ter deep well sit­u­at­ed in the cen­tral part of the square. The well shaft hides one of the lo­cal se­crets, as it leads to a ob­scure pas­sage to the north­ern wing. All Goth­ic wings, ex­cept the south­ern build­ing, were equipped with a low stor­age and mil­i­tary storey, oc­cu­py­ing space di­rect­ly above the res­i­den­tial and rep­re­sen­ta­tive part. In this lo­ca­tion there is a porch run­ning around the en­tire quadri­lat­er­al of the high cas­tle, equipped with in­di­vid­u­al over­watch po­si­tions. All the build­ings were cov­ered with gable roofs.
CROSS-SECTION OF THE CASTLE ON THE EAST-WEST AXIS ACCORDING TO C. STEINBRECHT:
1. REFECTORY, 2. DORMITORIES, 3. WAREHOUSE AND MILITARY STOREY, 4. CLOISTERS, 5. WELL, 6. MOAT
T
he elevations of the castle were finished with a Gothic architectural de­tail, par­tic­u­lar­ly dec­o­ra­tive in the south­ern wing, demon­strat­ing its dom­i­nant and rep­re­sen­ta­tive char­ac­ter. It was the on­ly one to be dis­tin­guished by its styl­ish gables on the east and west side. The fa­cade of the south­ern build­ing is dec­o­rat­ed with four sharp-edged chapel win­dows and three equal­ly slen­der ca­pit­u­lar win­dows, and the en­tire decor is com­ple­ment­ed by or­na­men­tal rhom­bus­es and zigza­gs, com­posed of zen­drów­ka brick. The head­quar­ters of con­vent was flanked by three square tur­rets, pro­trud­ing slight­ly out­side the walls. The dom­i­nant fea­ture of the cas­tle was a huge berg­fried ca. 50 (prob­a­bly) me­ters high, lo­cat­ed in the north-east­ern cor­ner. It was a square tow­er at the base and an oc­tag­o­nal tow­er above, topped with a plat­form sur­round­ed by blanks, which served as a con­ve­nient ob­ser­va­tion and sig­nal point, as well as a place of last de­fence dur­ing the siege. This part of the fort­ress was de­mol­ished in the mid­dle of the 19th cen­tu­ry and re­placed with a tur­ret sim­i­lar to the oth­er three, and nowa­days the on­ly relict of this con­struc­tion is a stone base clear­ly vis­i­ble in the cor­ner of the build­ing. The gate­way to the court­yard was ini­tial­ly sit­u­at­ed in the cen­tral part of south­ern wing (see below). In the 15th cen­tu­ry, how­ev­er, it was bricked up and the new en­trance was made in the east wing, pre­ced­ed by the neck of the fore­gate reach­ing the bridge over the moat.
SOUTHERN ELEVATION OF THE CASTLE, YOU CAN SEE THE ORIGINAL GATEWAY (WALLED UP HERE),
DANZIG - WESTPREUSSEN EIN DEUTSCHES KULTURLAND, VERLAG DANZINGER VERLAGS-GESELLSCHAFT, 1895
T
he castle-monastery was surrounded by a perimeter wall, also set up on a square plan and pro­tect­ed by three cor­ner tur­rets. The zone be­tween the cas­tle and the wall pro­vid­ed an ad­di­tion­al buffer dur­ing the siege, and in peace­time it was used as a space for walks and per­son­al prayer of the fri­ars. This place was al­so used to store heavy war equip­ment, and one of the res­i­den­tial hous­es for the ser­vants was lo­cat­ed here. In the south–west­ern cor­ner a la­trine tow­er was erect­ed, con­nect­ed di­rect­ly to the south wing of the cas­tle at the height of its sec­ond floor. The out­er line of for­ti­fi­ca­tions con­sist­ed of walls sur­round­ing an ex­ten­sive bai­ley, sep­a­rat­ed from the cas­tle by a moat about 15 me­ters wide. The en­trance to this area from the town led through Dy­bow­ska gate. The sec­ond one, called Wod­na gate, led from the cas­tle to­wards the port on the Vis­tu­la Riv­er, where two brick gra­naries and a tow­er pro­tect­ing them stood. The bai­ley served as a mil­i­tary and eco­nom­ic back-up for the con­vent. It housed farm build­ings, among them sta­bles, a smithy, a brew­ery, cow­sheds, ware­hous­es and craft work­shops, as well as gra­na­ries, a mill and lodg­ings for ser­vants. Prob­a­bly al­so a small fruit or­chard grew here.
RECONSTRUCTION OF THE CASTLE FROM THE MEDIEVAL PERIOD ACCORDING TO J. SALM, LEKSYKON ZAMKÓW W POLSCE
---
F
or more than a decade the castle has been in the hands of private owner, who doesn't spare the funds for its ren­o­va­tion and on­go­ing main­te­nance, which we can see very well af­ter cross­ing the gate lead­ing to the bai­ley. The sur­round­ing of the fort­ress seems to be very neat, and this feel­ing is in­ten­si­fied when we enter the beau­ti­ful court­yard, which is al­ready de­void of the spir­it of the me­dieval strict monas­tic rule for the pur­pose of the guests who en­ter­tain here, but cer­tain­ly still has a lot to of­fer for the his­to­ry and ar­chi­tec­ture en­thu­si­asts. To­day, this place serves pri­mar­i­ly as a ho­tel and as a plat­form for the or­ga­ni­za­tion of var­i­ous types of com­mer­cial events. How­ev­er, it is still open to vis­i­tors, al­though due to its main func­tion, tour­ism is clear­ly sub­or­di­nat­ed to busi­ness ob­jec­tives and one should not ex­pect here im­pres­sions sim­i­lar to those in Mal­bork. The sight­see­ing route, pro­vid­ed un­der the care of guides dressed in his­tor­i­cal cos­tumes, leads through the cas­tle chapel
, de­fen­sive porch­es
and sev­er­al cham­bers with ex­po­si­tions ded­i­cat­ed to the Bat­tle of Grun­wald and the events of World War II (among oth­ers, the wreck­age of the Ger­man Nazi bom­ber Hein­kel He 111
). The ex­hi­bi­tions al­so in­clud­ed a tor­ture cham­ber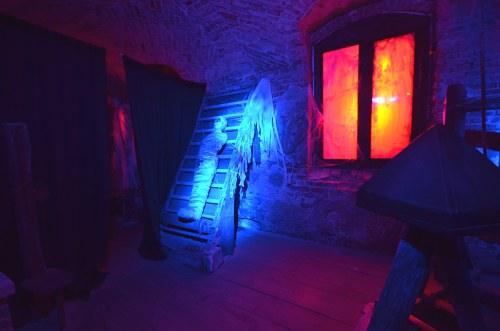 , ar­ranged in a slight­ly kitschy style, with colour­ful il­lu­mi­na­tion and moan­ing com­ing from the speak­ers. The tour of the cas­tle takes about 40 min­utes.
| | |
| --- | --- |
| | |
| | |
| --- | --- |
| | |
MUSEUM EXHIBITIONS: CHAPEL, EVERYDAY LIFE AND CRAFTS IN THE MIDDLE AGES, ARCHAEOLOGICAL EXHIBITION, WORLD WAR II
I
n the summer, numerous battleground stagings, knightly tour­na­ments and his­tor­i­cal per­for­mances are or­ga­nized at the cas­tle. Among them stands out the pro­ject called Vi­vat Va­sa!, which is a loose re­con­struc­tion of the events of 1626, when Pol­ish hus­sars un­der the com­mand of Sigis­mund III Va­sa yield­ed to Swe­dish can­nons and mus­kets of his cousin Gus­tav Adolf. An­oth­er in­ter­est­ing event is the Jan III So­bies­ki Knight­ly Tour­na­ment tak­ing place in Ju­ly, whose qual­i­ty and per­for­mance lev­el clas­si­fies it among the best shows of its sort all over Eu­rope. The Gniew Cas­tle al­so or­ga­nizes live­ly his­to­ry and craft les­sons, al­low­ing its par­tic­i­pants to get to know the liv­ing con­di­tions of the old ages and ex­pe­ri­ence 'time trav­el'.
---
G
niew is located on the left bank of the Vistula River, about 40 kilometers southwest of Mal­bork and about 50 kilo­me­ters north of Gru­dziądz. The A1 high­way runs 10 kilo­me­ters west of the town, so get­ting there by car should not be a prob­lem. We can park it on Wąs­ka Street, near main en­trance to the cas­tle. Gniew can al­so be reached by re­gio­nal bus­es, for ex­am­ple from Tczew. Those, who need to use the train, should be wor­ried about the fact that the near­est rail­way sta­tion is lo­cat­ed in Mo­rzesz­czyn, over 10 kilo­me­ters away from the cas­tle.
(map of castles in Pomeranian Voivodeship)
---
1. M. Haftka: Zamki krzyżackie w Polsce, 1999
2. I. T. Kaczyńscy: Zamki w Polsce północnej i środkowej, Muza SA 1999
3. L. Kajzer, J. Salm, S. Kołodziejski: Leksykon zamków w Polsce, Arkady 2001
4. P. Lasek: Prywatne zamki polskich dowódców z czasów wojny trzynastoletniej, Komunikaty Mazursko-Warm.
5. T. Olszacki, A. Różański: Zamek w Gołańczy, Gołaniecki Ośrodek Kultury 2015
6. M. Pratat, K. Zimna-Kawecka: Konserwatorskie i społeczne aspekty ochrony ruin zamków...
7. M. Stokowski: Zamek Gniew – siedziba krzyżackich komturów i królewskich starostów, TopSpot Guide
8. J. Struczyński, J. Rusinek: FAMA jako mecenas dóbr kultury
9. A. Wagner: Murowane budowle obronne w Polsce X-XVIIw., Bellona 2019
THE FORMER GRANARY IS NOW CALLED THE 'MARYSIENKA'S PALACE' - THE HOTEL IS LOCATED HERE
VIEW OF THE UPPER CASTLE FROM THE SOUTHEAST
Castles nearby:
Kwidzyn - castle of Pomezanian chapter from 14th century, 18 km
Nowe - ruin of Teutonic castle from 14th century, 23 km
Sztum - Teutonic castle from 14th century, 26 km
Osiek - relics of Teutonic castle from 15th century, 31 km
Malbork - castle of the great masters of Teutonic Order from 13-15th century, 42 km

---
The Old Market Square and its vicinity with pre­served me­dieval lay­out, cob­bled streets and ar­cad­ed ten­e­ment hous­es dat­ing back to the 15th-19th cen­tu­ry. In the mid­dle of the square there is a Goth­ic town hall, erect­ed at the turn of the 14th and 15th cen­turies and still used as the seat of the town au­thor­i­ties. In one of the ten­e­ment hous­es in Gniew, fa­mous pol­ish painter Leon Wy­czół­kow­ski
lived and worked for a short time.
---
The Gothic parish church of St. Nicholas from the 14th cen­tu­ry, lo­cat­ed in the south-west­ern cor­ner of the Mar­ket Square. It is a three-nave build­ing of the hall type, with a sep­a­rate pres­bytery and a bell tow­er in­te­grat­ed in­to the cen­tral nave. The apse is ad­ja­cent to the nave from the east, which is the old­est part of the tem­ple. The in­te­ri­or of the church is cov­ered with a Goth­ic star vault, and the Baroque dec­o­ra­tion in­cludes a beau­ti­ful pul­pit, five al­tars and two chapels. It is worth pay­ing at­ten­tion to the late Re­nais­sance stalls for ten priests set along the walls of the pres­by­tery and the 14th-cen­tu­ry stone bap­tis­tery stand­ing near the en­trance. A crypt with hu­man re­mains found dur­ing the ar­chae­o­log­i­cal work is avail­able un­der one of the chapels.
---
The Garden of History on Sambora Street, which is a complex of fig­ures and mon­u­ments de­pict­ing the most im­por­tant events in the his­to­ry of the town. There is a col­umn with a bench shaped like vol­umes of books com­mem­o­rat­ing the grant­ing of town rights, a stat­ue of the Ra­dzi­wiłł's Trea­sure Guard, a two-me­ter high match re­mind­ing of the great fire of the cas­tle in 1921, and a stone door with two key­holes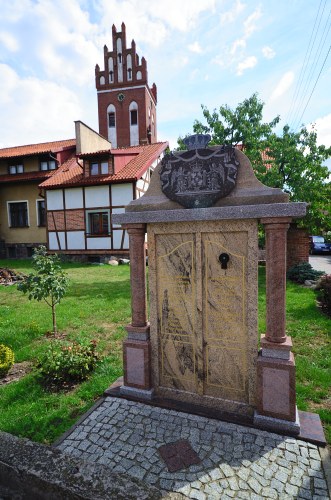 , rem­i­nis­cent of Jan So­bies­ki's stay in Gniew. There is al­so a wall with three fun­house mir­rors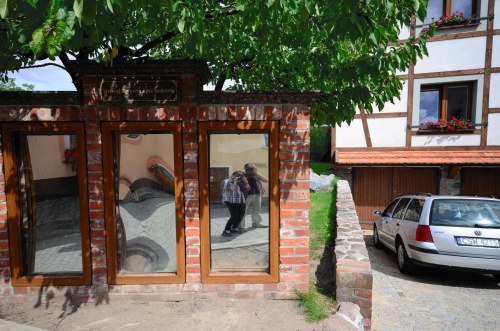 and stones com­mem­o­rat­ing the no longer ex­ist­ing sac­ral build­ings. How­ev­er, the most im­por­tant and most pop­u­lar el­e­ment of the Gar­den is Ted­dy Bear called Maci­uś. His bron­ze stat­ue stands near the St. Ni­cho­las Church, on a pe­des­tal built in­to the front wall of one of the ten­e­ments. The fig­ure comes from a town leg­end re­fer­ring to the bat­tle with the Swe­des in 1626, dur­ing which the an­i­mals liv­ing in the sur­round­ing for­ests gath­ered in the tem­ple...to pray to­geth­er for peace (?). They were to be led by a bear named Maci­uś. To­day he is the of­fi­cial mas­cot of the town and the on­ly man in Gniew who has his per­so­nal dress­mak­er, who sews his clothes for var­i­ous oc­ca­sions. I am will­ing to bet that at the mo­ment when I am writ­ing these words, ted­dy bear is fight­ing a fake pan­dem­ic, pro­tect­ing his nice muz­zle un­der an obli­ga­to­ry tex­tile cres­set.
text: 2020
photographs: 2015
© Jacek Bednarek