GNIEWOSZÓW

ruins of Szczerba castle
RUINS OF SZCZERBA CASTLE, VIEW FROM THE NORTHEAST
---
N
ei­ther the founder of the cas­tle nor the time when it was erect­ed is known. Ac­cord­ing to leg­ends, al­ready in the pe­ri­od of Bo­le­sław Chro­bry's strug­gle for Kłodz­ko Land there was a small wood­en and earth strong­hold here, but so far this hy­poth­e­sis has not found sci­en­tif­ic con­fir­ma­tion and is on­ly a free in­ter­pre­ta­tion with­out much his­tor­i­cal val­ue. What is known, how­ev­er, is that in 1294 King Wen­ces­las II of Bo­he­mia
do­nat­ed the land near Mię­dzy­le­sie along with some sort of for­ti­fi­ca­tion to the Cis­ter­cian Or­der from Ka­mie­niec Ząb­kow­ic­ki, and that in 1318 this for­ti­fi­ca­tion was de­stroyed.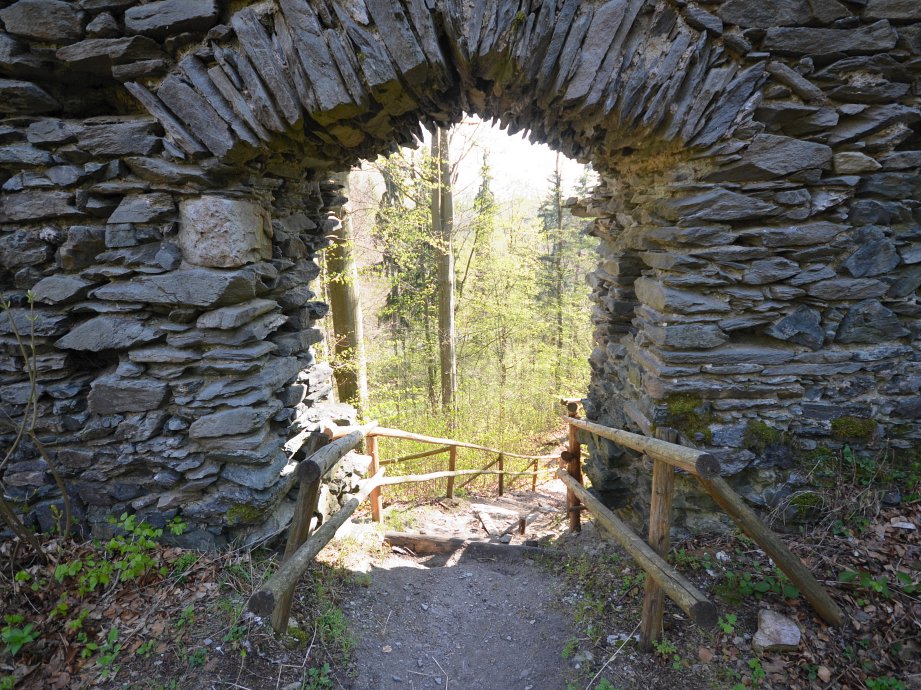 I
n 1358, the own­er of the lo­cal es­tate was Ot­to Schu­ler (d. 1397), the son of a knight from Lu­sa­tia named Ot­to Glaub­itz (Głę­bisz, Glu­bos, Glu­bocz, von Glaub­itz), first men­tioned in 1318, and list­ed as the own­er of Mię­dzy­le­sie in 1323. The Glaub­itz fam­i­ly prob­a­bly re­ceived the prop­er­ty in the ear­ly 14th cen­tu­ry from King Jo­hann von Lux­em­burg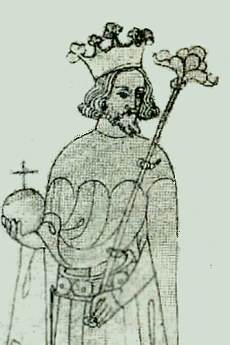 . It may have been one of its rep­re­sen­ta­tives who erect­ed a brick cas­tle here to pro­tect and con­trol the trade route lead­ing from Prague through the Dzi­ka Or­li­ca val­ley to Kłodz­ko. It al­so func­tioned as a cen­ter of feu­dal au­thor­i­ty o­ver the so-called Śnie­lin State, which in­clud­ed part of the By­strzy­ck­ie Moun­tains, the Mię­dzyle­sie area and the west­ern slopes of Śnież­nik Mas­sif.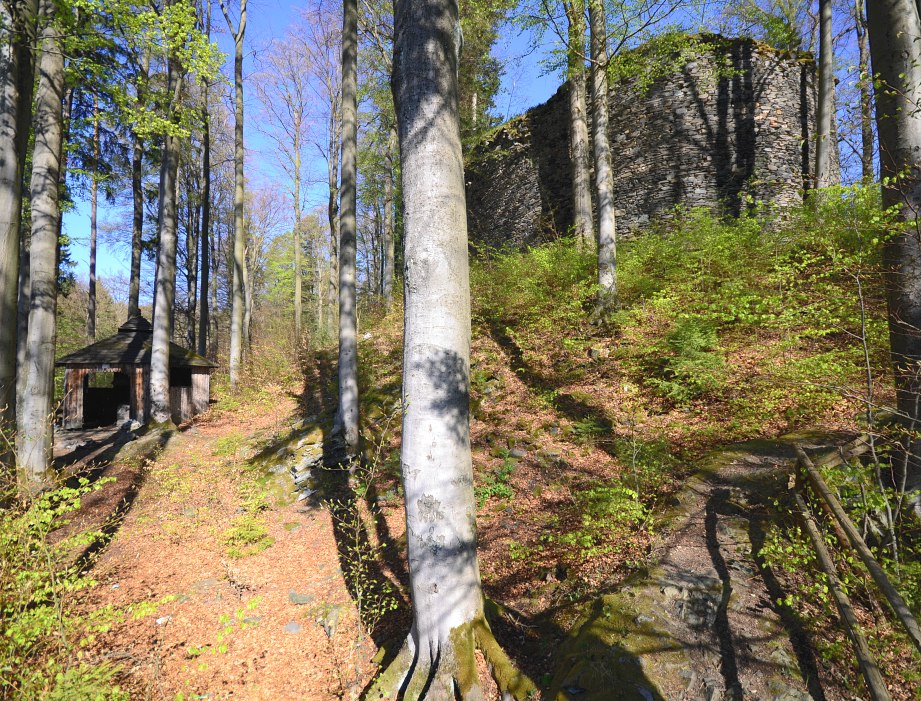 HISTORICAL NAMES OF THE CASTLE
Śnielin ?, Śnielinek ?
Snellinsteyn (1360), Snellenstein (1393), Snellinstein (1404), Schnellinstein (1408)
Snallstein (1411), Snallsteyn (1415), Schnellenstein (1416), Snallenstein (1417)
Snalstein (1421), Schnalenstein (1428), Zamek Wacława (1947), Szczerba (1950)
AT THE FOOT OF THE CASTLE
T
he Von Glaub­itz fam­i­ly (Nick­las d. 1411, Bern­hardt d. 1428) pre­sum­ably owned the cas­tle un­til the third decade of the 15th cen­tu­ry, al­though it may have been leased for a time by rep­re­sen­ta­tives of the En­gel­hardt von Schnel­len­stein fam­i­ly. The strong­hold was prob­a­bly de­stroyed in Oc­to­ber 1428 by Hus­site troops. From 1433 comes a note about Ber­nard, lord of Szczer­ba (im­plied to be Bern­hardt von Glaub­itz, starost of Kłodz­ko), who was pre­sum­ably dead by then.
WOODCUT PRINTING ACCORDING TO T. BLATTERBAUER, F. SCHROLLER "SCHLESIEN" 1885
F
rom then on, the cas­tle no longer served an ad­min­is­tra­tive func­tion, al­though it could still be used as a res­i­dence and for­ti­fi­ca­tion. Af­ter 1428, it be­longed for some time to the vil­lage ad­min­is­tra­tors of near­by Gnie­wo­szów, and from 1491 it was owned by a cer­tain Paul Pre­bir. In 1538, the sur­round­ing lands were leased to the von Tschirn­haus fam­i­ly, and lat­er be­came a he­red­i­tary prop­er­ty of the Counts von Al­thann of Mię­dzy­le­sie. By this time the cas­tle was al­ready a ru­in, par­tial­ly de­mol­ished in the 16th cen­tu­ry in or­der to build a church in Gnie­wo­szów
. The work of de­struc­tion was com­plet­ed by the von Al­thanns, who in 1769-70 de­mol­ished most of the cas­tle walls and used the stone they ob­tained to erect a brew­ery in the near­by vil­lage of Ró­żan­ka.
IN SPRING-SUMMER SEASON, THE RUIN IS HIDDEN BEHIND THE PLANTS, A PICTURE TAKEN IN EARLY SPRING
I
n 1784, Szczer­ba was pur­chased by Mi­cha­el Ray­mund baron Still­fried und Rat­tonitz of No­wa Ru­da (d. 1796). Lat­er it be­longed to Count An­ton Alex­an­der von Mag­nis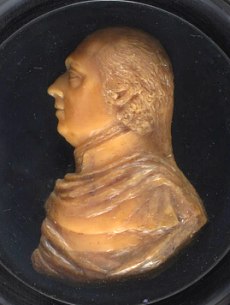 of Boż­ków (d. 1817), and from 1838 - to Prin­cess of Or­ange-Nas­sau Wil­hel­mi­ne Lou­ise Char­lot­te Mar­i­anne
(d. 1883) and her de­scen­dants (un­til 1945). In 1986-96, ar­chae­o­log­i­cal re­search was car­ried out at the cas­tle, which re­sult­ed in au­then­ti­ca­tion of the ex­act out­line of the walls and a more pre­cise de­ter­mi­na­tion of the func­tion­al stages. Dur­ing this work, many valu­able ar­ti­facts were dis­cov­ered, among them sev­er­al hun­dred frag­ments of me­dieval ar­mor and buck­les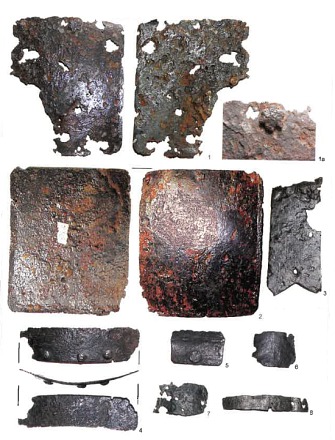 - the largest con­cen­tra­tion of them near the cas­tle gate sug­gests that they may have be­longed to par­tic­i­pants of the 1428 bat­tle.
FRAGMENT OF THE NORTHERN WALL WITH A WICKET GATE ON OLD GERMAN POSTCARDS
SZCZERBA CASTLE TODAY: (ON THE RIGHT) FRAGMENT OF THE SOUTHERN CURTAIN,
(ON THE LEFT) STAIRS LEADING TO THE GATE IN NORTHERN PART OF THE CASTLE
DESCRIPTION OF THE CASTLE
T
he cas­tle was erect­ed on a rocky hill, sep­a­rat­ed from the north by the bed of the Głow­nia riv­er, and from the south by its trib­u­tary, a stream named Go­ło­dow­nik. It was built of stone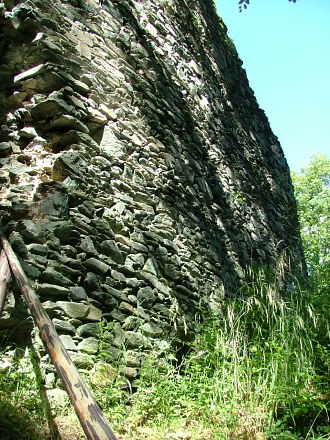 , on an ir­reg­u­lar plan close to an oval, trun­cat­ed on the west side. Its for­ti­fi­ca­tions con­sist­ed of de­fen­sive walls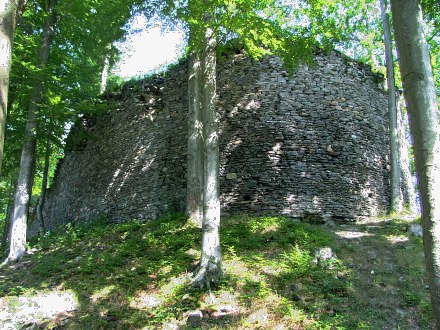 about 100 me­ters long and more than 1.5 me­ters thick, which marked an in­ner court­yard mea­sur­ing 40x10-18 me­ters.
CASTLE PLAN ACCORDING TO C. FRANCKE: 1. COURTYARD, 2. RESIDENTIAL BUILDING, 3. OVEN, 4. MAIN GATE, 5. WICKET GATE
T
he res­i­den­tial part, erect­ed on a rough­ly rect­an­gu­lar plan with sides of 9.5x19 me­ters, in­clud­ed a two-sto­ry build­ing con­tain­ing one or two small rooms in the ground floor and a larg­er (prob­a­bly rep­re­sen­ta­tive) hall equipped with a hy­po­caust-type stove. Out­build­ings, such as sta­bles, crew quar­ters and a kitchen, were prob­a­bly lo­cat­ed in south­ern part of the cas­tle court­yard. The ex­is­tence of a free-stand­ing tow­er here, men­tioned in some stud­ies as an in­te­gral part of the cas­tle, but traces of which have not been found so far, is still an open ques­tion. The en­trance to the court­yard led from the west through a wide gate lo­cat­ed next to the res­i­den­tial build­ing. A deep, rock-cut dry moat sur­round­ed the cas­tle from the south, south­west and west.
WESTERN PART OF THE COURTYARD, ON THE RIGHT YOU CAN SEE RUINS OF RESIDENTIAL BUILDING
---
T
he stronghold is now a well-de­fined ru­in with most­ly pre­served stone de­fense wall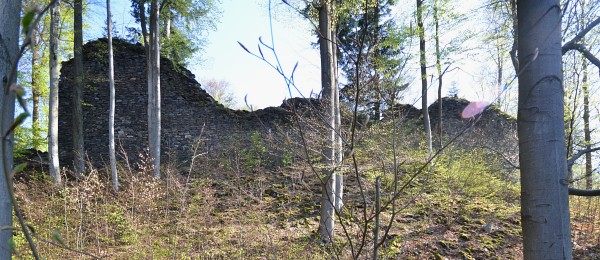 , which reach­es a height of 9 me­ters. In the court­yard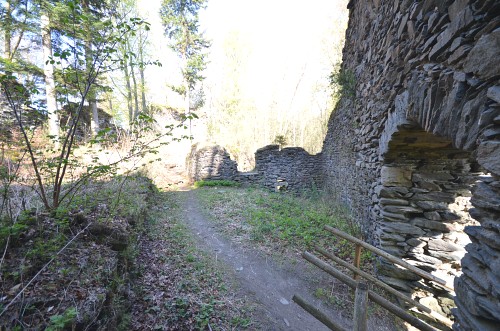 , frag­ments of cel­lars and the low­er floors of the res­i­den­tial build­ing with relics of vaults can al­so be seen. The cas­tle is sur­round­ed by a walk­ing path that runs in the for­mer dry moat
.
| | |
| --- | --- |
| | Admission free |
| | |
| --- | --- |
| | There is not too strenuous path leading to the ruins, just right even for small dogs. The castle is located in the forest, so the dog should be kept on a leash. |
| | |
| --- | --- |
| | Large number of branches. Photographing from the sky makes sense only when the trees are devoid of leaves. |
THE WALL IN EASTERN PART OF THE CASTLE
---
P
ic­turesque, though hid­den in a for­est thick­et, ru­in is lo­cat­ed in the south­east­ern part of the By­strzy­ck­ie Moun­tains, on the left side of road 389 lead­ing from Mię­dzy­le­sie to Gnie­wo­szów and on to Dusz­ni­ki Zdrój. You can get here di­rect­ly on­ly by pri­vate trans­port. Those trav­el­ing by train should get off at the Do­masz­ków sta­tion and then walk 4 kilo­me­ters along the land­scaped, though steep road.
| | |
| --- | --- |
| | A small parking lot by the road. |
| | |
| --- | --- |
| | You can reach the castle by bicycle (steep climb from the di­rec­tion of Mię­dzy­le­sie). |
---
1. L. Kajzer, J. Salm, S. Kołodziejski: Leksykon zamków w Polsce, Arkady 2001
2. J. Lamparska: Zamkowe tajemnice, Asia-Press 2009
3. M. Lech: Średniowieczna zbroja z zamku Szczerba, Acta Militaria Mediaevalia IV 2008
4. R. Łuczyński: Chronologia dziejów Dolnego Śląska, Atut 2006
5. A. Wagner: Murowane budowle obronne w Polsce X-XVIIw., Bellona 2019

Castles nearby:
Międzylesie - castle and palace complex from the 14th-18th century, 10 km
Bystrzyca Kłodzka - residential tower from the 14th century, 16 km
Gorzanów - Renaissance castle from the 16th-17th century, 24 km
Żelazno - residential tower from the 15th-16th century, 24 km
Stara Łomnica - residential tower from the 14th-16th century, 26 km

text: 2007, 2020
photographs: 2007, 2019
© Jacek Bednarek