MIĘDZYLESIE

the castle and palace complex
MIĘDZYLESIE, VIEW FROM THE WEST ON THE GOTHIC CASTLE AND FRAGMENT OF THE BAROQUE PALACE
---
T
he old­est known for­ti­fied set­tle­ment in Me­di­le­se was prob­a­bly es­tab­lished in the sec­ond half of the 9th cen­tu­ry. Ini­tial­ly, it was a wood­en build­ing, which was re­placed by a brick cas­tle in the first half of the 14th cen­tu­ry. This prob­a­bly took place af­ter the lo­cal prop­er­ties was bought out from the Cis­ter­cians by rep­re­sen­ta­tives of knight­ly fam­i­ly von Glaub­itz (Glu­bosz) who came from Lu­sa­tia. Trans­ac­tion of pur­chas­ing these lands was re­al­ized be­tween 1315 and 1318, and its con­se­quence was to trans­form the town in­to cen­ter of an large es­tate, which in­clud­ed, among oth­ers, bor­der strongholds of Szczer­ba
and Kar­pień. In this case, how­ev­er, it is not ap­pro­pri­ate to un­equiv­o­cal­ly iden­ti­fy the found­ing of the cas­tle with ac­tiv­i­ties of the von Glaub­itz fam­i­ly. It may have been built by new own­er af­ter 1318, or per­haps on­ly af­ter his death, by King Jo­hann von Lux­em­burg
(d. 1346). His­to­ri­ans have dif­fer­ent view­points on this is­sue. How­ev­er, it is cer­tain that the pres­ence of sol­id stronghold in this place strength­ened the Si­le­sian-Czech bor­der, and thanks to the trade route from Wro­cław to Prague, which was run­ning at the junc­tion of By­strzyc­kie Moun­tains and Śnież­nik Mas­sif, it pro­vid­ed sig­nif­i­cant in­come for its ad­min­is­tra­tors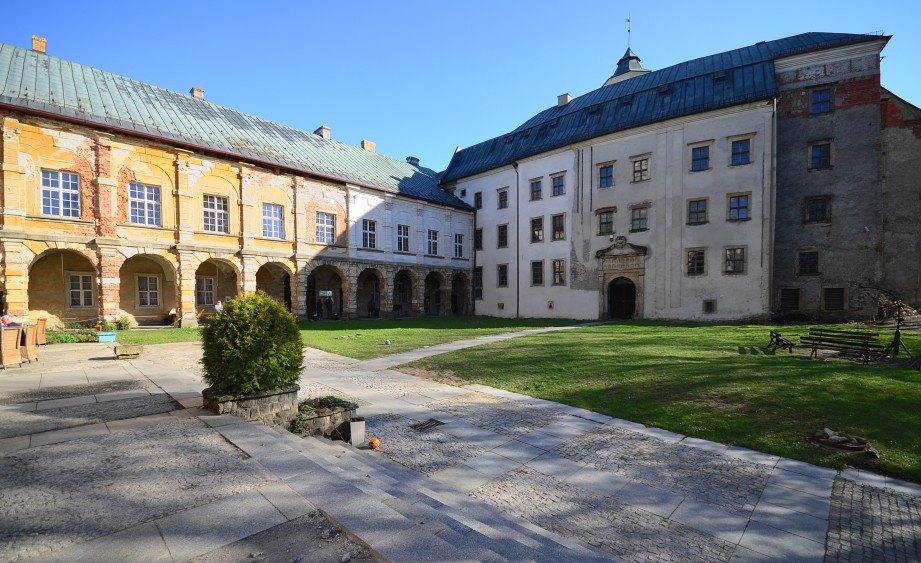 CASTLE SEEN FROM THE PARADE COURTYARD: BAROQUE EASTERN WING IS ON THE LEFT, THE RENAISSANCE PART IS ON THE RIGHT
According to tradition, the name of vil­la­ge is sup­po­sed to co­me from the gre­at fo­rests that co­ve­red the­se lands cen­tur­ies ago - hen­ce the me­die­val Sla­vic term Me­di­le­se. In 1294 its Ger­man form Mit­tel­wal­de ap­pe­ared, which evol­ved over ti­me and la­ter the town was cal­led Mit­til­wald in Ger­man or Me­zi­le­se, Me­ze­les­sie in Czech lan­gu­age. Over the fol­low­ing years it was cal­led Mitr­vel­de, Mit­wald, Mit­tel­waldt, or fi­nal­ly again Mit­tel­wal­de, which was the of­fi­cial na­me of the town un­til the end of World War II. After the new or­der was estab­li­shed in 1945, the li­te­ral trans­la­tion has been ap­pro­ved and thus Mię­dzy­le­sie ap­pea­red on the map of Po­land.

LITHOGRAPHY BASED ON THE DRAWING BY FRIEDRICH BERNARD WERNHER, 1739
M
iędzyle­sie stayed in the hands of the Glu­bosz fam­i­ly un­til about the mid­dle of 15th cen­tu­ry. In 1381, Ot­to von Glaub­itz is men­tioned in doc­u­ments as the own­er of es­tate, and in 1403 Ot­to, called Schram­me. In 1420 from here, the merged units of Prince Jan Ża­gań­ski, Hen­rik IX Gło­gow­ski and Hen­rik X at­tacked Czech Li­ti­ce and Potš­tejn. In re­venge, the Hus­sites burned down the town and the cas­tle, from which on­ly a tow­er sur­vived, al­though there is no cer­tain­ty to­day whether the his­tor­i­cal no­ta­tion refers to the Black Tow­er (stil exist­ing), or per­haps to an­oth­er. The re­built cas­tle be­came the prop­er­ty of Czech kings again and in 1472 it was giv­en to Bal­tha­sar von Tschis­chwitz from Wil­ka­nów as a fief­dom, and af­ter his death in 1479 it was hand­ed o­ver to the roy­al stew­ard Georg von Bi­schof­scheim called La­tusch­ka. From 1493 the es­tate has been man­aging by Jan Bar­to­szow­sky from La­bin, fol­lowed by Jo­hann von Žam­pach from Potš­tejn and his sons Jo­hann and Wen­zel, who in 1538 leased the cas­tle and sur­round­ing prop­er­ty to their broth­er-in-law, Jo­hann von Tschirn­haus from Bol­ków. The new host, de­spite its poor rep­u­ta­tion, has proved to be a good or­ga­niz­er, ef­fec­tive­ly at­tract­ing peo­ple to the col­o­niza­tion ac­tion. He was cer­tain­ly helped by a great fire, which in 1540 left so much emp­ty land that sev­er­al new vil­lages could be built on it.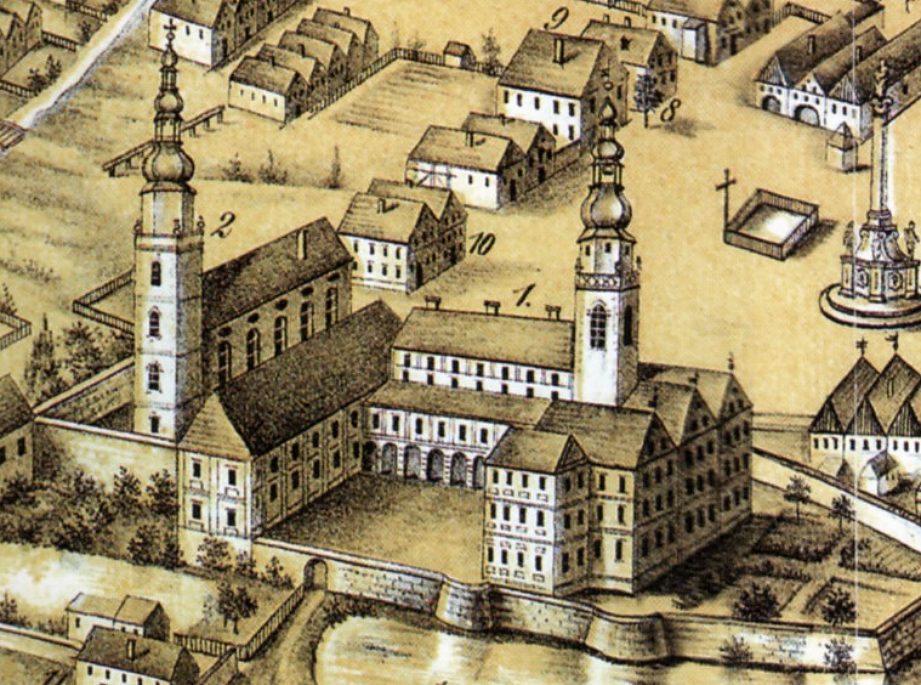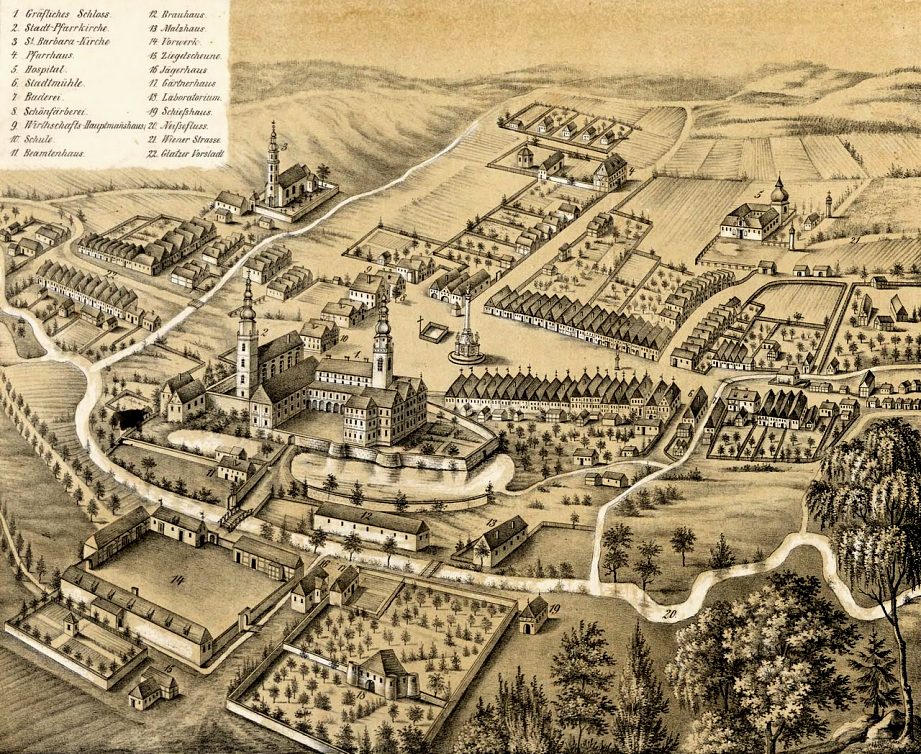 BEAUTIFUL PANORAMA OF THE TOWN WITH THE CASTLE FROM THE MIDDLE OF 18TH CENTURY, FIG. BY FRIEDRICH BERNARD WERNHER
T
he de­scen­dants of Jo­hann, broth­ers David (d. 1600) and Mi­cha­el (d. 1607) von Tschirn­haus bought the town and sur­round­ing land from the Žam­pach fam­i­ly in 1564, which al­lowed them to cre­ate an­oth­er large es­tate in Low­er Si­le­sia. The reign of this fam­i­ly line in Mię­dzy­le­sie re­sult­ed in re­nais­sance re­con­struc­tion of the cas­tle, as a con­se­quence of which the raw Goth­ic build­ing was giv­en the form of a polyg­o­nal lay­out with a small in­ter­nal court­yard. Af­ter broth­ers' death, the es­tate was giv­en to one of Mi­cha­el's three sons, David Hein­rich von Tschirn­haus (d. 1642), sta­rost of Kłodz­ko. When the Thir­ty Years' War broke out, he got in­volved in a po­lit­i­cal strug­gle, sup­port­ing the an­ti-Hab­s­burg re­bel­lion and opt­ing for the new­ly elect­ed King of Bo­he­mia, Frie­drich Wit­tel­sbach
, al­so known as the Win­ter King. This re­bel­lion was sup­pressed by the Aus­tri­ans on­ly a year af­ter. For the starost, such a sit­u­a­tion meant not on­ly the loss of his of­fice, but al­so the need to es­cape the Hab­s­burgs' re­venge and con­fis­cate all his prop­er­ties. The es­tate, na­tion­al­ized by Em­per­or's au­thor­i­ties, was pur­chased for 60,000 thalers by Philipp Ru­dolph Count von Liech­ten­stein, who short­ly af­ter­wards sold it to three sis­ters of David Hein­rich, one of whom, Ba­ro­ness He­le­na von Raed­ern, lived here un­til 1653. In the same year, Mi­cha­el Fer­di­nand Count von Al­thann (d. 1668), who came from Czech town Krá­li­ky, pur­chased the prop­er­ty to­geth­er with vil­lages Roz­to­ka and Wil­ka­nów for 50,000 gul­dens. Soon he start­ed to re­build the town af­ter dam­age done dur­ing the wars with Swe­den. He al­so ren­o­vat­ed the cas­tle and erect­ed two wings of ba­roque palace. From then on, un­til 1945, the res­i­dence was con­tin­u­ous­ly owned by von Al­thann no­ble fam­i­ly.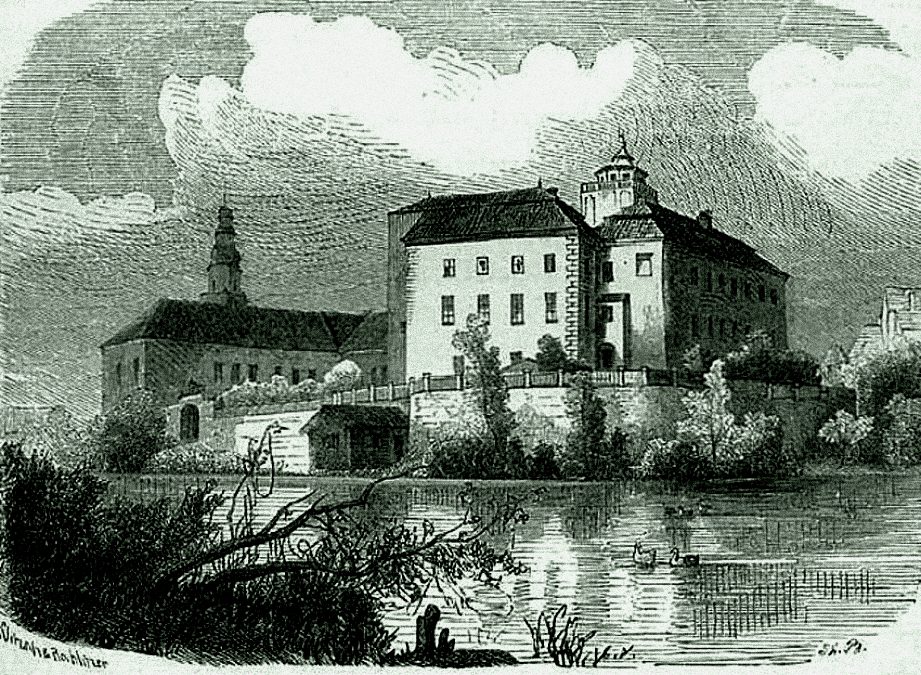 FRANZ SCHROLLER: SCHLESIEN T.1, GLOGAU CARL FLEMMING, 1885
VIEW OF THE CASTLE FROM THE SOUTH ON A POSTCARD FROM THE TURN OF 19TH AND 20TH CENTURY
The Counts von Althann be­lon­ged to a knight­ly fa­mi­ly of Hun­gar­ian or south­ern Mo­ra­vian ori­gin. The Hun­gar­ian op­tion con­si­ders three co­me­ses li­ving at the turn of the 9th and 10th cen­tu­ry: Man­gold, Win­ter­stett and Thann, as the found­ers of fa­mi­ly. The last of the­se, Thann, as le­gend says, du­ring one of his ex­pe­di­tions to the Ho­ly Land, com­mit­ted ma­ny cou­ra­ge­ous deeds, for which he was to be dis­tin­gui­shed with the­se words: You are old (alt) Thann ve­ry bra­ve. This is how the na­me Alt­hann was cre­ated. The li­ne was con­ti­nu­ed by He­so, who re­cei­ved the tit­le of Count in 954. The first prin­ce­ly tit­le was awar­ded to Dyt­mar in ex­chan­ge for "me­rit" on the bat­tle­field du­ring the third cru­sa­de (1189-92). On Alt­hann fa­mi­ly tree we can find tra­ces of his­to­ry of Si­le­sia, Czech, Mo­ra­via, Hun­ga­ry, Aus­tria, Ita­ly, Fran­ce and even Spain. Re­pre­sen­ta­ti­ves of this fa­mi­ly set­tled in Mię­dzy­le­sie in 1653 and li­ved he­re un­til spring 1945.

Michael Ferdinand I (1653-1668)
Michael Franz Ferdinand (1668-1679)
Michael Wenzel I (1679-1686), ambassador of Austria, commander of the Kłodzko fortress
Michael Wenzel II (1686-1738), member of the imperial council for finance
Michael Emmanuel (1738-1749)
Michael Otto (1749-1797)
Michael Karl (1797-1805), imperial royal chamberlain
Michael Wenzel III (1805-1810)
Michael Johann Nepomuck (1810-1815)
Michael Franz Anton (1815-1817), chief steward of the Austrian empress's court
Michael Maximilian Franz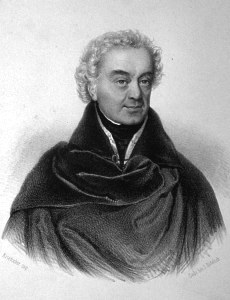 (1817-1834)
Michael Joseph (1834-1861), grand of Spain
Michael Karl (1861-1881)
Michael Robert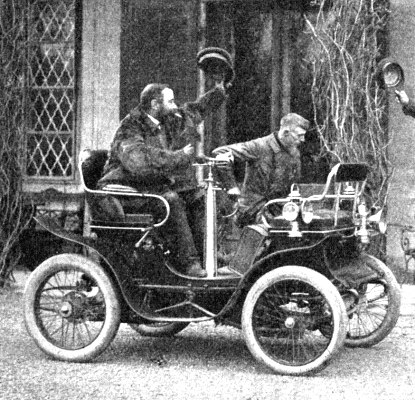 (1881-1919), imperial royal chamberlain
dr Michael Karl (until 1945)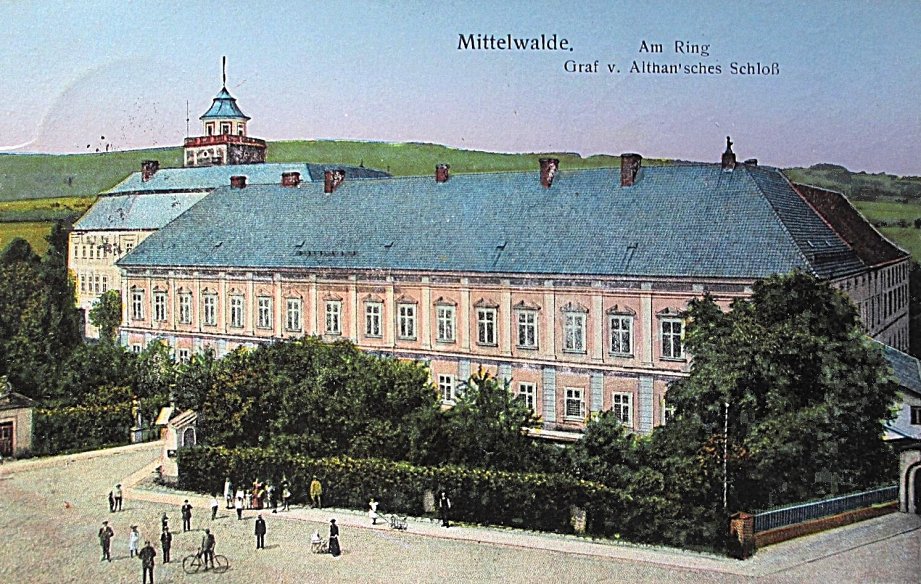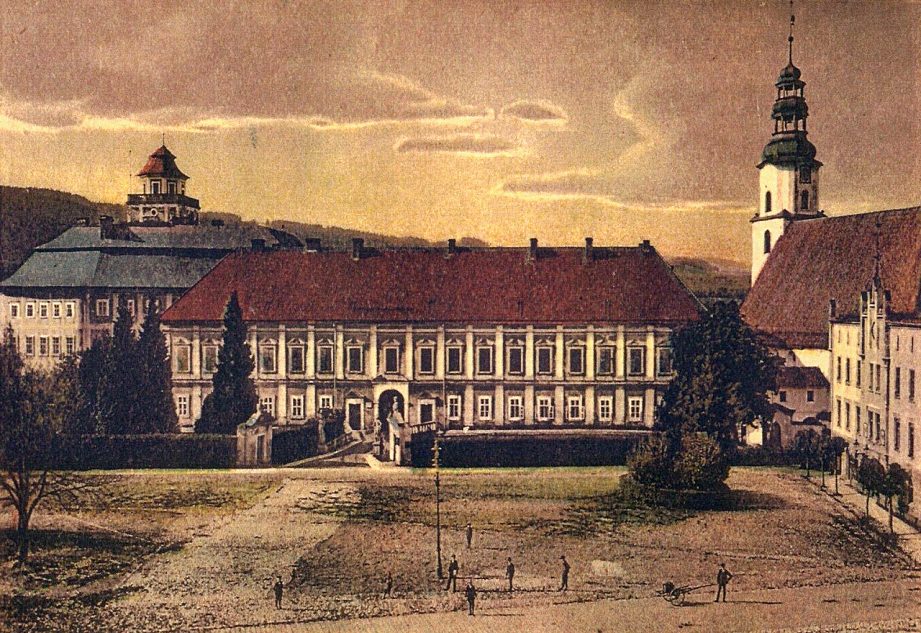 COLOURED POSTCARDS FROM THE BEGINNING OF XX CENTURY: IN THE FOREGROUND WE CAN SEE THE BAROQUE PART OF THE CASTLE WITH MAIN ENTRANCE
One of the owners of the castle, Mi­cha­el Wen­zel II, foun­ded in the first half of 18th cen­tu­ry an im­pres­si­ve church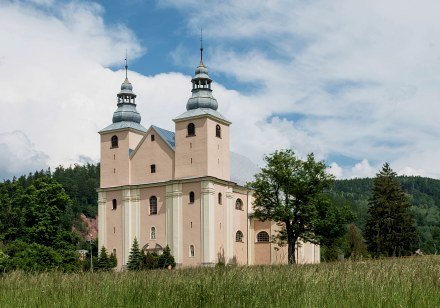 in No­wa Wieś (Neu­dorf). Ye­ars ago, the church was known for the fa­ce veil that Ma­rie An­toi­net­te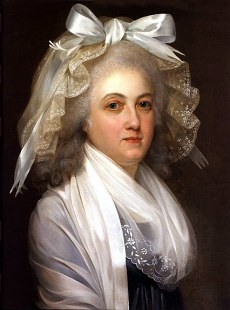 was to gi­ve to her con­fes­sor l'Or­me on Octo­ber 16, 1793, just be­fo­re her tra­gic de­ath on the scaf­fold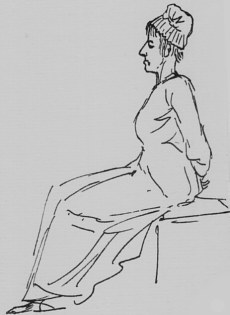 . The veil was ma­de of Bra­bant la­ce and was over 3 me­ters long. Whe­re did this ori­gi­nal prop co­me from to Lo­wer Si­le­sia? Well, the con­fes­sor of the Queen of Fran­ce emi­gra­ted to Eng­land so­me ti­me after her de­ath, whe­re he be­que­athed veil to the Au­gu­sti­nian ab­bot from Wroc­ław. After the ab­bot's death and or­der's se­cu­la­ri­za­tion, a sou­ve­nir was sold to a cer­tain Sey­del for 37 tha­lers. La­ter, in un­known cir­cum­stan­ces, the he­ad­ge­ar was pla­ced in Krzyd­li­na ne­ar Wo­łów, who­se pa­rish priest was friends with the pa­rish priest of Roz­to­ka, so he ga­ve it to him as a gift. The re­ci­pient han­ded over the veil to No­wa Wieś, whe­re it was hang­ing un­til 1958, when se­ve­ral ci­ti­zens of the Ger­man De­mo­cra­tic Re­pub­lic be­ca­me in­te­re­sted in it. The Ger­mans pro­bab­ly sto­le it sec­ret­ly or bought it back from a loc­al priest, be­cau­se the­re are ru­mors that to­day this his­to­ri­cal pie­ce of clo­thing is sto­red in Tel­­gte ne­ar Mun­ster.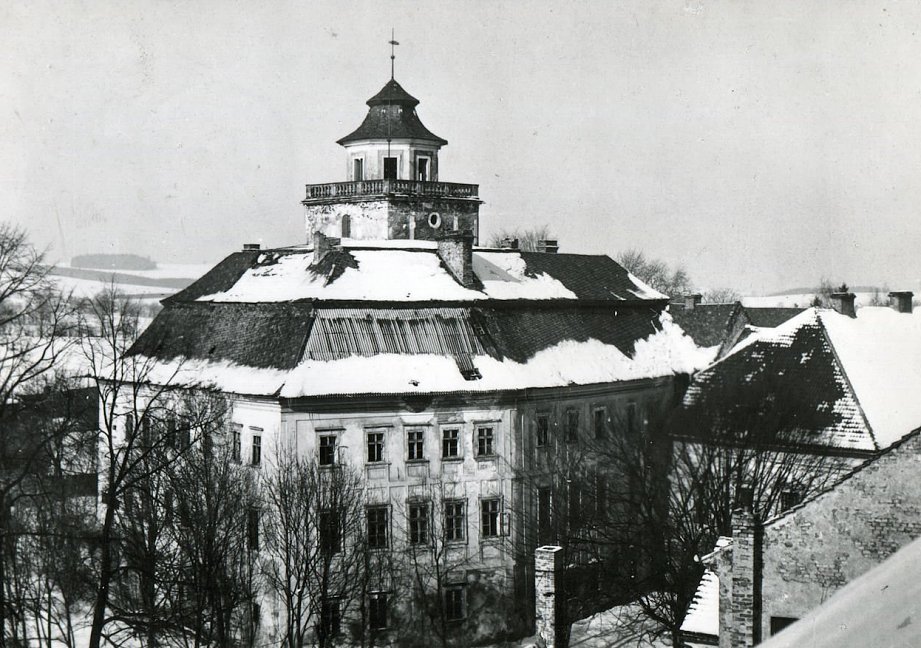 RENAISSANCE CASTLE WITH THE BLACK TOWER, PHOTO FROM THE 60S
RUIN AS A CONSEQUENCE OF THE FIRE OF 1972, VIEW FROM THE PARADE COURTYARD
I
n al­most un­changed con­di­tion the cas­tle sur­vived un­til the end of World War II. The So­vi­et army of­fen­sive in the spring of 1945 didn't cause much dam­age here, and the Ger­man own­ers left a large part of equip­ment of the palace: fur­ni­ture, car­pets, paint­ings and books. These and oth­er ob­jects, if they were of any ma­te­ri­al val­ue, were quick­ly stolen not on­ly by the lo­cal and in­com­ing pop­u­la­tion, but al­so by var­i­ous in­sti­tu­tions and of­fices. In 1950, the build­ing was tak­en o­ver by the Pol­ish state and af­ter a small ren­o­va­tion, it was adapt­ed as a recre­ation cen­ter for chil­dren; for some time it al­so housed a kinder­garten. When in 1972 the Re­nais­sance part of the cas­tle was burned down from the light­ning, the whole build­ing was closed down. Soon, ex­ten­sive ren­o­va­tion works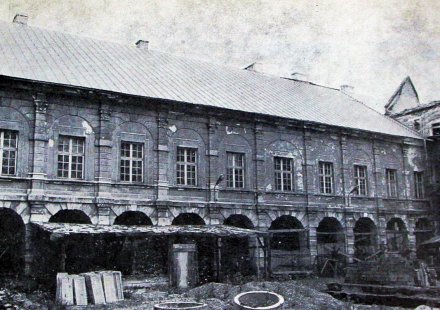 were start­ed, as a re­sult of which, in ad­di­tion to ren­o­vat­ing the dam­aged rooms, some of the roofs were re­placed and one of the wings was adapt­ed as a ho­tel. The in­vest­ment was car­ried out us­ing the funds of the Wro­cław Mon­u­ment Con­ser­va­tion Work­shop en­ter­prise, then ad­min­is­tra­tor of the cas­tle and palace com­plex. As ear­ly as in the 1970s the build­ing was ad­min­is­tered by the So­cial Ac­tiv­i­ty De­part­ment of the Min­istry of Cul­ture and Art, in the next decade it sub­or­di­nat­ed to the Ka­to­wi­ce Heat and Pow­er Plant, and in 1992 be­came the prop­er­ty of Że­glu­ga Mor­ska S.A. from Szcze­cin. At that time, at­tempts were made to adapt it for recre­ation and hol­i­day pur­pos­es, but the scale of nec­es­sary ex­pens­es ex­ceed­ed the ca­pa­bil­i­ties of the then own­ers, and the cas­tle, left with­out prop­er con­ser­va­tion care, has been slow­ly de­te­ri­o­rat­ing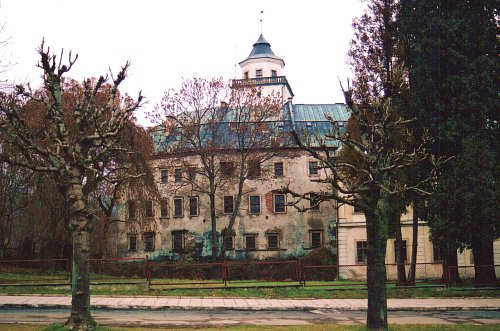 . In 2008 two pri­vate in­vestors pur­chased the his­toric build­ing, ren­o­vat­ed the baroque palace and then placed the ho­tel with a restau­rant in it. Since then, a ren­o­va­tion of Re­nais­sance part of the cas­tle is be­ing car­ried out un­hur­ried­ly.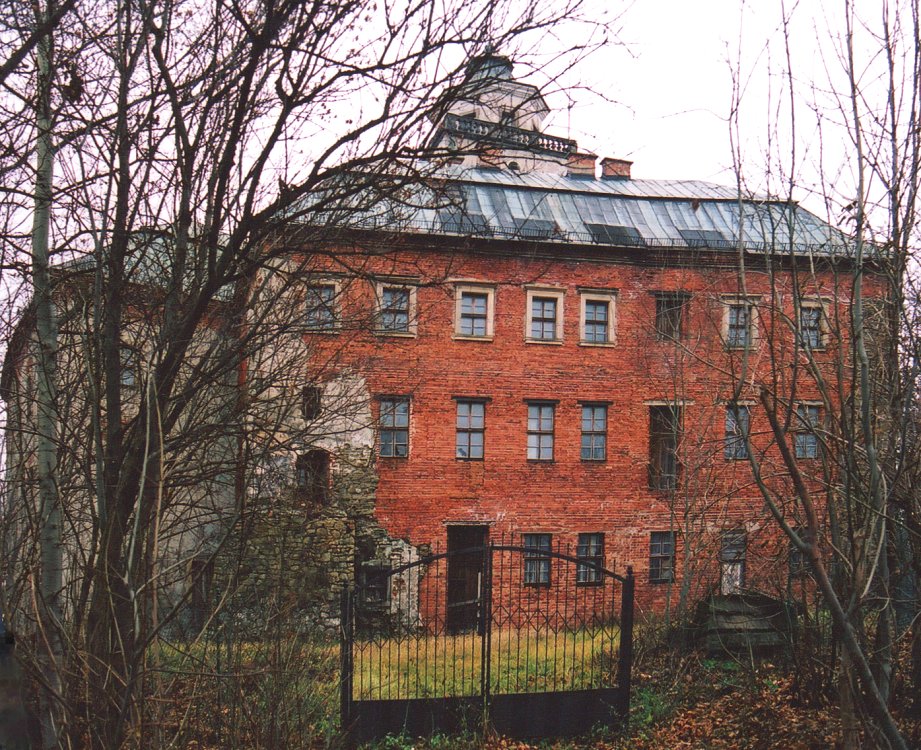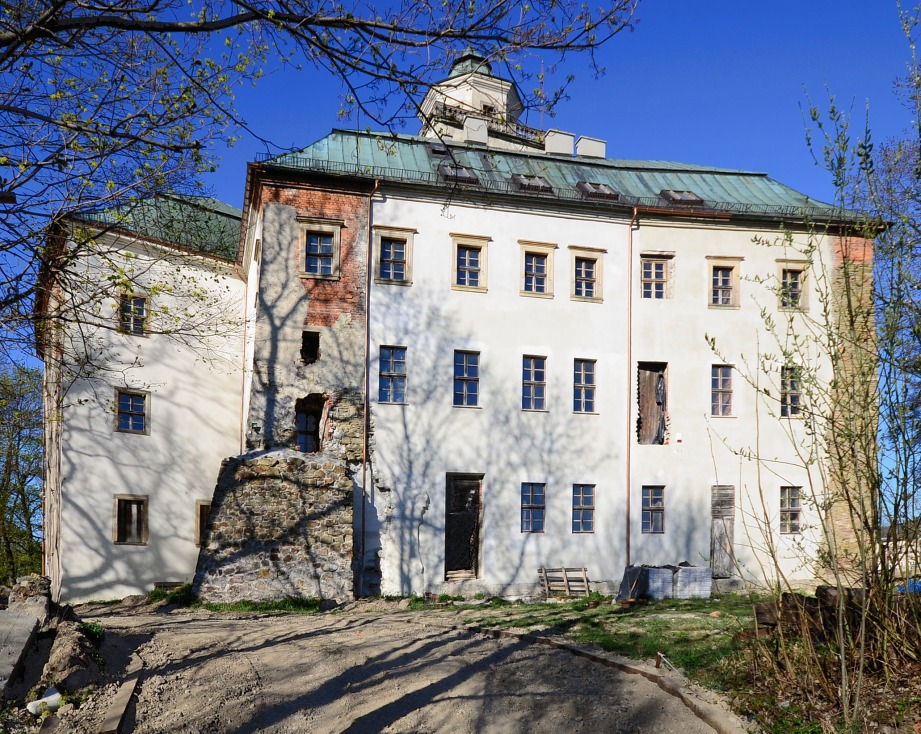 FACADE OF THE SOUTHERN WING IN 2002 AND DURING RENOVATION IN 2019
DESCRIPTION OF THE CASTLE
T
he de­tailed lay­out of me­dieval cas­tle is un­known. It was prob­a­bly an ir­reg­u­lar or quadri­lat­er­al, with a pris­mat­ic tow­er placed in the cor­ner of the walls or a free-stand­ing one, and a two-storey house (11x16 me­ters) with a base­ment cov­ered with ogi­val vaults. The Re­nais­sance seat was formed in­to a poly­gon with an in­ner court­yard. The Black Tow­er (to­day plas­tered in white) was erect­ed prob­a­bly in the years 1527-34, al­though some re­searchers es­ti­mate the pe­ri­od of its erec­tion to be mid-15th cen­tu­ry. Lat­er the tow­er was topped with a ter­race and cov­ered with a bro­ken con­i­cal roof. The main, three-storey res­i­den­tial wing has been dec­o­rat­ed with or­na­ments made of ge­o­met­ric sgraf­fi­to. The door, win­dow frames and por­tals are made of sand­stone. Par­tic­u­lar­ly note­wor­thy here is the main por­tal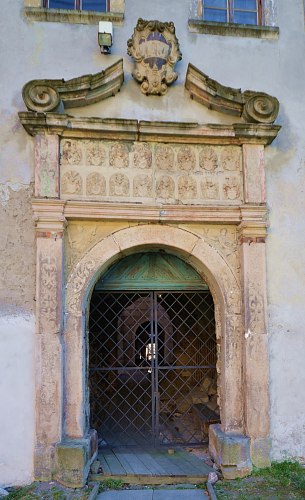 at the en­trance from the pa­rade court­yard, dec­o­rat­ed with coats of arms and two re­liefs per­son­i­fy­ing Faith and Jus­tice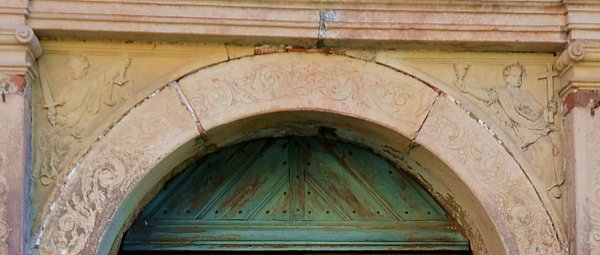 . The Re­nais­sance cas­tle was sur­round­ed by an ex­ter­nal wall con­tain­ing bas­tions adapt­ed to the use the fire­arms.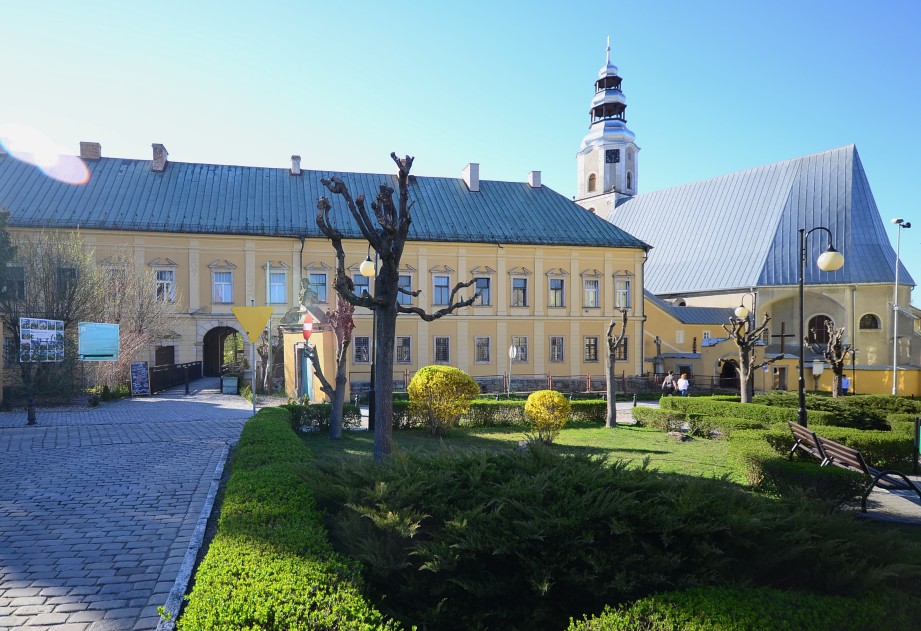 VIEW FROM THE MARKET SQUARE TO THE BAROQUE PALACE, THE CHURCH OF CORPUS CHRISTI IS ON THE RIGHT
T
he neigh­bor­ing palace was built in Baroque style af­ter 1695 ac­cord­ing to the plans pre­pared by renowned Ital­ian ar­chi­tect Ja­ko­bo Ca­ro­ve. It was com­posed of two large, per­pen­dic­u­lar­ly po­si­tioned wings: the north­ern one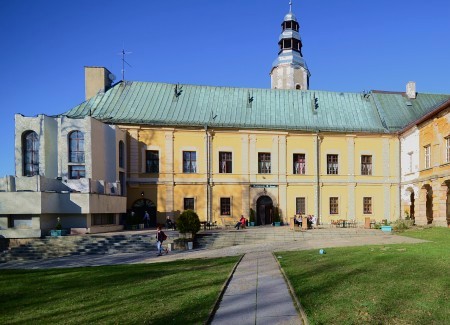 , built in place of the for­mer gate tow­er, and the east­ern one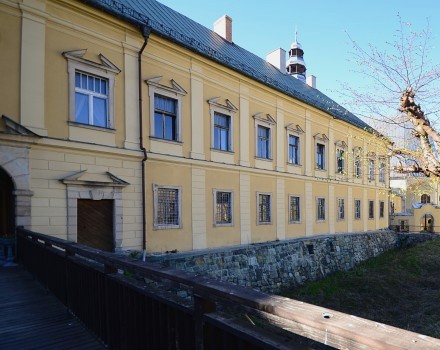 , with a rep­re­sen­ta­tive en­trance gate. The whole, to­geth­er with the Re­nais­sance cas­tle, de­ter­mined the bor­der of pa­rade court­yard, closed from the west by a cur­tain wall. The east­ern wing is par­tic­u­lar­ly in­ter­est­ing, equip­ped from the court­yard side with an ar­cade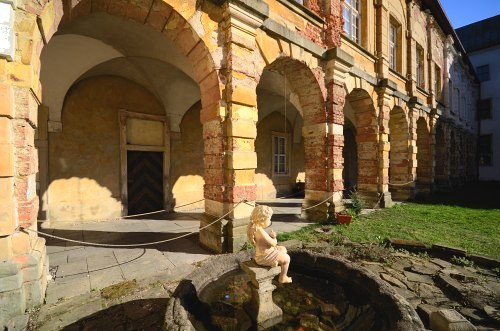 , and from the town side ac­cent­ed with sym­met­ri­cal­ly placed pi­lasters. The en­trance to the cas­tle led from the Mar­ket Square through two di­ag­o­nal­ly placed gates, a stone bridge o­ver a dry moat and an en­trance gate with two por­tals. The gate­way is a three-aisle hall­way with a cross vault sup­port­ed on six pil­lars, above which there is a ball­room cov­ered with a mir­ror vault, equipped with tiled stove and baroque fire­place. This hall was the first in Sile­sia to be ac­cessed by the pa­rade stair­case with dec­o­ra­tive ba­lu­strade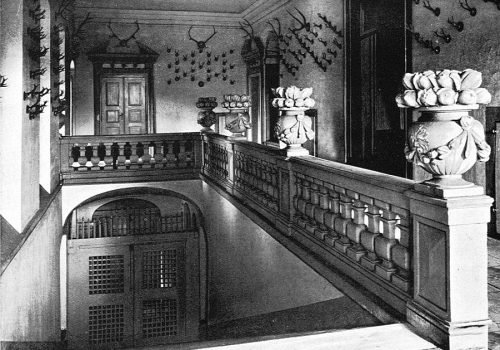 (Count Al­thann was sup­posed to ride it on a horse to im­press the par­tic­i­pants of the balls). In 1778, for the con­ve­nience of its in­hab­i­tants, the palace was con­nect­ed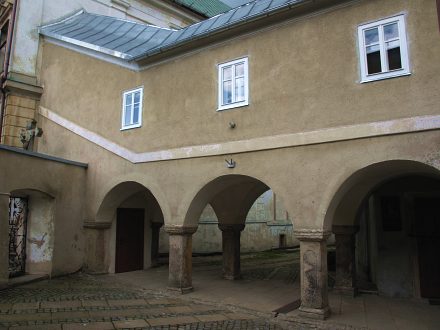 with the Cor­pus Christi church stand­ing near­by.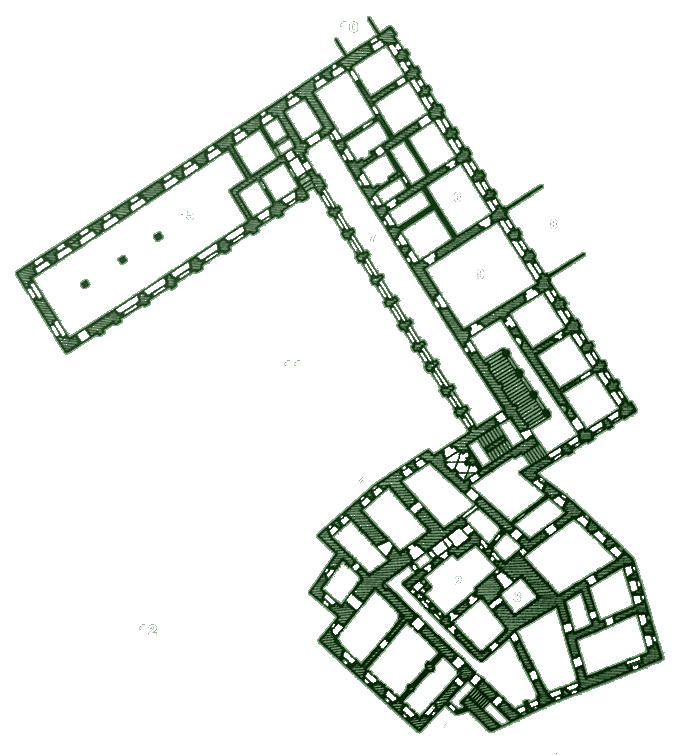 PLAN OF THE CASTLE AND PALACE COMPLEX: 1. GOTHIC-RENAISSANCE CASTLE, 2. INNER COURTYARD, 3. THE BLACK TOWER, 4. MAIN PORTAL LEADING TO THE CASTLE, 5. BAROQUE NORTHERN WING, 6. BAROQUE EASTERN WING, 7. ARCADES IN THE EASTERN PART, 8. THE BRIDGE, 9. GATEWAY, 10. INDOOR GALLERY LEADING TO THE CHURCH, 11. PARADE COURTYARD, 12. FORMER CASTLE GARDENS
FROM THE LEFT: RENAISSANCE CASTLE, TWO WINGS OF THE BAROQUE PALACE, CORPUS CHRISTI CHURCH, ORIGIN: ,www.zamekmiedzylesie.pl
---
A
fter the cas­tle was tak­en o­ver by pri­vate in­vestors, its re­vi­tal­iza­tion be­gan, the ef­fects of which can be ad­mired in the nice­ly ren­o­vat­ed fa­cades and dec­o­ra­tion of some of the rooms, most of which are used for ac­co­mo­da­tion pur­pos­es. It is planned that in the fu­ture the cas­tle and palace com­plex will be di­vid­ed in­to two zones: an in­te­grat­ing zone - with ho­tel, restau­rant, bar and dis­co (!?), and a pri­vate zone, lo­cat­ed in Re­nais­sance part, which in­cludes ho­tel rooms of high­er stan­dard. The own­ers al­so in­tend to build a swim­ming pool lo­cat­ed un­der the pa­rade court­yard, from where the ex­it will lead di­rect­ly to the cas­tle park. De­spite its com­mer­cial char­ac­ter, the cas­tle stays open to 'or­di­nary' tourists, of­fer­ing the pos­si­bil­i­ty of vis­it­ing se­lect­ed rooms and pro­vid­ing space to or­ga­nize lo­cal cul­tur­al and artis­tic events. When vis­it­ing it, one can­not miss the ear­ly Baroque Cor­pus Christi church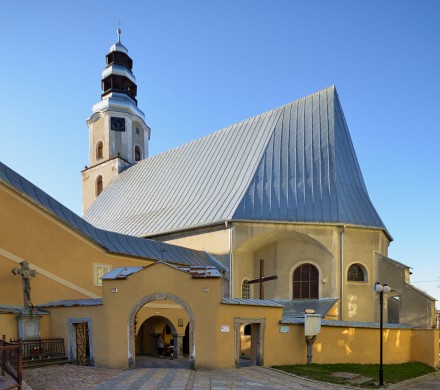 stand­ing at its north­ern wing, where pul­pit in the shape of boat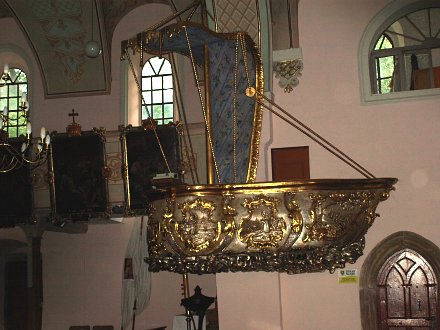 is pre­served. This un­usu­al el­e­ment of dec­o­ra­tion was craft­ed in 1760 and is or­na­ment­ed with re­liefs of four fig­ures from the Holy Bible: St. Christo­pher, St. Au­gus­tine, St. An­tho­ny preach­ing to the fish, and the prophet Jon­ah thrown in­to the sea.
| | |
| --- | --- |
| | Free entrance to the castle courtyard. To visit the interiors you need to buy a ticket. |
CASTLE IN 2019: VAULTED GATEWAY, BELOW WE SEE THE BAROQUE NORTH WING (RESTAURANT) AND THE RENAISSANCE CASTLE (HOTEL)
---
M
iędzylesie is the small town situated on the bor­der with Czech Re­pub­lic, ne­ar Wroc­ław-Pra­ga rail­ro­ad li­ne. You can get the­re by bus from Bys­trzy­ca Kłodz­ka and from Kłodz­ko. Rail­ro­ad com­mu­ni­ca­tion pro­vi­des a di­rect con­nect­ion to Wroc­ław. The cas­tle is lo­ca­ted in the ve­ry cen­ter of the town, in north-west­ern part of the Mar­ket Squa­re. (map of cas­tles in Lo­wer Si­le­sia)
| | |
| --- | --- |
| | The cas­tle is lo­ca­ted in the ve­ry cen­ter of the town, in north-west­ern part of the Mar­ket Squa­re. The car can be park­ed at the Mar­ket Squa­re (Plac Wol­no­ści), or pos­sib­ly a lit­tle fur­ther north - on a small park­ing lot ne­ar Koś­ciel­na Street. |
| | |
| --- | --- |
| | You can bring your bike into the castle courtyard. |
---
1. J. Adamiczka: Zamek pro publico bono, Zawód: Architekt, 6/2011
2. L. Kajzer, J. Salm, S. Kołodziejski: Leksykon zamków w Polsce, Arkady 2001
3. J. Lamparska: Dolny Śląsk jakiego nie znacie, Asia Press 2002
4. J. Lamparska: Sudety Środkowe po obu stronach granicy, Asia Press 2003
5. R. Łuczyński: Zamki, dwory i pałace w Sudetach, Stowarzyszenie WA 2008
6. M. Perzyński: Zamki, twierdze i pałace D. Śląska i Opolszczyzny, WDW 2006
7. A. Wagner: Murowane budowle obronne w Polsce X-XVIIw., Bellona 2019
EASTERN ELEVATIONS OF THE RENAISSANCE CASTLE (ON THE LEFT) AND THE BAROQUE PALACE SEEN FROM PLAC WOLNOŚCI
Castles nearby:
Gniewoszów - ruin of Szczerba castle from 14th century, 8 km
Bystrzyca Kłodzka - donjon from 14th century, currently non-Gothic, 18 km
Stara Łomnica - donjon from 14-16th century, 25 km
Żelazno - donjon from 15-16th century, 25 km
Gorzanów - castle from 16-17th century, 27 km
Ołdrzychowice Kłodzkie - donjon from 14th century, currently the mansion in ruins, 29 km

text: 2009, 2020
photographs: 2002, 2012, 2019
© Jacek Bednarek