UJAZD

the ruins of Krzyżtopór castle
RUINS OF KRZYŻTOPÓR CASTLE SEEN FROM THE WEST
---
W
hen we ad­mire the pic­turesque ru­ins of Krzyż­to­pór Cas­tle, it is hard to be­lieve that this mag­nif­i­cent build­ing, which was the largest res­i­dence in Eu­rope be­fore the cre­ation of Ver­sailles
, func­tioned in its full glo­ry for on­ly eleven years! It was the mag­num opus of the San­do­mierz cham­ber­lain and lat­er the voi­vode Krzy­sztof Os­so­liń­ski
, coat of arms To­pór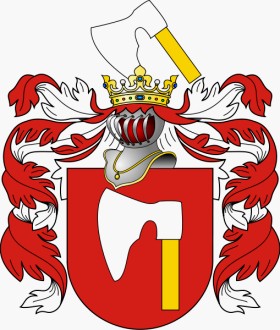 (d. 1645), who, af­ter gain­ing wealth from mil­i­tary de­liv­er­ies, built a res­i­dence more splen­did than any oth­er mag­nate palaces, in­clud­ing the cas­tle in Os­so­lin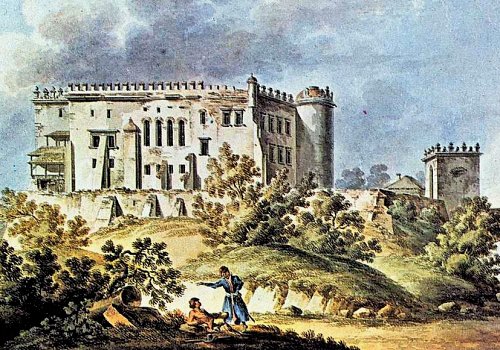 , which be­longed to his step­broth­er Je­rzy Os­so­liń­ski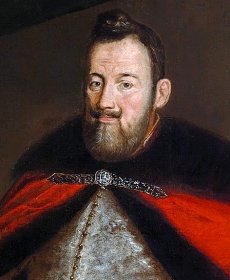 (d. 1650). The idea for this pro­ject came from the love of Ital­ian ar­chi­tec­ture, and its archetype is gen­er­al­ly con­sid­ered to be the Vil­la Far­nese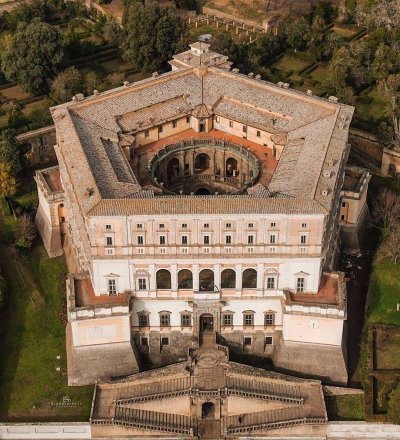 , the pen­tagon-shaped sum­mer res­i­dence of Car­di­nal Alle­san­dro Far­nese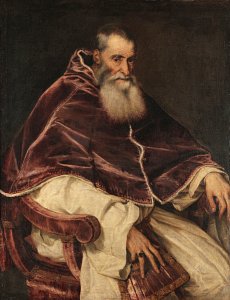 , lat­er Pope Paul III. Con­struc­tion work, whose to­tal cost is es­ti­mat­ed at a 30 mil­lion zlo­tys, be­gan in 1620 and con­tin­ued un­der the su­per­vi­sion of the ar­chi­tect Lau­retius de Sente un­til 1644. Ac­cord­ing to some his­to­ri­ans, de Sente was al­so re­spon­si­ble for the ar­chi­tec­tural de­sign of the palace, but the lack of oth­er sim­i­lar con­cepts in his bi­og­ra­phy leads to the con­clu­sion that he was en­trust­ed on­ly with the su­per­vi­so­ry work, while the au­thor of the con­cepts and plans was some­one else. It is pos­si­ble that the founder him­self was the cre­ator or at least co-de­sign­er of the pro­ject - Os­so­liń­ski had ap­pro­pri­ate ed­u­ca­tion and shown some lit­er­ary and artis­tic tal­ents. He may al­so have been as­sist­ed by Ital­ian ar­chi­tects Matea Cas­tel­lo of Me­li­de and Ago­stin Loc­ci the El­der.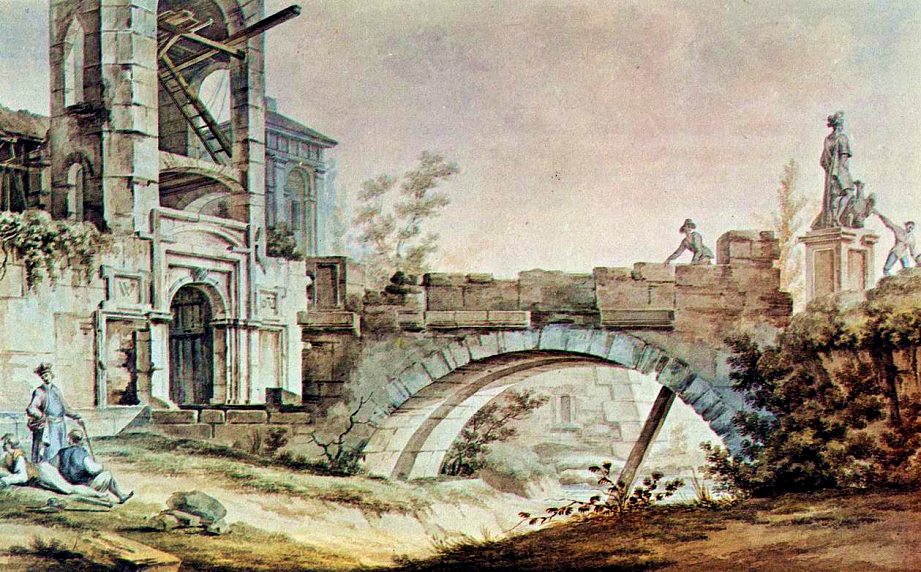 BRIDGE AND RUINED GATE ON WATERCOLOUR BY ZYGMUNT VOGEL, THE END OF THE XVIII CENTURY
Krzysztof Ossoliński was born on April 28, 1587 in Bu­kow­sko in the Pod­kar­pa­cie region. He was the son of Ja­dwi­ga Sie­nień­ska and the royal sec­re­ta­ry Jan Zbig­niew Os­so­liń­ski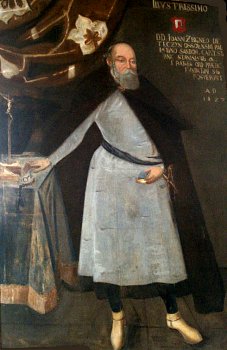 . At the age of nine he be­gan his stud­ies at the Je­suit col­lege in Lub­lin, and in 1604 left for the Ger­man uni­ver­si­ty in Wurzburg. He con­tin­ued his ed­u­ca­tion at the uni­ver­si­ties of Bolo­gna, Pad­ua and Paris, where stayed un­til 1612. When re­turned to the home­land, took part in mil­i­tary ex­pe­di­tions against the Ta­tars and the Turks. Lat­er he was a deputy sev­er­al times, took part in the elec­tion of pol­ish King Wła­dy­sław IV Va­sa and ran (un­suc­cess­ful­ly) for the po­si­tion of mar­shal of the Sejm.

His first mar­riage in 1615 was to Zo­fia Ci­kow­ska, daugh­ter of Sta­ni­sław Ci­kow­ski coat of arms Rad­wan, cham­ber­lain of Kra­ków. Af­ter her death in 1638 Krzysz­tof mar­ried Zo­fia Kra­siń­ska, a wid­ow of Mi­ko­łaj Spy­tek Li­gę­za of Pół­ko­zic coat of arms. His third wife was the daugh­ter of the San­do­mierz voi­vode Mi­ko­łaj Fir­lej
, Zo­fia El­żbie­ta, whom he mar­ried in 1642. All these mar­riages and sub­se­quent dowries brought sub­stan­tial in­come to the Os­so­liń­ski fam­i­ly trea­sury and con­tribut­ed great­ly to de­vel­op­ment of its eco­nom­ic pow­er.

The own­er of Krzyż­to­pór was known for his wide artis­tic in­ter­ests. He was al­so a fierce ad­ver­sary of the Re­for­ma­tion - on his ini­tia­tive, the Ar­i­ans were ex­pelled from the lo­cal towns: Skrze­lów, Ra­ków and Iwa­ni­ska. Ka­zi­mierz Os­so­liń­ski died on Febru­ary 24, 1645.

WOOD ENGRAVING BY J. STIFI BASED ON A DRAWING BY WOJCIECH GERSON FROM AROUND 1860
C
on­struc­tion work be­gan with lev­el­ling the ter­rain and lay­ing sol­id foun­da­tions - ac­cord­ing to leg­end, some of this work was done by Turk­ish and Ta­tar pris­on­ers of war. The cas­tle walls were built of quartzite sand­stone
and dolo­mite
, while the bricks need­ed for fin­ish­ing were man­u­fac­tured from near­by clay de­posits. The pro­ject in its ba­sic form was prob­a­bly com­plet­ed in 1644, as sug­gest­ed by the in­scrip­tion on the wall of the palace in el­lip­ti­cal court­yard. It seems, how­ev­er, that some work on the façade, in­te­ri­or dec­o­ra­tion and gar­den de­sign took much longer, so the founder prob­a­bly didn't live to see the full boom of his work - be­cause he died in Febru­ary 1645. A year ear­li­er he gave Krzyż­to­pór to his on­ly son Krzysz­tof Bald­win (d. 1649) as a pre­sent on the oc­ca­sion of his wed­ding with the castel­lan of Wiś­li­ca, Te­re­sa Tar­ło (d. 1648). Krzysz­tof Bald­win didn't live here very long, be­cause al­ready four years af­ter his fa­ther's death was killed by the Ta­tars in the bat­tle of Zbo­rów. His body was nev­er found; Krzysz­tof's sec­ond wife An­na Ze­brzy­dow­ska (d. 1655) re­gard­ed his corpse as a stranger when brought to Ujazd.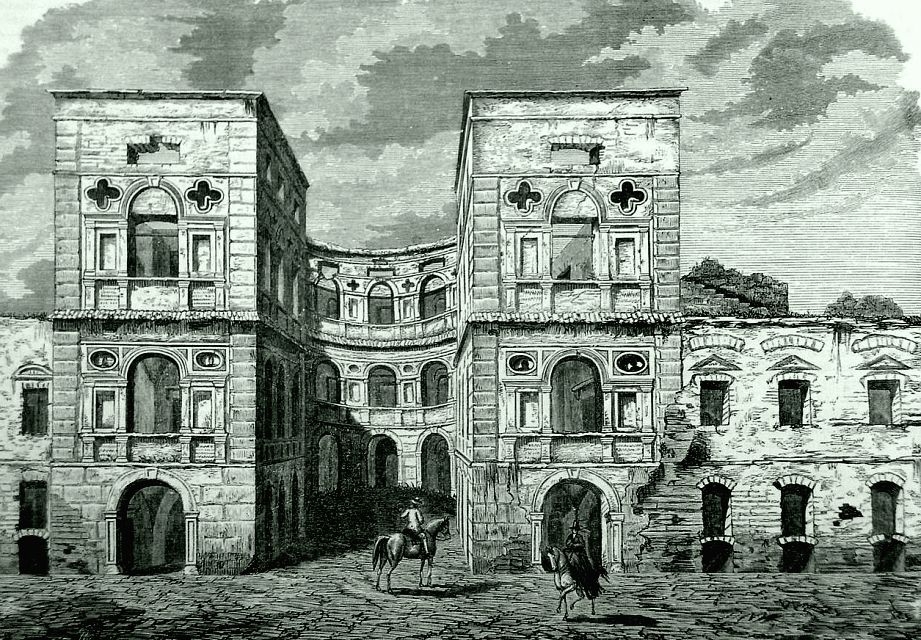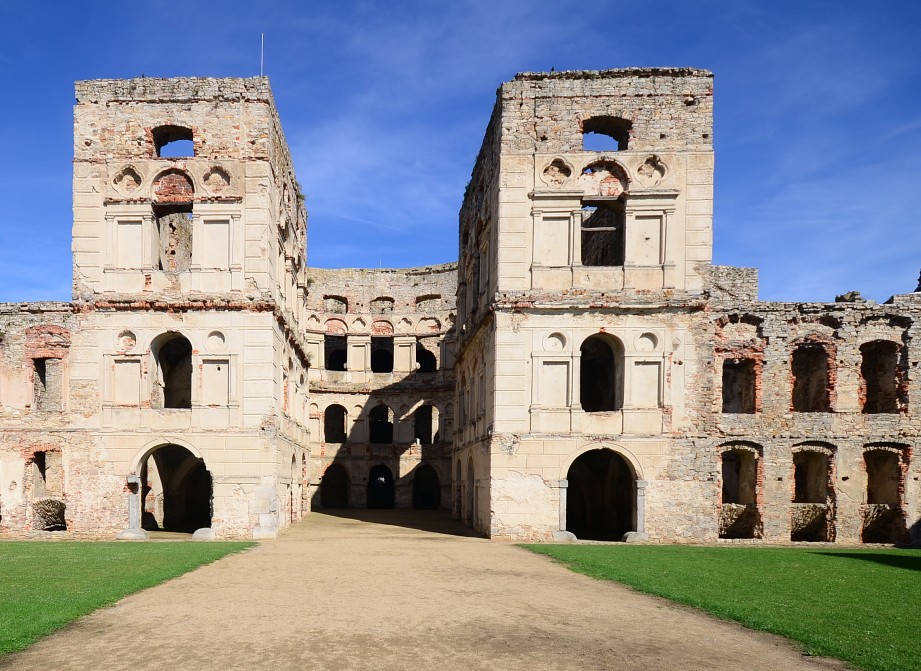 VIEW OF THE PALACE FROM THE ELLIPTICAL COURTYARD ON OLSZYŃSKI'S DRAWING FROM THE MID-XIXTH CENTURY AND THE PRESENT STATE
T
he cas­tle was in­her­it­ed by his un­cle Je­rzy Os­so­liń­ski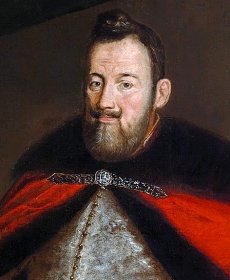 , Grand Crown Chan­cel­lor, who died of a stroke in 1650. Af­ter him, the es­tate was tak­en o­ver by his daugh­ter Ur­szu­la Bry­gi­da and her hus­band Sa­mu­el Je­rzy Ka­li­now­ski (d. 1652), the son of the Lithua­ni­an prin­cess He­le­na Ko­rec­ka. How­ev­er, the curse hang­ing o­ver the own­ers of the palace was felt again, and on­ly two years lat­er Ka­li­now­ski died fight­ing with the Cos­sacks at the Bat­tle of Ba­toh. In Oc­to­ber 1655, when Krzyż­to­pór was prob­a­bly in the hands of the Wiś­nio­wiec­ki fam­i­ly, Swedish troops un­der the com­mand of Gen­er­al Ro­bert Dou­glas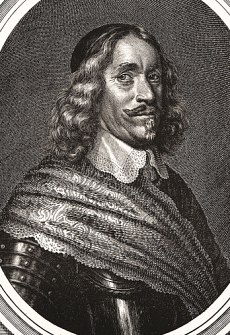 (d. 1662) en­tered the cas­tle with­out a fight. Here the Swedes ar­ranged a com­fort­able quar­ters, where the re­gion­al gov­er­nor Jo­hann von Es­sen (d. 1661) was sta­tioned with a group of 400 re­it­ers. Two years lat­er King Carl Gus­tav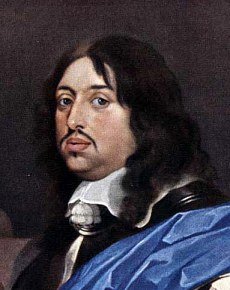 vis­it­ed Ujazd and per­son­al­ly ad­mired its mon­u­men­tal walls while wait­ing for a meet­ing with Prince of Tran­syl­va­nia Rá­kó­czi Györ­­gy
: Here His Roy­al High­ness, as he was in­spect­ing the beau­ti­ful cas­tle Krzyż­to­pór, re­ceived a mes­sage that the Prince of Tran­syl­va­nia, Rákó­czi, was ready to come to kiss the roy­al hand. The res­i­dence al­so made a great im­pres­sion on Erik Dahl­berg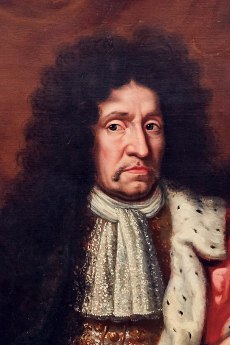 , the quar­ter­mas­ter of the Swedish army and a bril­liant draughts­man, who drew a sketch of Krzyż­to­pór and ac­com­pa­nied it with a com­ment El­e­gan­tis­si­ma iet bene mu­ni­ta arx, which which can be trans­lat­ed as The most beau­ti­ful and well for­ti­fied stronghold.
PLAN OF THE CASTLE BY ERIK DAHLBERG, SAMUEL PUFENDORF DE REBUS A CAROLO GUSTAVO GESTIS, 1656
T
he Swedes left Krzyż­topór in the au­tumn of 1657, but be­fore that they robbed it of its valu­able fur­nish­ings, dec­o­ra­tions and rich book col­lec­tion. De­spite con­sid­er­able dev­as­ta­tion, the build­ing was still in­hab­it­ed, first by the Wi­śnio­wiec­ki fam­i­ly, and in 1720 it was set­tled by the Mor­sztyn fam­i­ly of Le­li­wa coat of arms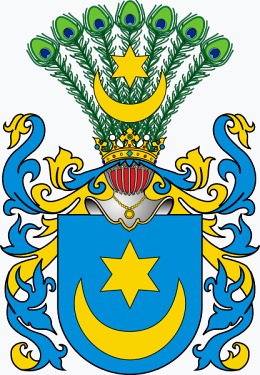 . None of the sub­se­quent own­ers of Ujazd had nei­ther the will nor the funds for ren­o­va­tion of the huge palace, so it slow­ly be­gan to col­lapse. In the mid­dle of the eigh­teenth cen­tu­ry Jan Mi­chał Pac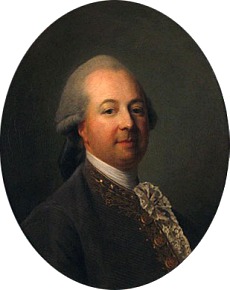 (d. 1787), Goz­da­wa coat of arms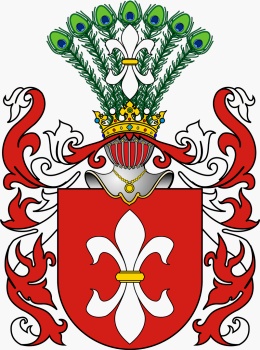 , re­stored the south­ern part of the res­i­dence, which he used for ac­com­mo­da­tion. He even made some of the cas­tle's cham­bers avail­able to the par­tic­i­pants of the Bar Con­fed­er­a­tion, how­ev­er, af­ter the fall of this up­ris­ing he quick­ly left for France leav­ing the build­ing dev­as­tat­ed and burnt out as a re­sult of bat­tles with the Rus­sians. In con­se­quence, at the end of the cen­tu­ry Krzyż­to­pór was just a beau­ti­ful, ma­jes­tic ru­in. Af­ter Michał Pac's de­par­ture for Ma­rain­ville in France (where he bought a cas­tle and lived), in 1782 the Ujazd es­tate was pur­chased by the Bish­op of Kra­ków, Ka­je­tan Igna­cy Soł­tyk
(d. 1788), and be­queathed to his rel­a­tive Sta­ni­sław Soł­tyk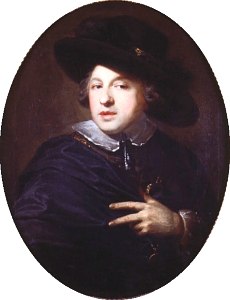 (d. 1833), a Crown Cham­ber­lain. In 1810, Sta­ni­sław Soł­tyk pre­sent­ed Krzyż­topór as a gift to his daugh­ter, Kon­stan­cja née Soł­tyk Łem­pic­ka (d. 1836), wife of Lud­wik Sta­ni­sław Łem­pic­ki (d. 1871). The Łem­pic­ki fam­i­ly, al­though very wealthy, did not in­tend to car­ry out any con­struc­tion works here, con­sid­er­ing the ru­ins as a ro­man­tic at­trac­tion.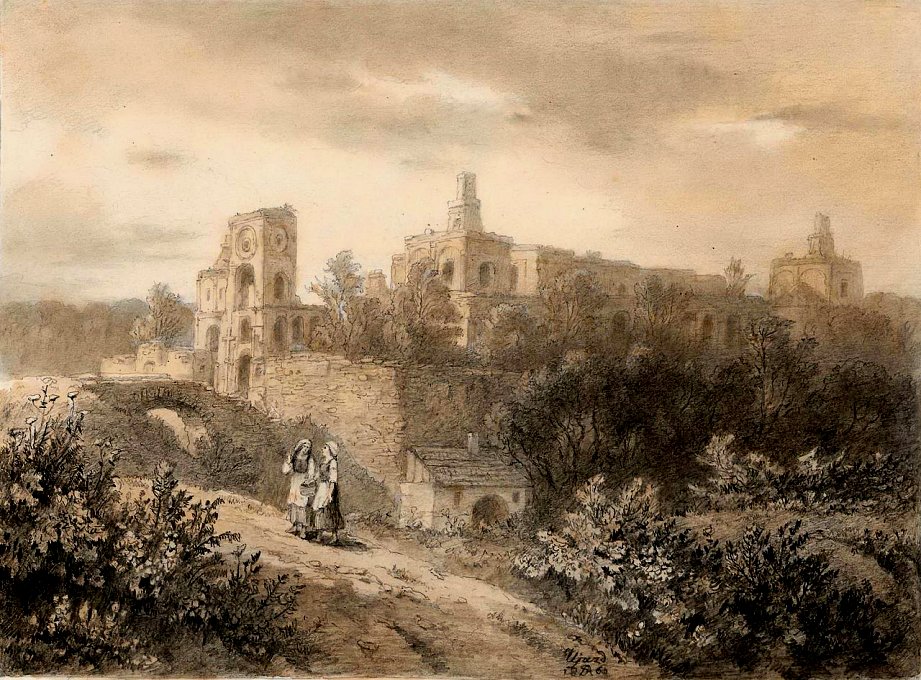 CASTLE ON A DRAWING BY ALFRED SCHOUPPE, 1860
VIEW FROM SOUTH-EAST, NAPOLEON ORDA'S LITHOGRAPH FROM THE 1870S
T
he last pre-war own­ers of the cas­tle were mem­bers of the Orset­ti fam­i­ly, who bought it in 1858 and kept it un­til 1944, while they lived in the near­by manor house. At that time the ru­in was used sev­er­al times as a place of de­fence or shel­ter dur­ing bat­tles fought in the area. Af­ter the out­break of the Jan­uary Up­ris­ing (1863) one hun­dred par­ti­sans hid there from the Rus­sian. Dur­ing World War I the in­hab­i­tants of the manor found refuge in the ru­ins from the bat­tles tak­ing place in the vicin­i­ty. Dur­ing the Ger­man oc­cu­pa­tion, mean­while, the par­ti­san troop "Ję­dru­sie" test­ed weapons in the base­ment of the cas­tle, where­as the in­hab­i­tants of the vil­lage tried to sur­vive the So­vi­et of­fen­sive wait­ing for the end of the front fights. In late 1944, the ru­ins were used as food ware­hous­es for the Red Army as part of a huge lo­gis­ti­cal sup­port be­fore a ma­jor of­fen­sive on Ger­many. Af­ter the war Krzyż­to­pór was na­tion­al­ized on the ba­sis of the so-called land re­form. Lat­er, var­i­ous plans and pro­jects for its de­vel­op­ment were put for­ward, in­clud­ing full re­con­struc­tion and more mod­est con­cepts fo­cus­ing on per­ma­nent pro­tec­tion of the ru­ins and their adap­ta­tion for tourism. To­day we know that the sec­ond op­tion was cho­sen, al­though the (at least par­tial) re­con­struc­tion of this beau­ti­ful mon­u­ment is still an open ques­tion.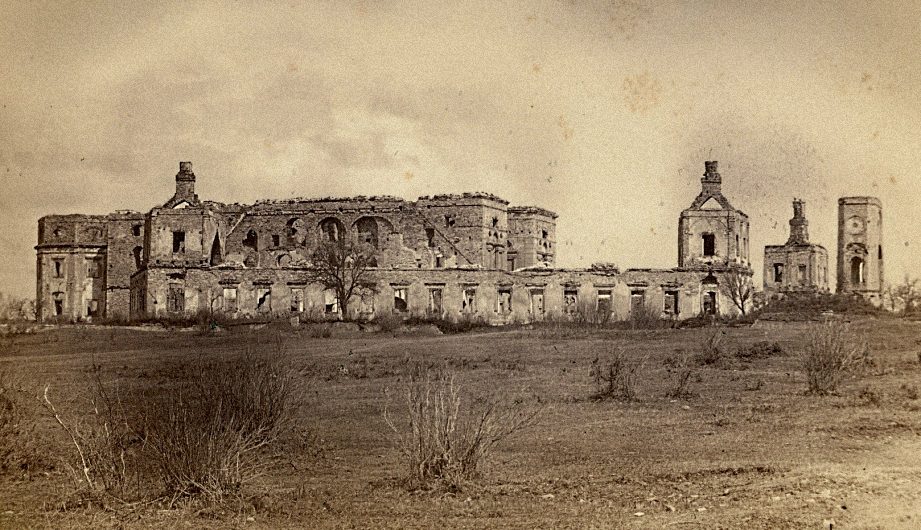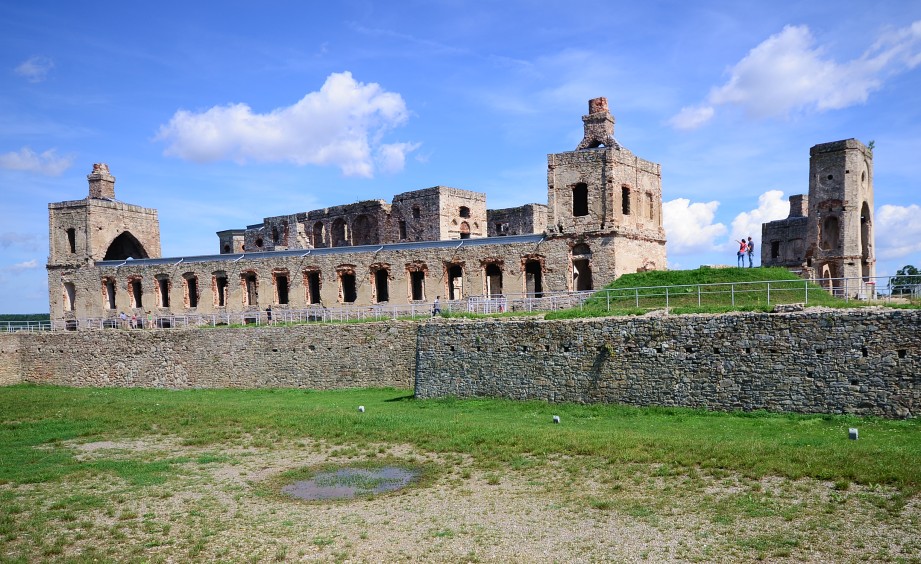 SOUTH-WESTERN ELEVATION OF THE CASTLE ON A VERY OLD PHOTOGRAPH FROM 1872 AND A CONTEMPORARY VIEW
In April 1944 in the near­by Hal­isz­ka vil­lage an at­tack by Pol­ish par­ti­sans on the car of Opa­tów Lan­drat Ot­to Rit­ter took place, which re­sult­ed in the death of the Nazi's preg­nant wife. In re­tal­i­a­tion, on May 25, Ger­man mil­i­tary po­lice­men shot at the cas­tle walls 55 pris­on­ers from the ar­rest in Os­tro­wiec. Rel­a­tives of the vic­tims, who were in­formed about the ex­e­cu­tion, came to Ujazd and at night se­cret­ly ex­humed the corpses of the mur­dered Poles. This trag­ic event is com­mem­o­rat­ed to­day by a mod­est grave stand­ing where cen­turies ago the mag­nif­i­cent French-style gar­dens were spread out. It holds the re­mains of 19 peo­ple whose iden­ti­ties have not been con­firmed.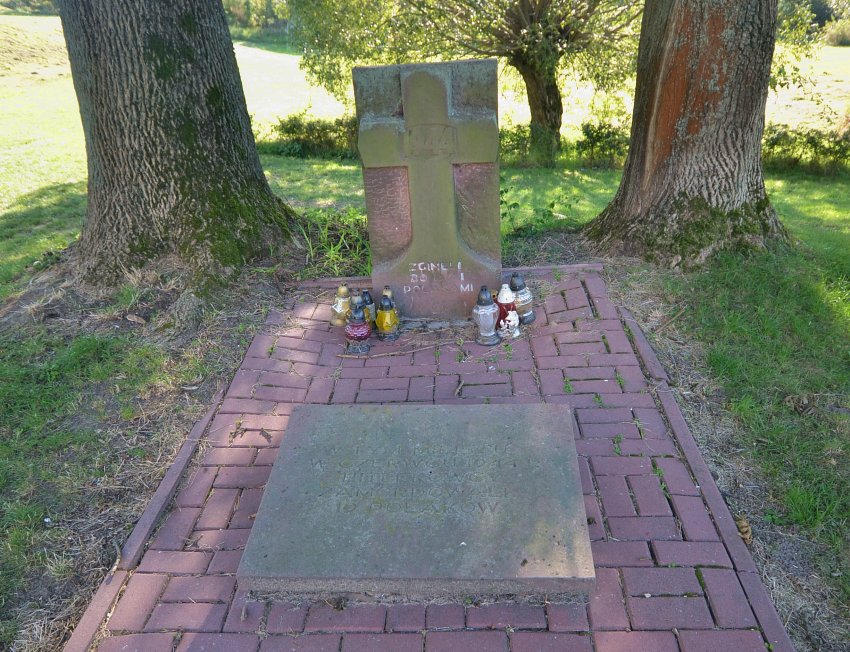 BASTION WYSOKI RONDEL IN THE NORTHERN PART OF THE CASTLE, PHOTOGRAPHS FROM THE 1930S AND 2020
DESCRIPTION OF THE CASTLE
T
he pen­tag­o­nal cas­tle rep­re­sents the rare in Poland type called palaz­zo in fortez­za, a mag­nate res­i­dence com­bin­ing so­phis­ti­cat­ed presen­table fea­tures with a de­fen­sive func­tion. Its shape was in­spired by the Far­nese car­di­nal res­i­dence built in Cap­ra­ro­la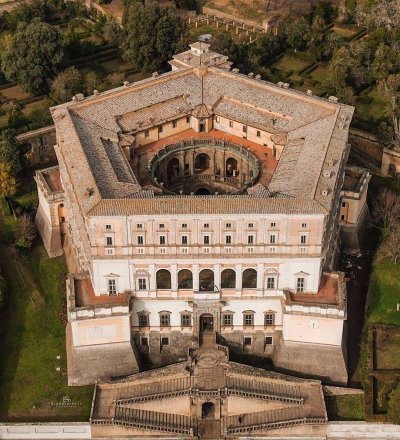 , Italy, and, as I men­tioned ear­li­er, at the time of com­ple­tion it was the largest build­ing of its kind in Eu­rope. The palace, out­build­ings and bas­tion-type for­ti­fi­ca­tions cov­ered an area of about 1.3 hectares, and the cu­ba­ture of all the premis­es was 70 thou­sand cu­bic me­ters. Krzysz­tof Os­so­liń­s&ki's pas­sion for the mag­ic of num­bers, mys­te­ri­ous sym­bols and as­trol­o­gy prob­a­bly had a great in­flu­ence on the lay­out and spa­tial ar­range­ment of the palace build­ing, which, ac­cord­ing to tra­di­tion, was to have 4 tow­ers, 12 halls, 52 cham­bers and 365 win­dows - ana­log­i­cal­ly to the num­ber of sea­sons, months, weeks and days in the cal­en­dar year (how­ev­er, re­search did not con­firm such reg­u­lar­i­ty, e.g. there were cer­tain­ly few­er halls). The main dec­o­ra­tion of the cas­tle gate were two mas­sive bas-re­liefs, which gave the name to the place: the Cross (Krzyż)
sym­bol­iz­ing the counter-re­for­ma­tion views of Os­so­liń­ski and the Axe (To­pór)
coat of arms. Years ago there was a plaque hang­ing o­ver the en­trance, with the in­scrip­tion: Krzyż obro­na/krzyż pod­po­ra/dziat­ki na­sze­go To­po­ra - un­for­tu­nate­ly the in­scrip­tion has not sur­vived. The gate tow­er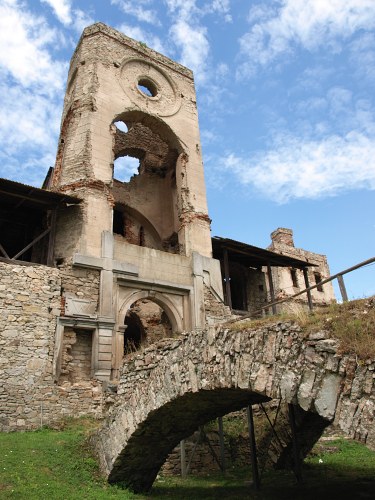 is topped by a quadri­lat­er­al storey with the re­mains of clock faces on each side. It ac­cen­tu­at­ed the en­trance to the cas­tle, rais­ing the sta­tus of the res­i­dence and dis­tin­guish­ing it from oth­er aris­to­crat­ic seats.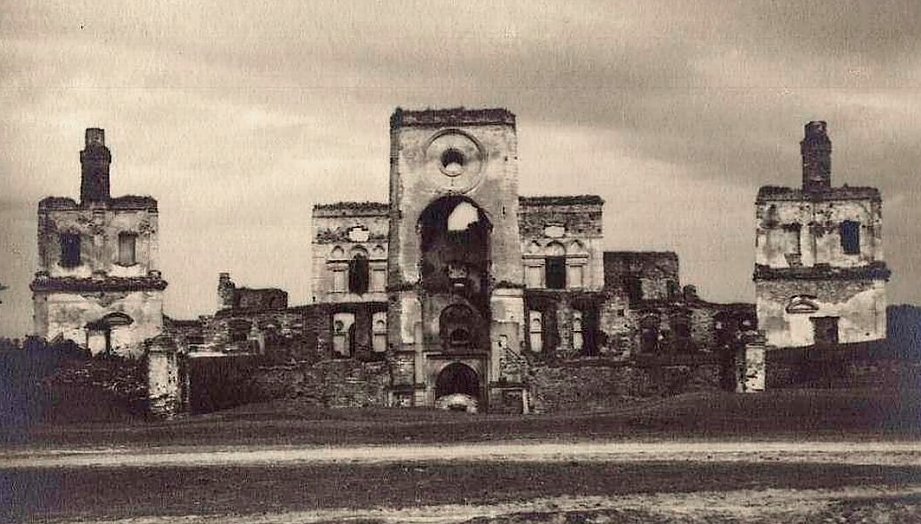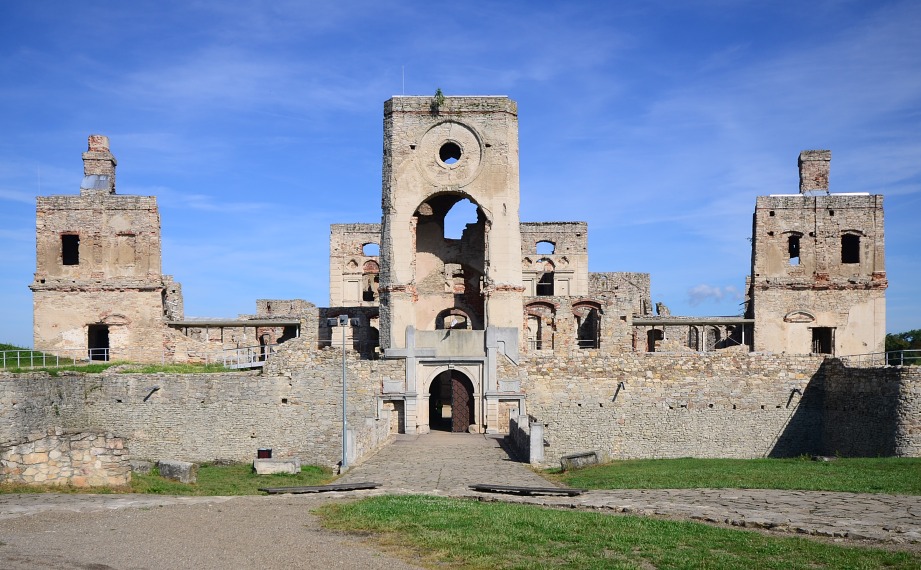 SOUTH-EASTERN ELEVATION OF THE CASTLE WITH A GATE TOWER (CLOCK TOWER), IN 1937 AND AT PRESENT
T
he com­po­si­tion­al ax­is of the cas­tle is formed by the mu­tu­al ar­range­ment of the en­trance gate, the el­lip­ti­cal court­yard and the cen­tral bas­tion with an oc­tag­o­nal tow­er, called Wy­so­ki Ron­del. The axis cuts in half the sym­met­ri­cal body of the palace wing, which refers to an­cient Ro­man ar­chi­tec­ture. The façade of this build­ing is dec­o­rat­ed with re­cur­ring mo­tifs of a tri­umphal arch with re­cess­es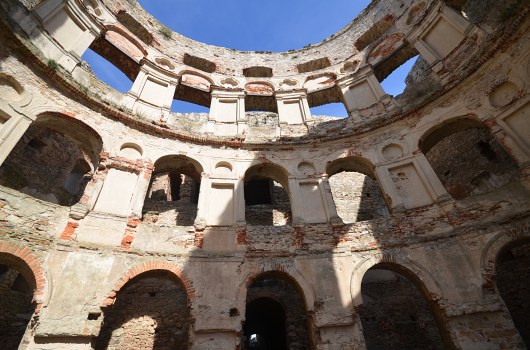 that years ago housed the im­ages of Krzysz­tof Os­so­liń­ski's an­ces­tors and rep­re­sen­ta­tives of fam­i­lies re­lat­ed to him. The three-storey palace was com­ple­ment­ed by the high wing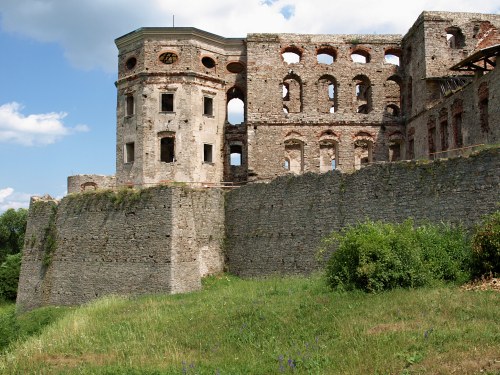 topped with an oc­tag­o­nal tow­er, built at the place where a lo­cal lit­tle spring called Krzyż­to­po­żan­ka flows out. A large vault­ed tun­nel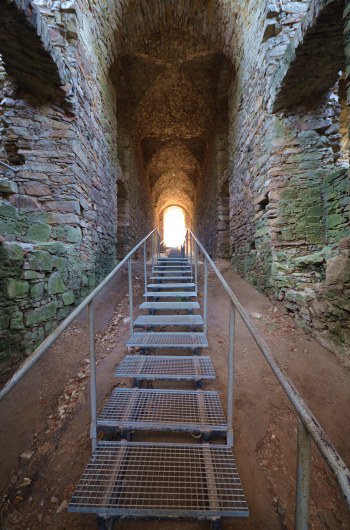 led to it from the el­lip­ti­cal court­yard, above which there were two rep­re­sen­ta­tive halls - the din­ing hall on the sec­ond floor, and the ball­room o­ver it. Two-storey, one-bay side wings (out­build­ings)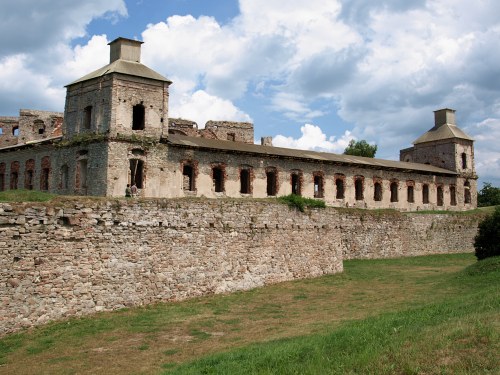 ad­joined the palace on both sides, form a com­plex pen­tag­o­nal lay­out with two small and one large trape­zoidal court­yard. Their ends are crowned with four quadri­lat­er­al tow­ers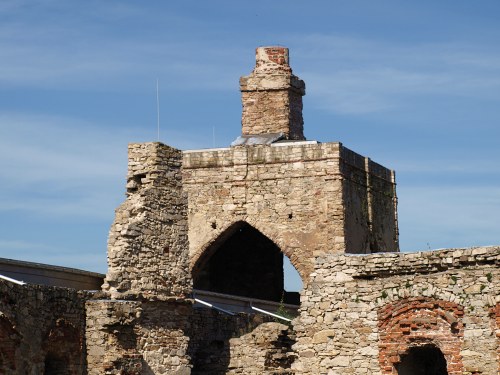 , that are high­er than the side wings by one storey, thanks to which per­fect­ly em­pha­size the reg­u­lar­i­ty of the whole com­po­si­tion. The above-ground part of the out­build­ings con­tained util­i­ty rooms and ser­vants' quar­ters, while their cel­lars housed the sta­bles, which, ac­cord­ing to tra­di­tion, were equipped with mar­ble mangers and crys­tal mir­rors in or­na­ment­ed frames to il­lu­mi­nate the gloomy in­te­ri­ors. The com­pli­cat­ed spa­tial lay­out of the Os­so­liń­ski res­i­dence was sup­ple­ment­ed by the - once rich, now pre­served on­ly in frag­ments - decor of the in­te­ri­ors and the cas­tle el­e­va­tions ac­cent­ed with win­dow open­ings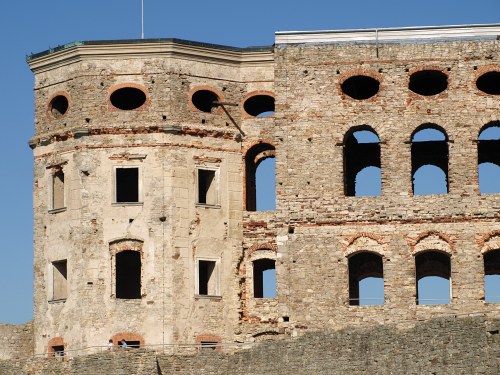 of var­i­ous sizes and forms.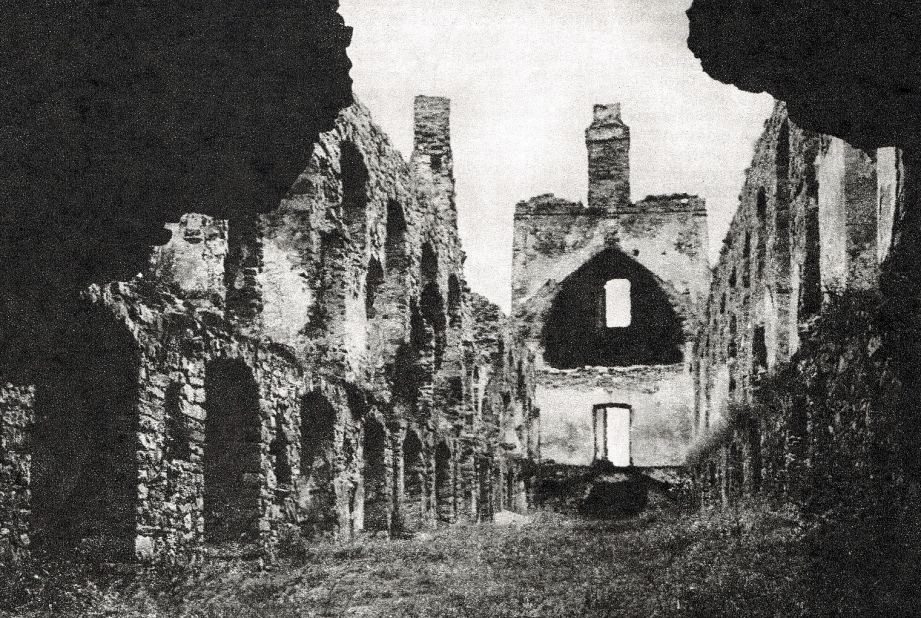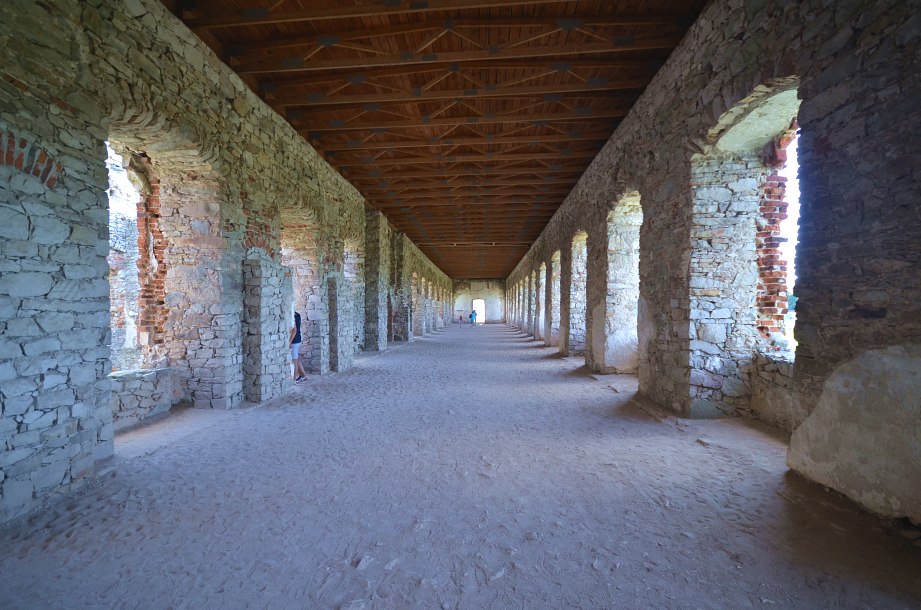 ONE OF THE CASTLE'S OUTBUILDINGS ON A PHOTOGRAPHS BEFORE AND AFTER RECONSTRUCTION OF THE CEILINGS
THE PICTURE BELOW SHOWS THE FORMER STABLES IN THE LOWER STOREY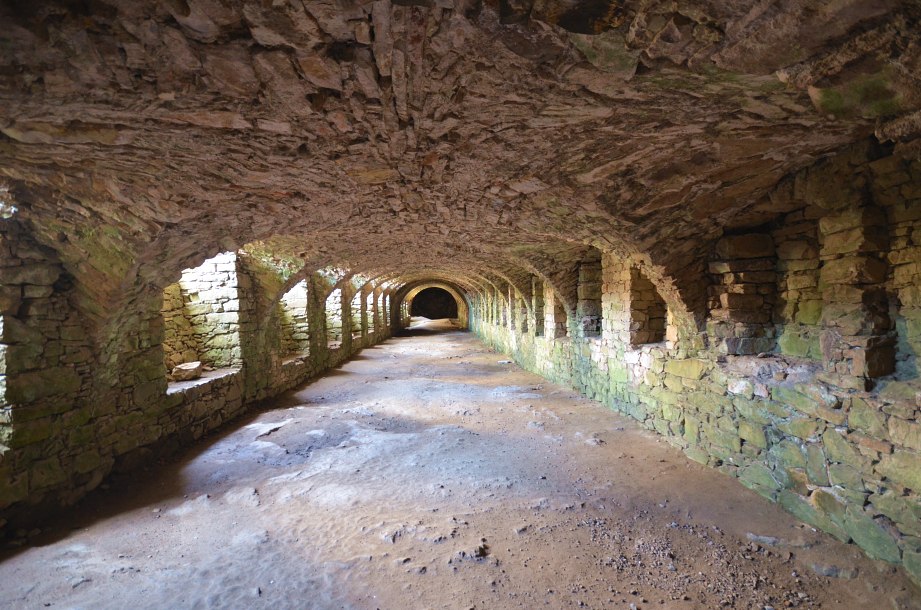 Years ago, the façade of the palace in the elliptical courtyard (with a plan similar to the shape of a keyhole) was decorated with the motifs of a triumphal arch and niches in which forty portraits of representatives of magnate fa­mil­ies re­lated to Krzysz­tof Os­so­liń­ski were placed, ac­com­panied by an in­scrip­tion de­di­cated to each of these per­sons. Al­though the paint­ings faded a long time ago, some in­scrip­tions have survived to the present day, among them:


ANDRZEIOWI ZEBRZYDOWSKIEMU
PODCZASZEMU KRAK. PÓŁKOWNIKOWI DZIELNEMU 1590
W HONOR DOMU IEGO Y PAMIĘĆ

KRZYSZTOFOWI Z BRZEZIA NA
KUROZWĘKACH LANCKOROŃSKIEMU
KASZTEL. MAŁOGOWSKIEMU
DZIADOWI MEMU 1561
W HONOR DOMU IEGO Y PAMIĘĆ

CONSTANTEMU KSIĄŻĘCIU NA ZAŁOŚCACH
WIŚNIOWIECKIEMU WOIEW. RUSKIEMU
SZWAGROWI ZE KRWI TARŁÓW Y MNISZKÓW
SYNOWEY MEI 1635
W HONOR DOMU IEGO Y PAMIĘĆ

STEPHANOWI NA PRZECŁAWIU KONIEC-
POLSKIEMU PÓŁKOWNIKOWI DO SKONU
SWEGO BRATU MEMU 1629
W HONOR DOMU IEGO Y PAMIĘĆ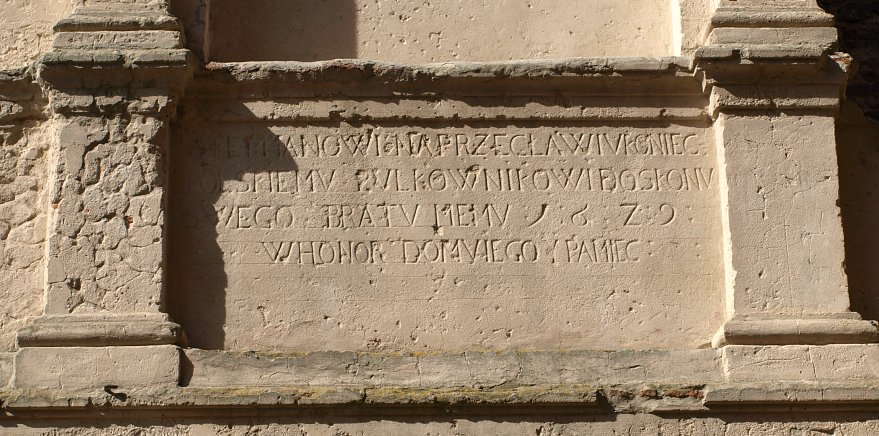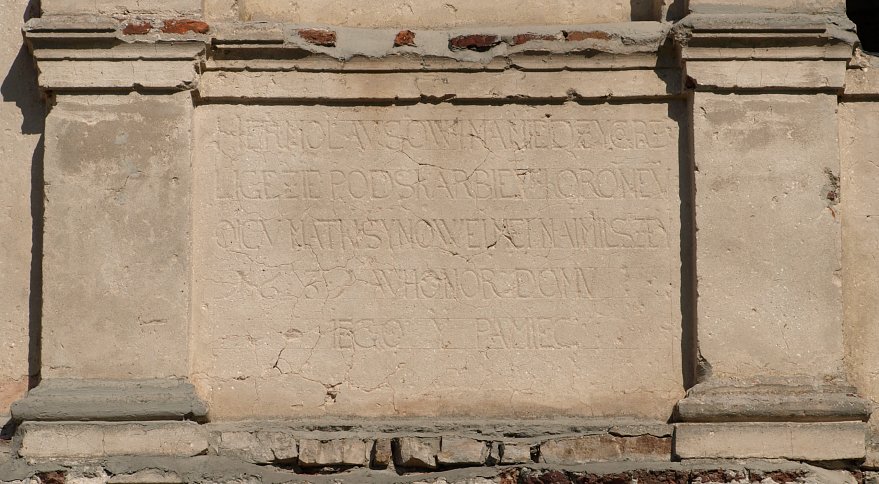 In the central part of the elliptical courtyard, oppo­site the clock tower, there is an in­scrip­tion indi­cating the owner of the re­si­dence and the year of its con­struction:

OJCZYZNIE MEY POLSKIEY | WOJEWÓDZTWU SENDOMIRSKIEMU |
BRACI MEY MIŁEY | W HONOR DOMÓW ICH |
KRZYSZTOPH NA TENCZYNIE OSSOLINSKI |
WOJEWODA SENDOMIERSKI | WYSTAWIŁ 1644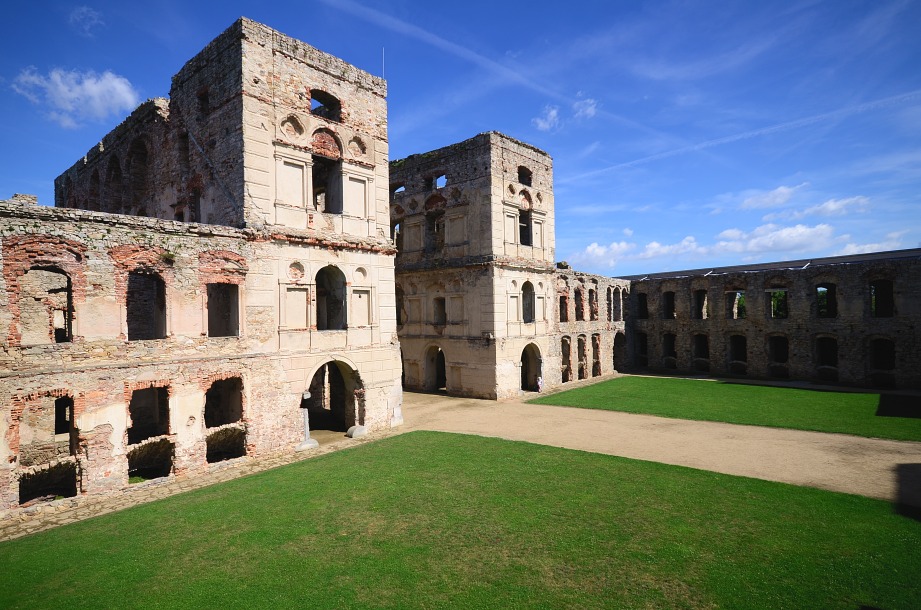 MAIN COURTYARD WITH A SOUTHERN ELEVATION OF THE BAROQUE PALACE
VIEW OF THE PALACE FROM THE NORTHWEST, IN THE FOREGROUND THERE IS AN OCTAGONAL TOWER SURROUNDED BY A BASTION WYSOKI RONDEL
T
he for­ti­fi­ca­tion line was formed by an earth­work built on a pen­tag­o­nal plan. It was linked by five bas­tions with imag­i­na­tive names: Sza­ry Mnich (der gra­we Munch), Smok (der Dra­che), Ko­ro­na (die Croone), Oto dla Cie­bie (Siehe dich fuhr) and Wy­so­ki Ron­del (das hohe Ron­del). The bas­tions were filled with earth with the ex­cep­tion of Wyso­ki Ron­del, which was equipped with case­mates con­tain­ing two lev­els of gun win­dows. On the top of the em­bank­ment there was a ram­part path and brick para­pets with over­watch po­si­tions, from where the whole fore­ground could be ef­fec­tive­ly fired. The 600 me­ter long line of stone and earth for­ti­fi­ca­tions was sur­round­ed by a dry moat carved in the rock. Com­mu­ni­ca­tion with the out­side world was pro­vid­ed by an ar­cad­ed sin­gle-span stone bridge, con­nect­ed to a wood­en draw­bridge.
BASTION SMOK IN THE EASTERN PART OF THE CASTLE FORTIFICATIONS
STARTING FROM THE LEFT WE SEE THE BASTIONS: WYSOKI RONDEL, KORONA AND SZARY MNICH
PLAN OF THE CASTLE: 1. CLOCK TOWER WITH GATE, 2. MAIN COURTYARD, 3. OVAL COURTYARD, 4. PALACE, 5. OCTAGONAL TOWER, 6. OUTBUILDINGS, 7. ECONOMIC COURTYARDS, 8. 'SMOK' BASTION, 9. 'OTO DLA CIEBIE' BASTION, 10. 'WYSOKI RONDEL' BASTION, 11. 'KORONA' BASTION, 12. 'SZARY MNICH' BASTION
RECONSTRUCTION OF THE CASTLE AND ITS MODEL. ORIGIN WIKIPEDIA, LICENSE: [GNU FDL]
---
N
owa­days Krzyż­topór is a pic­turesque ru­in lost among the fields of Opa­tów, far from the main roads and tourist trails. It is the most rep­re­sen­ta­tive build­ing in the San­domierz re­gion and the largest for­ti­fied mag­nate res­i­dence in Poland. De­spite de­struc­tion that has tak­en place here since the cas­tle was aban­doned by its last in­hab­i­tants, the spa­tial lay­out of the ru­ins is still sur­pris­ing­ly clear. As much as 90 per­cent of its walls have sur­vived, but un­for­tu­nate­ly on­ly 10 per­cent of its vaults. What is very im­por­tant, the build­ing has nev­er been re­built ac­cord­ing to new trends in ar­chi­tec­ture, so we can ad­mire it in al­most its orig­i­nal shape, not af­fect­ed by lat­er changes. In many places you can still see the rem­nants of sgraf­fi­to or stone de­tails rep­re­sent­ing the orig­i­nal dec­o­ra­tion of win­dows and por­tals. The build­ing was of­fi­cial­ly opened to tourists in 1991 and since 2008 it is man­aged by In­sti­tu­tion of Cul­ture Krzyż­to­pór Cas­tle in Ujazd. Among the long list of in­vest­ments car­ried out here in re­cent years, the most sig­nif­i­cant are re­plac­ing the roofs, par­tial re­con­struc­tion of the gate­house, mark­ing out new sight­see­ing routes, and in­stalling the long-await­ed light­ing in the cas­tle cel­lars.
| | |
| --- | --- |
| | |
| | |
| --- | --- |
| | |
POOR REMAINS OF ORIGINAL ARCHITECTURAL DETAILS OF THE CASTLE
T
he cas­tle can be vis­it­ed in­di­vid­u­al­ly or with a guide, at cer­tain times night tours are al­so pos­si­ble. The tourist of­fer in­cludes sev­er­al sight­see­ing routes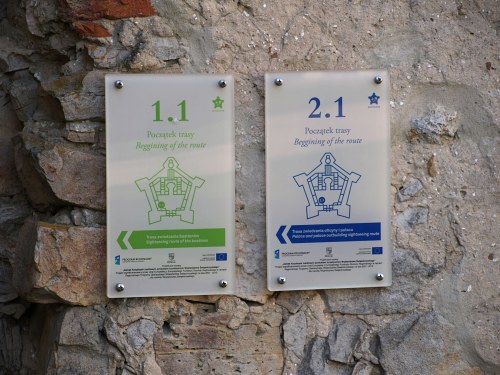 , but choos­ing one of them does not mean giv­ing up the at­trac­tions of the oth­ers. These routes can be freely com­bined and crossed with each oth­er, and the on­ly re­stric­tion here is the obli­ga­tion to move in a strict­ly de­fined di­rec­tion: one-way traf­fic is re­quired. You won't find any ex­hi­bi­tions or fur­nish­ings at the cas­tle - it's worth know­ing this in ad­vance to avoid dis­ap­point­ment. In fact, we see on­ly naked walls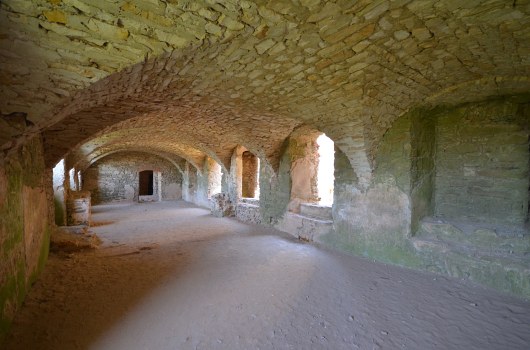 , but their size, form and state of preser­va­tion is al­ready quite an at­trac­tion and the lack of equip­ment in the un­der­ground and cel­lars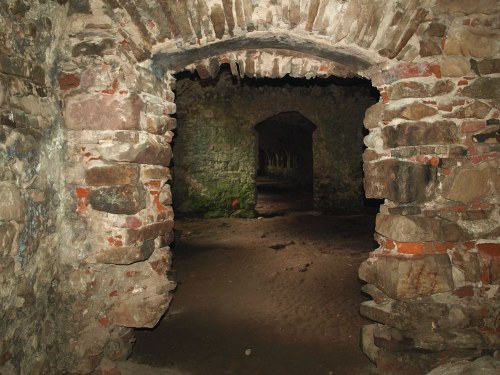 is even a cer­tain ad­van­tage, mak­ing them more gloomy and mys­te­ri­ous (it's worth tak­ing a flash­light to the un­der­ground!). Vis­i­tors have ac­cess to halls and rooms up to the height of the sec­ond floor, sta­bles and cel­lars, as well as the crown of de­fen­sive walls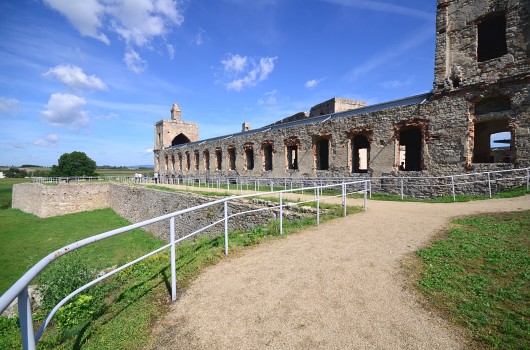 , where a sep­a­rate walk­ing route around the wings of the for­mer palace has been marked out.
| | |
| --- | --- |
| | |
| | |
| --- | --- |
| | |
EXPLORING THE KRZYŻTOPÓR CASTLE: THE OVAL COURTYARD, IN THE TUNNEL LEADING TO THE TOWER, THE OUTBUILDINGS
| | |
| --- | --- |
| | You cannot enter the ruins with a dog. The entrance is only for guide ani­mals be­long­ing to dis­abled people. |
| | |
| --- | --- |
| | The ru­in looks rather in­con­spic­u­ous from the street per­spec­tive, losing much of its charm. The full majesty of the cas­tle can on­ly be seen when ob­serv­ing it from the air. It is not dif­fi­cult, be­cause there is a lot of free space around, es­pe­cial­ly on the side of the for­mer gar­dens, where there are now on­ly mead­ows and fields. Flights di­rect­ly o­ver the ru­in re­quire man­ag­er's per­mis­sion. |
RUIN OF THE DINING HALL IN THE MAIN PART OF THE PALACE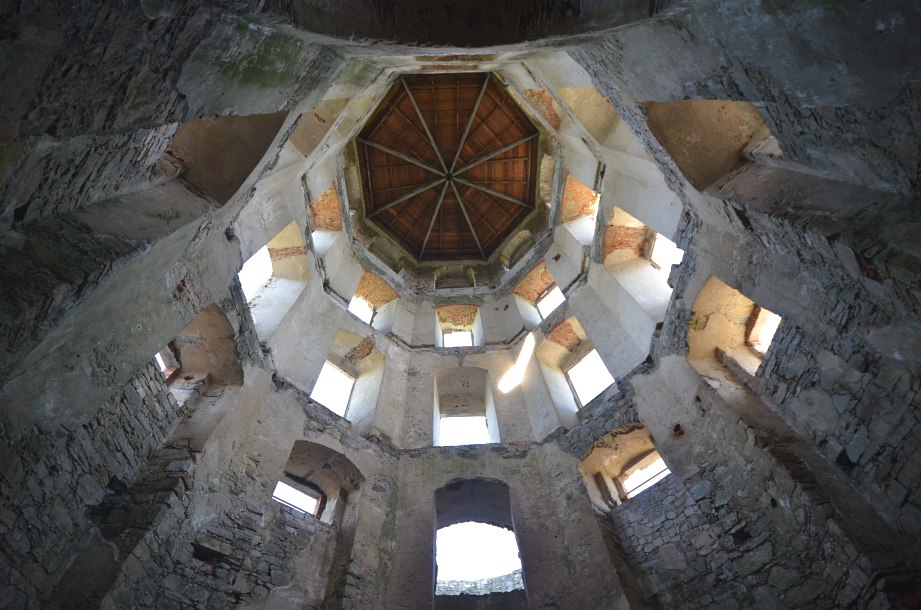 FACTS AND MYTHS ABOUT KRZYŻTOPÓR CASTLE


Ac­cord­ing to tra­di­tion, the ceil­ing of the din­ing room was to be made of glass. Above it was sup­posed to be a huge aquar­i­um. Pre­sum­ably, how­ev­er, this widespread the­o­ry has lit­tle to do with the truth. This is be­cause the bot­tom of the aquar­i­um gets dirty very quick­ly, so the guests stand­ing un­der it would not see much any­way.

There is a spring in the cel­lars of the north­ern tow­er, which sup­plied the cas­tle with run­ning wa­ter. The spring is called Krzyż­to­po­żan­ka and is be­lieved to be cu­ra­tive.

In one of the un­der­ground cham­bers you can see 300 hun­dred years old small sta­lac­tites and sta­lag­mites.

The for­mer cas­tle sta­bles have ex­cel­lent acous­tic prop­er­ties. The con­di­tions there are so good that it is pos­si­ble to or­ga­nize small con­certs in these premis­es.

In the 1960s, ru­mors cir­cu­lat­ed in the area about a mys­te­ri­ous U.S. cit­i­zen who want­ed to buy the ru­in, cut it in­to blocks, and then trans­port it to his prop­er­ty in Texas and re­assem­ble it there.
---
T
he cas­tle is sit­u­at­ed by road no. 758 con­nect­ing Iwa­ni­ska with Kli­mon­tów, about 15 km south­west of Opa­tów. The vil­lage is reached by bus, but rarely, so it is not worth count­ing on it. The best way to vis­it Ujazd is by in­di­vid­u­al trans­port.
| | |
| --- | --- |
| | Two park­ing lots are lo­cat­ed di­rect­ly next to the ru­ins: the first one by the south­west cur­tain wall (en­trance di­rect­ly from road 758) and the sec­ond one, small­er but paved, a bit east of the cas­tle. Park­ing is free (2020). |
---
1. R. Jurkowski: Zamki świętokrzyskie, Wydawnictwo CM 2017
2. L. Kajzer, J. Salm, S. Kołodziejski: Leksykon zamków w Polsce, Arkady 2001
3. T. Kuls: Krzyżtopór, Zabytki Heritage nr 3/2006
4. J. Myjak: Opatów i okolice. Zamek Krzyżtopór w Ujeździe, PAIR 2008
5. A. R. Sypek: Zamki i warownie ziemi sandomierskiej, TRIO 2003
6. A. Wagner: Murowane budowle obronne w Polsce X-XVIIw., Bellona 2019

KRZYŻTOPÓR, VIEW FROM THE WEST
DUCKWEED-COVERED KRZYŻTOPOŻANKA FLOWING OUT OF WYSOKI RONDEL
Castles nearby:
Konary - relics of the knight's castle from the 14th century, 8 km
Tudorów - relics of the knight's castle from the 14th century, 15 km
Ossolin - relics of the aristocratic castle from the 17th century, 18 km
Ptkanów - fortified church from the 14th century, 18 km
Rembów - relics of the knight's castle from the 14th century, 20 km
Międzygórz - relics of the royal castle from the 14th century, 25 km
Rytwiany - relics of the knight's castle from the 14th century, 31 km
Kurozwęki - knights' castle from the 14th century, rebuilt in the Baroque style, 33 km
Szydłów - ruins of the royal castle from the 14th century, 34 km

text: 2014, 2021
photographs: 2008, 2018, 2020
© Jacek Bednarek