ŁAGÓW

castle of the knights of Saint John
CASTLE IN ŁAGÓW, BIRD'S EYE VIEW FROM THE WEST
---
S
mall town Łagów, sit­u­at­ed on a nar­row isth­mus be­tween two lakes, since an­cient times has served as a strate­gic point be­tween Wiel­ko­pol­s­ka, Po­me­ra­nia, Bran­den­burg and Si­le­sia. In the 10th cen­tu­ry, to­geth­er with Lu­bu­skie Land, this area be­longed to Poland, then it was part of the Si­le­sian dis­trict, and in the mid­dle of the 13th cen­tu­ry it be­came the prop­er­ty of Ger­man mar­graves. The first sur­viv­ing note about the wood­en cas­trum La­go­we dates back to 1299, when the mar­graves Ot­to, Kon­rad and Hen­ry dei gra­tia Bran­den­bur­gens­es et de Lan­des­berge Mar­chiones gave it to the broth­ers Al­bert and Hen­ry von Klep­zig as a fief, with all the ad­join­ing lands. The von Klep­zig fam­i­ly prob­a­bly lost these as­sets af­ter 1323, when Lud­wig V of Bavaria (d. 1361) took o­ver the pow­er in Bran­den­burg. The loss of land could prob­a­bly have re­sult­ed from the Wit­tels­bachs' an­tipa­thy to the knights from Ła­gów, who sev­er­al years ear­li­er sup­port­ed the Si­le­sian dukes in con­flict with Bran­den­burg. In 1347 the in­debt­ed Lud­wig gave Hus La­gow­e as a pledge for 400 pieces of sil­ver to the Or­der of St. John, who, pay­ing 100 pieces to the Mar­grave and 300 to his cred­i­tor, We­sen­berg of Lu­busz, signed a three-year lease agree­ment, which was con­vert­ed in 1350 in­to an act of own­er­ship with the right to build a brick cas­tle. The or­ga­niz­er of new ad­min­is­tra­tive unit, in­clud­ing the town of Su­lę­cin and about twen­ty vil­lages, was Her­man von Wer­berg (d. 1371), the su­pe­ri­or of the or­der on the east­ern side of Elbe Ri­ver. From the be­gin­ning, the Ła­gów com­man­dery was part of the Bran­den­burg Ba­li­wat. It was char­ac­ter­ized by a par­tic­u­lar­ly strong po­lit­i­cal con­nec­tion with the lords of Bran­den­burg; on be­half of the mar­graves, the hos­pi­taller knights of­ten took care of the mer­chants by con­voy­ing them on the trade route lead­ing from Wiel­ko­pol­s­ka to Ger­man lands. They re­ceived for this a fee de­pend­ing on the num­ber of hors­es in the con­voy, as well as com­pen­sa­tion for each killed horse or peas­ant.
VIEW OF THE CASTLE FROM THE SOUTH
P
rob­a­bly the first com­man­der of Łagów was Al­ber­tus heres de Lagowo, men­tioned in 1362, and lat­er, at least since 1372, Hen­ry von Wedel, fol­lowed by Bus­so von Al­vens­leben (d. 1432) who man­aged the kom­turia in years 1382-92. Sup­pos­ed­ly, still in the times of Hen­ry the Hos­pi­tal­lers start­ed erect­ing a brick cas­tle as a quadri­lat­er­al wall with dwelling house and square tow­er. At the same time, Łagów be­came the new ad­min­is­tra­tive, eco­nom­ic and com­mer­cial cen­tre of the re­gion. Thanks to many land grants in the sec­ond half of the 14th cen­tu­ry, the or­gan­i­sa­tion sig­nif­i­cant­ly ex­pand­ed its ter­ri­to­ri­al range and strength­ened its eco­nom­ic sta­tus, gain­ing pri­ma­cy among oth­er com­man­ders be­long­ing to Bran­den­burg dis­trict. How­ev­er, it lost it af­ter 1426, when the bali­vat's head­quar­ters were moved to Słońsk. On 5 Novem­ber 1460, Fred­er­ick II Ho­hen­zol­lern con­firmed the rights of Hos­pi­tal­lers to es­tates lo­cat­ed in Bran­den­burg March. Ac­cord­ing to this doc­u­ment, the Łagów kom­turia in­clud­ed: the town and cas­tle of Łagów (Schloss La­gow, das Städt­chen), the town of Su­lę­cin (Zie­len­zig, das Städt­chen) and villages Neu-La­gow, Spie­gel­berg, Bör­sten, Leich­holtz, Ta­uer­zig, Mal­cken­dorff, Pe­ters­dorff, Grosz Os­chatz, Schö­now, Co­rit­ten, Alt Kirs­sbaum, Neu Kirs­sbaum, Lin­dow, Wan­drin, Hil­de­brandt­sdorff, Dö­ber­nitz, Gra­bow, Os­trow mit der Möl­len, Gan­di­kow, Ram­pitz, Klop­peth, Mels­snitz mit der Möl­len, Lan­gen­feldt, Bor­sten, Reeh­now, Lübn and Buch­holtz. In the same year, the cas­tle housed a meet­ing of Ger­man deputies head­ed by Bish­op Fred­er­ick Ses­sel­ma­neni and Li­bo­rius von Schlie­ben with emis­saries of polish King Ka­zi­mierz Ja­giel­loń­czyk. Prob­a­bly, Łagów com­man­der was then Hilde­brand Sel­chow.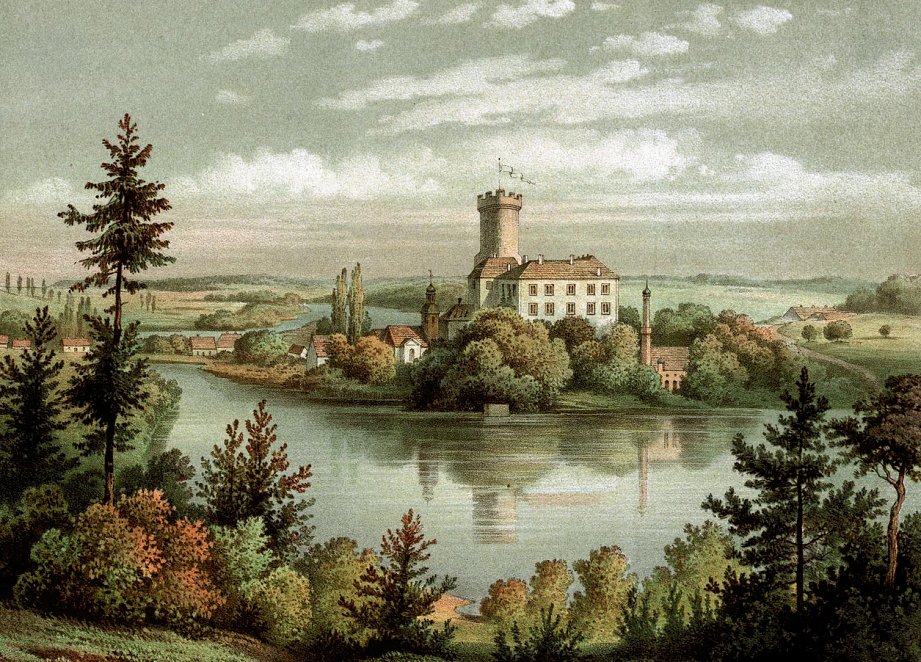 LITHOGRAPHY BY H. LITZMANN, 2ND HALF OF XIX CENTURY
VIEW OF THE CASTLE FROM TRZEŚNIOWSKIE LAKE SIDE, PROBABLY XIX CENTURY
WHO WERE THE HOSPITALLER KNIGHTS?

The Or­der of St John was found­ed around 1083 by de­vel­op­ing the struc­tures of the Hos­pi­tal of St John the Bap­tist in Jerusalem, spon­sored by mer­chants from the Ital­ian state of Amal­fi. Ac­cord­ing to rule ap­proved by Pope Paschalis II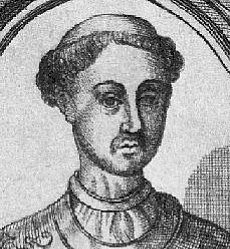 , the Or­der was to per­form two ba­sic func­tions: to pro­tect Chris­tians from at­tacks by Mus­lims and to help sick or in­jured pil­grims. In ad­di­tion to their mil­i­tary and med­i­cal ac­tiv­i­ties, the Hos­pi­tallers have de­vel­oped trade, or­chard­ing, port or­ga­ni­za­tion, wine grow­ing, and ship­ping, in which they have proven to be mas­ters. Un­like the Teu­ton­ic Knights, the Or­der of St. John had an in­ter­na­tion­al char­ac­ter, where no­ble born Catholic knights were accept­ed re­gard­less of their na­tion­al­i­ty. The fri­ars join­ing the re­li­gious com­mu­ni­ty vowed: chasti­ty and obe­di­ence, which means car­ry­ing out all the or­ders of au­thor­i­ty, and liv­ing with­out prop­er­ty. They wore a black habit and a black coat with an eight-sid­ed white cross
, which they ex­changed for ar­mour cov­ered with a red tu­nic with a white cross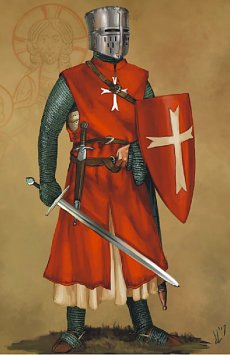 for the time of bat­tle.

Af­ter the es­tab­lish­ment of the King­dom of Jerusalem in 1099, the Hos­pi­tallers were an im­por­tant part of its armed forces, strength­ened by a net­work of fortress­es built in Syr­ia and Pales­tine. Among them stood out a huge fortress-hos­pi­tal Mar­gat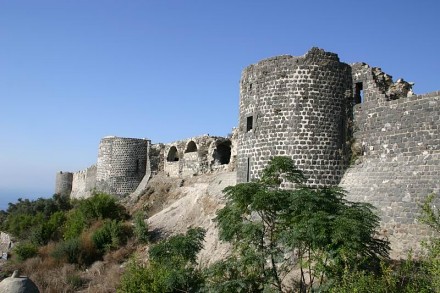 , which served as the cap­i­tal of the Or­der af­ter the fall of Jerusalem, as well as the im­pres­sive cas­tles of Bel­voir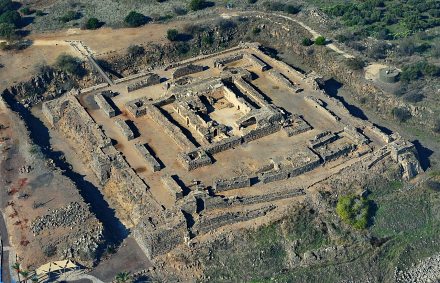 and Bethgi­belin. How­ev­er, the most fa­mous and great­est was the Krak de Cheva­liers, giv­en to the Hos­pi­tallers by the Count of Tripoli, Ray­mond II in 1144 and lat­er ex­tend­ed by them. Krak was the on­ly stronghold of the Cru­saders that re­mained in their hands for al­most the en­tire 13th cen­tu­ry, for this rea­son it was called by Mus­lims a bone in Is­lam's throat.




Krak de Chevaliers

Af­ter the fall of Ak­ka, the last stronghold of the Cru­saders in Pales­tine, the Hos­pi­tallers moved to Cyprus, and af­ter the Tem­plar Or­der was liq­ui­dat­ed, they took o­ver much of its prop­er­ty. In 1308 they in­vad­ed and con­quered the is­land of Rhodes to es­tab­lish a new con­gre­ga­tion cap­i­tal there. They left the is­land Rhodes af­ter 1522, es­cap­ing from 400 ships and 160 thou­sand sol­diers un­der command of Sul­tan Suleiman the Great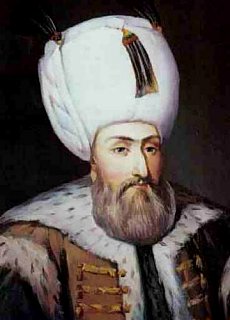 . For the next few years, the Or­der was wan­der­ing around dif­fer­ent Eu­ro­pean coun­tries, and fi­nal­ly, in 1530, the Ger­man Em­per­or Charles V
al­lowed the Hos­pi­tallers to set­tle in Mal­ta, where they built a port and fortress, and from where they con­tin­ued their mil­i­tary mis­sion of hunt­ing Ot­toman ships. In 1566 the con­vent be­gan to build a new head­quar­ters here - in hon­our of Grand Mas­ter Jean de la Valette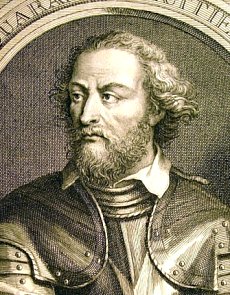 , the city was named La Valet­ta.

In Mal­ta, the Or­der resid­ed safe­ly un­til the Napoleon­ic Wars, when, as a re­sult of the in­ter­ven­tion of French troops, it lost most of its lands and al­most com­plete­ly dis­in­te­grat­ed. Its struc­tures be­gan to re­vive in the mid­dle of the nine­teenth cen­tu­ry as in­for­mal, of­ten in­de­pen­dent sec­u­lar con­gre­ga­tions (the great mas­ter was, among oth­ers, the Tsar of Rus­sia Pa­vel I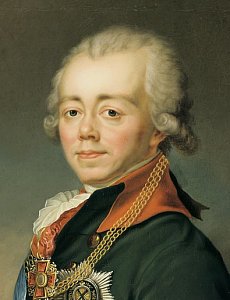 ), en­gaged in char­i­ta­ble ac­tiv­i­ties, pro­vid­ing as­sis­tance dur­ing nat­u­ral dis­as­ters and wars. To­day the Or­der of Mal­ta has about 10,000 mem­bers. It still has the pre­rog­a­tives to print pass­ports, mint coins and is­sue its own postage stamps. He is head­ed by an En­glish­man Mat­thew Fe­sting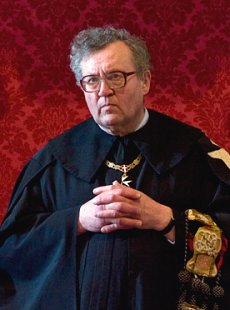 (2019).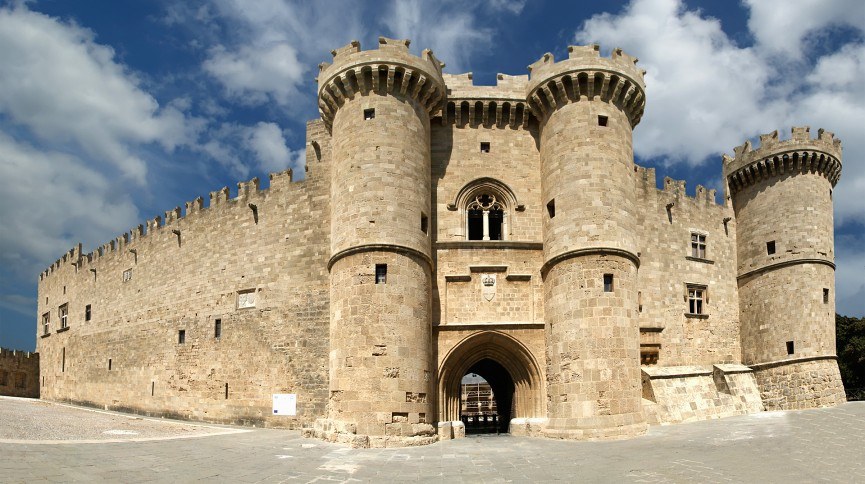 Rodos

The Hos­pi­tallers ar­rived in the Piast lands in the 12th cen­tu­ry in re­sponse to in­vi­ta­tion of Duke Hen­ryk San­do­mier­ski, es­tab­lish­ing com­man­deries in Zago­ście, Poz­nań, Bar­do and Strze­gom. In the for­mer New March, and now the Lu­bu­skie Land and Po­me­ra­nia, they pos­sesed cas­tles among oth­ers in Ła­gów, Swob­ni­ca, Świd­win and Sta­re Draw­sko. Cur­rent­ly, about 160 cit­i­zens of our coun­try be­long to the Or­der.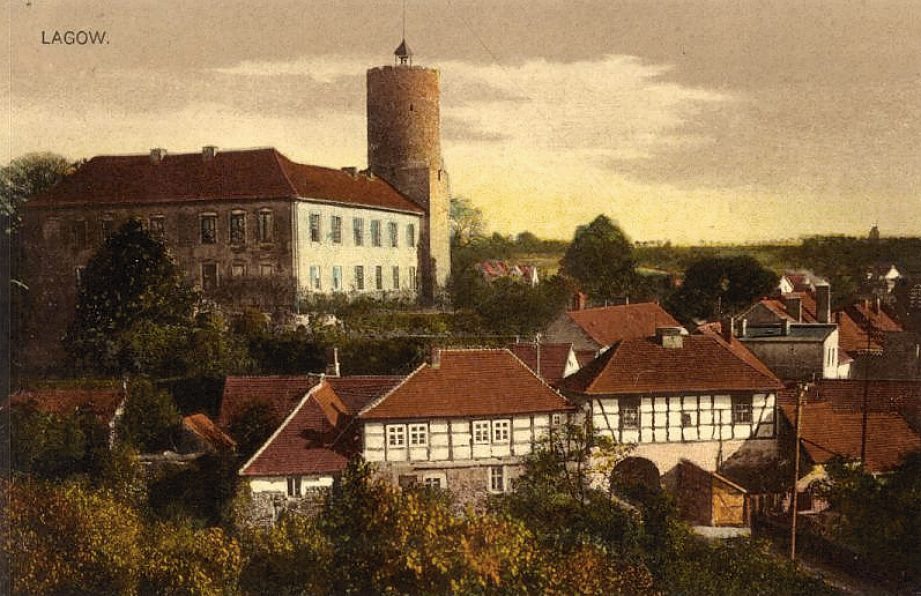 VIEW FROM THE SOUTH-WEST ON POSTCARD FROM AROUND 1900, THE MARTIAN GATE IN THE FOREGROUND
LOOKING FROM THE MARCH GATE, AROUND 1920
B
es­ides es­tates lo­cat­ed in Bran­den­burg, the Ła­gów com­man­dery al­so owned four vil­lages lo­cat­ed on the Pol­ish side of the bor­der: Bo­ry­szyn, Tem­ple­wo, Za­rzyn and Wie­lo­wieś. The di­vi­sion of the com­man­dery in­to the Pol­ish and Bran­den­burg parts led to con­flict be­tween the starost of Mię­dzy­rzecz, Sta­ni­sław Mis­ko­wski, and the com­man­der, who was un­will­ing to pay the sta­ro­sty. The cul­mi­nat­ing point of this strife was an armed ex­pe­di­tion of com­man­der Veit von Thu­men (d. 1544) to Mię­dzy­rzecz in 1527, which end­ed with the con­quest of the town and then the sign­ing of an agree­ment oblig­ing Hos­pi­tallers to pay the Pol­ish side 2000 Rhine florins as a repa­ra­tion for the un­jus­ti­fied as­sault and dam­ages caused by it. The Or­der, how­ev­er, sought to re­solve the dis­put­ed is­sue in a ju­di­cial man­ner and they achieved this with suc­cess, as the area was fi­nal­ly in­cor­po­rat­ed in­to the Bran­den­burg March­es by de­ci­sion of the mixed court. It seems in­ter­est­ing that de­spite the un­fa­vor­able sen­tence for Poland, al­most un­til the end of the 18th cen­tu­ry a tax col­lec­tor from starosty en­forced du­ties from these ar­eas. When elec­tor Jo­a­chim I Ne­stor
(d. 1535) died a few years lat­er, Jo­hann von Bran­den­burg-Küstrin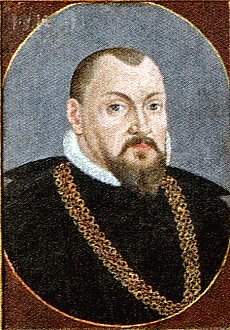 (d. 1571), a sup­port­er of the Re­for­ma­tion, took o­ver pow­er af­ter him. At the end of the fourth decade of the 16th cen­tu­ry, he was con­sid­er­ing sec­u­lar­iza­tion of the or­der's prop­er­ty lo­cat­ed with­in the March­es, pro­claim­ing that church in­sti­tu­tions should serve pri­mar­i­ly state pur­pos­es. This de­ter­mined at­ti­tude of the mar­grave forced von Thu­men to act in a way that would en­able the sur­viv­ing of or­ga­ni­za­tion, even at the cost of sac­ri­fices in re­li­gious and fi­nan­cial mat­ters. Thus, it al­lowed Luther­an preach­ers to evan­ge­lize and cel­e­brate the mass­es in the vil­lages un­der the ju­ris­dic­tion of Hos­pi­tallers, and mem­bers of the Or­der - to change their re­li­gious ori­en­ta­tion. Al­ready then, the half sec­u­lar char­ac­ter of the Or­der deep­ened the up­com­ing changes and con­tribut­ed to the ac­cep­tance by the Bran­den­burg Hos­pi­tallers the Luther­an faith. In 1543 An­dreas von Schlie­ben (d. 1571) got mar­ried and be­came the first mar­ried Ła­gów com­man­der.
| | |
| --- | --- |
| | |
A CASTLE ON COLOURED POSTCARDS FROM THE 1920S
D
es­pite the anx­i­eties ac­com­pa­ny­ing the loss of in­de­pen­dence of the Bran­den­burg Bali­vat, the town of Ła­gów, which had been op­er­at­ing since the mid­dle of the 16th cen­tu­ry un­der the pa­tron­age of sec­u­lar au­thor­i­ties, de­vel­oped eco­nom­i­cal­ly and mil­i­tar­i­ly. The Ła­gów Cas­tle was al­so changed: the main tow­er was raised and the two-storey north wing was added, and its out­er walls were re­in­forced by adding a gate build­ing and two short tow­ers. Such for­ti­fied stronghold ex­pe­ri­enced the on­ly siege in its his­to­ry, when in 1640 the Bran­den­burg troops com­mand­ed by gen. Bur­chard von Goldack­er tried to con­quer it in or­der to force out the Swedish crew. The siege failed - the Swedes re­pulsed at­tack by killing 30 sol­diers and 7 of­fi­cers. In 1656, a troop of 3000 sol­diers from Wiel­ko­pol­ska un­der the com­mand of Piotr Opa­liń­ski stayed at the walls of the cas­tle. Its ar­rival was a re­ac­tion to the vi­o­la­tion of the bor­ders by the Bran­den­burg army and the oc­cu­pa­tion of sev­er­al towns on the Pol­ish side of the bor­der. We do not know what ar­gu­ments Opa­liń­ski used, but the fact is that he en­tered the cas­tle and then oc­cu­pied it for sev­er­al months un­til the sign­ing of the truce, by virtue of which the Ger­mans com­mit­ted them­selves to with­draw from Mię­dzy­rzecz and Zbą­szyń. Sig­nif­i­cant de­vel­op­ment of Ła­gów was ob­served in the first decades of 18th cen­tu­ry, when Chris­tian Lud­wik von Ho­hen­zol­lern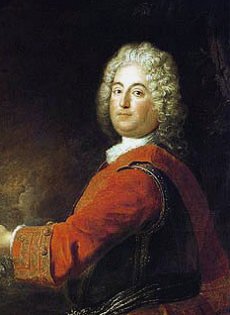 (d. 1734) be­came the com­man­der. On his ini­tia­tive, a church was built, and the town re­ceived new priv­i­leges with the right to col­lect ex­cise du­ty and or­ga­nize three fairs dur­ing the year. Von Ho­hen­zollern al­so found­ed the town park, and at the shore of Lake Trześ­niow­skie he es­tab­lished a small zoo. The changes did not omit the spa­tial lay­out of the com­man­dant's head­quar­ters, which re­ceived the clois­ters in the south­ern and east­ern part of the court­yard, and lat­er - new Baroque fa­cades and in­te­ri­or de­sign.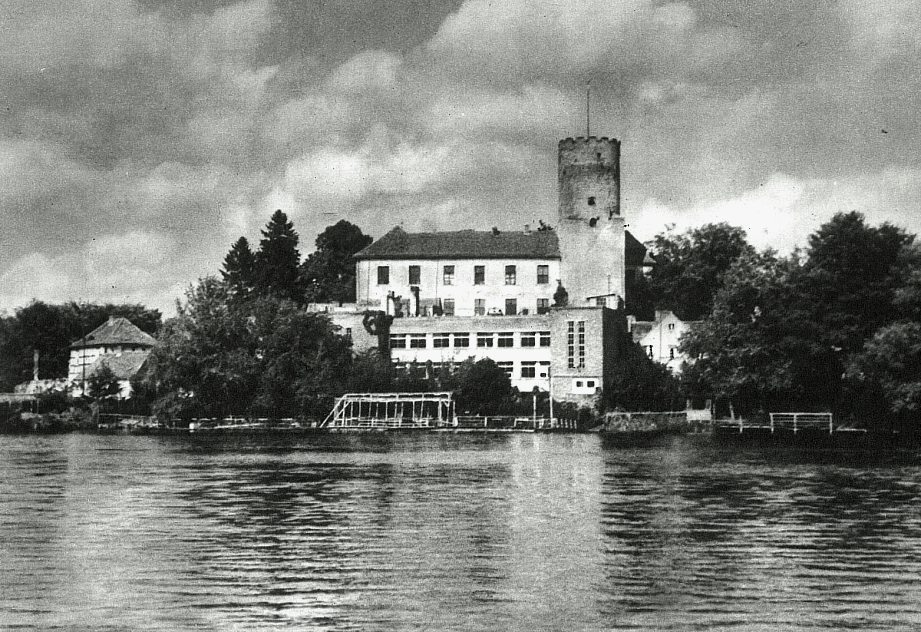 PANORAMY ZAMKU ZNAD JEZIORA ŁAGOWSKIEGO, FOTOGRAFIE Z LAT 30. I 40. XX WIEKU
I
n 1810, the Or­der of St. John in Prus­sia was can­celled by the edict of Fried­rich Wil­helm III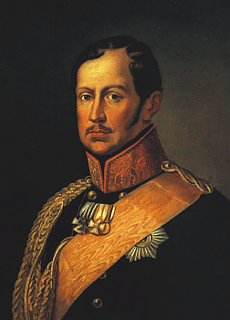 , and its es­tate was tak­en o­ver by the state in or­der to se­cure funds for re­pay­ment the war con­tri­bu­tions af­ter los­ing the war against France. A few years lat­er, the king hand­ed o­ver part of the for­mer com­man­dery, in­clud­ing the park, the zoo and six es­tates, to Gen­er­al Fried­rich Wil­helm von Za­s­trow (d. 1830). In 1832 Frie­de­ri­ke Do­ro­thea Lu­de­man (d. 1840) bought the cas­tle for 10,000 thalers and soon sold it to Gen­er­al Wil­helm von Bar­fus-Falken­berg (d. 1863). Af­ter the fire in June 1842, which dam­aged the tow­er, the cas­tle was bought by Her­mann von Op­pen, and then, by suc­ces­sion, the prop­er­ty passed in­to the hands of his son-in-law, Count von Arn­im. Since 1856, the for­mer seat of the Or­der was owned by Hugo Wrscho­wetz-Sek­er­ka von Sed­cz­ic, Baron Wurmb von Finck, Count von Pueck­ler-Lim­burg and Wan­da von Pueck­ler-Lim­burg, the last host­ess of the cas­tle, who left Ła­gów in 1945. Af­ter the war, the town was in­cor­po­rat­ed in­to Poland, and the As­so­ci­a­tion of Art and Cul­ture His­to­ri­ans took care of the ne­glect­ed her­itage, or­ga­niz­ing a Cre­ative Work House there. In 1962 it was tak­en o­ver by the Hen­ryk Wie­ni­aw­ski Mu­sic So­ci­ety, host­ing many out­stand­ing artists and sci­en­tists, or­ga­niz­ing open-air art schools and prepar­ing mu­si­cians for in­ter­na­tion­al com­pe­ti­tions. Af­ter ren­o­va­tion in the years 1966-71, the build­ing went un­der the man­age­ment of the Sports and Tourism Cen­tre, which ar­ranged there a ho­tel for "dol­lar tourists".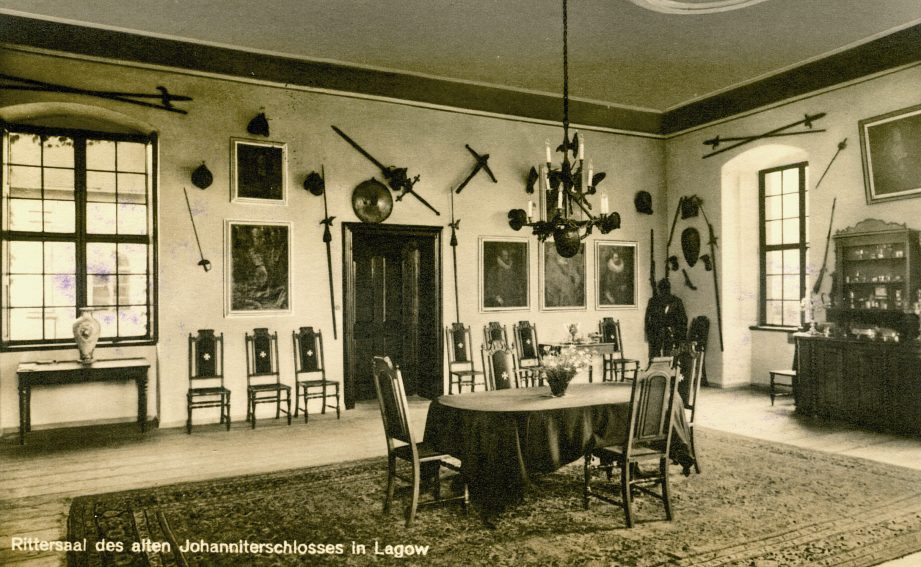 KNIGHT'S HALL, INTERWAR PERIOD
IN THE COURTYARD OF ŁAGÓW CASTLE, INTERWAR PERIOD
COMMANDERS FROM ŁAGÓW (tenure)
* Albertus heres de Lagovo (1362) - probably the first, not confirmed by documents, Łagów commander.
* Henryk von Wedel (1372-82) - representative of powerful noble family from the Ger­man Hol­stein, a close as­so­ciate of Otto V. After 1372 he was probably com­man­der of Chwar­szcza­ny.
* Busso von Alvensleben (1382-92) - previously in office as commander of Czaplinek.
* Anno von Heimburg (1403-07) - after leaving Łagów, he became a commander in Süpplin­gen­burg.
* Bernard Bruker (-1435) - commander of Chwarszczany, accused by Teutonic Knights of cooperation with the Pol­ish army, and then regard­ed by them a trai­tor and dep­rived of the pos­si­bi­li­ty of holding any office in the lands subject to Teu­to­nic Or­der.
* Miklosz Colditz (1435-58) - he came from a Czech-Miśnia family, in the Order of St. John he was prev­ious­ly the com­man­der in Swob­ni­ca, Süpplin­gen­burg and Tem­pel­hof.
* Liborius von Schlieben (1458-60) - in 1460, he was elected master of the Brandenburg balivat.
* Hildebrand Selchow (1463)
* Baltazar List (1468)
* Jakub von Barfuss (1474-90) - engaged in diplomatic affairs between Bran­den­burg and Poland; also part­ici­pant in the war for the Duchy of Gło­gów, during which he was brief­ly im­pri­soned. After leaving Ła­gów, he held the office of Chwar­szcza­ny com­man­der.
* Liberius von Schapelow (1505-)
* Veit von Thumen (1523-1539?) - in 1527, raised to the dignity of a Bran­den­burg master; since then, he has combined this function with the ma­na­ge­ment of the Ła­gów com­man­dery.
* Andreas von Schlieben (1541-71) - a trusted associate of Jan Ho­hen­zol­lern and a fol­low­er of the Re­for­ma­tion. In 1543 he married as one of the first Bran­den­burg com­man­ders.
* Abraham von Gruneberg (1572-81)
* Konrad von Burgsdorff (1628-52) - the chief fiscal officer and private councillor of the Bran­den­burg electo­rate, as well as the chief com­man­der of all strong­holds in Mark Bran­den­burg and the parish priest of the cathedral col­le­giate churches in Hal­ber­stadt and Bran­den­burg. Recognized as the founder of the mo­dern Bran­den­burg-Prus­sian army.
* Georg Friedrich von Waldeck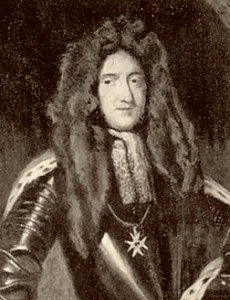 (1654-59) - a German field marshal and Dutch general. Com­man­der of the Bran­den­burg-Swed­ish Corps in the war with Poland, during which he failed at the battle at Prost­ki. He also took part in the me­mo­rable Bat­tle of Vien­na in 1683 as com­man­der of Ba­var­ian troops.
* von Loben (1660-68) - recommended by the elector after removal of von Wal­deck from his com­mand post as a punish­ment for the coopera­tion bet­ween the Dutch­man and the Swed­ish army.
* Georg Friedrich von Waldeck (1668-92)
* Christian Ludwig von Hohenzollern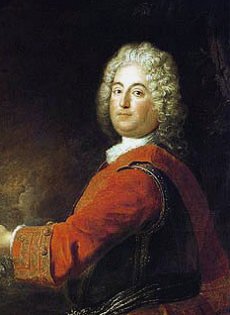 (1705-35) - after 1712 he extended the Ła­gów Cast­le by the fourth, east­ern wing. On his com­mis­sion J. S. Bach com­posed six con­certs, which came to his­to­ry as Bran­den­burg con­certs. During the reign of von Ho­hen­zol­lern, Ła­gów was granted town rights and a small zoo was esta­blish­ed near the cast­le.
* Adam Otto von Viereck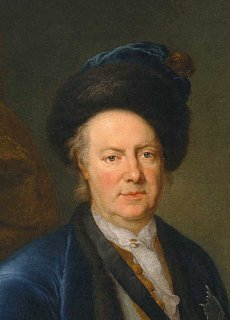 (1735-) - Prussian Minister of State and private budget ad­visor. He was the he­re­di­ta­ry rul­er of Wei­ten­dorf. In 1747 he became an ho­no­ra­ry mem­ber of the Royal Prus­sian Scient­ific Society.
* Friedrich Wilhelm von Pannwitz (1765) - son of General Wolf Adolf von Pannwitz, owner of the manor house Schön­fließ near Ora­nien­burg, where he and his father created an exemplary ma­nor house and agri­cul­tu­ral vil­lage accord­ing to modern agri­cul­tu­ral and fo­rest­ry methods.
* Joachim von Burgsdorff (1802-10)
* Fryderyk von Hessen-Philippstahl (1810)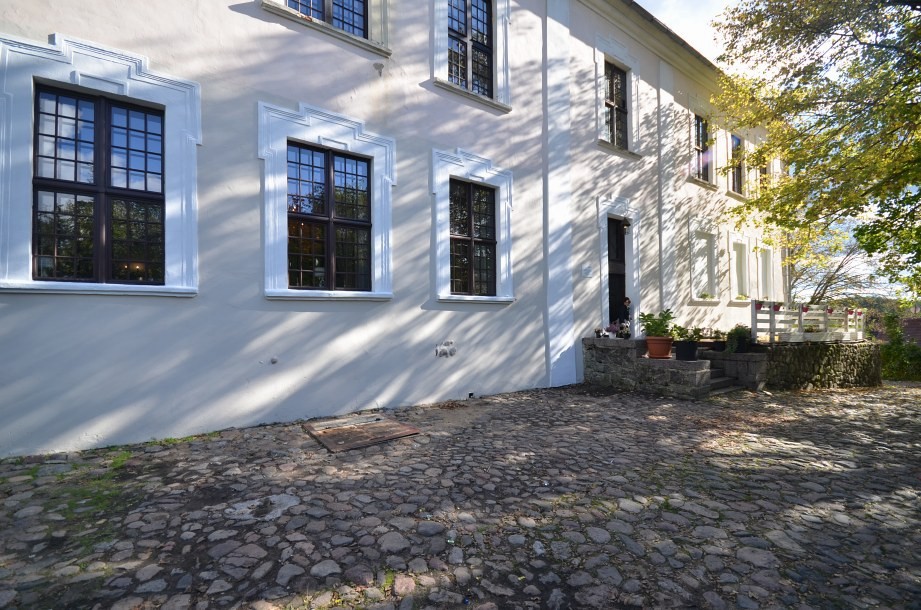 WEST WING WITH MAIN ENTRANCE
DESCRIPTION OF THE CASTLE
T
he Goth­ic cas­tle was built of brick and part­ly of stone, on a plan sim­i­lar to 30x34 me­ter trapeze. Ini­tial­ly, it con­sist­ed of res­i­den­tial hous­es sit­u­at­ed in the west­ern and north­ern part of the court­yard and a tow­er erect­ed on the plan of square with side of 8.5 me­ters. Its low­est storey was oc­cu­pied by a small dun­geon mea­sur­ing 3.5x3.5 me­tres, above it there were rooms for guards, then shoot­ing stands and a la­trine, and the peak, which was first 17 and lat­er 24 me­tres high and topped with blanks. Orig­i­nal­ly, the en­trance to the tow­er was at a height of 13 me­tres and was ac­ces­si­ble from the porch. The west wing mea­sured 27 me­tres in length and 8 me­tres in width, and filled the en­tire length of the cur­tain. It was part­ly cel­lared, with two rooms on the ground floor and win­dows fac­ing the court­yard. In the south­ern part there was a cross-ribbed re­fec­to­ry, and in the north­ern part - prob­a­bly a chapel. The chapel was equipped with, among oth­er things, an al­tar de­pict­ing Madon­na and Child and wood­en ar­ti­facts: a cru­ci­fix and a bowl with the im­age of the pa­tron of the Or­der, which to­day is in the col­lec­tion of the Na­tion­al Mu­se­um in Poz­nań. Be­fore 1533 the re­fec­to­ry was di­vid­ed in­to small­er rooms with an ar­moury, a court­room and - prob­a­bly - a sol­dier's room. The West House first floor and both floors of the North Build­ing housed liv­ing quar­ters, in­clud­ing cham­bers of the mas­ter, the com­man­dant and his courtiers. The re­main­ing, south­ern part of the floor of the west wing was oc­cu­pied by the vis­i­tors' area, men­tioned in year 1533 as Gr­roey gastkamern. Hor­i­zon­tal com­mu­ni­ca­tion be­tween cham­bers was prob­a­bly car­ried out by means of wood­en clois­ters and porch­es run­ning along the top of the wall, while ver­ti­cal com­mu­ni­ca­tion was provided by wood­en stairs at­tached to ex­ter­nal walls.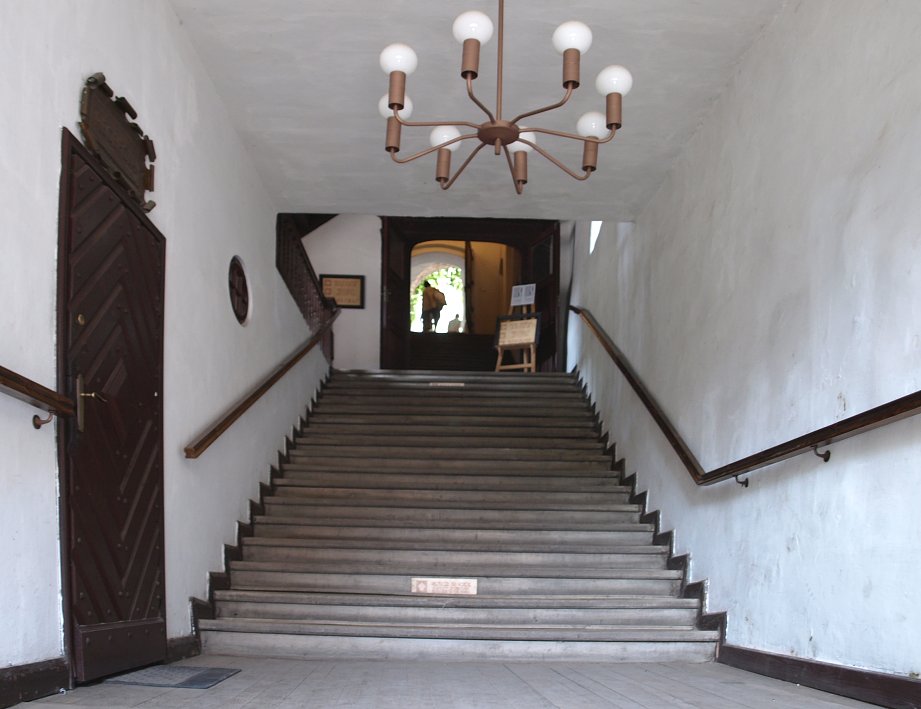 GATE NECK LEADING TO THE COURTYARD FROM THE EAST
VIEW FROM THE TOWER ON THE ROOFED COURTYARD
T
he res­i­den­tial and util­i­ty build­ings were closed from the east and south with a cur­tain wall topped with a crenel­la­tion, with an en­trance to the court­yard pre­ced­ed by a long wood­en bridge. Pre­sum­ably, at the turn of the 14th and 15th cen­turies, the upper cas­tle was sur­round­ed by brick walls
mea­sur­ing 70x70 me­tres and 8 to 11 me­tres high, which, in spite of its de­fen­sive tasks, al­so served as a sup­port­ing struc­ture for the ar­ti­fi­cial­ly erect­ed cas­tle hill. This ad­di­tion­al perime­ter in the north­ern and west­ern parts was equipped with two semi­cir­cu­lar bas­tions, and in the south­ern cur­tain with shoot­ing stands and wood­en hoards. The third line of de­fense of the or­der's seat were the town walls sur­round­ing the for­mer bai­ley with the 15th cen­tu­ry Pol­ish Gate in the south-east­ern part and the Ger­man Gate erect­ed in the 16th cen­tu­ry at the south-west­ern en­trance. In the 16th cen­tu­ry, the tow­er was raised and a gate tow­er was added to the east­ern cur­tain, which was lat­er in­cor­po­rat­ed in­to the en­trance neck and cov­ered with a mansard roof. At the end of the cen­tu­ry, the north­ern wing was re-erect­ed, and in the 17th cen­tu­ry - af­ter the Thir­ty Years' War - the hous­ing was sup­ple­ment­ed with a south­ern wing, where in ad­di­tion to the kitchen, a bak­ery, a brew­ery and meat and cheese ware­hous­es were lo­cat­ed. The for­mer ar­moury in the west wing was then trans­formed in­to gewolbte Fle­ichkam­mer - a meat pantry for the neigh­bour­ing kitchen.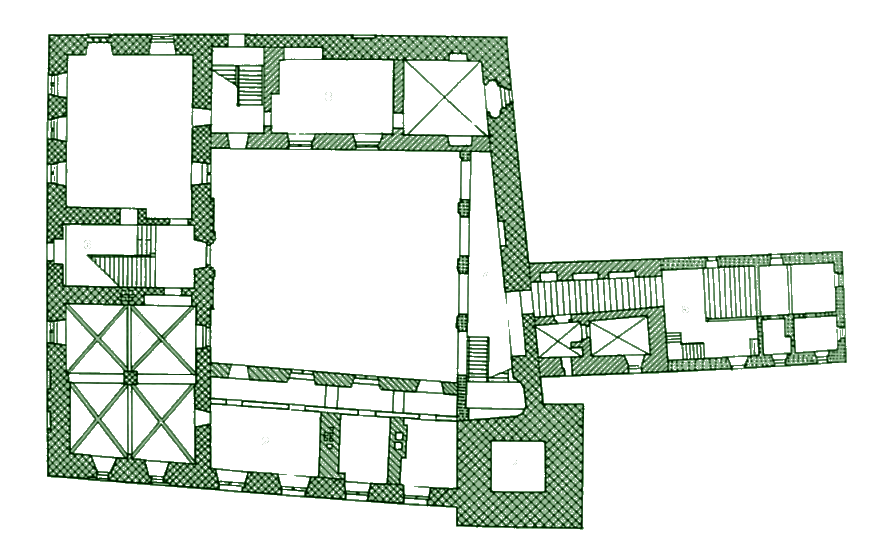 THE CONTEMPORARY PLAN OF THE CASTLE, THE MEDIEVAL WALLS MARKED WITH A GRID, AND THOSE FROM THE XVII-XVIII CENTURY ARE HATCHED:
1. WEST WING, 2. SOUTH WING, 3. NORTH WING, 4. MAIN TOWER, 5. GATE NECK, 6. MAIN STAIRCASE, 7. ARCADES AT THE EASTERN WALL
SOURCE: LEKSYKON ZABYTKÓW POMORZA ZACHODNIEGO
PLAN OF CASTLE FORTIFICATIONS ACCORDING TO H.E. KUBACH: 1. CASTLE, 2. EXTERNAL WALL,
3. BASTIONS, 4. TOWN WALL, 5. GERMAN GATE, 6. POLISH GATE, 7. CHURCH
P
ur­ing the Baroque mod­ern­iza­tion of the cas­tle, an east­ern cur­tain of the walls was built up with two-storey ar­cades, and a stair­case lead­ing di­rect­ly to the court­yard was added to gate tow­er. A gate was formed
in the south­ern part of the east­ern cur­tain of the out­er perime­ter, from where a drive­way was led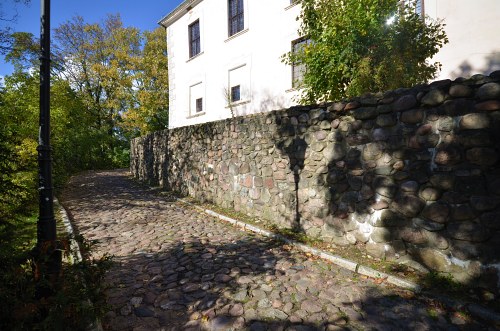 along the south­ern wing to the en­trance lo­cat­ed in the west­ern wing. The in­te­ri­ors of the west wing, where the stair­case was built and new fire­places in­stalled, al­so trans­formed. The ex­te­ri­or el­e­va­tions of all build­ings were rear­ranged by new lay­out of win­dows and por­tals. The last sig­nif­i­cant mod­i­fi­ca­tions in ar­chi­tec­ture and dec­o­ra­tion occured in the first half of the 19th cen­tu­ry, when the north­ern and south­ern wings received new en­trances, and the large hall in the west­ern wing was di­vid­ed in­to four small­er rooms.
CASTLE IN ŁAGÓW, VIEW FROM THE RAILWAY VIADUCT IN THE EASTERN PART OF THE TOWN
---
T
he pre­sent-day ap­pear­ance of the cas­tle results from its Baroque re­con­struc­tion and trans­for­ma­tion of the 19th cen­tu­ry, but un­der­neath this form al­most en­tire­ly me­dieval walls pre­served. To­day, the Goth­ic char­ac­ter is rep­re­sent­ed on­ly by the tow­er and frag­ments of de­fen­sive walls, and in­side - by room in the west wing, cov­ered with a cross-ribbed vault, as well as the cel­lars placed un­der­neath. The Baroque dec­o­ra­tions are rep­re­sent­ed by re­mains of stuc­co or­na­men­ta­tion and fire­places. The cas­tle be­longs to the mu­nic­i­pal­i­ty, which leas­es it to a pri­vate com­pa­ny. It runs a ho­tel here with a con­fer­ence cen­tre, restau­rant and café. The cas­tle is not open to the pub­lic, but dur­ing the sum­mer sea­son the tow­er with view­ing point is avail­able for tourists, from where they can ad­mire the charm­ing panora­ma of the town and lakes: Trześ­nio­wskie (Ciecz)
and Ła­gow­skie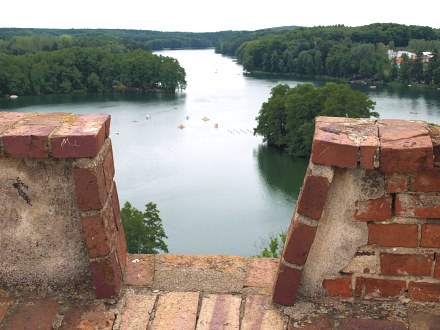 . From the south, the cas­tle is ad­ja­cent to his­toric small-town build­ing, which stretch­es o­ver a 120-me­tre sec­tion of road closed by the Gates: Ger­man and Poland. On the west­ern side there is a small am­phithe­atre which is are­na for Lubuskie Film Sum­mer.
CASTLE IN 2019: ON THE LEFT VIEW FROM THE SOUTH-EAST, ON THE RIGHT THE DRIVEWAY ALONG THE SOUTH WING
---
T
he town is lo­ca­ted ap­pro­xi­ma­te­ly half­way be­tween Go­rzów Wiel­ko­pol­ski and Zie­lo­na Gó­ra, a few ki­lo­me­tres north of the A2 high­way in Poz­nań-Świe­cko se­ction. Ła­gów can be re­ached by bu­ses from Zie­lo­na Gó­ra, but they run only se­ve­ral ti­mes a day. Du­ring the summer se­ason it could be crow­ded he­re, so par­king your car in clo­se vi­ci­ni­ty to the ca­stle can be a chal­len­ge. The­ore­ti­cal­ly, it is pos­si­ble at Kos­ciusz­ki Street, just next to the south­ern cur­tain of the walls, or on the squa­re at Zam­ko­wa Street, but I re­com­mend he­ading straight to the lar­ger car park lo­ca­ted at Mostowa Street, from whe­re we ha­ve a­bout 400 me­ters to the for­mer seat of the Or­der.
---
1. D. Hein: Zamki joannitów w Polsce, Poznań 2009
2. L. Kajzer, J. Salm, S. Kołodziejski: Leksykon zamków w Polsce, Arkady 2001
3. K. Stępińska: Pałace i zamki w Polsce dawniej i dziś, KAW 1977
4. A. Wagner: Murowane budowle obronne w Polsce X-XVIIw., Bellona 2019
5. K. Wasilkiewicz: Templariusze i joannici w biskupstwie lubuskim, UAM Poznań 2016
6. K. Wasilkiewicz: Zarys dziejów komandorii joannitów w Łagowie..., Studia Europaea Gnesnensia 10/2014
7. K. Wasilkiewicz: Zarys dziejów baliwatu brandenburskiego..., Studia Europaea Gnesnensia 18/2018
8. K. Wroński: Zamek w Łagowie w świetle najstarszego inwentarza z 1533 roku, Rocznik Chojeński 2018
PANORAMA OF THE TOWN FROM CHROBRY STREET
Castles nearby:
Świebodzin - relics of ducal castle from the 13th-14th century, 21 km
Międzyrzecz - the ruins of royal castle from 14th century, 26 km
---
| | | |
| --- | --- | --- |
| | | The neo­clas­si­cal church of St. John Bap­tist from 1726, ex­ten­ded in 1887. In­si­de the tem­ple it is worth to pay attention to the gal­ler­ies, as well as se­ve­ral tomb­sto­nes from 16th cen­tu­ry in the la­te Re­nais­san­ce sty­le, among others the tomb­stones of Łagów Com­man­der's An­dre­as von Schlei­ben and his son, al­so An­dre­as. |
| | | |
| --- | --- | --- |
| | | A small beech park with an old trees, located between the ca­stle and La­ke Trze­śniow­skie, which was found­ed in the 18th cen­tu­ry by Chris­tian von Ho­hen­zol­lern. Atten­tion is drawn here pri­ma­ri­ly to the beech with al­most ho­ri­zon­tal bran­ches, whose crown is over a do­zen me­ters in dia­me­ter. Hi­king trails lead from the park to Ła­gow­sko-Su­lę­ciń­ski Land­sca­pe Park. Ne­ar­by the­re is a small ma­ri­na whe­re you can rent pe­dal boats or kayaks. |
| | | |
| --- | --- | --- |
| | | Marchijska Gate, al­so cal­led Ger­man Gate or Ber­lin Gate, which closes the area of the for­mer bai­ley from the south-west­ern si­de. It is one of two me­die­val town ga­tes of Ła­gów. Erec­ted in the 16th cen­tu­ry, in the lo­wer part ma­de of brick, in the up­per part half-tim­be­red con­struc­tion. |
| | | |
| --- | --- | --- |
| | | Po­lish Ga­te, al­so cal­led Poz­nań­ska Ga­te, which occup­ies the south­east­ern part of the hi­sto­ric ur­ban area. It is two-sto­rey buil­ding e­rec­ted of brick, co­ve­red with a ga­ble roof. Both here and in the Ger­man Gate a nar­row pas­sa­ge was car­ved, the­re­fore traf­fic is con­trol­led by traf­fic lights. Trucks and co­aches can­not pass through them. |
text: 2020
photographs: 2008, 2019
© Jacek Bednarek