NIEPOŁOMICE

the royal castle
CASTLE IN NIEPOŁOMICE, FRONT ELEVATION
---
D
ur­ing the reign of Wła­dy­sław Łok­ie­tek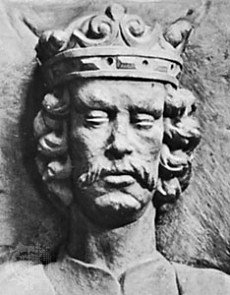 (d. 1333), Nie­po­ło­mi­ce be­came a part of the roy­al es­tate, com­bined with Ma­ło­pol­s­ka lands in or­der to cre­ate a com­mon econ­o­my. In the times of Polish King Ca­si­mir the Great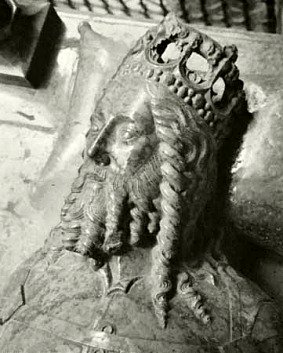 (d. 1370), this small set­tle­ment was one of the favour­ite rest­ing places for the ruler, who built for­ti­fied cas­tle here to pro­tect the cap­i­tal city of Cra­cow from the east, and to serve as an ad­min­is­tra­tion for the king and his court. The old­est pre­served doc­u­ment con­firm­ing ex­is­tence of the seat in Nie­po­ło­mi­ce dates back to 1358, al­though it is not en­tire­ly cer­tain that its con­tent refers to the brick res­i­dence; this one could have been built on­ly in the 60s of the 14th cen­tu­ry. Un­doubt­ed­ly, how­ev­er, this place was im­por­tant for Ca­si­mir, as ev­i­denced by at least eight roy­al vis­its, as well as in­ten­sive de­vel­op­ment of the vil­lage as an eco­nom­ic base for the court. More­over, trade roads from the east to Cra­cow and fur­ther to Si­le­sia and from Ma­zo­via to Hun­gary crossed here, what was re­flect­ed in the num­ber of inns op­er­at­ing in the vil­lage, which in the me­di­ae­val times were as many as twen­ty! Due to its con­ve­nient lo­ca­tion, the cas­tle was of­ten vis­it­ed by the mes­sen­gers and po­lit­i­cal rep­re­sen­ta­tions at the high­est lev­el who trav­elled to Wa­wel Cas­tle in Cra­cow. These in­clud­ed, among oth­ers, the pro­ces­sion ac­com­pa­ny­ing the four­teen-year-old Si­gis­mund of Lux­em­bourg (d. 1437), son of Em­per­or Charles IV
, that stayed in Nie­po­ło­mi­ce for a short time in De­cem­ber 1382.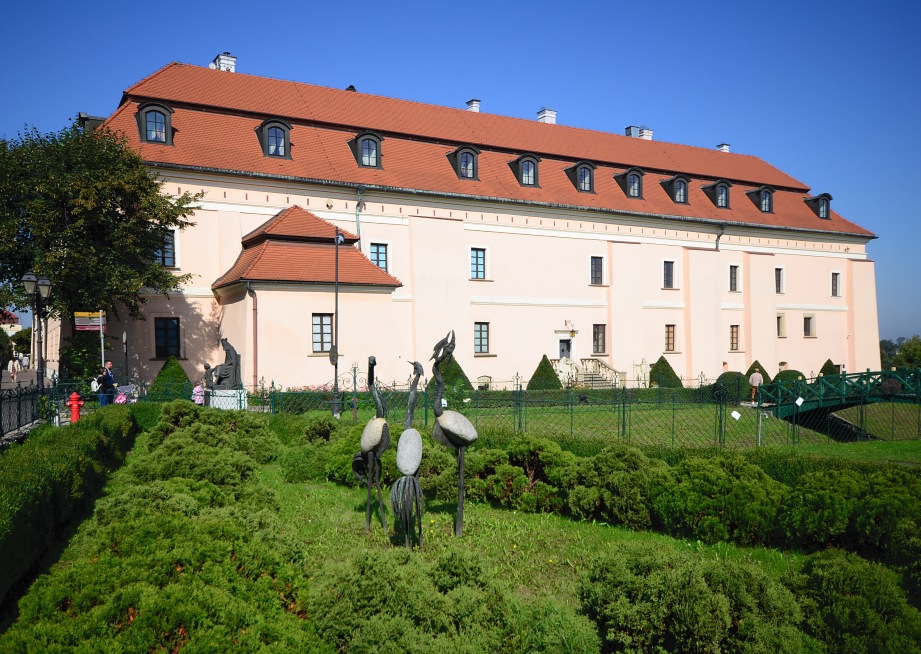 W
hen Casimir the Great died, the cas­tle did not lose its sta­tus of roy­al res­i­dence, as ev­i­denced by at least ten vis­its of the daugh­ter of Lud­wig the Hun­gar­i­an - Jad­wi­ga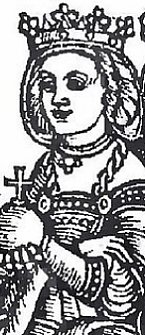 (d. 1399), who was elect­ed by the no­bil­i­ty to rule af­ter her fa­ther. The re­al pros­per­i­ty of the vil­lage came dur­ing the reign of Wła­dy­sław Ja­gieł­ło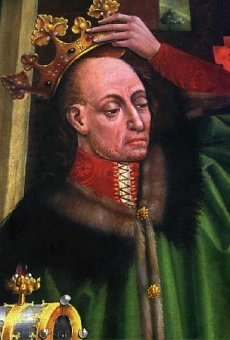 (d. 1434) who did not like Cra­cow and dur­ing his short stays in Ma­ło­pol­ska as many as thir­ty-six times vis­it­ed the cas­tle sit­u­at­ed in the midst of the for­est, from where he could en­joy his fa­vorite en­ter­tain­ment, which was hunt­ing. Dur­ing roy­al stays, for­ti­fied cas­tle al­so be­came the ad­min­is­tra­tive cen­tre of the state, where an­nu­al meet­ings of the king and his coun­cil took place and many doc­u­ments were is­sued. Ja­gieł­ło vis­it­ed Nie­po­ło­mi­ce reg­u­lar­ly, most­ly in mid-Novem­ber, af­ter San­do­mierz and Rus tours, and just be­fore leav­ing for Lithua­nia, where he usu­al­ly spent win­ters. Many im­por­tant de­ci­sions, as well as those of less­er im­por­tance con­cern­ing the per­son­al life of the king, were made not in the cap­i­tal city of Cra­cow, but in the small vil­lage on the edge of Nie­po­ło­mi­ce For­est. This was the case in 1407 when the court was buzzing with ru­mours about the al­leged be­tray­al of the king's wife An­na Cy­lej­ska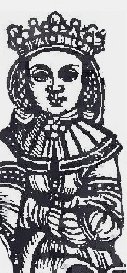 (d. 1416). Ini­tial­ly Ja­gieł­ło, in a state of en­vy, pub­licly ex­posed his wife to defama­tion, and then, at the in­sis­tent re­quest of the queen, re­voked his ac­cu­sa­tions, as he did dur­ing the con­ven­tion at Nie­po­ło­mi­ce.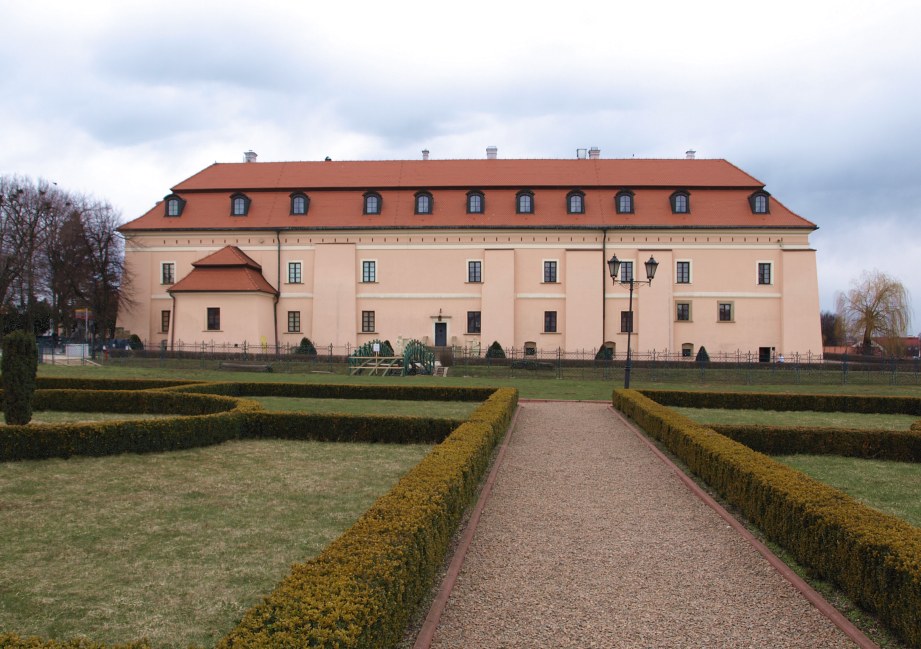 SOUTHERN WING OF THE CASTLE
ENTRANCE GATEWAY IN THE WEST WING
A
mong the events which have been writ­ten in­to the his­to­ry books and which con­cerned the roy­al Nie­po­ło­mi­ce, it is worth men­tion­ing the con­ven­tion called here in the au­tumn of 1409 just af­ter the an­nounce­ment of the cease­fire in Pol­ish-Teu­ton­ic war. The de­lib­er­a­tions con­duct­ed un­der Ja­gieł­ło's lead­er­ship were ac­com­pa­nied by a tri­al against the knight War­ci­sław of Gor­tra­tow­ice, who, act­ing unfaith­ful­ly and with­out any ne­ces­si­ty, hand­ed o­ver the cas­tle Bo­brow­ni­ki to Teu­ton­ic Knights. And al­though the de­fen­dant swore that he had sur­ren­dered the fort­ress with the knowl­edge and per­mis­sion of the arch­bish­op of Gniez­no, Ku­row­ski, and even pre­sent­ed ev­i­dence to con­firm the truth of his words, the king did not give him faith and sen­tenced to life im­pris­on­ment in the Chę­ci­ny cas­tle. This de­ci­sion was changed lat­er, ap­par­ent­ly, since War­ci­sław en­joyed free­dom al­ready in 1410. An­oth­er in­ter­est­ing episode af­fect­ing the Nie­po­ło­mi­ce lo­ca­tion took place dur­ing a con­ven­tion held here in 1420. At that time, on St. Mar­tin's Day, the roy­al court con­firmed the con­sent to the mar­riage of Wła­dy­sław Ja­gieł­ło and Zyg­munt Lux­em­burg's sis­ter-in-law Of­ka. How­ev­er, the wed­ding nev­er took place, be­cause in the mean­time Ja­gieł­ło changed his plans and mar­ried Rus­sian Prin­cess Zo­fia Hol­szań­ska (Son­ka)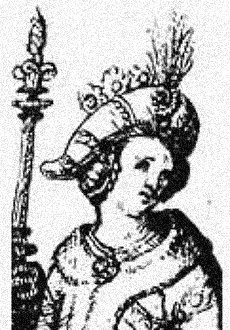 (d. 1461). This un­ex­pect­ed course of events brought many ben­e­fits for the Ja­giel­lo­nian dy­nasty, as Son­ka gave birth to Wła­dy­sław as many as three sons, while Of­ka on her wed­ding day would be ap­proach­ing the age of fifty.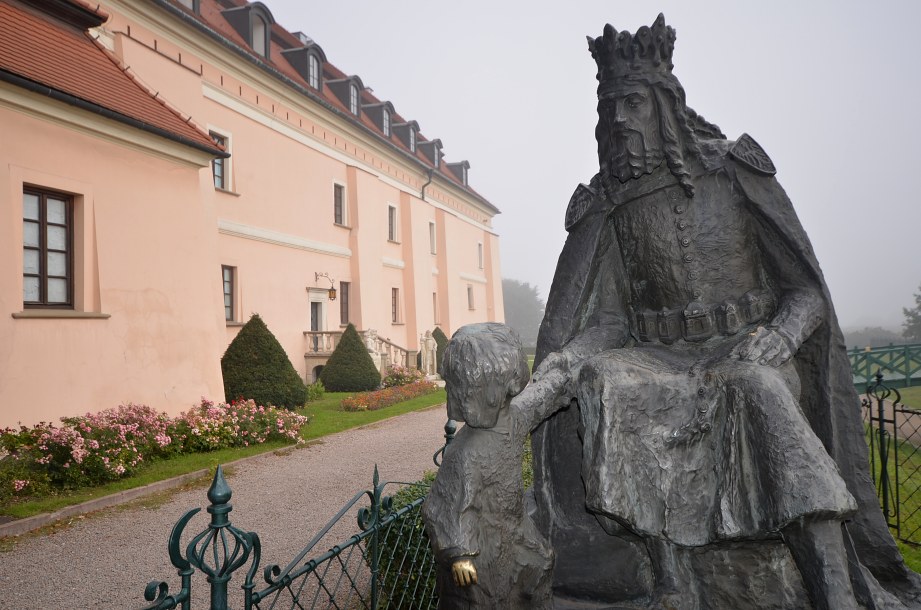 MONUMENT OF CASIMIR THE GREAT, POLISH KING
ENTRANCE TO THE SOUTH WING FROM THE GARDEN SIDE
I
n 1442, the el­dest son of Son­ka and Wła­dy­sław Ja­gieł­ło, Wła­dy­sław III (d. 1444) pledged Nie­po­ło­mi­ce to broth­ers Piotr and Mi­chał Dy­bacz, and since the pledge was gen­er­al­ly nev­er bought out, the es­tate was lat­er sep­a­rat­ed from the roy­al do­main and re­named in­to a pledge starosty. Since 1454, the cas­tle was in­hab­it­ed not on­ly by the starost but al­so by cus­toms of­fi­cer tak­ing care of a fer­ry on the Vis­tu­la and by for­est guards. Af­ter the trag­ic death of his broth­er in the Bat­tle of Var­na, Ka­zi­mierz Ja­giel­loń­czyk (d. 1492) ruled the King­dom, who, like Ja­gieł­ło, trav­elled around the coun­try, but did not do so as of­ten and reg­u­lar­ly as his fa­ther. He was a fre­quent vis­i­tor to Nie­po­ło­mi­ce, how­ev­er, but more to en­joy hunt­ing wild an­i­mals than in state mat­ters, as he pre­ferred to set­tle these is­sues in Cra­cow or No­wy Kor­czyn. In 1471 and 1472 the roy­al court resid­ed in the Nie­po­ło­mi­ce cas­tle for some time, but the rea­son for these longer vis­its was the king's fear of the plague. The el­dest sons of Ka­zi­mierz Ja­giel­loń­czyk al­so did not share the method of in­ter­nal pol­i­tics-mak­ing prac­ticed by their grand­fa­ther and spent most of their time in Cra­cow, or - like Jan Ol­bracht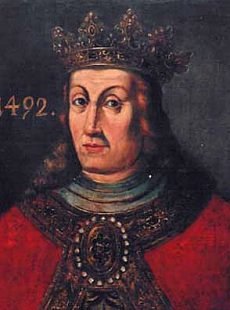 (d. 1501) - in San­do­mierz, Mal­bork and To­ruń, or - like Ale­ksan­der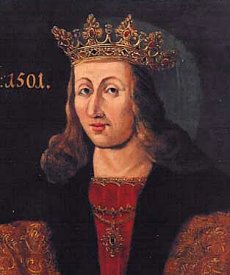 (d. 1506) - in Lithua­nia. They ap­peared spo­rad­i­cal­ly in Nie­po­ło­mi­ce, and the stays were main­ly recre­ation­al.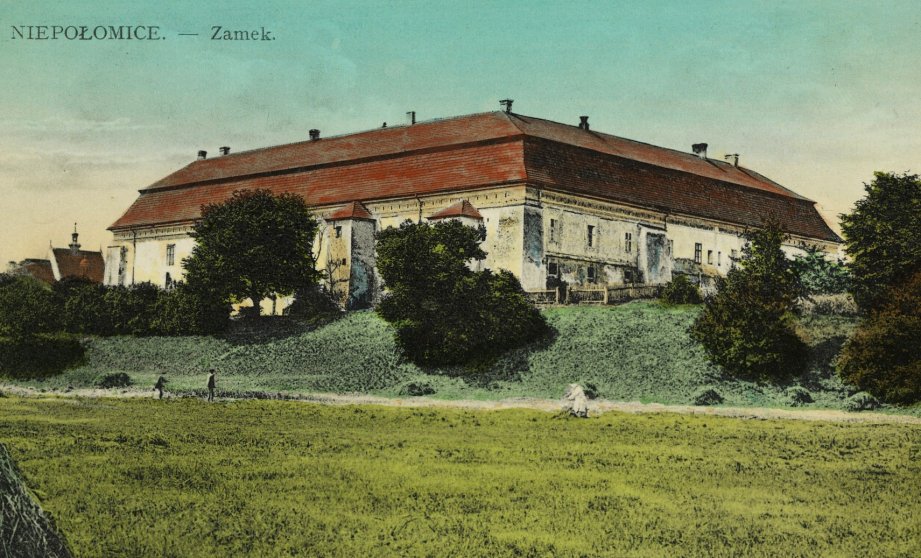 COLOURFUL POSTCARD FROM THE 2ND DECADE OF THE XX CENTURY
CASTLE IN THE PAINTING DATED 1913, AUTHOR: M. TRZEBIŃSKI
D
ur­ing the reign of Si­gis­mund I
(d. 1548), a sys­tem of roy­al trav­els con­sist­ed of quite reg­u­lar jour­neys be­tween Cra­cow and Vil­nius, del­e­ga­tions to par­lia­men­tary con­ven­tions, oc­ca­sion­al ex­pe­di­tions con­nect­ed with diplo­ma­cy and war, as well as short trips for recre­ation­al and leisure pur­pos­es. Thanks to its con­ve­nient lo­ca­tion, the Nie­po­ło­mi­ce cas­tle was per­fect­ly suit­ed to the needs of roy­al jour­neys and was of­ten used as such by the king and his court. No won­der that it be­came the sub­ject of at­ten­tion from the ruler, who re­deemed it from the pledge and then mod­ern­ized. In the 20s and 30s of the 16th cen­tu­ry, un­der di­rec­tion of mas­ter Be­ne­dict and Bar­to­lo­meo Ber­reti, com­pre­hen­sive ren­o­va­tion of the old strong­hold was car­ried out, in­clud­ing at least re­place­ment of floors and stoves, as well as in­stal­la­tion of dec­o­ra­tive ar­chi­tec­tural de­tails. The con­ve­nient lo­ca­tion of res­i­dence away from the larg­er pop­u­la­tion cen­tres meant that it was al­so treat­ed as an asy­lum from in­fec­tious dis­eases, which of­ten oc­curred in the cap­i­tal city of Cra­cow. This was the case, among oth­ers, in 1526 and 1527, when Queen Bo­na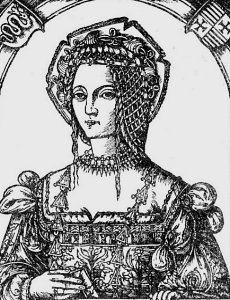 with her chil­dren and part of the court found shel­ter from the plague in Nie­po­ło­mi­ce. Dur­ing the sec­ond of the men­tioned stays, in one of the hunts, an un­for­tu­nate ac­ci­dent hap­pened, which per­haps changed the his­to­ry of Ja­giel­lo­nian dy­nasty. When the bear at­tacked the horse on which Bo­na was sit­ting, the horse got scared and threw the preg­nant queen who had abort­ed. The death of Bo­na's un­born child, who was giv­en the name Ol­bracht, made Si­gis­munt Au­gust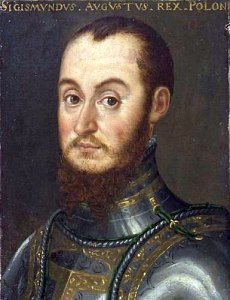 (d. 1572) re­main the on­ly liv­ing male rep­re­sen­ta­tive of the rul­ing fam­i­ly. And since all three of his mar­riages ap­peared to be child­less, the Ja­giel­lo­nian dy­nasty soon ex­pired.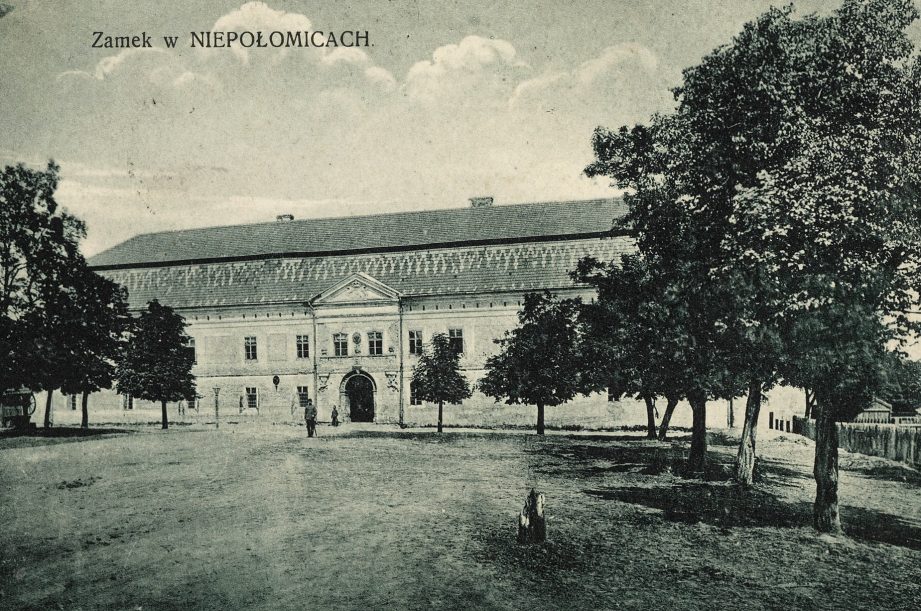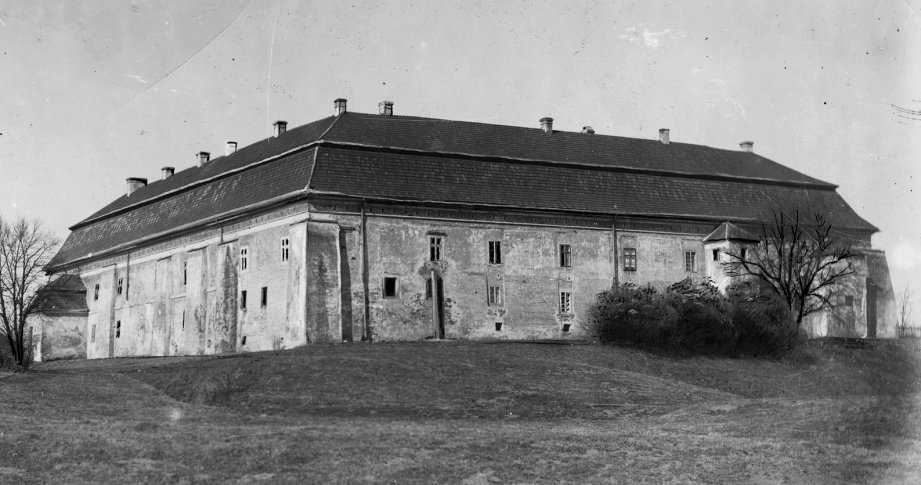 VIEW OF THE CASTLE FROM THE WEST (ABOVE) AND FROM THE SOUTHEAST, 20S XX CENTURY
T
he above-men­tioned Si­gis­mund Au­gust, short­ly af­ter re­mov­ing dam­ages of the cas­tle caused by the fire in 1550, un­der­took the ef­fort to con­tin­ue the work start­ed by his fa­ther and led in the years 1548-71 a ma­jor re­con­struc­tion of the Goth­ic fortress in­to Re­nais­sance res­i­dence. Ar­chi­tec­tural plans were pre­pared and su­per­vised by mas­ter To­masz Grzy­ma­ła and other crafts­men co­op­er­at­ed with him, in­clud­ing San­ti Guc­ci Fio­ren­ti­no - the ar­chi­tect of cas­tles in Książ Wiel­ki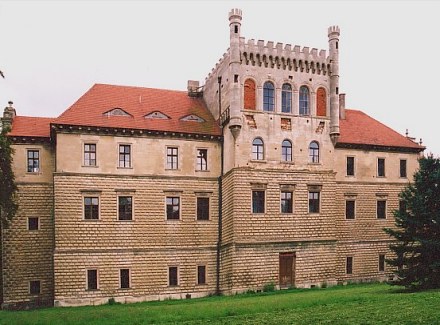 and Ba­ra­nów San­do­mier­ski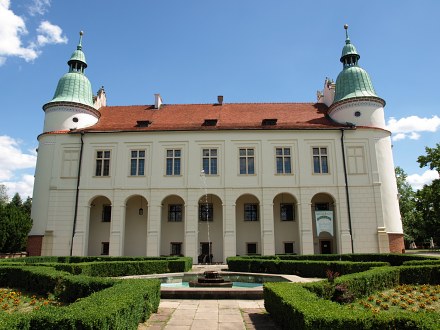 . The re­sult was an epoch-com­pat­i­ble build­ing based on the out­er walls of me­dieval cas­tle but equipped with new liv­ing space, com­mu­ni­ca­tion and dec­o­ra­tion. Even be­fore the cost­ly in­vest­ment was com­plet­ed, in 1563 the Nie­po­ło­mi­ce sta­ro­sty had been tak­en over by Grze­gorz Bra­nic­ki (d. 1595), and in 1585 it be­came the prop­er­ty of his son Jan (d. 1612). King Ste­fan Ba­to­ry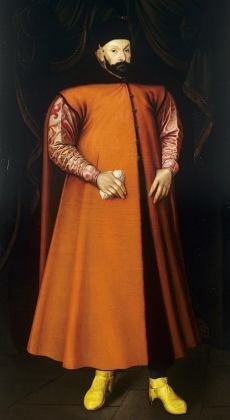 (d. 1586), who reigned in Poland af­ter Hen­ryk Wa­le­ze's es­cape, was quite a fre­quent guest in Nie­po­ło­mi­ce. Dur­ing one of his stays here one win­ter night a thief got through the win­dow to the roy­al cham­ber and stole from there a caf­tan and two fur-coats. The rob­ber was soon cap­tured in Cra­cow dur­ing an at­tempt to sell the roy­al clothes, and then quick­ly judged and ex­e­cut­ed, as ev­i­denced by an in­scrip­tion in pe­nal books: 18 groschen for ex­e­cu­tion­er who hanged Jan Go­rycz­ow­ski, who stole the roy­al robes. Af­ter 1635, the cas­tle be­longed to the Rus­sian Voivode Sta­ni­sław Lu­bo­mir­ski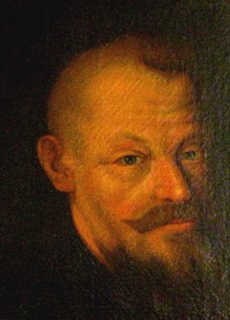 , and af­ter his death in 1649 it was tak­en o­ver by his son Alek­san­der Mi­chał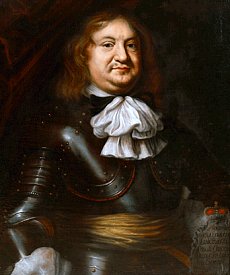 (d. 1677).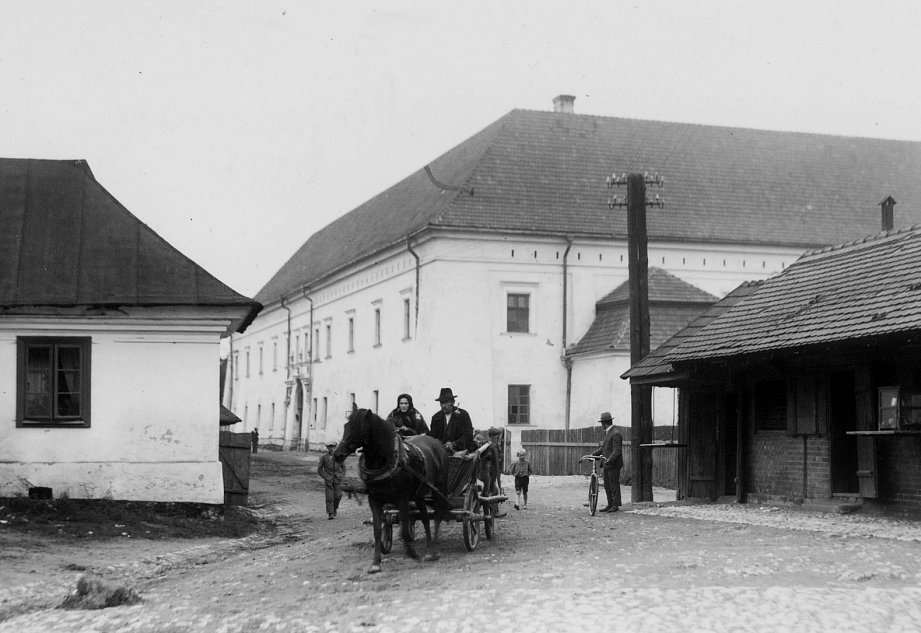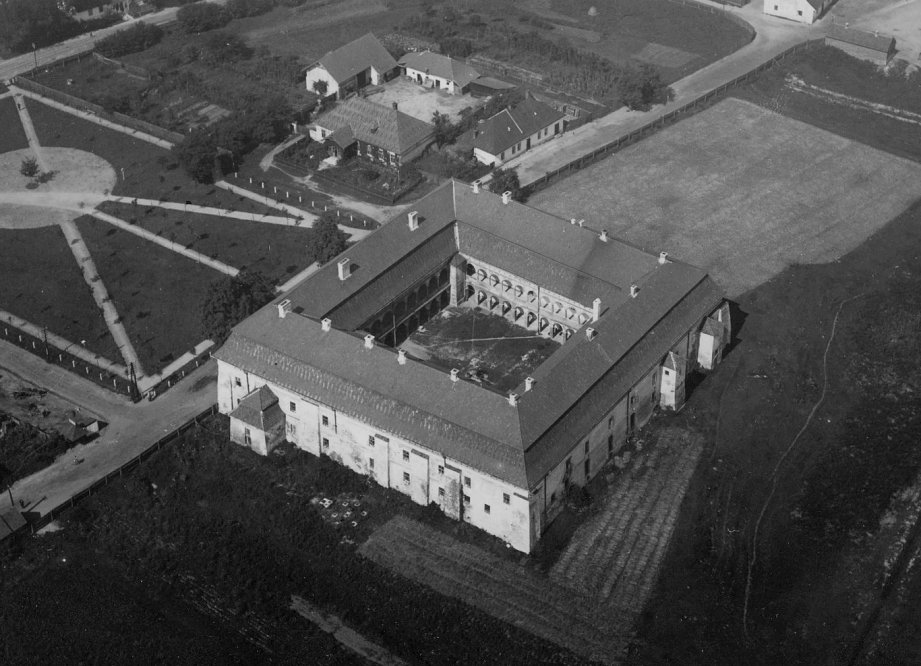 PHOTOGRAPHS OF THE CASTLE FROM THE INTER-WAR PERIOD
T
he bar­bar­ic in­va­sion of Swedish troops in 1655-57, dur­ing which the oc­cu­pants plun­dered the vil­lage, de­stroyed the parish church and ar­ranged a food ware­house in the cas­tle, dev­as­tat­ing it and steal­ing all its equip­ment, end­ed the mag­nif­i­cence of the res­i­dence. Af­ter es­cape of the Swedes from Poland, above men­tioned Alek­san­der Lu­bo­mir­ski, who held the of­fice of town starost, car­ried out on­go­ing re­pairs af­ter the war, but al­ready in 1702 Swedish army once again en­tered Nie­po­ło­mi­ce, plun­dered the cas­tle and burned down the manor build­ings. When Te­o­fi­la Za­sław­ska Ostro­gska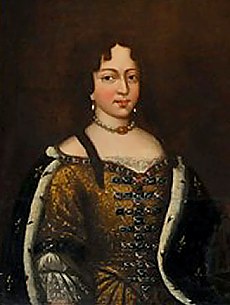 , the wid­ow of the Great Crown Mar­shal Jó­zef Lu­bo­mir­ski
(d. 1702) died in 1709, King Au­gust II
II (d. 1733) in­cor­po­rat­ed Nie­po­ło­mi­ce es­tate in­to the roy­al do­main. And al­though on the ini­tia­tive of his suc­ces­sor, Au­gust III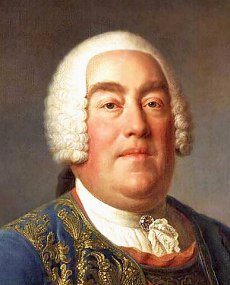 (d. 1763), the palace was ren­o­vat­ed in 1740s, this ren­o­va­tion was on­ly tem­po­rary and did not re­store its for­mer glo­ry. As a re­sult of the first par­ti­tion of Poland, Nie­po­ło­mi­ce be­came the seat of the Aus­tri­an mil­i­tary gar­ri­son. The pre­vi­ous two-storey cas­tle was re­duced by one floor af­ter the fire, and then trans­formed in­to mil­i­tary bar­racks. This re­con­struc­tion was com­pel­ment­ed by strength­en­ing the walls with but­tres­ses and de­sign change of the west­ern façade, which gained a clas­sicis­tic ap­pear­ance.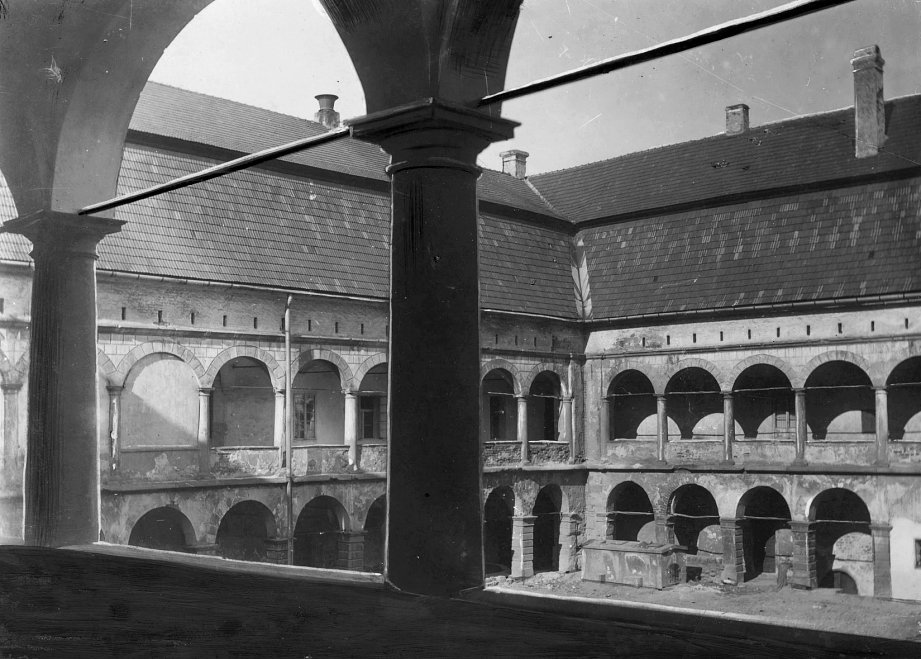 U
n­til World War I, the cas­tle housed var­i­ous ad­min­is­tra­tive of­fices, mil­i­tary hos­pi­tal (be­fore 1856) and some util­i­ty rooms. With the be­gin­ning of the new post-war re­al­i­ty in 1945, the sym­bol of Nie­po­ło­mi­ce was used to house many un­re­lat­ed in­sti­tu­tions, such as lo­cal high school, post of­fice, birthing room, town bath, gym hall, mu­nic­i­pal li­brary and pri­vate apart­ments. The con­di­tion of the cas­tle and the aware­ness of its users at that time is best il­lus­trat­ed by the fact that in the 1990s the amount of garbage de­posit­ed in the cel­lars was so large that 150 trucks were need­ed to trans­port them! In 1986 the cas­tle was en­tered in­to the reg­is­ter of mon­u­ments, and five years lat­er it was hand­ed o­ver to the Mu­nic­i­pal­i­ty of Nie­po­ło­mi­ce, on the ini­tia­tive of which a com­pre­hen­sive re­sto­ra­tion was un­der­tak­en, in­clud­ing ren­o­va­tion of the clois­ters and court­yard, par­tial re­con­struc­tion of west­ern façade, re­place­ment of the roof and a thor­ough ren­o­va­tion of in­te­ri­ors, as well as re­vi­tal­iza­tion of im­me­di­ate sur­round­ings of the res­i­dence. The works were com­plet­ed in 2007 and re­stored the for­mer glam­our of this valu­able build­ing, mak­ing it the biggest tourist at­trac­tion in the whole re­gion.
THE CASTLE COURTYARD IN 1970, L. KAJZER, J. SALM, S. KOLODZIEJSKI LEKSYKON ZAMKOW W POLSCE
VIEW FROM SIMILAR PERSPECTIVE AFTER MAJOR RENOVATION OF THE CASTLE
DESCRIPTION OF THE CASTLE
T
he Goth­ic cas­tle was built on quadri­lat­er­al plan, of brick, on a stone base. It prob­a­bly con­sist­ed of two brick build­ings: two-storey, sin­gle-tract house in the east­ern part and long south­ern house, al­so with two storeys, con­nect­ed with de­fen­sive tow­er, whose re­mains have sur­vived in the south façade. These build­ings were cer­tain­ly com­ple­ment­ed by one-storey or two-storey wood­en con­struc­tions ar­ranged around a reg­u­lar court­yard and in­tend­ed for util­i­ty pur­pos­es. The de­fence of the cas­tle was sup­port­ed by two main tow­ers erect­ed on quadri­lat­er­al plan, one in the north-west cor­ner and the oth­er in the north-east cor­ner. The north-west­ern tow­er, which had at least three storeys, was par­tic­u­lar­ly solid­ly strength­ened. It had a cham­ber in the ground floor, where there was a well pro­vid­ing wa­ter for de­fend­ers even dur­ing long siege. Both tow­ers were con­nect­ed and the whole perime­ter was closed by a cur­tain wall, prob­a­bly equipped with a crenel­la­tion and a porch for guards. An en­trance to the court­yard prob­a­bly led through a gate or gate tow­er sit­u­at­ed in west­ern wall.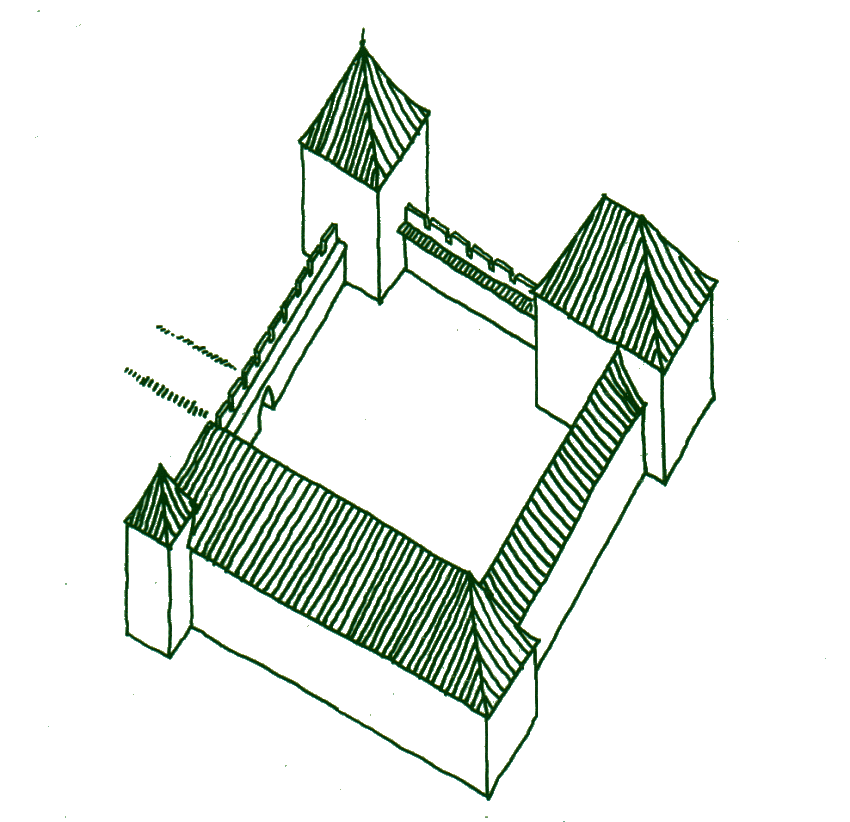 RECONSTRUCTION OF MEDIEVAL CASTLE ACCORDING TO M. KOZERA
I
n its Goth­ic shape, the roy­al build­ing sur­vived un­til the 16th cen­tu­ry, when it was re­built in­to beau­ti­ful Re­nais­sance res­i­dence. As a re­sult of the works car­ried out by Pol­ish and Ital­ian ar­chi­tects, the four-winged palace, equipped with sin­gle-track build­ings on the east­ern and west­ern side and dou­ble-track build­ings in the south­ern and north­ern parts, was cre­at­ed in the out­line of the me­dieval cas­tle. The build­ings were sur­round­ed from court­yard side by wood­en clois­ters, which were re­placed by brick ones af­ter the fire in 1550. The new­ly built north wing was in­tend­ed for liv­ing quar­ters, while the rep­re­sen­ta­tive func­tions were con­cen­trat­ed in the south wing ex­tend­ed from the for­mer Goth­ic build­ing. The new­ly shaped sil­hou­ette of the cas­tle was de­void of mas­sive de­fen­sive tow­ers, which were dis­man­tled and re­placed by small tow­ers that were used as stair­cas­es. In the im­me­di­ate vicin­i­ty of the res­i­dence, near its south­ern façade, Queen Bo­na es­tab­lished stylish Ital­ian gar­dens.
CONTEMPORARY PLAN OF THE CASTLE ACCORDING TO T. CHRZANOWSKI AND M. KORNECKI
VIEW OF THE CASTLE AFTER LUBOMIRSCY REBUILDING IN THE XVII CENTURY
AUTHOR: R. LISOWSKI, R. SYPEK: ZAMKI I OBIEKTY WAROWNE JURY KRAKOWSKO-CZESTOCHOWSKIEJ
---
A
fter the gen­er­al re­vi­tal­iza­tion of the cas­tle in Niepolomice, its star shines again in full bright­ness. There have been pre­served and care­ful­ly re­stored beau­ti­ful Re­nais­sance ar­chi­tec­tural de­tails dec­o­rat­ing the win­dows, cham­bers, en­trance gate, as well as mag­nif­i­cent­ly flow­ered court­yard, which de­lights the vis­i­tors with el­e­gant aes­thet­ics. The main at­trac­tion of the cas­tle court­yard, al­though dis­creet­ly sit­u­at­ed in one of its cor­ners, is sculp­ture of Stańczyk sit­ting on a bench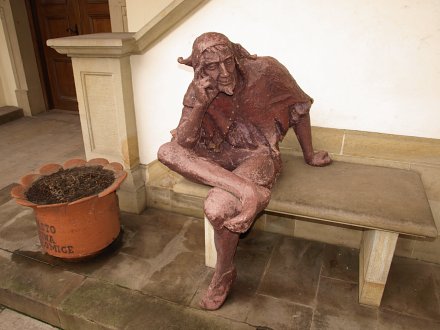 - the royal jester of three Jagiel­lo­nian kings: Alek­san­der, Si­gis­mund the Old and Si­gis­mund Au­gust. To­day, the for­mer res­i­dence serves as cul­tur­al site, ho­tel with restau­rant and con­fer­ence cen­tre.
IN THE COURTYARD OF THE CASTLE
T
he cas­tle cham­bers al­so house the Nie­po­ło­mi­ce Mu­se­um, which gath­ers and pro­vides vis­i­tors with col­lec­tions of his­to­ry, art and na­ture. As the part of per­ma­nent ex­hi­bi­tions, the Su­kien­ni­ce Hall in Nie­po­ło­mi­ce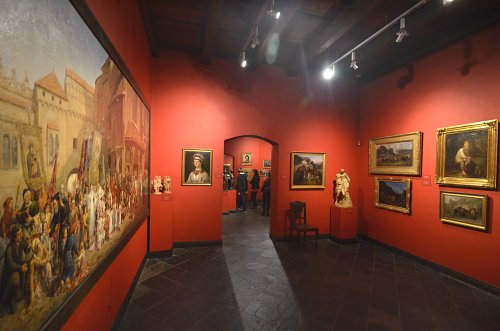 and the Eu­ro­pean Sa­lon, there are pre­sent­ed here in­ter­est­ing col­lec­tions of paint­ings and sculp­tures owned by the Na­tion­al Mu­se­um in Cra­cow, in­clud­ing land­scapes, por­traits, re­li­gious and his­tor­i­cal scenes by such au­thors as Hen­ryk Sie­mi­radz­ki, Ar­tur Grot­tger, Leon Wy­czół­kow­ski, Sta­ni­sław Wit­kie­wicz, as well as paint­ings and sculp­tures re­fer­ring to an­cient myths and bib­li­cal sto­ries made by Eu­ro­pean artists. The ex­hi­bi­tion called the Cas­tle Chapel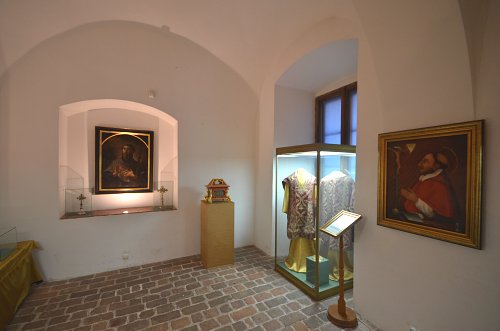 takes us in­to the at­mo­sphere of me­dieval and baroque cler­gy, pro­vid­ing ac­cess to old vol­umes, pa­pal doc­u­ments, robes and Re­nais­sance litur­gi­cal ob­jects: mon­strances, reli­quar­ies, vo­tive of­fer­ings.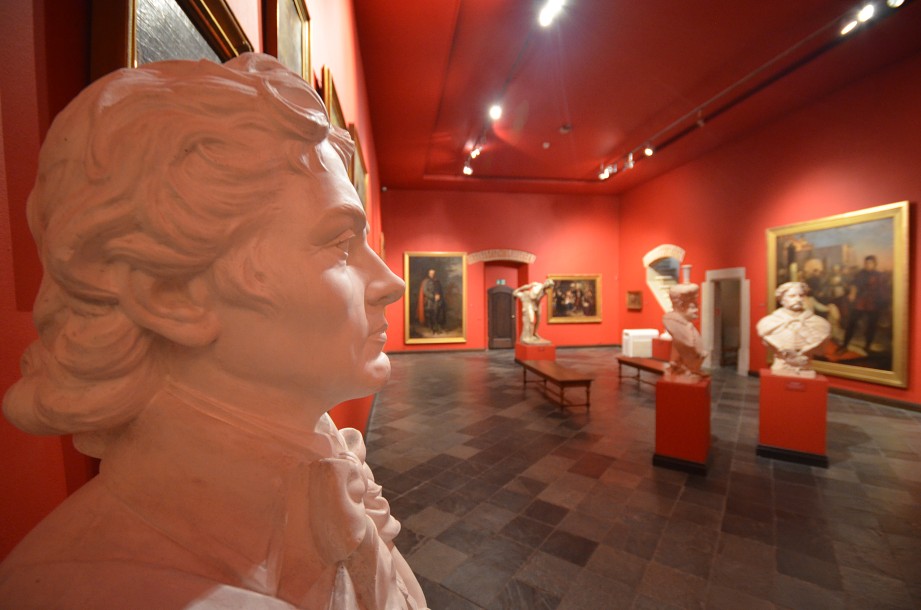 | | |
| --- | --- |
| | |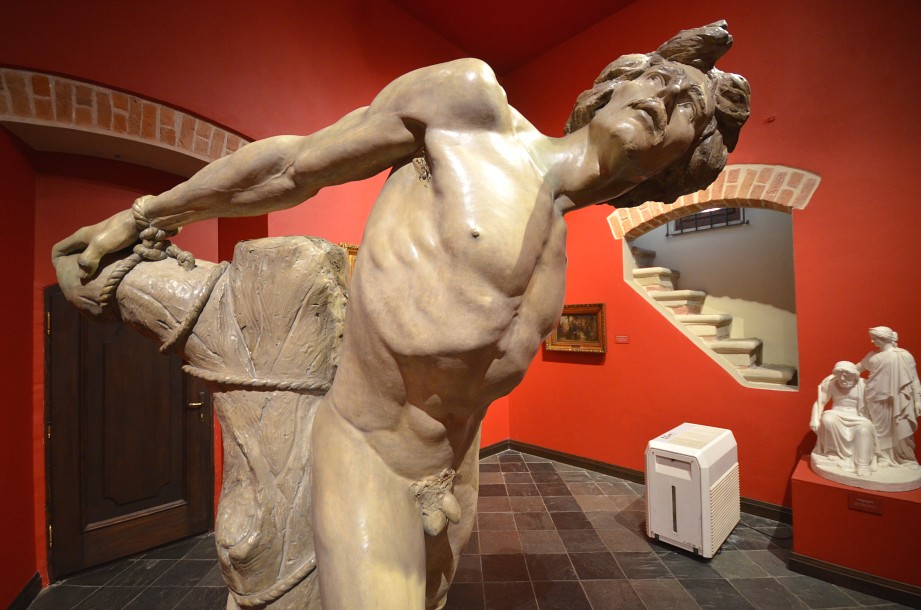 EXHIBITION SUKIENNICE HALL IN NIEPOŁOMICE
A
t the end we visit the con­tro­ver­sial and de­press­ing Ex­hi­bi­tion of hunt­ing tro­phies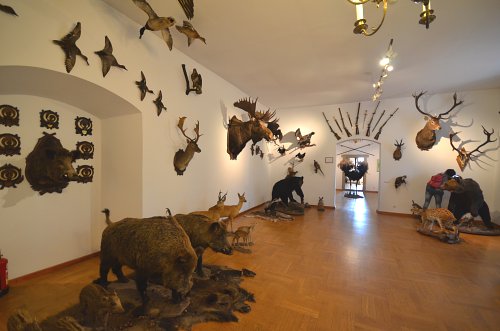 , where stuffed an­i­mals from both the Niepolomice For­est and dis­tant re­gions of the world are pre­sent­ed in sev­er­al rooms. There are two bears among them: brown bear and barib­al bear, big os­trich, ze­bra, sev­er­al species of an­te­lopes, wolf, li­on and even gi­raffe. The "col­lec­tion" is com­ple­ment­ed by small­er hunt­ing tro­phies and nine­teenth-cen­tu­ry hunt­ing weapons. The tour of some of the cas­tle rooms takes place in the com­pa­ny of a guide, which in my case was a very pleas­ant and ed­u­ca­tion­al ex­pe­ri­ence, be­cause his lev­el of knowl­edge and per­son­al cul­ture put him as an ex­am­ple to fol­low for oth­er mu­seums in Poland.
| | |
| --- | --- |
| | Free admission to the castle courtyard. The exhibitions require a ticket. |
| | |
| --- | --- |
| | Photography for non-commercial purposes is free. |
| | |
| --- | --- |
| | Flying drones that weigh up to 900g does not require a per­mis­sion. You can only fly up to an al­ti­tude of 30 me­ters (near­by air­field). |
EXHIBITION SUKIENNICE HALL IN NIEPOŁOMICE
---
N
iepołomice is lo­cat­ed sev­er­al kilo­me­ters east of Cra­cow, from where bus­es no. 211, 221 and 301, as well as pri­vate bus­es run. The cas­tle is lo­cat­ed near the Mar­ket Square, on Zam­ko­wa Street.
| | |
| --- | --- |
| | You can leave your car at the park­ing place lo­cat­ed at the north­ern wing of the cas­tle, at the free park­ing place on Szews­ka Street or di­rect­ly at the Mar­ket Square (pay­able). |
---
1. B. Guerquin: Zamki w Polsce, Arkady 1984
2. L. Kajzer, J. Salm, S. Kołodziejski: Leksykon zamków w Polsce, Arkady 2001
3. J. Kracik: Ludzie królewskich Niepołomic, Urząd Miasta i Gminy Niepołomice 2008
4. M. Murzyn-Kupisz: Dziedzictwo kulturowe a rozwój lokalny. Przykład podkrakowskich Niepołomic, ZN 835
5. T. Olszacki: Rezydencje królewskie prowincji małopolskiej w XIV wieku, Architektura 7/2011
6. T. Ratajczak: Nie tylko Wawel. Przebudowa monarszych rezydencji w Królestwie Polskim...
7. R. Sypek: Zamki i obiekty warowne Jury Krakowsko-Częstochowskiej

VIEW OF THE CASTLE FROM THE NORTHWEST
Castles nearby:
Wieliczka - saltmaster's castle from 14th century, 13 km
Nowy Wiśnicz - bastion magnate's castle from 14-17th century, 24 km
Kraków - Wawel Royal Castle, 25 km
Dobczyce - ruins of royal castle from 14th century, 26 km

text: 2019
photographs: 2013, 2017
© Jacek Bednarek