PYZDRY

relics of the royal castle
VIEW FROM THE WEST OF THE FORMER GRANARY ERECTED ON THE FOUNDATIONS OF THE EASTERN WING OF THE CASTLE
---
P
re­sum­ably, at the be­gin­ning of the 13th cen­tu­ry, on the es­carp­ment near the War­ta river, there was a for­ti­fied town, a lo­cal ad­min­is­tra­tive cen­ter and a cus­toms check­point at the riv­er cross­ing. In 1253 ca­strum and the neigh­bor­ing set­tle­ment came un­der the rule of Duke Bo­le­sław the Pi­ous (d. 1279). Af­ter his death, his nephew Prze­mysł II (d. 1296) took o­ver the rule of Greater Poland, and es­tab­lished a mint in Pyz­dry, where, among oth­ers, the fa­mous denarii in­scribed with Mo­ne­ta Piz­ren­si were mint­ed. At that time, the town grew in­to one of the most im­por­tant cen­ters in the en­tire re­gion, and its eco­nom­ic po­ten­tial and po­lit­i­cal im­por­tance could equal those of such cities as Poz­nań, Ka­lisz and Gnie­zno.
DENARIUS FROM PYZDRY, ENGRAVING BY HERMANN DANNENBERG (1879)
The town's name is be­lieved to have orig­i­nat­ed from the Latin word pis­tri­num, mean­ing a mill moved by walk­ing, al­though one can some­times hear an (dis­ser­vice­able?) opin­ion that it arose from the me­dieval nick­name piz­du­ra (los­er) or piz­der (poor man). In the past, it changed fre­quent­ly de­pend­ing on the geopo­lit­i­cal sit­u­a­tion and the lan­guage of­fi­cial­ly used - such terms as Pys­dor (1297), Piz­dra (1306), Piz­dri or Peis­ern were used in doc­u­ments.

In the 19th cen­tu­ry, the town was lo­cat­ed in the far­thest west part of the Rus­sian oc­cu­pa­tion and, ac­cord­ing to an un­con­firmed gos­sip, came with­in its reach on­ly be­cause the tsar liked its res­o­nant pro­nun­ci­a­tion.
PLAN OF MEDIEVAL TOWN BY J. WIDAWSKI: 1. KALISZ GATE, 2. POZNAŃ GATE, 3. TORUŃ GATE,
4. ROYAL CASTLE, 5. FRANCISCAN CHURCH AND MONASTERY, 6. PARISH CHURCH
THE TOWN AS SEEN FROM THE EAST. ON THE LEFT WE SEE THE POST-FRANCISCAN MONASTERY, AND BEHIND IT THE TOWER OF THE PARISH CHURCH, TO THE RIGHT OF THE MONASTERY STANDS "THE CASTLE", AND A LITTLE FARTHER - THE ELEMENTARY SCHOOL AND SPORTS HALL
A
f­ter the death of Prze­mysł II, Pyz­dry was ruled by the Pol­ish prince Wła­dy­sław Ło­kie­tek
(d. 1333), then by the Czech king Vá­clav II
(d. 1305), the Si­le­sian prince Hen­ry of Gło­gów (d. 1309), his sons and again by Wła­dy­sław Ło­kie­tek, who here in 1318, at a con­ven­tion of the knights of Greater Poland, of­fi­cial­ly de­clared his in­ten­tion to run for king. In 1331, dur­ing the Pol­ish-Teu­ton­ic war, Ło­kie­tek's son, Prince Ka­zi­mierz (lat­er King Ka­zi­mierz the Great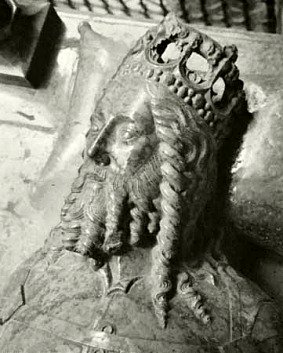 ), stayed in Pyz­dry. Find­ing out about this, the Teu­ton­ic Knights mil­i­tar­i­ly in­vad­ed the town and com­plete­ly burned it down. Less than a decade af­ter these events, Ka­zi­mierz (the Great, d. 1370) sur­round­ed Pyz­dry with de­fen­sive walls, and in the east­ern part of the town, on a high riv­er em­bank­ment, be­gan build­ing a brick cas­tle.
RECONSTRUCTION OF A XIV CENTURY CASTLE ACCORDING TO B. ŻELAWSKA
F
rom the very be­gin­ning of its ex­is­tence, the stronghold per­formed im­por­tant po­lit­i­cal func­tions, as ev­i­denced by fre­quent roy­al vis­its and in­ter­na­tion­al events played out here. The founder of the cas­tle, Ka­zi­mierz the Great, vis­it­ed it at least eleven times, in­clud­ing on Sep­tem­ber 6, 1345, when he signed a truce with King Jan Luc­em­bur­ský of Bo­hemia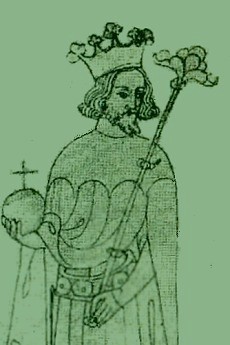 . Queen Jad­wi­ga d'An­jou, Wła­dy­sław Ja­gieł­ło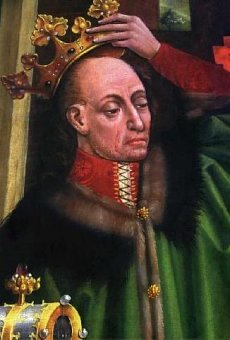 (as many as 18 of his vis­its have been doc­u­ment­ed) and Ka­zi­mierz Ja­giel­loń­czyk
al­so vis­it­ed Pyz­dry. In 1382, at the end of the reign of Louis the Great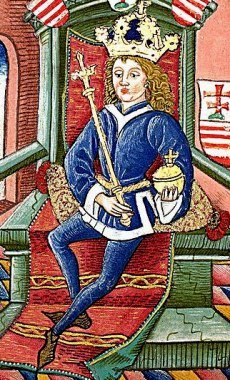 (d. 1382), the cas­tle was seized by Hun­gar­i­an troops as a pledge to the Mar­grave of Bran­den­burg Si­gis­mund of Lux­em­burg
(d. 1437), a can­di­date for the Pol­ish throne and fu­ture hus­band of Louis' daugh­ter, Ma­ria of An­jou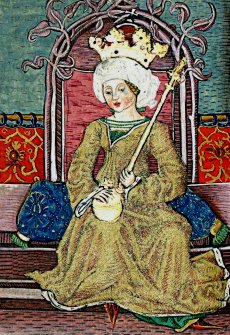 (d. 1395).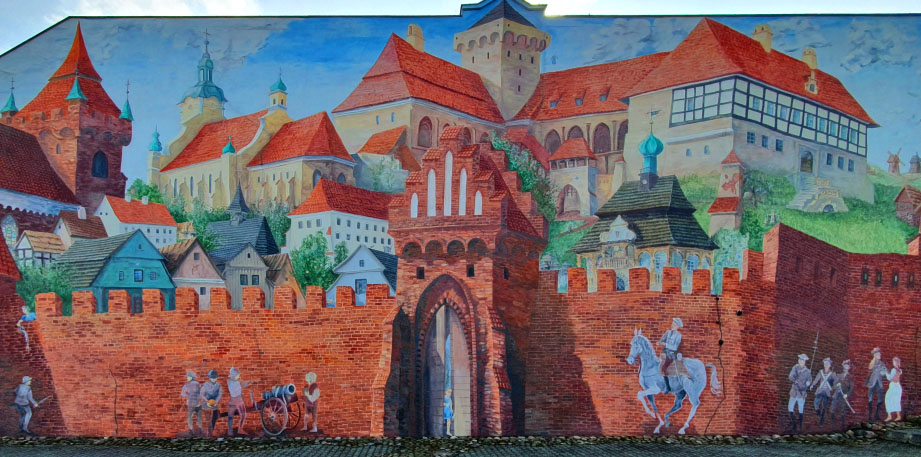 WALL PAINTING (ON MAY 3 STREET) DEPICTING THE MOST IMPORTANT EVENTS IN THE HISTORY OF THE TOWN
ITS CENTRAL PART IS OCCUPIED BY THE IMAGE OF THE ROYAL CASTLE FROM THE END OF THE XIV CENTURY
A
year lat­er (1383), the sec­ond can­di­date for the crown, Ma­zo­vian Prince Sie­mow­it IV (d. 1426), tak­ing ad­van­tage of the on­go­ing civ­il war in Greater Poland, in­vad­ed Pyz­dry and cap­tured it af­ter the hon­or­able sur­ren­der of the cas­tle crew. This event is con­sid­ered the first bat­tle in the Pol­ish lands us­ing fire­arms. Ac­cord­ing to the chron­i­cler Jan­ko of Czarn­ków, a can­non­ball then killed par­son named Mi­ko­łaj of Bie­chów. The siege of the cas­tle last­ed three days, and its crew sur­ren­dered when they ran out of feed for their hors­es.
THE GHOST OF PARSON MIKOŁAJ FLYING OVER THE CASTLE AND THE CANNON STANDING OUTSIDE THE WALLS
REFER DIRECTLY TO THE EVENTS OF 1383
F
rom the 1420s, the cas­tle in Pyz­dry be­longed to Pol­ish queens: Son­ka Hol­szań­ska (wife of Wła­dy­sław Ja­gieł­ło, d. 1461), Elis­a­beth von Hab­s­burg
(wife of Ka­zi­mierz Ja­giel­loń­czyk, d. 1505) and Bo­na Sfor­za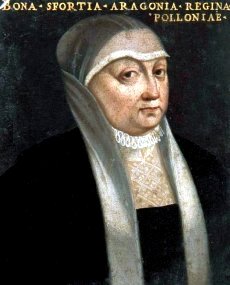 (wife of Zyg­munt the Old, d. 1557), on whose be­half it was man­aged by sta­rosts. In 1436-44, the of­fice of sta­rost was held by An­drzej of Lu­bin of Ogoń­czyk coat of arms
(d. 1444), be­fore 1473 - by Jan Hiń­cza of Ro­gów (d. 1473), and be­tween 1485 and 1491 - by Am­bro­ży Pam­pow­ski (d. 1510). How­ev­er, by the mid­dle of the next cen­tu­ry or so, the strong­hold be­gan to fall in­to ne­glect, and in 1564 its con­di­tion was al­ready de­scribed as bad. Ac­cord­ing to an in­spec­tion from that year, one of the gates was ru­ined, some of the walls were cracked, some doors were miss­ing, and the roofs were leak­ing. We al­so learn from this doc­u­ment that the for­mer roy­al res­i­dence no longer had a south wing, whose place had been tak­en by a cur­tain wall and an eco­nom­ic out­build­ing, as well as an east wing, re­placed by a 16th-cen­tu­ry brick house.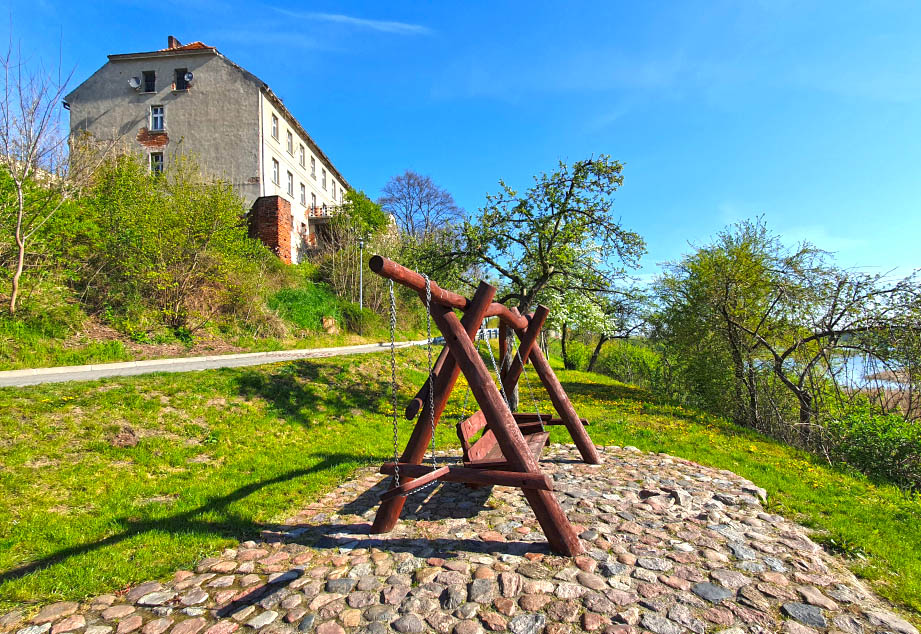 VIEW OF "THE CASTLE" FROM THE SOUTH
D
e­spite the fact that Pyz­dry was the cap­i­tal of the court dis­trict, the im­por­tance of both the cas­tle and the town slow­ly mar­ginal­ized o­ver the years, which was in­flu­enced, among oth­er fac­tors, by the change of ma­jor trans­porta­tion routes. As late as the 1620s, sta­rost Adam Sę­dzi­wój Czarn­kow­ski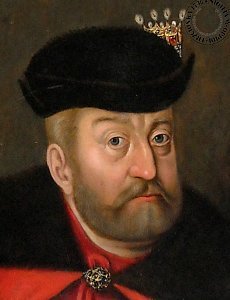 coat of arms Na­łęcz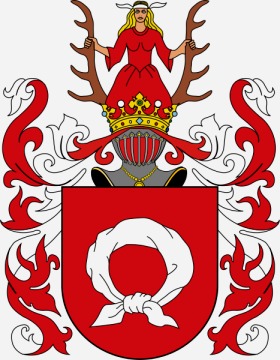 (d. 1627) ren­o­vat­ed the seat of the sta­rost's of­fices again, but less than three dec­ades lat­er it was de­stroyed by Swedish troops of Gen­er­al Dou­glas'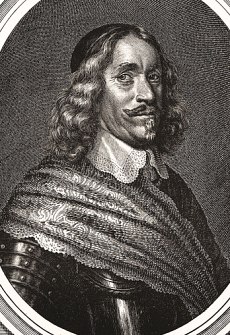 corps (1656).
CONTEMPORARY VIEW OF "THE CASTLE" ON A BEAUTIFUL WALL PAINTING NEAR NADRZECZNA STREET
A
t the be­gin­ning of the 18th cen­tu­ry, Sax­on, Swedish and Pol­ish armies passed through Pyz­dry, loot­ing and de­stroy­ing it, which re­sult­ed in the pro­gres­sive de­mo­graph­ic and eco­nom­ic de­cline of the town. Pre­sum­ably, al­ready in the first half of this cen­tu­ry, the sta­rosts aban­doned the cas­tle due to its poor tech­ni­cal con­di­tion, and the build­ing fell in­to dis­re­pair short­ly there­after. As late as 1765, the sta­rost, Mi­chał Skó­rzew­ski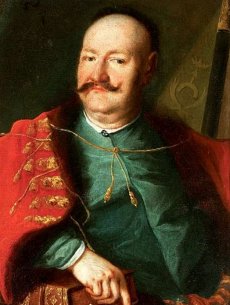 (d. 1790), be­gan some re­pairs here, but just three years lat­er the Rus­sian army again de­stroyed the town, and the cas­tle with it. Af­ter the sec­ond par­ti­tion of Poland, Pyz­dry be­came part of Prus­sia in 1793. Soon, Ger­man au­thor­i­ties or­dered the re­mains of the cas­tle to be de­mol­ished to build a prison and a gra­nary in its place.
"THE CASTLE" IN AN XIXTH-CENTURY ENGRAVING
A
f­ter the great fire of 1814, the town for­ti­fi­ca­tions were dis­man­tled. On­ly a year lat­er, as a re­sult of the Vi­en­na Con­gress, Pyz­dry be­came part of the Rus­sian Em­pire. From then on, in ad­di­tion to the prison, the Tsar's Cus­toms Of­fice func­tioned on the site of the for­mer cas­tle. Around the mid­dle of the 19th cen­tu­ry, af­ter the prison was moved to Sie­radz, the build­ing be­came the prop­er­ty of a cer­tain Sza­ga­now­ski fam­i­ly, who sold it to a Jew named Mar­kus, a res­i­dent of the town, and the lat­ter con­vert­ed it in­to a gra­nary, and then sold it to a Jew named Miel­żyń­ski. As a re­sult, the build­ing does not rep­re­sent any his­tor­i­cal val­ue at the pre­sent time [...] (1901). It is worth men­tion­ing that in ad­di­tion to the afore­men­tioned gra­nary, a mo­tor mill was in­stalled here at the be­gin­ning of the 20th cen­tu­ry, and af­ter World War II a tex­tile mill ware­house was erect­ed on the walls of the west wing.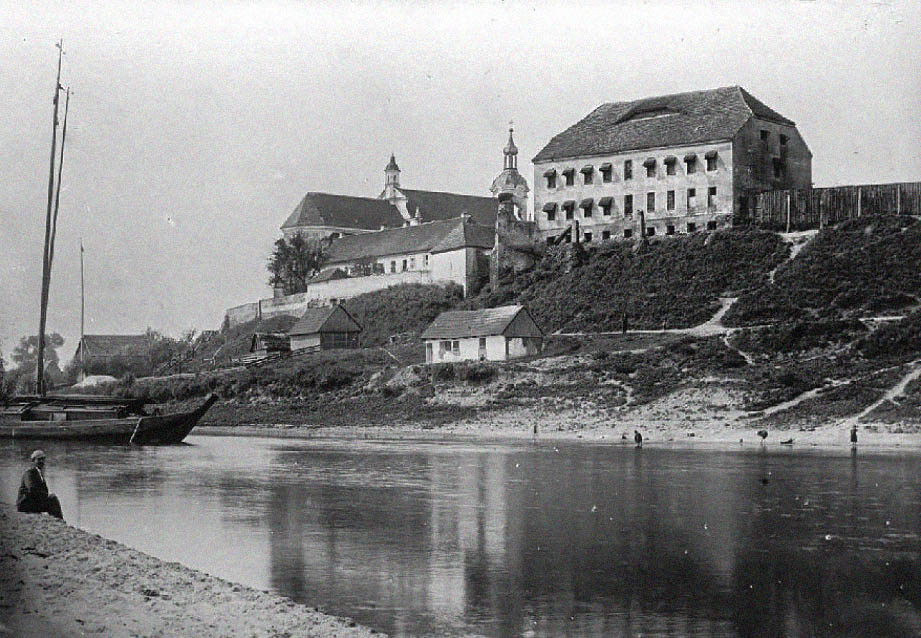 EAST BANK OF THE WARTA RIVER WITH THE "CASTLE" AND THE FORMER MONASTERY,
AN ENGRAVING BY JAN OLSZEWSKI FROM 1904 AND A PHOTOGRAPH FROM WORLD WAR I
DESCRIPTION OF THE CASTLE
T
he cas­tle was built in the east­ern part of the town, on a riv­er em­bank­ment. It had a rough­ly rect­an­gu­lar plan mea­sur­ing 49.5 × 60.5 me­ters, con­sist­ing of four wings, the out­er walls of which formed a brick wall 1.5 to 1.8 me­ters thick. This wall was sup­port­ed by reg­u­lar­ly spaced but­tress­es and small tur­rets, at least one of which housed a la­trine.
GOTHIC BUTTRESS IN THE EASTERN ELEVATION OF THE FORMER GRANARY
T
he east­ern part of the cas­tle was oc­cu­pied by a three-sto­ry, two-bay palace, built on a rect­an­gu­lar plan with sides of 48 x 15 me­ters. Along its west­ern el­e­va­tion, mas­sive sup­ports of a brick porch were dis­cov­ered. The other build­ings prob­a­bly al­so had three sto­ries each, al­though their lay­out was on­ly one-bay. The dom­i­nant fea­ture of the strong­hold was a tow­er with a rough­ly square plan (10x10 me­ters), lo­cat­ed in the north­west cor­ner of the court­yard. Next to it, there was a gate in the west­ern cur­tain.
RECONSTRUCTION OF A XV CENTURY CASTLE ACCORDING TO J. SERAFIN
I
n the 16th cen­tu­ry, the south­ern wing was de­mol­ished, and in its place stood a cur­tain wall with a gate lead­ing to a farm­yard, and on to the town. Be­fore 1564 the roy­al palace or part of it was al­so de­mol­ished, and an ed­i­fice de­scribed in doc­u­ments as a brick house was built on its found­ations. By this time, the Goth­ic north wing no longer ex­ist­ed, whose place was pre­sum­ably tak­en by build­ings of half-tim­bered con­struc­tion. Fur­ther al­ter­ations, car­ried out in the 17th-19th cen­turies, led to al­most com­plete dis­ap­pear­ance of the me­dieval build­ings with­in the cas­tle.
EASTERN ELEVATION OF THE BUILDING ERECTED ON THE FOUNDATIONS OF THE FORMER ROYAL PALACE
NORTHERN BUILDINGS OF "THE CASTLE" DATE FROM THE XIXTH AND XXTH CENTURIES
---
C
ur­rent­ly, the site of the for­mer cas­tle is dom­i­nat­ed by build­ings from the 19th and 20th cen­turies. Its old­est rem­nant is a brick house built on me­dieval walls, for­mer­ly a gra­nary, with 14th-cen­tu­ry Goth­ic but­tress­es. To­day it hous­es some kind of man­u­fac­tur­ing fa­cil­i­ty and (prob­a­bly) pri­vate apart­ments. Near­by, in the east wing of the post-Fran­cis­can monastery, there is a re­gion­al mu­se­um, where one can see, among oth­er things, items rep­re­sent­ing the for­mer fur­nish­ings of the roy­al cas­tle.
AT THE ENTRANCE TO THE MUSEUM
| | |
| --- | --- |
| | Pri­vate prop­er­ty. "The Cas­tle" is well visi&shyble from Nad&shyrzecz­na and Zam&shykowa Streets. The mu­se­um is open from TUE to SUN, open­ing hours: check here. Tick­et prices very low. |
| | |
| --- | --- |
| | "The cas­tle" can be viewed in 20-30 min­utes. It is worth book­ing at least two hours to see mu­rals, two church­es and vis­it the mu­se­um. |
| | |
| --- | --- |
| | There are no re­stric­tions on recre­ation­al flights. The town looks most in­ter­est­ing from the op­po­site, east­ern bank of the riv­er. |
PICTURESQUE FLOODPLAINS OF THE WARTA RIVER AT THE FOOT OF THE CASTLE ESCARPMENT
---
T
he town is lo­cat­ed about 70 km south­east of Poz­nań, on the road no. 442 con­nect­ing Gnie­zno and Ka­lisz. "The cas­tle" is sit­u­at­ed on Zam­ko­wa (Cas­tle) Street, 300 me­ters east of the Town Square. To get from the cen­ter of the town to the east bank of the riv­er (the view­point), cross the bridge and just be­hind it turn right in­to a road­side park­ing lot, and con­tin­ue along the dirt road to­ward the War­ta Riv­er.
| | |
| --- | --- |
| | We can park the car in the Town Square or, for ex­am­ple, on Zam­ko­wa Street. |
---
1. M. Brzeziński: Pyzdry – wielka historia małego miasta, www.miastopoznaj.pl
2. L. Kajzer, T. Olszacki: Zamek w Pyzdrach w świetle badań ar­chi­tek­to­nicz­no-arch­eo­lo­gicz­nych, Fon­tes Arch­ae­olo­gi­ci Pos­na­nien­ses 47/2011
3. L. Kajzer, J. Salm, S. Kołodziejski: Leksykon zamków w Polsce, Arkady 2001
4. T. Olszacki, A. Różański: Badania terenowe zamków z obszarów Wiel­ko­pol­ski i Pol­ski Cen­tral­nej w XXIw., Wyd. Pol­skie­go To­wa­rzy­stwa Przy­jaciół Nauk 2017
5. T. Olszacki, P. Lasek: Zanim powstała Rzeczpospolita - zam­ki Kró­le­stwa Pol­skie­go w do­bie późnego...
6. T. Olszacki: Zapomniany zamek królewski w Pyzdrach, Ad Rem 1/2010
7. B. Paszkiewicz: Monety z kościoła św. Mikołaja w Gieczu, Biblioteka Studiów Lednickich t. XV
8. T. Poklewski-Koziełł: Studia o zamkach średniowiecznych, Instytut Archeologii i Et­no­lo­gii PAN 2012
9. A. Szczerba: Prawnoadministracyjna ochrona zabytków..., In­sty­tut Ar­che­olo­gii UŁ 2012
10. A. Wagner: Murowane budowle obronne w Polsce X-XVIIw., Bellona 2019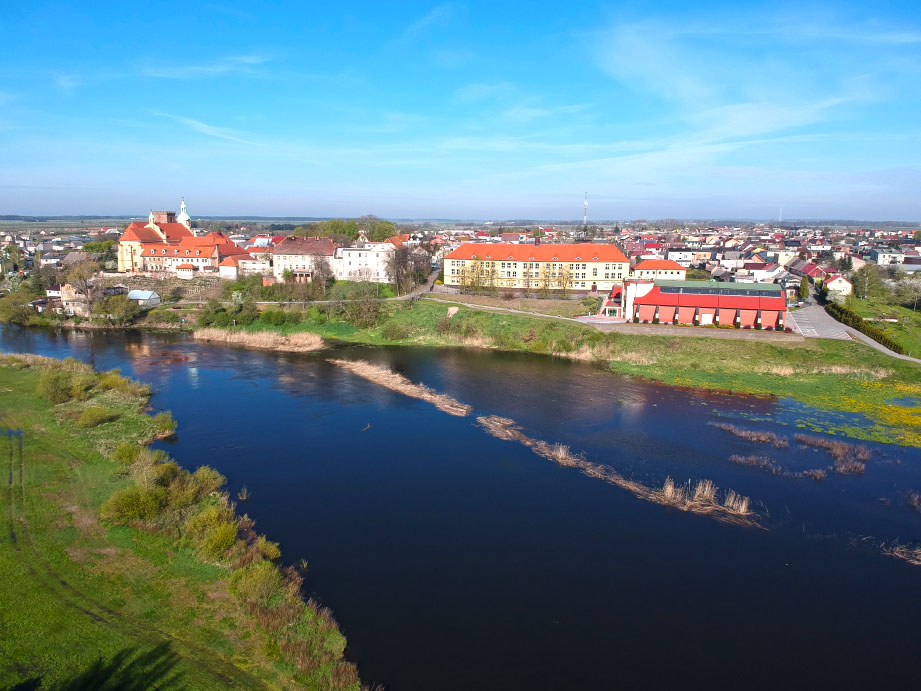 VIEW OF THE TOWN FROM THE EAST
Castles nearby:
Jarocin - relics of a 16th century castle, 32 km
Konin-Gosławice - Poznań bishops' castle from the 15th century, 50 km
Koźmin Wielkopolski - Royal castle from the 14th century, rebuilt, 50 km
Kórnik - knight's castle from the 14th century, rebuilt, 50 km

---
Neigh­bor­ing the cas­tle to the south, the 14th cen­tu­ry church and mo­na­ste­ry is one of the old­est mon­u­ments of the Fran­cis­can lega­cy in Gre­ater Poland. It served the monas­tic con­gre­ga­tion un­til 1864, when the Tsa­rist au­thor­i­ties liq­ui­dat­ed the or­der. Cur­rent­ly, the church (ded­i­cat­ed to St. John the Bap­tist) is used as a branch of the parish tem­ple, while the east­ern wing of the mo­na­ste­ry hosts ex­hi­bi­tions of the Pyz­dry Land Mu­se­um.
---
On the oth­er side of Ka­li­ska Street, on a steep hill, stands the parish church, built at the turn of the 14th and 15th cen­turies in the late Goth­ic style and thor­ough­ly re­built in the 19th cen­tu­ry. It is a three-nave basil­i­ca with a po­lyg­o­nal chan­cel and a mas­sive tow­er, whose neo-Goth­ic blanks give it ap­par­ent de­fen­sive fea­tures.
---
Col­or­ful ten­e­ments stand­ing on Nad­rzecz­na Street, at the foot of the for­mer mo­na­ste­ry. The dec­o­ra­tion of their fa­cades was cre­ated by the MUR-ALL group, au­thors of many famous wall paint­ings in Gre­ater Poland re­gion. The col­lec­tion of town paint­ings is sup­ple­ment­ed by the afore­men­tioned his­tor­i­cal paint­ing (sports hall on May 3 Street) and the mu­ral on the War­ta Riv­er (Nad­rzecz­na Street). Right next to the town­hous­es are the stairs lead­ing to­ward the mo­na­ste­ry, which in 2018 were dec­o­rat­ed with a col­or­ful mo­sa­ic de­pict­ing an eel.
---
Near the vil­lage of Bo­rzy­ko­wo, about 3 km north of the cas­tle, a bor­der cross­ing be­tween the Rus­sian and Prus­sian oc­cu­pied ter­ri­to­ries func­tioned for 104 years (1815-1919). Its ex­is­tence is "com­mem­o­rat­ed" by a sym­bol­ic bor­der post with fig­ures of a Prus­sian and Rus­sian gen­darmes, sit­u­at­ed by the provin­cial road no. 442.
---
In the vil­lage of Pie­trzy­ków (5 km east of the cas­tle) a dirt road turns south, which will take you to the so-called White Moun­tains, which are ex­treme­ly rare in Poland in­land sand dunes. The prox­im­i­ty of wa­ter and vast mead­ows means that in spring the place is filled with bird­song and... the shriek of ill-man­nered brats. So I rec­om­mend this place pri­mar­i­ly in the ear­ly morn­ing or in the off-sea­son.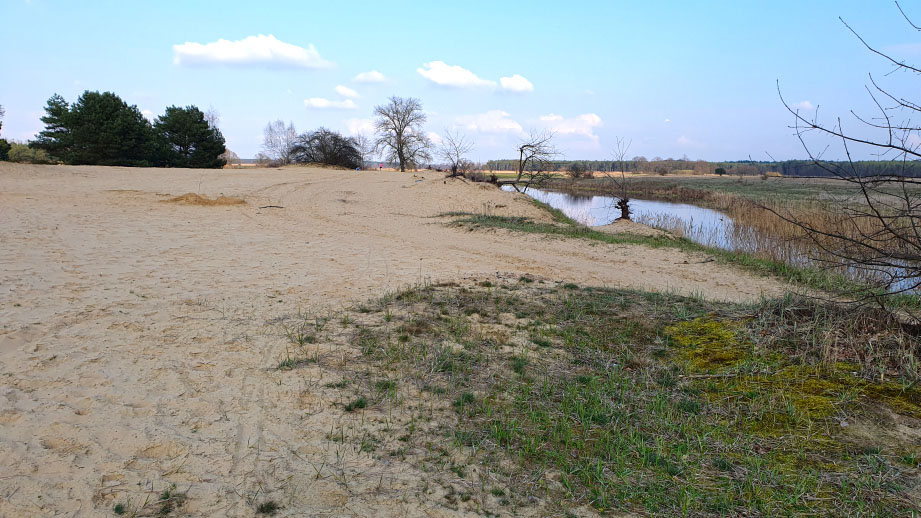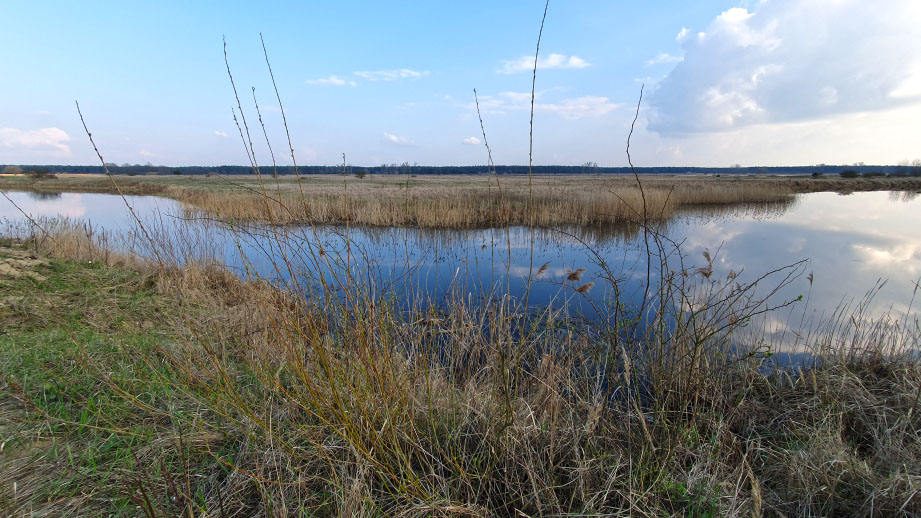 ---
A lit­tle fur­ther east, in the vil­lage of Cią­żeń (10 km from the cas­tle), is a beau­ti­ful ro­co­co palace, erect­ed in 1758-68 for the Poz­nań bish­op Te­odor Czar­to­ry­ski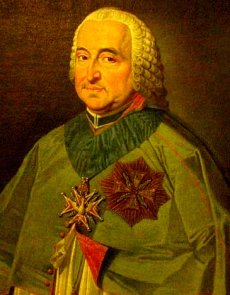 . It is a three-sto­ry build­ing cov­ered with a man­sard roof, whose fa­cades, al­though al­ready some­what ne­glect­ed, have a mag­nif­i­cent stuc­co dec­o­ra­tion. The build­ing be­longs to Poz­nań Uni­ver­si­ty and is not open to the pub­lic. It hous­es one of the lar­gest col­lec­tions of Ma­son­ic lit­er­a­ture in Eu­rope, as well as rare pub­li­ca­tions of the Rosi­cru­cian broth­er­hood. The park sur­round­ing the palace can be vis­it­ed for free.
text: 2023
photos: 2021, 2023
© Jacek Bednarek