SANOK

the royal castle
THE CASTLE IN SANOK, IN THE FOREGROUND THERE IS A NEW SOUTHERN WING
---
S
anok was men­tioned for the first time in Ipa­tiew­ski Ko­deks
in 1150, which con­tained in­forma­tion about the occupa­tion of Czer­wień­skie Gro­dy by the Hun­gar­i­an king Gej­za II
(d. 1162). Its ex­is­tence was record­ed once again in 1205 on the oc­ca­sion of a meet­ing held here be­tween the Hun­gar­i­an king An­drew II
(d. 1235) and An­na Eu­fro­zy­na, the wid­ow of prince Ro­man Hal­ic­ki (d. 1205), and al­so in 1231, when in the Car­pathi­an Chron­i­cle its lo­ca­tion at Hun­gar­i­an gates, i.e. near the moun­tain pass­es, was in­di­cat­ed. It should be as­sumed that all these mentions re­fer not yet to the cur­rent lo­ca­tion of the town, but rather con­cern a set­tle­ment which in the ear­ly Mid­dle Ages op­er­at­ed on Ho­ro­dysz­cze hill sit­u­at­ed a few kilo­me­tres to the north. At that time, on the cas­tle hill, there may have al­ready ex­ist­ed a for­ti­fied stronghold, but of less­er im­por­tance than Ho­ro­dyszc­ze men­tioned ear­li­er. Its dy­nam­ic de­vel­op­ment should be con­nect­ed with the col­lapse of the for­mer cen­tre of the lo­cal Old Rus­sian au­thor­i­ty, pos­si­bly caused by the Mon­gol in­va­sion in the mid-13th cen­tu­ry. As a con­se­quence, the ad­min­is­tra­tion was trans­ferred to Sa­nok, which in 1339 became a town.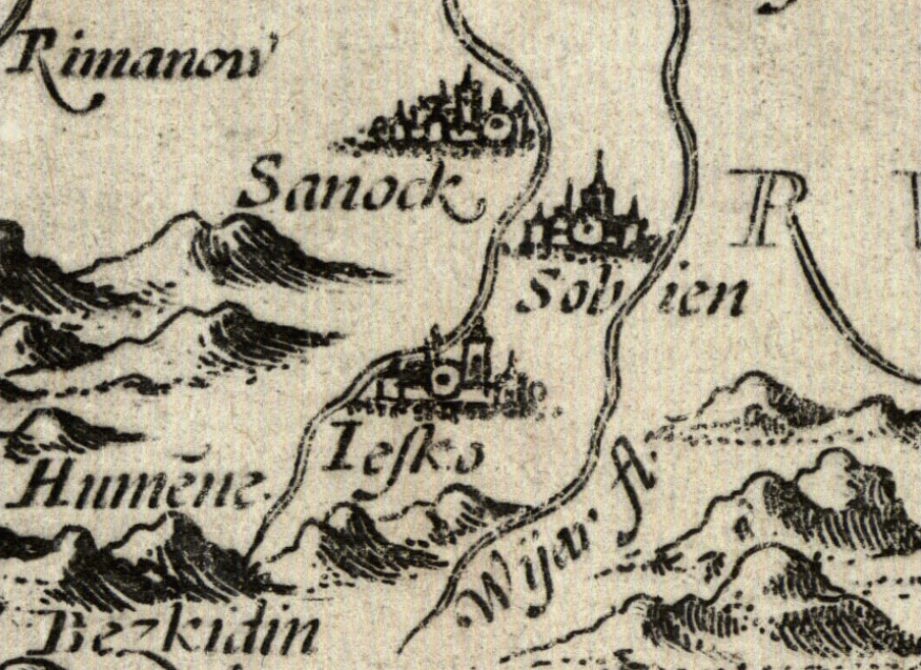 CASTLES SOBIEŃ, SANOK AND LESKO ON THE MAP "POLONIAE FINITIMARUMQUE LOCORUM DESRIPTIO", 1579
T
he death of Bo­le­sław Ju­rij (d. 1340) was used by the Pol­ish king Ca­si­mir the Great
(d. 1370), who in the years 1340-41 car­ried out an armed in­va­sion, as a re­sult of which he in­cor­po­rat­ed the Sa­nok Land and its new­ly es­tab­lished town Sa­nok in­to his king­dom. Soon, on his ini­tia­tive, a mighty tow­er with thick walls and un­der­ground prison was erect­ed in the north­ern part of the hill, and the whole was sur­round­ed by a de­fen­sive wall. The con­struc­tion of the brick cas­tle was ac­com­pa­nied by in­vest­ments in the for­ti­fi­ca­tion of the town, as well as build­ing of the Goth­ic church of St. Mi­cha­el the Arch­an­gel. The in­ten­sive brick­lay­ing ac­tiv­i­ty of Ca­si­mir the Great was prob­a­bly due to the need to en­sure the nec­es­sary de­fense of new land in the con­text of its pe­riph­er­al lo­ca­tion in the vicin­i­ty of the Mol­do­van Land and the King­dom of Hun­gary. The cas­tle was ad­min­is­tered by roy­al starosts, the first of whom we know was Piotr, men­tioned in 1352, fol­lowed by Be­ne­dik (1376-77), Tom­ko Na­shal­ka and Piotr Kmi­ta of Szre­nia­wa coat of arms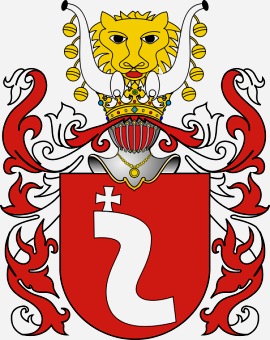 , voi­vode of Cra­cow and San­do­mierz, who held of­fice in the years 1391-98. In 1366, king Ca­si­mir him­self stayed here for a long time, and dur­ing his reign he vis­it­ed Sa­nok three times.
VIEW OF THE CASTLE FROM THE SOUTH, EMANUEL VON KROMBACH 1825
T
he cas­tle had great mo­ments dur­ing the reign of Wła­dy­sław Ja­gieł­ło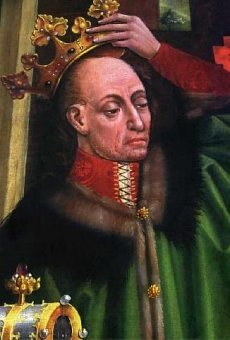 (d. 1434). This is where the wed­ding of the Pol­ish king with Elż­bie­ta Gra­now­ska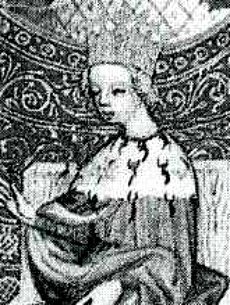 (d. 1420) took place on 2 May 1417. The re­la­tion­ship be­tween Ja­gieł­ło, still with­out a de­scen­dant, and a 45-year-old wom­an met with crit­i­cism and even mock­ery of the pub­lic opin­ion, the most rad­i­cal voice of which was the li­bel writ­ten by bish­op Sta­ni­sław Cio­łek, in which the au­thor com­pared Elż­bie­ta to an old, ex­haust­ed stink­ing sow. The dis­con­tent with the king's de­ci­sion was wide­spread, as ev­i­denced by a frag­ment of notes by a cer­tain Biel­ski: The king, who was sup­posed to chase the en­e­my, pre­ferred to make a wed­ding in Sa­nok. He took Elż­bi­eta, who had been kid­napped be­fore by one Mo­ra­vian, and lat­er by an­oth­er, and then was with Gra­now­ski. No one knew why the king liked her, be­cause she was old and sick. It is not sur­pris­ing, there­fore, that when, af­ter three years of mar­riage, Elż­bie­ta died of tu­ber­cu­lo­sis, the news of her death cov­ered the roy­al court and the whole king­dom with deep joy, be­cause all were hap­py that the dis­grace of the king had been erased and dur­ing the fu­ner­al peo­ple gave a great­er ova­tion than dur­ing the co­ro­na­tion [...]. All dressed in more fes­tive clothes took part in the queen's fu­ner­al cer­e­mo­ny, laugh­ing and cheer­ing. Af­ter the death of Wła­dy­sław Ja­gieł­ło, his last, fourth wife, a Rus­sian princess Zo­fia Hol­szań­ska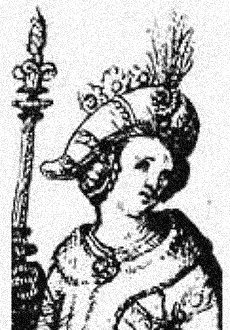 (d. 1461), has moved to Sa­nok. A clay tow­er was men­tioned at that time, whose name in­di­cates the use of brick as a ma­te­ri­al for its con­struc­tion.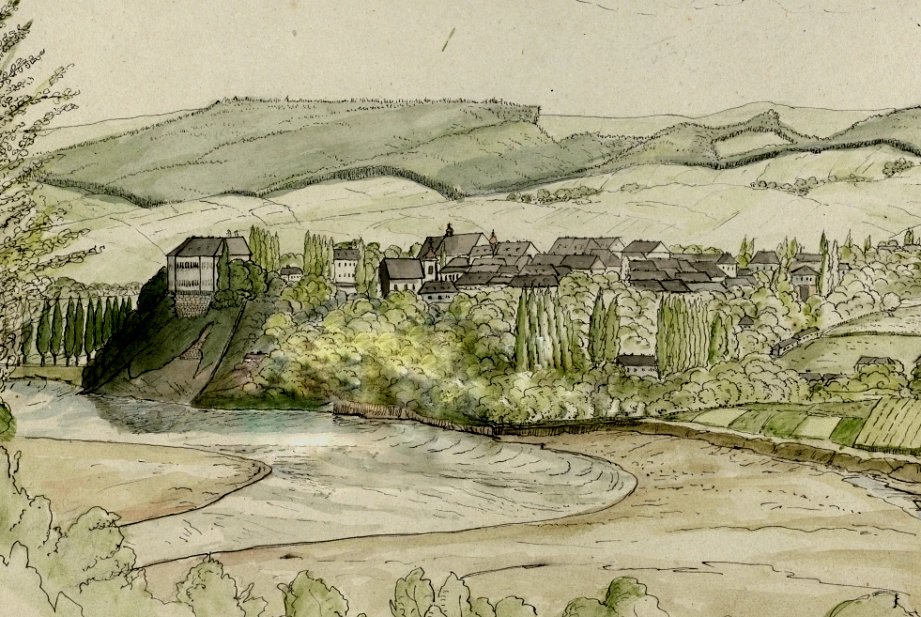 VIEW OF THE CASTLE AND THE TOWN FROM BIAŁA GÓRA, WATERCOLOUR FROM 1847
"CASTLE IN SANOK ON THE SAN RIVER FROM THE SOUTH", MACIEJ BOGUSZ STĘCZYŃSKI 1846
A
t the be­gin­ning of 16th cen­tu­ry the cas­tle be­came the prop­er­ty of Bo­na Sfor­za
(d. 1557), who, al­though she had nev­er been in Sa­nok, made a de­ci­sion to re­build the res­i­dence in the Re­nais­sance style. By or­der of the queen, un­der the su­per­vi­sion of Mi­ko­łaj Wol­ski of Pół­koz­ic coat of arms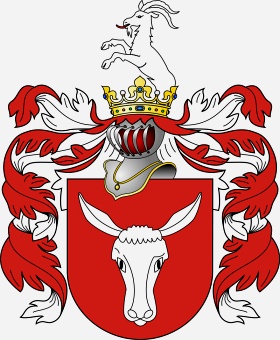 (d. 1548), in the years 1523-48 a mag­nif­i­cent two-storey res­i­den­tial build­ing was erect­ed, as well as a new en­trance gate and roy­al bath­room, a num­ber of util­i­ty build­ings were added and a new well carved. The scope of work was so wide that we can ac­tu­al­ly talk about build­ing a new cas­tle on the walls of an old Goth­ic strong­hold. Its lay­out changed dur­ing the of­fice of Mi­ko­łaj Ci­kow­ski, who in 1558-72 en­larged the liv­ing space by adding two wings and for­ti­fied it with a brick tow­er. Just be­fore this sec­ond re­build­ing, the res­i­dence was owned by daugh­ter of Si­gis­mund the Old
and Bo­na, Hun­gar­i­an queen Iza­be­la Ja­giel­lon­ka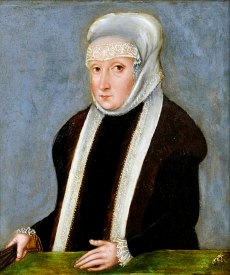 (d. 1559). Af­ter los­ing the civ­il war and un­for­tu­nate agree­ments with the Aus­tri­an Em­per­or Fer­di­nand Hab­s­burg
, Iza­be­la spent her stay in Sa­nok try­ing to re­gain the Hun­gar­i­an throne, which she suc­ceed­ed in the au­tumn of 1565. Since then, the po­lit­i­cal sig­nif­i­cance of sta­rosts' head of­fice has weak­ened.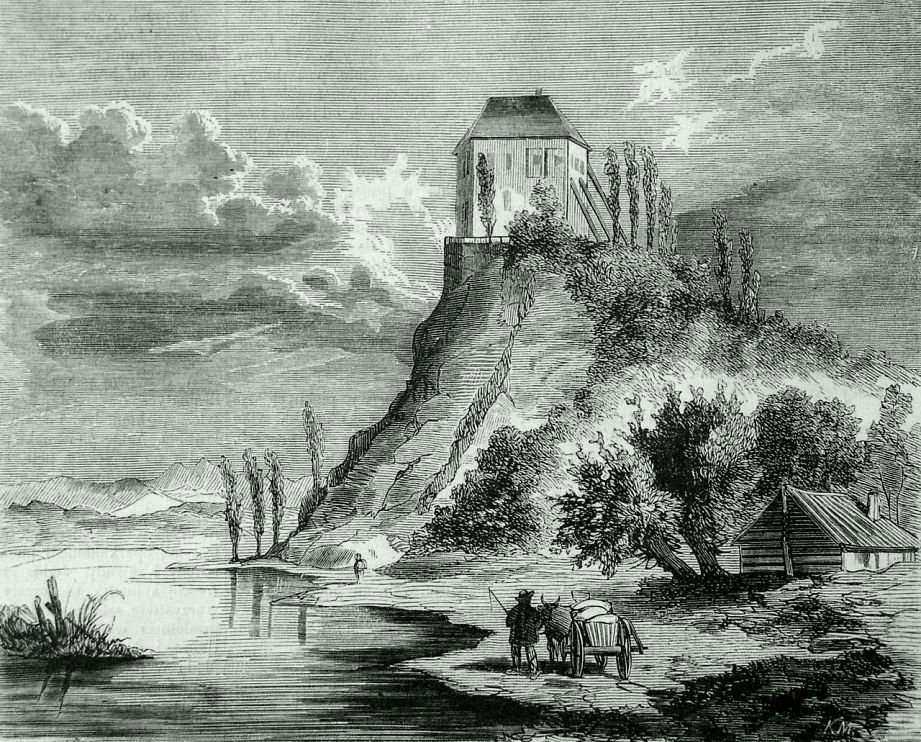 STAROSTS AT THE CASTLE IN SANOK
Piotr (1352), Benedykt (Benedik, Benco, Bencone) of Sandomierz (from 1377),
Tom­ko Na­schal­ka, Piotr Kmi­ta of Wiśnicz (1391-1398),
Kle­mens Mo­ska­rzew­ski of Moskorzewo (1399-1400), Ści­bor of Olędowo (1400-1410),
Wierz­bię­ta of Branice (1412), Druż­ban­ta of Branice (1418),
Ja­nusz z Ko­by­lan (1420-1430), Kle­mens Kmi­ta from Sobień castle (1421),
Mi­ko­łaj of Chrząstowo Chrzą­sto­wski (1430-1437), Jan Ku­ro­pa­twa de La­czu­chow (1442-1446),
Woj­ciech of Michowo (1446-1450), Mi­ko­łaj Pie­nią­żek of Witowice (1450-1474),
Sta­ni­sław Pie­nią­żek of Witowice (1474-1493), Ja­kub Pie­nią­żek (1493),
Se­ba­stian Lu­bo­mir­ski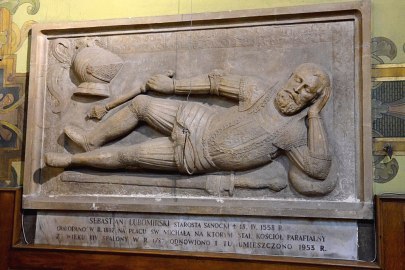 (until 1558), Mi­ko­łaj Ci­kow­ski,
Je­rzy Mni­szech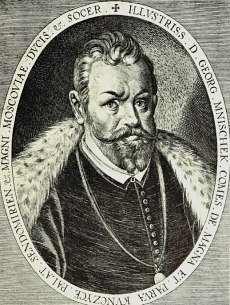 (ca. 1578), Sta­ni­sław Bo­ni­fa­cy Mni­szech (1602),
Fran­ci­szek Ber­nard Mni­szech (1613), An­drzej Dro­ho­jow­ski (1652),
Je­rzy Wan­da­lin Mni­szech (1661), An­to­ni Du­nin Wą­so­wicz (1745),
Jó­zef Wan­da­lin Mni­szech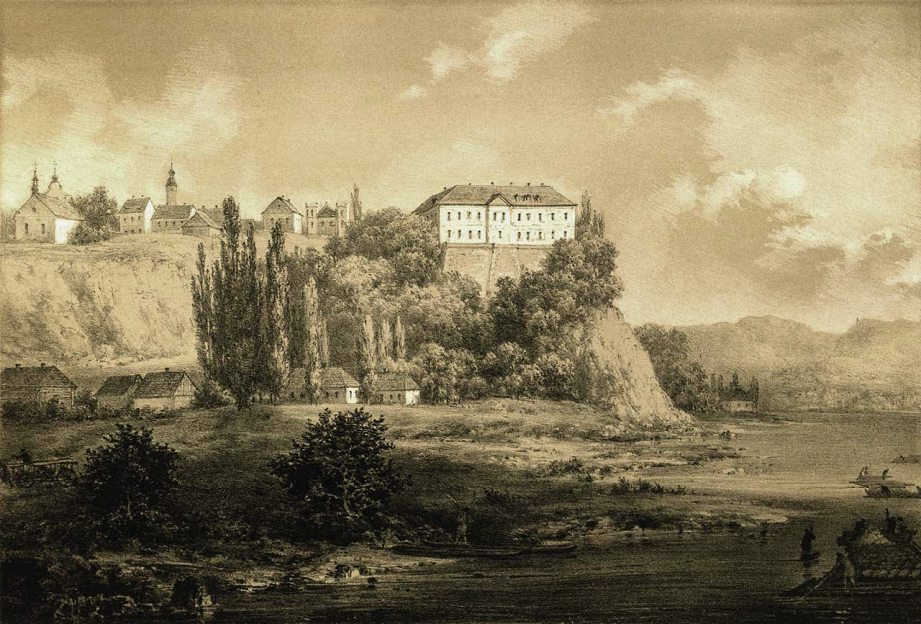 CASTLE ON LITOGRAPHY BY NAPOLEON ORDA, "ALBUM WIDOKÓW" 1880
D
es­pite the fact that some in­vest­ments were un­der­tak­en lat­er on the cas­tle hill, their scope was not suf­fi­cient to pre­serve the us­able func­tions of the starost's seat and in sec­ond half of the 18th cen­tu­ry cas­tle was in a very poor con­di­tion. Af­ter Gali­cia was seized by the Aus­tri­an in­vad­er, the new au­thor­i­ties or­dered to de­mol­ish el­e­ments of the cas­tle's mil­i­tary ar­chi­tec­ture, in­clud­ing walls, gates and the tow­er. On­ly res­i­den­tial wings left, which were re­built and adapt­ed for of­fice pur­po­ses. In 1809 the cas­tle hill was tem­porar­i­ly tak­en o­ver by the Pol­ish troops, which, un­der the com­mand of Fran­ci­szek Ksa­we­ry Kra­sic­ki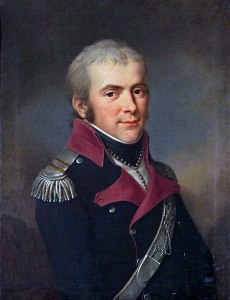 (d. 1844), hero­ical­ly de­fend­ed it against at­tack by im­pe­ri­al reg­i­ment. As a re­sult of bat­tles be­tween the Rus­sian and Aus­tri­an armies dur­ing World War I, the south wing was de­stroyed, and in 1915 - de­mol­ished. The for­mer moat was lev­elled too. From that time un­til 2010, the cas­tle build­ing re­mained vir­tu­al­ly un­changed.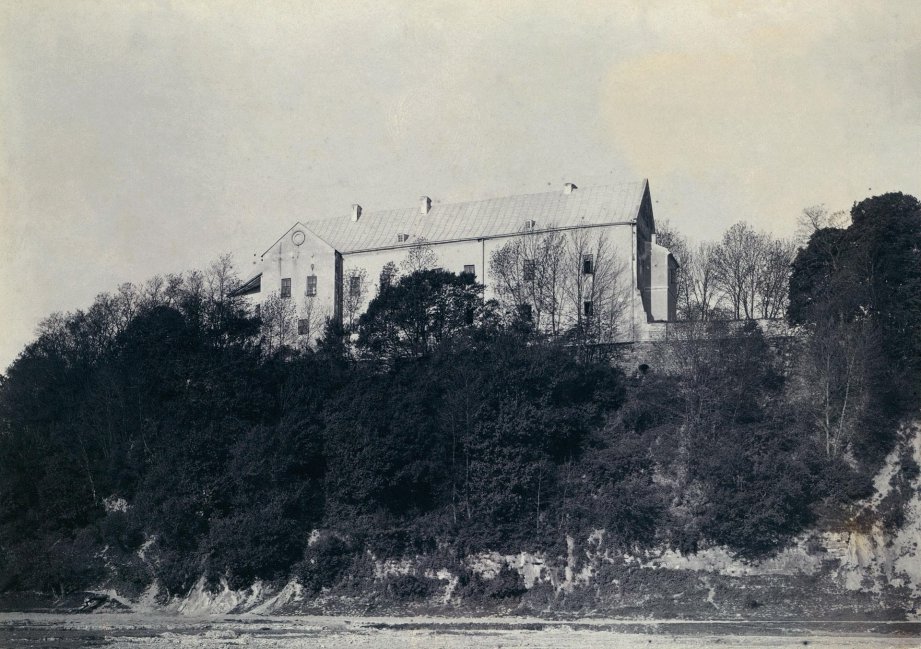 VIEW OF THE CASTLE FROM THE NORTH-EAST, PHOTO FROM THE 1890S
A
fter Poland re­gained in­de­pen­dence the cas­tle housed the Sa­nok Land Mu­se­um, which pro­vid­ed ac­cess to ar­chae­o­log­i­cal ex­hibits, works of art, crafts, nu­mis­mat­ic items, books and doc­u­ments re­lat­ed to the re­gion, ob­tained in the field or do­nat­ed by lo­cal peo­ple. For sev­er­al years in the 1930s, Bish­op Grze­gorz Iwa­no­wycz Ła­ko­ta
(d. 1950) had his of­fice here. Af­ter the war, he was ar­rest­ed by Nar­o­d­nyj komis­sari­at wnu­tri­en­nich dieł SSSR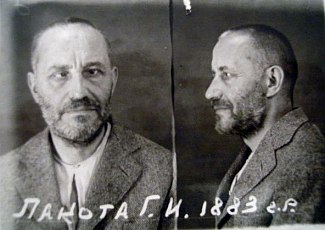 and de­port­ed to gu­lag where he died. In the 1930s, the cas­tle al­so housed the Road Ad­min­is­tra­tion, the School Coun­cil, as well as apart­ment of the sta­rost. Af­ter the Ger­mans en­tered Sa­nok in 1939, they plun­dered the cas­tle, and lat­er set up in its premises the Lem­ko Mu­se­um, man­aged by Ukra­ini­an painter Leon Getz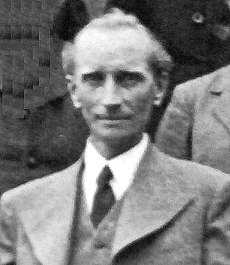 (d. 1971). At that time, un­til June 1941, the Sa­nok cas­tle was lo­cat­ed near the Mo­lo­tov Line, at the bor­der be­tween Na­zi Ger­many and So­vi­et Rus­sia. Thus, it be­came a part of the for­ti­fi­ca­tions called the Gali­cia Bound­ary Po­si­tion. One of the links of these for­ti­fi­ca­tions is a con­crete bunker erect­ed un­der the cas­tle square, which we can see to­day as part of the mu­se­um ex­hi­bi­tion.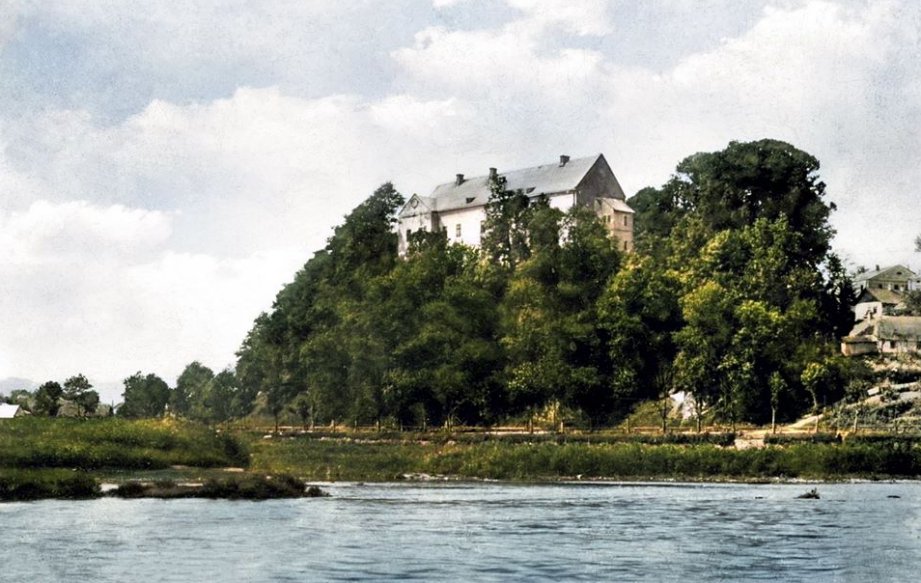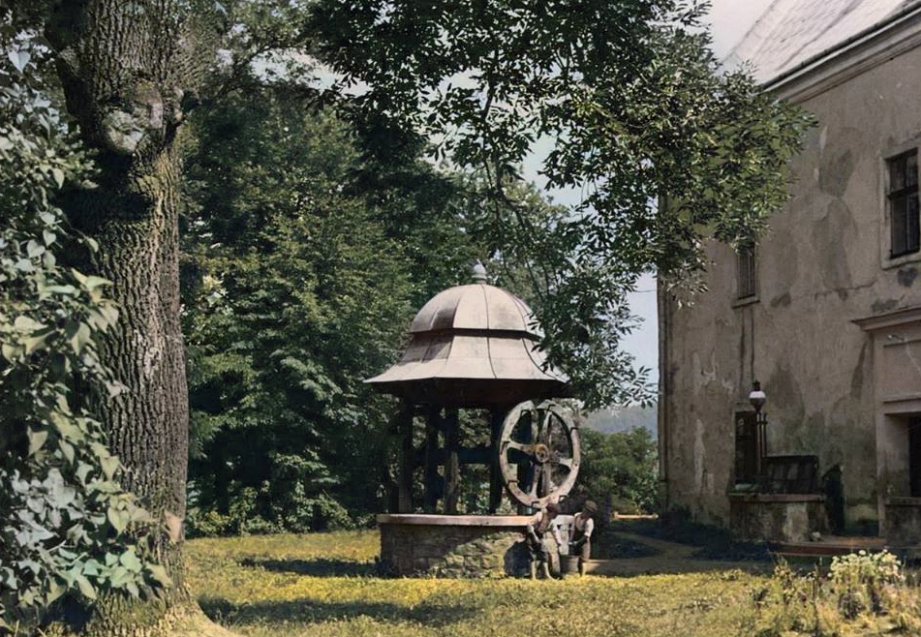 COLOURED PHOTOGRAPHS OF THE CASTLE FROM THE 1930S, IN THE PICTURE BELOW THERE IS A CASTLE WELL
AND FRAGMENT OF THE GRAND HOUSE WESTERN ELEVATION
A
t the end of the war, the Ger­mans stole sur­viv­ing mem­o­ra­bil­ia of Pol­ish cul­ture. For­tu­nate­ly, some of them were lat­er found in the vicin­i­ty of Leg­ni­ca and trans­ferred to the main ar­chives in War­saw and Rze­szów. Af­ter 1944, the cas­tle was used for var­i­ous pur­pos­es to re­spond to the ur­gent needs of its time, in­clud­ing a mil­i­tary hos­pi­tal and a gun­nery. The first re­search and con­ser­va­tion work be­gan in 1952, while in the 1960s the Re­nais­sance wing was thor­ough­ly ren­o­vat­ed
and the mu­se­um ex­hi­bi­tions were re­opened. In 2010-13, the new south­ern wing was erect­ed. As part of re­vi­tal­iza­tion of the cas­tle hill, some of per­ime­ter walls were al­so re­con­struct­ed and the foun­da­tions of Goth­ic tow­er were topped up.
THE ROYAL CASTLE AFTER RENOVATION, VIEW FROM THE WEST (1970)
DESCRIPTION OF THE CASTLE
T
he cas­tle was built on a hill, whose east­ern slope de­scends steeply to­wards the San Riv­er and south­ern to­wards the Pło­wiec­ki Stream. Due to the lack of notes re­lat­ing to Goth­ic strong­hold, its vi­su­al ap­pear­ance and spa­tial ar­range­ment can on­ly be imag­ined through ar­chae­o­log­i­cal re­search and to some ex­tent al­so on the ba­sis of anal­o­gy with oth­er con­struc­tions of this type built by the last Pi­asts. We know for sure that around the mid­dle of the 14th cen­tu­ry a tow­er was erect­ed in the north-east­ern part of the court­yard. It had a square plan with a side of 10 me­ters, which at the height of 6 me­ters was cyl­in­dri­cal in shape. Its height is un­known, but it can be as­sumed that it mea­sured about 20 me­ters, while the thick­ness of walls on the ground floor reached 3 me­ters. Ac­cess to the cas­tle was de­fend­ed by a dry moat and a 2.5-me­tre thick stone wall. Per­haps as ear­ly as in the 14th cen­tu­ry, a one-bay res­i­den­tial house was built in the east­ern part of the court­yard, as well as a small­er build­ing in the west­ern part, the pur­pose of which is cur­ren­tly un­know (it is pos­si­ble that lat­er on, the ar­chives were kept in it).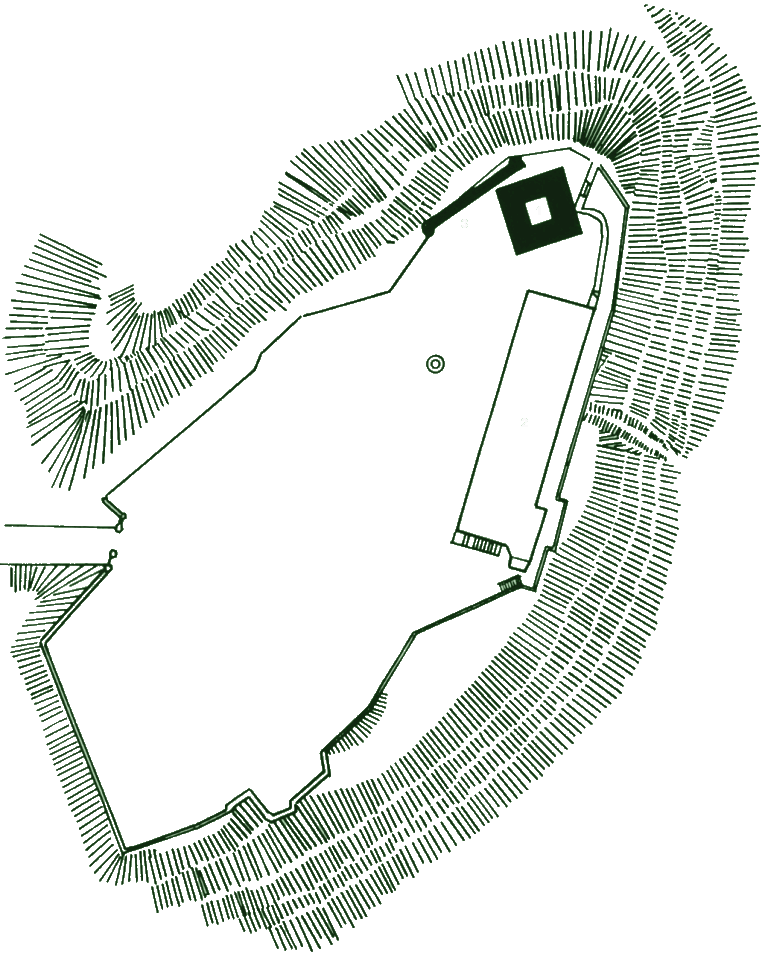 PLAN OF A MEDIEVAL CASTLE ACCORDING TO M. ZIELIŃSKA: 1. GOTHIC TOWER, 2. RESIDENTIAL BUILDING, 3. NORTHERN WALL
I
n years 1523-48 mar­shal Mikołaj Wol­s­ki mod­ern­ized and rebuilt the Goth­ic cas­tle. The me­dieval east­ern house was prob­a­bly de­mol­ished then, and on its bases a Re­nais­sance grand house was erect­ed. It was a two-storey build­ing, topped with a gable roof cov­ered with ce­ram­ic tiles. Lat­er trans­for­ma­tions make it im­pos­si­ble to iden­ti­fy its dec­o­ra­tion in de­tail, but it is known that ele­va­tions were or­na­ment­ed with Re­nais­sance win­dow frames and door por­tals, and the coats of arms: an ea­gle, the Sforza fam­i­ly and the Li­thua­ni­an Po­goń. The in­vest­ment was ac­com­pa­nied by de­mo­li­tion of the Or­tho­dox Church of St. Dmit­ry and remo­val the re­mains of wood­en for­ti­fi­ca­tions, which were re­placed by a brick wall with a new en­trance gate. From the sta­ro­sty's in­ven­to­ries (1548, 1558) we learn that the cas­tle at that time con­sist­ed of two gates, a draw­bridge, the grand house and util­i­ty build­ings: a gra­nary, an ar­moury, a kitchen, a bath­house and a brew­ery. A bak­ery and a goth­ic tow­er were sit­u­at­ed some dis­tance from the res­i­den­tial area.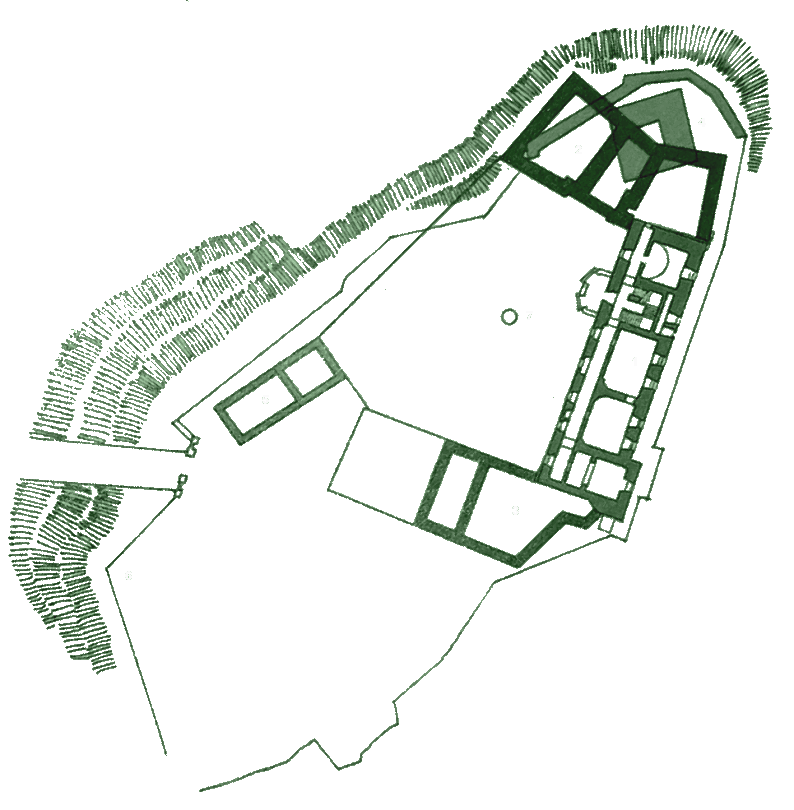 PLAN OF THE CASTLE FROM THE END OF THE 16TH CENTURY: 1.GRAND HOUSE, 2. NORTHERN WING, 3. SOUTHERN WING,
4. FOUNDATIONS OF MEDIEVAL TOWER, 5. WESTERN BUILDING (ARCHIVE?), 6. DEFENSIVE WALL, 7. WELL
I
n the sec­ond half of the 16th cen­tu­ry a south­ern and north­ern res­i­den­tial wings with a tow­er were erect­ed, thanks to which the main part of the cas­tle re­ceived a plan of the let­ter C opened from the west. These wings were de­mol­ished in the 19th and ear­ly 20th cen­turies by or­der of the Aus­tri­an au­thor­i­ties. On­ly the old­est grand house left, where the Re­nais­sance char­ac­ter was erased by re­moval of dec­o­ra­tive stone­ma­son­ry of doors and win­dows. The south­ern wing of the cas­tle was re­con­struct­ed in 2010-13, but the con­cept of this re­con­struc­tion is far away from the orig­i­nal, stir­ring up strong feel­ings with its con­tro­ver­sial form.
THE GRAND HOUSE IN 1936 AND TODAY (WITH CONTROVERSIAL SOUTHERN WING ADDED IN YEARS 2010-13)
---
T
he con­tem­po­rary form of the cas­tle is a re­sult of wide-rang­ing re­con­struc­tion works car­ried out at the turn of the first and sec­ond decade of the 21st cen­tu­ry. These works gave it part­ly a look re­fer­ring to the Re­nais­sance form from the mid-16th cen­tu­ry and part­ly be­ing a cre­ation of ar­chi­tects' imag­i­na­tion. From the times of the last Ja­giel­lons, the grand house has been pre­served, in which the door por­tals and win­dow stone­ma­son­ry have been re­con­struct­ed, as well as brick floors and wood­en ceil­ings. In its west­ern façade wood­en stairs with a bal­cony have been built. On the foun­da­tions of the Goth­ic Pi­ast tow­er, dis­cov­ered in the north­east­ern part of the court­yard, a ter­race was erect­ed to view the San Riv­er val­ley and the north­ern part of the town.
FRAGMENT OF THE GRAND HOUSE WESTERN ELEVATION
I
n­te­ri­ors of the castle hous­es the His­tor­i­cal Mu­se­um, in which apart from ar­chae­o­log­i­cal ar­ti­facts, mil­i­taria col­lec­tions, sculp­ture and paint­ing gal­leries, a valu­able ex­hi­bi­tion of Or­tho­dox church art and the unique, largest col­lec­tion of works by one of the most out­stand­ing con­tem­po­rary artists in the world, Zdzi­sław Bek­siń­ski, de­serve spe­cial at­ten­tion. In the cel­lars there is an Ar­moury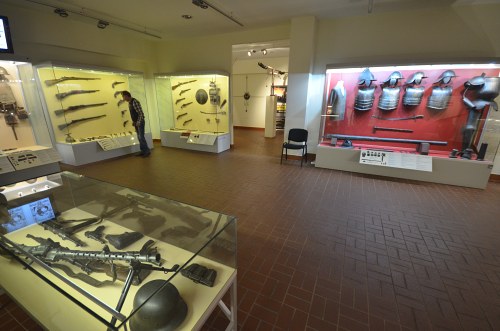 - ex­hi­bi­tion pre­sent­ing the de­vel­op­ment of ar­ma­ment start­ing from frag­ments of the Old Rus­sian war­riors' fight­ing kit dis­cov­ered on the cas­tle hill, ar­mour of me­dieval knights and the sev­en­teenth-cen­tu­ry Pol­ish hus­sars ride, as well as ex­hibits of cold steel and fire­arms. Among the shoot­ing weapons, it is worth to fo­cus on the iron fal­conet-type can­non bar­rel

, which, ac­cord­ing to lo­cal tra­di­tion, was the spoil of war af­ter win­ning the Bat­tle of Cho­cim against the Turks in 1621. Brought to Sa­nok, it was stolen by peas­ant, trans­port­ed to the vil­lage of Odrze­cho­wa and then drowned in a pond be­cause of fear of re­pres­sion. Af­ter the serf­dom was abol­ished, the can­non was tak­en out and placed in front of the church, where it was fired ev­ery East­er Sun­day, and al­so served as a ...bor­der post.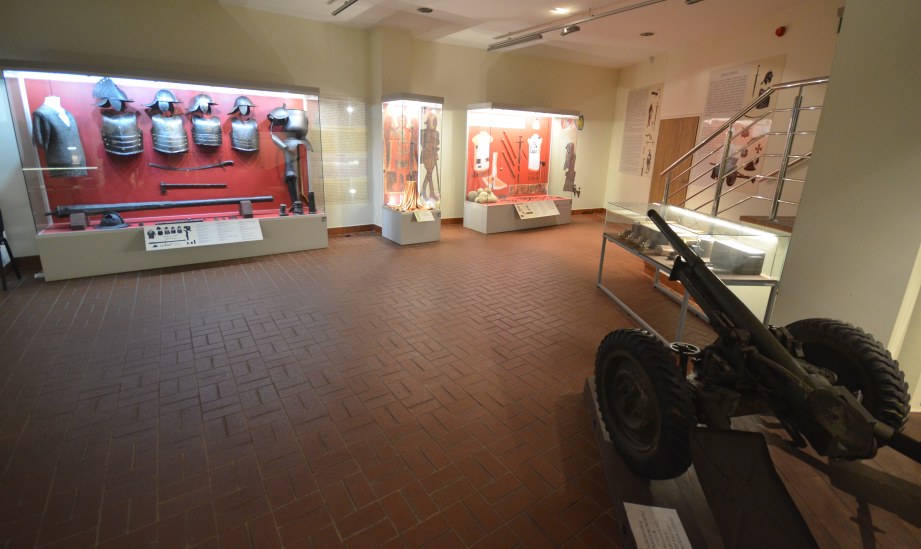 EXHIBITION OF ARMAMENTS IN THE CASTLE CELLARS
T
he ex­hi­bi­tion al­so in­cludes more con­tem­po­rary weapons, such as 19th cen­tu­ry flint­lock and per­cus­sion pis­tols, ri­fles used by the mu­nic­i­pal po­lice at the turn of the 19th and 20th cen­tu­ry and ar­ma­ments from both world wars. Mil­i­tary in­sig­nia are al­so pre­sent­ed, of which par­tic­u­lar­ly at­ten­tion is drawn to the badge of the 2nd Pol­ish Pod­ha­le Ri­fle Reg­i­ment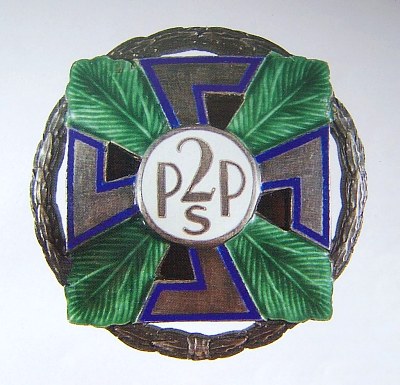 which is ...a swasti­ka. The ex­hi­bi­tion is com­ple­ment­ed by a com­bat and ob­ser­va­tion shel­ter, which dur­ing the war was one of the points of the Ger­man line of for­ti­fi­ca­tions on the then bor­der with the So­vi­et Union.
THE SECOND WORLD WAR SHELTER
T
he ex­hi­bi­tion of ar­ma­ments is ad­ja­cent to an in­ti­mate ar­chae­o­log­i­cal ex­hi­bi­tion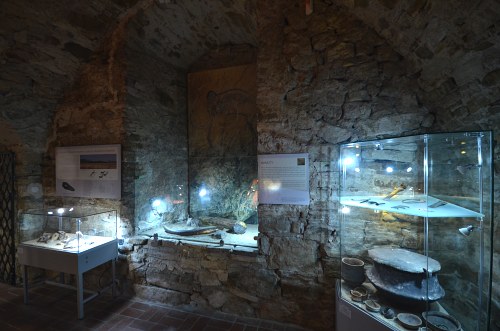 rep­re­sent­ing three pre­his­toric epochs and based pri­mar­i­ly on find­ings dis­cov­ered in the near­by vil­lages of Ba­chórz, Trep­cza and Pru­siek, as well as in Sa­nok it­self and in area of ru­ins of the me­dieval cas­tle So­bień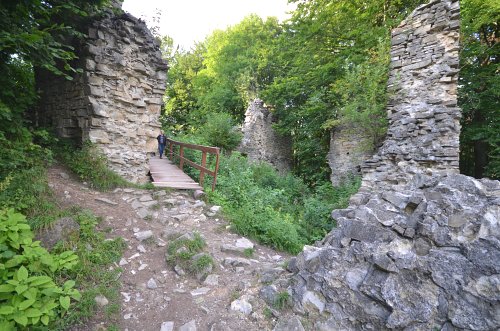 . The stone age is rep­re­sent­ed here by, among oth­ers, mam­moth teeth and the old­est cre­ations of hu­man hands: flint ax­es, hatch­ets, hoe and prim­i­tive mul­ti­func­tion tools. The Bronze Age arte­facts come main­ly from nu­mer­ous 'trea­sures' hid­den most­ly in clay pots, con­tain­ing sim­ple kitchen tools, weapons and or­na­ments, in­clud­ing mys­te­ri­ous twists com­ing prob­a­bly from the Bal­kan Pe­nin­su­la. The pres­ence of Cel­tic peo­ples and Van­dals in the Sub­carpathi­an re­gion is doc­u­ment­ed in the part of ex­hi­bi­tion ded­i­cat­ed to the Iron Age, where be­sides old ar­ma­ments, frag­ments of glass ves­sels and je­wel­le­ry, at­ten­tion is drawn by a gold coin with im­ages of the god­dess Athe­na and Nike and a sil­ver-gold coin dat­ing back to the times of the Ro­man Em­pire. The ex­hi­bi­tion is com­ple­ment­ed by me­dieval an­tiq­ui­ties, in­clud­ing lead seals of Kiev dukes, jew­ellery of Rus­sian no­ble­wom­en, unique coins and cross­es with a rel­ic, which turned out to be a frag­ment of me­te­orite.
FRAGMENT EKSPOZYCJI ARCHEOLOGICZNEJ
T
he ar­chae­o­log­i­cal exhibition is con­trast­ed with Gal­lery of 20th Cen­tu­ry Paint­ing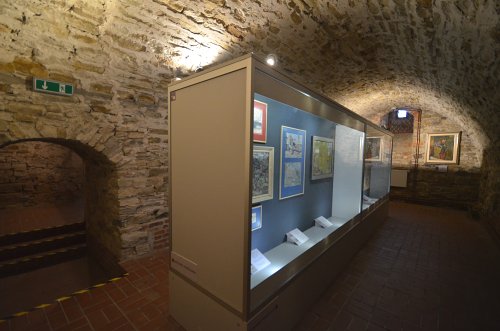 , al­so lo­cat­ed in the cas­tle cel­lars, the core of which is com­posed of paint­ings do­nat­ed by Sa­nok artists Fran­ci­szek
and Ma­ria Pro­chas­ka. De­spite the fact that ex­posed works were made by fa­mous artists such as Was­si­ly Kan­din­sky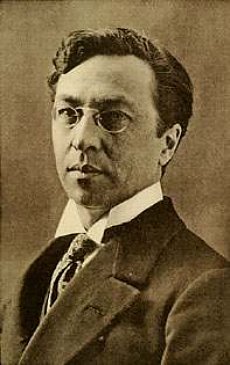 , Jó­zef Cheł­moń­ski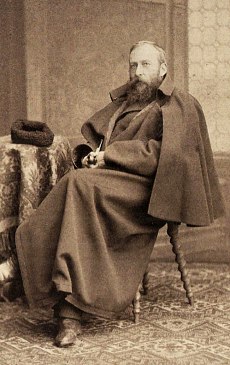 , Ja­cek Mal­czew­ski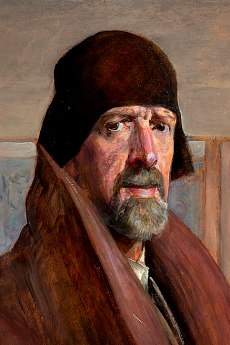 , Ta­de­usz Ma­kow­ski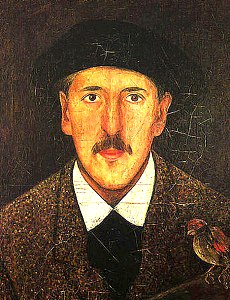 and Pa­blo Pi­cas­so
, their artis­try does not de­light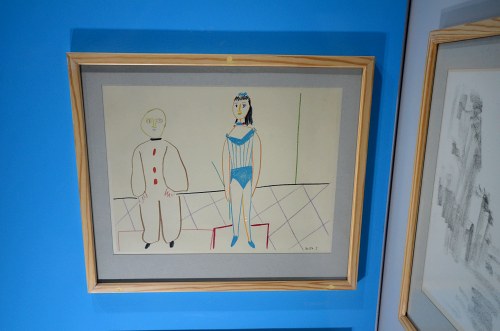 , and it can some­times cause con­ster­na­tion or even em­bar­rass­ment. It seems that the works pre­sent­ed with­in neigh­bour­ing the Mar­i­an Kru­czek Gal­lery meet much fonder re­sponse. It con­sists main­ly of re­mark­able sculp­tures and spa­tial com­po­si­tions, made from old ma­chine parts, gears, wire, shells, etc., found in junk­yards or bought at flea mar­kets, then shaped in­to fairy­tale and fan­tas­tic forms called krucz­ki.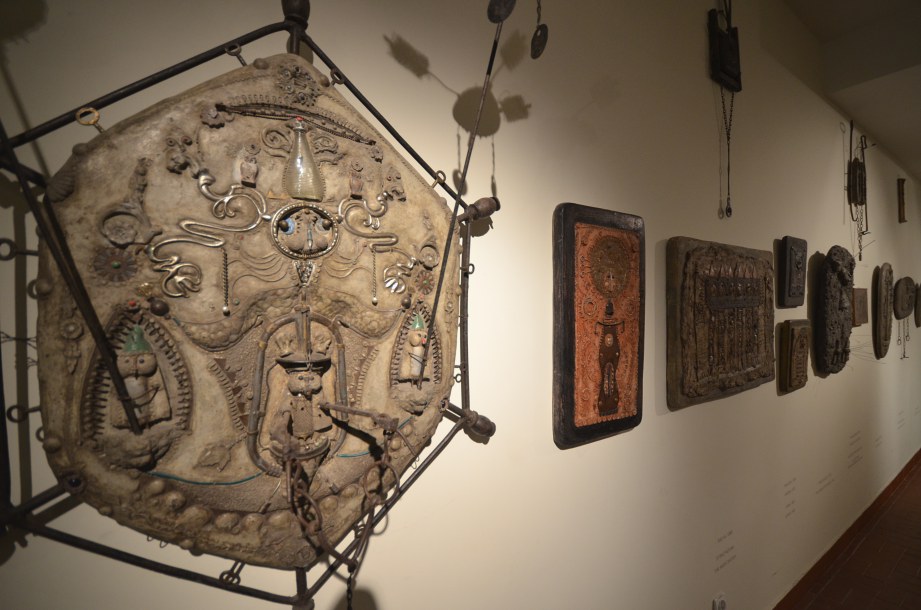 T
he hall of the south­ern wing is filled with col­lec­tion of po­kuc­ka ce­ra­mics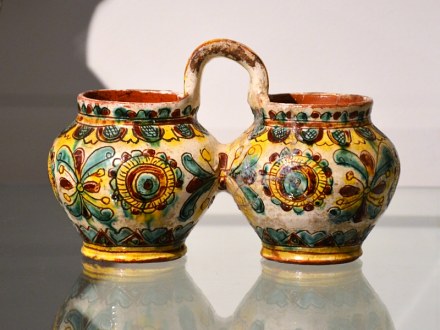 . Orig­i­nat­ing from Po­ku­cie, a land in the East­ern Car­pathi­ans, se­mi-ma­jo­li­ca prod­ucts are char­ac­ter­ized by mul­ti­col­ored dec­o­ra­tion re­fer­ring to plant, an­i­mal and ge­o­met­ric forms, of­ten in­spired by an­cient and Ty­ro­lean art. The most valu­able item of this ex­po­si­tion is a 19th cen­tu­ry tiled stove, be­long­ing to the fam­i­ly of famous pol­ish art­ist Xa­we­ry Du­ni­kow­ski, with rich or­na­men­ta­tion show­ing scenes of ev­ery­day life. Ethno­graph­ic feat­ures can al­so be found in the north­ern cham­ber, in which the ex­hi­bi­tion ded­i­cat­ed to sa­cred art of Ca­tho­lic Church
pre­sents frag­ments of dec­o­ra­tion of the no longer ex­ist­ing St. Mi­chael the Arch­an­gel Church, the old­est tem­ple in Sa­nok. The at­ten­tion is drawn here by nu­mer­ous cru­ci­fix­es with ex­pres­sive­ly sculpt­ed im­ages of Christ, a high-class sculp­ture of St. Ne­po­mu­cen and sa­cred fig­ures of var­i­ous, some­times not very im­pres­sive artis­tic lev­el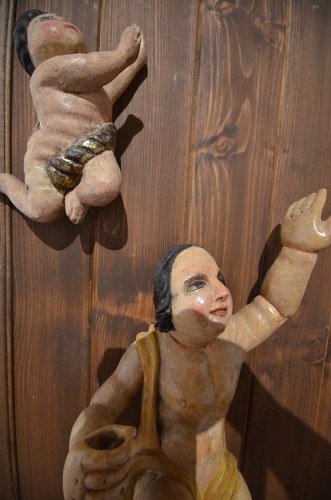 , in­di­cat­ing the folk ori­gin of many of them. This col­lec­tion is com­ple­ment­ed by Ba­ro­que sculp­tures which for­mer­ly be­longed to Car­me­li­te Mo­na­ste­ry in Za­górz (now in ru­ins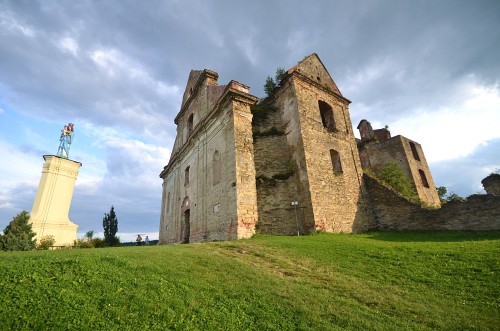 ), as well as 17th-19th cen­tu­ry cru­ci­fix­es com­ing from Ger­ma­ny, Spain and France. A com­plete­ly dif­fer­ent style is char­ac­ter­ized by the ex­hi­bi­tion lo­cat­ed in the Re­nais­sance hall, dom­i­nat­ed by por­trait paint­ings, which in large part came here from the Za­łus­ki Palace in Iwo­nicz-Zdrój. A sig­nif­i­cant part of this col­lec­tion is rep­re­sent­ed by paint­ings de­pict­ing mem­bers of the Za­łus­ki fam­i­ly, as well as oth­er fig­ures who lived or held var­i­ous of­fices in the Sa­nok re­gion. Among them the most valu­able are the por­trait of kinfg Jan III So­bies­ki and the 17th cen­tu­ry im­age of a girl with a fan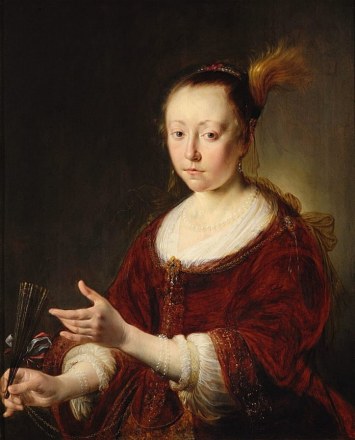 paint­ed by the Dutch painter Gi­js­bert Si­bil­la.
THE SACRED ART OF CATHOLIC CHURCH
ORTHODOX CHURCH ART GALLERY
T
he Mu­se­um has one of the largest and most beau­ti­ful col­lec­tions of Or­tho­dox church art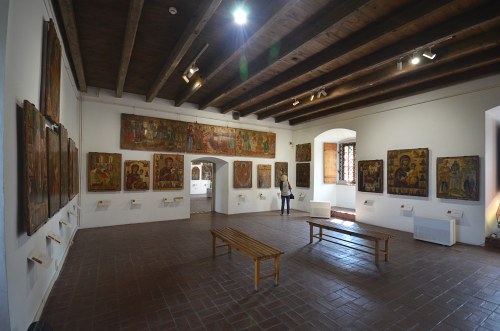 in Pol­and. It con­sists of 1200 ex­hibits, which are ar­ranged on two floors of the cas­tle in such a way that they show the de­vel­op­ment of Or­tho­dox and Greek Catho­lic paint­ing and dec­o­ra­tive art in chrono­log­i­cal terms, from Mid­dle Ages to the pre­sent day. An ex­cel­lent col­lec­tion of icons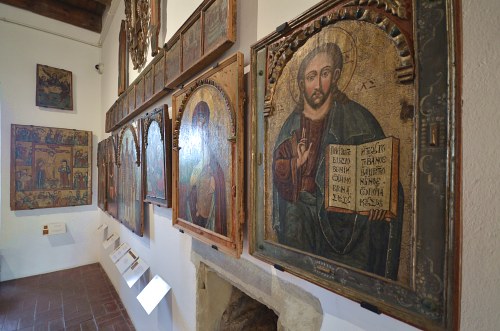 and litur­gi­cal ob­jects in­tro­duces us to the spir­i­tu­al world of south-east­ern Poland and Ukra­ine. Among many lead­ing themes, do­mi­nates the fig­ures of Christ the Pan­to­cra­tor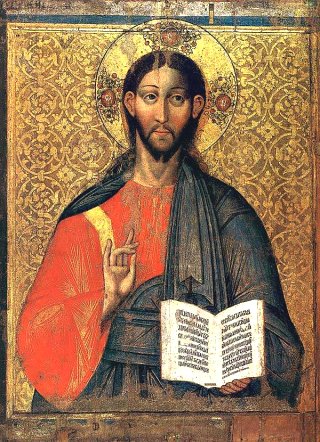 , Christ in Dee­sis group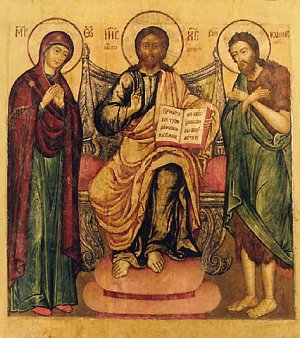 , char­ac­ter­is­tic man­dy­lions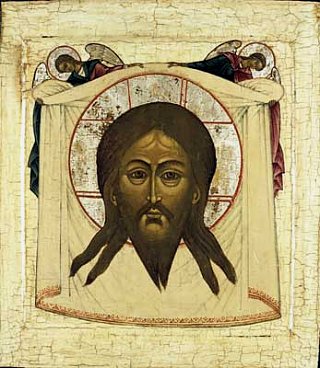 , as well as var­i­ous im­ages of Our La­dy with her most pop­u­lar im­age called Ho­de­ge­tria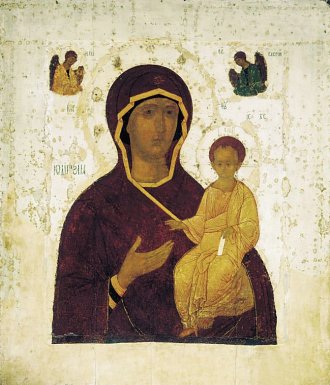 , Christ­mas icons called praz­dni­ki, nu­mer­ous lives of saints
and won­der­ful rep­re­sen­ta­tions of the Last Judg­ment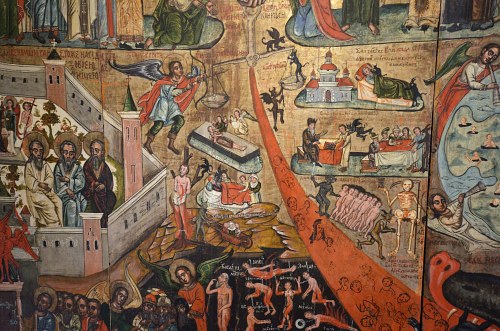 . This unique ex­hi­bi­tion is com­ple­ment­ed by an iconos­ta­sis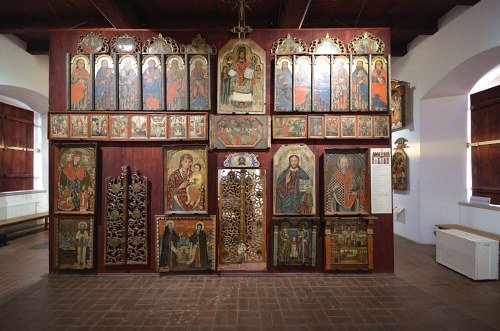 - a wood­en wall with three doors and rows of icons ar­ranged in strict or­der, as well as a col­lec­tion of cross­es, old books and rich­ly dec­o­rat­ed li­tur­gi­cal robes.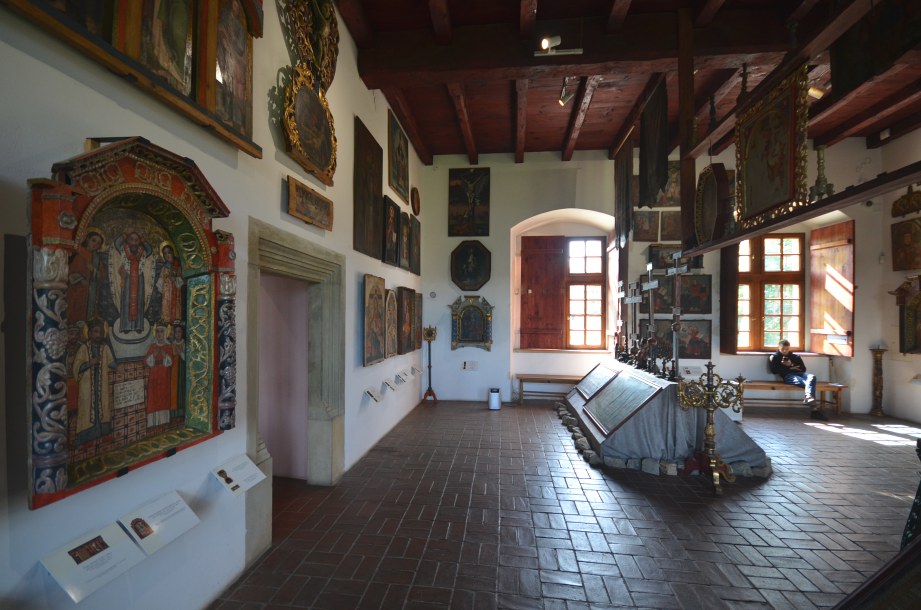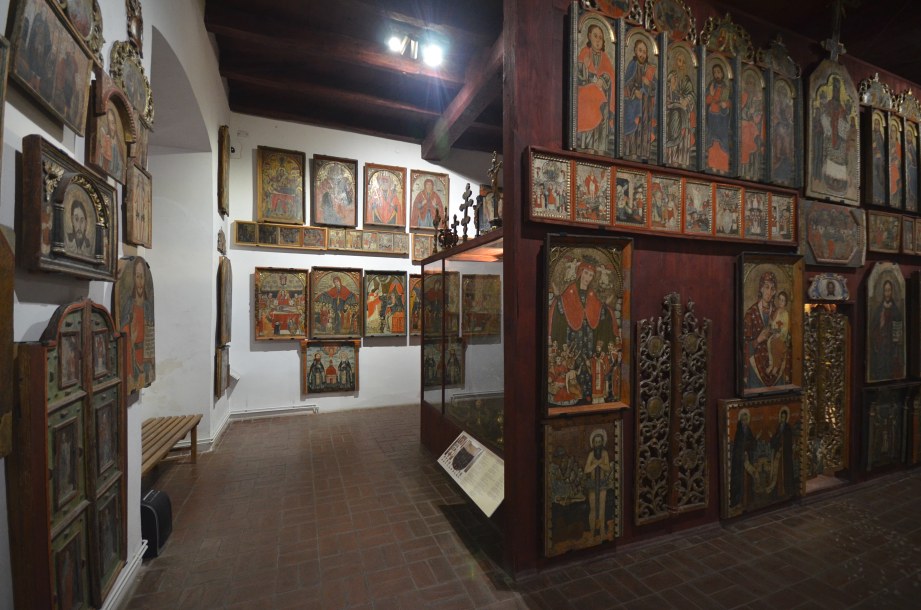 ORTHODOX CHURCH ART GALLERY
H
ow­ev­er, vis­it­ing an ex­cel­lent col­lec­tion of sa­cred art is on­ly a fore­taste of what awaits us in the at­tic of the Re­nais­sance part and in the ex­hi­bi­tion space of new south­ern wing, where since 2012 the gal­lery of works by one of the most in­trigu­ing con­tem­po­rary artists Zdzi­sław Bek­siń­ski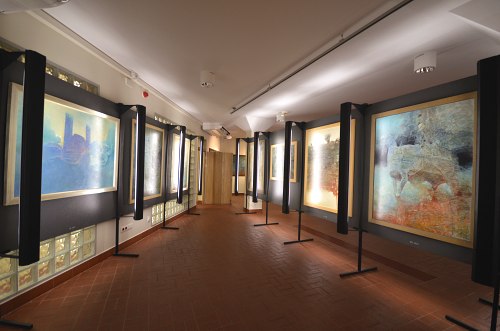 has been avail­able to the pub­lic. The mu­se­um, as the on­ly heir of the paint­er, mur­dered in 2005, pos­sess­es the largest col­lec­tion of his works, many of which he per­son­al­ly chose to be­queath them to his home­town. The ex­hi­bi­tion of o­ver 600 works cov­ers the whole pe­ri­od of Bek­siń­ski's artis­tic ac­tiv­i­ty, be­gin­ning from ab­strac­tion and the avant­-garde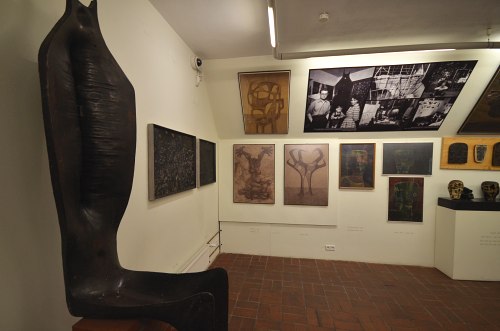 , which char­ac­ter­ized his draw­ings and sculp­tures in the ear­ly 1950s, un­til the turn of the cen­turies, when, fas­ci­nat­ed by de­vel­op­ment of dig­i­tal tech­niques, he ex­per­i­ment­ed with mod­ern forms of cre­ative pho­tog­ra­phy and com­put­er graph­ics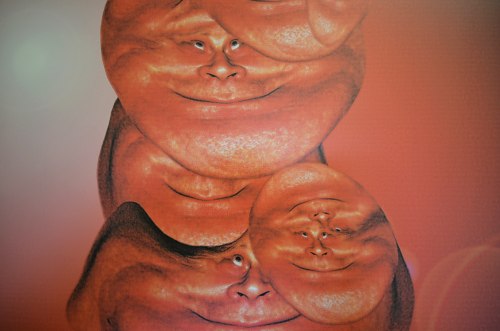 .
ZDZISŁAW BEKSIŃSKI'S GALLERY
T
he core of the ex­hi­bi­tion is, how­ev­er, a col­lec­tion of paint­ings rep­re­sent­ing the "fan­tas­tic" pe­ri­od of painter's cre­ativ­i­ty, pre­sent­ing the most im­por­tant works in his en­tire ca­reer. It be­gan in the mid­-1960s, when the first draw­ings and oil paint­ings were made, show­ing, in a de­press­ing, pes­simistic au­ra, wound­ed fig­ures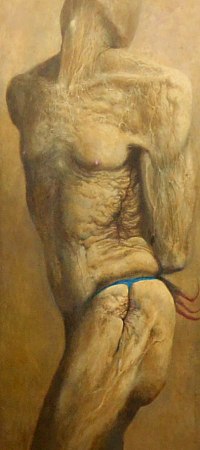 , of­ten caus­ing anx­i­ety or even hor­ror. The evo­lu­tion of de­mon­ic aes­thet­ics took place in the ear­ly 70's with de­vel­op­ment of night­mar­ish vi­sion of the world, al­though the au­thor him­self re­mem­bered years lat­er that his goal was sim­ply to paint pret­ty pic­tures. A sym­bol­ic clo­sure of this col­lec­tion is the paint­ing ti­tled Y5
, the last in Bek­siń­ski's out­put, com­plet­ed on the day of his trag­ic death. Thanks to the do­na­tion, cov­er­ing not on­ly artis­tic achieve­ments, but al­so com­put­er equip­ment, bank de­posits and pri­vate ob­jects of ev­ery­day use, a frag­ment of Bek­siń­ski's flat in War­saw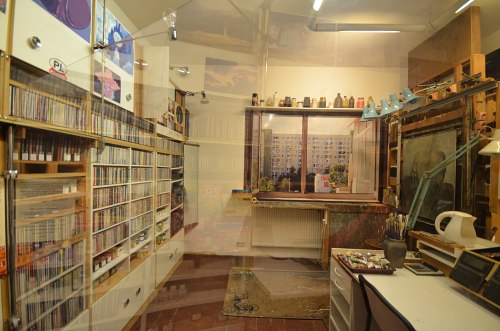 has been faith­ful­ly re­con­struct­ed in one of the mu­se­um rooms, in­clud­ing view the artist was look­ing through the win­dow. The ex­hi­bi­tion has been com­ple­ment­ed by nu­mer­ous pho­tographs and mul­ti­me­dia shows pre­sent­ing the pro­file of this great cre­ator of con­tem­po­rary art.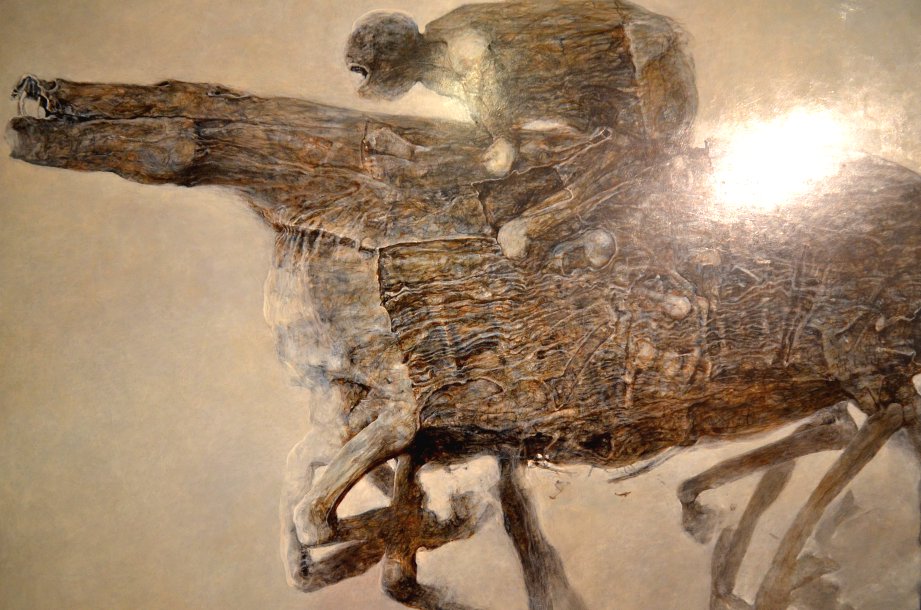 ZDZISŁAW BEKSIŃSKI'S GALLERY, PAINTINGS REPRESENTING THE 'FANTASTIC' PERIOD OF THE ARTIST'S ACTIVITY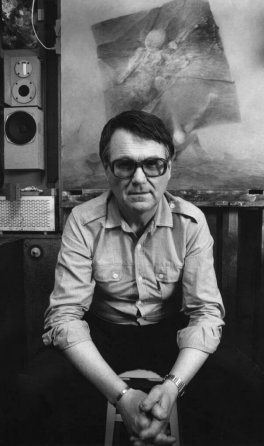 Zdzisław Beksiński was born on 24 Febru­ary 1929 in Sa­­nok, in a fam­i­ly as­so­ci­at­ed with the town for sev­er­al gen­er­a­tions. His great-grand­fa­ther found­ed in the 1840s the Boil­er Works, which lat­er be­came a wag­on-bus fac­to­ry Au­to­san. His grand­fa­ther was a town ar­chi­tect. His fa­ther was a ge­o­met­ric en­gi­neer by pro­fes­sion.

Young Beksiński spent his child­hood in Sa­nok, dur­ing the Ger­man oc­cu­pa­tion at­tend­ing a trade school and lat­er a high school. Short­ly af­ter the war, as a re­sult of play­ing with un­ex­plod­ed bomb, he had an ac­ci­dent, in which he lost part of his thumb and fore­fin­ger. For­tu­nate­ly, how­ev­er, this tiny dis­abil­i­ty did not stand in the way of his artis­tic suc­cess­es in the fu­ture. Af­ter com­plet­ing the Fac­ul­ty of Ar­chi­tec­ture at the Cra­cow Uni­ver­si­ty of Tech­nol­o­gy, he worked for sev­er­al years in Cra­cow as a su­per­vi­sion in­spec­tor at so­cial­ist con­struc­tion sites. In the sec­ond half of the 1950s he re­turned to his home­town, where he start­ed work­ing as a stylist at the Sa­nok Bus Fac­to­ry. There he was in­volved in de­vel­op­ing the style of pro­to­type bus­es (SFW-1 Sa­nok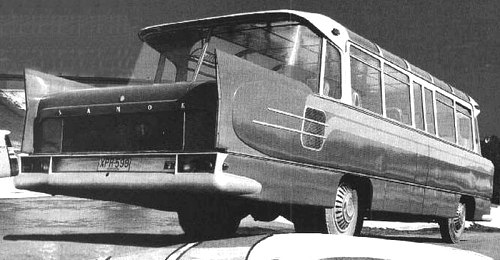 , SFA-2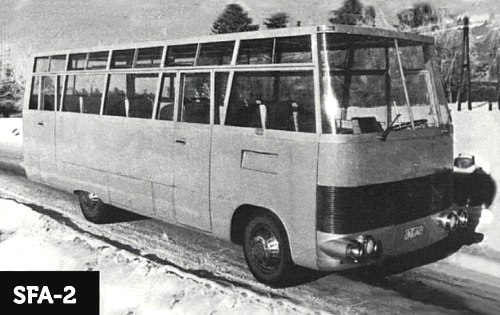 , SFA-3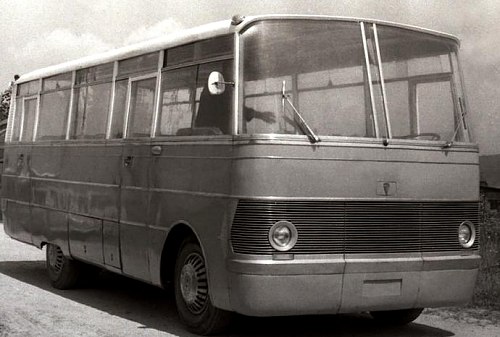 , SFA-21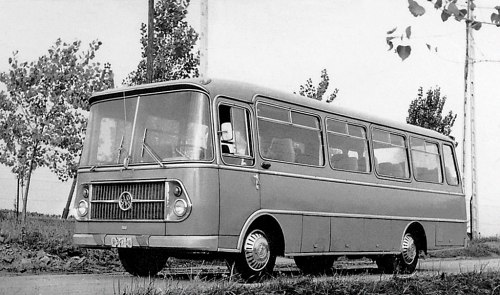 ) and their lo­go­types.

Zdzisław Bek­sińs­ki was spend­ing his free time re­al­iz­ing artis­tic pas­sions, ini­tial­ly fo­cus­ing on ab­stract forms of sculp­ture
and draw­ing and on pho­tog­ra­phy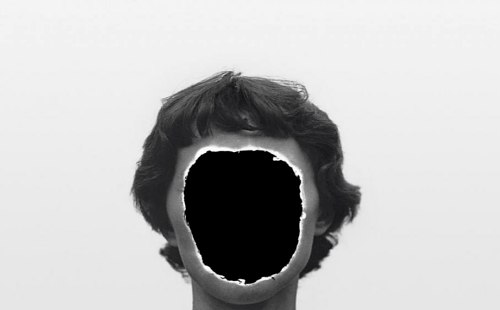 , which he quick­ly aban­doned, how­ev­er, look­ing for new, more ad­e­quate means of artis­tic ex­pres­sion. In the mid 1960s, he broke with the avant-­garde, turn­ing to­wards fan­tas­tic paint­ing, most of­ten re­alised on fi­bre­board with the use of oil paints. His first big suc­cess came in 1964, when dur­ing the War­saw ex­hi­bi­tion thir­ty of his works were sold in one day. How­ev­er, the na­tion­al and lat­er world fame was on­ly brought to him thanks to the paint­ings, full of sym­bols, mys­te­ri­ous con­tents and catas­troph­ic at­mo­sphere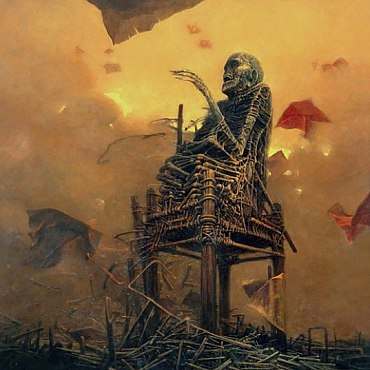 , which char­ac­terised his work dur­ing the two decades of the 1970s and 1980s.

As a re­sult of the Sanok au­thor­i­ties' de­ci­sion to de­mol­ish the Bek­siń­ski's house, the artist de­cid­ed to leave his home and moved with wife, moth­er, moth­er-in-law and son to a four-room flat in War­saw, in which he al­so ar­ranged his stu­dio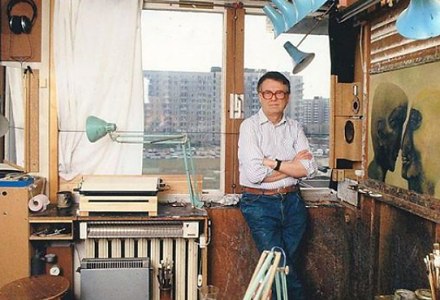 . At that time he es­tab­lished co­op­er­a­tion with Pi­otr Dmo­chow­ski, who or­ga­nized a num­ber of au­thor's ex­hi­bi­tions in Eu­rope and Japan. For many years there was al­so a Bek­siń­ski gal­lery in Paris called Ga­le­rie Dmo­chow­ski ­ Musée ga­lerie de Bek­siń­ski. The be­gin­ning of the 90's was char­ac­ter­ized by a res­ig­na­tion from fan­tas­tic paint­ing and a fo­cus on more sub­tle, less ex­pres­sive forms. At that time, the first pho­to­copi­er and com­put­er ap­peared in Bek­siń­ski's house, open­ing the next stage of his artis­tic ac­tiv­i­ty - com­pu­ter graph­ics. This one, how­ever, was based en­tire­ly on pho­to­graph­ic pro­cess­ing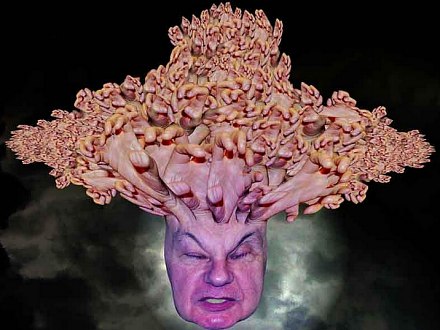 , nev­er on mak­ing one's own draw­ings.


Zdzisław Bek­sińs­ki was bru­tal­ly mur­dered in his apart­ment on 21 Feb­ru­ary 2005, a few days be­fore his 76th birth­day. The mur­der­er was a 19-year-old son of a wom­an work­ing for the artist as a house­wife, who was helped by his 16-year-old cousin. The mo­tive for the crime was rob­bery. Be­fore his death, Bek­siń­ski do­nat­ed all his as­sets and artis­tic achieve­ments to the His­tor­i­cal Mu­se­um in Sa­nok, which used them to or­ga­nize an ex­ten­sive ret­ro­spec­tive of the artist's work in the cas­tle, and thanks to the nu­mer­ous pri­vate ob­jects and equip­ment, it al­so fa­mil­iar­ized with the artist him­self.

In 1958, the on­ly son of Zdzi­sław and Zo­fia Bek­siń­scy was born, To­masz Bek­siń­ski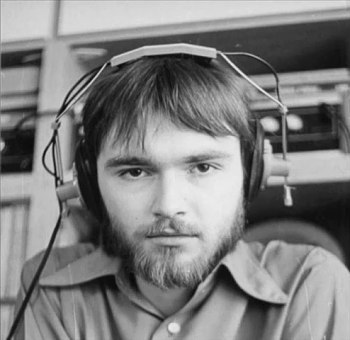 - a colum­nist, trans­la­tor of En­glish (in­clud­ing film di­a­logues) and mu­sic pre­sen­ter of the Pol­ish na­tion­al broad­cast­ing sta­tion. From his youth he man­i­fest­ed an in­ter­est in death; ev­i­dence of his ob­ses­sive in­volve­ment in this sub­ject was, for ex­am­ple, the fact that at the age of on­ly 18 he hung his own obit­u­ar­ies in the streets of Sa­nok. To­masz made sev­er­al sui­cide at­tempts, in­clud­ing the last one, on Christ­mas Eve 1999, when he died af­ter tak­ing a sig­nif­i­cant amount of drugs. The trag­ic death of Zdzi­sław, his son's sui­cide, as well as his wife's se­ri­ous ill­ness in con­nec­tion with the sub­ject mat­ter of the artist's work made the Bek­siń­ski fam­i­ly some­times de­scribed as "cursed". Its War­saw sto­ry has been pre­sent­ed in Jan P. Ma­tu­szyń­ski's movie The Last Fam­i­ly with An­drzej Se­we­ryn in the role of the bril­liant cre­ator.


| | |
| --- | --- |
| | |
ZDZISŁAW BEKSIŃSKI'S GALLERY, PAINTINGS REPRESENTING THE 'FANTASTIC' PERIOD OF THE ARTIST'S ACTIVITY
| | |
| --- | --- |
| | To visit the museum you need to buy a ticket. |
| | |
| --- | --- |
| | Private photography - free. The use of a flash is not per­mi­tted. |
| | |
| --- | --- |
| | The exhibits are very comprehensive. It takes at least 2 hours to watch them. |
| | |
| --- | --- |
| | Animals are not allowed in the museum. |
---
T
he cas­tle is sit­u­at­ed in the east­ern part of the town, on a hill above the San Riv­er val­ley, 100 me­ters north­east of the Mar­ket Square. Peo­ple trav­el­ling by train, af­ter leav­ing Sa­nok sta­tion should fol­low Dwor­co­wa street to the north­west, and then: Ko­le­jo­wa street and Ja­giel­loń­ska street as far as the Mar­ket Square.
| | |
| --- | --- |
| | The near­est car park is at the foot of the hill, at Zam­ko­wa Street. How­ev­er, dur­ing the sea­son it fills up quick­ly, so it is worth con­sid­er­ing as an al­ter­na­tive a much larg­er car park at Ła­zien­na Street, on­ly 5 min­utes' walk away from the mu­se­um. |
| | |
| --- | --- |
| | You can ride your bike up to the cas­tle. There you should se­cure it pro­per­ly, be­cause you leave it un­at­ten­ded. |
---
1. L. Kajzer, J. Salm, S. Kołodziejski: Leksykon zamków w Polsce, Arkady 2001
2. P. Kocańda: Badania nad pierwszymi murowanymi zamkami na ob­sza­rze o­bec­ne­go wo­je­wódz­twa pod­kar­pac­kie­go, Ar­che­olo­gie zá­pad­ních Čech 11 / 2016
3. A. B. Kutiak: Projektowanie w kontekście historycznym, kilka słów o sanockim wzgórzu zamkowym
4. Praca Zbiorowa: Zamek królewski w Sanoku, Muzeum Historyczne w Sanoku 2015
5. P. Strzyż: Nieznana lufa działa z Muzeum Historycznego w Sanoku
6. A. Wagner: Murowane budowle obronne w Polsce X-XVIIw., Bellona 2019

THE CASTLE IN SANOK, VIEW FROM THE WEST AND FROM THE SOUTHWEST
Castles nearby:
Zagórz - the ruin of fortified monastery from the 18th century, 9 km
Załuż - the ruin of Sobień knights' castle from the 14th century, 11 km
Lesko - the private castle from the 16th century, 16 km

text: 2020
photographs: 2019
© Jacek Bednarek