ZAGÓRZ

ruins of the Carmelite monastery
SOUTH-EASTERN VIEW OF THE CHURCH AND THE RELICS OF MONASTERY BUILDINGS (ON THE LEFT)
---
T
he Monastery of Dis­calced Car­me­li­tes in Za­górz was found­ed by the Voi­vode of Vol­hy­nia Jan Fran­ci­szek Stad­nic­ki coat-of-arms Śre­nia­wa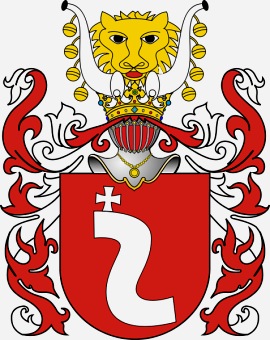 (d. 1713), al­leged­ly as a vo­tive of­fer­ing for the de­fense of Le­sko against the Swe­dish army dur­ing their in­va­sion of 1655-60. We do not know the foun­da­tion act, but based on his­tor­i­cal records we can as­sume that con­struc­tion work on this pro­ject be­gan at the turn of the sev­en­teenth and eigh­teenth cen­turies, pos­si­bly as ear­ly as 1700, and was con­tin­ued in­ter­mit­tent­ly o­ver the next three decades. Just be­fore his death Stad­nic­ki be­queathed to the Car­me­li­tes a per­ma­nent fund for the main­te­nance of 12 sol­diers of no­ble birth in the mo­na­ste­ry hos­pi­tal, and a year lat­er the first monks ar­rived here, ini­tial­ly oc­cu­py­ing five cells. Then, on Au­gust 24, 1714, the solemn in­tro­duc­tion of the Dis­calced Car­me­li­tes to new foun­da­tion took place by the Bish­op of Prze­myśl, Jan Ka­zi­mierz de Al­ten Bo­kum, who al­so laid the cor­ner­stone of the church.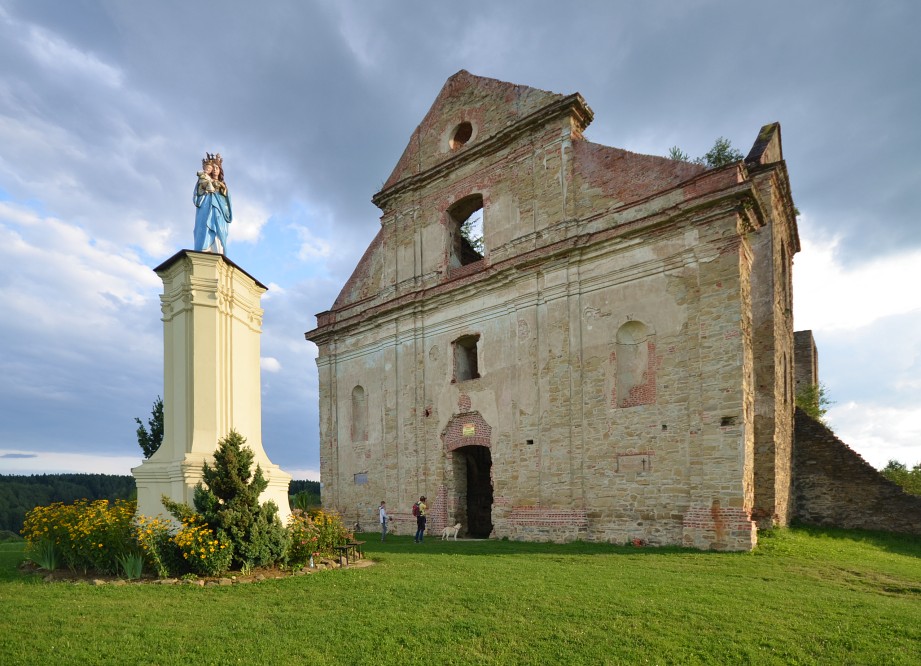 NORTHERN ELEVATION OF THE CHURCH, IN FRONT OF THE ENTRANCE THERE IS A MARIAN OBELISK
The old term hos­pi­tal may be mis­lead­ing to con­tem­po­raries be­cause to­day the word poor­house would be more ap­pro­pri­ate to the na­ture of this place. The vet­er­ans of the mem­o­rable bat­tle with the Turk­ish army, which took place near Vi­en­na in 1683, were the first to find shel­ter there. Twelve poor in­valids of no­ble ori­gin were cho­sen by the Lesko in­her­i­tor, but at the be­gin­ning of the 19th cen­tu­ry thi­er num­ber was lim­it­ed to five for fi­nan­cial rea­sons. Their liveli­hood was pro­vid­ed by fixed fund sums, in­clud­ing Vien­nese bonds, leas­es from the Kro­sne and No­wo­ta­niec es­tates, and one-time or pe­ri­od­ic do­na­tions from the lo­cal no­bil­i­ty.

The monastery stopped serv­ing as a pro­tec­tive in­sti­tu­tion in 1831 with its liq­ui­da­tion. Doc­u­ments with the names of some of its last res­i­dents have sur­vived. In 1823 the fol­low­ing stayed here: Mi­ko­łaj Sa­lon, An­to­ni Swa­re­cki, To­masz Ber­na­cki, Jan Pod­so­biń­ski oraz Sta­ni­sław Ba­zań­ski.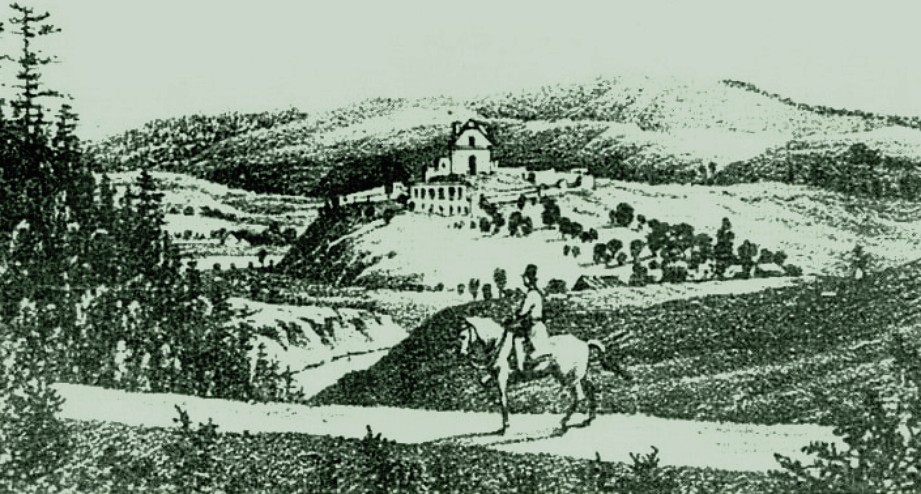 RUINY KLASZTORU KARMELITÓW W ZAGÓRZU, DRAWING BY MACIEJ BOGUSZ STĘCZYŃSKI FROM CA. 1880
W
hile the con­struc­tion costs of the monastery com­plex were cov­ered by Jan Fran­ci­szek Stad­ni­cki, dec­o­ra­tion and fur­nish­ing of the church were large­ly the re­sult of fi­nan­cial ef­forts made by his daugh­ter An­na Stad­ni­cka. The tem­ple was prob­a­bly com­plet­ed in 1733, but al­ready sev­en years ear­li­er Za­górz was raised to the rank of pri­o­ry. Par­al­lel to the con­struc­tion of the church and monastery, farm build­ings were built, and af­ter 1730 - the de­fen­sive walls with for­ti­fi­ca­tions. At that time, the con­vent was in­hab­it­ed by a dozen or so fa­thers and broth­ers who, al­though few in num­ber, live an ex­em­plary life, work dili­gent­ly to com­plete the monastery and take care to dec­o­rate the church and sac­risty. In the con­text of this in­for­ma­tion it is sur­pris­ing, that less than a decade lat­er it was nec­es­sary to thor­ough­ly ren­o­vate the en­tire com­plex, in­clud­ing the restora­tion of roofs, monastery out­build­ings, floors in the church, re­fec­to­ry and cor­ri­dors, which was scrupu­lous­ly not­ed by the pro­vin­cial vis­it­ing Za­górz in 1748.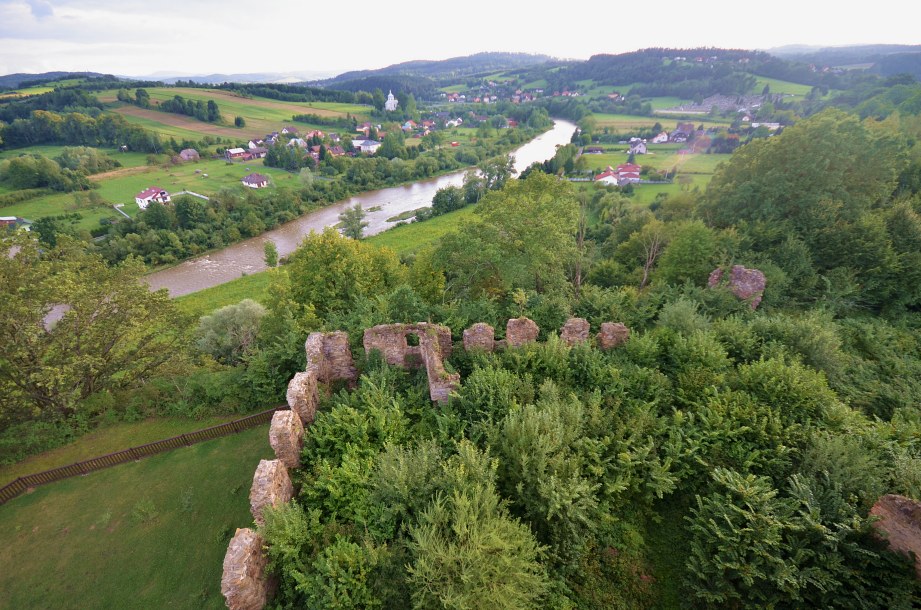 VIEW FROM THE CHURCH TOWER OVER THE RUINS OF THE MONASTERY AND THE OSŁAWA RIVER
T
he pe­ri­od of splen­dor of the Car­me­lite mo­na­ste­ry in Za­górz last­ed un­til the first par­ti­tion of Pol­and in 1772. Dur­ing the Bar Con­fed­er­a­tion the in­sur­gents took refuge there, and on No­vem­ber 29, 1772 they were fired up­on by the Rus­sians, which led to fires and de­struc­tion of some build­ings. Al­though with a com­mon ef­fort the monks man­aged to raise them from ru­ins, un­der the new (im­pe­ri­al) au­thor­i­ty and as a re­sult of its poli­cies, monas­tic life de­te­ri­o­rat­ed o­ver the next few decades. The Aus­tri­ans treat­ed re­li­gious con­gre­ga­tions with dis­fa­vor. They showed this by send­ing lo­cal fri­ars and fa­thers to work in oth­er parish­es, and bring­ing in fri­ars from large cities, in­clud­ing Prze­myśl and Lvov, who of­ten treat­ed such a change as ban­ish­ment. As a re­sult, the loos­en­ing of the monas­tic rule pro­gressed, the cri­sis of faith deep­ened, fi­nan­cial prob­lems grew, and the eco­nom­ic sit­u­a­tion of the en­tire con­gre­ga­tion wors­ened. The prob­lems faced by the in­hab­i­tants of the monastery at that time are il­lus­trat­ed by an ex­cerpt from a mem­o­ran­dum of fi­rar Waw­rzy­niec Som­mer, ad­dressed to the the Re­li­gious Of­fice in Sa­nok in 1810. It showed that:
1. The church, convent, hospital and outbuildings are badly damaged. The walls are dis­in­te­grat­ing.
2. Monks often go hungry. They have no bread. They have to try to get food from near­by vil­lages. They have no warm cloth­ing for the win­ter.
3. In winter, the monks have no firewood.
4. The monastery lost all its horses, cows, and oxen.
5. The Convent is 30,000 fl. in debt.
6. The superiors are running a robbery economy. They have lost loans and in­come. They have leased out prop­er­ty with­out the chap­ter's per­mis­sion.

VIEW OF THE MONASTERY CHURCH FROM THE NORTH, 1900
S
om­mer al­so asked the Bish­op of Prze­myśl for help, but the lat­ter ig­nored the monk's re­quest. The Aus­tri­an au­thor­i­ties ap­point­ed a com­mis­sion to ex­am­ine the ac­tu­al con­di­tion of the monastery, which af­ter a three-year in­ves­ti­ga­tion con­firmed the dire sit­u­a­tion in the con­vent. The re­sult of its work was a de­cree is­sued in 1814 or­der­ing the re­new­al of spir­i­tu­al life in the monastery. The con­tent of this doc­u­ment, how­ev­er, was very gen­er­al and did not cause a dra­mat­ic change in the at­ti­tude of the broth­ers, most­ly el­der­ly and de­crepit, so that af­ter the end of the com­mis­sion's work not much changed in Za­górze. The de­cree or­dered, among oth­er things:
1. To avoid idle­ness, which is a source of wicked­ness, in ad­di­tion to their dai­ly ac­tiv­i­ties and du­ties, monks should en­gage them­selves in the study of spir­i­tu­al read­ing.
2. The monas­tic en­clo­sure must be strict­ly re­spect­ed.
3. Since pover­ty and ex­cess­es are a mis­for­tune for re­li­gious life, the pri­or must take care of suf­fi­cient food and cloth­ing for the fa­thers and broth­ers. To avoid all quar­rels and mis­un­der­stand­ings, one should ab­stain from of al­co­hol. On­ly in case of ill­ness, al­co­hol may be giv­en as a rem­e­dy, but in very lim­it­ed quan­ti­ties.
4. Sub­or­di­nates should re­spect and obey the su­pe­ri­or. In case of con­tempt for the su­pe­ri­or, they are to be severe­ly pun­ished. And in case of re­sis­tance they were to be sent un­der gen­darmerie guard to the prison in Prze­myśl.
5. Mu­tu­al love and peace are to be ob­served in the monastery.
THE MONASTERY ON POSTCARDS FROM THE BEGINNING OF 20TH CENTURY
I
n 1816, by the de­ci­sion of bish­op Gołaszew­ski, a re­for­ma­to­ry for priests was es­tab­lished at the mo­na­ste­ry, and it was lo­cat­ed in the apart­ments of mil­i­tary vet­er­ans. Three years lat­er the pri­or, Fr. Jó­zef Kari­ni­jew­ski, died, leav­ing his con­vent in a very poor con­di­tion: The mo­na­ste­ry was in debt, the church with­out a roof. The clois­ter and oth­er build­ings were in dis­re­pair, and the cat­tle were skin­ny. There was not even a cart to bring wood from the for­est. The sit­u­a­tion of the church fur­nish­ings was on­ly slight­ly bet­ter; ac­cord­ing to the 1816 in­ven­to­ry, on­ly the mon­strance, two chal­ices, and two can­dle­sticks re­mained from among the sil­ver ob­jects. The new pri­or, Fr. Le­onard Umań­ski, en­er­get­i­cal­ly be­gan to put in or­der the or­ga­ni­za­tion­al, eco­nom­ic and fi­nan­cial af­fairs of the con­gre­ga­tion. He al­so man­aged to re­pair some roofs and build a black­smith shop. How­ev­er, all his ef­forts were soon in vain when, in Novem­ber 1822, fire de­stroyed the roof and much of the fur­nish­ings of the church, con­vent, and re­for­ma­to­ry: On that un­for­tu­nate day when at two o'clock in the af­ter­noon the con­vent, church and re­for­ma­to­ry house were turned to dust. The im­me­di­ate cause of the fire was a fight be­tween Fr. Umań­ski and the Su­pe­ri­or of the re­for­ma­to­ry, Fr. Jan Wło­dzi­mier­ski, who was re­gard­ed by the oth­er monks as a very quar­rel­some per­son, be­ing in op­po­si­tion to the rest of the con­gre­ga­tion. He was rec­og­nized as the per­pe­tra­tor of the ac­ci­dent, ar­rest­ed by the Aus­tri­an au­thor­i­ties and tak­en to prison in Lvov, where he was to plead guilty to the charge.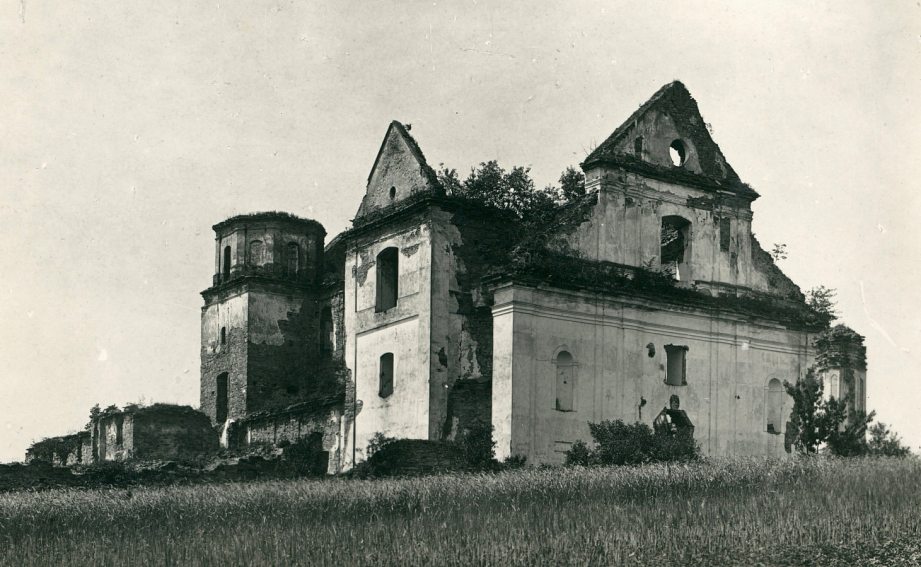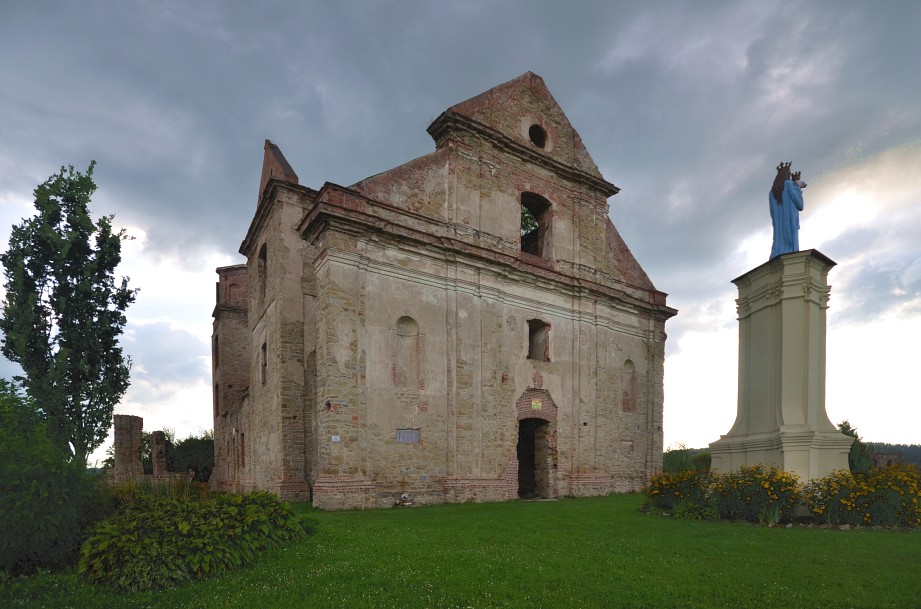 NORTH ELEVATION OF THE MONASTERY CHURCH IN 1905 AND TODAY
A
fter the fire was ex­tin­guished, the monks moved to pri­vate peas­ant cot­tages, al­though ac­cord­ing to the re­la­tions of the then heir of the vil­lage, the monastery was not so bad­ly dam­aged that it could not be in­hab­it­ed. Apart from a few un­bro­ken cells, a spa­cious re­fec­to­ry, which could ac­com­mo­date sev­er­al peo­ple, re­mained in good con­di­tion. The church equip­ment and paint­ings that sur­vived the fire were placed in the parish church in Za­górz and in sev­er­al neigh­bor­ing church­es. Lack of funds made it im­pos­si­ble to re­build the monastery com­plex soon, so Bish­op Go­ła­szew­ski ap­pealed to the em­per­or to can­cel the con­vent and as­sign its prop­er­ty to the chap­ter. His pro­pos­al was ac­cept­ed by the Aus­tri­ans, but on­ly to the ex­tent of abol­ish­ing the monastery. The clois­ter was liq­ui­dat­ed in 1831, but the lands be­long­ing to it did not in­crease the prop­er­ty of the chap­ter, but were part­ly trans­ferred to the state trea­sury and part­ly came to the re­li­gious fund. The few fri­ars were trans­ferred to oth­er monas­tic in­sti­tu­tions, and the res­i­dents of the re­for­ma­to­ry were sent to Prze­worsk. From then on, the monastery com­plex stood emp­ty and rapid­ly de­te­ri­o­rat­ed, grad­u­al­ly falling in­to com­plete ru­in. The vaults of the build­ings col­lapsed, and their walls and tow­ers were over­grown with veg­e­ta­tion.
VIEW OF THE MONASTERY RUIN FROM THE SOUTH, SEEN FROM THE HIGH RIVER EMBANKMENT (1930S)
I
n the in­ter­war pe­ri­od, the ru­ins of the for­mer pri­o­ry were owned by lo­cal Jews and lat­er by a Pol­ish diplo­mat and so­cial ac­tivist, Adam Lu­dwik Gu­bry­no­wicz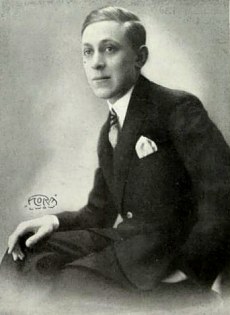 (d. 2000), who in 1935 be­queathed them to the sem­i­nary in Prze­myśl. How­ev­er, this did not change much in the sit­u­a­tion of the monastery build­ings, be­cause they still re­mained aban­doned, un­der­go­ing a slow but sys­tem­at­ic dis­in­te­gra­tion. The first years af­ter the war were not fa­vor­able to the ini­tia­tive of re­build­ing the foun­da­tion, but soon af­ter the fall of Stal­in­ism, the provin­cial of the Dis­calced Car­me­li­tes, Fa­ther Jó­zef of Mount Car­mel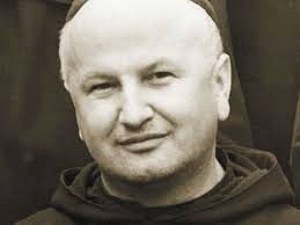 , ap­plied to the con­ser­va­tor's of­fice for per­mis­sion to do the ren­o­va­tion work, and sur­pris­ing­ly, he re­ceived such per­mis­sion. The Gen­er­al Land­mark Con­ser­va­tor Ta­de­usz Żu­row­ski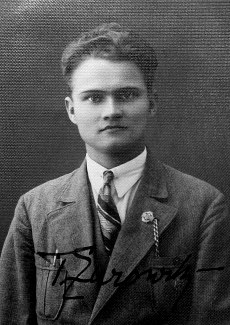 , who was born in Za­górz, be­came en­thu­si­as­tic about this in­vest­ment, which re­sult­ed in promis­es to pro­vide ap­pro­pri­ate funds. At that time, the mo­na­ste­ry was al­so giv­en to the Carmelites by the epis­co­pal cu­ria (1957). To be­gin with, the church and monastery were cleared of rub­ble, veg­e­ta­tion was re­moved from the walls, and the for­mer guard­house was cov­ered with a roof. The re­mains of 55 monks whose graves had been van­dal­ized and loot­ed while the monastery was unat­tend­ed were cleaned up and re­buried. The pro­ject was ac­tive­ly sup­port­ed by the in­hab­i­tants of Za­górz and Sa­nok, and the rep­re­sen­ta­tives of Pol­ish di­as­po­ra from the Unit­ed States and Cana­da al­so con­tribut­ed fi­nan­cial­ly. How­ev­er, it was not ful­ly re­al­ized, be­cause soon af­ter Fr. Józef died (1962), the provin­cial au­thor­i­ties re­voked the per­mit for the re­con­struc­tion of the monastery, and the Car­me­li­tes were evict­ed from here, ac­com­pa­nied by mili­tia. The aban­doned build­ing fell in­to ne­glect again. This state of af­fairs last­ed un­til 2000, when it be­came the prop­er­ty of the lo­cal gov­ern­ment, at whose ini­tia­tive the most ur­gent work was done to pro­tect it, the gate and the de­te­ri­o­rat­ing de­fen­sive wall were re­stored, and the whole com­plex was opened for tourism.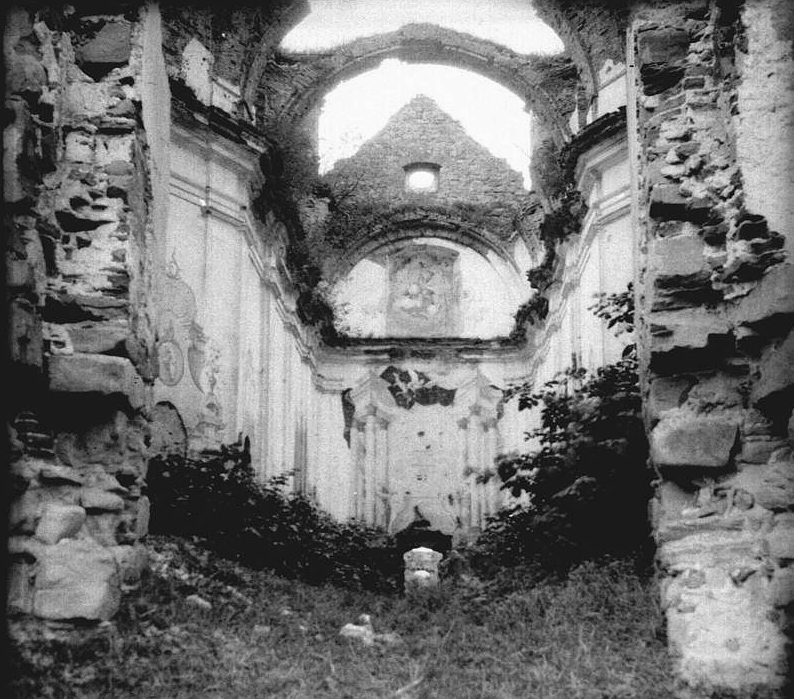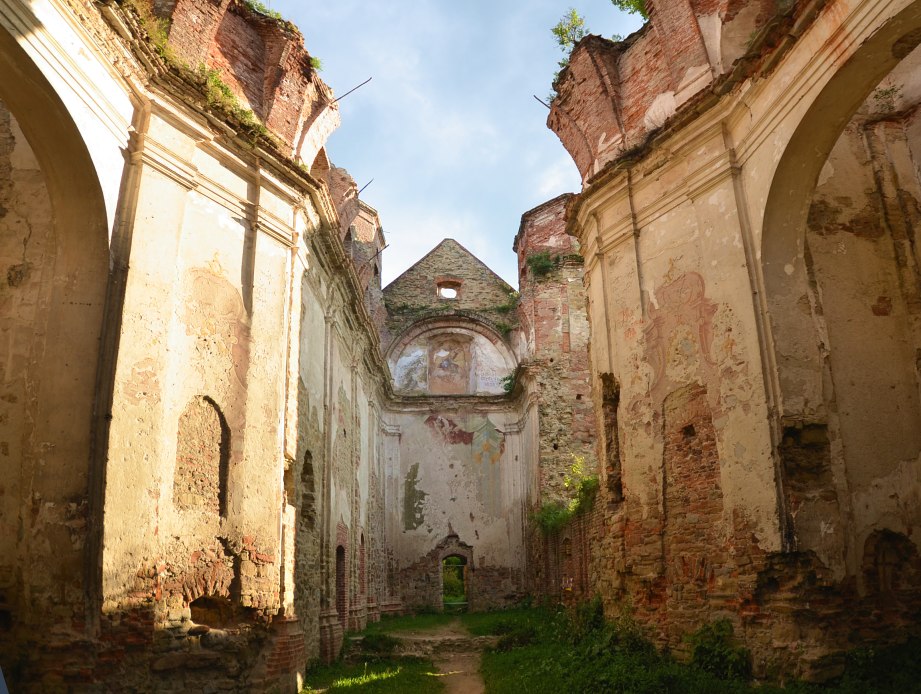 THE CENTRAL NAVE AND PRESBYTERY OF THE CHURCH ON ZDZISŁAW BEKSIŃSKI'S PHOTOGRAPH FROM THE 1960S AND PRESENT DAY VIEW
THE ARCHIVAL PHOTOGRAPH SHOWS AN ARCH OF THE NAVE WHICH COLLAPSED IN THE 1970S
In basement of the monastery church lie the remains of: fr. Adam (d. 1722), fr. Piotr (d. 1730), fr. Je­rzy (d. 1732), br. Flo­rian (d. 1735), fr. Anioł (d. 1737), br. Ka­zi­mierz (d. 1740), br. Jan Ne­po­mu­cen (d. 1742), br. Mar­cja­lis (d. 1742), fr. Pan­ta­le­on (d. 1743), o. Nar­cyz (d. 1746), o. Alek­san­der (d. 1746), fr. Ju­styn (d. 1750), fr. Pe­tro­niusz (d. 1751), fr. Jan Kan­ty (d. 1752), br. Waw­rzy­niec( d. 1752), fr. Sym­fo­rian (d. 1753), fr. Dio­ni­zy (d. 1754), fr. Ma­ka­ry (d. 1761), br. Jó­zef (d. 1762), br. Jan Kan­ty (d. 1764), fr. Wa­len­ty (d. 1766), fr. Hie­ro­nim (d. 1769), fr. Ba­zy­li (d. 1769), fr. Ma­rian (d. 1769), m. Ana­sta­zja (d. 1771), br. Ka­je­tan (d. 1774), br. Krzy­sztof (d. 1774), fr. Kan­dyd (d. 1778), br. Ta­de­usz (d. 1778), fr. Eu­ge­niusz (d. 1781), br. Ma­rian (d. 1781), fr. Aloj­zy (d. 1785), br. Sta­ni­sław (d. 1785), br. Ga­briel (d. 1785), fr. Ka­rol (d. 1787), br. Pa­weł (d. 1787), fr. Pan­kra­cy (d. 1788), fr. Kon­stan­ty (d. 1793), fr. Re­dempt (d. 1793), br. Ga­briel (d. 1793), fr. Re­mi­giusz (d. 1795), br. Jan Chrzci­ciel (d. 1798), br. Jan (d. 1803), fr. Fi­de­lis (d. 1802), br. Ar­nold (d. 1803), fr. Wik­tor (d. 1806), br. Mi­chał (d. 1807), fr. Mar­cin (d. 1808), br. Igna­cy (d. 1808), fr. Ade­odat (d. 1811), fr. Jus­ty­nian (d. 1814), fr. Al­bert (d. 1814), br. Mau­ry­cy (d. 1814), fr. Jó­zef Ka­la­san­ty (d. 1814), fr. Apo­li­na­ry (d. 1817).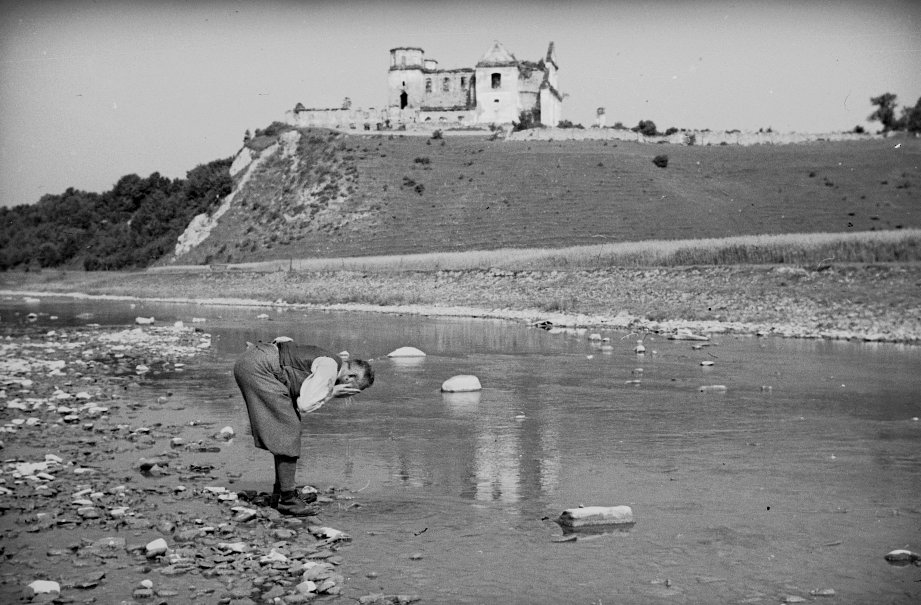 COMPOSITION WITH A MONASTERY IN THE BACKGROUND, 1936 (FROM THE COLLECTION OF NAC)
DESCRIPTION OF THE MONASTERY
T
he monastery is sit­u­at­ed on a hill sur­round­ed from three sides by the Osla­va riv­er, whose banks form rel­a­tive­ly steep slopes, thanks to which this place can be con­sid­ered nat­u­ral­ly de­fen­si­ble. It was sur­round­ed by walls with shoot­ing gal­ler­ies, as it was sup­posed to be one of the bor­der fort­ress­es pro­tect­ing Pol­and against Turk­ish and Ta­tar in­va­sions. It should be not­ed, how­ev­er, that at the time when the mo­na­ste­ry was built, the re­al threat of war did not ex­ist in this re­gion, and the for­ti­fi­ca­tion sys­tem were con­sid­ered ob­so­lete al­ready at the time of its con­struc­tion. So cer­tain­ly the monastery walls were not much of an ob­sta­cle to an or­ga­nized army, though they were still a chal­lenge to var­i­ous bands and lo­cal rob­bers. A stone wall di­vid­ed the mo­na­ste­ry area in­to two large court­yards: church and mo­na­ste­ry court­yard, and a clois­ter gar­den for the monks, which in the south­ern part was pro­tect­ed on­ly by a high riv­er em­bank­ment. The de­fense of the for­ti­fi­ca­tions was strength­ened by a gate with shoot­ing gal­leries, and al­so by (prob­a­bly) two tow­ers.
PLAN OF THE MONASTERY RUINS: 1. THE CHURCH, 2. THE MONASTERY BUILDINGS, 3. THE MONASTERY COURTYARD, 4. THE CHURCH COURTYARD, 5. THE GARDEN, 6. THE GUEST HOUSE (FORESTERIUM), 7. GUARDHOUSE, 8. GATE, 9. COACH HOUSE, 10. OUTBUILDINGS, 11. TOWER WITH LATRINE, 12. TOWER (NOT PRESERVED), 13. WELL, 14. HOSPITAL, 15. MARIAN OBELISK (MODERN)
T
he cen­tral part of the monastery com­plex was oc­cu­pied by the church of As­sump­tion of the Blessed Vir­gin Mary, built in Ba­roque style, on a rect­an­gu­lar plan. Its main ax­is is formed by an oc­tag­o­nal cen­tral nave, a rect­an­gu­lar porch and a long four-bay pres­bytery, while in the trans­verse ax­is two shal­low chapels were added. These premis­es were grouped around the cen­tral nave and opened to it with semi­cir­cu­lar archi­volts. The cen­tral nave was closed from the top by a flat dome, which was de­void of win­dow open­ings, so the place was se­mi-dark. Light en­tered the church through six large win­dows lo­cat­ed in the walls of the pres­bytery, the dou­ble win­dows of the chapels and one large win­dow in the porch. Two tow­ers were built in­to the walls of the pres­bytery: square in the low­er part and oc­tag­o­nal in the up­per part, and cov­ered with hel­mets. The in­te­ri­or was dec­o­rat­ed with il­lu­sion­is­tic fres­coes im­i­tat­ing al­tars, of which there were sev­en. The vaults were al­so cov­ered with fres­coes. These or­na­men­ta­tion were made in the 1730s, and al­though no doc­u­ments have sur­vived to prove their au­thor­ship, it is as­sumed that they are the cre­ation of an artist who came from Italy.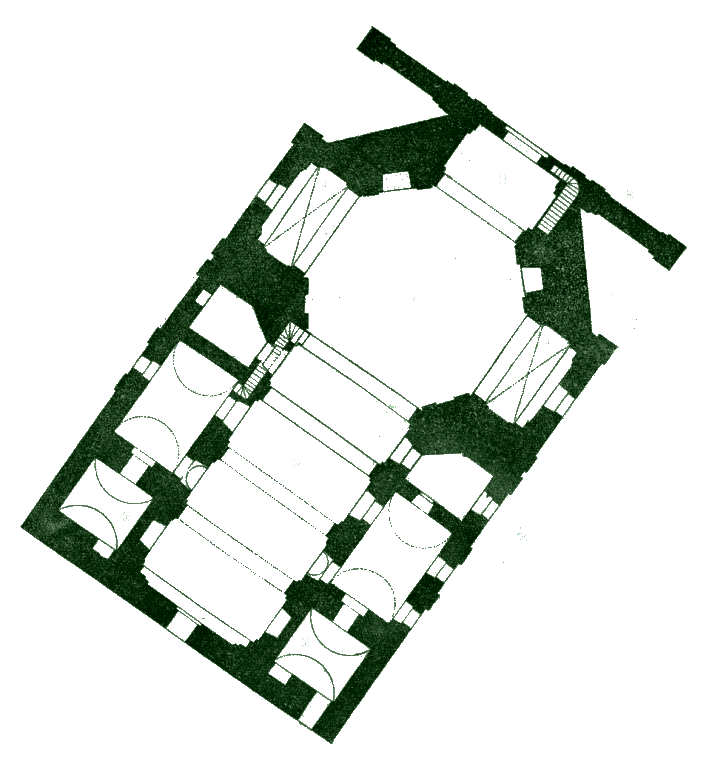 PLAN OF THE CHURCH: 1.CENTRAL NAVE, 2. PRESBYTERY, 3. PORCH, 4. CHAPELS, 5. NORTHERN FACADE, 6. TOWERS
IN THE CENTRAL NAVE, PRESENT STATE
T
he monastery house was ad­ja­cent to the south­ern wall of the church, form­ing a rect­an­gu­lar-shaped court­yard (clois­ter) with di­men­sions of 15x10 me­ters. The mo­nas­tic cells, of which there were 22, were lo­cat­ed on both its floors in the south­west wing and the east­ern part of the south­east wing. The rooms of the pri­or and the recre­ation hall oc­cu­pied the south­ern part of the build­ing, while the re­fec­to­ry, li­brary and kitchen were lo­cat­ed on the op­po­site side of the clois­ter, near the west­ern church tow­er. A mo­na­ste­ry court­yard, sur­round­ed by a wall on three sides, was sit­u­at­ed to the north of the mo­na­ste­ry house. A two-sto­ry house with six rooms on the ground floor and six on the first floor was built in its north­ern part. This build­ing, prob­a­bly the old­est in the en­tire mo­na­ste­ry com­plex, served as a guest house (fo­re­ste­rium), al­though the open­ings pre­served in its walls sug­gest that it could al­so have been used for de­fense with fire­arms. The north­ern wall al­so pro­vid­ed sup­port for oth­er build­ings: the coach house, the guard­house and the above-men­tioned gate com­plex. The east­ern­most build­ing was a two-storey hos­pi­tal for war vet­er­ans, built out­side the mo­na­ste­ry's walls and ad­di­tion­al­ly sep­a­rat­ed from it by a moat.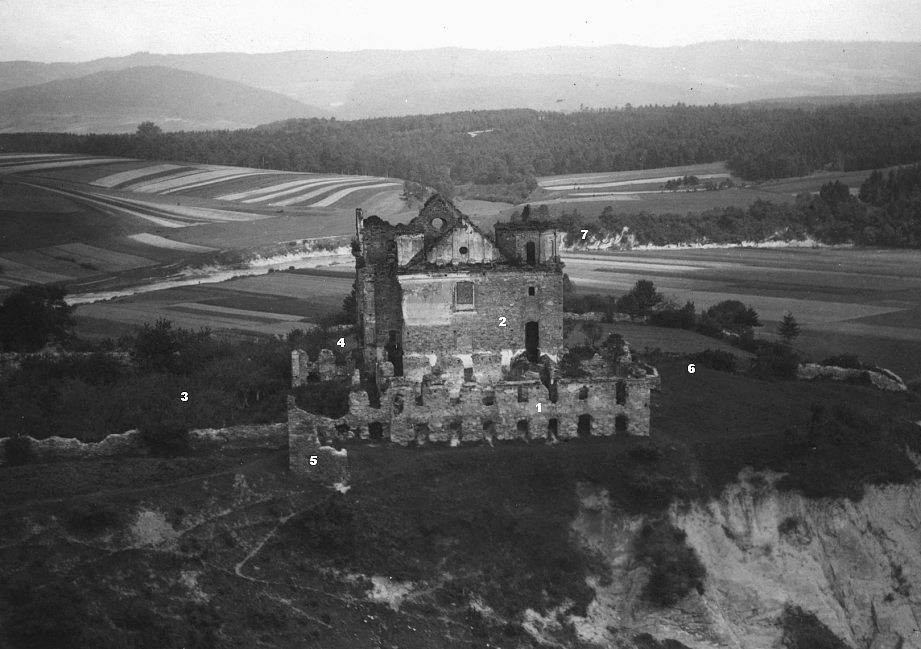 THE MONASTERY ON THE PHOTOGRAPH FROM INTERWAR PERIOD: 1. RUIN OF THE MONASTERY HOUSE, 2. RUIN OF THE CHURCH, 3. MONASTERY COURTYARD, 4. CHURCH COURTYARD, 5. RUIN OF THE TOWER WITH LATRINE, 6. PLACE OF THE FORMER MONASTERY GARDENS, 7. APPROXIMATE LOCATION OF THE HOSPITAL FOR VETERANS
---
T
o­day, the for­mer Carmelite monastery is just a pic­turesque ru­in, whose land­scape is dom­i­nat­ed by the Ba­roque church of the As­sump­tion of the Blessed Vir­gin Mary, which is un­for­tu­nate­ly com­plete­ly de­void of vaults and equip­ment. Relics of 18th-cen­tu­ry dec­o­ra­tions are still vis­i­ble on the walls of the tem­ple, but can­not be seen up close due to the fact that the build­ing is in dan­ger of col­lapse and en­try has been banned (al­though tech­ni­cal­ly pos­si­ble, 2019). From the monastery house the ex­ter­nal walls have sur­vived up to the height of the sec­ond floor, and from the re­main­ing parts of the spa­tial lay­out - the relics of the gate build­ing, the ru­ins of the fo­re­ste­rium (guest house) and coach house, frag­ments of a two-storey guard­house, as well as quite large sec­tions of the stone wall, now sig­nif­i­cant­ly low­ered in re­la­tion to the orig­i­nal. The ex­is­tence of a vet­er­ans' hos­pi­tal in this place is now on­ly con­firmed by the de­bris of stones ly­ing on the east­ern side of the hill. The en­tire com­plex is open to tourists and can be vis­it­ed free of charge. A great at­trac­tion here is one of the church tow­ers, which af­ter ren­o­va­tion serves as a view­ing plat­form with a beau­ti­ful panora­ma of the Słon­ne Moun­tains and the Bu­kow­skie Foot­hills land­scape. Sev­er­al years ago, a new gar­den lay­out, al­so open to the pub­lic, was re­con­struct­ed on the site of the for­mer monas­tic gar­dens.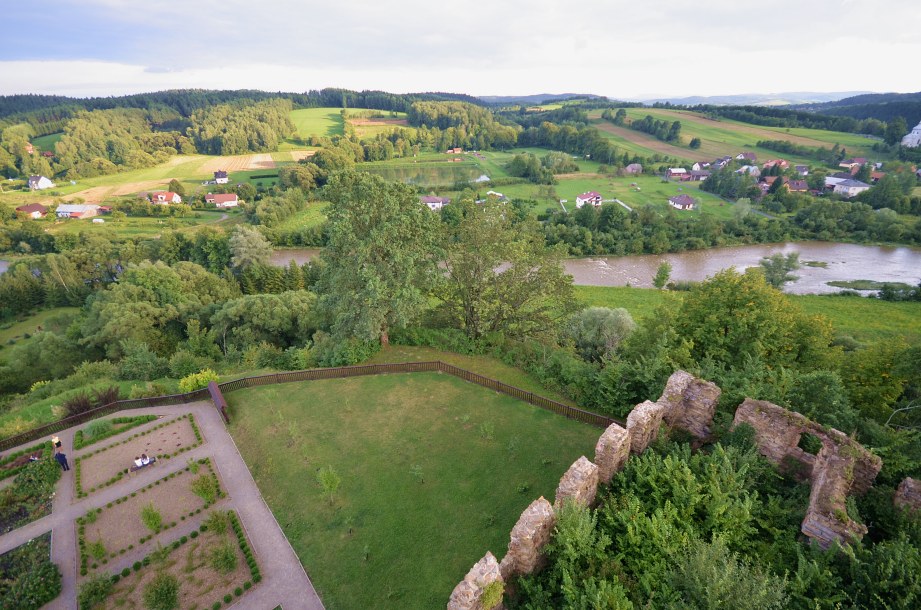 VIEW FROM THE TOWER TO THE SOUTH
The ruins are the backdrop for one of the popular books for young people, Pan Sa­mo­cho­dzik and the Za­gó­rze Mo­na­ste­ry, which focuses on the hidden treasure of three monks and events directly related to the Bar Con­fe­de­ra­tion.

Zagórze was also the location for the shooting of the video of Wielki koniec (the Big End), one of the most im­por­tant pol­ish punk song of the 1980s. The song was performed by the legendary KSU band.


RUINS OF THE CHURCH, VIEW FROM THE NORTH
A
f­ter 2010, restora­tion of the ru­ins be­gan anew, as a re­sult of which the de­fen­sive wall, the fa­cades of the church and aux­il­iary build­ings were se­cured, the afore­men­tioned tow­er was ren­o­vat­ed, and the monastery gar­den was re­con­struct­ed. How­ev­er, the plans for this place go much fur­ther and con­cern the re­build­ing of the for­mer fo­re­ste­rium, which will house a tourist in­for­ma­tion point and ex­po­si­tion rooms with a vir­tu­al ex­hi­bi­tion about the his­to­ry of the mo­na­ste­ry, as well as cater­ing fa­cil­i­ties and art stu­dios. The mo­na­ste­ry well is al­so to be re­con­struct­ed.
| | |
| --- | --- |
| | The monastery can be visited accompanied by a dog. Your dog must be on a leash. |
| | |
| --- | --- |
| | The monastery is sur­round­ed by open space al­low­ing for beau­ti­ful bird's eye shots or movies. Ask for per­mis­sion when you want to fly di­rect­ly o­ver the ru­ins. |
The monastery is open:
in May: 10-17
June to August: 9-18
in September: 10-16
RECONSTRUCTED MONASTERY GARDEN
---
Z
agórz is lo­cat­ed about 5 km south­east from Sa­nok, by road 84 lead­ing to Lesko and fur­ther to Us­trzy­ki Dol­ne. You can get here from Sa­nok by pub­lic bus line 5 and 6, and by train. The train sta­tion is about 2.5 km away from the mo­na­st­ery.
| | |
| --- | --- |
| | The most con­ve­nient place to leave your car is the church park­ing lot at the Sanc­tu­ary of Our La­dy (Jó&shyze­fa Pił­sud­skie&shygo Street) and... this is ac­tu­al­ly the on­ly al­ter­na­tive, be­cause there are no oth­er park­ing places near­by. From there, walk along the nar­row as­phalt road in the east­ern di­rec­tion, fol­low­ing the sign­posts. The dis­tance from the park­ing lot to the mo&shyna&shyste&shyry is less than one kilo­me­ter. |
| | |
| --- | --- |
| | You can reach the monastery by bike. There is a "no-traf­fic" sign by the road, but it doesn't ap­ply to bi­cy­cles. Un­for­tu­nate­ly, I don't know if you can en­ter the court­yard with your bike. |
---
1. Z. Osenkowski: Klasztor Karmelitów Bosych w Zagórzu, Zagórz 1995
2. S. Stefański: Karmel zagórski, Sanok–Zagórz 1993
3. J. B. Wanat: Zakon Karmelitów Bosych w Polsce, Wydawnictwo Karmelitów Bosych, Kraków 1979
4. www.karmel.pl

THE REMAINS OF A GATE AND A DEFENSIVE WALL...
...AND THE MONASTERY TOMCAT SLEEPING ON IT
Castles nearby:
Sanok - the royal castle from XIVth century, 9 km
Lesko - the private castle from 16th century, 10 km
Załuż - the ruin of the Sobień knights' castle from 14th century, 15 km

text: 2021
photographs: 2019
© Jacek Bednarek