ZAŁUŻ

the ruins of Sobień castle
SOBIEŃ CASTLE, VIEW FROM THE SOUTH ON THE RUIN OF THE RESIDENTIAL WING
---
T
he ori­gins of the cas­tle re­main un­known. Ac­cord­ing to a com­mon opin­ion (main­ly prop­a­gat­ed by old­er books), the founder of the fort­ress might have been Ka­zi­mierz Wiel­ki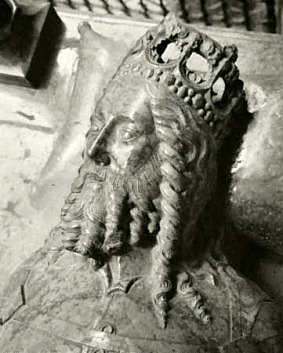 (Casi­mir the Great, d. 1370), but nei­ther Jan of Czarn­ków, who lived in those times, nor Jan Dłu­gosz, who lived in the times of the first Ja­giel­lons, men­tion it among the in­vest­ments made by this king. Based on more re­cent ar­chae­o­log­i­cal re­search, there was a wood­en cas­tle with earth­work for­ti­fi­ca­tions here as ear­ly as the 13th cen­tu­ry, pos­si­bly be­long­ing to one of the Hun­gar­i­an or Ruthe­ni­an lords. It is be­lieved that at the end of the 13th or at the be­gin­ning of the 14th cen­tu­ry a stone tow­er was erect­ed, orig­i­nal­ly sur­round­ed by wood and earth for­ti­fi­ca­tions and lat­er by a stone wall. The cas­tle came in­to Poland in the 1340s, prob­a­bly as a re­sult of the in­her­i­tance King Ka­zi­mierz re­ceived af­ter the death of the Ruthe­ni­an prince Bo­le­sław Jurij (d. 1340). The Pol­ish af­fil­i­a­tion of these lands dur­ing the reign of the last Piast may be con­firmed by the name of the castel­lan or cas­tle lease­hold­er, who in 1359 was a cer­tain Ste­fan, son of Wo­jost from Sob­niów vil­lage. Af­ter 1370 So­bień prob­a­bly came in­to Hun­gar­i­an hands and for some time be­longed to Wła­dy­sław Opol­czyk
(d. 1401), the gov­er­nor of Halich Ruthe­nia in 1372-78.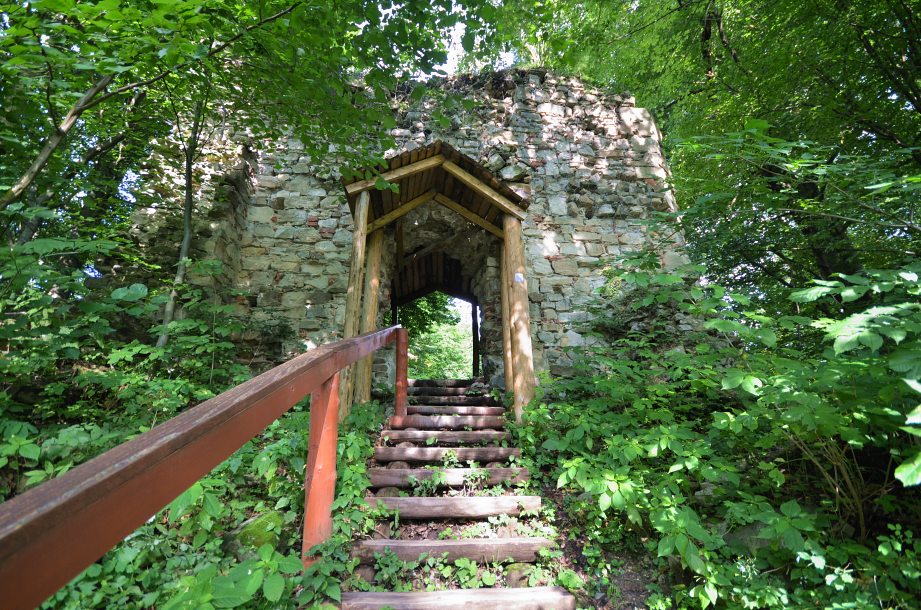 IN FRONT OF THE ENTRANCE TO THE RUINS
T
he cas­tle re­turned to Pol­ish do­min­ion af­ter Wła­dy­sław Ja­gieł­ło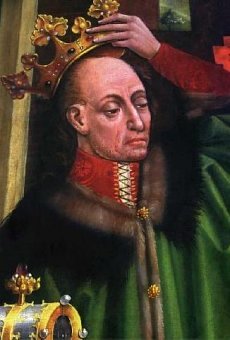 (d. 1434) be­came the king. Three years lat­er, he gave it to Piotr Kmi­ta of Szre­nia­wa coat of arms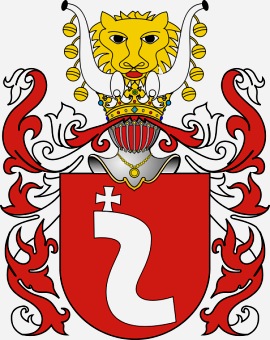 (d. 1409), the castel­lan of Lub­lin, as a re­ward for his ser­vices. From then on So­bień be­came the fam­i­ly nest of the Kmi­ta fam­i­ly and the cen­ter of knight­ly cul­ture in the whole re­gion. So it must have been a large, well-equipped and for­ti­fied cas­tle. It owes this to the re­con­struc­tion which took place at the turn of the 14th and 15th cen­turies and which re­sult­ed in the erec­tion of a huge square gate tow­er on the cas­tle hill and a new res­i­den­tial wing with three large halls on each floor. The rank of the res­i­dence was cer­tain­ly raised by a roy­al vis­it in 1417, when Piotr's son, Piotr Lu­nak Kmi­ta (d. 1430) host­ed Wła­dy­sław Ja­gieł­ło and his new­ly mar­ried (al­though not young) wife El­żbie­ta Gra­now­ska of Pil­cza
(d. 1420). Next, the Sa­nok es­tate was prob­a­bly in­her­it­ed by his broth­er Jan, then by his sis­ter Mał­go­rza­ta Kmi­ta Moś­ci­sław­ska and fi­nal­ly by Mi­ko­łaj (d. ca 1447), the castel­lan of Prze­myśl. Dur­ing the reign of Mi­ko­łaj or his son Jan Kmi­ta (d. 1460), called No­sek, the cas­tle was mod­ern­ized again.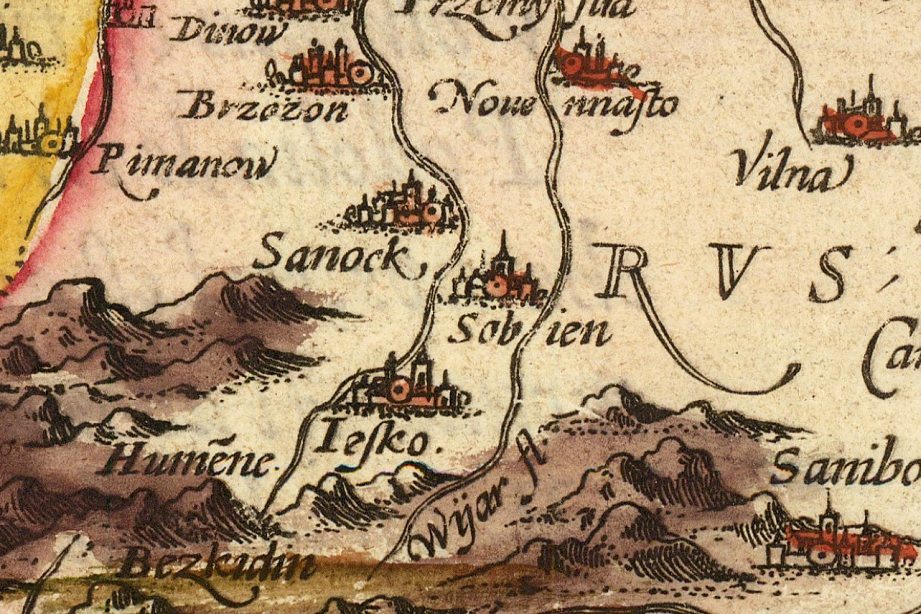 CASTLES SOBIEŃ, SANOK AND LESKO ON THE MAP "POLONIAE FINITIMARUMQUE LOCORUM DESCRIPTIO", 1579
S
ome books state that the cas­tle no longer op­er­at­ed af­ter the in­va­sion of Hun­ya­di Má­tyás'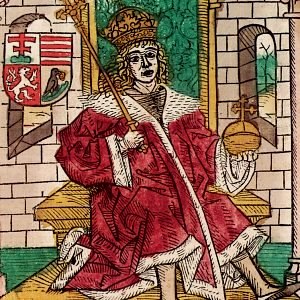 Hun­gar­i­an army, which in 1474 plun­dered the lands be­long­ing to Red Ruthe­nia as re­venge for the de­struc­tion caused in Hun­gary by troops of Pol­ish het­man Pa­weł Ja­sień­ski. How­ev­er, some his­to­ri­ans ques­tion the au­then­tic­i­ty of these sto­ries as they are not sup­port­ed by his­tor­i­cal doc­u­ments. The un­de­ni­able fact was the Hun­gar­i­an in­va­sion in 1512, af­ter which Pi­otr Kmi­ta So­bień­ski (d. 1553), one of the rich­est and most in­flu­en­tial men in Poland at that time, moved his fam­i­ly seat to the new­ly built cas­tle in Le­sko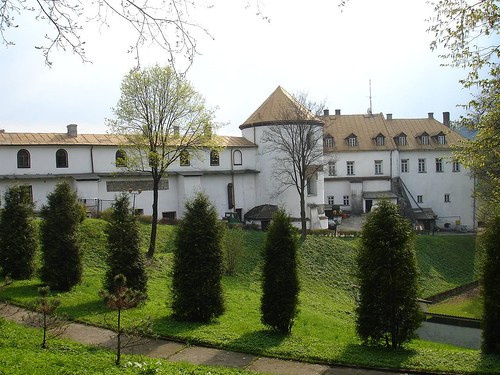 . So­bień was aban­doned by its own­ers and soon fell in­to ne­glect. In 1523 a deputy starost was men­tioned here, but it is pos­si­ble that al­ready then the cas­tle per­formed on­ly ad­min­is­tra­tive and aux­il­iary func­tions. In 1541, the stronghold and the sur­round­ing lands were giv­en to Piotr's wife, Bar­ba­ra Kmi­ci­na of Her­bu­ty (d. 1580).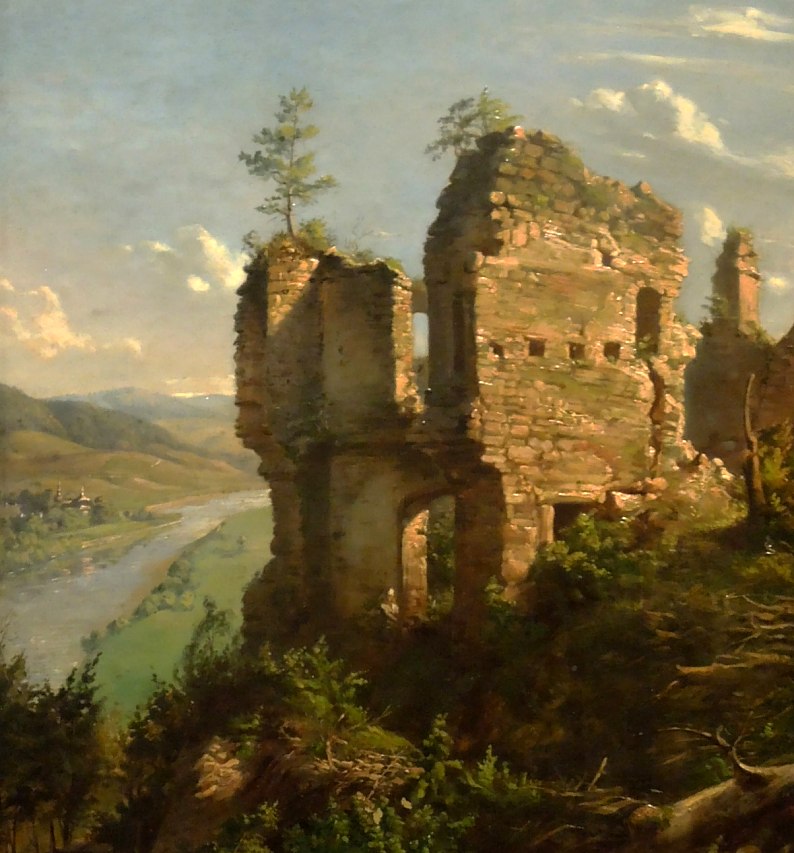 WATERCOLOR WITH A RUIN, 1859
A
f­ter the death of Bar­bara Kmi­cina So­bień be­came a prop­er­ty of fa­mous trou­ble­mak­er and brawler Sta­ni­sław Stad­nic­ki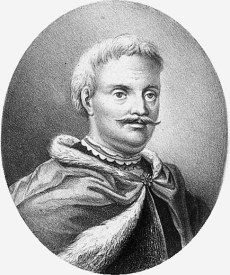 coat of arms Szre­nia­wa bez Krzy­ża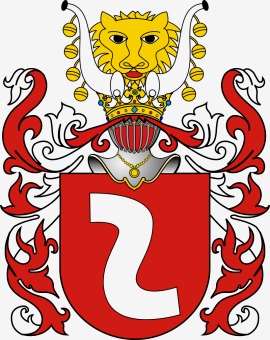 , called the Dev­il (died 1610), and was in pos­ses­sion of the Stad­nic­ki fam­i­ly un­til 1713. Then it be­longed to the Os­so­liń­scy, Mnisz­kow­scy and Kra­sic­cy (1803-1939). In 1770, the ru­ined cas­tle was used as a shel­ter by Pol­ish con­fed­er­ates fighting against Rus­sia. A cen­tu­ry lat­er, when a rail­road was be­ing built at the east­ern foot of the cas­tle hill, a part of the slope slipped, caus­ing the col­lapse of me­dieval walls. Dur­ing the clean-up work af­ter this dis­as­ter, three iron spear­heads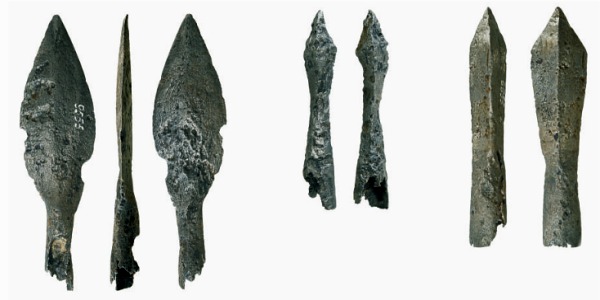 were dis­cov­ered, which are most like­ly a re­minder of the bat­tle that was fought here be­tween the mid-14th and late 15th cen­turies. Some dam­age was al­so done to the cas­tle by Aus­tri­an ar­tillery when it tried to shell Rus­sian po­si­tions from the top of the cas­tle hill in 1914. Ar­chae­o­log­i­cal re­search of the ru­ins was start­ed be­fore World War II, but it was not car­ried out on a large scale un­til the 1960s. Many re­mains of walls from the sec­ond half of the 14th cen­tu­ry, as well as lat­er ones, were found then.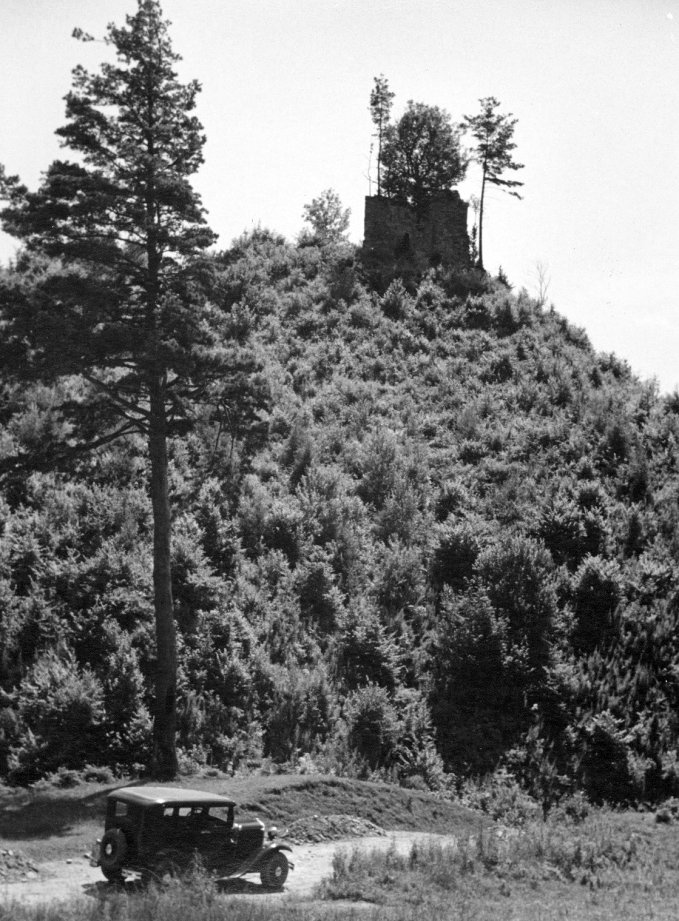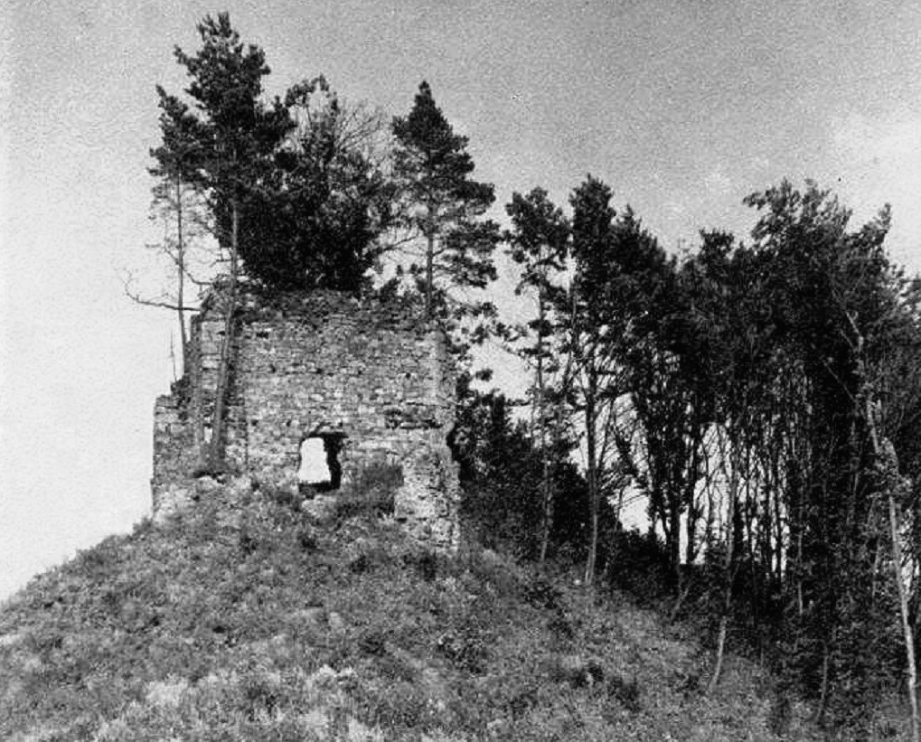 A PHOTOGRAPH FROM THE 1960S
DESCRIPTION OF THE CASTLE
T
he cas­tle was built of sand­stone, on a trape­zoidal plan, and sur­round­ed by a de­fen­sive wall en­clos­ing a large court­yard. In its south­east­ern part stood a two-sto­ry res­i­den­tial build­ing (12x31 me­ters), di­vid­ed in the ground floor in­to three al­most iden­ti­cal cham­bers. On the op­po­site side of the court­yard, at the turn of the 14th and 15th cen­turies, a tow­er (7,1x7,8 m) was erect­ed, which func­tioned as an en­trance gate. The tow­er that ex­ist­ed here ear­li­er (the turn of the 13th and 14th cen­turies?) was pro­trud­ing be­yond the line of pe­riph­er­al walls and was lat­er used as a fore­gate. The perime­ter walls were prob­a­bly equipped with porch­es for guards and hoards, as ev­i­denced by the beam holes pre­served to this day. The cas­tle was sur­round­ed by earth­works and a pal­isade, and may have al­so been pro­tect­ed by small wood­en tow­ers.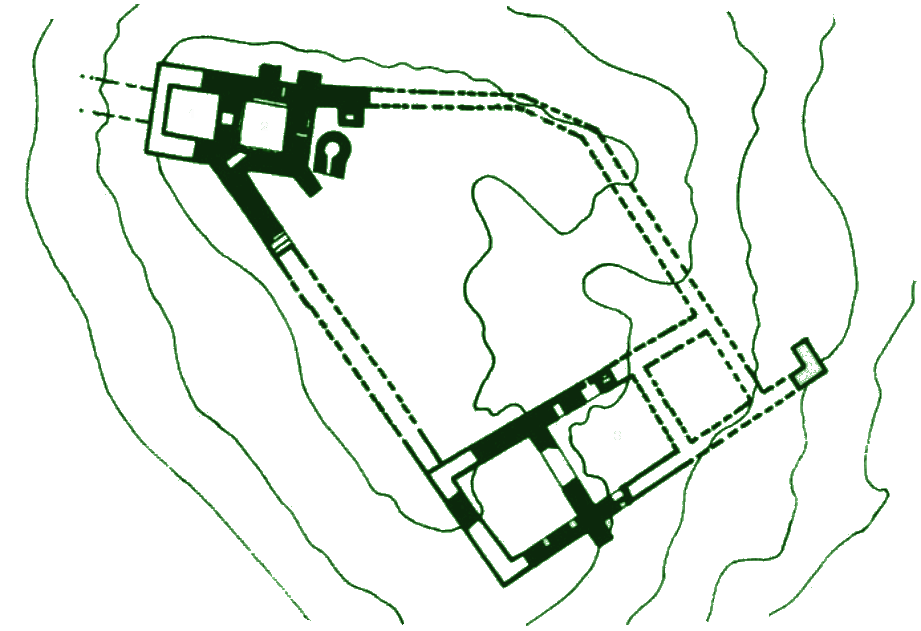 PLAN OF THE CASTLE RUINS ACCORDING TO T. ŻUROWSKI: 1. GATE TOWER (OLDER), 2. GATE TOWER (NEWER), 3. RESIDENTIAL BUILDING
RELICS OF THE RESIDENTIAL WING IN THE SOUTHERN PART OF THE CASTLE
---
P
ic­turesque relics of the res­i­den­tial wing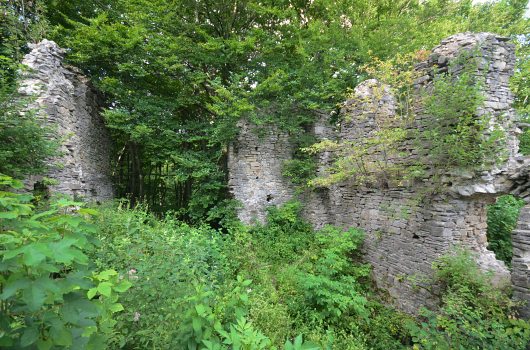 have sur­vived to the pre­sent day, pre­served up to the height of the sec­ond floor, with se­mi-cir­cu­lar win­dow open­ings. Next to it a ter­race was built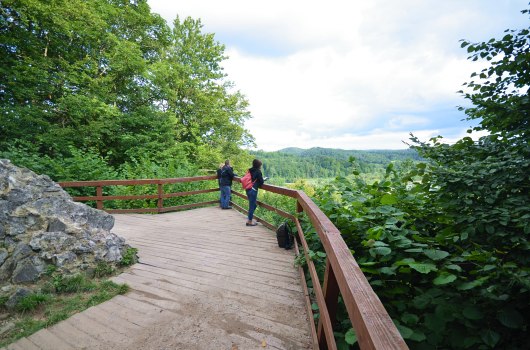 , from where you can en­joy the view of a bend of the San Riv­er, Le­sko and even the Biesz­cza­dy Moun­tains. The en­trance to the cas­tle leads through the gate tow­er with re­mains of a stone por­tal and rel­a­tive­ly well-pre­served stone­work of win­dows in its low­er storey. The ru­in is lo­cat­ed with­in the bound­aries of "Góra So­bień" nat­u­ral re­serve.
Ap­par­ent­ly, al­though I haven't seen it, in­scrip­tions in Ukra­inian have been pre­served on the walls of the cas­tle as well as draw­ings de­pict­ing the Ukra­inian coat of arms - try­zub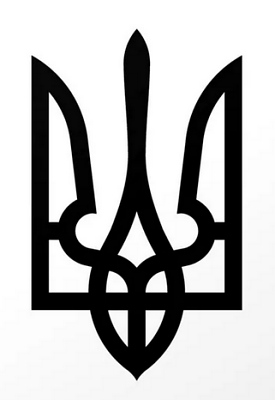 . They were made by par­ti­sans of the Ukra­inian In­sur­gent Army, who stayed here on the night of May 9-10, 1946 be­fore the at­tack on the ar­mored train that pro­tect­ed the rail­road route be­tween Za­łuż and Ol­sza­ni­ca.
| | |
| --- | --- |
| | Free ad­mis­sion to the re­serve and to the cas­tle ru­ins. The fa­cil­i­ty is avail­able 24 hours a day. |
| | |
| --- | --- |
| | The cas­tle can be vis­it­ed in the com­pa­ny of a dog. The path to the cas­tle leads up­hill, and there are steep stairs at the fi­nal stage. |
| | |
| --- | --- |
| | The area is lo­cat­ed in a tem­porar­i­ly re­served zone as a mil­i­tary avi­a­tion route. The abil­i­ty to fly de­pends on whether the zone is ac­tive. Be­sides, we are in a re­serve and should avoid mak­ing noise and fright­en­ing the an­i­mals. There­fore, fly­ing a drone here is not rec­om­mend­ed. |
VIEWING TERRACE IN THE SOUTHERN PART OF THE HILL WITH A BEAUTIFUL VIEW OF THE BIESZCZADY FOOTHILLS
---
T
he cas­tle ru­ins are lo­cat­ed on a high hill (451 m asl), cur­rent­ly be­long­ing to the vil­lage of Ma­na­ste­rzec, al­though in pop­u­lar opin­ion they are part of the vil­lage of Za­łuż. If you are driv­ing from Sa­nok by road 28 (di­rec­tion Prze­myśl), you should turn right in Za­łuż in­to lo­cal road in di­rec­tion Le­sko. From there, it is about 2.5 kilo­me­ters to the ru­ins. The near­est rail­road sta­tion is lo­cat­ed in Le­sko Łu­ka­wi­ca (3 km).
| | |
| --- | --- |
| | There is a free park­ing lot near­by, from which a not too dif­fi­cult un­paved road leads to the ru­ins. The fi­nal stage of the hike is a steep wood­en stair­case. |
| | |
| --- | --- |
| | It's best to leave your bike in the park­ing lot. But if you are afraid of some­one steal­ing your bike, you should be able to car­ry it to the top of the hill. The on­ly prob­lem might be the stairs. |
---
1. M. Dębiec, S. Jędrzejewska: Średniowieczne zamki województwa podkarpackiego, 2018
2. L. Kajzer, J. Salm, S. Kołodziejski: Leksykon zamków w Polsce, Arkady 2001
3. P. Kocańda: Badania nad pierwszymi murowanymi zamkami..., Archeologie Zapadnich Cech 11/2016
4. R. Liwoch: Groty spod zamku Sobień w Manastercu, Acta Militaria Mediaevalia IX
5. Praca zbiorowa: Rocznik historyczno-archiwalny VII/VIII, 1994
6. A. Wagner: Murowane budowle obronne w Polsce X-XVIIw., Bellona 2019

ENTERING AND LEAVING THE CASTLE WE PASS THROUGH THE RUINS OF THE GATE TOWER
Castles nearby:
Lesko - the private castle from 16th century, 7 km
Sanok - the royal castle from 14th century, 11 km
Zagórz - ruins of the monastery of the Discalced Carmelites from 16th century, 15 km

text: 2021
photographs: 2019
© Jacek Bednarek