ŚCINAWKA GÓRNA

the Sarny palace
SARNY, EASTERN ELEVATION OF THE PALACE
---
A
lready in the Mid­dle Ages, in the up­per part of the vil­lage called Ober-Stei­ne there was a small cas­tle, prob­a­bly a res­i­den­tial tow­er. It is pos­si­ble that the relics of this Goth­ic strong­hold are hid­den in the cel­lars of the lat­er palace and in the ground floor of the gate build­ing, al­though no re­search has ev­er been done here to con­firm this as­sump­tion. The first known manor house was built in 1590 on the ini­tia­tive of Fabi­an von Rei­chen­bach (d. 1605), the rep­re­sen­ta­tive of the fam­i­ly that held the Schar­fe­neck es­tate from 1565, when Fabi­an's fa­ther, Gre­gor von Rei­chen­bach of the Pe­ter­witz-Quick­ers­dorf line, bought it from Hein­rich von Still­fried (d. 1615). At the time of com­ple­tion, it was the sec­ond largest build­ing of this type in Kłodz­ko Coun­ty.
SCHARFENECK PALACE ON AN ENGRAVING FROM 1800
R
eichen­bach fam­i­ly lost the prop­er­ty in the 1620s as a re­sult of sanc­tions im­posed by the im­pe­ri­al court for their sup­port­ing the Protes­tant Re­ich in the Thir­ty Years' War. In 1661 Lehn­gut Schar­fe­neck re­ceived Jo­hann Georg von Göt­zen
(d. 1679), own­er of Wam­bie­rzy­ce vil­lage and founder of the Wam­bie­rzy­ce parish church. Dur­ing Thir­ty Years' War, Jo­hann suc­cess­ful­ly served in the Im­pe­ri­al Army, thanks to which he was able to ac­quire land­ed prop­er­ty in Kłodz­ko Coun­ty on con­ve­nient terms, and ob­tained the ti­tle of Baron and lat­er - a Count. As the manor house Schar­fe­neck be­came the seat of the von Göt­zen fam­i­ly, it was soon re­built in­to a re­pre­sen­ta­tive pal­ace.
T. BLATTERBAUER'S LITHOGRAPHY FROM THE 80S XIX CENTURY
W
hen Jo­hann Georg died, the es­tate was tak­en o­ver by his son Jo­hann Ernst (d. 1707), fol­lowed by grand­son Jo­hann Franz An­ton Bo­na­ven­tu­ra (d. 1738), the foun­der of the beau­ti­ful St. John Nepo­muk Chapel. In the first half of the 18th cen­tu­ry the Göt­zen fam­i­ly brought Schar­fe­neck to its pros­per­i­ty, en­rich­ing its spa­tial lay­out with a baroque sum­mer palace, which oc­cu­pies the op­po­site bank of the Wło­dzi­ca riv­er. Af­ter death of Jo­hann Karl Jo­seph (d. 1771), who was the last rep­re­sen­ta­tive of the Sile­sian fam­i­ly line, the es­tate was in­her­it­ed by the gov­er­nor of Kłodz­ko Coun­ty, Prus­sian cav­al­ry gen­er­al Frie­drich Wil­helm von Göt­zen (d. 1794). In 1866, his grand­son Gus­tav Adolf von Göt­zen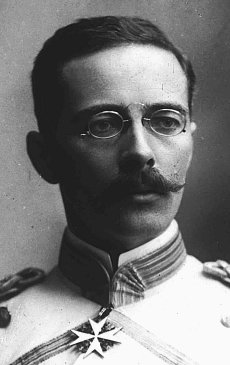 (d. 1910), the lat­er colo­nial gov­er­nor of Ger­man East Africa, was born in the palace.
THE SCHARFENECK RESIDENCE SEEN FROM THE NORTH-WEST, 1911
EASTERN ELEVATION OF THE PALACE, 1929
I
n 1876 the Schar­fe­neck es­tate was bought by Hein­rich Schnei­der, a law­yer from Ju­go­wi­ce, and then hand­ed it o­ver to his son Max Schnei­der. Be­tween 1917 and 1937 the palace be­longed to Rudolf Röβ­ler. Af­ter his death it be­came the prop­er­ty of Ele­ono­re Lil­ly Pop­pler de do­mo Röβ­ler (d. 1940) and her hus­band Franz Pop­pler, pro­fes­sor of agri­cul­tur­al sci­ences. De­spite the fact that dur­ing the Sec­ond World War the prop­er­ty did not suf­fer from mil­i­tary ac­tion, the pres­ence of So­vi­et sol­diers and the ac­tiv­i­ty of Pol­ish rob­bers caused that its equip­ment was stolen and the in­te­ri­ors were dev­as­tat­ed.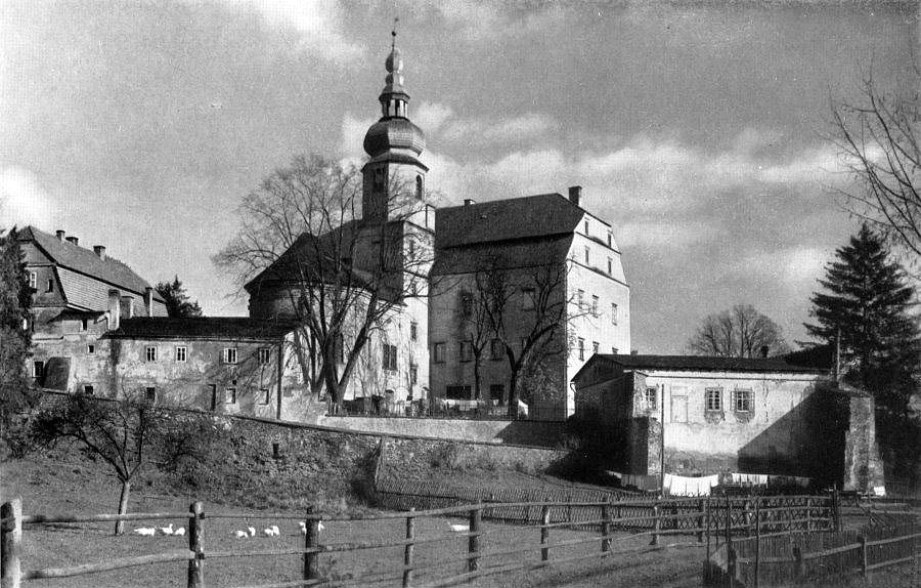 I
n 1945 Sarny was in­cor­po­rat­ed in­to the state agri­cul­tu­ral hol­ding: the res­i­den­tial part was then used for com­mu­nal hous­ing and the for­mer farm was adapt­ed as an an­i­mal breed­ing cen­tre. This ob­vi­ous­ly had a dis­as­trous ef­fect on both of these places (1)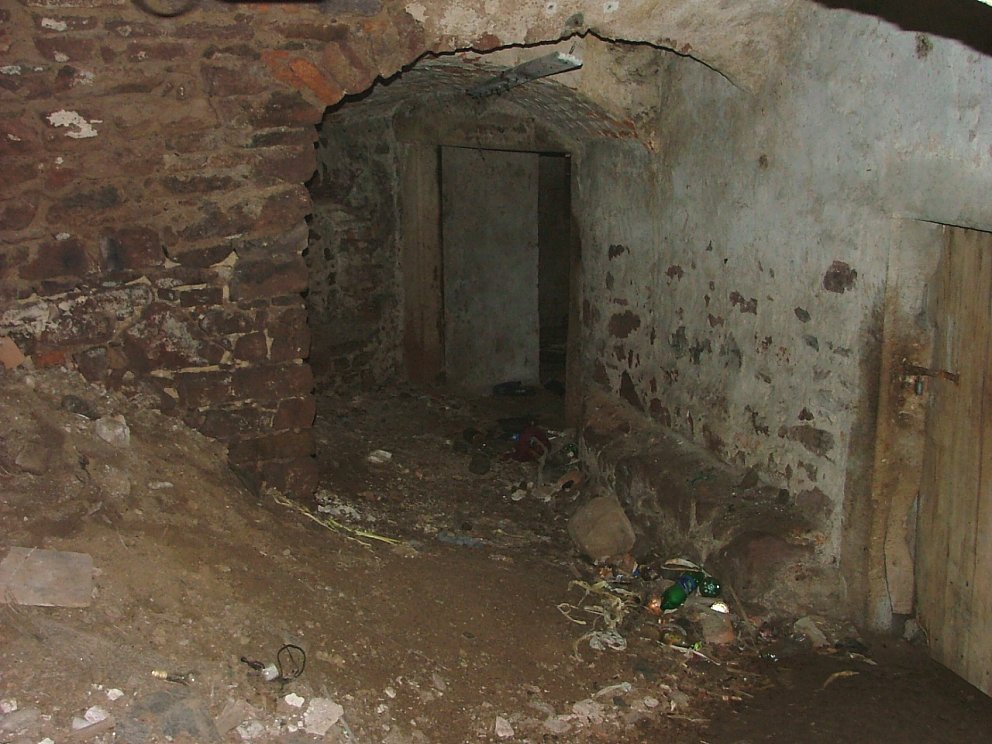 (2)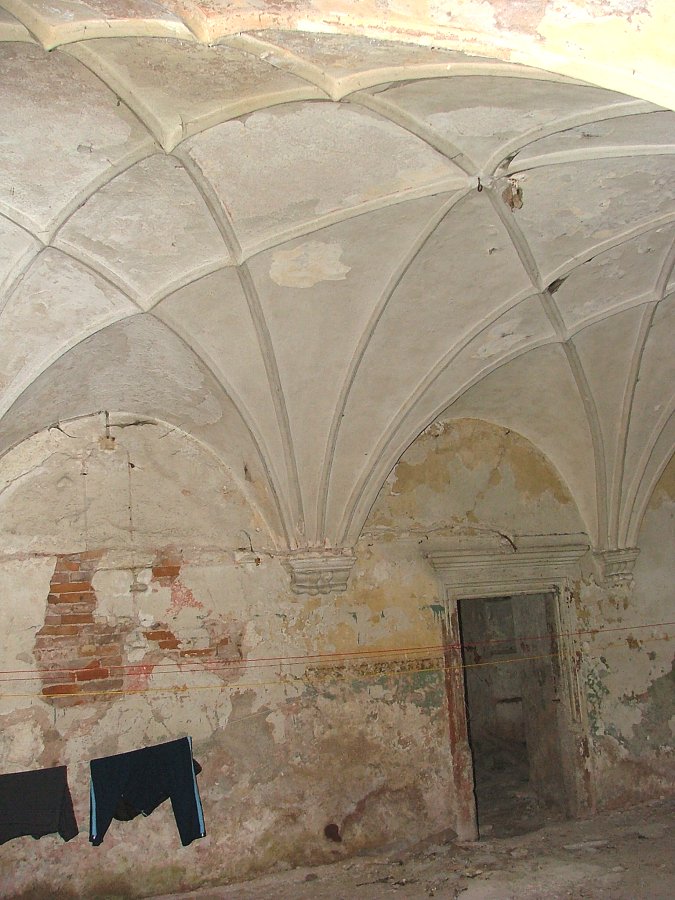 (3)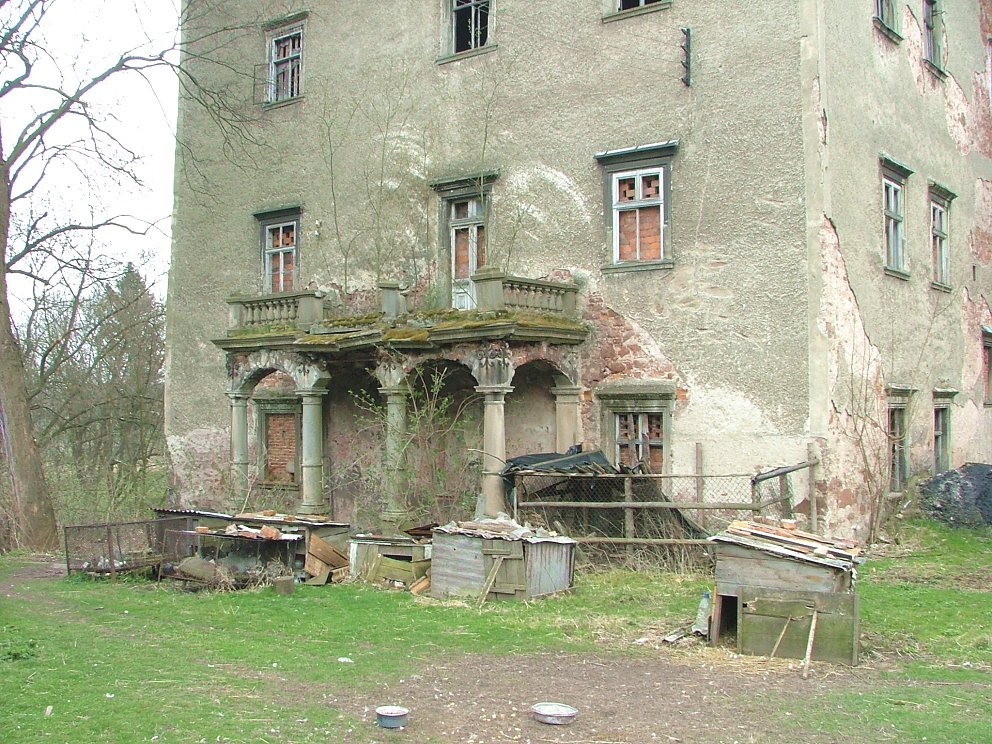 . Al­though even worse times for the palace came with the liq­ui­da­tion of the farm­stead in 1989, when the his­to­ri­cal buil­dings lost their for­mal own­er and thus were de­prived of any pro­tec­tion. In a short time, the re­mains of dec­o­ra­tive in­te­ri­or and equip­ment were stolen, the ceil­ing beams col­lapsed, and the beau­ti­ful chapel has been turned into a junk­yard. When it seemed that Sar­ny would share the fate of many oth­er Low­er Sile­sian pala­ces and man­sions, which fell down af­ter the war and nev­er rose, then a pri­vate in­vestor ap­peared, who bought the ru­in in 2013 with the in­ten­tion of re­vi­tal­iz­ing it. Since that mo­ment the palace slow­ly but con­sis­tent­ly re­stores its long-lost glam­our.
SARNY IN 2008, ON THE LEFT THERE IS THE RUIN OF A GRANARY
In 2010, there was a sur­pris­ing news that a British foun­da­tion Save Brit­ain's Her­itage was ap­ply­ing to take o­ver Sar­ny palace. This or­gan­i­sa­tion, formed by a group of ar­chi­tects, his­to­ri­ans and jour­nal­ists, is ac­tive in sav­ing and pro­tect­ing Eu­ro­pean mon­u­ments, but what at­tract­ed the me­dia's at­ten­tion the most was its pa­tron, Prince Charles of Wales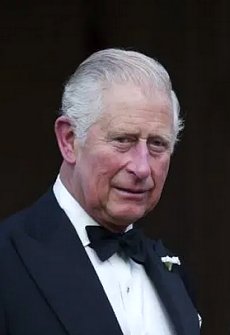 , son of Queen Eliz­a­beth II. How­ev­er, the sale of the prop­er­ty in­to the hands of the foun­da­tion nev­er took place. Con­trary to the scep­ti­cal opin­ions that this in­for­ma­tion was cheap and not a true sen­sa­tion, Charles was se­ri­ous­ly in­ter­est­ed in Ści­naw­ka. For this pur­pose, he even con­tact­ed the Pol­ish Min­is­ter of Cul­ture, who promised to sell the ob­ject for a sym­bol­ic sum in ex­change for its re­vi­tal­iza­tion. How­ev­er, the Agri­cul­tur­al Prop­er­ty Agen­cy un­der the Min­istry of Agri­cul­ture put Sar­ny out to ten­der, which re­sult­ed that the En­glish­men re­signed be­cause the ini­tial agree­ment with them did not in­clude this form of ac­qui­si­tion. The idea of buy­ing in Poland and lat­er re­vi­tal­iz­ing one of the for­mer res­i­dences was born af­ter the pub­li­ca­tion of re­port about Low­er Sile­sian archi­tec­tu­ral his­toric sites, whose ti­tle best re­flects their con­di­tion: Sile­sia: The Land of Dy­ing Coun­try Hous­es.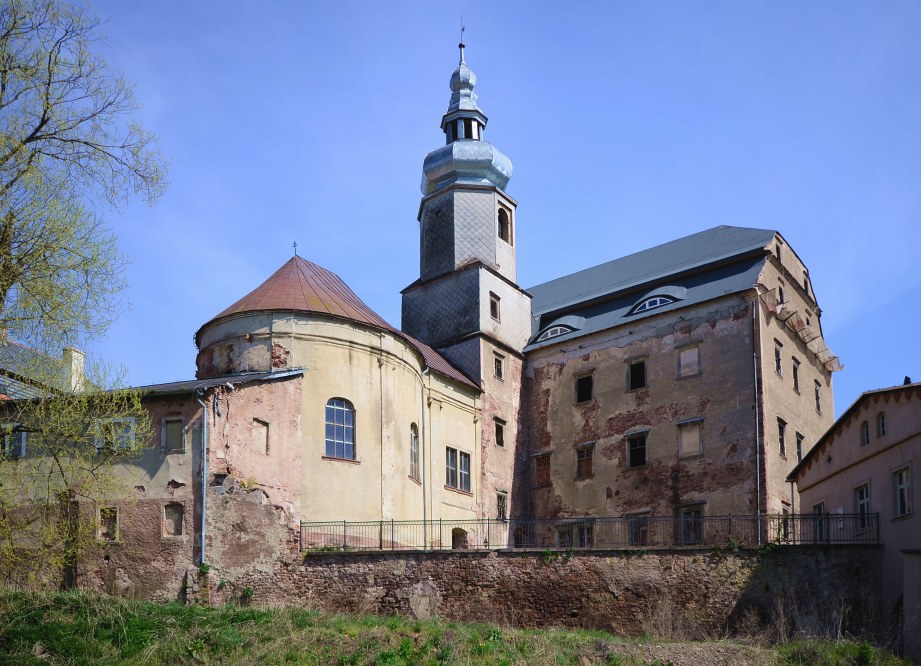 THE MANOR COMPLEX WITH THE PALACE, TOWER AND CHAPEL
BAROQUE SUMMER PALACE, SOUTH-WESTERN VIEW
DESCRIPTION OF THE PALACE
T
he Re­nais­sance manor house of the von Re­ichen­bachs from 1590 was built on a mild hill over Wło­dzi­ca riv­er val­ley. It was a three-storey build­ing made of stone and brick, with rooms on the ground floor cov­ered with cross vaults and high­er ones cov­ered with wood­en ceil­ings. The en­trance to the court­yard led from the south through a res­i­den­tial gate build­ing dec­o­rat­ed with stone por­tals, pre­served to the pre­sent day in a goth­ic form given to it in the 19th cen­tu­ry. The dom­i­nant fea­ture of the palace is an oc­tag­o­nal tow­er built in 1730 and crowned with a baroque cupola. Lat­er, the build­ing was mod­i­fied many times, among oth­er things, in 1762 a two-storey res­i­den­tial wing was erect­ed, and in the 19th cen­tu­ry the char­ac­ter­is­tic por­ti­co with a ter­race was added. Fa­cades of the palace were orig­i­nal­ly dec­o­rat­ed with win­dow frames and sgraf­fi­to im­i­tat­ing rus­ti­ca­tion. Res­i­den­tial and eco­nom­ic hous­ing in the 18th cen­tu­ry com­ple­ment­ed a baroque sum­mer palace and farm build­ings, in­clud­ing an in­ter­est­ing gra­nary with two Re­nais­sance tops, whose walls were al­so cov­ered with sgraf­fi­to dec­o­ra­tions.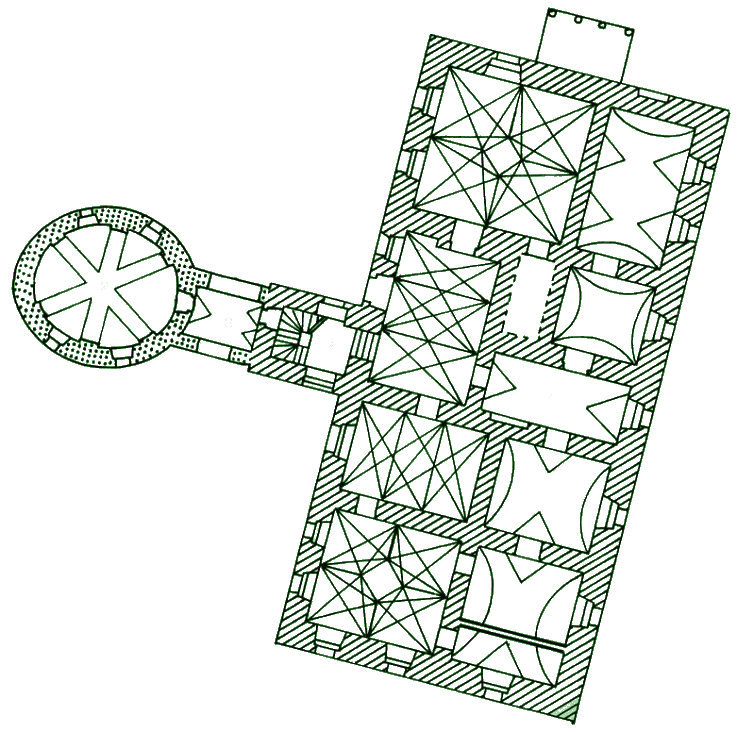 PLAN OF THE MANOR HOUSE: 1. PALACE, 2. CHAPEL, 3. PORCH WITH PASSAGEWAY TO THE COURTYARD, 4. TOWER
VAULTED PALACE GROUND FLOOR
A
f­ter 1722, a mag­nif­i­cent chapel of St. John of Nepo­muk was erect­ed on an el­lip­sis plan, con­nect­ed to the manor house via porch at the height of the first floor
. Tak­ing in­to ac­count its form and size, the chapel in Sar­ny is ac­tu­al­ly a church. This def­i­ni­tion is al­so sug­gest­ed by the pre­sence of main tow­er, con­struct­ed in the ear­ly 18th cen­tu­ry in such way that it looks like a church bell tow­er. The chapel in­te­ri­or is cov­ered by paint­ing dec­o­ra­tion made by Jo­hann Franz Hoff­man from Kłodz­ko, de­pict­ing the life and mar­tyr­dom of St. John Ne­po­muk, as well as by im­ages of St. Ap­polo­nia and the pa­troness of von Göt­zen fam­i­ly - St. Bar­ba­ra. The cen­tral part of the chapel is oc­cu­pied by an al­tar with a very rare im­age of dead saint, above which there is a car­touche with medal­lion and in­scrip­tion DI­VU[S] IOAN­NE[S] NE­PO­MU[K] SA[N]­CTU[S]. Valu­able Baroque stuc­co and fres­coes were re­stored in the 1970s and have been pre­served in good con­di­tion to the pre­sent day.
| | |
| --- | --- |
| | |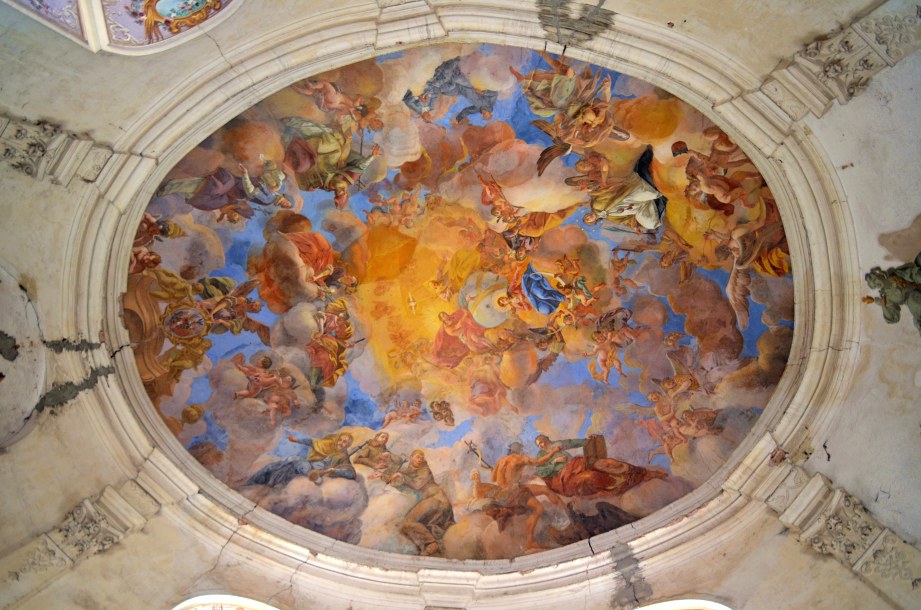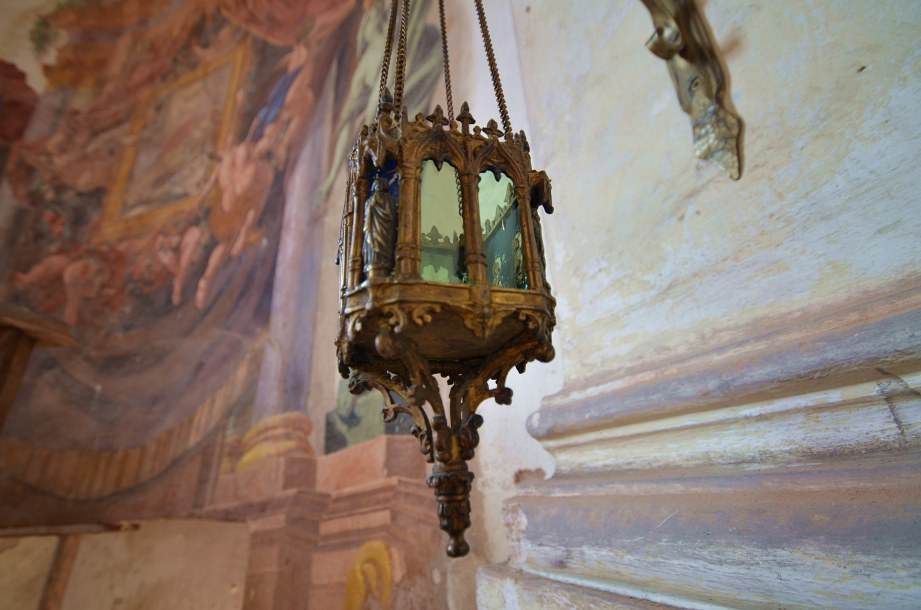 CHAPEL OF ST. JOHN OF NEPOMUK IN ŚCINAWKA GÓRNA
---
O
n ini­tia­tive of the palace own­ers, The Sar­ny Castle Trust was es­tab­lished in 2014, whose main goal is to re­vi­tal­ize the palace com­plex, as well as cul­tur­al and sci­en­tif­ic ac­tiv­i­ties re­lat­ed to the pro­tec­tion of her­itage and pop­u­lar­iza­tion of is­sues con­cern­ing his­to­ry and art. Dur­ing the first few years of its op­er­a­tion, the gra­nary roof was re­built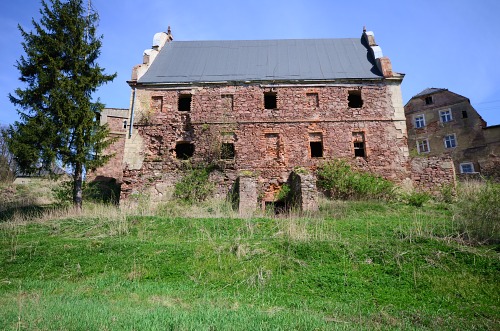 , the fall­en ceil­ings were par­tial­ly re­con­struct­ed and new cup­ola was in­stalled on the baroque tow­er. Fur­ther­more, in care­ful­ly ren­o­vat­ed gate house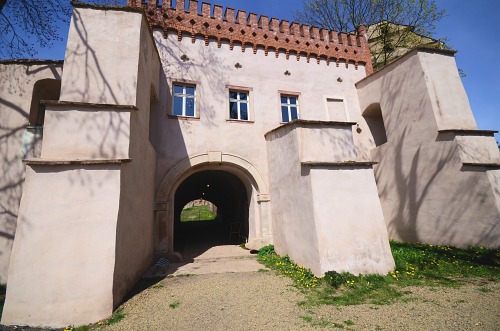 a stylish café has started its business. Af­ter com­ple­tion of the ren­o­va­tion, the ex­pect­ed du­ra­tion of which is cau­tious­ly es­ti­mat­ed by the in­vestors as two decades, there are plans to open a ho­tel in this place to­geth­er with a small mu­se­um and the ac­com­pa­ny­ing lo­cal cul­tur­al cen­tre aimed at pro­mot­ing his­tor­i­cal mu­sic, of which one of own­ers of the manor is a lover.
| | |
| --- | --- |
| | |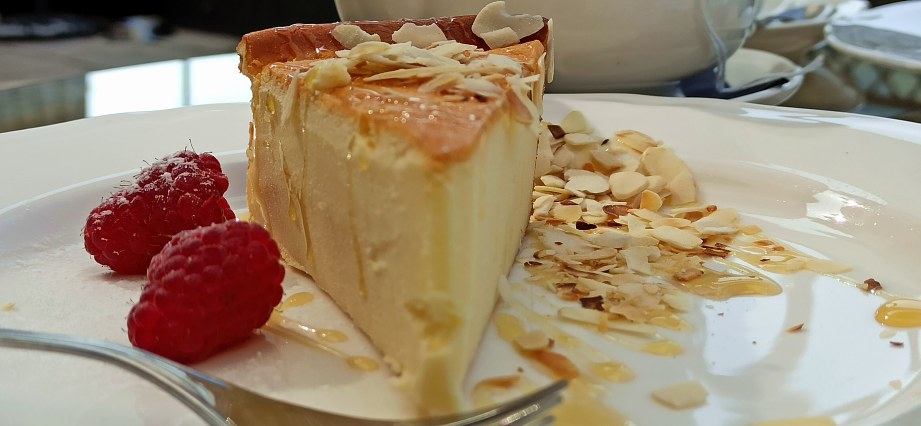 | | |
| --- | --- |
| | The courtyard, chapel, and one of the chambers in the ground floor of the palace are open for tours. Admission is free. |
| | |
| --- | --- |
| | Entering with a dog rather possible. The dog should be on a leash. |
| | |
| --- | --- |
| | Recreational flight free zone. |
The Sarny Castle Trust
Ścinawka Górna 40e, 57-410 Ścinawka Górna
tel. 74 814 34 16
e-mail: zarzad@zameksarny.pl
VIEW OF THE PALACE FROM THE SOUTH
"THE LITTLE COURTYARD" BETWEEN THE GATE BUILDING AND THE CHAPEL
---
Ś
cinawka Gór­na is si­tu­a­ted by the road 386 con­nec­ting Kłodz­ko with the bor­der cros­sing le­a­ding to Brou­mov in Czech Re­pub­lic. The pa­la­ce oc­cu­pies the nort­hern part of the vil­la­ge - dri­ving to­wards the bor­der, the buil­ding is well vi­si­ble on the right. The easiest way to get to the vil­la­ge is by bus from No­wa Ru­da, a lit­tle mo­re dif­fi­cult from Kłodz­ko and Rad­ków, whe­re the­re run on­ly a few bu­ses a day.
| | |
| --- | --- |
| | We can park a car in front of the gate building. |
| | |
| --- | --- |
| | There are also bicycle racks at the gate. |
---
1. J. Lamparska: Zamkowe tajemnice, Asia Press 2009
2. R. Łuczyński: Zamki, dwory i pałace w Sudetach, Wspólnota Akademicka 2008
3. M. Perzyński: Dolnośląskie zamki, dwory i pałace, WDW 2012
4. M. Perzyński: Zamki, twierdze i pałace Dolnego Śląska i Opolszczyzny, WDW 2006
SARNY PALACE SEEN FROM THE WEST...
Castles nearby:
Ścinawka Średnia - the Renaissance manor house from the XVI century, 4 km
Nowa Ruda - the fortified manor house from the 14th century, rebuilt, 6 km
Ścinawka Dolna - the Renaissance manor house from the XVI century, 8 km
Ratno Dolne - the ruin of castle from the 16th century, 10 km
Szalejów - the St. George fortified church from the 14th century, 19 km
Kłodzko - the fortress from the 17th-18th centuries, 21 km
Srebrna Góra - the fortress from the 18th century, 21 km
Stary Wielisław - the St. Catherine of Alexandria fortified church from the 14th century., 26 km
Bardo Śląskie - relics of ducal castle from the 14th century, 28 km
Rudnica - the ruin of fortified manor house from the 16th century, 28 km
Stoszowice - the castle from 13th-17th century, 28 km
Żelazno - the Gothic residential tower from the 15th century, 28 km
---
In Wambierzyce, (12 kilo­me­tres south of Ści­naw­ka) the mag­nif­i­cent Baroque Basil­i­ca erect­ed in the years 1715-23 by Jo­hann Franz von Götzen, the own­er of Sarny palace. The church was built on the basis of a tem­ple found­ed on­ly twen­ty years ear­li­er by Count Daniel von Os­ten­berg from Rat­no Dol­ne, which, how­ev­er, soon be­gan to col­lapse and was dis­man­tled. To basil­i­ca, called Low­er Sile­sian Je­ru­sa­lem, lead mon­u­met­al stairs with fifty-sev­en steps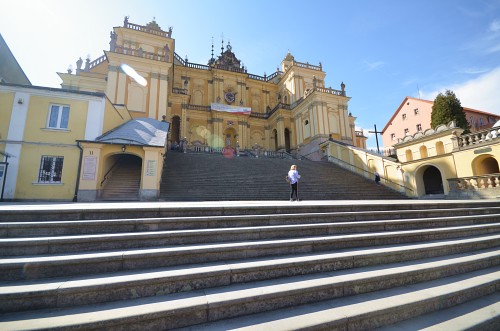 , sym­bol­iz­ing the sum of Christ's years at death, Mary's age at the time of con­cep­tion and the num­ber of an­gel­ic choirs. From the top of the stairs there is a pic­ture­sque view of the nu­mer­ous cal­vary sta­tions situ­ated on the ad­ja­cent hill.
The church ris­es to a height of 52 me­ters, which com­bined with its lo­ca­tion above the lev­el of the sur­round­ing build­ings makes it look like an im­pres­sive palace. Its façade is or­na­ment­ed with rich dec­o­ra­tions in­clu­ding fig­ures of saints and scenes of Mary's coro­na­tion by the Holy Trin­i­ty, un­der which the coat of arms of the Hab­s­burg Em­pire is placed. The Baroque in­te­ri­or of the tem­ple is dec­o­rat­ed with paint­ings and sculp­tures, of which the works of Ca­rol Se­bas­tian Flack­er are par­tic­u­lar­ly note­wor­thy: the rich­ly or­na­ment­ed pul­pit and the main al­tar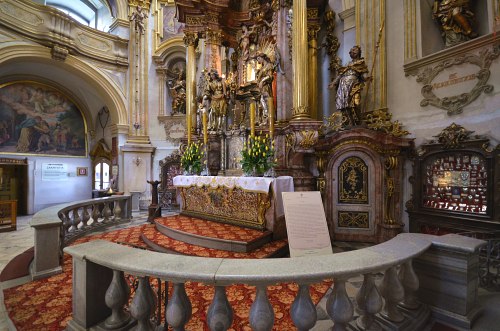 con­tain­ing the mirac­u­lous stat­ue of the Vir­gin Mary.
text: 2019
photographs: 2019, 2020
© Jacek Bednarek