SOSNOWIEC

Sielecki Castle
SIELECKI CASTLE, VIEW FROM SOUTHWEST
---
T
he old­est pre­served men­tion of the set­tle­ment Siedlecz dates back to 1361. It men­tions a do­na­tion of the lo­cal knight's grange by Abra­ham of Go­szy­ce and his son Ma­rek, coat of arms Gryf
, to San­do­mierz prov­ince gov­er­nor Ot­to of Pil­cza coat of arms To­pór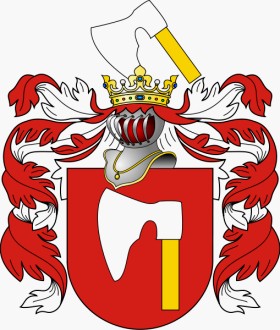 (d. 1384) (in re­turn, Abra­ham re­ceived the vil­lage Wi­ta­no­wi­ce near Oświę­cim). The doc­u­ment al­so states that the then reign­ing King Ka­zi­mierz Wiel­ki (Ca­si­mir the Great)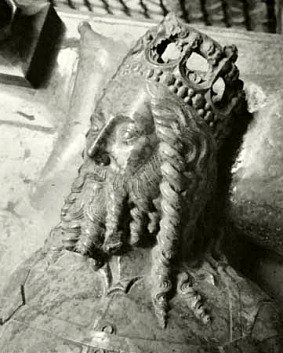 ap­proved the trans­ac­tion and grant­ed Siel­ce the town rights. In 1376 Piotr Sza­fra­niec of Sta­ry­koń coat of arms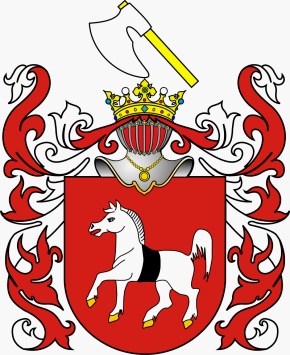 from Pies­ko­wa Ska­ła (d. 1437), a rep­re­sen­ta­tive of one of the most in­flu­en­tial knight­ly fam­i­lies in 14th cen­tu­ry Pol­and, be­came the own­er of the es­tate. In 1383 the vil­lage was bought by Wi­sław and Pi­otr from My­sło­wi­ce, Sze­li­ga coat of arms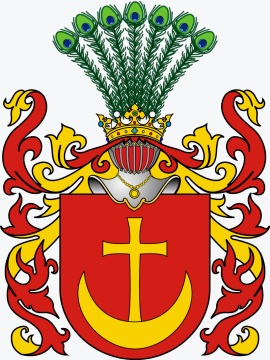 , rel­a­tives of Bo­dzan­ta, the arch­bish­op of Gnie­zno. The lat­ter broth­er (d. 1408) is par­tic­u­lar­ly im­por­tant in the his­to­ry of this place. Ac­cord­ing to his­to­ri­ans, it was him who found­ed the first brick cas­tle on the marshy banks of Czar­na Przem­sza Riv­er. Ini­tial­ly, the cas­tle may have had the form of a sin­gle res­i­den­tial tow­er, typ­i­cal of de­fen­sive con­struc­tions of the time in Sile­sia.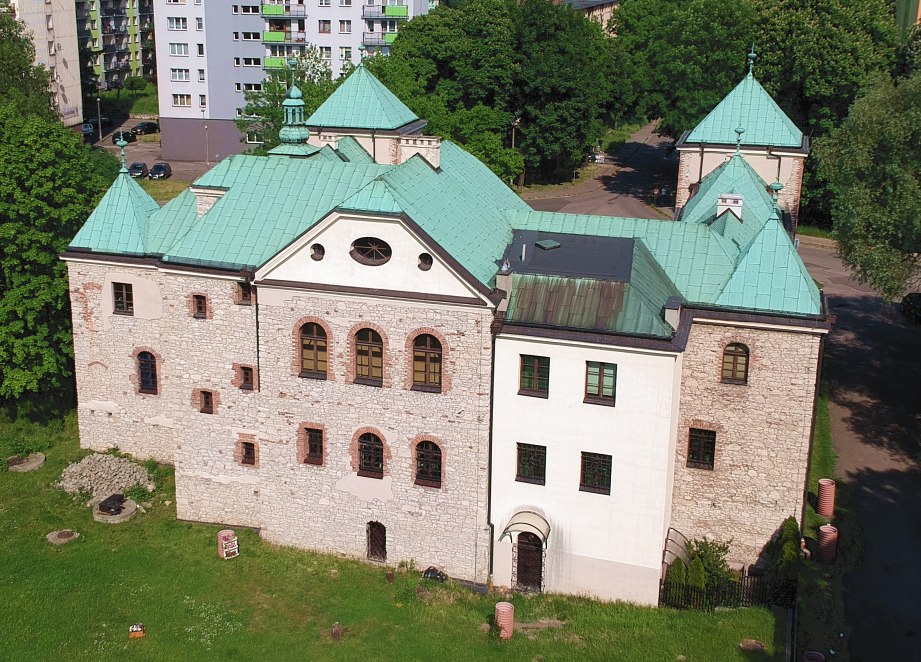 (NOT VERY PICTURESQUE) VIEW OF THE CASTLE FROM THE WEST
T
he first his­tor­i­cal re­port con­firm­ing the ex­is­tence of a stone res­i­dence in this place dates back to 1403, while in 1430 the cas­tle was al­ready re­ferred to as a for­ta­li­cjum. At that time Sie­lec was ruled by Bo­dzan­ta, son of Piotr, con­flict­ed with the bur­grave of Bę­dzin cas­tle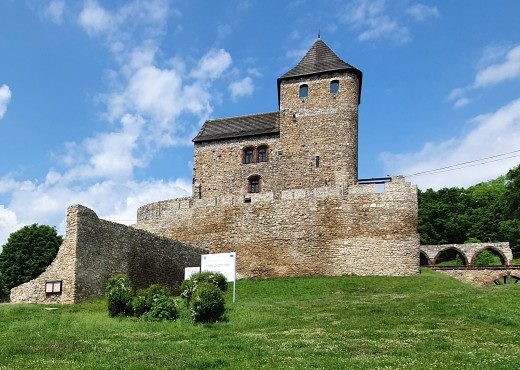 , Mi­ko­łaj Sie­strze­niec. This con­flict, based both on ma­te­ri­al and ide­o­log­i­cal grounds (Sie­strze­niec sup­port­ed the Hus­sites), led to the oc­cu­pa­tion and plun­der of the stronghold in Sie­lec by the king's bur­grave, and end­ed on­ly af­ter Mi­ko­łaj was dis­missed from his post, which took place in 1434. The 15th cen­tu­ry his­to­ry of the cas­tle is al­most com­plete­ly lost in the dark­ness of obliv­ion, as few archives from that time have sur­vived. We on­ly know that in 1465 it was pledged for 700 grzy­w­nas by the trea­sur­er of the House­hold, Ja­kub Duch from Dęb­no, Ra­wicz coat of arms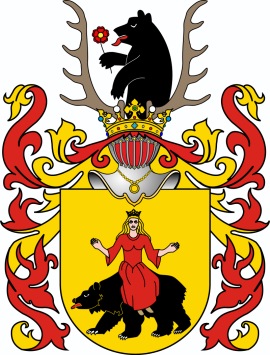 . Then, in 1487 the es­tate was bought from Grze­gorz Śniesz of Mo­ra­wi­ca (who was a grand­son of Mał­go­rza­ta, the wife of the cas­tle's founder) by pol­ish King Ka­zi­mierz Ja­giel­loń­czyk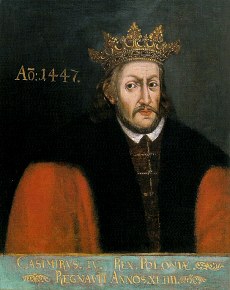 (d. 1492). How­ev­er, we do not know whether this trans­ac­tion in­volved on­ly home­steads and farm­land or whether the king al­so pur­chased the cast­le to­geth­er with them.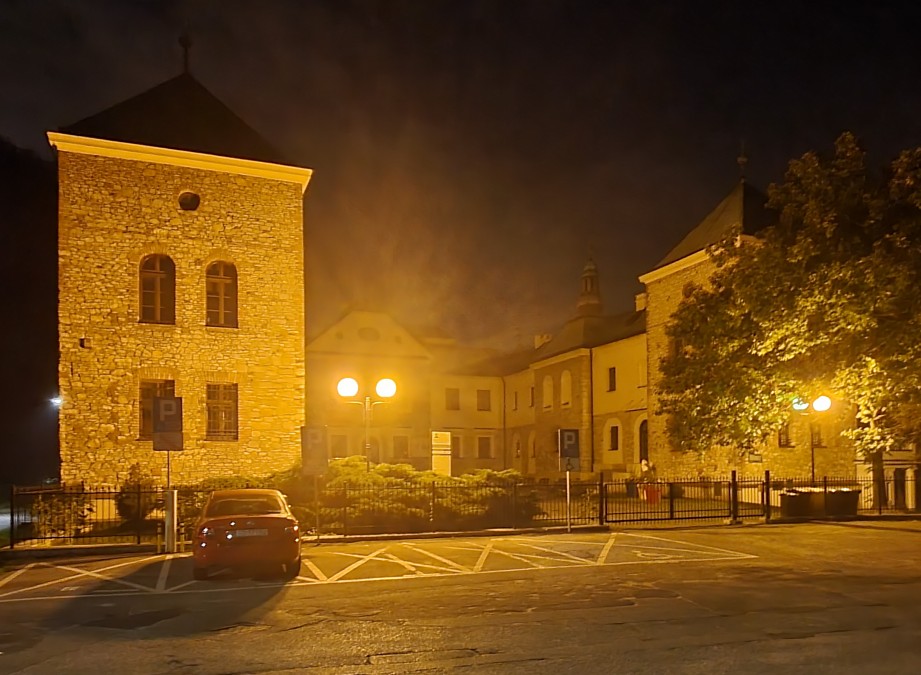 EASTERN ELEVATION OF SIELECKI CASTLE
I
n 1502 this land be­came the prop­er­ty of Sta­ni­sław Jaroc­ki of Ja­ro­czyn (d. 1515), the sta­rost of Sław­ków, who was a fa­vorite and a trustee of kings Alek­san­der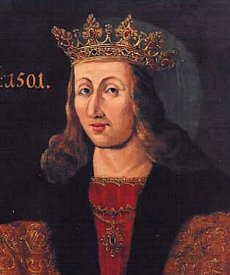 and Zyg­munt Sta­ry (Si­gis­mund the Old)
. Sta­ni­sław had sev­er­al daugh­ters and eight sons, who in­her­it­ed not on­ly Sie­lec but al­so Kli­mon­tów, Po­goń, a feu­dal right to the town of Bę­dzin with all its vil­lages and man­ors, as well as chests with jew­els and mon­ey, and be­sides that, three thou­sand zlo­tys de­posit­ed at Jan Bon­er. The sta­rost's de­scen­dants prob­a­bly sold the es­tate in Sie­lec be­cause in 1530 Hie­ro­nim (Ja­rosz) Bren­ner (d. 1543), the roy­al gold­smith, is men­tioned there. Bren­ner's daugh­ter, An­na, com­mit­ted a mis­al­liance by mar­ry­ing Wa­len­ty Klaj­ner (d. 1582), a for­mer butch­er and min­ing en­trepreneur. Klaj­ner came from the bour­geoisie class, so he had no right to in­her­it the no­ble es­tate. There­fore, he bought for him­self no­bil­i­ty from the Mi­nor fam­i­ly of Przy­by­sła­wi­ce and from then on he was known as Wa­len­ty Mi­nor of Pół­ko­zic coat of arms
. This gen­tle­man was fa­mous for his trou­ble­mak­ing char­ac­ter, as ev­i­denced by the fre­quent pres­ence of his name in court books and the fact that be­fore he mar­ried An­na, he sim­ply kid­napped her.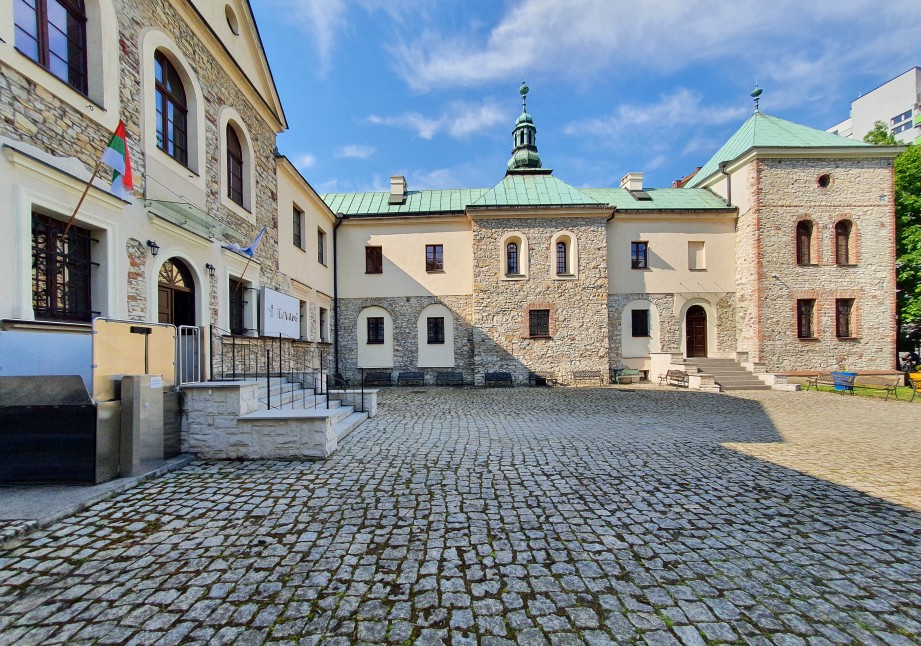 F
rom 1609 the own­er of Sie­lec was Se­bas­tian Mi­nor-Przy­by­sław­ski, one of eigh­teen (!) sons of Jan Mi­nor de Bie­chów, who was so strong that he broke horse­shoes and tore ropes. He spent sev­er­al years in wars in Hun­gary, con­quer­ing var­i­ous cas­tles as well as fight­ing in Pol­and at By­czy­na. He re­built the cas­tle and gave it the shape of a four-winged Re­nais­sance res­i­dence flanked by quadri­lat­er­al tow­ers and sur­round­ed by a deep moat. Con­struc­tion work was com­plet­ed in 1620, which is com­mem­o­rat­ed by a plaque with this date and the coat of arms of the Mi­nors - Pół­ko­zic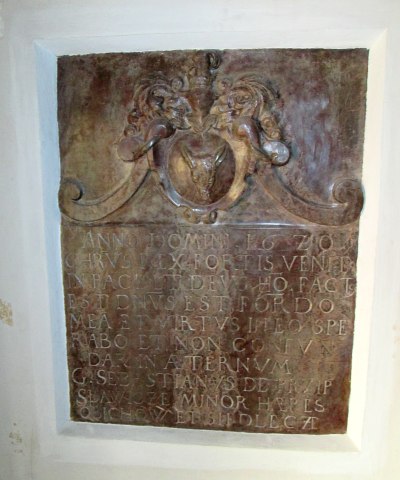 . In 1635 the es­tate was in­her­it­ed by his son Kon­stan­ty, and af­ter him by Sa­muel Alek­san­der, Kon­stan­ty's son. Af­ter Sa­mu­el's death, his wid­ow, Eu­fro­zy­na of Ja­roc­ki, mar­ried Krzysz­tof of Gar­by Mo­drzew­ski, coat of arms Osto­ja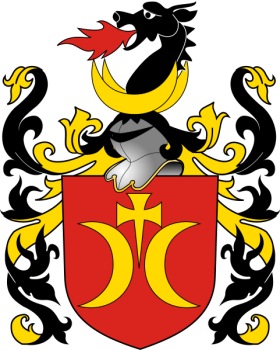 (d. ca. 1679), and there­by Sie­lec, with Mo­drze­jów and Wo­la, be­came the hered­i­tary prop­er­ty of this fam­i­ly. When Krzysz­tof died, the cas­tle was tak­en o­ver by his son Fran­ci­szek, a no­ble­man of great for­tune, a colo­nel in the cav­al­ry reg­i­ment. He left this world in 1717 when, in de­spair, he shot him­self in the head.
SIELECKI CASTLE AND PARK ON POSTCARDS FROM THE EARLY XX CENTURY
I
n the first half of the eigh­teenth cen­tu­ry Sie­lec was owned by Tę­go­bor­scy (coat of arms Szre­nia­wa
), for whom the es­tate was prob­a­bly pur­chased by Wa­le­rian Tę­go­bor­ski (d. 1819), the roy­al cham­ber­lain and head of king's gov­ern­ment for for­eign af­fairs. In 1776, the cas­tle be­came the prop­er­ty of Mi­chał Żu­liń­ski, colonel in the Pol­ish army. Its last Pol­ish own­er (or on­ly lease­hold­er) was court cham­ber­lain Jor­dan Sto­jow­ski of Trą­by coat of arms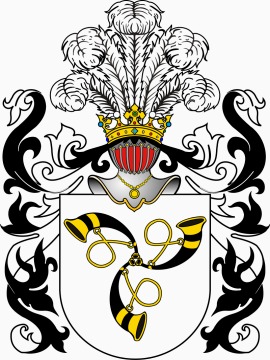 (d. 1846). In 1802 the vil­lage was in the hands of Prus­sian cav­al­ry gen­er­al Schim­mel­pfen­ning von der Oye, af­ter whose death a leg­end be­came pop­u­lar about a grave lo­cat­ed on Je­ner­al­ska Gó­ra (Je­ner­al­ska Hill), where he was sup­pos­ed­ly buried with his fa­vorite horse and faith­ful dog. From Jo­an­na, a wid­ow, the es­tate was bought in 1814 (or 1816) by Duke Lud­wik An­halt-Köthen von Pless
(d. 1841), who lat­er be­came the own­er of the Pszczy­na state. Un­til then Sie­lec was a typ­i­cal agri­cul­tur­al vil­lage, and it wasn't un­til the be­gin­ning of the 19st cen­tu­ry that lead and iron ore be­gan to be mined here. The first coal mine was al­so put in­to op­er­a­tion.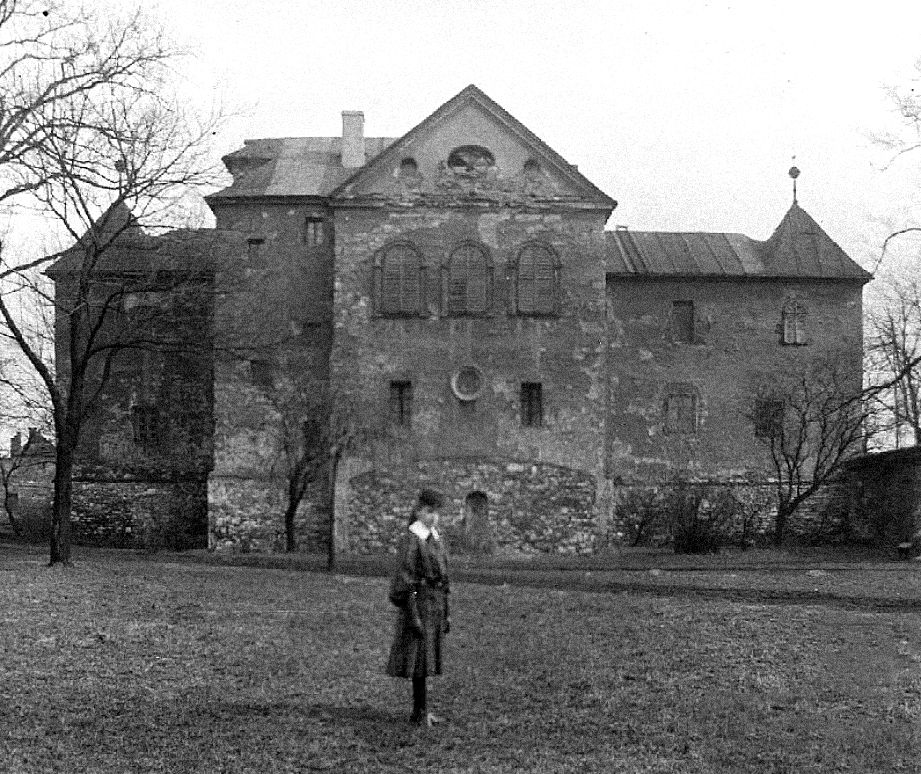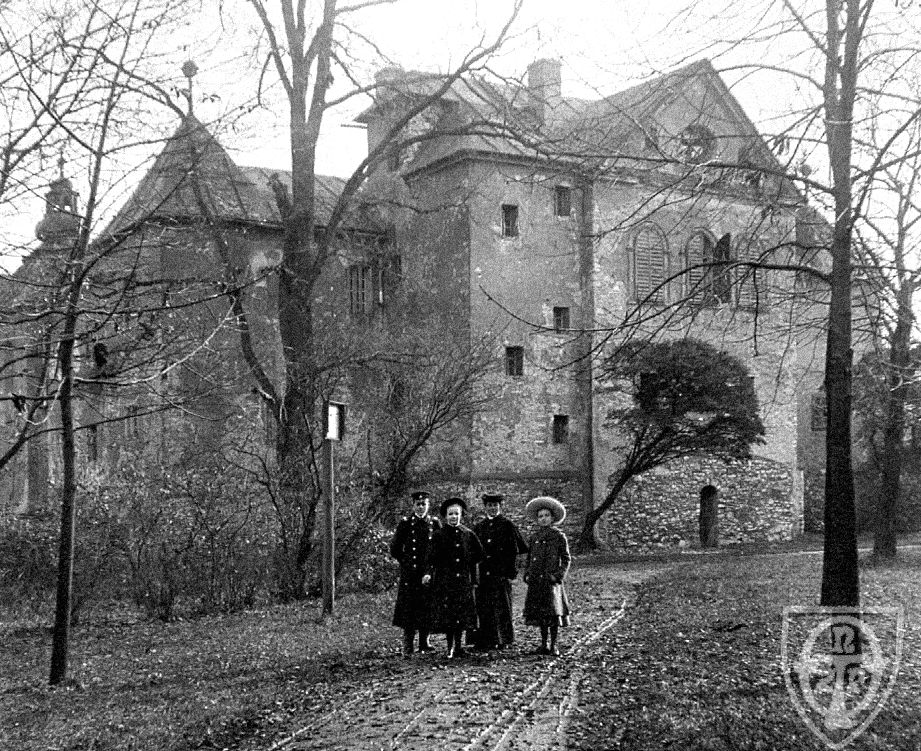 COMMEMORATIVE PHOTOS FROM SIELCE 1910-13, THE CASTLE VERY NEGLECTED
I
n 1824 a fire broke out in the cas­tle, which se­ri­ous­ly dam­aged it. As a re­sult, the duke was forced to un­der­take cost­ly re­pairs, dur­ing which sig­nif­i­cant changes were made to the ar­chi­tec­ture and dec­o­ra­tion of the build­ing. Based on the plans pre­pared by Jo­sef Heintz, the east­ern wing was de­mol­ished and the moats were filled in. In this way, the last traces of the old de­fen­sive fea­tures were re­moved, and the build­ing was giv­en a palace char­ac­ter, with an ex­ten­sive farm and park area. In 1836 Si­elec was tak­en o­ver by Lud­wig's niece - Char­lotte von Stol­berg-Wer­ni­ge­ro­de de do­mo Hoch­berg. From her, in 1856, the cas­tle was bought by Count An­dreas Ma­ria Re­nard
(d. 1874) from Strzel­ce Opol­skie, co-own­er of the War­saw-Vi­en­na Rail­way Com­pa­ny, who in­tend­ed to use it as the seat of his son, Jo­hann Re­nard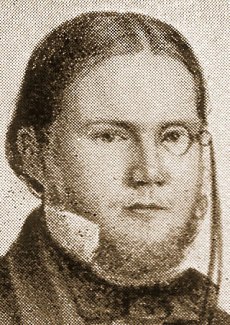 . Be­sides the prop­er­ties of Sie­lec-Mo­drze­jów, Jo­hann re­ceived from his fa­ther es­tates in Gó­ra Sie­wier­ska, Krzy­żo­wi­ce and Klu­cze, as well as clay and coal mines and lime kilns. He didn't, how­ev­er, per­son­al­ly take care of the econ­o­my in Sie­lec as he held the of­fice of the Prus­sian con­sul in Vi­en­na and lived ev­ery day in the Aus­tri­an cap­i­tal, where he died in 1874. Af­ter his ear­ly and child­less death, the prop­er­ty passed to An­dreas Maria's grand­sons: Mor­ti­mer von Tschir­schky-Re­ichel (d. 1908) and Eu­fe­mia von Eu­len­burg auf Pras­sen.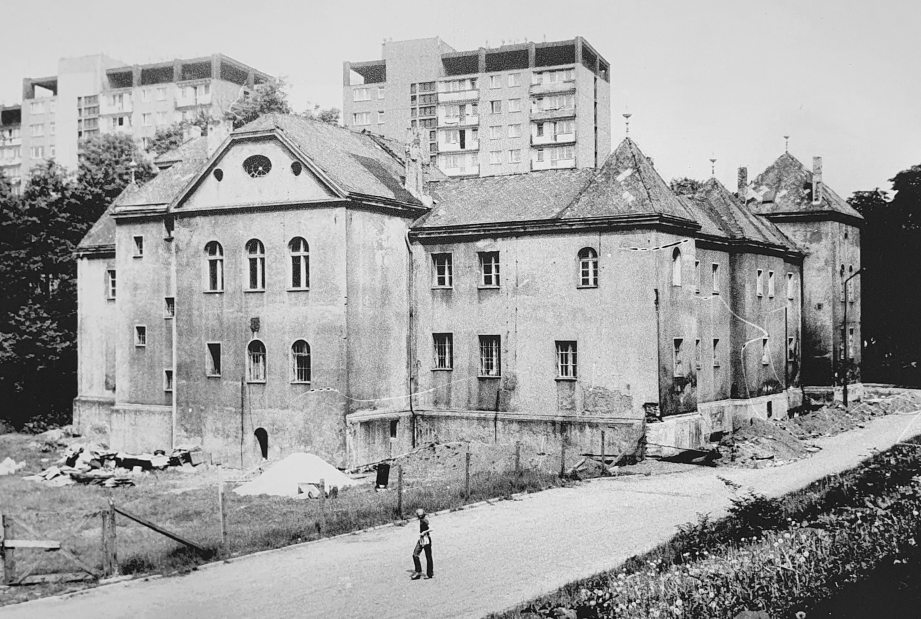 70S OF THE XX CENTURY (?)
I
n 1884 the mine and its prop­er­ty and lands were ac­quired from the heirs of Count Re­nard by the min­ing and in­dus­tri­al com­pa­ny Gwa­rec­two hra­bia Re­nard, which made the cas­tle in Sie­lec its new seat. From then un­til the end of World War II, it housed of­fices of the com­pa­ny. Af­ter be­ing tak­en o­ver by the state, the ad­min­is­tra­tion of the So­sno­wiec mine and the Min­ing Mu­se­um were placed in the cas­tle. At that time, the cas­tle's sur­round­ings were al­so changed. The ex­ist­ing farm build­ings were de­mol­ished and re­placed by a hous­ing es­tate, and in place of the for­mer ponds a swim­ming pool
and an ice rink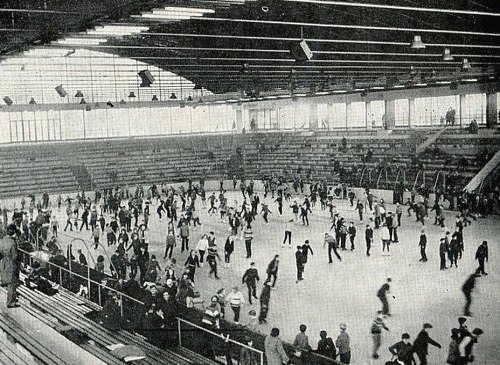 were built. In 1977, the new own­er, Vit­ro­pol glass­works, ren­o­vat­ed the palace and then ar­ranged the mod­ern glass show­room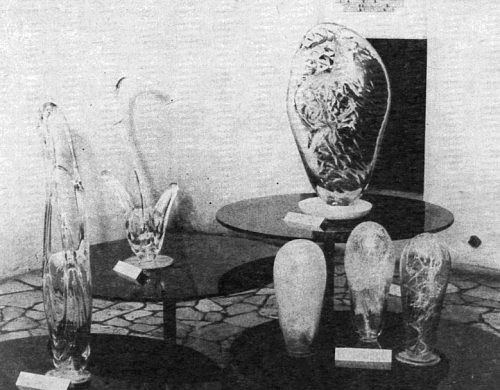 there. Af­ter the fall of com­mu­nism, the cas­tle was adapt­ed to wed­ding hall of the Reg­istry Of­fice, a restau­rant and a con­fer­ence com­plex, but due to its very poor con­di­tion, in 1995 all ac­tiv­i­ties were stopped and the build­ing was closed. A few years lat­er, a ma­jor ren­o­va­tion of the cas­tle was start­ed and, af­ter its com­ple­tion, the mu­nic­i­pal cul­tur­al cen­ter was placed in it.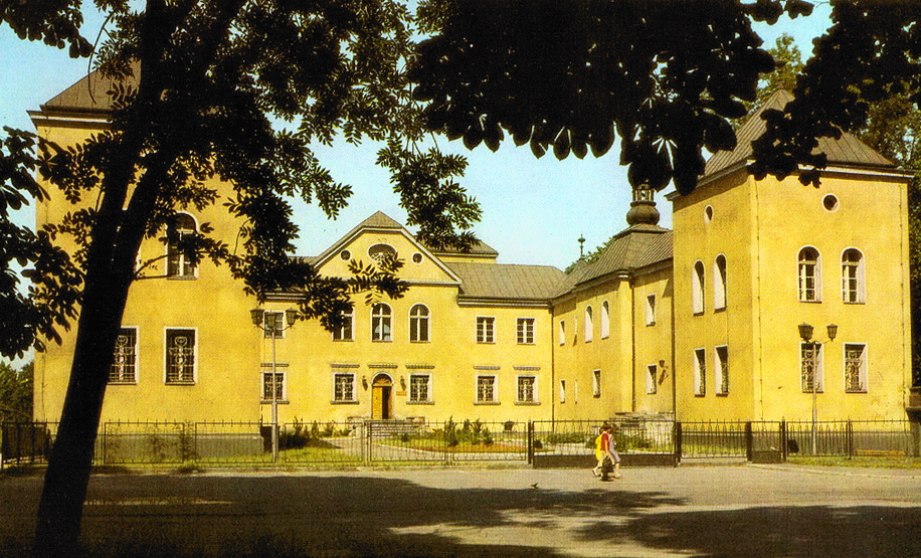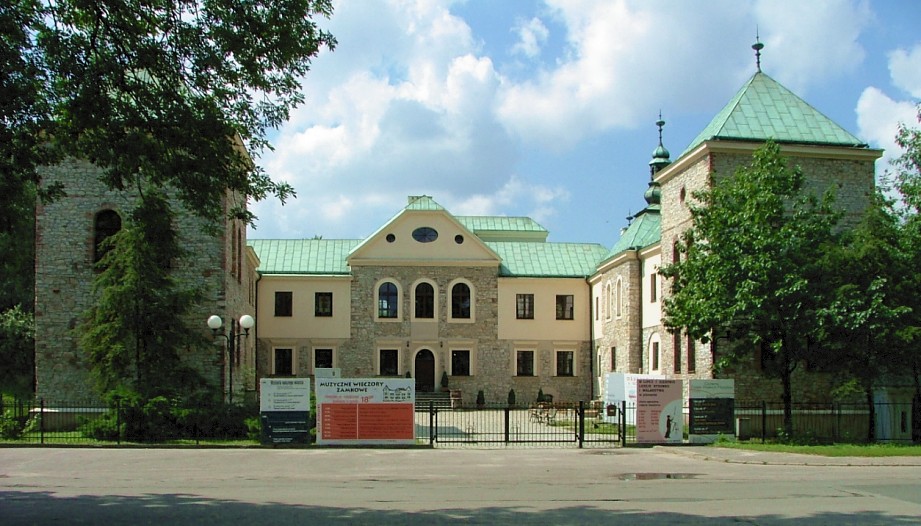 EASTERN ELEVATION OF THE CASTLE BEFORE (1984) AND AFTER RESTORATION (2004)
DESCRIPTION OF THE CASTLE
T
he form and spa­tial lay­out of the me­dieval cas­tle is un­known. It was prob­a­bly a res­i­den­tial tow­er or a res­i­den­tial sin­gle-wing cas­tle, which may have been strate­gi­cal­ly con­nect­ed with the roy­al fort­ress in Bę­dzin, lo­cat­ed 7 kilo­me­ters away. In 15th cen­tu­ry doc­u­ments it is men­tioned as for­t­al­i­ci­um alias Twy­ercz called Szy­dlecz, which un­doubt­ed­ly proves the ex­is­tence of for­ti­fi­ca­tions here. Ar­chae­o­log­i­cal re­search shows on­ly that in the area of con­tem­po­rary court­yard there was a Ro­man build­ing erect­ed on a square or rect­an­gu­lar plan, which in the fi­nal phase of func­tion­ing was prob­a­bly used as a lime kiln. Al­so, in the cor­ner tow­ers, the re­mains of ear­li­er (small­er) tow­ers with gun holes were dis­cov­ered.
PLAN OF THE CASTLE BEFORE REVITALIZATION, THE DASHED LINE MARKS
FOUNDATIONS OF NON-EXISTING WALLS AND BASEMENTS OF THE EAST WING
A
t the be­gin­ning of the 17th cen­tu­ry, the cas­tle was trans­formed in­to a mag­nif­i­cent four-winged ed­i­fice with square cor­ner tow­ers
and four small­er tow­ers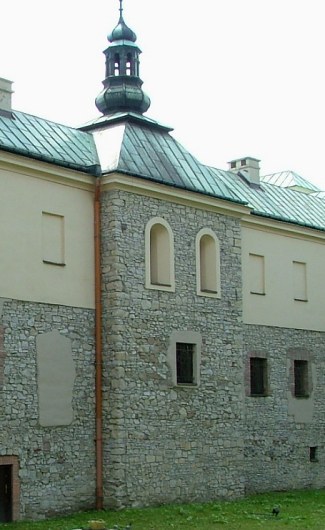 in­cor­po­rat­ed in­to res­i­den­tial wings. The cas­tle was built of bro­ken lime­stone and brick and sur­round­ed by a deep moat. West Wing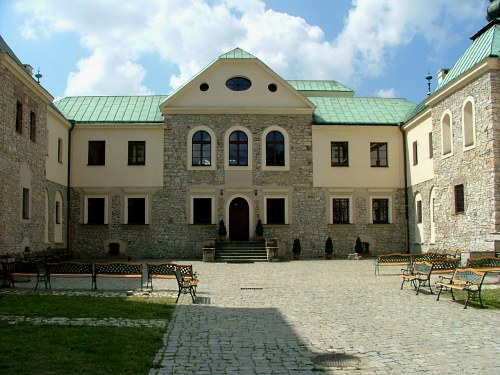 was, as it is to­day, the largest and most im­por­tant part of the new res­i­dence. It con­tained the main en­trance, lo­cat­ed on the ax­is marked by a gate and a draw­bridge pre­ced­ing it. This gate was the main part of the east­ern wing (de­mol­ished in the 19th cen­tu­ry), which served pri­mar­i­ly as a com­mu­ni­ca­tion link, but al­so for eco­nom­ic and for­ti­fi­ca­tion pur­pos­es. The oth­er three wings on the first floor fac­ing the court­yard were equipped with ar­cad­ed gal­leries. To­day, some of these gal­leries are bricked up and some have been turned in­to win­dows or doors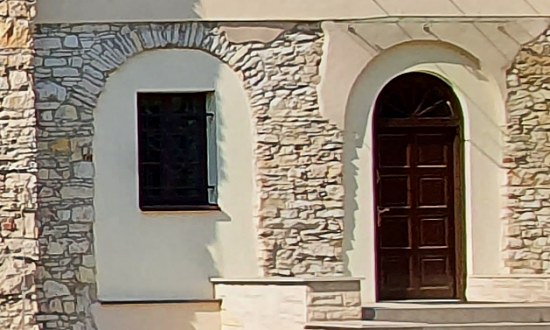 . There were 38 rooms in the cas­tle, the pur­pose of which is un­known. It is on­ly con­firmed that in the tow­er (risalit) of the north­ern wing there was a bar­rel vault­ed chapel, while in the north­east­ern tow­er the re­mains of a me­dieval lava­to­ry were found. Ver­ti­cal com­mu­ni­ca­tion be­tween the cas­tle floors was pro­vid­ed by stair­cas­es lo­cat­ed in the north- and south-west tow­ers.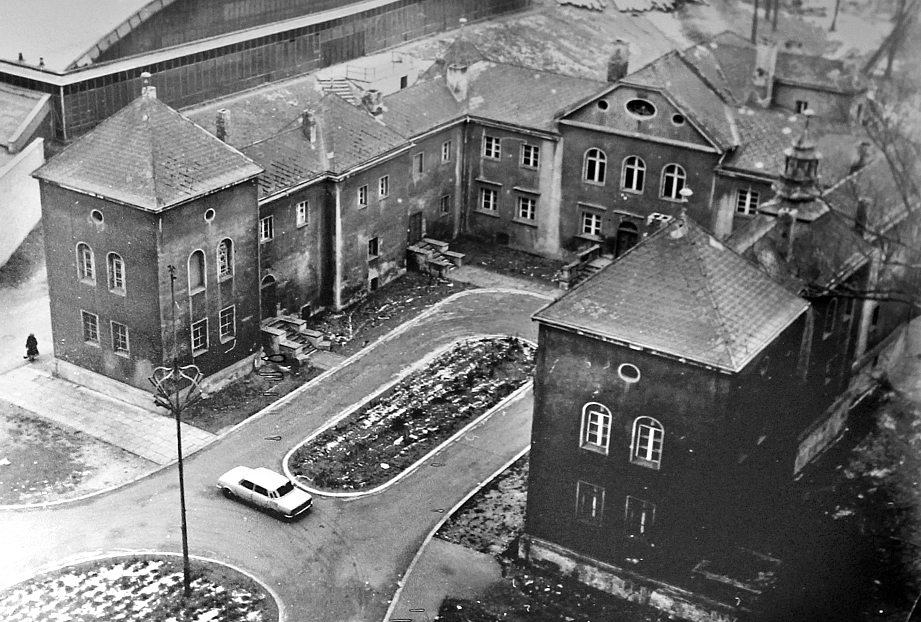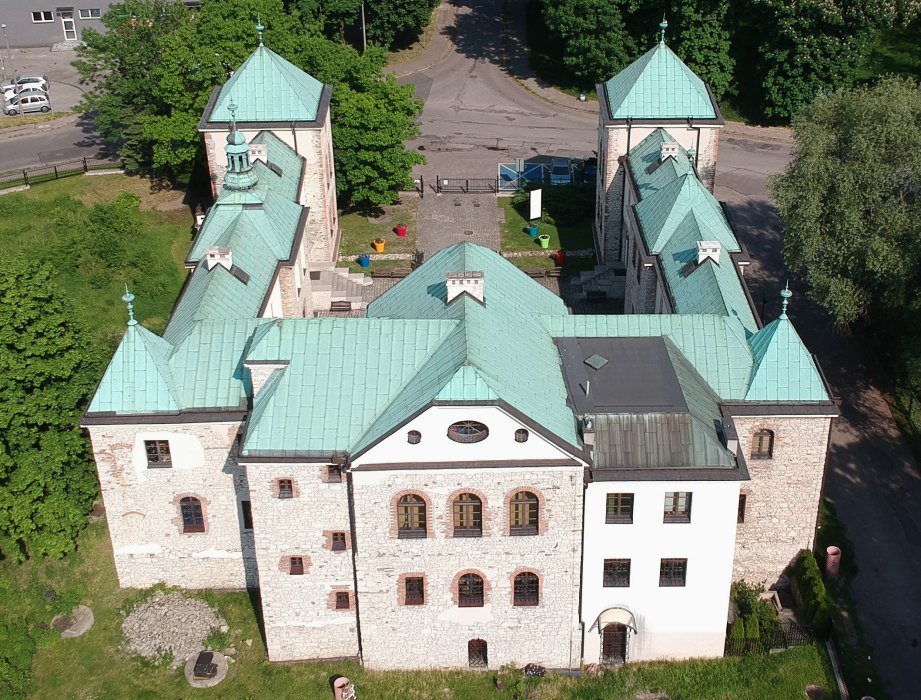 BIRD'S EYE VIEW OF SIELECKI CASTLE, VIEW FROM NORTH-EAST (1978)
ON THE PHOTO BELOW, THE WESTERN ELEVATION WITH NEW BUILDING (WHITE PLASTERED)
---
T
he cas­tle is cur­rent­ly the seat of Sos­no­wiec Art Cen­ter - Sie­lec­ki Cas­tle. Var­i­ous ex­hi­bi­tions, meet­ings and artis­tic events are held here. In one of the tow­ers there is a small ex­hi­bi­tion called Dis­cov­er the Sie­lec Cas­tle with us, where re­sults of ar­chae­o­log­i­cal ex­ca­va­tions are pre­sent­ed, which doc­u­ment the for­mer ap­pear­ance of the res­i­dence and changes it has un­der­gone o­ver cen­turies. We can see there, among oth­ers, relics of a me­dieval tow­er, as well as a pre­served frag­ment of a stone toi­let.
ARCHAEOLOGICAL AND HISTORICAL EXHIBITION TITLED "DISCOVER THE SIELECKI CASTLE WITH US"
H
ow­ev­er, the main ex­hi­bi­tion space in Sie­lec cas­tle is used for tem­po­rary ex­po­si­tions. When we vis­it­ed here in spring 2021, we had great plea­sure to en­hance our knowl­edge about the struc­ture and func­tion­ing of the hu­man brain and learn­ing more about as­pects of hu­man sub­con­scious. The ex­hi­bi­tion en­ti­tled The Brain. Where does think­ing come from? ab­sorbed us com­plete­ly, al­though it was ad­dressed to...chil­dren. At the same time the adult au­di­ence was of­fered a gallery of ex­cel­lent pho­tographs by Zbi­gniew Bek­siń­ski, ti­tled The point of White. The point of black.
"THE BRAIN. WHERE DOES THINKING COME FROM?"
| | |
| --- | --- |
| | Ad­mis­sion is free to the court­yard and to main hall (where tick­et of­fice and store are lo­cat­ed). There is a fee for ex­hi­bi­tions, but the en­trance fees are rel­a­tive­ly low. |
| | |
| --- | --- |
| | You can take free pic­tures of the cas­tle in­te­ri­ors (for your own use). |
| | |
| --- | --- |
| | You can en­ter the cas­tle with your dog! |
"THE POINT OF WHITE. THE POINT OF BLACK"
XVII CENTURY POLYCHROMES DECORATE ONE OF THE ROOMS ON THE SECOND FLOOR
---
T
he cas­tle is lo­cat­ed near the north­east­ern bor­der of Sie­lec­ki Park, on Zam­ko­wa Street. Its im­me­di­ate neigh­bor­hood is not very at­trac­tive, and be­ing more blunt, it is quite de­press­ing. The build­ing seems to be wedged be­tween an old, ne­glect­ed ice rink, post-com­mu­nist blocks of flats and a noisy (in the sum­mer) swim­ming pool. This lo­ca­tion gives at least the ad­van­tage of a large choice of means of trans­port - you can eas­i­ly get here both by tram­way and bus. If you have come to Sos­no­wiec by train, you should leave the 'Sos­no­wiec Głów­ny' train sta­tion and turn left in­to 3 ma­ja Street (di­rec­tion: north­east), and con­tin­ue walk­ing straight along the road. The walk takes about 25 min­utes.
| | |
| --- | --- |
| | Bi­cy­cles can be left in the court­yard (there are no bi­cy­cle racks, 2021). |
---
1. R. Bryła: Zamek Sielecki w Sosnowcu. Historia prawdziwa, Elipsa 2015
2. J. Dzikowski: Zamek Sielecki. Muzeum Szkła Współczesnego w Sosnowcu, Muzealnictwo 1984
3. L. Kajzer, J. Salm, S. Kołodziejski: Leksykon zamków w Polsce, Arkady 2001
4. A. Makarska: Z dziejów Sielca i Pekinu Katarzyńskiego, Uniwersytet Śląski 2014
5. A. Wagner: Murowane budowle obronne w Polsce X-XVIIw., Bellona 2019
Castles nearby:
Będzin - royal castle from the 14th century, 7 km
Siemianowice Śląskie - castle-palace of Donnersmarck family from the 18th century., 14 km
Siewierz - ruins of the castle of Cracow bishops from the 15th century, 21 km

text: 2021
photographs: 2004, 2021
© Jacek Bednarek