ĆMIELÓW

bastion castle ruin
ĆMIELÓW, CASTLE REMAINS ON THE ISLAND
---
D
ue to the lack of com­plex ar­chae­o­log­i­cal re­search, the date of cas­tle erec­tion can­not be clear­ly de­ter­mined. From me­dieval doc­u­ments we on­ly know that around 1388 the broth­ers Mar­cin and Mi­ko­łaj of Do­li­wa coat of arms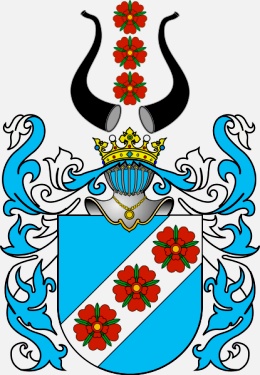 sold the vil­lage of Sczmy­elow with cas­trum to Gnie­wosz of Da­le­wi­ce, a cham­ber­lain of Cra­cow. The year 1415 is the date of doc­u­ments men­tion­ing Der­sław de Sczmy­elow as the own­er or lease­hold­er of the vil­lage, fol­lowed by Gnie­wosz the Younger, who in 1425 sold it to Jan of Pod­lo­dów of Jan­i­na coat of arms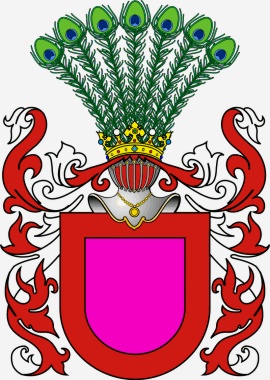 . How­ev­er, it is still an open ques­tion to de­ter­mine be­yond any doubt whether the term cas­trum men­tioned here refers to the cas­tle on the is­land ly­ing to­day with­in the ad­min­is­tra­tive bor­ders of Ćmie­lów. It should be re­mem­bered that not far from here, in Pod­gro­dzie, on­ly 3 km away, there was al­ready a knight's seat at that time, so these notes may well re­fer to this strong­hold.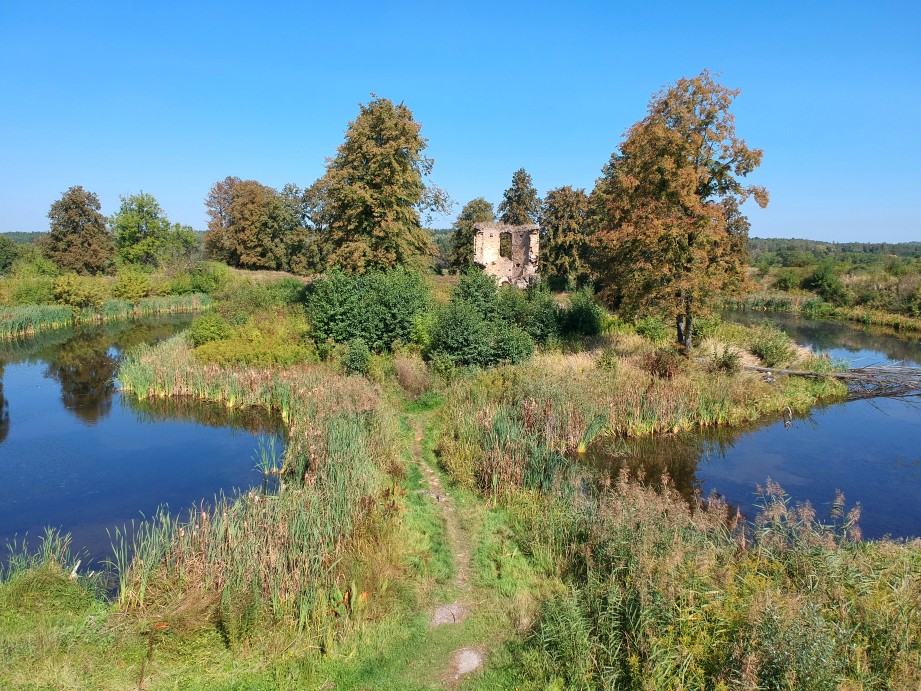 GOING TO THE CASTLE ISLAND
I
n 1473, the then own­er of the vil­lage, Sta­ni­sław Gro­cho­lic of Sy­ro­kom­la coat of arms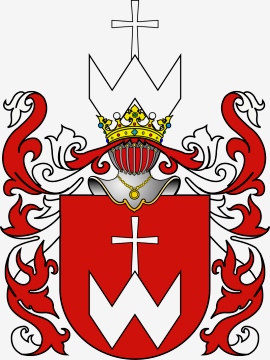 , mar­ried Ka­ta­rzy­na, the daugh­ter of Sta­ni­sław Szy­dłowiec­ki
(d. 1494). Short­ly there­after, her broth­er, Grand Trea­sur­er of the Crown Ja­kub Szy­dło­wiec­ki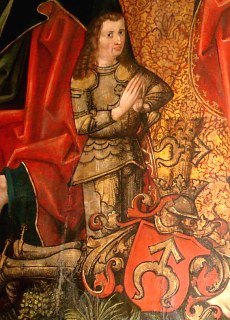 of Odro­wąż coat of arms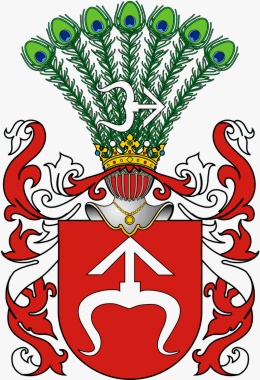 (d. 1509) bought a num­ber of es­tates along the Ka­mi­en­na Riv­er, among them Ćmie­lów, which he grant­ed town rights to and es­tab­lished as the main seat of his fam­i­ly. Pre­sum­ably, it was on his ini­tia­tive that the con­struc­tion of a new cas­tle be­gan, or the re­build­ing of an old­er Goth­ic strong­hold in­to a Re­nais­sance for­tial­ice. Af­ter Jakub's death, the town was bought by his broth­er, the gen­er­ous and great lord Krzy­sztof Szy­dło­wiec­ki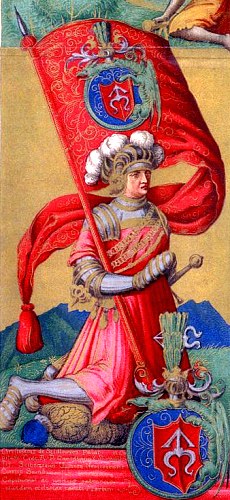 (d. 1532), gov­er­nor of Cra­cow. And it was thanks to him that the cas­tle be­came a grand res­i­dence, the re­mains of which are pre­served as a ru­in.
GATE TOWER AS SEEN FROM THE CASTLE ISLAND
W
hen Krzysztof Szy­dłowiec­ki died, the cas­tle was in­her­it­ed by his wife, Zo­fia Tar­gow­ic­ka of Tar­na­wa coat of arms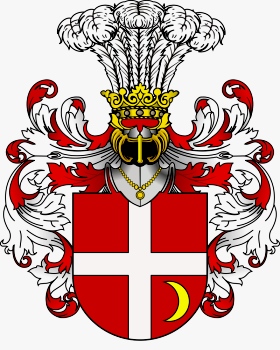 (d. 1556), who lived there with her three daugh­ters: Elż­bie­ta, Kry­sty­na and Zo­fia. The youngest of them, Elż­bie­ta Szy­dło­wiec­ka
(d. 1562), it was right here, at the cas­tle in Ćmie­lów - at the age of 16 - that she gave birth to Mi­ko­łaj Krzy­sztof Ra­dzi­wiłł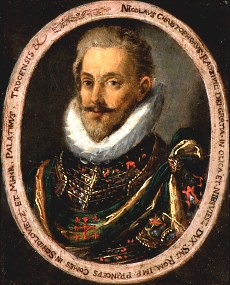 (d. 1616), lat­er Grand Mar­shal of Li­thua­nia. The res­i­dence be­longed then to Szy­dło­wiec­ki's el­dest daugh­ter, Zo­fia, who in 1530 brought it as a mar­riage dowry to Jan Amor Tar­now­ski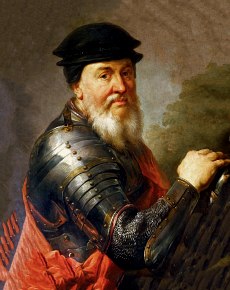 of Le­li­wa coat of arms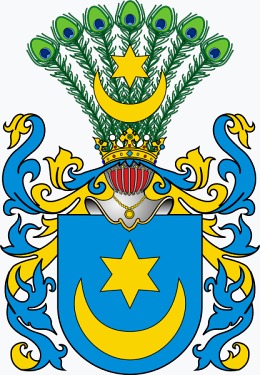 , Grand Het­man of the Crown (d. 1561). Lat­er, through the mar­riage of their daugh­ter Zofia Tar­now­ska (d. 1570) to Duke Kon­stan­tin Va­syl Os­trog­ski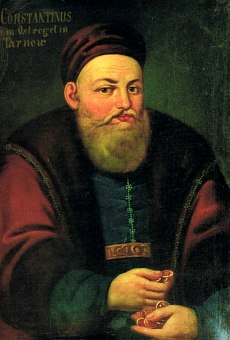 (d. 1608), Ćmie­lów be­came part of the prop­er­ty of the pow­er­ful Os­trog­ski fam­i­ly.
GATE TOWER, VIEW FROM THE SOUTH
I
n 1608 the es­tate was in­her­it­ed by the son of Kon­stantin Va­syl and Sophia Tarnovskaya, Duke Ja­nusz Kon­stanti­no­vich Os­trog­ski
(d. 1620), one of the wealth­i­est Pol­ish aris­to­crats in the whole 17th cen­tu­ry. On his ini­tia­tive the cas­tle gained bas­tion for­ti­fi­ca­tions, new can­nons and an am­mu­ni­tion de­pot, as well as a per­ma­nent mil­i­tary crew com­mand­ed by a cer­tain Jakub Szczur­ski, a cap­tain. Af­ter Os­trog­ski's death, a huge es­tate of 80 towns, 2,760 vil­lages and more than 2 mil­lion zlo­tys in cash and valu­ables was giv­en to his mi­nor grand­son Fran­ci­szek Za­sław­ski (d. 1622). Un­til he came of age, they were man­aged by le­gal tu­tors, who, in the opin­ion of their con­tem­po­raries, plun­dered much of this trea­sure.
REMAINS OF THE LOWER CASTLE: GATE TOWER AND WEST WING
T
he new heir, how­ev­er, did not en­joy the huge in­her­i­tance for too long, as al­ready in 1622 he died trag­i­cal­ly af­ter falling from walls of the cas­tle in Os­tróg
. His suc­ces­sor at the age of just six be­came Wła­dy­sław Do­mi­nik Za­sław­ski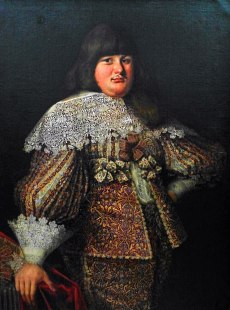 (d. 1656), but due to the or­di­nate's un­der­age age, the es­tate was man­aged by his fa­ther Alex­an­der, Voi­vode of Bra­cław (d. 1629). Three decades lat­er, the cas­tle bas­tion for­ti­fi­ca­tions, though still state-of-the-art, failed to re­sist the troops of Tran­syl­va­ni­an Prince Ge­orge II Ra­ko­czy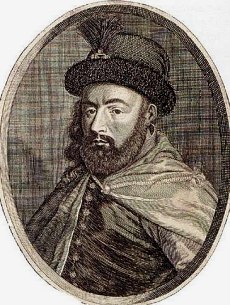 (Rákó­czi Györ­gy, d. 1660), who seized the town and the cas­tle by force in the spring of 1657. Short­ly there­after, a meet­ing be­tween Ra­ko­czy and King Charles X Gus­tav of Swe­den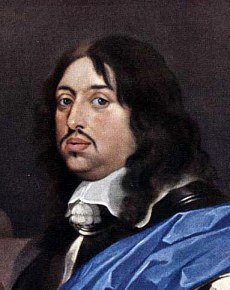 (d. 1660) took place in its in­te­ri­ors.
CEREMONIAL MEETING BETWEEN GEORGE RAKOCZY AND CHARLES GUSTAV NEAR ĆMIELÓW CASTLE
ERIK DAHLBERG'S DRAWING FROM THE SECOND HALF OF THE XVII CENTURY, THE CASTLE CAN BE SEEN ON THE RIGHT
HERE'S THE CASTLE ZOOMED IN
S
tay of the Swedish and Tran­syl­va­ni­an armies in Ćmie­lów, al­though short, caused ex­ten­sive dam­age and dev­as­ta­tion to its in­te­ri­ors and fur­nish­ings. The cas­tle was fi­nal­ly de­stroyed by the Swedes in 1702, and as a con­se­quence the own­ers de­cid­ed to par­tial­ly de­mol­ish it. Ćmie­lów es­tate then be­longed to Te­ofi­la Lud­wi­ka Za­sław­ska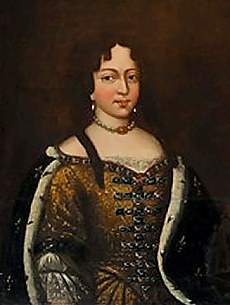 (d. 1709), and then to her son from a sec­ond mar­riage, Alek­san­der Do­minik Lu­bo­mir­ski (d. 1720). In 1753 the last, 8th Or­di­nate of Os­tróg, Ja­nusz Alek­san­der San­gusz­ko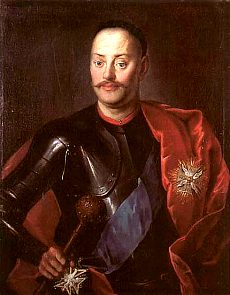 (d. 1775), di­vid­ed the fee tail among sev­er­al aris­to­crat­ic fam­i­lies and mi­nor no­bil­i­ty. A part of the do­main, in­clud­ing Ćmie­lów, was then ac­quired by the Grand Crown Chan­cel­lor Jan Ma­ła­chow­ski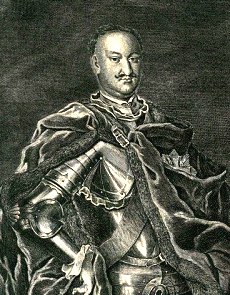 of Na­łęcz coat of arms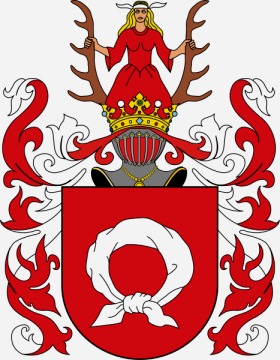 (d. 1762). His son Ja­cek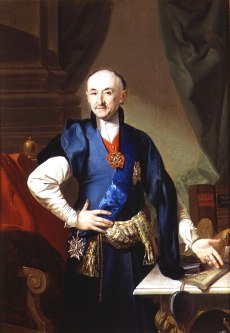 (d. 1821) still made some re­pairs and ren­o­va­tions to the old man­sion in the 1770s, but it nev­er re­gained its for­mer splen­dor and in time fell in­to dis­re­pair.
CASTLE RUINS ON A POSTCARD OF THE POLISH SIGHTSEEING SOCIETY FROM THE BEGINNING OF THE XX CENTURY
A
round 1800, Count Ja­cek Mała­chows­ki adapt­ed the cas­tle build­ings in­to a brew­ery. Af­ter his death, the es­tate of Ćmie­lów, in­clud­ing afore­men­tioned brew­ery and a porce­lain fac­to­ry stand­ing near­by, was in­her­it­ed by his son Jan Count Ma­ła­chow­ski. How­ev­er, he died just a dozen days af­ter his fa­ther, so soon af­ter­wards part of the es­tate in­clud­ing Ćmie­lów was giv­en to Jan's sis­ter, Fran­cisz­ka Count­ess Kar­wic­ka, who in 1828 passed it on to her chil­dren Ka­zi­mierz (d. 1852) and An­na (d. 1881). Three years lat­er, their in­her­i­tance was ac­quired by Te­re­sa Sci­pio del Cam­pio Duchess Druc­ka Lu­bec­ka (d. 1847), be­com­ing the own­er of the Ćmie­lów, Bał­tów and Sa­dów es­tates. Her lega­cy came to her on­ly daugh­ter Ma­ria Duchess Druc­ka Lu­bec­ka
(d. 1876), who in the 1850s passed it on to her son Alek­san­der Me­dard Fran­ci­szek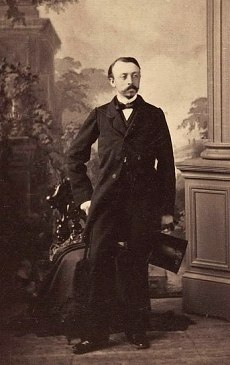 (d. 1908), and the lat­ter in 1896 gave it to his son, Alek­san­der Egi­diusz Ksa­we­ry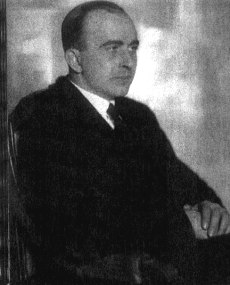 (d. 1926).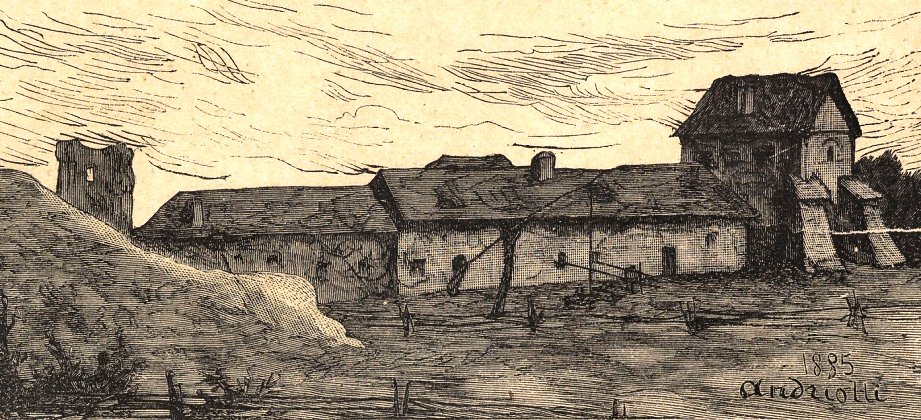 CASTLE-BREWERY, ENGRAVING FROM 1885
S
hort­ly af­ter Poland re­gained its in­de­pen­dence (1918), Alek­san­der Lu­bec­ki made the de­ci­sion to par­cel out and par­tial­ly sell his prop­er­ty - thus re­mains of the cas­tle, along with a 3.5 hec­tare plot, be­came the prop­er­ty of a cer­tain Kac­per Bar­gel and his heirs, in whose hands they re­mained al­most un­til the end of the 20th cen­tu­ry. Ear­li­er, how­ev­er, in 1944, the gate­house brief­ly served as a Ger­man mil­i­tary hos­pi­tal, and just af­ter the war, a con­crete plant op­er­at­ed here, while the west­ern wing was used as a sheep­fold. In 2009, the ru­in was pur­chased by a pri­vate in­vestor, who cleaned up the site and be­gan restor­ing the cas­tle walls, but this work stopped a few years lat­er, and the cas­tle once again fell in­to ne­glect. In 2022 it passed in­to the hands of new own­ers.
DESCRIPTION OF THE CASTLE
T
he ru­ins of the cas­tle in Ćmielów are a bit of a mys­tery to his­to­ri­ans, as no com­pre­hen­sive ar­chae­o­log­i­cal stud­ies have ev­er been car­ried out here due to un­fa­vor­able ter­rain con­di­tions. The lack of such stud­ies pre­vents us from ac­cept­ing with cer­tain­ty the the­sis that a me­dieval stronghold had pre­vi­ous­ly func­tioned on the site of the Szy­dłowiec­ki Re­nais­sance res­i­dence. The 16th-cen­tu­ry cas­tle, frag­ments of which have sur­vived to the pre­sent day, con­sist­ed of two main parts: the up­per cas­tle, lo­cat­ed on an is­land, and the low­er cas­tle ex­tend­ing south from it.
PLAN OF THE CASTLE: 1. RESIDENTIAL BUILDINGS, 2. CHAPEL, 3. GATE,
4. MOAT, 5. LOWER CASTLE, 6. BASTIONS
T
he up­per cas­tle was erect­ed on a small is­land, sur­round­ed by a moat fed by a stream flow­ing near­by. It con­sist­ed of two, par­al­lel to each oth­er, two-sto­ry res­i­den­tial build­ings, con­nect­ed by a polyg­o­nal chapel and a cur­tain wall with a gate. The chapel, ded­i­cat­ed to the Ho­ly Trin­i­ty, the As­sump­tion of the Moth­er of God, St. An­ne and St. Chris­to­pher, con­sist­ed of a nave and a po­lyg­o­nal closed chan­cel. It oc­cu­pied the ground floor, while the first floor pre­sum­ably con­tained liv­ing quar­ters. The 16th-cen­tu­ry cas­tle was sur­round­ed by the afore­men­tioned moat and prob­a­bly an earth­en ram­part.
PLAN OF THE CASTLE RUINS ACCORDING TO "KWARTALNIK ARCHITEKTURY I URBANISTYKI"
T
o the south of the up­per cas­tle a se­quence of build­ings con­nect­ed in the shape of the let­ter L, called here the low­er cas­tle, was erect­ed. These build­ings in the east­ern part in­clud­ed a low ed­i­fice and a three-sto­ry gate tow­er with a spa­cious vault­ed hall­way. A build­ing ori­ent­ed per­pen­dic­u­lar­ly to the north was added to the west, prob­a­bly a two-sto­ry house, with the first floor pre­sum­ably hav­ing a typ­i­cal­ly util­i­tar­i­an char­ac­ter.
HYPOTHETICAL LOOK OF THE LOWER CASTLE FROM THE HEYDAY OF THE RESIDENCE
BIRD'S-EYE VIEW: IN THE FOREGROUND THE LOWER CASTLE, BEHIND THEM THE ISLAND WITH THE UPPER CASTLE RELICS
A
t the be­gin­ning of the 17th cen­tu­ry, the cas­tle re­ceived earth­works with four bas­tions, which de­fend­ed it against Swedish troops in 1657. Fur­ther south were gar­dens and a manor farm.
BALISTRARIA IN THE GROUND FLOOR OF THE LOWER CASTLE
---
O
n­ly frag­ments of the for­mer chapel with rem­nants of poly­chromy have sur­vived from the up­per cas­tle, as well as relics of the res­i­den­tial wings. The build­ings of the low­er cas­tle re­main in much bet­ter con­di­tion, es­pe­cial­ly the gate tow­er, where Goth­ic-Re­nais­sance stonework de­tails have been pre­served, in­clud­ing win­dow frames, the foun­da­tion plaque and bal­is­traria. The lat­ter, lo­cat­ed to­day just above the ground, may in­di­cate the suc­ces­sive col­lapse of the walls in the mud­dy ter­rain. The bas­tion for­ti­fi­ca­tions are now in­com­plete, but still rec­og­niz­able.
ENTRANCE TO THE CASTLE CELLARS, IN THE BACKGROUND WE CAN SEE REMAINS OF THE CHAPEL
| | |
| --- | --- |
| | The ru­ins are pri­vate­ly owned, and ac­cess to them is cur­rent­ly not pos­si­ble (as of 2023). Ar­chae­o­log­i­cal and preser­va­tion work is be­ing car­ried out here in 2023, af­ter which par­tial re­con­struc­tion of the cas­tle is planned. |
The pho­tographs show the con­di­tion of the ru­ins in 2020 and 2021, when it was open to the pub­lic and very ne­glect­ed. The cur­rent state of the cas­tle pre­sum­ably dif­fers from that pre­sent­ed on this page.
---
T
he cas­tle ru­ins are lo­cat­ed near Zam­ko­wa Street, about 1 km east of the Mar­ket Square. The rail­road does not reach Ćmie­lów.
| | |
| --- | --- |
| | Two hik­ing trails run through Ćmie­lów: the blue trans-re­gion­al trail and the black mil­i­tary ar­chi­tec­ture trail. |
---
1. R. Jurkowski: Zamki świętokrzyskie, Wydawnictwo CM 2017
2. L. Kajzer, J. Salm, S. Kołodziejski: Leksykon zamków w Polsce, Arkady 2001
3. D. Kalina: Bałtów – zespół rezydencjalny, dawnekieleckie.pl
4. B. Klimek, Ł. Turowski: Zamek w Ćmielowie – hi­sto­ria, do­ku­men­ta­cja i oce­na sta­nu tech­nicz­ne­go, Po­li­tech­ni­ka Lu­bel­ska 2013
5. M. Lewicka: Problemy ochrony konserwatorskiej zespołu wie­lo­ele­men­to­we­go zam­ku w Ćmie­lo­wie, Po­li­tech­ni­ka Lu­bel­ska 2013
6. K. Łopatecki: Konfederacje byłych klientów, sług i pra­cow­ni­ków Ja­nu­sza Ostrog­skie­go dzia­ła­ją­ce w la­tach 1620-1621, Stu­dia Hi­sto­rycz­ne 3/2016
7. R. A. Sypek: Zamki i warownie ziemi san­do­mier­skiej, TRIO 2003
8. A. Wagner: Murowane budowle obronne w Polsce X-XVIIw., Bellona 2019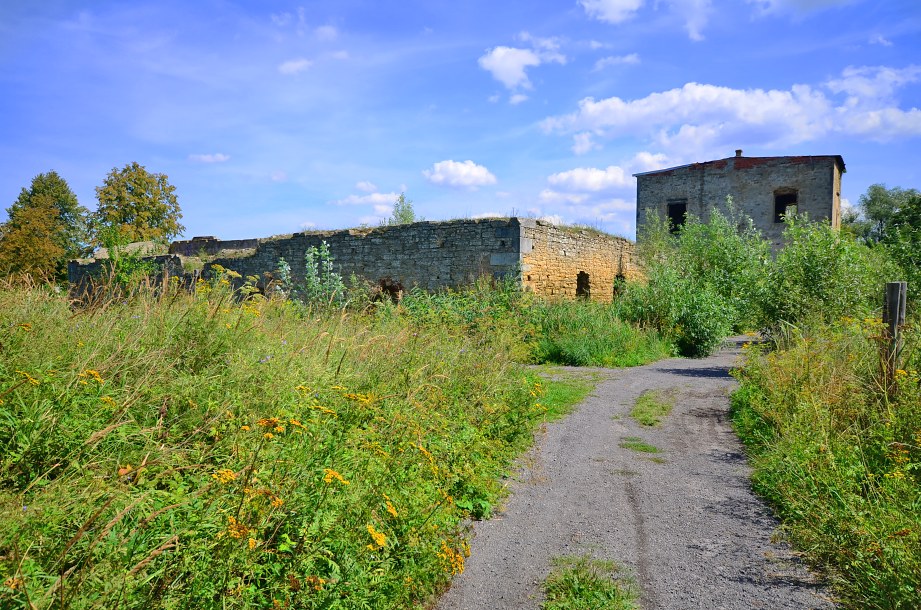 Castles nearby:
Podgrodzie - ruins of a knight's castle from the 14th century, 4 km
Ptkanów - fortified church of St. Giles from the 14th century, 11 km
Tudorów - relics of a knight's castle from the 14th century, 20 km
Międzygórz - Royal castle relics from the 14th century, 21 km
Kałków - Romanesque-Gothic church from the 13th century, 30 km
Ujazd - Krzyżtopór castle ruin, 31 km
Ossolin - relics of an aristocratic castle from the 17th century, 32 km
Sandomierz - Royal castle from the 14th century, 35 km
Konary - relics of a knight's castle from the 14th century, 37 km
Solec nad Wisłą - Royal castle ruins from the 14th century, 38 km
Bodzentyn - ruins of the castle of the Cracow bishops from the 14th/15th century, 45 km
Iłża - ruins of the castle of the Cracow bishops from the 14th century, 45 km
Rembów - relics of a knight's castle from the 14th century, 48 km

text: 2023
photos: 2020, 2021
© Jacek Bednarek