SUCHA

the Czocha castle
CZOCHA CASTLE, VIEW FROM THE WEST
---
O
n the site where the Goth­ic for­ti­fied cas­tle stands to­day, a wood­en strong­hold called Mons Ty­zow func­tioned in the ear­ly Mid­dle Ages, which was first men­tioned in 1241. The ma­son­ry cas­tle was pre­sum­ably erect­ed in the mid-13th cen­tu­ry by Bo­hemi­an King Vá­clav I Pře­mys­lid, known as One-Eyed (d. 1253), or by his son Pře­mysl II Ot­tokar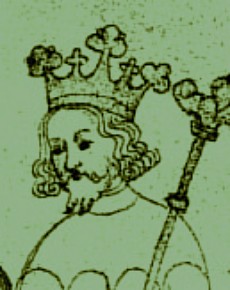 (d. 1278), al­though the the­o­ry is al­so pop­u­lar that its founder may have been one of the dukes of Świd­ni­ca-Ja­wor, whose strong bor­der strong­hold would have helped con­sol­i­date his rule in Up­per Lusa­tia. From 1253 to 1319, the area be­longed to the As­can dy­nasty, and in 1306 Jo­hann von Bir­be­stein, the sup­posed roy­al sta­rost, was the ten­ant or own­er of the cas­tle. In 1319, the es­tate passed to the hands of Hen­rik I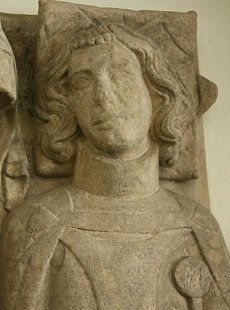 , Duke of Ja­wor-Świd­ni­ca, who less than twen­ty years lat­er trad­ed Czo­cha and Świe­cie cas­tle, as well as towns Lu­bań, Mir­sko and Ża­ry, for half of the town of Gło­gów, which he re­ceived from King Ján of Lux­em­burg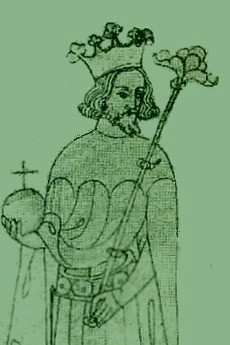 for life.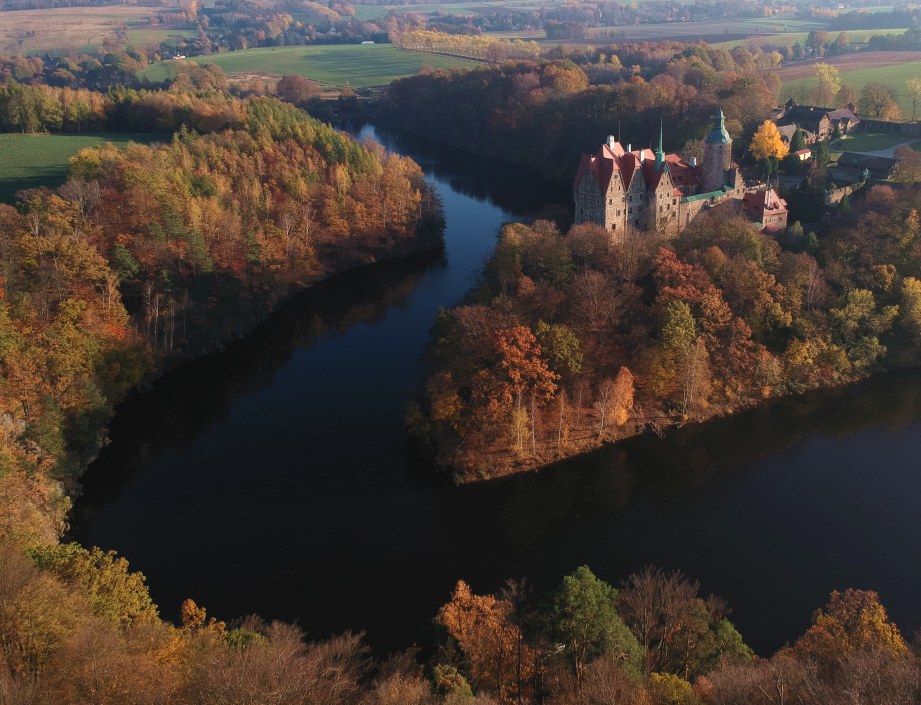 THE CASTLE RISES ON A ROCKY HEADLAND SURROUNDED FROM THE NORTH BY THE RIVER KWISA
F
rom then on Czo­cha, be­ing a fief of the King of Bo­he­mia, was ad­min­is­tered by Czech and Ger­man knights, among them by the von Dohna fam­i­ly, first men­tioned here in 1389. In 1417, Wen­zel von Dohna sold the rights to the cas­tle to Hein­rich von Ren­kern, who be­came "fa­mous" for at­tack­ing neigh­bors and mer­chant con­voys. For this rea­son, his su­pe­ri­ors forced him to leave for­ev­er, and Czo­cha passed in­to the hands of roy­al of­fi­cial Har­tung von Klux (d. 1445), who, how­ev­er, due to his state func­tions, vis­it­ed here in­fre­quent­ly, ced­ing the rights and du­ties of es­tate ad­min­is­tra­tor to a nephew named Di­et­rich.
ARCADED BRIDGE LEADING TO THE CASTLE
T
he younger rel­a­tive, in­stead of man­ag­ing the fam­i­ly lands, fo­cused on loot­ing mer­chants trav­el­ing along sur­round­ing routes. Af­ter one such rob­bery, com­mit­ted against cit­i­zens of Kra­ków head­ing to Zgo­rze­lec, King Wła­dy­sław Ja­gieł­ło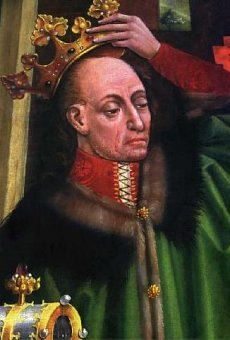 banned trade con­tacts with Zgo­rze­lec, be­ing ini­tial­ly con­vinced that the Lu­sa­tian town was re­spon­si­ble for this crim­i­nal act. On­ly a town en­voy sent to the Pol­ish ruler shed light on the per­pe­tra­tors of the rob­bery, which forced Har­tung von Klux to dis­miss his nephew as his con­fi­dant. In 1433, af­ter Har­tung left for Ba­sel, Switz­er­land, a Hus­site de­tach­ment led by knight Hans von Tschirn of Nie­syt­no in­vad­ed the cas­tle, and then plun­dered it of valu­able equip­ment and sup­plies. It wasn't un­til the spring of 1434 that the right­ful own­er, sup­port­ed by an army of re­tain­ers, re­cap­tured Czo­cha and then blood­i­ly dealt with the rob­bers sta­tioned there.
HISTORICAL NAMES OF THE CASTLE
Cay­chow (1327), Ca­chow (1337)
Scho­chav (1413), Cso­chow (1419)
Schoch­uff (1420), Scho­cha (1592)
Zho­che (1732), Tzscho­cha (1816)
Cza­chów (1945), Czo­cha (since 1946)
PLAN OF THE CASTLE FROM THE MID 18TH CENTURY
I
n 1451 Ram­fold, the last own­er of Czo­cha from the von Klux fam­i­ly, died. Af­ter his death, the cas­tle passed to Kas­par von Nos­titz (d. 1484), and from then on it was re­main­ing in the hands of this pow­er­ful fam­i­ly for al­most two and a half cen­turies. Kas­par was among the staunch en­e­mies of the Hus­sites, whom he con­sid­ered he­re­tics and a great threat to the in­ter­ests of both the Catho­lic Church and the le­gal or­der. Dur­ing the Thir­teen Years' War, he served as com­man­der of troops fight­ing on the side of the Teu­ton­ic Or­der, tak­ing part, among oth­ers, in the vic­to­ri­ous Bat­tle of Choj­ni­ce (1454). At the end of the war, af­ter los­ing at the Bat­tle of Świe­cin (1462), he re­turned to Sile­sia and Lusa­tia, where he be­came in­volved in an armed con­flict be­tween sup­port­ers of Hun­gar­i­an King Hun­ya­di Má­tyás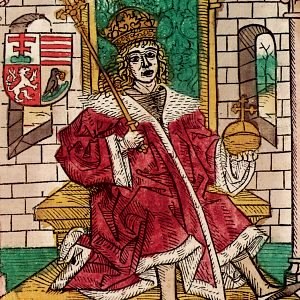 and Czech King Jiří z Kunštá­tu a Pod­ěbrad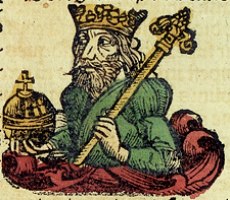 .
AT LEŚNIA LAKE JUST BEFORE SUNSET, VIEW FROM THE EAST
K
as­par von Nos­tiz's heir be­came Hartwig von Nos­titz (d. 1510), the off­spring of Kas­par's mar­riage to Sa­bi­ne von Gers­dorff (d. 1465). He was suc­ceed­ed by son Jo­hann (d. 1565), who re­built the cas­tle in the Re­nais­sance style. Jo­hann von Nos­titz and An­na von Zet­tritz had a son, Abra­ham (d. 1592), a lat­er grad­u­ate of Leip­zig Uni­ver­si­ty, who en­joyed great re­spect from his sub­jects thanks to the char­i­ta­ble ac­tions he or­ga­nized. Abra­ham mar­ried three times and lived to see five daugh­ters and five sons, among them Chris­toph, the own­er of Czo­cha in 1592-1600. How­ev­er, when the lat­ter died child­less just eight years af­ter tak­ing pos­ses­sion of the es­tate, the cas­tle passed in­to the hands of his broth­ers Kon­rad and Kas­par, who kept it un­til 1637.
ENGRAVING SHOWING THE APPEARANCE OF THE CASTLE AFTER THE FIRE OF 1793
I
n 1639, Christoph von Nos­titz-Rie­neck (d. 1691) be­came the lord of the cas­tle. He in­vest­ed in ge­o­log­i­cal re­search, par­tic­u­lar­ly gold prospect­ing, and found­ed vil­lages in the Kwi­sa Riv­er val­ley, where he set­tled Protes­tants flee­ing from Bo­he­mia and oth­er re­gions of Si­le­sia from re­li­gious per­se­cu­tion. The gru­el­ing Thir­ty Years' War was un­der­way at the time, and the po­lit­i­cal and mil­i­tary events that un­fold­ed in Si­le­sia in the 1630s and 1640s forced the land­lord to strength­en the cas­tle. He al­so had to pro­vide shel­ter to the lo­cal pop­u­la­tion, which he was obliged to do by the Sax­on elec­tors. Thus, cas­tle's for­ti­fi­ca­tion fa­cil­i­ties were ex­pand­ed and a gar­ri­son in­creased in num­ber. Among oth­er things, thanks to these changes, in 1645 the res­i­dents of Gry­fów Śląs­ki, who had tak­en refuge in the cas­tle, suc­cess­ful­ly re­pelled an at­tack by Swedish ma­raud­ers wan­der­ing through the sur­round­ing vil­lages with the in­ten­tion of loot­ing and rob­bery. Chris­toph von Nos­titz-Rie­neck died at the age of 84. His es­tate was in­her­it­ed by 24-year-old Al­brecht (d. 1698), who passed away with­out an heir just sev­en years af­ter tak­ing o­ver the in­her­i­tance, with the re­sult that the male line of Rothen­burg Tzschoch fam­i­ly be­came ex­tinct. The prop­er­ty thus re­turned to Chris­toph's wid­ow, who sold it in 1700 (or 1703) to roy­al coun­cil­lor Jo­hann Hart­wig von Uecht­ritz (d. 1732) for 152,000 thalers.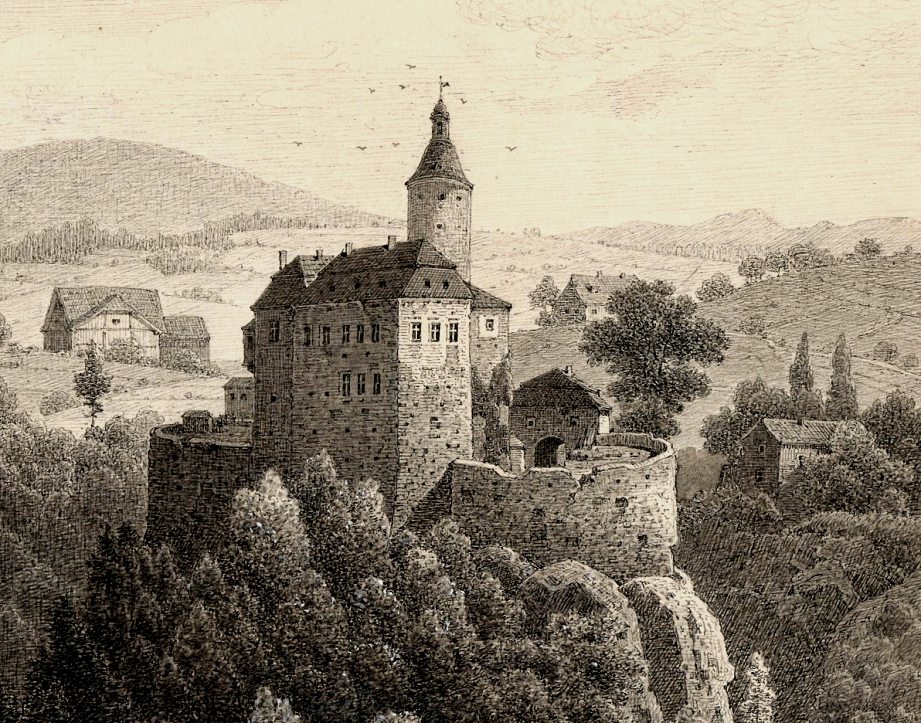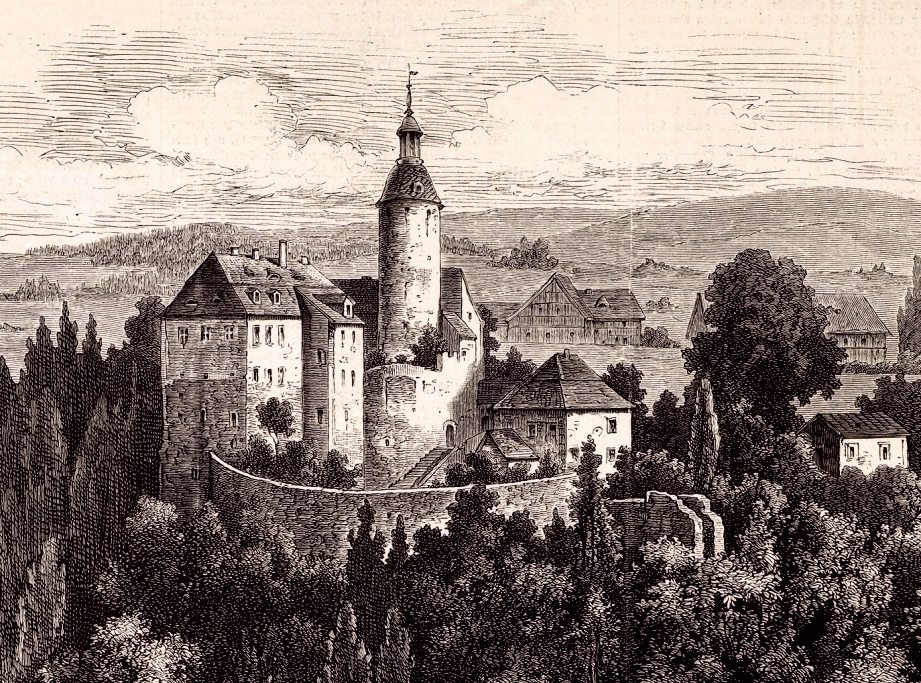 THE CASTLE ON ENGRAVINGS BY ARTHUR BLASCHNIK FROM THE SECOND HALF OF THE 19TH CENTURY
H
artwig von Uechtritz, lord of See and Spre­itz, lived to see five daugh­ters but not a sin­gle son, so he in­sti­tut­ed Grund­fi­dei­ko­miss - a rule un­der which daugh­ters could on­ly take as hus­bands can­di­dates from his own fam­i­ly cir­cle, in or­der to keep the es­tate in the hands of the fam­i­ly. One of them, Chris­tiane Elis­a­beth (d. 1741), in 1714 mar­ried Karl Mag­nus, but the lat­ter died just two years lat­er at the age of 25. Soon Elis­a­beth's sec­ond wed­ding took place, with Hein­rich von Uecht­ritz, with whom she lived to­geth­er for an­oth­er four­teen years, and whose fu­ner­al in Nov­em­ber 1732 be­came an un­usu­al and ter­ri­ble spec­ta­cle. This is be­cause when the fu­ner­al pro­ces­sion en­tered the rot­ten cas­tle bridge, it could not with­stand the pres­sure and col­lapsed, as a re­sult of which some peo­ple fell in­to the moat and died on the spot. Apart from adults, six chil­dren died in this trag­ic event. Three years lat­er Elis­a­beth mar­ried her third hus­band, Frie­drich Au­gust (d. 1756), and when she died in 1741, the es­tate was leased to a far rel­a­tive, Adam von Uecht­ritz. In 1755 the Rhen­ish mer­chant Fer­di­nand Ot­to von Schni­del (d. 1805) ac­quired Czo­cha for 87,000 thalers. His son, cas­tle-born Carl Ot­to Gus­tav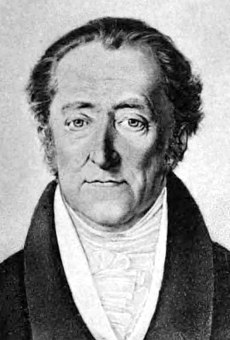 (d. 1830), be­came fa­mous as the au­thor of many works on lit­er­a­ture and his­to­ry, as well as a trans­la­tor of Re­nais­sance Ital­ian po­et­ry.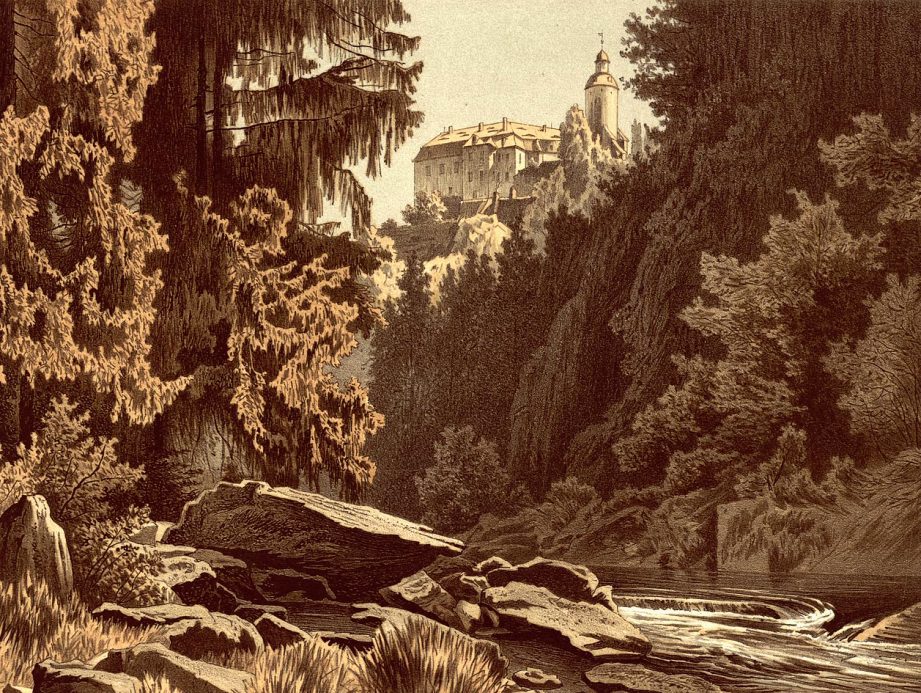 LITOGRAPHY BY THEODOR BLATTERBAUER FROM 1880S
I
n 1782, based on a court rul­ing, rep­re­sen­ta­tives of the von Uecht­ritz fam­i­ly re­gained the right to the Tzscho­cha es­tate. A lit­tle o­ver a decade lat­er, in the ab­sence of Frie­drich Chris­toph von Uecht­ritz (d. 1821), the own­er of the cas­tle, a fire broke out on the night of Au­gust 17-18, 1793, de­stroy­ing its roofs and tow­er, as well as some of the liv­ing quar­ters with fur­nish­ings, ar­mory and many valu­able old prints. Soon the re­con­struc­tion of the cas­tle be­gan and six years lat­er it was hab­it­able again, al­though its ap­pear­ance dif­fered slight­ly from the ear­li­er style, in­clud­ing re­plac­ing the old me­dieval roof with a Baroque one, rais­ing the bell tow­er, and chang­ing in­te­ri­or dec­o­ra­tion. Af­ter Au­gust's death, Ernst Au­gust Frie­drich von Uecht­ritz und Stein­kirch (d. 1877) in­her­it­ed the es­tate, fol­lowed by Frie­drich Karl Ot­to (Frie­drich's son), who of­fi­cial­ly set­tled in the cas­tle with his wife Gus­tavine Ot­tilie Ka­ro­line Mi­net­te Char­lot­te Ol­ga von Uecht­ritz und Stein­kirch von War­tens­le­ben. They had five chil­dren (Bern­hard, Vic­to­ria, Hil­de­gard, Bol­ko, Ed­gar), and their es­tate con­sist­ed of a manor, two vil­lages and forests and farm­land cov­er­ing a to­tal area of 1,500 hec­tares.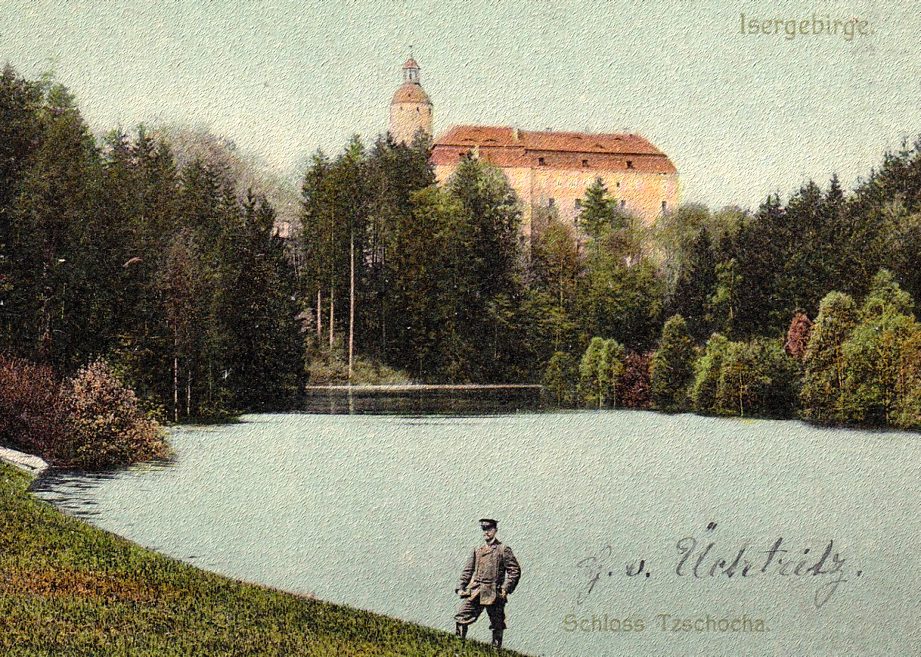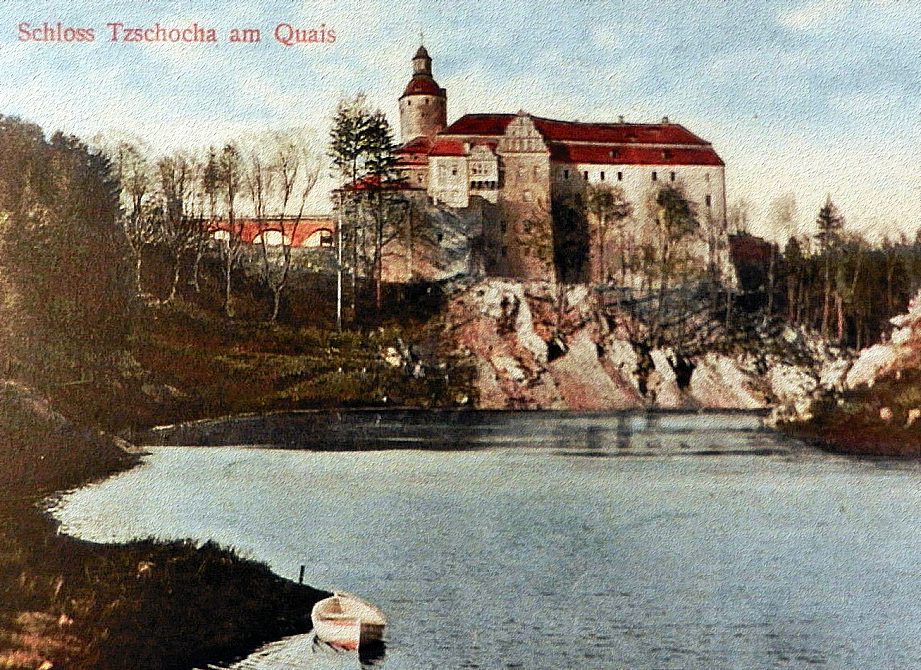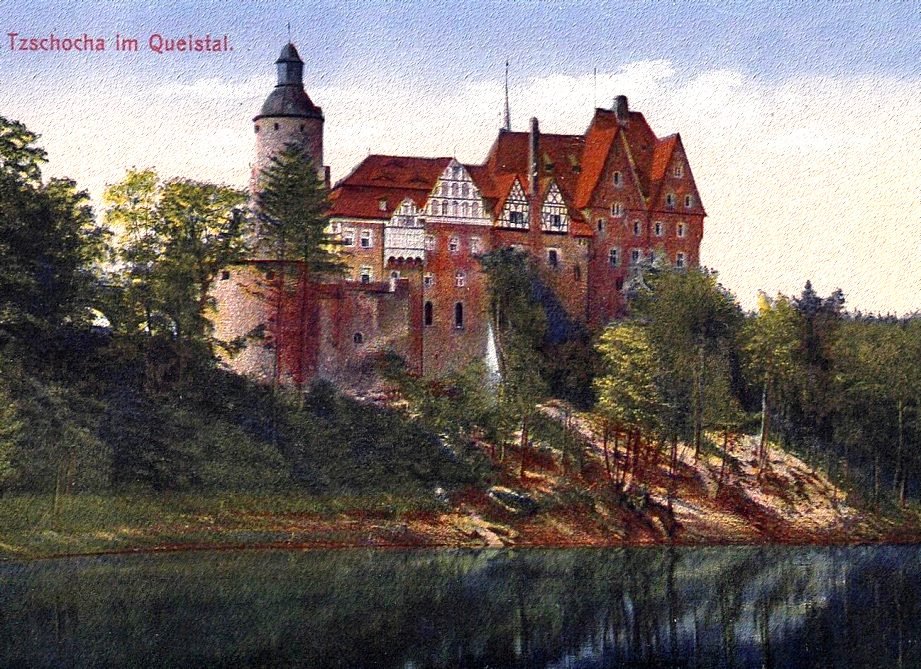 POSTCARDS FROM THE EARLY 20TH CENTURY: 1. AT THE TOP, THE CASTLE BEFORE THE GREAT RECONSTRUCTION (BEFORE 1912),
2. BELOW, THE STATE AFTER THE COMPLETION OF THE FIRST STAGE OF RECONSTRUCTION (HERE WE SEE A PSEUDO-GOTHIC RISALIT)
(1912-20), 3. BOTTOM, CASTLE AFTER RECONSTRUCTION (1920S)
A
f­ter Karl Ot­to's death in 1905, his heirs de­cid­ed to sell the fam­i­ly es­tate. Duke Ernst Gun­ther zu Schles­wig-Hol­stein-Son­der­burg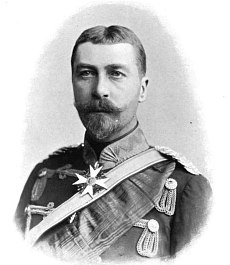 , broth­er of the Ger­man Em­press Au­gus­ta Vic­to­ria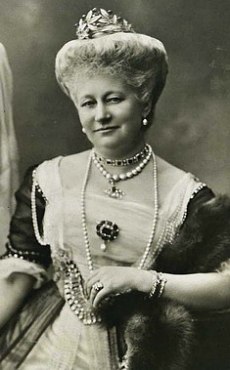 , was se­ri­ous­ly in­ter­est­ed in the pur­chase, but af­ter a vi­su­al in­spec­tion of the cas­tle, he re­signed. Fi­nal­ly, Czo­cha and the sur­round­ing land were sold in 1909 for 1.5 mil­lion marks to Ernst Gut­schow from Dres­den (d. 1946) . This wealthy in­dus­tri­al­ist amassed not on­ly a great for­tune, but al­so an im­pres­sive art col­lec­tion. Its mag­nif­i­cent dec­o­ra­tion was to be the Czo­cha cas­tle. The beau­ti­ful and old man­sion was al­so in­tend­ed to help him ob­tain the de­sired ti­tle of no­bil­i­ty that Gut­schow hoped for as part of the Kaiser's ap­pre­ci­a­tion of his con­tri­bu­tion to build­ing Ger­many's in­dus­tri­al pow­er. The cas­tle was in poor tech­ni­cal con­di­tion at that time and re­quired se­ri­ous and ex­pen­sive ren­o­va­tion. How­ev­er, the own­er had no in­ter­est in du­pli­cat­ing the old fash­ion and, go­ing one step fur­ther, he com­mis­sioned a com­plete re­con­struc­tion of Czo­cha in ro­man­tic style.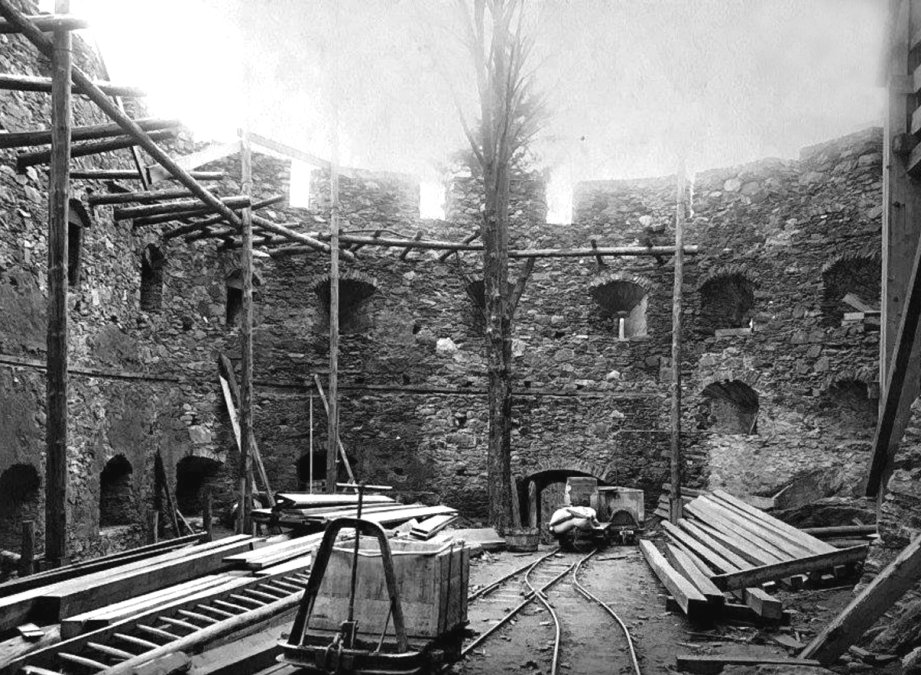 CONSTRUCTION OF THE GREAT ROUNDEL BASTION, 1912-20
T
he task of re­build­ing the cas­tle was un­der­tak­en by the well-known Ber­lin ar­chi­tect Bo­do Eb­hardt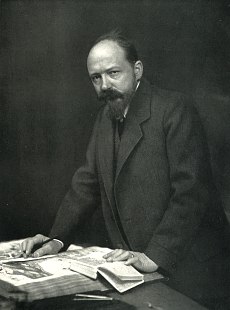 , who in 1912-20, at a cost of 4 mil­lion marks, trans­formed its ex­te­ri­or and mod­ern­ized its in­te­ri­ors, try­ing to re­flect the spir­it of the past as close­ly as pos­si­ble. This was achieved, among oth­ers, by us­ing orig­i­nal ar­chi­tec­tural de­tails and build­ing ma­te­ri­als ob­tained from de­mol­ished parts of the cas­tle. The fire­places were spe­cial­ly im­port­ed from Italy, and the li­brary re­ceived a decor rem­i­nis­cent of En­glish Tu­dor Goth­ic. The in­te­ri­or de­sign was com­ple­ment­ed by Max Koch's wall paint­ings, stained-glass win­dows made by Ed­uard Sritt and wood­carv­ing dec­o­ra­tions full of hid­den sym­bol­ism. In the com­mon opin­ion, af­ter the re­con­struc­tion, Czo­cha be­came more me­dieval than it was in the Mid­dle Ages.
CASTLE RECONSTRUCTION, 1912-20
Ernst Gut­schow was born on 8 April 1869 in Ro­s­tock, Meck­len­burg. Lit­tle is known about his par­ents and ed­u­ca­tion. How­ev­er, we know that at the age of 22 he left Ger­many for Eng­land and two years lat­er em­i­grat­ed to Unit­ed States. There, Ernst found em­ploy­ment as gen­er­al man­ag­er of MI­CHAL­ITSCHKE BROS & CO., that man­u­fac­tured, im­port­ed and sold Cuban cigars and Turk­ish ci­ga­rettes. Short­ly there­after, he mar­ried the com­pa­ny own­er's daugh­ter, Jo­sie Mi­chal­itschke. It opened the way to a great ca­reer and big mon­ey, thanks to which he bought the Czo­cha cas­tle and pur­sued his pas­sion for col­lect­ing. Among oth­er things, he found­ed a li­brary of 25,000 vol­umes, Ger­many's fourth-lar­gest pri­vate col­lec­tion of an­tique prints and books.

Af­ter his re­turn to Ger­many, Ernst Gut­schow co-man­aged the large and thriv­ing to­bac­co con­cern GEORG A. JAS­MATZI A.G., and al­so skill­ful­ly in­vest­ed. He loved beau­ti­ful items, which he will­ing­ly col­lect­ed. His col­lec­tion in­clud­ed many rare works of art and valu­ables from Tsarist Rus­sia, of­ten bought from bol­she­viks at sales they or­ga­nized af­ter the Red Rev­o­lu­tion. Per­haps among them were the coro­na­tion in­signia of the Rus­sian tsars or the very valu­able Fa­berge gold eggs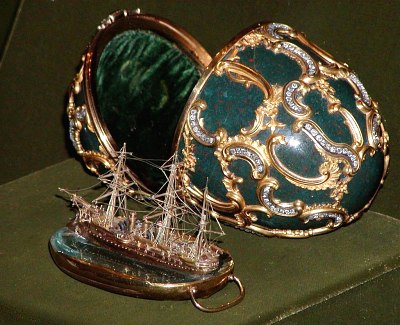 . De­spite all his wealth, how­ev­er, Ernst still re­mained a man of low es­tate, and al­though he used a coat of arms with a mo­tif of a walk­ing li­on, it was on­ly a bour­geois coat of arms, and any Ger­man cit­i­zen could have one. He lacked no­bil­i­ty, which he could not just buy. The Czo­cha cas­tle, ac­quired on the ini­tia­tive of the own­er of Grodziec
, Baron Wil­li­bald von Dirk­sen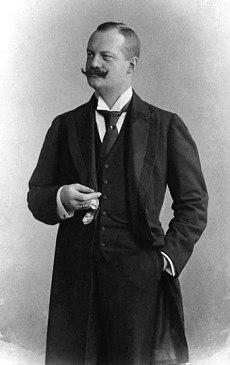 , and then re­built with a tru­ly roy­al splen­dor, was sup­posed to help in this. How­ev­er, Ernst Gut­schow prob­a­bly nev­er re­ceived a no­ble ti­tle, any­way, no doc­u­ments con­firm­ing this fact have sur­vived.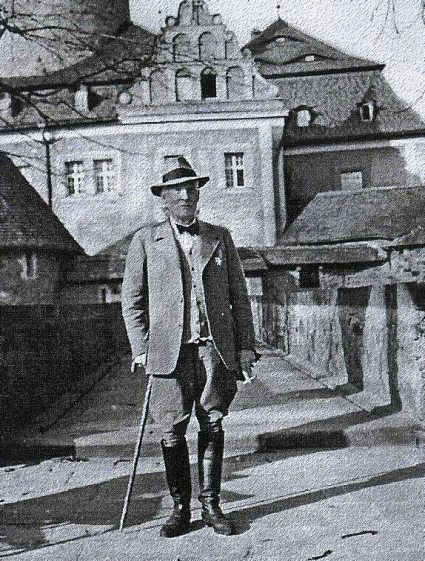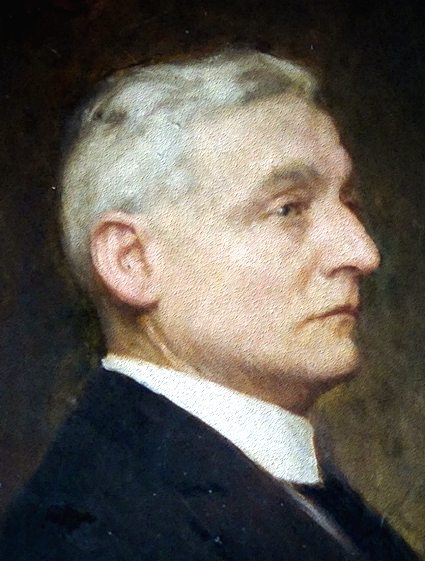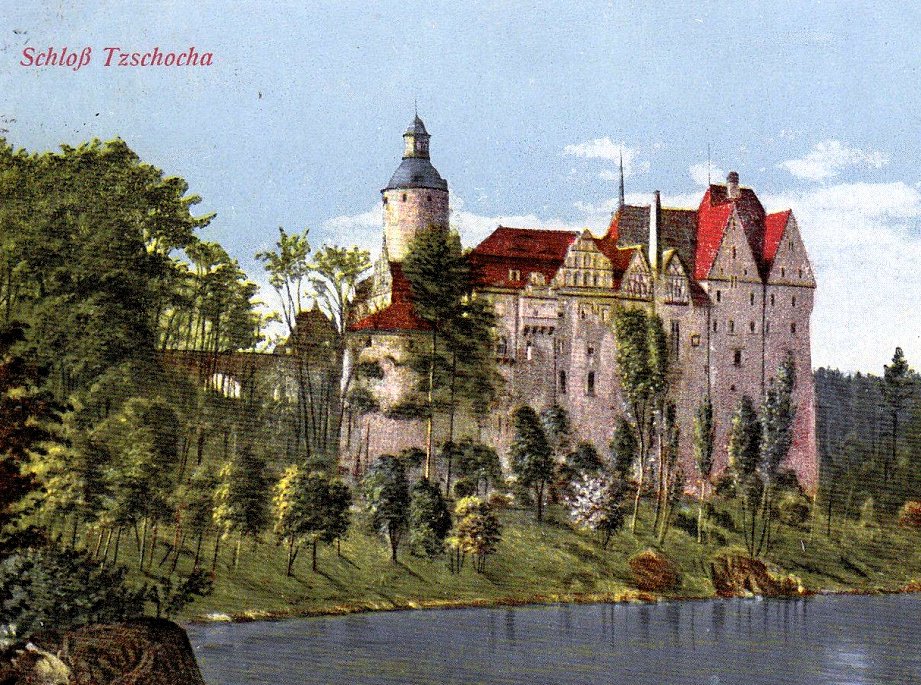 VIEW OF THE CASTLE FROM THE EAST ON A POSTCARD FROM THE 1920S
D
e­spite huge fi­nan­cial and or­ga­ni­za­tion­al ef­fort put in­to the re­con­struc­tion of the cas­tle, its own­er vis­it­ed it rarely, on­ly for few weeks a year. He and his fam­i­ly moved here on­ly at the end of World War II, be­cause Low­er Si­le­sia seemed to be a rel­a­tive­ly safe place in com­par­i­son with bombed Ger­man cities. How­ev­er, when the news of the fast ap­proach­ing So­vi­et army turned out to be true, Gut­schow packed up his most valu­able equip­ment and left for Dres­den. And then, af­ter the de­struc­tion of the city by Al­lied avi­a­tion in Feb­ru­ary 1945, he moved to Bad Wild­un­gen, where he died a year lat­er from can­cer. Leav­ing Czo­cha, Ernst Gut­schow prob­a­bly took ev­ery­thing that was of great­est his­tor­i­cal and ma­te­ri­al val­ue to him: Dur­er's books, an­tique weapons, wood­carv­ing, as well as gold jew­el­ry.
VIEW OF THE CASTLE FROM THE SOUTH, CA. 1920
H
ow­ev­er, some of the cas­tle's equip­ment re­mained there. These al­leged trea­sures, i.e. books, fur­ni­ture, wine and an in­signif­i­cant amount of sil­ver­ware be­came the sub­ject of loot­ing and em­bez­zle­ment by new au­thor­i­ties. One of trucks filled with cas­tle de­posits was hi­jacked by the may­or of Leś­na and his wife, who were not trou­bled by any­body and en­tered the Amer­i­can oc­cu­pa­tion zone. A next truck with "trea­sures", driv­en per­son­al­ly by the mili­tia com­man­dant, al­so dis­ap­peared in mys­te­ri­ous cir­cum­stances. Oth­er loot­ers were not so lucky, and the then deputy gov­er­nor of Lu­bań land­ed in jail for the theft, among oth­ers. The au­thor­i­ties suc­ceed­ed in re­claim­ing about 25 000 books, which were lat­er sent to the Uni­ver­si­ty Li­brary in Wro­cław, as well as 53 pieces of var­i­ous fur­ni­ture, 84 oil paint­ings, 29 sculp­tures, 130 pieces of an­tique melee weapons and fire­arms, some table­ware, glass and porce­lain. Chris­tine von Saur­ma, the cas­tle li­brar­i­an, helped the mili­tia to find the cas­tle clos­ets and valu­ables hid­den in them. Af­ter the in­ven­to­ry she left for Ger­many with­out any ob­sta­cles.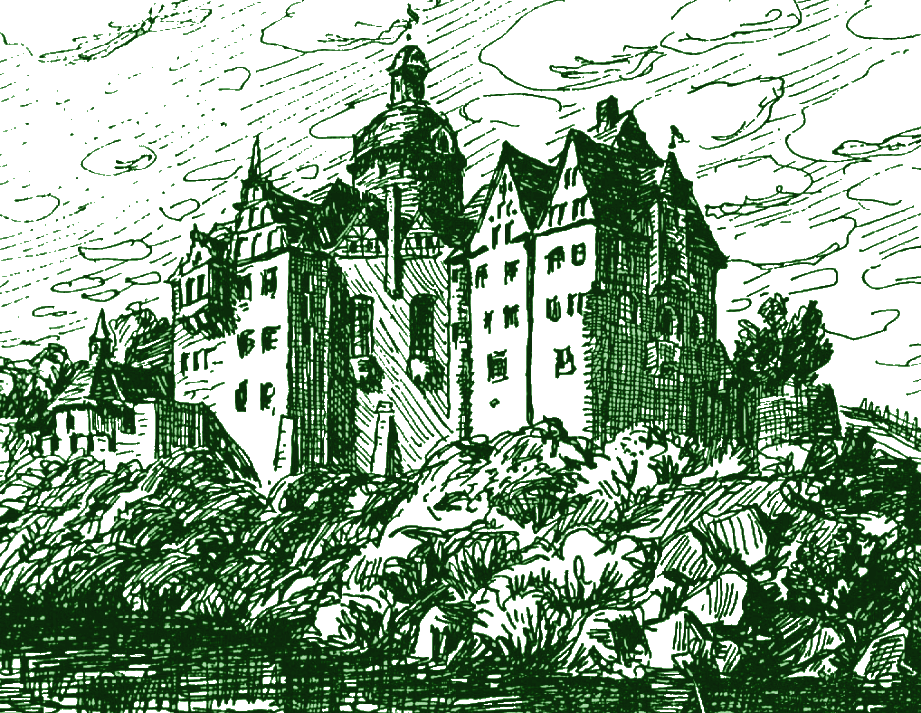 BEAUTIFUL GRAPHICS BY VICTOR SCHAETZKE, "SCHLESISCHE BURGEN UND SCHLOSSER" 1924
Ac­cord­ing to some wit­ness­es to those events, dur­ing World War II, Czo­cha cas­tle was vis­it­ed by Werhn­er von Braun (d. 1977), Sturm­ban­n­fuhrer SS, the na­tion­al hero of Na­zi Ger­many and then of two-faced Amer­i­ca, where he gained fame as the cre­ator of the Amer­i­can space pro­gram and de­sign­er of the Sat­urn rock­ets, which car­ried the Apol­lo ships to the moon. These vis­its may have been re­lat­ed to re­search on bal­lis­tic mis­siles of the V-1 and V-2 types, ex­per­i­ments with ra­di­o­log­i­cal weapons or mod­ern types of propul­sion sys­tems, pre­sum­ably con­duct­ed in un­der­ground fac­to­ries near the town of Leś­na. One such fac­to­ry was called "Gema Werke" and pro­duced FREYA ra­di­olo­ca­tion de­vices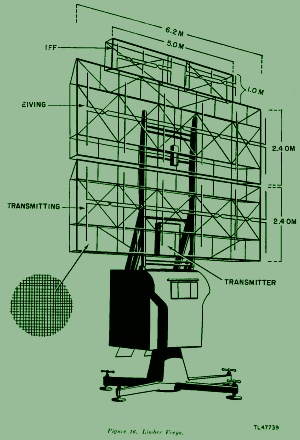 . Pre­sum­ably, how­ev­er, they al­so did some ex­per­i­ments there, which gave - as it was some­times writ­ten - ef­fects of a strong elec­tro­mag­net­ic field, which made en­gines in cars driv­ing near it switch off! When ex­per­i­ments were stopped, cars moved on as if noth­ing had hap­pened.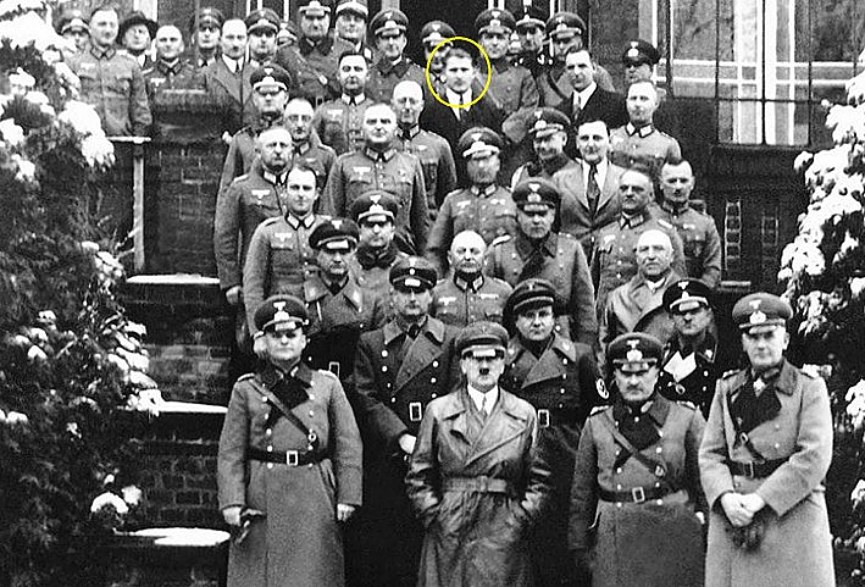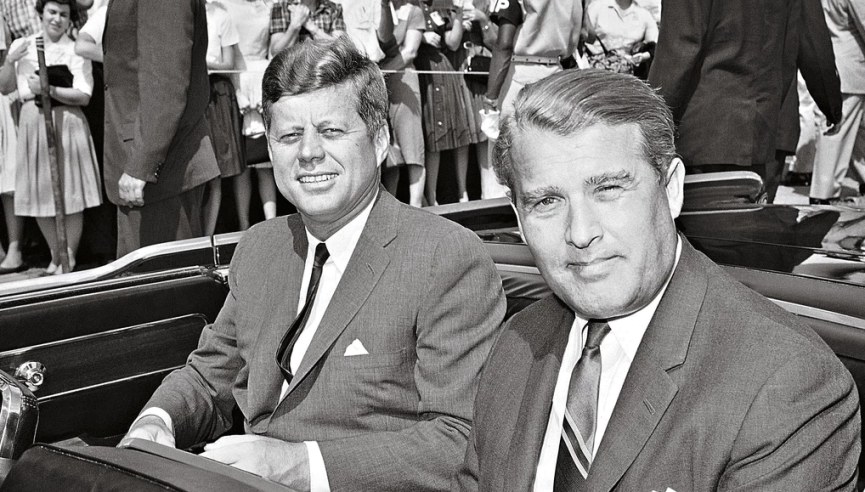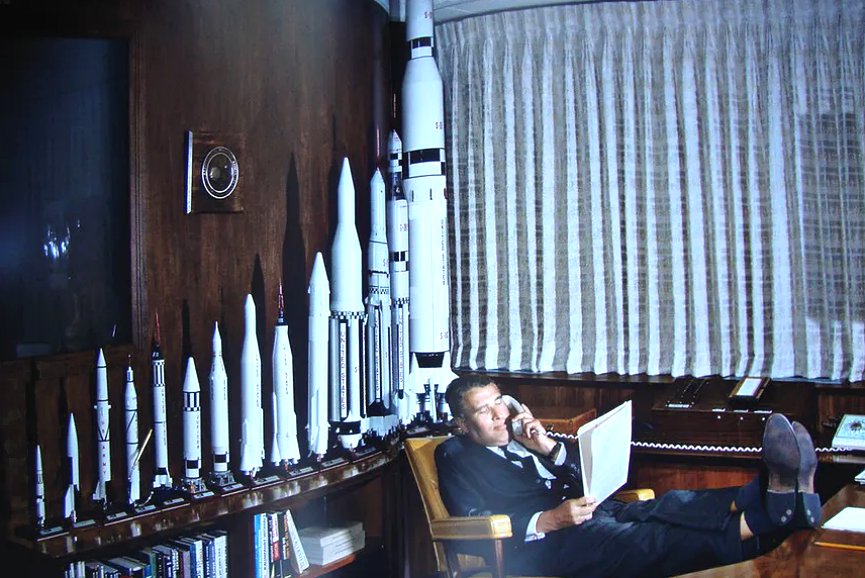 | | |
| --- | --- |
| | |
THE CASTLE ON PRE-WAR POSTCARDS
A
f­ter the Sec­ond World War the cas­tle was giv­en to an agri­cul­tur­al co­op­er­a­tive and then to the then Min­istry of Cul­ture and Art. In 1952 the Min­istry of De­fense took o­ver the fa­cil­i­ty, or­ga­niz­ing a re­sort there for high-rank­ing of­fi­cers and their fam­i­lies. This fact may have been de­ci­sive for its fur­ther ex­is­tence, as thanks to this, Czo­cha did not share the fate of many oth­er Si­le­sian man­sions, which were left with­out prop­er care and which o­ver time fell in­to ru­in. Af­ter 1989, the strong­hold came un­der the man­age­ment of the Mil­i­tary Hous­ing Agen­cy and, af­ter ren­o­va­tions in 1996, it was opened for tourism.
BIRD'S EYE VIEW OF CZOCHA, PHOTOGRAPH FROM THE 1930S
Dur­ing the com­mu­nist era, the cas­tle host­ed, among oth­ers: Chair­man of the com­mu­nist par­ty Bo­le­sław Bie­rut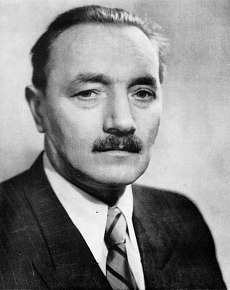 , the head of a re­pres­sion sys­tem Ja­kub Ber­man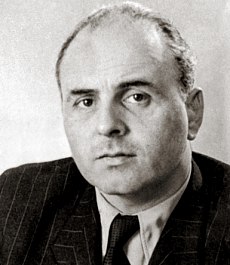 , First Sec­re­tary of the par­ty's cen­tral com­mit­tee Wła­dys­ław Go­muł­ka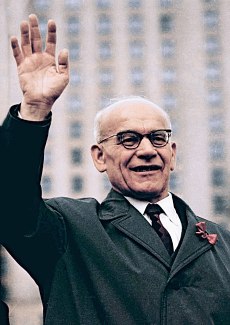 , Prime Min­is­ter Jó­zef Cy­ran­kie­wicz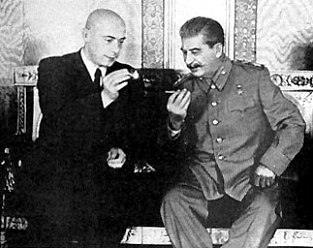 , Head of the Main Po­lit­i­cal Board of the Pol­ish Army Woj­ciech Ja­ru­­zel­ski
, Min­is­ter of Na­tion­al De­fence Ma­rian Spy­chal­ski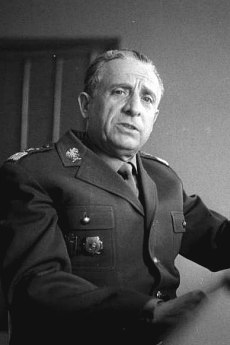 , as well as USSR De­fence Min­is­ter, Mar­shal Gie­or­giy Zhu­kov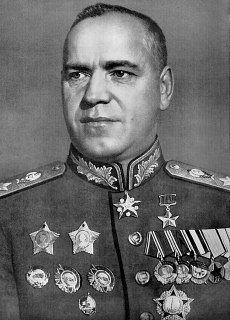 , So­vi­et De­puty Min­is­ter of Na­tion­al De­fence, Mar­shal Kon­stan­tin Ro­kos­sov­sky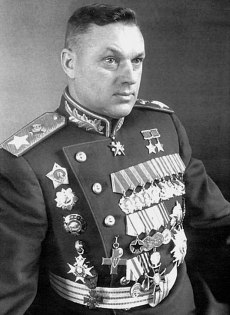 , and the Com­man­der-in-Chief of the Unit­ed Armed Forces of the War­saw Pact coun­tries, Mar­shal Ivan Ko­nev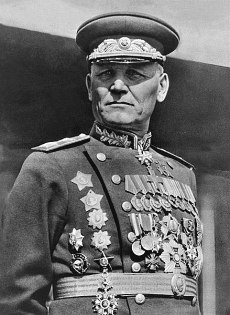 .
PICTURESQUE VALLEY OF KWISA RIVER
Film and tele­vi­sion mak­ers quite of­ten use Czo­cha cas­tle as a set­ting for their pro­duc­tions. Even be­fore the war, the Ger­man movie of Die In­sel (1934) was shot here, and af­ter 1945, among oth­ers, the well-known and pop­u­lar Pol­ish com­e­dy Where is the Gen­er­al?
(1963), The Val­ley of Hap­pi­ness (1983), Leg­end (2005) and The Val­ley of the Gods by Leon Ma­jew­s­ki (2017). Of the pop­u­lar Pol­ish se­ries set in Czo­cha, we can men­tion the fol­low­ing: A back­pack full of ad­ven­tures (1993), The Witch­er (2002) and The Se­cret of the Ci­pher Fort­ress (2007).
SCREEN FROM THE MOVIE "WHERE IS THE GENERAL?", SCENE IN THE NORTH BASTION
DESCRIPTION OF THE CASTLE
T
he me­dieval cas­tle was built on a rocky promon­to­ry, on a gran­ite and gneiss rock raised 320 me­ters above sea lev­el. Orig­i­nal­ly, it was a small square-shaped strong­hold with a round tow­er in the south­west­ern cor­ner and an en­trance gate in the west­ern wall. It prob­a­bly con­sist­ed of one three- or four-storey res­i­den­tial house, erect­ed on a trape­zoid plan of 20x16 me­ters, one or two small­er util­i­ty build­ings, the afore­men­tioned tow­er, and de­fen­sive walls. A sig­nif­i­cant change in the form of the cas­tle and its spa­tial lay­out was pro­vid­ed by the re­con­struc­tion car­ried out in the 16th cen­tu­ry. It was then re­built in the Re­nais­sance style and for­ti­fied by adding ex­te­ri­or walls with bas­tions on a horse­shoe plan.
RECONSTRUCTION OF THE MEDIEVAL CASTLE BY JAN SALM
I
n the 18th cen­tu­ry a wood­en draw­bridge was re­placed by the brick one, built o­ver a dry moat, in which the then own­ers placed a me­na­ge­rie. Af­ter the great fire of 1793, the main dwelling house was cov­ered with slate and the tow­er was raised. The cas­tle owes its pre­sent ap­pear­ance to the great re­build­ing, car­ried out at the be­gin­ning of the twen­ti­eth cen­tu­ry, which clear­ly "re­ju­ve­nat­ed" it, but al­so led to de­struc­tion of some of his­toric ar­chi­tec­tural el­e­ments not on­ly of Czo­cha cas­tle, but al­so of the near­by me­dieval strong­hold Świe­cie, which Gut­schow bought and which he did not man­age or want­ed to re­ac­ti­vate. Dur­ing this re­con­struc­tion, some orig­i­nal de­tails of the old von Uecht­ritz res­i­dence were used: doors, win­dows and gun­posts stone­work, as well as cen­tu­ry-old oak beams used as gird­ers. In­te­ri­ors of the cas­tle fea­tured orig­i­nal Ital­ian fire­places, which have re­mained in good con­di­tion to the pre­sent day.
VIEW OF THE CASTLE FROM THE NORTHWEST, 1937
T
he old­est el­e­ment of the cas­tle is the cylin­dri­cal bergfried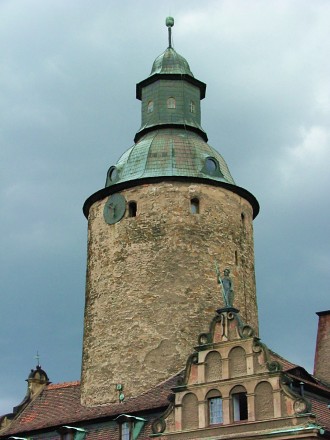 , sit­u­at­ed in the south-west­ern part of the hill. Cur­rent­ly, it is cov­ered with a domed hel­met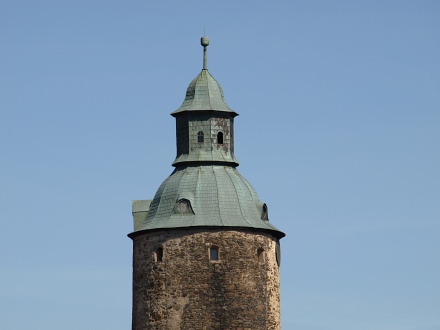 and serves main­ly as a view­ing and clock tow­er. In the 17th cen­tu­ry, a three-storey build­ing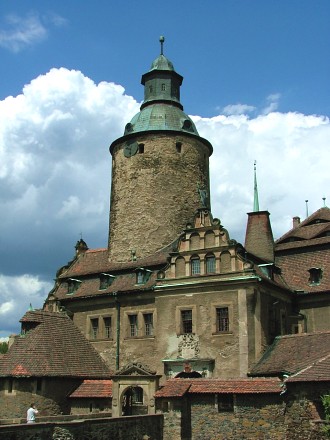 was added to it, cov­ered with mul­ti-sloped roofs. Its fa­cade is dec­o­rat­ed with nu­mer­ous bays and a Re­nais­sance gable crowned with a life-sized stat­ue of the Ro­man god­dess of wis­dom - Min­er­va, as well as a Baroque por­tal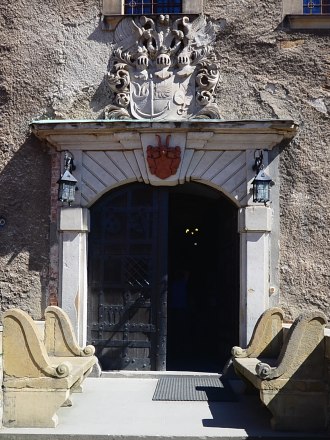 with coat of arms of the von Uechtritz fam­i­ly and the von Nos­titz coat of arms car­touche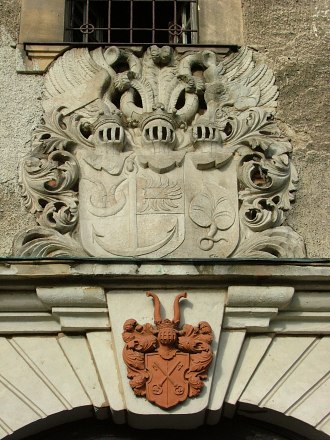 . This por­tal ac­cen­tu­ates the main en­trance to the cas­tle, lead­ing through a stone bridge sup­port­ed on two huge pil­lars. On the op­po­site side of the cas­tle there is a me­dieval res­i­den­tial tow­er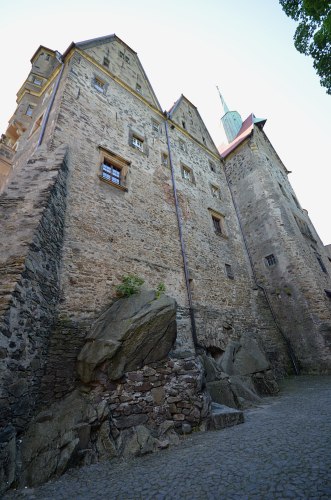 , di­vid­ed in­to two slen­der seg­ments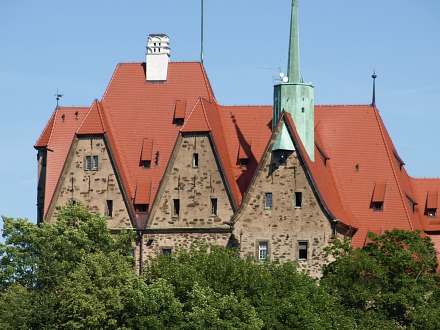 giv­ing it a unique char­ac­ter just from ro­man­tic tales and leg­ends. In the mid­dle of the 16th cen­tu­ry, a palace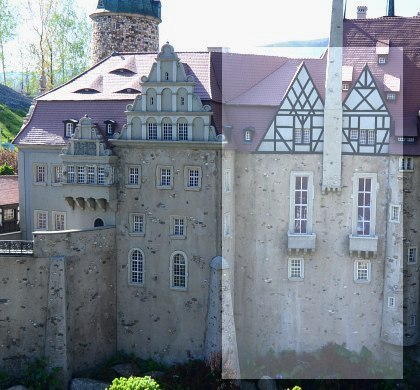 with four storeys was added to te tow­er from the south, planned in the shape of the let­ter L and cov­ered with gable roof.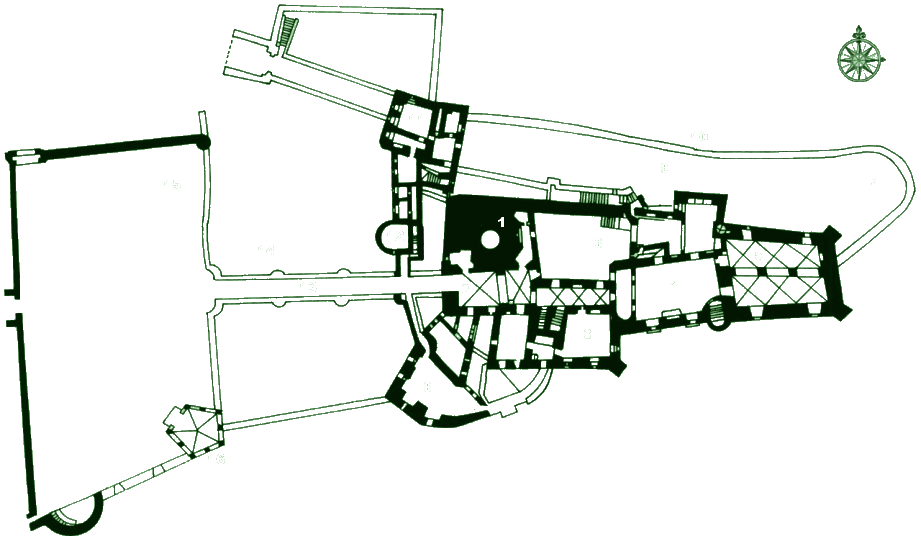 PLAN OF THE CASTLE: 1. CYLINDRICAL TOWER, 2. HALL IN THE GATE BUILDING, 3. EASTERN BUILDING, 4. PALACE,
5. MEDIEVAL RESIDENTIAL TOWER, 6. INNER COURTYARD, 7. NORTHERN BASTION, 8. SOUTHERN BASTION, 9. OUTER COURTYARD,
10. WESTERN WALL, 11. LOWER GATE, 12. FORTIFIED TOWER, 13. ARCADE BRIDGE, 14. DRY MOAT, 15. BAILEY, 16. GLORIETTE
T
he up­per cas­tle was for­ti­fied from the west by a de­fen­sive wall with guard porch­es and mag­nif­i­cent bas­tion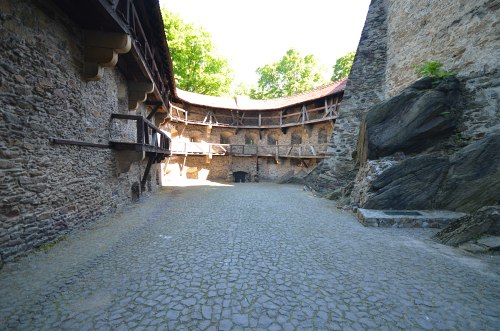 , which clos­es a large out­er court­yard from the north. Near­by there is an en­trance to an in­ner court­yard with a leg­endary well and a stone bench, lead­ing through a cor­ri­dor carved in sol­id rock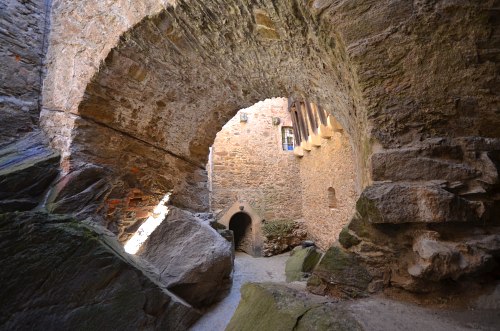 . Walls of the build­ings around the court­yard are dec­o­rat­ed with coat-of-arms car­touch­es and nu­mer­ous sgraf­fi­to dé­cor. The en­trance to the up­per cas­tle is for­ti­fied by a south­east­ern bas­tion
and a cylin­dri­cal tow­er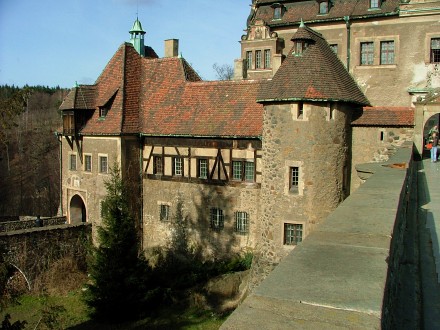 con­nect­ed to it by a wall, lo­cat­ed next to an ar­cad­ed stone bridge.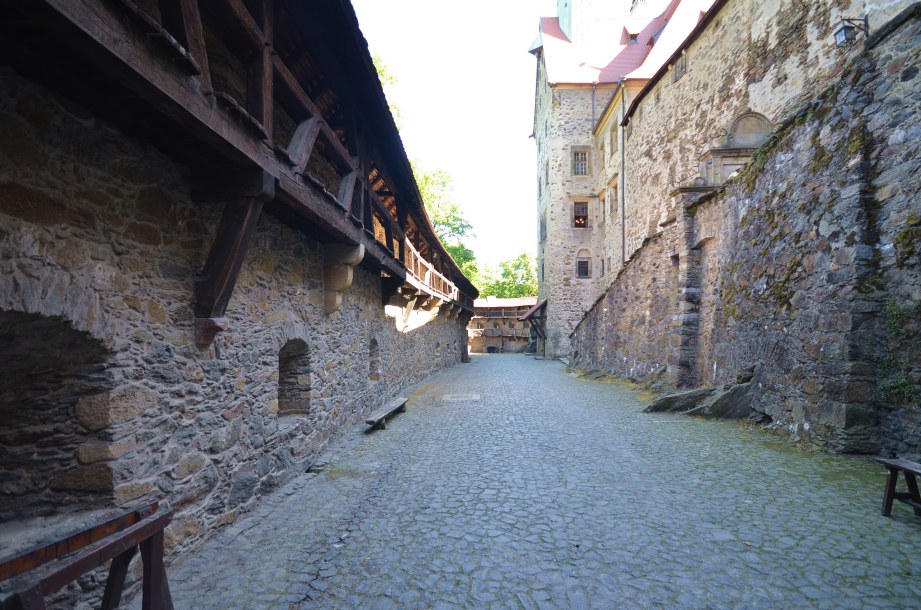 T
o the south of the cas­tle is a farm-yard, al­so sur­round­ed by a wall. The south­ern part of it, with dis­tinct­ly do­mes­tic fea­tures, is filled with farm fa­cil­i­ties sur­round­ing a large court­yard. Even here, how­ev­er, a lav­ish style of the build­ings was tak­en care of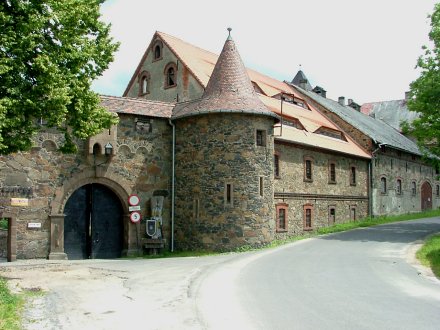 , as ev­i­denced by the Re­nais­sance sgraf­fit dec­o­ra­tions with hunt­ing themes on the walls of the sta­bles. A com­plete­ly dif­fer­ent char­ac­ter is found in the north­ern part of the farm-yard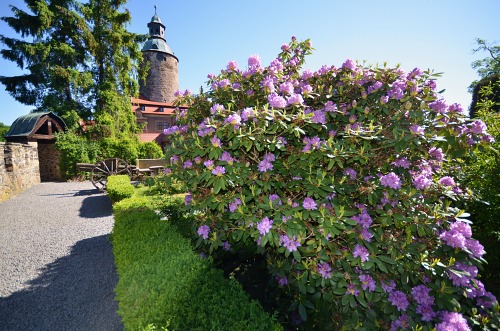 , where green­ery and nu­mer­ous or­na­men­tal mo­tifs dom­i­nate, in­clud­ing Baroque sculp­tures, foun­tains, glo­ri­ettes, bench­es and columns. These are con­trast­ed by three an­tique can­nons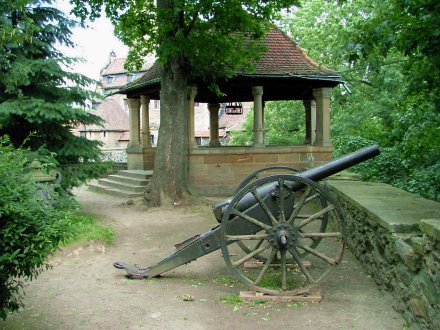 set up on Bo­do Ebhardt's ini­tia­tive.
IN THE NORTHERN PART OF THE FARM YARD
---
T
o­day, Czocha cas­tle func­tions pri­mar­i­ly as a ho­tel and a place for cul­tur­al ac­tiv­i­ties, cor­po­rate meet­ings and oth­er com­mer­cial events. It is one of the most beau­ti­ful cas­tles in the whole Low­er Sile­sia. So, ev­ery year it at­tracts tens of thou­sands of tour­ists who want to learn the se­crets of the for­mer own­er of Czo­cha and lis­ten to the sto­ries about hid­den trea­sures and events of World War II.
WINDOW NICHES DECORATED WITH COATS OF ARMS OF THE FORMER CASTLE OWNERS
T
he tour of the cas­tle in­te­ri­ors is not too long, it takes about 40 min­utes and be­gins in the vault­ed en­trance hall. First, the guide leads us to the large Knights' Hall cov­ered with a mas­sive beam ceil­ing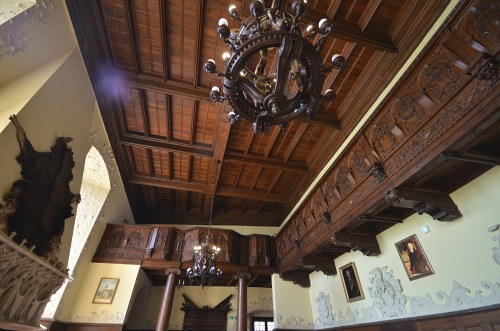 and sur­round­ed by a wood­en gallery. The dom­i­nant fea­ture here is an im­pres­sive Goth­ic fire­place, based on sug­ges­tive stone sup­ports with sculp­tures per­son­i­fy­ing good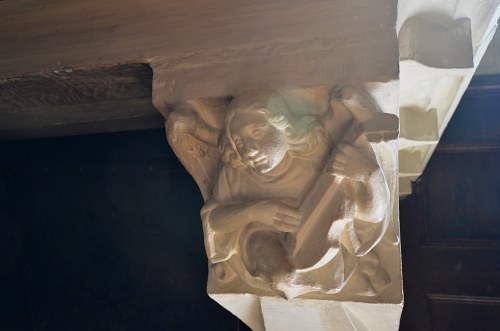 and evil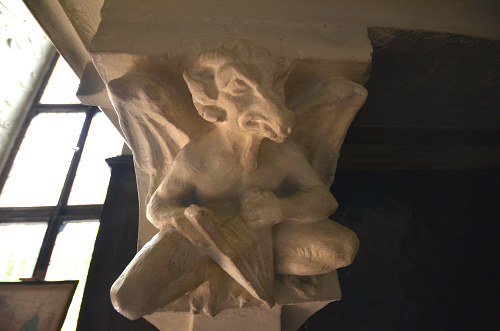 , and dec­o­rat­ed with a frieze fea­tur­ing fig­ures hold­ing shields with the cas­tle own­ers' coats of arms. Our at­ten­tion is drawn here to two chan­de­liers shaped like rings held by cherubs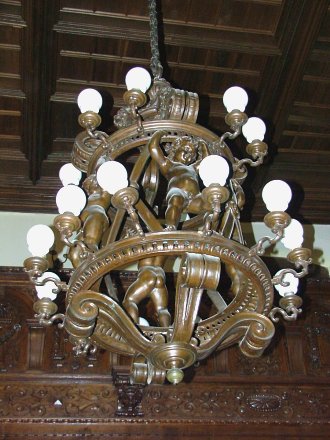 . These chan­de­liers are made of wood, but in such a clever way that they re­sem­ble bronze cast­ings to an il­lu­sion. The con­tem­po­rary fur­nish­ings of the hall are very mod­est; most of the fur­ni­ture was tak­en from here af­ter the war, in­clud­ing the cas­tle or­gan, which is now a fix­ture in War­saw Holy Trin­i­ty Church. It was al­so planned to take the chan­de­liers away from here, but, as the guides say, they could not be tak­en down be­cause no lad­der long enough to reach them was found in the en­tire cas­tle. In ad­di­tion, a dark oak pan­el­ing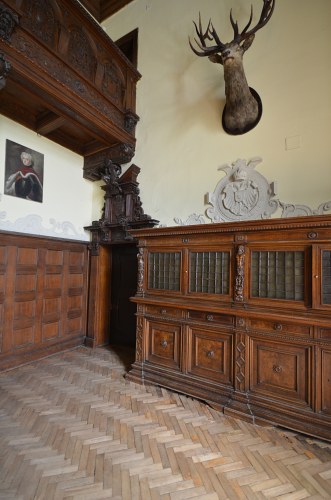 and wood­en door por­tals have been pre­served.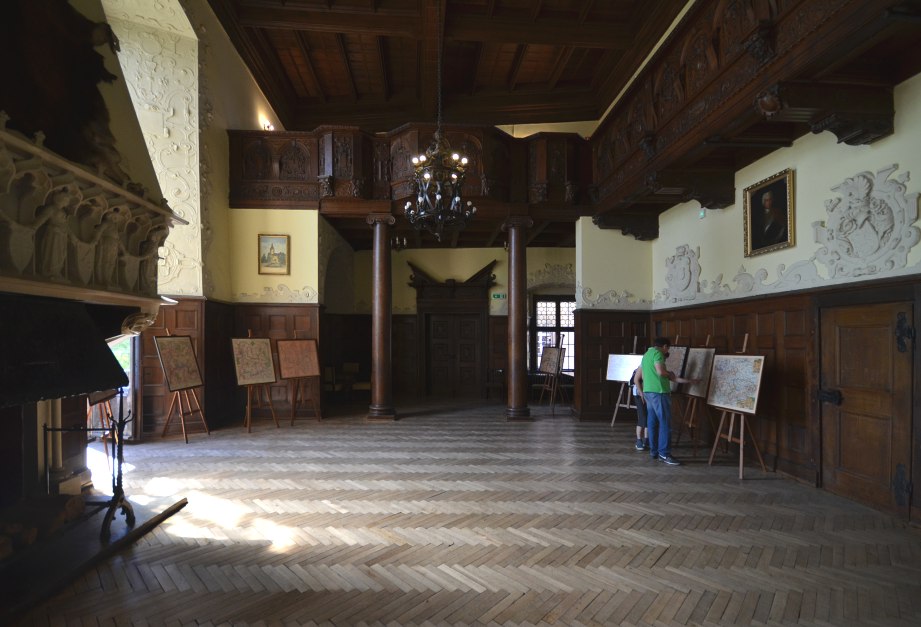 N
ow we go to the Mar­ble Cham­ber, a rep­re­sen­ta­tive place in the me­dieval cas­tle. Cur­rent­ly, the room is cov­ered by a Re­nais­sance cross vault sup­port­ed on two pil­lars, how­ev­er, it is like­ly that orig­i­nal­ly it was cov­ered by a Goth­ic vault, as ev­i­denced by the mas­sive cor­ner but­tress­es. Its walls are dec­o­rat­ed with a wood­en wain­scot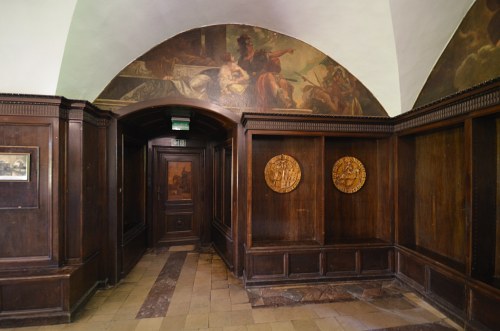 , in­to which the li­brary shelves were in­te­grat­ed - for­mer­ly filled with valu­able old prints, to­day oc­cu­pied by or­di­nary books com­ing from the army sur­plus store. In one of the walls, be­tween two win­dows, a Re­nais­sance white fire­place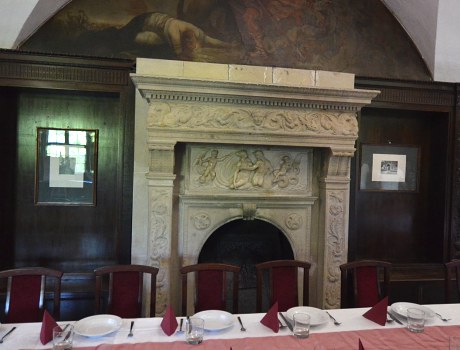 was built in. It at­tracts at­ten­tion main­ly be­cause of the sto­ries about a child who was walled up in it and whose spir­it wan­ders and wails dur­ing long win­ter nights to this day. A paint­ing dep­icting Czo­cha's last host Ernst Gut­schow and his wife has been pre­served on the walls of the cham­ber, as well as other his­to­ri­ci­zing fres­coes dep­ic­ting the his­tory of Eu­rope in a sym­bo­lic way.
B
e­hind the wain­scot­ing, the own­er has hid­den a pas­sage lead­ing to the low­er floor of the cas­tle, which for­mer­ly housed a trea­sury and per­haps oth­er rooms that are still undis­cov­ered, and now hosts a small ex­hi­bi­tion with themes re­lat­ing to World War II.
So far, more than a dozen hid­den un­der­ground pas­sages have been found in the cas­tle. It is al­so known that in the un­der­ground there is a lab­yrinth of cor­ri­dors with a to­tal area of about 3,700 square me­ters, which were cut off from the rest of the build­ing prob­a­bly al­ready dur­ing the com­mu­nist era and have so far re­mained undis­cov­ered. The ex­is­tence of un­der­ground pas­sage­ways and rooms is men­tioned in sur­viv­ing doc­u­ments, and wit­ness tes­ti­monies col­or the pic­ture with in­for­ma­tion about a cham­ber hav­ing a glass floor where fish from the lake used to swim up.
FRAGMENT OF EXHIBITION ABOUT THE LATEST HISTORY OF THE CASTLE
T
he west­ern part of the palace hous­es a li­brary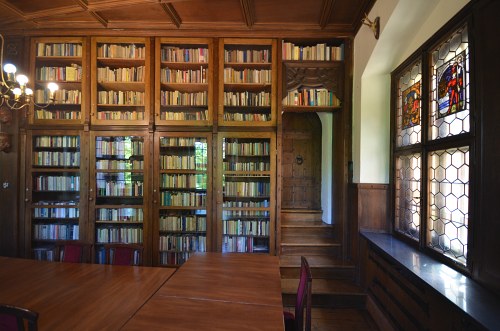 , which is tight­ly filled with shelves full of books, al­so com­ing from de­com­mis­sioned mil­i­tary units. This room is dec­o­rat­ed with a wood­en ceil­ing and two curly columns stand­ing in a win­dow niche. There are three se­cret pas­sages hid­den be­hind the mo­bile shelves: one to the cel­lars, the oth­er to the porch, and the third, which is not avail­able to tourists.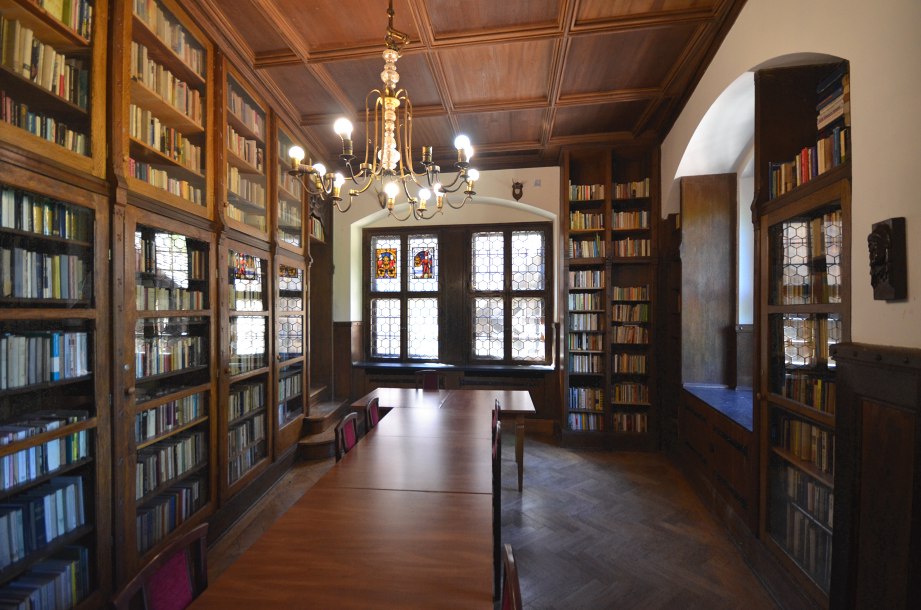 F
rom here we ahead to for­mer res­i­den­tial cham­bers, and no­wa­days to the ho­tel and con­fer­ence part with rooms main­tained in a his­tor­i­cal style re­fer­ring to promi­nent fig­ures as­so­ci­at­ed with the cas­tle. Among them, par­tic­u­lar­ly note­wor­thy is the host's old bed­room with a ca­nopy bed and a La­tin in­scrip­tion o­ver it: fran­gas non flectes - you can break, but you can't bend. Ac­cord­ing to the leg­end, this bed is equipped with a me­chan­i­cal trap­door for the own­er's con­cu­bines, which were thrown from here di­rect­ly in­to the cas­tle moat. The bed­room is ad­ja­cent to a clos­et with huge mir­rors, as well as a bath­room, where not long ago there were fix­tures in use that re­mem­ber the times of Ernst Gut­schow (to­day they are a part of the out­door ex­hi­bi­tion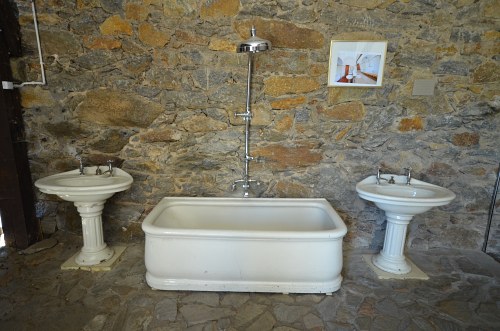 ). The cul­mi­nat­ing point of the trip is the tow­er, which of­fers a view of the pic­turesque Kwi­sa val­ley and (not very nice) farm yard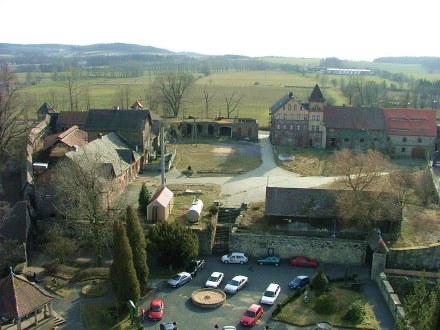 .
THE BEDROOM OF THE CASTLE OWNER
T
o the left of the cas­tle bridge there is a low­er gate. Tourists some­times skip this place, which is a pity be­cause it hides ac­cess to a well-pre­served court­yard with a bas­tion and wood­en de­fen­sive porch­es, which can be walked on with­out any ob­sta­cles. The large, sol­id rocks, from which the mighty walls grow, cre­ate a lyri­cal at­mo­sphere, mak­ing this place the most charm­ing in the whole cas­tle. This leads to the en­trance to the tor­ture cham­ber, lo­cat­ed in the ground floor, which is not very in­ter­est­ing, as well as to the in­ner court­yard with the leg­endary 'well of un­faith­ful wives'.
THE WALKWAY FROM THE OUTER COURTYARD TO THE INNER COURTYARD LEADS BETWEEN PICTURESQUE ROCKS
| | |
| --- | --- |
| | Admission fee |
| | |
| --- | --- |
| | You can enter the farm yard with your dog, provided a dog has a muzzle on it. Small doggies, if you are able to carry them on your hands or in hand­baskets, can also visit the cas­tle in­ter­iors to­ge­ther with you. |
| | |
| --- | --- |
| | Flying a drone directly over the cas­tle re­quires the ad­mi­ni­stra­tor's per­mi­ssion. For­tu­na­tely, the area around the strong­hold is not highly ur­ba­nized and there is plen­ty of free space. |
---
C
zocha is lo­cat­ed on the south­east­ern shore of Lake Leś­niań­skie, about 4 km east of Leś­na town. There is a paid park­ing lot near the main gate. An at­trac­tive lo­ca­tion of the cas­tle makes it a good start­ing point for day trips to the Iz­er­skie Moun­tains, the Kar­ko­no­sze Moun­tains and to the Czech Rep.
---
1. M. Chorowska: Rezydencje średniowieczne na Śląsku, OFPWW 2003
2. L. Kajzer, J. Salm, S. Kołodziejski: Leksykon zamków w Polsce, Arkady 2001
3. P. Kucznir: Tajny zamek Czocha, Technol 2016
4. A. Kurek-Perzyńska, M. Perzyński: Zamek Czocha - historia, legendy, tajemnice, plan
5. J. Lamparska: Tajemnice, zamki, podziemia, Asia Press 1999
6. R. Łuczyński: Zamki, dwory i pałace w Sudetach, SWA 2008
7. M. Świeży: Zamki, twierdze, warownie, Foto Art 2002

MODEL OF THE CASTLE IN THE PARK OF MINIATURES IN KOWARY
Castles nearby:
Zapusta - castle Rajsko from the 13th century, 6 km
Świecie - ruin of the ducal castle from the 14th century, 9 km
Rząsiny - relics of the castle Podskale from the 13th century, 14 km
Proszówka - ruin of the castle Gryf from the 13th century, 20 km

---
Leś­ni­ańs­ka Dam, erect­ed about 1.5 km west of the cas­tle, on the shore of an ar­ti­fi­cial lake cre­at­ed by damming up the Kwi­sa Riv­er. It is the old­est con­struc­tion of its kind in Poland, built by the Ger­mans in or­der to sta­bi­lize the riv­er flow, cre­ate a flood re­serve and pro­duce elec­tric­i­ty. The di­rect im­pulse to start this in­vest­ment was the so-called "T­hou­sand Years' Flood" of 1897, when many vil­lages down the riv­er were de­stroyed by wa­ter. Prus­sian Min­is­ter of Agri­cul­ture and the Pres­i­dent of Si­le­sia, among oth­ers, took part in the cer­e­mo­ny of lay­ing the cor­ner­stone for the dam, while Au­gus­ta Vic­to­ria von Schle­swig-Hol­stein her­self, the wife of Kai­ser Wil­helm II, be­came the hon­orary pa­tron. The cor­ner­stone bears the in­scrip­tion (transl.): To the val­leys for pro­tec­tion, to the abyss for spite, to ev­ery­one for ben­e­fit!

To­day, the more than 100-year-old dam still pro­duces elec­tric­i­ty. It is al­so open to pedes­tri­an traf­fic. Its length is 130 and the to­tal height is 45 me­ters. Near the dam we can find camp­sites, bars and a boat rental.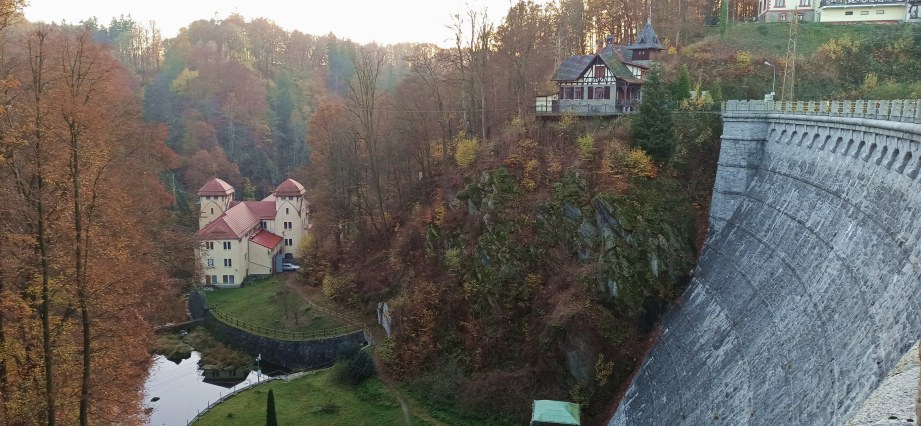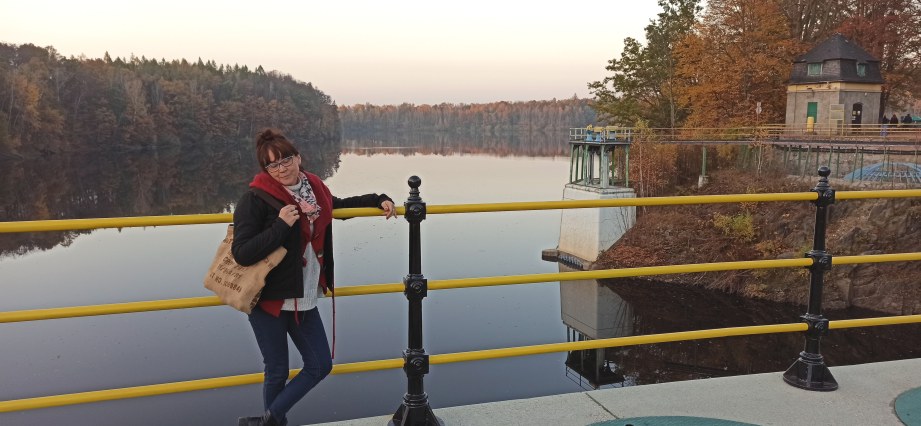 text: 2017, 2020
photographs: 2008, 2017, 2018, 2020
© Jacek Bednarek