DĄBRÓWNO

relics of a Teutonic castle
MODEST RELICS OF A TEUTONIC CASTLE
---
I
n the ear­ly Mid­dle Ages, these lands be­longed to the Prus­sian Sasin tribe, and there was a wood­en Prus­sian set­tle­ment on the site of to­day's town of Dą­bró­wno. In the sec­ond half of the 13th cen­tu­ry this set­tle­ment was cap­tured by Teu­ton­ic Knights, who erect­ed a wood-earth watch­tow­er here known as Il­ien­burg. Around 1314-26, on the ini­tia­tive of the com­man­der of Dzierz­goń, Lu­ther von Braun­schweig (d. 1335), it was re­placed by a brick cas­tle, which from then on served as the seat of a Teu­ton­ic may­or. The may­or of Dą­brów­no ini­tial­ly sub­mit­ted to the com­man­der of Dzierz­goń, and af­ter 1341 - to the com­man­der of Os­tró­da.
PLAN OF MEDIEVAL TOWN BY J. M. GIESE:
1. THE OLD CASTLE, 2. THE NEW CASTLE
T
hanks to its fa­vor­able lo­ca­tion on the trade route lead­ing from Gdańsk and El­blag to Ma­zo­via, Gil­gen­burg (the for­mer name of Dą­brów­no) de­vel­oped dy­nam­i­cal­ly at the dawn of the 15th cen­tu­ry. In par­tic­u­lar, trade and mil­ling flour­ished here. Soon, how­ev­er, came events that caused the town to de­cline. The pre­lude to the com­ing dis­as­ter be­came a big fire of 1405. Five years lat­er, a huge Pol­ish-Li­thua­ni­an army (head­ing to Mal­bork) ap­proached the gates of Dą­brów­no, and some of its troops at­tacked the town and burned it. The Poles and Li­thua­ni­ans then slaugh­tered most of its in­hab­i­tants, and many of them were burned alive.
EVANGELICAL-METHODIST CHURCH IN DĄBRÓWNO
IT WAS HERE THAT INHABITANTS OF DĄBRÓWNO WERE BURNED ALIVE IN 1410
W
e do not know whether the roy­al army de­stroyed the Teu­ton­ic cas­tle and what its sub­se­quent his­to­ry was like. Pre­sum­ably, how­ev­er, it was aban­doned as late as the 15th cen­tu­ry, and its func­tions were tak­en o­ver by a new stronghold, erect­ed in the north­ern part of the town. Af­ter the sec­u­lar­iza­tion of the Teu­ton­ic state (1525), Dą­brów­no be­came part of the Duchy of Prus­sia, and the cas­tle has since served as a seat of the pre­fect. Ot­to von Tren­ken (1525-26) was the first pre­fect of Dą­brów­no, fol­lowed by Hans von Gab­lenz (1526-40), then Frie­drich von Oel­snitz and his son Qui­rin (1540-72). One of the lat­ter two erect­ed a new one-sto­ry brick build­ing based on old­er, post-Teu­ton­ic walls.
CASTLE IN 1811 IN AN ENGRAVING BY L. VON OELSNITZ
I
n 1572, Fe­lix Finck von Finck­en­stein (d. 1576) ac­quired from Qui­rin von Oel­snitz (d. 1600) the right to in­come gen­er­at­ed from the town. From then un­til 1831 Dą­brów­no, as well as Iła­wa, Szym­bark, and the lands be­long­ing to them formed a huge es­tate of the von Finck­en­stein, cov­er­ing an area of more than 14,000 hec­tares. Un­til the be­gin­ning of the 18th cen­tu­ry, their fam­i­ly seat was the cas­tle in Dą­brów­no. In 1693-96 Ernst Finck von Finck­en­stein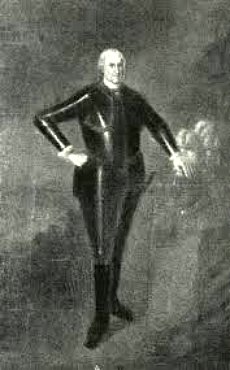 (known as Rich Shep­herd, d. 1717) re­built it in Baroque style and ex­pand­ed it by adding two new wings.
PHOTOGRAPHS OF THE CASTLE FROM THE INTERWAR PERIOD
O
ver time, the eco­nom­ic pow­er of the von Finck­en­steins weak­ened, and fi­nan­cial prob­lems forced them to sell Dą­brów­no es­tate. In 1831, the cas­tle-palace passed in­to the hands of the von Me­gen­borg fam­i­ly (own­ers un­til 1880), and then the Strauss fam­i­ly (un­til 1945). The last re­build­ing and mod­ern­iza­tion of the in­te­ri­or took place here in the late 1920s and ear­ly 1930s. In 1945, So­vi­et ar­til­lery­men shelled the cas­tle, turn­ing it in­to a ru­in. Its re­mains were de­mol­ished in 1968.
RUINS OF THE NORTH WING, 1958
DESCRIPTION OF THE CASTLE
T
he cas­tle (the new one) was built on a square plan with sides of 25x25 me­ters. In the Mid­dle Ages it had a sin­gle-winged lay­out, with a dwel­ling house mea­sur­ing about 14x26 me­ters in plan. Its for­ti­fi­ca­tions con­sist­ed of a de­fen­sive wall and a gate tow­er, and per­haps a tow­er lo­cat­ed in the north­east cor­ner. The cas­tle's walls were in­cor­po­rat­ed in­to the town's for­ti­fi­ca­tion sys­tem. In the 17th cen­tu­ry, the cas­tle was trans­formed in­to a man­sion, with dec­o­ra­tive plas­ter­work cov­er­ing the fa­cades. Next to it, a styl­ish park was es­tab­lished
MEDIEVAL CASTLE (ON THE LEFT) AND TOWN FORTIFICATIONS AS VISUALIZED BY J. M. GIESE (1826)
1ST FLOOR PLAN OF THE CASTLE FROM THE TURN OF THE XIXTH AND XXTH CENTURIES
ELEVATION OF THE NORTH WING, SKETCH FROM THE 1920S
---
N
o above-ground traces of the old­er cas­tle have sur­vived. A mound was raised in its place, on which a mon­u­ment to those who died in World War I was erect­ed in the 1920s. Not much more has sur­vived from the 15th-cen­tu­ry cas­tle. On­ly mod­est frag­ments of the ex­te­ri­or walls re­main on the ground, as well as par­tial­ly buried cel­lars.
| | |
| --- | --- |
| | Free access to the relics |
MONUMENT TO THOSE WHO DIED DURING WORLD WAR I, UNDERNEATH IT THERE ARE RELICS OF THE OLDER CASTLE
REMAINS OF THE VON FINCKENSTEINS' CASTLE
---
D
ąbrówno is located 34 km south of Ostró­da, by road 542 lead­ing tow­ards Dział­do­wo. The town has no rail­way sta­tion. Re­mains of Teu­to­nic cas­tle are loc­ated on Zam­ko­wa Street, in the north­ern part of the town, near the lake Dą­bro­wa Wiel­ka.
| | |
| --- | --- |
| | We can park our car right next to it. |
---
1. M. Garniec, M. Jackiewicz-Garniec: Zamki państwa krzyżackiego w dawnych Prusach, studio Arta 2009
2. L. Kajzer, J. Salm, S. Kołodziejski: Leksykon zamków w Polsce, Arkady 2001
3. R. Sypek: Zamki i obiekty warowne państwa krzyżackiego, Agencja Wydawnicza CB 2000
4. A. Wagner: Murowane budowle obronne w Polsce X-XVIIw., Bellona 2019
5. nn: Kronika konfliktu Władysława króla polskiego z Krzyżakami w roku pańskim 1410, MWiM 1987

AT ZAMKOWA STREET, RIGHT NEXT TO THE RUINS
Castles nearby:
Działdowo - a Teutonic castle from the 14th century, 25 km
Lubawa - a ruined bishops' castle from the 14th century, 25 km
Olsztynek - a Teutonic castle from the 14th century, rebuilt, 28 km
Nidzica - a Teutonic castle from the 14th/15th centuries, 33 km
Ostróda - a Teutonic castle from the 14th century, 34 km
Kurzętnik - a ruined bishops' castle from the 14th century, 40 km
Szymbark - ruins of a castle of the Pomezania Chapter from the 14th century, 52 km
Olsztyn - a castle of the Warmia Chapter from the 14th century, 56 km

---
Even though Dąbrówno was severe­ly dam­aged dur­ing World War II, some build­ings have been pre­served here, prov­ing the cen­turies-old his­to­ry of the place. Quite in­ter­est­ing are the sur­viv­ing frag­ments of town de­fen­sive walls and the so-called Tow­er of Bells, a town tow­er con­vert­ed to a bell tow­er in the 17th cen­tu­ry. Al­so dat­ing from the Teu­ton­ic times is the Me­tho­dist Church, for­mer­ly Catho­lic, built in 1325-50 (now Ro­wo­wa Street). It was here, ac­cord­ing to a me­dieval chron­i­cler, that the towns­peo­ple looked for a shel­ter dur­ing the in­va­sion of the Pol­ish army in Ju­ly 1410. Much younger than the Me­tho­dist tem­ple is the 19th-cen­tu­ry St. John of Ne­po­muk Church, built in neo-Goth­ic style of field­stone and brick (Os­tródz­ka Street). Its peer was a syn­a­gogue (Grun­waldz­ka Street), where frag­ments of wall paint­ings and an orig­i­nal floor have sur­vived to the pre­sent day. The in­trigu­ing mu­ral on its ex­te­ri­or fa­cades is still clear­ly vis­i­ble: I miss you Jew / Ich ver­misse dich Jude.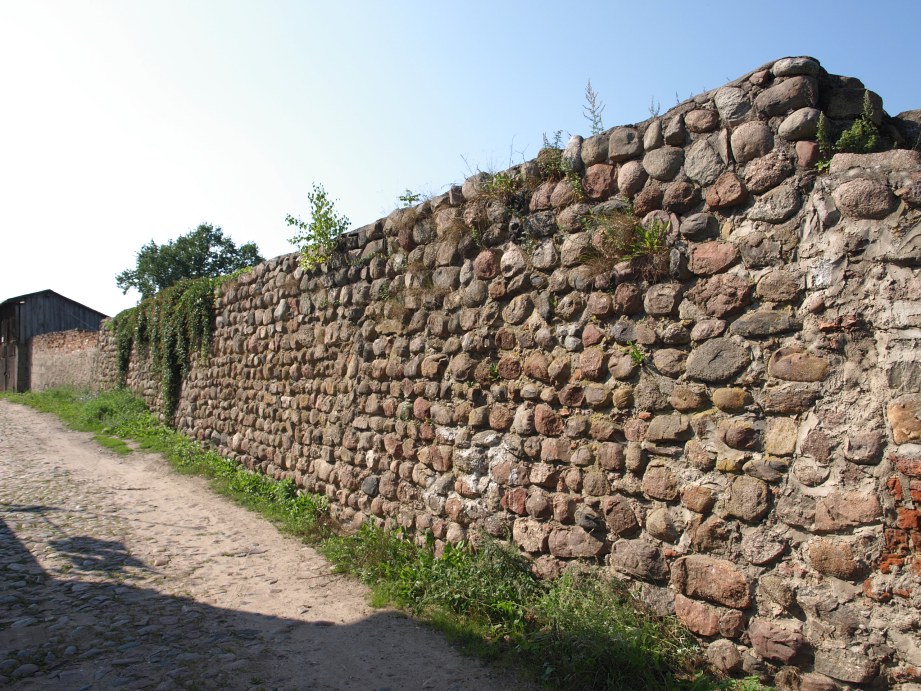 ST. JOHN OF NEPOMUK CHURCH
---
At a dis­tance of 10 km north­east of Dą­brów­no are the Grun­wald Fields. This is the un­du­lat­ing area where, on Ju­ly 15, 1410, a great bat­tle was fought be­tween the Pol­ish-Lithua­ni­an-Ru­the­ni­an-Tar­tar armies and an army com­posed of the Teu­ton­ic Knights and their al­lies from Si­le­sia, Po­me­ra­nia and West­ern Eu­rope. It was one of the lar­gest knight­ly bat­tles in the en­tire Mid­dle Ages. The fo­cal point here is a me­mo­ri­al hill, at the top of which the Grun­wald Vic­to­ry Mon­u­ment was erect­ed on the 550th an­niver­sary of the bat­tle, hav­ing the form of a gran­ite obelisk and 30-me­ter-high masts sym­bol­iz­ing the Pol­ish and Li­thua­ni­an-Rus­sian ban­ners. An am­phithe­ater has been built next to the mon­u­ment, in front of which is a mock-up de­pict­ing a de­ploy­ment of the armies just be­fore the bat­tle.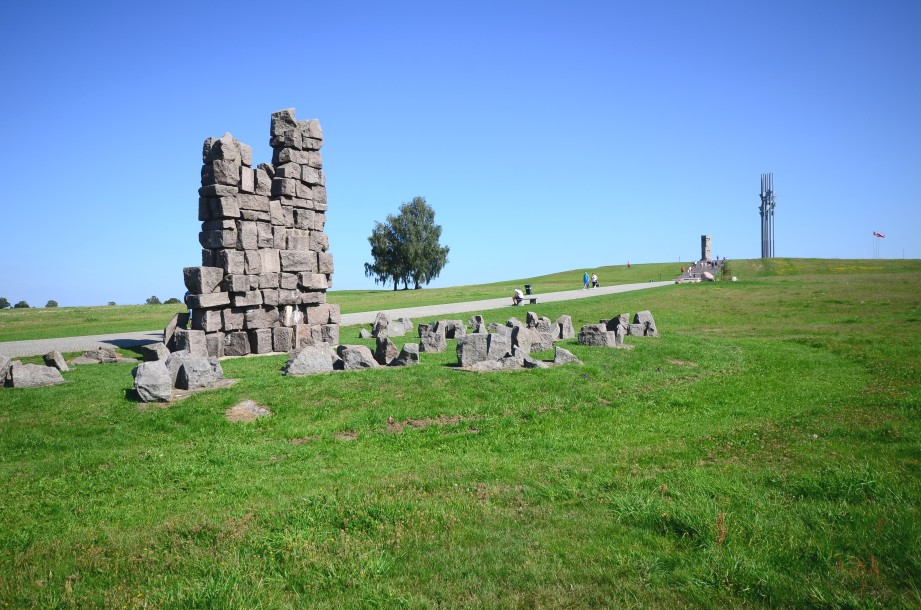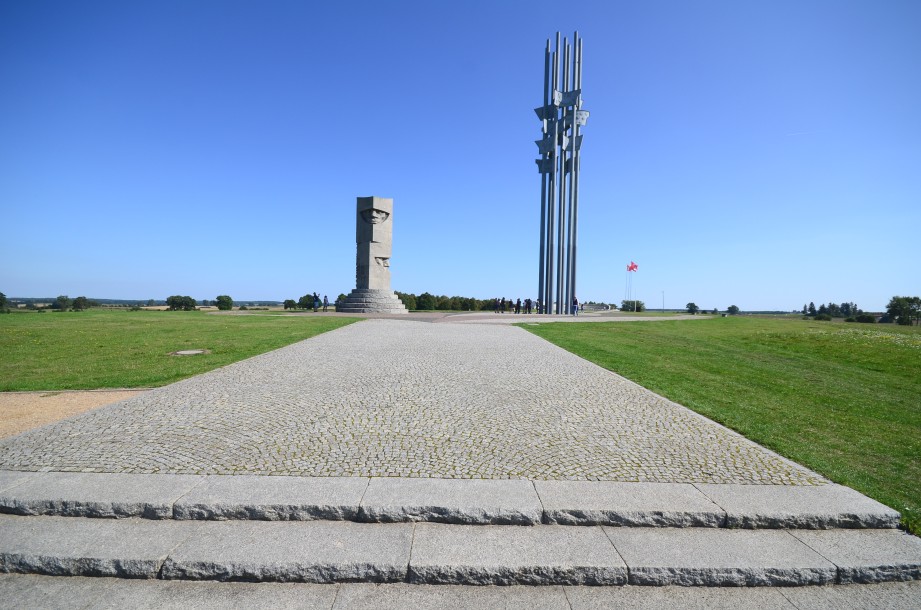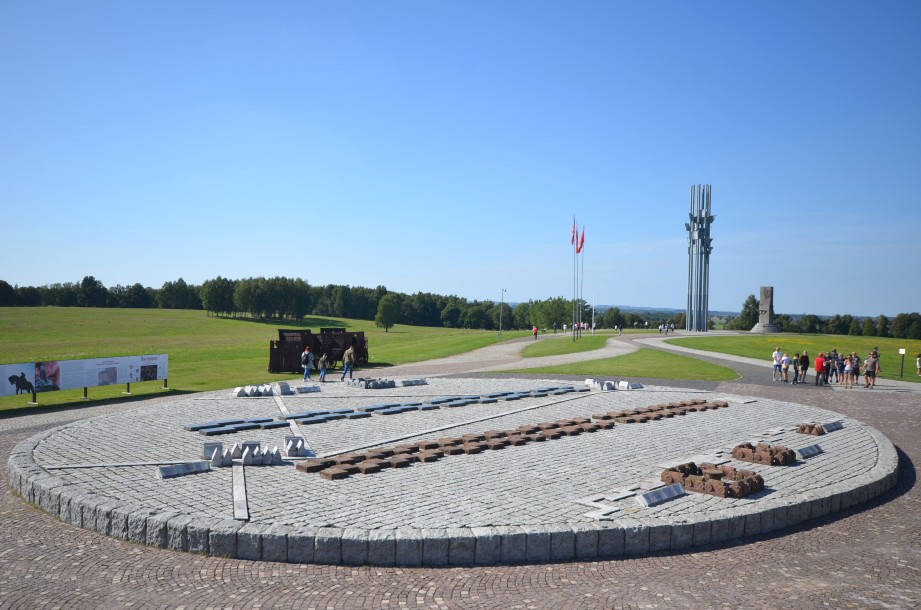 In­side the mound is the Bat­tle of Grun­wald Mu­se­um, which fea­tures an ex­hi­bi­tion ti­tled The Great War against the Teu­ton­ic Or­der 1409-1411, in­clud­ing maps, plans, draw­ings, as well as a large num­ber of me­dieval weap­ons and ar­ma­ments. Here we can see ar­ti­facts be­long­ing to the knights who fought in the bat­tle: bolt and ar­row­heads, sword frag­ments, spurs, and rem­nants of the orig­i­nal ar­mored gaunt­let. Next to the ex­hi­bi­tions there is a cin­e­ma room, where films on the sub­ject of the Pol­ish-Teu­ton­ic con­flicts are screened. A new mu­se­um pavil­ion is sched­uled to open in 2022.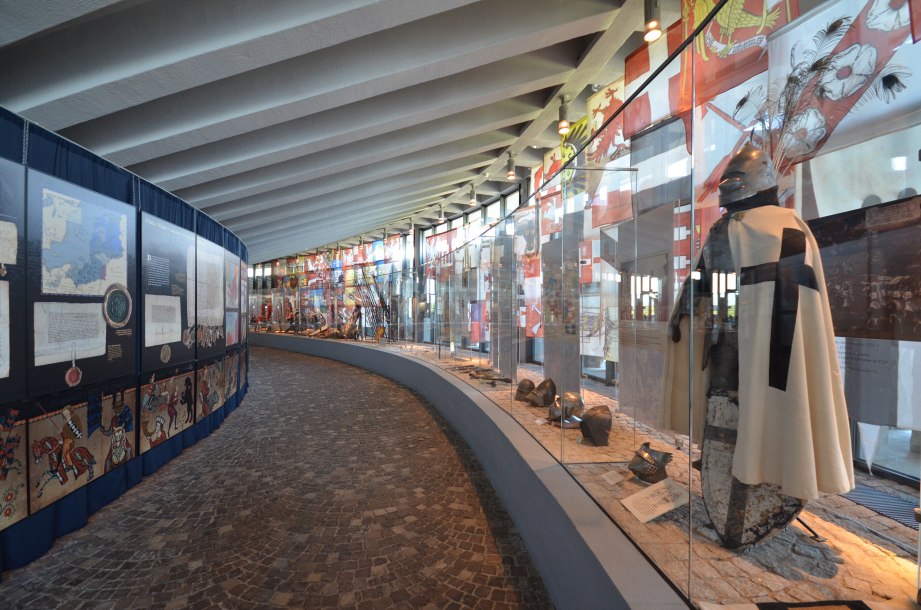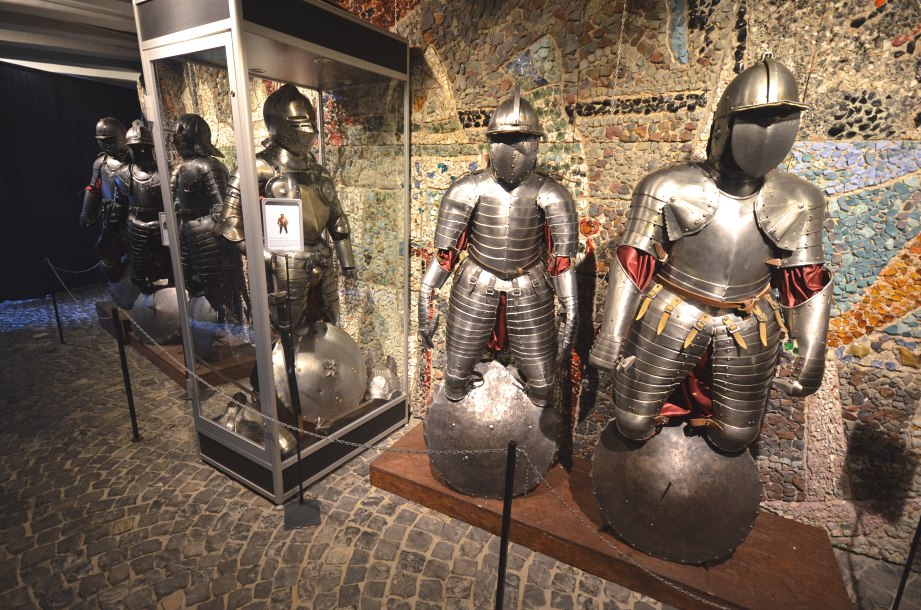 About 500 me­ters from the mon­u­ment hill are ru­ins of a chapel erect­ed by the Teu­ton­ic Or­der as a trib­ute to the knights who fell in bat­tle. At least twen­ty men were buried here, whose bod­ies had ev­i­dence of cuts and stab wounds; in ad­di­tion, ar­chae­ol­o­gists found many oth­er mass graves near­by. In the past, the chapel was used to store the mir­a­cle-fa­mous im­age of the Moth­er of God, at­tract­ing nu­mer­ous pil­grim­ages. This did not please the Prus­sian au­thor­i­ties, who or­dered a de­mo­li­tion of this field tem­ple in the ear­ly 18th cen­tu­ry. Walk­ing from the mon­u­ment hill to­wards the chapel, it is worth not­ing a small boul­der by the road­side. This is be­cause it in­di­cates the hy­po­thet­i­cal place of death of Ul­rich von Jun­gin­gen, Grand Mas­ter of Teu­ton­ic Or­der and Com­man­der-in-Chief of Teu­ton­ic forces at the Bat­tle of Grun­wald.
text: 2022
photographs: 2010, 2019
© Jacek Bednarek