OSTRÓDA

the Teutonic castle
CASTLE IN OSTRÓDA, VIEW FROM THE SOUTHEAST
---
W
e do not know the ex­act date when Ostró­da cas­tle was found­ed. Pre­sum­ably, the first for­ti­fied knight's manor func­tioned here al­ready be­fore 1270, play­ing a strate­gic role as a Teu­ton­ic bor­der watch­tow­er and a base for fur­ther con­quests of lands in­hab­it­ed by Prus­sian tribes. It was cer­tain­ly al­so an ad­min­is­tra­tive, eco­nom­ic and mil­i­tary cen­ter, next to which a small set­tle­ment evolved. A con­ve­nient lo­ca­tion on the trade route lead­ing from Ma­zo­via to the Baltic Sea pro­mot­ed its de­vel­op­ment, thanks to which the set­tle­ment ob­tained mu­nic­i­pal sta­tus as ear­ly as 1329. In 1341, the (still wood­en) Teu­ton­ic strong­hold be­came the cap­i­tal of a com­man­dery, to which such lo­cal­i­ties as Ni­dzi­ca, Dąb­rów­no, Ol­szty­nek, Iła­wa and Dział­do­wo were sub­or­di­nate.
ENTRANCE TO THE CASTLE COURTYARD, IN THE FOREGROUND WE CAN SEE RELICS OF THE GATE TOWER
T
he grow­ing po­si­tion of the town and its new func­tions as a lo­cal cen­ter of Teu­ton­ic ad­min­is­tra­tion in­flu­enced the de­ci­sion to build a new cas­tle that would pro­vide a se­cure head­quar­ters for the com­man­der and his crew. Con­struc­tion work be­gan around the mid­dle of the 14th cen­tu­ry, dur­ing the reign of com­man­der Gün­ter von Ho­hen­stein (d. 1380), and last­ed for three de­cades. In 1381, when the cas­tle was al­most fin­ished, the Li­thua­ni­an troops of Prince Kiej­stut in­vad­ed and de­stroyed it - con­se­quent­ly, its re­con­struc­tion took un­til the end of the 14th cen­tu­ry. It is worth men­tion­ing here that the strong­hold in Ostró­da from the very be­gin­ning be­longed to the best armed in the en­tire Teu­ton­ic State, and was one of the first to have can­nons. In­ven­to­ries from 1391 list one large and three small stone ball can­nons and two can­nons shoot­ing with lead balls.
SOUTHERN WING OF THE CASTLE
I
n ad­di­tion to the afore­men­tioned ar­til­le­ry, at the be­gin­ning of the 14th cen­tu­ry, the cas­tle's ar­se­nal con­tained 128 ar­mors, 88 hel­mets, 262 cross­bows, 54 shields and 23 small­er guns. Af­ter the Teu­ton­ic Knights lost the Bat­tle of Grun­wald (Au­gust 15, 1410), in which the com­man­der of Ostró­da, Gam­rath von Pin­tze­nau, has fall­en, the cas­tle was tak­en by troops of the Prus­sian knight Mi­ko­łaj von Do­rin­gen, who hand­ed it o­ver to the Pol­ish king. The lat­ter al­lowed the bod­ies of Teu­ton­ic dig­ni­taries killed in the bat­tle to be de­posit­ed in the cas­tle chapel, among them the cor­pses of Grand Mas­ter Ul­rich von Jun­gin­gen and the afore­men­tioned com­man­der of Ostró­da (they were lat­er trans­port­ed to Mal­bork). A crew of duke Ja­nusz I of Ma­zo­via gar­risoned the cas­tle, but in ear­ly Sep­tem­ber 1410 it was forced to re­treat un­der the at­tack of Teu­ton­ic troops. Thus Ostró­da re­turned to the hands of the Or­der, and al­ready the fol­low­ing year Grand Mas­ter Hein­rich von Pla­uen (d. 1429) or­ga­nized here a great coun­cil of Prus­sian states, at which the re­con­struc­tion of the coun­try from war dam­age was con­sid­ered and new tax­es were ap­proved.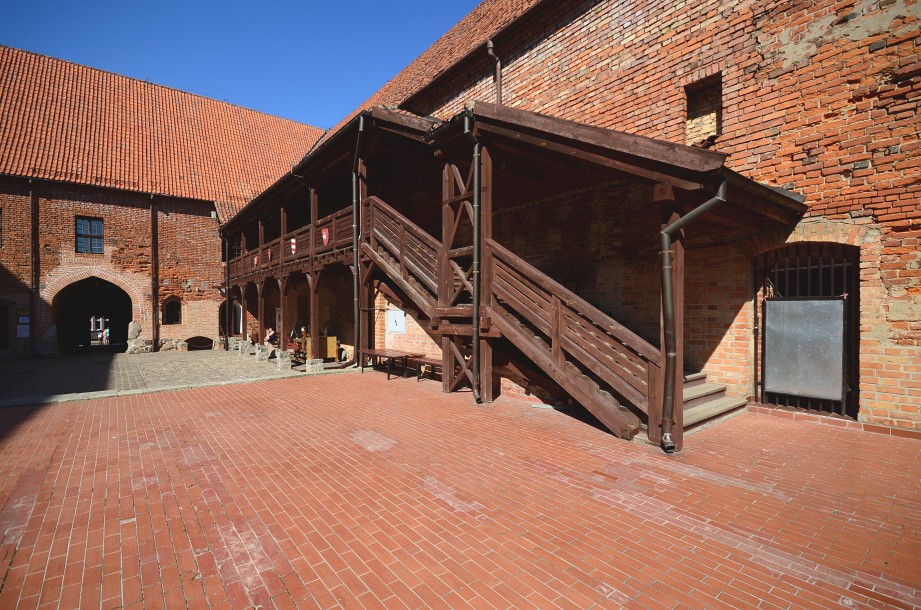 RECONSTRUCTED CLOISTERS IN THE CASTLE COURTYARD
S
hort­ly af­ter the out­break of the Thir­teen Years' War (Febru­ary 4, 1454), the cas­tle was cap­tured af­ter a two-day siege by troops of in­sur­gents re­belling against the Teu­ton­ic au­thor­i­ty. How­ev­er, they lost it just three weeks lat­er and from then un­til 1525 the strong­hold re­mained in the hands of the Or­der. When the Teu­ton­ic state ceased to ex­ist as a sep­a­rate po­lit­i­cal en­ti­ty in 1525, the town took o­ver the func­tion of the dis­trict (sta­ro­sty) cap­i­tal, whose seat be­came the for­mer Teu­ton­ic cas­tle. Its first gov­er­nor was the for­mer com­man­der Qui­rin Schlick (d. af­ter 1530). Lat­er the of­fice be­longed to var­i­ous no­ble fam­i­lies, who re­ceived it in ex­change for leas­es, loans or as part of oth­er fi­nan­cial set­tle­ments. Thus, in 1636 the Pi­ast prince of Brzeg and Leg­ni­ca, Johann Chris­tian
(d. 1639), be­came the starost of Ostró­da, hav­ing been grant­ed this priv­i­lege in ex­change for the dowry of his wife, Prin­cess Dorothea Sy­bil­le von Ho­hen­zol­lern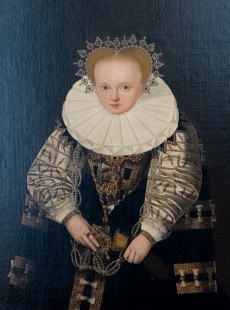 (d. 1625), which he nev­er re­ceived.
PANORAMA OF THE TOWN FROM 1750 BY J. H. DEWITZ, CASTLE SHOWN TO THE LEFT
D
ur­ing the wars fought in the 17th and 18th cen­turies be­tween Poland and Swe­den and Rus­sia, the cas­tle re­ceived new earth for­ti­fi­ca­tions of the bas­tion type. By the end of this pe­ri­od, it no longer served as the seat of Prus­sian sta­rosts, but was used as a mil­i­tary bar­racks and ar­se­nal. Dis­as­trous for it turned out to be the day of Nov­em­ber 21, 1788, when, as a re­sult of a large town con­fla­gra­tion, fire pen­e­trat­ed the cas­tle, caus­ing the ex­plo­sion of pow­der bar­rels stored in its cel­lars. A tremen­dous ex­plo­sion then com­plete­ly de­stroyed the cas­tle's east­ern wing and the tow­er. They have nev­er been re­con­struct­ed, and a ma­te­ri­al ob­tained from their de­mo­li­tion was used to re­build the burned town. Dur­ing re­pair works, the sur­viv­ing cas­tle wings were low­ered by one storey and re­pur­posed to house of­fices.
CASTLE ON POSTCARDS FROM THE EARLY 20TH CENTURY
VIEW OF THE CASTLE FROM EAST, 1920S
D
ur­ing the Napo­leon­ic wars, the cas­tle was ini­tial­ly quar­tered by Ger­man-Prus­sian troops (King Frie­drich Wil­helm III of Prus­sia
resid­ed here be­tween Nov­em­ber 16 and 23, 1806). Lat­er, Na­po­le­on Bo­na­par­te
him­self was sta­tioned here, and he lived at Ostró­da cas­tle from Feb­ru­ary 21 - April 1, 1807 oc­cu­py­ing one of the rooms on the sec­ond floor. From Ostró­da, a mis­er­able vil­lage (mau­vais vil­lage), as he con­temp­tu­ous­ly re­ferred to it, he man­aged the state and com­mand­ed a large im­pe­ri­al army. In less than two months of his stay at the cas­tle, Bo­na­par­te wrote more than 300 let­ters (!). A me­men­to of his vis­it to Ostró­da is a medal stamped by the Paris mint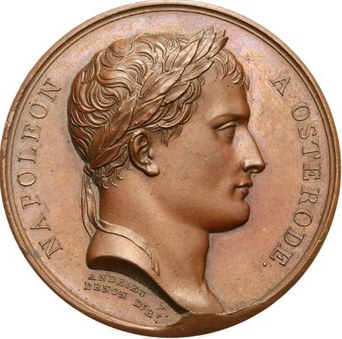 , as well as two paint­ings: one by Ma­rie Nico­las Ponce-Ca­mus Na­po­léon Ier ac­cueil­lant les fa­mil­les polon­ais­es qui vi­en­nent se met­tre sous sa pro­tec­tion and the oth­er by Hip­poly­te Le­comte Bi­vouac de l'ar­mée française à Os­te­ro­de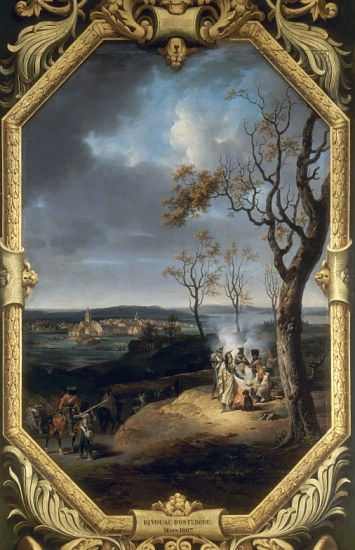 . These works of art nowa­days en­rich the col­lec­tion at Ver­sailles, and their copies can be seen at Ostró­da cas­tle.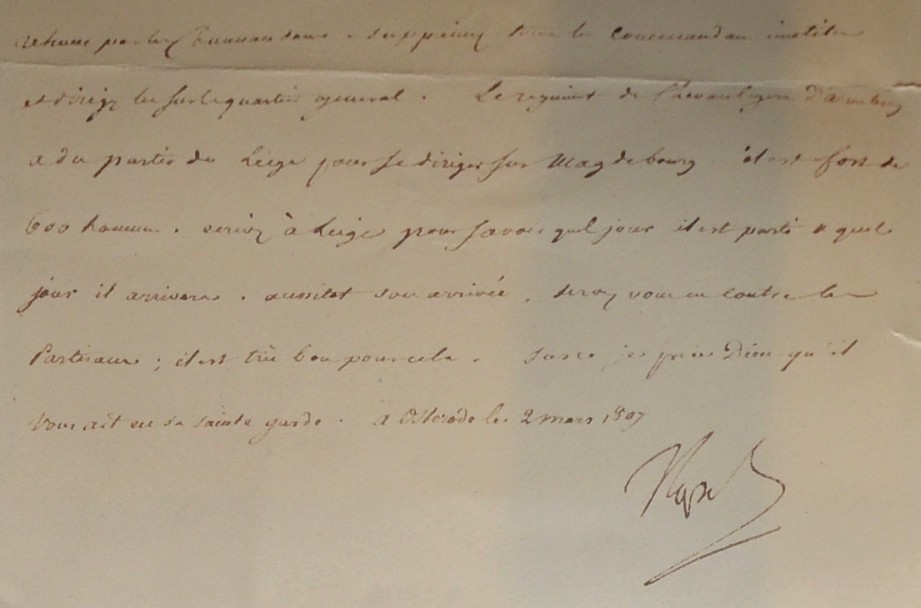 FRAGMENT OF NAPOLEON'S LETTER ADDRESSED TO THE GOVERNOR OF BERLIN, GEN. CLARKE, OSTRÓDA MARCH 2, 1807
MARIE NICOLAS PONCE-CAMUS "NAPOLEON 1ER ACCUEILLANT LES FAMILILLES POLONAISES QUI VIENNENT SE METTRE SOUS SA PROTECTION", 1807
I
n the ear­ly spring of 1945, the cas­tle was de­stroyed by So­vi­et ar­tillery. From then on, for the next few de­cades, the burnt-out, roof­less walls re­mained aban­doned falling in­to more and more ru­in. It was on­ly brought back to life by a com­pre­hen­sive re­con­struc­tion car­ried out for fif­teen years (1977-92), as a re­sult of which the cas­tle re­gained its Goth­ic fea­tures. How­ev­er, nei­ther the top floor nor the east wing, de­stroyed by an ex­plo­sion in the 18th cen­tu­ry, has been re­con­struct­ed. Then the build­ing be­came a mu­nic­i­pal cul­tur­al cen­ter.
CASTLE RUIN AFTER 1945, VIEW FROM SOUTHEAST
DESCRIPTION OF THE CASTLE
T
he cas­tle was lo­cat­ed in the north­west­ern part of the town, from which a wall and moat sep­a­rat­ed it. It was built of brick on stone foun­da­tions, on a reg­u­lar plan in a shape sim­i­lar to a square with sides of 45x47 me­ters. The in­ner court­yard was sur­round­ed by four wings, each 14 me­ters wide, three-sto­ry high and cov­ered with a gabled ce­ram­ic roof. The rep­re­sen­ta­tive south wing housed a Goth­ic chapel (in the east­ern part) and a chap­ter­house (in the west­ern part) - both were ac­cessed through point­ed-arch, rich­ly dec­o­rat­ed por­tals. The oth­er wings on the sec­ond floor housed com­man­der's pri­vate cham­bers, dor­mi­to­ries, in­fir­mary and guest rooms. The en­trance to the cas­tle led through a small gate tow­er at­tached to the front el­e­va­tion of the west wing.
SOUTH WING, VIEW FROM THE COURTYARD
FRAGMENT OF THE WEST WING WITH A GATE / RECONSTRUCTED PORTAL IN THE NORTH WING
T
he cas­tle chapel had as many as three al­tars: the Blessed Vir­gin Mary al­tar (un­ser fro­uen al­ter), the main al­tar (ho­gen al­ter) and the Holy Cross al­tar (hei­li­gen cru­czes al­ter). Its equip­ment in­clud­ed ex­pen­sive chal­ices, sil­ver pon­tif­ices and a gild­ed mon­strance, as well as vel­vet, satin, da­mask and silk cha­sub­les em­broi­dered with gold and dec­o­rat­ed with am­bers and pearls.
As in many oth­er Teu­ton­ic cas­tles, var­i­ous relics were kept in the Os­tró­da chapel, among them:
- a rel­ic of Saint Sigis­mund (d. 524 - czum er­sted ey­ne mon­stran­cie von send Se­ge­munt
- a rel­ic of Saint He­le­na (d. 328) - eyne mon­stran­cie send He­le­nen
- a fin­ger of Saint Mar­tin (d. 327) - 1 sil­bern vor­gult fin­ger sanct. Mar­ti­ni
- a rel­ic of St. Cather­ine (d. ca. 300) - ey­ne mon­stran­cie send Ka­the­ri­nen
- a head (or a frag­ment there­of) of Saint Hu­bert (d. 727) - sil­bern howpt mit sanct Hu­per­ten howpt uber­gult
CASTLE CHAPEL OCCUPIED THE EASTERN (HERE LEFT) PART OF THE SOUTH WING
RECONSTRUCTED PORTALS: IN THE CHAPEL (LEFT) AND IN THE GROUND FLOOR OF THE SOUTH WING
T
he vault­ed cel­lars and ground floors were in­tend­ed for util­i­ty pur­pos­es. They housed food ware­hous­es, equip­ment stores as well as a kitchen and larder (in the north wing), a brew­ery (in the east wing), a bak­ery, and an ar­se­nal. The top floor of the cas­tle served as de­fense and stor­age. Its great eco­nom­ic im­por­tance is ev­i­denced by a ref­er­ence from 1407 to the fact that com­man­der of Ostró­da, Frie­drich von Zol­lern, dis­posed of a huge grain stock of more than 468 lasts (about 1,5 mil­lion liters!), kept in these store­rooms at the up­per cas­tle and in neigh­bor­ing gra­naries.
GROUND FLOOR PLAN OF THE CASTLE IN THE MIDDLE AGES ACCORDING TO CONRAD STEINBRECHT
RECONSTRUCTION OF THE CASTLE AND MEDIEVAL TOWN, VIEW FROM THE NORTH
T
he toi­let tow­er (dan­sker) was con­nect­ed to the north wing of the cas­tle. A porch sup­port­ed by three pil­lars led to it from the re­fec­to­ry, but un­like oth­er Teu­ton­ic cas­tles, the tow­er and porch were pre­sum­ably made of wood. Per­haps, though this is on­ly a hy­poth­e­sis, the cas­tle had a main tow­er, in­cor­po­rat­ed in­to its east wing and de­stroyed when a gun pow­der store ex­plod­ed in 1788. Lit­tle is al­so known about the eco­nom­ic part of the cas­tle. Per­haps, due to lack of space, it did not have a for­ti­fied farm yard, and its func­tion was taken by a grange lo­cat­ed on the oth­er (north­ern) bank of Drwę­ca riv­er.
RELICS OF DANSKER PILLARS
---
T
he squat shape of the cas­tle now makes it look more like a Prus­sian fort than the for­mer seat of Teu­ton­ic knights. From pre-war times (be­fore the cas­tle was de­stroyed), on­ly vault­ed base­ment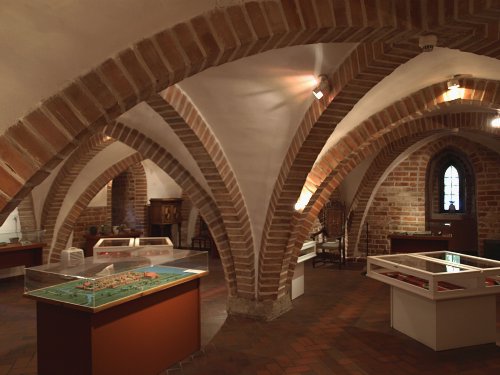 and ground floor have sur­vived, as well as par­tial­ly ex­ter­nal walls up to the height of the sec­ond sto­ry. In­te­ri­ors of the up­per floors, ogi­val win­dows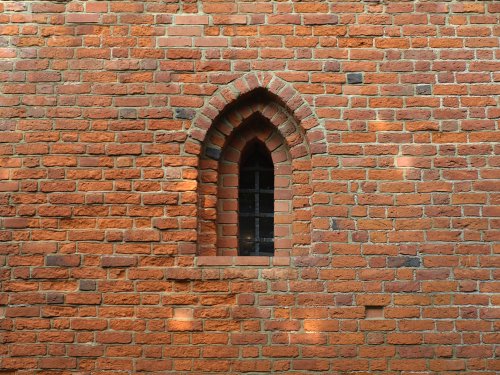 and por­tals, as well as the gate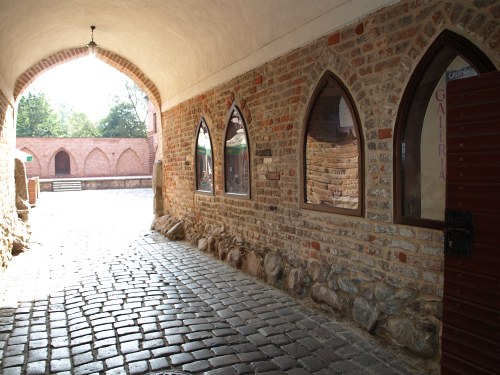 and wood­en porch­es, are un­for­tu­nate­ly the ef­fect of re­con­struc­tion dat­ing back to the sec­ond half of the 20th cen­tu­ry. The cas­tle is par­tial­ly sur­round­ed by a de­pres­sion in the area, which is a rem­nant of the for­mer moat.
T
o­day the cas­tle hous­es a small mu­se­um, a mu­nic­i­pal cul­tur­al cen­ter and a li­brary. Mu­se­um ex­hibits in­clude ar­ti­facts re­lat­ed to the his­to­ry and ar­chi­tec­ture of the strong­hold, the past of Ostró­da land and the stay in the town of Em­per­or Na­po­le­on Bo­na­parte and his staff.
| | |
| --- | --- |
| | Ad­mis­sion is free to the cas­tle court­yard and paid to the mu­se­um. |
| | |
| --- | --- |
| | We vis­it the mu­se­um on our own (but we can hire a guide). The ex­hi­bi­tions are small and can be viewed in 20-30 min­utes. |
| | |
| --- | --- |
| | En­trances with stairs lead to ex­hi­bi­tion halls. There is a stair plat­form for wheel­chair users. |
| | |
| --- | --- |
| | Pho­tog­ra­phy for pri­vate use is free (no flash al­lowed). |
| | |
| --- | --- |
| | An­i­mals are not al­lowed to en­ter or bring in­to the mu­se­um. This pro­hi­bi­tion does not nec­es­sar­i­ly ap­ply to the court­yard, which can be freely en­tered dur­ing the in­sti­tu­tions open­ing hours. |
In the mu­se­um we can see re­al trea­sures dis­cov­ered by en­thu­si­asts in the ar­eas of an­cient Po­me­za­nia. They in­clude, among oth­ers, more than five hun­dred coins of Ger­man, An­glo-Sax­on, Czech and Ara­bic ori­gin, as well as more than one hun­dred Ro­man denarii with im­ages of the em­per­ors Ves­pa­sian, Tra­jan, Ner­va, Lu­cius Ve­rus, Sep­ti­m­ius Se­ve­rus, Ha­dri­an, An­ton­i­nus Pius, Mar­cus Au­re­lius and his chil­dren: Com­mo­dus, Sa­bi­na and Lu­cil­la. The ex­hi­bi­tion is sup­ple­ment­ed by frag­ments of jew­els from around 800 BC.
TREASURE OF ROMAN DENARII
---
T
he cas­tle is lo­cat­ed near Drwęc­kie Lake, on Mi­ckie­wi­cza Street. It is about one ki­lo­me­ter from the rail­way sta­tion to the cas­tle (fol­low Sło­wac­kie­go Street east­ward).
| | |
| --- | --- |
| | The near­est larg­er park­ing lot is lo­cat­ed at Ty­siąc­le­cia Pań­stwa Pol­skie­go Square (100 m) or at Pu­łas­kie­go Street (Lidl park­ing lot, 400 m). |
| | |
| --- | --- |
| | Bicycles can be brought into the castle court­yard. |
---
1. J. Dąbrowski, Ł. Szczepański: Listy z napoleońskiej kwatery głównej w Ostródzie..., OPH 2016-17
2. M. Garniec, M. Jackiewicz-Garniec: Zamki państwa krzyżackiego w dawnych Prusach, Studio Arta 2009
3. M. Haftka: Zamki krzyżackie w Polsce, 1999
4. L. Kajzer, J. Salm, S. Kołodziejski: Leksykon zamków w Polsce, Arkady 2001
5. I. T. Kaczyńscy: Zamki w Polsce północnej i środkowej, Muza SA 1999
6. M. Klat, J. Mykowski: Krzyżackie tajemnice: zamki, skarby, odkrycia, 2002
7. R. Sypek: Zamki i obiekty warowne państwa krzyżackiego, Agencja Wydawnicza CB 2000
8. S. Szczepański: Święte i Święci Pańscy w murach zamku ostródzkiego..., OPH 2/2016
9. A. Wagner: Murowane budowle obronne w Polsce X-XVIIw., Bellona 2019

BY LAKE DRWĘCKIE, A FEW DOZEN METERS WEST OF THE CASTLE
Castles nearby:
Morąg - relics of the Teutonic castle from the 14th century, 28 km
Lubawa - the ruined bishops' castle from the 14th century, 30 km
Olsztynek - the Teutonic castle from the 14th century, rebuilt, 30 km
Dąbrówno - relics of the Teutonic castle from the 15th century, 34 km
Bratian - relics of the Teutonic castle from the 14th century, 40 km
Olsztyn - castle of the Warmia Chapter from the 14th century, 40 km
Przezmark - ruins of the Teutonic castle from the 14th century, 40 km
Szymbark - castle ruins of the Pomezania Chapter from the 14th century, 42 km
Miłakowo- relics of the Teutonic castle from the 14th century, 43 km
Kurzętnik - the ruined bishops' castle from the 14th century, 47 km
Nidzica - the Teutonic castle from the 14th/15th centuries, 58 km

text: 2022
photographs: 2010, 2019
© Jacek Bednarek