TORUŃ

the ruin of Dybów royal castle
THE RUIN OF DYBÓW CASTLE, VIEW FROM THE NORTHEAST
---
T
he Pol­ish-Lithua­ni­an vic­to­ry in the Bat­tle of Grun­wald stopped the ter­ri­to­ri­al ex­pan­sion of Teu­ton­ic Or­der. It didn't, how­ev­er, weak­en ag­gres­sive pol­i­cy of the Teu­ton­ic Knights, who, being safe in their cas­tles, continued to make short raids on Polish lands, but avoided con­fronta­tions in open field. One of such "start­ing points" for fur­ther at­tacks and loot­ing the Ku­ja­wy re­gion, was strong­hold in Nie­sza­wa, lo­cat­ed on the left bank of Vis­tu­la river. By virtue of the so-called Meł­no Peace from 1422, the pol­ish king Wła­dy­sław Ja­gieł­ło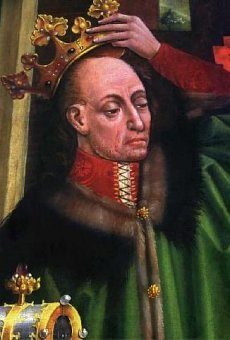 (d. 1434) re­gained lands on the left side of the riv­er, and the cas­tle in Nie­sza­wa was to be de­mol­ished by its for­mer own­ers. How­ev­er, To­ruń still be­longed to the Or­der, who lar­ge­ly con­trol­led ship trans­port. To se­cure the Pol­ish bank of the riv­er and to cre­ate a count­er­bal­ance to Teu­to­nic do­mi­na­tion, Ja­gieł­ło or­dered to build a brick cas­tle ex­act­ly oppo­site To­ruń.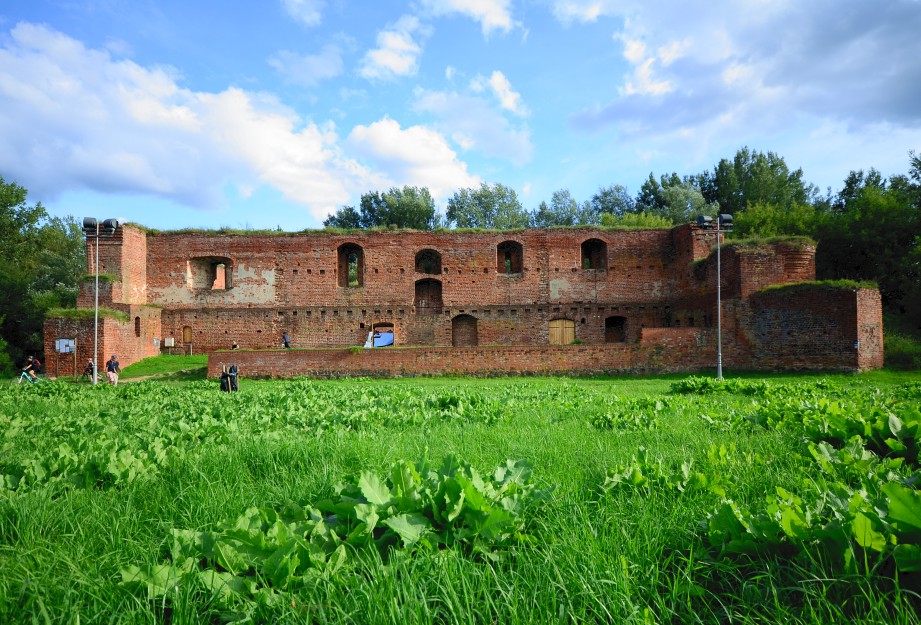 THR RUIN SEEN FROM THE NORTH
T
he construction work start­ed probably in 1425, and the walls were com­ple­ted by the end of 1430, which may be sug­ges­ted by a do­cu­ment that men­tions a fee for the ma­son Mi­ko­łaj from Tar­na­wa for the con­struc­tion of our house in Nie­sza­wa. At the same time, the ad­ja­cent town of Nie­sza­wa de­vel­oped quickly, and in a short time be­came a re­al com­pe­ti­tion for To­ruń city. It at­trac­ted Gdańsk and for­eign ship­own­ers, who by­pas­sed in this way the To­ruń cus­toms duty. Al­so the fairs or­ga­nized in Nie­sza­wa ruined the busi­ness of To­ruń re­si­dents.
NIESZAWA AND TORUŃ IN THE 1ST HALF OF THE XV CENTURY: 1. OLD TORUŃ, 2. NEW TORUŃ, 3. NIESZAWA,
4. DYBÓW CASTLE, 5. VISTULA RIVER
T
his state of af­fairs led to a revolt of the To­ruń towns­people, who in 1431, with the help of Teu­ton­ic Knights, made their way to the left bank of Vis­tu­la riv­er, and then burnt down the Nie­sza­wa town and the cas­tle. The suc­cess came easi­ly to them, which may in­di­cate that Dy­bów cas­tle didn't have good de­fen­sive pro­per­ties, serv­ing main­ly as a com­fort­able res­i­dence for the rul­er and as the seat of the star­ost. In the opin­ion of the Pol­ish chron­i­cler Jan Dłu­gosz, how­ev­er, the fact of the quick sur­ren­der of the cas­tle crew was the con­seq­uence of in­com­pe­tent reign and per­haps even trea­son of its com­man­der, Mi­ko­łaj Tu­mi­gra­ła of Wcze­le coat of arms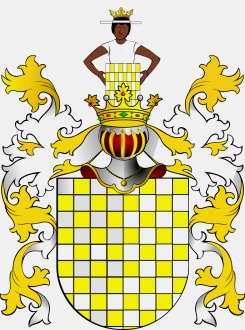 (d. af­ter 1435). The To­ruń at­tack­ers stole from Nie­sza­wa valu­able cop­per, grain and salt and then re­turned to their city, leav­ing the Teu­to­nic Knights, who es­tab­lished a com­man­dery here. New can­nons were brought to Dy­bów cas­tle, and de­fen­sive wall as well as a sec­ond tow­er were erected then. At that time, the cas­tle was in­hab­it­ed by 6 knights, a chap­lain, about 30 in­terns, as well as an un­spec­i­fied group of oth­er crew mem­bers, a writ­er and two cooks.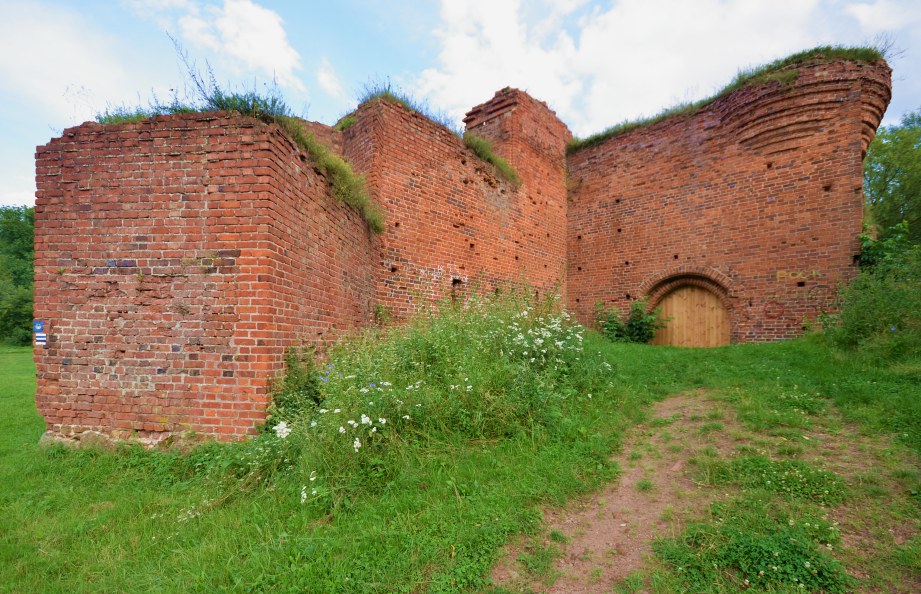 A
s a result of the peace treaty concluded in Brześć Ku­jaws­ki at the turn of 1435 and 1436, Nie­sza­wa re­turned to Poland. The cas­tle was es­tab­lished then the seat of bur­graves. It was al­so soon mod­ern­ized to en­able the use fire­arms. In the fol­low­ing years, po­lit­i­cal re­la­tions be­tween Poland and the Teu­ton­ic Order were rel­a­tive­ly cor­rect, hence the bor­ders were rel­a­tive­ly safe. De­spite this, at the end of the 1440s, the starost Jan Kret­kow­ski of Do­łę­ga coat of arms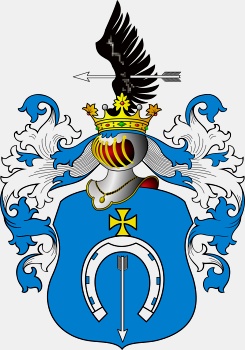 (d. 1452) in­creased the gar­ri­son of the cas­tle and or­dered the sub­jects to pre­pare for mo­bi­liza­tion. It was re­lat­ed to re­ports of an al­leged planned at­tack of To­ru­ni­ans on Dy­bów, which fi­nal­ly did not hap­pen. In Fe­bru­ary 1454, short­ly af­ter the ex­pul­sion of Teu­ton­ic Knights from To­ruń, the town­smen took the Pol­ish king's side, of­fer­ing him con­sid­er­able fi­nan­cial as­sis­tance in the Pol­ish-Teu­ton­ic War which had just be­gun. How­ev­er, they de­mand­ed that the left bank town should be dis­placed far enough away to not threat­en their mer­chant in­ter­ests. King Ka­zi­mierz Ja­giel­loń­czyk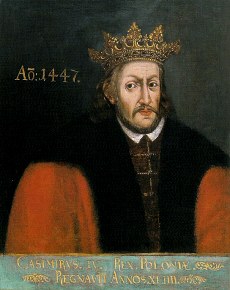 agreed to these con­di­tions and moved the en­tire town of Nie­sza­wa 4 miles up­stream.
VIEW FROM THE TOWN HALL TO THE SOUTH BANK OF VISTULA RIVER
YOU CAN SEE THE RUINS OF DYBÓW CASTLE BETWEEN THE BRIDGE SPANS
A
fter the out­break of Thir­teen Years' War (1454-66), the cas­tle be­came a res­i­dence of the king and Pol­ish dig­ni­taries as well as mil­i­tary com­man­ders. In Novem­ber 1454, Ja­giel­loń­czyk is­sued le­gal acts here, which gave the no­bil­i­ty new priv­i­leges. It was the price he paid for main­tain­ing the mil­i­tary val­ue of the army, which more and more of­ten ex­pressed its dis­sat­is­fac­tion and de­sire to re­turn home. Two years lat­er, a cus­toms cham­ber and starosty were es­tab­lished in Dy­bów. Jan Ko­ście­lec­ki of Ogoń­czyk coat of arms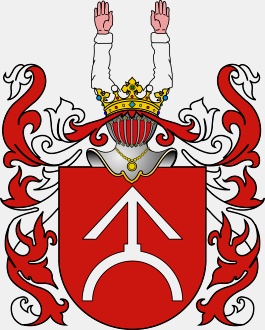 (d. 1479) was elect­ed the head of the cas­tle, in return for a loan of 350 Hun­gar­i­an flor­ins he gave to the king.
DYBÓW CASTLE IN DRAWING BY E. DAHLBERG, S. PUFENDORF: "DE REBUS A CAROLO GUSTAVO GESTIS", 1656
I
n the second half of the 15th century part of the castle was adapt­ed on the gra­nary, salt store­house and dis­tillery. This caused some pro­tests of the To­ruń towns­people, who com­plained to the king Zyg­munt Sta­ry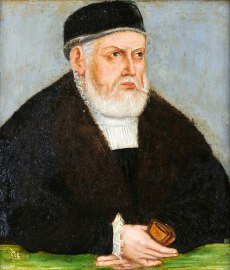 and re­cei­ved a prom­ise that the con­struc­tion of gra­na­ries would be stop­ped. The Polish king's sub­mis­sion in this mat­ter was prob­ab­ly due to the debts he owed to the pat­ri­cians of To­ruń and which he con­trac­ted for the pur­pose of wag­ing the Thir­teen Years' War. It is worth men­tion­ing two im­por­tant facts re­lat­ed to the roy­al cas­tle in Dy­bów at that time. The first one was the Pol­ish-Teu­ton­ic ne­go­ti­a­tions to establish peace terms, which start­ed here in Sep­tem­ber 1466 and were com­plet­ed and signed at the Ar­tus Manor House in To­ruń. An­oth­er unique event in the his­to­ry of the fort­ress was the birth here of An­na Jagiel­lon­ka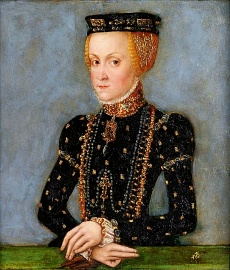 (d. 1503), daugh­ter of Ka­zi­mierz Jagiel­loń­czyk and El­żbie­ta Ra­ku­szan­ka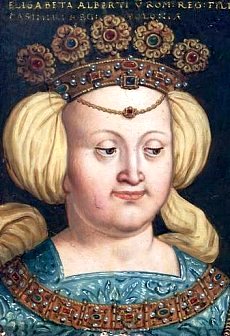 , who came into the world on 12 March 1476.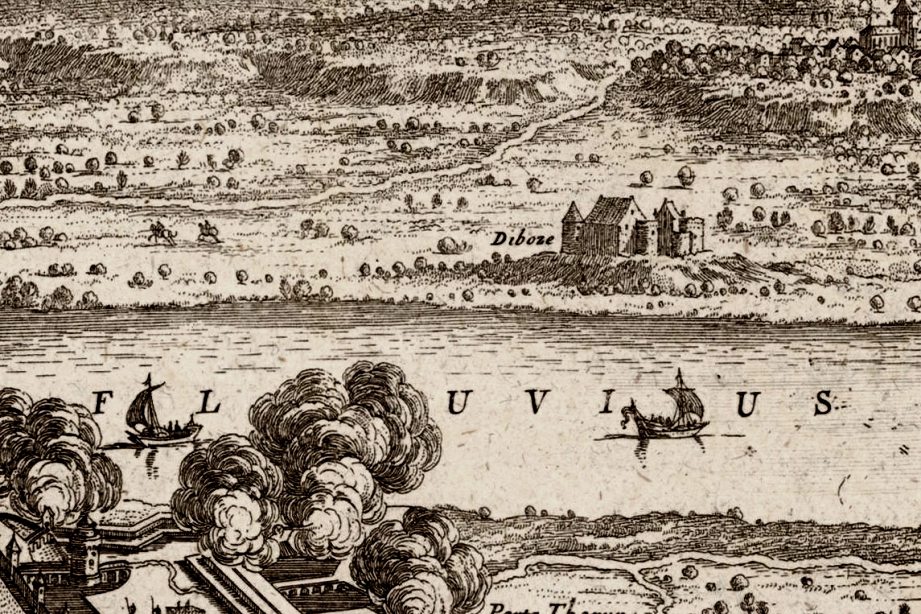 BOMBARDMENT OF DYBÓW BY THE SWEDES, 1656
A
fter the last Pol­ish-Teu­ton­ic War (1519-21) and in­cor­po­ra­tion of Roy­al Prus­sia in­to Poland, the cas­tle lost its strate­gic role, but still func­tioned as the seat of the starost and as a cus­toms. It re­mained in good con­di­tion in the first half of the 17th cen­tu­ry, al­though an in­spec­tion from 1628-32 men­tions some dam­age on the sec­ond floor, where pris­on­ers burned down the rooms, dam­aged stoves and broke the win­dows. Huge dev­as­ta­tion was done here on­ly by the Swedes, who af­ter star­ting the oc­cup­ation of To­ruń (1656) con­si­dered the cas­tle a threat to their safe­ty. For this reason, they made an attempt to blow it up. Ex­plo­sion, al­though very strong, did not do much dam­age, so a fire was set un­der the cas­tle. Fur­ther de­struc­tions were made by Pol­ish-Aus­tri­an troops, who erect­ed a ram­part near the fort­ress, from where the Swedish-oc­cu­pied town was be­ing fired up­on.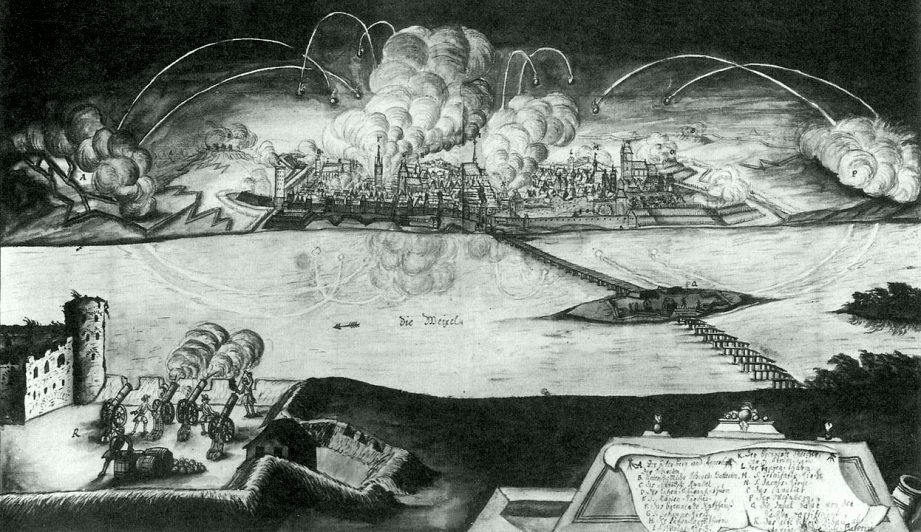 DRAWING SHOWING THE SIEGE OF TORUŃ BY SWEDISH TROOPS IN SEPTEMBER 1703
ARTILLERY AT DYBÓW CASTLE FIRING ON TORUŃ IN 1703
S
hort­ly af­ter the Swedish army left Toruń, ef­forts were made to re­build the cas­tle, but ul­ti­mate­ly the scope of these work found to be very li­mi­ted. The mu­tu­al fire­fight­ing, car­ried out in the sum­mer of 1703 by the Swedes from Dy­bów and the Poles from To­ruń, led to de­mo­li­tion of guard tow­er and se­ri­ous dam­age of the castle res­i­den­tial part, as a re­sult of which the ceil­ings of its up­per storey col­lapsed in­to the cel­lars. De­spite the fact that re­pair works were not un­der­tak­en, Dy­bów served as a cus­toms un­til the sec­ond par­ti­tion of Poland, i.e. un­til 1793, al­though al­ready in the mid­dle of the 18th cen­tu­ry its con­di­tion was very bad.
DYBÓW CASTLE SEEN FROM TORUŃ, 1745
T
he last starost on Dy­bów was Stanisław Dąmb­ski of Go­dziem­ba coat of arms
(d. 1809). Af­ter the sec­ond par­ti­tion of Poland, the Prus­sian au­thor­i­ties opened a dis­tillery here. In 1813, a 40-peo­ple French troop un­der com­mand of Lieu­tenant Sa­va­ry took ref­uge in the cas­tle, where re­sist­ed the Rus­sian of­fen­sive for al­most three months, ca­pit­u­lat­ing on­ly af­ter the sur­ren­der of the city. In the 1830s the mu­ni­ci­pa­li­ty prep­ared a plan to in­cor­po­rate the strong­hold in­to the ci­ty for­ti­fi­ca­tion sys­tem, which for many rea­sons has nev­er been im­ple­ment­ed. At that time the cas­tle was sur­roun­ded by earth­en ram­parts.
DYBÓW SEEN FROM THE NORTH-EASTERN SIDE, K. ALBERTI 1795
I
n the fol­low­ing years, the ru­ins for­mal­ly be­longed to the army, first Prus­sian, lat­er Pol­ish, but it re­mained aban­doned. The mil­i­tary au­thor­i­ties hand­ed it o­ver to the city in 1954, and in the same dec­ade re­search work be­gan, com­bined with walls con­ser­va­tion. De­spite res­cue op­er­a­tion, Dy­bów re­mained un­de­vel­oped, serv­ing main­ly the lo­cal youth, who left the tones of rub­bish and nas­ty paint­ings on the walls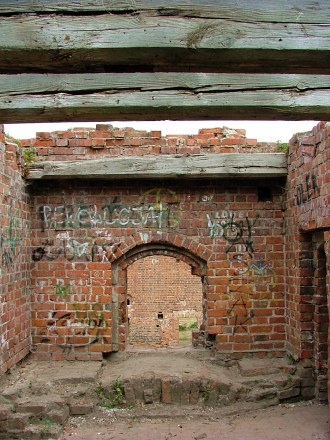 . Crim­i­nal self-judge­ments al­so took place here, which was per­fect­ly fa­cil­i­tat­ed by lo­ca­tion of the stronghold far from oth­er build­ings and com­mu­ni­ca­tion routes. In 2014, the ruins were leased to Dy­bów Cas­tle and Strong­hold Nie­sza­wa Foun­da­tion.
DYBÓW CASTLE RUIN ON POSTCARDS FROM THE BEGINNING OF THE XX CENTURY
TUNNEL
Al­though some peo­ple take this sto­ry not too se­ri­ous­ly, there is no lack of those who would ar­gue that there was a tun­nel un­der Vis­tu­la con­nect­ing the cas­tle with St. Johns Cathe­dral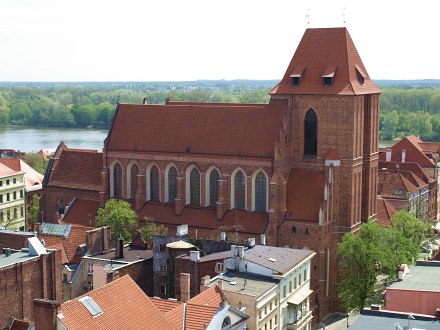 standing on the right bank of the riv­er. It is said that for cen­turies the ex­is­tence of un­der­ground cross­ing has been kept se­cret and its au­then­tic­i­ty was on­ly con­firmed in the 20th cen­tu­ry. One of the wit­nes­ses was a sev­en­teen-year-old boy who, af­ter dis­cov­er­ing the tun­nel, moved to­wards Vis­tu­la, ini­tial­ly di­ag­o­nal­ly down­wards and then hor­i­zon­tal­ly to a place where the pas­sage­way be­came full of mud. The hy­pothe­ses about ex­is­tence of the mys­te­ri­ous sub­way were con­firmed by the builders of the Toruń bridge in the 1930s, when the Goth­ic vaults of un­known pur­pose were dis­cov­ered. Ac­cord­ing to the re­searchers' opin­ion who be­lieve in ex­is­tence of the tun­nel, its be­gin­ning is hid­den under the old­est res­i­den­tial part of the cas­tle, while the end is lo­cat­ed in the Chapel of St. There­sa.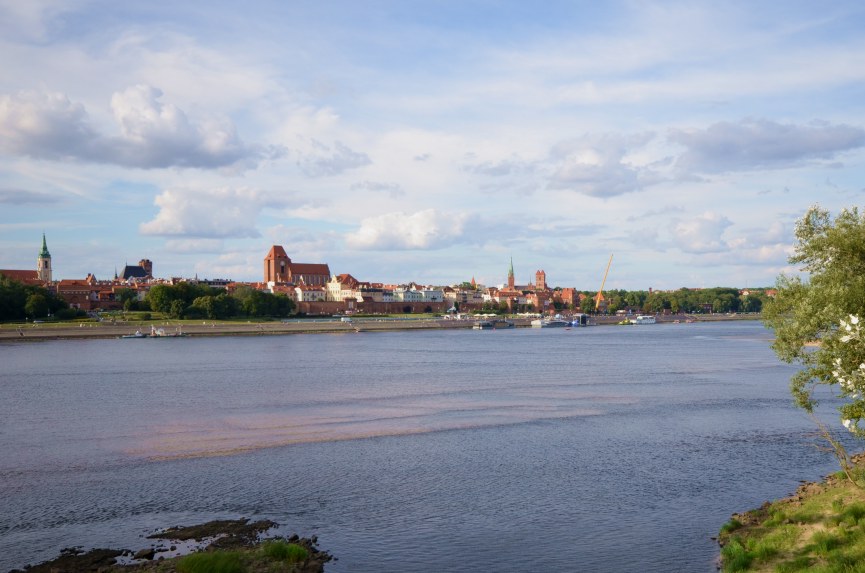 View from the left bank of Vistula river on the Old Town with St. Johns Cathedral dominating it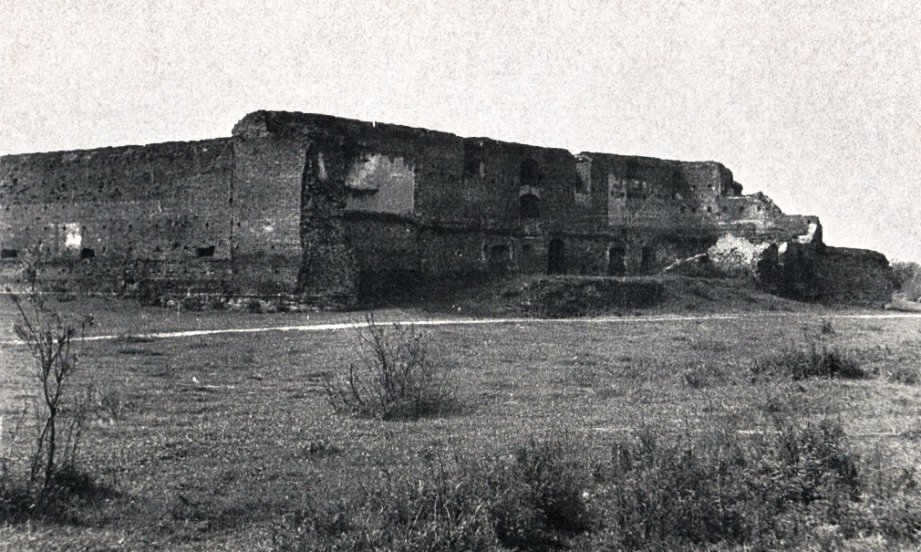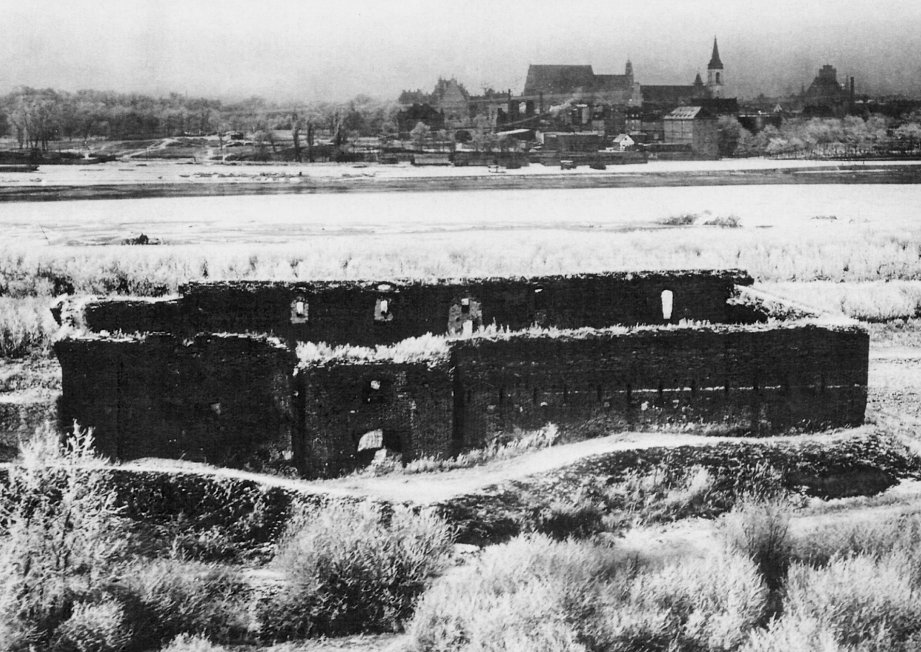 PHOTOGRAPHS FROM THE 1930S
DESCRIPTION OF THE CASTLE
T
he cas­tle is lo­cat­ed on the left bank of the Vis­tu­la Riv­er, south-west of the Old Town, in the place where it is hid­den by the is­land - Kę­pa Ba­za­ro­wa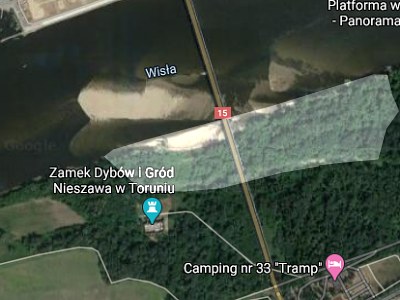 . The main and old­est part of it was a three-sto­rey Goth­ic brick house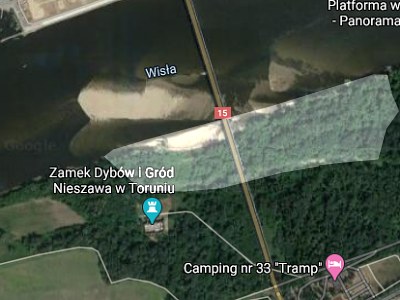 , erect­ed on the north­ern side, on a rect­an­gu­lar plan (45x13.5 m). Each of its floor con­si­sted of three large rooms, 8 me­tres wide, and 18 or 9 me­tres long. Un­der­neath them there were vaul­ted cel­lars with wood­en floor, which sug­gests that they could be used as stor­age and util­i­ty cham­bers.
PLAN OF DYBÓW CASTLE: 1. GOTHIC RESIDENTIAL BUILDING, 2. ENTRANCE GATE, 3. FOREGATE, 4. BUTTRESS, 5. CORNER TURRETS
W
e can on­ly spec­u­late about the look and purpose of the sec­ond floor, al­though by anal­o­gy we can as­sume that it was a stor­age lev­el pre­pared for mil­i­tary use. The build­ing was cov­ered with a hipped roof with gables on the short­er sides. Its front el­e­va­tion had dec­o­rat­ive blends, Goth­ic win­dows and ven­ti­la­tion holes, as well as sharp-edged en­trance to the ground and first floor
. The in­te­ri­or of the Goth­ic house was prob­a­bly plas­tered and fin­ished with dec­o­ra­tive paint­ings. In the north-west part of the cas­tle a di­ag­o­nal but­tress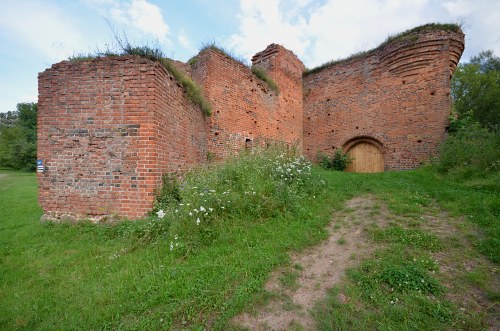 stands, which sup­pos­ed­ly served as a la­trine and prot­ec­ted the gate from the riv­er side. The north­east cor­ner may have been re­in­for­ced by a cyl­in­dri­cal tow­er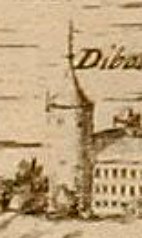 , known from hi­sto­ri­cal draw­ings. In the ear­ly phase of its op­er­a­tion, the cas­tle had no brick de­fence perime­ter wall and was ei­ther a free-stand­ing buil­ding or on­ly pro­tect­ed by a wood­en pal­isade.
GATE IN THE SOUTHERN WALL, VIEW FROM THE NORTH
I
n years 1431-35 the res­i­den­tial build­ing was sur­round­ed on three sides by brick wall mark­ing a reg­u­lar court­yard with sides of about 27x52 me­ters. The wall, 1.7 to 2.3 me­tres thick and up to 7.5 me­tres high with cre­ne­la­tion, af­ter 1450 was raised and equip­ped with three brick tur­rets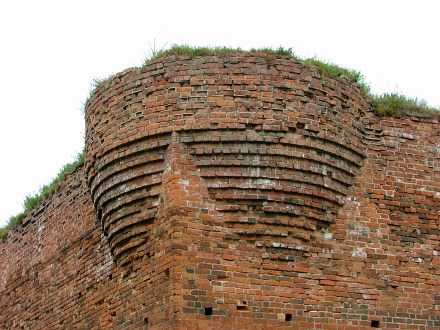 , adapt­ed to use of fire­arms. En­trance to the court­yard led from the south, through a three-storey gate tow­er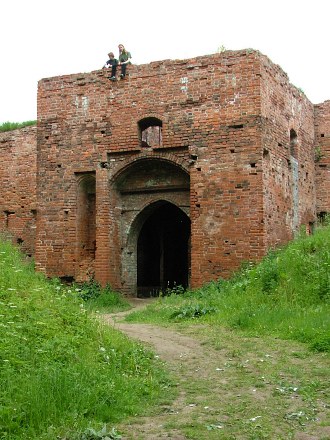 , erect­ed on a quadri­lat­er­al plan with sides of 8.7x9.7 me­ters, with two sym­met­ri­cal stair­cas­es lead­ing to the porch­es. The sec­ond floor of the tow­er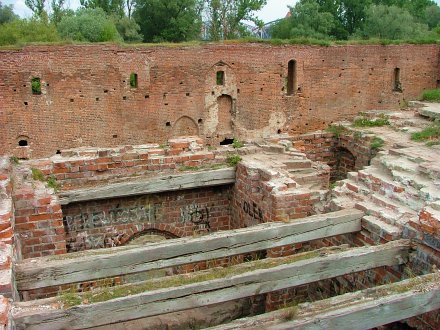 housed a guard room with gun ports faced both the road and the fore­ground. The gate was ac­cessed by a wood­en bridge o­ver the moat, sup­plied with wat­er from the near­by Vis­tu­la Ri­ver.
---
T
he full perime­ter of the outer walls with rem­nants of cylin­dri­cal cor­ner tow­ers has been pre­served to these days, as well as the gate tow­er, re­con­struct­ed in the 1970s, which still is equip­ped with stars lead­ing to the wall top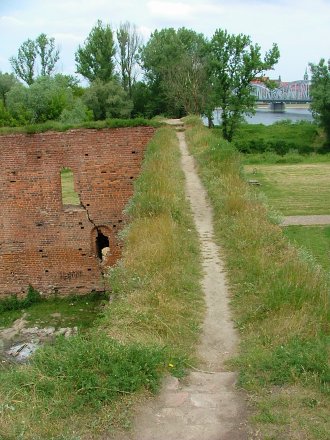 . The top does not have any pro­te­ction against fal­ling down, so you should be care­ful when walk­ing around it. The for­mer re­si­den­tial buil­ding sur­vi­ved on­ly part­ial­ly: its south­ern wall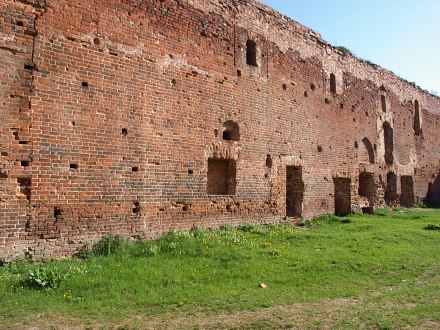 about 11 me­ters high and small part of the north-west­ern wall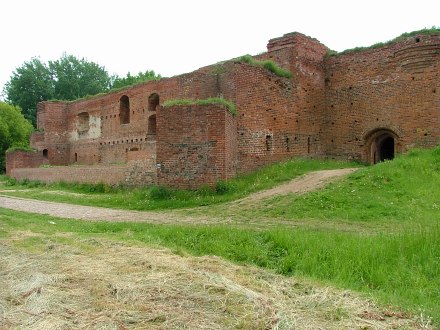 re­mained.
IN THE CASTLE COURTYARD (2017)
| | |
| --- | --- |
| | Admission to the ruins is free. Un­for­tu­na­tely the area is lit­te­red. |
| | |
| --- | --- |
| | If you want, you can come here with your dog. |
| | |
| --- | --- |
| | The site is suitable for fly­ing a drone. It is not al­lowed to rise above 100 met­ers. |
---
T
he castle is located on the left bank of the Vis­tu­la Ri­ver, far away from other buil­dings, about 300 me­ters to the west of the brid­ge con­nec­ting left and right-bank To­ruń. Al­though the ruin is si­tu­ated on the right si­de of the brid­ge (look­ing from old To­ruń), after le­aving the brid­ge you should turn left in­to a dirt road, which after a few do­zen me­ters turns sharp­ly and le­ads un­der the brid­ge pil­lars straight to the cas­tle.
| | |
| --- | --- |
| | It is for­bid­den to get by car to the cas­tle (en­try ban). The most con­ve­nient way to le­ave your car is in a small free car park on Dy­bow­ska Street (900 m) or in a paid parking lot near the rail­way sta­tion (1,1 km). |
| | |
| --- | --- |
| | The entry ban doesn't apply to bicyclists. |
---
1. A. Andrzejewski, P. Wroniecki: W poszukiwaniu zaginionego miasta..., 2015
2. S. Jóźwiak: Zamek w Nowej Nieszawie w świetle średniowiecznych źródeł..., Rocznik Toruń. tom 42
3. L. Kajzer, J. Salm, S. Kołodziejski: Leksykon zamków w Polsce, Arkady 2001
4. P. Lasek: Prywatne zamki polskich dowódców z czasów wojny..., Kom. Maz.-Warm. 2/2017
5. T. Olszacki, A. Różański: Zamek w Gołańczy, Gołaniecki Ośrodek Kultury 2015
6. R. Sypek: Zamki i obiekty warowne Państwa Krzyżackiego, Agencja CB 2000
7. B. Szmygin, P. Molski: Ochrona i konserwacja ruin zamkowych, PKN ICOMOS Politech. Lubelska 2013

VIEW OF THE CASTLE FROM THE RIVER SIDE, IN THE FOREGROUND THERE IS A RUIN OF A GOTHIC RESIDENTIAL BUILDING
Castles nearby:
Toruń - the ruins of Teutonic castle from the 13th century, 2.5 km
Mała Nieszawka - the relics of Teutonic castle from the 14th century, 4 km
Złotoria - the royal castle ruins from the 14th century, 13 km
Bierzgłowo - the Teutonic castle from the 13th century, 22 km
Raciążek - the bishops' castle ruins from the 14th century, 26 km
Kowalewo Pomorskie - the relics of Teutonic castle from the 13th century, 30 km

text: 2020
photographs: 2012, 2017, 2019
© Jacek Bednarek