TORUŃ

the ruin of Teutonic castle
RUIN OF A TEUTONIC CASTLE, NORTH-WESTERN PART WITH THE DANSKER
---
T
he sto­ry about the Masovian Duke Kon­rad Ma­zowiec­ki, who in 1228 in­vit­ed the Teu­ton­ic Or­der to pol­ish lands, prob­a­bly was heard by almost ev­ery­one. But on­ly few peo­ple know, that the group, which then came to set­tle the Chełm­no Land, con­sist­ed of on­ly two knights and a small unit of sol­diers! These two knights were Philip von Hal­le and Hein­rich Böh­me who set­tled on a wood­en strong­hold on the left bank of the Vis­tu­la Riv­er, named Vo­gel­sang. Two years lat­er a squad of five bro­thers, led by Her­mann von Balk (d. 1239), joined them to cross the riv­er and move to Nie­sza­wa, lo­cat­ed about 10 kilo­me­ters to the west. There they or­ga­nized a small bridge­head, whose strate­gic el­e­ment - ac­cord­ing to the tra­di­tion - was to be a huge oak sub­sti­tut­ing a tow­er. The Ger­man chron­ic­ler Peter from Dus­burg wrote in the 14th cen­tu­ry that the knights fought a bloody bat­tle with the Prus­sians o­ver this oak.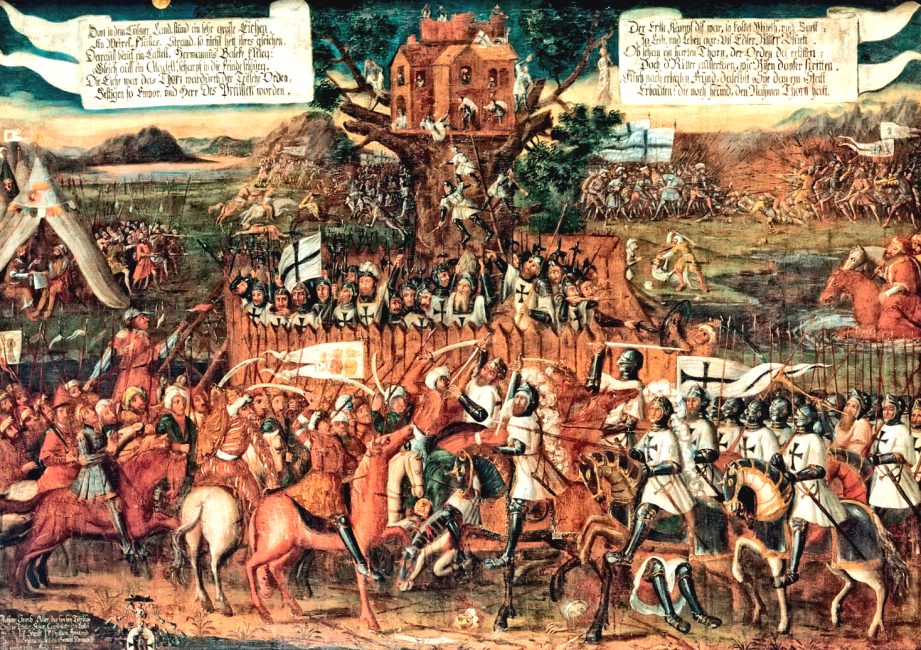 "TOWER ON OAK TREE" BY A XV CENTURY ARTIST, THE PRUSSIANS ARE DEPICTED HERE IN TURKISH COSTUMES
H
ow dif­fi­cult were the be­gin­nings of Teu­ton­ic Order in a new land can be proven by the chron­i­cler's men­tion that the knights al­ways kept boats on stand­by to be able to hide from the Prus­sians on the oth­er bank of Vis­tu­la. From here they be­gan the con­quest the lands in­ha­bi­ted by the Prus­sian tribes. How­ev­er, as a re­sult of fre­quent floods, the for­ti­fi­ca­tion called the tow­er on oak tree was often be­ing flood­ed. This prompt­ed the Teu­ton­ic Knights to re­set­tle up­stream again, to an old Slav­ic set­tle­ment Pos­tolsk, where they built brick for­ti­fi­ca­tions.
THE COURTYARD OF THE UPPER CASTLE WITH FOUNDATIONS OF THE MAIN TOWER
T
he Pos­tolsk stronghold was prob­a­bly in such a good con­di­tion that with rel­a­tive­ly small fi­nan­cial ex­pens­es it could give tem­po­rary shel­ter to the new Teu­ton­ic ad­min­is­tra­tion. Soon the wood­en-earth ram­parts, erect­ed by the pre­vi­ous in­hab­i­tants of the set­tle­ment, were com­plet­ed with a stone wall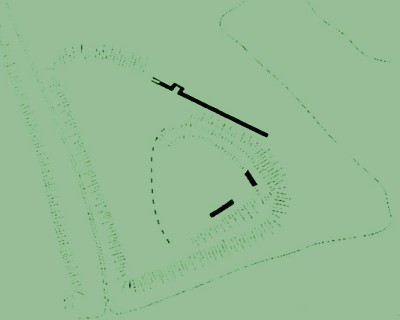 , the relics of which have been pre­served in the north­east­ern part of the ru­ins. This small invest­ment had paid off be­cause dur­ing the first Prus­sian up­ris­ing (1242-46) the mod­ern­ized for­ti­fi­ca­tion turned out to be one of the few that re­sist­ed the Prus­sian and Po­me­ra­ni­an siege. Af­ter the re­bel­lion was sup­pres­sed, the Or­der be­gan to strength­en its pow­er on the con­quered land. The first known To­ruń com­man­der was Ra­be, men­tioned in 1251.
VIEW OF THE UPPER CASTLE FROM THE SOUTH
F
rom the year 1255 comes a note about the con­struc­tion of the cas­tle wall and a tow­er - it men­tions a do­na­tion of 10 grzy­w­nas, gave for this pur­pose by bish­op Hein­rich of Sam­bia. In 1263 the bish­op of War­mia, An­selm, prom­ised an in­dul­gence to all who sup­por­ted the con­struc­tion of the cas­tle chapel. At the same time, a re­fec­to­ry, a kitchen and a dor­mi­to­ry were built. Com­ing back to bish­op Hein­rich's do­na­tion, ap­par­ent­ly it didn't con­tribute much, as tow­er wasn't completed until the end of the 13th cen­tu­ry or even until the first quarter of the 14th cen­tu­ry. At about the same time the build­ers erec­ted a dan­sker and an east­ern wing with a chap­ter­house and clois­ters.
THE CASTLE SHORTLY BEFORE ITS DEMOLITION IN THE XVTH CENTURY, A REPRODUCTION OF W. ZIEGLER'S PAINTING
T
he lo­ca­tion of To­ruń made it a strong eco­nom­ic cen­ter and a sig­nif­i­cant ex­porter of goods, main­ly agri­cul­tur­al prod­ucts. Dur­ing the reign of com­man­der Fred­er­ick von Wen­den (1397-1407), more than 500 hors­es, 3000 sheep, 400 cat­tle and about 600 pigs be­longed to the com­man­dery of To­ruń. In ad­di­tion to large amount of grain and fat­stock, the cas­tle al­so pos­ses­sed a lot of food sup­plies. Es­pe­cial­ly the quan­ti­ty of meat, its prod­ucts and ani­mal fats was im­pres­sive. In 1407 the fol­low­ing were kept here: 200 halves of pork or beef, 240 pigs, 38 ox­en (which were still alive), 5000 chees­es, 3 salt­ed ox­en, 4 bar­rels of but­ter, 16 bar­rels of lard, 4 cu­bic me­ters of her­ring, 2 and a half bar­rels of stur­geons, 3 bar­rels of cod, 4 cu­bic me­ters of pea and 18 bar­rels of salt.
CASTLE CELLARS WHERE FOOD SUPPLIES WERE STORED
H
owever, the equipment of the armory seemed much more modest. 93 ar­mours, 82 hel­mets, 40 shields and 80 cross­bows stored in the cas­tle ar­se­nal in 1407 were much less than those kept in Mal­bork and Gdańsk, and even less than in the small­er cast­les like Dzierz­goń, Bał­ga and Os­tró­da. Nev­er­the­less, as one of the old­est in the whole state, the To­ruń cas­tle played an im­por­tant role in the ad­min­is­tra­tive struc­ture of the Or­der. Un­til the first half of the fif­teenth cen­tu­ry, To­ruń com­man­ders be­longed to a small group of trust­ed ad­vi­sors to great mas­ters. One of them, Kon­rad von Er­lichshausen (d. 1449), was even elect­ed by the chap­ter in 1441 to per­form this func­tion.
SKETCH WITH A VIEW OF THE CITY MADE BY M. ZELLER IN 1652
THE LETTER "I" MARKS THE RUINED UPPER CASTLE
D
ur­ing the Great Pol­ish-Teu­ton­ic War of 1409-11 the city sup­por­ted the Or­der, giving its army a unit of 214 towns­peo­ple com­mand­ed by may­or Al­brecht Rothe. Af­ter the bat­tle of Grun­wald, in which two for­mer To­ruń com­man­ders Al­brecht von Schwarzburg and Jo­hann von Sayn were killed, the city for three weeks re­sist­ed attempts to capture it, but fi­nal­ly opened the gates and let the Pol­ish army in, which took place on Au­gust 7, 1410. The king en­trust­ed the care of the cas­tle to castel­lan of Nakło, Win­cen­ty of Gra­no­wo (d. 1410), and af­ter his quick and mys­te­ri­ous death, to the mar­shal Zbig­niew of Brze­zie, coat of arms of Za­do­ra (d. 1425). Wła­dy­sław Ja­gieł­ło came to To­ruń with a small pro­ces­sion on 29 Septem­ber 1410 ova­tion­al­ly wel­comed by towns­peo­ple. How­ev­er, he was not al­ways so solemn­ly wel­comed in To­ruń. In 1404, dur­ing an of­fi­cial vis­it to the grand mas­ter Kon­rad von Jun­gin­gen (d. 1407), a cook poured some slop all o­ver Ja­gieł­lło. She was then quick­ly cap­tured and sen­ten­ced to drow­ning, but the king him­self in­ter­vened on her be­half and the wom­an was par­doned. It is not known whether she did it on pur­pose or by ac­ci­dent.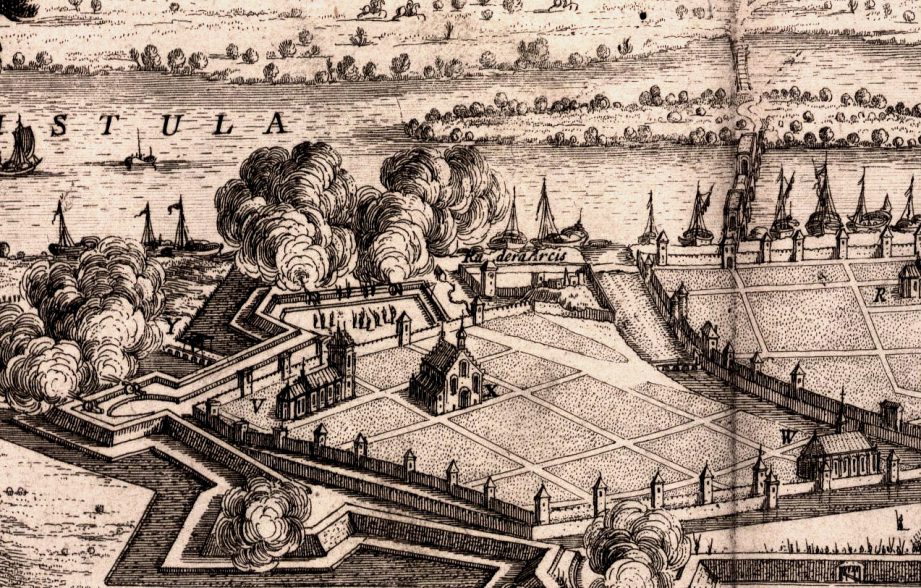 PANORAMA OF THE CITY WITH CASTLE RUINS, E. DAHLBERG 1656
T
he Pol­ish oc­cu­pa­tion of the cas­tle last­ed un­til Feb­ru­ary 1, 1411, when, by virtue of the First To­ruń Peace, the crew sta­tioned here was obliged to leave. Eber­hardt von Wal­den­fels be­came the Toruń com­man­der, who soon sig­nif­i­cant­ly strength­ened its fire pow­er. In 1413, the com­man­dery al­ready had 19 guns, in­clud­ing 4 stone bul­let guns, 6 light can­nons, and 9 harkque­bus­es. In ad­di­tion, the cas­tle ar­se­nal was equipped with 496 lead balls, half a cetnar of lead, 3 bar­rels of gun­pow­der and half a bar­rel of salt­peter. The Teu­to­nic seat was threat­ened by the Pol­ish troops twice more, in 1414 and 1422, but at­tempts to con­quer it were in­ef­fec­tive. In 1428, fif­teen fri­ars lived in the cast­le, whose names are known thanks to pre­served doc­u­ments. The mem­bers of the con­vent owned at that time, apart from ar­ma­ments, two or three hors­es each, but one of the knights, Lud­wik von Lan­decke, as well as the house com­man­dant, had as many as six hors­es each.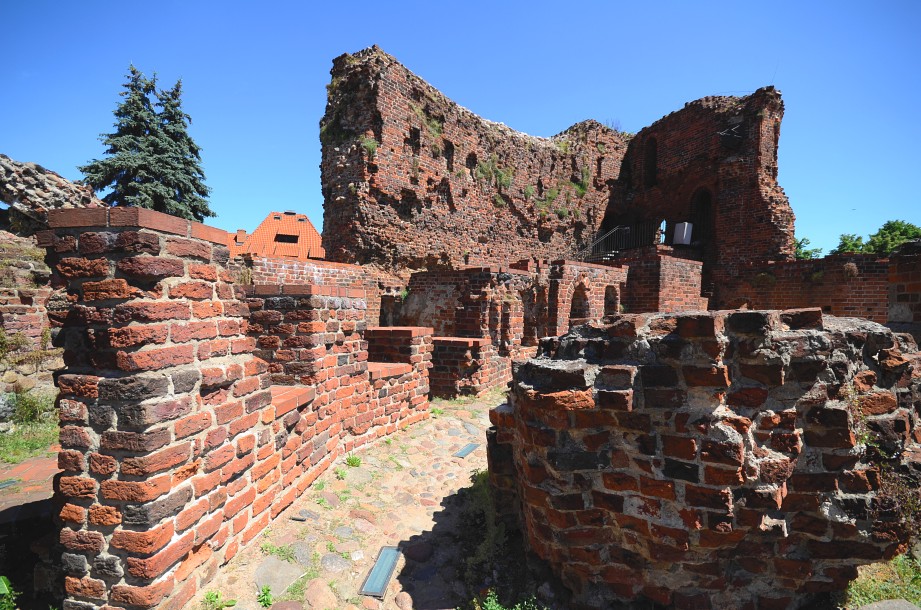 RUIN OF THE NORTHERN WING WITH RESIDENTIAL CELLS
T
he pro­longed Pol­ish-Teu­ton­ic con­flicts led to dif­fi­cult fi­nan­cial sit­u­a­tion of the Or­der, which was forced to bor­row money from rich To­ruń towns­peo­ple. How­ev­er, these loans were not suf­fi­cient to cov­er the cur­rent oper­at­ing costs, so that tech­ni­cal con­di­tion of the cas­tle in the mid­dle of the 15th cen­tu­ry became get­ting worse and worse and fi­nal­ly was so bad that the build­ing risked col­lapse. This was cer­tain­ly al­so influ­en­ced by the fire that de­stroyed part of the castle in 1420. The wit­ness­es of this event in­formed that no one was in a hur­ry to save the cast­le, and some of them even en­joyed it. It clear­ly shows the then very bad re­la­tions be­tween Teu­ton­ic Knights and To­ruń town­smen, which re­sulted from the op­pres­sive fis­cal­ism im­posed by the Or­der in the first half of the fif­teenth cen­tu­ry.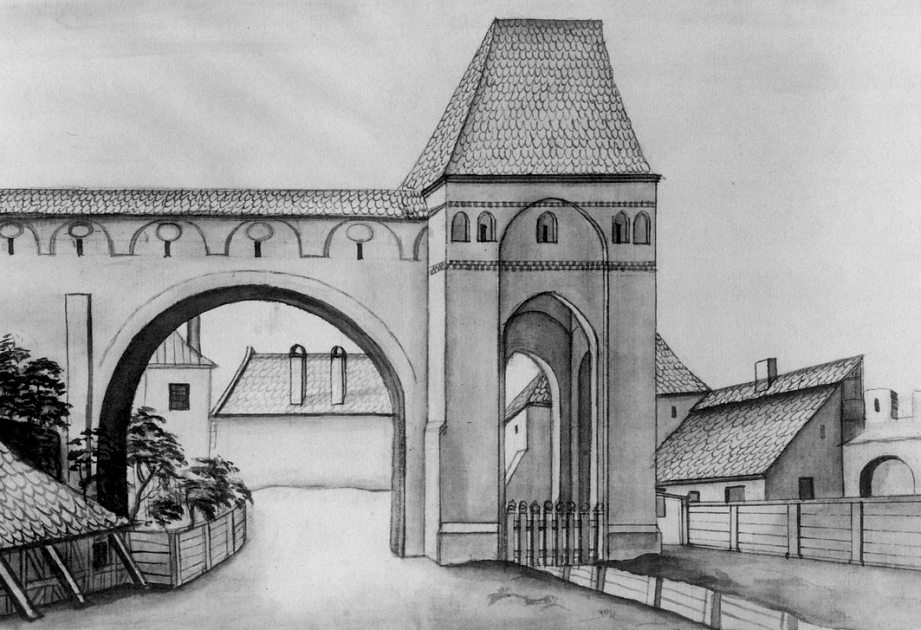 T
he his­to­ry of cas­tle ends in 1454, short­ly af­ter the out­break of the an­ti Teu­ton­ic Up­ris­ing in Prus­sia, which turned in­to a Pol­ish-Teu­ton­ic war. At the be­gin­ning of Febru­ary, the Prus­sian Union ter­mi­nated the obe­di­ence to the Or­der and sub­mited to the au­thor­i­ty of the Pol­ish king. To­ruń was one of the first cities to join the Union's de­ci­sion. The re­bel­lion started here on Feb­ru­ary 6, 1454, when To­ruń towns­peo­ple be­gan fir­ing on the cas­tle, where the of­fi­cials and their fa­vorites hid. Al­though the at­tack did not do any great harm to de­fen­ders, due to their low mo­ra­le and poor sup­plies, com­man­der Al­brecht Kalb sur­ren­dered the fort­ress on 8 Febru­ary. Short­ly af­ter the cas­tle was seized, the mu­nic­i­pal coun­cil or­dered to de­mol­ish its for­ti­fi­ca­tions and the main tow­er. On­ly dan­sker (lat­ri­ne tow­er), the hos­pi­tal and part of the util­i­ty build­ings were left. The post-cas­tle area served lat­er as a land­fill, and the bai­ley was used to build there the Bour­geois House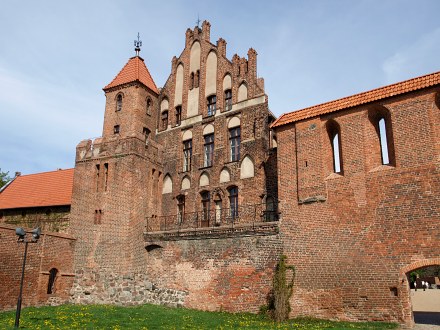 , erected with bricks ac­quired from de­mo­lished Teu­to­nic seat.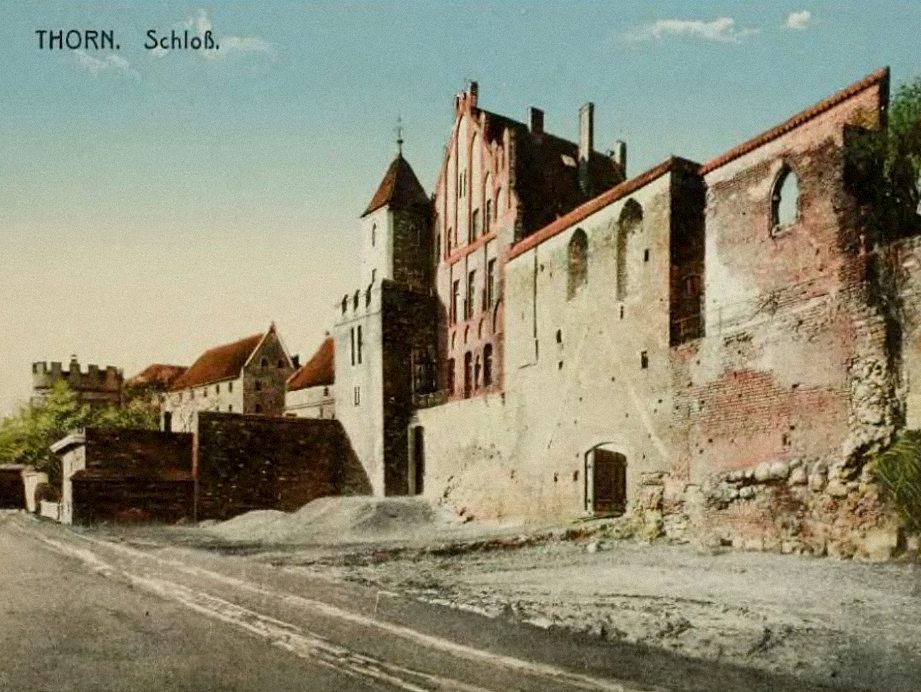 BOURGEOIS HOUSE BUILT OF BRICKS OBTAINED FROM THE MEDIEVAL CASTLE, POSTCARD FROM 1910
LATRINE TOWER, AN EARLY 20TH CENTURY DRAWING
A
t the be­gin­ning of the 17th cen­tu­ry, part of the cas­tle walls were in­cor­po­rat­ed in­to the sys­tem of bas­tion city for­ti­fi­ca­tions, and the for­mer la­trine tow­er was adapt­ed to a gun­pow­der store. At that time, the cas­tle grounds were dom­i­nat­ed by tan­ners and dyers who used Stru­ga To­ruń­ska riv­er to man­u­fac­ture their prod­ucts. In the 18th cen­tu­ry, new build­ings ap­peared here: Gen­er­ałów­ka, dis­tillery, city hos­pi­tal, and some of the older ones have changed their func­tions: e.g. the Bour­geois House and the cas­tle mill were part­ly con­vert­ed in­to ten­e­ments. In the 19th cen­tu­ry a city gar­den was ar­ranged on the site of the for­mer Teu­ton­ic strong­hold, and in 1815 its south­ern part was tak­en o­ver by a mil­i­tary gar­ri­son.
POSTCARD FROM THE BEGINNING OF THE 20TH CENTURY
I
n the 1920s, the castle walls were se­cured for the first time and the gate un­der­went res­to­ra­tion. How­ev­er, real ar­chae­o­log­i­cal work be­gan on­ly in 1958, and apart from a strict­ly re­search ob­jec­tive, it was sup­posed to pro­vide the ba­sis for a de­tailed site lay­out plan. Until 1966, the court­yard and the cel­lars were ex­posed, the vaults un­der­went re­con­struct­ion and new floors were laid. The la­trine tow­er received a new roof as well, that res­to­red its orig­i­nal Goth­ic char­ac­ter. In the ru­ins, which have been par­tial­ly re­vi­tal­ized, the mu­se­um was opened. In 1997, the To­ruń Old Town and the cas­tle ru­ins were placed on the UNESCO World Her­itage List.
RUINS AT THE TURN OF THE 1960S AND 1970S, IN THE FOREGROUND YOU CAN SEE FOUNDATIONS OF MAIN TOWER
BIRD'S-EYE VIEW OF THE RUINS, THE PHOTO COMES FROM 1995
TEUTONIC COMMANDERS IN TORUŃ
Rabe 1251-1254, Otto von Schleiz 1255 Hartmut von Kronberg 1257- 1259,
Heinrich von Mosebach 1260-1262, Otto 1264, Heinrich 1269-1270, 1282,
Albert von Ippelensdorf 1274-1277, Ludwig 1278, 1285-1286, Kuno von Hattstein 1283,
Heinrich von Uberlingen 1289, Heinrich von Byern 1292, Konrad Stange 1293-1296,
Konrad Sack 1299-1302, Heinrich von Dobin 1303-1306, Goswin 1309-1313,
Luther von Sparenberg 1320-1326, Hugo von Almenhausen 1326-1327,
Ulrich von Haugwitz 1327-1328, Heinrich Rube 1330, Marquard von Sparenburg 1331-1337,
Alexander von Korner 1338, Heinrich von Bovenden 1339-1340, Dietrich von Spira 1342-1344,
Johann Nothaft 1346-1350, Dietrich von Brandenburg 1352-1374,
Konrad von Kalemunt 1375-1381, Baldewin von Frankenhofen 1381-1383,
Siegfried Walpot von Bassenheim 1383-1384, Ludwig Wafeler 1384-1389,
Wolf von Zolnhart 1389-1392, Engelhard Rabe 1392-1397, Friedrich von Wenden 1397-1407,
Albrecht von Schwarzburg 1407-1410, Johann von Sayn 1410,
Eberhard von Waldenfels 1411 -1413, Henryk Holt 1413-1416, Jan von Selbach 1416,
Ludwik von Landsee 1416-1418, 1428-1431, Ulryk Zenger 1418-1420,
Jobst von Hohenkirchen 1420-1422, Marcin Kemnate 1422-1424,
Henryk Marschalk 1424-1428, Jan von Pommersheim 1431-1433,
Wincenty von Wirsberg 1433-1436, Wilhelm von Helfenstein 1436-1437, 1440-1441,
Konrad von Erlichshausen 1437, 1438-1440, Henryk von Rabenstein 1437-1438,
Eberhard von Wesenthau 1440, Hans von Beenhausen 1441-1446, Albrecht Kalb 1446-1454,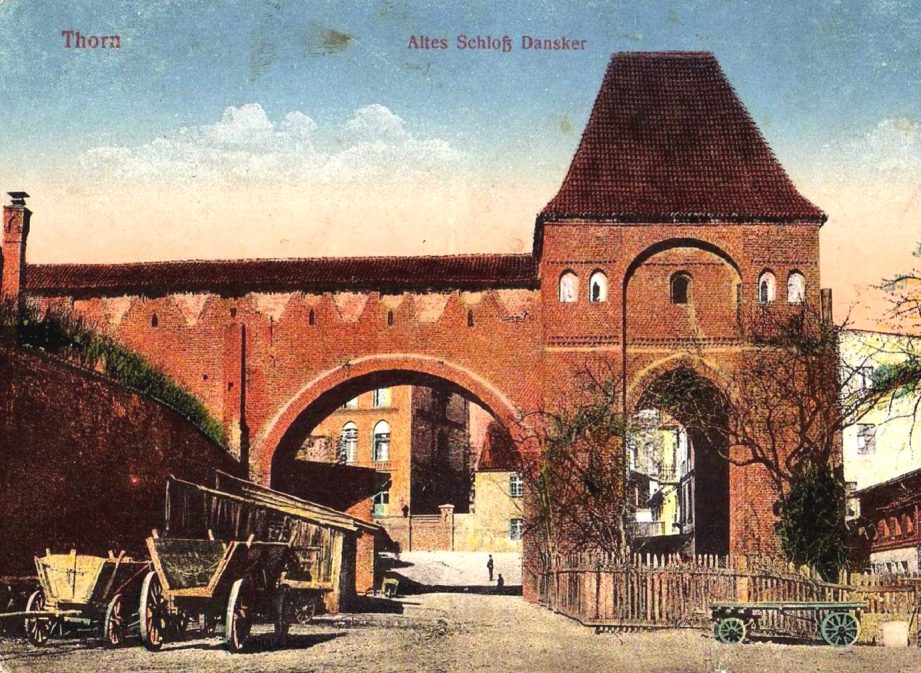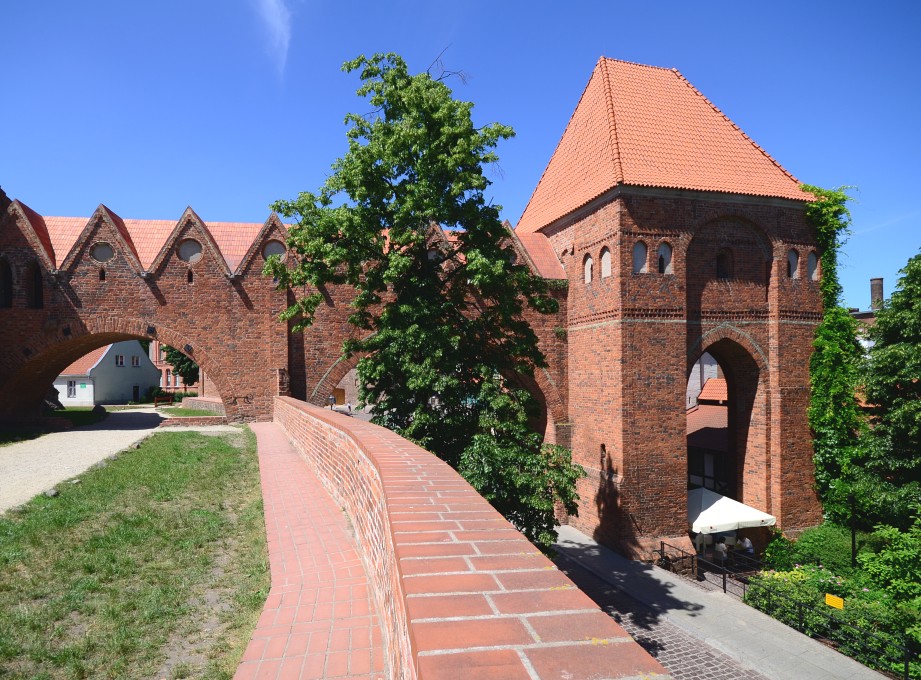 DANSKER IN THE EARLY 20TH CENTURY AND TODAY,
NOTE THE RECONSTRUCTED DORMERS ON THE ARCADE PORCH AND THE NEW TOWER ROOF
DESCRIPTION OF THE CASTLE
T
he castle was one of the few Teu­ton­ic strong­holds in Prus­sia built on an ir­reg­u­lar plan. Its shape prob­a­bly re­sult­ed from the ram­parts out­line of the ear­li­er for­ti­fi­ca­tions and the con­tour of the hill, but it was al­so in­flu­enced by wa­ter­cours­es: the wide Vis­tu­la to the south, the Bos­tolz stream to the west, and fur­ther on, the moat of the Old Town, a trib­u­tary of the Mo­kra Riv­er to the east, and the so-called Com­man­der's Pond. The old­est part of the up­per cas­tle is a horse­shoe-shaped brick perime­ter wall and a two-storey, ful­ly cel­lared build­ing, at­tached to its south­ern sec­tion, found­ed on a plan of an elon­gat­ed rect­an­gle mea­sur­ing 12x54 me­ters and cov­ered with a large gabled roof. Its cel­lars and ground floor were used as util­i­ty rooms, while the first floor housed liv­ing quar­ters and rep­re­sen­ta­tive cham­bers.
CASTLE RECONSTRUCTION FROM THE BEGINNING OF THE XV CENTURY, AUTHOR UNKNOWN
T
he east­ern part of the south­ern wing housed a two-aisle, cross-ribbed vaulted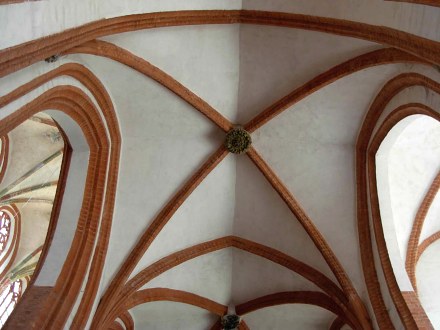 St. Cross Chapel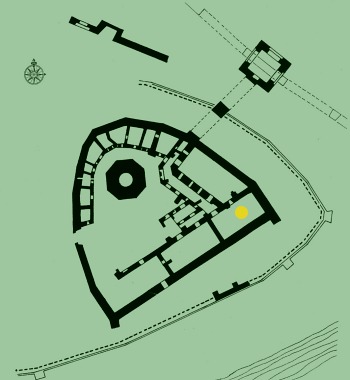 , erec­ted in the first phase of cas­tle con­struc­tion. The chapel was dis­tin­gui­shed by a very rich de­cor and icon­og­ra­phy em­pha­siz­ing the mis­sion­ary ide­ol­o­gy of the Teu­ton­ic Or­der in Prus­sia. It was ad­ja­cent to a sim­i­lar­ly cov­ered re­fec­to­ry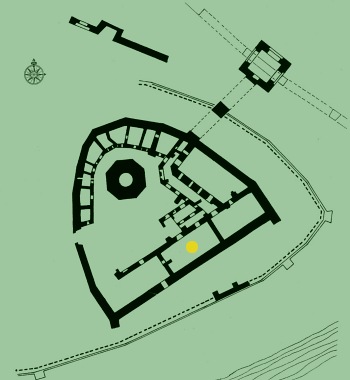 , and next to a dor­mi­to­ry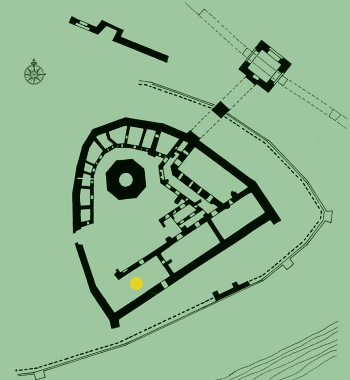 , which was covered with a wooden ceiling. Under it there was a kitchen, com­posed of two bar­rel vault­ed cham­bers, equipped with a stove and a chim­ney. The cel­lars lo­cat­ed near­by may have been used to store fresh food, while the at­tics oc­cu­py­ing the top floor served as a grain ware­house.
A
t the end of the 13th cen­tu­ry or, at the lat­est, in the first quar­ter of the 14th cen­tu­ry, a two-sto­rey east­ern wing was erect­ed, the cen­tral part of which housed a cross-ribbed vaulted chap­ter­house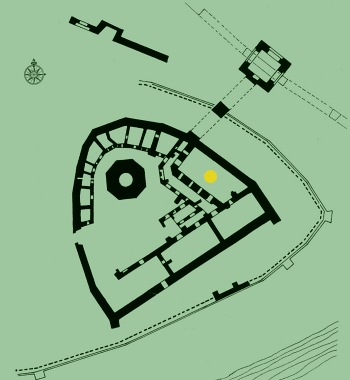 . The cham­ber was dec­o­rat­ed with sharp-edged goth­ic win­dows with pro­filed frames and open­work trac­erys as well as with a sharp-edged re­cess un­der one of the win­dows. In its ba­se­ment a hypocaus­tum type fur­nace was placed, which heated cham­bers above it. The eastern wing had an arcaded porch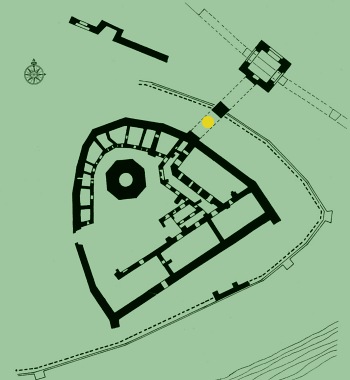 , con­nect­ing it with a la­trine tow­er (dansker)
, sit­u­at­ed 32 me­ters away from cas­tle. The tow­er was built on a square plan with sides of 10x10 me­ters, and orig­i­nal­ly per­haps had an oc­tag­o­nal cylin­der top. In its west­ern pil­lar there was a rect­an­gu­lar shaft (90×120 cm) run­ning through its en­tire height, which was open at the bot­tom to­wards Stru­ga To­ruń­ska, where the sew­age was dis­po­sed of.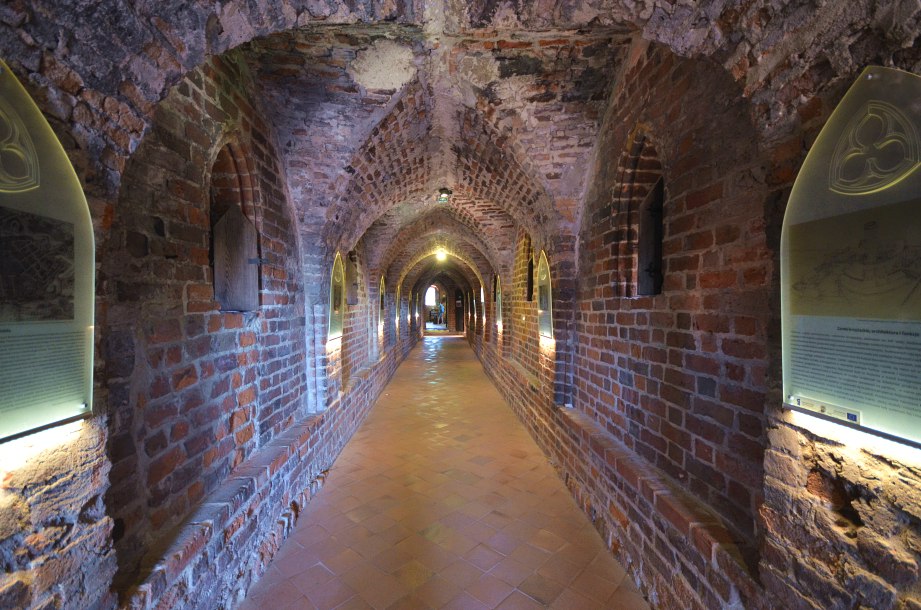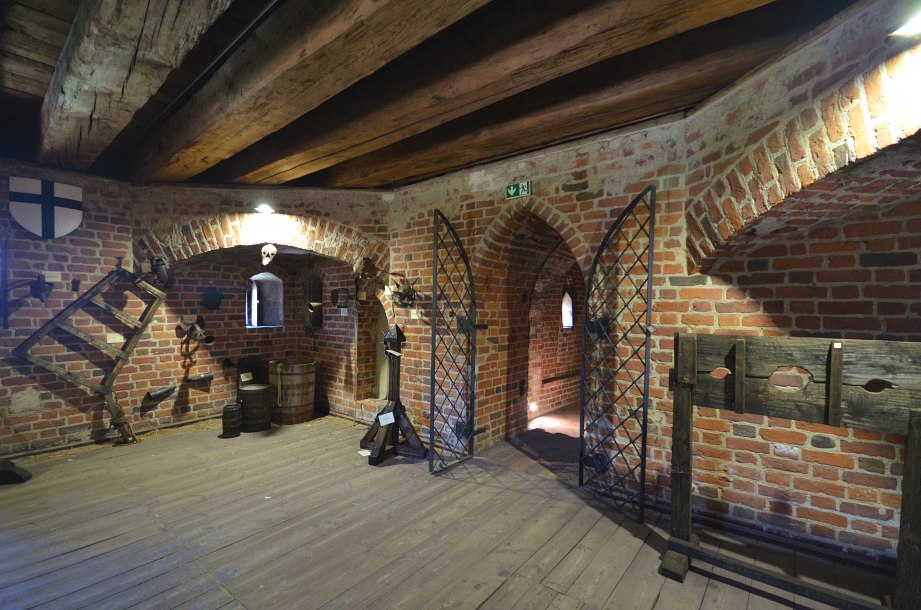 A
ll premises on the ground and first floors of the south­ern and east­ern wings were con­nect­ed by a brick clois­ter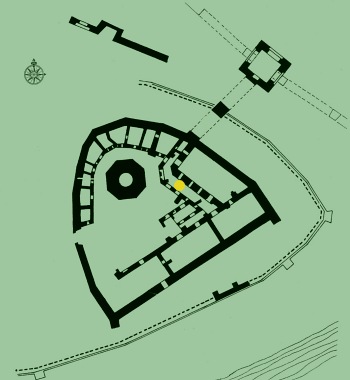 . It led along the south­ern wing, to the re­fec­to­ry and the chapel, con­nect­ing these cham­bers with the chap­ter­house in the east­ern wing, and then led to a com­man­der's pri­vate cham­ber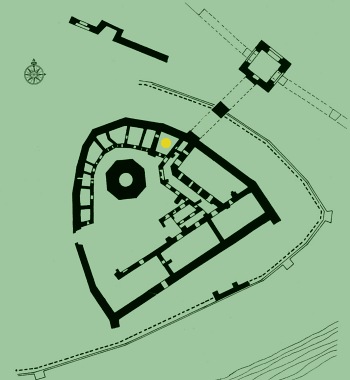 in the north­ern wing. Around the year 1400, the ar­cades of the clois­ter were bricked up and con­ver­ted in­to small liv­ing quar­ters. The com­mu­ni­ca­tion func­tion was then tak­en o­ver by a stair­case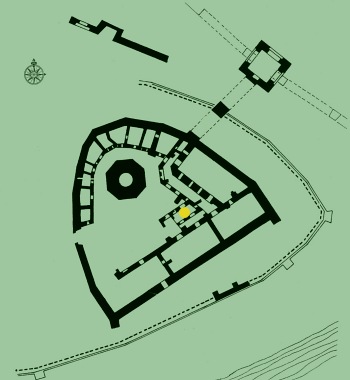 , lo­cat­ed in an an­nex stand­ing in the south-east­ern part of the court­yard.
ENTRANCE TO THE CASTLE CHAPEL
RELICS OF THE CLOISTERS IN THE EASTERN WING
P
re­sum­ably, at the end of the 14th cen­tu­ry, in the north­ern part of the court­yard a num­ber of nar­row pre­mi­ses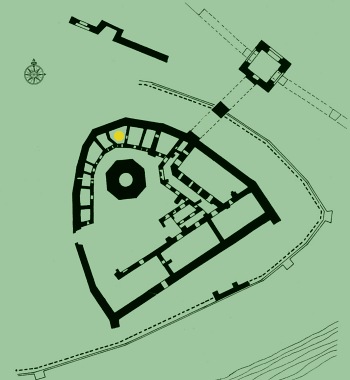 were erec­ted, rang­ing in width from 3 me­tres on the west­ern side to 7 me­tres on the east­ern side. This wing was filled with a se­quence of rooms oc­cu­py­ing two or three storeys, which on the ground floor served as cells for fri­ars or as dwel­lings for ser­vants, and in the wider east­ern part could be oc­cu­pied by se­nior of­fi­cials such for ex­am­ple the com­man­der. It was close to the mas­sive oc­tag­o­nal berg­fried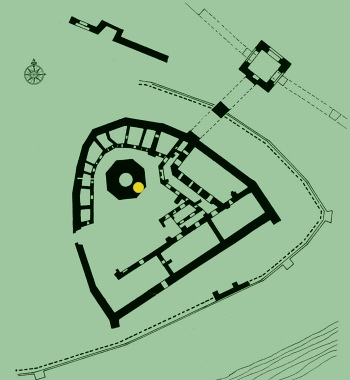 - a free-stand­ing tow­er of the last de­fence with a di­am­e­ter of 10 me­tres and a height of up to 40 me­tres. In its base­ment there was a prison dun­geon, to which the conv­icts were des­cen­ded by rope or lad­der. The up­per cas­tle was sur­round­ed by an ex­ter­nal de­fen­sive wall, in the north­ern and western part pre­ced­ed by a 10-13 me­ter wide trench. From the south and the east Vis­tu­la and Stru­ga To­ruń­ska riv­ers pro­vi­ded sup­ple­men­ta­ry pro­te­ction.
PLAN OF THE UPPER CASTLE: 1. DORMITORY, 2. REFECTORY, 3. CASTLE CHAPEL, 4. CHAPTERHOUSE,
5. COMMANDER'S CHAMBER (?), 6. LIVING QUARTERS, 7. MAIN TOWER, 8. PORCH, 9. LATRINE TOWER,
10. CLOISTER, 11. STAIRCASE, 12. ENTRANCE GATE TO THE COURTYARD, 13. INTERWALLS
T
he en­trance to cas­tle court­yard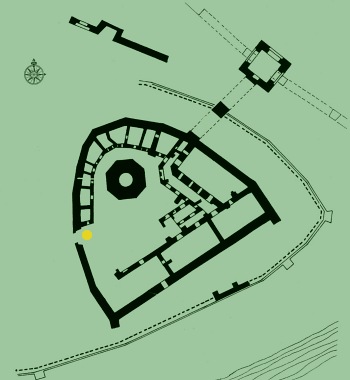 led from the west, through a gate lead­ing to an up­per bai­ley, which was sur­round­ed by for­ti­fi­ca­tions, equipped with four tow­ers and two or three gate build­ings. The dai­ly life of monas­tic ser­vice was fo­cused on that area: here stood a house with a minter's flat, sol­diers' quar­ters, an in­fir­mary, as well as a com­plex of farm build­ings, in­clud­ing an­i­mal farms, a wood ware­house, a bak­ery, a brew­ery, a forge, a coach house and sta­bles. From the east, the cas­tle was ad­ja­cent to a low­er bai­ley with a cas­tle mill and a Mill Gate. South of it, be­hind the walls, mar­shy ar­eas extended, which in the 14th cen­tu­ry were trans­formed in­to a fish pond called Com­man­der's Pond. Com­mu­ni­ca­tion with the Vis­tu­la shore was pro­vid­ed by the sec­ond east­ern gate - a Mint Gate, lo­cat­ed in the south-east­ern cor­ner of the fort­ress.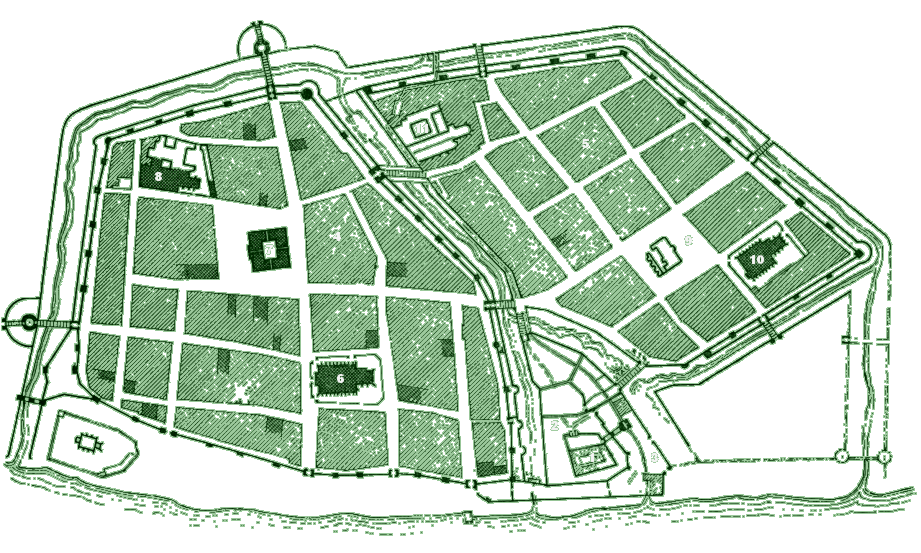 MEDIEVAL PLAN OF THE OLD AND NEW TOWN ACCORDING TO "DIE BAU- UND KUNSTDENKMAELER DER KREISES THORN", 1899:
1. UPPER CASTLE, 2. UPPER BAILEY, 3. LOWER BAILEY, 4. OLD TORUŃ, 5. NEW TORUŃ, 6. ST. JOHN THE BAPTIST CATHEDRAL,
7. TOWN HALL, 8. BLESSED VIRGIN MARY CHURCH, 9. NEW TOWN SQUARE, 10. ST. JACOB CHURCH,
11. DOMINICAN MONASTERY (IN RUINS))
SOUTHERN WALL OF THE UPPER CASTLE
---
T
he cas­tle ruins were par­tial­ly re­stored in the 1960s to com­mem­o­rate the vic­to­ry in the war against Teu­ton­ic Or­der, the 500th anni­ver­sa­ry of which took place in 1966. The best pre­served part of the strong­hold is the lat­rine tow­er (dan­sker)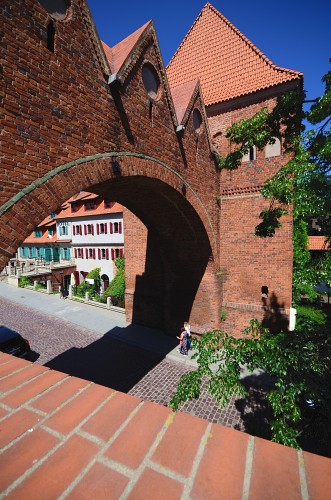 and the porch leading to it, as well as the cel­lars of east­ern and south­ern wings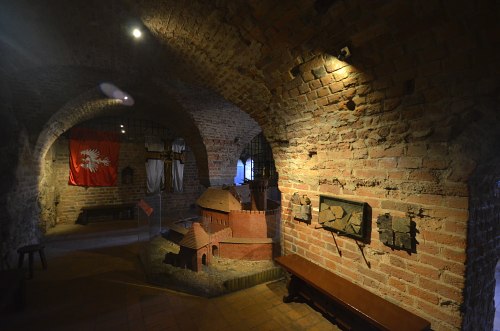 , with re­con­struct­ed vaults and floor­ing. Per­ime­ter walls of the upper cas­tle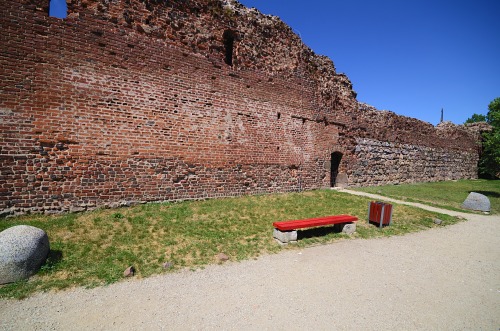 , the ru­ins of its most im­por­tant build­ings, and foun­da­tions of the main tow­er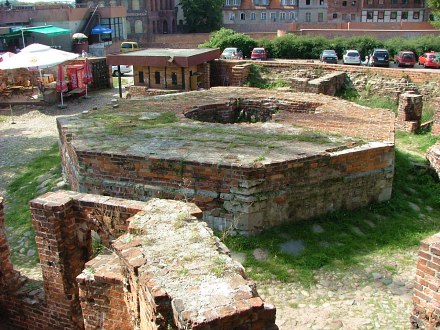 , the de­mo­lished parts of which were left near the gate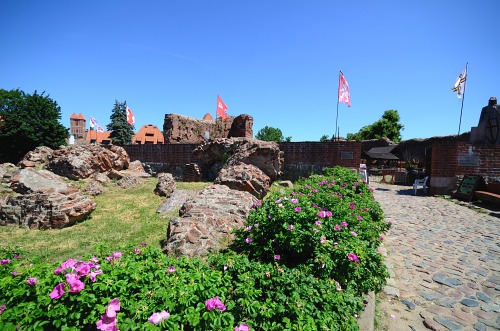 , are still leg­i­ble but large­ly de­com­posed. The cas­tle is man­aging by the Cul­tur­al Cen­tre Teu­ton­ic Cas­tle in To­ruń.
EXHIBITION OF TORTURE DEVICES IN DANSKER
| | |
| --- | --- |
| | Admission to the ruins is about EUR 4.5 (2022). |
| | |
| --- | --- |
| | Amateur photography does not re­quire an ad­di­tio­nal fee. |
| | |
| --- | --- |
| | You can enter the ruins with your dog, pro­vi­ded that the dog is on a leash. Pets are not al­lowed in­doors, i.e. in ba­se­ments and dan­sker. |
EXHIBITION IN THE CASTLE CELLARS
---
T
he ruins are lo­ca­ted on Przed­zam­cze Street, about 350 me­ters south­east of the Old Town Mar­ket Squa­re. Tho­se tra­vel­ling by train should get off at the To­ruń Mia­sto stop, a­bout 700 me­ters a­way from the cas­tle, and then he­ad west.
| | |
| --- | --- |
| | I re­com­mend leaving Your car in one of the park­ing lots lo­ca­ted out­si­de the ve­ry cen­tre, e.g. in a com­for­ta­ble un­der­ground car park si­tu­ated in the Cen­tre for Mo­dern Art at Wa­ły Gen. Wła­dy­sła­wa Si­kor­skie­go Street. A walk to the Old Mar­ket ta­kes on­ly a few mi­nu­tes from he­re. |
---
1. W. Antkowiak, P. Lamparski: Zamki i strażnice krzyżackie ziemi chełmińskiej, Graffiti BC 1999
2. M. Haftka: Zamki krzyżackie w Polsce, 1999
3. L. Kajzer, J. Salm, S. Kołodziejski: Leksykon zamków w Polsce, Arkady 2001
4. I. Malawska: Ruiny krzyżackiego zamku konwentualnego na planie nieregularnym w Toruniu..., NID
5. B. Rymaszewski: Problematyka konserwatorska zamku krzyżackiego w Toruniu, Ochrona Zab. 27/3 1974
6. R. Sypek: Zamki i obiekty warowne Państwa Krzyżackiego, Agencja CB 2000
7. A. Wagner: Murowane budowle obronne w Polsce X-XVIIw., Bellona 2019
8. B. Wasik: Początki krzyżackich zamków na ziemi chełmińskiej, Archaeologia Historica Polona 24/2016
9. P. Zaniewski: Szlakami zamków krzyżackich, Muza 2005
EASTERN WING, IN THE BACKGROUND WE CAN SEE THE PORCH OF THE LATRINE TOWER
LOWER BAILEY WITH A MILL (NOW A HOTEL) - IN PLACE OF THE COMMANDANT'S POND THERE IS NOW A FOOTBALL FIELD
Castles nearby:
Toruń - the royal castle Dybów (in ruins) from the 15th century, 2.5 km
Mała Nieszawka - the relics of Teutonic castle from the 14th century, 5 km
Złotoria - the royal castle ruins from the 14th century, 10 km
Bierzgłowo - the Teutonic castle from the 13th century, 21 km
Kowalewo Pomorskie - the relics of Teutonic castle from the 13th century, 27 km
Raciążek - the bishops' castle ruins from the 14th century, 29 km

---
Me­dieval City Com­plex in To­ruń, reg­is­tered in 1997 on the UNESCO World Her­itage List, which, be­sides the ru­ins of the cas­tle in­cludes the his­toric build­ings of two for­mer­ly sep­a­rate ur­ban or­gan­isms: the Old and the New Town, rep­re­sent­ing the best achieve­ments of Goth­ic brick ar­chi­tec­ture in Eu­rope. The cen­tral part of the Old Town is the Old Town Square with the Old Town Hall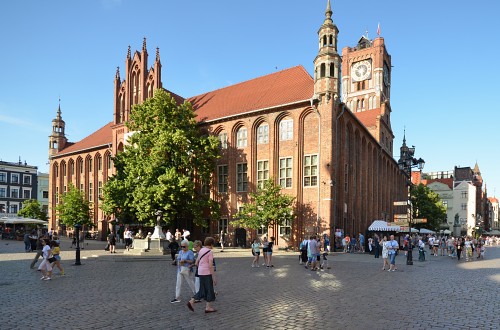 , St. Mary's Church
, a late Baroque church of the Holy Spir­it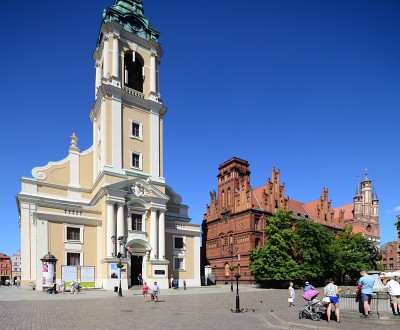 and mul­ti-co­loured Goth­ic ten­e­ments, as well as the stat­ue of Ni­co­laus Co­per­ni­cus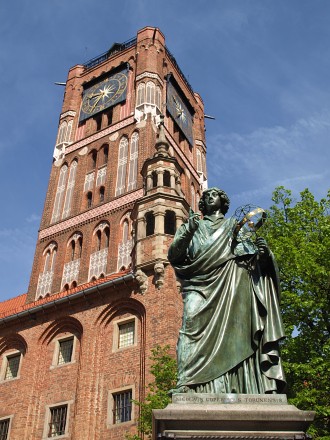 and the foun­tain with rafts­man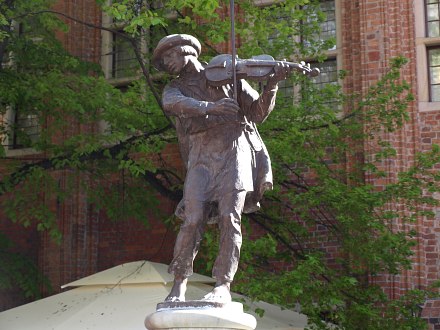 and gild­ed frogs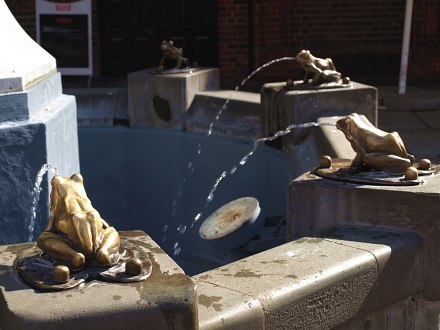 . Among the colour­ful build­ings sit­u­at­ed around the square, at­ten­tion is drawn to the Ar­tus Ma­nor House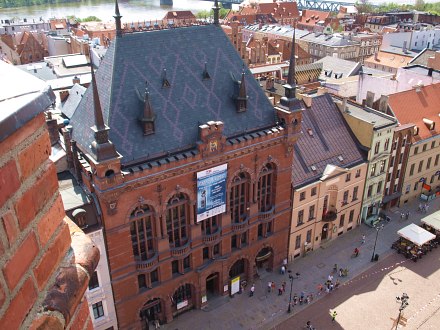 , a neo-Re­nais­sance copy of the build­ing where the Sec­ond To­ruń Peace was signed in 1466, as well as to beau­ti­ful bour­geois ten­e­ment hous­es, in­clud­ing the Un­der the Star ten­e­ment house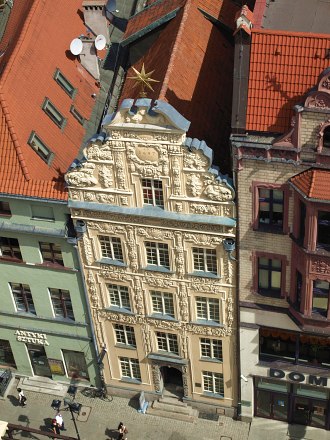 owned by the 15th cen­tu­ry Ital­ian hu­man­ist and roy­al sec­re­tary Fil­ip­po Buo­nac­cor­si.
Streets lead­ing to the wa­ter­front re­mind us of the Han­se­at­ic tra­di­tion of the city. In one of them there are two mer­chant ten­e­ment hous­es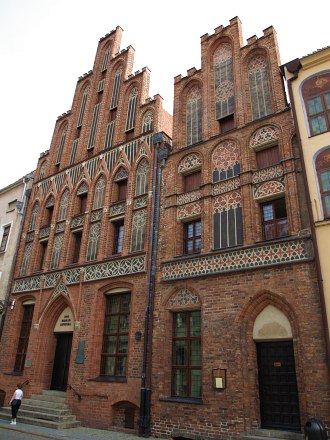 , seem­ing­ly noth­ing dif­fer­ent from many oth­er beau­ti­ful ex­am­ples of Goth­ic ar­chi­tec­ture, but es­pe­cial­ly in­ter­est­ing be­cause of Nico­laus Co­per­ni­cus, who was prob­a­bly born in one of them in Fe­bru­ary 1473. Now, they house a mu­se­um ded­i­cat­ed to the life and dis­cov­er­ies of this great as­tronomer. One of the char­ac­ter­is­tic points of the Old Town is the tow­er of St. John the Bap­tist and St. John the Evan­ge­list church
with a clock placed in such way that it could be seen from ships sail­ing by riv­er or stand­ing in the har­bour. Its coun­ter­part in New To­ruń was the church of St. James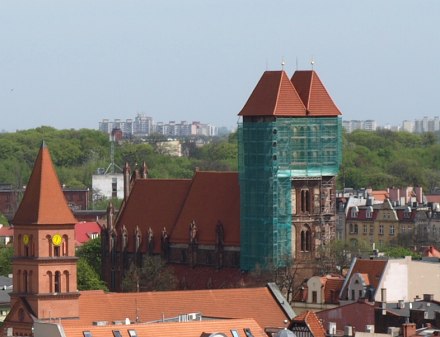 built near the New Town Square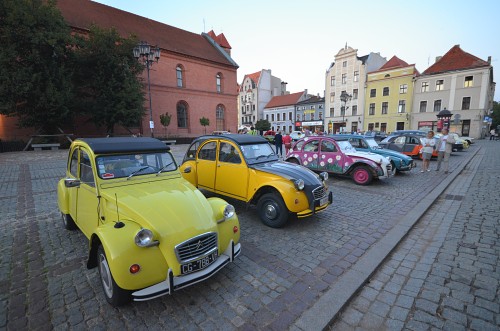 . The bor­ders of his­tor­i­cal city cen­tres are trac­ed by very well-pre­served frag­ments of me­dieval walls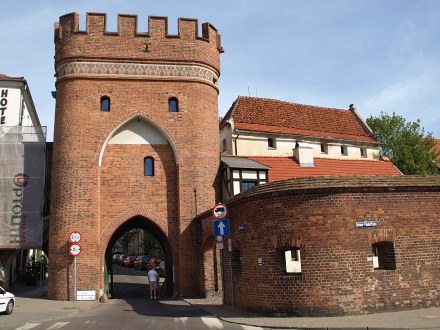 , par­tic­u­lar­ly beau­ti­ful on the Vis­tu­la side, with nu­mer­ous gates and tow­ers. The most char­ac­ter­is­tic is the Lean­ing Tow­er
, whose de­vi­a­tion from the ver­ti­cal is al­most one and a half me­ters.
---
Toruń is full of great mu­se­ums, so it is worth tak­ing some time to vis­it at least some of them. In the 'must see' cat­e­go­ry, the lead­ing po­si­tions are tak­en by places ded­i­cat­ed to the his­to­ry of tra­di­tion­al To­ruń bak­ing. One of them is the Mu­se­um of To­ruń Gin­ger­bread, lo­cat­ed at Stru­my­ko­wa Street, in the build­ing of the for­mer Gustaw Wes­se's fac­to­ry, now be­long­ing to Ko­per­nik con­fec­tionery fac­to­ry. In its post-in­dus­tri­al in­te­ri­ors, an ex­po­si­tion has been or­ga­nized about this most pop­u­lar To­ruń del­i­ca­cy. Its part named Gin­ger­bread origins shows the be­gin­nings of gin­ger­bread mak­ing in To­ruń and the de­vel­op­ment of this crafts­man­ship over the cen­turies. The in­ter­ac­tive Sen­su­al World of Gin­ger­bread, on the oth­er hand, pre­sents the in­gre­di­ents of gin­ger­bread dough and the spices used to make it, while Gin­ger­bread in the liv­ing room, kitchen, shop and club brings us to more mod­ern times by pre­sent­ing forms of its ad­ver­tis­ing, sale and de­gus­ta­tion. An in­te­gral part of the tour is par­tic­i­pa­tion in work­shops, dur­ing which tourists pre­pare their own gin­ger­bread to take back ready-made baked goods at the end of the tour.
---
The Toruń History Mu­se­um is lo­cat­ed in a four­teenth-cen­tu­ry brick gra­nary, nowa­days known as the Es­ken's House. You can see here a fas­ci­nat­ing ex­hi­bi­tion pre­sent­ing in a mod­ern and in­ter­ac­tive way the his­to­ry of the city from the be­gin­nings of the set­tle­ment to our times, as well as ev­ery­day life of its in­hab­i­tants in all as­pects. We be­gin our ad­ven­ture with his­to­ry from the period when T­oruń on­ly grew as the cen­tre of so­cial and eco­nom­ic life of the re­gion, and we end with a sen­ti­men­tal (for some) re­turn to the com­mu­nist re­al­i­ty ac­cent­ed with ev­ery­day ob­jects and boards de­pict­ing the most im­por­tant events of those days. The tour is com­ple­ment­ed by a 3D movie show­ing se­lect­ed mo­ments from his­to­ry of the city. Younger tour­ists can - with the help of large-for­mat puz­zles - ar­range build­ings char­ac­ter­is­tic for a giv­en pe­ri­od, dress dum­mies in his­tor­i­cal cos­tumes and set the table with antique table­ware. The Es­ken's House stands at the cor­ner of Cias­na and Ła­zien­na Streets, about 150 me­ters west of the cas­tle.
---
The Philadel­phia Boule­vard, which is the most pop­u­lar walk­ing place in To­ruń out­side its his­toric cen­tre. The pic­tu­resque prom­e­nade ex­tends for al­most 2 kilo­me­ters along the south­ern walls of the Old Town, and its un­usu­al name comes from Phi­la­del­phia - a twin city. Years ago, there was a har­bour here of fun­da­men­tal im­por­tance to this cen­ter. To­day the on­ly ships that dock at the shore are riv­er cruis­ers sail­ing on Vis­tu­la. In 1969, the place was the scene of film­ing the icon­ic Pol­ish com­e­dy en­ti­tled The Cruise. To­day, this fact is re­mind­ed by a graph­i­cal com­po­si­tion placed on a nearby wall, con­tain­ing the best quo­ta­tions from mem­o­rable di­a­logues spo­ken by the par­tic­i­pants of the ti­tle cruise.
text: 2020
photographs: 2012, 2015, 2019
© Jacek Bednarek