A PILLAR OF DANSKER, THE BEST PRESERVED RELIC OF THE CASTLE IN KOWALEWO POMORSKIE
---
T
he first castle in Ko­wa­le­wo was prob­a­bly built by Teu­ton­ic Knights short­ly af­ter re­ceiv­ing this land from the mis­sion­ary bish­op Chris­tian (d. 1245), which took place in 1231. In 1269, this pre­sumed tim­ber-soil stronghold stopped the siege of Prus­sian tribe of Barts, but the ar­cha­ic con­struc­tion based on frag­ile build­ing ma­te­ri­als was not able to guar­an­tee the safe­ty of their de­fend­ers in the fu­ture. The Or­der found out about this on­ly three years lat­er, when a pa­gan tribe of Jać­wę­go­wie led by Sko­mand in­vad­ed and then burnt down the Teu­ton­ic col­ony. Short­ly af­ter these events, a Com­man­dery was es­tab­lished in Ko­wa­le­wo and the con­struc­tion of a brick cas­tle was start­ed. This in­vest­ment was prob­a­bly ini­ti­at­ed un­der the su­per­vi­sion of com­man­der Ar­nold Kropp and ac­com­pa­nied by works on for­ti­fi­ca­tion of the vil­lage, which was grant­ed town rights in 1298. In 1330, Ko­wa­le­wo repul­sed the in­va­sion of the Pol­ish, Hun­gar­i­an and Rus­sian armed forces led by Wła­dys­ław Łok­ie­tek, who were rav­aging Chełm­no Land. The cas­tle de­fend­ed by com­man­der Her­man von Op­pen was severe­ly dam­aged at the time, but was not con­quered due to the lack of heavy siege equip­ment.
THE ONLY KNOWN IMAGE OF THE CASTLE BEFORE ITS DEMOLITION, THIS VERY FAINTLY VISIBLE PICTURE COMES FROM THE XVII CENTURY
D
ur­ing Pol­ish-Teu­ton­ic Wars and in the pe­ri­od im­me­di­ate­ly pre­ced­ing these events, the cas­tle was a well-es­tab­lished, self-suf­fi­cient unit, as ev­i­denced by the in­spec­tion con­duct­ed in 1399. It showed that in cas­tle ar­moury there were 56 hel­mets, 39 pieces of var­i­ous types of ar­mour, 10 caps, 51 cross­bows and o­ver 9,000 bolts, as well as 3 guns for stones and lead bul­lets. In to­tal, 81 hors­es stood in the sta­bles, in­clud­ing 4 very ex­pen­sive bat­tle hors­es, 7 mail hors­es and 12 car­riage hors­es to ser­vice the mil­i­tary fleet. In the manor hous­es, 2111 pigs, 1250 sheep and 224 cat­tle were kept. The war ac­tiv­i­ties con­tribut­ed to the in­crease in ar­ma­ment ex­pen­di­ture, thanks to which in 1421 the cas­tle al­ready had 8 can­nons, for which al­most 800 bul­lets of var­i­ous cal­ibers were pre­pared.
A PLATE WITH AN APPROXIMATE DATE OF CASTLE ERECTION PLACED ON THE PILLAR OF THE DANSKER
I
n Ju­ly 1410, in the bat­tle of Grun­wald, com­man­der Michael von Viltz was killed, and soon af­ter­wards the Pol­ish units un­der the com­mand of Mi­ko­łaj Pi­lew­ski and Jan from Puł­ków oc­cu­pied the town. Ko­wa­le­wo was then leased to Mi­ko­łaj Trą­ba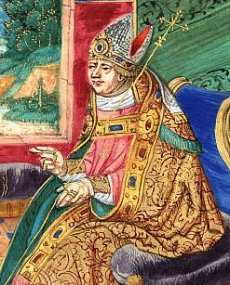 (d. 1422), one of the clos­est and most trust­ed roy­al courtiers. The Pol­ish oc­cu­pa­tion of the town, which last­ed sev­er­al months, was end­ed by an of­fen­sive of Teu­ton­ic mil­i­tary troops sup­port­ed by the Knights of Li­vo­nia un­der the com­mand of Land­mar­shal Bern He­vel­mann, while the first Peace of Toruń sanc­tioned the own­er­ship of these lands, that re­mained Teu­ton­ic. In 1422, dur­ing the next war be­tween Pol­and and the Or­der, Wła­dy­sław Ja­gieł­ło was try­ing for eight days to con­quer the cas­tle , but the fortress de­fend­ed by com­mand of the Toruń com­man­der Mar­tin von Kem­ne­te was not cap­tured. At the be­gin­ning of 1454 the cit­i­zens of Ko­wa­le­wo joined an up­ris­ing against the Or­der and took o­ver the stronghold with­out any fight. Three years af­ter these events it was hand­ed o­ver to Oldřich Čer­von­ka (d. 1465), whose name opens a long list of the starosts of Ko­wa­le­wo, who were in of­fice at the cas­tle from 1457 to 1772. On the ba­sis of the peace agree­ment signed in To­ruń in 1466, the town be­came the prop­er­ty of Pol­and, and the for­mer res­i­dence of the com­man­ders - the seat of above-men­tioned starost of­fices.
THE PILLAR OF DANSKER IN DRAWING FROM 1889, DIE BAU- UND KUNSTDENKMAELER DES KREISES THORN
U
nder Pol­ish rule the cas­tle lost much of its for­mer glo­ry, and at the be­gin­ning of the 17th cen­tu­ry its con­di­tion was so bad that the lo­cal par­lia­ment in Gru­dziądz de­mand­ed its re­pair. The build­ing was severe­ly dam­aged dur­ing the Swed­ish oc­cu­pa­tion in 1629 when it was tak­en o­ver and plun­dered by units com­mand­ed by Gen. Wrangl. The dif­fi­cult sit­u­a­tion of the starost's seat af­ter the end of the wars with Swe­den is shown by the in­spec­tion of the cas­tle car­ried out in 1662, in which we read: There's on­ly one bas­tion in the court­yard where there's a room where the gov­er­nor stands. (...) The sta­bles are all bro­ken. The tow­er, where no­bil­i­ty were hold­ing the courts, col­lapsed and ru­ined. In 1685 Sejm de­cid­ed to re­build the fort­ress, but due to lack of funds the in­vest­ment was aban­doned. It was used un­til 1772, when it was fi­nal­ly left be­hind due to the scale of the dam­age. Since then the build­ing was un­in­hab­it­ed, but the ru­ins in some form still ex­ist­ed at least un­til 1820, as we are in­formed by the in­ven­to­ry done by T. J. Giese. A few years lat­er, the suc­ces­sive de­mo­li­tion of Goth­ic walls be­gan, and the brick re­gained as a re­sult was used to build an evan­gel­i­cal church with a parish house. In 1911 a wa­ter tow­er was erect­ed in the area of a for­mer upper cas­tle, which stands here to this day.
CASTLE HILL WITH AN XXTH-CENTURY WATER TOWER, POSTCARD FROM AROUND 1915
VIEW OF THE RUINS FROM THE TIMES WHEN STRAŻACKA STREET WAS YET A DIRT ROAD (1918)
---
T
he cas­tle was erect­ed on the high, south­ern shore of a vast lake (1), in the vicin­i­ty of nar­row isth­mus, which led the trade route to­wards Brod­ni­ca. It con­sist­ed of a reg­u­lar quadri­lat­er­al brick con­ven­tu­al build­ing and three bai­leys, sur­round­ed by walls and in­te­grat­ed with the town. Due to the lack (apart from one poor­ly read­able draw­ing from the 17th cen­tu­ry) of his­tor­i­cal icono­graph­ic records, the ex­ter­nal view, di­men­sions and lay­out of the con­vent house (2) re­main large­ly un­rec­og­nized. With a high de­gree of prob­a­bil­i­ty we can de­ter­mine that it was a build­ing made of brick on a stone foun­da­tion with a length of 45 me­ters each side, with an en­trance (3) on the south-west lead­ing from the mid­dle bai­ley, through the gate neck (4). Pre­sum­ably, in its south­ern wing there was a chapel (5) (on the east­ern side) and a re­fec­to­ry (6) (on the west­ern side), and in the west­ern wing (7) there were dor­mi­to­ries with com­man­der's apart­ment. Oth­er wings prob­a­bly per­formed util­i­ty func­tions, hous­ing kitchen cham­bers, ware­hous­es, bak­ery, etc. All the build­ings of the upper cas­tle were cel­lared except small frag­ments of the south­ern and east­ern parts, and their width was about 13 me­ters. Com­mu­ni­ca­tion be­tween rooms was pro­vid­ed by porch­es leading around a square court­yard (8), which were prob­a­bly made of wood. The cas­tle did not have a main tow­er, and in all prob­a­bil­i­ty it al­so had no cor­ner tur­rets. How­ev­er, the dec­o­ra­tion of its el­e­va­tion was on a high artis­tic lev­el.
PLAN OF RUINS OF THE UPPER CASTLE ACCORDING TO B. WASIK: 3. ENTRANCE GATE IN THE SOUTH WING, 4. GATE NECK, 5. PROBABLY A CHAPEL,
6. PROBABLY A REFECTORY, 7. WEST WING, 8. COURTYARD, 9. PILLAR OF THE TOILET TOWER (PRESERVED), 10. INTER-WALL, 11. EAST WALL (PRESERVED)
CASTLE AND TOWN PLAN BY C. STEINBRECHT: 1. LAKE, 2. UPPER CASTLE 3. ENTRANCE TO THE CASTLE FROM THE BAILEY, 9. TOILET TOWER,
12. SOUTH BAILEY, 13. QUADRILATERAL TOWER, 14. SOUTH WALL TOWER, 15. MIDDLE BAILEY, 16. TOWER, 17. WEST BAILEY,
18. TOWN, 19. CHURCH
A
porch, sup­port­ed by a pil­lar (9), was led out of the upper cas­tle to the north, and end­ed with a toi­let tow­er. Rich­ly dec­o­rat­ed with blends and friezes, the brick pil­lar is to­day the best pre­served rel­ic of Teu­ton­ic Cas­tle. The con­ven­tu­al part of the stronghold was sur­round­ed by an ad­di­tion­al ring of walls form­ing an in­ter-wall (10), in the east­ern sec­tion (11) al­so part­ly sur­vived to the pre­sent day. Aux­il­iary func­tions to the cas­tle were car­ried out with­in three bai­leys lo­cat­ed south-west of the con­vent house, sep­a­rat­ed by walls and moats. The south­ern­most out­er bai­ley (12) had a plan sim­i­lar to a rect­an­gle with sides of 118x58 me­ters - it was for­ti­fied by a quadri­lat­er­al tow­er (13) on the west side and a tow­er in the south­ern cur­tain (14). From north­east, it was ad­ja­cent to the mid­dle bai­ley (15) marked on an ir­reg­u­lar quadri­lat­er­al plan of about 60x70 me­ters, with a tow­er (16) in the south­ern wall prob­a­bly used to flank the en­trance from the town side. The small­est one was the west­ern bai­ley (17), how­ev­er, due to poor leg­i­bil­i­ty it is not pos­si­ble to­day to clear­ly de­fine its di­men­sions and lay­out. On the north­ern side, the upper cas­tle was pro­tect­ed by two se­mi-cylin­dri­cal tow­ers in­te­grat­ed with the in­ter-wall. The in­ter­nal part of the bai­ley con­sist­ed of wood­en build­ings of eco­nom­ic and mil­i­tary char­ac­ter, among them those men­tioned dur­ing a vis­it in the years 1411-36: malt house, brew­ery, flour store­hous­es, bak­ery, tem­ple work­shop, pow­der mag­a­zine and sta­bles.
| | |
| --- | --- |
| | |
| | |
| --- | --- |
| | |
PRESERVED WALLS OF THE SOUTHERN BAILEY
---
T
he pillar of the toilet tower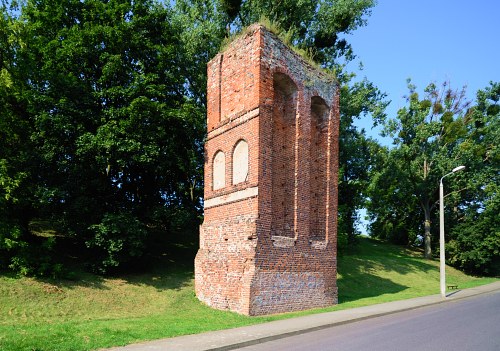 (dansker) has been pre­ser­ved in good con­di­tion to this day, as well as, to a cer­tain ex­tent, de­ca­pi­ta­li­zed but still le­gi­ble parts of the bai­ley cur­tain walls with the ba­se of the to­wers, among them al­most com­ple­te south­ern wall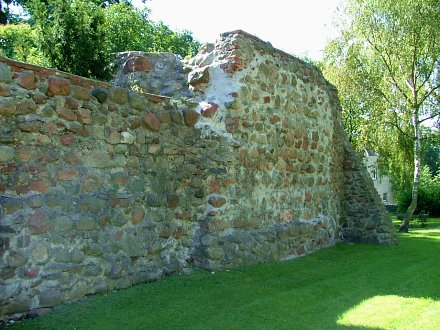 . Al­so small frag­ments of south­ern part of in­ter-wall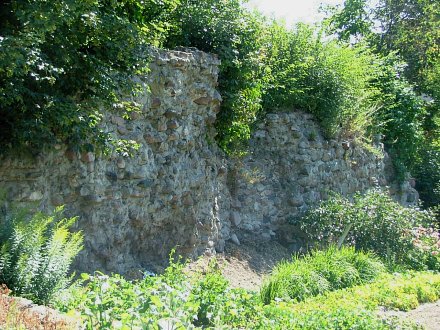 and foun­da­tions of the con­vent hou­se hid­den un­der­ground ha­ve sur­vi­ved. On the cas­tle hill, pro­ba­bly wit­hin for­mer court­yard, stands a wa­ter to­wer from ear­ly 20th cen­tu­ry. The si­te of for­mer con­ven­tion's head­quar­ters now has a re­cre­atio­nal fun­ction and is free­ly access­ible.
ABOVE: THE CASTLE HILL NOW, BELOW: PRESERVED DANSKER PILLAR AND THE XX-CENTURY WATER TOWER
---
K
owale­wo Po­morskie is lo­cat­ed about 30 km north­east of Toruń, on the Toruń-Ol­sztyn rail­way route. The rail­way sta­tion is 30 min­utes walk away from the cas­tle hill. The relics of the me­dieval cas­tle are lo­cat­ed in the north­ern part of the town, on Stra­ża­cka Street. A large num­ber of park­ing places are near­by.
---
1. W. Antkowiak, P. Lamparski: Zamki i strażnice krzyżackie..., Graffiti BC 1999
2. M. Haftka: Zamki krzyżackie w Polsce, 1999
3. L. Kajzer, J. Salm, S. Kołodziejski: Leksykon zamków w Polsce, Arkady 2001
4. R. Sypek: Zamki i obiekty warowne Państwa Krzyżackiego, Agencja CB 2000
5. A. Wagner: Murowane budowle obronne w Polsce X-XVIIw., Bellona 2019
6. B. Wasik: Zamek w Kowalewie Pomorskim - pierwsze wyniki badań archeologicznych, 2018
7. B. Wasik, M. Wiewióra: Próba rekonstrukcji układu przestrzennego zamku..., W. Kons. 45/2016
8. M. Wiewióra, B. Wasik: Chronologia zamku krzyżackiego w Kowalewie Pomorskim...
9. M. Wiewióra, B. Wasik: Zamek w Kowalewie Pomorskim. Dzieje warowni..., Arch. XXXV 2017

CYLINDRICAL TOWER IN BATALIONÓW CHŁOPSKICH STREET, A RELIC OF THE OLD TOWN FORTIFICATIONS
Castles nearby:
Golub-Dobrzyń - castle of Teutonic knights from the 14th century, 12 km
Wąbrzeźno - relics of the Chelmno bishops' castle from the XIV century, 17 km
Lipieniek - relics of Teutonic castle from the 14th century, 27 km
Złotoria - ruin of the royal castle from the 14th century, 27 km
Toruń - ruin of Teutonic castle from the 13th century, 27 km
Toruń - ruin of the royal castle Dybów from the 15th century, 28 km
Radziki Duże - ruin of a knight's castle from the 14th/15th century, 29 km
Papowo Biskupie - ruin of Teutonic castle from the 14th century, 30 km
Radzyń Chełmiński - ruin of Teutonic castle from the 13th century, 30 km
Brodnica - ruin of the Teutonic castle from the 14th century, 33 km

text: 2020
photographs: 2005, 2019
© Jacek Bednarek