CASTLE IN GOLUB-DOBRZYŃ, VIEW OF THE SOUTH WING WITH THE CASTLE CHAPEL
---
T
he hill, on which the beau­ti­ful cas­tle stands, has ear­ly me­dieval ori­gins, be­cause prob­a­bly al­ready in the 8th cen­tu­ry there was a small set­tle­ment in this place. In the course of time it de­vel­oped in­to a wood­en-earth for­ti­fied cas­tle, which was con­quered by armed Teu­ton­ic troops in 1231. Two decades lat­er the Or­der passed it to­geth­er with the vi­la Gol­ube to the bish­op of Wło­cła­wek Wo­li­mir (d. 1275), who short­ly be­fore his death gave it as a fief to the knight Woj­ciech from Smol­no, oblig­ing him to de­fend it against at­tacks of the Prus­sian tribes. At the end of the 13th cen­tu­ry the Teu­ton­ic Knights re­gained the cas­tle and in the years 1293-95 ex­pand­ed it in or­der to con­trol the cross­ing of the Dr­wę­ca Riv­er. The wood­en cas­tle did not last long, since at the be­gin­ning of the 14th cen­tu­ry, on the ini­tia­tive of the Prus­sian Land Mas­ter and Gol­ub Com­man­dant, Kon­rad von Sack (d. af­ter 1306), it was de­cid­ed to build here a cas­tle made of brick. The pro­ject be­gan with the con­struc­tion of a brick perime­ter wall, re­in­forced with but­tress­es in its cor­ners and in the mid­dle of the length of two planned wings. The next stages of build­ing work were prob­a­bly car­ried out grad­u­al­ly af­ter 1310 and they re­sult­ed in four res­i­den­tial wings, a dansker and the low­er storeys of main tow­er, which was not com­plet­ed. The ba­sic form of the cas­tle was shaped around 1330, when the out­er wall was built with a cylin­dri­cal tow­er in­te­grat­ed in­to its perime­ter, which flanked the en­trance to the court­yard. The sec­ond tow­er and the an­nex (called the kom­tur's house) lo­cat­ed at the west­ern wall were built lat­er, in the 15th cen­tu­ry.
A HUGE CANNON STANDS BY THE WAY TO THE CASTLE, WHICH IS A PROP FROM THE FAMOUS POLISH HISTORICAL MOVIE POTOP
T
he cas­tle in Gol­ub se­cured the bor­der of Teu­ton­ic state from the Do­brzyń land and the duke­dom of Ma­zo­via, and was there­fore re­peat­ed­ly ex­posed to at­tacks from Pol­and. In the years 1329­-­33 king Wła­dy­sław Ło­kie­tek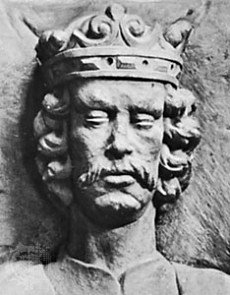 (d. 1333) tried to con­quer it three times dur­ing his ex­pe­di­tions on Chełm­no land, but - as the chron­i­cler wrote - these at­tacks end­ed on­ly with the ru­ina­tion of five vil­lages near Gol­ub. Af­ter the 14th cen­tu­ry pe­ri­od of po­lit­i­cal equi­lib­ri­um, which had a very pos­i­tive im­pact on de­vel­op­ment and pros­per­i­ty of the town and cas­tle, the be­gin­ning of the 15th cen­tu­ry brought a sig­nif­i­cant de­te­ri­o­ra­tion in Pol­ish-Teu­ton­ic re­la­tions. Prepa­ra­tions for the war had a sig­nif­i­cant im­pact on the grow­ing strate­gic im­por­tance of the kom­tur's seat, which was per­son­al­ly in­spect­ed by the Com­man­der-in-Chief of the army, Grand Mas­ter Ul­rich von Jun­gin­gen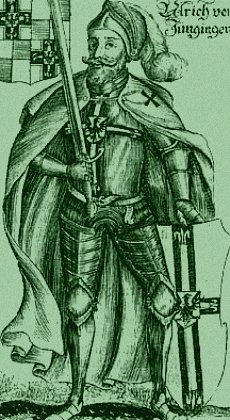 (d. 1410), in Ju­ly 1408. In the spring of 1410, three months be­fore his trag­ic death at the bat­tle of Grun­wald, the kom­tur of Gol­ub, Mikołaj Röder, did have a large sup­ply of food, but the weapons of the fortress still left much to be de­sired. The cas­tle cel­lars and kitchen con­tained 6 bar­rels of beer, 230 por­tions of dried and smoked meat, 3 bar­rels of lard, 800 cheeses, a bar­rel of but­ter and 22 bar­rels of salt. The gra­nary and mill stored about 100,000 liters of rye, about 1,000 liters of flour and 10,000 liters of bar­ley, as well as a large amount of peas, turnips and oats. Live­stock in­clud­ed 192 hors­es, 97 cows, 30 ox­en, 31 calves, 213 pigs, 1161 sheep and 500 lambs. How­ev­er, the equip­ment of ar­mory was very mod­est. The Lus­tra­tor count­ed on­ly 17 pieces of ar­mor, 16 hel­mets, 2 can­nons for lead balls and 28 cross­bows, 3 tents, 3 or­di­nary and 8 knight's sad­dles, as well as small amounts of mi­nor equip­ment of sym­bol­ic mil­i­tary im­por­tance. The ex­act num­ber of the cas­tle's crew is un­known, but judg­ing from the num­ber of weapons, it was not im­pres­sive.
IN FRONT OF THE ENTRANCE GATE
D
ur­ing the Great War of the Teu­ton­ic Knights against Pol­and (1409-1411) the cas­tle did not suf­fer much dam­age. In the sum­mer of 1410 it was tak­en with­out a fight by the Pol­ish roy­al army, and then, ac­cord­ing to de­ci­sion of King Wła­dy­sław Ja­gieł­ło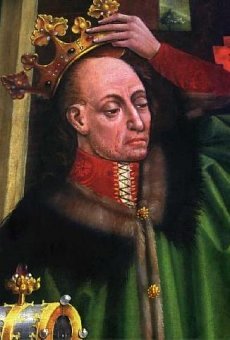 , it was hand­ed o­ver to the knight Nie­mi­sta from Szczyt­ni­ki. How­ev­er, al­ready in Oc­to­ber of the same year, he sur­ren­dered to the forces of the Teu­ton­ic Knights and their al­lied le­gions from North In­flants, who, un­der the com­mand of Mar­shal Bern von He­vel­mann, re­cap­tured the fort­ress. These ac­tions met with a coun­ter­at­tack of the Pol­ish army, which led to a small bat­tle be­tween the troops of Do­bie­sław Pu­cha­ła of Wie­nia­wa coat of arms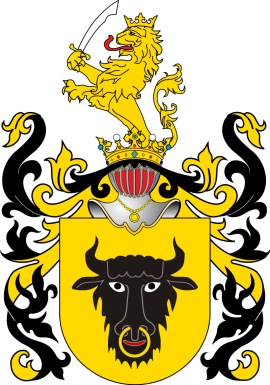 (d. 1441) and the nu­mer­i­cal­ly su­pe­ri­or Livo­ni­an reg­i­ments, which end­ed with the vic­to­ry of roy­al army and re­oc­cu­pa­tion of Gol­ub by the Pol­ish knights. The cas­tle re­mained un­der Pol­ish rule un­til Febru­ary 1411, when it was re­turned to the Teu­ton­ic Knights un­der the terms of the First To­ruń Peace Treaty.
THE CASTLE AND THE TOWN IN ERIK DAHLBERGH'S ENGRAVING, SAMUEL PUFENDORF DE REBUS A CAROLO GUSTAVO GESTIS, 1655
T
welve years lat­er, af­ter the out­break of an­oth­er Pol­ish-Teu­ton­ic con­flict, called the Gol­ub War, the Pol­ish-Lithua­ni­an army ap­proached Gol­ub again and on 20 Au­gust 1422 be­gan the siege of the fort­ress. Dur­ing the raid, 50 Teu­ton­ic Knights were killed, in­clud­ing the com­man­der, and 40 mer­ce­nar­ies were tak­en pris­on­er. Af­ter the sur­ren­der of the cas­tle's crew, the king or­dered to de­mol­ish all the most im­por­tant el­e­ments of the town's for­ti­fi­ca­tions, in­clud­ing the main tow­er - the largest and strongest struc­ture in the en­tire de­fen­sive sys­tem. On his or­der, a tun­nel­ing was made, as a re­sult of which the tow­er col­lapsed in­to Dr­wę­ca Riv­er caus­ing a ter­ri­fy­ing bang and damming up its bed. The Gol­ub war last­ed on­ly two months and al­ready in Sep­tem­ber 1422 the stronghold re­turned in­to the hands of the Teu­ton­ic Or­der. Its re­con­struc­tion soon be­gan, last­ing with breaks un­til the late 1440s. An in­ter­est­ing fact is that af­ter re­cap­ture of Gol­ub by Teu­ton­ic Knights, two Pol­ish cap­tives were im­pris­oned in the cas­tle, but they es­caped, which is known from a let­ter writ­ten by com­man­der of To­ruń in the sum­mer of 1423.
THE CASTLE AND THE TOWN IN 1738-45 ON A DRAWING BY GEORG FRIEDRICH STEINER
O
n Febru­ary 4, 1454 the Prus­sian Union au­thor­i­ties de­clared obe­di­ence to the Teu­ton­ic state. As a con­se­quence, an armed up­ris­ing broke out in the whole Teu­ton­ic ter­ri­to­ry and the strongholds were at­tacked, in­clud­ing the cas­tle in Gol­ub, whose crew sur­ren­dered prac­ti­cal­ly with­out a fight. Soon, it came un­der the rule of knight Jan from Wi­chu­lec for a short pe­ri­od of time and in Sep­tem­ber of the same year it was leased by the roy­al courtier Grot from Os­trów, Ra­wicz coat of arms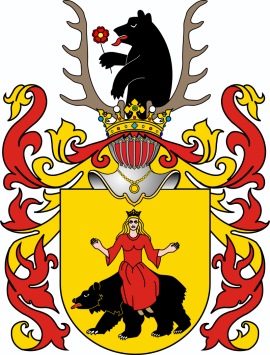 . Three years lat­er the king grant­ed the of­fice of starost of Gol­ub to the Bo­hemi­an ro­ta­mas­ter Ol­drich Cer­von­ka (d. 1465) as a re­ward for the tak­ing and sell­ing to Pol­and the Teu­ton­ic cas­tles in Mal­bork, Tczew and Iła­wa. When in Sep­tem­ber 1460 Cer­von­ka was im­pris­oned by the Bo­hemi­an King Jiří z Kunštá­tu a Poděbrad, an­oth­er com­man­der of the Czech mer­ce­nary army, but fight­ing on the Teu­ton­ic Knights' side - Ber­nard von Zin­nen­berg (Szum­bor­ski, d. 1470) - made an at­tempt to cap­ture the cas­tle. As a re­sult of the treach­ery of a group of towns­men, Szum­bor­ski's troops en­tered the town, but the gar­ri­son un­der the com­mand of An­drzej from Do­brzy­cza­ny called Pusz­karz (d. 1483) man­aged to re­pulse their as­sault on the cas­tle, as well as all the oth­ers which were un­der­tak­en un­til 1462. It was then that Cer­von­ka, who had been re­leased from prison, re­cap­tured the town, and its Ger­man gar­ri­son was killed or tak­en pris­on­er. From that time on, de­spite the still on­go­ing war strug­gles, Gol­ub re­mained un­der Pol­ish ad­min­is­tra­tion.
THE CASTLE FROM THE SOUTH, DRAWING BY TEOFIL ŻEBRAWSKI FROM 1826
T
he Treaty of Toruń of 1466, end­ing the Thir­teen Years' War, legal­ly sanc­tioned the ex­ist­ing sit­u­a­tion and per­ma­nent­ly as­signed Gol­ub to the King­dom of Pol­and. From then on, the cas­tle, for­mer­ly the seat of the con­vent, served as the ad­min­is­tra­tive cen­ter and res­i­dence of the starost. In the ear­ly 16th cen­tu­ry, un­der the su­per­vi­sion of Bish­op Jan Ko­no­pac­ki of Od­wa­ga coat of arms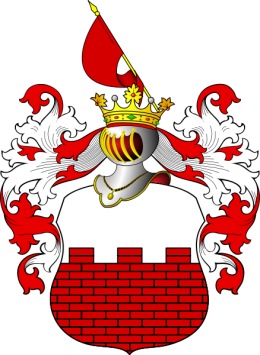 (d. 1530), re­build­ing of the cas­tle in­te­ri­ors be­gan. It was car­ried out in the old Goth­ic style, al­though the use of Re­nais­sance beam ceil­ings and ap­pli­ca­tion of wall poly­chromes in the vaults an­nounced the new era. These works were com­plet­ed at the time when the starost of Gol­ub was Sta­ni­sław Kost­ka of Ros­tków, Dą­bro­wa coat of arms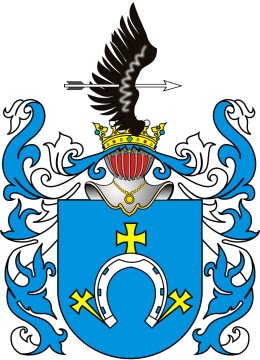 (d. 1555), a rep­re­sen­ta­tive of the fam­i­ly which ruled the cas­tle from 1524 un­til the sec­ond decade of the sev­en­teenth cen­tu­ry. When Sta­ni­sław died, the of­fice was suc­ceed­ed by his son Jan (d. 1581), one of the founders of the Pol­ish navy, re­mem­bered pri­mar­i­ly as a two-time can­di­date for the Pol­ish throne (af­ter the death of Zyg­munt Au­gust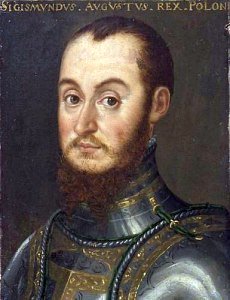 and the es­cape of Hen­ry de Val­ois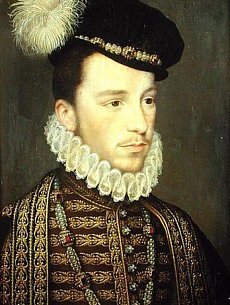 to France). Short­ly af­ter An­na Vasa (d. 1625), sis­ter of King Si­gis­mund III, took o­ver the Gol­ub starosty in 1611, a far-reach­ing re­con­struc­tion of the for­mer cas­tle-clois­ter in­to a rep­re­sen­ta­tive palace be­gan. An­na be­gan the stage of wom­en's rule in Gol­ub, be­cause af­ter her death the Ca­tho­lic devo­tee Con­stance Hab­s­burg
, the sec­ond wife of Sigis­mund III Va­sa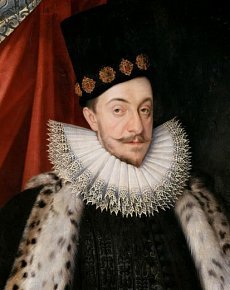 , set­tled here. When she died of a stroke in 1631, she was suc­ceed­ed by the not very pret­ty but wise An­na Ka­ta­rzy­na
(d. 1651), sis­ter of the Pol­ish King Jan Ka­zi­mierz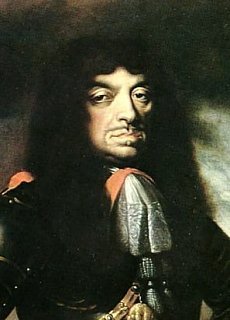 . How­ev­er, this starosty was tak­en away from the princess when she reached her ma­jor­i­ty in 1638 and giv­en to Ce­cil­ia Re­na­ta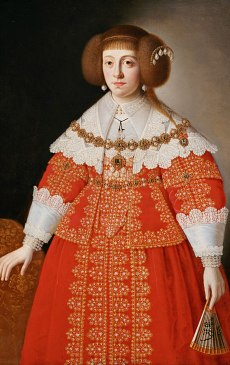 , the dis­re­gard­ed wife of her obese cousin Wła­dy­sław IV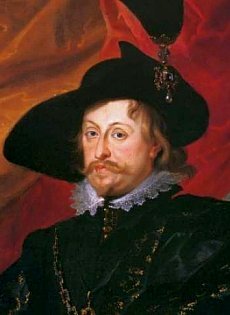 . She held this of­fice un­til her death in 1644, fol­low­ing com­pli­ca­tions af­ter giv­ing birth to a dead daugh­ter.
LITHOGRAPH BY NAPOLEON ORDA, ALBUM WIDOKÓW 1880
An­na Vasa was born on May 17, 1568 at Es­kil­stu­na Cas­tle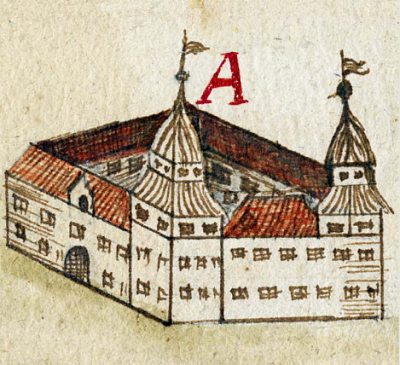 in Swe­den as the youngest daugh­ter of the Pol­ish prin­cess Ka­ta­rzy­na Ja­giel­lon­ka
and the Duke of Fin­land, lat­er King Jan III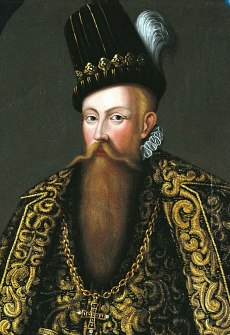 of Swe­den. At the age of 19, she came to Pol­and with her broth­er Si­gis­mund, who was elect­ed Pol­ish king. And al­though she was soon sent back to Swe­den be­cause of her in­flu­ence on her broth­er's pol­i­tics, she re­turned af­ter a few years, re­main­ing in Pol­and un­til the end of her days.

An­na was not very at­trac­tive: she was nei­ther pret­ty nor had a pe­tite, fem­i­nine fig­ure. On the con­trary, with a height of 182 cm she was very tall for her time, much taller than most men of her era. How­ev­er, the un­in­ter­est­ing ap­pear­ance was com­pen­sat­ed for by oth­er virtues. Vasa spoke five lan­guages: in ad­di­tion to Swed­ish, she al­so spoke French, Pol­ish, Ger­man, and Lat­in. She main­tained re­la­tions with promi­nent rep­re­sen­ta­tives of the Re­for­ma­tion, col­lab­o­rat­ed with and pa­tron­ized schol­ars and writ­ers, and was her­self ac­tive in the fields of botany and herbal medicine. At her own ex­pense, she pub­lished sev­er­al im­por­tant works, in­clud­ing the first Pol­ish herbar­i­um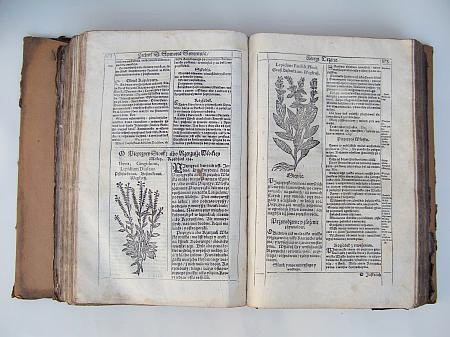 , writ­ten by Szy­mon Sy­reń­ski, a pro­fes­sor of the Cra­cow Aca­de­my, and num­ber­ing 1600 pages. An­na is al­so con­sid­ered a pi­o­neer of the do­mes­tic to­bac­co in­dus­try, as it is be­lieved that she cul­ti­vat­ed the first to­bac­co plants in Pol­and (which she al­leged­ly re­ceived from a Turk­ish deputy).

Ini­tial­ly An­na Vasa resid­ed at Wa­wel, but a re­li­gious con­flict with her broth­er Si­gis­mund III and his Ca­tho­lic wife Con­stance Hab­s­burg forced her to leave Cra­cow and set­tle in es­tates do­nat­ed to her by the king: in Brod­ni­ca (which was her win­ter res­i­dence) and in Gol­ub (where she stayed in the sum­mer). She died in Brod­ni­ca on Febru­ary 6, 1625 at the age of 57. Due to pa­pal ban on bury­ing Pro­tes­tants in Ca­tholic ceme­ter­ies her corpse was kept for sev­er­al years in one of the rooms of the cas­tle in Brod­ni­ca. It was not un­til 1636 that she was buried in a spe­cial­ly erect­ed mau­soleum
at the Church of the Bles­sed Vir­gin Mary in To­ruń, at that time a Lu­ther­an church.
RUINED CASTLE ON ENGRAVINGS FROM 1891, DIE BAU- UND KUNSTDENKMALER DER KREISES STRASBURG
A
f­ter the reign of the four princess­es, the cas­tle be­came sim­i­lar to the mag­nate res­i­dences typ­i­cal of the south­ern and south-east­ern re­gions of Pol­and. In the fol­low­ing years, it was ad­min­is­tered by Szcza­wiń­scy of Praw­dzic coat of arms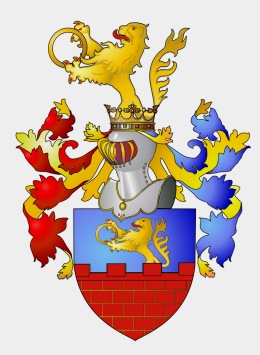 (1645-55), Lu­bo­mir­scy of Śre­ni­awa coat of arms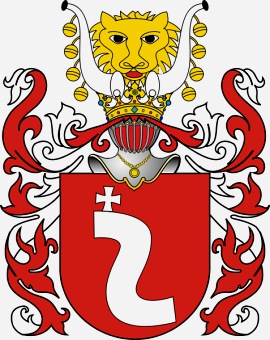 (1655-1664) and Gru­dziń­scy of Grzy­mała coat of arms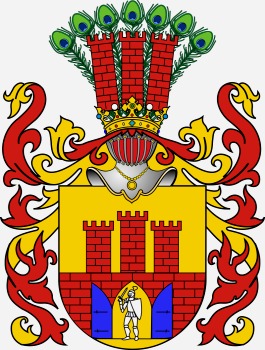 (1667-1713). In 1713, Lu­krec­ja Gru­dziń­ska (d. 1713) mar­ried Fry­de­ryk Jó­zef Don­hoff (d. 1723), al­so do­nat­ing the Gol­ub starosty to him. Then, the of­fice was held by Sta­ni­sław Wes­sel of Ro­ga­la coat of arms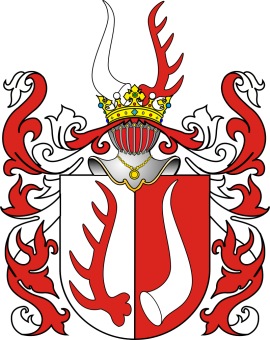 (d. 1765), and lat­er, un­til the par­ti­tions of Pol­and, by Lud­wi­ka Bie­ga­now­ska, his wife. The times of the last lease­hold­ers of Gol­ub were marked by plagues and armed con­flicts, of which es­pe­cial­ly the North­ern War and the Sev­en Years' War played a trag­ic role in the his­to­ry of the town and led to the im­pov­er­ish­ment of the for­mer roy­al res­i­dence. How­ev­er, de­spite the cholera epi­demics, as well as the Swed­ish, Prus­sian, Bos­nian and Rus­sian in­va­sions, tech­ni­cal con­di­tion of the cas­tle in the mid­dle of the 18th cen­tu­ry was still de­scribed as good. Af­ter the first par­ti­tion of Pol­and and seizure of these lands by the Prus­sian au­thor­i­ties in 1772, it housed of­fices and part of the cham­bers were used as apart­ments for Prus­sian ad­min­is­tra­tors. At that time no one cared about the well-be­ing of the build­ing, so it quick­ly de­te­ri­o­rat­ed. When the French oc­cu­pied the town dur­ing the Na­po­le­on­ic wars, they placed a la­za­ret­te in the cas­tle, which on­ly ac­cel­er­at­ed the pro­cess of its dev­as­ta­tion. Prus­sian for­est in­spec­tor Rich­ter showed ex­cep­tion­al bar­bar­i­ty to the his­toric fur­nish­ings of the cas­tle. In 1817 he ar­ranged there an apart­ment for him­self and to save mon­ey he de­mol­ished and burnt the vin­tage wood­en gal­le­ry.
VIEW OF THE CASTLE FROM THE BRIDGE ON DRWĘCA RIVER, XIX/XX CENTURY AND CURRENT STATE
W
hen in 1825 the Prus­sian sup­ply of­fices be­gan their work in Gol­ub, they took care of the most ur­gent, but on­ly tem­po­rary re­pairs to the cas­tle premis­es. Un­for­tu­nate­ly, just six years lat­er the new ten­ant de­cid­ed to use the first floor of the cas­tle as a barn and put a dung heap in the court­yard, and he car­ried out this plan. From 1833 a prison al­so func­tioned here. In­ten­tion­al dev­as­ta­tion and lack of care quick­ly led the cas­tle to ru­in. This pro­cess was ac­cel­er­at­ed by strong winds, which in 1842 caused part of the at­tic to fall on­to the roof of the east wing, con­se­quent­ly col­laps­ing its vaults, and in 1869 led to a sim­i­lar catas­tro­phe in the north­ern and south­ern wings. In the sec­ond half of the 19th cen­tu­ry, on­ly the west­ern wing, where the school func­tioned and the teach­er's apart­ment was lo­cat­ed, re­mained in use. At the be­gin­ning of the 20th cen­tu­ry, on the ini­tia­tive of Kaiser Wil­helm II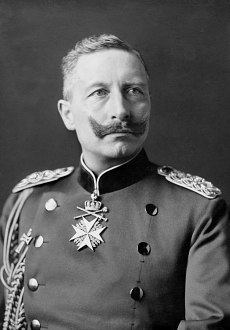 and part­ly thanks to funds pro­vid­ed by him, con­ser­va­tion works were un­der­tak­en, which re­sult­ed in the in­ven­to­ry and restora­tion of the chapel por­tal. There were al­so plans to cov­er the build­ing with pro­tec­tive roofs, but the out­break of World War I thwart­ed these plans.
WEST WING WITH ENTRANCE GATE, PHOTOS FROM 1930S AND FROM 2019
W
hen the war end­ed, Gol­ub and the cas­tle be­came part of Pol­and, but ad­min­is­tra­tive­ly it was as­signed to a dif­fer­ent voivod­ship than neigh­bor­ing Do­brzyń, which did not stim­u­late the de­vel­op­ment of ei­ther of the towns. Al­ready in 1920 a re­gion­al mu­se­um was opened here. In 1926, the ru­ined walls of the chapel and the vault of the vestry were de­mol­ished. In the 1930s, nec­es­sary re­pairs were made to the roofs and some cham­bers, and a nev­er-com­plet­ed con­ver­sion of the cas­tle in­to a train­ing cen­ter was be­gun. In 1939 the build­ing was tak­en o­ver by the oc­cu­py­ing Ger­man au­thor­i­ties and used as a pro­pa­gan­da and ed­u­ca­tion­al cen­ter for Nazi youth. It was dev­as­tat­ed again at the end of the war, but in the 1940s the most ur­gent con­ser­va­tion work was un­der­tak­en, al­though the com­mu­nist au­thor­i­ties were not com­fort­able with in­vest­ing in the her­itage of Ger­man­ic cul­ture and a sym­bol of Teu­ton­ic op­pres­sion. These works were ac­com­pa­nied by a full in­ven­to­ry of the build­ing, ini­tial­ly for the pur­pose of its adap­ta­tion for the seat of dis­trict au­thor­i­ties, and ac­cord­ing to the lat­er and fi­nal con­cept - for cul­tur­al and ho­tel pur­pos­es. Fol­low­ing these as­sump­tions, the re­con­struc­tion was start­ed and af­ter its com­ple­tion in 1967 the cas­tle be­came the seat of Pol­ish Tourist So­ci­ety with a re­gion­al mu­se­um, li­brary, café and tourist ho­tel. Over time, cul­tur­al in­sti­tu­tions were moved to oth­er build­ings in the town, and the So­ci­ety's au­thor­i­ties fo­cused on ac­tiv­i­ties of a tourist and en­ter­tain­ment char­ac­ter.
THE RUINED SOUTH WING WITH THE CASTLE CHAPEL, BEFORE AND AFTER RECONSTRUCTION
---
T
he me­dieval Goth­ic cas­tle con­sist­ed of the main seat of the con­vent (the up­per cas­tle), built on a rect­an­gu­lar plan with sides of 34x42 me­ters, and the lower cas­tle, of which on­ly the foun­da­tions of the en­trance gate and earth em­bank­ments have sur­vived to the pre­sent day. The up­per cas­tle was built of brick on foun­da­tions of er­rat­ic boul­ders, and its walls were re­in­forced with mas­sive but­tress­es to en­sure sta­bil­i­ty on the steeply slop­ing ground. The low­er floors were oc­cu­pied by spaces that served as craft work­shops and util­i­ty fa­cil­i­ties: food and equip­ment stores, kitchen, bak­ery. The most rep­re­sen­ta­tive place in the cas­tle was the sec­ond floor of its south­ern wing, in the west­ern part of which the Goth­ic Chapel of the Holy Cross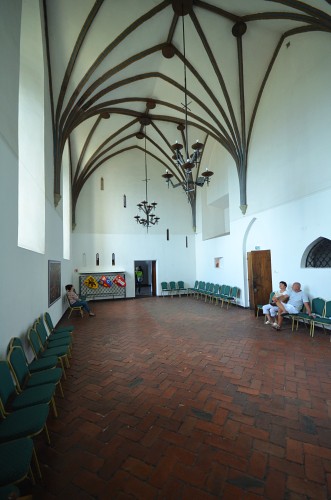 was lo­cat­ed, cov­ered with a three-bay stel­lar vault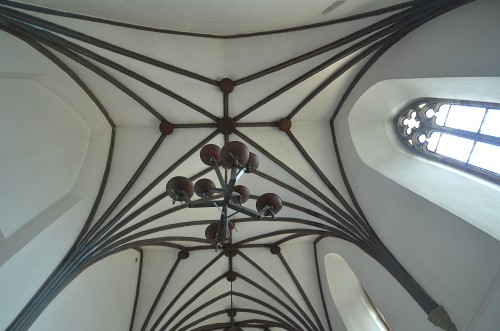 (now re­con­struct­ed). Its in­te­ri­or was il­lu­mi­nat­ed by three high, point­ed-arch win­dows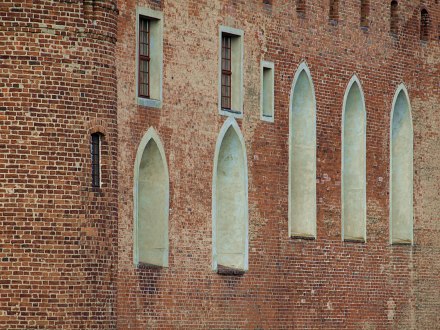 with trac­ery, and the walls were dec­o­rat­ed with poly­chrome paint­ings. In the wall of the chapel, on the side of the court­yard, there were two small cells for the fri­ars who were un­der­go­ing pun­ish­ment or in­fec­tious­ly ill - from where they could ob­serve the al­tar through tiny win­dows. The east­ern part of the south wing was oc­cu­pied by a three-bay chap­ter­house with a cross-ribbed vault, which was used for meet­ings. It was heat­ed by hot air gen­er­at­ed by a fur­nace lo­cat­ed in the ground and then pumped in­to the hall through noz­zles placed in the floor. Two large cham­bers, the chapel and the chap­ter­house, were sep­a­rat­ed by a rel­a­tive­ly small room, whose for­mer pur­pose re­mains a mys­tery to us (some­times this place is called the in­fir­mary).
PLAN OF THE SECOND FLOOR OF CASTLE BY R. SZYSZKIEWICZ: 1. CHAPTERHOUSE, 2. ROOM CALLED INFIRMARY, 3. CHAPEL, 4. REFECTORY,
5. STAIRCASE, 6. DORMITORY, 7. COMMANDER'S ROOMS, 8. TOILET TOWER, 9. WELL, 10. SOUTH-WEST TOWER, 11. NORTH-WEST TOWER,
12. FOUNDATIONS OF THE CORNER TOWER, 13. SACRISTY
O
n the sec­ond floor of the east­ern wing there was a four-bay, orig­i­nal­ly cross-vault­ed re­fec­to­ry (later the vault was re­placed by a wood­en ceil­ing), which was sep­a­rat­ed from the chapel by nar­row cham­ber, which prob­a­bly had the func­tion of a sac­risty. On the north side, there was the hall­way with the stair­case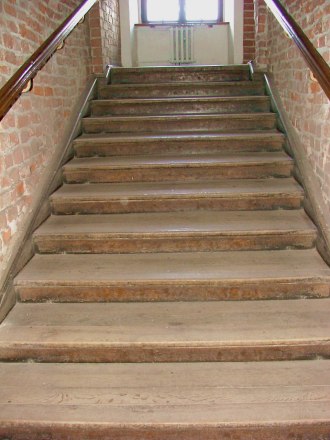 lead­ing to spaces lo­cat­ed di­rect­ly above the re­fec­to­ry. Dor­mi­to­ries were sit­u­at­ed in the north­ern wing. A nar­row porch con­nect­ing the build­ing to the toi­let tow­er was al­so placed here. The west­ern part of the cas­tle on the first floor con­tained the pri­vate apart­ments of the com­man­der, while on the ground floor there were cham­bers for the guards. The third floor of the cas­tle was oc­cu­pied by stor­age space and an arms de­pot . Above them there was an at­tic, which, con­nect­ed with the cor­ner tow­ers and one of the two cylin­dri­cal tow­ers, was an im­por­tant link in the for­ti­fi­ca­tion sys­tem of the en­tire de­fen­sive com­plex. In­di­vid­u­al wings of the cas­tle were not con­nect­ed by pas­sages, which was dic­tat­ed by safe­ty rea­sons. The com­mu­ni­ca­tion func­tion was per­formed by wood­en clois­ter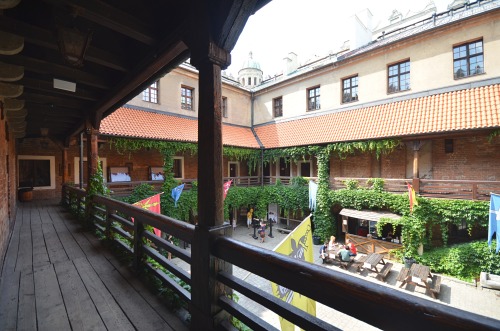 sup­port­ed by brick pil­lars, sur­round­ing a small court­yard at the lev­el of the sec­ond floor. All rep­re­sen­ta­tive rooms were prob­a­bly dec­o­rat­ed with fig­u­ral and heraldic paint­ings, and their ba­sic equip­ment con­sist­ed of stoves and oak fur­ni­tures. Al­so el­e­va­tions of the build­ings were dec­o­rat­ed as two- or four-col­or com­po­si­tions in sgraf­fi­to tech­nique, how­ev­er this de­tails were in­tro­duced on­ly dur­ing the Pol­ish ad­min­is­tra­tion at the cas­tle.
VIEW OF THE CASTLE ON AN AERIAL PHOTOGRAPH TAKEN IN THE 1930S
A
t the be­gin­ning of the 14th cen­tu­ry, con­struc­tion of a main tow­er be­gan in the north­west­ern part of the high cas­tle. How­ev­er, this work was aban­doned at the lev­el of the sec­ond storey, and its func­tion was tak­en o­ver by two cylin­dri­cal tow­ers, adapt­ed to use the firearms. The base­ment of the un­fin­ished tow­er was con­vert­ed in­to a prison, but its sur­pris­ing­ly high stan­dard (ven­ti­la­tion, la­trine) sug­gests that it rather did not serve as a place for reg­u­lar pun­ish­ment and was prob­a­bly used to hold pris­on­ers await­ing re­lease (in ex­change for ran­som). To the west of the up­per cas­tle the low­er cas­tle ex­tend­ed, with a trape­zoidal shape mea­sur­ing about 70x110 me­ters, and sep­a­rat­ed from up­per cas­tle by a ditch and a wall. The area was en­closed by a de­fen­sive wall with two cor­ner tow­ers and a gate tow­er, the ac­cess to which was de­fend­ed by a draw­bridge sup­port­ed on pil­lars. It was the eco­nom­ic base of the con­vent - along the south­ern cur­tain was the sta­ble build­ing mea­sur­ing 50 me­ters in length, the smithy on the op­po­site side, and oth­er work­shops, baths, rooms for live­stock, and fi­nal­ly hous­ing for the ser­vants. From here to the up­per cas­tle the road led across a sec­ond bridge o­ver a dry moat, flanked by two cylin­dri­cal tow­ers: the south­ern tow­er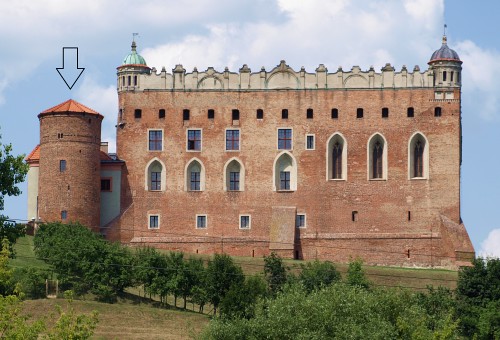 , erect­ed at the end of the 14th cen­tu­ry, and the slight­ly low­er and younger north­ern tow­er (no pre­served). In the Mid­dle Ages, the south­ern tow­er was prob­a­bly taller than it is to­day and mea­sured about 18 me­ters. It was ac­cessed di­rect­ly from the con­vent build­ing by a wood­en porch lo­cat­ed on one of the up­per floors.
HIPOTHETICAL PLAN OF THE UPPER AND LOWER CASTLE ACCORDING TO B. WASIK
THE AREA OF THE FORMER LOWER CASTLE IS NOW USED AS A TOURNAMENT COURTYARD
T
he mod­ern­iza­tion of the cas­tle, which was ini­ti­at­ed by Bish­op Jan Ko­no­pac­ki and con­tin­ued by Sta­ni­sław Kost­ka and An­na Wa­sa, changed the char­ac­ter of its in­te­ri­ors to a great ex­tent and af­fect­ed its ex­ter­nal ap­pear­ance by re­plac­ing de­fen­sive el­e­ments with dec­o­ra­tive at­tributes. Dur­ing the reign of the Swedish princess in Gol­ub the orig­i­nal Goth­ic gables were re­placed by cop­per roofs fin­ished with a late Re­nais­sance at­tic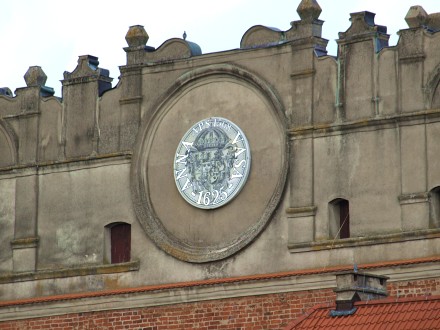 and cor­ner tur­rets with domed hel­mets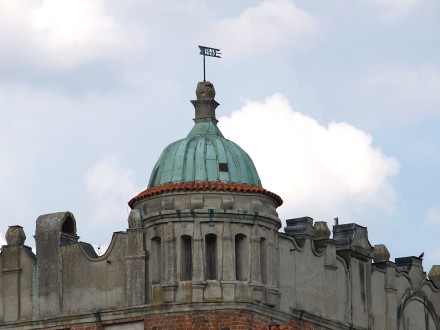 . The lay­out and dec­o­ra­tion of most of the pi­ano no­bile rooms were changed and a new Re­nais­sance stair­case was built. The shape of the win­dows was changed to rect­an­gu­lar, and the ex­te­ri­or walls of the cas­tle were cov­ered with plas­ter dec­o­rat­ed with fig­u­ral sgraf­fi­to or­na­men­ta­tion. The Goth­ic build­ing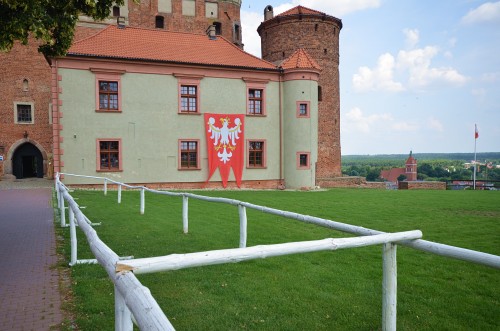 (called the com­man­der's house) at­tached to the west­ern el­e­va­tion of the cas­tle was al­so re­built in a new style and giv­en a new win­dow lay­out and a round stair­case tur­ret. From the south, on the slopes of the cas­tle hill, gar­dens were found­ed, where Vasa prob­a­bly spent a lot of time cul­ti­vat­ing her in­ter­ests in botany and herbal medicine.
A FRAGMENT OF THE SOUTHERN AND WESTERN ELEVATIONS WITH SOME FEATURES INTRODUCED DURING THE XVII CENTURY TRANSFORMATION OF THE CASTLE:
1. LATE RENAISSANCE ATTIC, 2. CORNER TURRETS, 3. NEW WINDOWS, 4. STAIRCASE IN THE SO CALLED COMMANDER'S HOUSE
---
G
ol­ub-Do­brzyń be­came fa­mous thanks to the in­ter­na­tion­al knight­ly tour­na­ments that have been or­ga­nized here since the 70s of the 20th cen­tu­ry, and al­though their rep­u­ta­tion has been de­creas­ing re­cent­ly, it should be re­mem­bered that it was here that the tra­di­tion of com­pe­ti­tion ac­cord­ing to me­dieval rules was re­vived in Poland. Cur­rent­ly, it hous­es a ho­tel and restau­rant, and this func­tion, com­bined with or­ga­niz­ing var­i­ous types of events, is the dom­i­nant part of the cas­tle's in­come. How­ev­er, we are more in­ter­est­ed in the tourist as­pect, the pos­si­bil­i­ty of get­ting to know the his­to­ry of this place, its for­mer in­hab­i­tants, and fi­nal­ly the in­te­ri­or de­sign and fur­nish­ings. Be­fore I de­scribe how it is here now, I will go back to my first vis­it in 2005, when I found the cas­tle to be a huge dis­ap­point­ment in this re­spect. From those years, I re­mem­ber four very mod­est­ly dec­o­rat­ed rooms, some of them emp­ty, the oth­ers ar­ranged with ran­dom ob­jects
. I al­so re­mem­ber a very poor­ly pre­pared la­dy "guide" and a record short tour time of on­ly 17 min­utes. All this com­bined with the rel­a­tive­ly high price of tick­ets meant that af­ter leav­ing Gol­ub I couldn't help feel­ing that tourists are not wel­come here. With all these neg­a­tive rem­i­nis­cences, I was very scep­ti­cal about try­ing to "con­quer" the cas­tle again, four­teen years lat­er.
GOLUB-DOBRZYŃ CASTLE, IN FRONT OF THE WEST ELEVATION
F
rom out­side, the cas­tle looks great, thanks not on­ly to the well-kept façade, but al­so to the neat sur­round­ings and spec­tac­u­lar­ly dec­o­rat­ed tour­na­ment court­yard. The tour, just like years ago, is ac­com­pa­nied by a guide, and in this re­gard, un­for­tu­nate­ly, no change for the bet­ter is vis­i­ble. Per­haps I was just un­lucky, but the elo­quence and eru­di­tion of the per­son pre­tend­ing to be a guide was more as­so­ci­at­ed with a coun­try dis­co than with a per­son en­gaged in pro­fes­sion­al tour guid­ing. It was an em­bar­rass­ing show - so bad that af­ter a few min­utes peo­ple just stopped lis­ten­ing to her. The be­gin­ning of the tour al­so turned out to be not very in­ter­est­ing: first we were shown a not very en­ter­tain­ing film, fol­lowed by an overview of repli­ca tor­ture de­vices, the same as in many oth­er cas­tles. Bor­ing. The most in­ter­est­ing thing here was the room it­self, as the ex­po­si­tion was placed in the base­ment of the south wing, where many Goth­ic de­tails have been pre­served, giv­ing an idea of the orig­i­nal look of the cas­tle in­te­ri­ors in Mid­dle Ages. From the base­ment we walked to the vault­ed room on the ground floor with an ethno­graph­ic ex­hi­bi­tion il­lus­trat­ing the achieve­ments of folk cul­ture of Chełm­no and Do­brzyń land.
THE ETHNOGRAPHIC EXHIBITION
T
hen, by the so-called horse stairs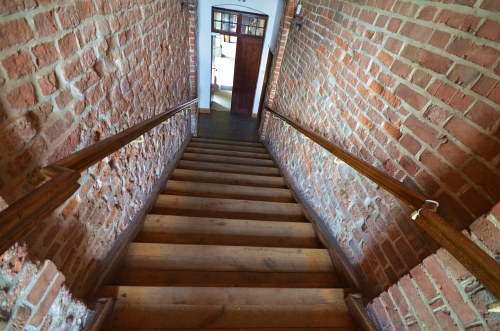 we go to the sec­ond floor of the north wing, where in the dor­mi­to­ry an in­ter­est­ing ar­chae­o­log­i­cal ex­hi­bi­tion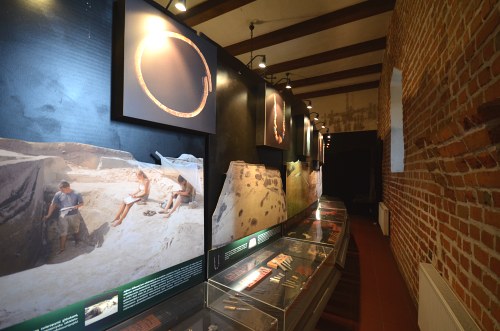 has been ar­ranged, sum­ma­riz­ing the re­sults of re­search con­duct­ed in the area of the for­mer stronghold in Kał­dus near Chełm­no. For me, this was the high­light of the trip. From here we go to the chapel, the on­ly area on the sec­ond floor that has re­tained its orig­i­nal Goth­ic char­ac­ter, em­pha­sized by stel­lar vaults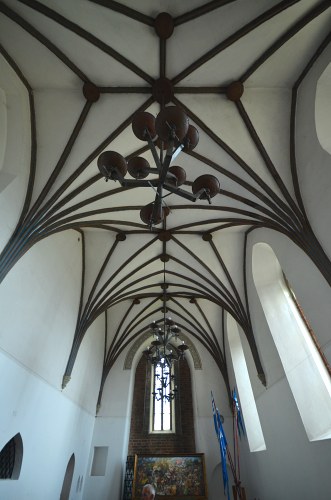 and three high point­ed win­dows. Al­though to­day the chapel is emp­ty and its white walls are al­most com­plete­ly de­void of or­na­ments, it is one of the few places in the cas­tle where you can still feel the cli­mate of Mid­dle Ages. Next we go to the in­fir­mary, and from there - to the chap­ter­house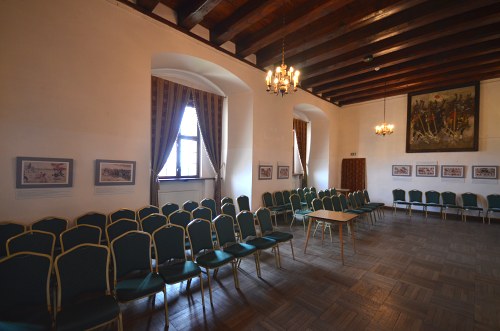 , where the on­ly thing that at­tracts our at­ten­tion is the path­etic por­trait of the for­mer man­ag­er of the cas­tle, Zbig­niew Kwiat­kow­ski, called here castel­lan. Un­for­tu­nate­ly, this paint­ing is a source of pride nei­ther for its au­thor nor the peo­ple man­ag­ing the cas­tle. The on­ly log­i­cal ex­pla­na­tion I can find for the fact that this aw­ful ex­am­ple of kitsch and trashi­ness still hangs o­ver the en­trance in the most rep­re­sen­ta­tive room of the cas­tle is the great re­spect for the late man­ag­er and his achieve­ments. I don't see any oth­er jus­ti­fi­ca­tion.
PORTRAIT OF MR. KWIATKOWSKI, NO COMMENT NEEDED
THE ARCHAEOLOGICAL EXHIBITION
F
rom the view­point of the sev­er­al years that have passed since my first vis­it to Gol­ub Cas­tle, I got the im­pres­sion that in many as­pects time has stood still here. The on­ly sig­nif­i­cant change in fa­vor of the tourist is the ar­chae­o­log­i­cal ex­hi­bi­tion, which brings a bit of fresh­ness to the some­what ar­cha­ic, ask­ing for an idea, bor­ing in­te­ri­or. While I can ex­plain this state of af­fairs by in­suf­fi­cient fi­nan­cial re­sources, it is com­plete­ly in­ex­pli­ca­ble to me that the man­age­ment saves on a com­pe­tent guide, who with his charis­ma and knowl­edge could fo­cus at­ten­tion on the in­ter­est­ing sto­ries hid­den with­in the cas­tle walls. Tours aren't free, af­ter all, and mon­ey for this pur­pose should be found.
COURTYARD OF THE UPPER CASTLE
MONKEY WITH FRUIT, PRESERVED FRAGMENT OF THE CHAPEL PORTAL FROM AROUND 1320
AUTHOR: PRZEMYSŁAW WITKOWSKI
---
G
ol­ub-Do­brzyń is lo­cat­ed about halfway be­tween To­ruń and Brod­ni­ca - ac­cess from To­ruń is via na­tion­al road 15 in the di­rec­tion of Ko­wa­le­wo Po­mor­skie; in Ko­wa­le­wo you need to take the pro­vin­cial road 554. You can't get to the town by train - if you take the train, you should head for Ko­wa­le­wo, and there change to the bus (to fi­nal­ly get off at the Gol­ub-Za­mek bus stop). There is a very large paid park­ing lot near the cas­tle.
---
1. W. Antkowiak, P. Lamparski: Zamki i strażnice krzyżackie..., Graffiti BC 1999
2. M. Haftka: Zamki krzyżackie w Polsce, 1999
3. L. Kajzer, J. Salm, S. Kołodziejski: Leksykon zamków w Polsce, Arkady 2001
4. P. Lasek: Prywatne zamki polskich dowódców z czasów wojny trzynastoletniej, Komun. Maz.-Warm. 2/2017
5. M. Pratat, K. Zimna-Kawecka: Konserwatorskie i społeczne aspekty ochrony ruin zamków...
6. R. Sypek: Zamki i obiekty warowne Państwa Krzyżackiego, Agencja CB 2000
7. B. Wasik: Zamki pokrzyżackie w województwie chełmińskim..., Wiadomości Konserwatorskie 41/2015
8. A. Wagner: Murowane budowle obronne w Polsce X-XVIIw., Bellona 2019
9. P. Zaniewski: Szlakami zamków krzyżackich, Sport i Turystyka - MUZA SA 2005

W pobliżu:
Kowalewo Pomorskie - relics of Teutonic castle from 13th century, 12 km
Radziki Duże - ruin of a knight's castle from 14th/15th century, 18 km
Wąbrzeźno - relics of bishop's castle from 14th century, 24 km
Brodnica - ruin of Teutonic castle from 14th century, 30 km
Złotoria - ruin of royal castle from 14th century, 33 km
Toruń - ruin of a Teutonic castle from 13th century, 36 km
Toruń - ruin of royal castle Dybów from 15th century, 37 km

text: 2021
photographs: 2005, 2019
© Jacek Bednarek