RADZYŃ CHEŁMIŃSKI

the ruin of a Teutonic castle
THE SOUTHERN WING OF THE CASTLE IN RADZYŃ CHEŁMIŃSKI IS ITS BEST PRESERVED PART
---
I
n the ear­ly Mid­dle Ages, on the trade route lead­ing from Gru­dziądz to Gol­ub a small wood­en cas­tle in the vicin­i­ty of the pre­sent-day Ra­dzyń ex­ist­ed, who was prob­a­bly in­hab­it­ed by pa­gan Prus­sians from the Po­meza­ni­an tribe. In the 12th cen­tu­ry, the vil­lage of Ra­sin func­tioned in this place, and next to it the cas­tle be­long­ing to the Ma­zo­vian voi­vode Krys­tyn. Af­ter the death of the gov­er­nor (mur­dered by pol­ish prince Kon­rad Ma­zo­wiec­ki), his sons sold their fa­ther­hood to Bish­op of Prus­sia Chris­tian (d. 1245). The bish­op con­clud­ed an agree­ment with Teu­ton­ic Knights, on the ba­sis of which he re­tained two thirds of the land re­ceived, to­geth­er with the right of sovereign­ty o­ver the whole ter­ri­to­ry, and the re­main­ing part was giv­en to the Or­der in ex­change for armed help in case of dan­ger from the Prus­sian tribes. Teu­ton­ic Knights built a for­ti­fied camp on the land re­ceived from the bish­op, and in 1234, on the or­der of the mas­ter Her­man von Balk (d. 1239), they built a wood­en for­ti­fied cas­tle in its place: In 1234 Lord's year, broth­er and mas­ter Her­man, when he re­moved the Prus­sians from Chełm­no land, gath­ered an armed forces and built a cas­tle on the edge of the wilder­ness stretch­ing be­tween Chełm­no and Po­me­za­nia. This for­ti­fied set­tle­ment, called Rat­zin, was one of the few to de­fend it­self dur­ing the first Prus­sian up­ris­ing, which broke out in De­cem­ber 1242. Nine years lat­er Rat­zin be­came the seat of the monas­tic con­vent, and the first com­man­der of it was the knight named Hartwich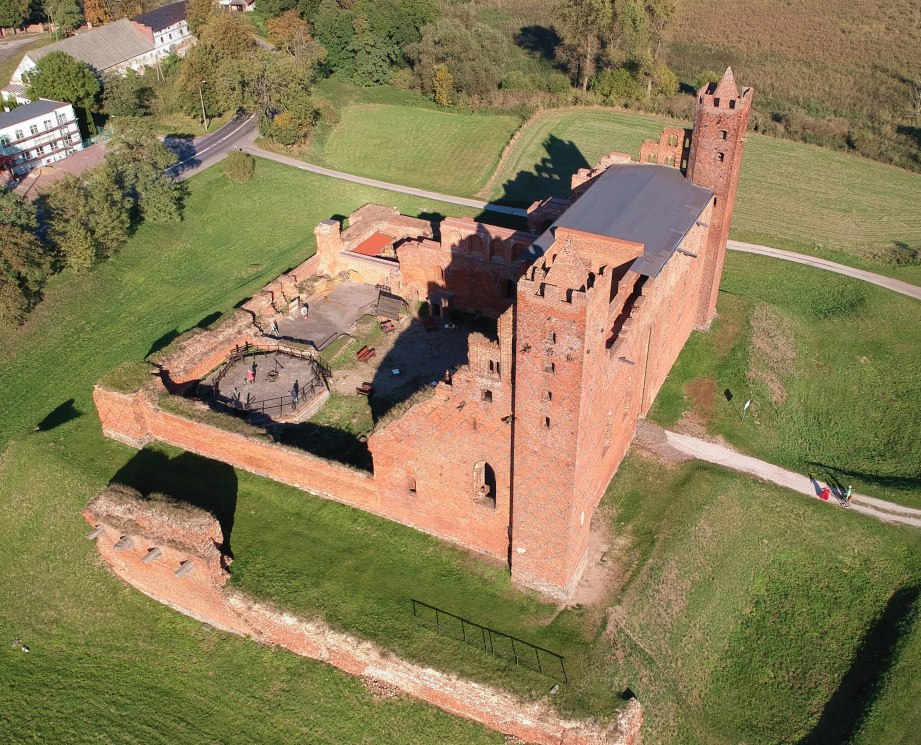 BIRD'S EYE VIEW OF THE RUINS FROM THE SOUTHWEST
T
he con­struc­tion of the cas­tle prob­a­bly be­gan around 1270. This work was sus­pend­ed af­ter the be­gin­ning of the sec­ond Prus­sian up­ris­ing in 1278, when one of the re­bel­lious armed units com­mand­ed by Sko­mand of Kra­sim de­stroyed, and per­haps even con­quered, the Teu­ton­ic Knights' strong­hold. The work was re­sumed and prob­a­bly com­plet­ed be­fore 1329, when, un­der the lead­er­ship of the Grand Mas­ter Wer­ner von Or­seln
(d. 1330), a great meet­ing of knight­hood and monas­tic el­der­ly took place in Ra­dzyń, dur­ing which they dis­cussed the con­di­tions for pay­ing tax­es to the Vat­i­can. In the fol­low­ing year the cas­tle was un­suc­cess­ful­ly con­quered by the armies of Wła­dy­sław Ło­kie­tek and Lithua­ni­an prince Ge­di­min. Wła­dy­sław Ja­gieł­ło's at­tempt to seize it im­me­di­ate­ly af­ter the Bat­tle of Grun­wald was al­so un­suc­cess­ful. This proves the high val­ue of the cas­tle for­ti­fi­ca­tions, the strength of the equip­ment and, above all, the de­ter­mi­na­tion of its crew, be­cause, ac­cord­ing to the chron­i­cles, the cast of the fort­ress con­sist­ed then of on­ly 15 old­er broth­ers sup­port­ed by a squad of lo­cal burghers. It is worth men­tion­ing that the siege of Ra­dzyń in Ju­ly 1410 was a strug­gle not on­ly to gain an­oth­er bridge­head, but al­so to seize a part of the Or­der's trea­sure, in­clud­ing the per­son­al sil­ver of Ul­rich von Jun­gin­gen, which was de­posit­ed here.
IN FRONT OF THE GATE LEADING TO THE CASTLE COURTYARD
T
he at­tempt to con­quer the cas­tle was re­peat­ed by Ja­gieł­ło on 21 Sep­tem­ber 1410. Ac­cord­ing to Jan Dłu­gosz, the Pol­ish ruler ini­tial­ly did not plan such a ma­noeu­vre, be­cause he was afraid of its ef­fec­tive­ness, as the cas­tle was very strong thanks to its lo­ca­tion and for­ti­fied walls, but the lat­er de­ci­sion to at­tack Ra­dzyń may have re­sult­ed from a fail­ure to achieve the most im­por­tant goal of the ex­pe­di­tion, i.e. to con­quer the cap­i­tal of the Teu­ton­ic state in Mal­bork. This time more nu­mer­ous and bet­ter prepaed Pol­ish troops need­ed on­ly a few hours to take the cas­tle. These events were de­scribed by Jan Dłu­gosz. (...) When the news spread in the army that the king was going to at­tack the next day, break­fast was bare­ly o­ver, and with­out the king's or­der he led the knights (...) to fight and to at­tack the Ra­dzyń cas­tle. The army with­out any re­minders moved for­ward very will­ing­ly. The knight Do­bie­sław from Ole­śni­ca with sol­diers of his unit smashed the gate of the low­er cas­tle and, shield­ing the knight who did it, was hit from the small­er can­non. Short­ly af­ter­wards, the first knight, Piotr Cheł­miń­s­ki, en­tered the up­per cas­tle, and be­hind him the Castel­lan of Wi­śli­ca, Flo­ri­an of Ko­ryt­ni­ce and oth­ers, and forced to es­cape the vice-com­man­der of the cas­tle. Piotr from Ole­śni­ca got with oth­er knights on the fore­ground of the cas­tle and wound­ed in one leg was shield­ed on­ly by a shield, so that he would not be hit from above. The be­sieged threw their weapons and sur­ren­dered the cas­tle to the king. When the king en­tered the cas­tle in the evening, he gave life to all the be­sieged and cap­tured, among whom there were fif­teen el­der­ly Teu­ton­ic Knights, but he took them in­to prison. Fur­ther­more, when he dis­cov­ered that the cas­tle was full of sig­nif­i­cant trea­sures, jew­els and valu­able ob­jects, as well as plen­ty of food, he dis­tribut­ed trea­sures and jew­els among the knights and left the food sup­plies to the cas­tle.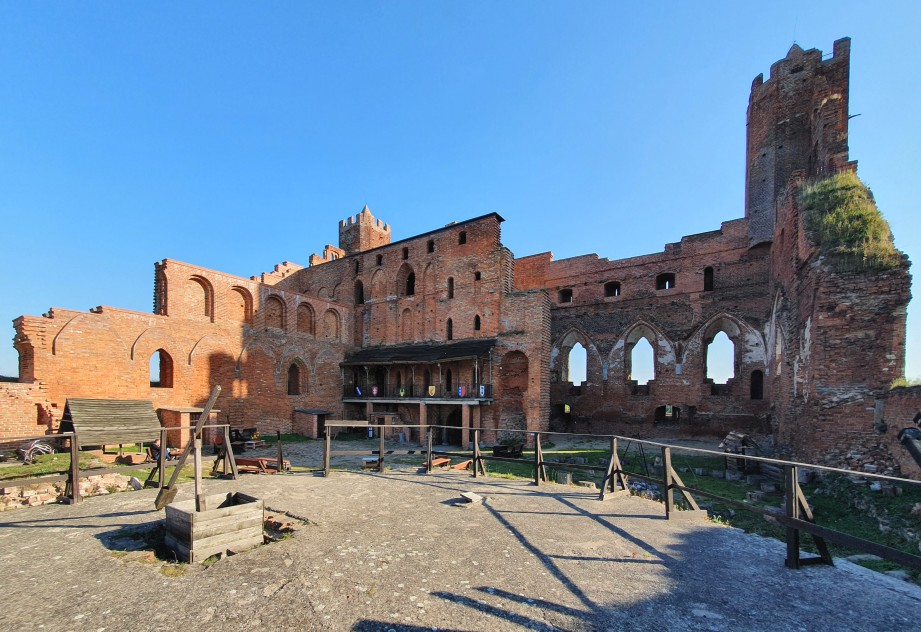 IN THE COURTYARD, VIEW FROM THE NORTH ON THE RUIN OF THE SOUTHERN WING
TEUTONIC COMMANDERS AT THE CASTLE IN RADZYŃ CHEŁMIŃSKI
Hartwich (1251-1252), Hartung (1278-1280), Heinrich von Vaternrode,
Hartung (1289-1298), Peter (1304), Hermann (1312-1321)
Dietrich von Spira (1332), Heinrich von Bovenden (1338), Hartmann (1339)
Schweder, Petzold von Korwis, Hans von Rubesom (1370-77)
Heinrich von Webirstete (1377-82), Gotthold von Kurwis, (1382-1383), Engelhard von Wildstein
Werner von Tettingen (1387-1390), Heinrich Harder (1390-1391), Rudolph von Kyburg (1391-1402)
Wilhelm Folkolt (1402-1404), Heinrich von Schwelborn (1404), Eberhard von Affenfeld (1404)
Hans von de Dollen (1407-1409), Mikolai von Melin (1409-1410, died in the battle of Grunwald)
Georg von Wrisberg (1411), Heinrich Hold (1411), Conrad von Sefeln (1411-1412),
Otto von Walsbach (1412-1415), Andreas von Sekendorf (1415-1416), Friedrich von Zollern
Wolf von Sansenhiem (1416-1421), Mikolai von Bergau (1421-1422), Mikolai von Goerlitz (1432)
Hans von Pommersheim (1433-1434), Ludwig von Landsee (1434), Georg von Egeling (1434-1436)
Heinrich Marschalk (1436), Hans von Erlbach (1437-1438), Hans von Gleichen (1438-1441)
Friedrich von Nickeritz (1449), Dietrich von Werdenau (1449-1454)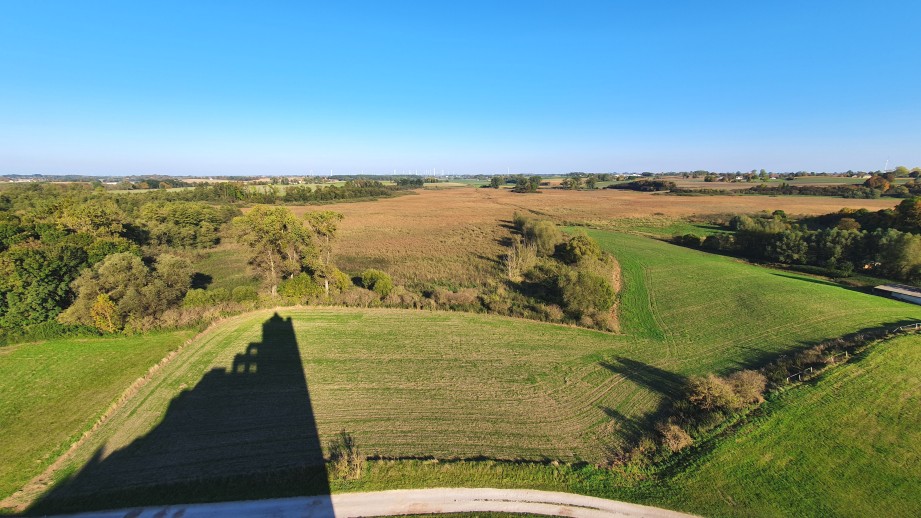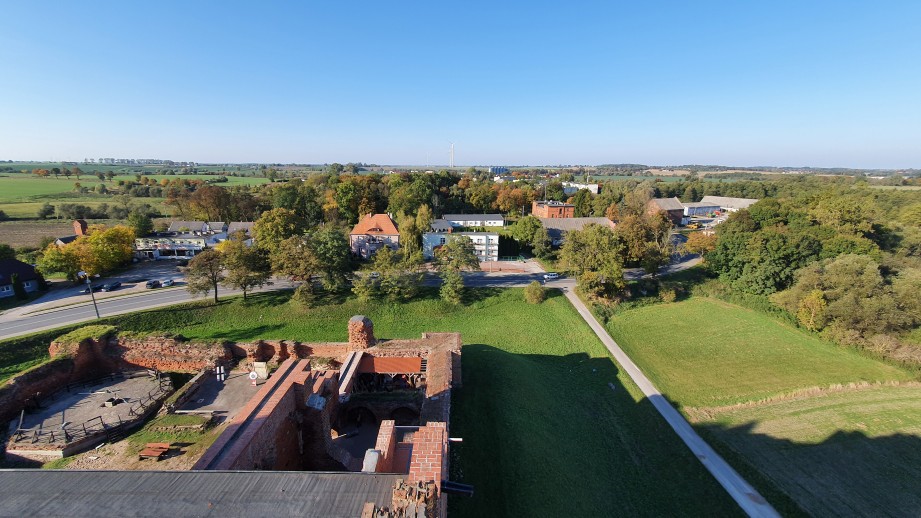 VIEW FROM THE TOWER (TO THE EAST AND TO THE NORTH)
A
fter the con­quest of Radzyń, the king gar­risoned it with a Pol­ish-Czech crew un­der the com­mand of Jaśko from Lam­berk. Just a few days af­ter this nom­i­na­tion Jaśko was poi­soned. He was re­placed by the Pol­ish knight Do­bie­slaw Pu­cha­ła from Wę­gro­wo (d. 1441), and af­ter him Woj­ciech Mal­ski (d. 1454), held the post. Short­ly af­ter­wards, when the main core of the Pol­ish army left Prus­sia, Hein­rich von Pla­uen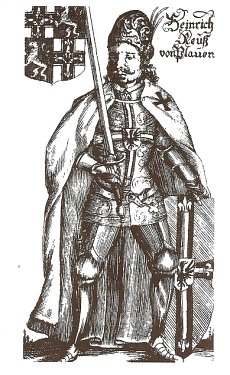 (d. 1429), act­ing as the gov­er­nor of the Teu­ton­ic Knights, de­cid­ed to take the cas­tle back. But the siege in Oc­to­ber and Nov­em­ber 1410 did not bring the ex­pect­ed re­sults. On the con­trary - the Pol­ish crew not on­ly brave­ly de­fend­ed them­selves, but al­so made a suc­cess­ful night sortie, caus­ing great loss­es to the en­e­my. In the fol­low­ing year, the fortress was re­turned to the Or­der by means of peace agree­ment. How­ev­er, the ef­fects of the so-called Great War were still being felt for many years. The short­age of staff was so sig­nif­i­cant that in 1411 on­ly six broth­ers and com­man­dant Hein­rich Hold lived in Ra­dzyń, a com­man­dant who a year ago was on­ly a mod­est may­or of a small lo­cal cas­tle in Lip­ie­niek. Al­most all mov­able prop­er­ty was de­stroyed or stolen, there were no weapons or breed­ing an­i­mals. The con­di­tion of the cas­tle walls was al­so ter­ri­ble. By the next war, which broke out in 1454, all this was some­how re­paired and re­or­ga­nized, but on­ly two weeks af­ter its be­gin­ning, the re­bel­lious trade union troops car­ried out a vic­to­ri­ous as­sault and chased the Teu­ton­ic Knights out of the town.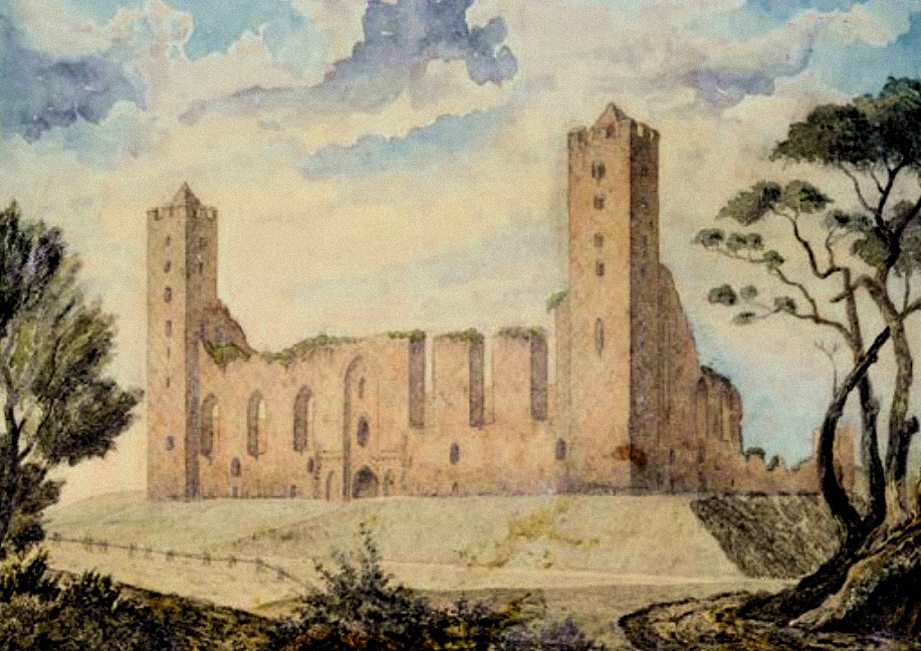 XIXTH-CENTURY WATERCOLOR, "ATLAS ZUR ZEITSCHRIFT FUR BAUWESEN", 1866
LITHOGRAPH BY NAPOLEON ORDA, "ALBUM WIDOKÓW", 1880
On 24 Feb­ru­a­ry 1397 in Ra­dzyń Cheł­miń­ski the Lizard So­ci­ety (Ei­dech­sen­bund) was found­ed - an or­ga­ni­za­tion of the Chełm­no no­bil­i­ty against the ar­bi­trari­ness of the Or­der's lords and their op­pres­sive fis­cal pol­i­cy. The founders of the as­so­ci­a­tion were Mi­ko­łaj from Ryń­sko, his broth­er Jan from Puł­ków and their cousins Fry­de­ryk and Mi­ko­łaj from Kit­no­wo. The mot­to of the So­ci­ety was mu­tu­al as­sis­tance to per­sons and prop­er­ty with­out any un­faith­ful­ness, de­ceit, be­tray­al and against any­one who teas­es, op­press­es or in­jures ex­cept the great mas­ter (...), and the sym­bol was the sil­ver lizard worn on the tu­nic. Ini­tial­ly, the or­ga­ni­za­tion op­er­at­ed legal­ly on the ba­sis of the statute ac­cept­ed by the Teu­ton­ic Knights and was tol­er­at­ed by them as a group de­fend­ing the in­ter­ests of the no­bil­i­ty. It went un­der­ground in 1410 af­ter be­ing ac­cused by the Or­der of pro­mot­ing the in­ter­ests of Poland, which was not un­rea­son­able giv­en the fact that dur­ing the Bat­tle of Grun­wald Mi­ko­łaj from Ryń­sko with­drew his troop from the bat­tle and af­ter be­ing re­leased by the Poles he took the oath of al­le­giance to the King of Poland. In De­cem­ber of the same year he was ar­rest­ed and a few months lat­er be­head­ed. In 1440 the Lizard So­ci­ety be­came a part of the Prus­sian Union, on the ini­tia­tive of which on 4 Febru­ary 1454 the Prus­sian up­ris­ing against the Teu­ton­ic Knights be­gan, which was the be­gin­ning of the Thir­teen Years' War.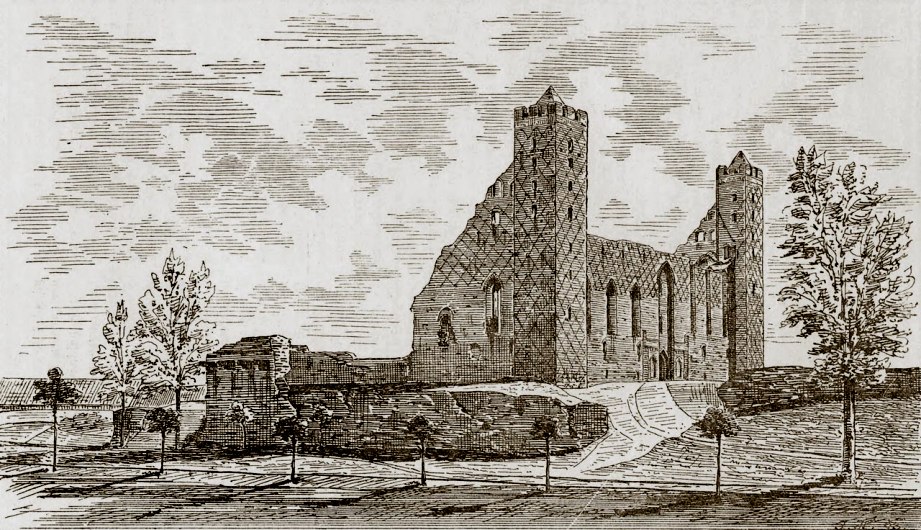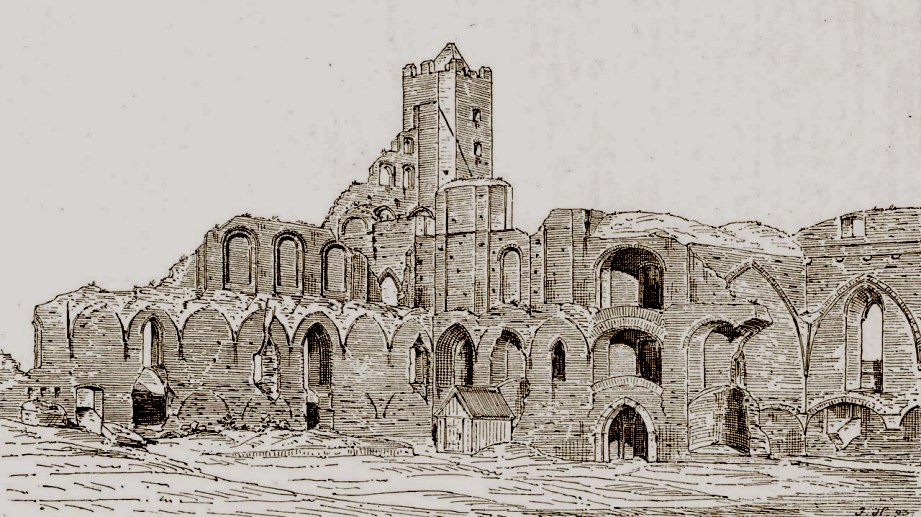 RUINS IN RADZYŃ, "DIE BAU- UND KUNSTDENKMALER DES KREISES GRAUDENZ", 1894
A
fter the sec­ond Toruń peace in 1466, Ra­dzyń Cheł­miń­ski was in­cor­po­rat­ed in­to Poland and af­ter re­con­struc­tion from war dam­ages and adap­ta­tion to new ad­min­is­tra­tive func­tions, it was the seat of the roy­al cas­tle starosts. For o­ver a hun­dred years, the Dą­brow­ski fam­i­ly of Vir­go Vi­o­la­ta coat of arms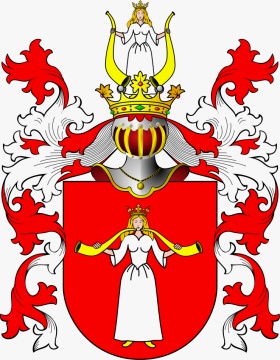 , the an­ces­tors of Gen­er­al Hen­ryk Dą­brow­ski
, were the starosts here. Dur­ing their reign, in the last Pol­ish-Teu­ton­ic war of 1519-25, the build­ing served as the start­ing point for the mi­li­tia of the Chełm­no Land, and lat­er it housed the head­quar­ters of the roy­al army. It was de­stroyed dur­ing the siege by the Swedes in Septem­ber 1628, who cap­tured the fortress and then plun­dered its equip­ment and dev­as­tat­ed its in­te­ri­ors. The cas­tle col­lapsed and its poor con­di­tion is best re­flect­ed in the record of the in­spec­tion car­ried out in 1664: In­side part­ly ru­ined, how­ev­er, by the ten­ants at the first en­trance gate sev­er­al rooms re­paired and a wood­en brew­ery erect­ed. The sta­bles were built, but the re­pairs need­ed [...]. In the sec­ond court­yard, half of the rooms in ru­ins, the oth­er half and the chapel need re­pairs.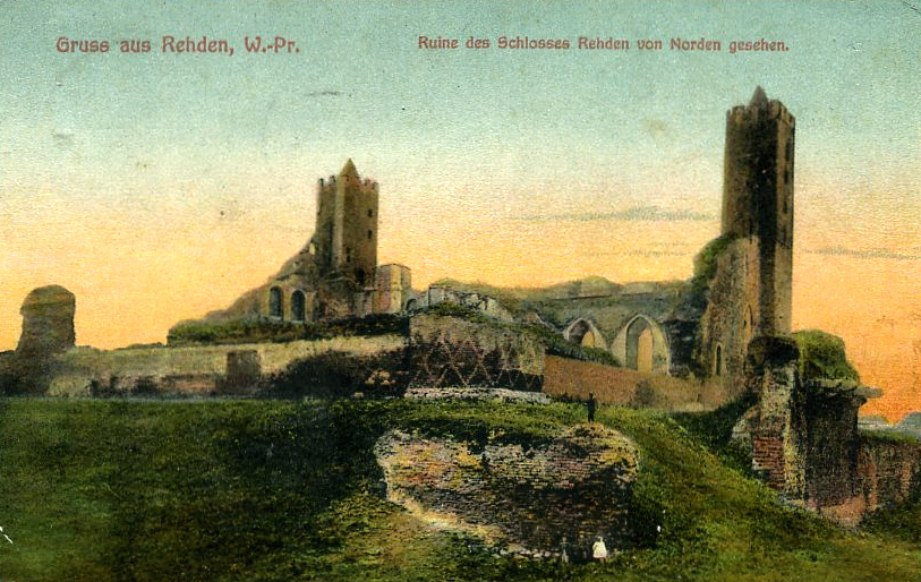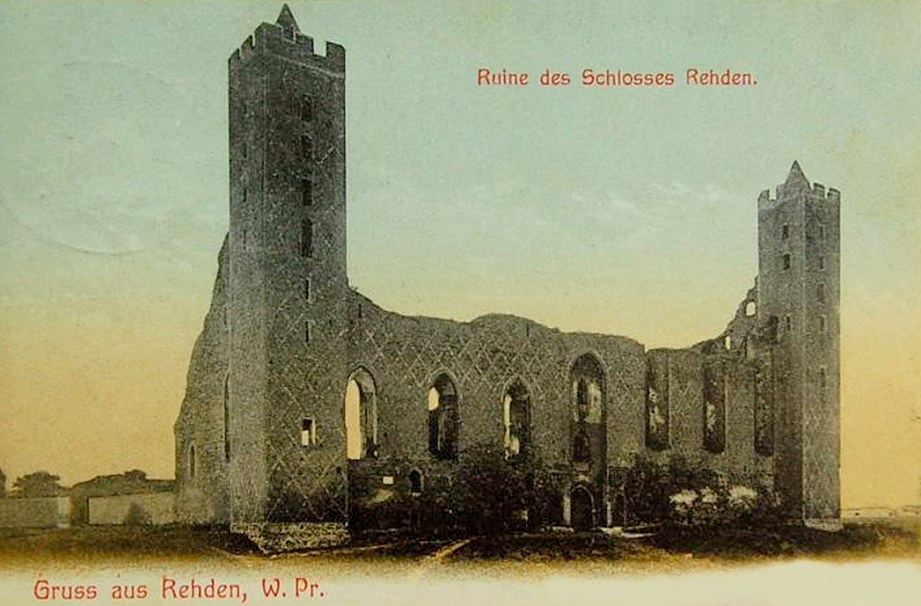 POSTCARDS FROM THE BEGINNING OF THE XXTH CENTURY, THE CASTLE CHAPEL STILL WITHOUT A ROOF
A
t the be­gin­ning of the 18th cen­tu­ry on­ly the south wing re­mained in use, where in the for­mer re­fec­to­ry and chap­ter house apart­ments were ar­ranged. In 1772, af­ter the cas­tle was tak­en o­ver by the Prus­sian ad­min­is­tra­tion, of­fices were es­tab­lished in its premis­es, which at the turn of the cen­turies were trans­ferred to the town. From that mo­ment the suc­ces­sive and or­ga­nized de­mo­li­tion of the fort­ress be­gan, and the ob­tained bricks were used to build the other hous­es and the town hall. In 1837, as a re­sult of a protest of the in­hab­i­tants of Ra­dzyń, the de­mo­li­tion works were stopped and al­ready in the fol­low­ing sum­mer some ac­tions were tak­en to pro­tect the building from fur­ther dev­as­ta­tion. In the 1880s, un­der the su­per­vi­sion of Con­rad Stein­brecht
, the cas­tle was par­tial­ly cleared of rub­ble and pre­served as per­ma­nent ru­in. In 1910 the chapel was cov­ered with a char­ac­ter­is­tic slant­ing roof, which in the mid-1960s was re­placed by a re­in­forced con­crete cov­er. Af­ter­wards, the pe­riph­er­al walls of the fortress were par­tial­ly re­con­struct­ed and its area was opened to tourists.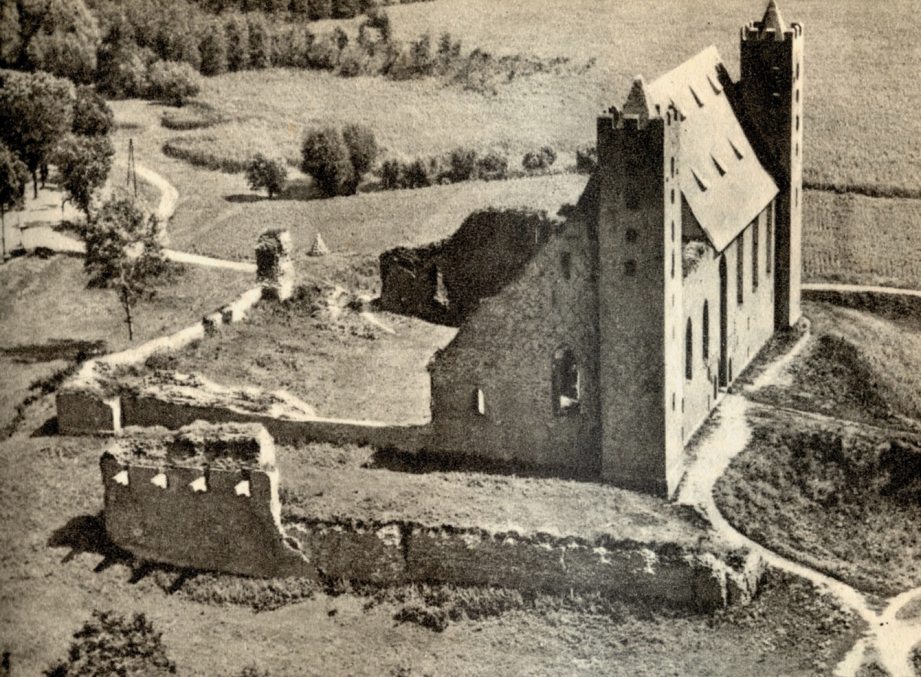 PHOTOGRAPHS FROM THE 1920S AND 1930S, CHAPEL IS ROOFED
POLISH GOVERNORS IN RADZYŃ CHEŁMIŃSKI
Jakusz ze Świętego (1454), Mikołaj Bajerski (1455), Gabryel Bażyński (1458)
Jan Dąbrowski (1504), Jan de Lusianis (1520, 1539-1550), Hugo Dąbrowski (1568-1570)
Jan Dąbrowski (1592), Paweł Działyński (1600), Hugo Dąbrowski
Jan Weyher (1614-1626), Mikołaj Weyher (1626-1646), Władysław Gnin-Gniński (1679-1699)
Piotr Jan Czapski (1718-1732), Konstancya Czapska z Gnińskich (1740), Tomasz Czapski (1740-1784)

SOUTHERN WING IN THE 1930S AND TODAY
ON A CONTEMPORARY PHOTOGRAPH THE POST-WAR RECONSTRUCTION OF WALLS IS CLEARLY VISIBLE (LIGHTER BRICK)
DESCRIPTION OF THE CASTLE
T
he castle in Radzyń was one of the largest and best for­ti­fied in the whole Teu­ton­ic state. The stronghold, which prob­a­bly con­sist­ed of two lower towns and the upper cas­tle, was lo­cat­ed on a not very high hill. Its build­ing ma­te­ri­al, like most of Teu­ton­ic strongholds in Prus­sia, con­sist­ed main­ly of stone in the ground part, and then brick and mor­tar, while to fin­ish, re­lief tiles, glazed fit­tings and the so-called ar­ti­fi­cial lime­stone were used. In the first stage of con­struc­tion works, an ex­ter­nal for­ti­fi­ca­tion line was built and a square-shaped con­vent house, which was a four-winged com­plex of three-storey res­i­den­tial build­ings, sup­port­ed in cor­ners by 36-me­tre-high square tur­rets.
THE SECOND LAST AND THE LAST STOREY OF ONE OF THE TWO SURVIVING CORNER TOWERS
I
n the sec­ond phase, an external brick wall of the lower town was erected and in­ter­nal build­ings were at­tached to it, and in the north-west­ern part of the cas­tle a free-stand­ing tow­er of the last de­fense was built. The tow­er, based on a reg­u­lar oc­tagon plan, didn't con­nect with oth­er build­ings and was prob­a­bly crowned with a con­i­cal roof with a crenel­la­tion. The road to the cas­tle led from the north along the east wing to one of the lower town, and then through a draw­bridge to the gate lo­cat­ed in the south wing. From the west side there was a dansker - a toi­let tow­er which al­so had a mil­i­tary func­tion. The up­per cas­tle was sur­roun­ded by a moat ir­ri­gat­ed from a near­by lake. To the south of it there was a large, trape­zoidal lower town, sur­round­ed by pe­riph­er­al walls with a wood­en porch. It in­clud­ed farm build­ings: bak­eries, brew­eries, gra­naries, sta­bles and car­riage hous­es, as well as the ser­vants' dwel­lings.
RECONSTRUCTION OF THE CASTLE IN RADZYŃ CHEŁMIŃSKI ACCORDING TO J. SALM
T
he upper cas­tle was characterized by a form typ­i­cal for the Teu­ton­ic Knights' ar­chi­tec­ture of that pe­ri­od - a reg­u­lar for­ti­fied monastery, in which each wing was as­signed a strict­ly de­fined func­tion. The south­ern wing was the most rep­re­sen­ta­tive and the largest one, with two huge halls sep­a­rat­ed by a gate­way: a chapel on the east side and a hypocaust oven-heat­ed re­fec­to­ry. Be­tween them, just above the gate­way, there was a small vice com­man­der's apart­ment. Above it there was a cham­ber with de­vices for lift­ing the bridge and the gate.
TRACES OF BASEMENT VAULTS BELOW THE CASTLE CHAPEL
RELICS OF CROSS-RIBBED VAULTS OF THE REFECTORY (WHICH CURRENTLY SERVES AS A PUBLIC TOILET)
T
he chapel was ad­joined by a chapter house lo­cat­ed in the south­ern part of the east­ern wing, the north­ern part of which was oc­cu­pied by a dor­mi­to­ry. In the short west­ern wing there were pri­vate com­man­der's cham­bers and a pas­sage to the la­trine tow­er. In the north wing there was prob­a­bly an in­fir­mary and in the ground floor there was a kitchen. The sec­ond floor of all wings was oc­cu­pied by ware­hous­es, while the high­er floor was adapt­ed for a guard porch. Hor­i­zon­tal com­mu­ni­ca­tion was pro­vid­ed by a brick, vault­ed and roofed clois­ter, al­though it is dif­fi­cult to de­ter­mine now whether it sur­round­ed the court­yard from all sides. The el­e­va­tions of Ra­dzyń cas­tle were dec­o­rat­ed with di­a­mond pat­terns made of dark brick called zen­drów­ka.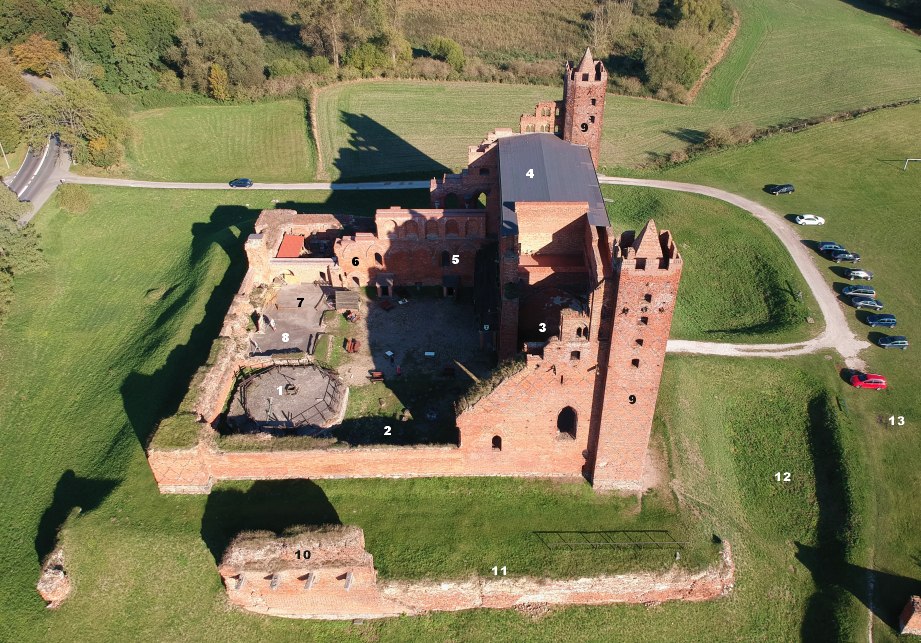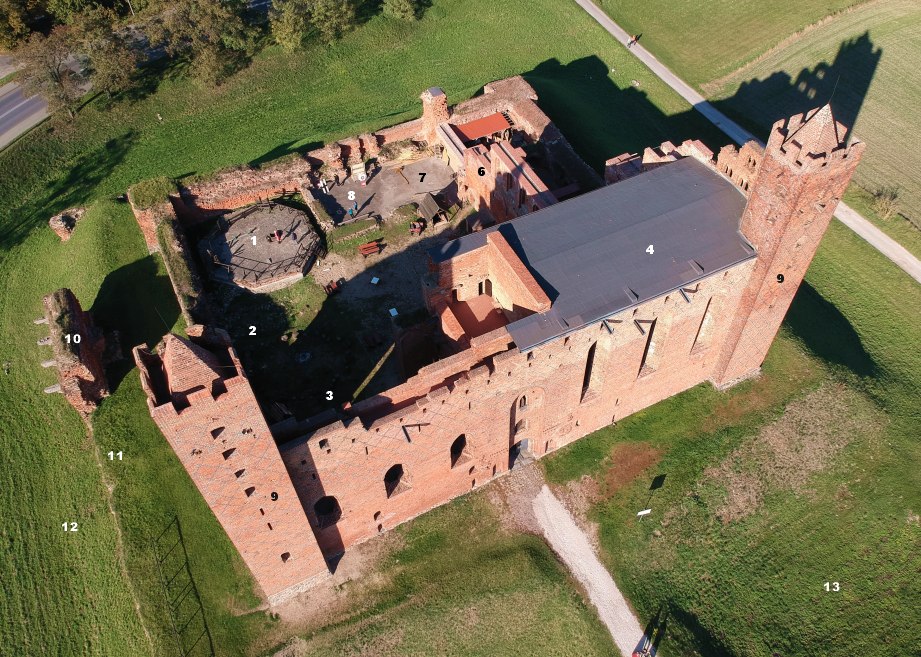 LAYOUT OF THE CASTLE IN RADZYŃ CHEŁMIŃSKI: 1. MAIN TOWER, 2. COMMANDER'S CHAMBERS, 3. REFECTORY,
4. CHAPEL, 5. CHAPTERHOUSE, 6. DORMITORY, 7. INFIRMARY, 8. KITCHEN, 9. CORNER TURRETS, 10. DANSKER,
11. OUTER WALL, 12. MOAT, 13. SOUTHERN BAILEY
---
T
he ru­in of Radzyń cas­tle is now on­ly a mem­o­ry of the for­mer glo­ry of the mighty or­der and a place of ex­pe­di­tions for en­thu­si­asts of the his­to­ry of Pol­ish-Teu­ton­ic re­la­tion­ships. The best pre­served part of the once mag­ni­fi­cent fort­ress is the south­ern wing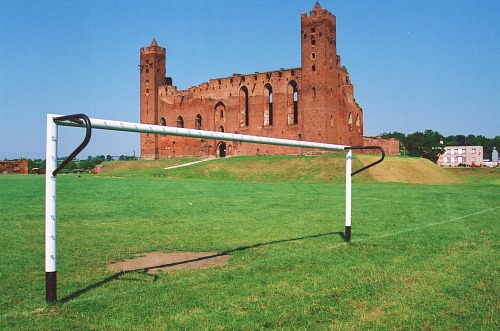 - the other wings do not exist or are in a deb­ris state. The main tower also no longer ex­ists, and only foun­da­tions are vis­i­ble in the north-west­ern part of the court­yard. The chapel, cov­ered with an ug­ly con­crete ceil­ing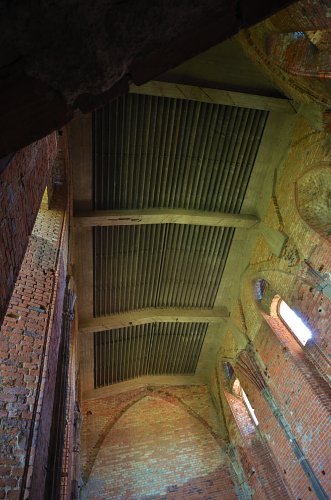 , and the cel­lars in the east­ern and south­ern wings house a small ex­hi­bi­tion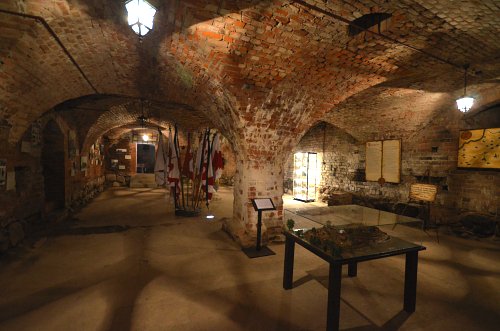 on his­tor­i­cal and ar­chae­o­log­i­cal top­ics. There are al­so a view­ing ter­races in the cor­ner tur­rets, but it is worth men­tion­ing that a nar­row en­trance to the top of the tur­ret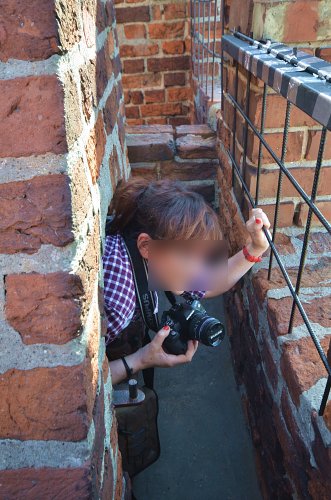 can be a chal­lenge for larg­er peo­ple.
IN THE CASTLE CHAPEL, BELOW WE CAN SEE THE TRACES OF XIXTH CENTURY "VANDALISM"
| | |
| --- | --- |
| | It is required to buy a ticket. We visit the ruins in­di­vi­dual­ly (there is an op­tion to hire a guide). |
| | |
| --- | --- |
| | A thorough tour of the castle including the ex­hi­bi­tion takes about 45 to 60 min­utes. |
| | |
| --- | --- |
| | You can enter the castle accom­panied by your dog. |
| | |
| --- | --- |
| | An excellent place for bird's eye pho­to­graphy: no air cor­ri­dors, ter­rain obs­tacles and res­iden­tial buil­dings. |
Castle in Radzyń Chełmiński
Waryńskiego street, 87-220 Radzyń Chełmiński
tel.: +48 694 959 628
e-mail: patredino@gmail.com
A FRAGMENT OF THE EXHIBITION (SOMETIMES QUITE HUMOROUS) IN THE CASTLE BASEMENT
---
R
adzyń Chełmiń­ski is lo­cat­ed about 20 km south­east of Gru­dziądz. The town has good bus con­nec­tions with Gru­dziądz, Brod­ni­ca and To­ruń. The ru­ins are sit­u­at­ed north of the small mar­ket square and west of the cur­rent­ly dis­ap­pear­ing Cas­tle Lake.
| | |
| --- | --- |
| | You can park your car on the unpaved area, just in front of the en­trance to the cas­tle. Park­ing is free (2021). |
| | |
| --- | --- |
| | You should have no problem get­ting per­mis­sion to bring your bike into the court­yard. |
---
1. W. Antkowiak, P. Lamparski: Zamki i strażnice krzyżackie ziemi chełmińskiej, Graffiti BC 1999
2. M. Haftka: Zamki krzyżackie w Polsce, 1999
3. L. Kajzer, J. Salm, S. Kołodziejski: Leksykon zamków w Polsce, Arkady 2001
4. P. Zaniewski: Szlakami zamków krzyżackich, Muza S.A. 2005
5. B. Wasik: Zamek w Radzyniu Chełmińskim. Technika i etapy budowy siedziby krzyżackich komturów...
6. K. Witkowska: Badania nad średniowiecznymi materiałami budowlanymi z zamku w Radzyniu Chełm.
Castles nearby:
Pokrzywno - ruins of Teutonic castle from the 13th century, 7 km
Wąbrzeźno - relics of Chełmno bishops' castle from the 14th century, 13 km
Grudziądz - relics of Teutonic castle from the 13th century., 19 km
Rogoźno - ruins of Teutonic castle from the 13th century, 25 km
Kowalewo Pomorskie - relics of Teutonic castle from the 13th century, 30 km
Lipieniek - relics of Teutonic castle from the 14th century, 30 km

text: 2008, 2019
photographs: 2021
© Jacek Bednarek