KOŁO

the Royal castle ruin
THE RUIN OF THE ROYAL CASTLE, VIEW FROM THE EAST
---
T
he old­est ex­ist­ing his­tor­i­cal ref­er­ence to a lo­ca­tion named Koło is found in the town char­ter is­sued in Ju­ly 1362 by King Ka­zi­mierz Wiel­ki
(Ca­si­mir the Great, d. 1370). Pre­sum­ably, how­ev­er, the cas­tle at this place func­tioned much ear­li­er, per­haps dur­ing the reign of the Pol­ish King Wła­dy­sław Ło­kie­tek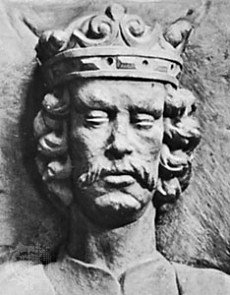 (d. 1333) or even at the time of Czech King Vá­clav II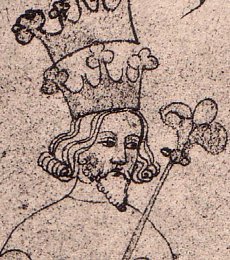 (d. 1305), who ruled Greater Poland in years 1300-1305. Al­though a 15th-cen­tu­ry Pol­ish chron­i­cler Jan Dłu­gosz sug­gests that the for­ti­fied cas­tle was built on the ini­tia­tive of the afore­men­tioned Ca­si­mir the Great, it is very like­ly that the last Piast ruler on the Pol­ish throne me­re­ly mod­ern­ized or ex­pand­ed it. From the very be­gin­ning, the strong­hold de­fend­ed the north­ern bor­ders of the Pol­ish King­dom against Teu­ton­ic in­va­sion, in ad­di­tion, it se­cured the War­ta Riv­er cross­ing and served as a cus­toms.
VIEW OF THE CASTLE FROM THE ROAD LEADING TO THE TOWN
ROYAL MANOR
In the me­dieval char­ter, the may­or of Ko­ło, Hen­ri­cus, was grant­ed the right to build and own a house on a tax-free plot of land, as well as the right to build a manor house, a bath­house and two mills. It is pre­sumed that this manor was the roy­al manor, men­tioned many times lat­er in doc­u­ments, which was used by the kings dur­ing their stay in town of Ko­ło. Hence the con­clu­sion that the cas­tle, al­though roy­al, did not serve the rulers as a res­i­dence at least as long as the manor ex­ist­ed.
THE TOWN HALL (IN THE PHOTO) WAS BUILT ON THE SITE WHERE THE ROYAL MANOR STOOD IN THE MIDDLE AGES
A
t least from the mid-14th cen­tu­ry, the cas­tle served as the seat of roy­al sta­rosts. In 1383, the post of sta­ros­ta of Ko­ło was held by Kry­styn of Ko­zie­gło­wy, coat of arms Lis
(d. 1417), cap­i­ta­neus in Co­lo, who, to­geth­er with sev­er­al oth­er lords, ter­ri­bly plun­dered Tu­rek and Grze­go­rzew towns (that be­longed to Arch­bish­op Bo­dzan­ta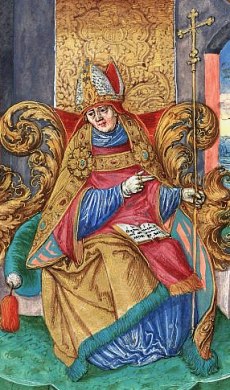 ). Kry­styn's armed ex­pe­di­tions were part of the war­fare car­ried out be­tween the feud­ing Grzy­ma­li­ta and Na­łęcz fam­i­lies, which had dif­fer­ent views on the ques­tion of how to fill the Pol­ish throne af­ter the death of Louis of Hun­gary (Na­gy La­jos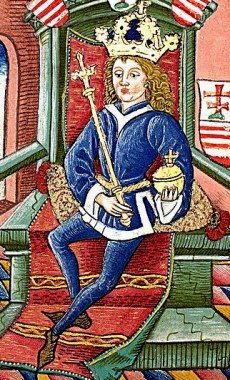 , d. 1382). Kry­styn be­longed to the Grzy­ma­li­ta fam­i­ly line, that is, he sup­port­ed the can­di­da­cy of Jad­wi­ga of An­de­ga­via (Louis' daugh­ter), while Arch­bish­op Bo­dzan­ta, ag­grieved by the raid, was a sup­port­er of the Na­łęcz fam­i­ly and fol­lo­wer of Sie­mow­it IV, Duke of Ma­zov­ia. Af­ter Kry­styn's death, his son, Kry­styn the younger of Ko­zie­gło­wy (d. 1437), in­her­it­ed the of­fice of sta­ros­ta of Ko­ło.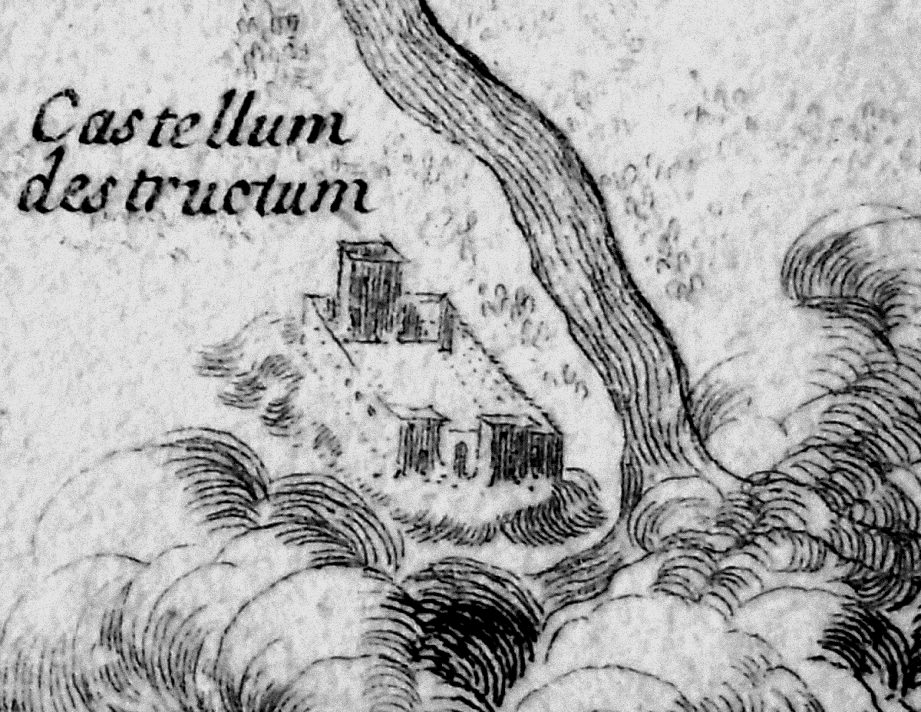 THE OLDEST KNOWN VIEW OF THE CASTLE IN KOŁO,
SAMUEL PUFENDORF "DE REBUS A CAROLO GUSTAVO GESTIS", 1656
S
tart­ing from the reign of Wła­dy­sław Ja­gieł­ło (d. 1434), the cas­tle was fre­quent­ly vis­it­ed by kings (35 vis­its of Wła­dy­sław Ja­gieł­ło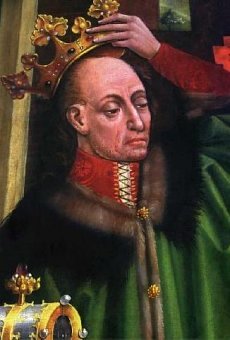 and 15 vis­its of Ka­zi­mierz Ja­giel­loń­czyk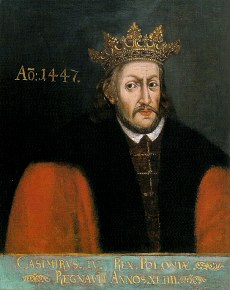 are doc­u­ment­ed) and by the no­bil­i­ty of Gre­ater Poland, who par­tic­i­pat­ed in pe­ri­od­ic re­unions here. Al­so in Ko­ło, dur­ing the war against the Teu­ton­ic Or­der (1431-35), the king de­lib­er­at­ed with the crown coun­cil and made the most im­por­tant de­ci­sions on how to con­duct the war cam­paign. In 1447, Jan Za­wi­szyc of Gar­bo­wo of Su­li­ma Coat of Arms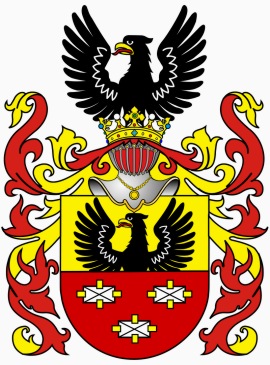 (d. 1454), one of sev­er­al sons of the fa­mous Pol­ish knight Za­wi­sza Czar­ny, served as sta­ros­ta of Ko­ło. Af­ter his trag­ic death on the bat­tle­fields near Choj­ni­ce, his body was car­ried away and buried in the Holy Cross parish church, where the com­mem­o­ra­tive tomb­stone
still ex­ists.
CHURCH OF THE HOLY CROSS WHERE THE BODY OF JAN ZAWISZYC WAS LAID TO REST
I
n 1463, King Ka­zi­mierz Ja­giel­loń­czyk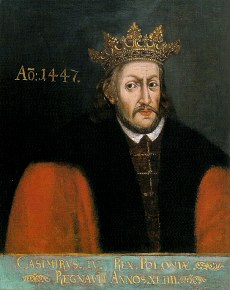 (prob­a­bly as a re­ward for his mer­its) grant­ed the Ko­ło cas­tle with the town of Brdów and ad­join­ing vil­lages to San­do­mierz cas­tel­lan Jan Hiń­cza of Ro­gów coat of arms Dzia­ło­sza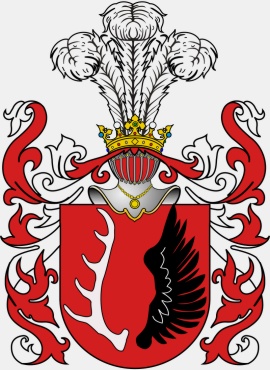 (d. 1474) for life. When Hiń­cza died, Dzier­sław of Bie­la­wy and Mło­go­szyn took o­ver the of­fice, but just two years lat­er he was forced to cede it to Duch­ess An­na of Ole­śni­ca (d. 1481), for whom the land of Ko­ło was to be roy­al com­pen­sa­tion for the in­cor­po­ra­tion by the Pol­ish King­dom of the Duchy of So­cha­czew, which she had in­her­it­ed. In the same year (1476), a pro­ces­sion re­turn­ing from the wed­ding cer­e­mo­ny of Jad­wi­ga Ja­giel­lon­ka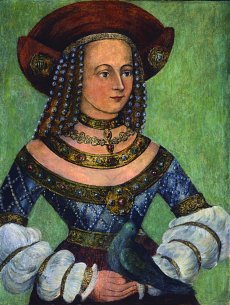 and the Bavar­i­an Mar­grave Georg der Re­iche
stopped at the cas­tle. The stay of the par­tic­i­pants of the fa­mous Land­shu­ter Hoh­zeit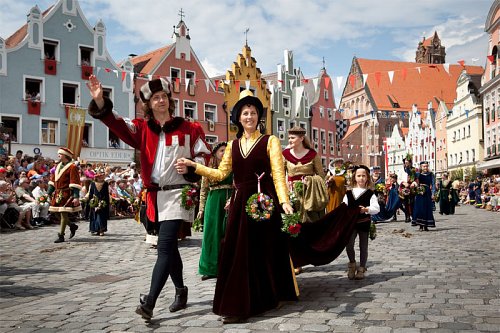 , as it soon turned out, in­fect­ed with the epi­dem­ic dur­ing their time in Ba­va­ria, led to fur­ther in­fec­tions and the deaths of many Pol­ish knights and court of­fi­cials.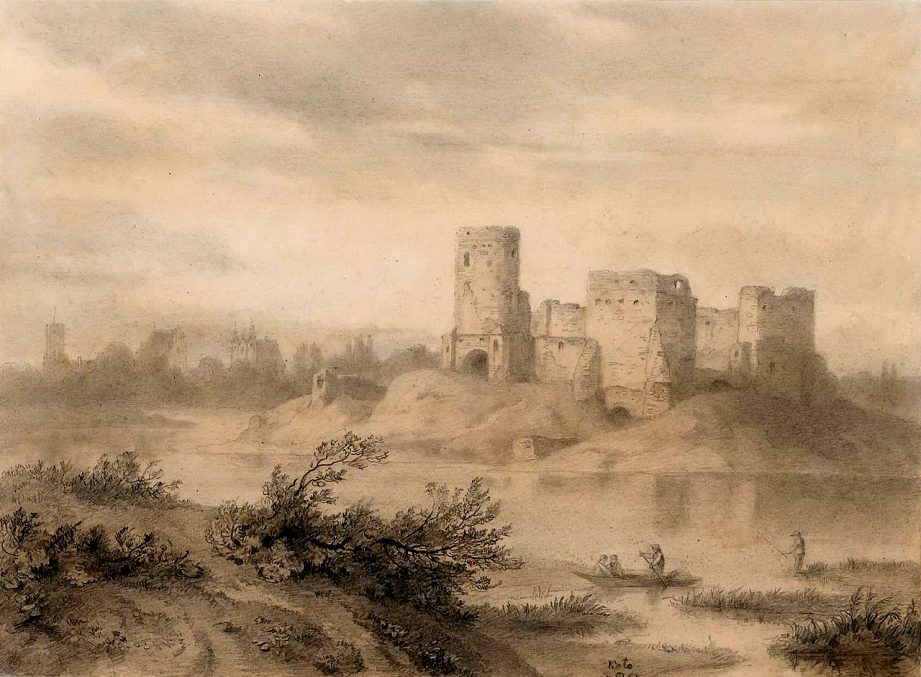 DRAWING BY ALFRED SCHOUPPE, 1861
A
f­ter An­na's death (1481), her trust­ed courtier Sław­iec of Nie­my­gło­wy, coat of arms Bo­les­ta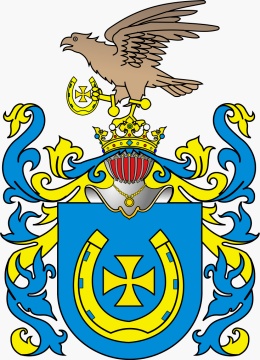 (d. 1499), took o­ver the post of sta­ros­ta. A year lat­er, the cas­tle was ad­min­is­tered by Ja­rand of Bru­dzew of Po­mian coat of arms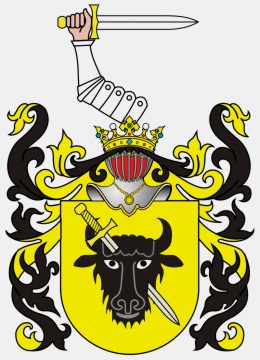 (in 1485-87), fol­lowed by Am­bro­ży Pam­pow­ski of Po­ro­nia coat of arms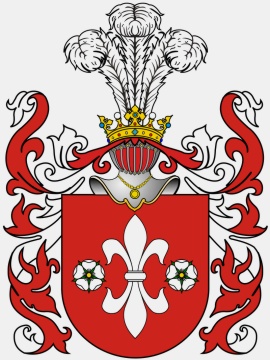 (in 1487-91) and fi­nal­ly Jan Ko­ście­lec­ki of Ogoń­czyk coat of arms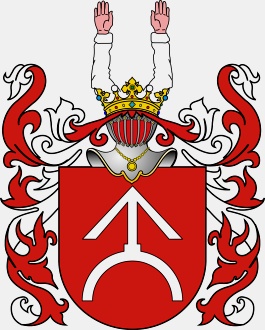 (from 1491), who re­ceived the of­fice in ex­change for a loan of 2,800 flor­ins grant­ed to King Jan Ol­bracht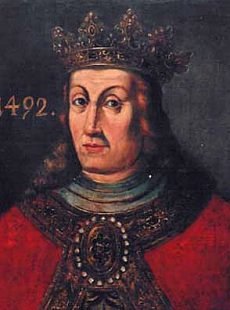 . When Ko­ście­lec­ki died in 1499, Gy­or­gy de Pa­lu­dia, a Hun­gar­i­an or Slo­va­kian-born knight, be­came the sta­ros­ta of Ko­ło. Sev­en years lat­er, he sold the rights to the of­fice to Ja­ro­sław So­ko­łow­ki of Wrzą­ca (d. 1518), who had close re­la­tions with Czech King Vla­di­slav Jag­el­lon­ský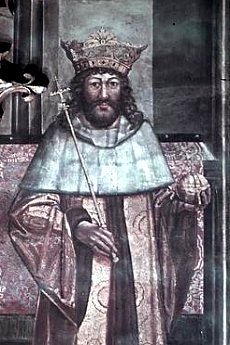 , which made him re­gard­ed among the Pol­ish no­bil­i­ty as a high­ly em­pow­ered per­son, sec­re­tary and even roy­al trea­sur­er. In 1507, So­ko­łow­ski al­lo­cat­ed 500 florins for ren­o­va­tion of the cas­tle, where three years lat­er he wel­comed the new­ly mar­ried Ma­rie de Mar­cel­langes, la­dy-in-wait­ing to An­na de Foix of Bo­he­mia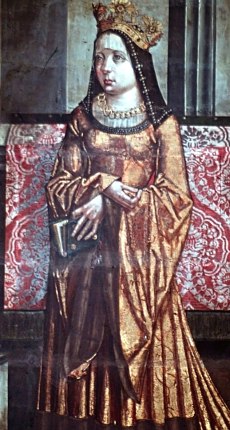 (the king's wife).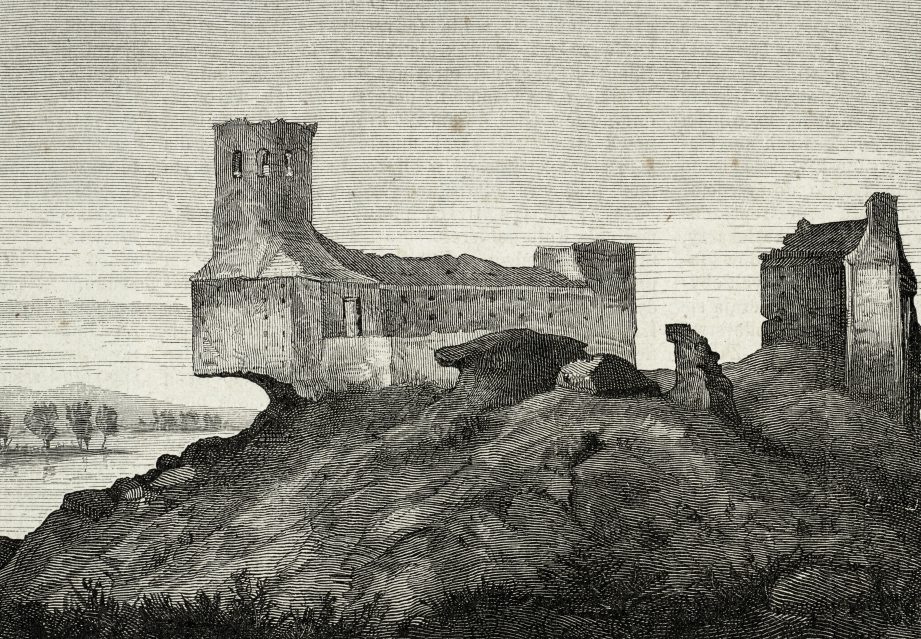 WOOD ENGRAVING BY K. PIAST BASED ON A DRAWING BY W. GOŚCIMSKI, "TYGODNIK POWSZECHNY" 1882
A
year af­ter the death of Ja­ro­sław So­ko­łow­ski, a daugh­ter of the rich­est cit­i­zen of Wiel­kopol­s­ka, An­na Gór­ka of Ło­dzia coat of arms
, and wife of Piotr Kmi­ta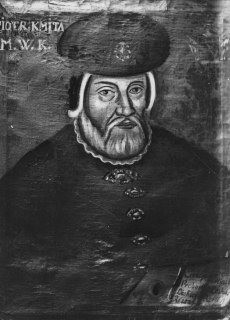 of Śre­nia­wa coat of arms
(d. 1553), took o­ver the of­fice. When she died in 1542 with­out liv­ing to see a male de­scen­dant, Ko­ło passed in­to the hands of her broth­er's son, Sta­ni­sław Gór­ka
of Kór­nik, gov­er­nor of Poz­nań (d. 1592), and when he too died child­less, the es­tate re­turned to roy­al ad­min­is­tra­tion. Af­ter the ex­tinc­tion of the Ja­giel­loni­an dy­nasty, most like­ly none of the next kings, that is, Hen­ry Val­ois, Ste­fan Ba­to­ry, the Va­sas and the fol­low­ing ones, host­ed at the cas­tle any­more. By this time, it no longer per­formed sig­nif­i­cant func­tions, and its mil­i­tary role was at best sec­ondary, which was main­ly due to the rapid de­vel­op­ment of ar­til­lery.
LITHOGRAPH BY NAPOLEON ORDA, 1880S
A
t the be­gin­ning of the 17th cen­tu­ry, the sta­rosts and bur­graves of Ko­ło no longer held their of­fices in the Goth­ic cas­tle, but in the manor house in Ko­ście­lec, al­though some at­tempts were still made to mod­ern­ize it. How­ev­er, these ef­forts failed, as by the mid­dle of the 17th cen­tu­ry the cas­tle was al­ready de­scribed as ca­stel­lum de­struc­tum. In 1656, Swedish troops com­plet­ed the work of its de­struc­tion by blow­ing it up. At the end of the 17th cen­tu­ry, by roy­al grant, the ru­in be­came the prop­er­ty of the Ber­nar­dine Or­der, who un­der­took its de­mo­li­tion to ob­tain build­ing ma­te­ri­al and re­store the flood-dam­aged mo­na­ste­ry church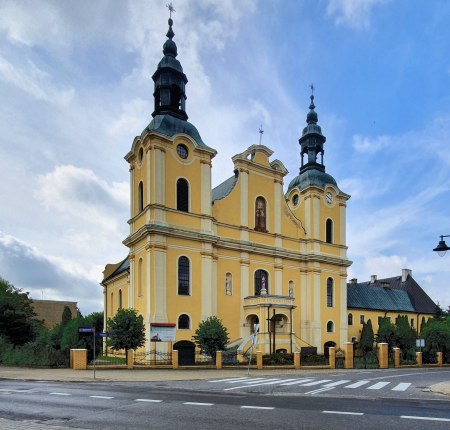 . The sol­id joints of the bricks pre­vent­ed them from pulling down all the walls, so the cas­tle has sur­vived to pre­sent day at least in resid­u­al form.
AERIAL VIEW OF THE RUINS IN THE 1920S AND TODAY
DESCRIPTION OF THE CASTLE
T
he cas­tle was built in a bend of the War­ta Riv­er, which in those days flowed with sev­er­al branch­es, so that in some months the strong­hold could be com­plete­ly sur­round­ed by wa­ter. Pre­sum­ably, in the first half of the 14th cen­tu­ry, it con­sist­ed of a ma­son­ry don­jon sur­round­ed by wood­en for­ti­fi­ca­tions or a wood­en and earth­en ram­part. This tow­er was built on a rect­an­gu­lar plan with sides of 11.8x15.5 me­ters, and its walls were about 2.50 me­ters thick. The in­te­ri­or con­sist­ed of two rooms on each floor. One of these rooms was prob­a­bly equipped with a well, in which ar­chae­ol­o­gists have found Teu­ton­ic coins mint­ed dur­ing the reigns of Grand Mas­ters Win­rich von Knip­ro­de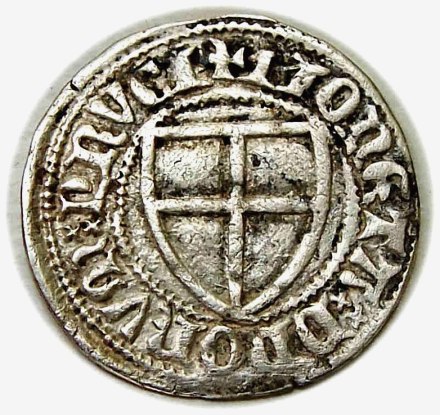 (d. 1382) and Jo­hann von Tief­fen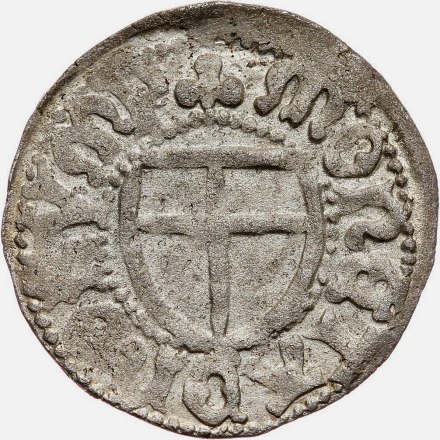 (d. 1497).
FOUNDATIONS OF THE DONJON, PRESUMABLY THE OLDEST PART OF THE CASTLE
A
round the mid­dle of the 14th cen­tu­ry, Casimir the Great erect­ed brick and stone walls next to the ex­ist­ing don­jon, form­ing a rect­an­gle with sides of about 30x50 me­ters. In the south­ern cor­ner of the cas­tle has stood a berg­fried, square at the bot­tom, cylin­dri­cal above with an out­er di­am­e­ter of 8 me­ters and a to­tal height of about 20 me­ters. The en­trance to this tow­er was above the height of the cas­tle walls and a brick stair­case (hol­lowed out in the wall) pro­vid­ed com­mu­ni­ca­tion with its up­per floors. In the south­ern wall, next to the berg­fried, a wick­et gate was lo­cat­ed (there is a hy­poth­e­sis that the cas­tle had no gate al­low­ing the en­try of ve­hi­cles!), and next to it a third tow­er, erect­ed on a rect­an­gu­lar plan with sides of 8 x 9 me­ters.
THE UNORIGINAL ENTRANCE TO THE TOWER (MADE AFTER THE FALL OF THE CASTLE)
RELICS OF THE THIRD TOWER AT THE SOUTH WALL
A
part from the afore­men­tioned don­jon and two tow­ers, the rest of the cas­tle's build­ings were prob­a­bly made of wood. There­fore, the dai­ly life, as well as the po­lit­i­cal ac­tiv­i­ties of the high­est-rank­ing res­i­dents and vis­i­tors, was con­cen­trat­ed just in the don­jon, which con­sist­ed of at least three sto­ries and could be high­er than the main tow­er. The cas­tle court­yard had a util­i­tar­i­an rather than rep­re­sen­ta­tive func­tion, and this be­lief is fur­ther strength­ened by the fact that it was not paved. How­ev­er, a farm­yard lo­cat­ed to the south­west of the cas­tle served eco­nom­ic pur­pos­es. It was here that all the farm build­ings were sit­u­at­ed, all the fa­cil­i­ties serv­ing the cas­tle and its in­hab­i­tants, i.e. a kitchen, smithy, sta­bles, pig­sties etc.
PLAN AND BIRD'S-EYE VIEW OF THE RUINS: 1. DONJON, 2. MAIN TOWER, 3. THIRD TOWER
---
F
rag­ments of the perime­ter wall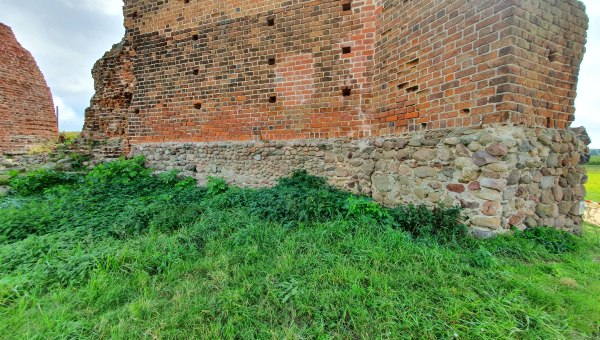 have sur­vived, es­pe­cial­ly its west­ern part (the east­ern part col­lapsed due to un­der­min­ing by the riv­er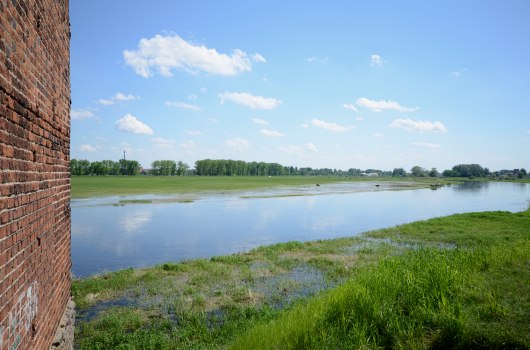 ), the cor­ner tow­er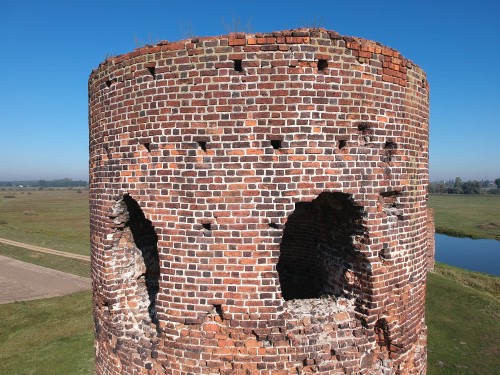 up to a height of 16 me­ters, as well as relics of the third tow­er and foun­da­tions of the don­jon. In 2020, work be­gan to con­serve and pro­tect the ru­ins, with plans to de­vel­op them for wide-rang­ing recre­ation and leisure ac­tiv­i­ties.
RENOVATION OF CASTLE WALLS, SUMMER 2022
| | |
| --- | --- |
| | We need no more than a quarter of an hour to vis­it the ruins. |
| | |
| --- | --- |
| | You can come here to­gether with your dog. |
| | |
| --- | --- |
| | The place is friendly for air­craft flights. |
VIEW OF THE RUINS FROM THE NORTH....
---
T
he ru­in is lo­cat­ed among the flood­plains of the War­ta Riv­er, on its south­ern bank (the town is on the north­ern bank). Ad­dress: Zamkowa Street.
| | |
| --- | --- |
| | Zamkowa Street is a dirt road, and not of the best qual­i­ty. How­ev­er, any pas­sen­ger car can han­dle it with­out a prob­lem. There are no des­ig­nat­ed park­ing lots near the cas­tle, but there is plen­ty of space. |
---
1. A. Gąsiorowski: Kolskie starostwo i kolscy starostowie w czasach jagiellońskich, 2012
2. L. Kajzer, J. Salm, S. Kołodziejski: Leksykon zamków w Polsce, Arkady 2001
3. T. Olszacki: Zanim powstała Rzeczpospolita - zamki Królestwa Polskiego...
4. T. Olszacki, P. Lasek: Zamek w Kole w świetle wyników badań archeologicznych (1977-1983)..., 2012
5. G. Rutkowska: Jagiellonowie w Kole, 2012
6. A. Wagner: Murowane budowle obronne w Polsce X-XVIIw., Bellona 2019

VIEW OF THE RUINS FROM THE EAST
PANORAMA OF THE TOWN OF KOŁO
Castles nearby:
Borysławice Zamkowe - ruins of the noble castle from the 15th century, 19 km
Wyszyna - relics of the noble castle from the 16th century, 20 km
Besiekiery - ruins of the knight's castle from the 15th/16th centuries, 30 km
Przedecz - relics of the royal castle from the 14th century, 31 km
Konin - the Poznań bishops' castle from the 15th century, 37 km
Uniejów - the Gniezno bishops' castle from the 14th century, 38 km

text: 2022
photographs: 2013, 2019, 2022
© Jacek Bednarek