MIĘDZYRZECZ

the royal castle ruin
MIĘDZYRZECZ, CASTLE RUIN VIEW FROM THE EAST
---
T
he old­est and most im­por­tant stronghold on the west­ern bor­der­lands of Poland was prob­a­bly erect­ed in the 9th cen­tu­ry. The fort­ress of Me­si­ri­ci is men­tioned for the first time in the chron­i­cle of the Bish­op of Merse­burg, Thi­et­mar, who de­scribed the ex­pe­di­tion of the Em­per­or Hein­rich II der Hei­li­ge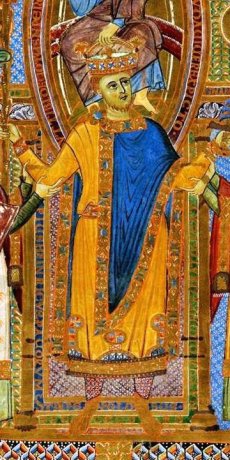 (d. 1024) go­ing to war with pol­ish duke Bo­le­sław Chro­bry (the Brave, d. 1025). Ac­cord­ing to the chron­i­cler, he was sup­posed to stay in a near­by mo­na­ste­ry, but out of re­spect for the ash­es of the holy broth­ers, he was or­dered to save the cap­tured Pi­ast strong­hold. This means that al­ready then there was a cen­ter here which played the role of an im­por­tant watch­tow­er on the west­ern bor­ders of the Pol­ish state. It al­so served as a base for Pi­ast ex­pe­di­tions to West­ern Po­mera­nia and Bran­den­burg, and guard­ed the War­ta riv­er cross­ing as well as trade routes lead­ing from Wiel­ko­pol­s­ka to­wards Ger­many and Sile­sia. Its im­por­tance can be proved by the fact that the first Bene­dic­tine abbey in Poland, men­tioned in Sanc­ti Adal­ber­ti Pra­gen­sis epis­copi et mar­tyris vi­ta pri­or, was lo­cat­ed near­by. Ac­cord­ing to the au­thors of this book, the abbey in Mię­dzy­rzecz was found­ed by St. Adal­bert (one of the three main catholic pa­trons of Poland), and the monks liv­ing there, who were mur­dered in a rob­bery on the night of 10/11 Novem­ber 1003, were de­clared the first mar­tyrs of Poland.
SITUATION ON THE POLISH-SILESIAN-BRANDENBURG BORDERLAND IN THE XIV CENTURY, ORIGIN: A. MICHALAK: ZDOBYCIE MIĘDZYRZECZA...
T
he ear­ly me­dieval strong­hold had a cir­cu­lar or ir­reg­u­lar oval shape. It was pro­tect­ed by ram­parts of a hook con­struc­tion, which were about 20 me­ters wide and 10 me­ters high. Ad­ja­cent to it was a low­er town, where ar­chae­ol­o­gists have dis­cov­ered the re­mains of dwel­ling hous­es, black­smith and glass work­shops, baths and a sta­ble. Cham­bers ca­pa­ble of con­tain­ing large quan­ti­ties of grain were al­so found, which would in­di­cate that food had to be stored here for planned war ex­pe­di­tions. Mię­dzy­rzecz came un­der the in­flu­ence of Bran­den­burg and Po­mera­nia in the mid­dle of the 11th cen­tu­ry, but was tak­en away from them by the Pol­ish Duke Bo­le­sław Krzy­wo­usty in 1094.
Gall Anon­im (court chron­i­cler) when de­scrib­ing the bat­tle for Mię­dzy­rzecz not­ed that the knight Woj­sław was wound­ed in the head dur­ing the siege of the cas­tle. His life was saved by the prince's physi­cian, who took out from his head a spear­head with a piece of bone. This de­scrip­tion is con­sid­ered to be the first doc­u­ment­ed pro­ce­dure of skull trepa­na­tion in Poland.

SKELETON OF A LATE XI CENTURY WARRIOR SHOT FROM A BOW PROBABLY DURING A SIEGE OF THE CASTLE IN 1094
HISTORICAL NAMES OF THE TOWN
Mesirici (1005), Meczirecze (1095),
Mezerets (1232), Medzirzecz (1246),
Meseriz (1259), Mesiretz (1261),
castrum Medirecum (1263), Medzirzecz (1364),
Medzerecz (1374), cwirdza Medzcirz (1413),
Medzyrzrecz (1423), Myedzirecz (1457),
Myedzirzetc (1465), Myedzyrzecze (1493),
Myedzyrzek (1517), Messeritz, Meseritz (XIXth century)

WOODEN SCULPTURES OF ST. ADALBERT AND PIAST WARRIOR IN FRONT OF THE CASTLE IN MIĘDZYRZECZ
W
hen Bolesław Krzy­wousty died, Mię­dzy­rzecz was in­cor­po­rat­ed in­to the Greater Poland dis­trict, ruled by his son Miesz­ko III the Old (d. 1202). Dur­ing the reign of duke Miesz­ko, the cas­tle was in­vad­ed and burned by the troops of the Ger­man king Fred­er­ick Bar­barossa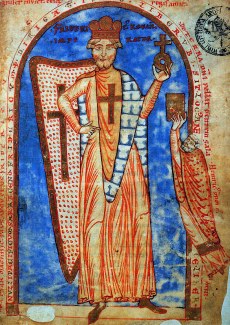 , al­though some his­tor­i­cal sources state that it was aban­doned and burned by its own crew as well as oth­er strong­holds on the line of the Od­ra Riv­er. Prob­a­bly un­der the rule of duke Prze­my­sław I (d. 1259) a castel­lany was es­tab­lished in Mię­dzy­rzecz and the town's for­ti­fi­ca­tions were strength­ened, and dur­ing the reign of his broth­er, Bo­le­sław the Pious (d. 1279), they were fur­ther ex­pand­ed. But be­fore they were com­plet­ed, the town was in­vad­ed by the Mar­grave of Bran­den­burg, Ot­to V der Lan­ge, who con­quered it, al­though he failed to take the strong­hold. At that time the fort­ress prob­a­bly al­ready had a brick tow­er.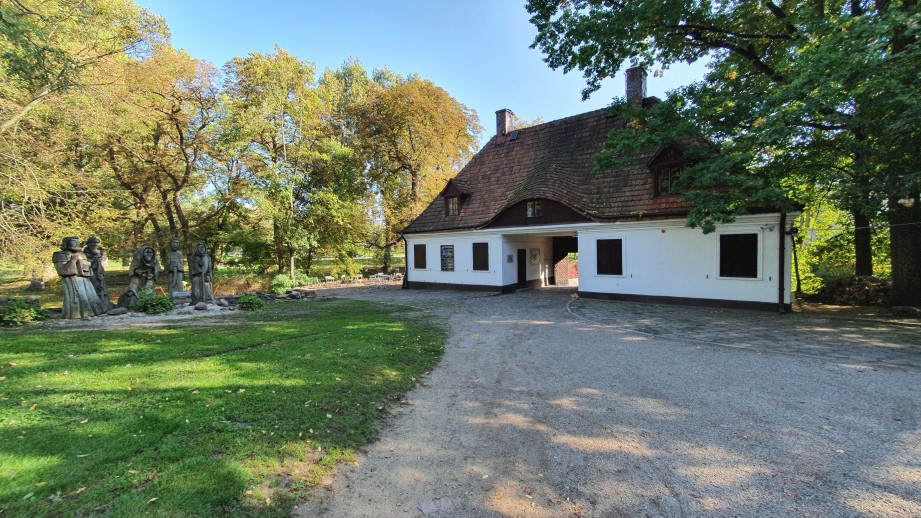 GATE BUILDING AT THE ENTRANCE TO THE MANOR COURTYARD
THE COURTYARD IS DECORATED WITH WOODEN STATUES OF THE FIVE MARTYRS
A
t the turn of the 13th and 14th cen­turies the town passed many times from Pi­ast to Bran­den­burg hands and vice ver­sa, and on­ly in 1321 as a re­sult of fights and diplo­mat­ic ef­forts it again merged with Poland for a long time. The cas­tle be­came the seat of the sta­ro­sty, al­though it was still a struc­ture dom­i­nat­ed by wood­en build­ings. It was not un­til around 1340, on the ini­tia­tive of king Ka­zimierz the Great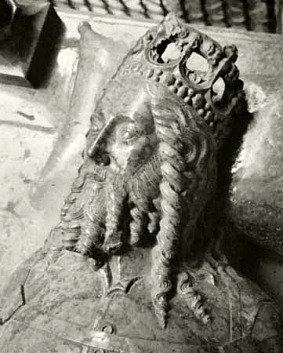 , that the erec­tion of brick cur­tain walls, res­i­den­tial build­ings and for­ti­fi­ca­tion el­e­ments be­gan. This work con­tin­ued for the next three or per­haps even four decades. The new cas­tle, in ad­di­tion to the of­fice of the starost, housed a per­ma­nent roy­al mil­i­tary gar­ri­son. Due to its key lo­ca­tion (bor­der), it was main­tained in a state of con­stant com­bat readi­ness and in lat­er years was sub­ject to many mod­ern­iza­tions. Doc­u­ments men­tion­ing some of the starosts of Mię­dzy­rzecz from that pe­ri­od have sur­vived. In 1390 Wo­j­ciech from Sza­dów was re­ferred to, in the years 1399-1403 Flo­rian from Ko­ryt­ni­ca, then Sę­dzi­wój Os­tro­róg of Na­łęcz Coat of Arms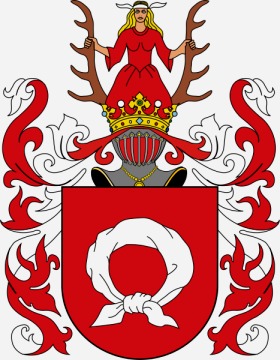 (1403-12, 1413-18, d. 1441), Piotr Tar­cha­ła (1412-13), Jan from Ry­dzy­na (1418-23), Nie­mie­rza from Lu­bosz (1449-66) and Piotr Świd­wa from Sza­mo­tu­ły (1466-73, d. 1473). In 1426 the cas­tle was vis­it­ed by king Wła­dy­sław Ja­gieł­ło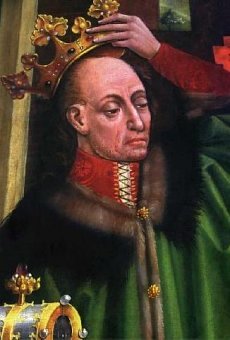 .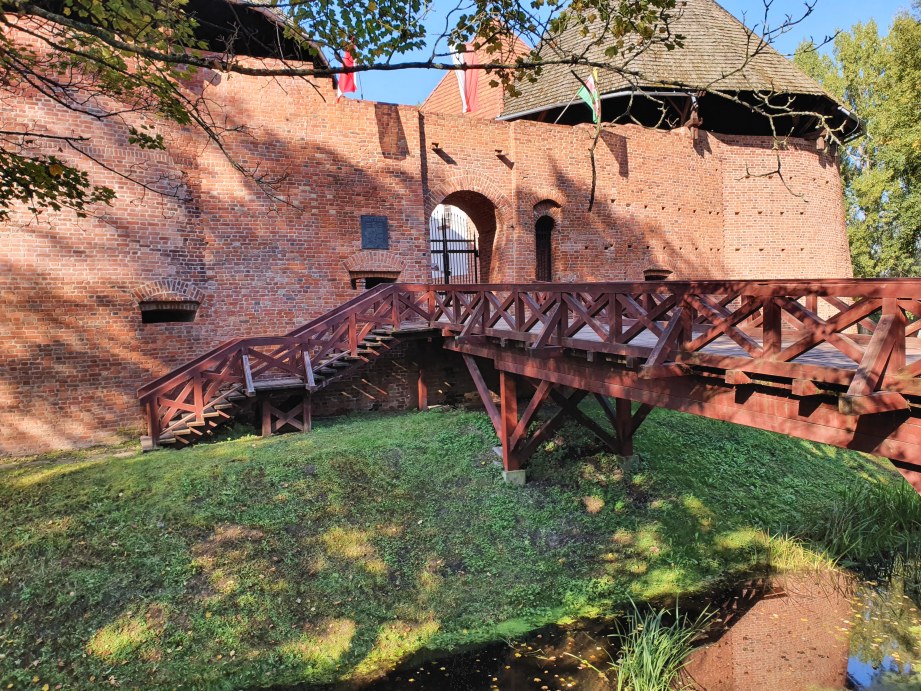 A PRESENT-DAY WOODEN BRIDGE LEADS TO THE CASTLE
D
ur­ing the war be­tween king of Hun­gary Hun­ya­di Má­tyás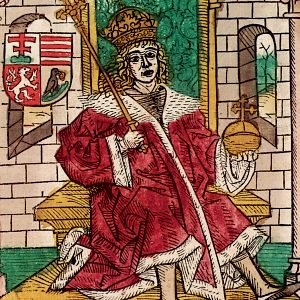 and king of Bo­he­mia Vla­di­slav II Jag­el­lon­ský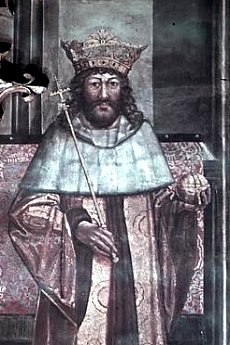 and his al­lies: em­per­or Frie­drich III Hab­sub­rg
and Ka­zi­mierz Ja­giel­loń­czyk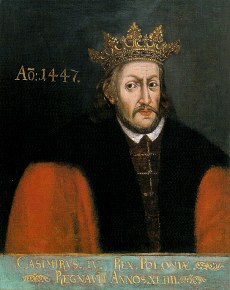 , king of Poland, in 1474 Mię­dzy­rzecz was in­vad­ed and con­quered by the Hun­gar­i­an army sup­port­ed by Si­le­sian troops, in to­tal num­ber­ing about 3000 men. We don't know ex­act­ly who com­mand­ed this at­tack. Ac­cord­ing to some his­to­ri­ans, how­ev­er, the head of the siege was an­oth­er sup­port­er of the Hun­gar­i­an king, Hans II the Mad, Duke of Ża­gan (d. 1504). Ac­cord­ing to oth­ers - Mię­dzy­rzecz was oc­cu­pied by Hun­gar­i­an mag­nate Sza­pol­yai István (d. 1499) and Frie­drich, the duke of Leg­ni­ca (d. 1488). With the help of Hun­gar­i­an sup­port and (pre­sum­ably) tak­ing ad­van­tage of the treach­ery by the bur­grave Sę­dzi­wój Ży­dow­ski, the in­vaders cap­tured the town, which ac­cord­ing to the Pol­ish chron­i­cler Jan Dłu­gosz was care­less­ly guard­ed. The cas­tle sur­ren­dered with­out a fight and per­haps that is why it was not burnt down. Short­ly af­ter this bat­tle, a truce was signed, and the strong­holds and towns cap­tured dur­ing the war re­turned to their right­ful own­ers.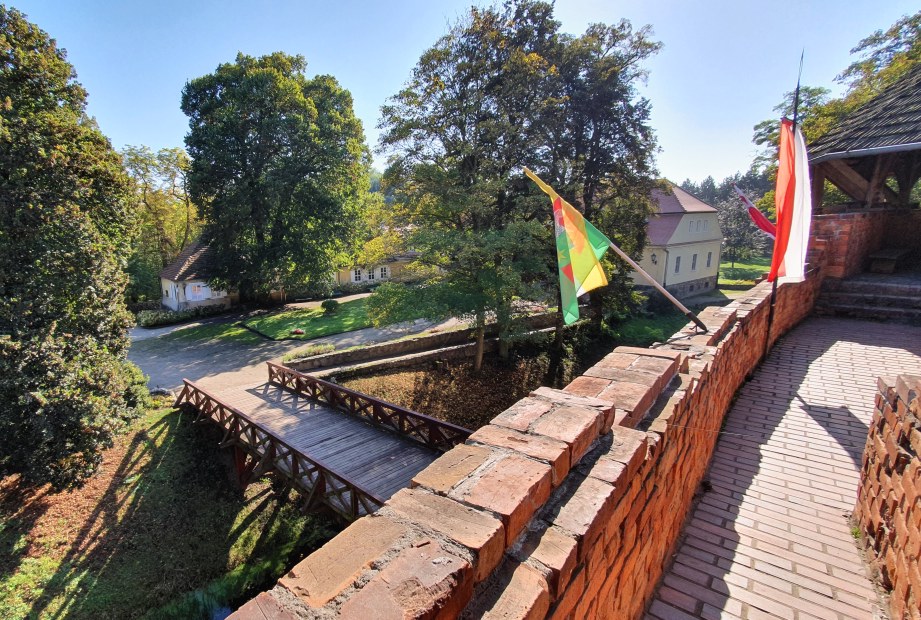 VIEW FROM THE CASTLE WALLS TO THE MANOR COURTYARD
L
ess than half a cen­tu­ry lat­er, dur­ing the last Pol­ish-Teu­ton­ic war, in 1520, the strong­hold was con­quered by Wolf von Schön­burg's mer­ce­nary troops num­ber­ing about 10 thou­sand sol­diers, which were head­ing through Mię­dzy­rzecz to­wards the Prus­sian lands of the Or­der. As a re­sult of an in­tense bom­bard­ment by twen­ty Ger­man can­nons, the cas­tle walls were de­stroyed, the build­ings com­plete­ly burned, and the cas­tle crew mur­dered. How­ev­er, the strate­gic lo­ca­tion of the town made it nec­es­sary to re­build it very quick­ly. So still in the first half of the 16th cen­tu­ry the cas­tle was not on­ly re­built but al­so mod­ern­ized. It was equipped with de­fen­sive tow­ers and gal­leries, a gate, res­i­den­tial build­ings and a dec­o­ra­tive Re­nais­sance at­tic. A lit­tle lat­er, in the 60s of the 16th cen­tu­ry, two char­ac­ter­is­tic round bas­tions were built at the en­trance gate, which to­day are a sym­bol of Mię­dzy­rzecz and the most rec­og­niz­able part of the strong­hold. These bas­tions were prob­a­bly erect­ed when Sta­ni­sław Os­tro­róg of Na­łęcz coat of arms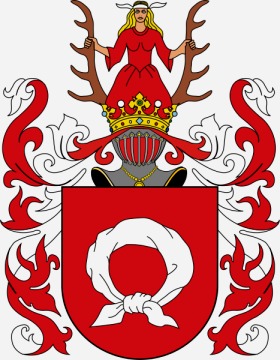 (d. 1568) held the post of Mię­dzy­rzecz castel­lan and Jan Słu­żew­ski of Su­li­ma coat of arms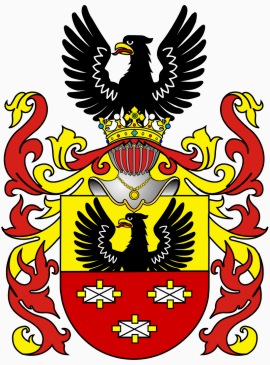 (d. 1580) was the head of the lo­cal sta­ro­sty.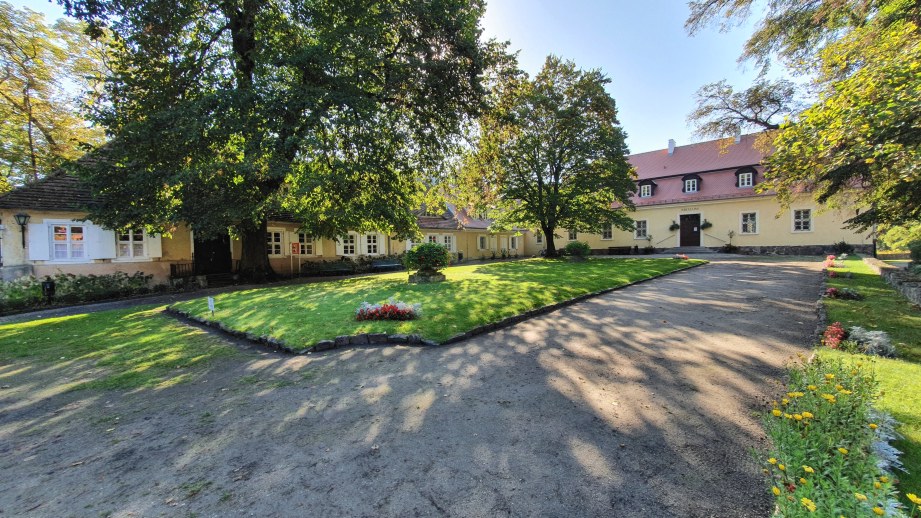 THE STAROSTY BUILDING (ON THE RIGHT) AND THE OUTHOUSE, XVIII CENTURY
THE STAROSTY BUILDING, VIEW FROM THE SOUTH
I
n 1574 the cas­tle host­ed the first elect­ed king of Poland, Hen­ri de Val­ois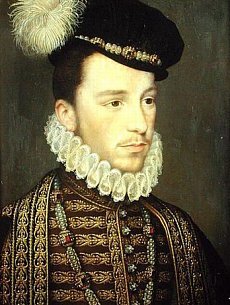 (d. 1589), who was on his way from Paris to the cap­i­tal Kra­ków. At the end of the 16th cen­tu­ry the stronghold in Mię­dzy­rzecz be­gan to lose its im­por­tance and de­clined, and the great­est work of its de­struc­tion was done by the Swedes or Bran­den­bur­gians, who oc­cu­pied the town in 1655-56. Al­though there was no fight­ing here, even the short stay of for­eign crews end­ed with its dev­as­ta­tion and the loot­ing of ev­ery­thing of val­ue. In 1691 the then starost Piotr Opa­liń­ski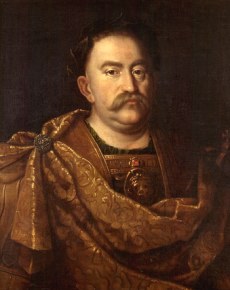 of Ło­dzia coat of arms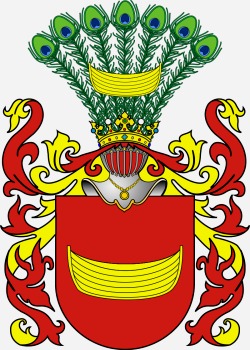 (d. 1691) made an at­tempt to re­build the seat of his of­fice, but he died soon and the works were stopped. Ac­cord­ing to the de­scrip­tion from 1699, the cas­tle was al­ready aban­doned and very ne­glect­ed: all the build­ings be­long­ing to the res­i­dence are de­sert­ed, the up­per and low­er build­ings have no doors, stairs and gates. Due to the fact that the build­ing was un­in­hab­it­able, sta­rost Ma­ciej Ra­do­mic­ki of Ko­twicz coat of arms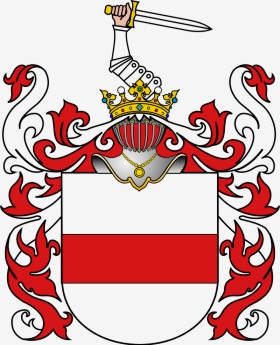 (d. 1728) built an ad­ja­cent manor house called Kasz­te­la­nów­ka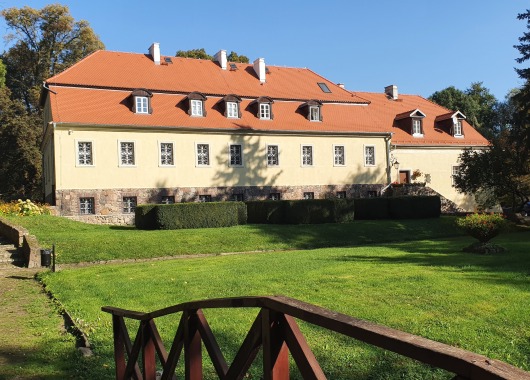 and in 1719 moved the of­fice of the Mię­dzy­rzecz sta­ro­sty there.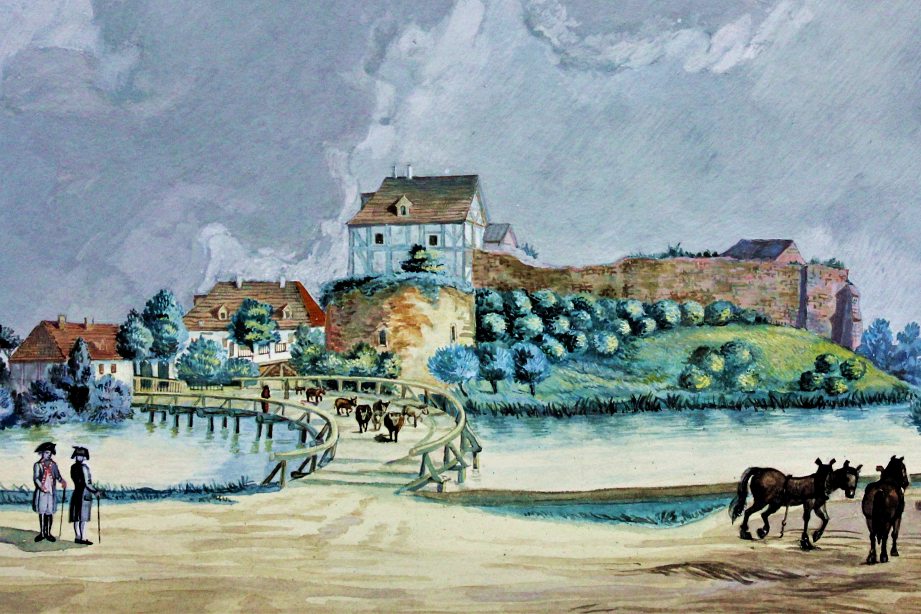 THE CASTLE IN MIĘDZYRZECZ ON A WATERCOLOUR BY CAROL ALBERTI, 1795
VIEW OF THE RUINS IN THE FIRST HALF OF THE XIXTH CENTURY, EDWARD RACZYŃSKI "WSPOMNIENIA WIELKOPOLSKI..."
O
n­ly the dwellings for the ser­vants were left in the cas­tle. Some of the sur­viv­ing rooms were al­so used as work­shops and ware­hous­es. Lack of in­vest­ment caused fur­ther de­te­ri­o­ra­tion of the fort­ress, which is ev­i­denced by Al­ber­ti's wa­ter­col­ors from 1795 de­pict­ing de­stroyed cas­tle walls and miss­ing roofs of the build­ings. Af­ter the sec­ond par­ti­tion of Poland, the ru­ins were tak­en o­ver by the Prus­sian ad­min­is­tra­tion and leased to the for­mer am­bas­sador of the King­dom of Prus­sia, Gi­ro­la­mo Luc­chie­si­ni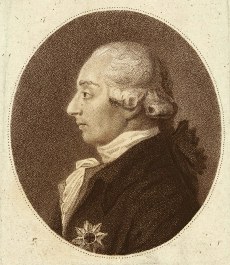 (d. 1825). He soon pur­chased the prop­er­ty, but due to his de­par­ture to Aus­tria sold it to a cer­tain Stur­zel from near­by Mię­dzy­chód. Then the cas­tle came in­to the pos­ses­sion of the von Dziem­bow­ski fam­i­ly and re­mained in its own­er­ship un­til 1945. The first of the fam­i­ly was here a Prus­sian cap­tain Stef­fen Au­gust von Dziem­bow­ski (d. 1859), af­ter whom the prop­er­ty and 40 thou­sand thalers was in­her­it­ed by one of his three sons, al­so Stef­fen (d. 1900), a cap­tain of the Prus­sian army and a deputy to the Land­tag. His wife, Ma­rie Con­stan­ze, née Kalck­reuth, died in 1927 in the build­ing of the pre­sent mu­se­um. In 1900 their el­dest son Stef­fen Kon­stan­tin be­came the own­er of the es­tate. Af­ter his child­less death in 1914 the prop­er­ty was tak­en o­ver by his sis­ter's hus­band Lud­wig Frie­drich von Tem­pel­hoff and nephew Con­rad von Tem­pel­hoff, who man­aged it un­til Jan­uary 1945.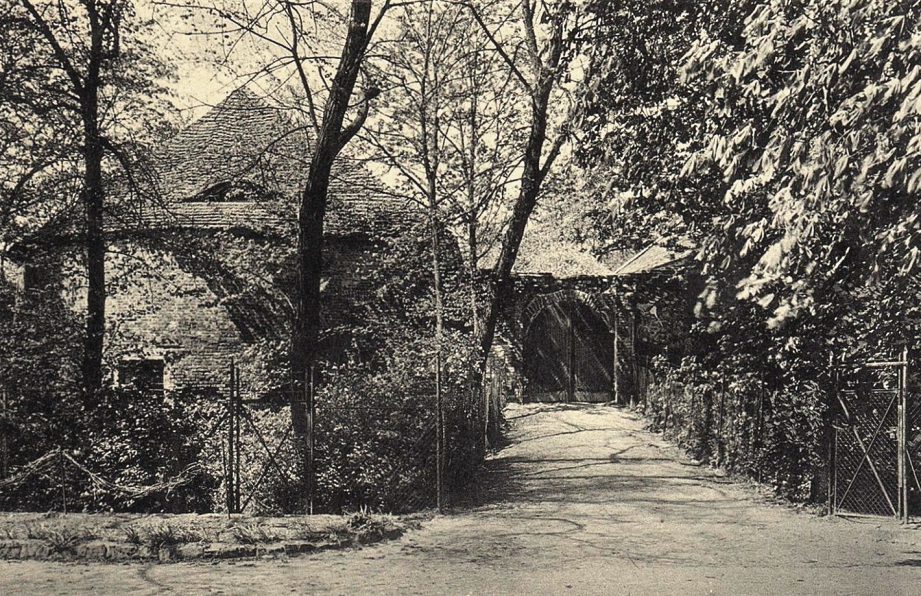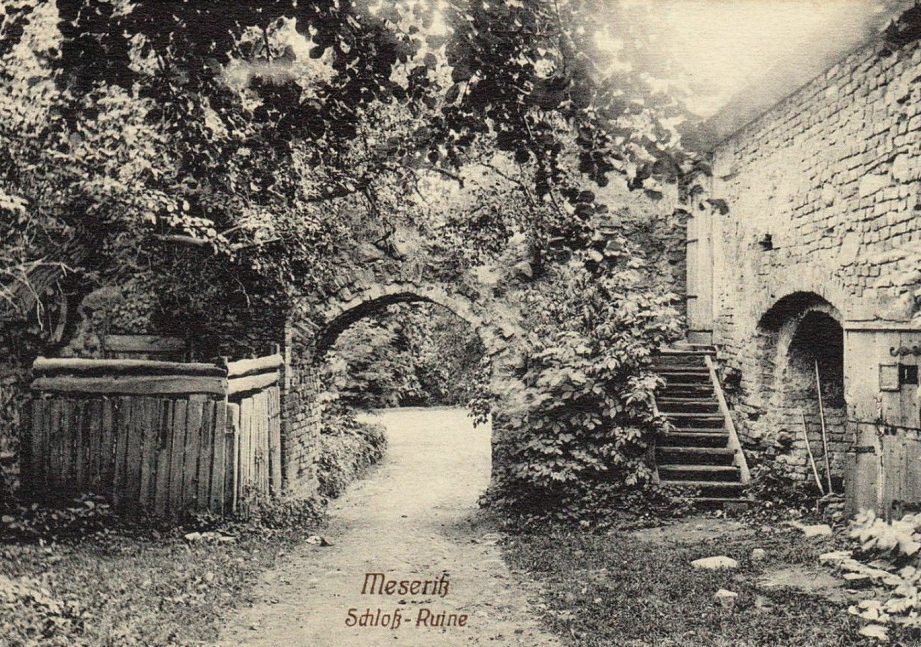 RUIN IN THE INTERWAR PERIOD
I
n the in­ter­war pe­ri­od, at­tempts were made to adapt the cas­tle ru­ins for cul­tur­al pur­pos­es, i. e. the­ater per­for­mances were or­ga­nized in the court­yard. How­ev­er, the first re­search and ren­o­va­tion work was con­duct­ed here on­ly af­ter World War II. In 1954, an ex­ten­sive ar­chae­o­log­i­cal ex­ca­va­tion be­gan, dur­ing which the re­mains of an ear­ly me­dieval cas­tle were dis­cov­ered. Sev­er­al thou­sand ar­ti­facts of great his­tor­i­cal val­ue were al­so found, in­clud­ing 33 whole shoes, an al­most com­plete skele­ton of an 11th cen­tu­ry war­rior (see pho­to above), and a 3rd cen­tu­ry gem­ma with the im­age of the Ro­man em­per­or Gor­dian III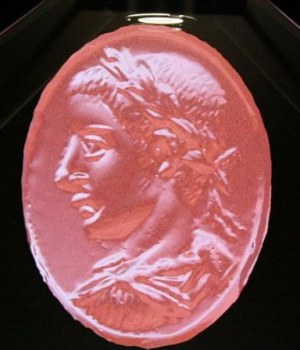 (d. 244), one of on­ly two of its kind pre­served in the world. Af­ter the ex­ca­va­tions end­ed, the cas­tle walls were re­in­forced and the res­i­den­tial build­ing and bas­tions un­der­went re­con­struc­tion. In the 1970s and 1980s, a new bridge was built and the bas­tions were cov­ered with char­ac­ter­is­tic tent roofs.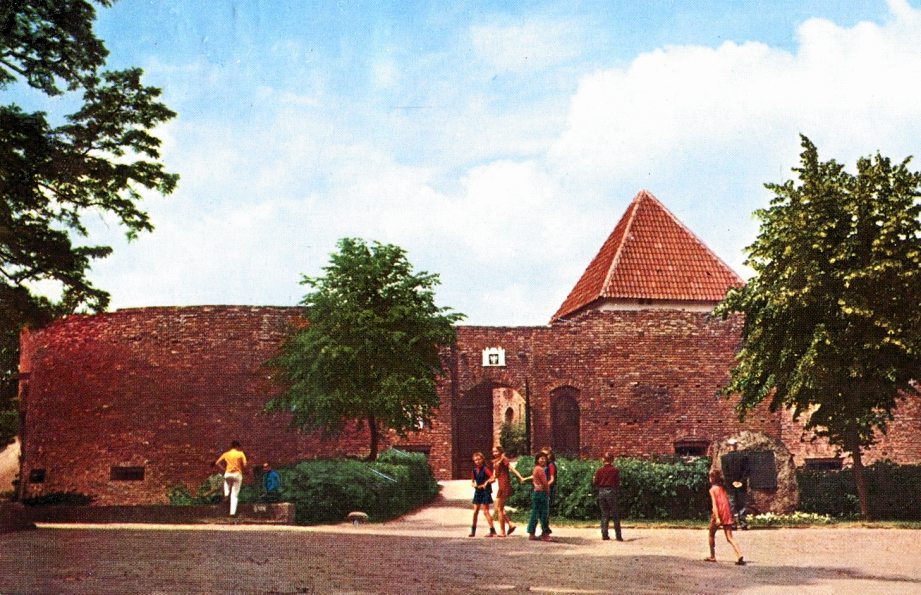 VIEW OF THE CASTLE FROM THE EAST, IN THE 1960S AND TODAY
DESCRIPTION OF THE CASTLE
T
he cas­tle was sit­u­at­ed to the west of the town in a nat­u­ral­ly de­fen­si­ble en­vi­ron­ment among mar­shy mead­ows and flood­plains, on a mound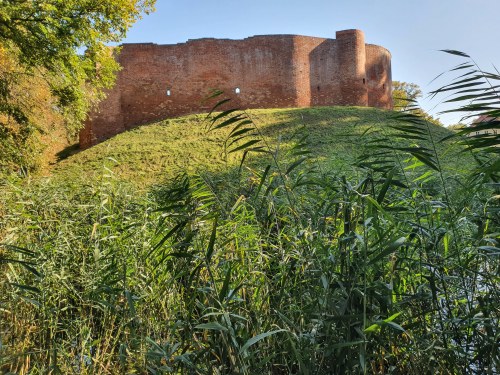 . Ear­ly me­dieval wood­en-earth for­ti­fi­ca­tions were used for its con­struc­tion. With the ex­cep­tion of the north­ern side, where the straight line of the walls runs along the hill­side, all the oth­er sec­tions of the cur­tain were built on the ram­parts of the ear­ly me­dieval cas­tle. How­ev­er, due to the risk of these ram­parts sub­sid­ing, the Goth­ic walls were sta­bi­lized by sup­port­ing them on deeply dug stilts. This re­sult­ed in a horse­shoe-shaped lay­out, im­posed by the shape of the hill and the lo­ca­tion of old­er for­ti­fi­ca­tions.
PLAN OF MIĘDZYRZECZ IN THE MIDDLE AGES: 1 . THE CASTLE, 2. THE LOWER TOWN, 3. THE PARISH CHURCH, 4. THE OBRA GATE,
5. THE HIGH GATE, 6. THE MILL GATE, 7. OBRA RIVER, 8. PAKLICA RIVER
P
re­sum­ably, the first brick com­po­nents of the cas­tle were the 13th-cen­tu­ry gate and the cylin­dri­cal tow­er stand­ing next to it. In the mid­dle of the 14th cen­tu­ry the wood­en-earth for­ti­fi­ca­tions were re­placed by a wall about 2.5 me­ters thick and 145 me­ters long, made of brick and prob­a­bly topped with a crenel­la­tion. A res­i­den­tial house stood in the west­ern part of the court­yard. The lay­out of the cas­tle was com­ple­ment­ed with wood­en util­ity build­ings at­tached to the walls. It was prob­a­bly not un­til the 15th cen­tu­ry that two small half-open tow­ers
were added to the west­ern part of the walls (near the res­i­den­tial house), and in the east­ern part - a quadri­lat­er­al build­ing, which could have been used as a gate tow­er. The cas­tle was sur­round­ed by a moat fed by the Ob­ra Riv­er, about 12 me­ters wide, o­ver which a wood­en draw­bridge was built on the east­ern side of the strong­hold.
GATES LEADING TO THE CASTLE COURTYARD
WESTERN FRAGMENT OF WALLS WITH FOUNDATIONS OF THE OLDEST RESIDENTIAL BUILDING
T
he Goth­ic cas­tle func­tioned un­til 1520, when, af­ter be­ing de­stroyed by Ger­man in­vaders, it was re­built in the Re­nais­sance style by the de­ci­sion of Zyg­munt Sta­ry (Sig­is­mund the Old)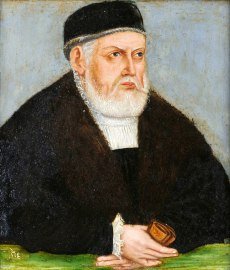 , and adapt­ed for the use of fire­arms and ar­til­lery. The cas­tle wall was then thick­ened and equipped with loop­holes
, while the ar­cha­ic me­dieval tow­ers were prob­a­bly de­mol­ished. It is al­so pos­si­ble that the Goth­ic west­ern house was de­mol­ished as well, and its func­tions could have been tak­en o­ver by a new three-storey build­ing sit­u­at­ed in the south­east­ern part of the court­yard. Next to it, by the south­ern part of the wall, stood a half-tim­bered kitchen and ac­com­pa­ny­ing wood­en util­i­ty build­ings.
PLAN OF THE CASTLE ACCORDING TO B. GUERQUIN (WITHOUT THE NORTHERN BASTION): 1. ENTRANCE GATE,
2. SOUTHERN BASTION, 3. GATE BUILDING/GUARDHOUSE, 4. RESIDENTIAL BUILDINGS (16th c.)
VIEW OF THE CASTLE FROM THE WEST
I
n the sec­ond half of the 16th cen­tu­ry the gate tow­er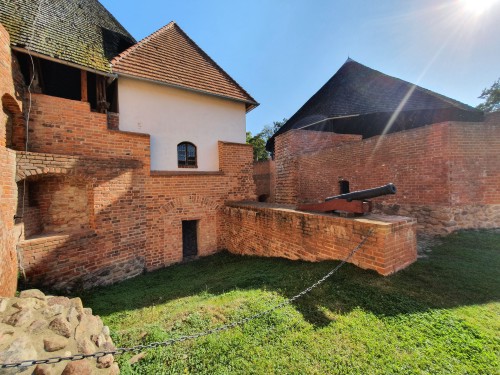 was adapt­ed to a guard­house. The en­trance to the cas­tle was moved a few me­ters to the south and a new gate and a pedes­tri­an wick­et were built. These changes were caused by the de­ci­sion to build two ar­tillery bas­tions with a di­am­e­ter of about 11 me­ters and a height of about 9 me­ters, which were added to the east­ern cur­tain and flanked the north­ern, east­ern and south­ern sec­tions of the walls and se­cured a short pas­sage­way lead­ing to the cas­tle. The bas­tions were equipped with shoot­ing stands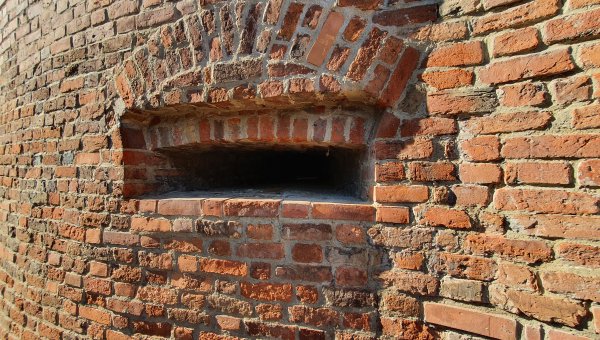 for ten can­nons and posts for small arms, from where up to a hun­dred sol­diers could fire si­mul­ta­ne­ous­ly. These 16th cen­tu­ry for­ti­fi­ca­tions aroused jus­ti­fied ad­mi­ra­tion and placed the strong­hold in Mię­dzy­rzecz among the best for­ti­fied cas­tles in the west­ern part of Poland.
NORTHERN BASTION, VIEW FROM THE NORTHEAST AND GALLERY ON THE SECOND FLOOR
---
C
ur­rent­ly, the Goth­ic cas­tle is rep­re­sent­ed by the perime­ter walls, re­mains of the west­ern dwelling house, as well as the foun­da­tions of the cylin­dri­cal tow­er. The low­er parts of the Re­nais­sance build­ings and the old­er gate, par­tial­ly in­cor­po­rat­ed in­to the north­ern bas­tion and re­stored, have al­so sur­vived. The most char­ac­ter­is­tic el­e­ments of the cas­tle's ar­chi­tec­ture are two mas­sive bas­tions sit­u­at­ed on both sides of the en­trance gate, which in the sec­ond half of the 20th cen­tu­ry were cov­ered with cylin­dri­cal roofs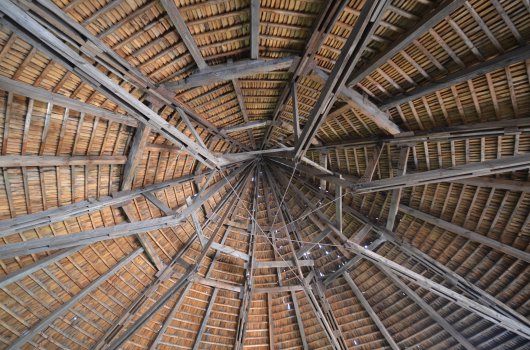 in­evitably as­so­ci­at­ed with hudge Chi­nese hats. There is al­most no ex­hi­bi­tion in the cas­tle. Apart from a small tor­ture cham­ber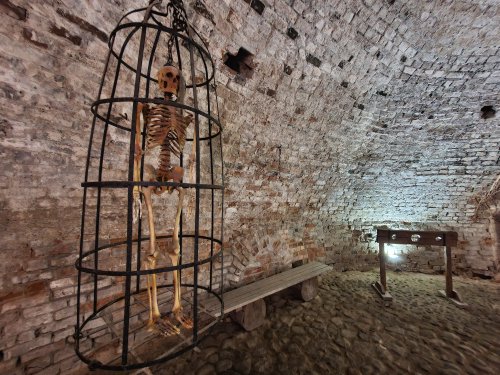 in the south­ern bas­tion, we vis­it on­ly the bare walls.
VIEW FROM THE COURTYARD TO THE GUARDHOUSE AND THE GATE (ON THE RIGHT)
"TORTURE CHAMBER" IN THE SOUTHERN BASTION
M
u­se­um ex­hi­bi­tions, al­though on­ly to a small ex­tent di­rect­ly re­lat­ed to the his­to­ry of the cas­tle and its in­hab­i­tants, are lo­cat­ed in the for­mer star­ost's build­ing and the manor out­build­ing stand­ing near­by. They house the Mu­se­um of Mię­dzy­rzec Land, which pre­sents ar­chae­o­log­i­cal col­lec­tions, eth­no­graph­ic ex­hi­bi­tions de­vot­ed to the cul­ture of the in­dige­nous Pol­ish pop­u­la­tion and their cul­tur­al her­itage, as well as ex­hibits of great his­tor­i­cal and artis­tic val­ue, in­clud­ing mil­i­taria, old prints, por­trait paint­ings, sacral sculp­tures, etc.
MUSEUM IN MIĘDZYRZECZ, FRAGMENT OF HISTORICAL-ETHNOGRAPHIC EXHIBITION
P
ar­tic­u­lar­ly note­wor­thy is Poland's largest col­lec­tion of Sar­ma­tian cof­fin por­traits and epi­taphs, de­pict­ing Pol­ish no­ble­men liv­ing in the Mię­dzy­rzecz re­gion in the 17th and 18th cen­turies, as well as no­ble­men of Ger­man ori­gin who, liv­ing on the out­skirts of of Poland, adopt­ed this typ­i­cal­ly Pol­ish cus­tom. This col­lec­tion al­so in­cludes a glob­al­ly unique gallery de­pict­ing de­ceased chil­dren. In ad­di­tion to the ru­ins of the cas­tle and the mu­se­um build­ings, the mu­se­um com­plex al­so in­cludes a gate­house re­con­struct­ed af­ter war dam­age, an 18th-cen­tu­ry manor inn (lo­cat­ed be­hind the is­land) and a his­toric land­scape park, where the main walk­ing route was cre­at­ed by a mag­nif­i­cent plane tree al­ley.
EXHIBITION OF COFFIN PORTRAITS, CHILDREN'S PORTRAITS BELOW
| | |
| --- | --- |
| | Tick­ets are re­quired for en­try to the cas­tle and mu­se­um. The en­trance to the park and the manor court­yard is free. |
| | |
| --- | --- |
| | The ex­hibits are free to pho­to­graph. Flash may not be used. |
| | |
| --- | --- |
| | It is for­bid­den to bring an­i­mals both to the ru­ins and to the mu­se­um. You can walk your dog in the park, but it should be on a leash. |
| | |
| --- | --- |
| | There are no of­fi­cial flight bans in the area. Watch out for trees and birds, which es­pe­cial­ly dur­ing the breed­ing sea­son need some peace and qui­et. |
---
M
iędzyrzecz is a small town lo­cat­ed about 50 km south­east of Go­rzów Wiel­ko­pol­s­ki. There is a rail sta­tion here (1.5 km from the ru­ins). The cas­tle is lo­cat­ed slight­ly west of the cen­ter, on Pod­zam­cze Street.
| | |
| --- | --- |
| | I rec­om­mend park­ing on Młyń­ska street (300 me­ters from the ru­ins) or park­ing near­by on Gar­ncar­s­ka street. You can ride a bi­cy­cle in the park. |
| | |
| --- | --- |
| | Ac­cess by bi­cy­cle ac­cord­ing to di­rec­tions as above. |
---
1. S. Adamczyk: Międzyrzecz i Skwierzyna na pograniczu dziejów, 1995
2. W. Dramowicz: Z dziejów rodu Dziembowskich herbu Pomian z powiatu międzyrzeckiego, NRHA 2/7
3. L. Kajzer, J. Salm, S. Kołodziejski: Leksykon zamków w Polsce, Arkady 2001
4. A. Michalak: Zdobycie Międzyrzecza w 1474 roku w świetle wybranych militariów
5. T. Jurek: Słownik historyczno-geograficzny ziem polskich w Średniowieczu
6. A. Wagner: Murowane budowle obronne w Polsce X-XVIIw., Bellona 2019
Castles nearby:
Świebodzin - ducal castle from the 13th/14th century, rebuilt, 26 km
Łagów - castle of the Knights of St. John from the 14th century, 29 km
Zbąszyń - remains of bastion castle from the 15th-17th centuries, 34 km

text: 2022
photographs: 2018, 2019, 2021
© Jacek Bednarek