OŁDRZYCHOWICE KŁ.

medieval residential tower (now palace)
PALACE IN OŁDRZYCHOWICE KŁODZKIE, IN THE FOREGROUND THERE IS A MEDIEVAL RESIDENTIAL TOWER
---
A
set­tle­ment called Ulri­ci Vil­la, lo­cat­ed near the trade route known as the Salt Road lead­ing from Bo­hemia to Kra­ków, prob­a­bly ex­ist­ed here as ear­ly as the 12th cen­tu­ry, but the first men­tion of it dates on­ly from 1327. In 1342 the vil­lage be­longed to Kłodz­ko head of coun­ty Han­ke Knob­lauchs­dorf (or Kno­bels­dorf, ref. 1342), a rep­re­sen­ta­tive of the Kłodz­ko line of the old Meis­sen knight fam­i­ly. He is be­lieved to have been the founder of the res­i­den­tial tow­er, first men­tioned in 1366.
HISTORICAL VILLAGE NAMES
Ulrici Villa (1327), Ullersdorf (1342, 1378),
Ulrichsdorf (1346, 1392), Vlrichsdorff (1399),
Ulrici Uilli (1405), Ulersdorf (1494),
Ulbrichtsdorf (1498), Viersdorff (1631),
Uliansdorf (1887), Ullersdorf an der Biele (przed 1945),
Sułkowa (1945)
EASTERN ELEVATION OF THE RUINED PALACE
A
f­ter 1364, the part of the vil­lage with a stone tow­er be­longed to the broth­ers Har­tung, Ot­to and Ni­clas von Knoblauchs­dorf vel Kno­bels­dorf, prob­a­bly de­scen­dants of the afore­men­tioned Han­ke. In 1408, Kon­rad and Ni­clas, called Scha­edel, sold the near­by lands to a lo­cal may­or named Ul­lers­dorf. The es­tate in Oł­drzy­cho­wi­ce re­mained in the fam­i­ly un­til 1625, when it was con­fis­cat­ed by the im­pe­ri­al au­thor­i­ties due to Ge­org von Ul­lers­dorf's in­volve­ment in ac­tiv­i­ties against the ruler. From the me­dieval pe­ri­od, we know by name on­ly two rep­re­sen­ta­tives of this fam­i­ly who owned the stone tow­er - they were (in 1480-93) Paul von Ul­lers­dorf and his son Je­ro­me.
BAROQUE GATEWAY, PHOTOGRAPHS FROM 1910 AND 2019
H
ow­ev­er, be­fore the prop­er­ty fell in­to im­pe­ri­al hands, Franz von Ul­lers­dorf (d. 1575) had erect­ed a two-sto­ry res­i­den­tial build­ing next to the tow­er, and in 1572 joined it with the me­dieval build­ing - thus a two-winged Re­nais­sance man­sion of de­fen­sive char­ac­ter was cre­at­ed, with a moat fed by the Bia­ła Lą­dec­ka riv­er. In 1625 the es­tate was tak­en from its right­ful own­ers and sold to Jo­hann Cas­par von Buch­em­berg, an im­pe­ri­al lieu­tenant col­onel, who eight years lat­er passed it on to his broth­er Ge­org (d. 1640). In the sec­ond half of the 17th cen­tu­ry, the cen­tral part of the vil­lage with the manor house be­longed to Wolf­gang Hein­rich von Schenck­en­dorf (d. be­fore 1700), and lat­er to his son Jo­hann Ge­org, own­er of Oł­drzy­cho­wi­ce Dol­ne. In 1709 Jo­hann Ge­org con­vert­ed the build­ing in the Bar­oque style.
FRONT ELEVATION OF THE PALACE, 1909/2019
I
n 1744, King Friedrich II of Prus­sia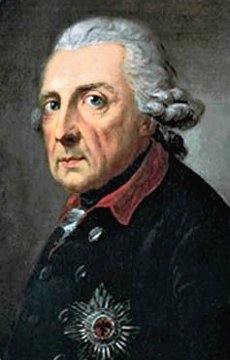 con­fis­cat­ed the es­tates of the von Schenck­endorfs (who were sup­port­ers of im­pe­ri­al rule), and hand­ed them o­ver to gen­er­al Hans von Leh­waldt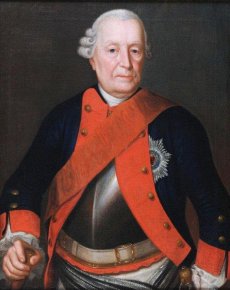 (d. 1768), a com­man­der of the Kłodz­ko fort­ress, Hein­rich de la Mot­te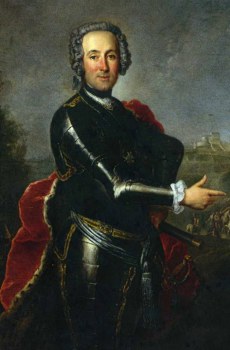 (d. 1774), and colonel von Put­ka­mer, who had dis­tin­guished him­self in the war against Aus­tria. How­ev­er, we do not know who of the three men­tioned above took o­ver the man­sion in the cen­tral part of the vil­lage and how he dis­posed of it. What we do know is that from 1749 one of the prop­er­ties be­longed to baroness von Hemm, and from 1761 to her son Karl baron von Hemm (d. 1792). Karl's heir was his nephew Gis­bert von Hemm, who in 1793 sold the manor to Alexan­der count von Mag­nis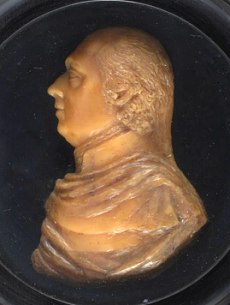 from near­by Boż­ków (d. 1817). From then un­til the end of World War II, the lands were re­main­ing in the hands of this wealthy and in­flu­en­tial fam­i­ly of Si­le­sian aris­to­crats.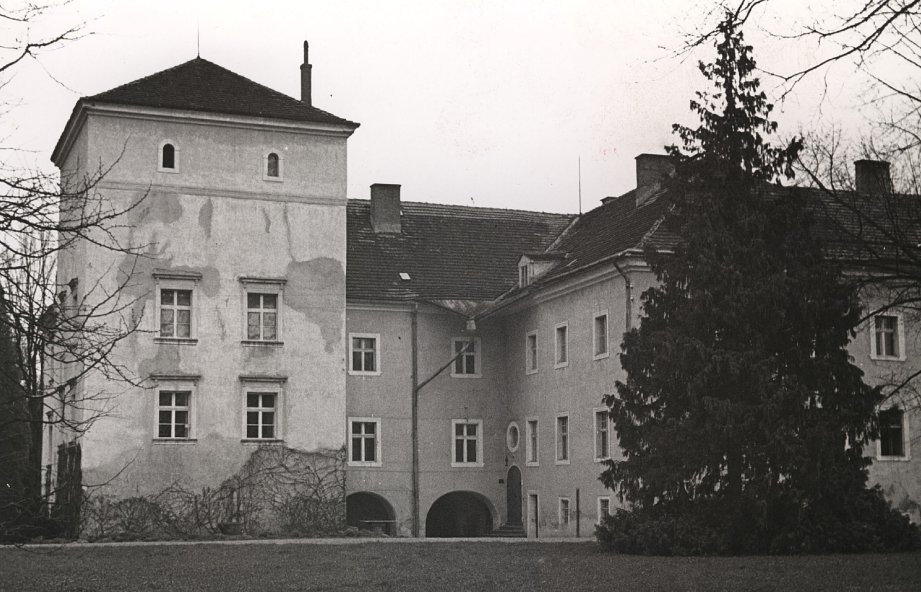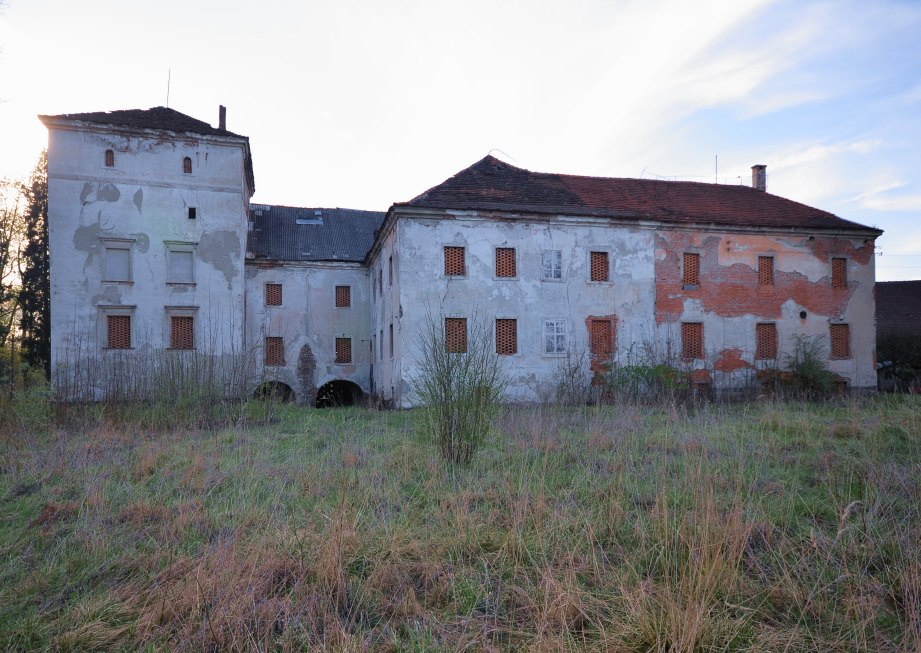 THE PALACE AS SEEN FROM THE EAST IN PHOTOGRAPHS FROM THE 1930S AND AT PRESENT
A
n­ton Alexan­der von Mag­nis re­built the Re­nais­sance manor house in­to an el­e­gant clas­si­cist palace, around which out­build­ings were erect­ed, and a park with an ar­ti­fi­cial grot­to, Greek tem­ple, foun­tain and or­angery was al­so es­tab­lished near­by. Some of this in­vest­ment prob­a­bly had to do with the planned vis­it to the vil­lage of Prus­sian queen Lu­ise von Meck­len­burg-Stre­litz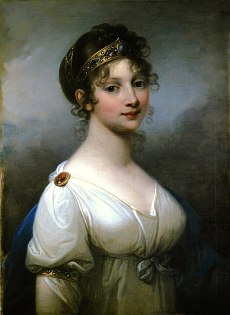 (1800), who cel­e­brat­ed her 24th birth­day here. On this oc­ca­sion, the hosts or­ga­nized a num­ber of ac­tiv­i­ties for the queen, among them a demon­stra­tion of milk­ing clean, per­fumed cows by fes­tive­ly dressed, 'joy­ful' peas­ant wom­en. To com­mem­o­rate Lu­ise's brief stay in Oł­drzy­cho­wi­ce, op­po­site the palace, a 23-me­ter-high cast-iron obe­lisk was erect­ed on a mar­ble pe­de­stal, cost­ing 24,000 thalers. This mon­u­ment, due to its di­men­sions, was con­sid­ered an out­stand­ing tech­ni­cal achieve­ment at the time, so it is not sur­pris­ing that its un­veil­ing was per­formed by the Sile­sian min­is­ter him­self, count Frie­drich Wil­helm von Re­den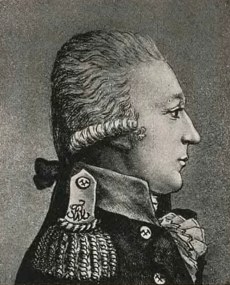 (the obe­lisk was dis­man­tled in 1974 be­cause of the widen­ing of the road).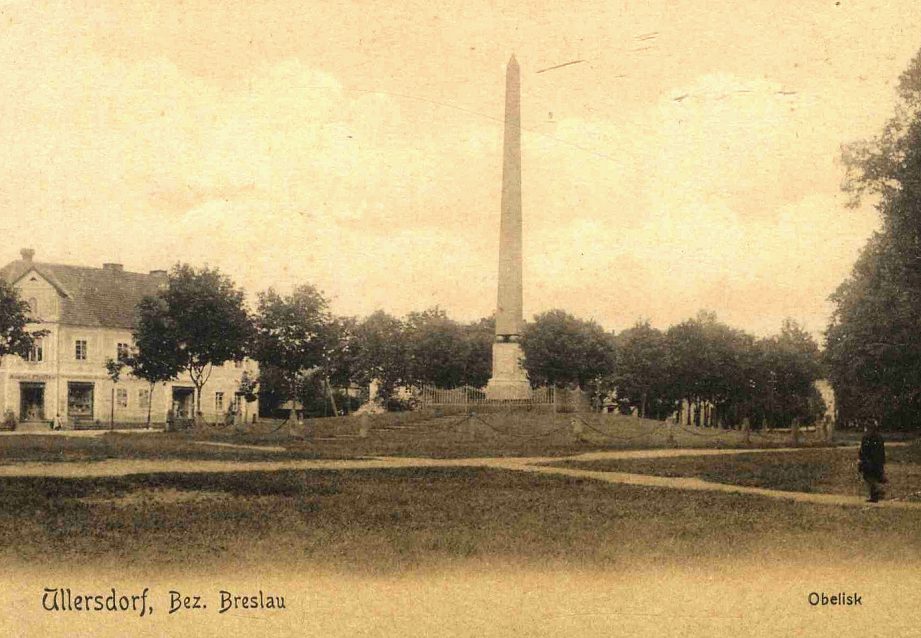 OBELISK ERECTED TO COMMEMORATE THE STAY OF THE QUEEN OF PRUSSIA, EARLY XX CENTURY POSTCARD
LUISE'S GROTTO IN THE PALACE PARK
D
ur­ing World War II, works of art brought here from Berlin mu­se­ums were stored in the palace for fear of al­lied air raids. It is not known what hap­pened to them lat­er, but it is like­ly that they passed in­to the hands of the So­vi­ets. Af­ter 1945, the for­mer es­tate of the counts von Mag­nis be­came the prop­er­ty of a state agro-in­dus­tri­al en­ter­prise. The palace has since func­tioned as the en­ter­prise's of­fices, and even un­der­went a ma­jor in­te­ri­or ren­o­va­tion in the 1980s. Its con­di­tion dra­mat­i­cal­ly de­te­ri­o­rat­ed af­ter the fall of com­mu­nism, when, de­void of any in­vest­ment, fell in­to ru­in.
PALACE FOUNTAINS WERE STILL IN OPERATION IN THE 1960S
HOWEVER, AT THE BEGINNING OF THE XXI CENTURY THE BUILDING WAS NO LONGER IN USE, AND IN THE PALACE PARK
...GEESE WERE PASTURING (2004)
DESCRIPTION OF THE PALACE
T
he old­est part of the palace is a stone tow­er built on a rect­an­gu­lar plan with sides of 10.3x10 me­ters. It has four floors, the low­est of which, con­sist­ing of two vault­ed cham­bers and a porch, is par­tial­ly re­cessed in­to the ground and equipped with a sep­a­rate ac­cess from the court­yard. The sec­ond floor is oc­cu­pied by a sin­gle-space hall with a vault sup­port­ed by a stone pil­lar, which (the hall) was pre­sum­ably ac­cessed by an ex­te­ri­or en­trance that no longer ex­ists.
THE MEDIEVAL RESIDENTIAL TOWER HIDDEN IN THE BODY OF A BAROQUE PALACE
I
n the ear­ly 16th cen­tu­ry, a res­i­den­tial build­ing was erect­ed to the north of the tow­er, and in 1572 these two build­ings were con­nect­ed by a cen­tral wing. In 1709, this cen­tral part was ex­pand­ed, re­sult­ing in an L-shaped lay­out of the man­sion, with a ri­sa­lit formed from a me­die­val tow­er and an asym­met­ri­cal­ly lo­cat­ed gate. In the mid­dle of the 18th cen­tu­ry the man­sion gained Baroque at­tri­butes (hence­forth we can de­scribe it as a palace), and at the turn of the 18th and 19th cen­turies it un­der­went a re­con­struc­tion in clas­si­cist style. Most of the re­main­ing build­ings and ar­chi­tec­tural el­e­ments of the palace com­plex date from this pe­ri­od: an out­build­ing, gra­na­ry, or­an­gery, as well as Baroque gate with shrines.
GROUND PLAN OF THE PALACE ACCORDING TO A. KWAŚNIEWSKI, ARGYLE MARKS THE MEDIEVAL TOWER
1. TOWER, 2. EARLY XVI CENTURY RENAISSANCE BUILDING, 3. WEST WING, 4. KITCHEN WING, 5. HALLWAY
---
T
he old­est part of the palace re­tains a hall on the sec­ond floor, with a pil­lar in­scribed with the date 1572 to com­mem­o­rate its Re­nais­sance re­con­struc­tion. In ad­di­tion, bar­rel-vault­ed ceil­ings have sur­vived in some of the low­er cham­bers. There is still an out­build­ing cov­ered with a man­sard roof and a coach house (now res­i­den­tial build­ings), a ru­ined or­an­gery, and in front of the palace a broad Baroque gate with car­touch­es and an ad­ja­cent shrine with a stone Pie­tà.
IN THE HALLWAY OF THE WESTERN WING
I
n 2015, the ru­ined palace was bought by a pri­vate en­trepreneur, who be­gan re­plac­ing its roof in 2022. So per­haps a ma­jor ren­o­va­tion has just be­gun and the build­ing will soon re­gain its for­mer glo­ry.
| | |
| --- | --- |
| | A few years ago, the area was not fenced, and one could en­ter the ground floor and go down to the base­ments. Now this has prob­a­bly changed. Cer­tain­ly, how­ev­er, the palace can be seen at least from the gate side. |
| | |
| --- | --- |
| | No re­stric­tions for flights in open cat­e­go­ry. |
BAROQUE SHRINE AT THE GATE TO THE PALACE GROUNDS
---
T
he palace is lo­cat­ed in the south­ern part of the vil­lage, about 300 me­ters away from the church, to the left of the road lead­ing to­wards Lądek Zdrój. The bus stop (bus­es from Klodz­ko) is just 100 me­ters away from the palace. We can park a car in front of the gate.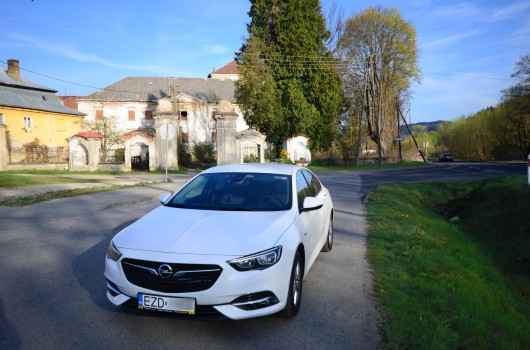 ---
1. M. Chorowska: Rezydencje średniowieczne na Śląsku, Politechnika Wrocławska 2003
2. L. Kajzer, J. Salm, S. Kołodziejski: Leksykon zamków w Polsce, Arkady 2001
3. J. Lamparska: Dolny Śląsk, jakiego nie znacie, Asia Press 2002
4. R. Łuczyński: Zamki, dwory i pałace w Sudetach, Wspólnota Akademicka 2008
5. A. Wagner: Murowane budowle obronne w Polsce X-XVIIw., Bellona 2019

Castles nearby:
Trzebieszowice - the manor house from the 16th century, now palace, 5 km
Żelazno - the residential tower from 15th/16th century , 5 km
Jaszkowa Górna - the manor house from the 16th century, in ruins, 7 km
Radochów - the manor house from the 16th century, 9 km
Gorzanów - the castle from the 16th century, 12 km
Kłodzko - the Kłodzko Fortress, 13 km
Stara Łomnica - the residential tower from 14th-16th centuries, 14 km
Bystrzyca Kłodzka - the residential tower from the 14th century, rebuilt, 14 km
Lądek Zdrój - the ruin of Karpień castle from the 14th century, 15 km

text: 2022
photographs: 2004, 2019
© Jacek Bednarek