OSTRÓW LEDNICKI

relics of the Piast dynasty stronghold
OSTRÓW LEDNICKI, RELICS OF DUKE'S PALACE
HISTORY OF THE STRONGHOLD
T
he old­est traces of hu­man pres­ence on the largest of the five is­lands of post-glacial lake Led­ni­ca date back to the Stone Age and are prob­a­bly re­lat­ed to the ex­is­tence of a set­tle­ment in­hab­it­ed by Ne­olith­ic hunters and shep­herds. In Bronze Age, this land was pop­u­lat­ed by a com­mu­ni­ty linked to the Lusa­tian cul­ture, while from the Ro­man times there are traces of old blast fur­naces and bloomerys used by the lo­cal peo­ple to make iron. The first Slavs ap­peared in Os­trów in the 6th or 7th cen­tu­ry. How­ev­er, the turn of 9th and 10th cen­turies, when a small fort­ress was erect­ed in the south-west­ern part of the is­land, is more in­ter­est­ing to us. Two bap­tismal pools, dis­cov­ered in the palace chapel, al­low us to as­sume that this is where Mieszko (d. 992), his fam­i­ly and the court could take their first sacra­ment in 966. How­ev­er, while the place of the prince's bap­tism still re­mains a mat­ter of con­jec­ture and spec­u­la­tion, the con­clu­sion that dur­ing the times of first Pi­asts the is­land served as one of the most im­por­tant prince­ly res­i­dences no longer evokes such emo­tions and is con­sid­ered to be a his­tor­i­cal fact based on the re­sults of ar­chae­o­log­i­cal re­search. The huge, as for those times, com­plex with a stone chapel, palace and two bridges con­nect­ing the is­land with the main­land, was an ad­min­is­tra­tive head­quar­ters of the so-called Os­trów castel­lany. This stronghold, lo­cat­ed near the routes con­nect­ing Poz­nań with Gnie­zno, Krusz­wi­ca and Płock, may have al­so been the res­i­dence of Miesz­ko's wife, Dou­brav­ka (d. 977). Her son, Duke Bo­le­sław Chro­bry (d. 1025), could al­so be born here. In the year 1000, he prob­a­bly host­ed in Os­trów the Em­per­or Ot­to III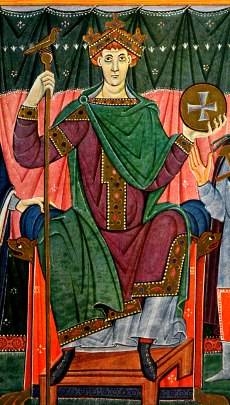 , who made a pil­grim­age to the tomb of St. Adal­bert.
THE MOST IMPORTANT FORTIFIED SETTLEMENTS IN EARLY MEDIEVAL POLAND
FIRST POLISH RULERS FROM OSTRÓW LEDNICKI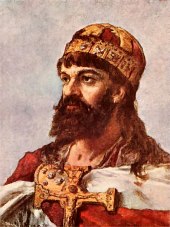 Mieszko I (ca. 920~945-992) - the first ruler of Poland, was the son of Sie­mo­mysł. He is con­sid­ered to be the founder of the Pol­ish state­hood. Us­ing al­liances or by force he sub­ju­gat­ed Ku­jawy and prob­a­bly East­ern Pomera­nia and Ma­zovia, he al­so fought for West­ern Po­me­ra­nia, oc­cu­py­ing it as far as the Odra Riv­er. In the last years of his life he joined the war with Bo­hemia, con­quer­ing Sile­sia and per­haps Ma­ło­pol­s­ka. In 965, he dis­missed sev­en pa­gan wives and then mar­ried the Czech prin­cess Dou­brav­ka. And a year lat­er, by re­ceiv­ing the first sacra­ment, he in­cor­po­rat­ed his coun­try in­to the Chris­tian cul­ture world. In the ear­ly 90s of the 10th cen­tu­ry, to­geth­er with his sec­ond wife Oda Dy­try­ków­na, he is­sued a doc­u­ment called Da­go­me iudex, in which he de­fined bor­ders of the Po­lan's State, de­scribed as civ­i­tas Schi­nes­ghe, and gave it un­der the Pope's care. This doc­u­ment is the ba­sis for a dis­cus­sion about the name the prince may have cho­sen at bap­tism. There is a hy­poth­e­sis ac­cord­ing to which Miesz­ko was sup­posed to call him­self Da­gob­ert. In Da­go­me iudex this name could be de­formed while copy­ing or com­bined with Miesz­ko's name (Da­go­me = Da­gob­ert + Mes­co).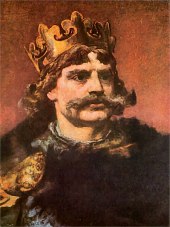 Bolesław I Chro­bry (967-1025) - first king of Poland, in 1003-1004 prince of Bo­hemia, son of Miesz­ko I and the Czech prin­cess Dou­brav­ka. An al­ly of Em­per­or Ot­to III, whom he host­ed in 1000 in Gnie­zno on a cer­e­mo­ni­al syn­od or­ga­nized as part of Ot­to's pil­grim­age to the tomb of St. Adal­bert. This event re­sult­ed in the con­fir­ma­tion by the Em­per­or that the Pol­ish state and its ruler were in­de­pen­dent (Chro­bry was sym­bol­i­cal­ly crowned). Dur­ing this vis­it the Arch­bish­opric of Gnie­zno and its sub­or­di­nate bish­oprics in Kra­ków, Ko­ło­brzeg and Wroc­ław were es­tab­lished. Af­ter Ot­to's death, Chro­bry ar­gued with his suc­ces­sor Hen­ry II the Holy, wag­ing long-last­ing wars with him, which end­ed with the Pol­ish oc­cu­pa­tion of Mil­sko, Lusa­tia and Mo­rav­ia. In 1018 he in­vad­ed Kiev and placed on its throne his son-in-law, Świę­topełk the Cursed. Dur­ing this ex­pe­di­tion, he raped and then ab­duct­ed the Rus­sian prin­cess Pre­di­sla­va Vla­di­mi­rov­na , who had not pre­vi­ous­ly agreed to be­come his wife. Bo­le­sław was crowned in 1025, a few months be­fore his death. His rule was cru­el and ruth­less - he aban­doned his wives, blind­ed his op­po­nents and car­ried out ag­gres­sive in­ter­na­tion­al poli­cies in or­der to achieve his goals. Be­cause of his over­weight and rude man­ners, he was called a hog by his en­e­mies.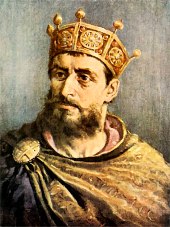 Mieszko II Lam­bert (990-1034) - king of Pol­and in 1025-1031, son of Bo­le­sław Chro­bry and Em­nil­da, Slav­ic prin­cess. Af­ter his fa­ther's death, he took pow­er and prob­a­bly ex­pelled his two broth­ers from the coun­try. He or­ga­nized two de­struc­tive raids on Sax­ony and waged de­fen­sive wars against Ger­many, Bo­hemia and the Rus­sian prin­ces. Miesz­ko fled in 1031 af­ter the in­va­sion of Pol­and by Ja­ro­sław the Wise, who put his broth­er Bez­prym on the Pol­ish throne. He set­tled in Bo­hemia, where he was cap­tured and cas­trat­ed, which was to be a pun­ish­ment for the sins of his fa­ther, who or­dered to blind the Czech prince Bo­le­slav III Ryšavý. Al­though Miesz­ko re­turned to Pol­and in 1032 nut, as Gall Anon­im wrote, he had no more wife. He died in 1034 leav­ing the state weak­ened by nu­mer­ous war con­flicts and a bloody pa­gan re­ac­tion, ter­ri­to­ri­al­ly sig­nif­i­cant­ly re­duced com­pared to the be­gin­ning of his reign. It was writ­ten about him (free trans­la­tion): Miesz­ko, the Duke of Pol­and, died pre­ma­ture­ly, and the Chris­tian faith, start­ed there by his pre­de­ces­sors and strength­ened by him, has mis­for­tu­nate­ly fall­en.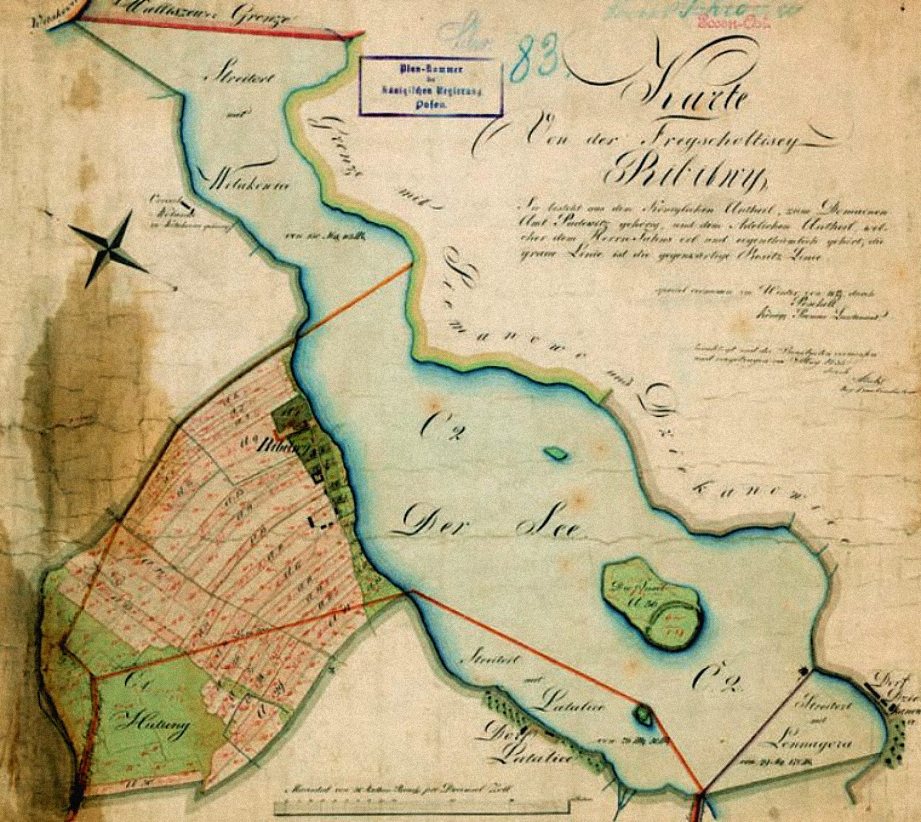 PLAN OF RYBITWA VILLAGE WITH A PART OF LEDNICKIE LAKE AND OSTRÓW ISLAND, 1835
T
he pe­ri­od of Os­trów's pros­per­i­ty as a cen­ter of state pow­er prob­a­bly came dur­ing the reign of Bo­le­sław Chro­bry, and was end­ed due to the in­va­sion of the Czech prince Bře­ti­slav (d. 1055), who in 1038 burned down the strong­hold and bridges lead­ing to it. Ar­chae­o­log­i­cal find­ings dis­cov­ered on the bot­tom of the lake prove that the is­land did not give up with­out a fight, and the bat­tle was al­ready tak­ing place on bridges and per­haps al­so in the wa­ter. Al­though af­ter these trag­ic events the set­tle­ment was re­built and sur­round­ed by a new ram­part, but it was not de­cid­ed to re­pair even one of the cross­ings, so from now on the on­ly way to get to the is­land was by boat or raft. Thus, it did not re­gain its for­mer func­tion and rank and fi­nal­ly col­lapsed af­ter the Teu­ton­ic in­va­sion in 1331. Lat­er, Os­trów Led­nic­ki be­came a kind of an is­land of the dead, serv­ing on­ly as a ceme­tery, while the sta­tus of the main cen­ter of pow­er was tak­en over by Po­bie­dzi­ska, where one of the prince­ly seats was lo­cat­ed. The last known castel­lan of Os­trów was Waw­rzy­niec (1397), who at that time ad­min­is­tered on the neigh­bor­ing is­land of Led­nicz­ka, where a small strong­hold with a wood­en tow­er op­er­at­ed.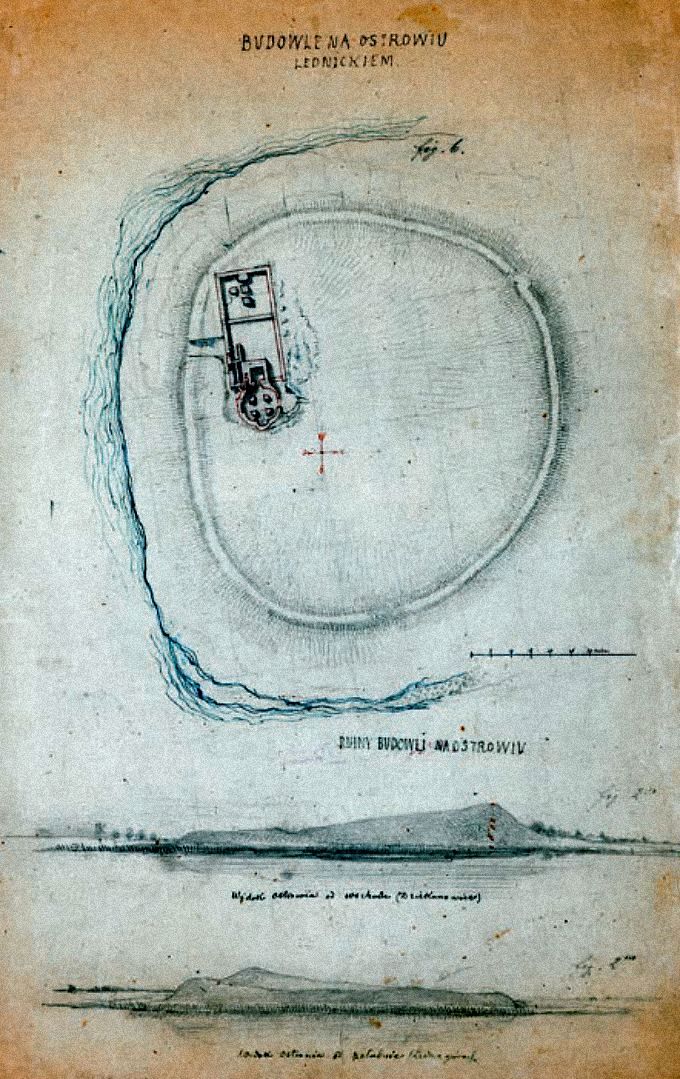 'BUILDINGS AT OSTRÓW LEDNICKI', DRAWING BY WŁADYSŁAW ŁUSZCZKIEWICZ FROM 1874
F
or the next few cen­turies no one was in­ter­est­ed in re­mains of the mys­te­ri­ous cas­tle - and cer­tain­ly not in the his­tor­i­cal sense. In the ear­ly 1840s, the then own­er of the is­land treat­ed the ru­ins of the palace as a source of cheap build­ing ma­te­ri­al, tak­ing away from here four hun­dred carts of stone and a large amount of lime­stone ar­chi­tec­tural de­tails. On­ly in the pe­ri­od of fad­ing Ro­man­ti­cism, when Wiel­ko­pol­s­ka was un­der Prus­sian oc­cu­pa­tion for more than half a cen­tu­ry, the pub­lic start­ed to be more in­ter­est­ed in Led­ni­ca and its his­to­ry. In 1842 the is­land was vis­it­ed by Count Ed­ward Ra­czyń­ski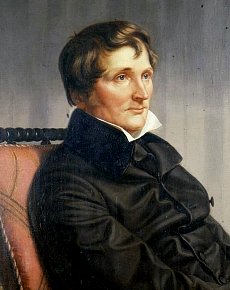 , the aris­to­crat of Wielkopol­s­ka, pa­tron of sci­ence and art, who in his book Wspom­nienia Wiel­ko­pol­s­ki (Mem­o­ries of Wiel­ko­pol­s­ka) placed the first Pol­ish de­scrip­tion of the ru­ins, rec­og­niz­ing it as the cas­tle of Bo­le­sław Chro­bry. Three years lat­er, on the ini­tia­tive of Gnie­zno lan­drat, pi­o­neer­ing ar­chae­o­log­i­cal re­search of the ru­ins be­gan, the al­ready fa­tal con­di­tion of which was best il­lus­trat­ed by Fran­ciszek Sta­szic's com­men­tary (1851): ...ev­ery­thing here is in the great­est dis­or­der, be­cause dead­ly hand, greedy for oth­er peo­ple's trea­sures, has left traces of van­dal­ism here... In 1856, the area was pur­chased from the Prus­sian au­thor­i­ties by Count Al­bin Wę­sier­ski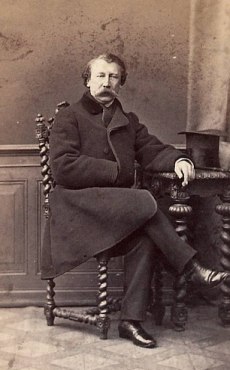 of Za­krze­wo. Short­ly af­ter­wards, he be­gan to car­ry out in­ten­sive re­search here, the re­sults of which he lat­er pub­lished at many in­ter­na­tion­al ar­chae­o­log­i­cal con­fer­ences, in­clud­ing those in Bo­lo­gna, Brus­sels and Stock­holm. In 1873, John Bak­er Green, an En­glish jour­nal­ist, vis­it­ed the is­land at in­vi­ta­tion of the Count, and then de­scribed it in the Lon­don news­pa­per The Morn­ing Post. To com­mem­o­rate this vis­it, the host gave 11 brak­teates found in Głę­bok­ie vil­lage as a gift to the Bri­tish Mu­se­um. Wę­sier­ski al­so in­tend­ed to erect stat­ues of Pol­ish pa­tri­ots Jo­achim Le­le­wel and Alek­san­der Count Przeź­dziec­ki on this site, but these plans were can­celled by his death in 1875.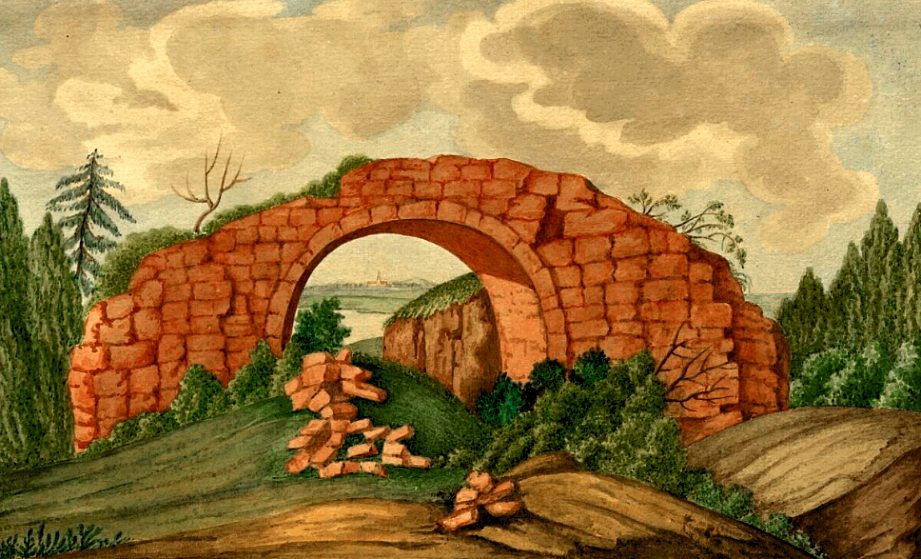 'ZWALISKA POD LENNĄ GÓRĄ O PÓŁTOREJ MILI OD GNIEZNA ODLEGŁEJ', EDWARD WALENTY KRAINKO 1842
THE FIGURE SHOWS AN ARCH, DESTROYED BY A GERMAN CLERK NAMED GADDOW
O
s­trów Led­nic­ki be­came the prop­er­ty of his son Zbig­niew Zyg­munt Węsier­s­ki-Kwilec­ki (d. 1926), and lat­er Jó­zef

(d. 1928) and Do­bie­sław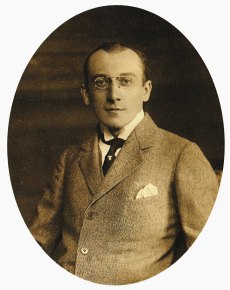 (d. 1941) Kwilec­ki, who were not in­ter­est­ed in con­tin­u­ing their fa­ther's and grand­fa­ther's arche­o­log­i­cal pas­sion. The for­mer duke's seat be­came an ob­ject of at­ten­tion again af­ter Pol­and re­gained its in­de­pen­dence, and the main pro­mot­er and ad­vo­cate of pre­serv­ing the mem­o­ry of this place be­came Fa­ther Dr. Fran­ci­szek Waw­rzy­niak
(d. 1941), parish priest of Dzie­ka­no­wice. In 1930 the ru­ins on the is­land were en­tered in­to the reg­is­ter of mon­u­ments, and two years lat­er ex­ten­sive ar­chae­o­log­i­cal and an­thro­po­log­i­cal re­search was start­ed, which re­sult­ed in dis­cov­ery an over 1500 hu­man skele­tons and skulls that were the re­mains of a me­dieval ceme­tery. Al­so in the 1930s, a wood­en tourist hostel was opened on the grounds of the cas­tle. Its open­ing, com­bined with the cel­e­bra­tions of the 970th an­niver­sary of the bap­tism of Pol­and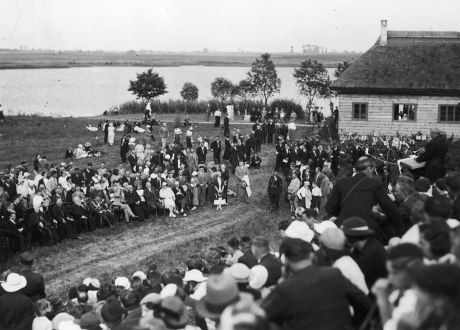 , was at­tend­ed by the Pres­i­dent of Re­pub­lic of Pol­and Igna­cy Mo­ści­cki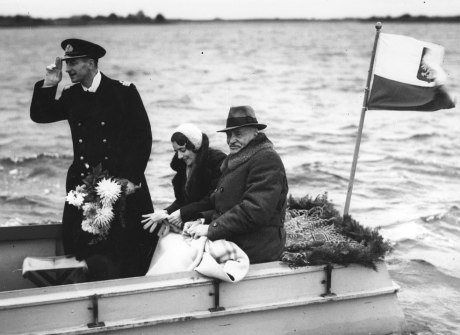 and the Pri­mate Au­gust Hlond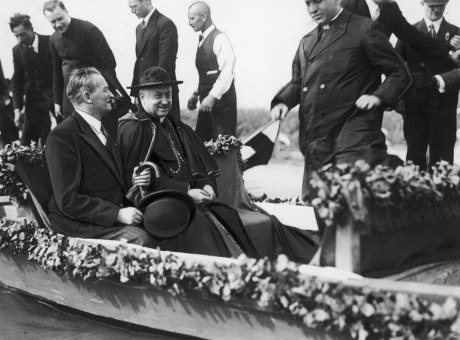 . Dur­ing World War II, there was a Hit­ler­ju­gend camp on the is­land. Af­ter its com­ple­tion, ar­chae­o­log­i­cal work was re­sumed, which led to dis­cov­ery a re­mains of me­dieval bridges and un­cov­er­ing the foun­da­tions of the cas­tle church. In 1969 the area of Os­trów Led­nic­ki was given to the Mu­se­um of the First Piasts at Led­ni­ca. In 1978 a char­ac­ter­is­tic roof­ing of the ru­ins was made.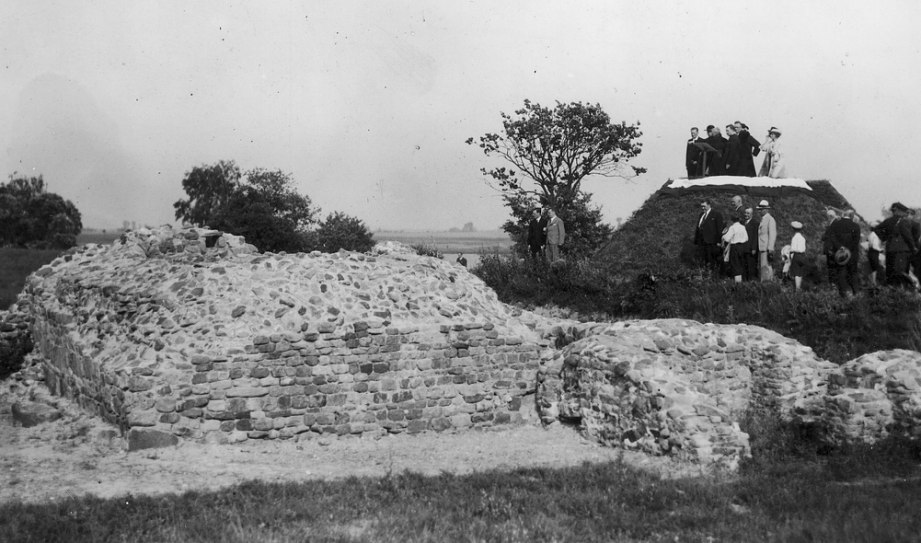 PARTICIPANTS OF THE 970TH ANNIVERSARY OF THE POLISH STATE VISIT THE RUINS , 1936
THE PICTURE COMES FROM NAC RESOURCES
OSTRÓW LEDNICKI ON A PHOTO FROM THE 1930S
DESCRIPTION OF THE STRONGHOLD
T
he duke's seat oc­cu­pied two gen­tle hills in the south­ern part of the is­land and was sur­round­ed by a wood­en-earth ram­part about half a kilo­me­ter long and al­leged­ly sev­er­al me­ters high. Its for­ti­fi­ca­tions were made of wood­en struc­tures filled with soil and re­in­forced with stone. The stronghold was built on the site of an­oth­er, small­er one, which orig­i­nal­ly mea­sured about 40, and af­ter the en­large­ment - over 150 me­ters in di­am­e­ter. With­in the walls there was a rep­re­sen­ta­tive palace with a chapel and church, com­ple­ment­ed by small­er build­ings with a wood­en struc­ture of res­i­den­tial and util­i­ty char­ac­ter. In the north­ern part of the is­land, out­side the line of ram­parts, a low­er town was lo­cat­ed. It con­sist­ed of dozens of hous­es, 10 to 40 square me­ters in size, in­hab­it­ed by crafts­men and farm­ers, and prob­a­bly al­so by the prince's war­riors. These small cot­tages were built of wood sup­ple­ment­ed with clay and stones, many of which were par­tial­ly buried in­to the ground. The char­ac­ter­is­tic fea­ture of these build­ings were cor­ri­dors lead­ing di­rect­ly to the en­trance.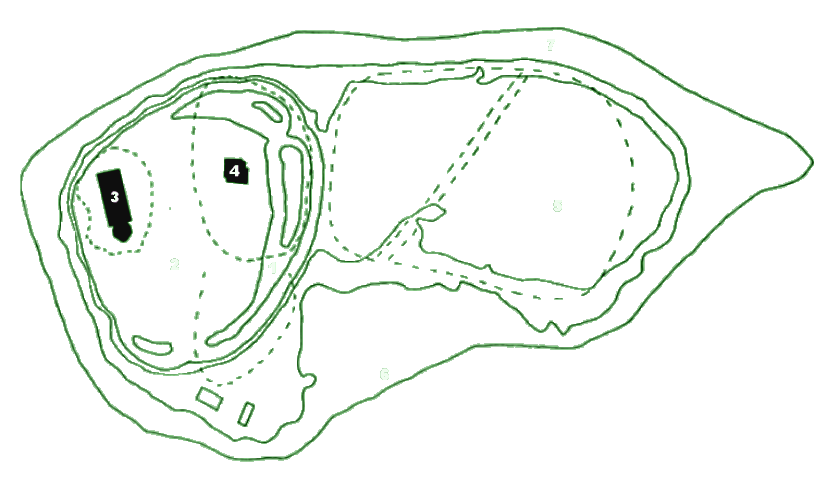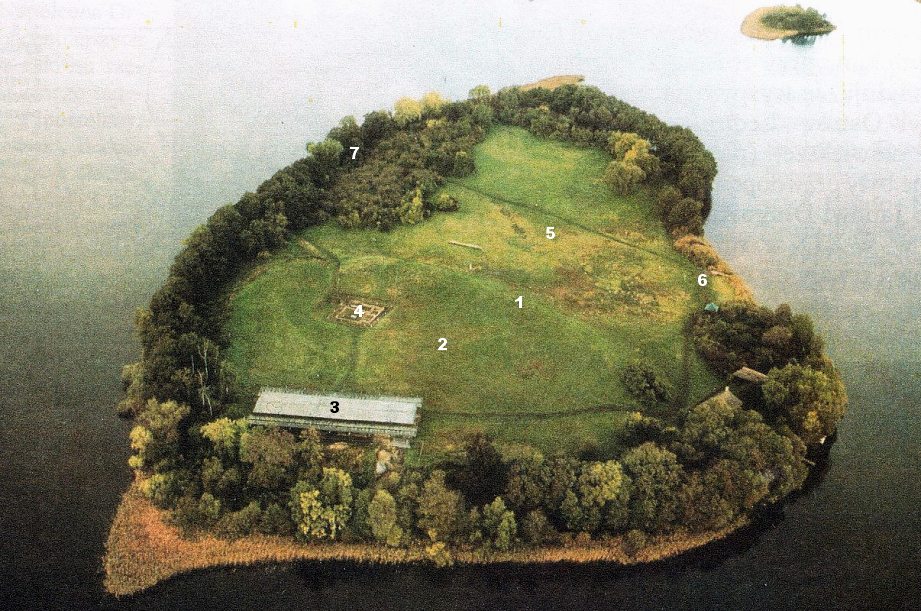 OSTRÓW LEDNICKI PLAN: 1. RAMPARTS, 2. STRONGHOLD, 3. PALATIUM, 4. CASTLE CHURCH,
5. LOWER TOWN, 6. EASTERN BRIDGEHEAD, 7. WESTERN BRIDGEHEAD
A PHOTO PUBLISHED IN 'SPOTKANIA Z ZABYTKAMI' MAGAZINE, 1996
T
he most im­por­tant and best pre­served build­ing in Os­trów Led­nic­ki was the pal­ace and sacral build­ing com­plex. This east-west-ori­ent­ed build­ing orig­i­nal­ly served as a prince's pal­ace and court chapel as well as a bap­tis­tery, as ev­i­denced by the two bap­tismal pools dis­cov­ered here. Lat­er, it was re­built and served as the seat of the castel­lan, while the chapel could be used dur­ing fu­ner­als when a ceme­tery was es­tab­lished on the is­land. The west­ern part of the com­plex was oc­cu­pied by the pal­ace (pal­a­tium), erect­ed on a rect­an­gu­lar plan with sides of about 32x14 me­ters, made of stone joined with gyp­sum mor­tar. It had five rooms, the largest of which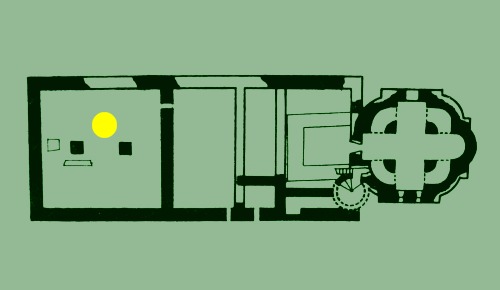 were di­vid­ed by ar­cades in­to two naves and cov­ered with a wood­en ceil­ing. The size of this cham­ber and the qual­i­ty of its ar­chi­tec­tural de­tails makes it pos­si­ble to as­sume that it served as a rep­re­sen­ta­tive prince's hall. The func­tion of the oth­er rooms is un­known. Prob­a­bly the nar­row­est of them
, oc­cu­py­ing the cen­tral part of the build­ing, was used as a stair­case.
RECONSTRUCTION OF THE PALATIUM AND THE CHAPEL ACCORDING TO T. WĘCŁAWOWICZ AND M. ROSÓŁ
HYPOTHETICAL CROSS-SECTION OF THE PRINCE'S HALL (ORIGINATION: MUZEUM OF THE FIRST PIASTS AT LEDNICA)
AND THE PRESENT STATE OF THE PALACE RUINS
I
n the east­ern part of the com­plex there was a two-storey chapel, built on the plan of the Greek cross, with four pil­lars of a quar­ter cir­cle sec­tion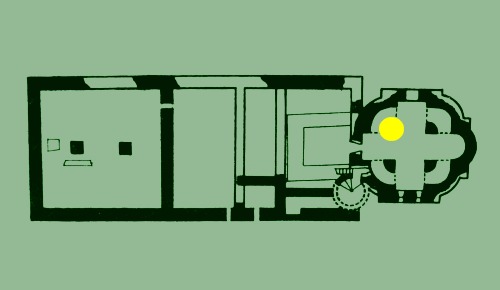 . These pil­lars sup­port­ed the cen­tral tow­er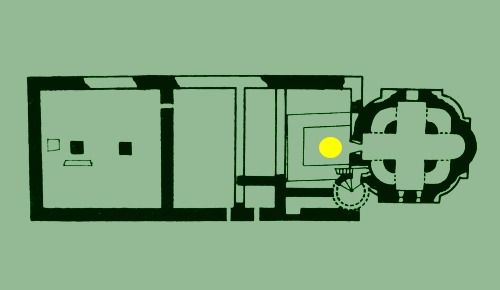 , which was prob­a­bly erect­ed lat­er, per­haps on­ly in the sec­ond half of the XI or XII cen­tu­ry. In the arms of cross, re­mains of two bap­tismal pools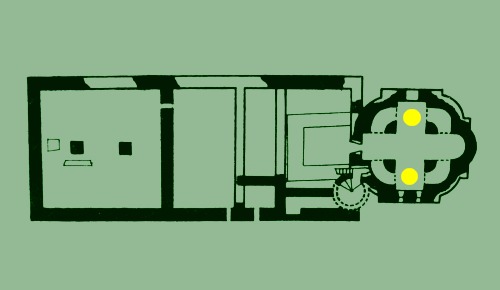 15-30 cm deep were dis­cov­ered, which prompt­ed his­to­ri­ans to the the­sis that this is where Miesz­ko, Duke of the Pi­ast Dy­nasty, was bap­tized. The swim­ming pools were con­nect­ed with cham­bers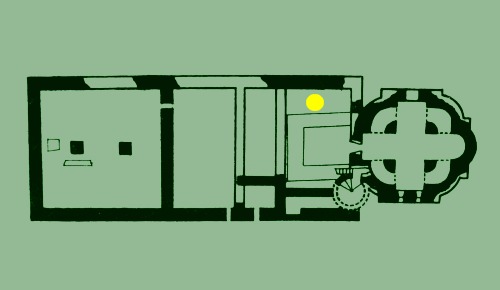 : a chang­ing room and a place where rit­u­als prepar­ing for the litur­gy took place, i.e., Sa­tan's re­nun­ci­a­tion and con­fes­sion of faith. They could have been lo­cat­ed in a rect­an­gu­lar an­nex added to the chapel from the west, and sep­a­rat­ed from the palace by pre­vi­ous­ly men­tioned stair­case.
T
he palace and the chapel were re­built at least twice more. In the sec­ond half of the XI cen­tu­ry or in the XII cen­tu­ry, the par­ti­tion walls of cen­tral rooms of the palace were re­moved, and in its east­ern part three-storey tow­er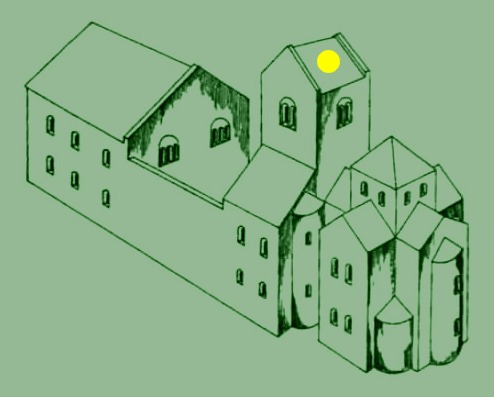 was erect­ed, to which straight stairs led. The bap­tis­tery was al­so liq­ui­dat­ed, and the in­te­ri­or of the chapel was adapt­ed to oth­er needs (fu­ner­als). The fur­ther his­to­ry of the prince's pal­ace is un­known. It is on­ly cer­tain that in the times of Jan Dłu­gosz (XV cen­tu­ry) it was a ru­in.
THE CHAPEL'S CROSS-SECTION (STATUS FROM THE X CENTURY), THE LETTERS A AND B MARK THE BAPTISMAL POOLS
ENTRANCE TO THE CRYPT, WHERE SEVERAL DOZEN HUMAN SKELETONS WERE FOUND DURING EXCAVATIONS
I
n the north­ern part of the set­tle­ment, near the gate there was a small stone church. It was a sin­gle-aisle build­ing, 13.5 me­ters long, with a rect­an­gu­lar pres­bytery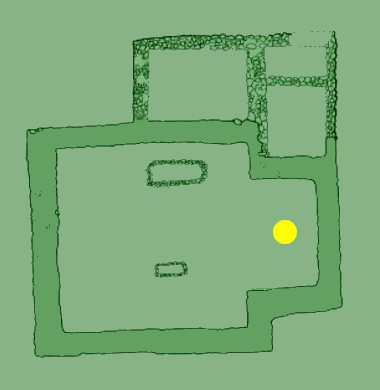 and two mod­est an­nex­es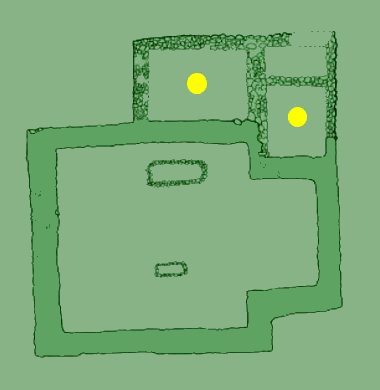 prob­a­bly hav­ing litur­gi­cal and fu­ner­al func­tions. Six graves dat­ing back to 1038 were dis­cov­ered in its base­ment, in­clud­ing two placed in brick cham­bers in the nave
- a space re­served for the de­ceased of high so­cial sta­tus. This leads to the con­clu­sion that peo­ple who had a close con­nec­tion with rul­ing dy­nasty, per­haps the sons of Miesz­ko or Bo­le­sław Chro­bry, were buried in these cham­bers. In the im­me­di­ate vicin­i­ty of the church, a large num­ber of valu­able litur­gi­cal ob­jects have been dis­cov­ered, in­clud­ing a Byzan­tine stau­rote­ka (a reli­quary for relics of the Holy Cross), a gold-plat­ed litur­gi­cal book fit­ting and an ivory comb. The re­mains of glass can­de­labra were al­so found, as well as frag­ments of col­ored glass (from stained glass win­dows?). Some his­to­ri­ans con­sid­er this build­ing to be a for­mer monastery, the seat of a Rus­sian cler­gy­man's dig­ni­tary and even Bish­op Jor­dan's Cathe­dral, as sug­gest­ed by his­tor­i­cal record of Dłu­gosz from the 15th cen­tu­ry. How­ev­er, there is no doubt that the pre­cio­sis found here proves that in the sec­ond half of the 10th cen­tu­ry the church served as a trea­sury for reli­quar­ies and valu­able re­li­gious ob­jects.
RECONSTRUCTION OF THE CHURCH ACCORDING TO T. WIĘCKIEWICZ
FOUNDATIONS OF THE CASTLE CHURCH: 1. MAIN NAVE, 2. PRESBYTERY, 3. NORTHERN ANNEXES, 4. BRICK GRAVES OF DIGNITARIES
I
n the east­ern and west­ern part of the is­land two bridges were erect­ed, which served as a com­mu­ni­ca­tion link be­tween Os­trów Led­nic­ki and the main­land. The longer of them was the West­ern bridge (called Poz­nań bridge), mea­sur­ing 440 me­ters long. It was the largest known wa­ter en­gi­neer­ing con­struc­tion of the ear­ly Pi­ast era. Its sup­port­ing struc­ture con­sist­ed of two rows of piles driv­en in­to bot­tom of the lake, which held a car­riage­way about 480 cm wide, i.e. wide enough to al­low free con­tin­u­ous move­ment in both di­rec­tions. Oak trees were used for build­ing bridges, felled - ac­cord­ing to den­drochrono­log­i­cal anal­y­ses - in the years 963 and 964. The sec­ond bridge, called East­ern or Gnie­zno bridge, mea­sured about 170 me­ters. At the site of both bridges, rich col­lec­tion of mil­i­taria and tools for soil cul­ti­va­tion was dis­cov­ered in the 1960s. It is high­ly prob­a­ble that these un­der­wa­ter ar­ti­facts come from the bat­tle that was fought here in 1038 be­tween de­fend­ers of the is­land and the troops of Bo­hemi­an Duke Brze­ti­slav.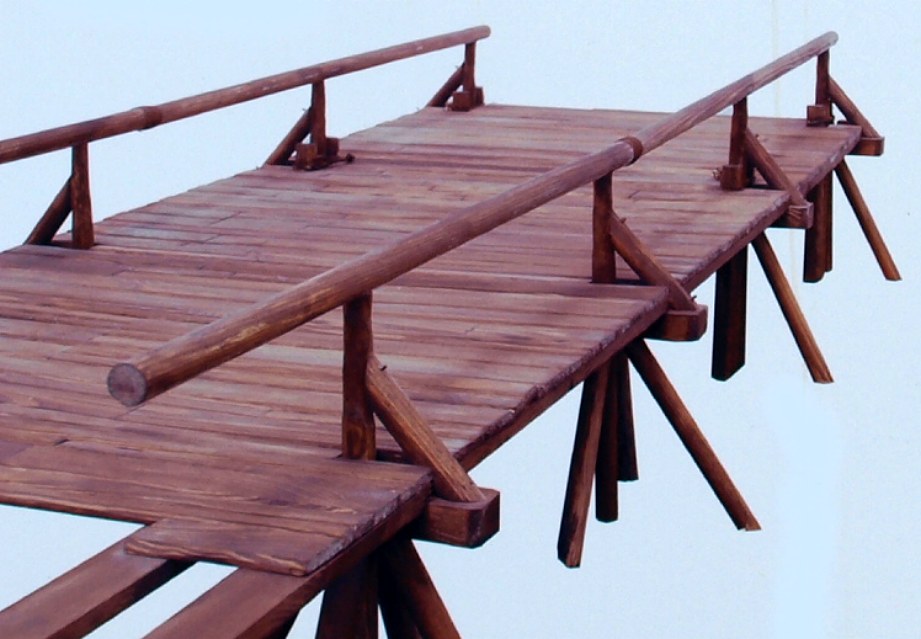 RECONSTRUCTION OF THE LEDNICA BRIDGE, ORIGIN: MUSEUM OF THE FIRST PIASTS AT LEDNICA
REMNANTS OF PILES OF THE POZNAŃ BRIDGE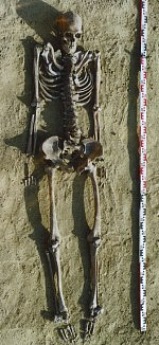 In sec­ond half of XI cen­tu­ry there was a ceme­tery es­tab­lished on the is­land, where un­til XIV cen­tu­ry lo­cal peo­ple were buried. To this day, about 2,300 in­ter­ments have been dis­cov­ered in this area, most of­ten ar­ranged ac­cord­ing to the Chris­tian rite, i.e. with the head di­rect­ed west­wards. Among oth­ers, the skele­ton of a gi­ant wom­an (called Gi­ant from Led­ni­ca) 215 cm tall, who died at age of 25-30 years, was found here. De­spite her young age, CT scan­ning showed a large num­ber of de­gen­er­a­tions, in­clud­ing bone scle­ro­sis, sco­l­io­sis, lig­a­ment os­si­fi­ca­tion, and nu­mer­ous traces of bone frac­tures. It is worth not­ing that the av­er­age height of a wom­an at that time was about 155 cm. In 1869, this is how Count Alek­sander Przeździec­ki wrote about this place: Ev­ery mole­hill among the lush grass throws out frag­ments of urns and re­mains of hu­man and an­i­mal bones; and when we dig deep­er, we find bones ev­ery­where in black soil, frac­tions of ash­es, and some­times var­i­ous equip­ment and tools. Al­so on the walls of the south­ern part of the ru­in, in the mid­dle of the 19th cen­tu­ry, hu­man skele­tons hang­ing from win­dow frames were found.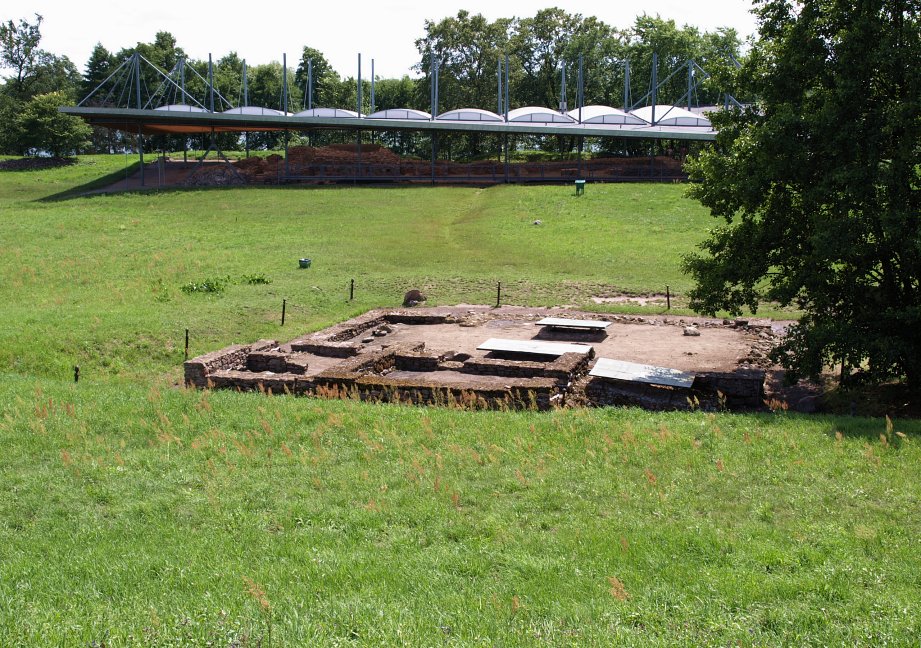 OSTRÓW LEDNICKI - IN THE FOREGROUND WE CAN SEE RELICS OF THE CHURCH, IN THE BACKGROUND - RUINS OF THE PALATIUM
---
T
he for­mer Pi­ast stronghold at Os­trów Led­nic­ki, nowa­days hav­ing the sta­tus of a Mon­u­ment of His­to­ry, is one of the most im­por­tant lo­ca­tions as­so­ci­at­ed with the be­gin­ning of Poland. It is un­der the care of Mu­se­um of the First Pi­asts at Led­ni­ca and to­geth­er with Small Open-Air Mu­se­um and Ethno­graph­ic Park, be­longs to the so-called Led­ni­ca Land­scape Park. The relics of duke's palace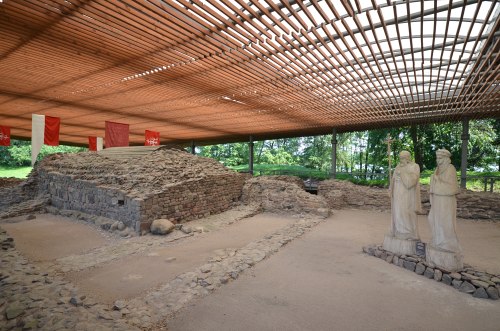 , the foun­da­tions of an ear­ly me­dieval church and frag­ments of de­fen­sive ram­parts have been pre­served on the is­land. More­over, the plat­form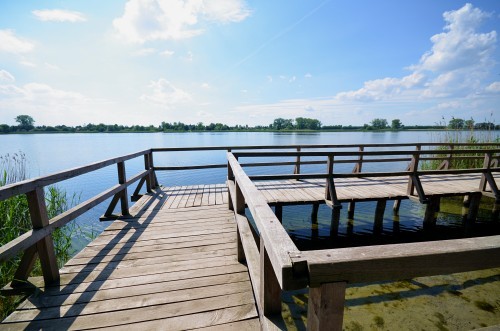 set up at the west­ern bridge­head al­lows us to see two rows of piles driv­en in­to the bot­tom of the lake, which 1000 years ago sup­port­ed the road cross­ing to­wards Poz­nań. In the north­ern part of Os­trów there is a small peas­ant home­stead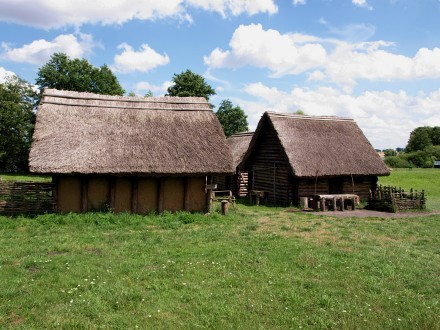 , which in its lay­out refers to the re­mains of the orig­i­nal build­ings dis­cov­ered here. In one of the cot­tages its fur­nish­ings were par­tial­ly re­con­struct­ed and a mod­el of the stronghold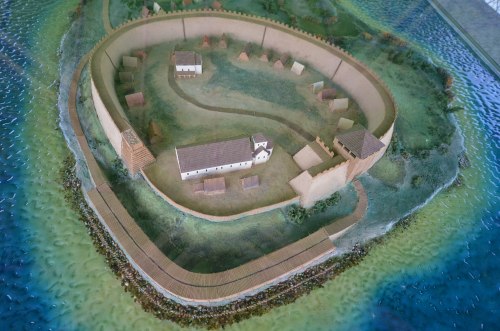 was placed near­by. On the is­land we can al­so find sev­er­al un­typ­i­cal stat­ues of war­riors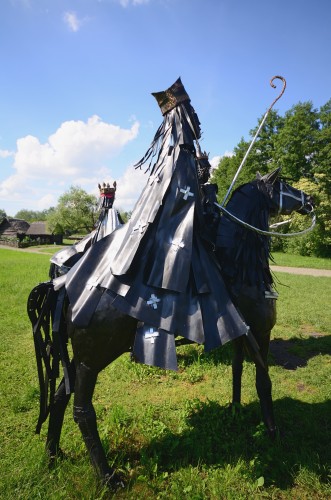 and his­tor­i­cal fig­ures, made by a lo­cal sculp­tor. We vis­it Os­trów Led­nic­ki and its at­trac­tions in­di­vid­u­al­ly. Fer­ry op­er­ates on­ly in the tourist sea­son, with a fre­quen­cy of about 0.5 hour.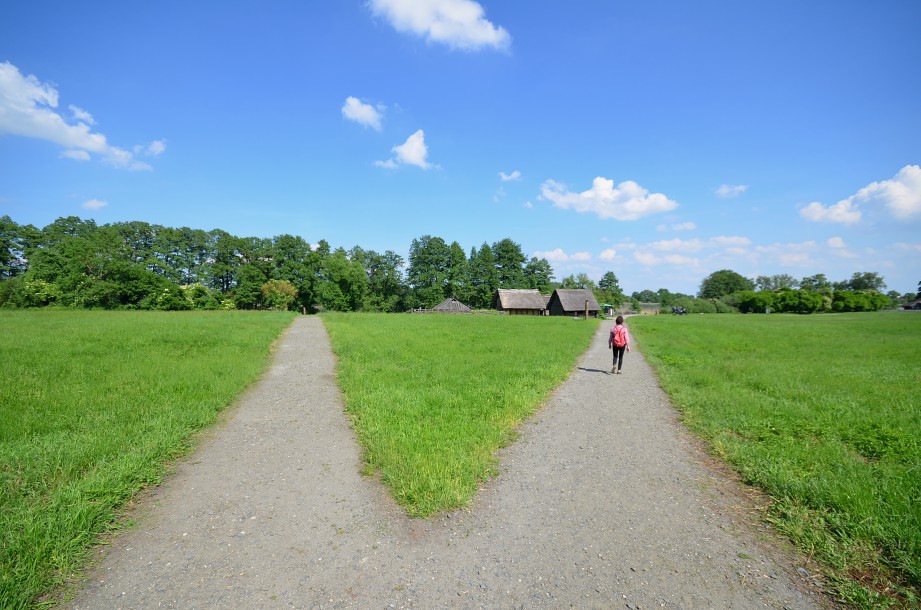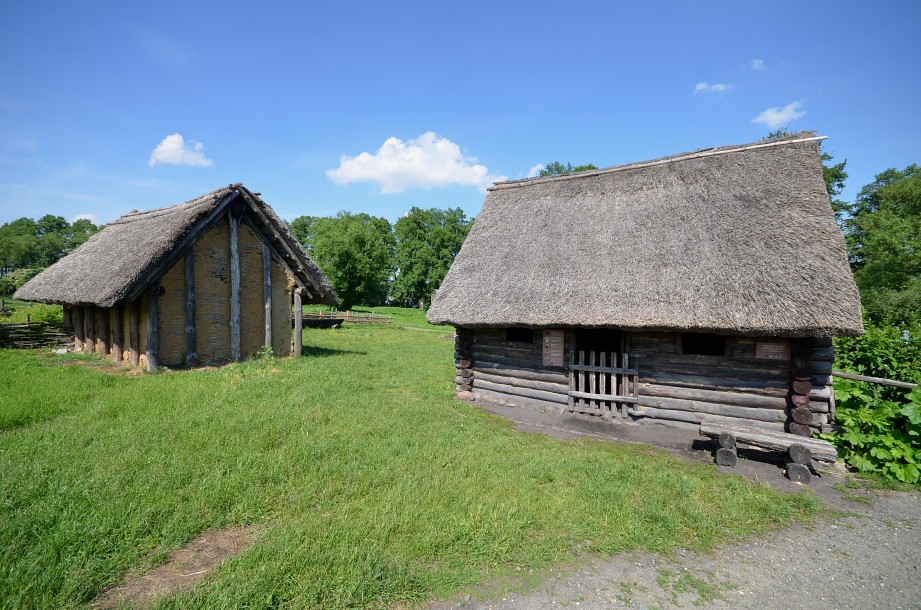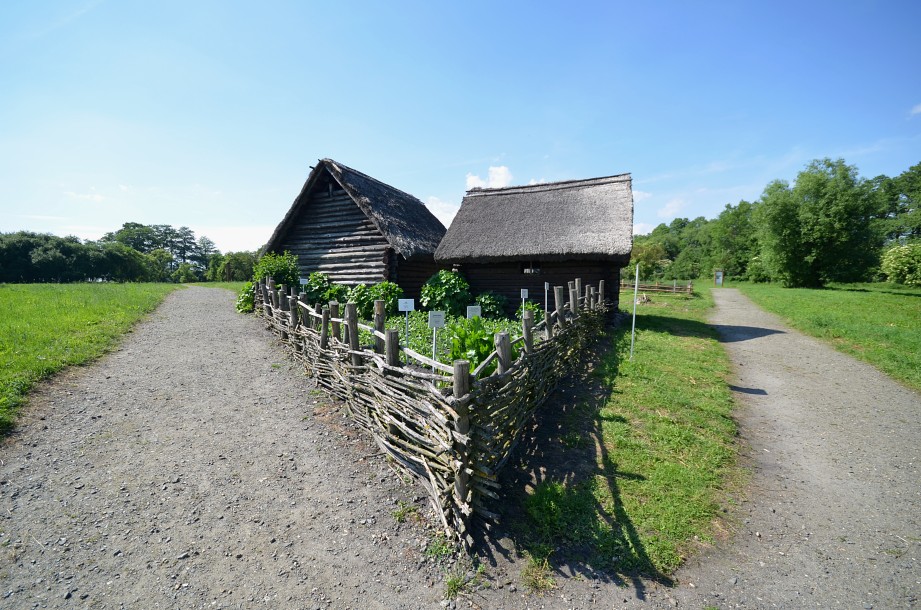 I
n the main­land, near the for­mer East­ern Bridge, there is the so-called Lit­tle Open-Air Mu­se­um, to which leads a mon­u­men­tal gate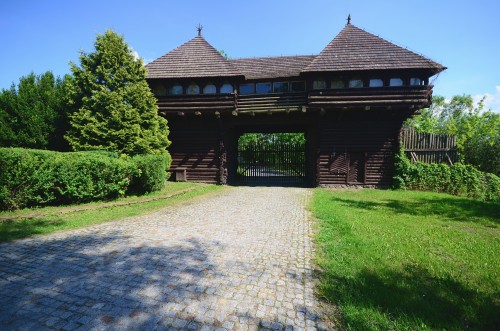 in­spired by typ­i­cal ar­chi­tec­ture of the ear­ly Pi­ast Dy­nasty. Sev­er­al his­toric build­ings stand here, among them the old­est wind­mill in Pol­and - a 16th-cen­tu­ry wind mill moved from Gry­ży­na vil­lage, a re­con­struc­tion of an 18th-cen­tu­ry home­stead, as well as a gra­nary dat­ing back to the 18th cen­tu­ry, where ar­chae­o­log­i­cal dis­cov­er­ies and tem­po­rary ex­hi­bi­tions are pre­sent­ed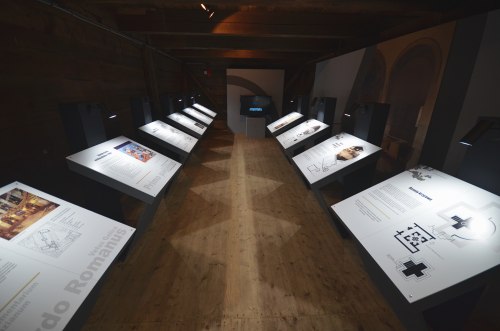 . In the near­by Dzie­ka­no­­wi­ce, in for­mer farm build­ing, a very in­ter­est­ing ex­hi­bi­tion was opened un­til re­cent­ly, in­clud­ing find­ings and re­sults of the lat­est re­search at Led­ni­ca. One could see here hun­dreds of ar­ti­facts con­cern­ing the ear­ly Chris­tian cult, jew­el­ry and ev­ery­day ob­jects, a rich col­lec­tion of mil­i­taria rep­re­sent­ed by unique hel­mets, swords and spears, and an orig­i­nal dugout ca­noe, as old as our state, be­cause it was prob­a­bly made in 966. When I write these words (win­ter 2021), the build­ing of a new mu­se­um pavil­ion is un­der­way, so it is hoped that the ex­hi­bi­tion will soon be open to the pub­lic again.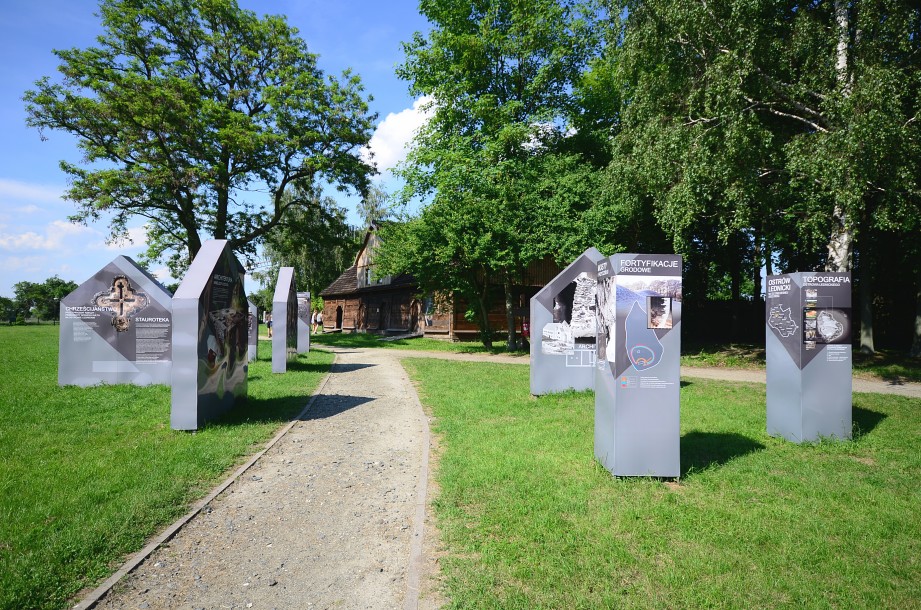 OPEN-AIR EXHIBITION ON THE MAINLAND
| | |
| --- | --- |
| | Admission fee. One admission ticket to the open-air museum, the island and the ferry. |
| | |
| --- | --- |
| | Photos taken for personal use - free of charge. |
| | |
| --- | --- |
| | Probably no way to enter with a dog. |
OPEN-AIR EXHIBITION ON THE MAINLAND
Ar­chae­o­log­i­cal re­search car­ried out on the grounds of set­tle­ment re­vealed a num­ber of valu­able litur­gi­cal ob­jects, which can be seen to­day as part of the ex­hi­bi­tion Os­trów Led­nic­ki - re­turn to the past. The most valu­able items in this col­lec­tion are: a frag­ment of a reli­quary box lin­ing, a gild­ed fit­ting of the litur­gi­cal book, a bronze cross, an ivory comb, a thuri­ble, as well as a unique ob­ject - stau­rote­ka, a by­zan­tine reli­quary made of gild­ed cop­per sheet and dec­o­rat­ed with black am­ber. It was used to pre­serve the relics of the Holy Cross, which could be seen through a small cross-shaped open­ing. Ac­cord­ing to one of the hy­pothe­ses, staur­ote­ka was giv­en to Bo­le­sław Chro­bry by Em­per­or Ot­to III him­self dur­ing his vis­it in Gnie­zno in the year 1000.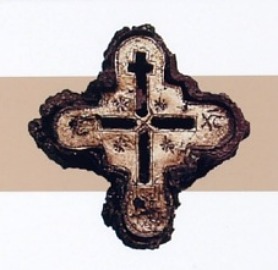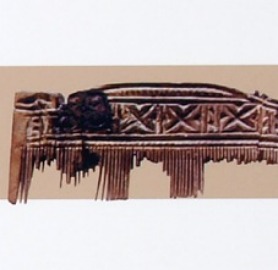 IN THE WESTERN PART OF THE ISLAND WE COME ACROSS SUGGESTIVE SCULPTURES OF WARRIORS
---
T
o reach the Mu­se­um of First Pi­asts at Led­ni­ca you have to take the road no. 194 (Poz­nań-Gnie­zno), and next (13 km be­fore Gniezno) turn north in­to the lo­cal road to Dzie­ka­no­­wi­ce. Con­tin­ue driv­ing straight ahead - this route is well sign­post­ed and you have to re­al­ly try to avoid reach­ing your des­ti­na­tion. The bus­es on­ly get to the cross­roads of the road no. 194 and the lo­cal road (Dzie­ka­no­wi­ce Skrzy­żo­wa­nie stop, 2.5 km from the des­ti­na­tion). The near­est rail­way sta­tion is lo­cat­ed in Led­no­gó­ra, 6 kilo­me­ters away. There is a paid park­ing lot near the mu­se­um.

---
1. D. Banaszak, A. Tabaka: Ostrów Lednicki - informator, MPPNL 2008
2. D. Kamiński: O wskrzesaniu historycznej pamięci, Kultura Wsi 10/2016
3. M. Kara, J. Wrzesiński: Kościół nr II na Ostrowie Lednickim – kamienny czy drewniany?, Gniezno 2004
4. Z. Kurnatowska, A. M. Wyrwa: Ostrów Lednicki. Rezydencjonalno – stołeczny ośrodek..., 2016
5. A. M. Wyrwa: Ad futuram rei memoriam on the fi ftieth anniversary..., Studia Lednickie t. XVIII
6. K. Żurowska: Topografia Ostrowa Lednickiego, Biblioteka Studiów Lednickich 1993
7. Morfologiczne i radiologiczne badania szkieletu olbrzymki..., Studia Lednickie VI 2000
8. Ostrów Lednicki - u progu chrześcijaństwa, Gutenberg 1993
9. Museum information boards and charts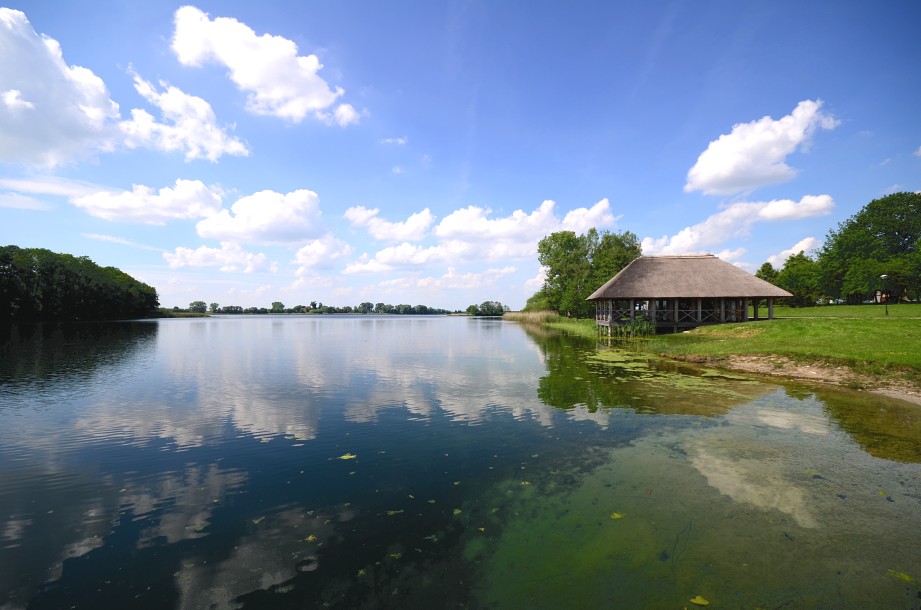 Castles nearby:
Poznań - royal castle from the 13th century, reconstructed, 37 km
Kórnik - knight' s castle from the 14th century, 48 km
Chojnica - 'fake castle' from the 20th century, 52 km
Jezioro Góreckie - ruin of neo-Gothic 'castle' from the 19th century, 57 km
Pyzdry - relics of royal castle from the 14th century, 57 km

---
Wielkopolski Ethnographic Park in Dziekanow­ice, closed on the area of 20 ha in a spa­tial ar­range­ment with char­ac­ter­is­tic fea­tures of a vil­lage, in which home­steads are sit­u­at­ed close to the cen­tral square. It con­sists of sev­er­al dozen res­i­den­tial, farm and sacral build­ings, moved here from dif­fer­ent parts of Wiel­ko­pol­s­ka, the old­est of which is dat­ed to the be­gin­ning of the 17th cen­tu­ry. The mano­ri­al ar­chi­tec­ture is rep­re­sent­ed by a copy of the Ba­roque ma­nor house from Stu­dzie­niec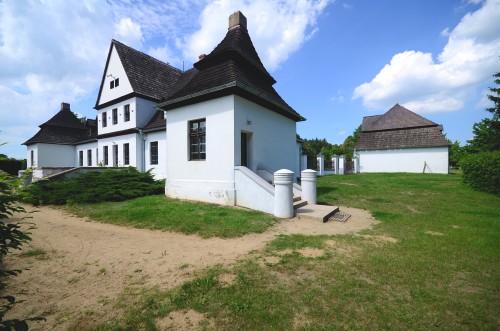 and copies of the out­build­ings from Łom­ni­ca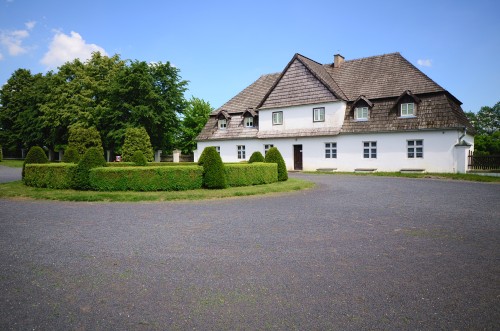 . The open-air mu­se­um vil­lage is made up of ful­ly equipped home­steads, which il­lus­trate the old con­di­tions and way of life of fam­i­lies not on­ly liv­ing on the farm, but al­so crafts­men: shoe­mak­er, wheel­wright, pot­ter. This scenery is com­ple­ment­ed by a wood­en Ba­roque church from 1719, three wind­mills stand­ing on the hill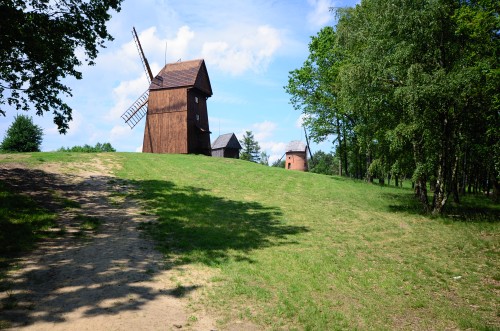 and the sur­round­ing fields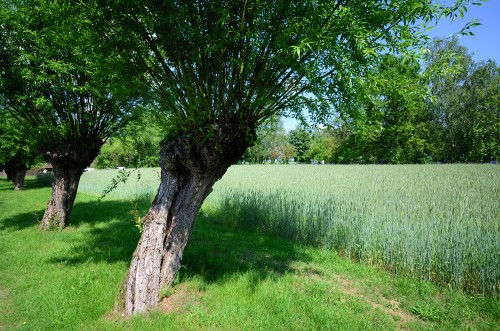 , veg­etable gar­dens and or­chards. The park staff dressed in folk cos­tumes, col­or­ful pots hang­ing on fences and farm an­i­mals add au­then­tic­i­ty to this place.
text: 2009, 2021
photographs: 2008, 2019
© Jacek Bednarek