GRZMIĄCA

Rogowiec castle ruins
ROGOWIE CASTLE, REMAINS OF THE TOWER
---
I
t is wide­ly be­lieved that the Ro­go­wiec cas­tle was erect­ed by the Świd­ni­ca-Ja­wor prince Bol­ko I
(d. 1301) to con­sol­i­date the sup­reme pow­er in the area and to pro­tect the south­ern bor­der of his prin­ci­pal­i­ty. It should al­so be men­tioned that in the vicin­i­ty of the cas­tle, along the val­ley of the Ryb­na Riv­er, a trade route from Świd­ni­ca to city of Na­chod led in the Mid­dle Ages. Its moun­tain­ous sec­tion passed through the Wał­brzy­skie and Owl Moun­tains, and fur­ther through the Dry Moun­tains via the Three Val­leys Pass to Mie­ro­szów, so we can as­sume with a high de­gree of prob­a­bil­i­ty that the cas­tles stand­ing in its vicin­i­ty (Grod­no, Ra­dos­no, Ro­go­wiec) al­so served to se­cure or even con­trol traf­fic on this route. One of doc­u­ments of the Cis­ter­cian monastery in Krze­szów pre­serves a record dat­ed Sep­tem­ber 8, 1292, which lists Rein­sko Schwenck­en­feldt as Horn­berch Cas­tel­la­nus. This is the old­est known his­tor­i­cal ref­er­ence to Ro­go­wiec cas­tle.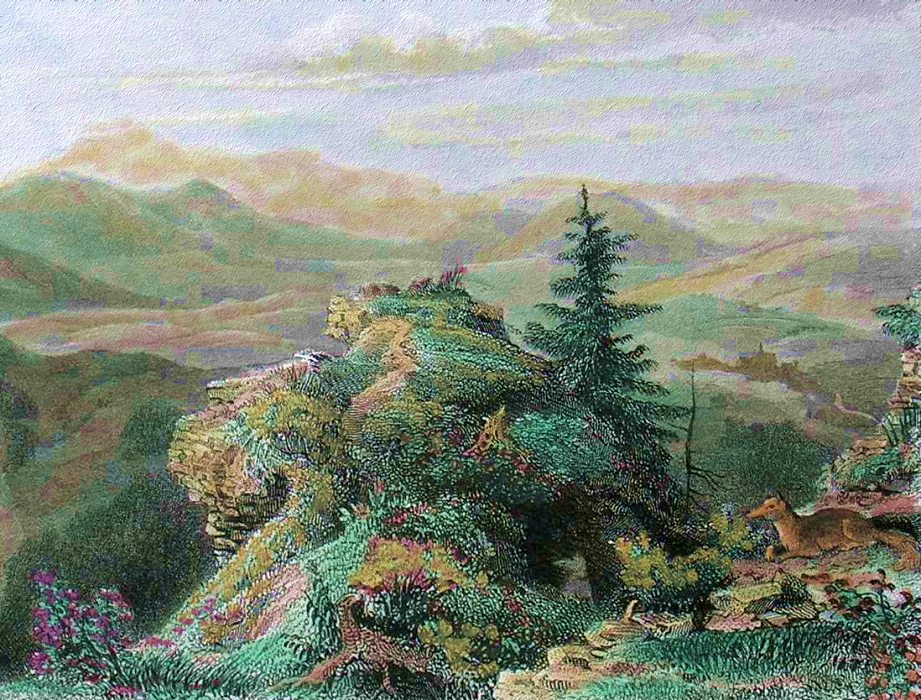 RUINS OF ROGOWIEC, L. RICHTER'S INTAGLIO FROM THE 1840S
I
n 1353 Prince Bolko II of Świd­ni­ca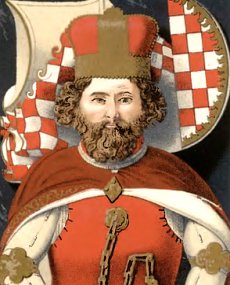 (d. 1368) be­queathed the cas­tle to his niece An­na of Świd­ni­ca (d. 1362), wife of Czech King Charles IV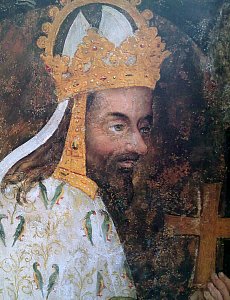 (d. 1378). On her be­half, the cas­tle was man­aged by ducal courtiers, among oth­ers, in 1361-1374 the bur­grave of Ro­gowiec was the ducal stew­ard Nico­laus de Bol­cze. In 1392, af­ter the death of Bolko\'s wid­ow, Duchess Agnes Hab­s­burg, the cas­tle passed un­der Czech rule and lost its strate­gic sig­nif­i­cance. It was soon giv­en as a fief to knight­ly fam­i­lies.
F. VOGEL'S DRAWING FROM 1850
A
c­cord­ing to tra­di­tion, dur­ing the Hus­site wars troops of Bo­hemi­an Ta­bo­rites cap­tured and dev­as­tat­ed the cas­tle. In the sec­ond half of the 15th cen­tu­ry, it be­longed, among oth­ers, to Franz von Pog­a­rell and broth­ers Hans and Niko­laus Schel­len­dorf, own­ers of Książ and Ra­dos­no cas­tles, who be­came "fa­mous" for ban­dit raids and at­tacks on mer­chant con­voys. In the hands of the Schel­len­dorfs, Ro­go­wiec re­mained un­til its fall in 1482 (or 1497), when it sur­ren­dered to roy­al troops led by Georg von Stein (d. 1497). It is pos­si­ble that fire­arms were used to cap­ture the cas­tle at that time, as in­di­cat­ed by frag­ments of can­non­balls and a fal­con dis­cov­ered dur­ing ar­chae­o­log­i­cal ex­ca­va­tions. From the 16th cen­tu­ry, the sur­round­ing es­tate, in­clud­ing the cas­tle, be­longed to the Hoch­bergs, who ac­quired it from King Vla­di­slav II Jag­el­lon­ský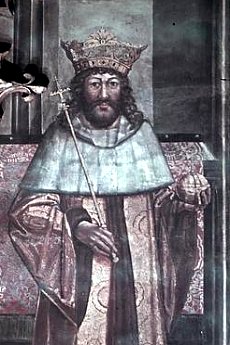 for 600,000 Czech groschen.
RUINS ON A POSTCARD FROM 1898
"GREETINGS FROM ROGOWIEC", 1909
HISTORICAL NAMES OF THE CASTLE
1292 - Hornberch Castellanus, 1318 - Hornsburg
1392 - Domschloss, Heinzetempel, 1747 - Horn Schloss
1825 - Hornschloss, 1918 - Hornberg, 1945 - Rogowiec
ROGOWIEC VIEW FROM JELENIEC MOUNTAIN (902 M ABOVE SEA LEVEL)
VIEW OF BOROWA, THE HIGHEST PEAK OF THE WAŁBRZYSKIE MOUNTAINS
DESCRIPTION OF THE CASTLE
T
he cas­tle was built of stone, on a rocky hill with an al­ti­tude of 870 me­ters above sea lev­el. The old­est part of it is the up­per cas­tle hav­ing a plan sim­i­lar to a tri­an­gle with sides of 20x30 me­ters. The dom­i­nant fea­ture here was a cylin­dri­cal tow­er of the last de­fense with a di­am­e­ter of about 10 me­ters and a thick­ness of walls reach­ing 3.5 me­ters. Res­i­den­tial func­tions were served by a two-winged build­ing on a rect­an­gu­lar plan mea­sur­ing 10x17 me­ters, based on the east­ern cur­tain.
FOUNDATIONS OF RESIDENTIAL BUILDING
I
n the 14th cen­tu­ry, the east­ern build­ing was de­mol­ished and a larg­er ed­i­fice with a base size of 7x15 me­ters was erect­ed in its place. Around the same time, two tow­ers and a gate tow­er were built on the hill­side, con­nect­ed by an earth­en ram­part. The last phase of the stronghold's de­vel­op­ment pre­sum­ably took place in the mid-15th cen­tu­ry and in­clud­ed an erec­tion of a res­i­den­tial tow­er on the up­per cas­tle, an en­large­ment of the gate tow­er and an ex­pan­sion of the out­er for­ti­fi­ca­tions.
PLAN OF CASTLE RUINS: 1. UPPER CASTLE, 2. CYLINDRICAL TOWER, 3. RESIDENTIAL BUILDING,
4. XIV-CENTURY TOWER, 5. GATE TOWER, 6. LOWER CASTLE
---
A
mong relics of the cas­tle we can dis­tin­guish foun­da­tions of a dwelling house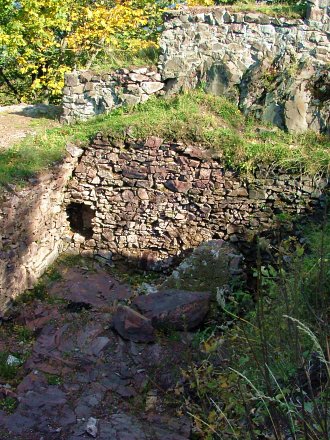 , frag­ments of the perime­ter wall
, faint relics of tow­ers and low­er parts of the cylin­dri­cal tow­er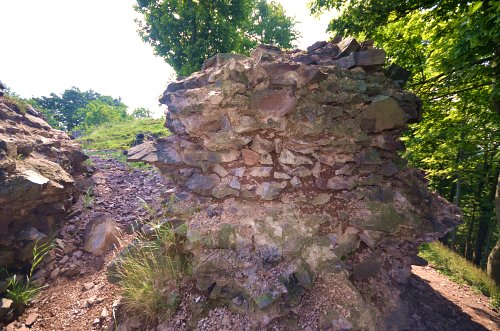 up to 3 me­ters high. The ru­in looks quite mod­est, but in this case the spe­cial mag­ic of the place is cre­at­ed not by the cas­tle, but by its lo­ca­tion - as Ro­gowiec is the high­est located me­dieval strong­hold in Poland of­fer­ing ex­qui­site Sude­ten scenery. From the top of the moun­tain (870 me­ters above sea lev­el) there is a beau­ti­ful panora­ma of the Wałbrzyskie Moun­tains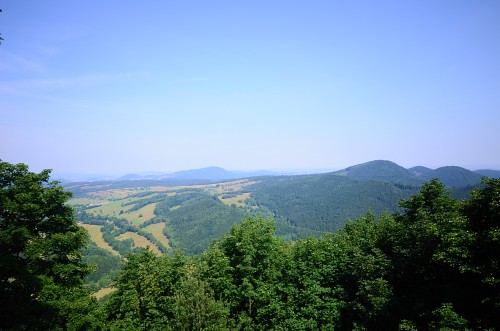 to the north, the pic­turesque sur­round­ings of Unisław Śląs­ki to the west, and a view of the Sowie Moun­tains, lo­cat­ed to the east of Ro­gowiec.
ON TOP OF ROGOWIEC MOUNTAIN
| | |
| --- | --- |
| | Free admission |
| | |
| --- | --- |
| | I recommend a trip to the castle only for those dogs who like long and stre­nuous walks. |
| | |
| --- | --- |
| | The place is friendly for taking aerial pho­to­graphy. |
---
R
o­gowiec is lo­cat­ed on a nar­row forest­ed moun­tain isth­mus ris­ing steeply above the val­ley of the Riv­er Ryb­na sep­a­rat­ing the Wał­brzy­skie Moun­tains from the Stone Moun­tains, about 1.5 km west of Grzmią­ca vil­lage. There are sev­er­al al­ter­na­tive ways to get there and en­joy a pleas­ant walk. The yel­low trail leads from Wał­brzych to the blue trail on the Ko­zia Pass. It is an easy road, al­so suit­able for moun­tain bikes, ex­cept for a long, steep de­scent in­to the Ryb­na val­ley. Time of the walk: about 2.5 hours. From Je­dli­na Zdrój the red trail leads, al­so mild, in the fi­nal climb it con­nects with the blue trail and from this point the dif­fi­cul­ty lev­el in­creas­es slight­ly. About 3 km west of the cas­tle there is a pop­u­lar hos­tel called An­drze­jów­ka (800 me­ters above sea lev­el) - there is a blue, red and yel­low trail lead­ing from there. This is def­i­nite­ly the eas­i­est and most pop­u­lar road, be­cause An­drze­jów­ka can be reached by car, and then with­in two-three hours You can vis­it the ru­ins and re­turn.
---
1. M. Chorowska: Rezydencje średniowieczne na Śląsku, OFPWW 2003
2. L. Kajzer, J. Salm, S. Kołodziejski: Leksykon zamków w Polsce, Arkady 2001
3. J. Lamparska: Zamkowe tajemnice, Asia-Press 2009
4. R. Łuczyński: Chronologia dziejów Dolnego Śląska, Atut 2006
VIEW FROM ROGOWIEC ON THE LANDSCAPE PARK "SUDETY WALBRZYSKIE"
Castles nearby:
Rybnica Leśna - ruins of Radosno castle from the 14th century, 4 km
Wałbrzych - remains of Nowy Dwór castle from the 14th century, 10 km
Zagórze Śląskie - ruins of a ducal castle Grodno from the 14th-16th centuries, 15 km
Grzędy - remains of Konradów castle from the 14th century, 20 km

text: 2019
photos: 2007, 2018
© Jacek Bednarek