RYBNICA LEŚNA

the Radosno castle ruin
THE CASTLE RADOSNO, THE REMAINS OF THE LAST DEFENSE TOWER
---
T
here is no cer­tain­ty re­gard­ing the time of the con­struc­tion and the founder of the stone cas­tle in Ryb­ni­ca Le­śna. This in­vest­ment is most often as­so­ci­at­ed with Bol­ko I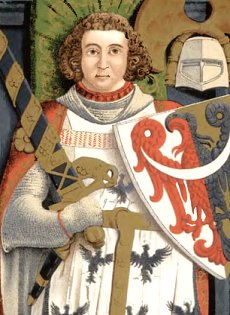 (d. 1301), Duke of Świd­ni­ca and Ja­wor, al­though ac­cord­ing to some his­to­ri­ans this re­gion be­longed in the first half of the 14th cen­tu­ry to the Lux­em­bourgs, and the cas­tle was built by the Czechs as a coun­ter­bal­ance to the near­by Ro­go­wiec fort­ress be­long­ing to the Si­le­sian prin­ci­pal­i­ty. In 1350 the cas­tle, men­tioned as Vred­in­berg das Haus, be­came, to­geth­er with the as­so­ci­at­ed es­tates: Mie­ro­szów, Uni­sław Ślą­ski, Go­liń­sko, Ró­ża­na, Ko­wa­lo­wa and So­ko­łow­sko, a knight­ly fief that was used by Mer­tin von Schwenk­feld. Lat­er, in 1355, it be­longed to broth­ers Reyncz, Han­nos and Je­ri­slav von Schwenk­feld, who have been ac­cused of rob­bery, as a result of which Ra­do­sno cas­tle was tak­en from them by the roy­al army.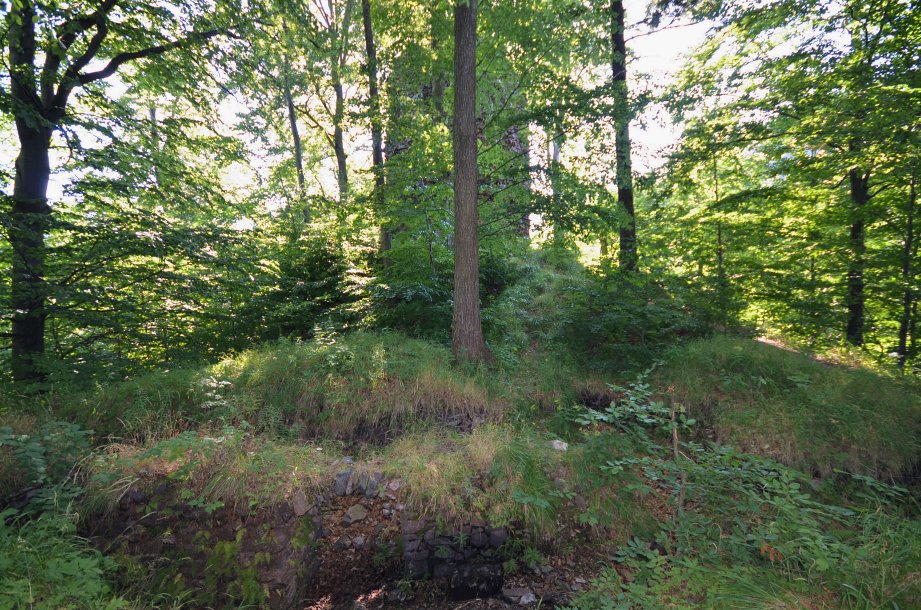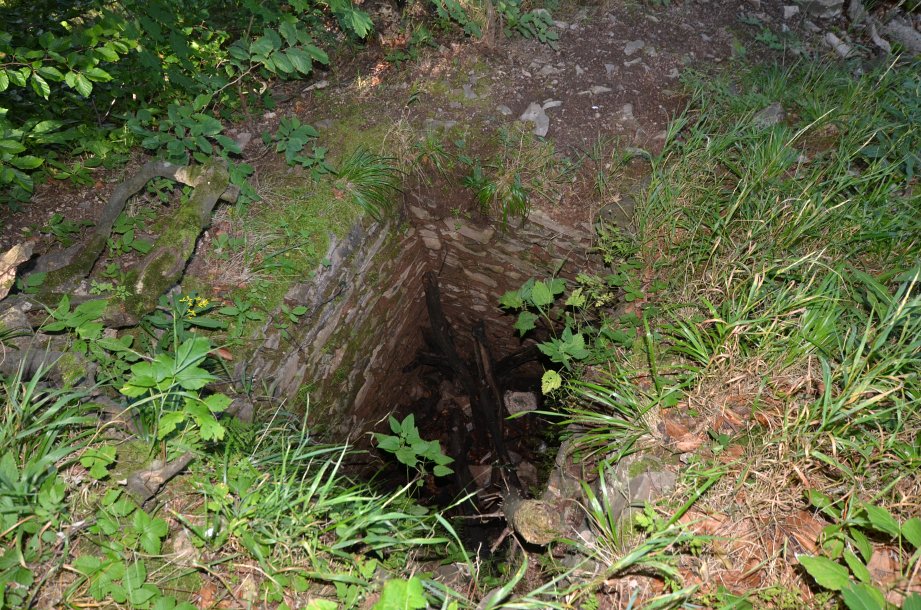 RELICS OF A RESIDENTIAL BUILDING (ABOVE) AND FOUNDATIONS OF A GATE TOWER IN THE WESTERN PART OF THE CASTLE HILL
I
n the fol­low­ing year, the knight Her­sco de Roz­dia­lo­wicz bought the cas­tle as a hered­i­tary fief for 140,000 groschen, but he didn't stay here to long, be­cause al­ready in 1359 the dis­cussed ter­ri­to­ry was in­cor­po­rat­ed in­to the Duchy of Świd­ni­ca ruled by Bol­ko II
, and af­ter his death in 1369 - to his wife Ag­nie­szka (d. 1392). At that time the Ra­do­sno bur­grave was al­ready the bish­op of Wro­cław, Pre­czlaw von Pog­a­rell (d. 1376). In 1388, Hein­rich von Re­chen­berg be­came the own­er of the fief with Fes­ten Frew­den­berg. Then he mod­ern­ized and ex­pand­ed the cas­tle, as ev­i­denced by the Duchess's doc­u­ments, in which she guar­an­tees him re­im­burse­ment for this in­vest­ment.
TOWER ON T. BLATTENBAUER'S ENGRAVING FROM AROUND 1885
A
fter the death of Ag­niesz­ka in 1392, the cas­tle and the whole Świd­ni­ca-Ja­wor Prin­ci­pal­i­ty be­came the prop­er­ty of Czech rulers and since then it has changed own­ers sev­er­al times. Dur­ing the Hus­site wars it was be­sieged at least twice (1427, 1434), but it is not known whether the at­tack­ers suc­ceed­ed in cap­tur­ing it. As a re­sult of the po­lit­i­cal chaos pre­vail­ing in Si­le­sia and the weak­en­ing of cen­tral pow­er caused by dev­as­tat­ing re­li­gious con­flicts, the own­ers of Ra­do­sno, as well as the ad­min­is­tra­tors of many oth­er sude­tian strong­holds, en­gaged in rob­bery. Their ac­tiv­i­ty did not re­main unan­swered and al­ready in 1443 one of the re­tal­ia­to­ry ex­pe­di­tions or­ga­nized by Wro­cław burghers con­quered the cas­tle and then par­tial­ly de­stroyed it. How­ev­er, it was re­built be­fore 1466 by broth­ers Hans and Ni­ko­laus von Schel­len­dorf, who con­tin­ued a rogue 'tra­di­tions' of the pre­vi­ous in­hab­i­tants. Fi­nal­ly, in 1497, by or­der of the King of Bo­he­mia Wła­dy­sław Ja­giel­loń­czyk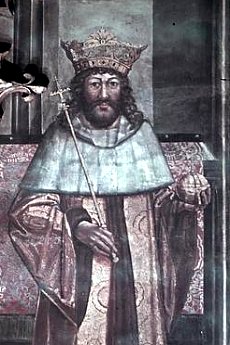 (d. 1516), the starost Georg von Stein (d. 1497) in­vad­ed the cas­tle, con­quered it and or­dered the de­mo­li­tion of its walls. Since then, Ra­do­sno has re­mained in ru­ins.
| | |
| --- | --- |
| | |
| | |
| --- | --- |
| | |
THE OLD PHOTOGRAPHS OF THE CASTLE RADOSNO. IN UPPER LINE A MEMORIAL POSTCARD FROM 1902 AND A PHOTOGRAPH FROM 1920
AT THE BOTTOM A PHOTO FROM THE 30s XX CENTURY AND A WINTER VIEW SHOWING THE CONDITION OF THE TOWER IN THE 60s
DESCRIPTION OF THE CASTLE
I
t seems high­ly prob­a­ble that the old­est part of the cas­tle was built around 1300 or even ear­li­er. The orig­i­nal for­ti­fi­ca­tion con­sist­ed of a cylin­dri­cal tow­er, 8 me­tres in di­am­e­ter and un­known height, sur­round­ed by wood­en-soil for­ti­fi­ca­tions, with an en­trance at a height of 4 me­tres above ground lev­el. The build­ing oc­cu­pied the high­est, south­east­ern part of the hill, on which in the 14th cen­tu­ry a res­i­den­tial house was built on a rect­an­gu­lar plan with di­men­sions of 9.5 x 10.5 me­ters. De­fen­sive walls formed a for­ti­fied cir­cuit of 30 x 17 me­ters. Access to the cas­tle was pro­tect­ed by 6-me­tre square-shaped gate tow­er in­te­grat­ed in­to the north-west­ern walls, and by a deep moat (4 met­res deep and 3.5 to 7 met­res wide).
PLAN OF THE CASTLE ACCORDING TO R. MRUCZEK: 1. CYLINDRICAL TOWER, 2. RESIDENTIAL BUILDING, 3. GATE TOWER
RECONSTRUCTION OF THE XIV CENTURY CASTLE ACCORDING TO R. MRUCZEK
---
T
he ru­ins of the tow­er, about 12 me­ters high, as well as the re­cent­ly un­cov­ered mod­est re­mains of the res­i­den­tial build­ing in the north-west­ern part of the cas­tle have sur­vived to this day.
EVEN HERE THERE IS GARBAGE (UNFORTUNATELY IT IS A PLAGUE IN POLAND)
| | |
| --- | --- |
| | Ac­cess to the cas­tle is un­lim­it­ed. How­ev­er, due to the sys­tem­at­i­cal­ly de­te­ri­o­rat­ing con­di­tion of the ru­ins, one should be very care­ful when ap­proach­ing the tow­er, as there is some risk of ac­ci­dent caused by falling stones. It is al­so worth putting high shoes on your feet, be­cause you can meet a zigzag viper in the sur­round­ing mead­ows. |
| | |
| --- | --- |
| | We will visit the ruin in ca. 10-15 minutes. |
| | |
| --- | --- |
| | We can bring our dog with us, but it should be on a leash. Remem­ber about vip­ers! |
| | |
| --- | --- |
| | Drone flight must be re­port­ed via Drone­radar app (no per­mis­sion re­quired). In late spring and sum­mer, the tow­er is ob­scured by trees. |
---
R
ados­no Cas­tle stands in the west­ern­most part of the name­less hill, at an al­ti­tude of about 770 m above sea lev­el. It is less than a kilo­me­ter from the tourist shel­ter An­drze­jów­ka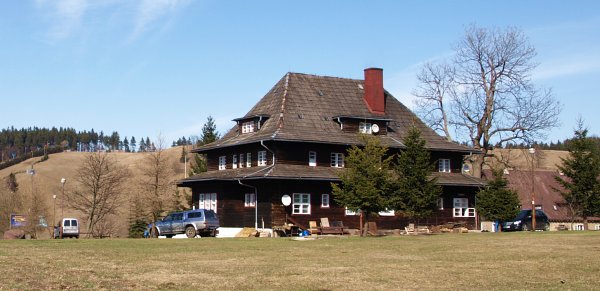 . To get there from the shel­ter, fol­low the green trail to the west and af­ter a few hun­dred me­tres change to the yel­low trail. Fur­ther on, the road leads to a high­er and high­er ridge straight to the cas­tle. Those trav­el­ling by train should get out at Wał­brzych Główny rail­way sta­tion, from where a 10 km long walk awaits them. An al­ter­na­tive is the pub­lic trans­port bus line 12, which runs sev­er­al times a day from Wał­brzych di­rect­ly to An­drze­jów­ka.
| | |
| --- | --- |
| | The shel­ter can al­so be reached by car. How­ev­er, due to the quar­ry area (which is on the way), in cer­tain hours the road may be closed for safe­ty rea­sons. |
| | |
| --- | --- |
| | Ac­cess by bi­cy­cle ac­cord­ing to di­rec­tions as above. |
---
1. M. Chorowska: Rezydencje średniowieczne na Śląsku, OFPWW 2003
2. L. Kajzer, J. Salm, S. Kołodziejski: Leksykon zamków w Polsce, Arkady 2001
3. R. Łuczyński: Chronologia dziejów Dolnego Śląska, Atut 2006
WHEN YOU FOLLOW THE GREEN TRAIL TO SOKOŁOWSKO, YOU PASS THE RUIN ON YOUR LEFT
Castles nearby:
Grzmiąca - ruins of Rogowiec castle from the 13th century, 4 km
Wałbrzych - remains of Nowy Dwór castle from the 14th century, 9 km
Zagórze Śląskie - ruins of Grodno castle from the 14th-16th century, 18 km
Grzędy - remains of Konradów castle from the 14th century, 20 km
Czarny Bór - ruins of a duke's castle from the 14th century, 20 km

---
The Ka­mien­ne Moun­tains with the largest and most beau­ti­ful part of them called the Su­che Moun­tains, in the heart of which the cas­tle Ra­do­sno stands. This range is some­times called Sude­ten Tatras be­cause of its steep slopes and sharply point­ed peaks. The high­est peak of the Suche Moun­tains is the Wa­li­gó­ra (934-936 m above sea lev­el), ris­ing above the pic­turesque Three Val­leys Pass, on which the An­drze­jów­ka hos­tel is lo­cat­ed. Most of their sur­face is cov­ered by spruce forests in­hab­it­ed by mouf­flons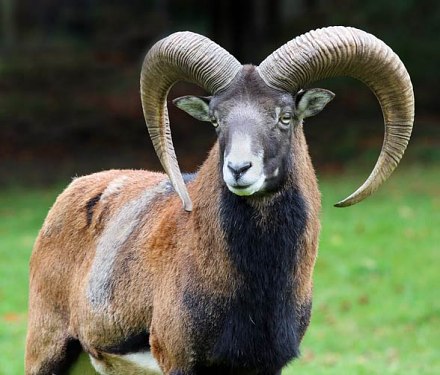 .
In the west­ern part of this moun­tain range there is the pic­turesque town of So­ko­łow­sko (Ger. Gor­bers­dorf). In the 19th cen­tu­ry it gained great fame as the first tu­ber­cu­lo­sis sana­to­ri­um in the world, which was not ac­ci­den­tal­ly called Sile­sian Davos. To­day there is lit­tle left of this splen­dour and al­though the town looks half-dead nowa­days, some­times even dis­gust­ing with its dev­as­tat­ed build­ings, the ne­glect­ed spa park and the gen­er­al at­mo­sphere of the worst ver­sion of com­mu­nism, it is hard to re­sist the charm of So­ko­łow­sko, which still gives hope that its col­lapse is not defini­tive. When con­sid­er­ing the mon­u­ments, it is al­so worth to men­tion one of the old­est wood­en tem­ples in Su­de­tes, the 16th cen­tu­ry church of St. Jad­wi­ga of Si­le­sia in Ryb­ni­ca Leś­na. It is ac­com­pa­nied by a 400-year-old wood­en bel­fry, and well vis­i­ble from the road lead­ing to An­drze­jów­ka.
On the photographs, starting from the top left corner: 1. The green trail on the way to So­ko­łow­sko, 2. View from the green trail to St. Mi­cha­el's Ar­chan­gel Ortho­dox Church in So­ko­łow­sko, 3. Pa­no­ra­ma of town So­ko­łow­sko, 4. The green trail be­tween An­drze­jów­ka and Ra­do­sno cas­tle, 5. An­drze­jów­ka hos­tel on the Three Val­leys Pass, 6. The yellow trail on way to the ruins of Ra­do­sno cas­tle (author in the photo), 7. St. Jad­wi­ga of Si­le­sia Church in Ryb­ni­ca Leś­na, 8. St. Mi­cha­el the Arch­angel Or­tho­dox Church in So­ko­łow­sko, 9. Street­view of So­ko­łow­sko
text: 2019
photographs: 2012, 2014
© Jacek Bednarek