WOJNOWICE

the renaissance castle
WOJNOWICE CASTLE, VIEW FROM SOUTH-WEST
---
I
n the me­dieval vil­lage of Wo­no­wicz, some sort of for­ti­fied knight's res­i­dence ex­ist­ed in the 14th cen­tu­ry, pos­si­bly built by Jo­hann Skopp (af­ter 1351) or by the ear­li­er own­ers of this land - broth­ers Tyl and Ber­thold von Zin­dal. It was prob­a­bly a sim­ple two-sto­ry res­i­den­tial tow­er, typ­i­cal of the for­ti­fied con­struc­tions of that pe­ri­od in Si­le­sia. Its de­fense sys­tem con­sist­ed of a brick wall and a moat o­ver which a wood­en draw­bridge was spanned.
HISTORICAL PLACE NAMES
Wognovice (1278), Woynewicz (1338),
Wonowicz (1351), Wohnwitz (1409),
Wonnewitz (1513), Wohnwitz (before 1945)
THE NORTH-EASTERN PART OF THE CASTLE PROBABLY CONTAINS THE REMAINS OF MEDIEVAL TOWER
I
n 1409 Nico­las von Wohn­witz sold the vil­lage and the cas­tle to Franz von Schel­len­dorf. Lat­er Woj­no­wi­ce was the prop­er­ty of the burg­her fam­i­ly von Krick­ow, who, like many oth­er burg­her fam­i­lies, bought out the sub­ur­ban res­i­dences from im­pov­er­ished knights. When in 1511 the last male rep­re­sen­ta­tive of the von Krick­ow fam­i­ly died child­less, the new own­er of the es­tate be­came Acha­tius Haun­old (af­ter 1523 - von Haun­old), pres­i­dent of the Town Coun­cil and starost of the Wro­cław Duchy, and an ar­dent fol­low­er of Mar­tin Lu­ther. Acha­tius was a high­ly re­spect­ed fig­ure, not on­ly among his fol­low­ers but al­so among his re­li­gious and po­lit­i­cal op­po­nents. His fu­ner­al in 1532 be­came a great event, at­tend­ed as well by rep­re­sen­ta­tives of the Catho­lic Church, against which, af­ter all, von Haun­old fought fier­ce­ly.
WESTERN ELEVATION OF THE CASTLE
A
chatius von Haunold, how­ev­er, did not live to see his death in Woj­no­wi­ce, be­cause on­ly two years af­ter the pur­chase he sold it to a towns­man from Wro­cław - Ni­ko­laus von Sche­bitz (d. 1537). The new own­er de­mol­ished the old, Goth­ic cas­tle and start­ed to build a new res­i­dence ac­cord­ing to his own am­bi­tions and needs. He car­ried out this in­vest­ment un­til 1530 and prob­a­bly nev­er achieved its state he had dreamed of. Af­ter his death, Woj­no­wi­ce be­came the prop­er­ty of Lu­krec­ja Bo­ner, daugh­ter of doc­tor Se­bald Hu­ber and wife of Ja­kub Bo­ner (d. be­fore 1560), rep­re­sen­ta­tive of a fa­mous Cra­cow ban­ker fam­i­ly. In years 1545-60 the Bo­ners con­tin­ued the con­struc­tion of the res­i­dence, as a re­sult of which it re­ceived the shape of a four-winged man­sion, sur­round­ed by a dou­ble moat.
REMAINS OF ROMANTIC ARCHITECTURE IN THE CASTLE PARK
I
n the 1570s, Lu­cre­tia's sec­ond hus­band An­dreas Her­twig car­ried out some un­de­ter­mined con­struc­tion work on the cas­tle. When he died in 1576, the es­tate was bought by Niko­laus von Scheb­itz's de­scen­dants. Then, in 1590 Ja­kub Bon­er's sons, Ja­kub the Younger and Se­bald, bought it from Frie­drich von Scheb­itz. In 1601 Ernst von Schwei­di­ger came in­to pos­ses­sion of the Woj­no­wi­ce es­tate, but in the same year he sold it to Carl von Bo­berg und Git­tmanns­dorf, an im­pe­ri­al of­fi­cial. Dur­ing the Thir­ty Years' War (1618-48) Woj­no­wi­ce was owned by the von Sa­uer­ma fam­i­ly. This pe­ri­od turns out to be rel­a­tive­ly kind to the cas­tle, which did not suf­fer any se­ri­ous dam­age.
VIEW OF THE CASTLE FROM NORTHWEST
I
In 1649 the Woj­now­ice es­tate was pur­chased for 12,000 thal­ers by Weit Rö­tel, who a few years lat­er sold it to Fer­di­nand von Mu­drach. Af­ter his death in 1690 the cas­tle came to the wid­ow, Ur­su­la Mar­i­an­na von Mu­drach, fol­lowed by their son Wit Fer­di­nand (d. 1719) and grand­daugh­ter Chris­tine Char­lotte. In 1758, as a re­sult of mar­i­tal re­la­tions, the do­main in­clud­ing the cas­tle, manor, inn, wind­mill and a small vil­lage be­came the prop­er­ty of the Count von Malt­zahn fam­i­ly. It re­mained in their hands un­til 1825, when Frie­drich Wil­helm von Kosch­em­bahr bought it for 42,000 thal­ers. On­ly six years lat­er, the Prieße­muth fam­i­ly made own­er­ship of the cas­tle, the farm and the lo­cal tav­ern.
ENGRAVINGS WITH AN IMAGE OF WOJNOWICE CASTLE, 1880S
I
n the 1860s Wo­jnow­ice be­came a prop­er­ty of Dr. Klemm, who did some in­te­ri­or ren­o­va­tion and re­placed the old wood­en bridge with a stone one. In 1873 he trans­ferred the lo­cal prop­er­ty to his broth­er-in-law Vic­tor Weitz, re­ceiv­ing 100,000 marks in re­turn. Less than two decades lat­er, the cas­tle was owned by a gov­ern­ment of­fi­cial named Schnei­der, and at the be­gin­ning of the 20th cen­tu­ry by Eg­mont von Kram­s­ta, an hon­orary knight of the Or­der of St. John and a mem­ber of the Ger­man No­bil­i­ty As­so­ci­a­tion. Af­ter his death in 1906, Woj­no­wi­ce came in­to pos­ses­sion of the wid­ow, Em­ma The­re­se de do­mo von Wil­cke (d. 1956). Two years lat­er the es­tate was tak­en o­ver by her daugh­ter Flo­ra Mar­gari­ta von Kram­s­ta and then by her hus­band of Scot­tish de­scent, Hugo Max von John­ston. The last pre-war heirs were de­scen­dants of Flo­ra Mar­gari­ta and her sec­ond spouse, named von Livo­nius.
THE CASTLE IN PHOTOGRAPHS FROM THE 1920S
T
he cas­tle was da­maged dur­ing the Rus­sian of­fen­sive in the spring of 1945. It was then that the So­vi­et troops, but al­so var­i­ous loot­ers, plun­dered it and dev­as­tat­ed its in­te­ri­ors. From then on it re­mained in ru­ins and on­ly re­gained its for­mer glo­ry in the 1980s as a re­sult of a com­pre­hen­sive ren­o­va­tion. In 2014, the Pol­ish gov­ern­ment do­nat­ed the res­i­dence to the Jan No­wak-Je­zio­rań­ski Col­lege of East­ern Eu­rope.
FRONT ELEVATION IN THE 1920S AND TODAY
DESCRIPTION OF THE CASTLE
W
o­jnow­ice is one of the few cas­tles in Poland that has pre­served its orig­i­nal form and spa­tial lay­out to this day. This brick build­ing orig­i­nal­ly con­sist­ed of three wings, to which a fourth wing was added lat­er, en­clos­ing a small court­yard. The most rep­re­sen­ta­tive part of the cas­tle is its north­ern wing, some­times called the lord's house, which is the on­ly one with three floors. The oth­er wings are two-sto­ry and their fronts are dec­o­rat­ed with tri­an­gu­lar gables. What dis­tin­guish­es this res­i­dence from oth­er Si­le­sian no­ble res­i­dences is its lo­ca­tion "on the wa­ter", on a struc­ture made of oak piles, filled with boul­ders and clay. Com­mu­ni­ca­tion was orig­i­nal­ly pro­vid­ed by a draw­bridge.
REMNANTS OF THE OUTER MOAT
I
n the sec­ond half of the 16th cen­tu­ry, a tur­ret was built in the cor­ner of the north­ern wing. Next to it, in the front el­e­va­tion, there is a Re­nais­sance por­tal with Ja­kub Bo­ner's and Lu­cre­tia Hu­ber's coats of arms with an in­scrip­tion: IA­COB BON­ER BA­VET MICH (I was built by Ja­kub Bo­ner), and An­dreas von Her­twig's coat of arms, next to which there is a sen­tence: INI­CIVM SAPI­EN­CIE TIM­OR DO­MI­NI (The be­gin­ning of wis­dom is the fear of the Lord). The Re­nais­sance ar­cades of the court­yard and the rich­ly dec­o­rat­ed well date al­so from the 16th cen­tury.
THE OLDEST PART OF THE CASTLE WITH A TURRET (WE CAN SEE IT ON THE RIGHT)
GATE PORTAL WITH THE COATS OF ARMS OF THE CASTLE FOUNDERS
T
he fol­low­ing cen­turies did not fun­da­men­tal­ly change the ar­chi­tec­tural char­ac­ter of the res­i­dence, whose struc­ture and lay­out re­mained al­most in­tact. The most im­por­tant lat­er in­vest­ments were the con­struc­tion of a new en­trance por­tal around 1650, the ad­di­tion of a dormer wid­now dat­ed to the mid­dle of the 17th cen­tu­ry and the re­place­ment of the wood­en bridge with a brick one based on three ar­cades in the 1860s.
THE BRICK BRIDGE WAS BUILT IN THE 1860S
PLAN OF THE CASTLE ACCORDING TO M. KUTZNER: 1. ENTRANCE GATE IN THE NORTHERN WING, 2. HALLWAY, 3. TURRET,
4. RENAISSANCE ARCADES IN THE COURTYARD, 5. RESTAURANT IN THE EASTERN WING
---
T
races of the for­mer me­dieval knight's cas­tle can be found in the walls of the east­ern wing, the cas­tle moat, and the re­mains of the sec­ond moat, pre­served in the north­ern sec­tion. Late me­dieval mo­tifs are ep­re­sent­ed by la­trine bays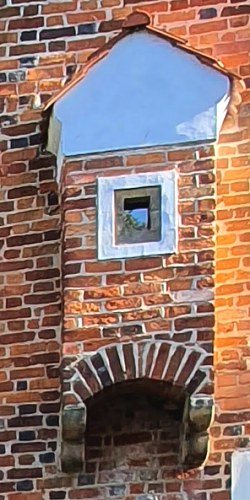 , and Re­nais­sance ones - by win­dow and door stone work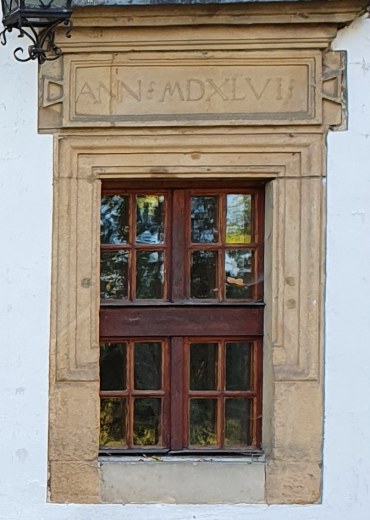 , coat of arms car­touch­es, ar­cades in the east­ern front­age of the court­yard (now glazed), as well as wood­en ceil­ings and frag­ments of fres­coes with dec­o­ra­tive plant mo­tifs, un­cov­ered dur­ing the ren­o­va­tion in years 1964-1986. Cur­rent­ly, the cas­tle hous­es the of­fices of the Col­lege of East­ern Eu­rope, con­fer­ence rooms, a ho­tel and a restau­rant.
| | |
| --- | --- |
| | The cas­tle is not a mu­se­um, but oc­ca­sion­al­ly you can take a guid­ed tour. With­in op­er­at­ing hours you can freely en­ter the hall on the ground floor and the cham­bers of the east wing. The park is open to pub­lic free of charge be­tween 8 am and 10 pm. |
| | |
| --- | --- |
| | The guided tour takes about 60 minutes. |
| | |
| --- | --- |
| | Dogs in the park must be kept on a leash. |
IN THE CASTLE RESTAURANT AND IN THE HALLWAY
---
T
he vil­lage of Wo­jnow­ice is lo­cat­ed far from main roads, about 25 km north­west of Wro­cław city cen­ter. Trains stop at Mro­zów rail­way sta­tion, 3 km away.
| | |
| --- | --- |
| | From Wrocław you take route 94 in the di­rec­tion of Lu­bin. Af­ter driv­ing about 15 kilo­me­ters, in Krę­pi­ce vil­lage you should turn north and con­tin­ue this way to Mro­zów and then to Woj­no­wi­ce. There is a free park­ing lot by the cas­tle, very crowd­ed on week­ends. |
| | |
| --- | --- |
| | You can ride a bi­cy­cle in the park. How­ev­er, you will not bring it in­to the cas­tle. |
---
1. M. Chorowska: Rezydencje średniowieczne na Śląsku, OFPWW 2003
2. L. Kajzer, J. Salm, S. Kołodziejski: Leksykon zamków w Polsce, Arkady 2001
3. R. M. Łuczyński: Zamki i pałace Dolnego Śląska, OWPW 1997
4. P. Oszczanowski: O dwóch rzeźbach z początku wrocławskiego renesansu…, Qart nr 4(26)/2012
5. A. Wagner: Murowane budowle obronne w Polsce X-XVIIw., Bellona 2019

Castles nearby:
Źródła - the Romanesque fortified church from the 13th century, 9 km
Wrocław-Leśnica - the Baroque castle from the 17th century, 10 km
Wrocław - castles of Wroclaw, 21 km
Wołów - the ducal castle from the 14th century, 23 km
Smolec - remains of a castle from the 14th century, 24 km
Uraz - the ruin of a knight's castle from the 13th/14th centuries, 26 km
Krobielowice - the Renaissance manor house from the 16th century, now a palace, 30 km
Ślęza - the Topacz castle from the 16th century, 30 km
Biestrzyków - the residential tower from the 14th century, 33 km
Mietków - relics of a residential tower from the 16th century, 37 km
Pielaszkowice - relics of a castle from the 16th century, 37 km
Borzygniew - ruins of a Renaissance manor house from the 16th/17th centuries, 39 km
Prochowice - ruins of a knight's castle from the 14th century, 40 km

text: 2022
photographs: 2021
© Jacek Bednarek