BĘDZIN

royal castle
CASTLE IN BĘDZIN, VIEW FROM THE EAST
---
P
re­sum­ably, as ear­ly as the 9th cen­tu­ry, there was some kind of Slav­ic bor­der stronghold on the site of to­day's Cas­tle Moun­tain, prob­a­bly func­tion­ing as a cus­toms cham­ber and seat of lo­cal ad­min­is­tra­tion. In the sec­ond half of the 13th cen­tu­ry, the Si­le­sian duke Bo­le­sław the Tall (Wy­so­ki d. 1201) erect­ed a stone cylin­dri­cal keep on its grounds, which be­came the be­gin­ning of a me­dieval fort­ress. How­ev­er, the brick Ban­dzin Cas­tle was not erect­ed un­til the first half of the 14th cen­tu­ry by Polish King Ca­si­mir the Great (Ka­zi­mierz Wiel­ki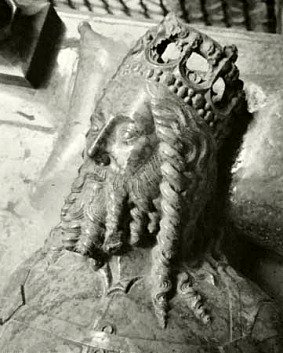 , d. 1370), with the aim of pro­tect­ing Poland's south­west­ern bor­der from in­va­sions from Si­le­sia and the Czech state (the bor­der be­tween Poland and Bo­he­mia at the time ran along Czar­na Przem­sza Riv­er, thus at the very foot of Cas­tle Moun­tain). Cer­tain­ly the cas­tle ex­ist­ed as ear­ly as 1364, when the Bo­he­mian King Charles IV of Lux­em­bourg (Ka­rel IV Luk­sem­burš­ki)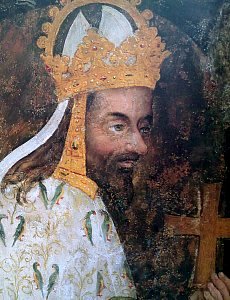 vis­it­ed it.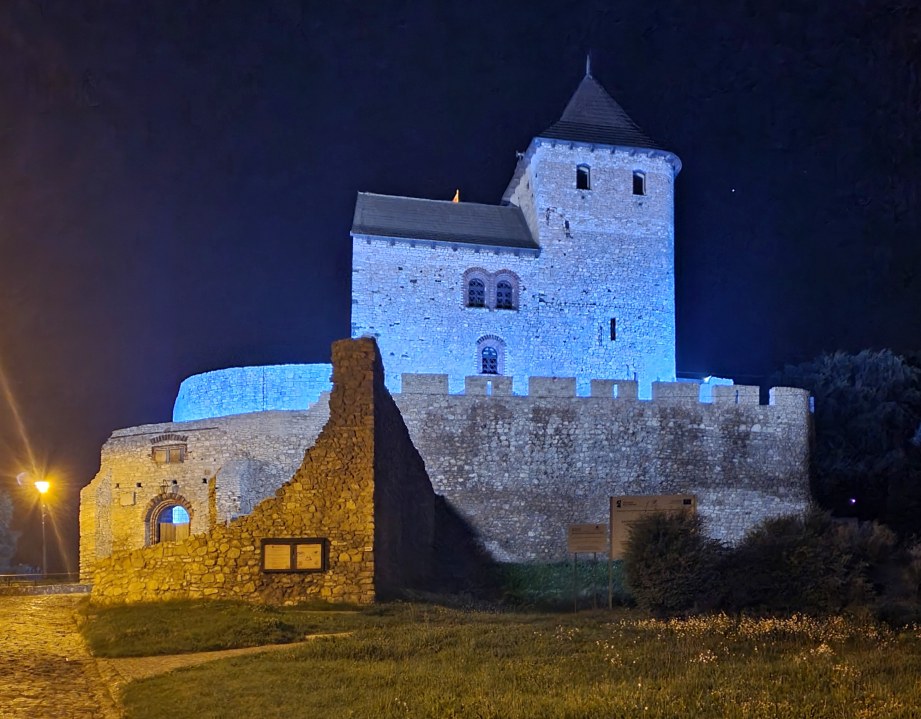 A
s ear­ly as 1349, the old­est known bur­grave of Będzin named Yem­co vel Wiernek was men­tioned in doc­u­ments. The cas­tle served at first as the seat of a cap­tain, and since the 16th cen­tu­ry - as the seat of a staros­ta, who ad­min­is­tered a ter­ri­to­ry as­signed to him and, if nec­es­sary, or­ga­nized the de­fense of the state's bor­ders. The town found­ed at its foot (in 1358) had a dis­tinct­ly mil­i­tary char­ac­ter and was there­fore re­peat­ed­ly de­stroyed. Its de­fen­sive ca­pa­city was de­ter­mined not on­ly by kilo­me­ter-long walls, but al­so by the fact that a part of the roy­al army per­ma­nent­ly sta­tioned there. How­ev­er, the strict cas­tle gar­ri­son con­sist­ed of on­ly a dozen or so sol­diers - for ex­am­ple, in 1456 there were on­ly 2 ri­fle­men and 2 foot sol­diers in the cas­tle, and this mod­est group was com­plet­ed by towns­peo­ple: 4 foot sol­diers and 2 can­noneers.
VIEW FROM THE TOP OF CASTLE HILL
I
n 1415, the bur­grave of Będzin be­came Mi­ko­łaj Sie­strze­niec coat-of-arms Kor­nicz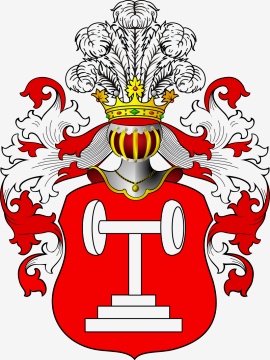 (d. 1445), a trai­tor who was ac­cused, among oth­er things, of steal­ing part of the roy­al trea­sury, be­tray­ing state se­crets, forg­ing doc­u­ments and nu­mer­ous at­tacks and raids on the prop­er­ty of his po­lit­i­cal op­po­nents. Dur­ing his tenure, the cas­tle was of­ten used as a place to quar­ter Hus­site troops, es­pe­cial­ly dur­ing the pe­ri­od when the Hus­sites over­ran Si­le­sia. Due to the huge num­ber of charges against him, Sie­strze­niec lost his po­si­tion as bur­grave in 1434. Short­ly the­re­after, a con­ven­tion of Ma­ło­pol­ska and Si­le­sian lords was held in Bę­dzin, re­sult­ing in the sign­ing of an agree­ment be­tween the bish­op of Cra­cow Zbig­niew Oleś­nic­ki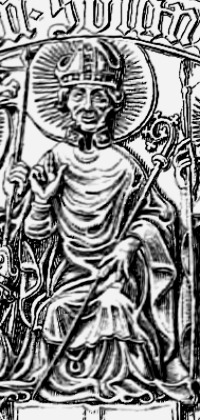 and the dukes: Ber­nard of Nie­mod­lin, Ni­cho­las of Ra­ci­bórz, Wen­ces­las of Cie­szyn and Wen­ce­s­las of Za­tor, which end­ed the wran­glings be­tween these rulers.
AT THE FOOT OF CASTLE HILL
I
n 1448 Piotr Sza­fra­niec of Pie­sko­wa Ska­ła (d. 1456), cham­ber­lain of Cra­cow, a ras­cal, what few there are, an ac­com­plice of thieves, a clever swin­dler and de­ceiv­er, ap­pears in doc­u­ments as bur­grave of Bę­dzin. How­ev­er, Sza­fra­niec did not live in the cas­tle, and ap­point­ed Szcze­pan Po­gór­ski of Po­gó­rzy­ce as its sta­rost, who in 1450 fought fierce bat­tles here against Si­le­sian bands in­vad­ing the area. Eight years lat­er, the Bę­dzin sta­rosty was joint­ly grant­ed to: Jan Sy­no­wiec de Zan­do­wi­cze, Mi­ko­łaj of Brze­zie, Bo­le­sław Pie­nią­żek of Wi­to­wi­ce and Sta­ni­sław Po­gór­ski. Then the of­fice was held by Bie­niasz Po­gór­ski, fol­lowed, from 1506, by court mar­shal Sta­ni­sław Ja­roc­ki of Ja­ro­szyn, whom King Alex­an­der Ja­giel­loń­czyk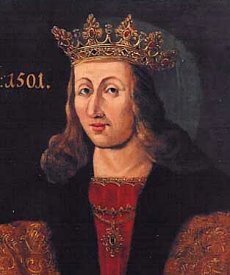 al­lowed to buy both the cas­tle and the en­tire roy­al town of Bę­dzin.
ON THE WAY TO THE CASTLE COURTYARD
A
round 1551 Marcin Zborows­ki of Ja­strzę­biec coat of arms
(d. 1565), who is re­mem­bered in Pol­ish his­to­ry pri­mar­i­ly as the mur­der­er of Dmi­tri San­gusz­ko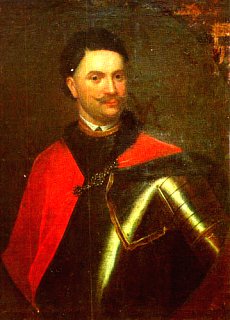 , hus­band of the leg­endary Hal­sz­ka Os­trog­ska, be­came the sta­rost of Bę­dzin. Af­ter him, in 1570, the of­fice passed to a Cra­co­vian ban­ker of Ital­ian ori­gin and the first head of the Pol­ish roy­al post of­fice, Pro­spe­ro Pro­va­na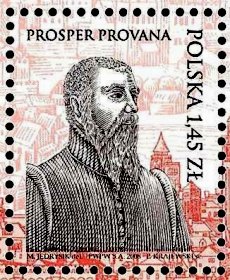 (d. 1584). The cas­tle at this time is ru­ined and aban­doned, as not­ed in the 1564 vet­ting, but this as­sess­ment seems to be ex­ag­ger­at­ed, since less than a decade lat­er Bę­dzin, which was the first town on his way from the Pol­ish bor­der, wel­comed, and per­haps al­so host­ed, Hen­ri de Val­ois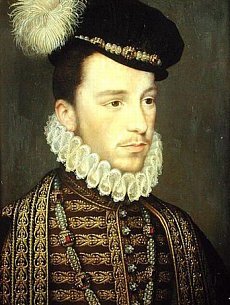 , just elect­ed Pol­ish king.
THE OLDEST KNOWN IMAGE OF BĘDZIN CASTLE, MATTHIAS GERUNG "PFALZGRAF OTTHEINRICHS REISEBILDER" 1536
I
n 1587, Max­i­m­il­ian Hab­s­burg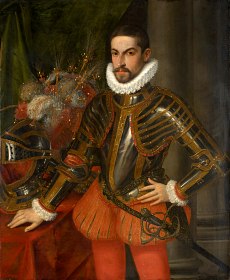 (d. 1618) en­tered Poland, tak­ing ad­van­tage of the in­ter­reg­num fol­low­ing the death of Ste­fan Ba­to­ry to seize Cra­cow and take pow­er o­ver all Poland. His plans were thwart­ed by Pol­ish Het­man Jan Za­moy­ski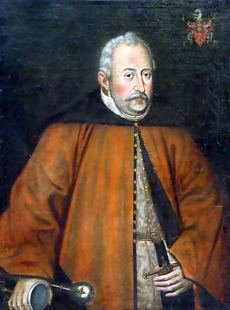 (d. 1605), who forced the arch­duke to make a re­treat, dur­ing which the Aus­tri­an army plun­dered many vil­lages and op­er­at­ed for a long time along the Pol­ish-Si­le­sian bor­der, in­clud­ing near Bę­dzin. Two years lat­er, in Sep­tem­ber 1589, Max­i­m­il­ian went in­to cap­tiv­i­ty - he was then de­tained for sev­er­al days at Bę­dzin Cas­tle, from where, ac­com­pa­nied by Ger­man lords and Pol­ish hus­sars, he was es­cort­ed to the bor­der post and ex­pelled from Poland.
ROMANTIC RECONSTRUCTION OF MEDIEVAL CASTLE IN BĘDZIN BY JAN KANTY GUMOWSKI, 1930S
T
he dy­nam­ic growth of the town was stopped in the 17th cen­tu­ry by fires and the Swedish in­va­sion. Al­though the cas­tle was par­tial­ly re­built, it nev­er re­turned to its state of splen­dor. In the first half of the 18th cen­tu­ry, starost Ka­zi­mierz Mie­ro­szew­ski of Śle­po­wron coat of arms
(d. 1749) built a ba­roque-clas­si­cist palace in Bę­dzin-Gzi­chów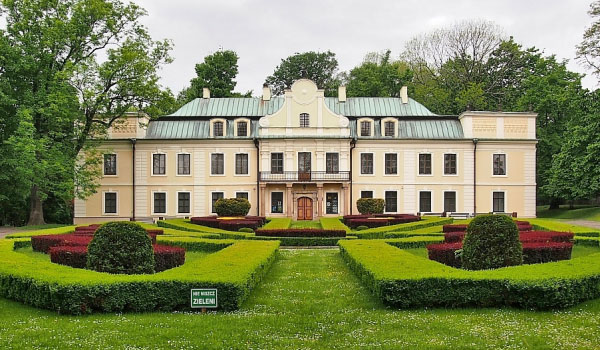 , near the old strong­hold. Thus, the cas­tle was soon aban­doned and fell in­to ru­in.
Be­fore this hap­pened, how­ev­er, on Au­gust 20, 1683, the cas­tle was vis­it­ed by King Jan III So­bie­ski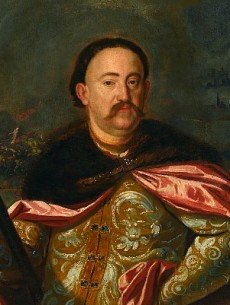 , who was head­ing to Vi­en­na with his army, and who met in Bę­dzin with an en­voy of em­per­or, Gen­er­al An­ton Caraf­fa
. Lat­er, Pol­ish kings vis­it­ed here on­ly twice: Au­gust II Sax­on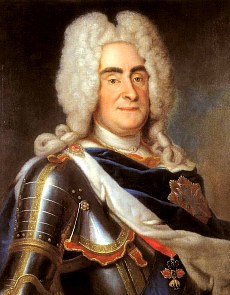 on Sep­tem­ber 15, 1696, and Sta­ni­sław Au­gust Po­nia­tow­ski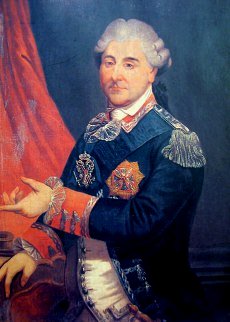 in the sec­ond half of the 18th cen­tu­ry.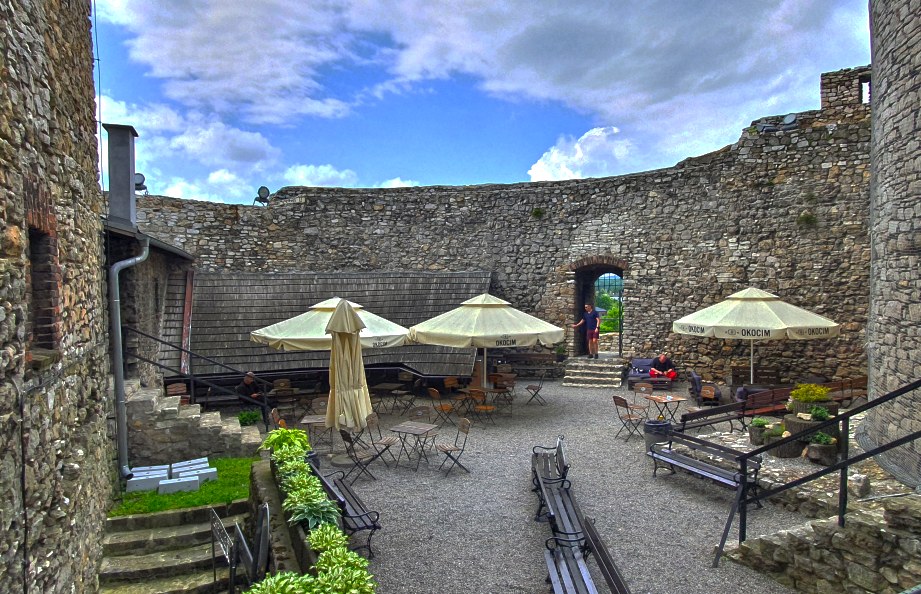 I
n 1775 the Będzin es­tate was leased to Sta­ni­sław Mie­ro­szew­ski (d. 1824). He ex­ploit­ed it mer­ci­less­ly, abus­ing peas­ants, towns­men and Jews, while car­ing nei­ther for the town nor the cas­tle. The aban­doned build­ing de­te­ri­o­rat­ed more and more, and when in 1825 a frag­ment of the wall col­lapsed and crushed to death an ac­ci­den­tal pass­er-by, the lo­cal ad­min­is­tra­tion or­dered the ru­ins to be de­mol­ished. For­tu­nate­ly, this was done very tardi­ly, and be­fore the in­struc­tion was car­ried out, the cen­tral au­thor­i­ties im­posed a reg­is­tra­tion of all mon­u­ments in the area of the King­dom of Poland and or­dered their ur­gent pro­tec­tion.
VIEW OF THE CASTLE FROM THE SOUTH, POSTCARD FROM AROUND 1915
I
n 1833 Count Edward Ra­czyń­ski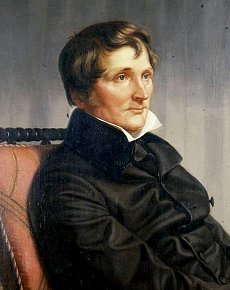 (d. 1845), a great pa­tri­ot and lover of na­tion­al mem­o­ra­bil­ia, be­came en­am­ored of the pic­turesque ru­in dur­ing his stay in the town. He there­fore de­cid­ed to re­build it and then use it to house a min­ing school. The pro­ject was com­mis­sioned by Ra­czyń­ski to the Ital­ian ar­chi­tect Fran­cis­co Ma­ria Lan­ci, who pre­pared three dif­fer­ent vari­ants of the re­con­struc­tion: ac­cord­ing to the first con­cept, the cas­tle was to re­sem­ble a French me­dieval castel­lum with nu­mer­ous fan­cy tur­rets and steep roofs, and ac­cord­ing to the oth­er two, it was to re­fer in form to Ital­ian Re­nais­sance ar­chi­tec­ture. Due to the large num­ber of for­eign im­pu­ri­ties, none of the above pro­pos­als gained ac­cep­tance, so Lan­ci made a fourth, more eco­nom­i­cal and aus­tere pro­ject - and ac­cord­ing to it, the re­con­struc­tion of the cas­tle be­gan. Among oth­er things, it in­clud­ed forg­ing large win­dows, and low­er­ing the cylin­dri­cal tow­er, the top of which re­ceived dec­o­ra­tive ma­chi­co­la­tions.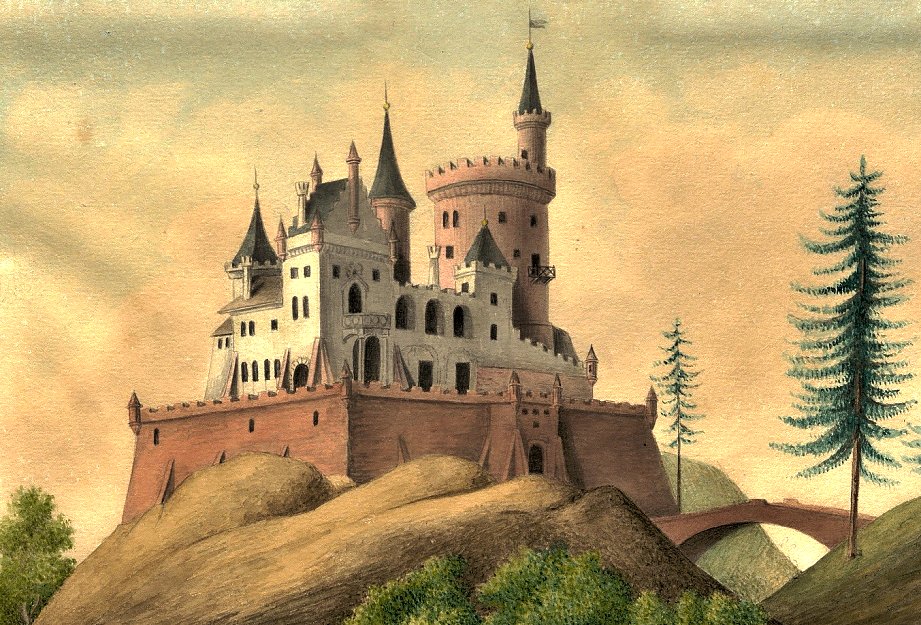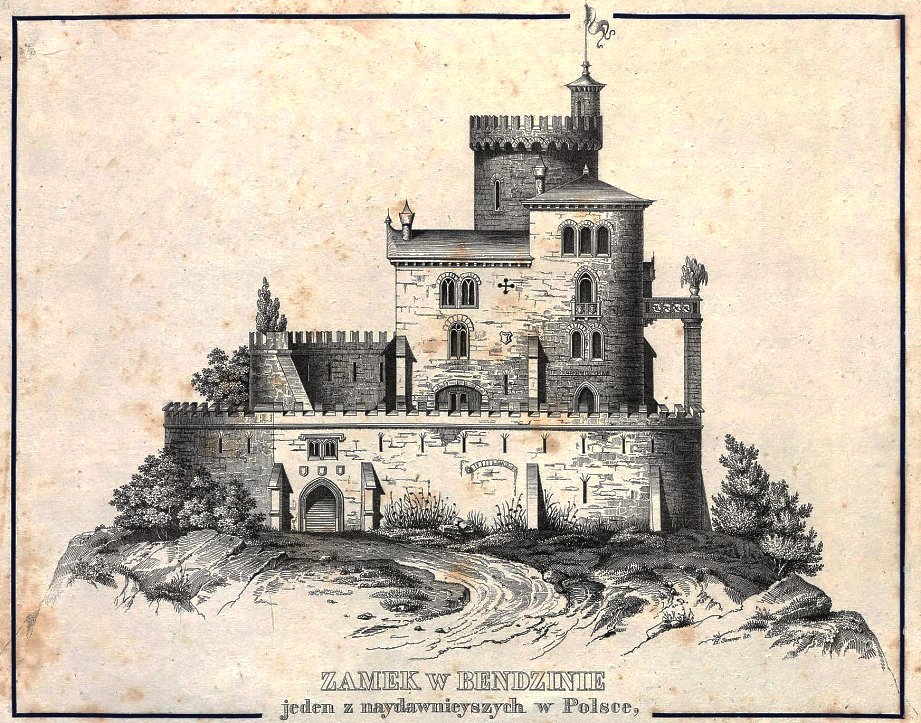 VISIONS OF CASTLE RECONSTRUCTION ACCORDING TO MARIA LANCI: FRENCH (ABOVE) AND ITALIAN, 1843-44
S
oon, how­ev­er, the con­cept of open­ing a school in the for­mer fortress col­lapsed. The rea­sons for Ed­ward Ra­czyń­ski's aban­don­ment of this goal are un­known to us; in any case, the min­ing school in Bę­dzin was not es­tab­lished, and the cas­tle was not com­plete­ly re­built. Some of its cham­bers were used as an evan­gel­i­cal chapel for Sax­on min­ers, and af­ter 1843 a hos­pi­tal was ar­ranged in its in­te­ri­ors. This idea turned out to be un­suc­cess­ful, and af­ter the liq­ui­da­tion of the hos­pi­tal in­sti­tu­tion around 1850, the strong­hold once again fell in­to ru­in.
WOODCUT ACCORDING TO A DRAWING BY DYMITROVICH, "TYGODNIK ILUSTROWANY" 1867
LITHOGRAPHY BY NAPOLEON ORDA, 1880
I
n 1916, Ste­fan War­choł - an en­gi­neer, Jan Gę­bor­ski - the own­er of the Cas­tle Moun­tain, Be­ne­dykt Mi­siórs­ki - a phar­ma­cist, and Ro­man Wy­szatyc­ki - a lo­cal of­fi­cial, formed the So­ci­ety for the Care of Cas­tle Moun­tain, with the goal of se­cur­ing the ru­ins from dam­age and de­struc­tion, and, as far as re­sources al­lowed, the ar­chi­tec­tural restora­tion of the cas­tle. At their com­mis­sion, the fa­mous ar­chi­tect, Pro­fes­sor Adolf Szysz­ko-Bo­husz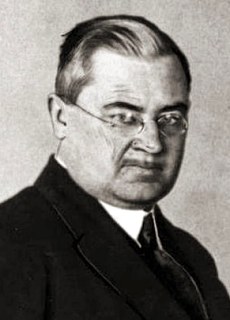 (d. 1948) pre­pared a con­cept for the Goth­ic restora­tion of Bę­dzin Cas­tle. How­ev­er, the so­ci­ety's am­bi­tious plans soon fad­ed in­to obliv­ion due to the pro­ject's over­ly strong ref­er­ences to Ger­man ar­chi­tec­ture, prob­lems with the pur­chase of land in the im­me­di­ate vicin­i­ty of the ru­ins (owned by more than 100 small pro­pri­etors), and above all due to in­suf­fi­cient funds and the out­break of World War II.
PROJECT TO REBUILD THE CASTLE IN BĘDZIN, ADOLF SZYSZKO-BOHUSZ 1930
T
he idea of cas­tle re­con­struc­tion (un­der the slo­gan: Let's keep a de­te­ri­o­rat­ing his­tor­i­cal mon­u­ment for fu­ture gen­er­a­tions as a cul­tur­al cen­ter) re­turned af­ter 1945 and, over­com­ing many dif­fi­cul­ties, suc­ceed­ed in re­build­ing the cas­tle in 1952-56 ac­cord­ing to a pro­ject by Cra­cow ar­chi­tect Zyg­munt Gaw­lik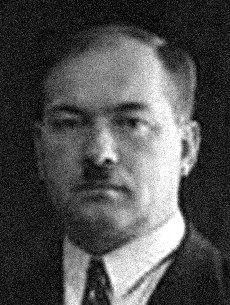 (d. 1961). This re­con­struc­tion was ac­com­pa­nied by ex­ca­va­tion work, re­sult­ing in the dis­cov­ery of an ear­ly me­die­val set­tle­ment and foun­da­tions of the low­er cas­tle build­ings, as well as many ar­ti­facts, in­clud­ing frag­ments of ar­mor, ar­row­heads, can­non­balls, ev­ery­day tools and coins. In 1956, the ed­i­fice be­came the head­quar­ters of the new­ly es­tab­lished Za­głę­bie Mu­se­um.
BĘDZIN CASTLE BEFORE AND AFTER RECONSTRUCTION
DESCRIPTION OF THE CASTLE
T
he old­est ma­son­ry part of the cas­tle is the cylin­dri­cal tow­er built of lime­stone on a near-square foun­da­tion. This tow­er, lo­cat­ed in an ex­posed po­si­tion on the side of the great­est dan­ger, had a dark brick su­per­struc­ture made in the 14th cen­tu­ry, char­ac­ter­is­tic of the reign of the Pol­ish King Ca­si­mir the Great (Ol­sztyn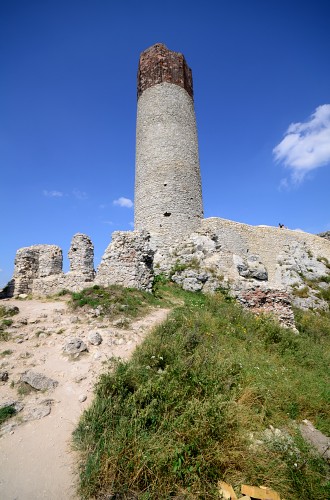 , Chę­ci­ny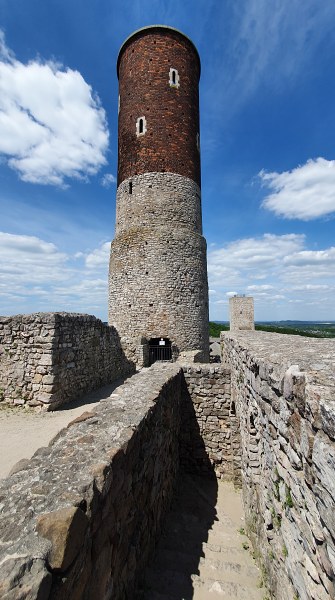 ). Its in­te­ri­or was di­vid­ed in­to at least five lev­els, with the low­er, nar­row­est one hous­ing the prison dun­geon, where the con­demned were let down by ropes. A sharp-arched en­trance was placed on the third floor, which could be ac­cessed by a lad­der or a wood­en plat­form. The di­am­e­ter of this build­ing is 10.7 me­ters, and the thick­ness of the wall in the ground floor reach­es 4 me­ters. How­ev­er, the orig­i­nal height of the tow­er and its crown­ing re­mains un­known (we don't know whether it had a roof or an open plat­form with a crenel­la­tion in the Mid­dle Ages).
VIEWING PLATFORM ON THE TOWER
I
n the mid-14th cen­tu­ry, King Casimir the Great erect­ed a quadri­lat­er­al five-sto­ry res­i­den­tial tow­er, built on a near-square plan with ex­ter­nal di­men­sions of 8.5 x 9 me­ters. Its east­ern and south­ern walls were in­cor­po­rat­ed in­to the perime­ter wall, so they func­tioned as a part of the line of for­ti­fi­ca­tions. The high­est storey of the tow­er had a crown­ing shaped as a crenel­la­tion, hoard­ing or machico­la­tion, the re­mains of which were re­moved dur­ing the 19th-cen­tu­ry re­con­struc­tion.
RESIDENTIAL TOWER AND VIEW FROM IT TOWARDS THE EAST (WE CAN SEE ST. TRINITY CHURCH)
T
he cas­tle's build­ings al­so in­clud­ed a gate tow­er (not pre­served) and a 19th-cen­tu­ry east­ern dwel­ling house (al­so not pre­served) - there may have been a chapel on the site ear­li­er. The up­per cas­tle was sur­round­ed by a dou­ble line of de­fen­sive walls, equipped with a wood­en gal­leries, blanks, and pos­si­bly hoard­ings. A third line of walls sur­round­ed the low­er cas­tle, which was cou­pled to the town walls and oc­cu­pied the south­ern and west­ern parts of the hill. Its for­ti­fi­ca­tions, in ad­di­tion to the afore­men­tioned walls, in­clud­ed two or three tow­ers.
PLAN OF THE CASTLE ACCORDING TO W. BŁASZCZYK: 1. KEEP, 2. RESIDENTIAL TOWER, 3. GATEWAY, 4. WALLS, 5. LOWER CASTLE
CASTLE RECONSTRUCTION BY J. SALM
DECORATIVE ARCADES ARE THE RESULT OF XIXTH-CENTURY REMODELING OF THE TOWN WALL
---
T
o­day the cas­tle hous­es the Za­głę­bie Mu­se­um, which ex­hibits a col­lec­tion of old weapons and ar­ma­ments, ex­hi­bi­tions on the his­to­ry of the town and its in­hab­i­tants, as well as a small sec­tion de­vot­ed to Będzin's Jews (be­fore World War II, there was a Jew­ish pop­u­la­tion near the cas­tle).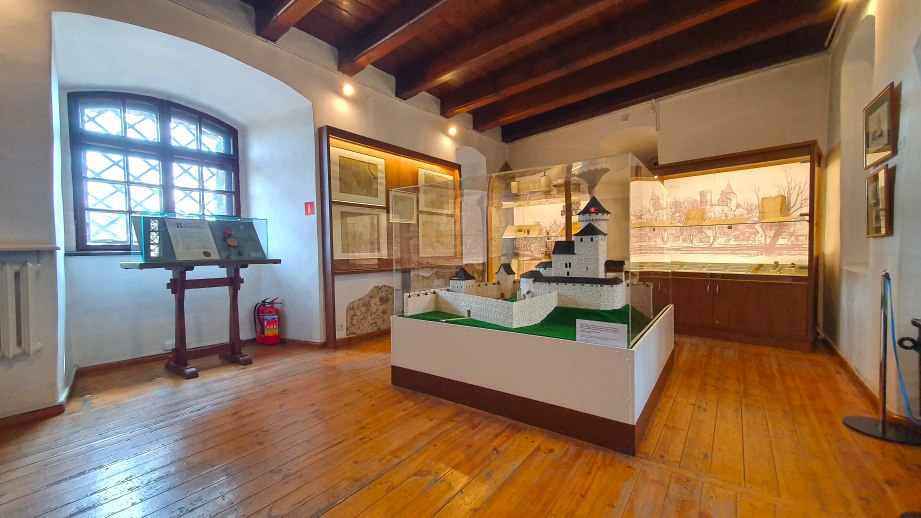 P
ar­tic­u­lar­ly note­wor­thy here is the col­lec­tion of his­tor­i­cal weap­ons and ar­ma­ment fit­tings. It main­ly in­cludes West­ern Eu­ro­pean shoot­ing weap­ons of var­i­ous types from the 15th-19th cen­tur­ies: ar­que­bus­es, mus­kets, fint­locks, hunt­ing and sport­ing ri­fles. Of the white weap­ons, it is worth not­ing the 16th cen­tu­ry dou­ble-edged swords, rap­iers and cleav­ers, and above all the old­est and most valu­able ob­ject of the mil­i­taria de­part­ment - an ear­ly me­die­val sword found in 1949 in an old ceme­tery in Gro­dziec. The ar­mory in­cludes hel­mets, shields and chain­mail, in­clud­ing breast­plates, vi­sors and frag­ments of Ital­ian cop­ic ar­mor from the late 16th cen­tu­ry as well as a com­plete pike­man's ar­mor from 1600.
EXHIBITION OF OLD WEAPONS AND ARMAMENTS
T
o the north­east of the cas­tle ex­tends a park with a re­con­struc­tion of an ear­ly Piast ram­part and three dug­-outs. There is al­so an am­phi­the­ater, as well as nu­mer­ous rest­ing places, formed in the shape of "mag­ic cir­cles". Un­der the hill are pre­served tun­nels ex­ca­vat­ed dur­ing World War II, form­ing a la­by­rinth con­sist­ing of wind­ing cor­ri­dors, cham­bers and nat­u­ral crev­ices up to 8 me­ters high. They are a re­minder of an un­fin­ished air raid shel­ter for Wehr­ma­cht troops sta­tioned in Bę­dzin, em­ploy­ees of the Na­zi ad­min­is­tra­tion and Ger­man ci­vil­ians.
ARCHAEOLOGICAL PARK NEAR THE CASTLE
| | |
| --- | --- |
| | Admission to the courtyard - free, to the mu­seum, tower and underg­round – paid |
| | |
| --- | --- |
| | To visit to the museum and park, reserve about 1.5 hours. Mu­seum tours are done in­di­vi­du­ally (you can hire a guide). |
| | |
| --- | --- |
| | Shooting without a tripod and flash. |
| | |
| --- | --- |
| | No dogs allowed |
| | |
| --- | --- |
| | The castle is not equipped to serve people with mo­bi­lity im­pair­ments. |
FROM THE TOWER THERE IS A VIEW OF RESIDENTIAL AREAS AND BIG FACTORIES
---
T
he castle is located near re­si­den­tial areas, so access by pub­lic trans­por­ta­tion is easy. You can get here, among others, by street­car line 21 from So­sno­wiec, line 22 from Cze­ladź and line 28 from Dą­bro­wa Gór­ni­cza, by bus line 40 from Ka­to­wi­ce, or by train (the rail­way sta­tion: 1.2 km from the cas­tle).
| | |
| --- | --- |
| | You can park your car at Pod­zam­cze or Ple­bań­ska Street. |
---
1. W. Błaszczyk: Będzin przez wieki, Poznań 1982
2. B. Guerquin: Zamki w Polsce, Arkady 1984
3. I. T. Kaczyńscy: Zamki w Polsce południowej, Muza SA 1999
4. L. Kajzer, J. Salm, S. Kołodziejski: Leksykon zamków w Polsce, Arkady 2001
5. B. Szczech: Muzeum Zagłębia w Będzinie 1916-1956-2016, Muzeum Zagłębia 2018
6. B. Szyndler: Ikonografia zamku w Będzinie
7. A. Wagner: Murowane budowle obronne w Polsce X-XVIIw., Bellona 2019

Castles nearby:
Sosnowiec - Sielecki castle from the 15th-17th centuries, 7 km
Siemianowice Śląskie - castle-palace of the Donnersmarck family from the 18th century, 12 km
Sławków - relics of a 13th-century bishops' castle, 19 km
Siewierz - ruins of a 15th-century bishops' castle, 25 km
Rabsztyn - ruins of a royal castle from the 14th century, 36 km
Chudów - ruins of a Renaissance castle from the 16th century, 39 km

text: 2023
photos: 2016, 2021
© Jacek Bednarek