RABSZTYN

the royal castle ruins
RABSZTYN CASTLE, VIEW FROM THE SOUTH
---
L
ack of any his­tor­i­cal records makes it im­pos­si­ble to de­ter­mine the ex­act date when Rab­sz­tyn cas­tle was built and who found­ed it. Ac­cord­ing to the most pop­u­lar the­o­ry, the strong­hold was erect­ed by a rep­re­sen­ta­tive of the knight­ly fam­i­ly of To­por­czyk from Mo­ra­wi­ca. Al­ter­na­tive­ly, it is linked to the in­vest­ment ac­tiv­i­ty of Si­le­sian duke Hen­ry the Beard­ed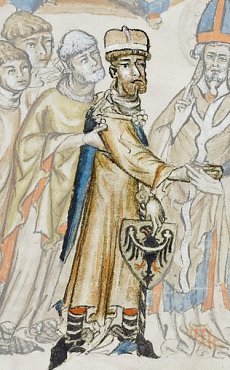 (d. d. 1238), who sup­pos­ed­ly erect­ed three cas­tles in the area dur­ing the war waged against Kon­rad of Ma­zo­via (d. 1247), or to the ac­tiv­i­ty of bish­op Mus­ka­ta of Cra­cow (d. 1320), a po­lit­i­cal op­po­nent of pol­ish duke Wła­dy­sław Ło­kie­tek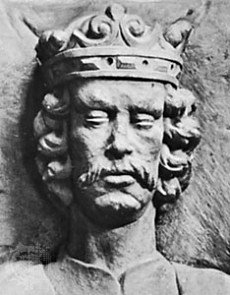 (d. 1333) and the al­leged founder of sev­er­al strong­holds in west­ern Ma­ło­pol­s­ka.
CONDITION OF THE RUINS BEFORE RECONSTRUCTION (2009) AND PRESENT STATE, VIEW FROM THE NORTHWEST
T
he old­est known doc­u­ment con­cern­ing the cas­tle dates back to the end of the 14th cen­tu­ry and men­tions a bur­grave named Iwo of Kar­niów and a chap­lain named Grze­gorz. At the time, Rab­sz­tyn be­longed to Spyt­ko the Sec­ond of Mel­sztyn, of Le­li­wa Coat of Arms
, a young voi­vode of Cra­cow and ad­min­is­tra­tor of Po­do­le, who died trag­i­cal­ly in 1399 while fight­ing the Ta­tars in east­ern Ukra­ine. Af­ter his death, Rab­sztyn and the ad­ja­cent vil­lages re­ceived his wid­ow, El­żbie­ta Lack­fi-Mel­sztyń­ska (d. 1424), and bur­grave Jan Lo­rek ad­min­is­tered the cas­tle on her be­half.
HISTORICAL NAMES OF THE CASTLE
1399 – Rab­steyn, 1414 – Rab­sten, 1429 – Rab­stin, 1441 – Rab­sthen,
1442 – ca­strum Ra­ben­stein, 1462 – Rab­stain, 1552 – Rap­sthyn,
1561 – Rap­sten, 1626 – Rap­sztyn, 1680 – Ca­stri Rab­sztyn
NIGHT ILLUMINATION OF THE RUINS
T
he cas­tle's own­ers on­ly oc­ca­sion­al­ly vis­it­ed the cas­tle, hand­ing o­ver di­rect su­per­vi­sion to the bur­graves, an of­fi­cials re­spon­si­ble for over­see­ing the guards and mil­i­tary or­ga­ni­za­tion in the re­gion. We know by name al­most all the bur­graves man­ag­ing the cas­tle af­ter 1400. At the be­gin­ning of the 15th cen­tu­ry, this func­tion was held, among oth­ers, by Pe­szek Mo­mot of Gryf coat of arms
, who in 1412 su­per­vised a re­con­struc­tion of the cas­tle tow­er and a dig­ging of a new well. Af­ter him, the of­fice of Rab­sztyn bur­grave be­longed al­so to: Jan Ko­żu­szek of Mni­ków, Mi­ko­łaj Sie­strze­niec of Kor­nicz coat of arms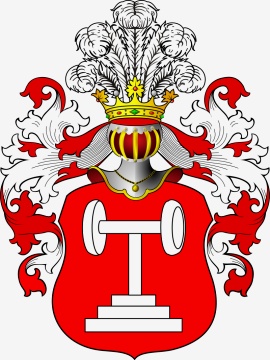 (d. 1445), and Jan of Parcz, a rep­re­sen­ta­tive of the lo­cal no­bil­i­ty.
RECONSTRUCTED GATE TOWER AT THE MIDDLE CASTLE
I
n 1421, Spytko the Sec­ond's two sons di­vid­ed their fa­ther's in­her­i­tance, where­by Rab­sztyn was tak­en by the old­er of the broth­ers, Jan Mel­sztyń­ski (d. 1427). Af­ter Jan's death, the es­tate came into the hands of his broth­er, Spyt­ko the Third, the le­gal guardian of Jan's daugh­ter Jad­wi­ga. Soon af­ter, Spyt­ko be­came in­volved in the Hus­site rev­o­lu­tion and took up arms against roy­al au­thor­i­ty. In 1437 he was killed in the Bat­tle of Grot­ni­ki. In re­tal­i­a­tion for his re­bel­lion against the su­pe­ri­or, his prop­er­ty was con­fis­cat­ed by king Wła­dy­sław III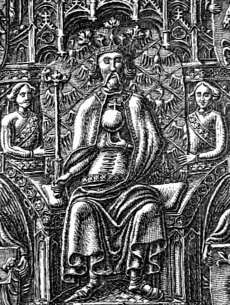 , and the en­tire Mel­sztyń­ski fam­i­ly lost its ti­tles of no­bil­i­ty.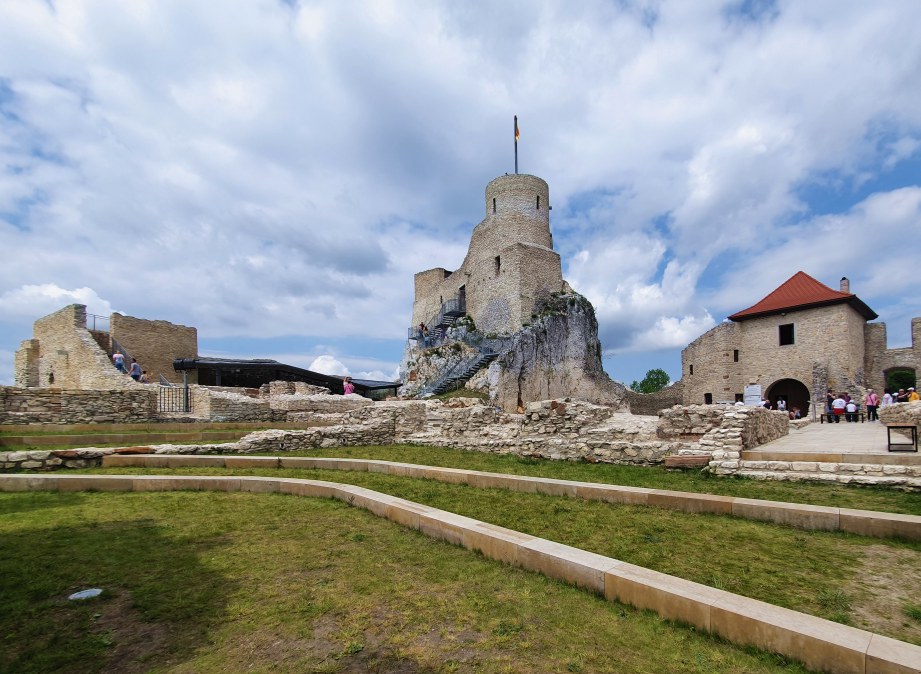 U
n­der in­sis­tence from the no­bil­i­ty, in 1441, the king mit­i­gat­ed this ver­dict: he gave back the cas­tles of Rab­sztyn and Książ to Spyt­ko's wid­ow, Be­at­rice of Sza­mo­tu­ły, and re­stored to his fam­i­ly the ti­tles pre­vi­ous­ly tak­en away. How­ev­er, Mel­sztyń­scy did not re­gain their for­mer in­flu­ence, and on­ly a few decades lat­er this pre­vi­ous­ly wealthy and priv­i­leged fam­i­ly line died out. The last of its rep­re­sen­ta­tives, Jan Mel­sztyń­ski (6th gen­er­a­tion), a wastrel and out­law, about whom we know on­ly that he stole a sil­ver cup, passed away in pover­ty and obliv­ion in the Ber­nar­dine mo­na­stery in Tar­nów, prob­a­bly in 1540.
VIEW OF THE CASTLE FROM THE EAST
H
ow­ev­er, be­fore this hap­pened, Jan's daugh­ter, Jad­wi­ga (d. af­ter 1449) mar­ried An­drzej Tę­czyń­ski coat of arms To­pór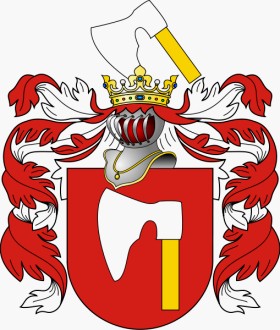 (d. 1461) bring­ing him Książ Wiel­ki, Żab­no and Rab­sztyn cas­tle as dowry. A year af­ter the wed­ding, that is in 1442, Tę­czyń­ski, at the king's be­hest but us­ing his own funds, car­ried out some con­struc­tion work on the cas­tle, in­clud­ing the su­per­struc­ture of the main tow­er and the erec­tion of the first brick build­ings in the low­er cas­tle. An­drzej's death was quite un­usu­al - in fact, he was killed by Cra­cow crafts­men dur­ing a ri­ot af­ter he severe­ly beat­en up an ar­mor­er who im­prop­er­ly had made him the ar­mor. His son Jan (d. 1498) took the sur­name de­rived from prop­er­ties he owned and was hence­forth called Rab­sztyń­ski. The last male rep­re­sen­ta­tive of the Rab­sztyń­ski fam­i­ly, An­drzej, a canon of Cra­cow, died in 1509. The rights to his in­her­i­tance were giv­en to his three sis­ters, who in 1511 sold the cas­tle for 4,000 florins to An­drzej of Koś­cie­lec coat of arms Ogoń­czyk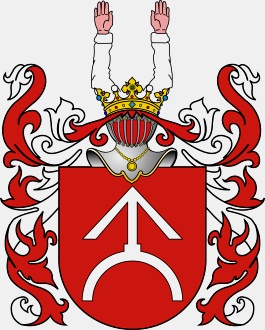 (d. 1515), trea­sur­er of the crown.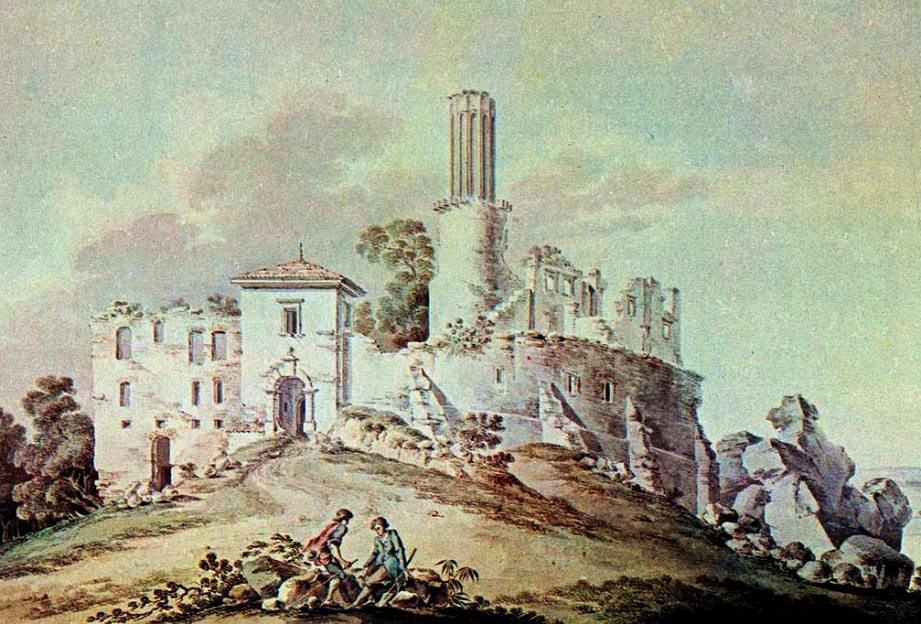 ONE OF THE OLDEST KNOWN VIEWS OF RABSZTYN CASTLE, WATERCOLOR BY ZYGMUNT VOGEL FROM 1792
I
n 1515 Rab­sztyn was tak­en o­ver by Jan Bo­ner
(d. 1523), a rep­re­sen­ta­tive of a wealthy Cra­cow bour­geois fam­i­ly and own­er of Ogro­dzie­niec cas­tle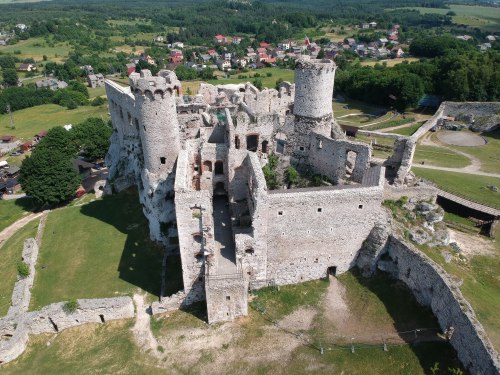 . Af­ter Jan's death, the es­tate went in­to the hands of Se­we­ryn Bo­ner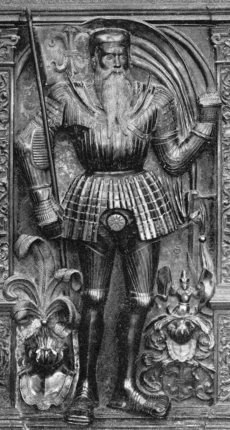 of Bo­na­ro­wa coat of arms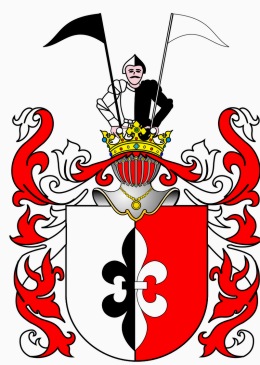 (d. 1549), a Cra­cow mag­nate, who be­longed to the rich­est peo­ple of Mało­pol­ska. De­spite the fact that Rab­sz­tyn sta­rosty was quite poor in terms of in­come com­pared to the oth­ers, the Bon­ers' wealth, which came from many sources, made it pos­si­ble to ex­pand the cas­tle, which by the end of the 16th cen­tu­ry al­ready oc­cu­pied the en­tire hill. Dur­ing this pe­ri­od Rab­sztyn rep­re­sent­ed a thriv­ing cen­ter of Re­for­ma­tion - among oth­er things, in 1556 Jan Ła­ski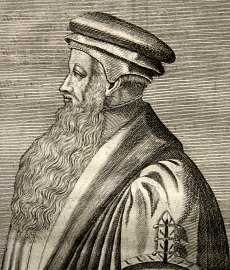 , the most promi­nent Pol­ish Pro­tes­tant the­olo­gian, stayed here. In 1574, pol­ish king-elect Hen­ri de Val­ois
, the fu­ture ruler of France Hen­ri III
, stayed over­night at the cas­tle.
At the end of the 16th cen­tu­ry, king Ste­fan Ba­to­ry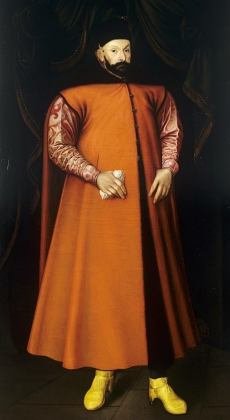 bred his li­ons near the cas­tle. This was one of four places where the roy­al ken­nels of these beau­ti­ful an­i­mals were lo­cat­ed. The oth­ers were in: Cra­cow, the War­saw vicin­i­ty and an un­spec­i­fied lo­ca­tion in Lithua­nia.
LANDSCAPE PAINTED BY ALFRED SCHOUPPE, 1860
I
n 1587, the com­man­der of the cas­tle's mil­i­tary gar­ri­son, co­lo­nel Ga­briel Ho­łu­bek (d. 1588), ac­com­pa­nied by Ol­kusz min­ers, bat­tered near Rab­sztyn a unit of sev­er­al hun­dred men trans­port­ing sup­plies of food and am­mu­ni­tion giv­en by the bish­ops of Olo­mouc and Wro­cław to the army of arch­duke Max­i­m­il­ian Hab­s­burg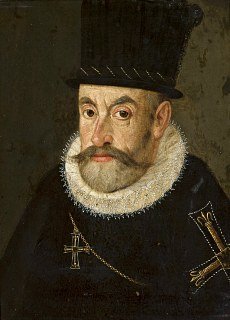 (who in­vad­ed Poland hop­ing for the roy­al crown). Af­ter the death of the last of three suc­ces­sive Bon­ers, Se­we­ryn the Younger (d. 1592), Mi­ko­łaj Wol­ski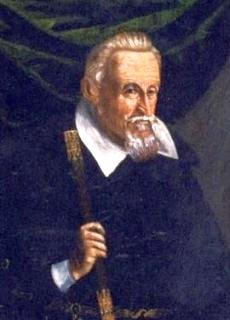 of Pół­ko­zic coat of arms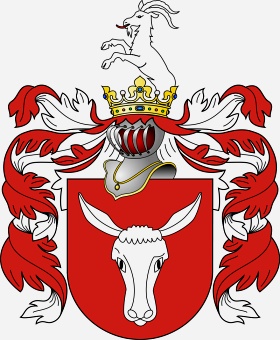 (d. 1630) be­came sta­rost of Rab­sztyn, fol­lowed by Zyg­munt Gon­za­ga Mysz­kow­ski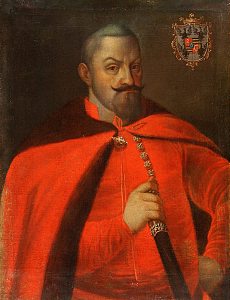 of Ja­strzę­biec coat of arms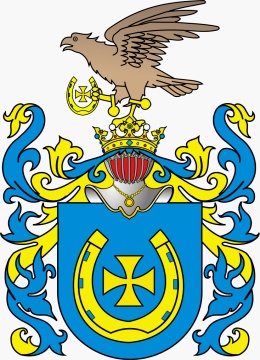 (d. 1615). At the be­gin­ning of the 17th cen­tu­ry, one of them erect­ed in low­er cas­tle a grand palace with 40 com­fort­able cham­bers. As a re­sult of this ex­pan­sion, the rock fort­ress lost some of its for­ti­fied char­ac­ter and ac­quired the fea­tures of a fash­ion­able res­i­den­cy.
RUINS OF THE XVII-CENTURY PALACE
I
n 1612 An­na Myszkow­ska (d. 1621), Win­cen­ty's daugh­ter, mar­ried greedy and waste­ful Mi­ko­łaj Ko­mo­row­ski (d. 1633), bring­ing him, among oth­er things, the cas­tle in Rab­sztyn as a dowry. When Ko­mo­row­ski died, the po­si­tion of sta­rost was as­sumed by grand crown chan­cel­lor To­masz Za­moy­ski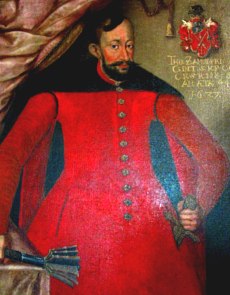 of Je­li­ta coat of arms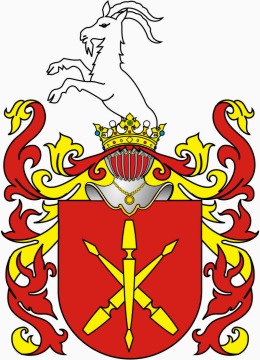 (d. 1638), fol­lowed by Sa­mu­el Ryl­ski of Osto­ja coat of arms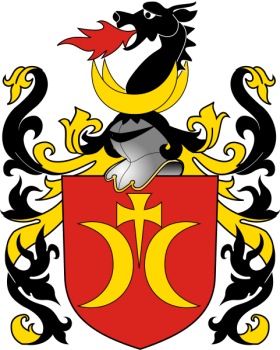 , crown cham­ber­lain and roy­al trea­sur­er (d. 1659). In 1649, Ryl­ski ced­ed the cas­tle to his cousin Alek­san­der Pła­za of To­pór coat of arms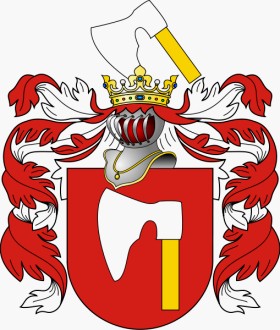 (d. 1657), and the lat­ter sold it four years lat­er to Ste­fan Ko­r­cińs­ki, a young and am­bi­tious crown chan­cel­lor (d. 1658). To­ward the end of his life Rab­sztyn was in­vad­ed and then burned by Swedish troops re­treat­ing from Si­le­sia (1657). This catas­tro­phe caused a rapid de­cline in the splen­dor of this mag­nif­i­cent res­i­dence.
LITHOGRAPH BY NAPOLEON ORDA, CA. 1880
W
ar dam­age re­sult­ed in the cas­tle be­ing on­ly par­tial­ly in­hab­it­ed from the mid-17th cen­tu­ry. From 1668 Rab­sz­tyn be­longed to Mi­chał Ka­zi­mierz Ra­dzi­wiłł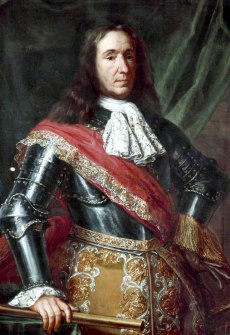 of Trą­by coat of arms
(d. 1680), then to his wife Ka­ta­rzy­na So­bies­ka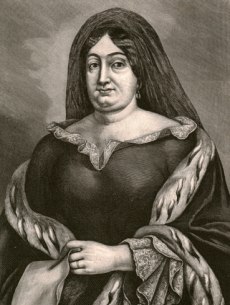 of Jan­i­na coat of arms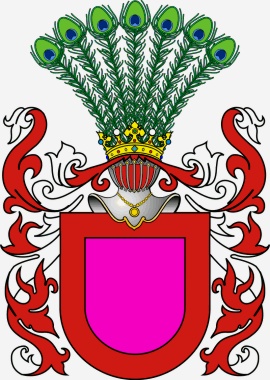 (d. 1694), sis­ter of Pol­ish king Jan III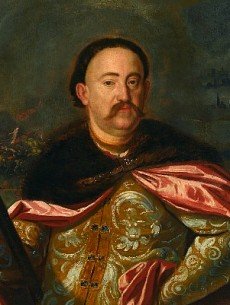 , and to their son Je­rzy Jó­zef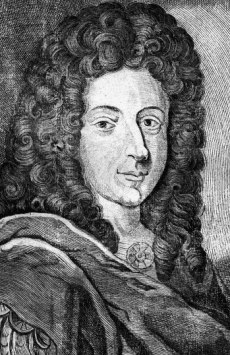 (d. 1689). Due to high debts, Je­rzy had to cede part of his es­tate, in­clud­ing Rab­sztyn, to his rel­a­tive Sta­ni­sław Ka­zi­mierz Ra­dzi­wiłł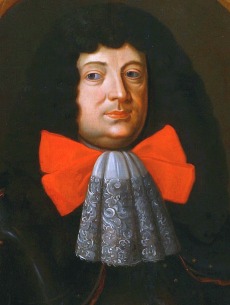 , grand mar­shal of Li­thua­nia (d. 1690). When Sta­ni­sław died, the wid­ow Ma­ria Kry­sty­na de do­mo de Bé­thu­ne (d. 1721) mar­ried Alek­san­der Pa­weł Sa­pie­ha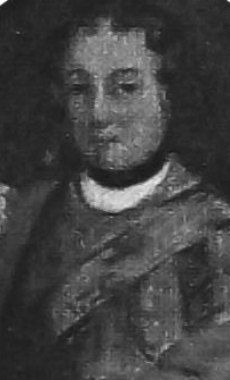 of Lis coat of arms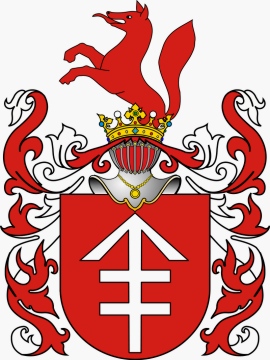 (d. 1734), and the lat­ter be­queathed the sta­ro­sty (and hence the cas­tle) to their daugh­ter Ma­ria Lud­wi­ka (d. 1768) as a dowry on the oc­ca­sion of her mar­riage to Alek­san­der Wie­lo­pol­s­ki of Sta­ry­koń coat of arms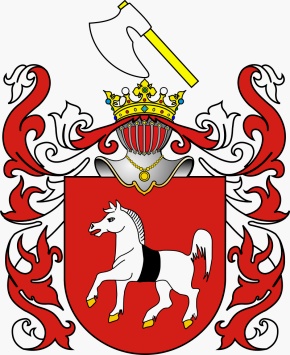 (d. 1725). Two years lat­er Wie­lo­pol­scy merged the Rab­sztyn sta­ro­sty with that of Pie­sko­wa Ska­ła, and erect­ed a Baroque man­sion at the foot of the cas­tle rock.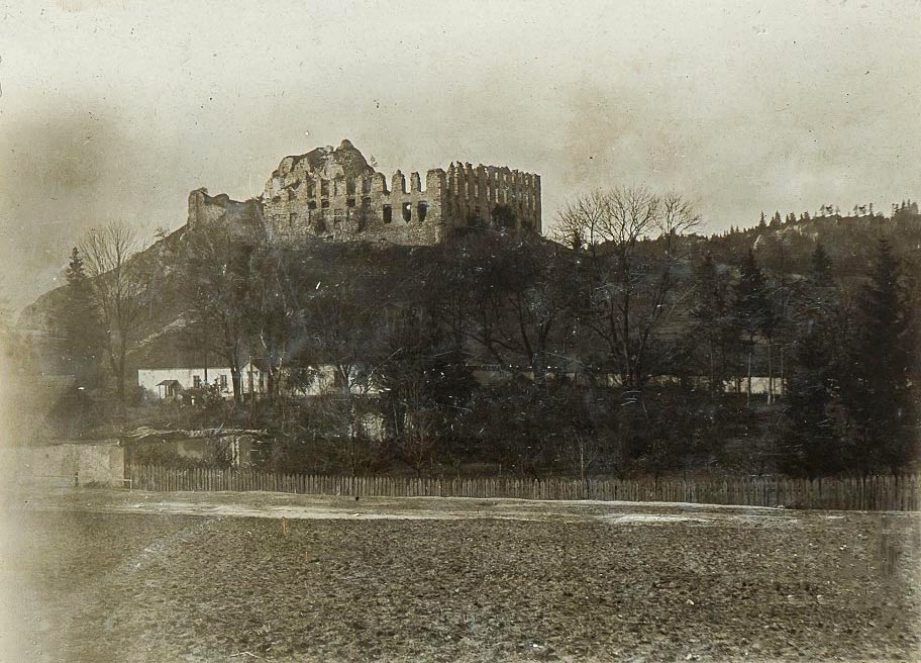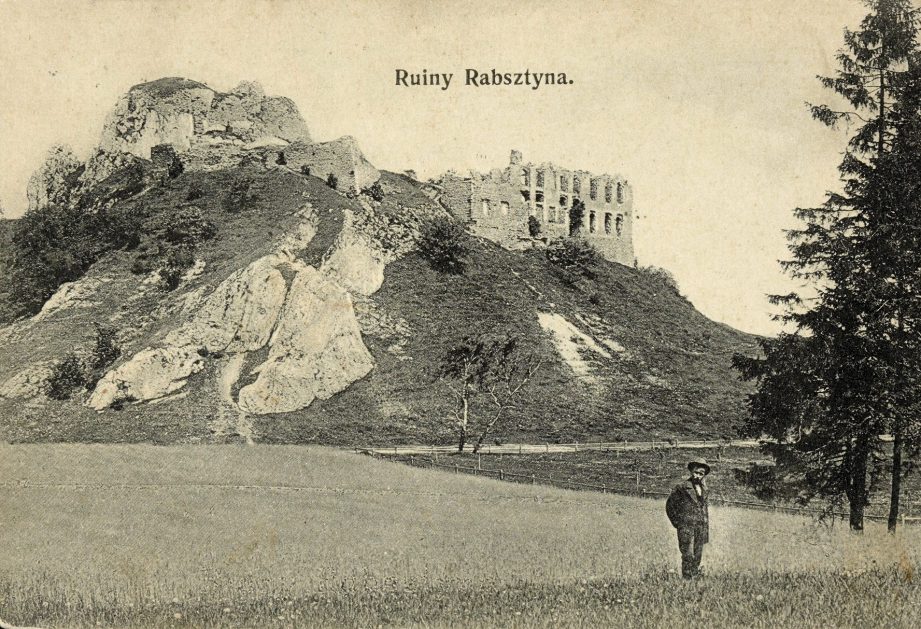 PICTURES OF RABSZTYN FROM THE YEARS 1910-15
A
t the be­gin­ning of the 19th cen­tu­ry, the cas­tle was al­ready in such poor con­di­tion that the own­ers de­cid­ed to aban­don it defini­tive­ly. From then on, the lo­cal pop­u­la­tion dis­man­tled its walls, thus ac­quir­ing cheap build­ing ma­te­ri­al. At the end of the 19th cen­tu­ry there was still a cas­tle tow­er, but in 1901 it col­lapsed due to det­o­na­tion of ex­plo­sives put by trea­sure hun­ters. Al­though the idea of re­build­ing the strong­hold ap­peared in the in­ter­war pe­ri­od, be­cause of a lack of funds it was not re­al­ized. The pre­sent ap­pear­ance of the cas­tle is due to the cost­ly, large-scale re­vi­tal­iza­tion car­ried out in years 2008-2020.
THE RUIN SEEN FROM THE SOUTH, IN 1910 AND TODAY
DESCRIPTION OF THE CASTLE
T
he Goth­ic cas­tle was built on top of a high rock. From the south and west, ac­cess to it was lim­it­ed by cliffs and from the north and east (where the slope is gen­tler) ­ by earth­en ram­parts. It con­sist­ed of a high tow­er and an at­tached res­i­den­tial build­ing, which were sur­round­ed by de­fen­sive walls run­ning on the edge of the rock. The shape of the tow­er is not en­tire­ly known to us; it was prob­a­bly slight­ly quad­ri­lat­er­al at the base and el­lip­ti­cal above (the tow­er orig­i­nal­ly may have been up to three times as tall as it is to­day). The east wing of the res­i­den­tial build­ing housed a hall­way and a large, prob­a­bly rep­re­sen­ta­tive hall, where frag­ments of an orig­i­nal brick floor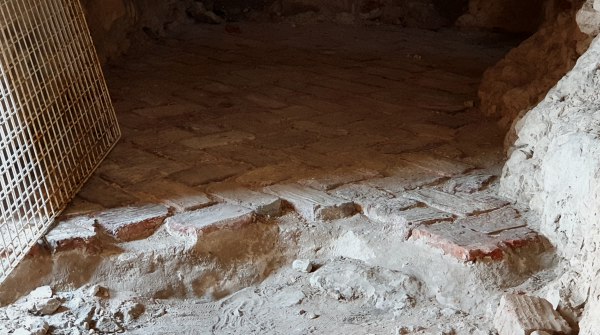 and relics of a hy­po­caus­tum-type stove have sur­vived. The west­ern part, on the oth­er hand, con­tained small­er cham­bers ar­ranged in sin­gle-track. Stairs led to the up­per cas­tle from the south, in the low­er part - carved in­to the rock, and wood­en ones above (which could be burned if nec­es­sary).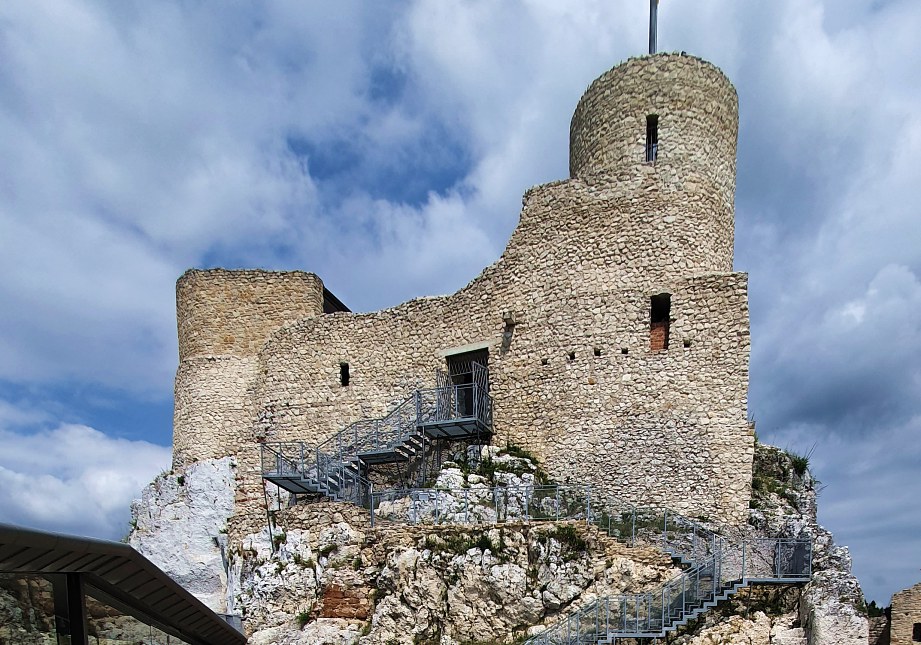 UPPER CASTLE, VIEW FROM THE SOUTH
PLAN OF THE MAIN FLOOR OF THE UPPER CASTLE: 1. TOWER, 2. HALLWAY, 3. STAIRCASE,
4. REPRESENTATIVE HALL, 5. WEST WING
T
o the south of the up­per cas­tle a farm­yard was sit­u­at­ed, which o­ver time evolved in­to a mid­dle cas­tle. Ini­tial­ly, it was sur­round­ed by a wood­en pal­isade, and from the mid-15th cen­tu­ry - by a sol­id stone wall with a gate in its east­ern cur­tain and a draw­bridge spanned o­ver a dry moat. The struc­ture of this part of the strong­hold con­sist­ed of two build­ings (west, south), main­ly of an eco­nom­ic na­ture, formed in­to an L-shape. Be­tween them stood a slight­ly taller cor­ner tow­er. In 1412, a well was dug in the north­west­ern part of the court­yard, with a hor­i­zon­tal cor­ri­dor sev­er­al me­ters deep. It was prob­a­bly an es­cape tun­nel al­low­ing the crew to dis­creet­ly get out­side the cas­tle.
REMAINS OF A CASTLE WELL FROM THE XV CENTURY
MIDDLE CASTLE COURTYARD, ON THE LEFT THERE ARE RUINS OF THE RENAISSANCE PALACE (LOWER CASTLE)
B
ack in the 15th cen­tu­ry, the first wood­en and ma­son­ry build­ings ap­peared on a low­er cas­tle. A faint rem­nant of those times are the square holes in the rock un­der the tow­er, which are relics of wood­en beams that formed a roof struc­ture of the sta­bles. At the turn of the 16th and 17th cen­turies, pre­sum­ably on the ini­tia­tive of sta­rost Mi­ko­łaj Wol­ski, a large Re­nais­sance palacee was erect­ed on the east­ern side of the hill, which con­sist­ed of two res­i­den­tial wings with three floors each. Its court­yard was sur­round­ed by clois­ters that pro­vid­ed com­mu­ni­ca­tion be­tween forty liv­ing cham­bers.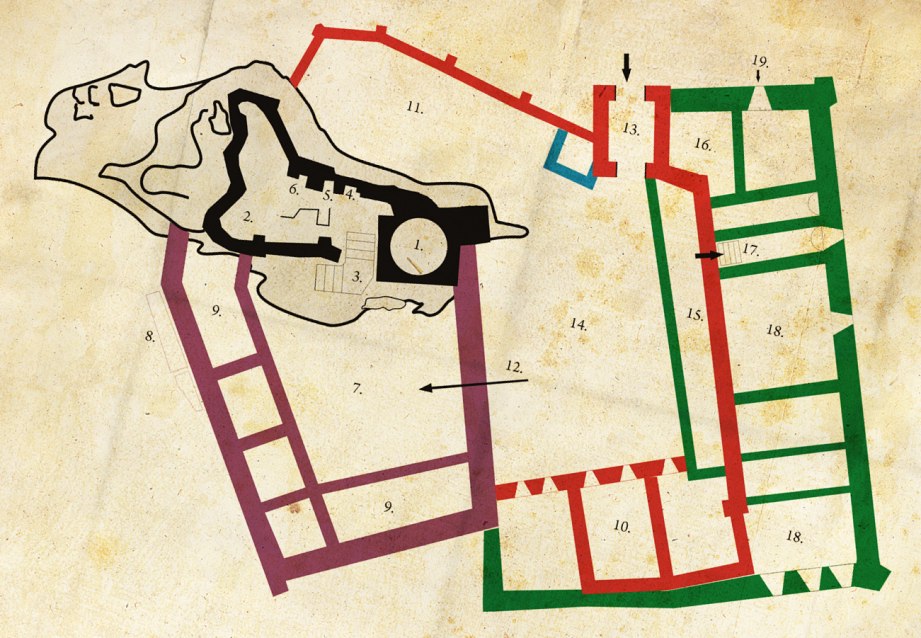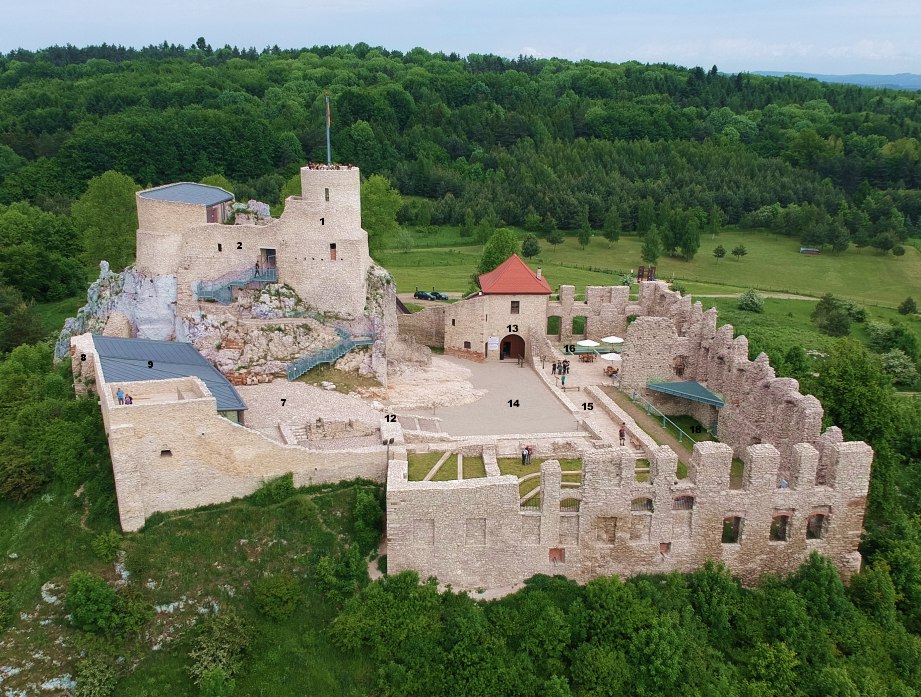 PLAN OF THE CASTLE AND VIEW OF THE RUINS FROM THE SOUTH: 1. TOWER, 2. UPPER CASTLE - SOUTH WING, 3. STAIRCASE, 4. GOTHIC WINDOW, 5. STAIRCASE, 6. FIREPLACE NICHE, 7. COURTYARD OF THE MIDDLE CASTLE, 8. BUTTRESSES, 9. UTILITY BARRACKS, 10. MANOR HOUSE, 11. STABLES, 12. FORMER GATE, 13. MAIN GATE, 14. COURTYARD OF THE LOWER CASTLE, 15. CLOISTERS, 16. BAKERY, 17. STAIRCASE, 18. LIVING CHAMBERS, 19. SIDE ENTRANCE TO THE PALACE
---
F
rag­ments of original de­fen­sive walls have sur­vived, as well as mod­est re­mains of the up­per cas­tle, pic­turesque­ly in­cor­po­rat­ed in­to the rock, and ex­te­ri­or walls of the palace
up to the height of its third sto­ry. Sec­tions of the moat, em­bank­ment and bridge abut­ment lead­ing to the gate are al­so still vis­i­ble. For many decades the cas­tle stood aban­doned and ne­glect­ed. On­ly af­ter it had been tak­en o­ver by the Olkusz mu­nic­i­pal­i­ty was it cleared of de­bris, a well was dis­cov­ered, as well as the re­mains of a cas­tle's bath­house and a kitchen. In 2009, ren­o­va­tion work be­gan here, cul­mi­nat­ing in restora­tion of the en­trance gate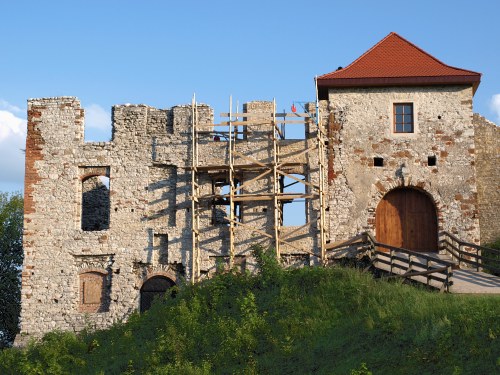 , par­tial re­con­struc­tion of the out­er walls and re­build­ing of the up­per cas­tle with tow­er. Both court­yards were al­so cleaned up and a con­tro­ver­sial new ex­hi­bi­tion pavil­ion raised in place of the for­mer west wing of the mid­dle cas­tle.
RABSZTYN CASTLE, CURRENT STATE
UGLY EXHIBITION PAVILION AT THE MIDDLE CASTLE
C
ur­rent­ly, the cas­tle is one of the re­gion's top tour­ist at­trac­tions. Its cel­lars house a tour­ist in­for­ma­tion cen­ter, a café and re­strooms, while the for­mer guard­house and a new­ly built pavil­ion ex­hib­it ar­chi­tec­tural de­tails found dur­ing re­con­struc­tion. Ter­races lo­cat­ed at the main tow­er and the tow­er of the mid­dle cas­tle of­fer a wide pa­no­ram­ic view of the pic­turesque hills of Cra­cow-Czę­sto­cho­wa Up­land.
PANORAMA OF RABSZTYN SURROUNDING AREA SEEN FROM THE MAIN TOWER
| | |
| --- | --- |
| | Admission fee. Tours can be individual or guided (only on week­ends). |
| | |
| --- | --- |
| | Tour time: 45-60 minutes. |
| | |
| --- | --- |
| | The castle is adapted for people with dis­abi­li­ties. |
| | |
| --- | --- |
| | Dogs (on a leash) welcome. Only ticket office/café can not be en­tered with a dog. |
| | |
| --- | --- |
| | Lots of open space and no restrictions make the area around ru­ins a great place for bird's eye shots. |
TOWER STAIRCASE / DESCENT TO TICKET OFFICE AND CAFÉ
LAPIDARIUM ON THE FIRST FLOOR OF THE GUARDHOUSE
---
T
he cas­tle ru­ins are lo­cat­ed on the left side of the road lead­ing from Ol­kusz to Wol­brom. The near­est train sta­tion is in Ol­kusz, 4 km far from the cas­tle. BP bus­es (di­rec­tion: Po­le­sie) al­so com­mute here from the town.
| | |
| --- | --- |
| | A paid park­ing lot with a ca­pac­i­ty of about 50 cars is lo­cat­ed east of the ru­ins. It is equipped with video sur­veil­lance and toi­lets. From here a paved path leads to the cas­tle. |
CASTLE PARKING LOT, YOU CAN SEE THE CASTLE IN THE BACKGROUND (THIS BRIGHT SPOT)
---
1. O. Dziechciarz: Rabsztyn od końca XVI do końca XVIII w., Przegląd Olkuski
2. L. Kajzer, J. Salm, S. Kołodziejski: Leksykon zamków w Polsce, Arkady 2001
3. R. Krajewski, R. Kubiszyn: Orle gniazda i warownie jurajskie, Orla Baszta 1997
4. J. Laberscheck: Uwagi i uzupełnienia do genealogii Melsztyńskich herbu Leliwa, ŚPiP, 2(6) 2010
5. K. Moskal: Leliwici z Melsztyna i ich zamki, Koliber 2007
6. R. Rogiński: Zamki i twierdze w Polsce - historia i legendy, IWZZ 1990
7. R. Sypek: Zamki i obiekty warowne Jury Krakowsko-Częstochowskiej, Agencja Wydawnicza CB
8. J. Sypień: Historia zamku Rabsztyn
9. J. Zinkow: Orle gniazda i warownie jurajskie, Sport i Turystyka 1977
10.A. Wagner: Murowane budowle obronne w Polsce X-XVIIw., Bellona 2019

Castles nearby:
Bydlin - ruins of a 13th/14th century knight's castle, 13 km
Ryczów - remains of a royal watchtower from the 14th century, 15 km
Sławków - relics of a 13th-century bishop's castle, 17 km
Pieskowa Skała - a royal castle from the 14th-17th centuries, 19 km
Podzamcze - ruins of Ogrodzieniec castle from the 14th-16th centuries, 22 km
Smoleń - ruins of a 14th century knight's castle, 23 km
Młoszowa - a fortified mansion from the 16th century, rebuilt, 24 km
Wielka Wieś (Biały Kościół) - relics of a 14th century knight's castle, 26 km
Ojców - ruins of a royal castle from the 14th century, 27 km
Pilica - a knight's castle from the 14th century, rebuilt, 27 km
Udórz - relics of a 14th century knight's castle, 27 km
Rudno - ruins of Tęczyn castle from the 14th century, 28 km
Wysocice - a romanesque fortified church from the 12th/13th century, 28 km
Korzkiew - a knight's castle from the 14th/15th century, 32 km
Babice - ruins of the bishops' castle Lipowiec from the 13th/14th century, 34 km
Morsko - a castle ruin from the 14th century, 35 km
Będzin - a royal castle from the 14th century, 36 km
Sosnowiec - Sielecki castle from the XV-XVII centuries, 36 km

---
A wood­en cot­tage from the mid-19th cen­tu­ry, stand­ing near the cas­tle park­ing lot on the road lead­ing to the ru­ins. It is a par­tial re­con­struc­tion of of An­toni Koc­jan's fam­i­ly house (d. 1944), an award-win­ning glid­er en­gi­neer and head of the Pol­ish air in­tel­li­gence ser­vice, who dis­cov­ered the se­crets of Ger­man V1 and V2 weap­ons. In­side you'll find mem­o­ra­bil­ia of the out­stand­ing air­craft builder, as well as equip­ment and house­hold fur­nish­ings from more than a cen­tu­ry ago. Ad­mis­sion in­clud­ed in the price of the cas­tle tick­et.
text: 2022
photographs: 2009, 2021
© Jacek Bednarek