PODZAMCZE

the ruins of Ogrodzieniec castle
RUINS OF CASTLE OGRODZIENIEC, VIEW FROM THE SOUTH
---
I
t is prob­a­ble that dur­ing the reign of prince Bo­le­sław Krzy­wo­usty (d. 1138) there was a wood­en cas­tle called Wil­cza Szczę­ka (Wolf's Jaw). It pos­si­by could have some mil­i­tary im­por­tance on the bor­der be­tween Less­er Poland and Sile­sia and was prob­a­bly de­stroyed by the Ta­tars dur­ing their in­va­sion of Poland in 1241. The term Ogro­dzie­niec comes from this pe­ri­od (ogro­dzić → transl: fence), which proves that al­ready then it was a fenced, or for­ti­fied site. On its ru­ins, in the mid­dle of the 14th cen­tu­ry, the Pol­ish king Ka­zi­mierz Wiel­ki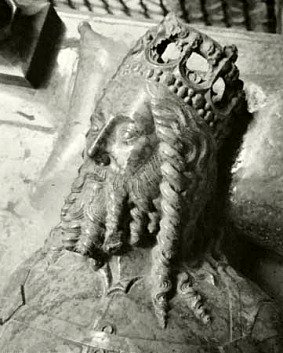 (the Great, d. 1370) found­ed a brick cas­tle, which was erect­ed by un­known buil­ders in the Ital­ian Goth­ic style. It served as one of the links in the chain of bor­der watch­tow­ers sep­a­rat­ing the King­dom of Poland from Si­le­sia. Its first known com­man­der be­came knight Przed­bórz from Brze­zie, coat of arms Za­do­ra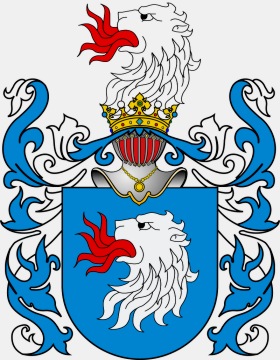 (d. 1388), lat­er mar­shal of the king­dom.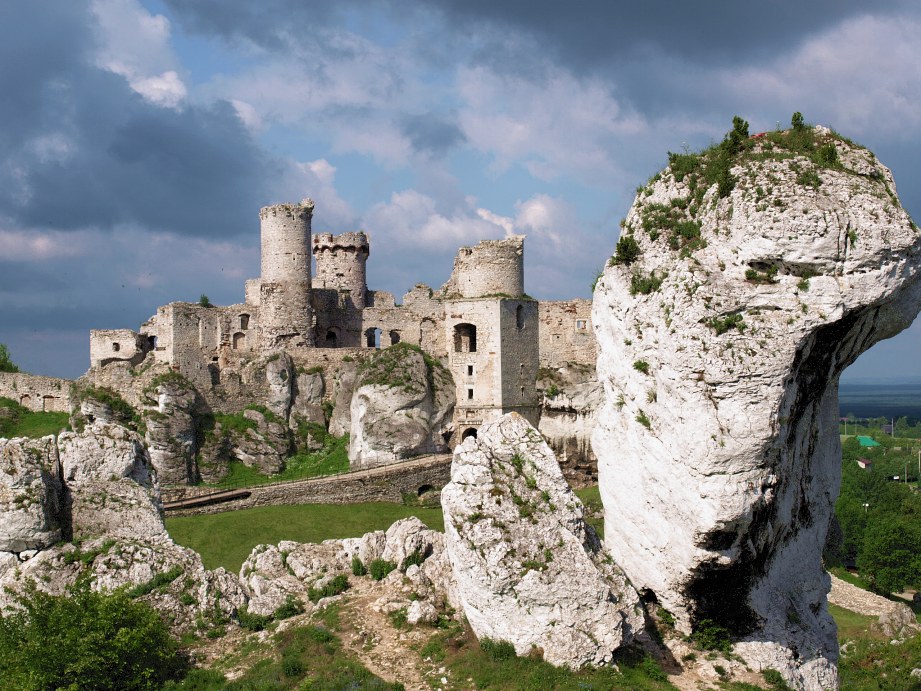 THE CASTLE SEEN FROM THE EAST, ON THE RIGHT THERE IS A ROCK CALLED THE DUCK
I
n 1386, king Wła­dy­sław Ja­gieł­ło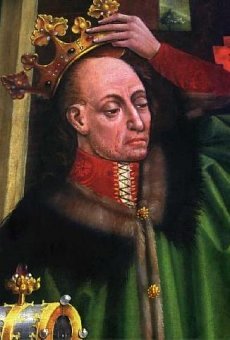 gave the cas­tle to Wło­dek from Char­binow­ice of Su­li­ma coat of arms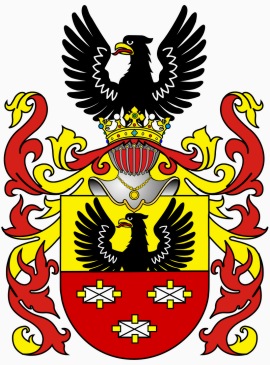 , (d. ca. 1394), a Cra­cow cup­bear­er, prob­a­bly as grat­i­tude for his par­tic­i­pa­tion in the prepa­ra­tions for the Pol­ish-Lithua­ni­an Union. In ad­di­tion to the cas­tle Wło­dek re­ceived two towns: Włod­ko­wi­ce and Ko­czu­rów, as well as the vil­lage of Ro­da­ki, half of the vil­lage of Klu­cze, a cus­toms house be­long­ing to the cas­tle of Ogro­dzie­niec and a house at the cas­tle of Kra­ków. One of his de­scen­dants, Jan alias Bar­tosz Wło­dek, was tak­en pris­on­er in 1454 dur­ing the bat­tle of Choj­ni­ce, as we learn from old Teu­ton­ic chron­i­cles. The same Bar­tosz was men­tioned many times in court books, e.g. when in 1450 he pawned the vil­lages of Wyso­ka, Wie­siół­ka, Nie­gow­ni­ca and the Wie­sio­łeck­ie cus­toms for 500 grzy­w­nas, and when he pledged a whole part of the vil­lage of Klu­cze to a cer­tain Ja­szek Zdziech. The Wło­dek fam­i­ly owned the cas­tle for near­ly a cen­tu­ry.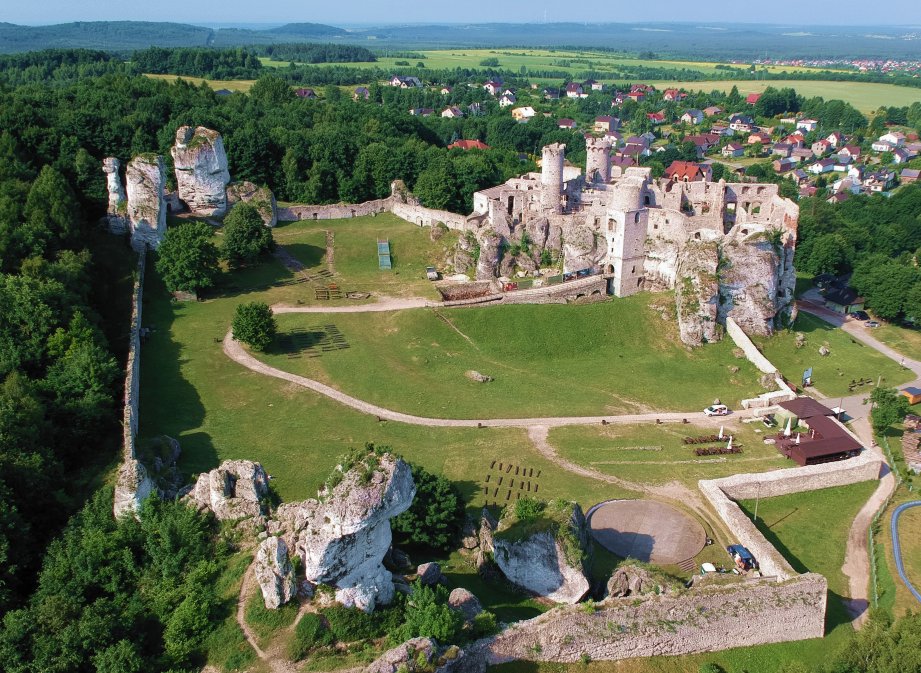 UPPER AND LOWER CASTLE SEEN FROM THE EAST
I
n 1478, Ogro­dzie­niec came in­to hands of Jan Fe­liks Rze­szow­ski (d. 1513), a Prze­myśl parish priest and roy­al canon, who af­ter leav­ing mil­i­tary ser­vice be­gan an ec­cle­si­as­ti­cal ca­reer. How­ev­er, al­ready in 1482 he ex­changed it for the vil­lage of Za­w­ier­cie and eight thou­sand flor­ins with Jan Pi­lec­ki of Le­li­wa coat of arms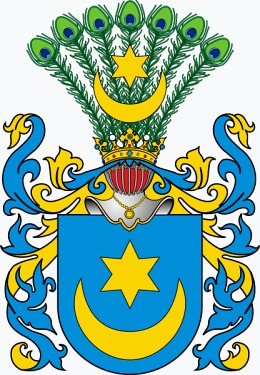 (d. 1496), a grand­son of Win­cen­ty Gra­now­ski and El­żbie­ta Pi­lec­ka of Pil­cza (lat­er Queen of Poland and third wife of king Wła­dy­sław Ja­gieł­ło). Jan's heir was his son Mi­ko­łaj (d. 1527), who got mar­ried in 1501 and be­queathed to his wife Mag­dale­na (d. be­fore 1541) five thou­sand Hun­gar­i­an florins as a sum cor­re­spond­ing to the amount of her dowry.
OGRODZIENIEC, GOTHIC PART
I
n 1521, the in­debt­ed Pi­lec­ki pawned the cas­tle and the sur­round­ing es­tates for two and a half thou­sand Pol­ish flor­ins to Mi­ko­łaj Chełm­ski of the Os­to­ja coat of arms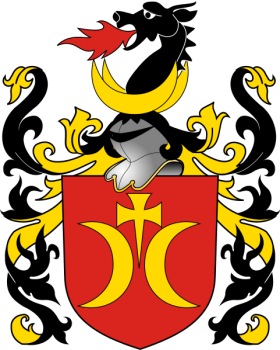 . Two years lat­er he trans­ferred the pledge to Jan Bon­er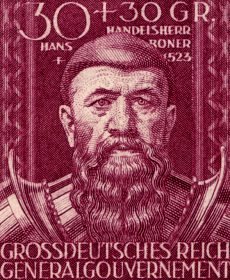 (d. 1523), bur­grave of Kra­ków, who soon paid it off and bought the whole es­tate. The new own­er, a salt deal­er and a Cra­co­vian banker, as well as the pos­ses­sor of sev­er­al starosties and the ad­min­is­tra­tor of the roy­al cas­tle in Wa­wel, made a huge for­tune in salt min­ing, pa­per pro­duc­tion, leas­ing cus­toms cham­bers and sup­ply­ing sil­ver to the roy­al mint. Thanks to his suc­cess­ful trad­ing op­er­a­tions, he quick­ly mul­ti­plied his wealth, and lat­er used it to fi­nance cred­it trans­ac­tions, in­clud­ing sup­port­ing the roy­al court with loans. Bon­er be­longed to the elite group of the clos­est king Zyg­munt Sta­ry's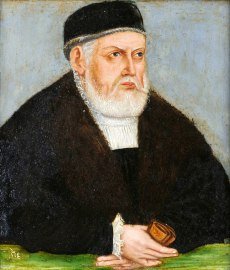 ad­vi­sors, and among the tasks com­mis­sioned to him was the ver­i­fi­ca­tion of can­di­dates for a wife for the king's son Zyg­munt Au­gust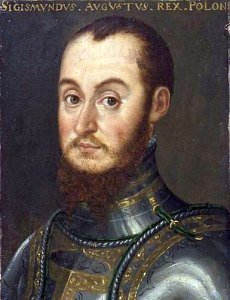 . Apart from Ogro­dzie­niec cas­tle he owned a stone mill, sev­er­al ten­e­ment hous­es in Kra­ków, Lviv and Poz­nań, as well as St. Spir­it Chapel in Mari­ac­ki Church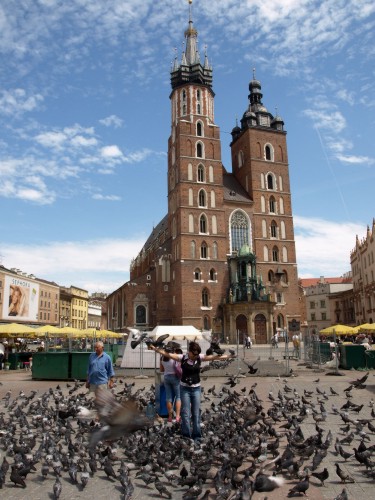 , which he con­vert­ed in­to St. John the Bap­tist Chapel.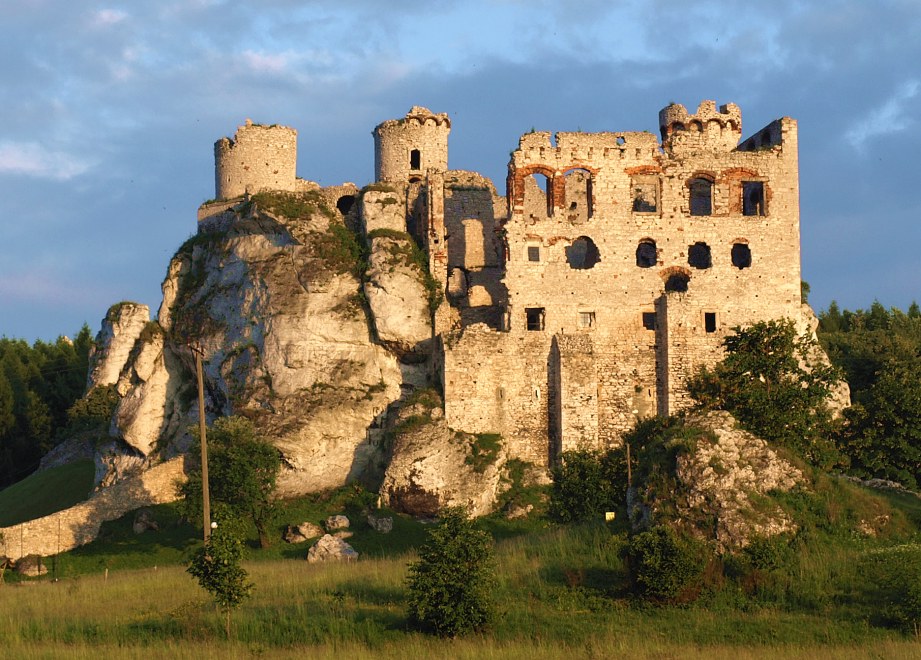 VIEW OF THE RUINS FROM THE NORTH, ON THE LEFT IS THE NORTHWEST WING ERECTED BY SEWERYN BONER
W
hen Jan died, the whole in­her­i­tance went in­to the hands of his rel­a­tives and the big­gest part of it, with Ogro­dzie­niec, was giv­en to Se­we­ryn Bo­ner
(d. 1549), son of Jan's broth­er. Thanks to such a gen­er­ous en­dow­ment Se­we­ryn im­me­di­ate­ly en­tered the ranks of the finest aris­toc­ra­cy, re­ceiv­ing the Kra­ków mag­is­trate, as well as the starosties of Rab­sztyń, Oj­cow and Czchów. In 1530 he com­mis­sioned Ital­ian ar­chi­tects to re­build the cas­tle in the Re­nais­sance style fol­low­ing the ex­am­ple of roy­al res­i­dence in Kra­ków. In this way, he con­tribut­ed to the cre­ation of a mag­nif­i­cent, full of splen­dor mag­nate's res­i­dence, which was fur­nished with the most ex­pen­sive and ex­qui­site items brought from all o­ver Eu­rope.
VIEW OF THE RENAISSANCE PART OF THE CASTLE FROM THE WEST
Seweryn Bo­ner of the Bo­na­ro­wa coat of arms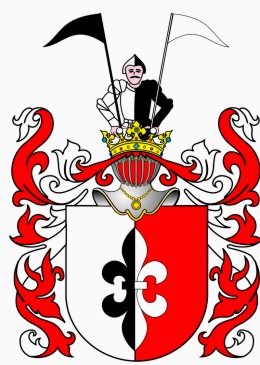 (1486-1549) was the son of the banker Ja­kub and nephew of Jan Bon­er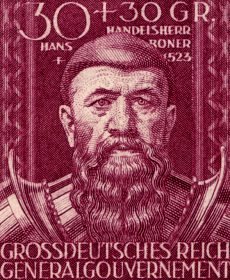 , from whom he in­her­it­ed a huge es­tate and luc­ra­ti­ve of­fices. In 1515, he mar­ried Zo­fia Beth­man, an heir­ess of Ba­li­ce, which from then on served as a sub­ur­ban res­i­dence of the Bon­er fam­i­ly. Sew­eryn be­longed to the elite group of the rich­est peo­ple in the coun­try. Fol­low­ing his fa­ther and un­cle, he ran mer­chant and bank­ing busi­ness­es through­out Eu­rope, lend­ing mon­ey to king Zyg­munt Sta­ry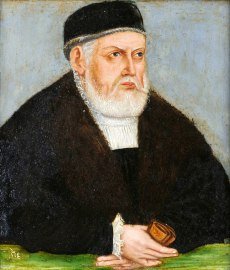 , queen Bona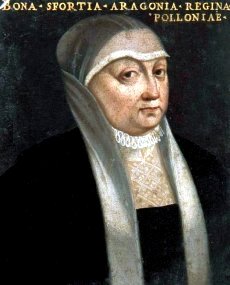 , and even the em­per­or him­self (who gave him the ti­tle of baron).

Bon­er was al­so a gen­er­ous pa­tron of artists and schol­ars. Near his manor house in Bal­ice he found­ed a beau­ti­ful gar­den full of for­eign plants. He al­so main­tained his own or­ches­tra to the sound of which in 1543 he en­ter­tained queen Eli­za­beth of Hab­s­burg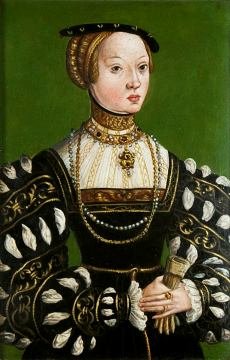 . He man­aged the mod­ern­iza­tion of the Wa­wel cas­tle, the cas­tle in Ogro­dzie­niec and the Odrzy­koń fort­ress in Ka­mie­niec. Dur­ing his life, how­ev­er, he was dis­liked not on­ly for his ex­ces­sive greed, but al­so be­cause of his re­li­gion. As an ar­dent fol­low­er of Pro­tes­tan­tism, af­ter his death Sew­eryn Bon­er was not bur­ied in Ma­riac­ki church in Kra­ków, but in a small provin­cial church in Kro­mo­ło­wo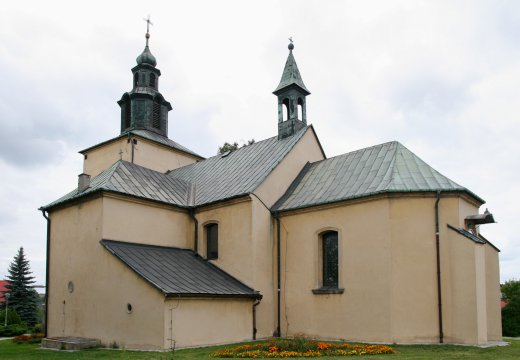 . Af­ter some time, the Se­we­ryn's tomb­stone was de­stroyed by lo­cal vil­lagers, and his re­mains - des­e­crat­ed.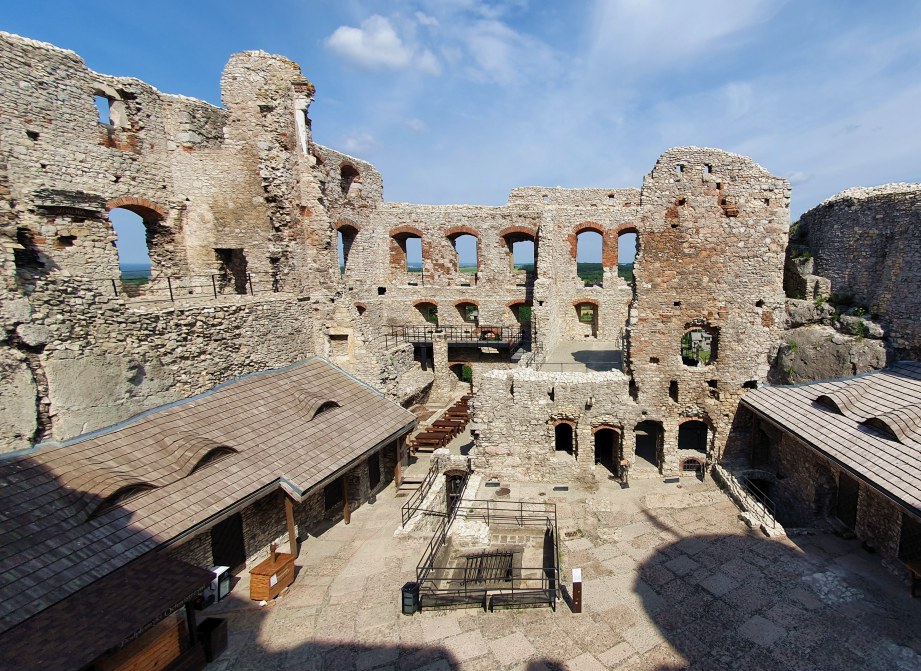 RUINS OF THE NORTH-WEST WING BUILT BY SEWERYN BONER IN THE FIRST HALF OF THE XVI CENTURY
S
ew­eryn Bon­er had four sons, but they all died ear­ly with­out heirs. There­fore, the Ogro­dzie­niec es­tate was in­her­it­ed by the on­ly daugh­ter - Zo­fia, who in 1562 mar­ried the voivode of Lub­lin, Jan Fir­lej of the Le­wart coat of arms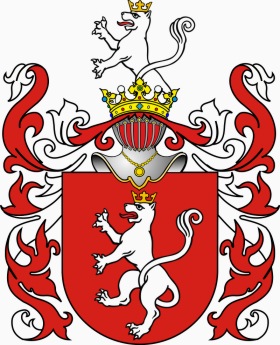 , an en­thu­si­as­tic fol­low­er of Cal­vin­ism. New own­er mod­ern­ized the cas­tle by sur­round­ing it with bas­tion for­ti­fi­ca­tions and a dry moat. When he died in 1574, the lord­ship of Ogro­dzie­niec be­came his son Mi­ko­łaj (d. 1601), the voi­vode of Kra­ków and the roy­al deputy, pri­vate­ly a lover of pa­le­on­to­log­i­cal dis­cov­er­ies and a close friend of the fa­mous Pol­ish po­et, Jan Ko­cha­now­ski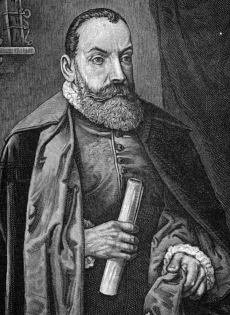 . At that time in Poland there was an in­ter­reg­num. Af­ter Ste­fan Ba­to­ry's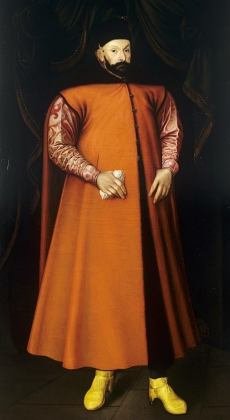 death (d. 1586) arch­duke Max­i­m­il­ian Hab­zburg III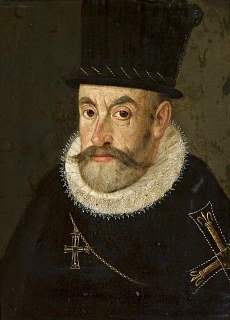 (d. 1618) want­ed to take the Pol­ish throne and in 1587 he en­tered the coun­try with 10 thou­sand Aus­tri­an sol­diers. Al­though he fi­nal­ly failed to achieve this goal, on his march to­wards Kra­ków he seized Ogro­dzie­niec cas­tle, plun­der­ing its fur­nish­ings and the valu­ables gath­ered there.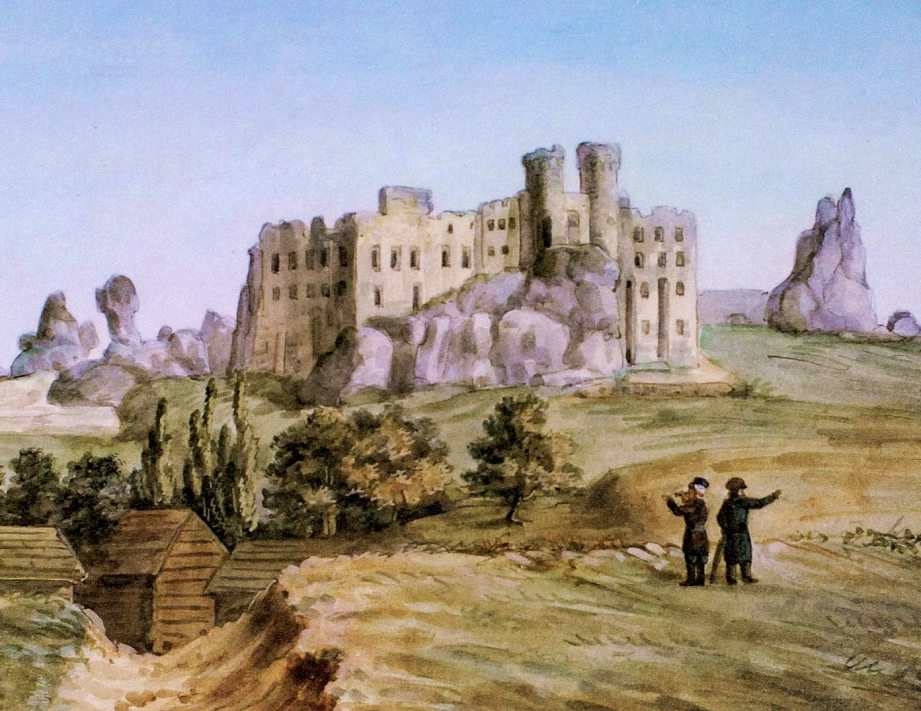 WATERCOLOR FROM THE MIDDLE OF THE XIXTH CENTURY
A
f­ter Mikołaj's death Ogro­dzie­niec came un­der the rule of his son Jan Fir­lej. When he died child­less in 1640, it be­came the prop­er­ty of his cousin An­drzej Fir­lej (d. 1658-61), who held the of­fice of Lub­lin cas­tel­lan. Then, the cas­tle be­came the prop­er­ty of An­drzej's wid­ow, Zo­fia Pe­tro­ne­la de do­mo Tar­now­ska (d. 1682), and in 1664 it was pur­chased by Sta­ni­sław War­szyc­ki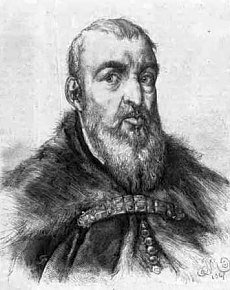 , Ab­dank coat of arms
, castel­lan of Kra­ków (d. 1681). War­szyc­ki, who paid 267,000 zło­tys for the rights to these lands, was a no­ble­man fa­mous for his thrift, clear mind, and... cru­el­ty: The castel­lan over­load­ed his peas­ants with labour, tor­ment­ed and tor­tured them, was a bad Chris­tian and who knows if he was not a heretic, he did not re­spect holy days, and de­spised priests... On the oth­er hand, he made a huge con­tri­bu­tion to the de­fense of Pol­and dur­ing the war with the Swedes, when he chased away the Swedish crews from the cas­tles of Dan­ków, Krze­pi­ca and Pil­i­ca.
RUINS ON A DRAWING BY A. SCHOUPPE, 1860
Stanisław Warszycki, own­er of Ogro­dzie­niec cas­tle in the mid­dle of the 17th cen­tu­ry, is re­mem­bered as a great pa­tri­ot, de­fend­er of the Pau­li­ne Mo­na­ste­ry in Czę­sto­chowa and a hero in bat­tles with the Swedes. How­ev­er, folk leg­ends per­pet­u­ate an­oth­er, dark­er face of this no­ble­man - that of a ruth­less cru­el and sadis­tic man. If these sto­ries can be be­lieved, War­szyc­ki per­son­al­ly su­per­vised and of­ten took ac­tive part in tor­tur­ing his stub­born serfs. One day he even or­dered that his wife, He­le­na Wiś­nio­wiec­ka, be whipped in the cas­tle court­yard in the pres­ence of his ser­vants.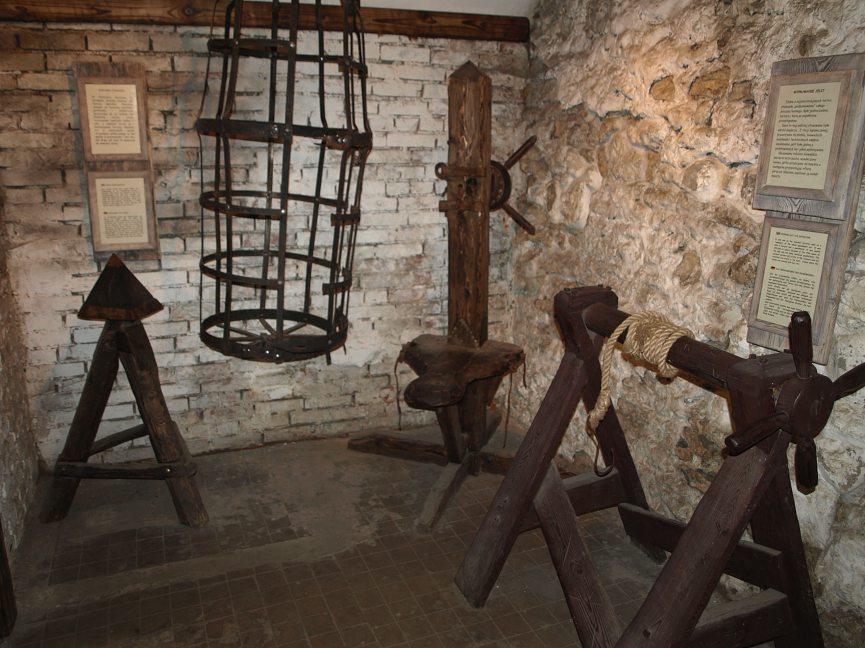 In pop­u­lar cul­ture War­szyc­ki was the per­son­i­fi­ca­tion of the dev­il: He was a wealthy man but of bad char­ac­ter. He was cru­el and un­for­giv­ing both to his ser­vants and to his suc­ces­sive wives. One of them he sup­pos­ed­ly walled up alive for be­ing un­faith­ful, an­oth­er was whipped in pub­lic. Hav­ing promised his daugh­ter Bar­ba­ra a part of his prop­er­ty as a rich dowry, he gave her noth­ing. Be­cause he was greedy. Leg­end says that he still guards his trea­sures, which no one has found yet. On moon­lit nights, he ap­pears as a large dog with a clank­ing chain, guard­ing ac­cess to valu­ables. The castel­lan al­leged­ly tor­tured his sub­jects in a cav­ern lo­cat­ed be­tween rocks in the south­ern part of the low­er cas­tle. To­day there is a small ex­hi­bi­tion of tor­ture de­vices and the place is now called War­szyc­ki's Tor­ture Cham­ber.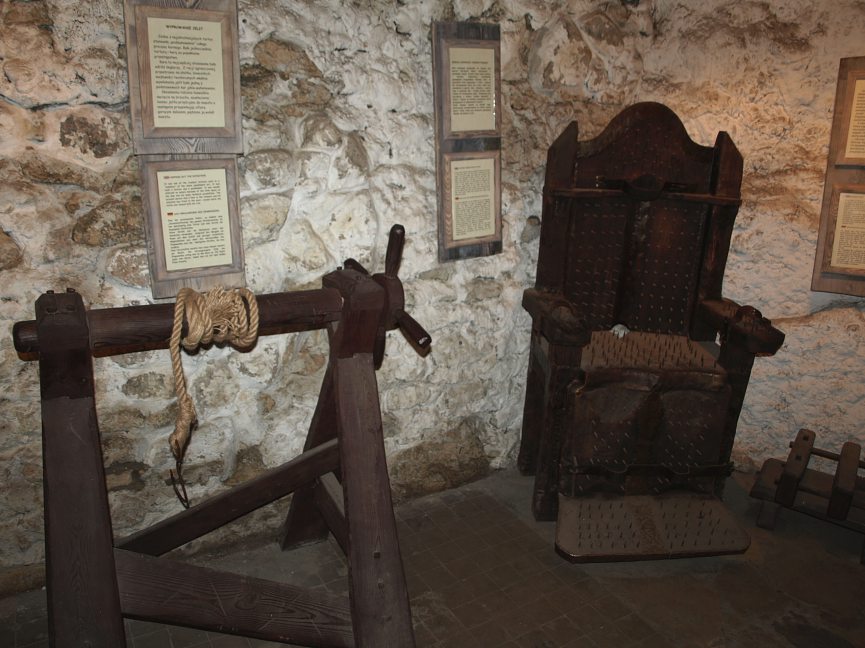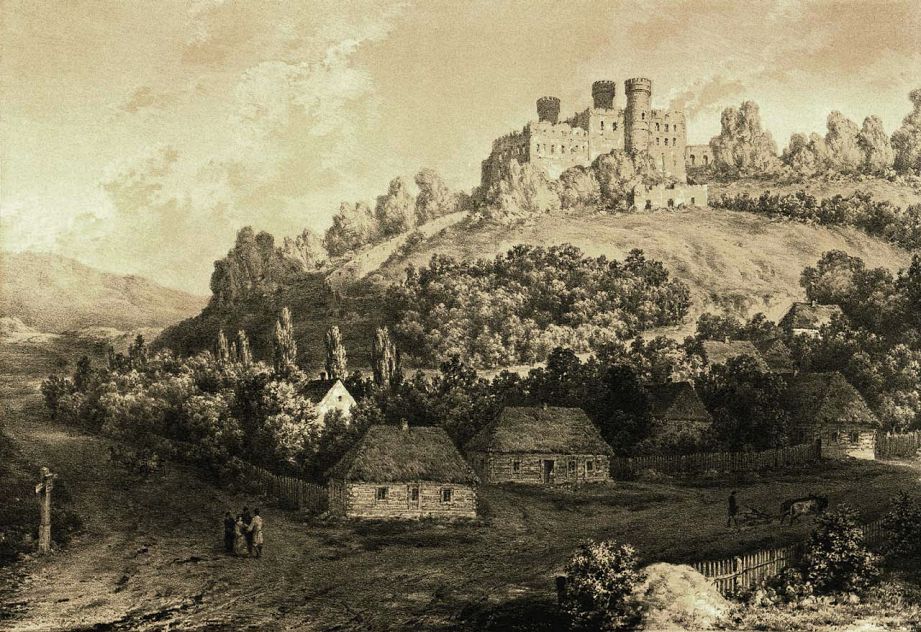 CASTLE ON LITHOGRAPH BY N. ORDA, "ALBUM WIDOKÓW" 1881
D
e­spite his dif­fi­cult char­ac­ter War­szy­cki made a pos­i­tive con­tri­bu­tion to Pol­ish his­to­ry. He sup­port­ed the be­sieged Pau­line Or­der in Czę­sto­chowa, pro­vid­ing it with twelve can­nons and a herd of cows, and af­ter the re­treat of the Swedish army he cleared the area from war ma­raud­ers. In a well for­ti­fied Dan­ków cas­tle he host­ed the Pol­ish king Jan Ka­zi­mierz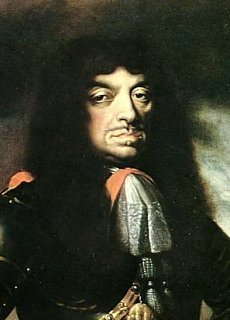 , queen Ma­ria Lud­wi­ka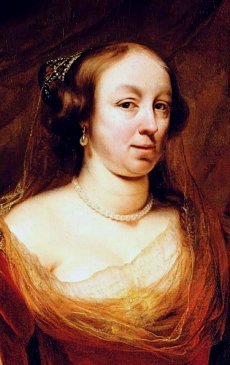 , army com­man­der Ste­fan Czar­niec­ki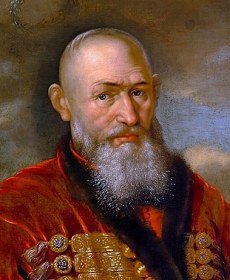 and sen­a­tors dis­cussing with him how to save their home­land. He al­so re­built the cas­tle in Ogro­dzie­niec which was cap­tured, dev­as­tat­ed and part­ly de­stroyed by the Swedes. Sta­ni­sław War­szyc­ki had a men­tal­ly ill son Jan Ka­zi­mierz, af­ter whose heir­less death Ogro­dzie­niec be­came the prop­er­ty of his sis­ter He­le­na War­szyc­ka and her hus­band Mi­chał War­szyc­ki (d. 1697). They had two sons and three daugh­ters. One of these daugh­ters, Bar­ba­ra War­szyc­ka, mar­ried the count Ka­zi­mierz Jó­zef Mę­ciń­ski, coat-of-arms Po­raj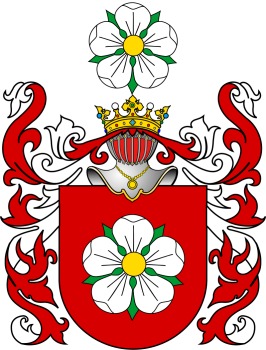 (d. 1703), bring­ing him as dowry the prop­er­ty of Ogro­dzie­niec with huge fam­i­ly trea­sures. From then on, the cas­tle re­mained in the hands of the wealthy Mę­ciń­ski fam­i­ly for three sub­se­quent gen­er­a­tions.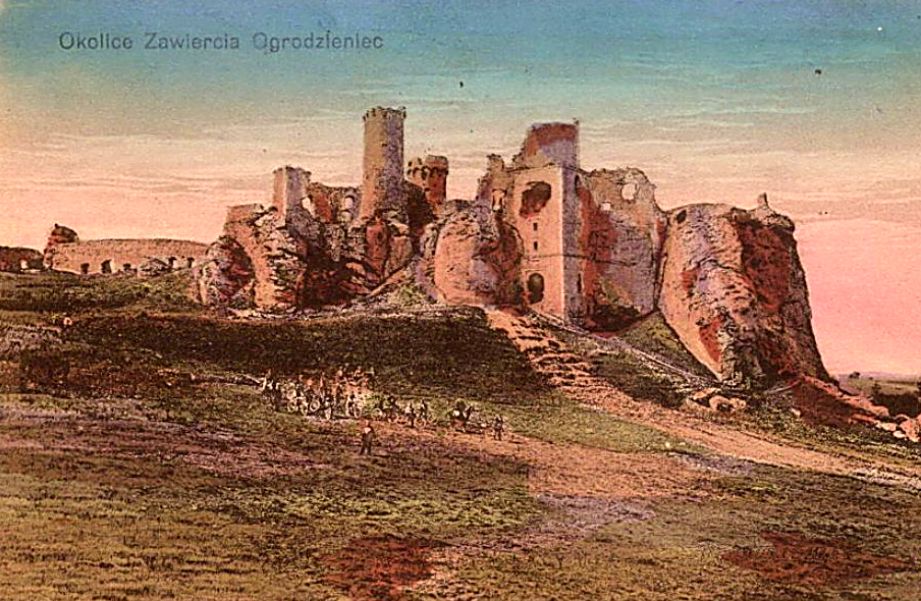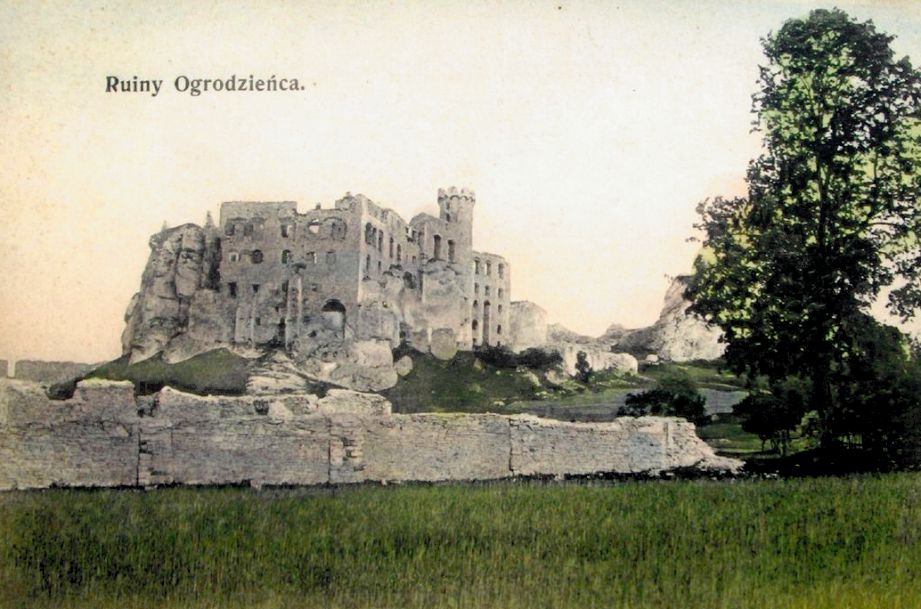 COLOURED POSTCARDS WITH AN IMAGE OF OGRODZIENIEC CASTLE, 1910-15
I
n 1702 the Swedish army in­vad­ed again the cas­tle in Ogro­dzie­niec and burnt it down. Soon, as a re­sult of var­i­ous fail­ures, po­lit­i­cal dis­tur­bances and fam­i­ly mis­for­tunes, the Mę­ciń­ski fam­i­ly be­gan to lose their prop­er­ty, which al­so ad­verse­ly af­fect­ed the cas­tle, whose con­di­tion de­te­ri­o­rat­ed sig­nif­i­cant­ly. In 1784, the half-ru­ined strong­hold was bought by To­masz Sar­iusz Jak­liń­ski of Je­li­ta coat of arms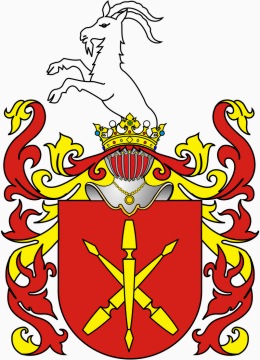 (d. 1799), a dep­uty judge, who ren­o­vat­ed a small part of it and used the rest as a re­source for build­ing a church in near­by Ogro­dzie­niec town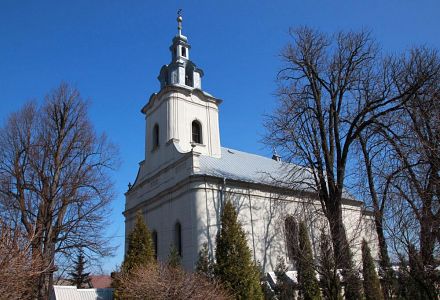 . Af­ter Jak­liń­ski's death the cen­tral part of the cas­tle was still in­hab­it­ed by his daugh­ter An­to­ni­na Mie­ro­szow­ska, how­ev­er, when in 1810 the dan­ger of col­lapse ap­peared, she moved to a near­by manor house. Mie­ro­szow­ska's son Au­gust sold the ru­in to Lud­wik Koz­łow­ski of Wie­że coat of arms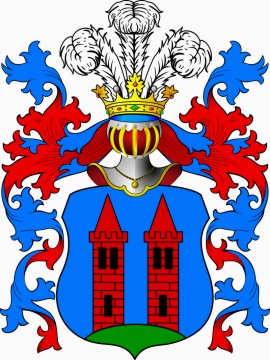 (d. 1885), who part­ly de­mol­ished it to erect farm build­ings and a sheep­fold.
CASTLE SEEN FROM THE WEST, POSTCARD OF WORLD WAR I
T
he last pre-war own­er of the cas­tle ru­ins was the fam­i­ly of Jan Mi­chaj­łow Woł­czyń­ski, coat of arms Goz­da­wa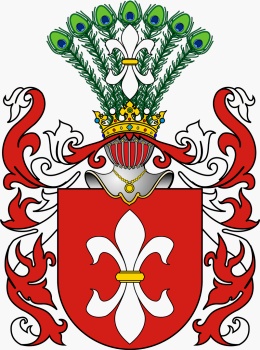 , who bought it in 1899 for 4 thou­sand rub­les from a Jew named Firsz Tan­dzie­ło­wicz Ap­pel. Short­ly af­ter the end of World War II the cas­tle was na­tion­al­ized and pro­tect­ed from fur­ther degra­da­tion. In the years 1959-75, dur­ing ar­chae­o­log­i­cal re­search, nu­mer­ous frag­ments of floors and ar­chi­tec­tural de­tails were dis­cov­ered here, as well as many mov­able ar­ti­facts, in­clud­ing can­non balls, weapon pieces, fit­tings and coins. In the west­ern part of the cas­tle, a large amount of or­gan­ic re­mains were al­so ex­ca­vat­ed in­clud­ing an­i­mal bones and burnt beams. In 1973 the ru­ins were opened for tourists.
VIEW FROM THE SOUTH, 1930S PHOTOGRAPH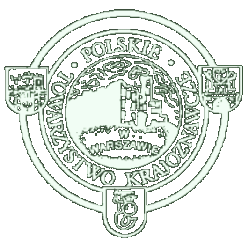 The pic­turesque ru­ins of the cas­tle en­chant­ed the fa­mous trav­el­er and pub­li­cist Adolf Dy­ga­siń­ski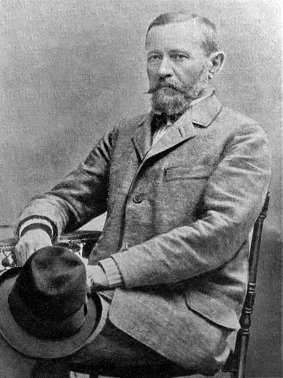 , as well as the sight­see­ing en­thu­si­ast Alek­san­der Ja­now­ski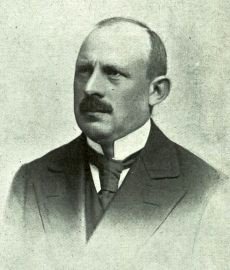 , known as the fa­ther of Pol­ish tour­ism. Ja­now­ski, to­geth­er with a group of friends, took the ini­tia­tive to found a so­cial or­ga­ni­za­tion whose aim was to re­vive the love for the moth­er coun­try (at that time not ex­ist­ing on the map) by get­ting to know its his­tor­i­cal mon­u­ments, na­ture, land­scape, etc. Thus, in 1906 the Pol­ish Tour­ist So­ci­ety was found­ed, whose badge in­clud­ed the out­line of Ogro­dzie­niec cas­tle. To com­mem­o­rate its founder's spe­cial mer­its, a pre­vi­ous­ly name­less hill (on which the cas­tle stands) was giv­en the name of Ja­now­ski's Moun­tain.

BIRD'S EYE VIEW OF THE RUINS ON A WORLD WAR 2 PHOTOGRAPH
The word Ju­ra refers to the name of an al­pine range of moun­tains formed dur­ing the Meso­zoic pe­ri­od, about 195-140 mil­lion years ago. In the area of the pre­sent-day Kra­ków-Czę­sto­cho­wa Up­land (cal­led Ju­ra) there ex­ist­ed a warm sea in which small an­i­mals lived: ce­pha­lo­pods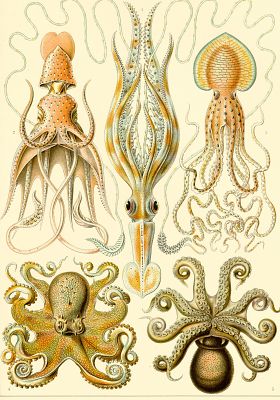 , am­mo­ni­tes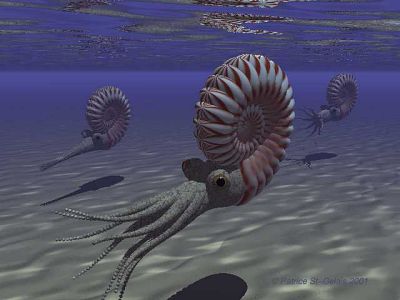 , be­lem­nites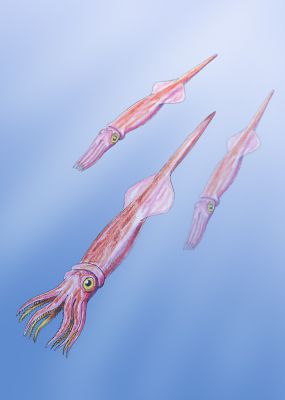 and sea ur­chins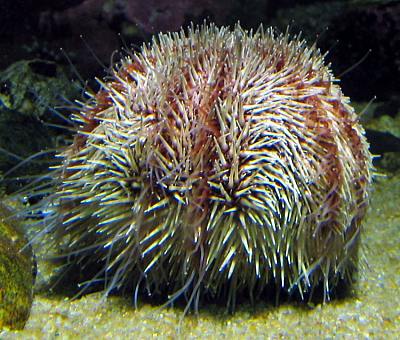 . They ac­cu­mu­lat­ed lime­stone in their bod­ies, from which lime­stone rocks were lat­er formed. Rocky lime­stone, be­ing more re­sis­tant to ero­sion, cre­at­ed in the area of the Up­land the larg­est in Poland con­cen­tra­tion of rock mon­ad­nocks ex­hibit­ing imag­i­na­tive forms. In these places you can find fos­sils of the afore­men­tioned an­i­mals, most of­ten am­mo­nites, which cen­turies ago were thought to be fos­sils of...snakes.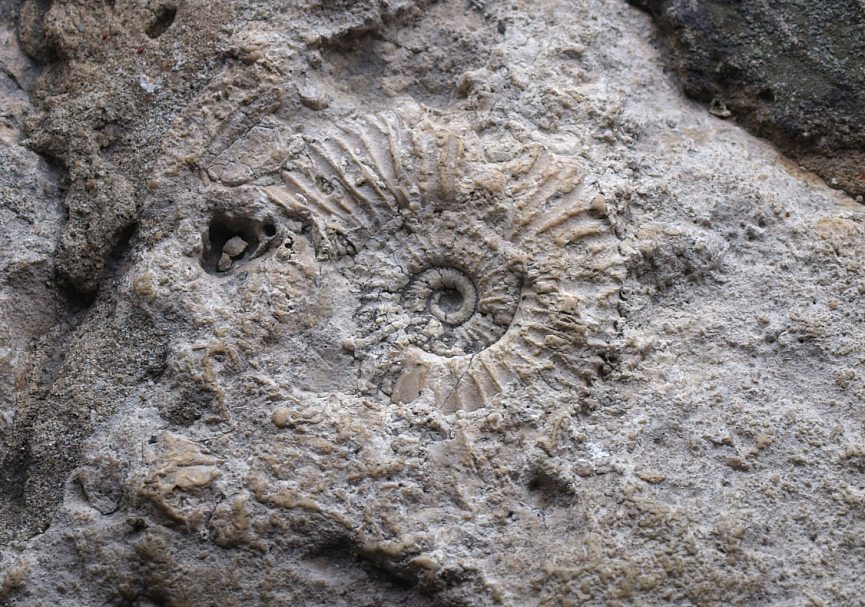 Ammonite fossil at the Ogrodzieniec castle
OGRODZIENIEC, CONTEMPORARY PHOTOS
DESCRIPTION OF THE CASTLE
T
he cas­tle was built on and among rocks, which was then dic­tat­ed by de­fen­sive rea­sons, and to­day cor­re­sponds well with the beau­ty of the sur­round­ing na­ture. Its vol­ume of 32,000 cu­bic me­ters is com­posed of sev­er­al his­tor­i­cal­ly di­verse frag­ments with a pre­dom­i­nance of Ital­ian and French Goth­ic styles. At first, the strong­hold con­sist­ed of a nar­row sin­gle-tract build­ing oc­cu­py­ing the north­east­ern part of the hill and sur­round­ed by wood-earth for­ti­fi­ca­tions and per­haps par­tial­ly by a stone wall. In the 15th cen­tu­ry a stone tow­er was added to it, as well as a south-east­ern res­i­den­tial wing. The oth­er sides of the small in­ner court­yard were cov­ered with one-bay util­i­ty build­ings and porch­es.
PLAN OF THE XIV CENTURY CASTLE ON THE BASIS OF: A. WAGNER "MUROWANE BUDOWLE OBRONNE W POLSCE X-XVIIw."
PASSAGE TO THE OLDEST PART OF THE CASTLE
THE MYSTERIOUS HOLES IN THE ROCK ARE TRACES OF DRILLING FROM THE 1970S (THEN THE PASSAGE WAS MADE)
I
n 1532-47 Sew­eryn Bon­er built a Re­nais­sance north-west­ern wing with a kitchen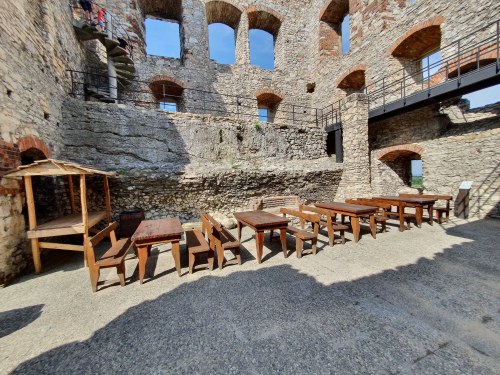 on the ground floor and rep­re­sen­ta­tive rooms on sub­se­quent floors, near which a large cis­tern for wa­ter
about 100 me­ters deep was carved in the lime­stone rock. The south­ern wing (the low­er parts of which date back to the 15th cen­tu­ry) was al­so ex­tend­ed and flanked by two high tow­ers. The com­plex lay­out of this part of the fort­ress con­sist­ed of cel­lars, stores, pantries as well as a trea­sury in the low­er parts, and rep­re­sen­ta­tive and res­i­den­tial cham­bers in the up­per lev­els. At least four large cham­bers were lo­cat­ed here, among them the kre­dencer­s­ka cham­ber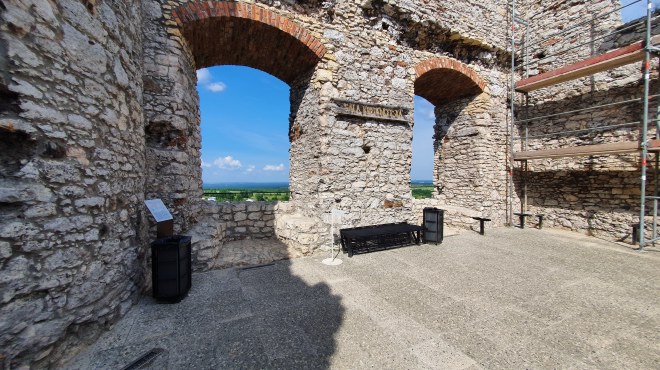 and the mar­ble cham­ber, which was erect­ed in the mid­dle of the 17th cen­tu­ry on the base of Re­nais­sance bas­tion.
THE SOUTHERN WING WITH REMAINS OF BELUARD AND MARBLE CHAMBER
CASTLE KITCHEN AND UPPER COURTYARD SEEN FROM THE NORTH-WESTERN WING
A
l­so in the first half of the 16th cen­tu­ry, the west­ern res­i­den­tial wing with Bon­ers' pri­vate cham­bers (bed­room, li­brary) was built. In the south­ern part of the cas­tle stood a build­ing called the chick­en leg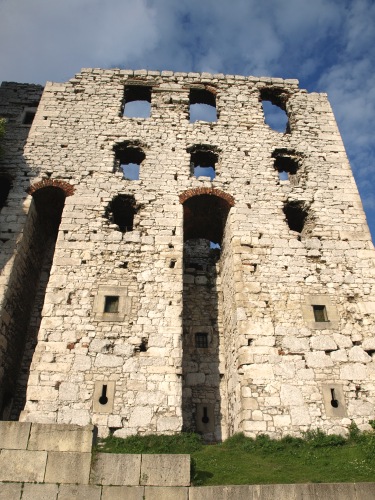 (!?), whose two low­est floors were used for de­fense pur­pos­es, while the oth­er lev­els housed ser­vants' rooms, wom­en's cham­bers, a writ­ing room and a ball­room. The up­per court­yard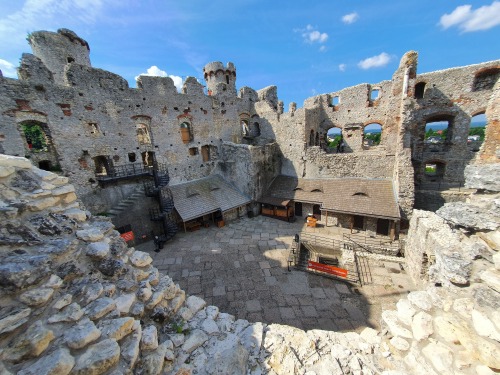 was sur­round­ed by dec­o­rat­ed gal­leries, and the high­er floors had Re­nais­sance log­gias as bal­conies. The up­per cas­tle al­so in­clud­ed two oth­er court­yards: the west­ern tour­na­ment court­yard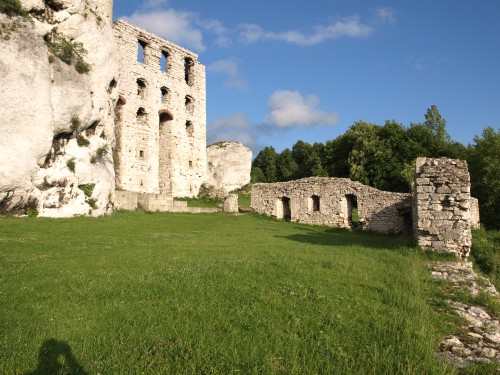 and the util­i­ty court­yard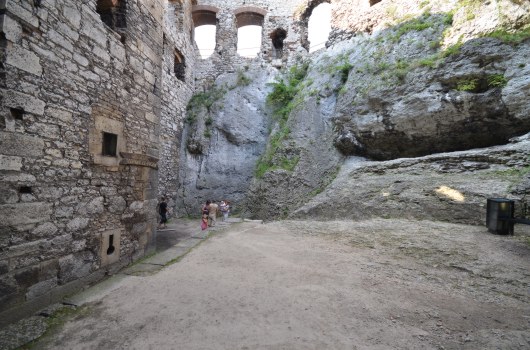 , called ptasz­nik, with ware­hous­es, work­shops and a fowl pen. By its south­ern wall there were wood­en plat­forms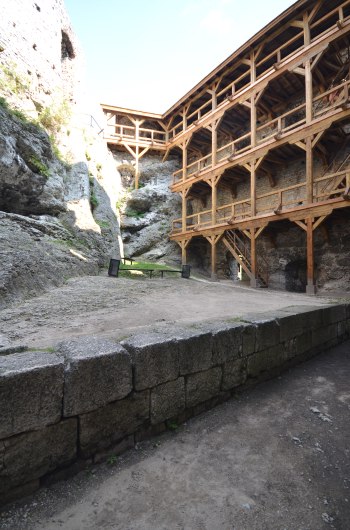 , now par­tial­ly re­con­struct­ed, which made it pos­si­ble to fire the fore­ground of the cas­tle and were used for com­mu­ni­ca­tion.
UTILITY COURTYARD, ON THE LEFT THERE IS A PART OF THE CASTLE CALLED THE CHICKEN LEG
THE TWO LOWEST TIERS OF THE CHICKEN LEG ARE EQUIPPED WITH SHOOTING STANDS
T
he low­er cas­tle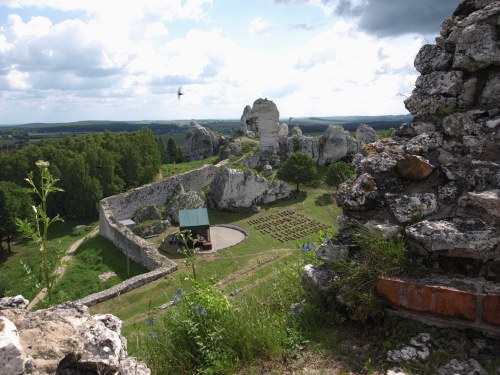 cov­ers an area of about 3 hec­tares. It was orig­i­nal­ly en­tered from the south­west through a gate set in a gap be­tween two rocks (the cur­rent gate leads through the north­west wall). In its north­east­ern part, large sta­bles and coach hous­es were built in the 16th cen­tu­ry, of which on­ly the foun­da­tions re­main to­day. The 400-me­ter-long perime­ter wall is in­te­grat­ed in­to the pic­turesque in­sel­bergs
: Tow­er Rocks to the east and Three Sis­ters to the south, with a small for­mer guard­house (cur­rent­ly an ex­hi­bi­tion of tor­ture de­vices). On some of the rocks out­side the cas­tle walls there used to be watch­tow­ers built for bet­ter ob­ser­va­tion of the cas­tle fore­grounds, but al­so for com­mu­ni­ca­tion and sig­nal­ing pur­pos­es. Ac­cess to the up­per cas­tle from the low­er cas­tle was de­fend­ed by a dry moat and a six-storey gate tow­er.
RENAISSANCE PORTAL WITH A NICHE AFTER THE STOLEN (DURING WORLD WAR I) FOUNDATION PLAQUE
O
grodzie­niec cas­tle had as many as four huge tow­ers, whose ini­tial­ly de­fen­sive func­tion gave way with time to rep­re­sen­ta­tive pur­pos­es, prov­ing the high so­cial po­si­tion of the own­er. The north­ern­most is the gate tow­er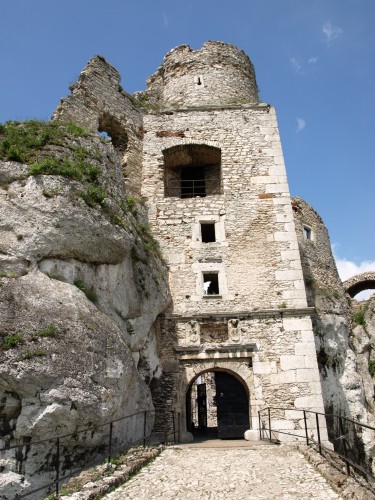 , quad­ran­gu­lar at the bot­tom, cylin­dri­cal above, with a front de­stroyed by ar­til­lery fire in 1914. In the south­east­ern part of the up­per cas­tle there is a Goth­ic tow­er called Ska­za­ńców tow­er (Tow­er of the Con­vict­ed)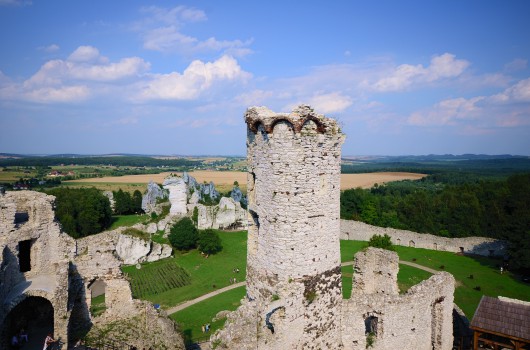 , on which some blanks have been pre­served. As its name sug­gests, cen­turies ago the low­er floors of the tow­er housed a prison. To the west of it stands the Kre­den­cer­ska tow­er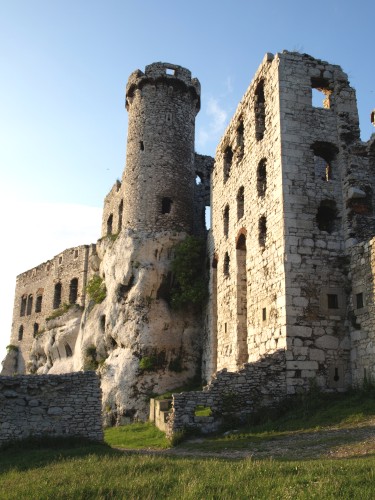 with stairs lead­ing to the view­ing plat­form, which of­fers a beau­ti­ful panora­ma of the vicin­i­ty. The south­ern­most bridge­head of the cas­tle in­cludes the foun­da­tions of the last men­tioned, Re­nais­sance tow­er, that flanked the south­ern and west­ern sec­tions of the walls. They are in­cor­po­rat­ed in­to the out­er out­line of the tour­na­ment court­yard.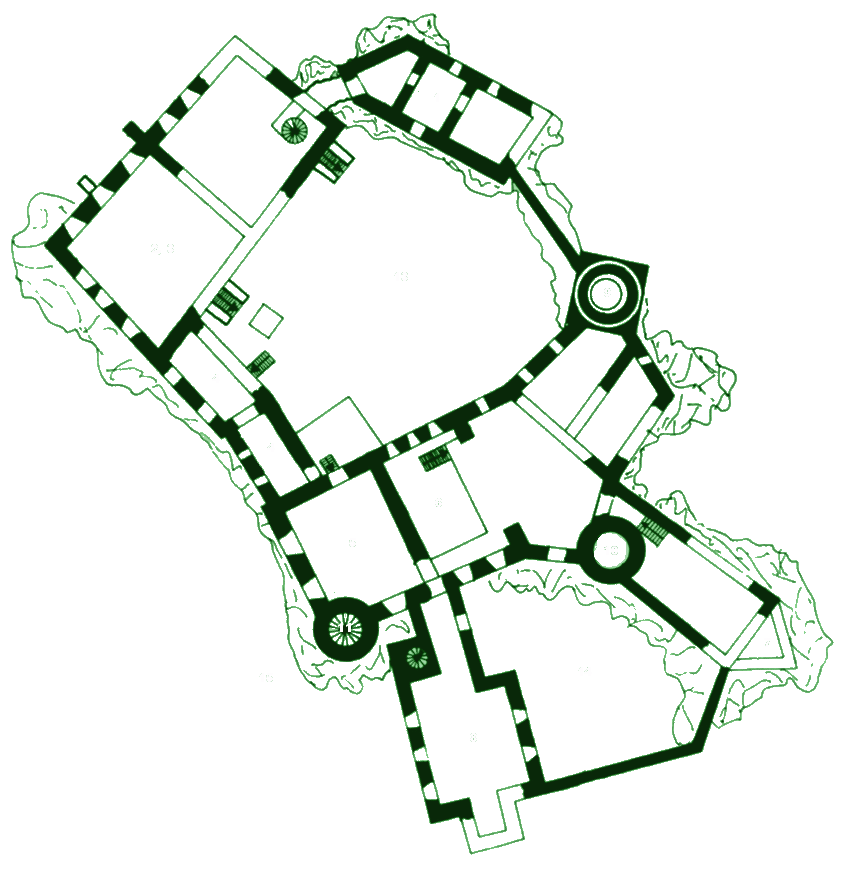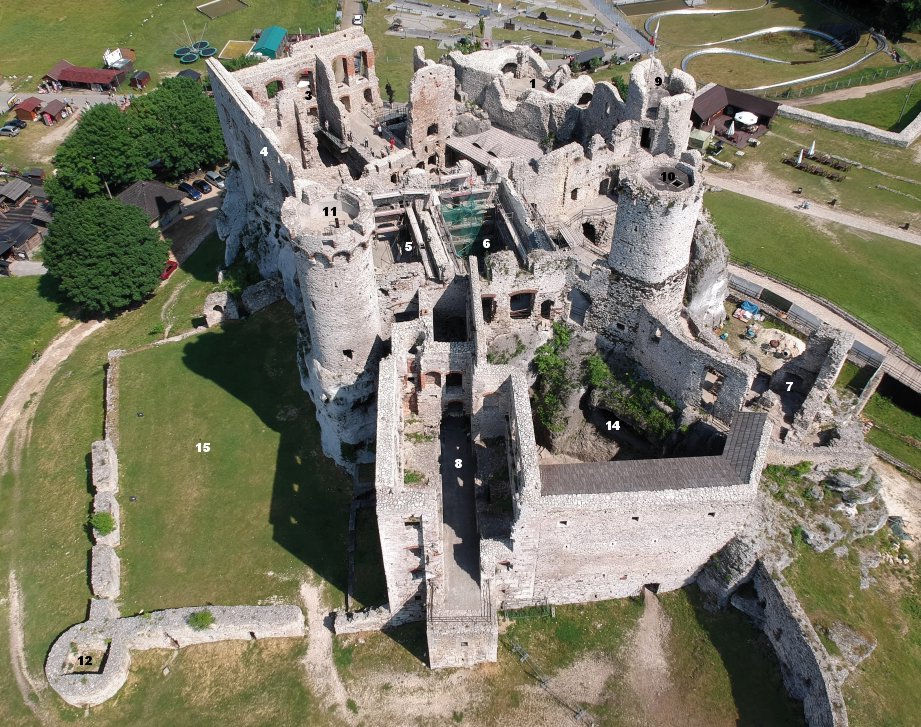 PLAN AND BIRD'S EYE VIEW OF THE UPPER CASTLE: 1. THE OLDEST PART OF THE CASTLE, 2. KITCHEN, 3. DINING CHAMBERS,
4. BONERS' CHAMBERS (BEDROOM, LIBRARY), 5. DINING HALL, 6. CREW QUARTERS 7. BELUARD, 8. CHICKEN LEG, 9. GATE TOWER,
10. TOWER OF THE CONVICTED, 11. KREDENCERSKA TOWER, 12. WESTERN TOWER, 13. UPPER COURTYARD, 14. UTILITY COURTYARD,
15. TOURNAMENT COURTYARD
PLAN OF THE CASTLE: 1. GOTHIC PART OF THE UPPER CASTLE, 2. RENAISSANCE NORTH-WEST WING, 3. RENAISSANCE WEST WING,
4. SOUTH WING WITH THREE TOWERS, 5. CHICKEN LEG, 6. UPPER COURTYARD, 7. UTILITY COURTYARD, 8. TOURNAMENT COURTYARD,
9. LOWER CASTLE, 10. FORMER ENTRANCE TO THE LOWER CASTLE, 11. CURRENT ENTRANCE TO THE LOWER CASTLE,
12. STABLES AND COACH HOUSES, 13. GUARDHOUSE, 14. BREWERY
In the im­me­di­ate vicin­i­ty of the cas­tle ru­ins we will find many in­ter­est­ing rock for­ma­tions that make the area look a bit like a pic­turesque land­scape from fairy tales and fan­ta­sy movies. Walk­ing from the vil­lage to­wards the low­er cas­tle we see a "fos­sili­zed knight", in which with a lit­tle imag­i­na­tion one can dis­tin­guish: foot, shin, tor­so and hu­man face. On the left side of the road one can see a rock snake, on the right there is a rock re­sem­bling the head and face of a beard­ed man, and a lit­tle fur­ther on there is an­oth­er rock - frog-like in shape. In the south­ern part of the low­er cas­tle stand rocks called the Three Sis­ters and the Corks­crew. With­in the walls, as well as at the foot of the strong­hold, we can find the Ta­bles of Moses, the Sphinx, the Pi­te­can­trop and the Owl. How­ev­er, the most dis­tinc­tive rock is the fos­si­lized camel, al­so known as the Duck, lo­cat­ed in the east cor­ner of the court­yard (on photos below).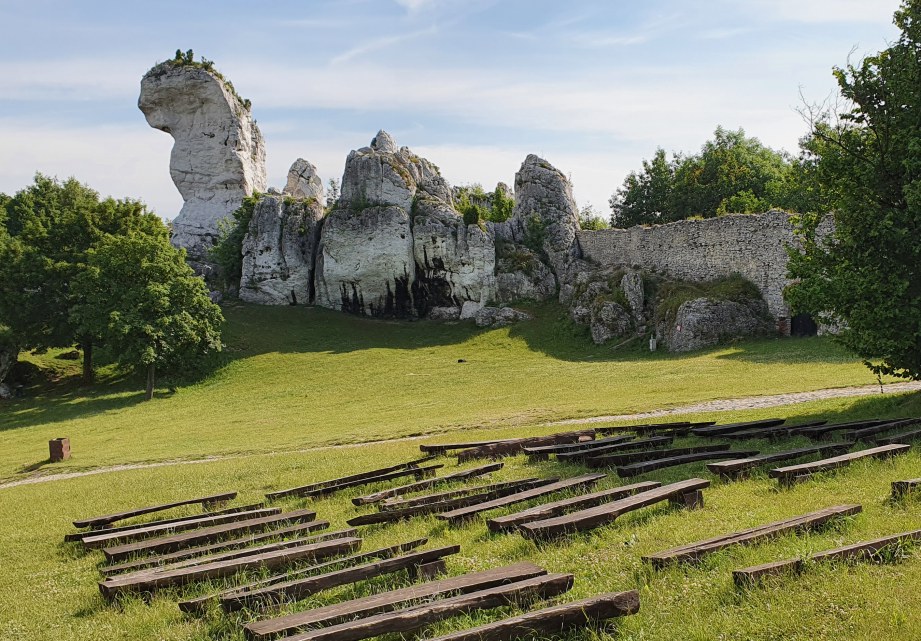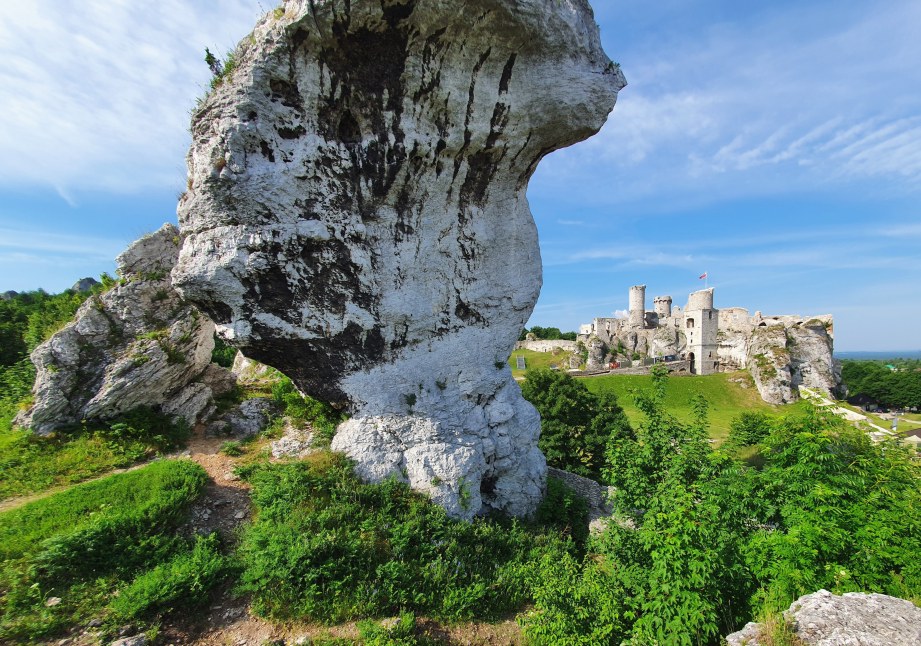 THE "DUCK" ROCK IS INTEGRATED WITH THE EASTERN PART OF THE LOWER CASTLE WALLS
---
T
he ru­in is lo­cat­ed on the high­est hill of the Kraków-Częs­to­chowa Up­land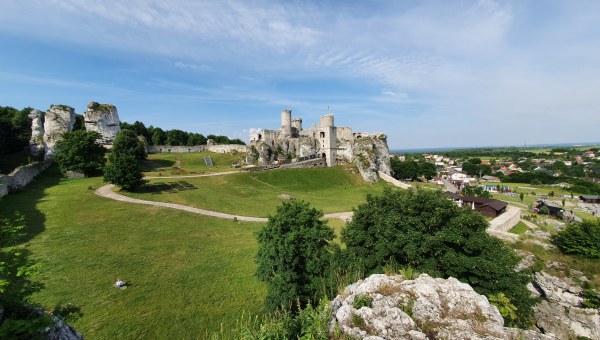 , called Ja­nows­ki Moun­tain, with an ab­so­lute height of 504 m above sea lev­el. As a great tourist at­trac­tion of the re­gion, it has been prop­er­ly pre­pared and made avail­able for mass tourism. How­ev­er, it should be tak­en in­to ac­count that the tour of the cas­tle is quite com­pli­cat­ed and may cause some dif­fi­cul­ties, so it is worth get­ting a de­tailed plan in ad­vance at the tick­et of­fice. The fur­nish­ings of the cas­tle in­te­ri­ors to­day are ac­tu­al­ly resid­u­al. In frag­ments, Bon­er's bed­room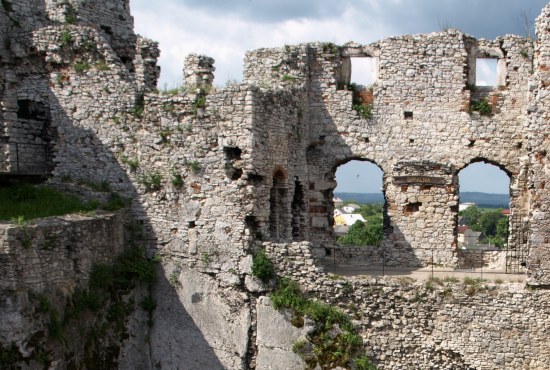 has been pre­served, as well as a cham­ber for­mer­ly serv­ing as a li­brary and some oth­ers, most of which have no ceil­ings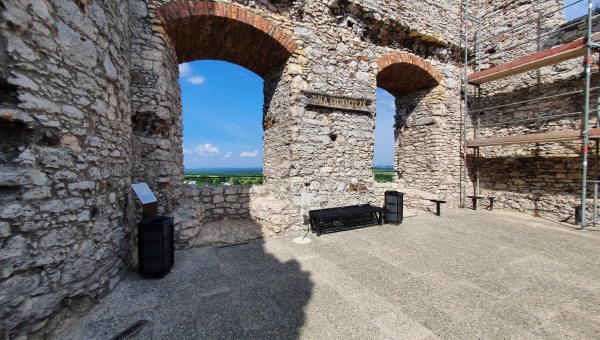 . In the best con­di­tion are the par­tial­ly re­con­struct­ed premis­es on the ground floor, which now house sou­venir stores. In the cas­tle cel­lars we can vis­it a mod­est ex­hi­bi­tion of repli­cas of uni­forms and ar­ma­ment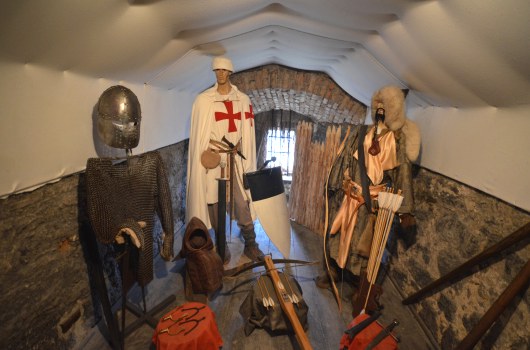 . One of the three pre­served tow­ers, called Kre­den­cer­s­ka, is al­so avail­able, from where a pic­turesque panora­ma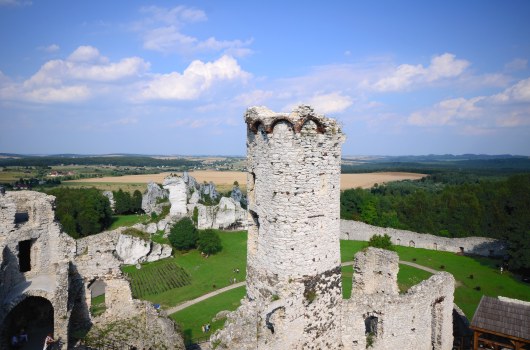 of the sur­round­ings can be en­joyed.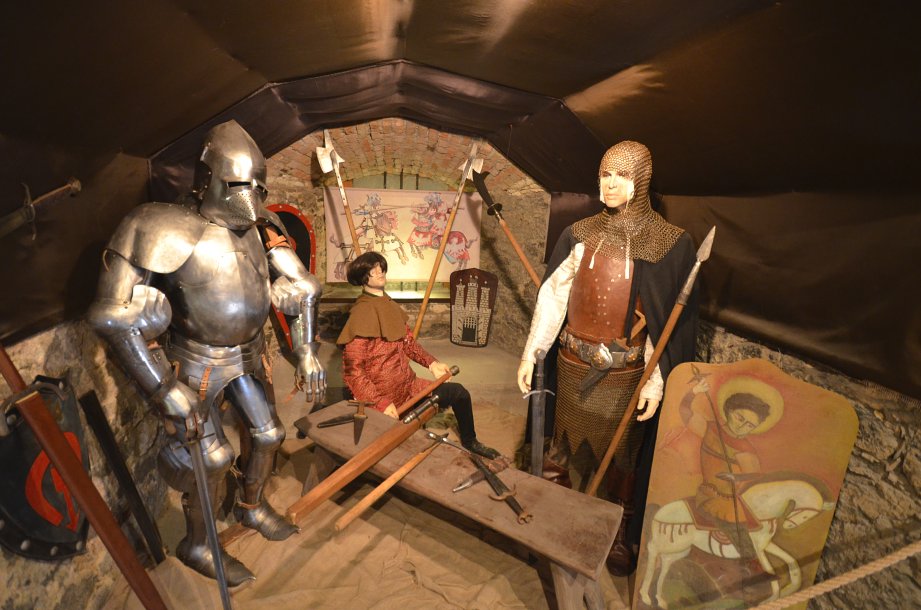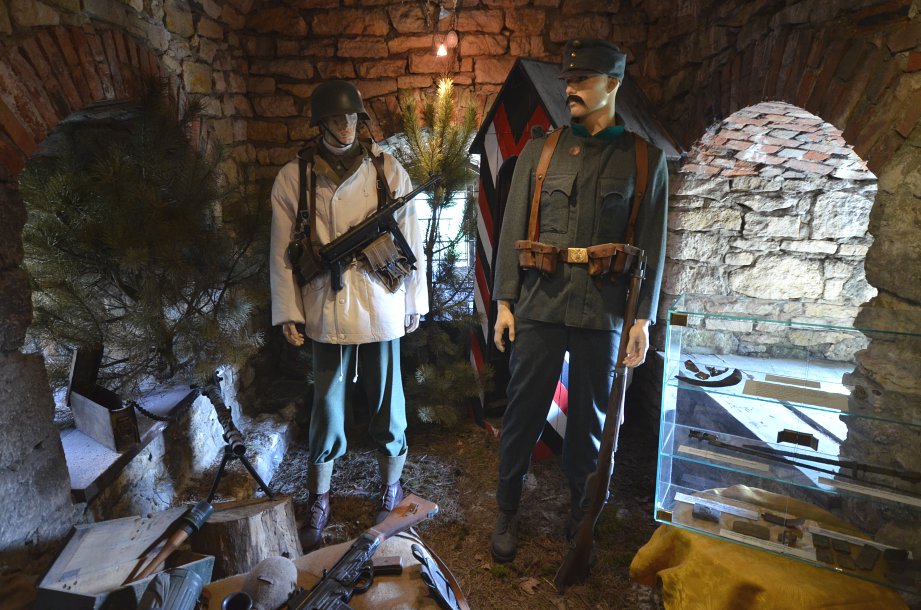 EXHIBITION OF UNIFORMS AND WEAPONS IN THE CASTLE CELLARS
The pic­turesque shape and beau­ti­ful lo­ca­tion of the cas­tle ru­ins have been at­tract­ing film and tele­vi­sion mak­ers to this place for years. Ogro­dzie­niec was the set­ting for the pop­u­lar Pol­ish se­ries about rob­bers en­ti­tled Ja­no­sik (1973) and the clas­sic com­e­dy Re­venge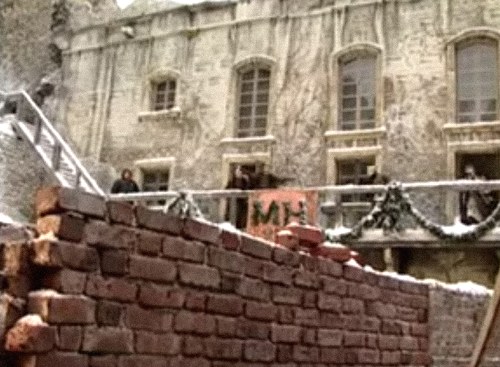 (2000) di­rect­ed by An­drzej Waj­da. Cas­tle lo­ca­tions al­so ap­peared in the film Be­hind The Iron Cur­tain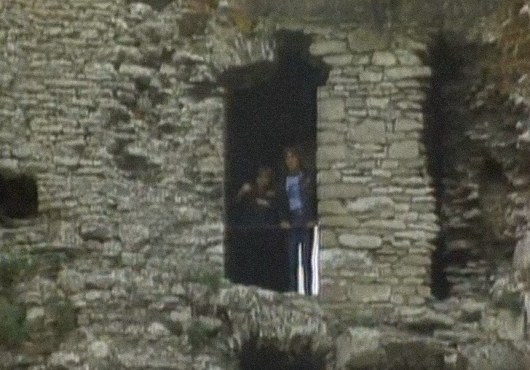 (1984) doc­u­ment­ing the vis­it of the band Iron Maid­en to East­ern Eu­rope dur­ing the Cold War. Younger view­ers, on the oth­er hand, should rec­og­nize Ogro­dzie­niec as the spe­cial ef­fects-en­hanced fort­ress from The Witch­er se­ries (2018), near which a bat­tle took place be­tween Nilf­gaar­den and the King­doms of the North (Te­me­ria, Re­da­nia, Skel­li­ge, Aedirn, and Kaed­wen), called the Bat­tle of Sod­den.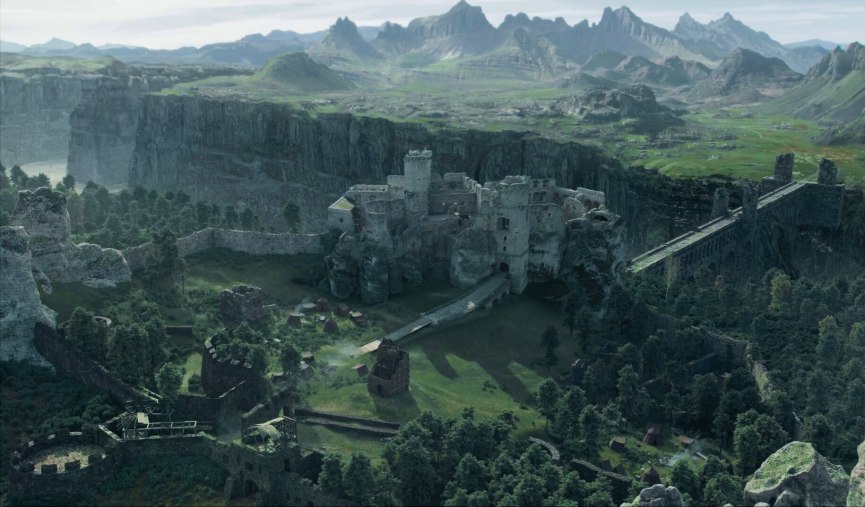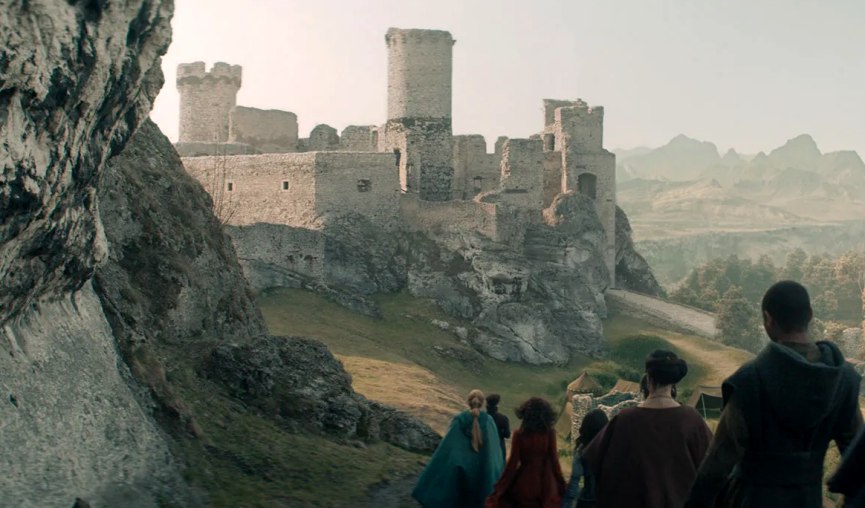 CASTLE OGRODZIENIEC, THE UPPER COURTYARD
O
ver the last two decades I have no­ticed the enor­mous and very detri­men­tal changes that have tak­en place to the cas­tle and its im­me­di­ate sur­round­ings. Un­usu­al com­bi­na­tion of the gloomy charm of the ru­ins and the beau­ty of the land­scape made Ogro­dzie­niec a vic­tim of its own suc­cess in just a few years. Man­aged by peo­ple fo­cused on quick prof­its, it has changed be­yond recog­ni­tion dur­ing that time and to­day pre­sents a gro­tesque and sad pic­ture. Col­or­ful stalls with plas­tic trash
crowd­ing along the road lead­ing to the cas­tle, bars with junk food oc­cu­py­ing the op­po­site side of it, noisy amuse­ment park
, tacky ad­ver­tise­ments on the walls, om­nipresent noise and kitschy mu­sic, and fur­ther flood of plas­tic trash in the court­yard made this place dur­ing the sea­son no dif­fer­ent from the prom­e­nade in the poor sea­side 're­sort'. It is sad to see how hu­man greed and stu­pid­i­ty de­stroys the mag­nif­i­cent her­itage and vast cul­tur­al achieve­ments.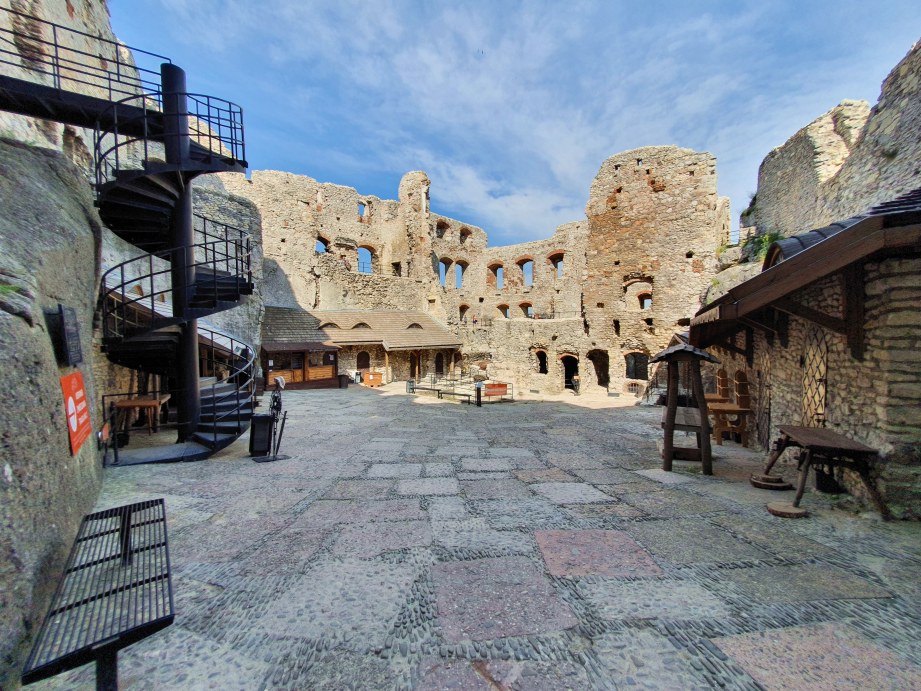 CASTLE COURTYARD IN THE MORNING...
| | |
| --- | --- |
| | You need to buy a tick­et. Due to the huge pop­u­lar­i­ty of this place, I rec­om­mend vis­its out of the sum­mer sea­son or on week­days, pos­si­bly just af­ter the gates open. |
| | |
| --- | --- |
| | The av­er­age tour time is about 1-1.5 hours. We visit the cas­tle with­out a guide. |
| | |
| --- | --- |
| | You can en­ter the cas­tle with your dog. |
| | |
| --- | --- |
| | A lot of free space for fly­ing is found in the ar­eas to the east and south of the cas­tle, which are de­void of fa­cil­i­ties, and where not many tourists ar­rive. |
VIEW FROM THE FORMER CASTLE CHAMBER TO PODZAMCZE VILLAGE
PANORAMA SEEN FROM THE KREDENCERSKA TOWER, IN THE FOREGROUND WE CAN SEE THE TOWER OF CONVICTED
---
O
grodzie­niec cas­tle is sit­u­at­ed in a small vil­lage called Pod­zam­cze, 2 km away from Ogro­dzie­niec town. There is a bus line no. 7 from Za­wier­cie.
| | |
| --- | --- |
| | You will find many park­ing lots ar­ranged in pri­vate back­yards. In 2021 the all-day cost of park­ing in one of them was 2,5 EUR. |
| | |
| --- | --- |
| | With bi­cy­cles we can en­ter the low­er cas­tle. Bi­cy­cles are not al­lowed at the up­per cas­tle. |
---
1. M. Antoniewicz: Zamki na Wyżynie Krakowsko-Częstochowskiej...
2. U. J. Górski: Zamek Ogrodzieniecki w Podzamczu, autor 1998
3. I. T. Kaczyńscy: Zamki w Polsce południowej, Muza SA 1999
4. L. Kajzer, J. Salm, S. Kołodziejski: Leksykon zamków w Polsce, Arkady 2001
5. J. Pleszyniak: Zamek Ogrodzieniec, Alatus 2006
6. R. Sypek: Zamki i obiekty warowne Jury Krakowsko-Częstochowskiej
7. A. Wagner: Murowane budowle obronne w Polsce X-XVIIw., Bellona 2019
8. B. Wernichowska, M. Kozłowski: Duchy Polskie, PTTK Kraj 1985
9. J. Zinkow: Orle gniazda i warownie jurajskie, SiT 1977
10. Małopolska na weekend - przewodnik turystyczny Pascal 2000

OUTDATED VIEWS OF THE CASTLE - NOW THE PLACE IS DOMINATED BY A VULGAR AMUSEMENT PARK
Castles nearby:
Ryczów - the remains of a watchtower from the 14th century, 4 km
Pilica - the fortified manor house from the 17th century, 7 km
Bydlin - the ruin of a knight's castle from the 13th/14th century, 10 km
Smoleń - the ruin of a knight's castle from the 14th century, 10 km
Morsko - the castle ruin from the 14th century, 15 km
Udórz - the relics of a knight's castle from the 14th/15th century, 22 km

---
Birów Moun­tain, lo­cat­ed 2 km to the north of the cas­tle ru­ins, where rem­nants of an­cient cul­tures have been dis­cov­ered, in­clud­ing the old­est ones dat­ing from the Ne­olith­ic or Bronze Age, as well as Lusa­tian and Slav­ic cul­tures. Around the 8th cen­tu­ry, the moun­tain was for­ti­fied with a stone and wood ram­part. The set­tle­ment col­lapsed in the first half of the 14th cen­tu­ry, prob­a­bly as a re­sult of bat­tles be­tween the Pol­ish prince Wła­dy­sław Ło­kie­tek and the Czech king Wacław. A mod­ern re­con­struc­tion of the strong­hold was erect­ed on the site of the al­leged ear­ly me­dieval build­ing, which in­cludes a pal­isade en­clos­ing the hill from the east, sev­er­al wood­en huts and tow­ers. From the top of the moun­tain there is a beau­ti­ful panora­ma of the Kra­ków-Czę­sto­chowa Up­land with the ru­ins of Ogro­dzie­niec cas­tle.
text: 2009, 2022
photographs: 2009, 2014, 2021
© Jacek Bednarek