CHĘCINY

the ruins of royal castle
RUINS OF THE ROYAL CASTLE IN CHĘCINY, VIEW FROM THE NORTH
---
T
he old­est back­ground in­for­ma­tion about the cas­tle in Chę­ci­ny comes from a doc­u­ment is­sued in 1306 by San­do­mierz Duke Wła­dys­ław Ło­kie­tek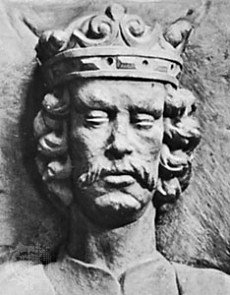 (d. 1333), in which he promis­es to give the bish­op of Cra­cow cas­trum Chan­cin to­geth­er with the sur­round­ing vil­lages. Tak­ing in­to ac­count the con­tent of this state­ment and the date of its is­suance, it can be as­sumed that the strong­hold was built in the pe­ri­od when Ma­ło­pol­s­ka be­longed to Czech, i.e. around the turn of the 13th and 14th cen­turies. There­fore, among its founders it is most of­ten men­tioned the Bo­hemi­an and Pol­ish King Va­clav II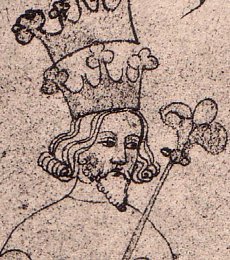 (d. 1305) or the Bish­op of Cra­cow Jan Mu­ska­ta (d. 1320). How­ev­er, it is not known whether Mu­ska­ta, who was in po­lit­i­cal op­po­si­tion to the Pi­ast Duke Wła­dy­sław, ev­er held an of­fice in the cas­tle - opin­ions on this mat­ter are ex­treme­ly di­ver­gent. What is cer­tain is that on 22 Sep­tem­ber 1307 Wła­dy­sław Ło­kie­tek signed an act in cas­tris ante cas­trum Chan­cin re­vok­ing the priv­i­lege grant­ed a year ear­li­er, and from then on the cas­tle re­mained un­der Pol­ish rule. The first his­tor­i­cal­ly doc­u­ment­ed starost of Chę­ci­ny was Wro­cław bur­gra­bius de Than­czin (1308).
ON THE CASTLE HILL, VIEW FROM THE WEST
I
t was still dur­ing the reign of Va­claw II and his faith­ful al­ly, the bish­op of Cra­cow Jan Mu­ska­ta, that the min­ing dis­trict of Chę­ci­ny was cre­at­ed and quick­ly de­vel­oped, based on rel­a­tive­ly rich and eas­i­ly ac­ces­si­ble min­er­al de­posits of lead. It is quite like­ly that a well-for­ti­fied cas­tle could in this con­text have act­ed as an of­fi­cial cen­ter for the area pro­vid­ing pro­tec­tion for ex­plo­ration, and com­bin­ing this func­tion with ad­min­is­tra­tive over­sight of the en­tire re­gion. Af­ter Wła­dy­sław Ło­kie­tek took o­ver Ma­ło­pol­s­ka, the fort­ress al­so gained po­lit­i­cal sig­nif­i­cance. It was here, in the pres­ence of the ruler, that in 1310, 1318, 1331 and 1333 the con­ven­tions of Ma­ło­pol­s­ka and Wiel­ko­pol­s­ka knights were or­ga­nized, con­sid­ered by his­to­ri­ans to be the ori­gins of Pol­ish par­lia­men­tarism. Of par­tic­u­lar im­por­tance was the con­ven­tion in the sum­mer of 1331, de­scribed by the chron­i­cler Jan Dłu­gosz as gen­er­alis om­ni­um ter­rarum con­ven­tus, dur­ing which Ło­kie­tek hand­ed o­ver the ad­min­is­tra­tion o­ver Wiel­ko­pol­s­ka to his son Ka­zi­mierz (lat­er Pol­ish King Ca­si­mir the Great). Af­ter this event part of the Pol­ish army set out for the Ku­jawy re­gion to face the Teu­ton­ic Knights' army in a bat­tle on 27 Sep­tem­ber 1331, known as the Bat­tle of Płow­ce.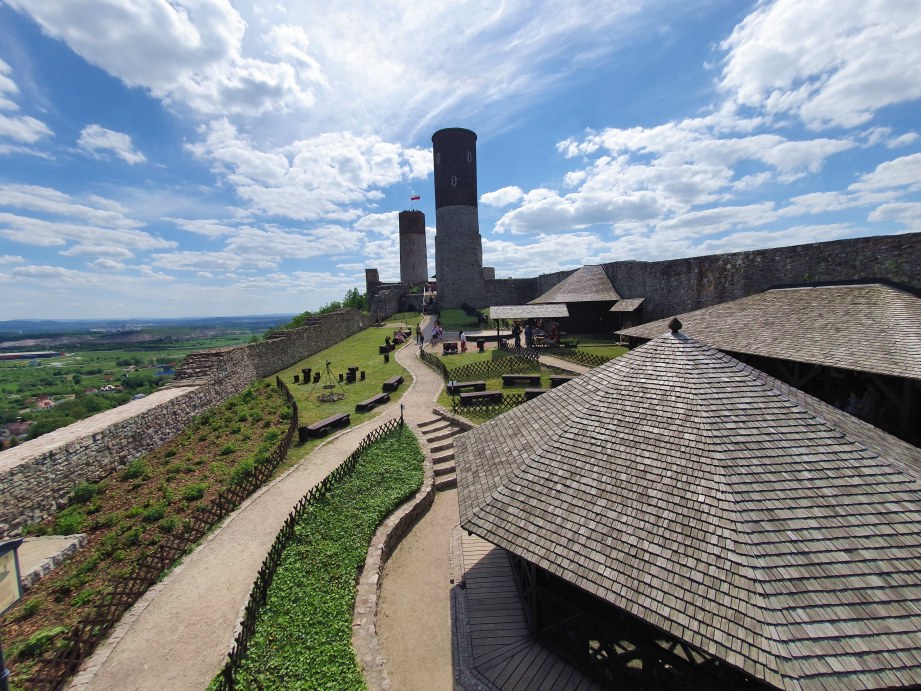 VIEW OF THE LOWER CASTLE FROM THE WEST; IN THE BACKGROUND WE CAN SEE THE UPPER CASTLE WITH HIGH TOWERS
I
n the times of Duke Wła­dy­sław the strong­hold in Chę­ci­ny was con­sid­ered one of the most im­por­tant and best for­ti­fied in the whole coun­try. Ło­kie­tek, ap­pre­ci­at­ing its de­fen­sive val­ues, de­cid­ed to de­posit the crown trea­sury here in fear of the threat com­ing from the Teu­ton­ic Knights. The same goal was shared by bish­op Ja­ni­sław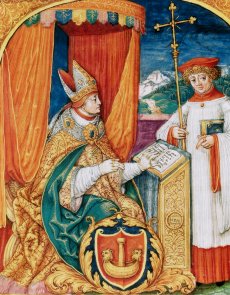 (d. 1341), who in 1318 kept in Chę­ci­ny the trea­sures of Gnie­zno Cathe­dral, al­so due to the fear of loot­ing them by Teu­ton­ic in­vaders. When Ło­kie­tek died, Ka­zi­mierz Wiel­ki
(the Great, d. 1370) ex­pand­ed the cas­tle, mak­ing it even more pow­er­ful and in­ac­ces­si­ble to the en­e­my. The strength of its for­ti­fi­ca­tions was proved by the fact that for the next 250 years no army was able to take the cas­tle hill ei­ther by as­sault or by trick.
VIEW OF THE LOWER CASTLE FROM THE PRISON TOWER, ON THE PHOTO ABOVE WE CAN SEE THE RUINS BEFORE REVITALIZATION
K
ing Kazimierz, how­ev­er, did not like Chę­ci­ny very much, since he set­tled here his wife, Ade­laide (d. 1371), who had been ex­pelled by her hus­band due to al­leged in­fer­til­i­ty. The queen spent two years in the cas­tle, af­ter which she was moved to Żar­no­wiec, be­cause she an­noyed him with bit­ter re­marks. Af­ter the king's death El­żbie­ta Ło­­kiet­ków­na
(d. 1380), his sis­ter but al­so the moth­er of the Pol­ish and Hun­gar­i­an King Lud­wik
(Na­gy La­jos, d. 1382), stayed in Chę­ci­ny. Dur­ing the reign of Wła­dy­sław Ja­gieł­ło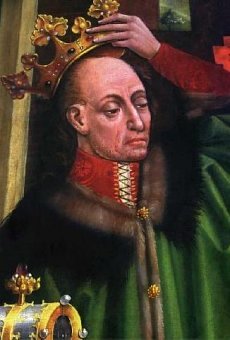 (d. 1434) his fourth wife Son­ka Hol­szań­ska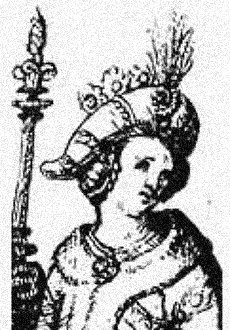 (d. 1461) to­geth­er with her son Wła­dy­sław (d. 1444) lived in the cas­tle for some time shel­ter­ing from the plague. Pre­sum­ably, since her time the starosty of Chę­ci­ny has been treat­ed as a prop­er­ty of roy­al wives and wid­ows.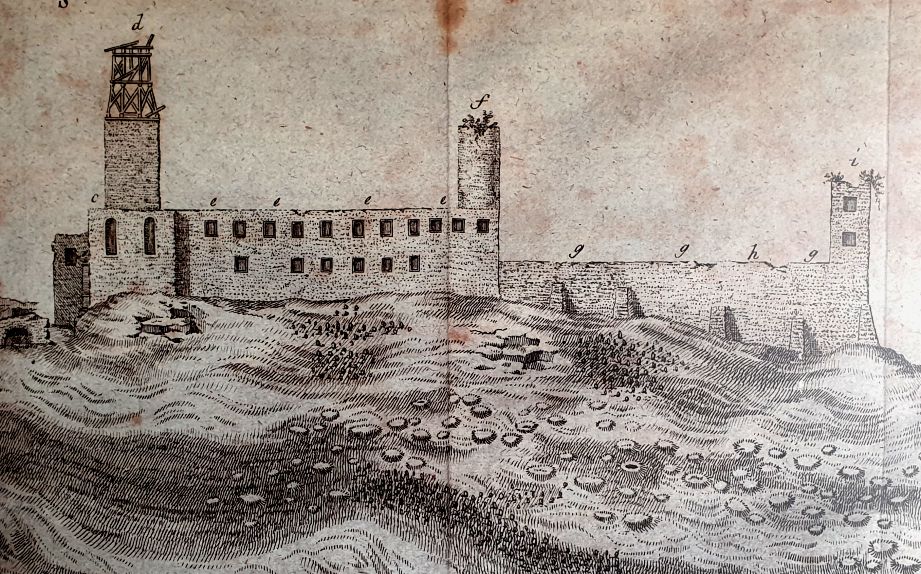 THE OLDEST PRESERVED VIEWS OF THE CASTLE, ENGRAVINGS BY JOHANN GOTTLOB IMMANUEL BREITKOPF FROM A WORK BY JAN FILIP CAROSI 'REISEN DURCH VERSCHIEDENE POLNICHSE PROVINZEN, MINERALOGISCHEN UND ADEREN INHALT', 1781
D
ur­ing the reign of King Wła­dy­sław Ja­gieł­ło, that is in the late 14th or ear­ly 15th cen­tu­ry, a harsh prison for the no­bil­i­ty was set up in Chę­ci­ny cas­tle. Among those who served their sen­tences there was An­drius Al­gir­dai­tis (d. 1399), the king's step-broth­er, con­vict­ed of help­ing the Rus­sian army to in­vade Li­thua­nia. Less than 20-year-old Jan Hiń­cza (d. 1473), ac­cused of hav­ing an af­fair with Ja­gieł­ło's wife Son­ka, was al­so im­pris­oned in Chę­ci­ny. Ger­man pris­on­ers of war, among them Mi­cha­el Küch­mei­ster von Stern­berg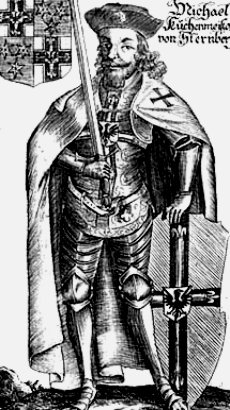 (d. 1423) - lat­er Grand Mas­ter of the Teu­ton­ic Or­der, were kept here while await­ing ran­som. Oth­er fa­mous pris­on­ers of the cas­tle in­clud­ed Knyaz Geor­gius Lang­winow­icz (d. 1456), who was caught af­ter Švit­ri­gaila lost the bat­tle with Grand Duke of Li­thua­nia Vy­tau­tas in 1432, and prob­a­bly Duke Kon­rad VII of Ole­śni­ca (d. 1452) and Duke Ca­si­mir V of Szcze­cin (d. 1435), both cap­tured by the Pol­ish army on the bat­tle­fields of Grun­wald.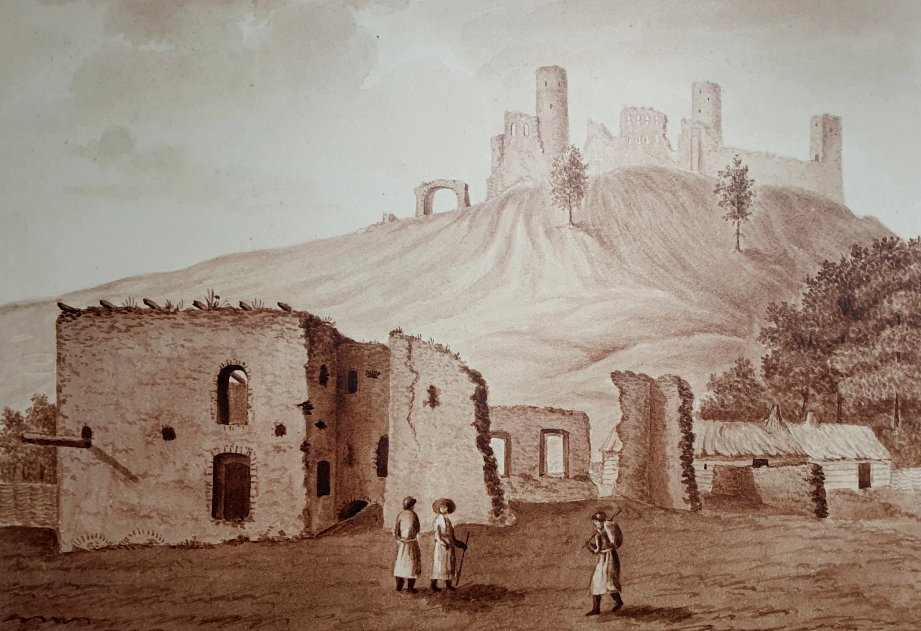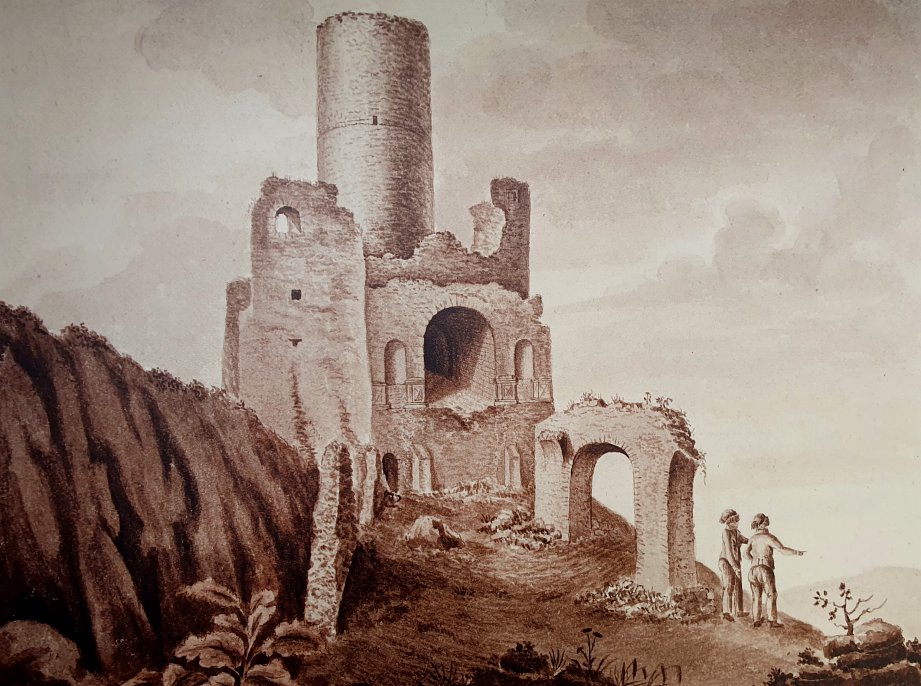 FRIEDRICH PHILIPP USENER 'ANSICHTEN VON KRAKAU UND DEN GEGEND. MDCCCV. ANSICHTEN AUS POLEN', 1843-67
One of the pris­on­ers in Chę­ci­ny strong­hold was the knight War­ci­sław of Go­tar­to­wi­ce, who in 1409 com­mand­ed a roy­al crew at Bo­brow­ni­ki cas­tle in Do­brzyń land. When, at the be­gin­ning of the Great War (1409-11), the Teu­ton­ic Knights in­vad­ed Bo­brow­ni­ki, its small gar­ri­son ini­tial­ly re­sist­ed fierce­ly, de­spite the fact that they had nei­ther suf­fi­cient food sup­plies nor suit­able weapons. How­ev­er, when the Teu­ton­ic can­nons made a breach in the cas­tle walls, War­ci­sław, through the in­ter­me­di­ary of the arch­bish­op of Gnie­zno, ne­go­ti­at­ed a one-day truce count­ing on help from the Ma­zo­vian Prince Zie­mo­wit. But the re­lief did not come, and as a re­sult the com­man­der - who saw no chance to de­fend - sur­ren­dered the cas­tle. His de­ci­sion met with great anger of Wła­dy­sław Ja­gieł­ło, who or­dered to im­prison War­cisław and Bar­tosz from Pło­my­kowo in the tow­er (of the cas­tle in Chę­ci­ny). How­ev­er, they were soon re­leased and washed away their shame by fight­ing against the Teu­ton­ic Knights at Grun­wald.

'RUINS OF CHĘCINY CASTLE FROM THE EAST', TEODOR CHRZĄŃSKI, MID XIXTH CENTURY
I
n the mid­dle of the 14th cen­tu­ry the king es­tab­lished the starosty of Chę­ci­ny. It was su­per­vised by a func­tionary called the sta­rost, who, with his gar­ri­son of 150 peo­ple, was re­spon­si­ble not on­ly for de­fend­ing the fort­ress it­self but al­so for pub­lic safe­ty in the en­tire re­gion. The first sta­rost known by name was Grze­gorz from Mło­dzie­jo­wice, men­tioned as cap­i­ta­neus de Chan­cyn in doc­u­ment signed by Ka­zi­mierz Wiel­ki in 1363. In the 15th and 16th cen­tu­ry the of­fice be­longed to the Sza­fra­niec fam­i­ly, among oth­ers to Piotr (d. 1437), Sta­ni­sław (d. 1525) and his son Hie­ro­nim (d. 1556). Dur­ing their reign the strong­hold was mod­ern­ized and ex­tend­ed with a low­er cas­tle.
CASTLE ON LITHOGRAPH BY JULIAN CEGLIŃSKI FROM 1860
PAINTING BY HENRYK PILLATI WITH A VIEW OF THE CASTLE RUINS, 1857
I
n 1512 the rev­enues from the sta­ro­sty be­came the prop­er­ty of Queen Bar­ba­ra Za­pol­ya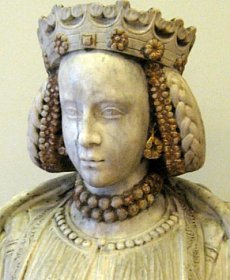 (d. 1515) and then - of Bo­na Sfor­za d'Arag­o­na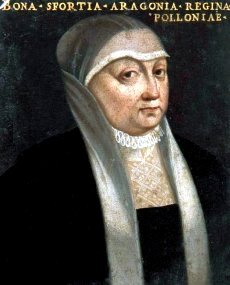 (d. 1557), the wife of Pol­ish King Zyg­munt Sta­ry (the Old). Af­ter the king's death (1548), Bo­na kept her mon­ey and valu­ables in Chę­ci­ny, which were guard­ed and looked af­ter by a trust­ed courtier Ca­mil­lo Bran­cac­cio. She took them away a few years lat­er, when as a re­sult of con­flicts with her son and the Pol­ish no­bil­i­ty, she de­cid­ed to leave for good to Italy. Ac­cord­ing to leg­end, these trea­sures were trans­port­ed on 24 carts pulled by 140 hors­es.... Bona's de­par­ture far far away... to the prin­ci­pal­i­ty of Ba­ri in 1556 can be con­sid­ered as the sym­bol­ic be­gin­ning of the fort­ress fall. At that time it was seen as not very mod­ern and from decade to decade lost more and more sig­nif­i­cance due to its out­dat­ed con­struc­tion.
JÓZEF SZERMENTOWSKI 'VIEW OF CHĘCINY', 1857
CASTLE ON A PAINTING BY ALFRED SCHOUPPE, 1860
I
n 1607 the cas­tle in Chęciny was con­quered for the first time in its his­to­ry. The fort­ress was in­vad­ed by the troops of Mi­ko­łaj Ze­brzy­dow­ski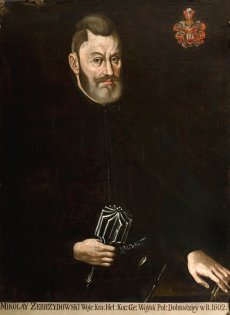 of Radwan coat of arms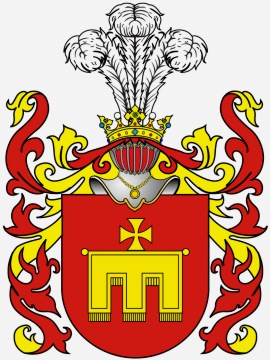 (d. 1620), the gov­er­nor of Cra­cow and po­lit­i­cal op­po­nent of King Si­gis­mund III Va­sa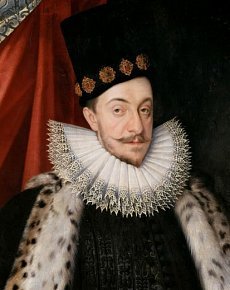 , which first plun­dered it and then burned it down. The rea­son for the as­sault (apart from plun­der goals) was Ze­brzy­dow­ski's per­son­al aver­sion to the starost of Chę­ci­ny Sta­ni­sław Bra­nic­ki of Gryf coat of arms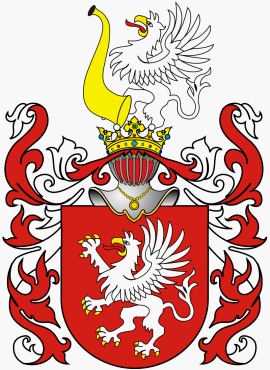 , the king's sup­port­er and a ben­e­fi­cia­ry of his rule in the coun­try. Bra­nic­ki re­built the cas­tle in 1607-13 with his own mon­ey and es­ti­mat­ed the cost of the ren­o­va­tion at 5446 zlo­tys and 16 gro­schen. By de­ci­sion of the Sejm of 1616 this ex­pense was to be re­fund­ed to him but most prob­a­bly due to emp­ty vault it did not hap­pen or he re­ceived on­ly a part of the promised mon­ey. As com­pen­sa­tion, his son and grand­son were al­lowed to draw in­come from prop­er­ty be­long­ing to the town.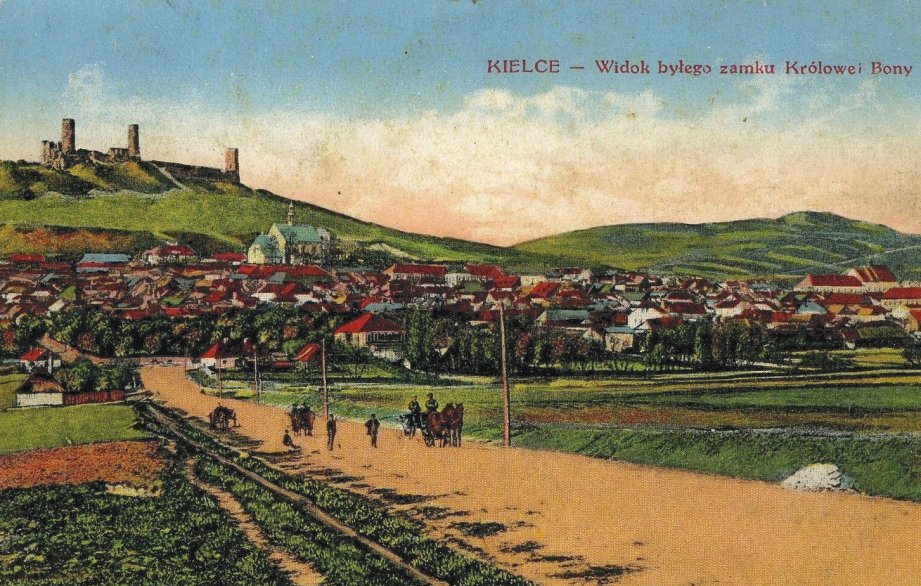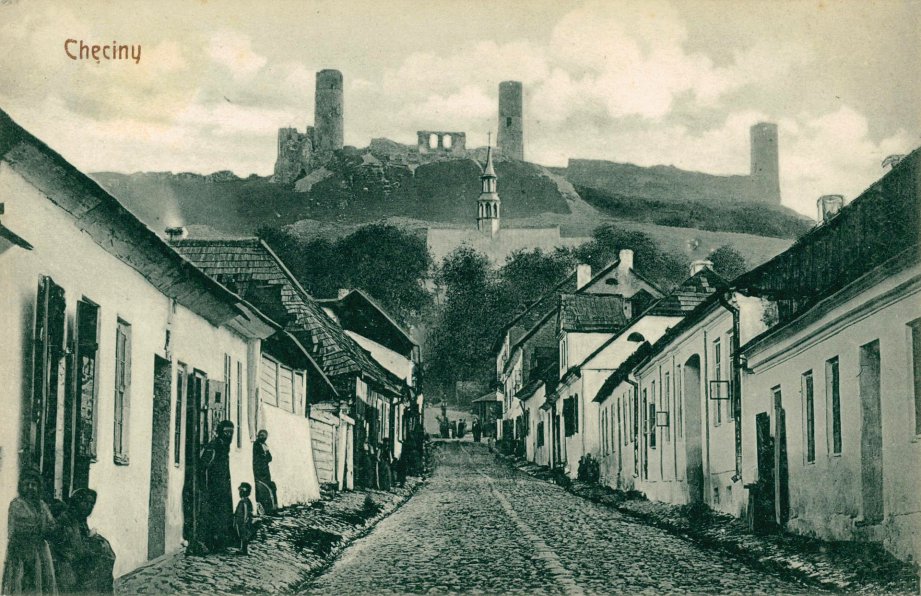 CHĘCINY ON POSTCARDS FROM THE EARLY XX CENTURY
T
he cas­tle was severe­ly dam­aged by the in­va­sion of Rákó­czi Györ­gy
in 1657, and then by the Swedes in 1707, dur­ing the Third North­ern War. As a re­sult of these dam­ages, as ear­ly as at the end of the 17th cen­tu­ry sta­rost Ste­fan Bi­­dziń­ski (d. 1703) moved his seat to the near­by Pod­zam­cze Chę­ciń­skie, leav­ing on­ly the of­fice and the chan­cellery here, which func­tioned un­til about the mid­dle of the 18th cen­tu­ry. The de­cline of the fort­ress co­in­cid­ed with an in­creas­ing in­ter­est in the ru­ins in a his­tor­i­cal con­text. The first to pay more at­ten­tion to it was Jan Fi­lip Ca­ro­si
, a Ro­man-born Pol­ish ge­ol­o­gist and min­er, who, at the re­quest of King Sta­ni­sław Au­gust Po­nia­tow­ski
, in­ves­ti­gat­ed the Chę­ci­ny sta­rosty for the pos­si­bil­i­ty of re­newed mar­ble ex­plo­ration. The re­sult of this and oth­er of his ex­pe­di­tions was one of the first Pol­ish guides en­ti­tled Jour­neys through some Pol­ish provinces. Af­ter 1795 the Aus­tri­an au­thor­i­ties or­dered a fur­ther de­mo­li­tion of the cas­tle walls in or­der to build a road to­wards Cra­cow. Lo­cal peas­ants and towns­peo­ple, who found a source of cheap and eas­i­ly ac­ces­si­ble build­ing stone in the ru­ins, al­so played their part in this pro­cess.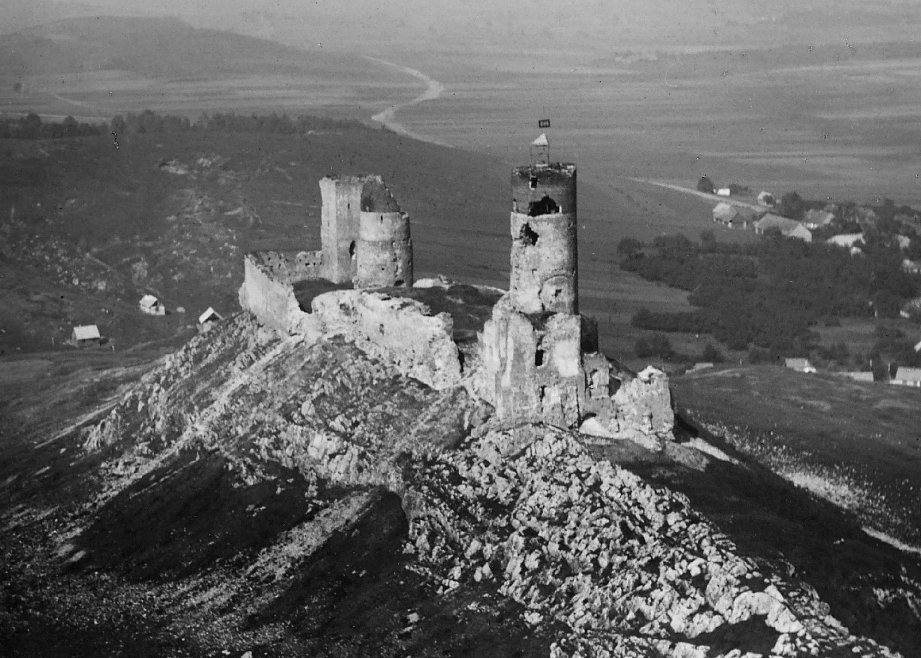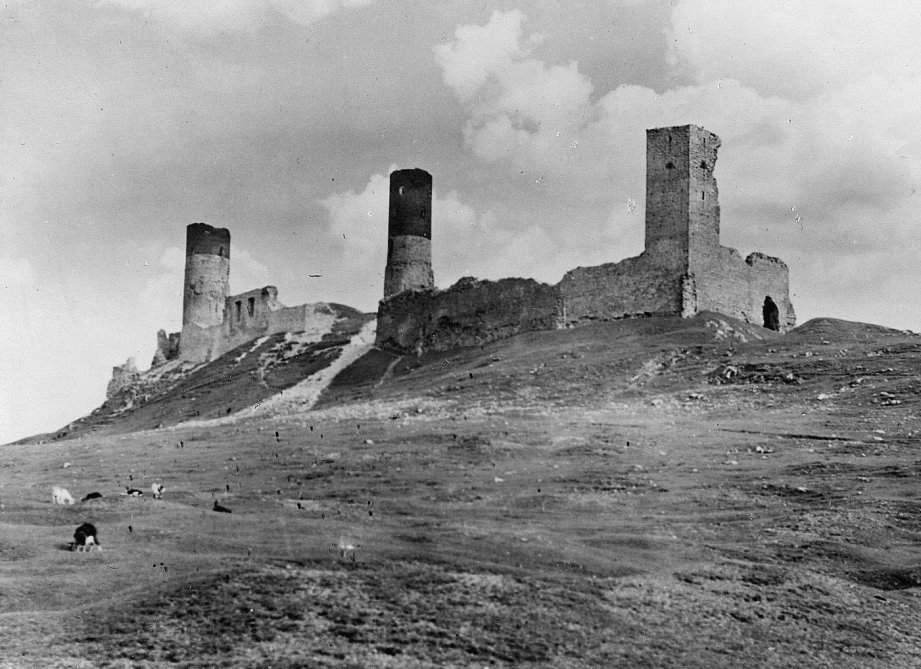 PHOTOS FROM THE INTERWAR PERIOD PERFECTLY ILLUSTRATE THE VERY POOR CONDITION OF THE CASTLE RUINS
T
he first clean­ing work was car­ried out here in the 1870s. At that time the idea of re­build­ing part of the cas­tle and plac­ing a prison in it was al­so con­sid­ered. In 1910, dur­ing the cel­e­bra­tions of the 500th an­niver­sary of the Grun­wald bat­tle, a so­cial move­ment was ini­ti­at­ed, aimed at re­vi­tal­iz­ing the cas­tle ru­ins. One of the pa­trons of the fundrais­ing ef­forts be­came the No­bel Prize win­ner in lit­er­a­ture, Hen­ryk Sien­kie­wicz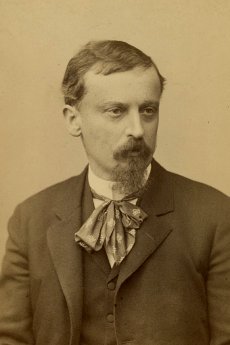 (d. 1916), who pub­lished an open let­ter to sup­port the pro­ject, and pledged 10 sil­ver rub­les for the preser­va­tion works. How­ev­er, these plans did not come to fru­ition, and even worse, be­cause dur­ing World War I the cen­tral tow­er was de­stroyed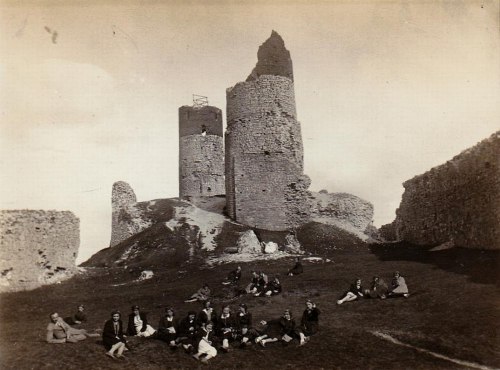 by Aus­tri­an can­non fire. The pro­cess of de­struc­tion was on­ly stopped in the 1940s and 1950s, when the walls were se­cured as a per­ma­nent ru­in and the tow­ers were re­stored, and one of them be­came avail­able to tour­ists as a view­ing point. The last ma­jor pro­ject at Chę­ci­ny Cas­tle was its thor­ough re­vi­tal­iza­tion car­ried out in 2013-2015.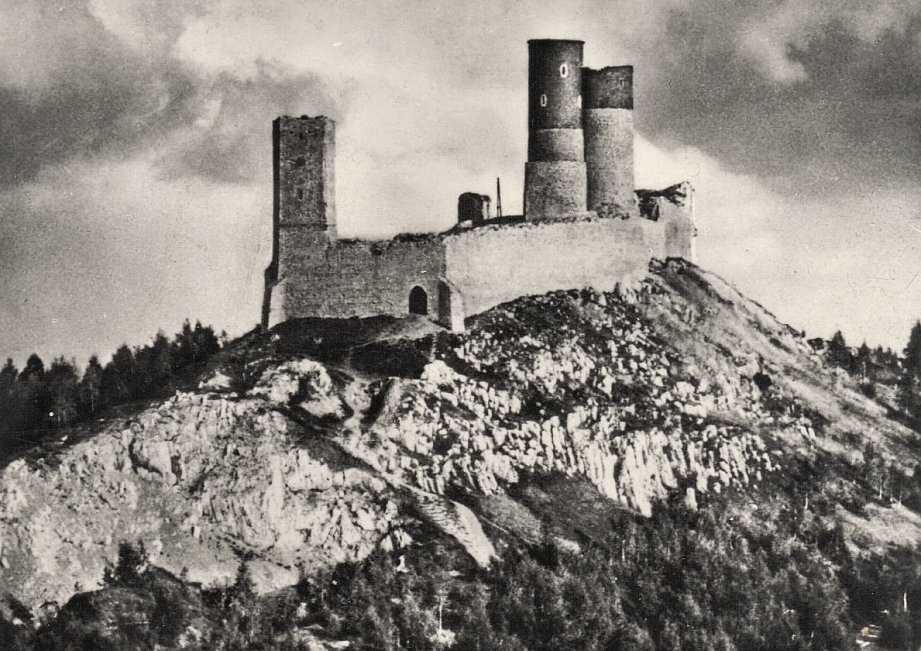 THE RESULT OF A PARTIAL RECONSTRUCTION CARRIED OUT IN THE 1950S...
...AND REVITALIZATION FROM 2013-15
In the late 1960s, bat­tle scenes for the movie Pan Wo­ło­dy­jow­ski by Je­rzy Hoff­man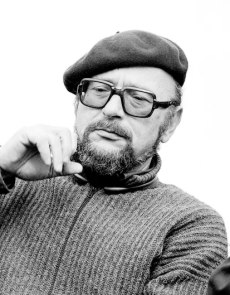 were shot in Chę­ci­ny. For the pur­pose of this large-scale film pro­duc­tion, a mod­el of Ka­mie­niec Po­dol­s­ki fort­ress was erect­ed in the east­ern part of Cas­tle Hill, which was de­fend­ing it­self here against a siege by a "Turk­ish army" con­sist­ing main­ly of lo­cal youths and stu­dents of lo­cal high schools. This huge dec­o­ra­tion was built with wood­en logs cov­ered with bags im­i­tat­ing stone and brick walls.

UNUSUAL VIEW OF TWO CASTLES IN CHĘCINY
'TURKISH ARMY' IS BESIEGING THE FORTRESS IN 'KAMIENIEC PODOLSKI', SET PHOTOGRAPH
DESCRIPTION OF THE CASTLE
T
he cas­tle was built on the ridge of a high hill, 355 m above sea lev­el. Ini­tial­ly, i.e. at the turn of the 13th and 14th cen­turies, it con­sist­ed of a cylin­dri­cal tow­er (berg­fried) with a di­am­e­ter of 8 me­ters, stand­ing at the high­est point of the hill, and stone walls sur­round­ing it, and per­haps a gate build­ing. Dur­ing the reign of Ka­zi­mierz Wiel­ki, the pre­vi­ous­ly small watch­tow­er gained the shape of an elon­gat­ed rect­an­gle mea­sur­ing about 10x50 me­ters with round­ed cor­ners on the north­ern side, sur­round­ed by a cur­tain wall mea­sur­ing up to 9 me­ters high and equipped with wood­en de­fen­sive porch­es. At the out­er­most points of the cas­tle, two tall cylin­dri­cal tow­ers were erect­ed that flanked it from the gen­tly slop­ing sides. They re­placed the 13th cen­tu­ry berg­fried, which was de­mol­ished. The east­ern tow­er was con­nect­ed with a one-storey, rect­an­gu­lar build­ing, which, ac­cord­ing to tra­di­tion, per­formed the func­tion of a trea­sury. Next to it a gate lead­ing to the court­yard has been built, to which a wood­en draw­bridge stretched o­ver a dry moat.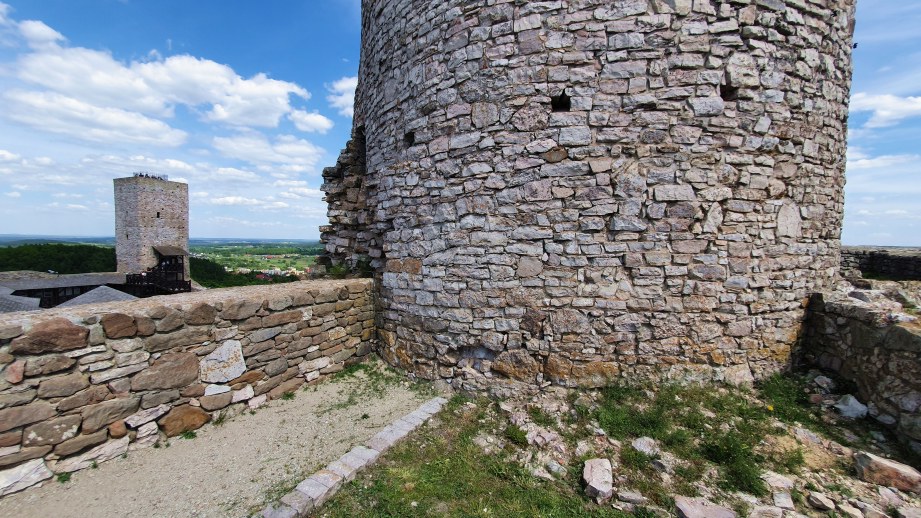 DONJON AT THE GATE LEADING TO THE LOWER CASTLE, IN THE DISTANCE WE CAN SEE A QUADRANGULAR TOWER
VIEW OF THE PRISON TOWER (EASTERN), ON THE LEFT THERE IS A FRAGMENT OF THE GREAT HOUSE WALL
I
n the sec­ond half of the 14th cen­tu­ry, a large Goth­ic build­ing called the Great House was erect­ed by the north­ern cur­tain wall. It housed, among oth­ers, the star­ost's liv­ing quar­ters and the ar­chive. The dark brick up­per part of both cas­tle tow­ers, a kitchen in the north­east­ern part of the court­yard, a sec­ond res­i­den­tial build­ing stand­ing near­by (which was equip­ped with a hy­po­caust stove) are al­so be­lieved to date from this pe­ri­od.
VIEW OF THE CASTLE FROM THE MAIN GATE (FROM THE EAST)
I
n the sec­ond half of the 14th cen­tu­ry too, in the west­ern part of the cas­tle hill a low­er cas­tle was built. A de­fen­sive wall with a cre­nel­la­tion, which formed a rect­an­gle 60 me­ters long and 30 me­ters wide, sur­round­ed it. In its north­west­ern part stood a quad­ran­gu­lar tow­er, pre­sum­ably topped by a wood­en struc­ture with hoard­ings, and next to it, in the south­west­ern cor­ner, a brick one-sto­ry build­ing. The rest of the build­ings in the low­er cas­tle court­yard con­sist­ed of wood­en farm huts (smithy, sta­bles, gra­nary, bak­ery, etc.) lo­cat­ed along the perime­ter walls. In the cen­tral part of the field there is a well, which, ac­cord­ing to leg­end, linked through an un­der­ground pas­sage with St. Bar­tho­lo­mew's Church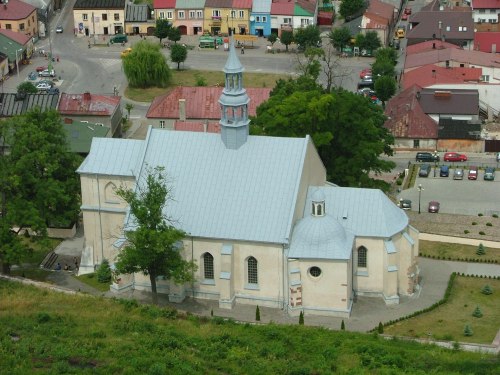 .
A MODEL OF THE ROYAL CASTLE BEING A PART OF THE EXHIBITION OF THE TENEMENT HOUSE CALLED NIEMCZÓWKA:
1. DRAWBRIDGE, 2. CHAPEL, 3. GATEHOUSE, 4. PRISON TOWER, 5. GREAT HOUSE, 6. RESIDENTIAL BUILDING
(WITH HYPOCAUSTUM), 7. DONJON, 8. QUADRANGULAR TOWER, 9. SOUTH-WESTERN BUILDING
A
t the be­gin­ning of the 17th cen­tu­ry, the then sta­rost Sta­ni­sław Bra­nic­ki re­built the cas­tle in the late Re­nais­sance style. The build­ing of a new kitchen by the west­ern tow­er and a gate con­nect­ing the up­per and low­er cas­tle date from this pe­ri­od. The great house was al­so re­built and a chapel then placed in it. A new stone bridge stood at the en­trance to the cas­tle from the east, and a gate with a wick­et lead­ing to the town was added to the west­ern walls. The cas­tle al­so re­ceived Baroque hel­mets crown­ing its tall tow­ers, which gave it a slight­ly "more mod­ern" ap­pear­ance.
PLAN OF THE CASTLE IN CHĘCINY ACCORDING TO B. GUERQUIN: 1. DRAWBRIDGE, 2. CHAPEL, 3. GATEHOUSE, 4. PRISON TOWER,
5. GRAND HOUSE, 6. COURTYARD OF THE UPPER CASTLE, 7. RESIDENTIAL BUILDING (WITH HYPOCAUSTUM), 8. DONJON,
9. COURTYARD OF THE LOWER CASTLE, 10. WELL, 11. QUADRANGULAR TOWER, 12. SOUTH-WESTERN BUILDING (GATEWAY)
VIEW OF THE RUINS FROM THE SOUTH
---
T
he full perime­ter of de­fen­sive walls, two tall cylin­dri­cal tow­ers and one low­er north­west­ern tow­er have been pre­served to the pre­sent day, as well as walls of the east­ern build­ings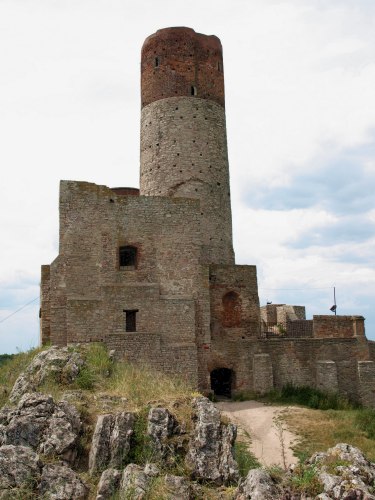 , rel­ics of the Goth­ic great house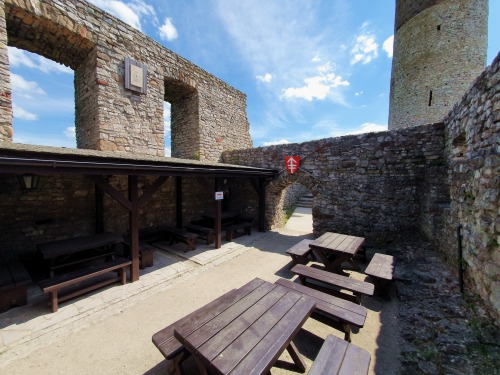 and well. A few years ago, the ru­in un­der­went re­vi­tal­iza­tion that in­clud­ed restora­tion of the west­ern tow­er, par­tial re­con­struc­tion of the chapel with trea­sury, ren­o­va­tion of the up­per and low­er cas­tle court­yards, as well as the ar­range­ment of pedes­tri­an trails and in­stal­la­tion of night il­lu­mi­na­tion. The im­me­di­ate vicin­i­ty of the stronghold al­so un­der­went some changes: the north­ern slope of the hill was cleared of wild bush­es, the roads and paths lead­ing to its gates were re­built and dec­o­rat­ed with wood­en fig­ures
sym­bol­iz­ing peo­ple of great im­por­tance to the his­to­ry of the town. These changes made the cas­tle more beau­ti­ful and at­trac­tive for tour­ists.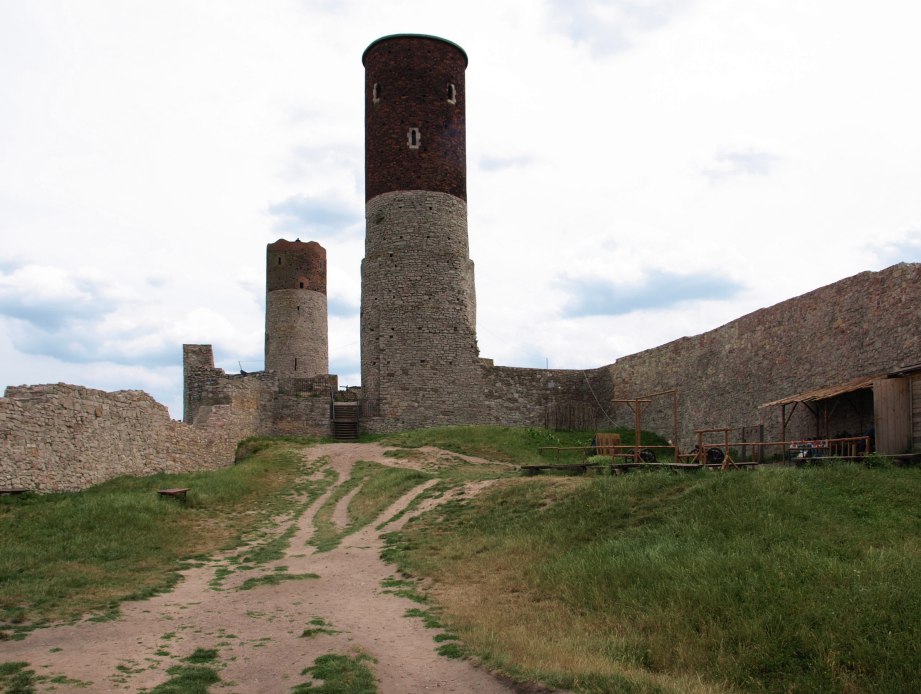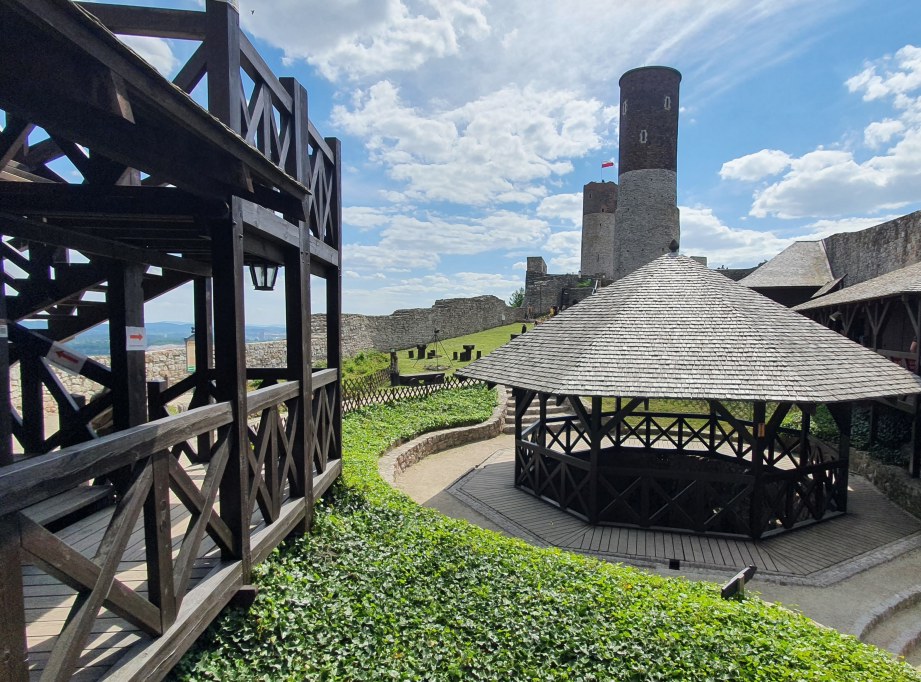 COURTYARD OF THE LOWER CASTLE BEFORE AND AFTER REVITALIZATION
T
here are no mu­se­um ex­hi­bi­tions in the ru­ins. On­ly a small trea­sury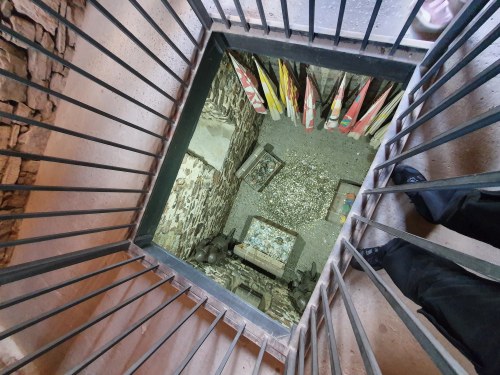 , an ex­po­si­tion of wood­en weap­ons and a gal­lery of his­tor­i­cal en­grav­ings and old pho­tographs are avail­able. A tour of the cas­tle con­sists main­ly of walk­ing through the court­yards and ad­mir­ing the beau­ti­ful views from view­ing plat­forms lo­cat­ed on the out­er­most tow­ers, where a mag­nif­i­cent pa­no­ra­ma of the town and the pic­turesque ranges of the Chę­ciny Hills spreads. The cas­tle has a sou­venir store and stalls of­fer­ing hand­i­crafts, and dur­ing the sea­son there are of­ten work­shops or­ga­nized by role-play groups. Chę­ciny be­longs to the most pop­u­lar tour­ist des­ti­na­tions in the re­gion, so on clear week­ends it can be very crowd­ed. To avoid the crowds, it's best to come here af­ter the sea­son or plan to vis­it the cas­tle just af­ter it opens.
VIEW FROM THE PRISON TOWER TO THE WEST
| | |
| --- | --- |
| | Ad­mis­sion to the cas­tle is paid. The tick­et of­fice is lo­cat­ed in the low­er court­yard, by the west­ern gate. Traf­fic in the cas­tle is one-way, i.e. you en­ter through the west­ern gate and leave through the east­ern gate. |
| | |
| --- | --- |
| | Pho­tog­ra­phy for per­son­al use free of charge. |
| | |
| --- | --- |
| | You should plan at least 1,5 hour for the tour of the cas­tle in­clud­ing the walk (from park­ing lot) and re­turn. |
| | |
| --- | --- |
| | It is for­bid­den to bring an­i­mals to the ru­ins. |
| | |
| --- | --- |
| | Drone fly­ing is not al­lowed o­ver the cas­tle. For­tu­nate­ly, there is plen­ty of open space sur­round­ing cas­tle hill that can be used for sky pho­tog­ra­phy. No lo­cal air cor­ri­dors re­strict your free­dom to fly. |
North-west of Chęciny is Mie­dzian­ka Hill, which has an amaz­ing­ly di­verse ge­o­log­i­cal struc­ture. One of the for­ma­tions that make it up is lime­stone formed by or­gan­isms liv­ing in coral reefs. The hill is a fa­vorite study area for ge­ol­o­gists look­ing for in­ter­est­ing rock and min­er­al spec­i­mens here. As its name sug­gests (miedź­=­coop­er, it con­tains cop­per de­posits, which were in­ten­sive­ly ex­ploit­ed as ear­ly as in the Mid­dle Ages. Rem­nants of those times are the relics of adits and min­ing shafts.

Slight­ly fur­ther to the north are the gen­tle Bo­le­cho­wi­ckie Hills with Czer­wo­na Gó­ra (Red Moun­tain), known for its red con­glom­er­ate called zyg­mun­tow­ski. This ma­te­ri­al was used in 1644 to build the War­saw col­umn of King Si­gis­mund III Va­sa. When the col­umn was de­stroyed by the Ger­mans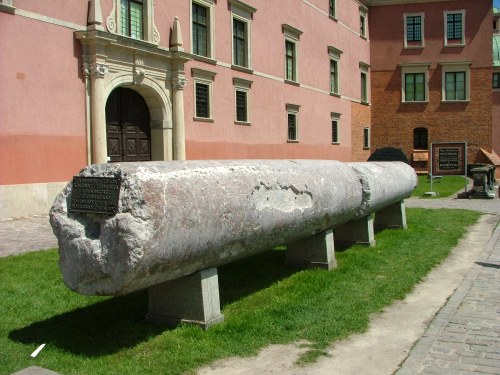 dur­ing World War II, it was re­con­struct­ed in 1949 us­ing gran­ite from Strze­gom's quar­ries.

VIEW FROM THE TOWER TO THE SOUTH
THE TOWN IS LOCATED NORTH OF THE CASTLE, IN THE BACKGROUND THE ZELEJOWSKIE AND BOLECHOWICKIE HILLS
---
The town of Chę­ci­ny is sit­u­at­ed about 15 km south­west of Kiel­ce, on the E77 road lead­ing to Kra­ków.
| | |
| --- | --- |
| | Two park­ing lots for tour­ists are lo­cat­ed on Ję­drze­jow­ska Street (paid and free, 400 m). De­spite a rel­a­tive­ly large area there may be a prob­lem with avail­abil­i­ty of free spaces and then I rec­om­mend a large park­ing lot on Ar­mii Kra­jo­wej Street (free, 1.2 km). Al­ter­na­tive­ly, you can leave your car at the church park­ing lot on Alei Mi­ło­ści Street (free, 800 m) or at the Mar­ket Square (free, 800 m). |
| | |
| --- | --- |
| | Bi­cy­cle park­ing is lo­cat­ed on Ję­drze­jow­ska Street. You will not be al­lowed to en­ter the ru­ins with a bike. |
---
1. Cz. Hadamik: Najstarszy zamek w Chęcinach, Architektura 7-A/2011
2. Cz. Hadamik: Zbiór fragmentów kafli [...] z badań zamku…, Acta Universitatis Lodzensis 27/2010
3. T. Glinka, M. Piasecki, R. Szewczyk, M. Sapała: Cuda Polski, Publicat 2008
4. W. Gliński, Cz. Hadamik: Zamek w Chęcinach - zarys problematyki badawczej...
5. R. Jurkowski: Zamki świętokrzyskie, Wydawnictwo CM 2017
6. L. Kajzer, J. Salm, S. Kołodziejski: Leksykon zamków w Polsce, Arkady 2001
7. T. Poklewski-Koziełł: Studia o zamkach średniowiecznych, IAE PAN 2012
8. R. Rogiński: Zamki i twierdze w Polsce, Instytut Wydawniczy Związków Zawodowych 1990
9. R. A. Sypek: Zamki i warownie ziemi sandomierskiej, TRIO 2003
10. A. Wagner: Murowane budowle obronne w Polsce X-XVIIw., Bellona 2019
11. Various authors: Zamek królewski w Chęcinach na tle Eu­ro­py Środ­ko­wej, Wy­daw­nic­two Uni­wer­sy­te­tu Ja­na Ko­cha­now­skie­go w Kiel­cach 2018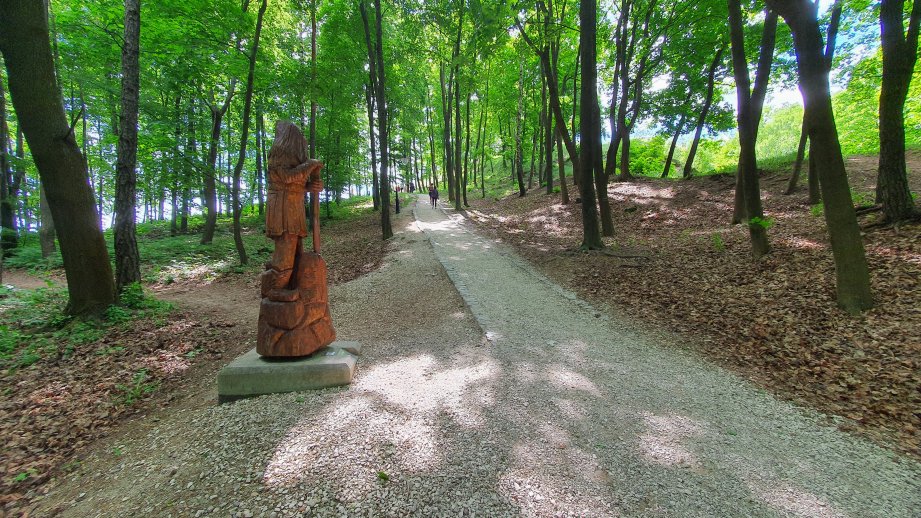 Castles nearby:
Podzamcze Chęcińskie - the fortified manor house from the 17th century, 4 km
Kielce - the Bishop's palace with bastion fortifications from the 17th century, 13 km
Podzamcze Piekoszowskie - the ruins of a magnate's palace from the 17th century, 13 km
Sobków - the nobleman's fortalice from the 16th century, 14 km
Bolmin - the ruin of a 16th century fortified manor house, 15 km
Mokrsko Górne - the ruin of a nobleman's castle from the 14th century, 17 km
Chełmce - the ruin of a 16th century fortified manor house., 20 km
---
| | |
| --- | --- |
| | Saint Bartholomew's Church, lo­cat­ed at the foot of Cas­tle Moun­tain. It is the old­est church in Chę­ci­ny. It was built on the ini­tia­tive of Wła­dy­sław Ło­kie­tek be­fore 1325. |
| | |
| --- | --- |
| | West of the Mar­ket Square, in Ma­ło­gos­ka Street, there is the Ber­nar­dine con­vent found­ed in the mid­dle of the 16th cen­tu­ry by the may­or and town coun­cil­lors. It con­sists of a church, a mo­na­ste­ry, a gar­den and a gra­nary. The com­plex is sur­round­ed by a stone wall. You can vis­it the church. |
| | |
| --- | --- |
| | In the north­ern part of the town there is the church and Fran­cis­can mo­na­ste­ry found­ed by Ka­zi­mierz Wiel­ki. The build­ing was re­mod­elled in the 17th cen­tu­ry in the Bar­oque style and con­vert­ed to a prison in the 19th cen­tu­ry. Lat­er it housed a school, a meat pro­cess­ing plant, a Pol­ish Tourist Coun­try-Lovers' As­so­ci­a­tion hos­tel and a restau­rant. Cur­rent­ly, it be­longs to the Fran­cis­cans again. |
| | |
| --- | --- |
| | The for­mer syn­a­gogue in Dłu­ga Street, built in 1683. Its premis­es are cov­ered with bar­rel and cross vaults and a hipped roof. The build­ing can be viewed on­ly from the out­side. |
---
While be­ing in Chę­ci­ny do not for­get to vis­it a Re­nais­sance ten­e­ment house pop­u­lar­ly known as Niem­czów­ka, which is lo­cat­ed on Ma­ło­gos­ka Street next to a Ber­nar­dine con­vent. The house was prob­a­bly erect­ed in 1570 on the ini­tia­tive of Wa­len­ty Wrze­sień and his wife An­na née Niem­cza as a three-storey build­ing with a spa­cious hall­way and a stylish court­yard. Its largest and most rep­re­sen­ta­tive room is the Great Hall cov­ered with a beamed ceil­ing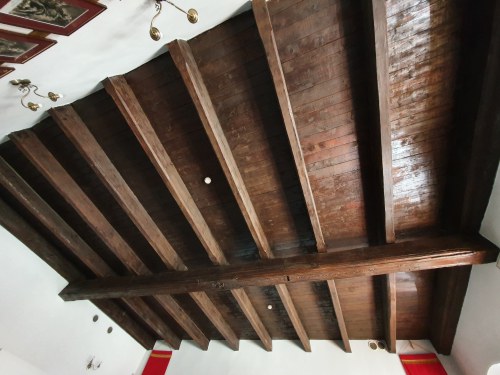 and a re­mark­able in­scrip­tion: This build­ing (hall) was built by a fa­mous in­hab­i­tant of the town and may­or of Chę­ci­ny, Wa­len­ty So­bo­niow­ski, in the year of Our Lord 1634.
Not long ago, there was a café and a pub­lic li­brary here. Cur­rent­ly, af­ter a thor­ough ren­o­va­tion, the ten­e­ment hous­es the Tour­ist and His­tor­i­cal In­for­ma­tion Cen­ter of the Chę­ci­ny Mu­nic­i­pal­i­ty. In sev­er­al rooms we can see an ex­hi­bi­tion of repli­cas of the Pol­ish army's weapon­ry from the 11th to the 17th cen­tu­ry, as well as a gallery of pho­tographs and props re­lat­ed to the movie Pan Wo­ło­dy­jow­ski. The cen­tral place of the ex­po­si­tion is oc­cu­pied by a mod­el of the roy­al cas­tle, which is an in­ter­pre­ta­tion of its vi­su­al ap­pear­ance at the be­gin­ning of the 17th cen­tu­ry.
text: 2022
photographs: 2008, 2021
© Jacek Bednarek