SOBKÓW

the XVIth century nobleman's fortalice
SOBKÓW, TOWER IN THE NORTHERN PART OF THE FORTALICE
---
O
ld­er names of the vil­lage, now called Sobków, were Ni­da, Ni­da Frykacz­ka and Ni­da Ry­ter­s­ka. The first men­tion of a knight's res­i­dence here dates back to the first half of the 16th cen­tu­ry and refers to a stone manor house, owned by Ra­fał Ry­ter­ski, that was de­stroyed by fire. In 1563 Sta­ni­sław So­bek of Su­łów, coat of arms Broch­wicz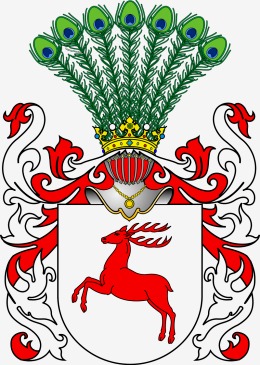 (d. 1569), sta­rost of Ma­ło­goszcz and cas­tel­lan of Biecz, be­gan to build a brick de­fen­sive cas­tle in the vicin­i­ty of town Sob­ków, which he found­ed. The town was to serve as an ad­min­is­tra­tive and trade cen­ter for no­ble es­tate and as a place of trans­ship­ment of goods, which could be trans­port­ed along the Ni­da Riv­er. In ad­di­tion to its res­i­den­tial func­tion, the new manor house al­so se­cured the in­ter­ests of the own­er and mer­chants as a pro­tec­tion of the wa­ter trade route.
VIEW OF THE FORTALICE FROM THE WEST, RIVER NIDA IN THE FOREGROUND
S
tanisław Sobek's res­i­dence was not im­pres­sive. Its founder's in­ten­tion was not to pro­vide ef­fec­tive pro­tec­tion against or­ga­nized mil­i­tary forces, but rather to se­cure peo­ple and prop­er­ty in case of at­tack by loot­ing bands, neigh­bor con­flicts or out­break of lo­cal re­bel­lions. This safe­ty was to be guar­an­teed by a horse­shoe-shaped wall with sides of 130x80 me­ters (ac­cess from the riv­er was pre­vent­ed by a pal­isade), and five-sid­ed, two-sto­ry pun­tone tow­ers in­cor­po­rat­ed in­to its cor­ners. These tow­ers, pro­trud­ing slight­ly from the walls, were equipped with loop­holes flank­ing the fort­ress fore­ground. The en­trance gate was sit­u­at­ed near one of the cor­ner tow­ers, where the ter­rain de­scend­ed to­wards the riv­er, mak­ing ac­cess more dif­fi­cult. A bridge o­ver the moat and a vault­ed build­ing serv­ing as an ar­mory and guard­house led to it. Brick build­ings oc­cu­pied the north­ern part of the court­yard. Among them was a Re­nais­sance man­sion, prob­a­bly hav­ing some porch­es or gal­leries nec­es­sary for com­mu­ni­ca­tion.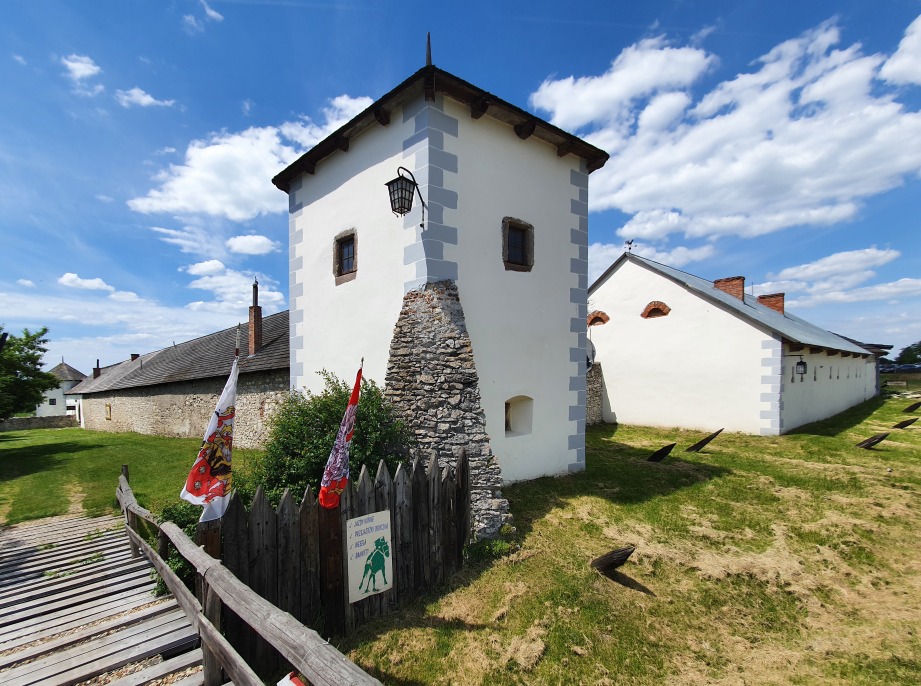 ONE OF THREE PRESERVED PUNTONE CORNER TOWERS, VIEW FROM SOUTHEAST
W
hen Stanisław Sobek died, the ex­pan­sion of the manor was con­tin­ued by his son, who al­so named Sta­ni­sław (d. 1577). How­ev­er, he died child­less at the age of 30 and thus the es­tate was in­her­it­ed by his sis­ter Kry­sty­na So­bek, who brought the vil­lage and the cas­tle as a dowry to Kil­ian Dro­ho­jow­ski, coat of arms Ko­r­czak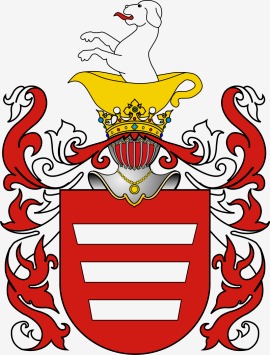 (d. 1606 or 1613). The Dro­ho­jow­scy held Sob­ków for near­ly a cen­tu­ry and dur­ing that time they con­tribut­ed to a sig­nif­i­cant de­vel­op­ment of the town and the re­gion. It was al­so on their ini­tia­tive that the manor house was ex­tend­ed and a half-bas­tion for small can­nons was erect­ed in the north­west­ern part of the walls. In 1668 the Sob­ków es­tate be­came a prop­er­ty of Jan Wie­lo­pol­ski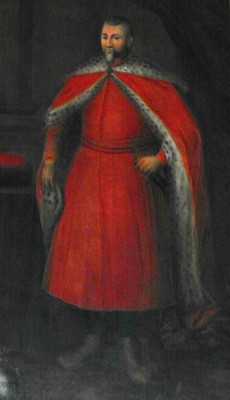 of Sta­ry­koń coat of arms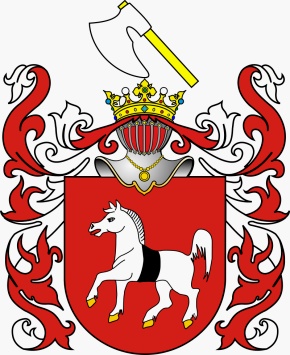 , a gov­er­nor of Cra­cow. How­ev­er he died the same year and the town came in­to pos­ses­sion of his son, al­so Jan
(d. 1688), the sta­rost of Cra­cow and in the fu­ture the elec­tor of kings and the am­bas­sador of Poland in the King­dom of France. Wie­lo­pol­ski owned cas­tles in Ży­wiec and Pies­ko­wa Ska­ła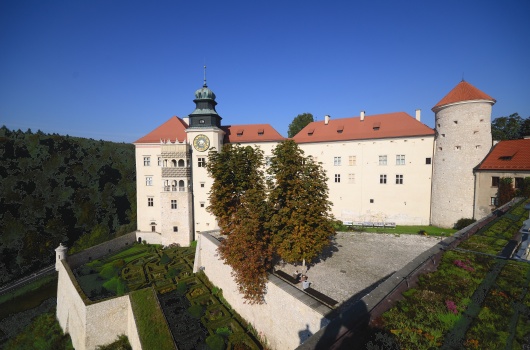 , and his wife was Ma­ria An­na de La Grange d'Ar­quien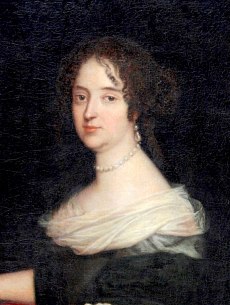 (d. 1733), sis­ter of pol­ish Queen Ma­ria Ka­zi­mie­ra So­bies­ka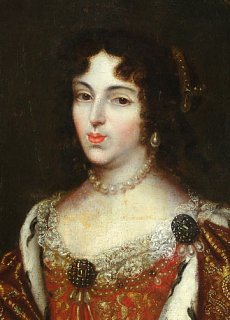 . His rich bi­og­ra­phy con­sist­ed of nu­mer­ous jour­neys across Eu­rope, at­ten­dance at se­jms and roy­al elec­tions, as well as par­tic­i­pa­tion - as one of three Poles - in the Arg­onaut Acade­my, which was the first ge­o­graph­i­cal so­ci­ety in the his­to­ry of the world. Of course, Sob­ków was not the main seat of the Wie­lo­pol­ski fam­i­ly, how­ev­er, ac­cord­ing to the tra­di­tion, the king Jan III So­bie­ski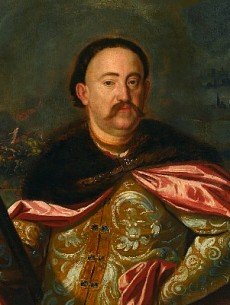 was to vis­it the town and the cas­tle at the in­vi­ta­tion of the rich host.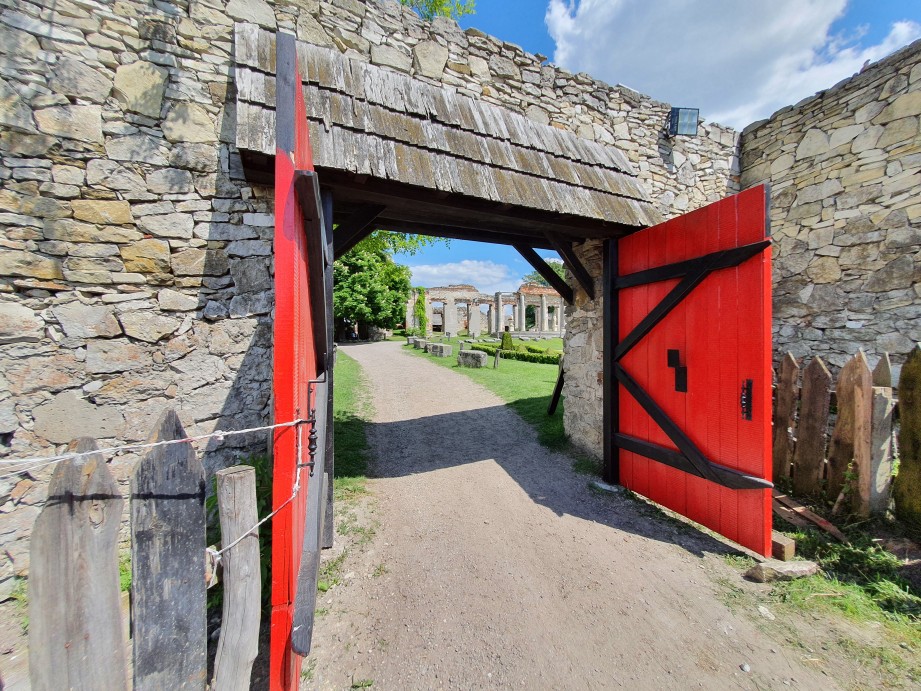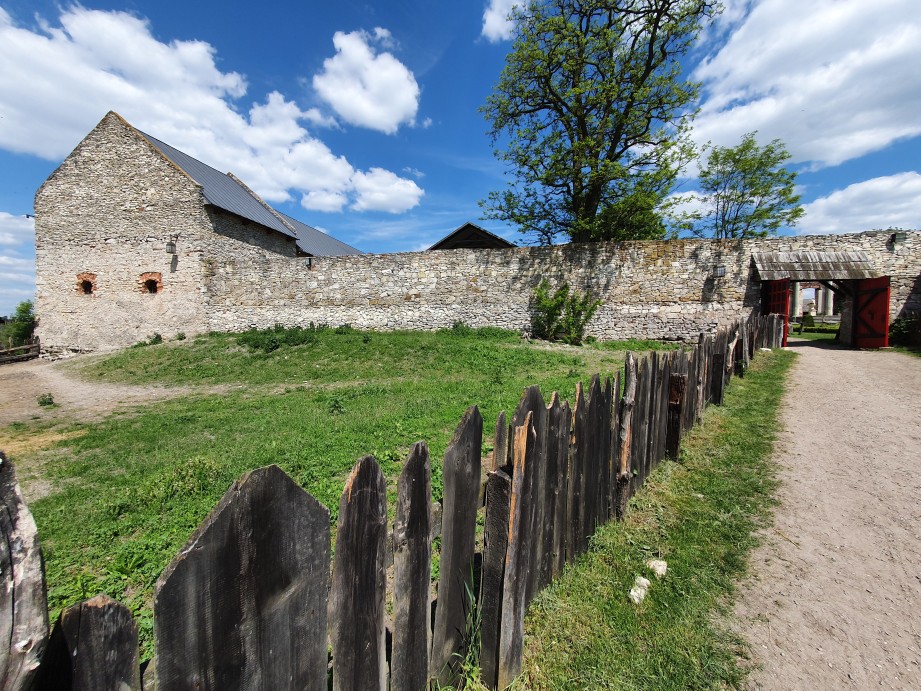 WESTERN ENTRANCE GATE TO THE COURTYARD, IN THE UPPER PHOTO THE RUIN OF THE PALACE IS VISIBLE IN THE BACKGROUND
P
os­si­bly it was Jan Wie­lo­pol­ski, who start­ed the con­struc­tion of a new, mag­nif­i­cent manor house with four al­coves, which ac­cord­ing to some sources was de­signed by Tyl­man of Ga­me­ren, the roy­al ar­chi­tect re­spon­si­ble for the pro­jects of the pala­ces be­long­ing to the rich­est Pol­ish aris­to­crat­ic fam­i­lies: Lu­bo­mir­ski, Bruhl, Ra­dzi­wiłł, Bra­ni­cki and Czar­to­ry­ski. When in 1683 Sob­ków be­came the prop­er­ty of the Sar­biew­ski fam­i­ly of Praw­dzic coat of arms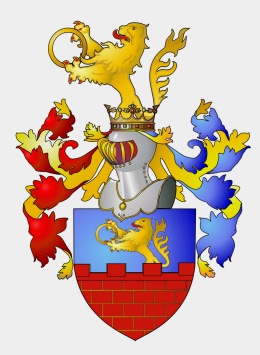 , or on­ly af­ter 1693 when it be­came the pos­ses­sion of the Mysz­kow­ski fam­i­ly of Ja­strzę­biec coat of arms
, the manor was re­built or com­plet­ed. In 1725, the es­tate was pur­chased from Jó­zef Mysz­kow­ski (d. 1727) by Kon­stan­ty Fe­li­cjan Sza­niaw­ski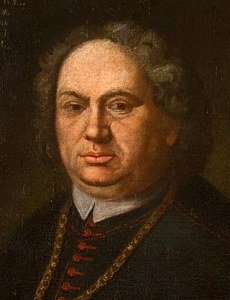 (d. 1732), bish­op of Cra­cow. Then it was in­her­it­ed by the bish­op's nephew, Jó­ze­fat (d. 1739), staros­ta of Chę­ci­ny, mar­ried to An­na Os­so­liń­ska (d. 1780), one of the wealth­i­est wom­en in Poland. The palace in Sob­ków be­came their fam­i­ly seat, and it was here where Jó­zef died and was buried in the lo­cal parish church.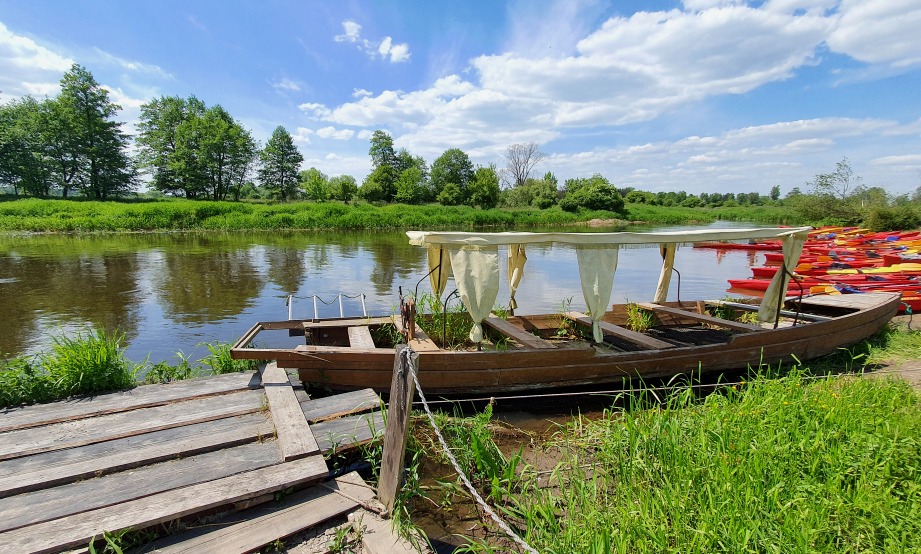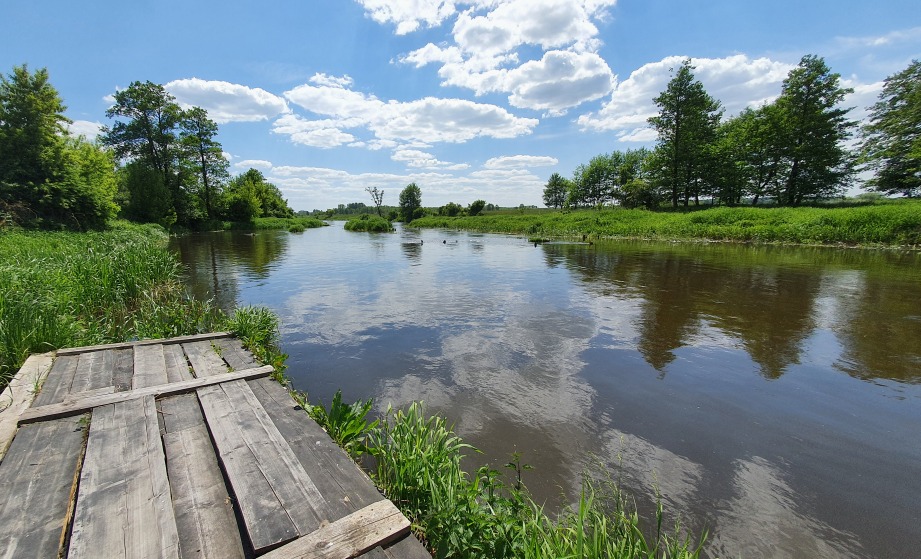 ACCESS TO THE FORTALICE FROM THE WEST IS LIMITED BY THE PICTURESQUE NIDA RIVER
F
ol­low­ing the aes­thet­ic re­quire­ments of the times Sza­niaw­scy re­build the ex­ist­ing palace in the Ba­roque-clas­si­cal style. The au­thor of the ar­chi­tec­tural con­cept was prob­a­bly Fran­ce­sco Pla­ci­di, the roy­al ar­chi­tect from Rome, al­though there is no clear ev­i­dence of this. Mod­ern­iza­tion of the palace re­sult­ed in liq­ui­da­tion of the al­coves, which were re­placed in the south­ern el­e­va­tion by a three-ax­i­al ri­salit with a semi­cir­cu­lar tym­pa­num dec­o­rat­ed with the mono­gram of An­na Sza­niaw­ska. An el­e­gant por­ti­co with four columns, al­so topped with a tym­pa­num, was added to the west­ern el­e­va­tion. Be­hind the west­ern wall (which was de­mol­ished) a gar­den was plant­ed, which slopes gen­tly down to the pic­turesque me­an­der­ing riv­er. With the trans­for­ma­tion of the palace, the lay­out and ar­range­ment of the farm build­ings was al­so changed. New build­ings were erect­ed along the south­ern and east­ern walls. How­ev­er, due to the close prox­im­i­ty of the palace, the east­ern build­ings were ex­tend­ed be­yond the line de­ter­mined by two cor­ner tow­ers, which at that time no longer played any role in the de­fense sys­tem. At that time, new gar­dens were cre­at­ed: the first (men­tioned above) by the riv­er, the sec­ond around the palace, the third by the south­ern gate and the fourth north of the walls, which was used as a menagerie.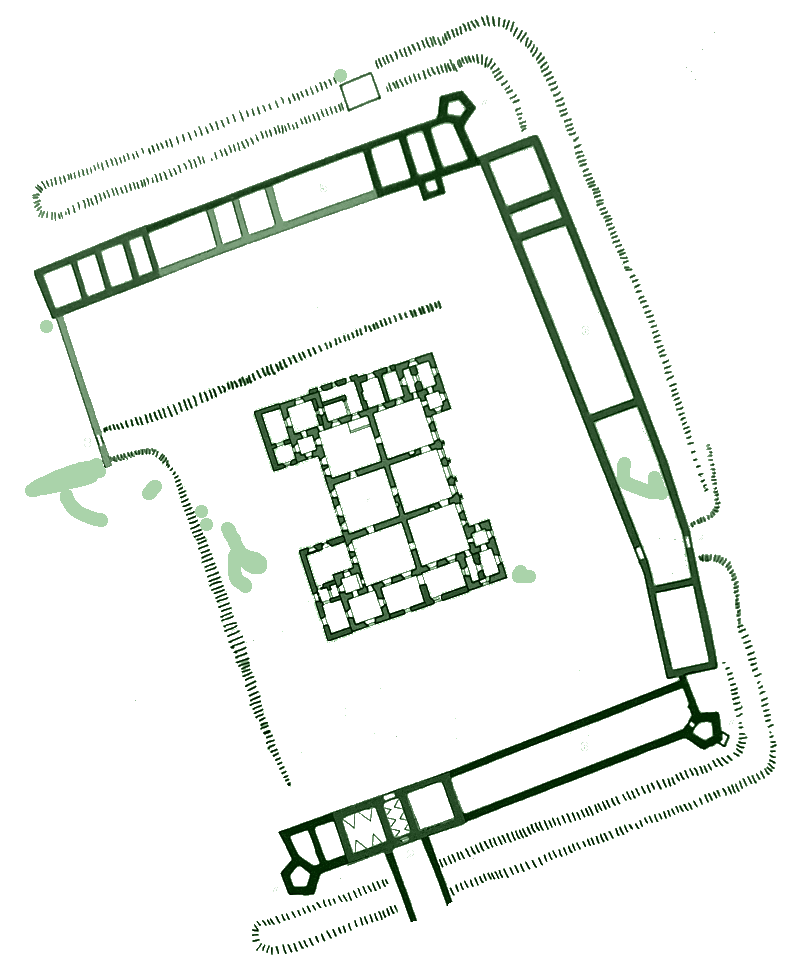 PLAN OF THE SOBKÓW FORTRESS, AS IT STOOD IN THE MIDDLE OF THE 18TH CENTURY: 1. BAROQUE-CLASSICAL PALACE,
2. SOUTH GATE (THE OLDEST ONE) WITH A GUARDHOUSE AND AN ARMOURY, 3. WEST GATE, 4. EAST GATE,
5. RENAISSANCE MANOR BUILDINGS, 6. XVIII-CENTURY FARM BUILDINGS, 7. PUNTONE TOWERS
WESTERN ELEVATION OF THE PALACE, CONDITION IN 2002 AND 2021
T
he sym­bol­ic end of Sobków's splen­dor as a no­ble­man's res­i­dence oc­curred in 1780 when An­na Sza­niaw­ska died. From then on her heirs leased the palace and the grange, for ex­am­ple, in years 1814-18 it was man­aged by Jan and Ro­za­lia Za­rzyc­cy, and lat­er by Sta­ni­sław Ro­land. Even­tu­al­ly the Sza­niaw­ski fam­i­ly sold the Sob­ków es­tate to Te­re­sa Ra­sta­wec­ka (d. 1830) and An­na Na­kwas­ka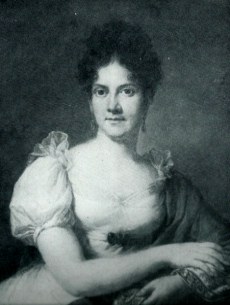 (d. 1851), and from them the prop­er­ty was briefly tak­en o­ver by Hen­ryk Na­kwas­ki (zm. 1876). How­ev­er, al­ready in 1832 the es­tate passed in­to the hands of Ig­na­cy Do­bro­sław­ski, coat of arms Na­łęcz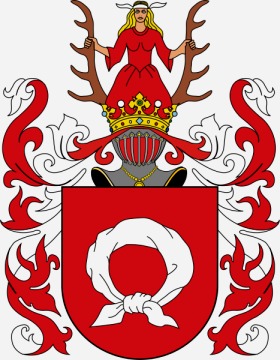 (d. 1839). Ap­par­ent­ly, he was not a good farmer, be­cause in the 1830s he went in­to debt to Mo­jżesz Rot­ten­berg from Chę­ci­ny to such an ex­tent that he was not able to re­pay it. There­fore his wid­ow had to cede Sob­ków to Mar­ce­li Do­bro­sław­ski and his wife Le­oka­dia. The new own­ers al­so bor­rowed mon­ey from Jews and al­so had prob­lems with re­pay­ing their debts, as a re­sult of which the manor farm and the palace was auc­tioned off and bought by a cer­tain Rajz­man. At that time, the manor house was dev­as­tat­ed, out­build­ings were turned in­to ware­hous­es and the cor­ner tow­ers used as apart­ments. In 1912 Sob­ków was al­ready a ru­in.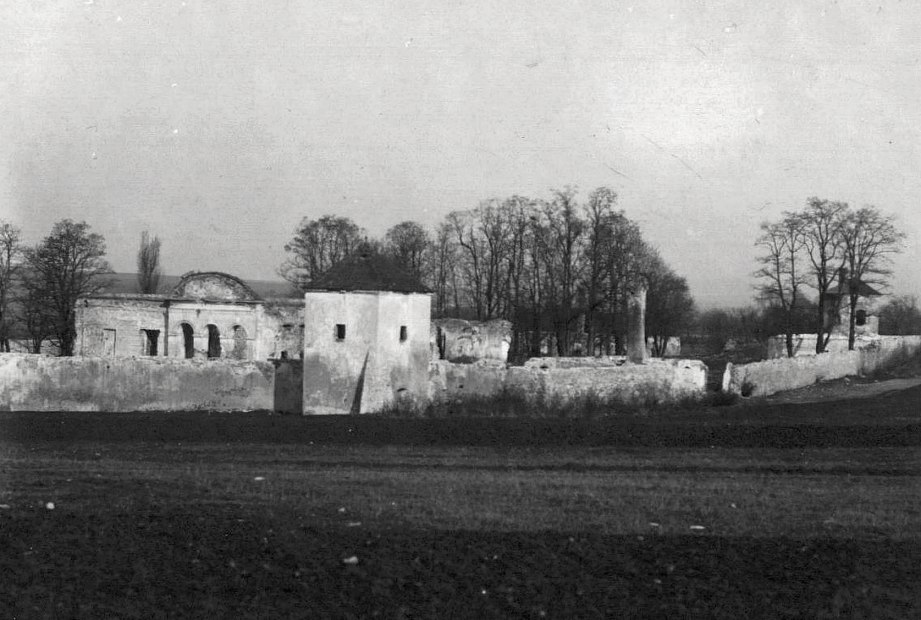 SOBKÓW IN RUINS, VIEW FROM SOUTHEAST, 1915
EASTERN BUILDINGS OF THE GRANGE AFTER RECONSTRUCTION, 2021
I
n 1914, the manor farm be­came the prop­er­ty of Ja­kub Sza­lo­mo­no­wicz No­wak, and five years lat­er its new own­ers were Szla­ma He­noh Ka­mi­ner and Jud­ka Ro­zen­trauch, who de­mol­ished the 16th and 17th cen­tu­ry walls and erect­ed new farm build­ings in the cas­tle court­yard. The for­t­al­ice re­mained in the hands of the Jew­ish Ka­mi­ner fam­i­ly un­til World War II. Af­ter the out­break of the war, and es­pe­cial­ly af­ter the takeover of the cas­tle by the pol­ish state (1944), the worst pe­ri­od in its his­to­ry be­gan: the walls were de­mol­ished, mar­ble and stone de­tails were re­moved from the palace, and the build­ings of the for­mer ar­moury and guard­house were turned in­to sheep­folds and pigsties. This de­struc­tive econ­o­my was not stopped un­til the late 1950s, when alarm­ing pub­li­ca­tions on the sub­ject ap­peared in the press. On­ly then the pre­vi­ous in­hab­i­tants were re­moved and the area cleaned up, but the lack of a re­al land­lord caused the build­ings to fall in­to ne­glect again. In 1997 a pri­vate en­trepreneur bought the ru­ins and de­vel­oped them in­to an eques­tri­an cen­ter with ho­tel and cater­ing fa­cil­i­ties.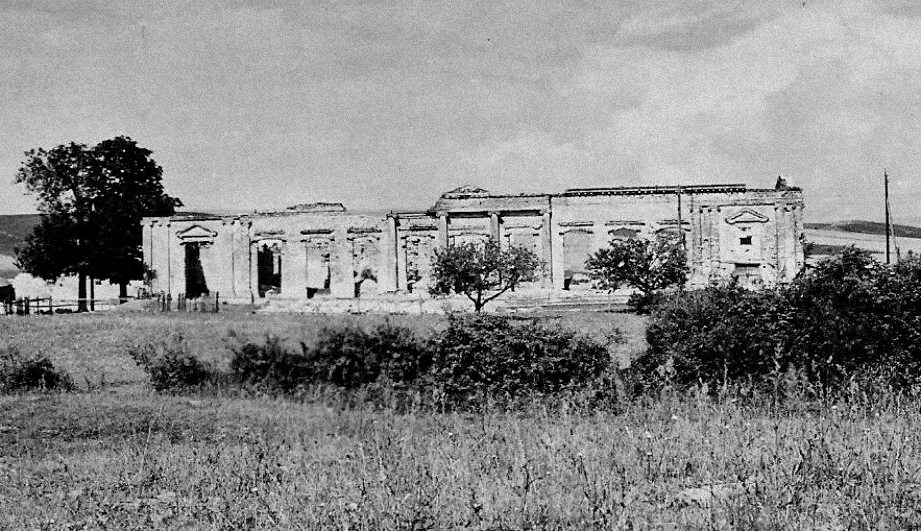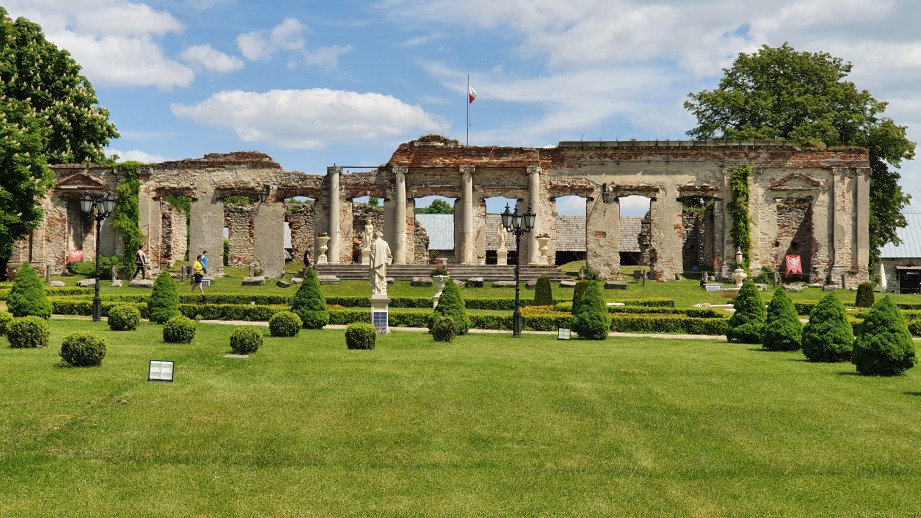 RUINS OF THE PALACE IN THE 1960S AND TODAY
---
T
o­day, on­ly a small part of the for­t­al­ice dates back to the time of its founder. The 16th cen­tu­ry per­ime­ter walls have sur­vived, as well as three cor­ner pun­tone tow­ers, now beau­ti­ful­ly re­stored. The for­mer Re­nais­sance manor is now on­ly a mod­est rel­ic, as is the palace, which re­mains on­ly a pic­turesque ru­in. How­ev­er, in its south­ern el­e­va­tion one can still no­tice a beau­ti­ful tym­pa­num, dec­o­rat­ed with a car­touche sup­port­ed by horns of plen­ty. The palace is sur­round­ed on three sides by farm build­ings with a for­mer en­trance gate lo­cat­ed in the south­ern cur­tain and the so-called lord's house - prob­a­bly the old­est brick build­ing in the cas­tle. The site is now cleaned up and very well main­tained.
SOUTHERN ELEVATION OF THE PALACE WITH A BEAUTIFUL TYMPANUM (ABOVE) AND SEVERELY RUINED ITS NORTH-EASTERN PART
T
he for­t­al­ice be­longs to a pri­vate own­er who has ar­ranged an eques­tri­an cen­ter in it. How­ev­er, the fa­cil­i­ty is al­so open to tourists. Sob­ków tries to at­tract them with its friend­ly at­mo­sphere, neat­ly ar­ranged green­ery and pop­u­lar at­trac­tions such as birds of prey shows, ca­noe­ing, car­riage rides etc. The ren­o­vat­ed farm build­ings house a stylish restau­rant of­fer­ing old-Pol­ish cui­sine, sta­bles and a mod­est coach house, while the south wing is used as a ho­tel.
"Knight's castle in Sobków"
ul. Sobka 15, 28-305 Sobków
tel.: +48 509 301 101 (hotel)
e-mail: info@zameksobkow.pl
ALLEYS IN THE WESTERN PART OF THE COURTYARD
| | |
| --- | --- |
| | Ad­mis­sion is free, but on­ly in restau­rant op­er­at­ing hours (some­times a small fee may be charged). |
| | |
| --- | --- |
| | Sight­see­ing time de­pends on our pref­er­ences, mood, oth­er plans, etc. We can see the whole tour in 15 min­utes, but we can just as well spend here many hours. |
| | |
| --- | --- |
| | We can en­ter the court­yard with our dog with­out any ob­sta­cles. |
| | |
| --- | --- |
| | The vil­lage is lo­cat­ed in a mil­i­tary flight zone, so it is worth check­ing if the zone is ac­tive be­fore launch­ing your drone. The place is friend­ly for aeri­al pho­tog­ra­phy: there is no lack of free space around the for­t­al­ice, and the trees grow­ing near­by do not ob­scure the build­ings. Fly­ing di­rect­ly o­ver the cas­tle should be agreed with the own­er. |
IN THE CASTLE STABLES AND CASTLE RESTAURANT
---
S
obków is lo­cat­ed about 30 kilo­me­ters south-west from Kielce, near the S7 Krakow-Kielce ex­press­way (ex­it at the junc­tions Brze­gi or Mnichów). Bus­es from Kielce and Ję­drze­jow as well as trains reach the vil­lage. From the rail­way stop Sobków-Przys­tanek it is 3,5 kilo­me­ters to the cas­tle.
| | |
| --- | --- |
| | We park the car in the square near the main road, a few dozen me­ters north of the gate. |
| | |
| --- | --- |
| | You can ride your bike in­to the court­yard. |
---
1. T. Giecewicz: Gminny program opieki nad zabytkami gminy Sobków na lata 2016-19
2. T. Gostyński: Sobków - miasto i zamek, Ochrona Zabytków 10/3 1957
3. R. Jurkowski: Zamki świętokrzyskie, Wydawnictwo CM 2017
4. P. Kałuża: Zabytkowy kompleks w Sobkowie, czyli sarmacki wehikuł czasu, Focus Historia 12/2014
5. A. Wagner: Murowane budowle obronne w Polsce X-XVIIw, Bellona 2019
6. andreovia.pl: Skarb w Sobkowie

Castles nearby:
Mokrsko - ruins of the nobleman's castle from the 14th-16th century, 3 km
Chęciny - ruins of the royal castle from the 13th/14th century, 14 km
Bolmin - ruins of a manor house from 16th-17th century, 20 km
Maleszowa - the remains of Krasińscy castle from the 17th century, 26 km
Kielce - Cracow bishops' palace with bastion fortifications from the 17th century, 28 km
Podzamcze Piekoszowskie - ruins of the magnate palace from the 17th century, 28 km
Pińczów - relics of the castle from the 15th century, 30 km

text: 2021
photographs: 2002, 2021
© Jacek Bednarek