ŁĘCZYCA

royal castle
CASTLE IN ŁĘCZYCA, VIEW FROM THE WEST
---
T
he ear­li­est known de­fen­sive con­struc­tion in the area was a burgh de­scribed as Lan­ci­cia or Lant­si­za, lo­cat­ed with­in the bound­aries of to­day's vil­lage of Tum (3 kilo­me­ters from Łęczy­ca). It pre­sum­ably served as the seat of a cas­tel­lany, and in 1138-44 Sa­lo­me von Berg (d. 1144), wid­ow of duke Bo­le­sław the Wry­mouth (d. 1138), resid­ed here. The de­vel­op­ment of this set­tle­ment was slowed down in 1241 by the Tar­tar in­va­sion, and its defini­tive end as an im­por­tant ad­min­is­tra­tive cen­ter fol­lowed the de­struc­tion done by the Lith­ua­ni­ans and Teu­ton­ic Knights at the turn of the 13th and 14th cen­turies. At that time a town was al­ready func­tion­ing near­by, which in the course of time be­came the cap­i­tal of a small prin­ci­pal­i­ty of Łę­czy­ca.
A mys­te­ri­ous ring with the in­scrip­tion TOT VI­VAS FE­LIX*QUOT VIV­IT*TEM­PO­RA FENIX was found dur­ing ar­chae­o­log­i­cal re­search on the site of the Tum set­tle­ment. The ring prob­a­bly be­longed to Sa­lo­me von Berg, wife of Bo­le­sław the Wry­mouth.
RECONSTRUCTION OF A FORTIFIED SETTLEMENT IN TUM NEAR ŁĘCZYCA BASED ON RESEARCH CONDUCTED
BY THE ARCHAEOLOGICAL AND ETHNOGRAPHIC MUSEUM IN ŁÓDŹ
T
he date of con­struc­tion of the brick strong­hold in the town is not known, nor the name of its founder. How­ev­er, it is gen­er­al­ly agreed that the cas­tle was erect­ed by the Pol­ish king Ka­zi­mierz the Great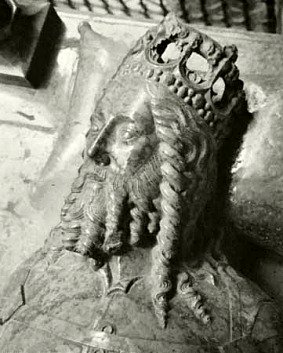 (d. 1370) in the 1350s, i.e. short­ly af­ter the death of the Łę­czy­ca prince Wła­dy­sław Gar­bacz, and in­cor­po­ra­tion of these lands in­to the Pol­ish state. The con­struc­tion of the cas­tle was ac­com­pa­nied by the for­ti­fi­ca­tion of the town, with which it formed a com­mon de­fense sys­tem. Dur­ing the reign of king Ka­zi­mierz, the build­ing served as the roy­al seat and the cen­ter of lo­cal ad­min­is­tra­tion (the first ad­min­is­tra­tor we know of was called Dzi­wisz of Wę­gle­szyn).
SCULPTURE DEPICTING KAZIMIERZ THE GREAT AS THE FOUNDER OF THE ROYAL CASTLE
A
f­ter 1386, king Wła­dy­sław Ja­gieł­ło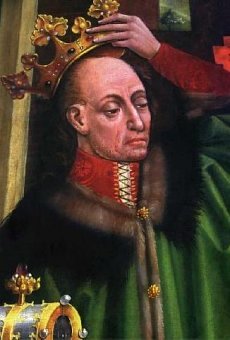 (d. 1434), es­tab­lished one of his res­i­dences in Łę­czy­ca. Ac­cord­ing to pre­served doc­u­ments, this ruler vis­it­ed here at least 36 times! The pe­ri­od of his and his sons' reign is one of the great­est in the his­to­ry of the cas­tle. At that time the most im­por­tant state and church dig­ni­taries of­ten vis­it­ed here, and con­ven­tions of Pol­ish knight­hood were held in its cham­bers. It is worth men­tion­ing that the kings of the Ja­giel­lo­nian dy­nasty stayed over­night in the cas­tle of Łę­czy­ca on­ly with their per­son­al ser­vants and clos­est court­iers. The rest of the court sta­tioned in the town, and on­ly ap­peared in the strong­hold to at­tend as­sem­blies or at the in­vi­ta­tion of the kings.
A CURTAIN WALL SURROUNDS THE CASTLE ON THREE SIDES (HERE A VIEW FROM THE NORTHEAST)
I
n 1406 the gar­ri­son sur­ren­dered the cas­tle to Teu­ton­ic troops, who de­stroyed it to some ex­tent. How­ev­er, the de­struc­tion could not have been too se­ri­ous, since al­ready three years lat­er in the cas­tle cham­bers Wła­dy­sław Ja­gieł­ło presid­ed o­ver a knights' con­ven­tion, at which de­ci­sions were made to al­ly with Li­thua­nia in case the Teu­ton­ic Knights at­tacked again. A year lat­er, af­ter the Bat­tle of Grun­wald, Teu­ton­ic pris­on­ers of war were brought to Łę­czy­ca, among them knights from West­ern Eu­rope fight­ing for the Teu­ton­ic Knights. They were prob­a­bly held in a cell un­der the gate, where they wait­ed pa­tient­ly to be re­deemed from cap­tiv­i­ty.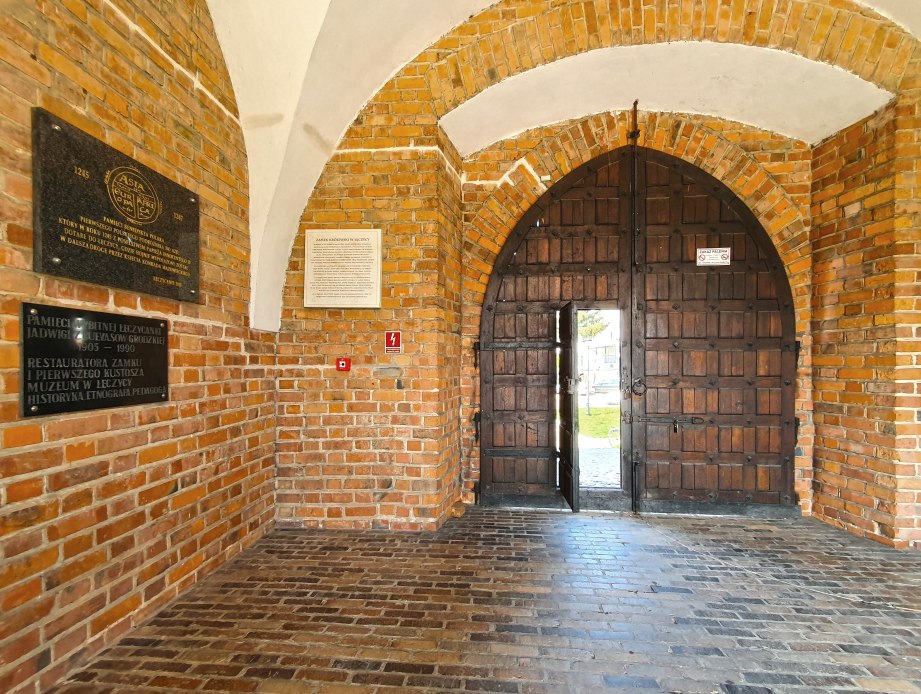 W
ładysław Jagiełło's younger son, Ka­zi­mierz Ja­giel­loń­czyk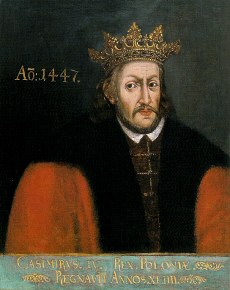 (d. 1492), like his fa­ther, of­ten vis­it­ed Łę­czy­ca, and dur­ing the Thir­teen Years' War he placed one of his main com­mand cen­ters and court head­quar­ters here. His wife, Elis­a­beth von Hab­s­burg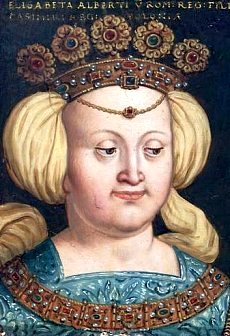 (d. 1505) vis­it­ed the cas­tle at least four times: first short­ly af­ter her mar­riage in 1454, then in 1462, to­geth­er with her mi­nor son Wła­dy­sław, fu­ture king of Bo­he­mia and Hun­gary
. Two years lat­er she vis­it­ed her hus­band with their new­born daugh­ter Zo­fia, and fi­nal­ly in 1466, in the pres­ence of all her chil­dren (by then she had eight of them), she spent East­er at the cas­tle in Łę­czy­ca. The last Pol­ish king to vis­it here was Si­gis­mund III Va­sa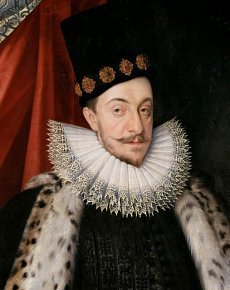 (d. 1632) trav­el­ing from his home­land of Swe­den to Cra­cow. He was solemn­ly wel­comed by the Arch­bish­op of Gnie­zno Sta­ni­sław Karn­kow­ski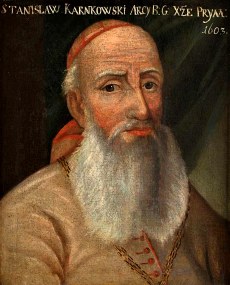 and by the host of the cas­tle, the sta­ros­ta of Łę­czy­ca Jan Sta­ni­sław By­kow­ski of Gryf coat of arms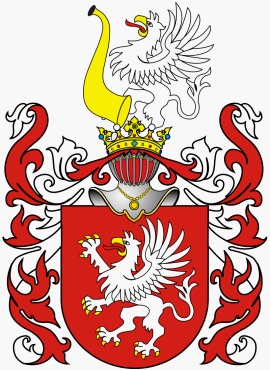 .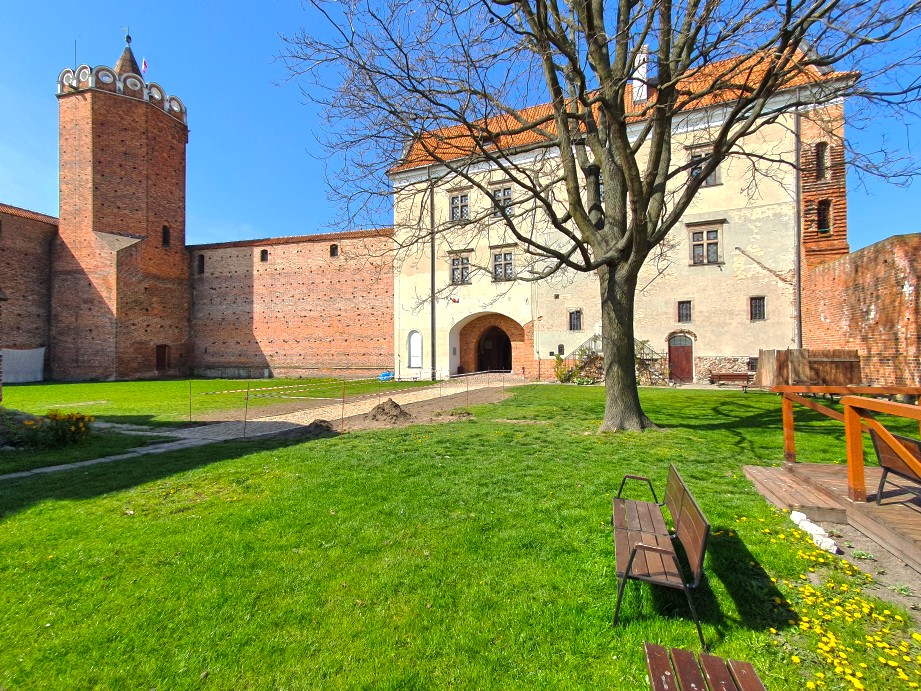 COURTYARD OF THE ŁĘCZYCA CASTLE
M
uch ear­li­er, how­ev­er, in 1462 and 1484, a fire broke out in the town, de­stroy­ing the roy­al cas­tle to such an ex­tent that it par­tial­ly turned in­to ru­ins. Its re­pair was not un­der­tak­en un­til the 1560s by sta­ros­ta Jan Lu­to­mier­ski of Ja­strzę­biec coat of arms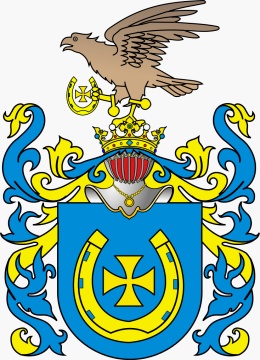 (d. 1567), who, at a cost of 3000 flor­ins, strength­ened the cas­tle walls, re­paired the main tow­er, raised the gate tow­er, and erect­ed a three-sto­ry ed­i­fice called the new house in the north­west­ern part of the court­yard. As a re­sult of these works, both the cas­tle's ex­te­ri­or and in­te­ri­or de­sign, as well as its de­fen­sive ca­pa­bil­i­ties, were adapt­ed to the re­quire­ments of their time.
RENAISSANCE WINDOW STONEWORK DATES BACK TO THE XVI-CENTURY EXPANSION OF THE CASTLE
A
t the be­gin­ning of the 17th cen­tu­ry, the con­di­tion of the cas­tle was al­ready de­scribed as bad, and an in­spec­tion car­ried out in 1628-1632 re­vealed the need to re­pair its walls and ceil­ings. Fur­ther dam­age was done in the 1650s by the Swedes, and ...the Pol­ish army, which in 1655 for sev­er­al months shelled the Swedish gar­ri­son sta­tioned at the strong­hold. The me­dieval walls then could not with­stand the fire of 17th-cen­tu­ry ar­til­le­ry, and as a con­se­quence the east­ern wall of the cas­tle was al­most com­plete­ly de­stroyed, and the main build­ing (the old house), which was at­tached to it, par­tial­ly col­lapsed. Af­ter the es­cape of the Swedes, some ren­o­va­tions were car­ried out here, but they could not stop the pro­gres­sive degra­da­tion of the build­ing. The work of its de­struc­tion was again done by the Swedes in 1705, af­ter which the an­cient cas­tle is turned in­to ru­ins, with al­most no win­dows.
THE CASTLE IN ŁĘCZYCA SEEN FROM THE SOUTH
A
f­ter the in­cor­po­ra­tion of Łęczy­ca by Prus­sia, king Frie­drich Wil­helm II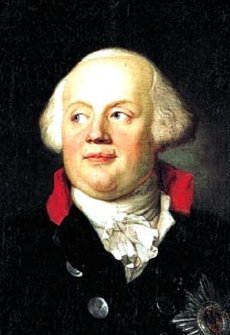 (d. 1797) de­cid­ed to build a mod­ern fort in the town, which was to use the walls of the me­dieval cas­tle (as part of its south­east bas­tion). Ac­cord­ing­ly, a new gate was made in the east­ern wall and the re­mains of the old house were de­mol­ished, and per­haps al­so the high­er parts of the cur­tain walls. The cost of build­ing the fort was es­ti­mat­ed by the Prus­sian au­thor­i­ties at 39,851 tha­lers, a rel­a­tive­ly mod­est amount. 2,000 peo­ple were to be em­ployed on the con­struc­tion work, which was sup­posed to guar­an­tee com­ple­tion of the pro­ject in a very short time.
PROJECT TO BUILD A FORT IN ŁĘCZYCA (1794), THE CASTLE IS MARKED WITH THE LETTER Z
HORNWORK - R, CROWNWORK - K
I
t soon be­came clear, how­ev­er, that the work would take much longer than orig­i­nal­ly planned, and the main rea­son for de­lays was ...a short­age of work­ers (it hap­pened that out of 2,000 work­ers on­ly a few dozen of them were work­ing). De­spite in­cen­tives and threats of var­i­ous kinds used by the au­thor­i­ties, work pro­gressed very slow­ly and the in­vest­ment was fi­nal­ly com­plet­ed on­ly in 1798. Its cost of 65,291 tha­lers al­most dou­bled the planned bud­get. A sec­ond, much more am­bi­tious pro­ject to re­build the town in­to a per­ma­nent fort­ress with a huge bas­tion out­line, sev­en case­mates and four gun­pow­der mag­a­zines (see fig­ure be­low) nev­er ma­te­ri­al­ized.
UNREALIZED PROJECT TO REBUILD THE TOWN INTO A FORTRESS, 1798
D
ur­ing the Napoleon­ic War, the new fort­ress did not ac­tu­al­ly play a role, be­cause up­on hear­ing that en­e­my troops were ap­proach­ing, the Prus­sian gar­ri­son evac­u­at­ed from Łę­czy­ca, leav­ing the town open to the Pol­ish le­gions of Gen­er­al Jan Hen­ryk Dą­brow­ski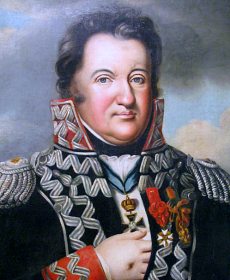 . In the pe­ri­od of the Duchy of War­saw, the fort re­mained un­der the con­trol of the Poles, who ex­pand­ed it based on some of the un­re­al­ized Prus­sian plans. In 1809 the town was oc­cu­pied by Aus­tri­an troops, who, find­ing the for­ti­fi­ca­tions use­less, dis­man­tled much of them short­ly there­after. Com­ing back to the cas­tle, in the ear­ly 19th cen­tu­ry the lo­cal au­thor­i­ties treat­ed it as a pub­lic repos­i­to­ry of cheap bricks, which they sold to town res­i­dents at bar­gain prices. This trade led to the al­most com­plete liq­ui­da­tion of the cas­tle's out­er walls and the up­per part of the Goth­ic tow­er. "Wild" de­mo­li­tion of the cas­tle was not stopped un­til 1840.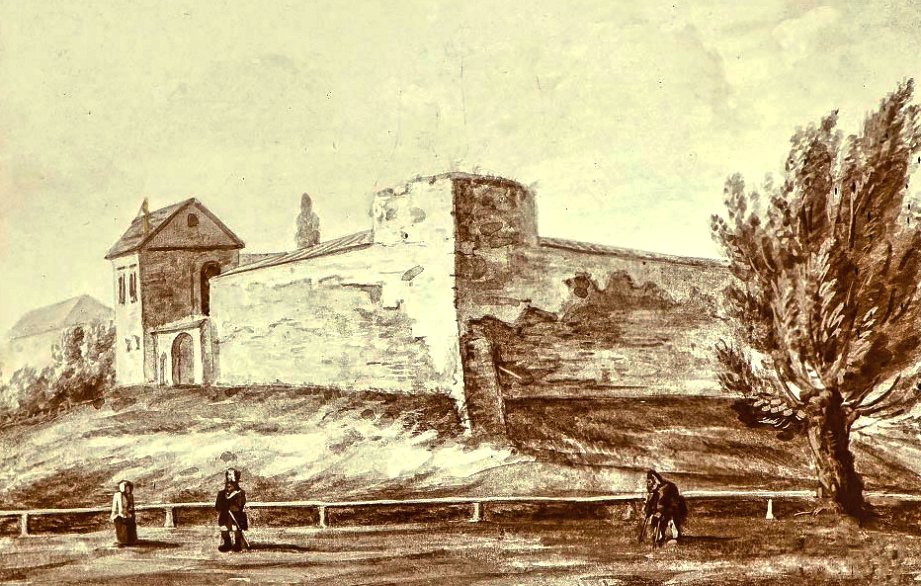 LITHOGRAPH BY KAZIMIERZ STRONCZYŃSKI, 1844-55
IN THE XIXTH CENTURY, A TOWER FOR FIRE BRIGADE TRAINING WAS ERECTED IN THE CASTLE COURTYARD
I
n the sec­ond half of the 19th cen­tu­ry, an ice­house was built on the cas­tle grounds, a court and a mu­nic­i­pal jail func­tioned in pre­served rooms of the new house, and a tow­er was erect­ed in the court­yard for fire bri­gade train­ing (which ex­ist­ed un­til 1927). Af­ter 1918, the town­ship au­thor­i­ties did some re­pair work aimed main­ly at pre­vent­ing the walls from crum­bling and soak­ing, but these were very lim­it­ed due to lack of funds. In 1933, the Pol­ish Sight­see­ing So­ci­ety be­gan ef­forts to es­tab­lish a mu­se­um in the cas­tle. Al­though the first plans to launch a such a fa­cil­i­ty were thwart­ed by the out­break of World War II, short­ly af­ter the end of the war, in April 1948, thanks to the com­mit­ment of the so­ci­ety's mem­bers, the new house was ren­o­vat­ed, in which the Łódź pro­vince au­thor­i­ties opened the head­quar­ters of the lo­cal mu­se­um.
NEW HOUSE AND REMAINS OF THE CASTLE GATE, 1919
B
e­fore this hap­pened, as ear­ly as 1945, lo­cal scouts or­ga­nized in the ru­ins a troop head­quar­ters and a pup­pet the­ater named Avant-garde. De­spite some ren­o­va­tions made here that were nec­es­sary for the open­ing of a mu­se­um fa­cil­i­ty, the cas­tle ini­tial­ly dif­fered on­ly slight­ly in con­di­tion from its pre-war days. It re­ceived its pre­sent-day form on­ly as a re­sult of the com­pre­hen­sive re­con­struc­tion car­ried out in 1964-76, which pri­mar­i­ly in­clud­ed re­build­ing of the main tow­er as well as the west­ern sec­tion of the wall with the gate tow­er and the Re­nais­sance new house.
SOUTH AND WEST FACADE OF THE CASTLE WITH THE MAIN TOWER, CONDITION IN THE 1960S AND TODAY
In 2020, dur­ing the re­con­struc­tion of Na­tion­al Road 91, which runs right next to the cas­tle, con­struc­tion work­ers found two coins: a Ro­man denar­ius, be­lieved to date from the 2nd cen­tu­ry AD, and a much younger cop­per shilling, mint­ed in the 17th cen­tu­ry.
ROMAN AND POLISH COINS FOUND IN 2020
DESCRIPTION OF THE CASTLE
T
he cas­tle was erect­ed in the south­east­ern part of the town, from which it was sep­a­rat­ed by a moat. It had a quad­ran­gle plan with di­men­sions of 43 x 44 x 59 x 63 me­ters. Its pe­rime­ter walls mea­sured 10 me­ters high and about 2 me­ters thick - along the east­ern sec­tion and at the cor­ners, a mas­sive but­tress pro­vid­ed their sta­bil­i­ty. The me­dieval cas­tle con­sist­ed of ex­ter­nal for­ti­fi­ca­tions, the main tow­er and gate tow­er, an ad­min­is­tra­tive build­ing at­tached to the east­ern wall, a wood­en dwel­ling house by the gate tow­er, and un­spec­i­fied wood­en bar­racks of an eco­nom­ic func­tion (kitchen, bak­ery, etc.). It could on­ly be ac­cessed by a draw­bridge from the town side.
RECONSTRUCTION OF MEDIEVAL CASTLE BY J. SALM, "LEKSYKON ZAMKÓW W POLSCE"
PLAN OF ŁĘCZYCA TOWN FROM 1796, THE CASTLE IS IN THE UPPER RIGHT CORNER (WELL VISIBLE REMAINS OF THE MOAT)
T
he main tow­er stands in the south­west cor­ner of the for­ti­fi­ca­tion. Up to a height of 10 me­ters, it has a square plan with a side of 9.5 me­ters, which then turns in­to an oc­tagon. Orig­i­nal­ly, the tow­er mea­sured about 23 me­ters in height, with an en­trance at the 13-me­ter lev­el, which was ac­ces­si­ble on­ly from the top of the walls. It is now crowned by a re­con­struct­ed oc­tag­o­nal brick su­per­struc­ture, a con­i­cal hel­met and a Re­nais­sance at­tic. The main task of this el­e­ment of the cas­tle for­ti­fi­ca­tions was to pro­tect the cur­tains: south­ern on the side of the stream, and west­ern on the side of the town. The cor­ner tow­er al­so pro­tect­ed the junc­tion of the town and cas­tle for­ti­fi­ca­tions and served as a prison for the no­bil­i­ty.
RECONSTRUCTED TOP OF THE MAIN TOWER
A
quad­ran­gu­lar gate tow­er, built on a square plan with sides of 9.8x10 me­ters, was in­cor­po­rat­ed in­to the north­ern part of the west­ern wall. Its ground lev­el housed a prison for plebs and a guard's cham­ber, while the up­per floors served for some time as roy­al apart­ments, which the rulers used dur­ing their stay in Łę­czy­ca. Ac­cess to the tow­er from the town was de­fend­ed by a mas­sive gate and a draw­bridge.
RUINED CASTLE ON LITHOGRAPH BY NAPOLEON ORDA, VIEW FROM WEST OF NEW HOUSE AND REMAINS OF GATE TOWER
THE SAME VIEW TODAY, THE GATE TOWER WAS RECONSTRUCTED FROM SCRATCH
T
he east­ern part of the court­yard was oc­cu­pied by a build­ing, called the old house, erect­ed on a rect­an­gu­lar plan with sides of 10 x 35 me­ters, three-sto­ry, with a base­ment (af­ter 1563). Ac­cord­ing to a de­scrip­tion from the 16th cen­tu­ry, it gen­er­al­ly con­sist­ed of three parts: the south­ern rep­re­sen­ta­tive part with large halls; cen­tral three-sto­ry great hall­way and the north­ern ad­min­is­tra­tive part. It housed, among oth­er things, a mu­nic­i­pal ar­chive, a chan­cellery, a bur­grave's cham­ber, and a scribe's cham­ber. Thus, the south­ern part of the old house pre­sum­ably held meet­ings of the Roy­al Coun­cil and, in lat­er times, the mu­nic­i­pal court. To­day this ed­i­fice no longer ex­ists, and the on­ly rem­nants of it are un­spec­i­fied parts of the walls hid­den in a for­mer pow­der mag­a­zine.
RECONSTRUCTION OF THE OLD HOUSE, T. POKLEWSKI: "DOM STARY NA ZAMKU W ŁĘCZYCY"
THE FORMER POWDER MAGAZINE HIDES THE REMAINS OF THE OLD HOUSE'S VESTIBULE
CURRENTLY IT HOUSES THE MUSEUM TICKET OFFICE
D
ur­ing the 16th-cen­tu­ry re­build­ing of the cas­tle, the new house was erect­ed in its north­west­ern part, which was a three-sto­ry, one-bay Re­nais­sance res­i­den­tial ed­i­fice with sides of 8 x 16 and a height of about 18 me­ters. In the old house, one sto­ry was added and the vestibule was ren­o­vat­ed by ad­ding dec­o­ra­tive vaults, as well as the win­dows were en­larged, and its in­te­ri­ors re­ceived new dec­o­ra­tion. The gate tow­er was su­per­struct­ed by one sto­ry, equal­ing the height of the new house, and these two ad­ja­cent build­ings were cov­ered with a com­mon roof. The de­fen­sive qual­i­ties of the cas­tle were al­so tak­en care of - to this end, the perime­ter walls were strength­ened and raised, as well as the main tow­er, which gained a Re­nais­sance at­tic.
PLAN OF THE CASTLE IN ŁĘCZYCA, ABOVE - FROM THE XIV CENTURY, BELOW - FROM THE XVI CENTURY
1. MAIN TOWER, 2. GATE TOWER, 3. OLD HOUSE, 4. NEW HOUSE
NEW HOUSE AT THE BEGINNING OF THE XXTH CENTURY AND NOW (SHADED AREA)
---
T
o­day the cas­tle is a par­tial ru­in, the shape of which re­sults from a 20th-cen­tu­ry re­con­struc­tion. The most im­pres­sive is the - al­most en­tire­ly re­built - west­ern wing with the gate, the new house and the main tow­er, the top of which is crowned with a Re­nais­sance at­tic. The cas­tle's north­ern and east­ern walls are much low­er than they were in the Mid­dle Ages - and no build­ings have sur­vived in this part of the strong­hold with the ex­cep­tion of a small 19th-cen­tu­ry pow­der mag­a­zine.
WEST ELEVATION OF THE CASTLE AS SEEN FROM ZAMKOWA STREET
T
here is a small mu­se­um in the cas­tle, with ex­hi­bi­tions on the his­to­ry of the re­gion and folk art. They cov­er three main the­mat­ic ar­eas:
The art ex­hi­bi­tion, which in­cludes por­traits, cab­i­net fur­ni­ture and East­ern and Eu­ro­pean white arms, genre paint­ings, land­scapes, table ce­ram­ics, tiles, jew­el­ry, some con­tem­po­rary graph­ics and sculp­ture. Un­for­tu­nate­ly, apart from stove tiles, none of these ar­ti­facts are part of the cas­tle's orig­i­nal fur­nish­ings.
Re­fer­ring to the tra­di­tions of folk or­na­men­ta­tion and crafts­man­ship, the ethno­graph­ic ex­hi­bi­tion pre­sents the dai­ly life of a ru­ral black­smith's fam­i­ly. Here we see styl­ized in­te­ri­ors of a three-room cot­tage equipped with fur­ni­ture and house­hold uten­sils from the Łę­czy­ca re­gion.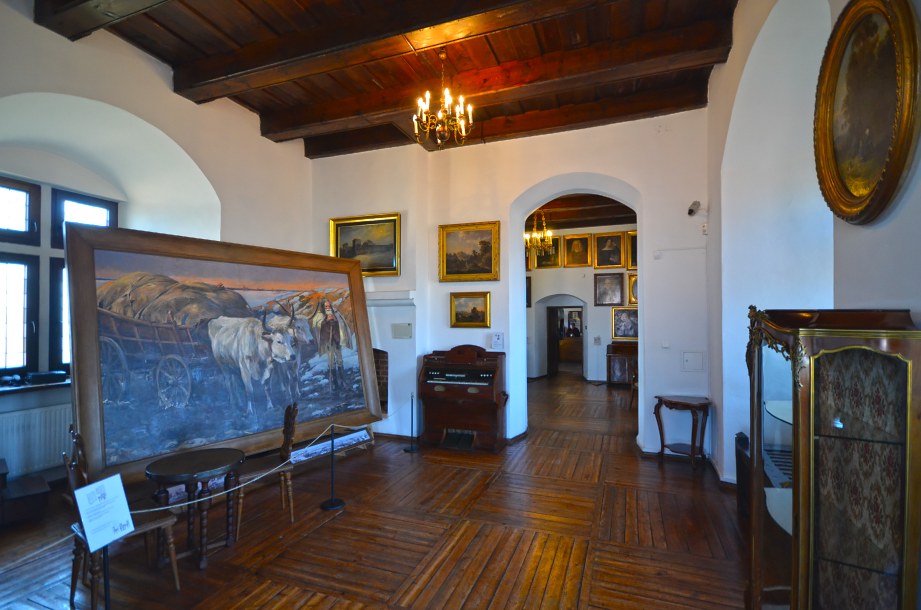 H
is­tor­i­cal ex­hi­bi­tion. It fea­tures plans of the me­die­val town walls, a mod­el of the cas­tle from the 14th cen­tu­ry, unique pho­tographs of ex­posed foun­da­tions of the old house and ru­ins of the new house be­fore its re­con­struc­tion. There is al­so a sep­a­rate ex­hi­bi­tion on the Tum col­le­giate church. The col­lec­tion is sup­ple­ment­ed by guild doc­u­ments, mem­o­ra­bil­ia, flags, dec­o­ra­tions, as well as can­non­balls and repli­cas of small arms.
EXHIBITION OF LITTLE DEVILS
H
ow­ev­er, the mu­se­um in Łę­czy­ca is pri­mar­i­ly fa­mous for its orig­i­nal ex­hi­bi­tion of ...lit­tle dev­ils. It in­cludes var­i­ous in­car­na­tions of dev­il Bo­ru­ta, as well as oth­er dev­ils known from fairy tales and leg­ends: Lu­ci­fer, Beel­ze­bub, Fu­gas and Ro­ki­ta. Thus, here we have Bo­ru­ta the brew­er, farm­hand, Ve­ne­tian dev­il and vil­lager, there are wood­en fig­ures de­pict­ing the dev­il min­er, bar­tender and monk, there is Bo­ru­ta with a girl­friend, a hooli­gan dev­il and even a na­tur­ist dev­il. Among the col­or­ful fig­urines we can see a dev­il bathed in holy wa­ter and steal­ing fish­ing nets, as well as all sorts of name­less for­est and mud lit­tle dev­ils from many re­gions of Poland.
'BORUTA DEVIL IN MODERN SCULPTURES AND LEGENDS'
Boruta is a de­mon from an­cient Slav­ic be­liefs, who was iden­ti­fied with a beard­ed guardian of fo­rests - a pro­tec­tor of an­i­mals and a pa­tron of hun­ters. This is prob­a­bly the ori­gin of his name: Bo­ru­ta from bór, mean­ing dense for­est. Ac­cord­ing to an­oth­er the­o­ry, the name was tak­en from the pine tree in which the de­mon was said to re­side - pine is ac­tu­al­ly bo­ru­ta in Old Pol­ish. As a re­sult of Chris­tian­iza­tion in the Mid­dle Ages, the fig­ure came to be iden­ti­fied with the dev­il.

Ac­cord­ing to leg­end, Bo­ru­ta was a hum­ble, poor forester liv­ing in the 14th cen­tu­ry, who helped Ka­zi­mierz the Great get out of a swamp when his court be­came stuck in the sur­round­ing woods. As a re­ward, he re­ceived no­bil­i­ty and oth­er hon­ors from the king, and us­ing them o­ver time he be­came a cru­el and op­pres­sor to his sub­jects. Af­ter his death, the peo­ple rushed to the cas­tle of the hat­ed ruler in search of the gold and mon­ey stored there. Noth­ing was found, how­ev­er, and two days lat­er the dead man's body al­so dis­ap­peared. A ru­mor spread that Bo­ru­ta turned in­to a dev­il who hid in the dun­geons, where he guards the loot­ed trea­sures.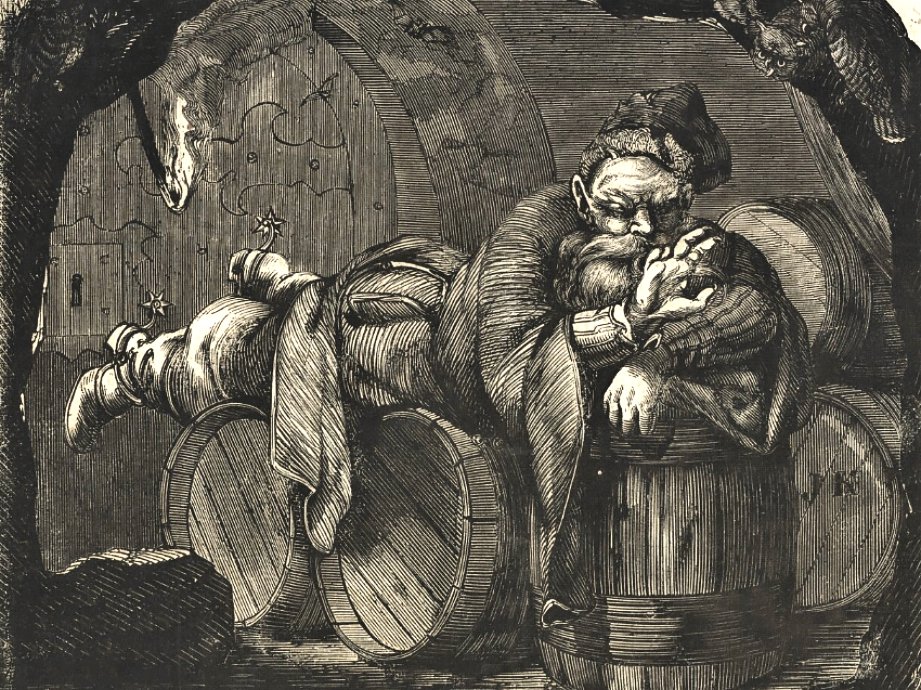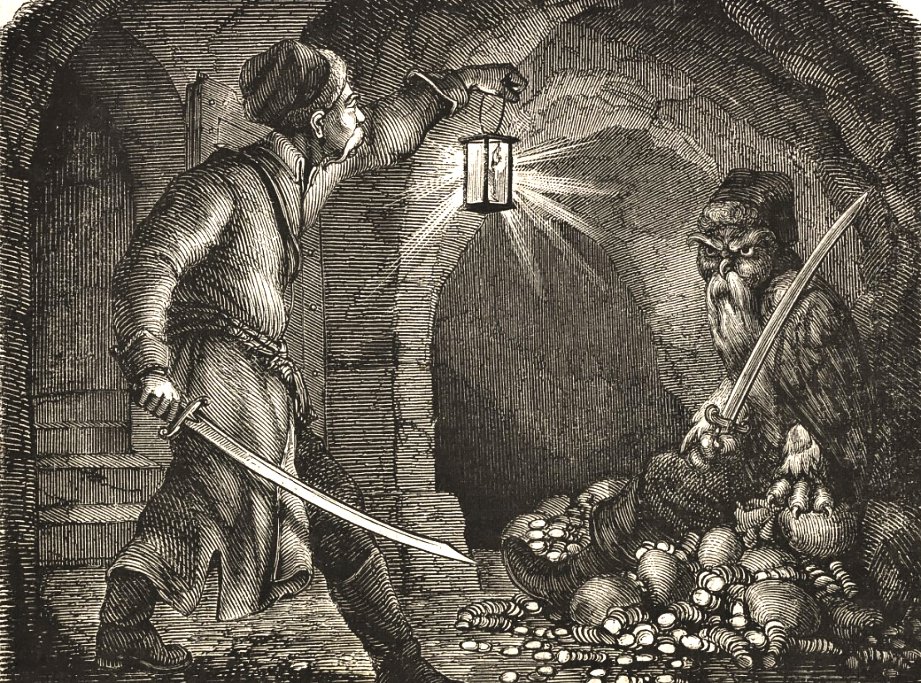 BORUTA GUARDING TREASURES, ENGRAVINGS FROM 1862
| | |
| --- | --- |
| | Admission to the courtyard free, to the museum - paid. Tickets re­la­tive ex­pen­sive (6€ in 2023). The tour in­cludes the tower. |
| | |
| --- | --- |
| | The museum is visited without a guide - the tour lasts about 45-60 min­utes. |
| | |
| --- | --- |
| | You can take pictures in­doors (with­out a tri­pod and lamp). |
| | |
| --- | --- |
| | Dogs are not allowed on the museum grounds. |
| | |
| --- | --- |
| | A steep staircase leads to the museum building. No fa­ci­li­ties for the blind and dim-sighted people. |
VIEW FROM THE MAIN TOWER TO THE GATE TOWER AND THE NEW HOUSE
---
T
he town is lo­cat­ed about 40 kilo­me­ters north of the cen­ter of Łódź, on na­tion­al road 91. Sub­ur­ban trains from Łódź (di­rec­tion Kut­no) run here. The cas­tle stands on Sien­kie­wi­cza Street, about 100 me­ters in a straight line from the Town Square. It takes 20 min­utes to walk here from the train sta­tion.
| | |
| --- | --- |
| | There is a free park­ing lot near the cas­tle. Ad­dress: Ka­zi­mie­rza Od­no­wi­cie­la Street. |
| | |
| --- | --- |
| | Bi­cy­cles can be brought in­to the cas­tle court­yard. |
---
1. H. Jaworowski: [...] jak odbudowano zamek w Łęczycy, Z otchłani wieków, 1/1977
2. I. T. Kaczyńscy: Zamki w Polsce północnej i środkowej, Muza SA 1999
3. L. Kajzer, J. Salm, S. Kołodziejski: Leksykon zamków w Polsce, Arkady 2001
4. L. Kajzer: Zamki i dwory obronne w Polsce centralnej, DiG Warszawa 2004
5. J. Pietrzak: Zamki i przestrzeń społeczna..., 2002
6. G. Podruczny: Pruska twierdza w Łęczycy. Epizod z dziejów miasta z lat 1794-1806
7. T. Poklewski: Dom stary na zamku w Łęczycy, Acta Archeologica Lodziensia 26/1977
8. R. Rosin (red.): Łęczyca. Monografia miasta do 1990 r., Łęczyca 2001
9. S. Trawkowski (red.): Atlas historyczny Polski, PAN 1998
10.A. Wagner: Murowane budowle obronne w Polsce X-XVIIw., Bellona 2019

PARKING LOT AT THE CASTLE
Castles nearby:
Besiekiery - ruins of a knight's castle from the 15th-16th centuries, 23 km
Uniejów - castle of Gniezno archbishops from the 14th century, 32 km
Sobota - castle relics from the 15th century, now a neo-Gothic palace from the 19th century., 37 km
Borysławice Zamkowe - ruins of a 15th century Gothic castle, 39 km
Lutomiersk - relics of a 14th/15th century knight's castle, 39 km
Przedecz - remains of a royal castle from the 14th century, 40 km
Oporów - Gothic castle from the 15th century, 42 km

---
In the vil­lage of Tum, 3 kilo­me­ters away from Łęczy­ca, stands the Col­le­giate Church of the Bles­sed Vir­gin Mary and St. Alex­ius, con­sid­ered one of the most beau­ti­ful ex­am­ples of Pol­ish Ro­ma­nesque ar­chi­tec­ture. Af­ter its con­se­cra­tion in 1161, the tem­ple served for church and prince­ly con­ven­tions, in­clud­ing or­ga­ni­za­tion of syn­ods, re­gard­ed as the first Pol­ish par­lia­men­tary as­sem­blies. In 1241 the church re­sist­ed a Ta­tar in­va­sion, but in 1293 the Li­thua­ni­ans man­aged to cap­ture it, while the peo­ple hid­ing with­in its walls were killed or ab­duct­ed in­to slav­ery.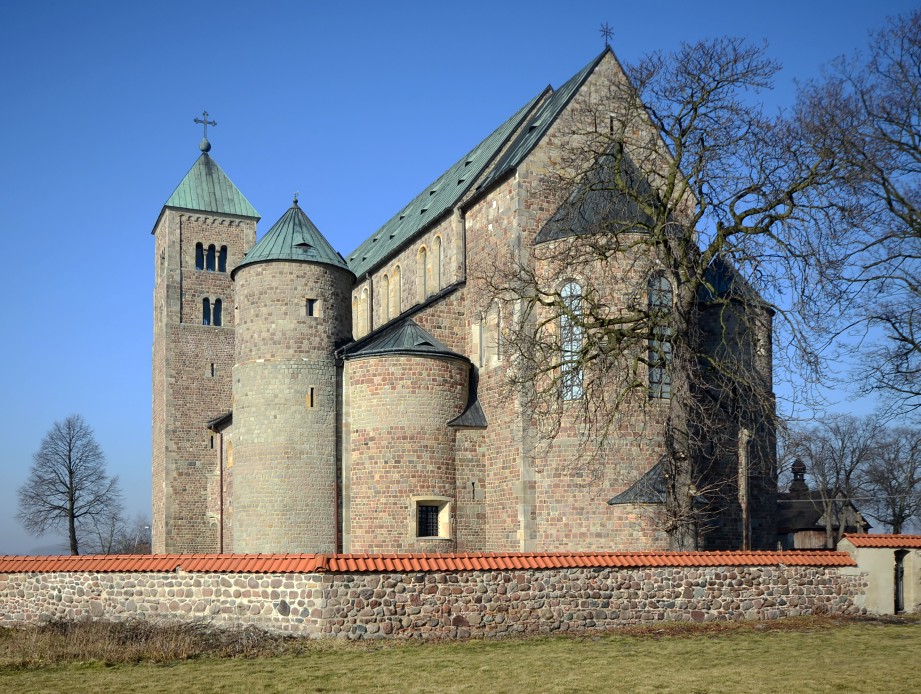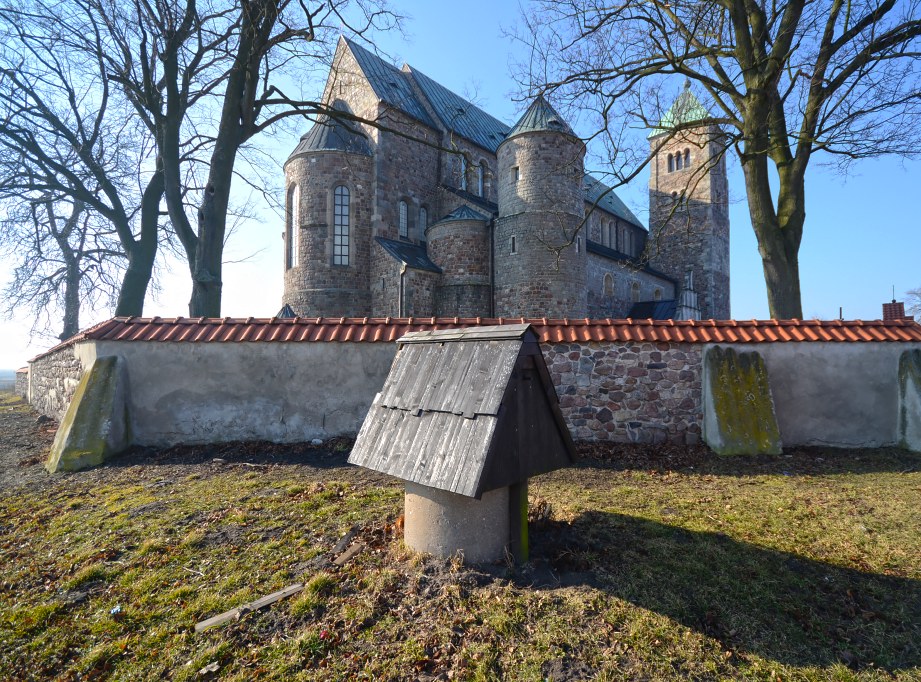 In the 14th cen­tu­ry the church was re­built in the Goth­ic style, but af­ter the World War II (in 1939 it was shelled by Pol­ish ar­til­lery and bombed by the Luft­waf­fe) it re­ceived a Ro­ma­nesque dec­o­ra­tion again. Of the old­est de­tails, a mag­nif­i­cent tym­pa­num and Ro­ma­nesque fres­coes have sur­vived to the pre­sent day, as well as the tombs of church dig­ni­taries from the 12th-13th cen­tu­ries, dis­cov­ered un­der the floor on­ly in the 1950s. Out­side, you can find on the fa­cade of one of the tow­ers char­ac­ter­is­tic notch­es re­sem­bling claw marks. Ac­cord­ing to leg­end, these are the foot­prints of the dev­il Bo­ru­ta, who, in an at­tempt to pre­vent the tem­ple from be­ing built, want­ed to over­throw this tow­er.
Near­by stands the wood­en church of St. Ni­cho­las from 1761, next to which an oak tree was plant­ed in 1999 to com­mem­o­rate the bring­ing of St. Adal­bert's relics to the Tum Col­le­giate Church.
text: 2023
photos: 2004, 2014, 2022
© Jacek Bednarek