OPORÓW

the Gothic castle
THE CASTLE IN OPORÓW, VIEW FROM SOUTH-EAST
---
A
doc­u­ment from 1363 men­tions Bo­gu­sław of Opo­rów of Su­li­ma coat of arms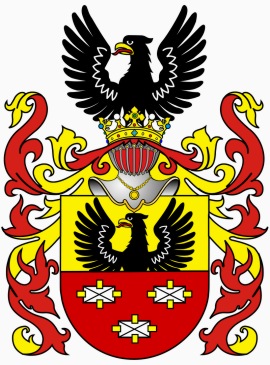 (d. af­ter 1398), ca­non of Gnie­zno and arch­dea­con, the own­er of a wood­en manor that had prob­a­bly been erect­ed in the first half of the 14th cen­tu­ry by his fa­ther, Ste­fan of Opo­rów (Ste­pha­no pro­cu­ra­tore here­di de Op­po­ro­wo, d. ca. 1374). Af­ter Bo­gu­sław's death the Opo­rów es­tate was given to his nephew Mi­ko­łaj (d. 1425), cham­ber­lain and voi­vode of Łę­czy­ca, a trust­ed courtier of King Wła­dy­sław Ja­gieł­ło
. In­clud­ing his home vil­lage and the town of Opo­rów, which he found­ed, he cre­at­ed a con­sid­er­able land prop­er­ty that con­sti­tut­ed the ma­te­ri­al ba­sis of the fam­i­ly for o­ver a hun­dred years. To em­pha­size his out­stand­ing am­bi­tions, he want­ed to found a church and build a new for­ti­fied res­i­dence, which he on­ly par­tial­ly suc­ceed­ed in do­ing be­cause he died on­ly a few years af­ter start­ing con­struc­tion work. His wid­ow Kry­sty­na re­tained the right to his prop­er­ty, but when she had al­so died in 1428, her sons - and there were six of them - agreed that Opo­rów and its ad­join­ing vil­lages should be­come the prop­er­ty of one of them, Wła­dy­sław (d. 1453). How­ev­er, the agree­ment in­clud­ed a clause that the new own­er's du­ty was to host his broth­ers when nec­es­sary. He was al­so obliged to com­plete the in­vest­ment start­ed by his fa­ther.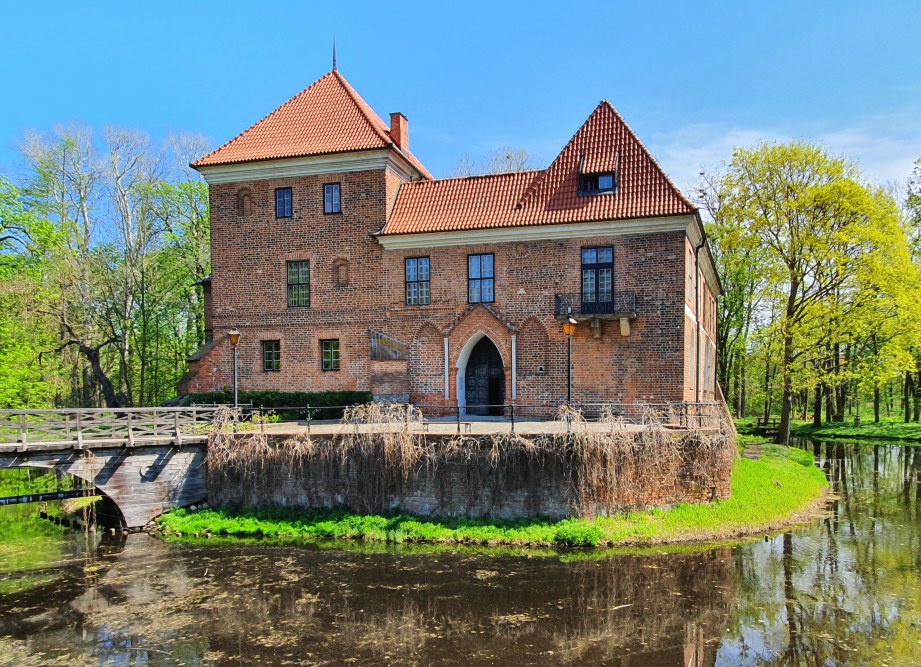 FRONT ELEVATION OF THE CASTLE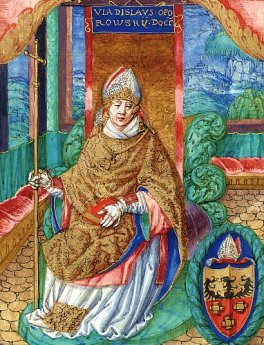 Władysław Opo­row­ski (b. 1395) was ed­u­cat­ed at the uni­ver­si­ties of Bo­lo­gna, Vi­en­na and Pad­ua, and then be­came a pro­fes­sor and lat­er - at the age of on­ly 31 - rec­tor of the Uni­ver­si­ty of Cra­cow. He en­joyed the trust and wide pro­tec­tion of King Ja­gieł­ło, which he ex­pressed by grant­ing him the of­fice of vice-chan­cel­lor. Wła­dy­sław al­so par­tic­i­pat­ed in many diplo­mat­ic mis­sions, in­clud­ing the Ro­man tri­al be­tween Poland and the Teu­ton­ic Or­der (1422), as well as peace talks with the Czech Hus­sites and the re­bel­lious Lithua­ni­an prince Žy­gi­man­tas Kęs­tu­tai­tis (1432).

At the age of about 40 he be­gan his church ca­reer, dur­ing which he fo­cused main­ly on of­fices and be­ne­fices that pro­vid­ed ad­e­quate in­come. Thanks to his nepo­tism, his close fam­i­ly al­so re­ceived the op­por­tu­ni­ty to ben­e­fit from the wealthy bish­op's es­tates, made church ca­reers, went on for­eign stud­ies and trips. Wła­dy­sław Opo­row­ski died on De­cem­ber 2, 1453 in the Oporów cas­tle.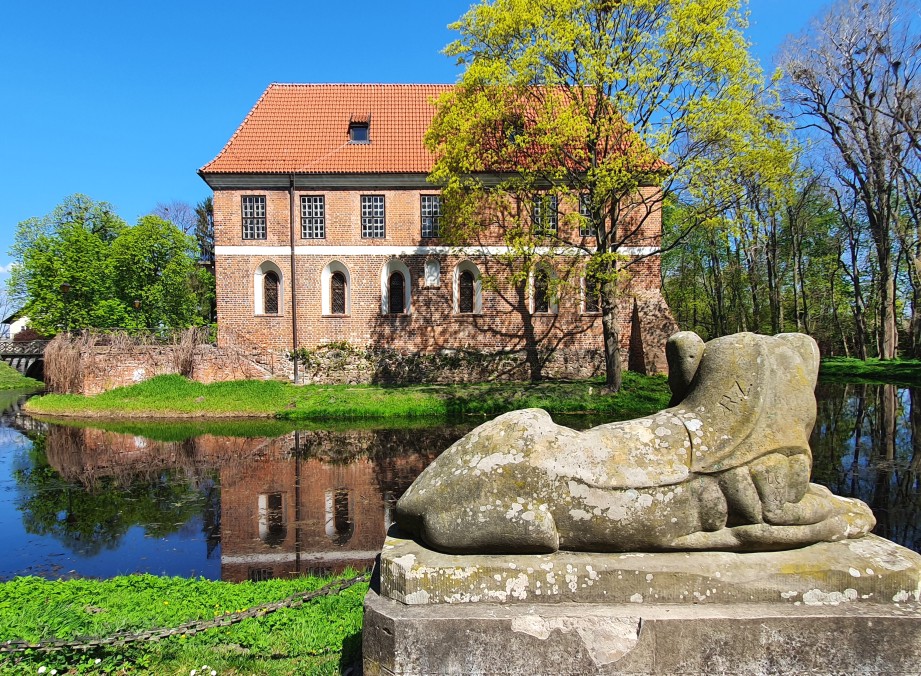 W
ładysław Oporow­ski was one of the wealth­i­est and most in­flu­en­tial politi­cians at the roy­al courts of Wła­dy­sław Ja­gieł­ło and Ka­zi­mierz Ja­giel­loń­czyk
. Al­though he held the of­fice of arch­bish­op of Gnie­zno, the high­est ec­cle­si­as­ti­cal po­si­tion in the whole coun­try, he ne­glect­ed the af­fairs of the Church, en­gag­ing en­tire­ly in pol­i­tics of diplo­ma­cy and mul­ti­ply­ing his own wealth. He al­so de­vot­ed much time to fur­nish­ing his res­i­dence in Opo­rów, where he died of a stroke in De­cem­ber 1453.
Af­ter Wła­dy­sław's death, his broth­ers and rel­a­tives re­fused to hand o­ver his body to the canons of the Gnie­zno chap­ter, who, ac­cord­ing to church tra­di­tion, want­ed to bury him in the Gnie­zno cathe­dral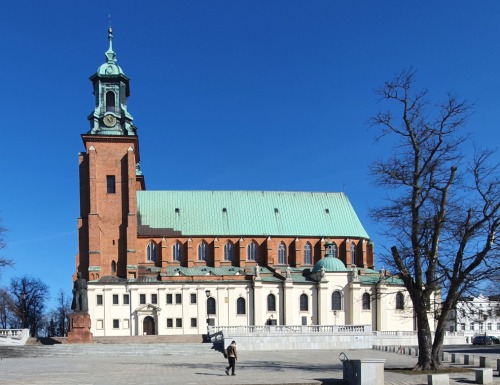 . The fam­i­ly of the de­ceased pri­mate ar­gued that he had obliged them to give him a fu­ner­al in Opo­rów. So Wła­dy­sław was buried in the Pau­li­ne mo­na­ste­ry, which he had found­ed him­self. How­ev­er, dur­ing the Swed­ish in­va­sion (1655) the cof­fin with his ash­es was so care­ful­ly hid­den by the monks that to this day it is not known where it is.
ST. MARCIN CHURCH AT THE PAULINE MONASTERY IN OPORÓW, PLACE OF BURIAL OF WŁADYSŁAW OPOROWSKI
T
he prop­er­ty was in­her­it­ed by one of Wła­dy­sław's five broth­ers, Piotr Opo­row­ski, a vet­er­an of the Hus­site and Teu­ton­ic wars, the voi­vode of Łę­czy­ca as­so­ci­at­ed with King Ka­zi­mierz Ja­giel­loń­czyk, whom he sup­port­ed by par­tic­i­pat­ing in var­i­ous diplo­mat­ic ven­tures. He was al­so a suc­cess­ful land­lord who kept in his hands most of his fa­ther's as­sets, thanks to which Piotr's chil­dren could still en­joy the po­si­tion achieved by their an­ces­tors. When he died on May 2, 1467, the fam­i­ly seat was in­her­it­ed by one of his sons, Jan Opo­row­ski (d. 1494). In the fol­low­ing years the prop­er­ty be­came sys­tem­at­i­cal­ly frag­ment­ed, which was main­ly caused by ex­pen­sive en­dow­ments for nu­mer­ous sons and daugh­ters, and by the loss of roy­al lands, which had pro­vid­ed the great­est in­come. At the end of the 16th cen­tu­ry, the Opo­row­ski fam­i­ly didn't be­long to the elite any­more, and their name ceased to in­spire wide­spread re­spect.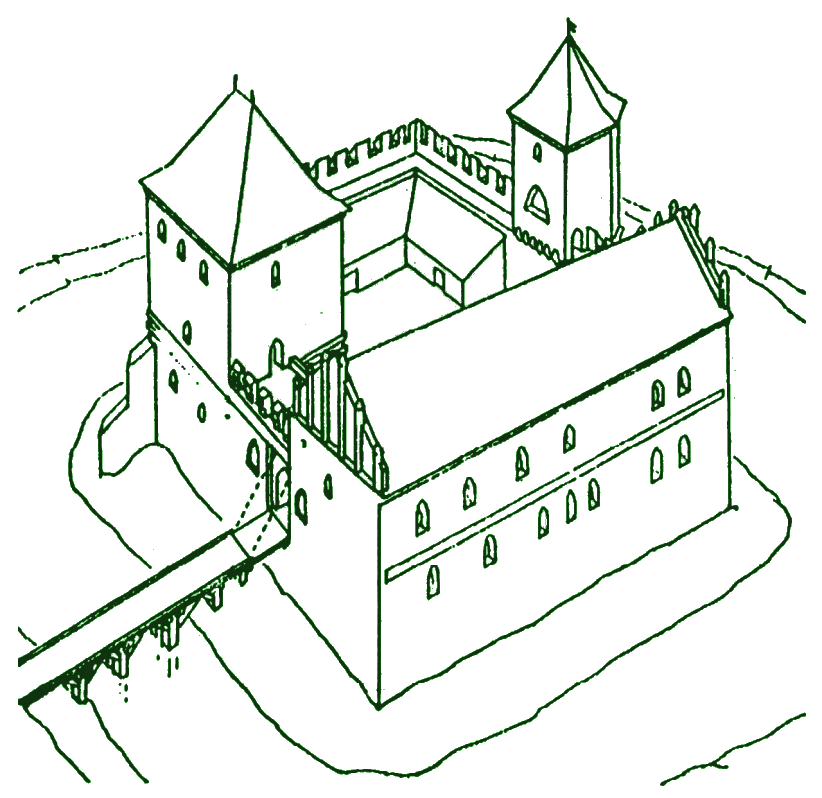 THE LOOK OF A CASTLE FROM THE MIDDLE OF THE XV CENTURY, RECONSTRUCTED BY J. ZACHWATOWICZ
I
n 1632 Opo­rów be­came the prop­er­ty of Piotr Tar­now­ski, coat of arms Ro­la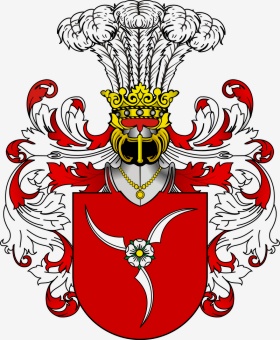 . It was brought to him as a dowry by his wife Bar­ba­ra, née Opo­row­ska, who ten years lat­er would be ac­cused of mur­der­ing a lo­cal priest. Af­ter Piotr's death, the cas­tle passed in­to the hands of his son Ka­zi­mierz, and then his two nephews Ka­zi­mierz and Zyg­munt Tar­now­scy, who re­built it from dam­ages done by the Swed­ish army in 1657. Dur­ing the re­con­struc­tion, they made some chan­ges, in­clud­ing re­plac­ing the win­dows with rect­an­gu­lar ones and col­or­ing the wood­en ceil­ings with Re­nais­sance poly­chrome. In 1725 the in­debt­ed es­tate was bought from Mi­chał Sta­ni­sław Tar­now­ski by Jan Soł­ło­hub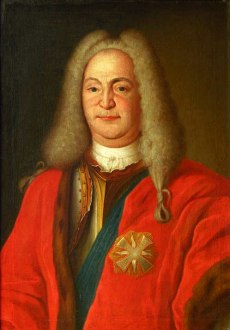 , coat of arms Praw­dzic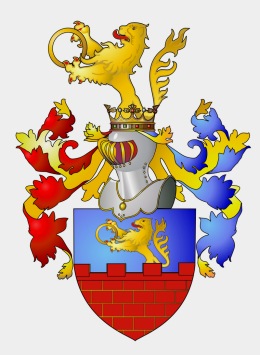 (d. 1748), who paid 41,550 Pol­ish zlo­tys for it. This mon­ey prob­a­bly came from the rich dowry brought to Jan by his wife, He­le­na, née Sza­niaw­ska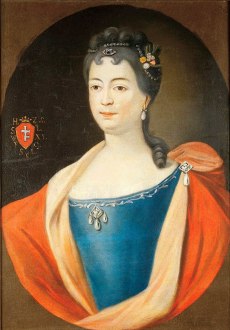 (d. 1727), daugh­ter of the Cas­tel­lan of Go­sty­nin. The Soł­ło­hub fam­i­ly resid­ed in Opo­rów quite of­ten, which is proved by the notes in the parish books. They main­tained a large court as well as a pri­vate army con­sist­ing of peas­ants and mer­ce­nar­ies.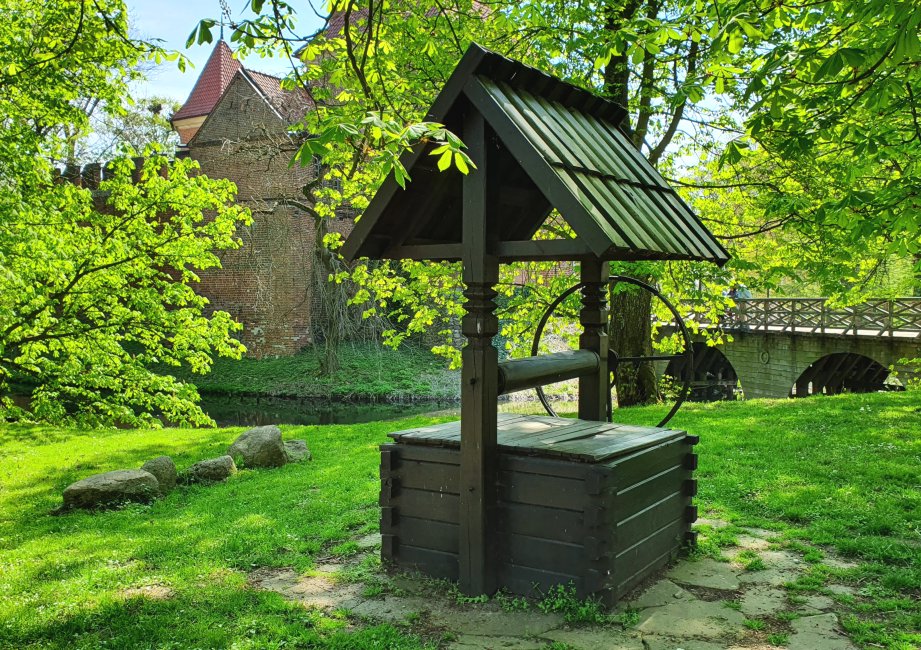 HISTORIC WELL NEAR THE CASTLE MOAT
W
hen Jan died, the cas­tle with the town and ad­ja­cent vil­lages was giv­en to his old­er son, Viteb­sk voi­vode Jó­zef An­to­ni Soł­ło­hub
, who, with his wife An­ton­i­na, née Ogiń­ska
(d. 1773), re­built the fam­i­ly seat and gave it a Baroque style. Jó­zef had no chil­dren and when he died in 1781 the es­tate passed to his nephew Jan Mi­chał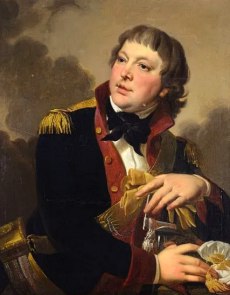 (d. 1812), an as­sis­tant gen­er­al of Pol­ish King Sta­ni­sław Po­nia­tow­ski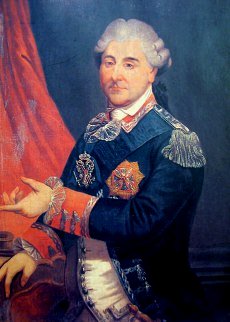 and lat­er a gen­er­al in the Rus­sian army. How­ev­er, on­ly a few days af­ter re­ceiv­ing the in­her­i­tance, he leased it and ten years lat­er sold it to the Lithua­ni­an writ­er Ka­je­tan Ko­rze­niow­ski, coat of arms Lis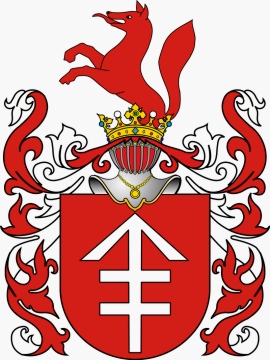 , who pur­chased the es­tate for 384,000 Pol­ish zlo­tys as a gift for his daugh­ter An­na and her fu­ture hus­band, Alek­san­der Po­ciej (d. 1846). The young cou­ple resid­ed in Opo­rów, mak­ing many changes in the in­te­ri­or de­sign in the style of clas­si­cism, fash­ion­able at that time. When An­na died in 1815, it was her hus­band who ad­min­is­tered the es­tate on be­half of the mi­nor chil­dren, and lat­er (1826) - their son Te­odor (d. 1856).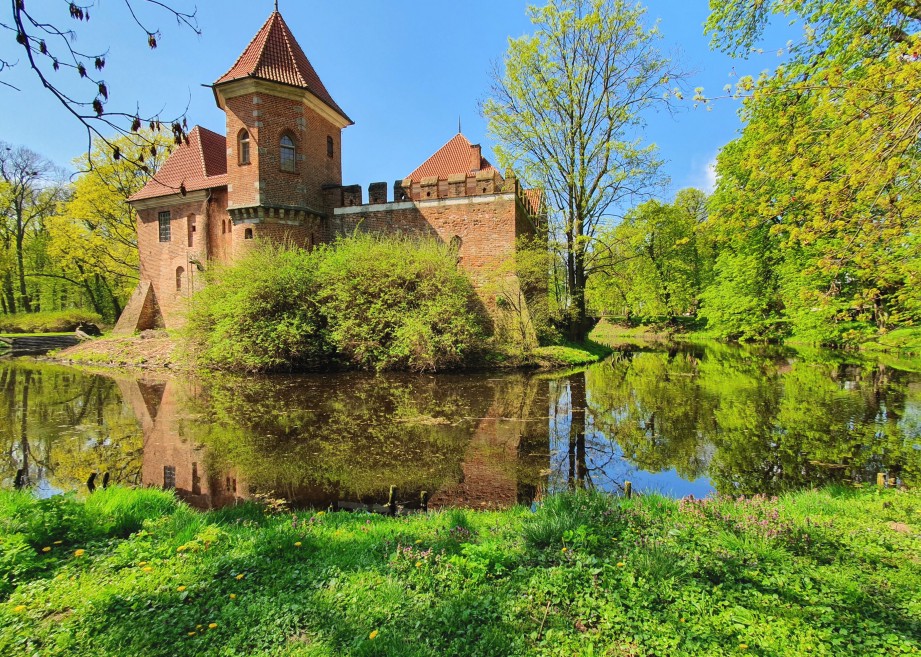 THE CASTLE MOAT IS FED BY THE RIVER SŁUDWIA
I
n the same year Teodor Po­ciej sold the re­ceived es­tate to Pe­tro­ne­la Obor­ska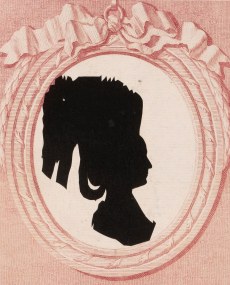 (d. 1832). Af­ter her death Opo­rów was in­her­it­ed by her sons, Ka­zi­mierz and Alek­san­der (d. 1841) and daugh­ter Te­re­sa (d. 1862). Both broth­ers took part in the Na­po­leon­ic wars, and lat­er in the Nov­em­ber Up­ris­ing, which was aimed against the Rus­sian au­thor­i­ties. As part of the re­pres­sion, the Rus­sian gov­ern­ment con­fis­cat­ed some of their land, in­clud­ing Opo­rów, and put it up for auc­tion. It was there, in 1837, that To­masz Or­set­ti (d. 1851) and his wife Alex­an­dra, nee Li­now­ska (d. 1854) bought the cas­tle. Soon, the new own­ers thor­ough­ly ren­o­vat­ed and re­built the res­i­dence in neo-Goth­ic style. Its sur­round­ings al­so ben­e­fit­ed: a ter­race was erec­ted at the drive­way to the main gate, and the for­mer gar­dens were trans­formed in­to a much larg­er En­glish-style land­scape park.
DRAWING BY KASPRZYCKI, PRZYJACIEL LUDU 1844
I
n 1865, Wil­helm Or­set­ti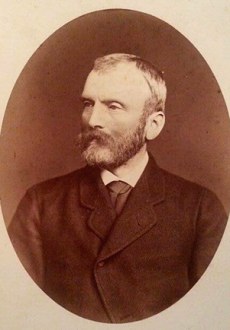 (d. 1893) be­came the own­er of Opo­rów. He and his wife, Wan­da Ka­ro­li­na, née Li­now­ska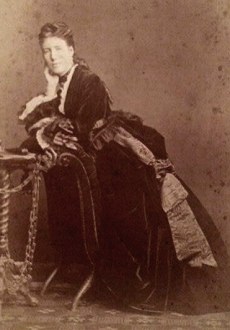 (d. 1917), con­tin­ued ef­forts ini­ti­at­ed by the pre­vi­ous land­lords to mod­ernize the cas­tle and re­vi­talise the park. It was on their ini­tia­tive that a rep­re­sen­ta­tive en­trance gate to the pos­ses­sion and a stylish util­i­ty build­ing, known as the Swiss House, were erect­ed. When Wan­da died, her daugh­ter He­le­na (d. 1945) and her hus­band Jan Pa­weł La­soc­ki (d. 1935) set­tled in Opo­rów. Ini­tial­ly, how­ev­er, she was on­ly a co-own­er of this prop­er­ty. To pay off her sib­lings He­le­na took out mort­gages, which she was even­tu­al­ly un­able to re­pay. The in­debt­ed es­tate was put to auc­tion and the La­soc­cy lost not on­ly their prop­er­ties in Bro­chów and Opo­rów but al­so some of their fur­ni­ture, equip­ment, and fam­i­ly mem­o­ra­bil­ia. An­tic­i­pat­ing the loss of Opo­rów they or­dered a pho­to al­bum doc­u­ment­ing the ex­te­ri­or of the cas­tle, its in­te­ri­or dec­o­ra­tion, as well as the look of the cas­tle park and gar­dens. This al­bum ap­peared in 1926.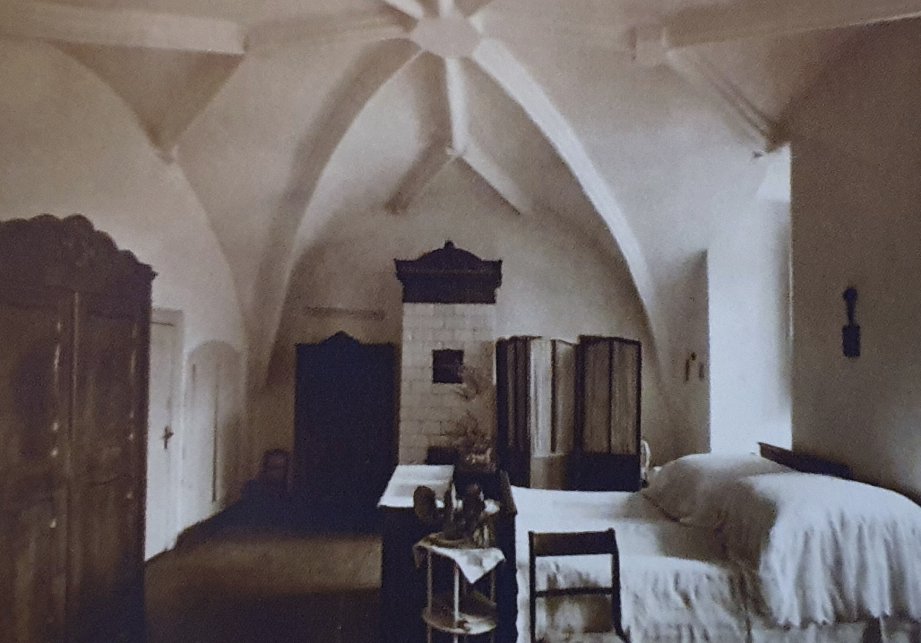 CASTLE INTERIORS FROM LASOCKI'S ALBUM: KNIGHT'S HALL (ABOVE) AND BEDROOM ON THE FIRST FLOOR, 1926
I
n 1930, the in­debt­ed es­tate was seized by the War­saw Cred­it So­ci­ety, and then sold at an auc­tion to Szy­mon Kar­ski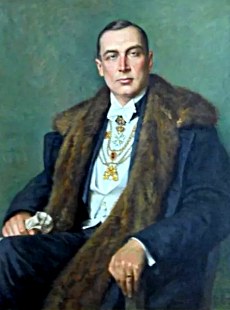 (d. 1974) and his wife Elż­bie­ta, née Pla­ter-Zy­berg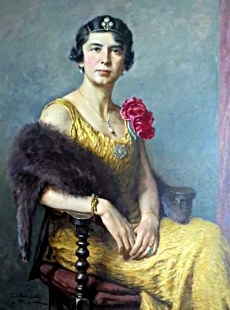 (d. 1972). New own­ers vis­it­ed Opo­rów on­ly oc­ca­sion­al­ly, plac­ing its man­age­ment in the hands of Gu­staw Skot­nic­ki, who, as the ad­min­is­tra­tor, lived with his fam­i­ly on the first floor of the cas­tle. Kar­scy planned to ren­o­vate the build­ing and des­ig­nate it as the res­i­dence of their son Jul­iusz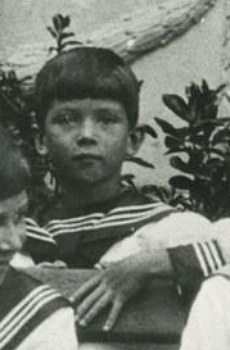 (d. 2021), but the out­break of war made these plans im­pos­si­ble. Soon af­ter the Ger­mans en­tered Poland, Skot­nic­ki was ar­rest­ed and de­port­ed to the Mau­thausen-Gu­sen la­bor camp, where he died (1940). The right­ful own­ers were ex­pelled from here in 1942 and from that time un­til the end of the oc­cu­pa­tion the cas­tle re­mained un­der Ger­man ad­min­is­tra­tion.
THE OWNER'S SON MICHAŁ KARSKI AND THE ADMINISTRATOR'S DAUGHTER HALINA SKOTNICKA POSING IN FRONT OF THE OPORÓW CASTLE
PARTRIDGE HUNTING IN THE ESTATE OF SZYMON KARSKI; IN FRONT OF THE CASTLE STAND PRESIDENT IGNACY MOŚCICKI (IN THE CENTER), SZYMON KARSKI (5TH FROM LEFT), AS WELL AS REPRESENTATIVES OF THE RICHEST POLISH FAMILIES: LUBOMIRSKI, RADZIWIŁŁ AND ZAMOYSKI
I
n 1945, by virtue of a de­cree, the Opo­rów es­tate be­came the prop­er­ty of the state and was then par­celled out. The for­mer seat of the Opo­row­scy un­der­went ren­o­va­tion, af­ter which it housed a mu­se­um de­pot and (since the end of the 1950s) a mu­se­um of manor in­te­ri­ors. The build­ing owes its pre­sent ap­pear­ance to an ex­ten­sive re-goth­i­za­tion and par­tial re­con­struc­tion of the years 1962-65. Af­ter re­moval of nine­teenth-cen­tu­ry "im­pu­ri­ties", Goth­ic por­tals and win­dow frames were ex­posed then, the loop­holes and crenel­la­tion were re­con­struct­ed, and the roofs were raised. The re­sult of these works is al­so the dis­cov­ery of Re­nais­sance ceil­ings with orig­i­nal paint­ings.
DESCRIPTION OF THE CASTLE
T
he cas­tle is lo­cat­ed on a small is­land sur­round­ed by a moat. It is a brick build­ing, built on a stone foun­da­tion and but­tressed. The Goth­ic strong­hold has an ir­reg­u­lar quadri­lat­er­al plan, mea­sur­ing about 25x30 me­ters, with a south­ern res­i­den­tial wing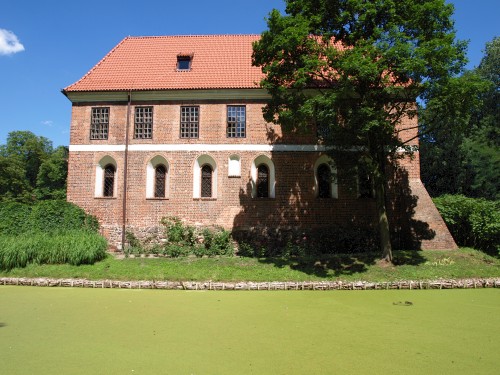 and a west­ern tow­er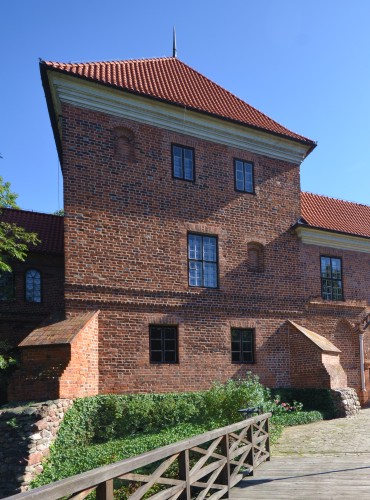 . A wall run­ning around a small court­yard and an east­ern tow­er-chapel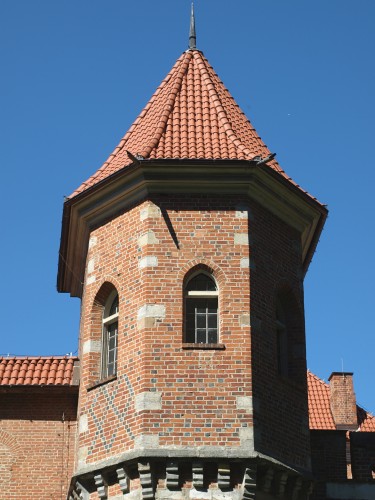 pro­trud­ing be­yond the façade com­plete its lay­out. The cas­tle was prob­a­bly built in three stages, of which the first two should be as­so­ci­at­ed with Mi­ko­łaj Opo­row­ski (d. 1425), while the third was su­per­vised and fi­nanced by his son Wła­dy­sław (d. 1453). Sup­pos­ed­ly, the cas­tle orig­i­nal­ly con­sist­ed on­ly of a brick don­jon with a ba­sis size of about 8.3 x 9.5 me­ters, sup­port­ed on the west by two cor­ner but­tress­es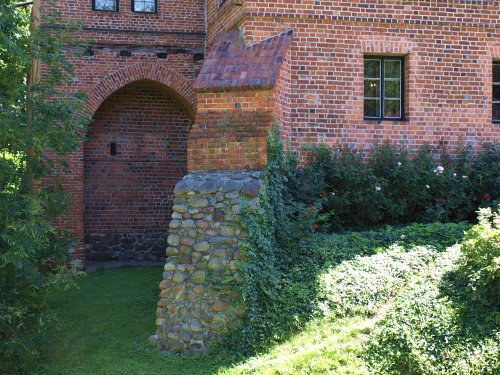 . To­day this build­ing (called the west­ern tow­er) has three sto­ries above ground and is cov­ered by a tent roof.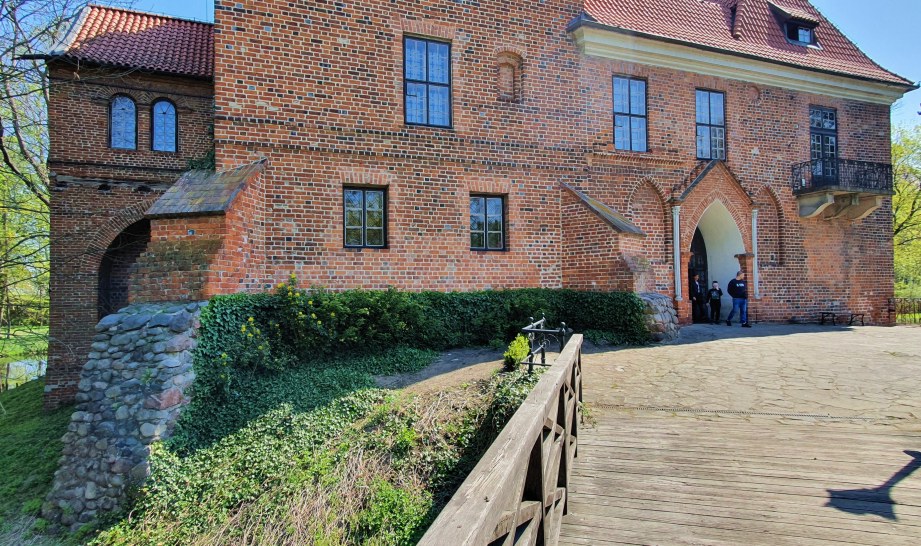 THE DONJON WITH TWO MASSIVE BUTTRESSES IS PROBABLY THE THE OLDEST PART OF A GOTHIC CASTLE
B
e­fore 1425 a cre­nel­lat­ed wall was built, about 1.7 me­ters thick, mark­ing out a court­yard area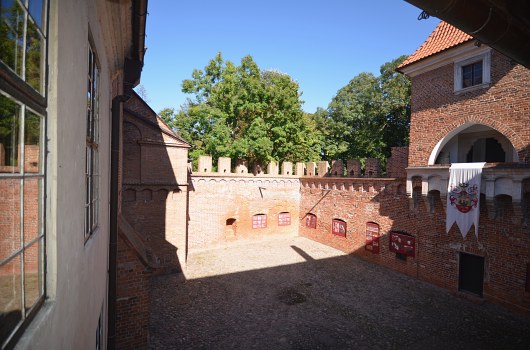 with di­men­sions of about 15x20 me­ters. In the north­ern part of the court­yard there was sit­u­at­ed a well or a cis­tern for wa­ter, lat­er en­closed with a wood­en build­ing of a res­i­den­tial char­ac­ter. The en­trance to the cas­tle led from the west, through a gate lo­cat­ed to the south of the tow­er. The con­struc­tion of an east­ern wing is be­lieved to have be­gun at the same time, but it seems to have been aban­doned when Mi­ko­łaj Opo­row­ski died.
PLAN OF THE CASTLE FROM THE FIRST HALF OF THE 15TH CENTURY: 1. DONJON, 2. PERIMETER WALLS, 3. GATE,
4. WELL, 5. EASTERN WING (UNFINISHED)
I
n the 1440s and 1450s, Wła­dy­sław Opo­row­ski re­built the cas­tle, giv­ing it an ex­ter­nal look and a spa­tial lay­out sim­i­lar to its con­tem­po­rary ap­pear­ance. He erect­ed a south­ern Goth­ic dwelling house, built on a rect­an­gu­lar plan mea­sur­ing 8.5 x 23.5 me­ters. The low­est part of the build­ing is oc­cu­pied by a low, bar­rel-vault­ed base­ment, above which two storeys rise, il­lu­mi­nat­ed by goth­ic win­dows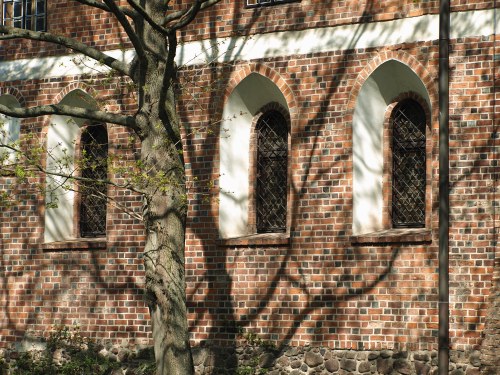 on the ground floor and baroque win­dows on the sec­ond floor. The ground floor of the house con­sists of three rooms, among them the Hall­way and the so-called Trea­sury, which is the on­ly vault­ed cham­ber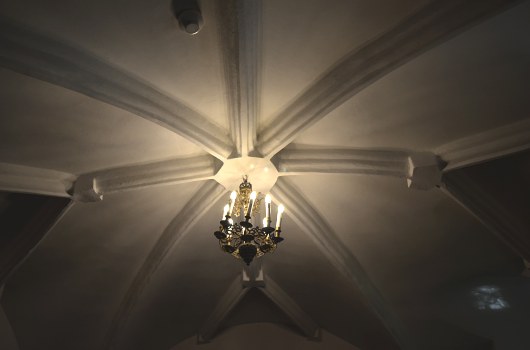 in this part of the cas­tle (all oth­er cham­bers are topped with wood­en ceil­ings). The up­per floor is oc­cu­pied by a spa­cious, rep­re­sen­ta­tive cham­ber called the Knights' Hall, from where a brick Goth­ic por­tal leads to the porch sur­round­ing the court­yard. This cham­ber is ad­ja­cent to a res­i­den­tial apart­ment with relics of a la­trine bay win­dow.
THE SOUTHERN WING ERECTED IN THE MIDDLE OF THE XV CENTURY BY WŁADYSŁAW OPOROWSKI
A
l­so in the mid­dle of the 15th cen­tu­ry, a tow­er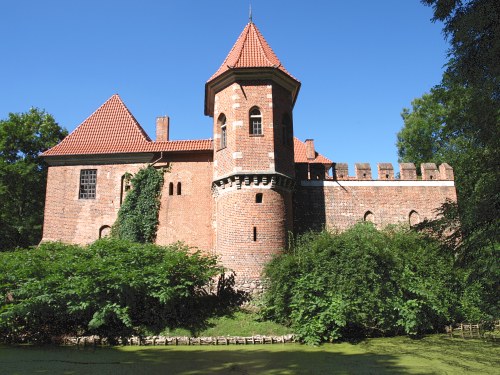 was built in the east­ern wall, with a se­mi-el­lip­ti­cal plan in the low­er part, and hexag­o­nal shape in the up­per part. This el­e­ment of the cas­tle's ar­chi­tec­ture had both mil­i­tary and sa­cred func­tions: on the ground floor it was equipped with loop­holes, while the sec­ond floor housed a vault­ed chapel
, the en­trance to which led di­rect­ly from the porch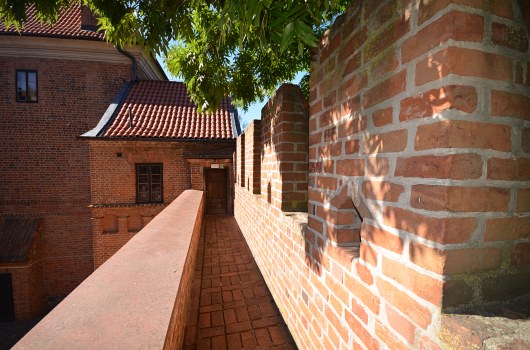 . The en­trance to the chapel is dec­o­rat­ed with a sharp-arched ar­cade and the arch­bish­opric of Gniez­no coat of arms.
EASTERN FORTIFICATION WALL WITH A CHAPEL TOWER
L
at­er changes did not sig­nif­i­cant­ly af­fect the ap­pear­ance and lay­out of the cas­tle. The most im­por­tant of them was the erec­tion of a build­ing be­tween the gate tow­er and the west­ern wing. Its low­er parts are oc­cu­pied by a pas­sage hall with a stair­case, and the first floor houses the Liv­ing Room. The wood­en northern buil­ding was de­mol­ished and the draw­bridge re­moved, and then re­placed by an earth­en em­bank­ment con­nect­ed to a fixed cross­ing. A lit­tle ear­li­er, prob­a­bly still in the 17th cen­tu­ry, the court­yard was raised, as a re­sult of which the for­mer storey in the ground floor be­came cel­lars. In the 19th cen­tu­ry, the res­i­dence was re­built in Neo-Goth­ic style and sur­round­ed by a land­scape park. Be­sides, at the front el­e­va­tion, a ter­race was set up, con­nect­ed with the op­po­site bank of the moat by wood­en bridge
. The vast area to the west of the cas­tle took the form of a court­yard, around which out­build­ings, sta­bles, coach hous­es, an or­angery, and a vine­yard were built.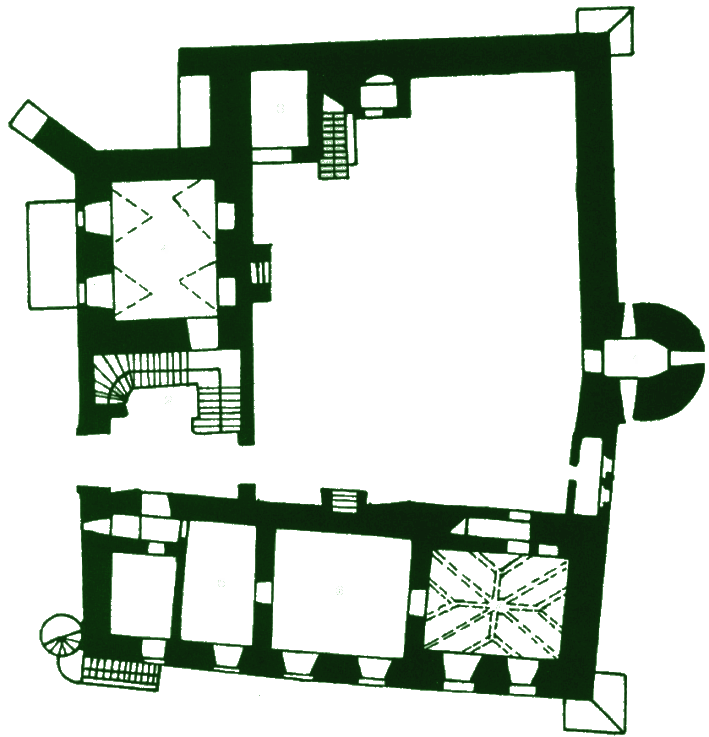 CONTEMPORARY PLAN OF THE CASTLE (GROUND FLOOR): 1. TOWER-CHAPEL, 2. STAIRCASE,
3. KREDENS, 4, 5. CHAMBERS, 6. HALLWAY, 7. TREASURY
---
T
he cas­tle be­longs to a small group of Polish for­ti­fied build­ings, which have been used through­out their en­tire ex­is­tence. It is the most beau­ti­ful for­ti­fied res­i­dence in Łódź Prov­ince and one of the most charm­ing in our coun­try, which re­sults not on­ly from the com­pact, har­mo­nious shape of the cas­tle, but al­so from its lo­ca­tion on an is­land, in the heart of a ro­man­tic park. To­day, the for­mer res­i­dence of the Opo­row­ski, Tar­now­ski and Or­set­ti fam­i­lies hous­es a mu­se­um of manor in­te­ri­ors with a col­lec­tion of paint­ings, sculp­tures, an­tique fur­ni­ture, mil­i­taria, and hand­i­crafts.
ONE OF TWO XIXTH-CENTURY BEAUTIFUL LIONS AT THE CASTLE MOAT
T
he mu­se­um ex­hibits are lo­cat­ed in sev­en (eight, in­clud­ing the chapel) cham­bers on two floors, which are grouped in­to one vis­i­tor path­way. It be­gins on the ground floor and in­cludes the fol­low­ing items:
En­trance Hall, equipped with the 19th cen­tu­ry Bie­der­meier fur­ni­ture, a pi­ano made by Hen­rie Herz in 1845, clas­si­cal mir­rors, a globe-shaped table, a trav­el writ­ing tablet and 19th cen­tu­ry tapestries.
CHAMBER FORMERLY USED AS AN ENTRANCE HALL
T
rea­sury, a small room in the east­ern part of the cas­tle with an ex­hi­bi­tion of ap­plied arts and hunt­ing weapons from the 18th-19th cen­turies. The fur­ni­ture con­sists of Baroque Dutch cup­boards and an 18th-cen­tu­ry Rus­sian kid­ney-shaped in­layed table.
C
hamber on the ground floor of the tow­er, called the Ar­moury, with floor laid dur­ing the 18th cen­tu­ry in­te­ri­or re­con­struc­tion. Vis­i­tors can see here neo-re­nais­sance fur­ni­ture, no­ble belts, orig­i­nal knight's ar­mor and frag­ments of hus­sar's ar­mor from the 17th cen­tu­ry, fint­lock pis­tols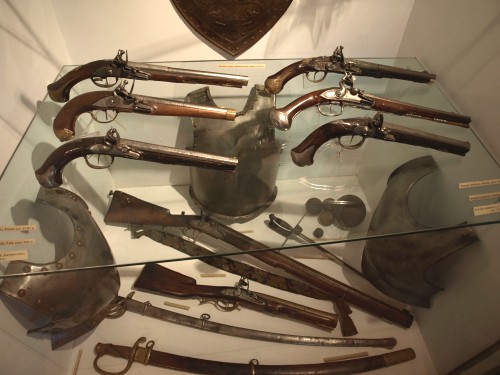 , as well as a case with cap pis­tols and a set of ac­ces­sories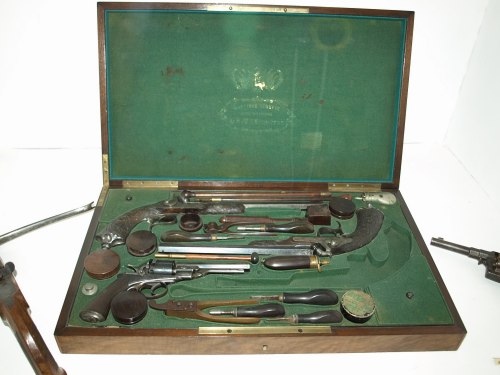 made in 1853 by Gas­ton Re­net­te of Paris.
O
n the sec­ond floor we vis­it:
small Liv­ing Room added with a stair­case and a hall­way in the first half of the 18th cen­tu­ry, now equipped with a 19th-cen­tu­ry fire­place and stove, orig­i­nal chaise longue, a set of 19th-cen­tu­ry Ger­man chairs and arm­chairs, and a char­ac­ter­is­tic lean­ing floor clock from the 18th cen­tu­ry.
D
in­ing Room, with its glass cab­i­nets in the walls filled with table­ware, in­clud­ing the Or­set­ti porce­lain ser­vice and sil­ver cut­lery, a set of Neo-Baroque din­ing room fur­ni­ture, a clock with a draw­er, a Ro­co­co oval mir­ror from 1760, and a wed­ding tapestry with the Po­mi­an and Axe coats of arms. The din­ing room is cov­ered with a wood­en 17th cen­tu­ry ceil­ing with col­or­ful dec­o­ra­tion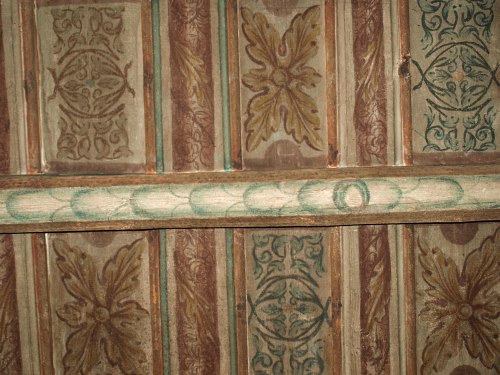 .
K
nights' Hall, the largest cham­ber in the cas­tle with a Re­nais­sance ceil­ing dec­o­rat­ed with col­or­ful poly­chrome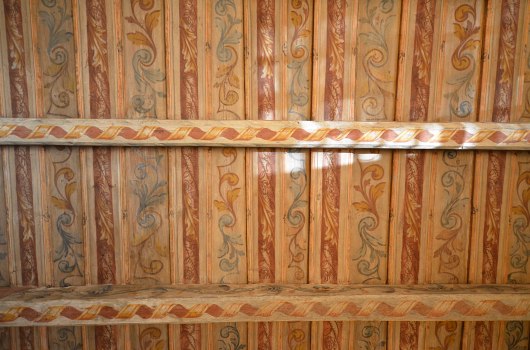 , and par­quet floor­ing made of three types of wood. This rep­re­sen­ta­tive room is fur­nished, among oth­ers, with a Re­nais­sance tiled stove, a Lon­don floor clock, a Neo-Re­nais­sance mar­ble table, Baroque arm­chairs, and a 19th cen­tu­ry Per­sian car­pet. Por­traits of the for­mer own­ers of Opo­rów hang on its walls.
T
he last room on the tour is Bed­room, equipped with neo-Goth­ic and neo-Re­nais­sance fur­ni­ture. There is al­so a large, rich­ly carved rock­ing chair and sev­er­al paint­ings, in­clud­ing a por­trait of an ug­ly girl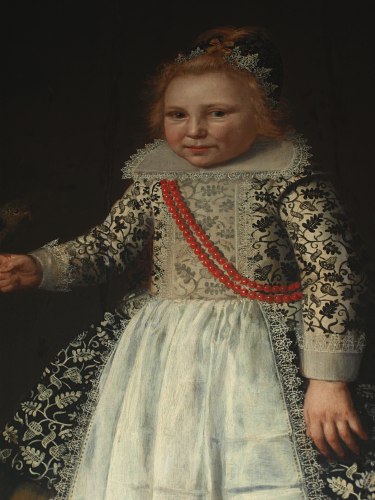 from the 1730s by an un­known Dutch painter.
| | |
| --- | --- |
| | Admission to the castle is paid, to the park – free. |
| | |
| --- | --- |
| | A tour of the castle exhibition takes about 1 hour. No guide. |
| | |
| --- | --- |
| | Photographing interiors for your own purposes - free of charge. |
| | |
| --- | --- |
| | Animals are not allowed in the castle. Dogs in the park are only allowed on a leash. |
N
ear the cas­tle stands a small cot­tage, called the Goth­ic house, which now serves as a lodg­ing house. The res­i­dence is sur­round­ed by a pic­turesque 11-hectare park from the first half of the nine­teenth cen­tu­ry, which evolved from the sev­en­teenth-cen­tu­ry gar­dens es­tab­lished here by Piotr Tar­now­ski. The park is dom­i­nat­ed by pop­u­lar trees: maples, chest­nuts, alders, horn­beams, beech­es, lin­dens, and poplars. De­spite the neg­li­gence of the com­mu­nist era, as a re­sult of which some valu­able species were ir­re­triev­ably de­stroyed, a few ex­am­ples of much rar­er trees, such as black wal­nut, black pine, and mon­u­men­tal ash, have been pre­served here.
CASTLE MOAT WITH THE GOTHIC HOUSE (IN THE BACKGROUND)
---
O
porów is lo­cat­ed in the north­ern part of Łódź Prov­ince, about 15 km north­west of Kut­no. Driv­ing the DK92 from War­saw, one should turn right in Bedl­no on­to DW583 to Ży­chlin. Then fol­low the sign­posts to the cas­tle. The near­est rail­way sta­tion is lo­cat­ed in Złot­ni­ki - 12 km.
| | |
| --- | --- |
| | Free park­ing is avail­able at the north gate. |
---
1. T. Glinka, M. Piasecki: Cuda Polski, Publicat 2008
2. L. Kajzer, J. Salm, S. Kołodziejski: Leksykon zamków w Polsce, Arkady 2001
3. L. Kajzer: Zamki i dwory obronne w Polsce Centralnej, DiG 2004
4. L. Kajzer: Małe czy duże, czyli o tzw. zamkach rycerskich..., DiG 2002
5. A. Majewska-Rau: Muzeum - zamek w Oporowie, 2018
6. T. Pietras: Oporowscy herbu Sulima, Wydawnictwo Uniwersytetu Łódzkiego 2013
7. A. R. Sypek: Zamki i warownie ziemi mazowieckiej, Trio 2002
8. A. Wagner: Murowane budowle obronne w Polsce X-XVIIw., Bellona 2019
9. H. Widacka: Troska o dekolt czyli prymas Poniatowski i pani Oborska
10.Spacerownik po regionie - Oporów, Dodatek GW, 5/2008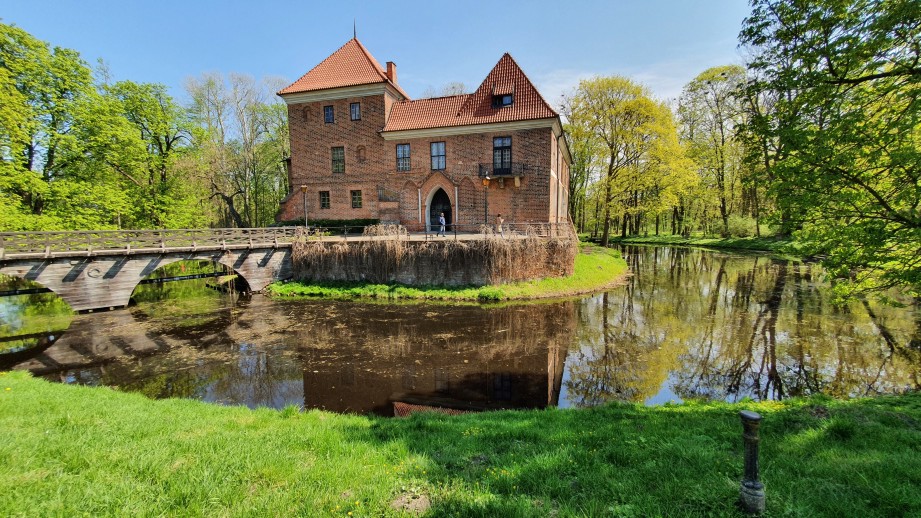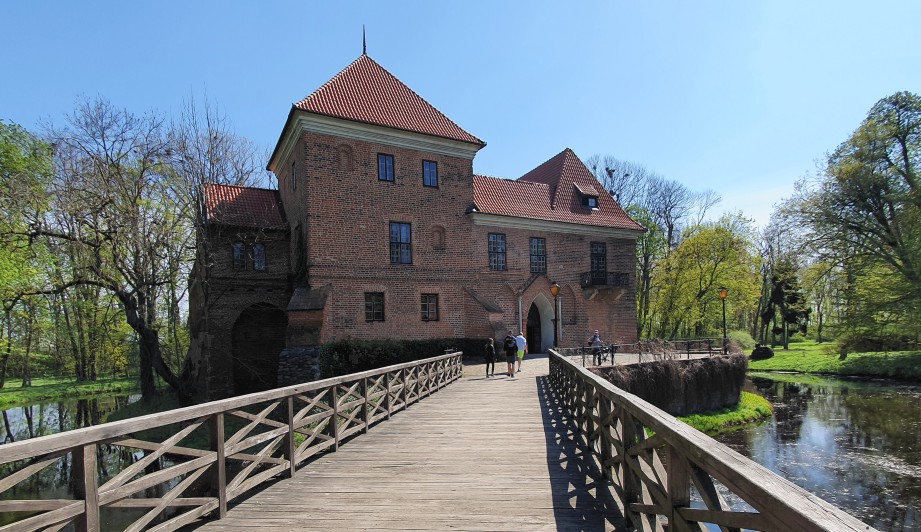 Castles nearby:
Sobota - relics of a Gothic castle, currently the mansion from the 19th century, 18 km
Gostynin - relics of the castle of Mazovian princes, 28 km
Łowicz - ruins of the Gniezno bishops' castle from the 14th century., 38 km
Płock - the castle of Mazovian princes from the 14th century, 41 km
Łęczyca - the royal castle from the 14th century, 42 km
Sochaczew - ruins of the castle of Mazovian princes from the 14th century, 50 km
Besiekiery - ruins of a knight's castle from the 15th-16th century, 51 km

text: 2022
photographs: 2008, 2019, 2022
© Jacek Bednarek