ZBˇSZYŃ

relics of the bastion castle
BIRD'S EYE VIEW OF THE TOWER, WHICH IS A RELIC OF THE FORMER CASTLE GATE
IN THE BACKGROUND - THE LAKE BŁĘDNO
---
I
t is like­ly that as ear­ly as the 10th cen­tu­ry there was a wood­en strong­hold called Zb±sz, lo­cat­ed on a sandy is­land be­tween the Ob­ra Riv­er and Lake Błęd­no, which may have been the main ad­min­is­tra­tive cen­ter of the re­gion and may have served as a cus­toms on the trade route lead­ing from Poz­nań to Lu­sa­tia. The first his­tor­i­cal men­tion of the Zban­sin set­tle­ment dates back to 1231, from which we learn that the castel­lan of the time was named Cie­cie­rad. These lands be­longed to Si­le­sia then, and their lo­ca­tion at the junc­tion of three great his­tor­i­cal re­gions sig­nif­i­cant­ly im­pact­ed the lat­er tur­bu­lent his­to­ry of the cas­tle and the town.
NORTHERN RAMPART AND REMAINS OF THE MOAT
I
n 1243, dukes Prze­mysł I (d. 1257) and Boleslaus (d. 1279) took back by force a part of the Greater Poland dis­trict along with Zb±­szyń, San­tok and Mię­dzy­rzecz, pre­vi­ous­ly be­long­ing to the Si­le­sian duke Bo­le­slaus Ro­gat­ka (d. 1278). This was be­cause they con­sid­ered them­selves the true heirs of the land, al­though legal­ly it be­longed to duke Bo­le­slaus's fa­ther, Hen­ry the Pi­ous (d. 1241). This con­flict led to a war that dragged on for years, re­sult­ing in the cas­tle be­ing dam­aged or per­haps even com­plete­ly burned down. Mean­while, in 1251, quite un­ex­pect­ed­ly (prob­a­bly in the ab­sence of a mil­i­tary crew) the strong­hold was cap­tured by a lo­cal group of brig­ands, who gave it back on­ly af­ter the prince had paid a ran­som.
VIEW OF THE TOWER FROM THE PARK
A
t the be­gin­ning of the 14th cen­tu­ry, the town and the cas­tle were un­der the sove­reign­ty of the Si­le­sian-Gło­gów princes. Lat­er it be­longed for a short pe­ri­od to the Bran­den­burg Mar­grave Wal­de­mar der Große (d. 1319), and then to King Jan Lu­cem­burský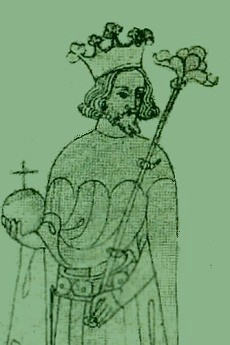 of Bo­he­mia (d. 1346). In the 1330s, Ka­zi­mierz Wiel­ki
(Ca­si­mir the Great, d. 1370) an­nexed Zb±­szyń to the King­dom of Poland and es­tab­lished there a cus­toms cham­ber and a de­fense post on the bor­der with Bran­den­burg. It may have al­so been on his ini­tia­tive that the con­struc­tion of a brick cas­tle be­gan at that time. From this pe­ri­od we know the name of one of the starosts of Zb±­szyń - a cer­tain Mi­ło¶­ciej ca­pi­ta­ne­us in Ben­cyn.
NORTHERN PART OF THE CASTLE FORTIFICATIONS
A
f­ter the death of Casimir the Great (or slight­ly ear­li­er) Zb±­szyń be­came a fief, which was hence­forth leased by rep­re­sen­ta­tives of the Pol­ish knight­hood and lat­er no­bil­i­ty. In 1393 it was giv­en to Ma­zo­vian voi­vode Jan Gło­wacz Le­żeńs­ki of Na­łęcz coat of arms
(who, ac­cord­ing to ru­mors, may have been the il­le­git­i­mate son of Ca­si­mir the Great and the Jew­ish wom­an Es­ter­ka) in ex­change for loans grant­ed to King Louis I of Hun­gary (Na­gy La­jos)
, Queen Elż­bie­ta Łok­iet­ków­na (Eliz­a­beth of Poland, his wife) and Queen Jad­wi­ga (their daugh­ter). When Jan Gło­wacz died at the Bat­tle of Vor­skla in 1399, Zb±­szyń was tak­en o­ver by his son Abra­ham (d. 1441), who adopt­ed the Zb±­ski sur­name. From then on, un­til the mid-17th cen­tu­ry, the cas­tle be­longed to the Na­łęcz-Zb±­ski fam­i­ly and their de­scen­dants.
COAT OF ARMS CARTOUCHE OF THE CI¦WICKI FAMILY LINE FROM THE GATE TOWER
I
n the sec­ond half of the 16th cen­tu­ry Abra­ham III Zb±s­ki (d. 1578) be­gan con­struc­tion of a late Re­nais­sance cas­tle of the pa­laz­zo in for­tez­za type. How­ev­er, he prob­a­bly did not com­plete it, as in­di­cat­ed by a frag­ment of a speech giv­en at his fu­ner­al: in his castel­lum, the con­struc­tion of which he be­gan, he rests. The work of Abra­ham Zb±s­ki was prob­a­bly con­tin­ued by his son-in-law Jan Ci­¶wic­ki (d. 1597), and cer­tain­ly by his grand­son Abra­ham Ci­¶wic­ki of Wie­nia­wa coat of arms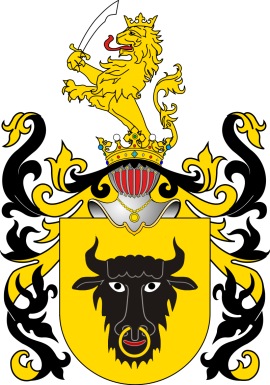 , castel­lan of Byd­goszcz (d. 1644), al­though it is not known whether he man­aged to com­plete it ac­cord­ing to the orig­i­nal plans. In any case, in the 1620s a bas­tion res­i­dence was erect­ed in Zb±­szyń, mod­eled on Old Dutch-type for­ti­fi­ca­tions, i.e. with on­ly earth bas­tions and ram­parts. In­ter­est­ing­ly, the work fo­cused pri­mar­i­ly on the con­struc­tion of mas­sive de­fen­sive ram­parts to the ex­clu­sion of the res­i­den­tial part. In­deed, the fam­i­ly seat of the Ci­¶wic­ki fam­i­ly re­mained a me­dieval cas­tle, which was on­ly adapt­ed to the func­tion­al and aes­thet­ic re­quire­ments of its time.
VIEW OF THE CASTLE FROM THE NORTH ON A LITHOGRAPH FROM 1843, E. RACZYŃSKI "MEMORIES FROM WIELKOPOLSKA..."
I
n 1644 Abra­ham's son, Fran­ci­szek Ci­¶wic­ki (d. 1681) sold the lo­cal es­tate to the Tu­czyń­ski fam­i­ly, but be­fore the end of the cen­tu­ry it re­turned to the de­scen­dants of the ear­li­er own­ers. In the mean­time, the cas­tle was oc­cu­pied by Swedish and lat­er Bran­den­bur­gian forces, who loot­ed it and plun­dered of am­mu­ni­tion, fire­arms and ar­tillery. In 1700 Da­mian Ka­zi­mierz Gar­czyń­ski (d. 1711) be­came the own­er of the cas­tle. A few years lat­er he ex­pe­ri­enced an­oth­er in­va­sion by Swedish troops, who set up bar­racks on the cas­tle grounds and, leav­ing it, ru­ined the cas­tle build­ings and de­stroyed all the fur­nish­ings.
RESIDENTIAL PART OF THE CASTLE IN AN XIXTH-CENTURY ENGRAVING, ON THE RIGHT THE GATE TOWER (PRESERVED)
I
n the first half of the 18th cen­tu­ry, Ste­fan Gar­czyń­ski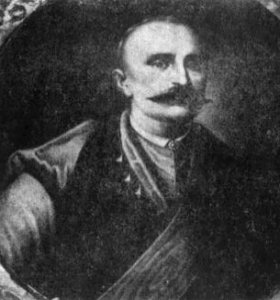 (d. 1755), son of Dami­an, re­built the cas­tle and es­tab­lished a park and gar­den in its vi­cin­i­ty, which must have been very beau­ti­ful if it was called de­cus - an or­na­ment of the coun­try. How­ev­er, in the course of time and the de­te­ri­o­ra­tion of the own­ers' fi­nan­cial sit­u­a­tion, the res­i­dence, de­prived of re­pairs, fell in­to ne­glect and fi­nal­ly in­to ru­in. In 1848 Adam Ta­de­usz Gar­czyń­ski von Raut­en­berg (d. 1863), Prus­sian cham­ber­lain, sold it to Count Ed­mund von Pour­tales-Gor­gier. Five years lat­er, the new own­er of the cas­tle was Count Ju­lius Pe­ter von Lip­pe-Bie­ster­feld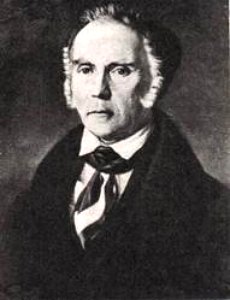 (d. 1884), who bought it main­ly to rid it of the rem­nants of fur­nish­ings he had tak­en to Neu­dorf Palace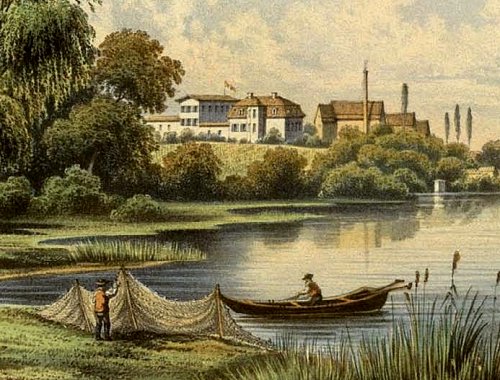 .
COURTYARD OF ZBˇSZYŃ CASTLE IN THE ENGRAVING BY T. ŻYCHLIŃSKI, "TYGODNIK ILUSTROWANY" 1863
E
rnst von Lippe-Biesterfeld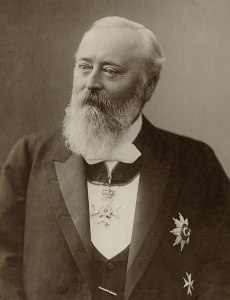 (d. 1904), son of Ju­lian, sold the ru­ined man­sion to ma­jor von Kl­itz­ing (d. 1906) in 1898. A year af­ter the ma­jor's death, by or­der of his wid­ow Hed­wi­ge von Kl­itz­ing, Prus­sian sap­pers de­mol­ished the res­i­den­tial build­ings lo­cat­ed in­side the earth for­ti­fi­ca­tions, thus the cas­tle de fac­to ceased to ex­ist. Af­ter 1945, the cas­tle grounds be­came a town park, the gate tow­er was adapt­ed in­to a small mu­se­um, and a ho­tel and restau­rant were opened in the pre­served farm build­ings.
DESCRIPTION OF THE CASTLE
T
he Re­nais­sance cas­tle was built on a rect­an­gu­lar plan mea­sur­ing about 250x350 me­ters, and its to­tal area cov­ered about 10 hec­tares. It was a Dutch-type fort­ress with ram­parts and earth bas­tions sur­round­ed by a moat. Earth­en ram­parts pro­tect­ed the cas­tle from the north, east and south (all of which have sur­vived). From the west, ac­cess to the court­yard was de­fend­ed by a lake and marsh­es. In the north­ern sec­tion, in the vicin­i­ty of the gate, the ram­parts are sup­port­ed by walls.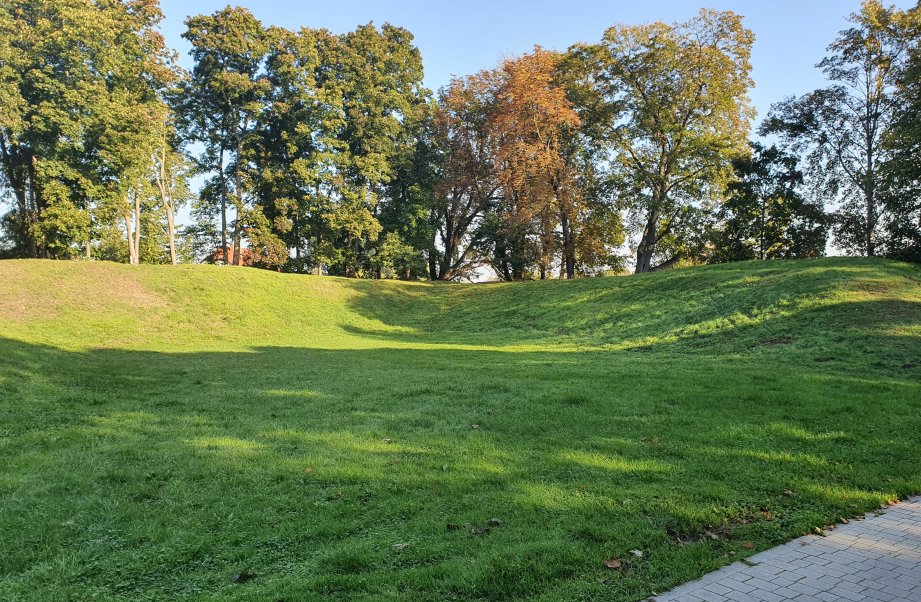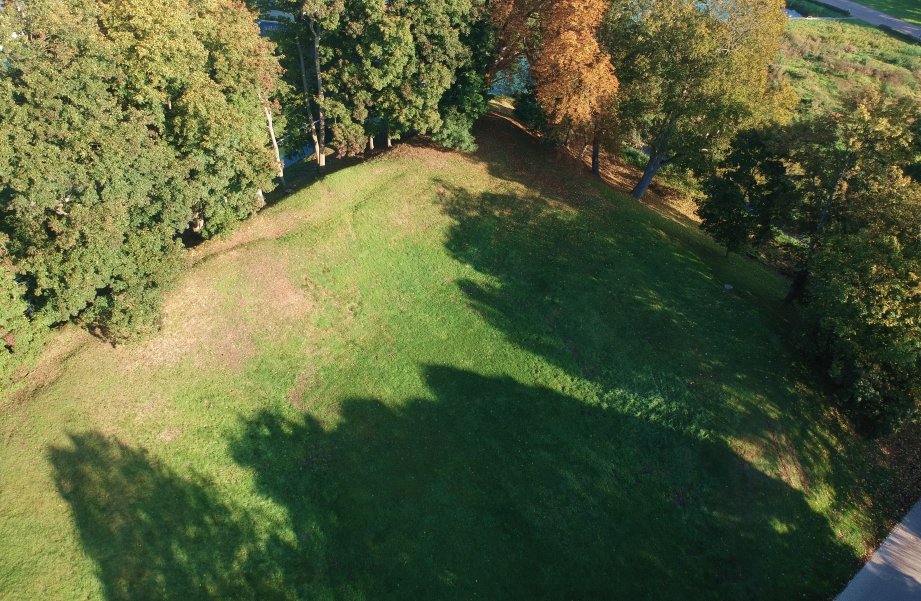 T
he on­ly en­trance to the for­t­al­ice grounds led through a north­ern gate, pre­ced­ed by a draw­bridge con­nect­ing the out­er bank of the moat with a rav­el­in, and an­oth­er bridge com­mu­ni­cat­ing the rav­el­in with the town. At the turn of the 16th and 17th cen­turies, a tow­er was erect­ed o­ver the gate pas­sage, orig­i­nal­ly two-sto­ry with a Re­nais­sance at­tic, and now three-sto­ry, cov­ered with a tent roof with an oc­tag­o­nal tur­ret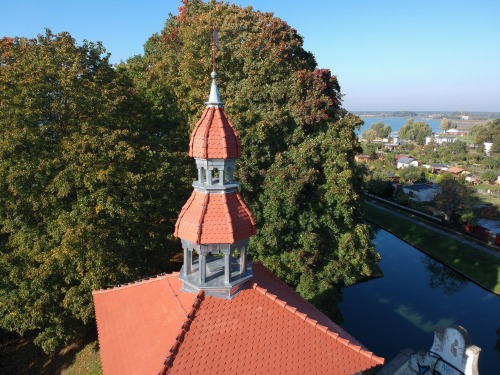 and a flag with mo­no­grams S.G. 1806 and H.K. 1916. The cur­rent ap­pear­ance of the tow­er and bridge are the re­sult of re­stora­tion work car­ried out in 1978-80 and 2016-18.
T
he cas­tle had a typ­i­cal­ly de­fen­sive char­ac­ter un­til the ear­ly 17th cen­tu­ry, when it be­came a res­i­den­tial palace. It was a one-sto­ry build­ing erect­ed on an L-shaped plan, with a longer (me­dieval) south­ern wing and a short­er west­ern wing with a tow­er. Pre­sum­ably, the west­ern wing had rep­re­sen­ta­tive func­tions, while the south­ern wing, al­though much longer, housed less sig­nif­i­cant rooms, per­haps of an eco­nom­ic na­ture. Ad­ja­cent to the dwel­ling house was an out­build­ing, about which we on­ly know that it served as a chick­en coop in the mid-19th cen­tu­ry, and there is not a liv­ing crea­ture in its up­per cham­bers ex­cept mice and in­sects (1863).
FRONT ELEVATIONS OF THE WESTERN (ABOVE) AND SOUTHERN WINGS
ON WILHELM JACOB'S DRAWINGS OF 1876
PLAN OF THE PALACE ACCORDING TO WILHELM JACOB, 1876
T
he north­west­ern part of the cas­tle was oc­cu­pied by a one-sto­ry out­build­ing (now a ho­tel) and a brew­ery (now a res­tau­rant). Sta­bles and a gar­den­er's house were al­so placed with­in the ram­parts, but their ex­act lo­ca­tion re­mains un­known. A park was es­tab­lished to the south of them, with its cen­tral com­po­si­tion con­sist­ed of an elon­gat­ed semi­cir­cu­lar ar­range­ment of horn­beam trees and a beau­ti­ful lime tree in the mid­dle.
IN THE MUNICIPAL PARK (FORMERLY: CASTLE PARK)
---
W
hat re­mains of the old cas­tle are the earth bas­tions, the quad­ran­gu­lar three-sto­ry gate tow­er, as well as the for­mer farm build­ing and brew­ery, sig­nif­i­cant­ly re­built and now used as a ho­tel and re­stau­rant. The tow­er hous­es the Con­tem­po­rary Art Gal­lery.
| | |
| --- | --- |
| | Free admission to the park |
| | |
| --- | --- |
| | Here you can freely walk with your dog. |
| | |
| --- | --- |
| | A visit to the park and tower, as well as a walk to the lake­shore, takes a mi­ni­mum of one hour. |
| | |
| --- | --- |
| | No restrictions for flights in the open category |
GATE TOWER, PRESENT STATE
---
Z
b±szyń is lo­cat­ed about 90 km west of Poz­nań, near the A2 high­way (War­saw-Ber­lin). Relics of the cas­tle can be found in the west­ern part of the town, 400 me­ters from its cen­ter. Some trains run­ning on the Poz­nań-Ber­lin and Poz­nań-Zie­lo­na Gó­ra lines stop in the town (the train sta­tion is 2.5 km from the cas­tle). Af­ter leav­ing the sta­tion, turn right and fol­low the main road to the south­east (along Re­j­tana Street and then Jan­uary 17 Street).
| | |
| --- | --- |
| | You can park your car in a park­ing lot on Gar­czyńs­kich Street (next to the bridge), or on the oth­er side of the em­bank­ment, by the park (al­so Gar­czyn­s­ki Street). |
---
1. L. Kajzer, J. Salm, S. Kołodziejski: Leksykon zamków w Polsce, Arkady 2001
2. A. Wagner: Murowane budowle obronne w Polsce X-XVIIw., Bellona 2019
3. Z. Matuszewski: Pałac w Zb±szyniu z I poł. XVII wieku..., Szkice Zb±szyńskie 2017
4. serwis.zbaszyn.pl
5. www.zabytek.pl

Castles nearby:
Międzyrzecz - ruins of the royal castle from the 14th century, 35 km
Sulechów - ducal castle from the 14th century, 35 km
¦wiebodzin - ruins of the ducal castle from the 14th century, 36 km
Łagów - castle of the Hospitallers of Saint John from the 14th century, 56 km
Sieraków - remains of the Opaliński Castle from the 15th century, 58 km

text: 2022
photographs: 2021
© Jacek Bednarek